The question "Is teriyaki sauce gluten-free" has worried those with gluten sensitivity or who are currently following a special diet. It's a must for them to avoid gluten at all costs.
That being said, not every product states clearly whether it has gluten components, for example, teriyaki sauce. Many have met trouble identifying gluten in their favorite sauce brands. That's why I have this article here for you.
With this post, you'll have your question answered thoroughly. Moreover, you'll know other gluten-free teriyaki sauces on the market, so you won't have any difficulty when shopping. I have also included how to make your own non-gluten sauce. So, let's dive in now!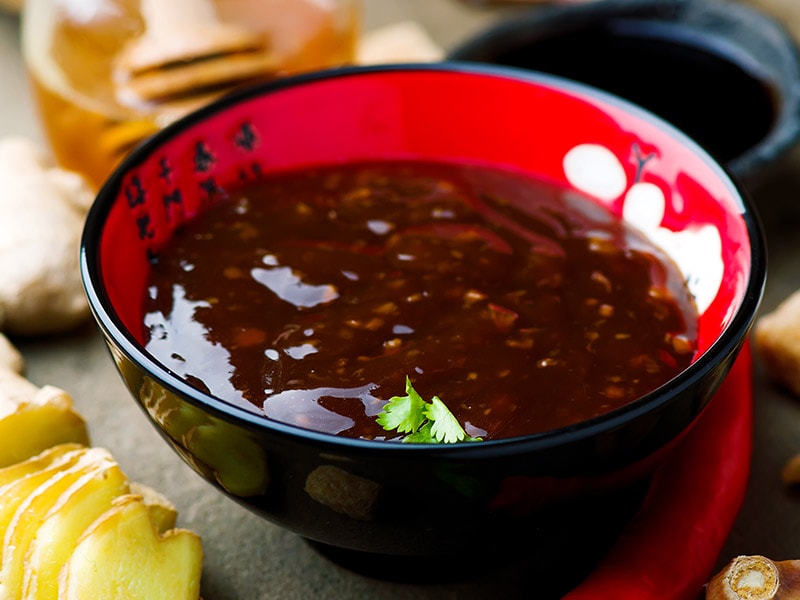 General Information About Teriyaki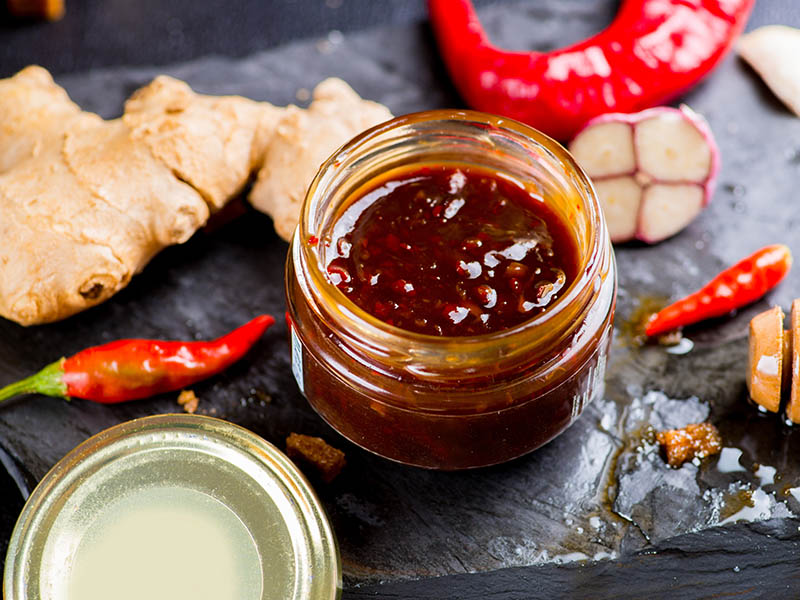 First off, the word "teriyaki" comes from a Japanese cooking method, which involves broiling/grilling foods with a glaze of different sauces. That glaze is later called teriyaki sauce.
Traditionally, this well-known sauce type only contains soy sauce, sugar, and mirin (a Japanese cooking wine). But now, people have started adding more ingredients: sesame, ginger, etc. Most restaurants make teriyaki sauce by boiling it until it thickens.
You mostly use teriyaki sauce as a marinade for chicken, beef, pork, and fish. But recently, diners have also seen it as a wonderful dipping sauce. (1)
Wonder how Japanese people make teriyaki sauce? Find out the answer now!
Is Teriyaki Sauce Gluten-Free?
Now you feel safe about teriyaki sauce and want to make some Japanese dishes free of gluten with it? Let's wait for a minute so I can dive deeper into this sauce and answer the main question: Does it contain any gluten?
Let's first look at the main ingredient in teriyaki sauce: soy sauce. You may not know, but soy sauce contains wheat, which isn't non-gluten at all. (2)
Another reason is many commercial teriyaki sauce brands contain additives (such as flour or other thickening agents), and these ingredients can contribute a considerable amount of gluten to your sauce.
Moreover, mirin seems safe at first sight since it mostly includes sake and sugar. But nowadays, some mirin products use wheat as well, making it absolutely not gluten-free.
Due to these reasons above, I have to declare most teriyaki sauce on the market is not gluten-free.
5 Amazing Gluten-Free Teriyaki Sauce Products
But what if you still want to enjoy teriyaki sauce despite being sensitive to gluten? Don't worry! I have found the best three teriyaki sauces without any trace of gluten among thousands of high-quality teriyaki sauce brands on the market. Let's see what suits you the best!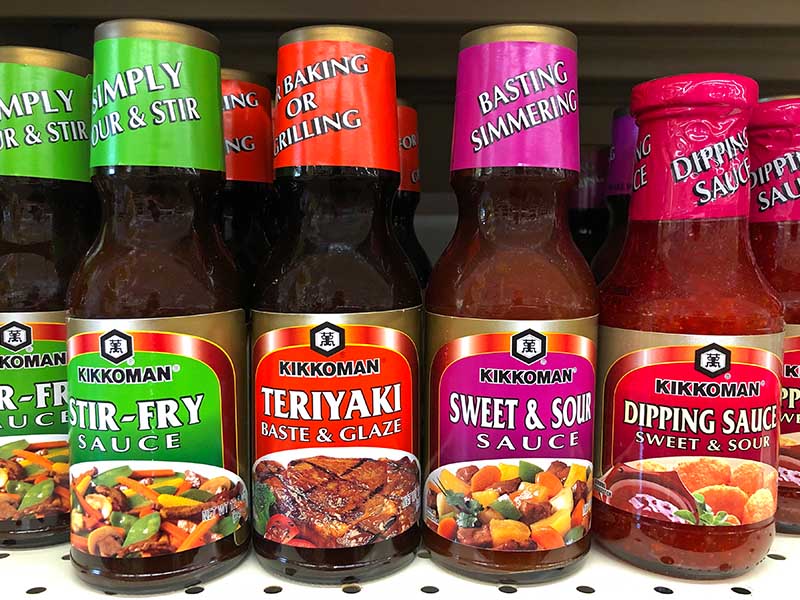 Kikkoman is a Japanese brand that has made a name for itself as one of the leading producers of soy sauce and teriyaki sauce for about 45 years. So, there's no doubt about the flavor of its teriyaki sauce.
And now, Kikkoman has introduced a new teriyaki sauce using rice instead of wheat for people allergic to gluten. Rest assured, this change doesn't alter how it usually tastes.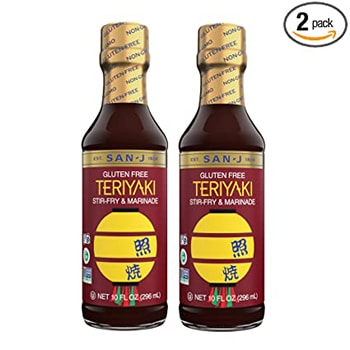 Another well-established Japanese brand is San-J. To make teriyaki sauce best suited for those following a gluten-free diet, they use tamari soy sauce, containing only soybeans and no wheat content.
Besides, this San-J product doesn't use any artificial colors or flavors, so you don't have to worry about your health with it. Since this sauce is not so thick, it's more suitable as an enhancer in stir-fried and grilled dishes.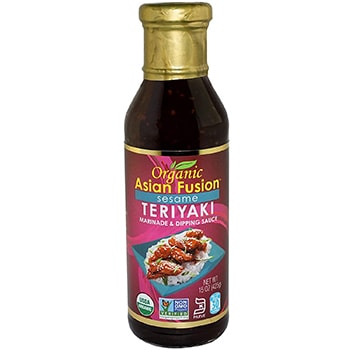 Organic Asian Fusion is also a brand you can trust to buy gluten-free teriyaki sauce. Though you can't see the term "gluten-free" on their products' labels, the ingredient list makes it clear.
Just like San-J, they use tamari soy sauce in the making process to make sure there is no gluten ending up in the bottle. They also have a wide range of products on offer. You can't go wrong with such varieties.

You'll enjoy this product if you love Kobe teriyaki sauce because it's full of Kobe flavors. The sweet and tangy taste of brown sugar and pineapple makes this sauce totally different from other brands.
If you're worried about whether teriyaki sauce is vegan, this product is perfect for you since it's made completely from plant-based ingredients. Aside from a teriyaki sauce, you can also use it at your BBQ party. It doesn't have any heat, so even your children can enjoy it.
Here is an honest review about Ocean's Halo Organic Soy Free Teriyaki Sauce!

Besides not containing any soybean, this teriyaki sauce doesn't even use bleached or bromated flour, making it 100% safe for your health. Happy news for keto diet fans: You can totally use this product since it has a keto certificate.
Since this Primal Kitchen sauce has a bold flavor, make sure to use it only a little or at least taste it before using it. You can mix it with other sweeteners to suit your taste buds better.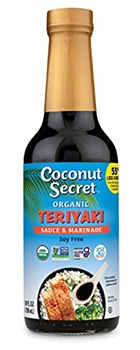 Don't forget to check out this tasty sauce for your diet if you're a big fan of coconut aminos. Although it only has six ingredients, its flavor boasts an incredible sense to all of you.
This product can even be a replacement for your soy sauce when urgent. No MSG and low in sodium; what else can you ask for in a teriyaki sauce? Use it with any stir-fries, and you will love it to no end.
How About Making A Teriyaki Sauce Without Gluten?
If buying pre-made teriyaki sauce doesn't sound safe enough, you might consider making one at home. You can have a go at this easy-to-make recipe to create your own glossy teriyaki sauce.
Ingredients
The first step is always about ingredients. Even if you know how to make normal teriyaki sauce, you still have to refresh your knowledge since gluten-free teriyaki sauce needs some different components.
½ cup coconut aminos (or tamari soy sauce)
½ cup raw honey
¼ cup orange juice
1 tablespoon grated ginger
2 tablespoon rice vinegar (or apple cider vinegar)
1 tablespoon sesame oil
Smashed garlic (2 cloves)
A pinch of pepper flakes
Instruction
Now, it's time to put together the most delicious homemade teriyaki sauce.
Step 1: Combine All The Ingredients
Place all the ingredients you have prepared into a deep pot, then take a whisk and blend everything up until the honey seems to dissolve. Don't mind giving the mixture a quick taste.
Step 2: Thicken Your Sauce
Bring the mixture to a simmer on medium heat and let it be for 3 minutes. It takes this long for the sauce to slightly thicken up.
Step 3: Store Your Sauce
Turn off the gas and let the sauce cool down before pouring it into a glass bottle for storage. Now, your sauce is ready to go.
It's a piece of cake to make your own bottle of gluten-free teriyaki sauce.
Notes
If you still have some trouble making gluten-free teriyaki sauce, pay attention to these notes below. They will help you somehow:
Use a blender to blend the mixture beforehand, so there's no chunk of garlic or ginger left.
Take the sauce off the heat when it's still a bit runny because it will thicken after cooling for a while.
Gluten-free teriyaki sauce can last for about 4 days in the fridge or 1 month in the freezer.
Add some water to make your sauce less salty, if necessary.
4 Toothsome Dishes To Make With Teriyaki Sauce
Let's be honest, dishes with teriyaki flavor are irresistible. So, why don't you make some of these recipes below for your family for the next meal?
This dish is definitely top-charting. It's packed with authentic Asian flavors: the perfect balance of sourness and sweetness from the sauce topped with the tenderness of chicken thigh filets. Though it might take some time to complete, all effort is worth it!
The yummiest and easiest-to-make teriyaki chicken skewers!
Teriyaki burgers are proof of how appealing teriyaki sauce is in the US. The unexpected combination turns out to be fantastic. Nothing beats grilled, juicy beef slathered with glossy and sticky sauce on a chilling evening.
Teriyaki salmon, hands down, is super tasty and fancy-looking. Prepare some accompaniments to go with this salmon, like steamed asparagus, to take it to a new height. This salmon doesn't take much time. Only 27 minutes, and you have a delicious dinner for yourself.
Treat yourself to the most elegant and fancy teriyaki salmon.
Here comes another dish with noodles that never fails to please: Teriyaki noodles. This Asian spaghetti is so scrumptious and easy to prepare. You don't need to think too hard about what noodles to use: Ramen, udon, lo mein noodles, etc. The sky is your limit.
FAQS
Now you've gained vast knowledge about teriyaki sauce and whether it has any gluten. But maybe there are still some questions stuck in your mind. Keep on reading because I'll solve these problems right below.
Set Yourself Free From Food Anxiety With Gluten-Free Teriyaki Sauce
Going on a strict gluten-free plan means you constantly have to watch out for proper food, which can turn into a source of depression and prevent you from having an enjoyable meal.
Luckily, it's no longer a problem when you know many options can perfectly fit your eating style. A teriyaki sauce bottle can make your diet experience more delightful because its versatility is fantastic.
Don't forget to share your recommendations of pre-made gluten-free teriyaki sauce and your mouth-watering recipes incorporating the sauce with other readers and me in the comment section below.
Enjoy your food, enjoy your life.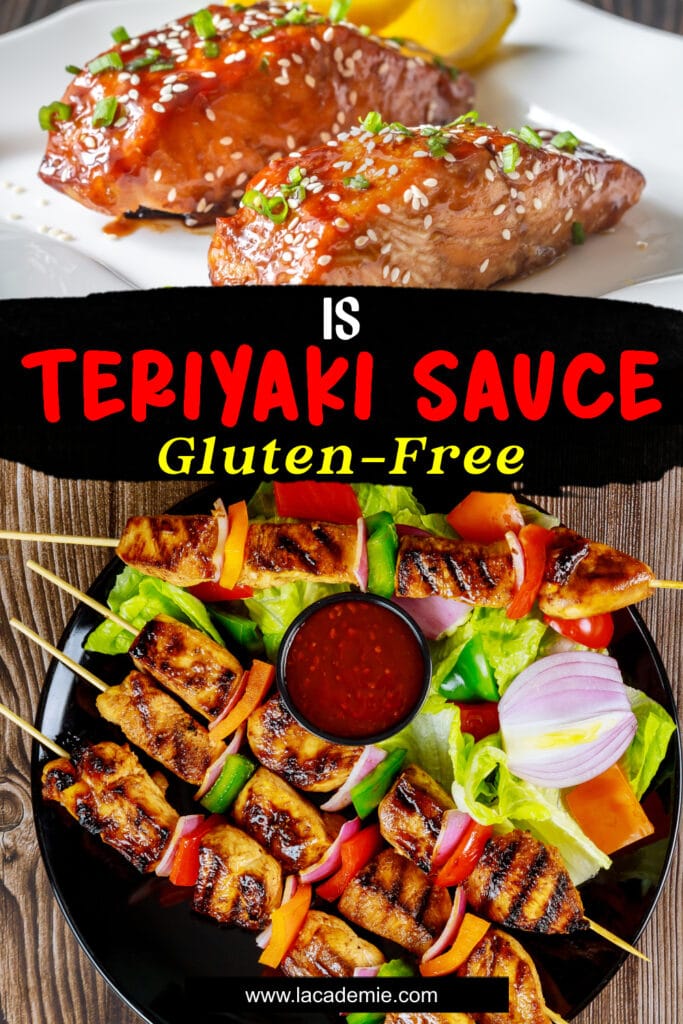 Reference
En.wikipedia.org. 2022. Teriyaki – Wikipedia.
Healthline. 2022. Is Soy Sauce Gluten-Free?.