Is teriyaki sauce vegan? This sweet and savory sauce is a fan favorite but is it suitable for the newest health trend in veganism? Let this article answer all of your questions about teriyaki and show you how to impress your friends and family by adding it to the next dinner party.
It is safe to say that with the recently rising trends in health and well-being, consumers are more wary and careful when it comes to adding a particular element to their daily diet. Going vegan is one of the most popular of those healthy lifestyles. So what is veganism?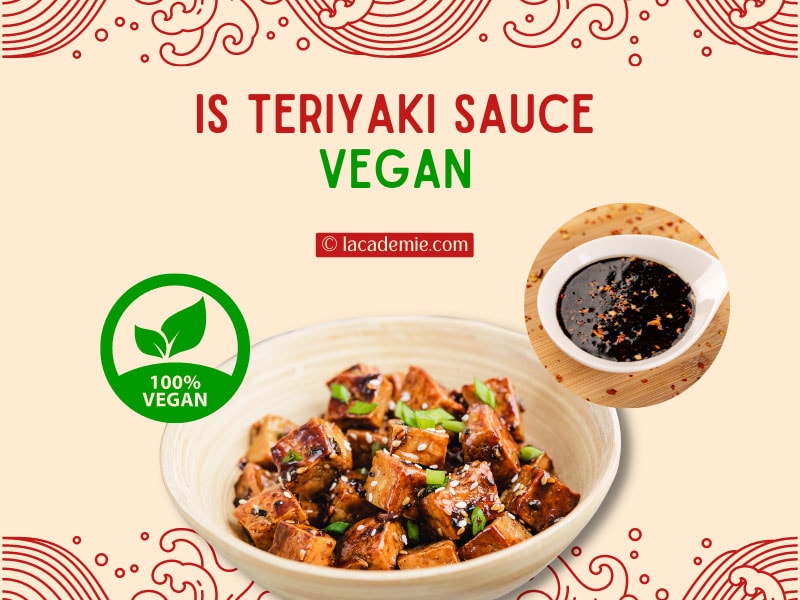 A Crash Course In Going Vegan
Veganism is a living philosophy of the practice of excluding, to the best of your ability, products that benefit from the exploitation and abuse of animals for food, clothing, or other products. But dietarily speaking, it means not consuming meat or other animal products (1).
Studies have shown a link between an all-plant-based diet and a decrease in risks of certain types of cancer, such as colon cancer. Besides that, vegans also benefit from a healthier heart with decreased cholesterol intake (2).
Learn about Veganism from an expert.
What Is Teriyaki Sauce?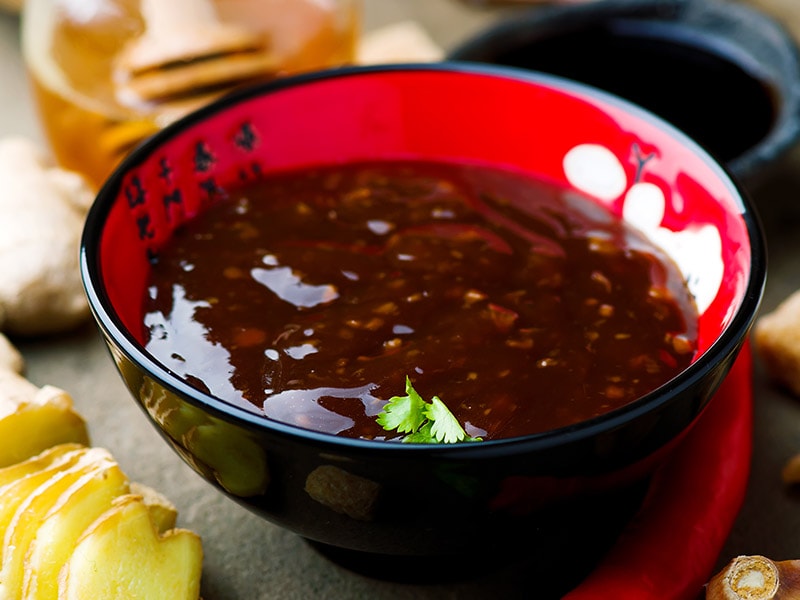 Teriyaki sauce is a Japanese-style sauce that is, in its most rudimentary form, made from 4 ingredients: soy sauce, mirin, sugar, and sake. It is traditionally made to be eaten with grilled fish or meat and white rice.
Reading the ingredients list, you might wonder if teriyaki sauce is suitable for a gluten-free diet. The answer to this question will vary, depending on the brands.
The sauce is intensely flavorful and pairs well with oily food as the sweetness and mild acidity balance out the greasy taste of fried oil. Furthermore, it can be made in advance and stored exceptionally well in the fridge for an extended period of time.
Is Teriyaki Sauce Vegan?
The short answer is both yes and no, based on how you make it. Let me explain.
Teriyaki Is Vegan, For The Most Part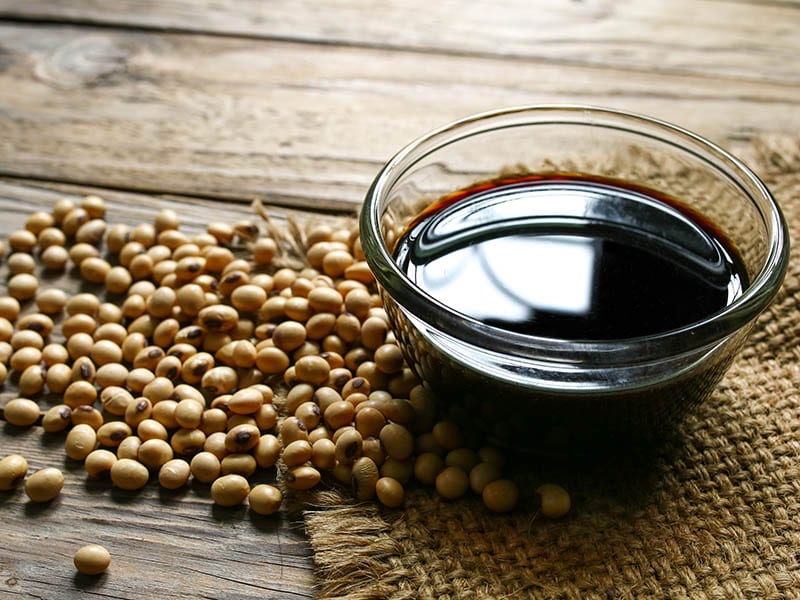 The traditional method of preparation for teriyaki sauce makes it vegan. The recipe only includes four essential components that are soy sauce, sugar, mirin, and sake. All of which are plant-based and not harvested from the exploitation of animals.
Some Of The Ingredients Might Not Be Vegan
In many standardized recipes for teriyaki sauce used in japan, there are additional, non-traditional ingredients used to enrich the flavor and color of the sauce that might not be vegan friendly.
For example, some teriyaki sauce recipes may include honey as a texture and flavor enhancer. Delicious though it may be, honey is a byproduct of bee-keeping. The doctrine of veganism discourages anything that is made from animal labor or exploitation of animals, bees included.
Not to mention, some of the soy sauce brands in the market have been known to test their products on animals to prove their health benefit claims. Though the soy sauce itself is vegan, testing it on animals makes it fall under the animal exploitation category.
Another obscure truth is that some of the sugars that you are using might not even be vegan. This is through the process of using bone char (a filtration substance made from cattle bones to decolorize the sugar).
Additionally, some restaurants may even opt to put chicken or bouillon powder and fish sauce in the sauce as a flavor stabilizer. The powder is made from boiling down chicken stock, which makes the addition of it non-vegan-friendly.
Now that you have established that whether teriyaki sauce is vegan or not is heavily dependent on the way you make it. So if you do not trust your go-to restaurants to make the sauce completely vegan, why don't you try your hands at making it from scratch?
Let's Make Vegan Teriyaki Sauce!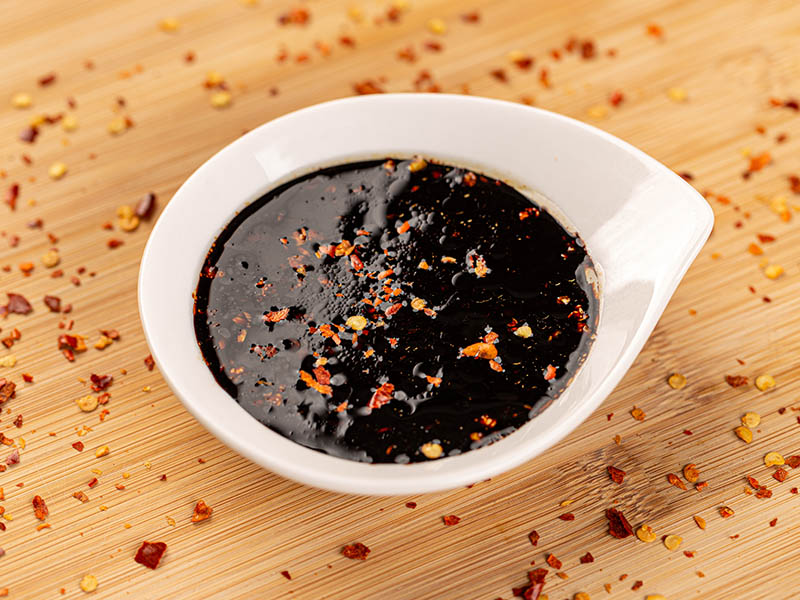 I have covered what is and isn't considered vegan when it comes to making teriyaki sauce, in this part, I am going to let you in on how to try your hands at making the most simple, vegan version of this sauce. There are some must-have staple ingredients and some that are optional.
What you will need to make this sauce:
1 cup of soy sauce
½ cup of dark brown sugar
1 cup of mirin
1 cup of sake
Some optional ingredients that you may choose to add to your sauce to make it better:
Chopped garlic
Chopped scallions (green onions)
Freshly ground black pepper
Sesame oil
Sesame seeds
Korean plum sauce
Follow these easy steps to prepare this sauce:
Step 1: Measure Out All The Ingredients
This sauce comes together very quickly, so it is essential to have everything ready before you start cooking.
Step 2: Simmer For 20 Minutes.
Add everything to a saucepan and cook on medium-low heat. You want to stir the sauce constantly to prevent the sugar from burning and sticking to the pan.
Step 3: Cool Down and Storage
You will know the sauce is done when it coats the back of a metal spoon. You will want to leave the sauce to cool down to room temperature before putting it in a container to prevent the vessel from breaking. Refrigerate the sauce for up to 2 weeks
It is essential for the sauce to reach this consistency before you move on to dilute it or reduce it for further use. Once the sauce has thickened, it has reached the temperature where it is hot enough for the sugar to caramelize and give the sauce a very distinctive flavor.
Teriyaki sauce, at different consistencies, will yield different results and can be used for very different culinary purposes. It can be used for glazing, braising, marinating, and sometimes used as a finishing sauce (a type of garnishing element).
The consistency above is perfect if you want to use the sauce as a marinade sauce. But you may need different ways to thicken your teriyaki sauce to turn it into a dipping sauce. Just add more water when you need to use it as a braising liquid.
As for the optional ingredients, simply add them to the pan along with the other four required ingredients so that they can impart their flavors to the sauce as it cooks down. The sauce will store for up to a month in the fridge.
Beginner's guide to a tasty vegan teriyaki sauce.
What To Eat With Your Vegan Teriyaki Sauce
Now that you have your deliciously vegan teriyaki sauce, the real question here is what food can you make with it?
Traditionally, teriyaki sauce is a fitting side dish for various seafood or meat dishes as it caramelizes very beautifully when grilled or seared on high heat. But there is no reason you cannot pair this sauce with some of your favorite vegan-friendly food.
The sauce is best when paired with grilled or fried food, so why don't you try your hand at these recipes.
Fried Tofu With Vegan Teriyaki Sauce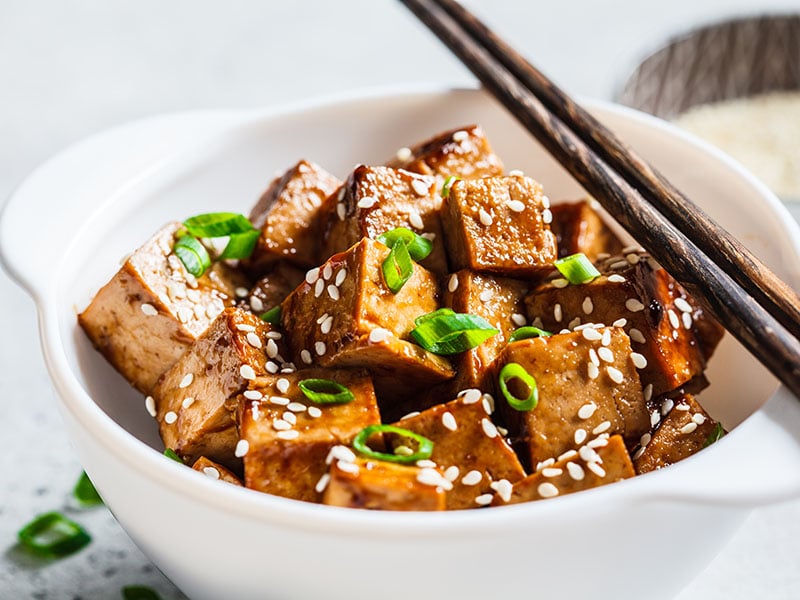 What you will need for this recipe is:
1 block of a firm to extra firm tofu
4 tbsp of sake
4 tbsp of mirin
4 tbsp of soy sauce
2 tbsp of dark brown sugar
These are the steps that you should follow if you want the crispiest tofu at the end.
Step 1: Preparing The Tofu
Take the tofu out of its packaging liquid and press it between two heavy flat surfaces to get rid of excess moisture. This will make sure the tofu browns evenly.
Step 2: Seasoning The Tofu
Sprinkle salt and pepper over the tofu to season it before frying so they don't come out bland.
Step 3: Dry And Cut The Tofu
When you add salt to the tofu, it will start to draw out excess water from within the tofu. Make sure you pat it dry and then cut tofu into square bite-sized pieces before frying.
Step 4: Frying The Tofu
Fry the tofu until it is golden brown and crispy on all sides. Don't be afraid to taste-test a piece. You're the chef!
Step 5: Add The Sauce
There are two ways of doing this
Add the sauce directly to the pan, and dilute it with a tablespoon of water or vegetable stock. Bring it to a light simmer until it is reduced by half and sticks to the tofu.
Take the tofu out of the oil onto a plate, and then drizzle on the teriyaki sauce.
Step 6: Garnish
Choose whatever topping you may want for this dish. I like to sprinkle on some freshly chopped scallion and some toasted sesame seeds for added smokiness.
That is how you make crispy tofu with a delicious teriyaki sauce.
Let's make the crispiest, most delicious teriyaki tofu ever!
Vegetable Tempura with Spicy Teriyaki Sauce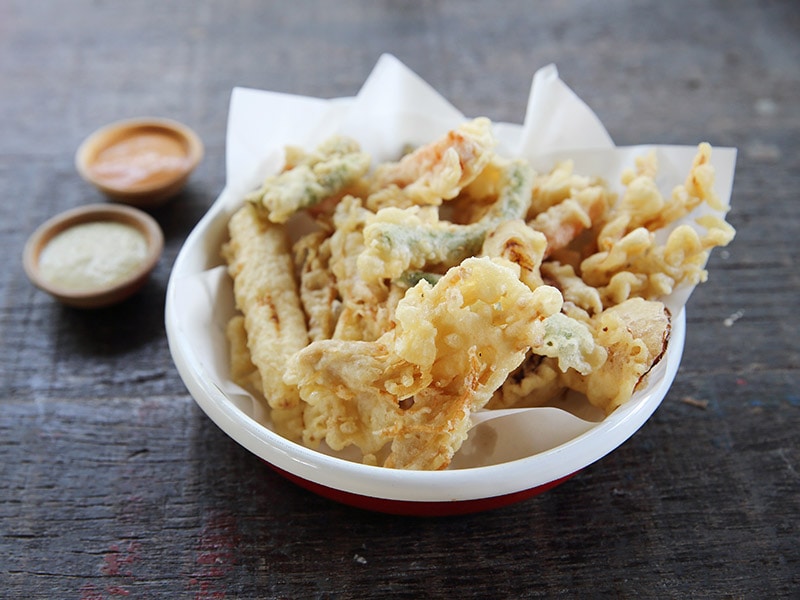 Vegetable tempura is also a vegan option that pairs extremely well with teriyaki sauce as a dipping sauce.
What you will need:
Any vegetable of your choice (I like to fry root vegetables for the texture)
Vegan teriyaki sauce
½ cup of AP flour
A pinch of salt (½ tsp)
½ tbsp baking powder
1 tbsp cornstarch
½ cup of vegan beer or sparkling water (the carbonation helps make the batter crunchy)
Step1: Make The Batter
Combine the flour, salt, baking powder, and cornstarch into a mixing bowl. Whisk with a fork until combined. Add the sparkling water slowly and fold the batter gently so as to not make the batter dense. Let the batter rest for 30 minutes.
Step 2: Cut The Vegetable
Cut the vegetable to your desired shape. Traditionally, they are cut to resemble match sticks (Julienne style)
Step 3: Fry The Vegetable
After the batter has rested, heat the oil to between 350 to 375 degrees Fahrenheit. Dip the vegetable sticks in the batter. Make sure to evenly coat all sides. Fry until they are golden brown and crispy.
Step 4: Make The Dipping Sauce
Add the pre-made teriyaki sauce to a small saucepan and add 1 tsp of mirin and some freshly cut Thai chilies for the heat. Simmer until it thickens (about 7 minutes).
There you have it. Another delicious recipe to eat with your vegan teriyaki sauce
Making vegan tempura with these simple steps.
What Are Some Of The Brands That Make Vegan Teriyaki Sauce?
If you can't find the time to make your own vegan teriyaki sauce or in a pinch, I got you covered. Here is my selection of the most trustworthy teriyaki sauce products suitable for your vegan diet.
1. Tabasco Brand Spicy Teriyaki Sauce
It's a premade teriyaki Sauce that has a thinner texture. It is a bit saltier than the other brands, and it has the addition of the signature spicy Tabasco hot sauce, so it is a bit tangy and spicy.
2. San-J Teriyaki Stir-Fry and Marinade
If you want something a bit on the thicker and sweeter side, this sauce is for you. However, sometimes it is a bit too sweet for my liking, and therefore it can burn pretty quickly when cooked on high heat.
3. Yamasa Teriyaki Marinade and Sauce
This is the best one, in my humble opinion. It balances on the sweet to salty scale and has a ton of umami flavor. Definitely seek this one out the next time you go to an Asian supermarket.
FAQ's
The recipe is one thing, but I'm sure you have some of your own questions that you would like answered. I have compiled a list here of the five most asked questions on this subject and hope that it has the answers you are looking for.
Make Teriyaki Sauce A Friendly Addition To Your Next Vegan Meal
I hope that I have answered all the concerns that you may have about whether teriyaki sauce is vegan or not (it definitely is!!). If how the ingredients are sourced is part of your vegan philosophy, then I do encourage you to do more and deeper research.
Also, give my teriyaki tofu recipe the next time you have friends and family around. Vegan food doesn't have to be bland, simple, or restrictive. Share this article with your friends who are thinking of going vegan, and I bet they'd be more than enchanted by the possibilities. See you next time!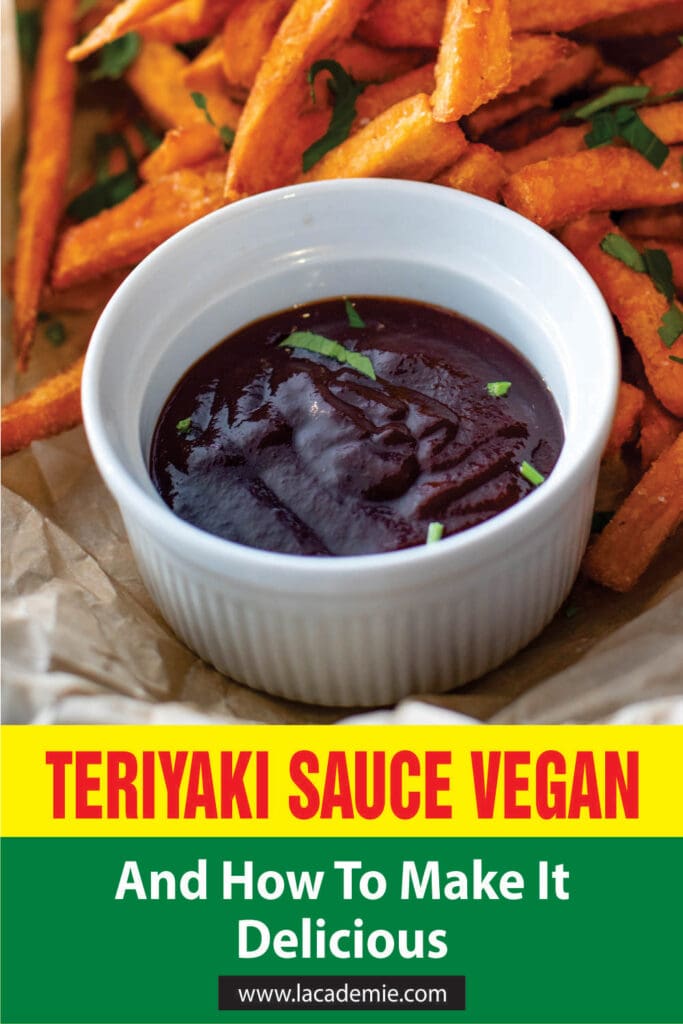 References
Go Vegan | What is Veganism?
Health Benefits of a Vegan Diet.