Is ketchup vegan like people generally believe? Before switching to a vegan lifestyle, you want to make sure that the foods you will commit contain no animal products, and meat, fish, and dairy products are usually the first ones to be thrown away.
However, if you are a strict vegan, I advise you to put ketchup, your go-to sauce, on the checklist for consideration. This post will explain why and help you put ketchup in the right category.
This article also covers ketchup-related questions that you may have in mind. That's said, time for some amazing information!
Ketchup – The Star Of Every Meal
Did you know that ketchup originated in China? The name itself is derived from the Hokkien Chinese word, kê-chiap. It's even more fascinating that the ancestor of modern ketchup didn't have tomatoes in its ingredients, it was made from fermented fish.
The year 1812 saw the introduction of the tomato ketchup recipe. Tomato ketchup began rising in popularity in the same century. Nowadays, tomato-based ketchup is so popular that when someone says "ketchup", it is almost guaranteed that they mean "tomato ketchup".
I think many people would agree that nothing can bring life to a meal as good as a bottle of ketchup. From pizza, and bread to spaghetti, potato fries – ketchup's best friend, and so on, these foods truly lose half of their souls without ketchup.
It is even harder for vegans since most vegan foods go well with this exceptional sauce, so the question "Is ketchup vegan?" is totally reasonable, but don't be afraid. You will feel more assured after reading this article.
The origin of ketchup and how it rose in popularity.
The Truth Lies In The Ingredients
First, let's take a look at what ketchup is made from. Ketchup brands on the market mainly use:
Tomatoes
Salt
Spices
Garlic powder
Onion powder
Natural flavors
Sweeteners
Vinegar
Tomatoes, garlic powder, and onion powder are vegetables, so they all fit a vegan diet. Salt is a natural mineral consisting mainly of sodium chloride (NaCl). Spices are made from plant parts, so you should be fine with them.
The answer for natural flavors can not be as straightforward. The purpose of these substances is to add flavors, not nutrients, to foods or beverages. For instance, some companies add natural strawberry flavor to their products so that they will taste like strawberries.
However, here is the thing, natural flavors either come from plants or animals. This can make vegans hesitate to buy products containing them, not to mention that some brands refuse to reveal what their natural flavors actually are.
Thankfully, your chance of running into a bottle of ketchup with animal-derived flavors is extremely slim, so you shouldn't worry about it, and I believe the majority of vegans also agree with me.
Only sweeteners and vinegar are left. At a glance, these ingredients seem suitable for a vegan lifestyle. However, they are what sometimes makes ketchup less vegan-friendly, with sweeteners being the first thing you should look out for.
Sweeteners that are often used in ketchup are sugars, corn syrup, high fructose corn syrup, and in rare cases, honey. Honey is definitely not vegan as it is produced by bees, corn syrup is fine, but it is sugar that makes the matter more confusing. Now, let's investigate this culprit.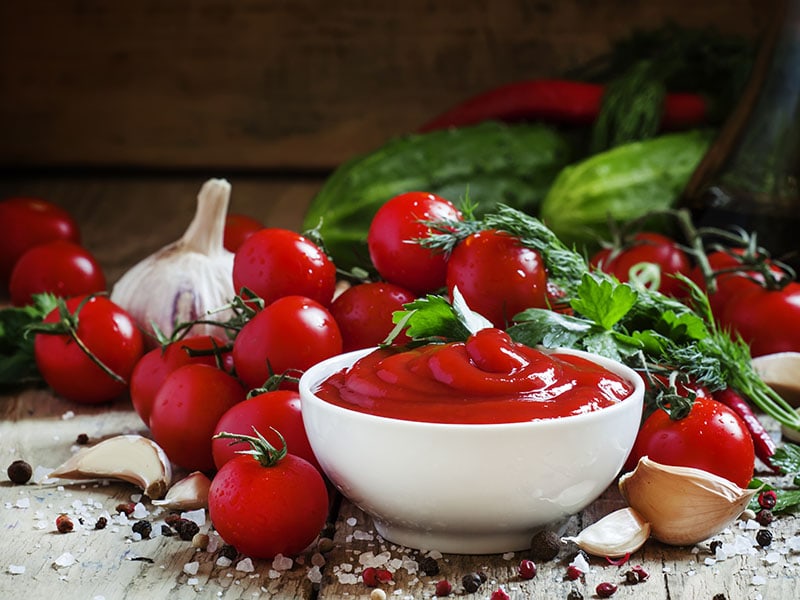 Sugar – The Ingredient That Sometimes Can Not Pass The Vegan Test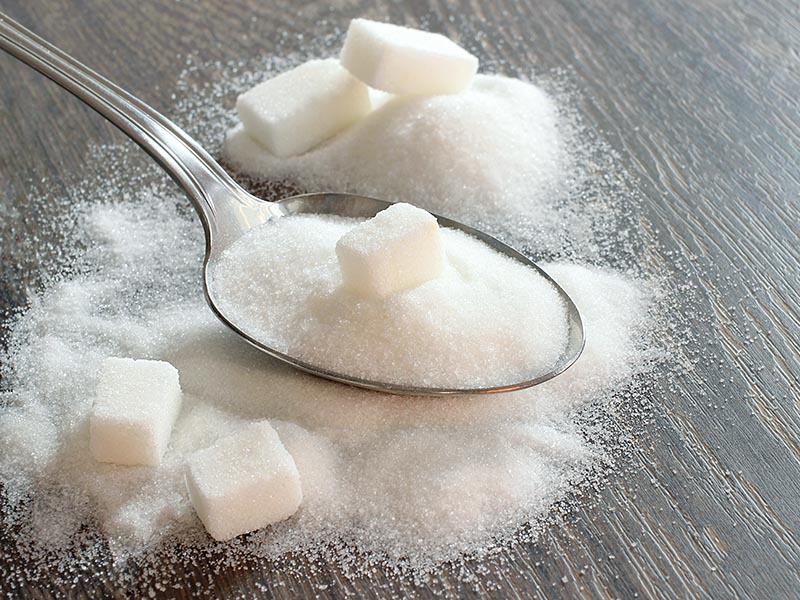 Even though no ketchup brands contain animal products, many vegans also say no to foods that exploit animals in the production process. In this instance, some types of sugar are refined with bone char to achieve the perfect traditional white color.
Bone char is made from cattle bones. It is not used as an ingredient for sugar. However, sugar contacts with it directly, and for some vegans, this is enough to make them say no.
If you only target ketchup brands with organic, raw, unrefined sugar, coconut sugar, or beet sugar, keep it up; they are not allowed to be processed through bone char, so you should be content with your choice.
However, the story is different in the case of traditional white sugar or refined sugar in general, as there is a high chance that they have been processed through bone char. You should also say no to brown sugar since it is just white sugar with the addition of molasses.
Is all refined sugar filtered using bone char? No, but you can't know the truth unless you contact the producers. However, this makes the matter even more complicated, so you may want to play it safe here.
For many vegans, this filtering process is not enough to label a food as "not vegan-friendly", but it can cause stricter individuals to raise their brows.
How bone char is made and facts that may surprise you.
Vinegar – A Case Similar To Sugar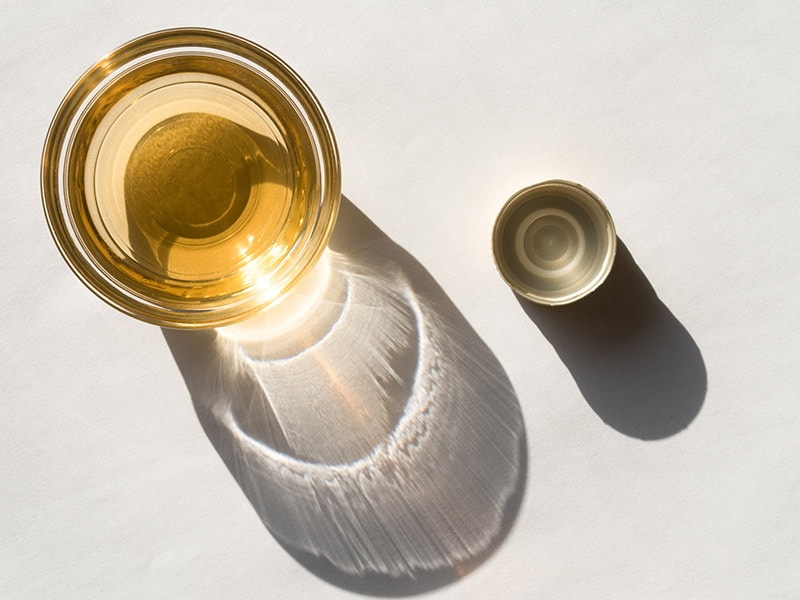 I know what you are thinking, "How can this sour liquid be not vegan friendly?" Although I am sure that you will never come across an animal product in any bottles of vinegar, the problem lies in the production process.
But don't panic, the majority of vinegar are fruit-based, for instance, apple vinegar, pear vinegar, and so forth, they all fit your vegan lifestyle perfectly. The cases you will look at are pellicular ones.
First, I will talk about honey vinegar. Although you won't see many brands using this ingredient in their ketchup, you should avoid it for the obvious reason – it is made by bees.
Next, you have wine vinegar. Sometimes, during the fining process, which makes wine clearer and more appealing to customers, the liquid will pass through isinglass (gelatin obtained from fish swim bladders).
While there are companies that do not fine their wine at all or fine using more vegan-friendly materials, it is not explicitly stated on the label. In this case, you have to contact the manufacturers or check their websites. This, again, may discourage your buying process.
Is Ketchup Vegan? The Final Answer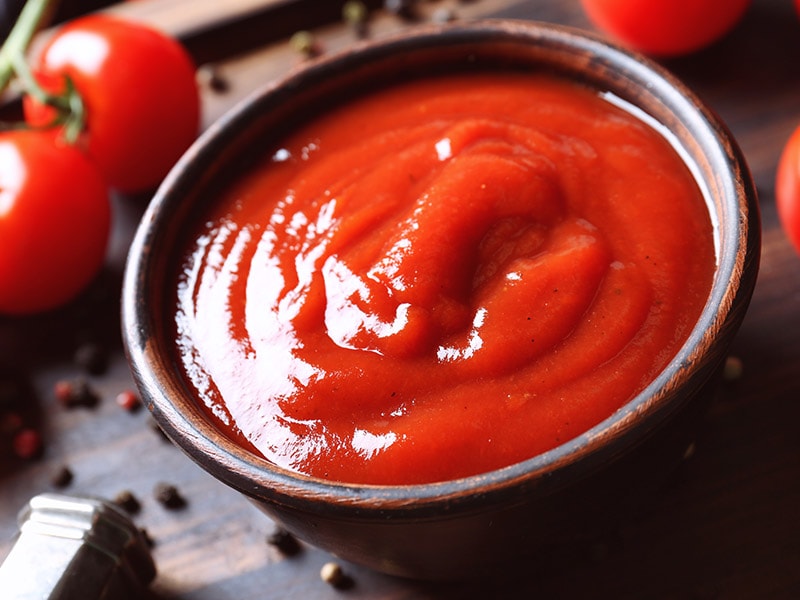 Ketchup can't always satisfy vegans, especially the strict ones. The vegan status of ketchup is mostly defined by the two factors: sugar and vinegar.
If the sugar doesn't go through bone char, the vinegar isn't clarified using isinglass, and the ketchup is free of honey, it is 100% vegan-friendly.
If the ketchup is classified as "organic", it is also vegan. But keep in mind that they are usually more costly than regular ketchup.
Tips To Make Sure Ketchup Is Vegan
Sometimes, the situation gets a little tricky as labels do not always give away all the necessary information.
So, what is the best way to read labels? Assume that you are shopping and come across a bottle of ketchup, let's check what types of sweeteners it uses first:
If The Ketchup's Label Contains Vague Words Like "Sugar" Or "Liquid Sugar"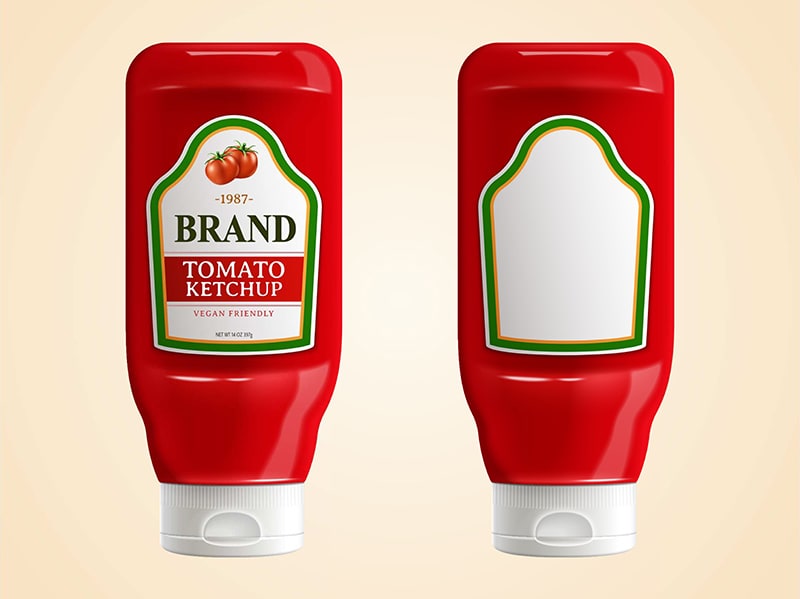 Contact the manufacturer or check their website to know exactly what kind of sugar they use and whether it is filtered through bone char or not.
Find another ketchup if the first option is too time-consuming or not viable to you.
If The Ketchup Carries Refined Sugar, Mostly Labeled As "Cane Sugar", Or "White Sugar"
Contact the manufacturer or check their website to know whether the sugar is filtered through bone char or not.
Find another ketchup if the first option is too time-consuming or not viable to you.
If The Ketchup Uses Other Sweeteners Instead Of Sugar Or Honey
It uses vegan-friendly sweeteners so you don't have to worry about this part. Next, let's check what kinds of vinegar it contains.
If The Ketchup Contains The Words "Distilled Vinegar", "White Vinegar", Or "Spirit Vinegar"
The vinegar is vegan as it contains mostly water and a small percentage of acetic acid. It is usually made by fermenting grain alcohol.
If The Ketchup Carries Fruit-Based Vinegar
The vinegar is definitely vegan. Fruit vinegar is made from the fermentation of fruit juices.
If The Ketchup Uses Wine Vinegar, Mostly Labeled As "White Wine Vinegar"
Contact the manufacturer or check their website to know whether the vinegar is filtered through isinglass or not.
Finding another ketchup if the first option is not viable to you.
The Ultimate List Of Vegan-Friendly Ketchup
Do these shocking facts mean that you should carefully check the ingredients of every available ketchup at the stores before getting one? Well, technically, yes, but no worries. Here are some ketchup brands that can comfortably be introduced to your life from now: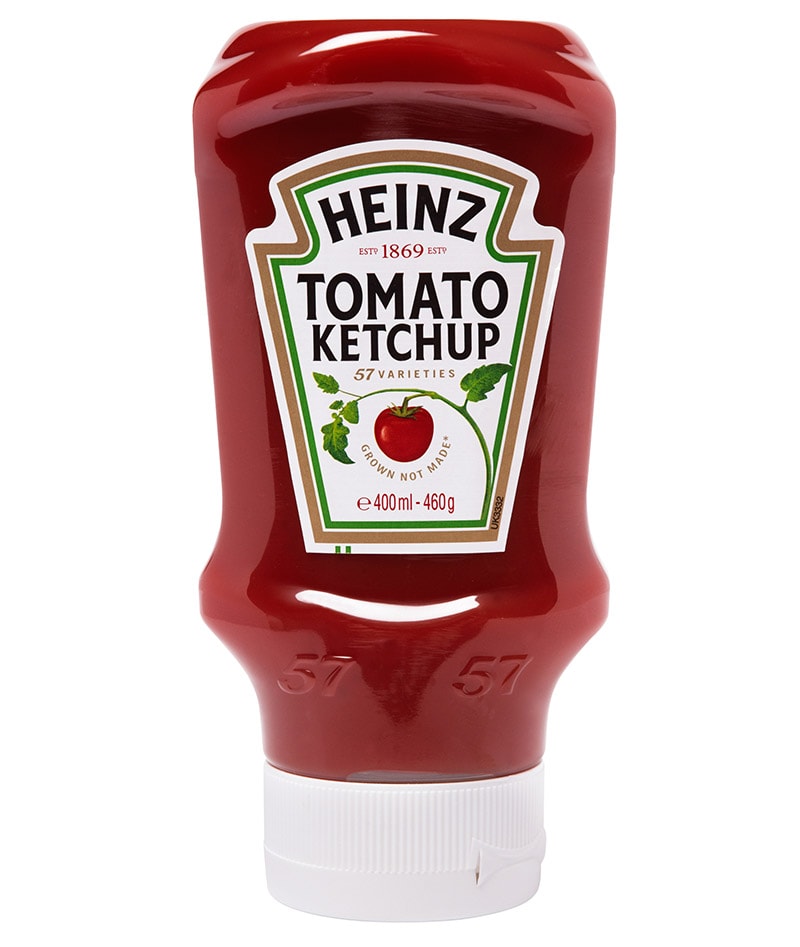 We will start with a product of the most popular ketchup brand in the world – Heinz.
This ketchup uses pretty standard ingredients: Tomato concentrate, distilled vinegar, salt, spice, onion powder, and natural flavoring. Being sweetened by high fructose corn syrup and corn syrup, it contains no sugar.
When asked by customers, Heinz confirmed that their vinegar is not filtered through isinglass and is suitable for vegetarians. Heinz even states on their website that this variety is 100% vegan.
Heinz Classic Tomato Ketchup production process.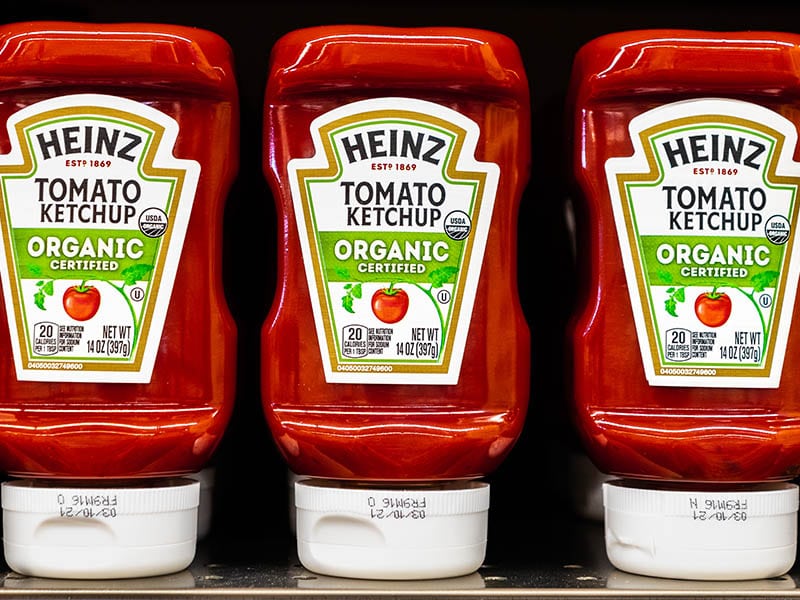 This USDA-certified organic variety is the safest one you can get. Although it contains cane sugar, it is organic. The vinegar is also organic, as well as the tomatoes. This ketchup works well with a lot of foods like french fries, sandwiches, and even vegetables.
This variety also has an incredibly large number of ratings on Amazon (33,000 ratings) and is also rated 5 stars. It is even classified as "Climate Pledge Friendly", a badge for environmentally friendly products. This ketchup is truly a no-brainer for vegans.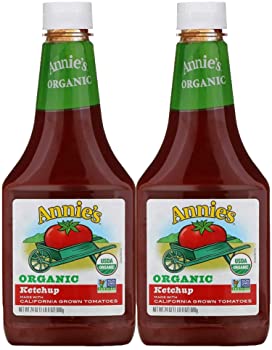 This product is gluten-free, vegan, and also contains no artificial colors, artificial flavors, obligatory allergens, preservatives, and high fructose corn syrup. Truly a whole package! It helps a lot of people set their concerns aside.
Being rated 5 stars on Amazon, this ketchup's quality will not disappoint you and who knows? It may attract your friends or family members! Annie's also values organic farming practices, so it's worth taking a look at their other products.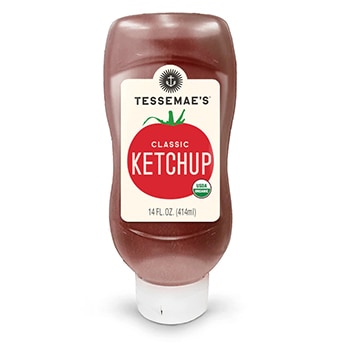 This USDA-certified organic ketchup is sugar-free, dairy-free, and gluten-free, suitable for people who do not want to gain weight fast. TESSEMAE's organic ketchup is truly a healthier choice among ketchup brands out there.
This product is also quite fascinating in that it is sweetened by organic coconut nectar, a healthier option than most other sugars, this can bring about a flavor that you have never tasted before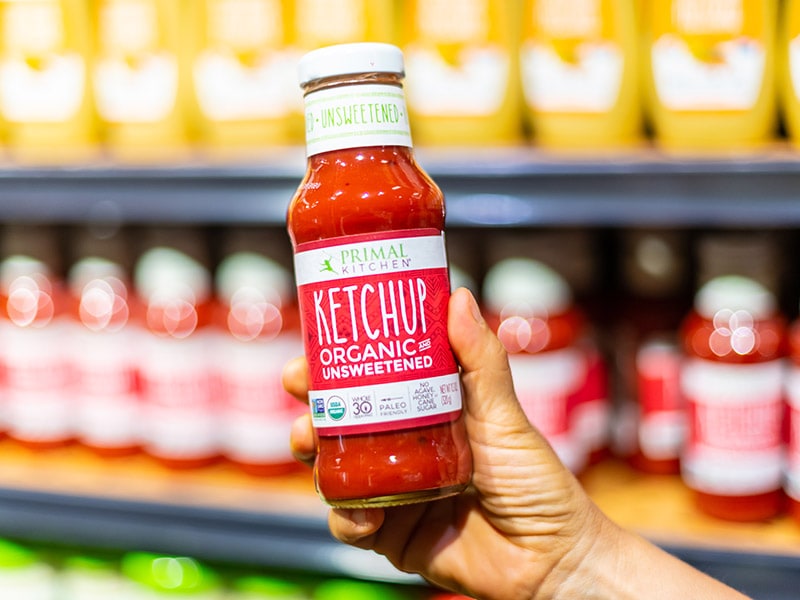 Unsweetened, organic, and delicious. This variety is also made with USDA organic ingredients such as organic tomatoes, organic balsamic vinegar, or organic spices, which is perfect for a vegan.
Moreover, since this product uses no honey, maple syrup, or high-fructose corn syrup, you won't have to worry about gaining weight fast.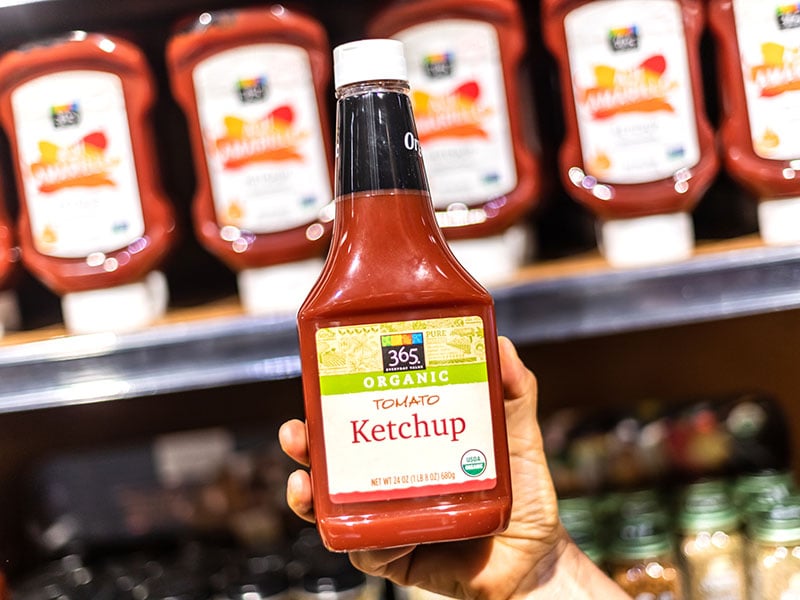 Classified as "Climate Pledge Friendly" and "USDA Organic" on amazon, this ketchup is environmentally friendly. The high-quality ingredients, including unique spices, will surprise you with a wonderful taste!
Standing at 4,6 stars with more than 5000 ratings on Amazon, this product is the favorite of many people, and you may be one of them in the future!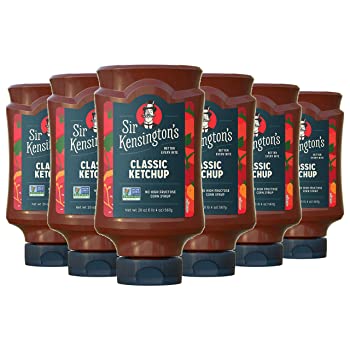 Certified vegan, gluten-free, and contains no high fructose corn syrup. This product also carries lime juice concentrate, ideal for people who love ketchup with a slightly sour taste.
Sir Kensington's says no to artificial ingredients, colors, or preservatives, so if one of those concerns you, Sir Kensington's is your perfect choice.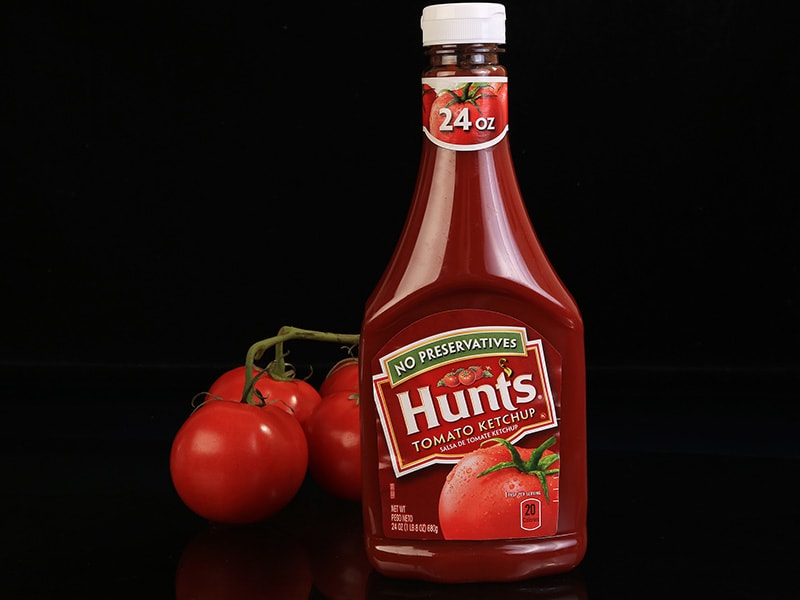 Sugar-free, Preservatives-free, made from vine-ripened tomatoes, and delicious, this ketchup can be used as a sauce for your favorite foods or as an ingredient for your cooking.
With a 4.8 star rating on Amazon, this product won't disappoint you and there is one more reason to give it a try: It's inexpensive.
Making Ketchup At Home – Answering the Question By Yourself
Here is a guide explaining how to make ketchup by Rajshri Food. The ingredients are easy to find, and the steps are simple, you just have to replace traditional refined sugar with more vegan-friendly types.
What You Need To Prepare:
1.5 kg tomatoes
½ cup of sugar (any vegan types)
1 ½ cup of vinegar (any vegan types)
½ teaspoon of chili powder
A reasonable amount of salt, according to your preference, ½ teaspoon is alright
500ml water
So, let's create magic by yourself!
Step 1: Cutting Tomatoes
Cut tomatoes into small pieces, put them in the pressure cooker with a small amount of water, and cook them for 3-4 whistles.
Wait for the pressure to go down then open the lid.
Step 2: Blending And Filtering
Use a hand blender to mix the tomatoes and then filter the mixture using the mesh.
Step 3: Heating The Mixture And Add Ingredients
Pour the mixture into a pan, and heat it moderately. Then add sugar, vinegar, chill powder, and salt.
Wait for 15-20 minutes until the mixture becomes condensed. After that, pour a few drops on a plate and tilt it slightly. If the drops do not fall, your ketchup is ready.
Step 4: Preparing The Ketchup
Put the ketchup in a bottle or any containers that can preserve the ketchup well.
For a more detailed and vivid guide, refer to the following video to make your own ketchup!
Can Vegans Eat Set Aside Their Concerns About The Ingredients?
I think yes, unless you belong to the picky group of the vegan community, the sugar filtering process or the wine fining process shouldn't be things that you are stressed about that much.
If sugar going through bone char is a big problem for you, you have to check the information of foods and beverages with sugar carefully and, in some cases, even contact the manufacturers.
Is it really worth the time and effort?
Switching to a plant-based diet already means that you can save the lives of many animals out there, worrying about minor things in the production process just makes the vegan lifestyle seem harder than it actually is.
Even PETA – An American animal rights organization – says that your uncertainty about sugar shouldn't give much rise to your anxiety.(1)
After all, it's all about your moral standards and preferences, so pick products that you find ideal!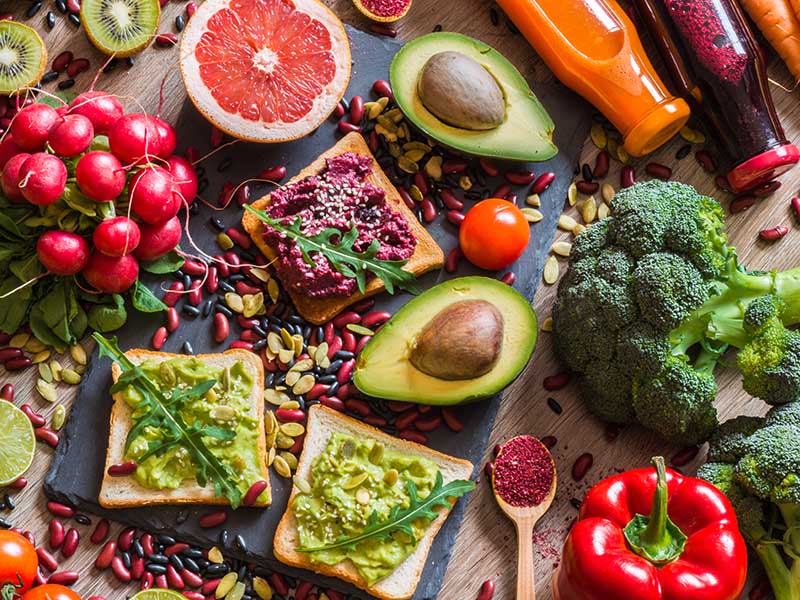 FAQS
You just know that ketchup – your favorite sauce is not always vegan so you may need to be extra certain about using it. This section covers ketchup-related questions that you may have in mind.
The Future Of Ketchup
So, will you witness the introduction of ketchup with never-before-seen flavors in the future? Perhaps you will see more meat-based flavors; ketchup or ketchup with honey will be welcomed more.
Nonetheless, some brands may change their practices and stop using bone char to clarify their sugar or only use vegan-friendly vinegar.
With this unpredictability, the question "Is ketchup vegan?" will become even harder to answer. When the label of a bottle of ketchup confuses you, don't forget to return to this article. If you have some more tips, share them with other vegans, they will definitely appreciate it!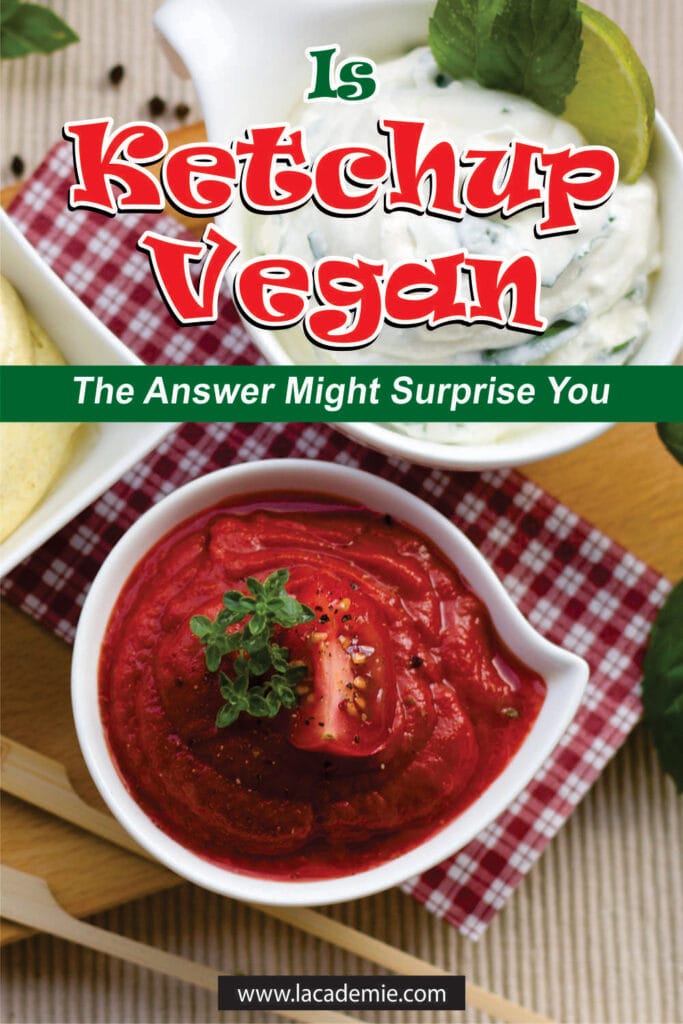 References
PETA. 2016. Is Sugar Vegan?.
Erica N. Story and Et al., 2013, An Update on the Health Effects of Tomato Lycopene.