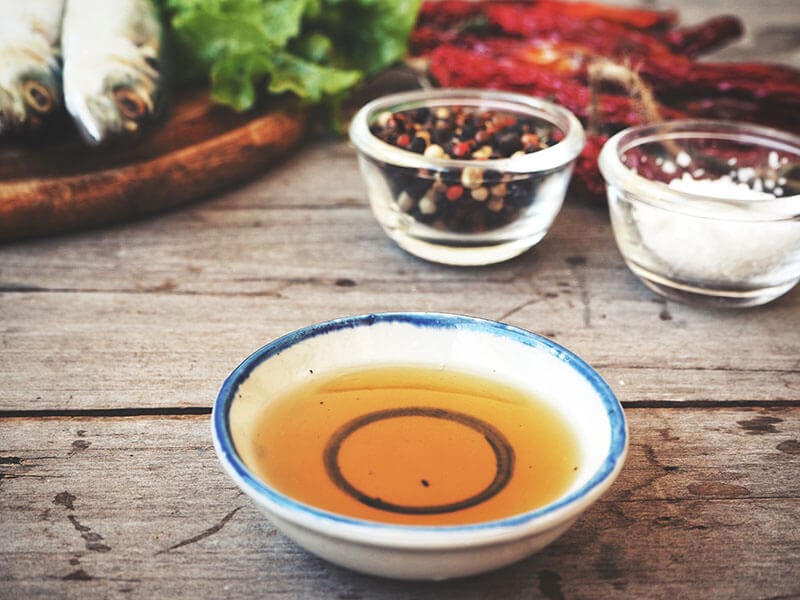 Not everyone can answer this question exactly: Does fish sauce go bad? As the identity signs of spoiled fish sauce are not apparent, it is hard to know when the fish sauce goes bad.
Do not worry! I am here to help you recognize the bad fish sauce. Moreover, this post also contains some further helpful information about the fish sauce that you should not miss.
First and foremost, let's answer this critical question:
Does Fish Sauce Go Bad?
Unfortunately, the answer is yes. The fish sauce will start to lose its best flavor after the expiry date printed on the bottle. It can keep for up to 1 year after the best-by date.
Unopened fish sauce can be kept for up to 2 – 3 years.
Opened fish sauce will keep for 3 – 6 months at room temperature and one year in the refrigerator.
What Is Fish Sauce?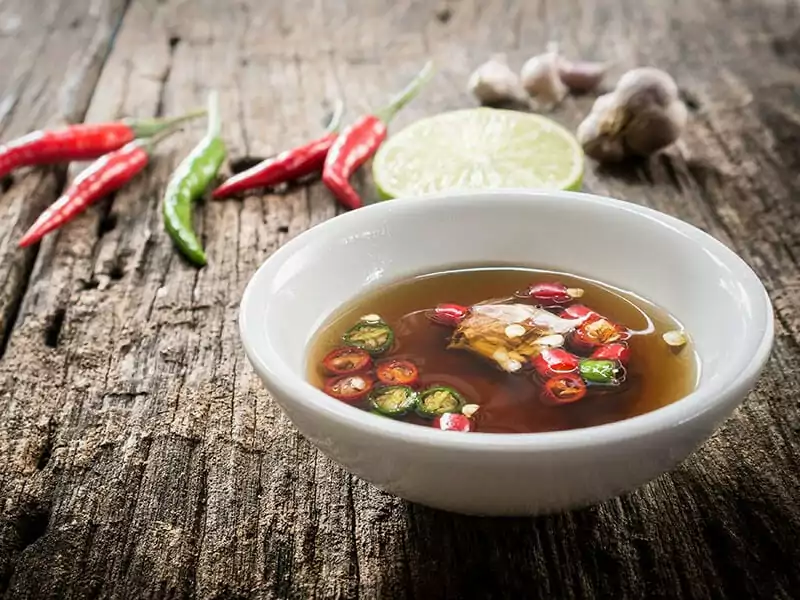 Fish sauce is an ingredient used in many Asian, especially Thai and prominent Vietnamese dishes, such as Thai curries or Vietnamese pho. However, nowadays, this dipping sauce has appeared all over the world, as more and more people want to try it.
Despite its intense smell, fish sauce brings a savory but not over-salted flavor and makes the food taste perfect and bold. For instance, when added to mango salad, one of the most popular Thai appetizers, fish sauce is the highlight that brings out the refreshing flavors of the dish.
It is a sauce that is made with the simplest ingredients: Fish and salt. However, these days, commercial fish sauce often contains sugar, food additives, and preservatives to prolong its shelf life to meet the market's vast demands. (1)
How Long Does Fish Sauce Last?
Commercial fish sauce can last for up to two to three years. However, it also depends on how you store it and whether you have opened it or not. Keep on reading to explore more information about fish sauce shelf life.
Check this table to know how long fish sauce lasts, depending on your storing methods.
| Fish Sauce Condition | Storing In Pantry | Refrigerating |
| --- | --- | --- |
| Unopened fish sauce | 2 - 3 years | Not specified |
| Opened fish sauce | 3 - 6 months | More than 12 months |
Unopened Fish Sauce:
Unopened fish sauce can last for up to 2 – 3 years, including its best-by date if being stored well (cold, dark places, and avoiding direct sunlight and heat) at room temperature.
Opened Fish Sauce:
At room temperature, the opened fish sauce will be at its best quality from 3 to 6 months if you seal it carefully. After this time, the taste of fish sauce will deteriorate.
You can also store opened fish sauce in the refrigerator for more extended uses if you do not use the fish sauce regularly. It will keep for up to a year by refrigerating.
These Identify Signs Of Spoiled Fish Sauce Will Blow Your Mind!
Although the fish sauce is not rapidly spoiled after the best-by date printed on the label, it gradually deteriorates its pure flavor. Moreover, if you do not seal it carefully, it will spoil faster. Check the following signs to know whether your fish sauce is spoiled or not.
1 Fish Sauce Gives Out A Bad Odor
Fresh fish sauce often has a featured fishy smell. However, if you notice any unpleasant or rotten smell of your fish sauce, get rid of it!
2. Your Fish Sauce Starts To Grow Mold
If you see the mold developing inside the fish sauce bottle cap or the neck of the bottle, it shows that your fish sauce is rotten. You should toss it right away.
3. Your Fish Sauce Tastes Different
Discard your sauce immediately if you detect something weird in the flavor of the fish sauce. To be specific, if it tastes bitter or sour, it means that the condiment is no longer safe for consumption.
Bonus Tips
While these above signs show spoiled fish sauce; if you notice any symptoms below, it does not mean that your fish sauce is rotten, so do not worry!
1. You Notice Clear Crystals
If you notice clear crystals in the bottom of the fish sauce bottle, it is just the salt. So, do not worry, it is not a rotten sign of fish sauce.
2. There Are Cloudy Particles In Your Fish Sauce Bottle
Those cloudy particles that you notice are just the proteins formed in the process of protein precipitation. It happens when your fish sauce stored place changes the temperature. It will not affect the fish sauce quality.
3. There Is A Discoloration Of Your Fish Sauce
The colors of fresh fish sauce are usually brownish-yellow or reddish-brown. As time goes by, your fish sauce will slowly turn to a darker color. It is a natural process, and it will not affect the fish sauce quality.
Try These Two Most Effective Ways To Store Fish Sauce!
The way you store fish sauce plays a vital role in its shelf life. As a preserved condiment, there are not many ways to keep fish sauce. The two following ways can store the unopened and opened fish sauce.
1. Place Fish Sauce In The Kitchen Cabinet Or Pantry
Although there are many differences between fish sauce and oyster sauce, their storage methods are more or less the same. If it is unopened you can place it in your kitchen cupboard or pantry.
However, make sure that your fish sauce has to be stored in a dry and cool place. Keep it away from the heat or humid areas (stove, dishwasher,etc) and avoid light. It'd be best to keep your fish sauce at a constant temperature.
Many Asian people store the opened fish sauce in their kitchen, even on the kitchen counter, so they can use it right when they want.
However, the fish sauce has to be sealed carefully after use to avoid the growth of bacteria. Also, you need to check the bottle cap where it grows mold or not to clean it immediately. If you do not do that, your fish sauce will start to spoil faster.
Another caution is that the kitchen should be clean, dry, and cool. Do not forget to clean your kitchen correctly. You also need to keep your fish sauce away from the heat from the stove or dishwasher. You should store it at a constant temperature.
2. Store Fish Sauce In The Refrigerator
If you occasionally use fish sauce or buy it because you want to try some new recipes that call for it, refrigerating is the best way to store the fish sauce for a longer period, especially after opening.
Remember to seal it carefully and put it in the refrigerator after use to keep its flavor and best quality. It will keep for 12 months in the refrigerator.
When your fish sauce is near its expiration date, you should consider other unconventional uses to ensure that it'll not go to waste. One of my favorite ways to use up fish sauce is combining it with tamarind concentrate to whip up some stand-ins for Worcestershire sauce.
Health Benefits Of Fish Sauce For Your Consideration
In every Southeast Asian daily meal, fish sauce is an indispensable condiment. Besides its unique taste, fish sauce is also considered a nutrient-rich condiment.
One of the most noticeable benefits of fish sauce is that it contains a high amount of essential amino acids that support sleep and reduce anorexia. Amino acids also boost the digestive system and metabolism.
The fish sauce also contains a great source of omega 3. Omega 3 helps reduce blood cholesterol, improve heart and brain health.
The high level of iron in fish sauce brings incredible benefits for pregnant women. Fish sauce-seasoned foods inhibit the risk of premature birth and baby mortality. Vitamin B12 is also an essential vitamin during pregnancy. (2)
Some New Delicious Recipes That Call For Fish Sauce
As I have said, Thailand and Vietnam are the two most popular manufacturers of fish sauces. You can find Thai and Vietnamese fish sauce at any Asian supermarket.
Do not miss these 5 excellent ways to use fish sauce!
I will introduce two dishes in which fish sauce is indispensable: Thai dishes and Vietnamese dishes. Grab your fish sauce bottle and try these fantastic recipes now!
1. Thai Red Curry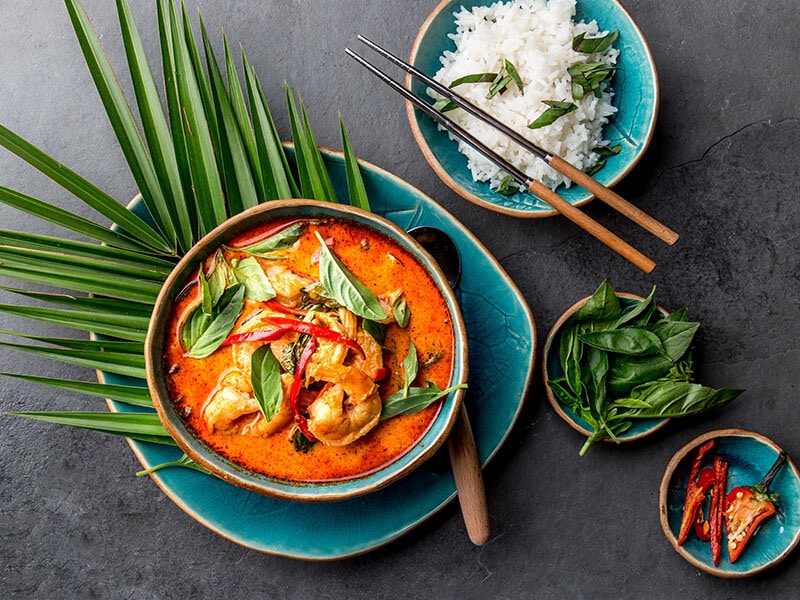 Feeling adventurous and ready to try out new ideas for a hearty Saturday night meal? Thai ready curry is exactly what you need. It's famous for its aromatic smell and bold, savory, spicy taste.
For making this dish, you need to prepare the ingredients below. I will just list the name of the ingredients. The amount depends on your portion.
Ingredients:
Fish sauce
Olive oil or coconut oil
Small onion
Shrimp
Bell pepper
Ginger and garlic
Carrot
Coconut milk (full-fat coconut milk is better)
Thai red curry paste
Sugar (brown sugar is suggested)
Rice vinegar or lime juice
Garnishes (basil, cilantro, or chili flakes and powder)
Instructions:
Stir-fry onion and bell pepper in hot oil with ginger and garlic until soft, transparent, and fragrant.
Add carrot, water, curry paste, and coconut milk to the mixture. Boil it in medium heat for 5 to 10 minutes or until the mixture becomes thick and the carrot is soft.
Add rice vinegar or lime juice and shrimp to your curry at the end of the cooking process. Next, flavor it with garnishes, and the most important is adding fish sauce to make your curry fragrant and rich in savory.
Turn the heat off after seeing your shrimp turn reddish-pink. Prepare cooked rice to serve with your delicious Thai curry.
Thai red curry with chicken is also a must-try. Save this quick and easy recipe for yourself!
2. Vietnamese Braised Pork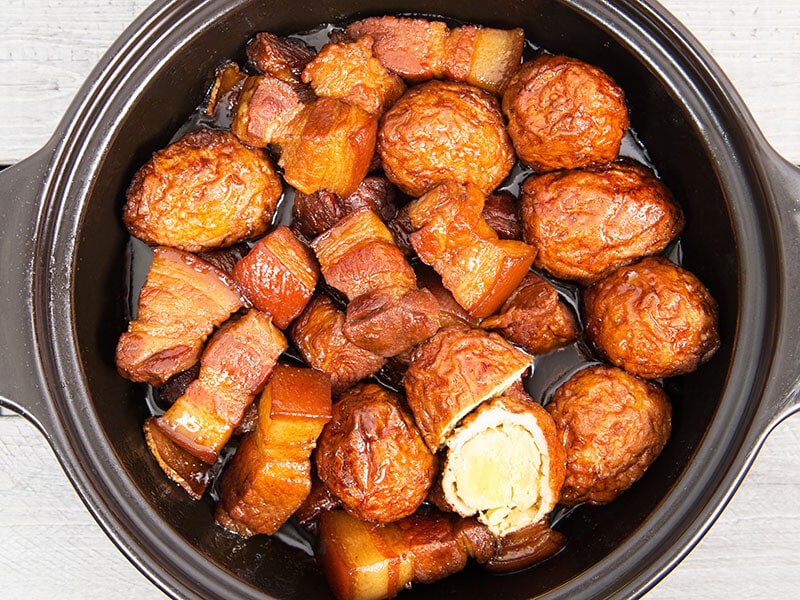 Braised pork is considered one of the most popular dishes in Vietnam. Vietnamese braised pork appears in almost every Vietnamese family meal in their Lunar New Year holiday and their daily meal. Vietnamese braised pork has a sweet and savory taste with marinated pork.
Here are some ingredients you have to prepare and the detailed instructions for you to follow.
Ingredients:
Pork belly
Fish sauce
Black pepper
Salt and sugar
Coconut water (optional)
Garlic
Green scallion
Vinegar
Instructions:
First, you need to prepare the pork by soaking it properly with vinegar and salt. Next, boil it for 2 minutes to remove all of the impurities. Let it cool down, and then cut the pork belly into small size cubes (about 2 to 3 inches).
Marinate the prepared pork with fish sauce, black peppers, garlic, salt, and sugar for 15 to 20 minutes.
Stir the remaining diced garlic with hot oil when it turns to golden yellow. Then add the marinated pork and continue to stir.
Pour water and coconut water (optional) over the cooked pork. Make sure that the water covers the pork. Next, season your braised pork again to know whether it meets your taste or not.
Cook it on medium heat until the sauce simmer and the pork belly is tender. Finally, your delicious braised pork belly is ready to serve with a bowl full of warm cooked right.
There is another Vietnamese braised pork belly with eggs recipe that you should not miss!
FAQs
After reading all the information about fish sauce above, you may have some questions surrounding this condiment. Below are the answers to some curiosities. I hope my answers can clarify your wonders.
Further Information About Fish Sauce
The shelf life of fish sauce depends not only on storing methods but also on the quality of the fish sauce. Therefore, you should choose the high-quality fish sauce to consume.
If the information in this post is helpful, do not hesitate to like and share it. Besides, I would love to receive any ideas about this article. Share with me your experiences with fish sauce in the comment section below!
References
En.wikipedia.org. 2021. Fish sauce – Wikipedia. [online] Available at: <https://en.wikipedia.org/wiki/Fish_sauce>
Checkyourfood.com. 2021. Fish sauce – Check Your Food. [online] Available at: <https://www.checkyourfood.com/ingredients/ingredient/386/fish-sauce>