"Is oyster sauce gluten free" is one of the first questions that many ask when they want to give this tasty condiment a try. It's especially vital for gluten-sensitive people to know the correct answer since eating glutenous food can be harmful to them.
In this post, I'll give you a quick answer to this essential question, together with some high-quality oyster sauce brands and ideal substitutes for the shellfish sauce.
A Quick Description Of Oyster Sauce
If you have had experience cooking Chinese dishes, you're certainly no stranger to what defines oyster sauce. For people who aren't really familiar with Asian cuisine, here's a quick description of this shellfish condiment.
Oyster sauce is a dark brown-colored condiment with a thick, gooey consistency. It is a frequent feature of many oriental cuisines, including Chinese, Malay foods, Vietnamese dishes, Thai, and Khmer.
You'll often find it in stir-fried dishes such as stir-fried vegetables, rice, and noodles. In addition, this sauce also makes a delicious addition to meat or fish marinades and is great as a table condiment.
Perhaps because oyster sauce is often found in Asian cuisine like soy sauce sauce, many people tend to think they're interchangeable. However, you need to be able to telling fish sauce apart from oyster sauce too. Don't sweat, it's quite easy, and you don't need a keen eye to do so.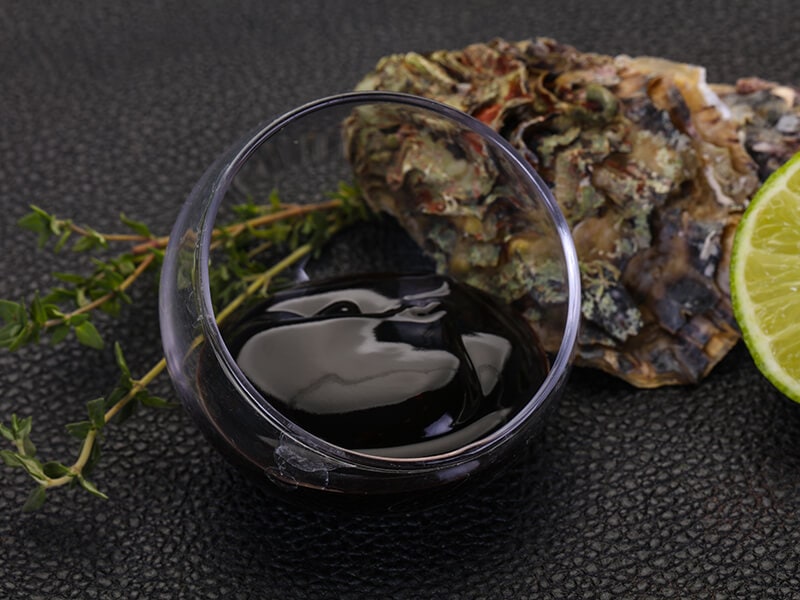 Oyster sauce was created in the 1800s in Guangdong Province, China, by Lee Kum Kee.
Initially, he made it by simmering oysters hour after hour until the broth reaches the desired thickness. These days, only a few premium oyster sauces are made this way.
High-quality oyster sauce boasts a rich and complex taste that can be described as a fusion between soy sauce and BBQ sauce. In general, it has a sweet and savory flavor with strong umami notes.
Most modern sauce manufacturers have replaced real oysters with oyster extracts as it is a more cost-efficient way to produce oyster sauce.
Doing so, however, has sparked a debate about the differences between oyster sauce and oyster flavored sauce – a term used to call sauces made with oyster extracts.
A Thing Or Two About Gluten
Before deciding whether oyster sauce is gluten-free or not, here's some basic information regarding gluten.
Gluten is a group of storage proteins that acts as a binding agent to help foods keep their shape. It is also frequently used as an additive in processed food to improve flavor, texture, and retain moisture.(1)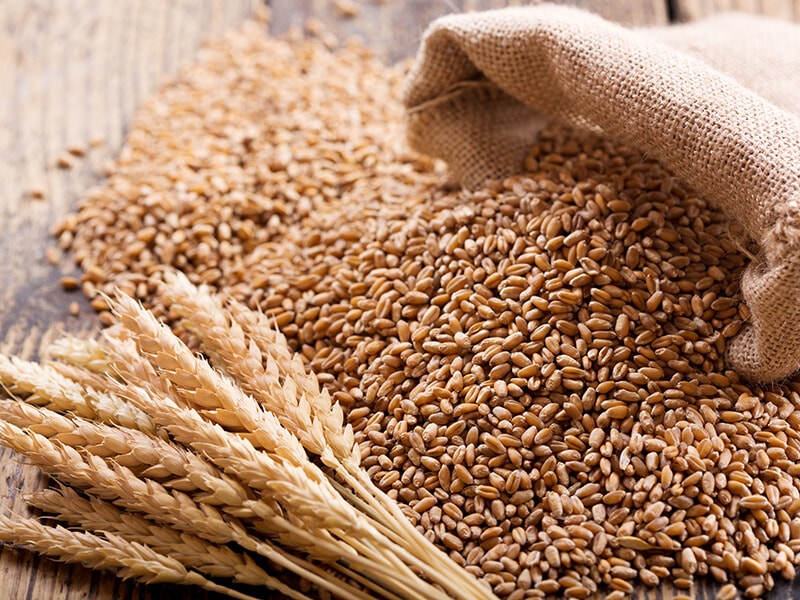 Wheat, barley, and rye are considered "the big three" when it comes to glutenous food. Other grains such as Kamut, spelt, farro, durum, bulgur, and semolina also contain these proteins.
However, finding gluten in food is not always so straightforward since it can come in the form of food binders, additives, or flavorings.
Watch this video to know more:
Is Oyster Sauce Gluten-Free?
Now to the most crucial question of this article: is oyster sauce gluten-free? Well, it all depends on what type of oyster sauce you're talking about.
The traditional oyster sauce that is made entirely from oysters certainly doesn't contain any gluten as oysters are non-gluten. However, unless you're making your own sauce, it'll be extremely difficult to find an oyster sauce that consists of only oysters on the market.
Most commercially available oyster sauces these days include oyster extractives, sugar, salt, wheat flour, cornstarch, and sometimes soy sauce in their ingredients. Among these, soy sauce and wheat flour are often the ones with gluten content.
Caramel coloring or yeast extract might also appear in the ingredient list and might be, but not always, gluten-free.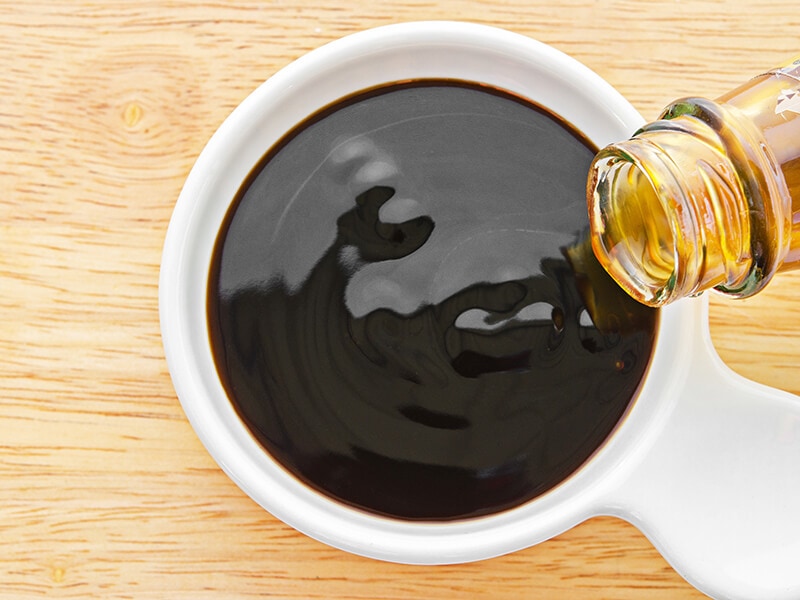 To ensure that the oyster sauce you're buying is suitable for a zero-gluten diet, you should always look for products with a "gluten-free" or "certified gluten-free" label.
According to the FDA, food labeled as gluten-free must contain no or less than 20ppm of gluten per kilogram, making it safe to consume for gluten-sensitive people. (2)
But I don't know which gluten-free oyster sauce brands to buy – you might say. Don't worry; I've rounded up some high-quality non-gluten oyster sauce brands for you in the next section, so keep scrolling!
6 Gluten-Free Oyster Sauce Brands To Look For
If you're wondering which brands of oyster sauce are gluten-free and tasty at the same time, then you shouldn't miss this section. Here are some of the most praised non-gluten options on the market!
Lee Kum Kee is among the most reputable oyster sauce brands in the world as it was founded by Lee Kum Sheung – the father of this condiment himself.
Apart from its Premium oyster sauce line which contains wheat flour, the company also offers a just-as-good gluten-free option called the Panda brand. Thanks to its amazing taste, you can confidently use this sauce in any recipe and also as a dipping sauce.
Kikkoman is an excellent brand when it comes to non-gluten condiments. The company has not just one but three gluten-free oyster sauces to choose from. The one I decide to introduce to you is the non-MSG, non-fat version.
Apart from being gluten-free, this sauce is also incredibly delicious with a sweet and savory flavor that works exceptionally well in an array of dishes.
Made with 45% high-quality oysters extract, this sauce is as good as pre-packaged oyster sauce gets. It has a phenomenal flavor that derives from the fresh and large oysters of The Gulf of Thailand.
Not only does Megachef oyster sauce consist of no gluten content, but it's also free of MSG, artificial flavors, or added color.
Ayam is a gluten-free certified brand of oyster sauce that you can safely use in your daily meal. It is especially great in stir-fried recipes, vegetable dishes, and seafood or meat marinades. This sauce is also non-GMO with no added MSG or preservatives.
Healthy Boy is another brand with a big "gluten-free" label slapped on the packaging. The sauce has a balanced, not too sweet, not too salty flavor, and smooth texture. You'll find it most suitable for making Thai dishes since it is a product of this country.
Wok Mei oyster sauce is an outstanding zero-gluten choice that's perfect for pretty much any recipe. It has all the classic flavor traits of the authentic sauce whilst having a very affordable price.
In addition, Wok Mei sauce doesn't include refined sugar, modified starches, or MSG, which is always a plus.
7 Gluten-Free Oyster Sauce Alternatives
If you can't find any of the gluten-free brands above or the one at home has passed the average time oyster sauce can stay fresh, you can opt for these instead. In reality, there are plenty of viable oyster sauce alternatives, but I'll only list the gluten-free options in this section.
| | |
| --- | --- |
| Gluten-Free Oyster Sauce Alternatives | Ideal Substitution Ratio |
| Tamari sauce | 1 tbsp of oyster sauce = ½ tbsp of tamari sauce |
| Gluten-free Worcestershire sauce | 1 tbsp of oyster sauce = 1 tbsp of Worcestershire sauce |
| Bragg's liquid aminos | 1 tbsp of oyster sauce = ½ tbsp of liquid aminos |
| Gluten-free hoisin sauce | 1 tbsp of oyster sauce = 1 tbsp of hoisin sauce |
| Gluten-free soy sauce | 1 tbsp of oyster sauce = ½ tbsp of soy sauce |
| Mirin | 1 tbsp of oyster sauce = 1 tsp of mirin |
Tamari Sauce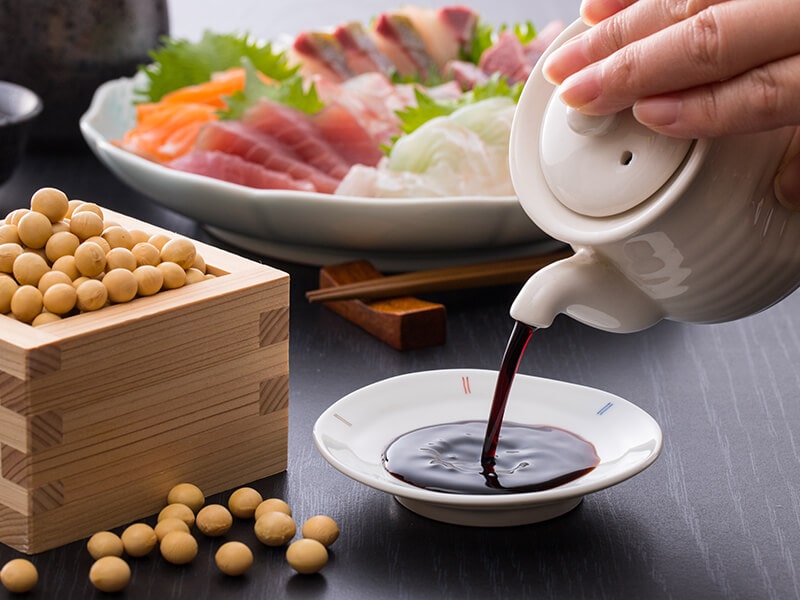 Tamari sauce is a soybean-based sauce with a salty taste that is quite similar to oyster sauce. Although this condiment is typically wheat-free, some brands do include gluten ingredients in their tamari sauce, so it's best that you double-check the label before buying.
For tamari sauce, you only need ½ the amount of oyster sauce required.
Gluten-Free Worcestershire Sauce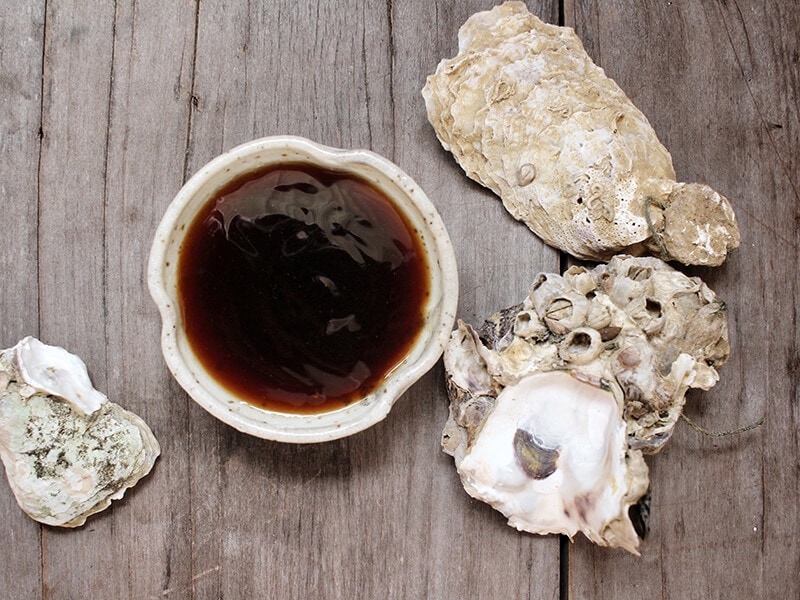 Made mainly from anchovies, this flavor-rich sauce is full of the umami flavor that everyone loves. Worcestershire sauce is widely used in cooking to give many dishes a unique depth.
Keep in mind that some Worcestershire sauce will consist of malt, which has a low gluten content. For this reason, make sure that you're buying the non-gluten ones. Other than that, feel free to use Worcestershire sauce as a 1 to 1 alternative to oyster sauce.
Gluten-Free Liquid Aminos
Liquid aminos is an all-purpose vegan seasoning that can be used in place of soy sauce, oyster sauce, and many other condiments. People with gluten intolerance can safely consume this product as it is gluten-free, non-GMO, and MSG-free.
To use Bragg's liquid aminos as an oyster sauce substitution, take half the volume of oyster sauce that the recipe calls for.
Gluten-Free Hoisin Sauce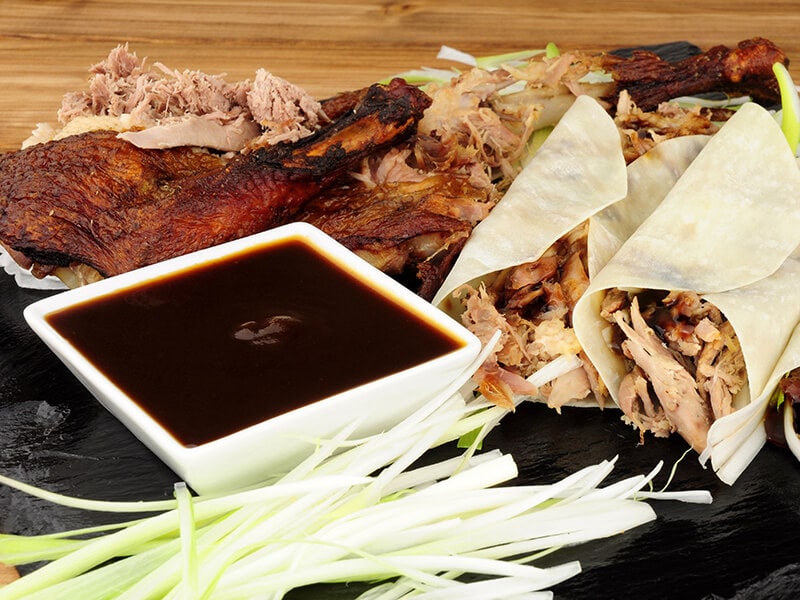 Apart from oyster sauce, hoisin sauce is another popular condiment in Chinese stir-fried dishes. Although there are certain things that differentiate hoisin sauce from oyster sauce, they still share a somewhat identical flavor profile and consistency.
You can swap oyster sauce for hoisin sauce in a 1:1 ratio.
Gluten-Free Soy Sauce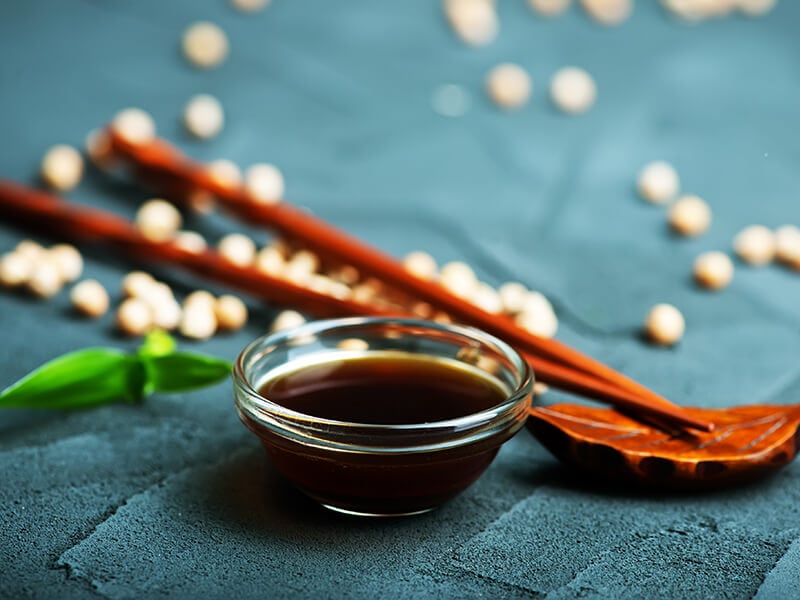 Although soy sauce is commonly known as a gluten-included food, there's now a gluten-free version of this sauce on the market.
If you dig the sauce's rich, salty flavor, you can totally utilize it instead of oyster sauce. To give it a sweeter taste, you can also add a little sugar to your soy sauce. After that, simply use about ½ the amount of oyster sauce needed.
Mirin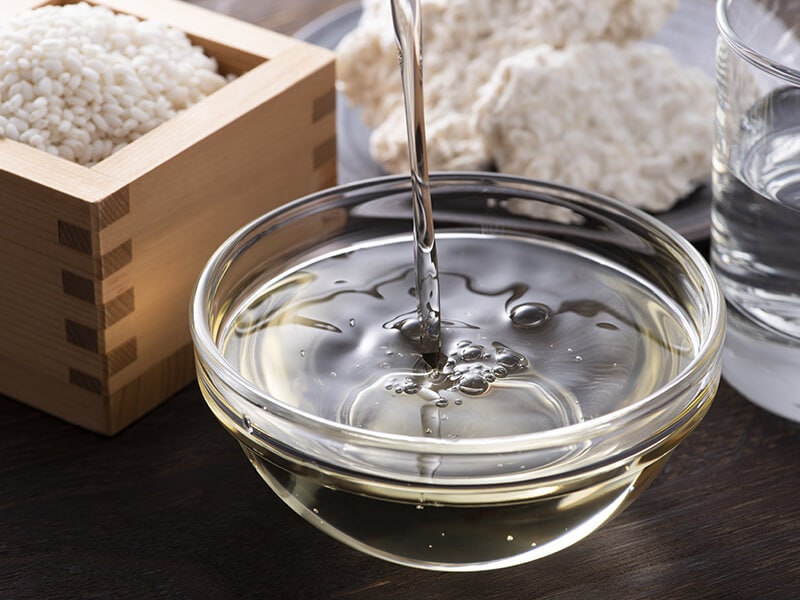 Mirin is a kind of rice wine that is frequently featured in Japanese recipes. You can think of it as a sweeter and less alcoholic version of sake (Japanese rice wine). Be careful though, you should be able to differentiate mirin from rice vinegar, as these two can look deceptively similar.
Since mirin generally lacks salinity, it can't be considered a perfect replacement for oyster sauce. However, if you have some lying around your kitchen, you can use 1 teaspoon of mirin as a good-enough substitution for 1 tablespoon of oyster sauce.
If you're confident in your kitchen skills, you can also cook up your own gluten-free oyster sauce.
Not only is doing this ensures that there's no gluten ingredient in your condiment, but it also gives you the chance to make the finest oyster sauce using actual oysters. You'll need a good oyster knife, though, as shucking oysters out of their shells can be quite tricky.
Making keto and gluten-free oyster sauce has never been this easy. Watch this video to know:
Tasty Recipes With Oyster Sauce For Your Gluten-Free Diet
Now that you've found your favorite gluten-free oyster sauce, how about putting it to work in these mouth-watering recipes?
Stir-fried chicken and oyster sauce is a hearty, healthy dish that's perfect for a gluten-free diet. The best thing is, this recipe is surprisingly easy to cook and makes for an excellent option to pair with rice.
Similar to chicken, beef is a great source of lean protein that will become more flavorful than ever with the help of oyster sauce. The juicy, meaty beef packed full of the savory taste and caramel-like sweetness will take you to another level of gastronomy.
Chicken lo mein is a go-to Chinese take-out dish for lots of people. The noodles are greasy, full of flavors and colors, and will leave you craving more after the last bite.
However, it might be hard to make sure that your lo mein is gluten-free when you buy it from a restaurant. Well, you don't have to worry about that anymore since you can make this yummy treat right at home!
FAQs
Oyster sauce is a fascinating condiment with many things to learn about. If you have any other questions about it, check out this FAQs section.
Remember To Double-Check The Label
Since oyster sauce can sometimes contain gluten, it's really important that you look for oyster sauces with the "gluten-free" label. In case you need to buy a sauce that doesn't come with this claim, you should double-check its ingredients before purchasing.
What's your favorite gluten-free oyster sauce brand? If you have a brand that you'd want to recommend, please do so in the comment section. Also, if you want to support the page, please drop this article a like and share it with others.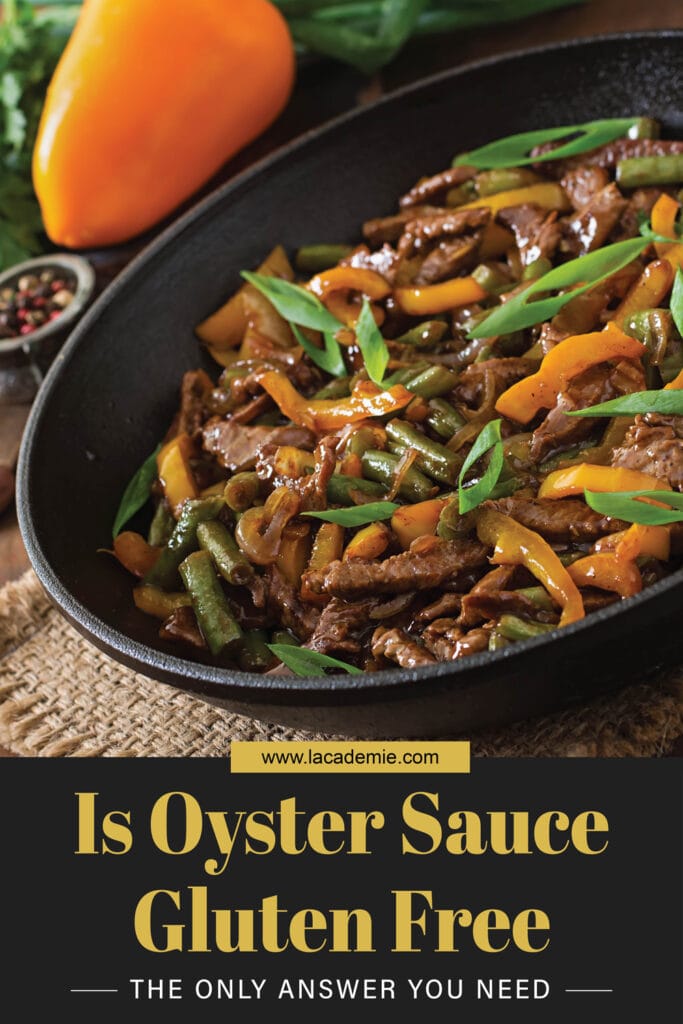 References
What is gluten? – PubMed [online]. PubMed.
Gluten and Food Labeling [online]. U.S. Food and Drug Administration.