How long does oyster sauce last? If you've ever wondered why your oyster sauce didn't last as long as you thought it would, then this article is exactly what you need.
In this post, I'll give you all the necessary information about oyster sauce shelf life, together with some useful tips on how to store it. You'll also know when to part ways with a too-old-to-salvage oyster sauce bottle.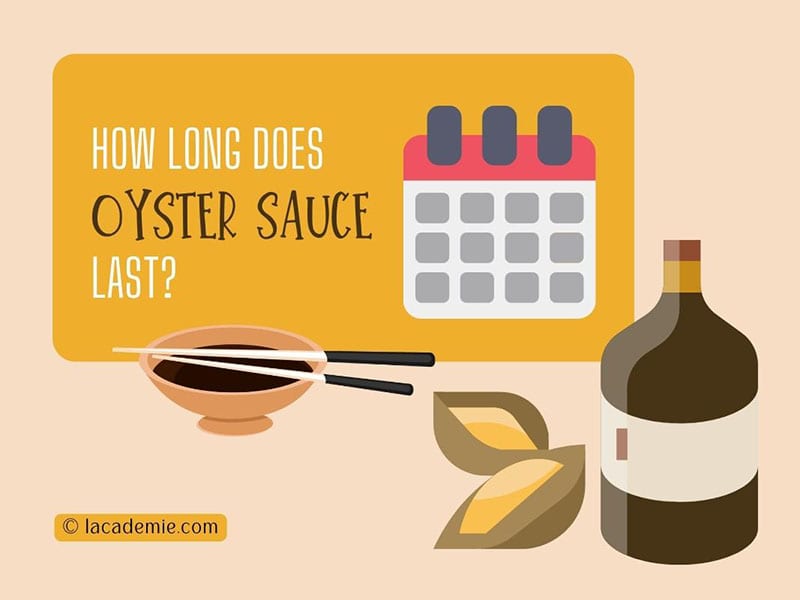 What Is Oyster Sauce?
Simply speaking, oyster sauce is a frequently used condiment in Chinese, Thai, Vietnamese, Khmer, Thai, and other Asian countries cuisine. And while many have argued about oyster sauce's true nature, it generally has a dark brown with thick and gooey consistency.
Basing on just looks alone, oyster sauce does resemble hoisin sauce. However, don't mistake hoisin sauce with oyster sauce, these are two completely different sauces that can lend different flavors to your dish.
The sauce is believed to have been created accidentally by Lee Kum Sheung – a Chinese man living in Guangdong in 1888.
One day, Lee unintentionally overcooked his oyster soup which resulted in a vicious and aromatic brown sauce. And that marked the birth of the widely-loved oyster sauce.(1)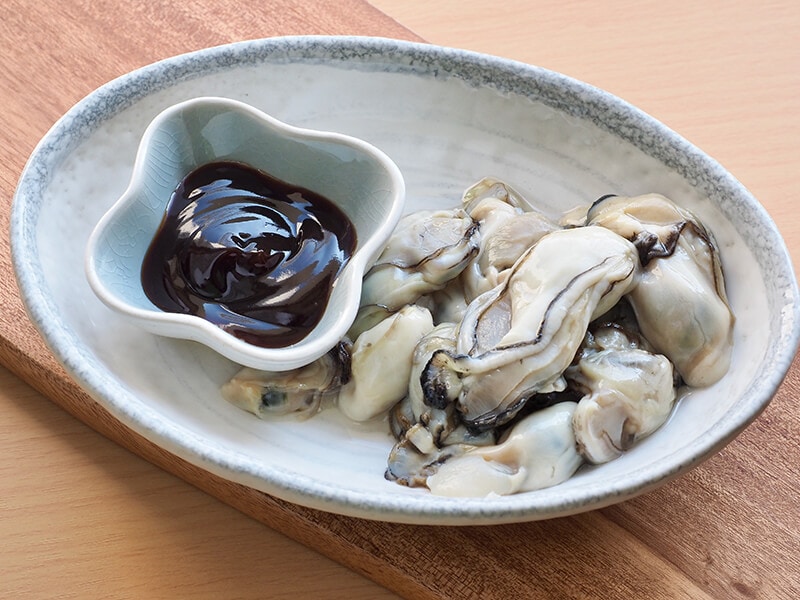 These days, most oyster sauces found on the market are oyster-flavored sauce rather than the "real" thing.
Although it's often considered inferior in terms of taste, "flavored" oyster sauce typically lasts longer than the "true" oyster sauce as it contains more preservatives. This is one of the distinguishing points between oyster sauce and oyster-flavored sauce that you'll notice right away.
If you ever plan to try out oyster sauce, I recommend that you get first-rate oyster sauce from the best brands only. This will allow you to experience authentic oyster sauce flavor with all of its wondrous undertones.
Of course, you can whip up homemade oyster sauce, too. However, it'll require equipments such as specialized knives for shucking oysters, as well as various special techniques. If you want, I'll show you how to make oyster sauce at home some day soon.
Your Oyster Sauce Should Last For This Long
The shelf life of oyster sauce depends greatly on how you store it and its quality. In general, most oyster sauce will last for a decent amount of time.
| Oyster sauce state | In the pantry | In the fridge |
| --- | --- | --- |
| Oyster sauce (unopened) | 18-24 months; Best-by + 3-6 months | Not necessary |
| Oyster sauce (opened) | 3-6 months; Up to 1 year (high-quality sauce) | 2 years |
First, you need to understand the meaning of the "expiration date" printed on the sauce bottle.
Typically, oyster sauce will come with a "best-by", "best before", "best if used by", or "best when used by" date. These dates are an estimation of how long the sauce will retain its best quality, not its expiration dates.
In other words, it's safe to use a bottle of oyster sauce past its printed dates if it has been properly stored, contains no signs of spoilage, and there's no damage to the container. However, the sauce might lose some of its flavors, color, or texture.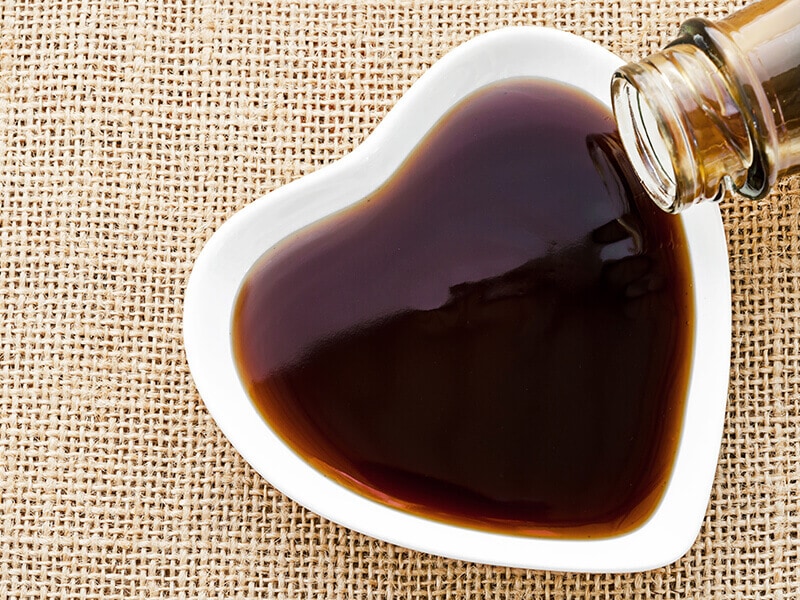 With that out of the way, let's get to the ideal storage for the best quality.
A fully-sealed oyster sauce bottle will generally last for 18-24 months and doesn't have to be refrigerated. When unopened, most oyster sauces will have roughly the same shelf life, regardless of their quality.
The sauce's quality plays a bigger role after its bottle has been opened. The average oyster sauce will keep for about 3-6 months at room temperature, while higher quality ones can stay tasty for up to a year.
If you want to play it safe, you should consume opened oyster sauce within 6 months.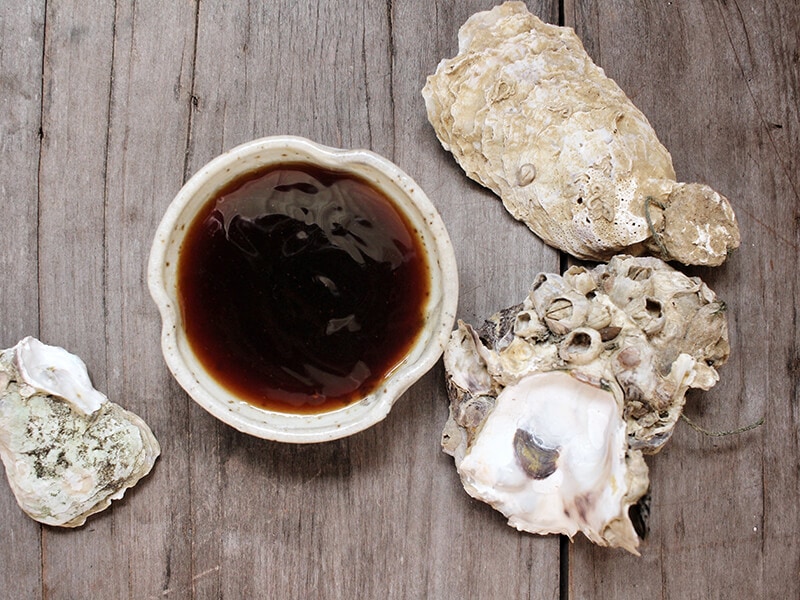 Keep in mind that some oyster sauces will have to be kept in the fridge after opening. If your sauce requires refrigeration, it should be stated clearly on the bottle, so make sure to check the label carefully.
You can also keep your sauce refrigerated at all times after opening to increase its shelf life to 2 years.
All in all, storing oyster sauce is quite straightforward and doesn't require much effort.
4 Tips For Longer Lasting Oyster Sauce
To maximize your oyster sauce's shelf life, don't miss out on these handy tips.
Keep The Sauce In A Dry And Cool Place
Oyster sauce can be safely stored at room temperature. That said, to maximize its shelf life, opt for a cool and dry place such as your pantry or in a cupboard. Ideally, you should always keep oyster sauce at under 70°F.
Keep It Away From Sunlight
Exposure to direct sunlight is oyster sauce's biggest enemy as it can stimulate bacterial growth. For that reason, you should always store your sauce in a dark place, away from sunlight.
Always Seal The Bottle
Apart from direct sunlight, oxidation is another common reason for food spoilage as it will help bacteria spread faster. Once your oyster sauce has been contaminated with too much bacteria, it'll be prone to spoilage even before the best-by dates.
For these reasons, it's crucial that you close the container's lid securely after each use.
The Fridge Is Your Friend
As mentioned above, some oyster sauces require refrigeration; some don't. However, you can keep your sauce in a fridge anyway, regardless of what the bottle says. Now that I think about it, the fridge actually ticks all the boxes for an ideal oyster sauce storing place!
Avoid Eating Oyster Sauces With These Signs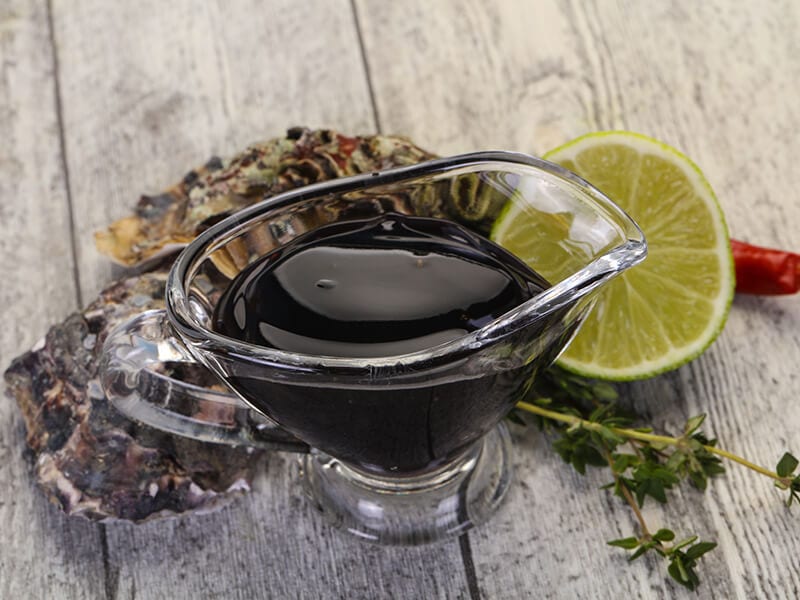 No matter how carefully you store your oyster sauce, there will come a time that you have to throw it away. If you see these signs, don't hesitate and dispose of your sauce. Also, consider some worthy fill-in ingredients for oyster sauce when you're in a pinch.
There's Mold On The Surface
If you open a bottle of oyster sauce and see white or green fluff on the top layer, your sauce has been infected with mold.
When the sauce has become moldy, it's not safe to consume even if you've removed all the mold. When this happens, it's best that you buy a new bottle.
It Smells Off
Oyster sauce has a rich, meaty, and fresh smell. While it might not be the best smelling sauce in the world, it certainly doesn't smell rotten or moldy. If the smell is off, you should throw it away.
The Color Is Darker Than Usual
Oxidation can cause the sauce to turn darker over time. This doesn't necessarily mean that the sauce has gone bad, though. So you can probably still use it, but it won't be as tasty as you'd want it to be.
The Taste Is Too Strong
In addition to color, exposure to air can also intensify oyster sauce's pronounced taste. When the taste gets to the point of unpleasantly strong, there's simply no reason to keep that sauce around.
The Sauce Is Watery
Its dense consistency is one of the elements that set oyster sauce apart from fish sauce and other commonly used condiments.
Old oyster sauce would typically turn watery since the liquid, and the thickener has been separated. There's usually no fix to this, so you'd be better off discarding it.
Is It Bad To Eat Spoiled Oyster Sauce?
As a general rule of thumb, you should never consume spoiled food to prevent food poisoning. While oyster sauce is mostly safe to eat for a short while past the "used-by" dates, you should steer clear from eating spoiled oyster sauce.
Food poisoning symptoms can vary from mild to severe. You might get away with just an upset stomach, some unpleasant stomach cramps, a light fever, nauseous feelings, or diarrhea.
More severe food poisoning symptoms include a high fever of over 102°F, frequent vomiting, dehydration, bloody diarrhea, or diarrhea that won't stop after 3 days. If you have these symptoms, you should see a doctor as soon as possible.(2)
Watch out for these symptoms after eating spoiled oyster sauce:
Tasty Oyster Sauce Recipes You Have To Try
The unique flavor of oyster sauce is suitable for a wide variety of recipes. Apart from being an excellent ingredient, oyster sauce is also an amazing dipping sauce on its own.
Here are some yummy oyster sauce cooking ideas that you have to try.
This is an outstanding option for a simple, healthy, and delicious stir-fried dish. The mild taste of chicken and vegetables will make a perfect stage for the flavorful nature of oyster sauce to shine.
Making oyster sauce stir-fried chicken is actually super simple! Watch this video to know:
Lettuce with oyster sauce is a must-try classic Chinese cuisine dish, especially if you're a vegetarian. If you're wondering whether oyster sauce is vegan or not, then rest assured since you can easily find vegetable-based oyster sauce that's made from mushrooms.
Health-aware people might also be wondering if oyster sauce can be considered gluten-free. However, this might require a lengthy and complex answer. As better safe than sorry, you should only buy oyster sauce products with "gluten'free" labels on the bottles.
For this dish, you can use iceberg lettuce if you want an authentic Chinese dish, or swap it for Romaine lettuce – a more nutrient-packed option.
If the two recipes above are a bit mild for you, then you'll surely love this spicy stir-fried beef dish. To round out the flavor, remember to serve it with rice or noodles.
FAQs
If you have any other questions about the oyster sauce, feel free to consult this quick FAQs section.
Never Use Spoiled Oyster Sauce
While oyster sauce is a much-needed ingredient in numerous recipes, if your oyster sauce has turned bad, you should never use it. It's always better to end up with a somewhat lackluster dish than with a severe case of food poisoning.
I hope that this post has provided you with valuable information about the oyster sauce. If you enjoy the article, please let me know in the comment, and don't forget to like and share it.
Nutrition Facts
1 servings per container
Serving Size1 tbsp (18g)
---
Amount Per ServingCalories9.2
% Daily Value *
Total Fat 0.1g

0

%
Sodium 492mg

21

%
Potassium 9.7mg

1

%
Total Carbohydrate 2g

1

%
Protein 0.2g

0

%
---
* The % Daily Value tells you how much a nutrient in a serving of food contributes to a daily diet. 2,000 calories a day is used for general nutrition advice.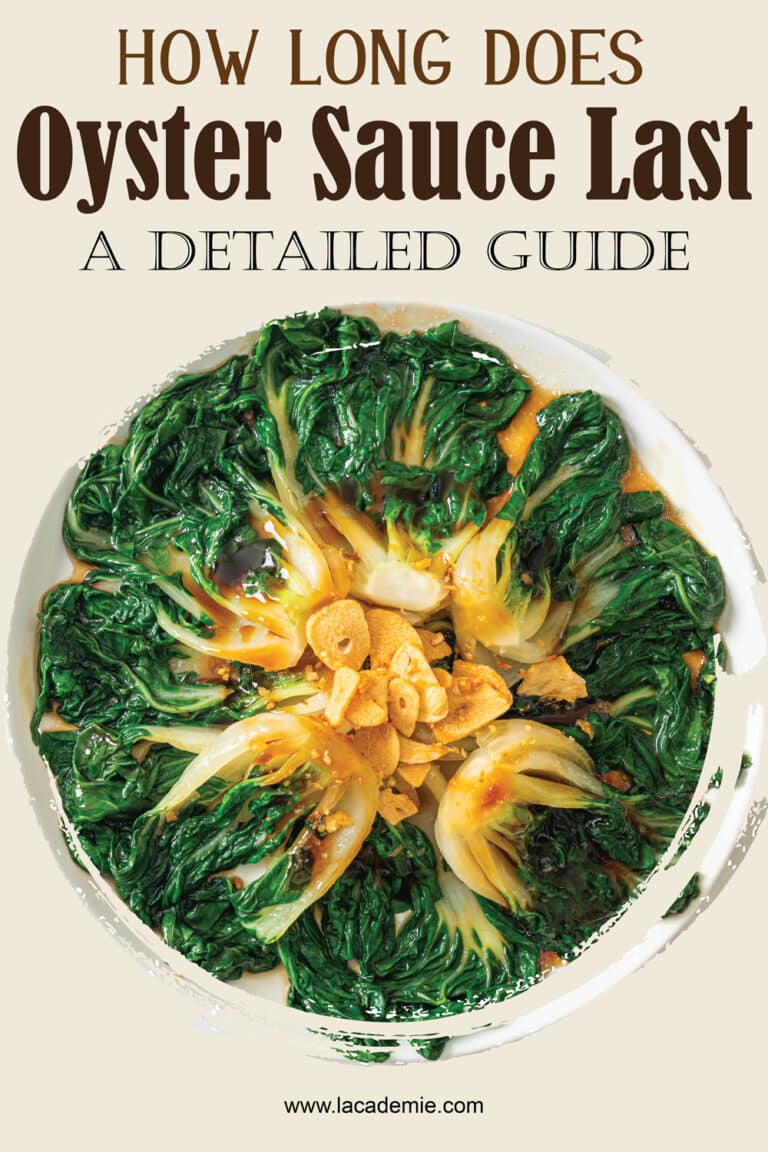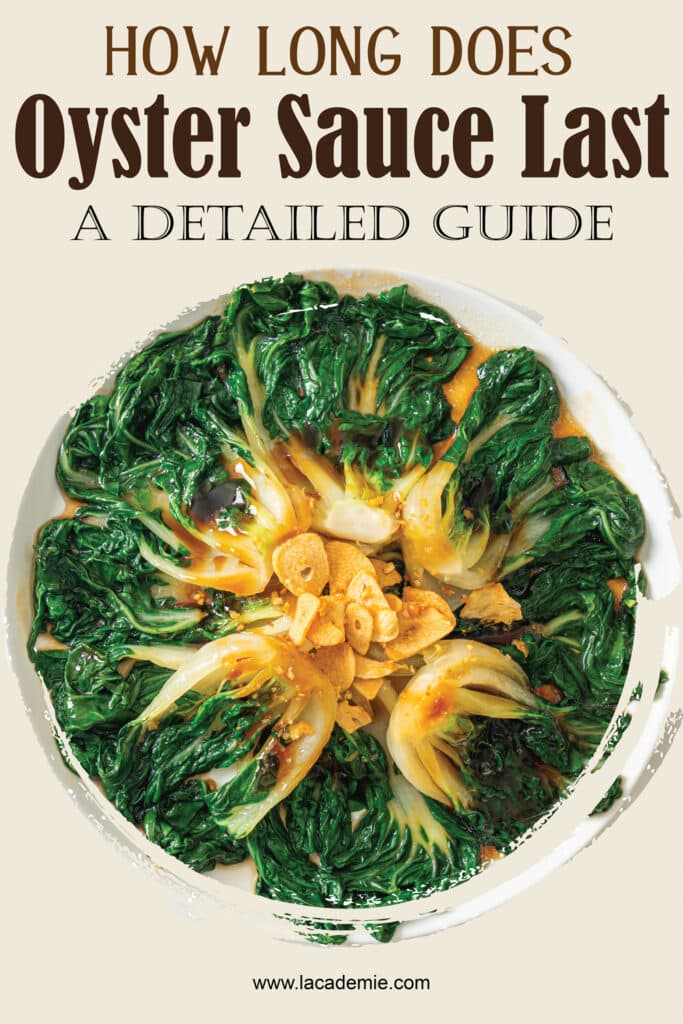 References
Contributors to Wikimedia projects, (2005). Oyster sauce – Wikipedia.
Food Poisoning Symptoms [online]. Centers for Disease Control and Prevention.