Shucking new oysters is much easier and safer by using the best oyster knives. Of course, you need the great oyster shuckers and stable hand protection tools to tackle even the hardest task.
Next, you need to know more about the oysters and the knife styles that are typically used to open the shells. In fact, many people claim they can use their top-notch paring knife for this purpose.
Technically, it is not wrong. But it would be better to use a specialized tool that is mainly designed for this specific job – shucking oysters. So with the information in this post, you will find out which physical character or design construction of oyster knives is right for you.
Popular Types Of Oyster
Oyster – a heavenly-sent food starting with the letter O, is everyone's favorite food, including me. But when picking the best oyster knives, it's helpful to think a little bit about the type of oysters you're most likely to shuck regularly.
Atlantic Oyster (Crassostrea virginica): Once the largest oyster variety harvested in the US and was abundant along the East Coast but left only 1% now and being repopulated. These oysters are sweeter tasting, but they are quite hard to open.
Pacific Oyster (Crassostrea gigas): Introduce from Japan commercial farming as the large and fast-rising oysters. It sits around the middle ease of the shucking scale and has a nice taste and texture.
Olympia Oysters (Strea luridia / Ostrea conchaphila): Small oysters that have been endemic to the US West Coast and are now farmed on a limited scale in the Pacific Northwest. They are smooth in texture and stronger flavor.
Kumamoto Oyster (Crassostrea sikamea): Deep-cup with sweet and mild taste originating from Japan; they are now cultivated along the US East Coast. Often called the 'Chardonnay of the Oysters,' the Kumamoto is just marginally bigger than the Olympia.
European Flat Oyster (Ostrea edulis): Appear for commercial farming on the eastern US and northern Pacific coasts. This tiny oyster has a sweet flavor and is easier to shuck than the Atlantic oyster.
Any add-ins for better identify the species? Before you take the best oyster knife, do a tour to see which oyster knife is the most practical and fit right any seafood day.
I favored oyster knives with narrower middles, short blades, and hooked tips, which do an exceptional job of opening the shell while keeping the liquid inside.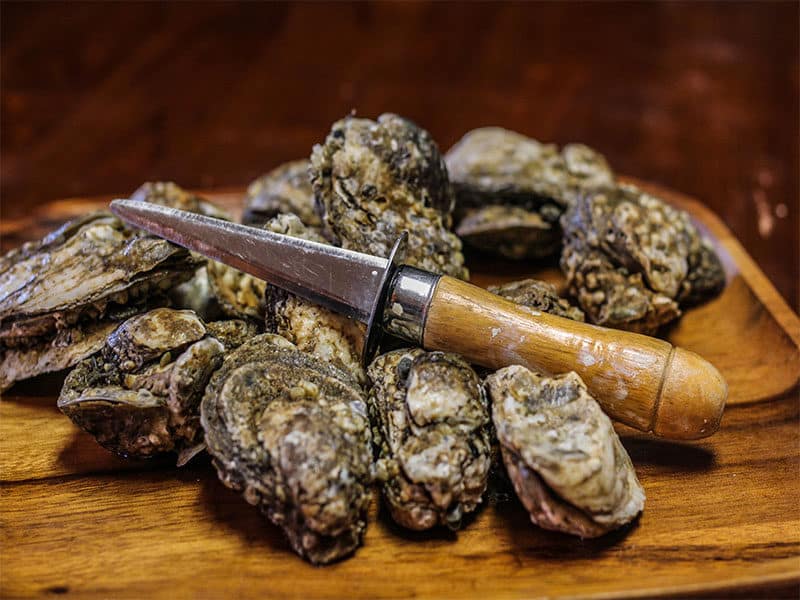 What Is An Oyster Knife?
The oyster knife uses to remove meat from the oyster shell. It comes in a variety of shapes and sizes. To decide the right one, you have to look at the hard guards' layout, the blade handle, and the tip style.
The Oyster Knife Types
Below are some of the major oyster knives available and the oysters better suited to them. They all have similar knife parts and usages but different appearances or sizes.
New Haven
The 2¾" straight blade in a round upturned tip; well adapted to the standard hinge form of opening. The New Haven opens from small to medium Atlantic and Pacific oysters, particularly half-shell oysters.
These can also shuck Olympia and Kumamoto but quite difficult to put into the hinge.
Galveston
Usually, this has a 4″ blade that is strong, broad with moderately sharp edges. The Galveston knives are mostly commercial-used, particularly for larger oysters like medium or large European and large Atlantic oysters.
Providence
The style of Providence also has a short, broad blade with a simple, pointed edge. This oyster knife recommends shucking small and medium-sized small Pacific, Olympia, and small Atlantic oysters using a hinge method.
Boston
A common oyster knife with a narrow, long blade usually 3″ to 4″ and a pear-shaped handle makes it easy to carry. The Boston tool can get all of the techniques, including larger Pacific and Atlantic oysters or any other oyster sizes.
Let's grab up a bit! The best oyster knives can simply tackle the hardest oyster shells. Choosing the wrong one might mean the difference between a full stomach and nervous dinner guests.
Which Are The Best Oyster Knives To Buy?
Indeed, not every knife is designed to shuck oysters. The usage of utility knives might not be fit for doing this job. Therefore, as an experienced oyster eater, you need to have at least one best oyster knife.
While you can open an oyster with a standard oyster knife, everybody has more than one, simply because certain oyster knives do a better job.
Asking about the multiple choices, you should not miss DEXTER, HICOUP, and VICTORINOX together their diverse categories in shapes and sizes once you are in, no way to out of overwhelming.
Even you are planning to give an oyster knife collection to your mates as a gift. Take your time on OXO, ARCHER, and TANG SONG. They are all famous for the charming knife design as well as portable in using purposes.
Right below, the basic summary and reviews are listing on!
Oyster Knife Comparison Table 2022
There are many colors and forms for oyster knives out there, so how do you pick the knife? With a little practice, patience, and one of the best oyster knives here, you'll soon be a pro in opening fresh oysters! Keep following!
Top 15 Best Oyster Knife Reviews in 2022
The best oyster knives have been built to guide you on the right balance to shuck fresh oysters easily at home or anywhere you like to enjoy! Oyster knives come in a range of types, so here are my ideas to help you choose the one that suits you well. Head it up!
1. HICOUP Providence Style Oyster Knife
(Best Overall)
With this tool, your concerns about whether using carbon steel cookware is safe or not will be gone. Constructed with high-quality carbon steel, this handcrafted oyster knife features a blade with a "full tang" mirror finish holding three solid rivets compressed with a delicate handle.
You soon realize the importance of handle design in this HICOUP Providence Style Oyster Knife. The pakka wood handle fits perfectly into your palm and provides a skid-free grip that helps you open your oysters securely even in a wet task.
The knife is lightweight and flexible with a basic build that helps even the first-timers open anything easily, from the 4-inch Martha Vineyard to chestnut-size Kumamotos.
Key Features:
Durable with 6-1/2 inches of tip-to-tip and a 2-1/2 inch blade
An oversized hand guard protects the hands from slipping the knife
Perfectly-designed structure and rigidity that fits with all sorts of oysters
The thick, high-carbon steel blade is rigid and width to slide between the shells
Pros
The pointed tip is simple to pry, plus an ergonomic handle
Lightweight to handle small oysters but robust to tackle big oysters
A single-function device with details, wonderful style, and craftsmanship
An impact as gifts for corporate affairs, weddings, or donor appreciation events
Cons
The hilt is snagged as it is removed from the sheath
Product Specifications:
| | |
| --- | --- |
| Brand | HICOUP |
| Color | Pakka wood |
| Blade Material | Mirror finish forged stainless steel/ Reinforced high carbon |
| Handle Material | Pakka wood |
| Glove Available | Yes |
2. OXO Providence Style Oyster Knife
(Best Budget)
You can do real testing with this OXO Providence Style Oyster Knife; the bent tip of this oyster knife flashes through several oyster shells in a couple of minutes.
It even performed well with harder oyster shells, supported by a nonslip grip, even with sweaty hands. I must highlight that the stainless steel blade is very robust.
While this OXO Good Grips oyster knife is simple to handle, I wished it had a handguard. Bonus points for its dishwasher-safe convenience that will not break or fade in the washer.
Key Features:
The blade made of stainless steel, real robust
The bent tip makes it easier to pry open oysters
The edge is built to dig even tiny hinges of the shells
Quick grinding back and forth to unlock oysters inevitably
Pros
It's safe for the dishwasher
The soft, easy handle is not going to slip in wet
Support the right strength to shake within a minute
Penetrate the hinge of the oyster, not fold when turning
Cons
Lack of handguard
The blade may be quite short for someone
Product Specifications:
| | |
| --- | --- |
| Brand | OXO |
| Color | Black & Silver |
| Blade Material | Stainless steel |
| Handle Material | Nonslip poly |
| Glove Available | No |
Let's Oxo show you the right way to tackle even the most stubborn oyster in town with this powerful black handle knife.
3. VICTORINOX New Haven Style Oyster Knife
(Best New Haven Style)
Customer expectations and technologies have evolved over the years. The Swiss Army Knife has grown by adapting to these needs while remaining an important tool on which the clients can rely.
This VICTORINOX New Haven Style Oyster Knife is a vital product and plays a pioneering role in the growth of all product types. The straight blade is doing a decent job of separating the flesh from the shell's smooth side.
In the handle, the forward bulge works as a stabilizing thumb rest, while the narrow body behind it strengthens the rest of the fingers with a strong grip. For strong protection at the base of the palm, the rear of the handle is bulging again.
A good new for you is that you are now providing other generous variations from Victorinox; apart from New Haven, you can also find Galveston style with long edges or Providence design with robust structure.
Key Features:
Made in Switzerland
A sturdy handle, the steel polished to a mirror-like consistency
The short blade has dull edges, a slightly convex underside, and flat the top side
The tip design makes excellent control; move high away from the tender meat
Pros
The thinner blade is good at penetrating the hinge
An ideal design, when perfect oysters are required half shell
The most popular pocket knife and multi-tool brand in the world
Best to open small and medium-sized oysters for half shell serving
Cons
Minor rusts appear after a few dishwasher cleaning, however quickly washed
Product Specifications:
| | |
| --- | --- |
| Brand | VICTORINOX |
| Color | Red & Silver |
| Blade Material | High carbon steel |
| Handle Material | Super grip plastic |
| Glove Available | No |
4. DEXTER New Haven Style Oyster Knife
(Best Handle)
If you'd like to have fresh oysters, you need a decent oyster knife. Of the many knives available out there, the DEXTER New Haven Style Oyster Knife is an excellent one.
The Sani-Safe handle is perfect for experienced cooks who just want to keep everything in the kitchen tidy. The secure-grip polypropylene handle endures high and low temperatures.
Even the toughest oyster will lose the game. The tip of the stainless steel blade has a gentle curve to help open the tough shellfish. You now have a precision ground for durability and superb commercial purpose.
Key Features:
The safe grip handle with a finger shield
The handle-to-blade seal ensures optimum sanitary efficiency
Blades are made from DEXSTEELTM patented high-carbon stainless steel
The curved tip is important for separating and identifying the oyster hinge
Pros
Made in the USA, the knife is NSF certified
The curved tip, hand-honed with an ultimate edge
Dishwasher safe takes any abuse throwing at it
Sharp enough to cut the oyster muscle, not hand harming
Cons
The blade is not long enough for the real large oysters
Product Specifications:
| | |
| --- | --- |
| Brand | DEXTER |
| Color | Multicolor |
| Blade Material | High carbon/ DEXSTEEL™ stain-free high alloy |
| Handle Material | Soft rubber/ Polypropylene |
| Glove Available | No |
5. SWISSMAR Boston Style Oyster Knife
(Best with Finger Guard)
The Shucker Paddy Oyster knife offers an all-in-one universal solution for functionality, protection, and ease of use in "Oyster Shucking" thanks to the innovative ergo-dynamic Dual Axis Pistol Grip feature.
The handle works just like a revolver grip in your palm; the three-inch, curved, stainless blade is where the "barrel" of the pistol will be. More than that, it is sharpened at the top or bottom for efficient use on all sorts of oysters.
If you're using traditional oyster shuckers, you know there's just one axis down the blade. This dual-axis gives you much more power and leverage; enables oyster shucking twice as fast!
Key Features:
Ambidextrous, suitable for both left or right-handed
Dual-axis, one down the blade and one down the grip length
Fit ergonomically in hand for optimum support and a strong grip
The angle of 135 degrees holds the forearm aligned with the blade
Nonslip injection molded PP handle offers the highest degree of sanitary
Pros
Safe with the dishwasher
Ergonomic finger guard handle
Made of high-quality stainless steel
The blade is the optimal sharpness for all sorts of oysters
Cons
When the tip gets through, no friction to slow the blade down
Product Specifications:
| | |
| --- | --- |
| Brand | SWISSMAR |
| Color | Black/ Yellow |
| Blade Material | Stainless steel |
| Handle Material | Polypropylene |
| Glove Available | No |
Check out to see what is missing within this Swissmar oyster knife. Take your time; the secrets are showing up!
6. MOMONI Galveston Style Oyster Knife
(Best Lightweight)
With a premium quality stainless steel blade and a robust, nonslip grip, the MOMONI Galveston Style Oyster Knife has great stiffness to be solid enough to hold the oyster shells open in seconds without too much effort.
A thin but solid blade gives it excellent strength to pop the hinge and slide under the meat to cut the muscle and untie the oyster meat cleanly.
There is no need for several knives to be used in any oyster shell, as this one can accomplish the task without destroying the meat.
I promise that the oyster knife will work exceptionally well to meet your oyster needs.
Key Features:
Stainless-steel blade is the rigidity of the material
The body is sandwiched into the handle by using rivets
Great balance in hand and perfect length and sharpness
Elegant, well made, nonslip, and stylish wooden handle style
Pros
Light and comfortable design allow everyone to open with ease
Come in a package of two, wrapped in a stunning luxurious gift box
Its shape is perfectly aligned with the blade, very smooth and fluid
A perfect present for every occasion; friends or family members love oysters
Cons
Lack of the blade guard
The blade is not hooked to the tip, so it's harder to shuck the shells
Product Specifications:
| | |
| --- | --- |
| Brand | MOMONI |
| Color | Wood & Silver |
| Blade Material | Stainless steel |
| Handle Material | Wood |
| Glove Available | No |
7. ARCHER Providence Style Oyster Knife
(Best Security)
You can trust this professional knife to keep you as care for as you look fine. It has a sturdy stainless-steel handle to protect your fingers safe from damage.
The blade has a pointed edge, but it is not sharp for security. The ARCHER Providence Style Oyster Knife is medium dense and appropriate for medium and large oysters.
Expertly constructed and wonderfully finished, this wooden knife is going to have you shucking oysters for years to come. It looks amazing in the kitchen and supporting every dinner party or special event, too.
Key Features:
Highly sturdy pakka wood completes the rugged knife
A sturdy stainless steel handle to hold the fingers safe from hurts
Craft 2 and 1/2 inch with a 6 and 1/2 inches polished blade mirror
The blade is 420-grade stainless steel extending to the bottom of the handle
Pros
It has a light and controlled, and solid feel in the palm
Sleek with a secure grip to effortlessly open the oysters
Ideal for an oyster lover or a chef as a gift for every reason
Elegant knife construction, simple to handle and convenient to use
Product Specifications:
| | |
| --- | --- |
| Brand | ARCHER |
| Color | Wood |
| Blade Material | Mirror finish the full tang |
| Handle Material | Pakka wood |
| Glove Available | No |
8. TANG SONG New Haven Style Oyster Knife
(Best Safe Grip)
This TANG SONG New Haven Style Oyster Knife isn't like the high-quality oyster shuckers you're buying with many bucks. What matters most is that you get eight pieces of oyster knives at the price of one.
They arrive with a sturdy, non-sharp blade to remove the shell and a strong non-slippery handle to give you a safe grip when you use it.
They don't give you the above marvelous experience, but they do the job they were supposed to do in the best way. Moreover, you can tackle all sorts of shell animals such as clams and water mussels.
Key Features:
Non-slippery, the wooden handle fits comfortably in hand
Total length is 6.2 inches, with the knife long up to 2.9 inches
The blade is corrosion and rust-resistant; slip softly through shells
Smooth wooden handle; material made of high-quality stainless steel
Pros
Multipurpose, handy for big parties
Robust, great of high quality and packaged well
It is comfortable and convenient to grip; sturdy to shuck
Perfect for opening scallops, shell, oysters, clams, and shellfish
Cons
Not apply for the dishwasher
It's not suitable for tough oysters
Product Specifications:
| | |
| --- | --- |
| Brand | TANG SONG |
| Color | Wood |
| Blade Material | Stainless steel |
| Handle Material | Smooth wooden |
| Glove Available | No |
9. UJ RAMELSON Providence Style Oyster Knife
(Best Providence Style)
This is my favorite tool to bring along for my oyster-hunter trip and for preparing many appetizer dishes in the summer. Guess what? This UJ RAMELSON oyster knife has been designed by oystermen from Island Creek Oysters, and it's done the job incredibly.
With this equipment, you will own a completely ground, hardened, and polished 420HC high carbon steel tool, which is sharp and pointy. However, it is quite tough so you need little power to open the hinge between the shells.
For this oyster knife, you will own completely ground, hardened, and polished 420HC high carbon steel, sharp and pointy but tough, needs little power to ease at the hinge between the shells.
This knife has a short 2 1/8 inch blade, so the longer blades can bend or break as the pressure is applied. These advantages make this knife preferred and enjoyable all-day oyster shucking activities. Keep shucking oyster fun and not frustrating.
Key Features:
The knife goes through the oyster hinges very quickly
Pack a rugged shaped "Murphy Green" polypropylene plastic handle
The blade tip is pointed, suitable for prying shells and working into the hinge
The blade does not bend, possibly to work along with hinges without chipping
Pros
High quality, American made hand tools made in the USA
Real lightweight and comfortably balanced in the palm
The shucking blade is stainless steel, not a sharp cutting point
A simple wrist twist, a short cut in the abductor's muscle to shell off
Cons
Only hand wash and dry knives but not the dishwasher
Product Specifications:
| | |
| --- | --- |
| Brand | UJ RAMELSON |
| Color | Green |
| Blade Material | Commercial grade stainless steel |
| Handle Material | Polypropylene plastic |
| Glove Available | No |
10. TOADFISH New Haven Style Oyster Knife
(Best Sharp Edges)
You are now no more looking for the professional layout to open a thicker shelled oyster like those found on the Gulf Coast. The blade construction features a thicker blade than traditional oyster knives with less bend for increased shucking ability and high leverage.
Only in this TOADFISH New Haven Style Oyster Knife can you have the knife handle made from recycled plastic, 100% post-consumer. Toadfish will be planting ten sq. feet of new oyster habitat with every knife sold.
One of the most durable oyster products on stage is the Toadfish shucking knife. The qualified oyster knife precisely and comfortably integrates all sharp-edge knife elements with a new look at ergonomics.
Key Features:
The multipurpose bent-tip blade design has a flawless pivot
The thumbprint grip handle is ideally weighted, eliminating hand slippage
Made of stainless steel; high quality, stain-free, and resistant to corrosion
Built for commercial, professional kitchen, and the accomplished shucker
Pros
Pair with Cut-proof Cloth for the ultimate shucking setup
Thicker blade structure and less bend than the signature knife
Holding flush the most with the top shell prevents wasting oysters
Part of the sale income go directly to projects for habitat restoration
Cons
Quite difficult to turn while popping the oysters
Product Specifications:
| | |
| --- | --- |
| Brand | TOADFISH |
| Color | White |
| Blade Material | Stainless steel/ High carbon stain-free steel |
| Handle Material | 100% recycled plastic |
| Glove Available | No |
When you are a real fan of kitchen décor, I suggest you a mint version of the Toadfish knife soon you will fall in love. To me, I have already been attracted by the classic while above.
11. ROCKLAND GUARD Boston Style Oyster Knife
(Best for Large Oysters)
Awarded with level 5 EN388 cut resistance, your ROCKLAND GUARD Boston Style Oyster Knife is the highest cut resistance material present on the market.
It's easy to work through a bushel of large oysters; the soft handle is formed to nestle securely in your palm. Much better, the handle will not slip once the stainless-steel blade with its bent edge penetrates and shucks the hardest shells.
Crank out the whole oyster colony without leaving the sweat of this knife. A stylish and streamlined style would make this product a must-have in every home!
Key Features:
Four available sizes that provide a snug fit for all
The right width and rigidity to slide between the oyster shells
A 3.5-inch stainless oyster knife with an easy-grip nonslip handle
Using 420 stainless steel; the thick, high-carbon blade is reinforced
Pros
Built to crack through even the toughest oyster
Lightweight and convenient safety without the bulk
Keep the gloves clean, food-safe, and machine washable
Perfect for oyster shucking, preparing food, cutting, grating, and slicing
Cons
Take some time to get acquainted with large shells
Product Specifications:
| | |
| --- | --- |
| Brand | ROCKLAND GUARD |
| Color | Black |
| Blade Material | 420 Stainless steel/ Thick reinforced high carbon |
| Handle Material | Nonslip poly |
| Glove Available | Yes |
12. WENDOM Providence Style Oyster Knife
(Best for Beginners)
This oyster-beginning knife designs with a black plastic handle, soft and easy to grip, will not move in your palm. Forged from great quality 3CR13 stainless steel and properly sharpened, not like crappy thin blade twisted while working.
Additionally, Wendom is offering the Lemon Squeezer as an additional present to you. All in one set for parties, picnic, BBQ, dinner, working, travel, and so on.
You can quickly and efficiently open any shell of seafood with the WENDOM Providence Style Oyster Knife. The power that you can believe!
Key Features:
It has a rough edge; can be cleaned in the dishwasher
Gloves are a great complement to the hand holding oyster
The yellow rubber cover adds better traction to open the shell
The knife tip is mostly dull, no risk of cutting the oyster or yourself
Pros
The knife at the oyster roast for the first time
Separate top shells by running a knife along the edges
Helping to keep you safe and to control the shell more
Replacement or full refund is guaranteed with 100% money-back support
Cons
The average size gloves are maybe not fit the big hands
The blade is rather wide that you can't quickly get a decent leverage
Product Specifications:
| | |
| --- | --- |
| Brand | WENDOM |
| Color | Black |
| Blade Material | 3CR13 Stainless steel |
| Handle Material | Nonslip plastic |
| Glove Available | Yes |
13. MELOCEAN Galveston Style Oyster Knife
(Best for Professional)
Forged from 3cr13 high-quality stainless steel & properly sharpened, this item can effectively open any form of seafood shell. It's the oyster-shucking knife that is favored by the experts.
The 2.5-inch blade is high quality German stainless steel and mounted to the knife, allowing a soft, smooth precision shell opening but still preventing chipping.
This oyster shucking tool's handle gives the durability you can rely on, but it is also crafted out of wood and reinforced with rivets. Enhanced to provide additional gripping strength, the shucking knife utensils allow super secure oysters to prepare at home.
Key Features:
Built of sturdy wood and polished to avoid sliding
Each 6.3-inch full-tang oyster knife fits palm tightly
Bend-proof, rust-proof blade offering true toughness
Handles carved from sturdy French wood; nonslip gripping
Pros
Set in a lovely wooden box, pack of two knives
An elegant gift concept for dinner party guests & hosts
Make a nice gift choice at holidays, birthdays, gatherings
Contain a PDF book and a detailed oyster shucking knife brochure
A high degree of comfort; guarantee a secure shucking experience
Cons
Fit better with the small and medium-size oysters
Product Specifications:
| | |
| --- | --- |
| Brand | MELOCEAN |
| Color | Black/ Brown |
| Blade Material | 3cr13 Stainless steel |
| Handle Material | Double-riveted nonslip wooden |
| Glove Available | No |
14. JXE JXO Providence Style Oyster Knife
(Best Stainless Steel)
This JXE JXO Providence Style Oyster Knife gives you a non-sliding grip, helping you open oysters and clams easily even though your hand is wet.
Also, an oyster gloves package will cover your palm in case it slips while shucking. This oyster shucker knife stays true to ergonomics and has crafted primarily for left or right-handed users.
Now you have a perfect gift for long-time oyster customers, chefs, fishers, anyone who enjoys BBQ. They will come crazy at your knife gifts. Anybody joining the culinary sector or school will have to have one!
Key Features:
A non-sliding grip to open the oysters by wet hands
The five-level oyster shucking gloves are better and more durable
A suitable leather sheath, a perfect option for securing and wearing
Multipurpose knife with artfully blade shuck steamed or raw oysters quickly
Pros
An oversized gauntlet that covers the hand from oysters
Compact and easy enough to manage small or big oysters
Solid to slip the oyster shells in seconds without much effort
Combine all the elements of an oyster tool with a new modern look
Cons
The blade is quite thicker than other versions
Product Specifications:
| | |
| --- | --- |
| Brand | JXE JXO |
| Color | Black/ Red |
| Blade Material | Stainless steel |
| Handle Material | Nonslip wooden |
| Glove Available | Yes |
15. DALSTRONG Providence Style Oyster Knife
(Best for Restaurants)
With a large, thick blade of ThyssenKrupp German high-carbon X50CrMoV15 steel, this strong and durable knife means that slicing the soft juicy inside the meat is a painless healthy process without tearing the fragile oyster flesh.
The blade also has a pointed tip for slipping between close shells, while the long handle gives perfect leverage to open the shellfish. Additionally, the wood is laminated for additional strength, hygiene, water, and stain resistance.
Please notice the detail that the oyster shucking knife set is bundled in a deluxe package with an e-book and a free oyster-opening brochure. What a fine gift idea for your friends and family!
Key Features:
Confirm with EN388 standard for level 5 cutting resistance
Melocean oyster shucker gloves, breathable and lightweight
Strong tip, sharp edge plus thick solid blade and forged bolster
Ergonomic French wood nonslip handle for manual polishing and sharpening
Pros
The long handle offers great leverage to open the shellfish
Fits firmly in every hand to deliver the best level of confidence
Offer an excellent oyster shucking activity for all, from beginner to advanced
Forged with the finest grade 3cr13 stainless steel without bending or breaking
Cons
Quite heavy, rely much pressure on the wrist
Product Specifications:
| | |
| --- | --- |
| Brand | DALSTRONG |
| Color | Black |
| Blade Material | High carbon/ ThyssenKrupp German steel/ Polished satin |
| Handle Material | Laminated pakka wood |
| Glove Available | No |
Buying Guide
When buying a knife, a simple thing to remember is that the bigger the oyster, the bigger the knife you'll use.
With all the oyster types and knife styles in mind, you are now heading to the three main things you need to notice before picking the best oyster knives.
Versatility & Efficiency
If you're just going to deal with one form of oyster, you can get a highly advanced knife. On the other side, a Boston oyster knife or a French oyster knife provides a high degree of flexibility for different oysters' styles.
The oyster opener ought to be able to open the shell quickly without putting too much force. It's not good if the knife punctures the meat or crushes the shell; use the special knife to get acquainted with it.
Safety
While the oyster knives are fairly blunt, you can still be injured. A contoured, nonslip handle usually goes with narrower middles, which make it easy to keep.
It is important when your hands are wet. Some sets include the handguard to prevent the blade from nicking or cutting off palms and fingertips.
Handguards protect against nicks and cuts. You could shape a bulge on the handle to protect the palms from grazing the blade or come as mesh gloves with the maximum standard of five ratings for cut-free shucking.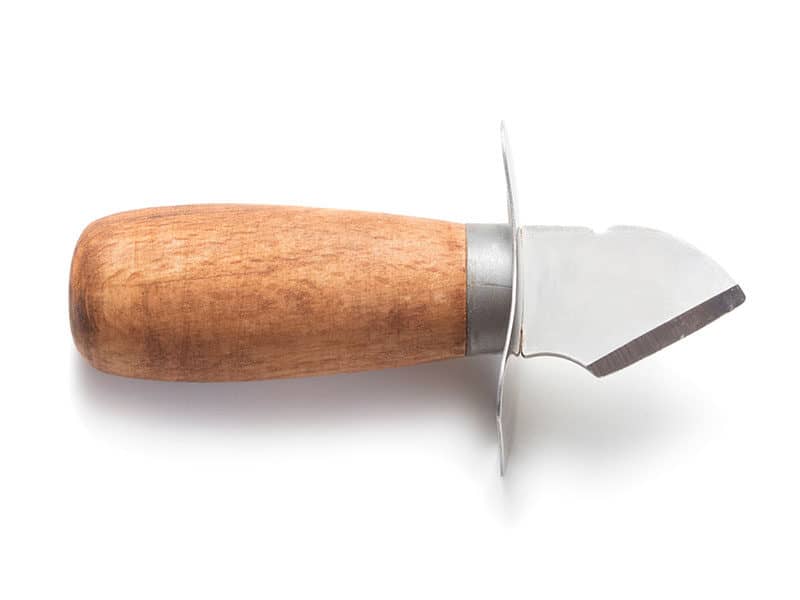 Materials & Maintenance
Since oysters are saltwater species, it is very common that they have some salt inside. It will, however, affect standard knife blades and cause corrosion.
Blades need at least 3 inches long with a rounded or bent tip such that you can open the oysters from the hinges and cut the abductor muscle quickly. You should rinse carefully after every use to prevent damages.
Prefer the blades made of high carbon steel, which is tougher and lasts longer than simple alloy blades or conventional stainless steel blades.
FAQs
Eating oysters can be daunting, and they can be even more terrifying! But once you have the hang of it, it's a lot of fun, and you feel accomplished. No more worries, I am here to share the common cases with you and some notes to remind.
My Top Pick
The mystery behind the oysters' flavor is not the sauce, but the preparation way, especially by the best oyster knives. The more properly the oyster is shucked, the more enchanted the taste of eating.
Topping my favorite oyster knife is the HICOUP Providence Style Oyster Knife. This product looks fantastic in your kitchen cabinet and provides many extra advantages of being robust thanks to the exquisite handle. Safety features are also included.
And you won't find any trouble in choosing the right shucker. I hope my review will prove useful to the best decision. Share your friends now, anything better than adding the best oyster knives in your shucking sets? Never say "Nay" for an oyster night!