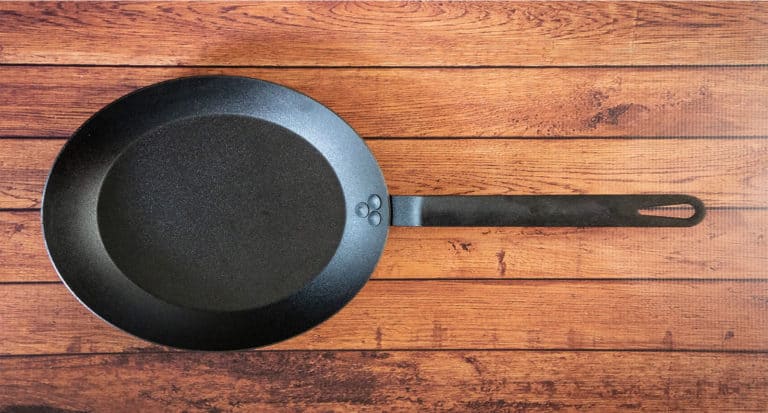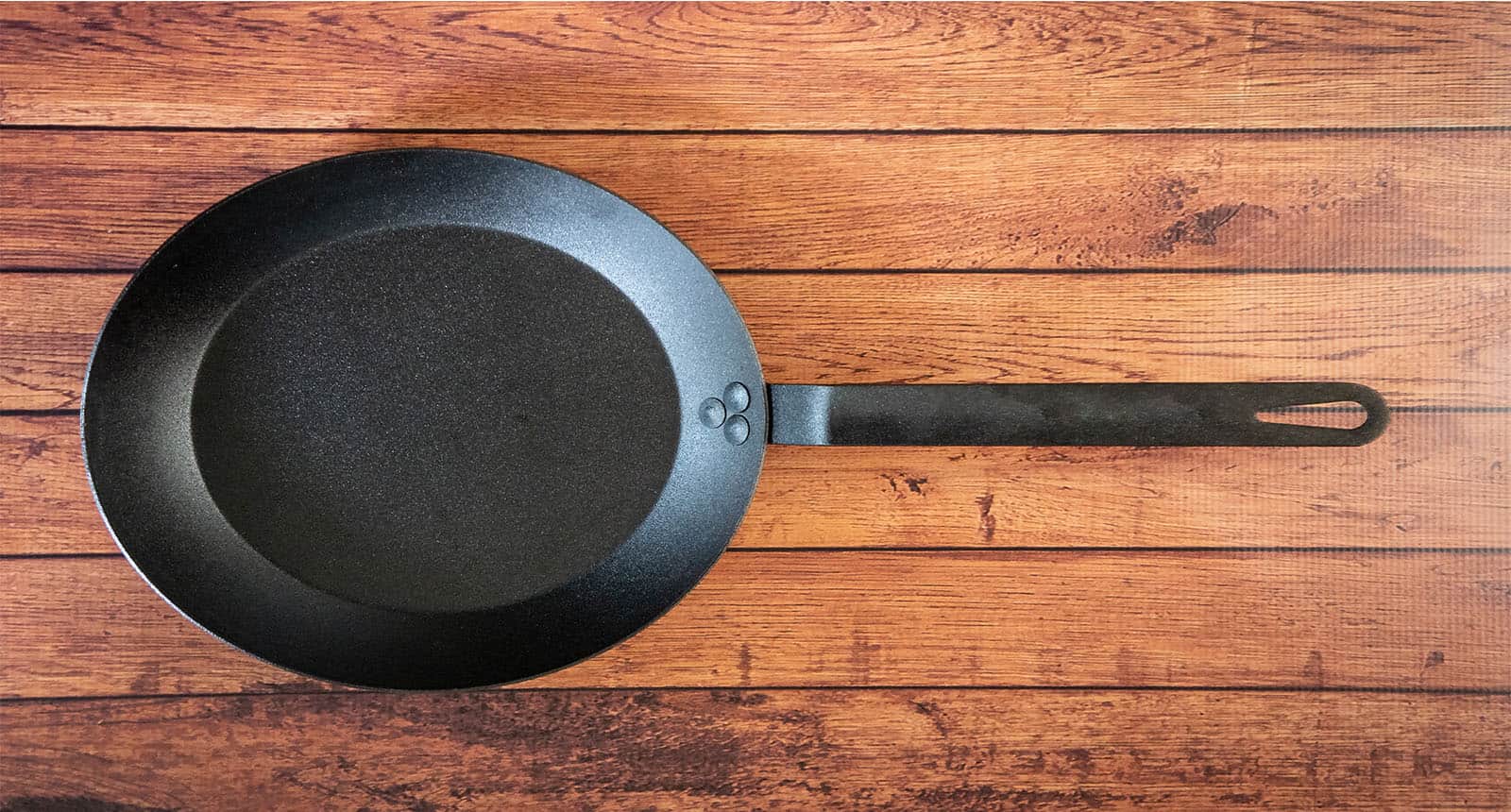 "Is carbon steel cookware safe for cooking" is a question that many ask when buying a new cookware, for example, a good-grade carbon steel wok. You can see it in stores but you cannot be sure whether it is the right choice between other high-quality materials used for cooking items.
Still, more questions are coming alongside owning and cooking in the carbon steel cookware. How can you clean it? Or is it toxic? How can you use it? You certainly have some of your own, right? Well, here are the answers about the safety of your carbon steel cookware and how to keep it safe for future use.
Is Carbon Steel Cookware Safe?
Yes, carbon steel cookware is safe for cooking because it is made of iron and carbon, which are safe material choices for cooking tools and do not emit toxic substances. All you need to do is to clean it, season it and store it properly, and you can use it for all cooking methods.
If this cookware is exposed to water for too long, it will fast show unwanted traces of rust. Of course, even then this carbon steel cookware is safe to use. The safest way is to clean it properly, season it and store it for the next use.
What Is Carbon Steel Cookware?
Carbon steel cookware has been a common choice of professional chefs and their kitchens. But what makes it so special that those skilled cooks ask only for a carbon steel pan to make a delicious sauce or camping enthusiast who decides to carry one around and use it in the middle of nowhere to prepare a tasty meal?
Carbon steel cooking items are made of steel that contains a certain percentage of carbon depending on the total weight and final use.
Carbon steel cookware is very versatile and you can use it for simple recipes, like frying eggs with an ideal nonstick omelette pan, or for delicate and complicated meals.
The greatest advantage of this type of cookware is that it can handle high temperatures without having to worry about burning, and therefore damaging your pan or skillet. Saying that, you can be certain that it will last for a long time as carbon steel pans and skillets are durable, too.
What Is Carbon Steel Cookware Made Of?
Carbon steel cookware is made of mostly iron and only one percent of carbon. This small percentage of carbon in these carbon steel cookware gives it more strength and a more uniform texture. The less carbon mixed with iron, the stronger the pan or skillet would be.
If there were more carbon in these kinds of pans, they would be much more brittle and easier to damage. Carbon steel woks, skillets, and pans can handle very high temperatures thanks to this ratio of iron and carbon, unlike those pans and skillets with a higher ratio of carbon.
Carbon steel cookware has also a light structure because it is made by cutting the iron and shaping it into the final product. Each use on high temperatures with cooking oil or water in it causes this carbon and iron combination to become even stronger and more durable.
Carbon Steel Thickness
Carbon steel cookware is lighter than cast iron kitchenware which makes it easier to use. The carbon steel cookware is available at 2 to 3 mm of thickness thanks to a low percentage of carbon. Because of its low thickness, you can reach higher temperatures in your pans which can be essential for some recipes.
Is Carbon Steel Cookware Toxic?
Besides the common comparison between copper and stainless steel kitchenware in terms of safety, many people are also concerned about whether carbon steel is toxic.
But you do not have to worry as carbon steel material is a material that is safe for use and non-toxic. This material can withstand high temperatures for a long time without emitting toxic substances as some other materials could.
The only problem with carbon steel cookware is if you do not use it well and do not season it regularly. Pans and skillets can get rust on them but they can still be used but you must make sure to clean off the rust first. The rust is only oxidized iron and will not harm your health as long as your body can safely deal with excessive iron.
The safest way to use a rusty pan again is to remove the rust from the pan first, season it well and then put it back to use. You can clean the rust easily by using coarse salt and oil or scrubbing it well with an abrasive sponge or fine sandpaper. Make sure not to leave the pan soaked in water or left in a humid environment.
Is Carbon Steel Cookware Non-Stick?
The carbon steel skillets and pans do not have artificial non-stick coating but they form their natural non-stick coating thanks to regular seasoning with some oil. The coating that is formed with seasoning will provide a non-stick surface that can be compared to any other similar natural or artificial coating.
Since it is seasoned regularly, this type of cookware is also easy to clean so you do not have to worry that the coating will be damaged.
Your food will not stick to it and burn so you can make anything in this cookware. For instance, there are various finest making-crepe pans made from carbon steel which ensure the best non-stick quality.
How To Use Carbon Steel Cookware?
Carbon steel cookware, such as various-sized skillets and pans can be used for making all sorts of delicious meals. They can replace any pan as you can use these to preparing simple but also much more complicated recipes.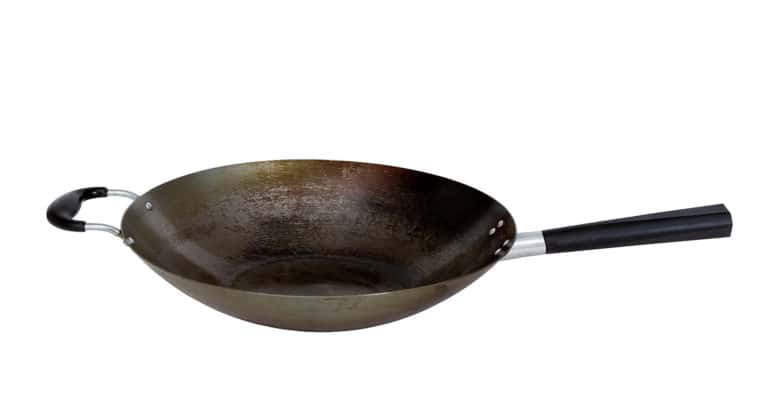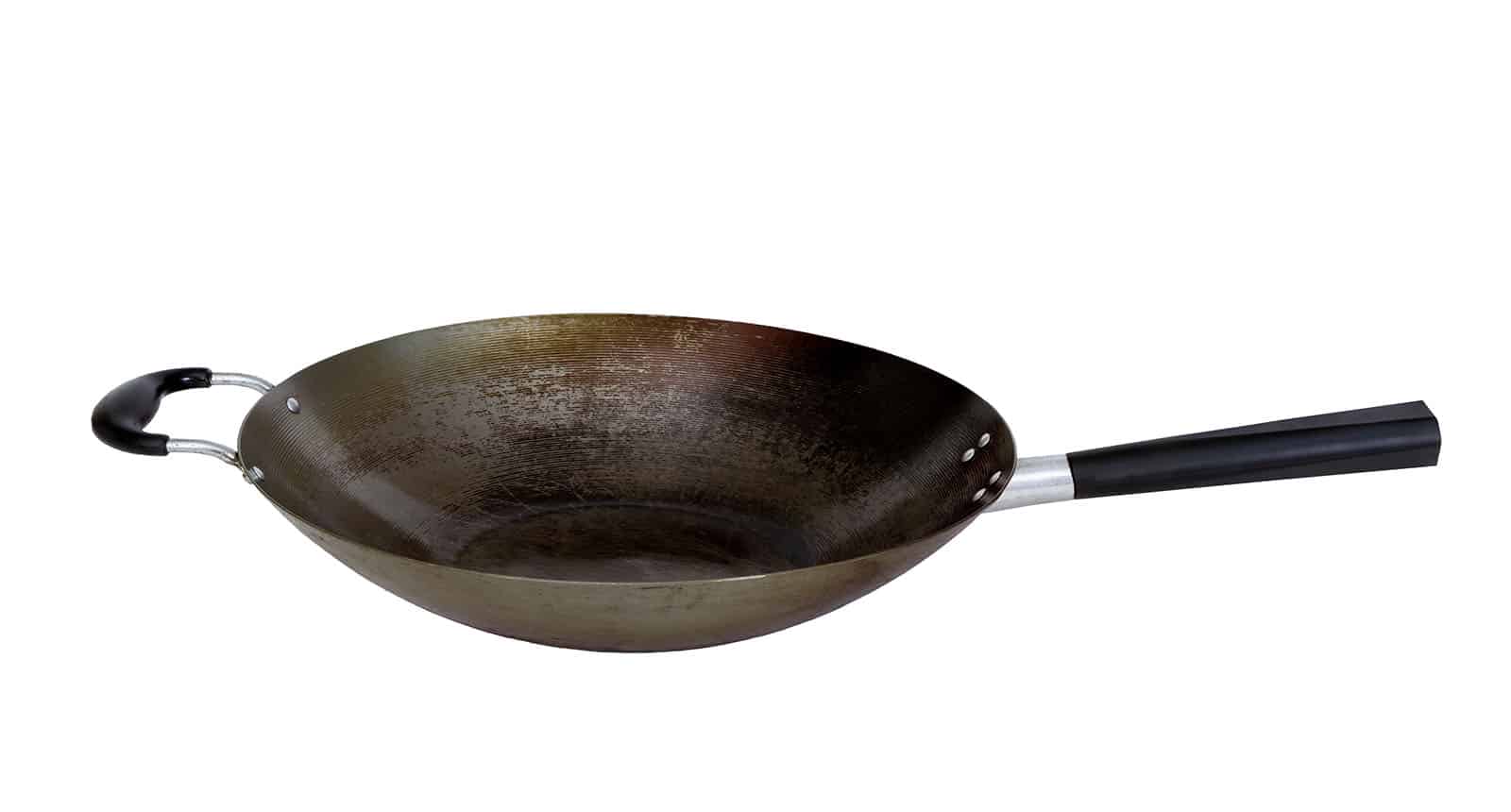 Use the skillets and pans to prepare recipes that require searing or braising, broiling in the oven, or even baking. Just name it and you can use a carbon steel pan to make it. No wonder why so many professional chefs use this type of cookware.
On Camping
When you go camping, you need some cookware that is easy to clean, carry around and prepare or heat some meal. No wonder a carbon steel skillet is a favorite choice of skillet to take with you on camping. And you can clean it easily with some water which is another advantage when you are in the field.
For Browning and Searing
Want to make a steak, put it in the carbon steel pan and you will get a perfect lunch. The same goes with many other food and ingredients such as tuna, salmon, pork chops that can be easily prepared. Cooking methods like browning and searing are a great combination with carbon steel pans.
For Stir-Frying
If you need to make a fast meal that includes delicious chicken sided with fried rice or vegetables, take your favorite stir-fry pan or skillet made of carbon steel that will certainly help you prepare that meal. Stir-frying is another cooking method that goes well with this type of cookware.
Check this video to see more about why to use carbon steel cookware.
For Baking
If you wondered what is baking doing on this list then here is the answer. Carbon steel can withstand high temperatures and pans made of this material can go into the oven, too. So, if you need to bake a cake or prepare some dessert that includes an oven in the prepping process, you can do that, too.
Carbon Steel and Induction
Induction cooktops demand special cookware to work. Carbon steel cookware is certainly one of those kinds of cookware. Make sure to heat the carbon steel pan slowly before putting your ingredients into it and gradually increase the temperature to avoid burning your food.
How To Clean Carbon Steel Cookware?
When it comes to cleaning carbon steel cookware, there are several things you should bear in mind. First of all, carbon steel and water do not like each other. That does not mean that you cannot cook with water. It rather means it does not like to be exposed to water and humid environments for too long.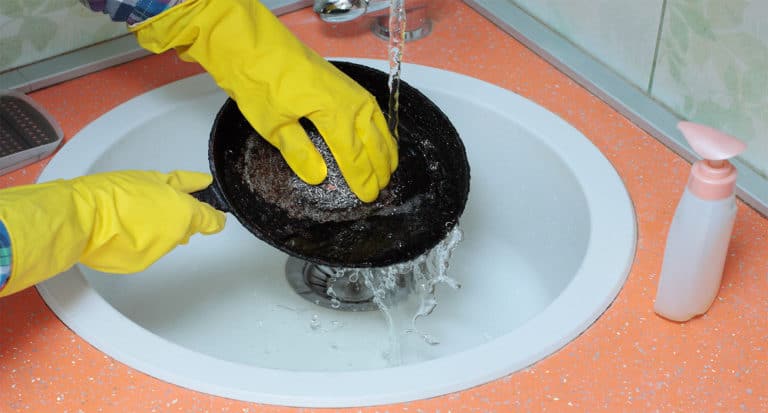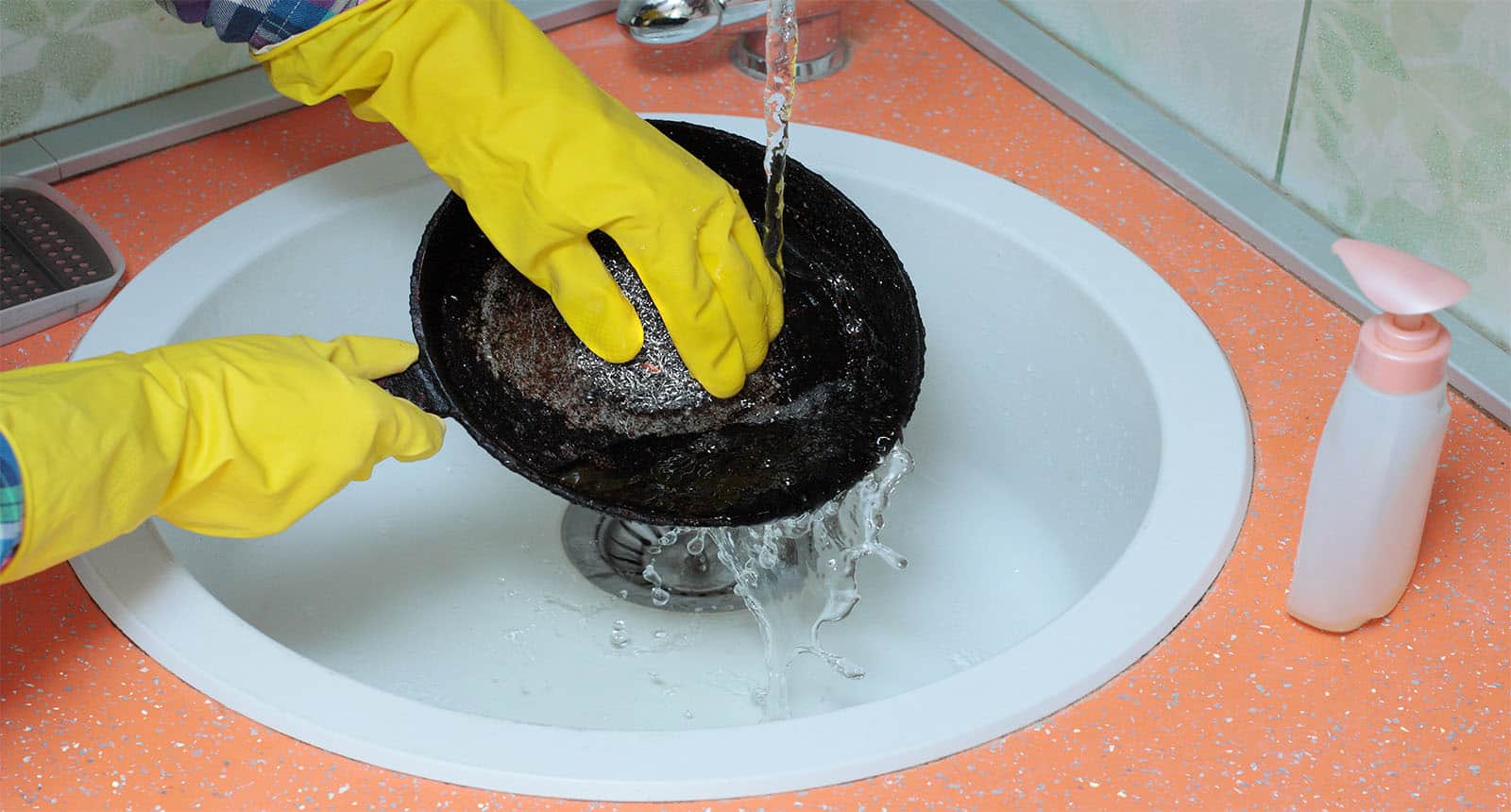 If you leave your carbon steel skillet out in the rain when you are camping for example, or filled with water, it will most certainly show some rusty spots. However, it is easy to remove the rust with few simple tricks.
Coarse Salt
When you need to clean your carbon steel skillet or pan first remove the fond from it. Then use some coarse salt and spread it on the bottom of your pan together with some oil. Then, use the piece of paper towel to scrub it gently until the rust is removed.
Vinegar
If you have a bad case of a rusted pan, then you can also try vinegar to remove it. Mix equal parts of water and vinegar and add it to the pan. Heat the pan until the mixture boils. Pour it out and scrub the pan with the help of warm to medium-hot water. The rust should be gone.
Scrubbing Sponge
Using a scrubbing sponge is the most obvious way to clean carbon steel kitchenware. Fine sandpaper or any other abrasive scrubber should do the trick. Do not be afraid that you will damage the surface, these coarse sponges will remove the rust and help you use your pan or skillet again.
Seasoning The Carbon Steel Cookware
After any of the aforementioned cleaning methods, it is wise to season your cookware to prevent rust in the future. Seasoning is done simply by heating the oil and let it form a protective coating. This will prevent the skillet from rusting even if it is exposed to humid environments.
How To Season Carbon Steel Skillet On the Stove?
Seasoning the carbon steel skillet is very simple, but you need to do it correctly to have the best results. The first thing you should do is to make sure your skillet is clean. Clean it with water or with any cleaning methods suitable for this kind of kitchenware.
Seasoning helps with closing tiny pores on the pan's surface and prevents them to form rust. This protective layer can be done by heating the cookware on the stove or in the oven but you should keep in mind what is the oil's smoking point.
Check out this video to see more about seasoning carbon steel cookware.
Before heating the pan, make sure it is clean and dry. Heat it up and then use the paper towel or kitchen cloth to lay a thin oil coat on the pan's surface. Make sure to remove the excessive oil from the pan by using a clean paper towel. Only a thin layer should remain on the surface.
Keep heating it at medium temperature for at least five minutes to make sure all sides are heated. Then leave it cool down and your seasoning process is done. You can do this with pans, skillets, or woks but make sure to do this often, if possible after each use.
How To Season Carbon Steel Cookware In The Oven?
You can also season your cookware in the oven and get the same good results. Preheat your oven to 450 – 500 0F which should be a little over the oil's smoking point. Put the dry and clean kitchenware in the heated oven and let it stay inside for several minutes to let the pores dry completely and prepare them for seasoning with oil.
Then use the paper towel to coat the surface with a thin layer of wax or oil. Leave your cookware in the oven for an hour. Do not worry if you see some smoke. After that hour, turn off the oven and let your oven and the kitchenware cool down completely.
Carbon Steel Cookware Vs Cast Iron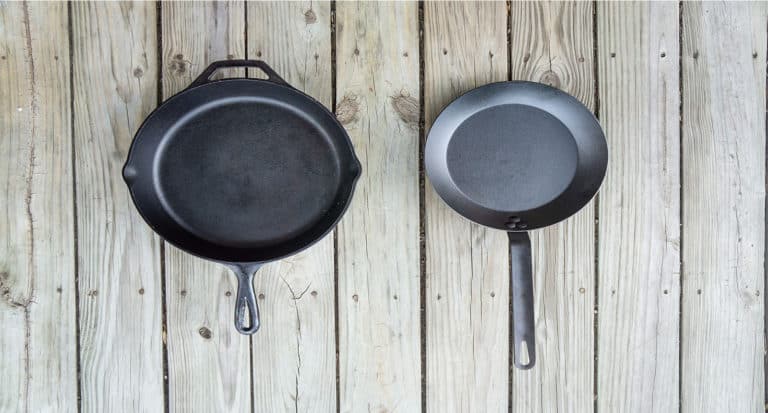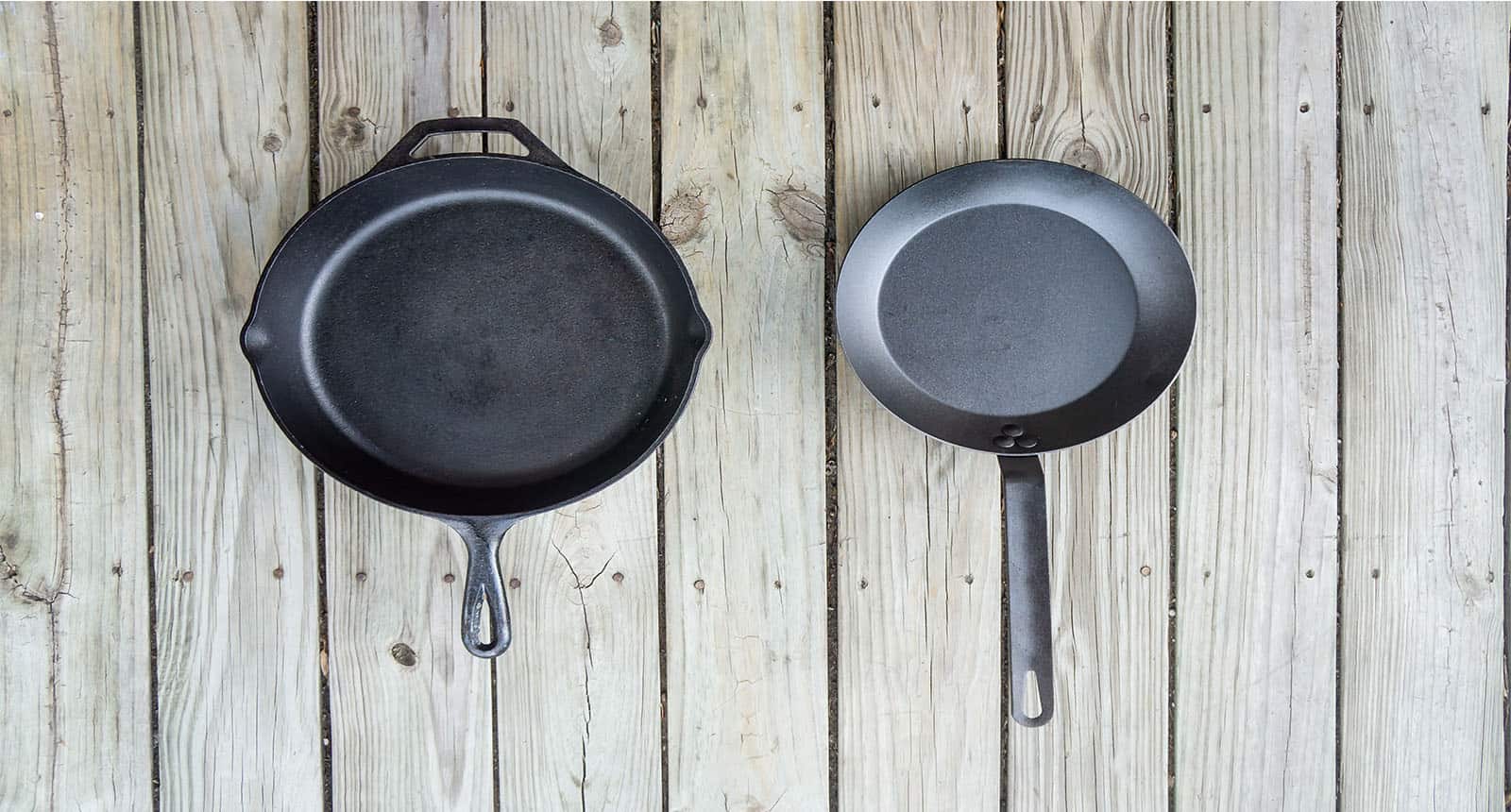 Both carbon steel and cast iron materials are highly appreciated in the cooking world. That is why most professional kitchens own kitchenware made of either of these materials. However, there are some differences between these two.
Carbon steel cookware contains a smaller percentage of carbon which makes it lightweight and more durable than cast iron. The performance of both of these cookware types is incredible but those slight differences may help you make your choice.
When you see all the things related to carbon steel material, you can see that there are lots of positive sides with several negative ones that are easily avoided. To make sure you do not miss anything, you can see the pros and cons of these incredible cooking items.
Carbon Steel Cookware
Pros:
Safe for all cooking methods
Lightweight
Durable
Non-stick surface
A low percentage of carbon
Can withstand high temperatures
Easy to clean
Versatile use
Affordable
Cons:
Prone to rust
Needs to be seasoned often
Needs to be stored in dry environments
Cast Iron Cookware
Pros:
Durable
Affordable
Can withstand high temperatures
Non-stick surface
Even heat distribution
Easy to clean
Traces of iron in food
Cons:
Does not go well with acidic food
Needs to be seasoned often
Heavy
Poor heat conductor
Should You Go For Carbon Steel Cookware?
The versatility of this type of cooking item proves that it is safe for use with all cooking methods as it can withstand high temperatures without emitting toxic or harmful chemicals that could harm your health. It is lightweight, too, easy to use and clean, and anyone can afford to have it.
Yes, it is prone to rust if not maintained properly, but nothing that an occasional scrub or seasoning will not save. Make sure to clean it and season it properly and you will have durable and excellent cookware that all chefs, both professional and amateur ones deserve to have.
Do you have a piece of carbon steel cookware in your kitchen? What do you like most about it? Or do you wish to own one? Share your thoughts with me in the comments below.