Getting to know the delicious world of foods that start with 'O' is like embarking on an exciting culinary journey. From the scrumptious sweetness of oatcakes to the savory delight of olives, 'O' foods are a treasure trove of culinary diversity.
In this post, you'll discover unique 'O' dishes, learn about their cultural roots, and find inspiration for your next meal. This knowledge will make you a more informed food enthusiast and the star of your next dinner party.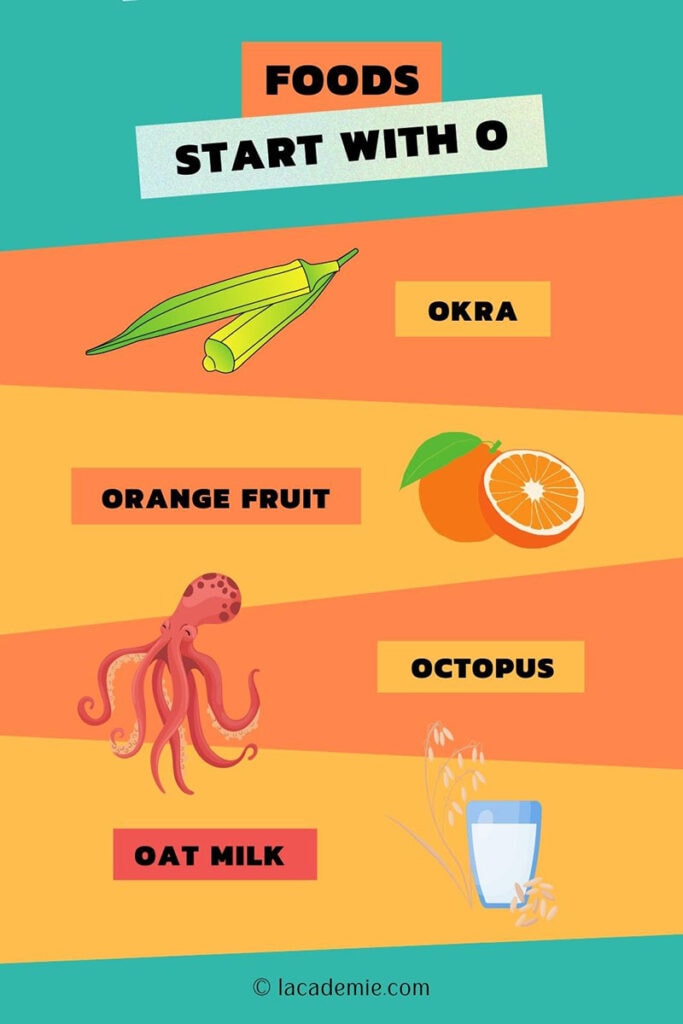 How Many Types Of Food Do I Have?
Please keep in your mind that all these foods are edible. I classify them into five main groups for you to follow to make them more accessible. Five main groups of food include:
Fruits
Fruits are a source of essential nutrients that people don't get enough of, such as folate, fiber, potassium, and vitamin C. Fruits can be used in different ways: fresh, canned, dried, peeled, deseeded, cut-up, or even frozen.
Vegetables
The vegetable is a staple food for a healthy life. It is rich in vitamins and minerals with low calories, which is recommended for your diet.
Protein Foods
Protein foods, like their name, include those foods with high protein and rich in iron, potassium, and other vitamins and minerals. Most protein sources come from meat, fish, poultry, seafood, and eggs, beans, seeds, nuts.
Dairy Foods
Dairy foods are a group of foods that contain or are extracted from milk. This food group provides low-fat content and is rich in calcium, vitamin D, vitamin B12, and potassium.
Cooked Foods
Cooked foods are made from the accompaniment of many different kinds of ingredients in a particular way. Those are not only savory dishes but also nutritious.
So, let's start!
A Curated Collection Of 'O' Starting Foods
Here is the list of "O" foods and dishes around the world that you might want to know. Let's see what they are!
Fruits
Olallieberry
Orange Fruit
Orangelo Fruit
Oregon Grape
Otaheite Gooseberry
Oval Kumquats
Oroblanco
Opuntia
Ortanique
Oil Palm
Olive
Oriental Persimmon
Vegetables
Ogonori
Okra
Orach
Onion
Oregano
Oca
Oxheart Tomato
Oyster Mushroom
Meats And Seafood
Offal
Oxtongue
Oxtail
Octopus
Oysters
Ocean Perch
Orange Roughy
Opakapaka
Dairy Foods And Alternatives
Olivet Cendre
Oxford Blue
Orgu Peyniri
Oat Milk
Grains And Cereals
Oats
Oatmeal
Ogi
Oat Bran
Savory Soups, Stews, And Curries
Ogbono Soup
Oil Down
Okroshka
Osumashi (Japanese Clear Soup)
Ou Tenga Maas (Fish and Elephant Apple Curry)
Appetizers And Side Dishes
Omelete
Ohitashi
Onion Rings
Onion Dip
Orzo
Oysters Rockefeller
Rice Dishes
Ochazuke (Green Tea on Rice)
Omurice
Onigiri (Japanese Rice Balls)
Okowa (Mixed Sweet Rice)
Oyakodon (Chicken And Egg Rice Bowl)
Main Dishes
Obusuma
Oeufs En Meurette (Poached Eggs in Red Wine)
Osso Buco (Italian Braised Veal Shanks)
Okonomiyaki (Japanese Cabbage Pancake)
Orange Chicken
Desserts And Sweets
Opera Cake
Oreo
Oatcakes
Obbattu (Indian Sweet Flat Bread)
Oshiruko (Red Bean Soup)
Osmanthus Cake
Otap (Filipino-style Puff Pastry Cookies)
Oblea
Fruits
1. Olallieberry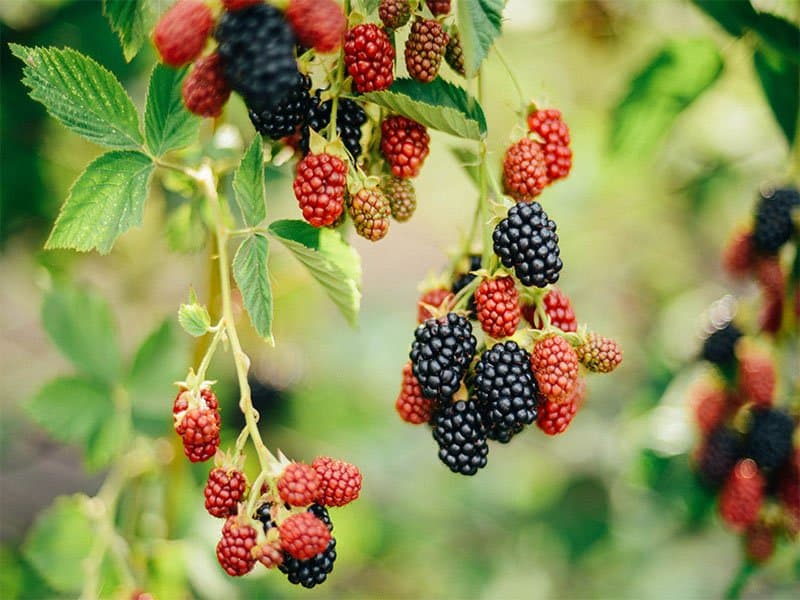 It seems like a blackberry, doesn't it? Actually, Olallieberry is a marketing name for the cross between the Black Logan and the Youngberry. Those two kinds of berries result from blackberry and other berries, which made the olallieberry look like blackberry.
The taste of olallieberry balances the sweetness and tartness of blackberry jam, plum, and cassis. This fruit contains vitamins C, A, iron, potassium, calcium, and dietary fiber.
The sweet and tart flavor of olallieberry is a perfect complement to hazelnut, coconut, rose, apricot, raisin, pork, rum, and so on. You should be careful with its juice because it will stain your clothes.
2. Orange Fruit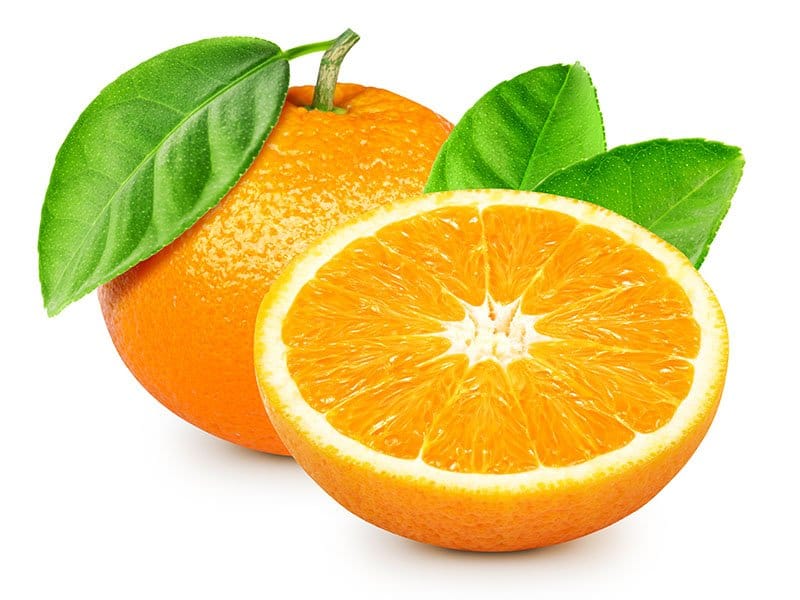 Along with bananas and apples, oranges are one of the most consumed fruits around the world with their round shape and acidic flavor.
There are different types of oranges. For instance, tangerine is a small, sweet, and seedless orange with its rind easier to peel than most orange varieties and is usually used for food or salad.
Then there's the navel orange, which is one of the various orange types most suitable for juicing. Navel oranges can be found in almost any grocery store and are quite affordable. Another variety is the blood orange, whose flesh color resembles blood and is famous for its juicy and tar flavor.
Orange is rich in fiber, potassium, vitamin C, folate with low calories and helps prevent cancer and cardiovascular disease. People use orange juice as a healthy drink to enhance their immune system.
3. Orangelo Fruit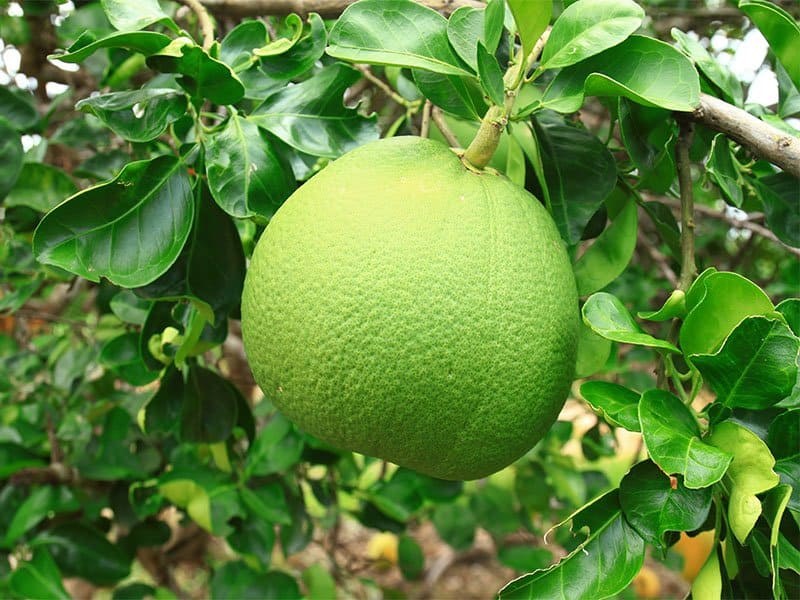 The name of orangelo is similar to orange, but they are two different kinds of fruit. Orangelo is a result between grapefruit and orange. It is why it has the appearance of grapefruit with glowing yellow skin and 9-13 pulpy yellow-orange edible segments in the inner.
This unique fruit beginning with O has a mild flavor between grapefruit and orange with some acidity. In Puerto Rico, people tend to use orangelo rather than grapefruit since its taste is sweeter and more colorful than the old grapefruit.
4. Oregon Grape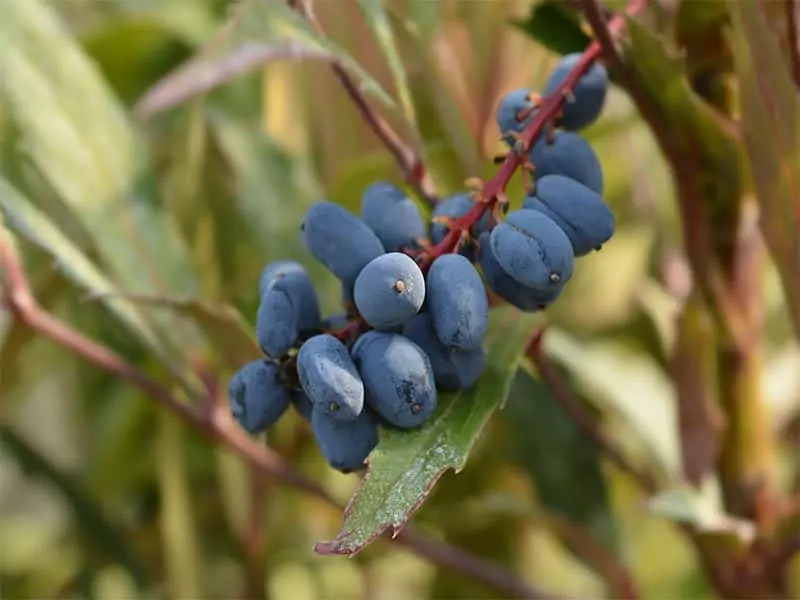 Another name for the Oregon grape is Oregon grape holly, which fruit is a berry that looks similar to a grape. Oregon grape berries have purple-blue skin and a tart taste, not sweet.
The yellow roots of the Oregon grape are used as herbal medicine. It treats many illnesses like colds, flu, herpes, stomach upset, yeast infections, and more.
Oregon grapes are actually the berries of an evergreen shrub. Although not as sweet as some other berries, Oregon grapes are great when accompanying sweeter berries, creating delicious jams or jellies.
5. Otaheite Gooseberry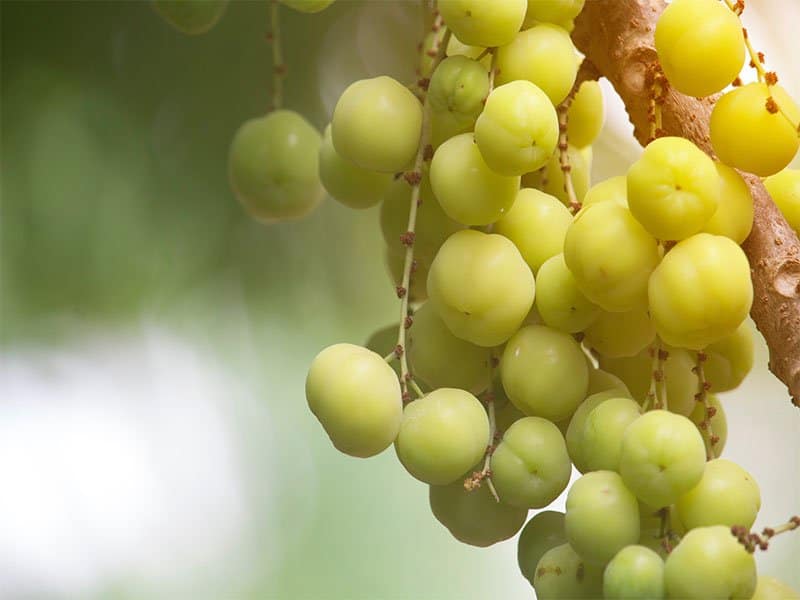 Another case for what it is called is not what it is. Otaheite gooseberry is not like a gooseberry except for its acidity. When this tree grows in tropical and subtropical areas, it has another name: cermai fruit.
Due to the tart flavor of Otaheite gooseberry, this fruit is usually blended with sugar. The juice and sweetened fruits are made into sauce.
In some countries, the flesh fruits are juiced, candied, or even pickled. Especially in India and Indonesia, the young leaves are used as a vegetable in their meal.
6. Oval Kumquats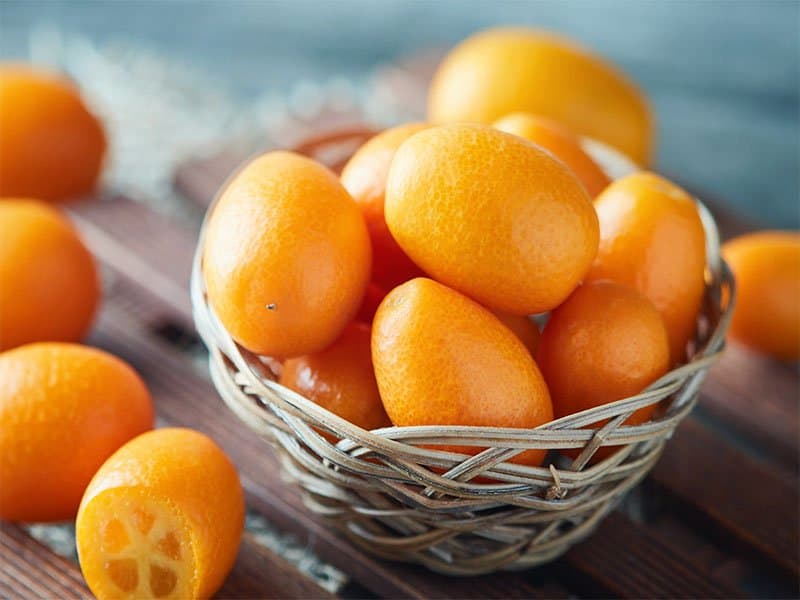 Oval kumquat is a classic Chinese mandarin and is highly grown in Asia. In Chinese, oval kumquat is called Fortunella Margarita.
The fruits have the color of deep orange outside the pulpy skin and light orange succulent inside. Oval kumquats can be eaten fresh or used to make marmalade, candies, cakes, and sauces.
The round-shaped one is called Marumi kumquat.
7. Oroblanco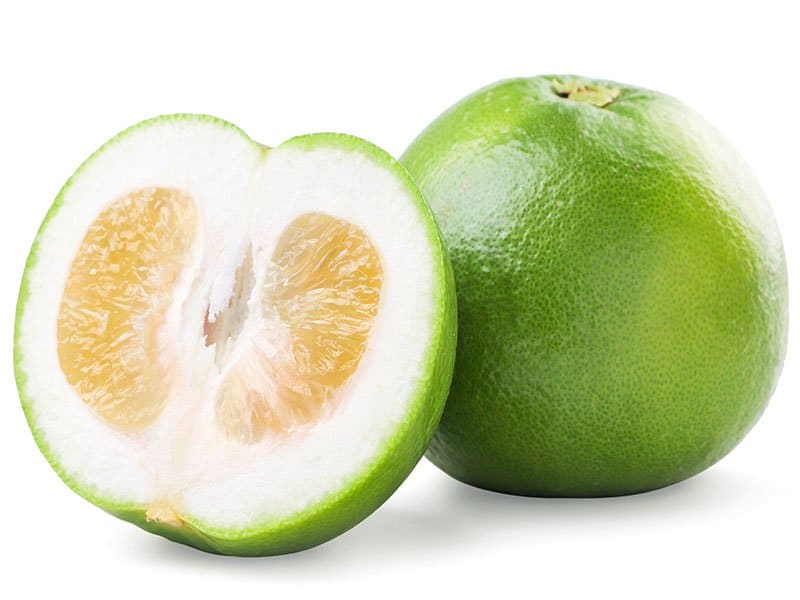 Oroblanco was developed in California in the late 20th. It is a cross between white-fleshed grapefruit and pomelo. The name Oroblanco in Spanish has the meaning of white gold, and this name is used to describe the yellow flesh inside.
Oroblanco is an excellent source of vitamin C, an antioxidant, and natural fiber. Sweetened flesh fruits can be eaten raw or made into candies, marmalade, jams, and jellies.
Oroblanco taste also can complement other ingredients such as honey, avocado, ginger, herbs such as rosemary and basil, meat such as poultry, dusk, and some other seafood.
8. Opuntia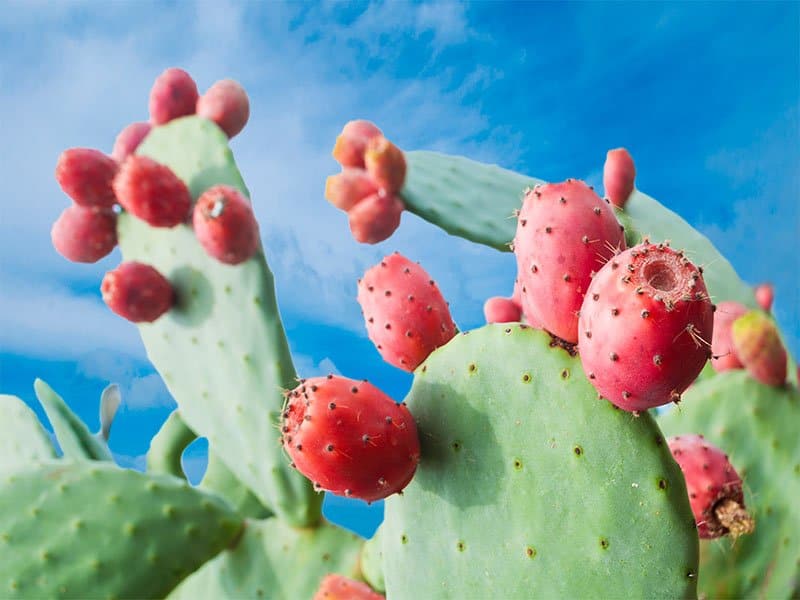 It is a native plant in Mexico and a symbol for Mexican people. Opuntia, or the other name, is prickly pear, cactus pear. It can also belong to the group of fruits starting with "I" as Opuntia is also called Indian figs. Their fruits are edible by carefully peeling the small spines on the outer layer.
Opuntia is an effective functional food by the treatment features it has. The vegetative parts of opuntia are traditional folk medicines for chronic diseases such as diabetes, cardiovascular diseases, obesity, and aging.
9. Ortanique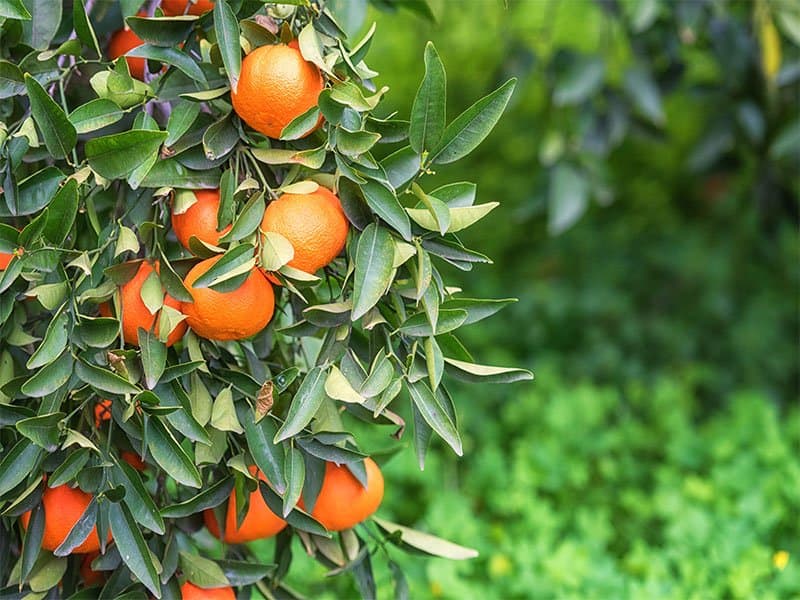 The Ortanique origin is still unclear when this amazing citrus was first reported in Jamaica, in 1920. Ortanique is considered a natural tangor, and its name is a synthesis coined from Or(-ange), tan(-gerine), (un-)ique. Ortanique appears with fabulous yellow-orange skin and a sweet taste with a strong balance of acidity.
An ortanique has about 10 to 12 segments with an average of 10 seeds. The flesh fruit is juicy with a rich, distinctive flavor.
Even though this natural fruit is warmly welcomed in the local market, it has not been planted widely until it received many favorable reactions in Canadian and Great Britain markets (1).
10. Oil Palm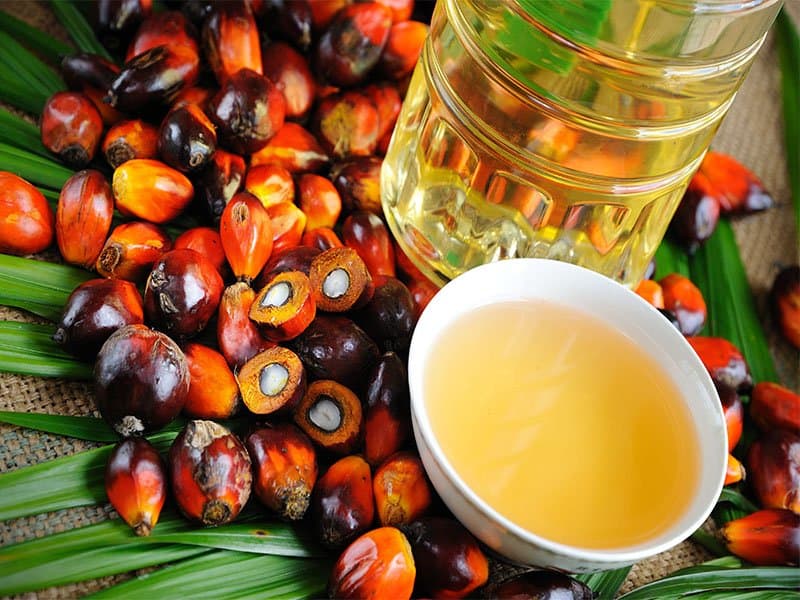 It is an edible vegetable oil extracted from the fruit of oil palm trees. Oil palm was a native African item before palm trees were brought to Southeast Asia. It turned Malaysia into a powerhouse in oil palm production worldwide.
Oil palm is oxidant and heat resistant to give fried dishes a crispy and crunchy texture. Though oil palm occurs in a small portion of the U.S diet, the main faculty of oil palm is in cosmetics, food products, detergents, and half of the package products Americans consume contain oil palm.
11. Olive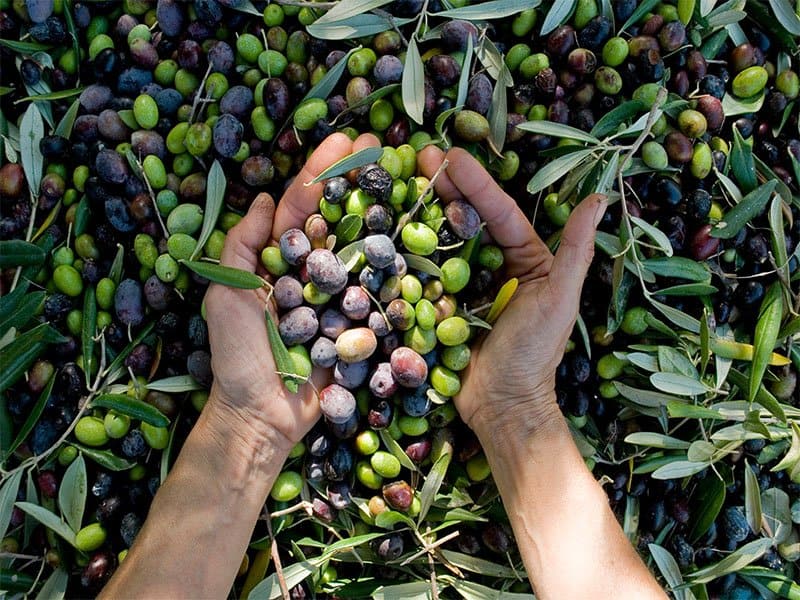 The olive tree is an evergreen tree native to Mediterranean Europe, Asia, and Africa. Olive oil is extracted from the fruit with a high degree of nutrition and is used for multipurpose in human life.
The raw olive has an unpleasant taste. The unripe fruit is green and turns to black when ripe, which needs to be curved and fermented to reduce its bitter taste and get ready to use.
Oil extracted from olive fruit is used widely in cooking. The rich antioxidant and vitamin E in olive oil is also used in the cosmetic industry as nourishment and moisturizer for skin, strengthening weak and brittle nails (2).
12. Oriental Persimmon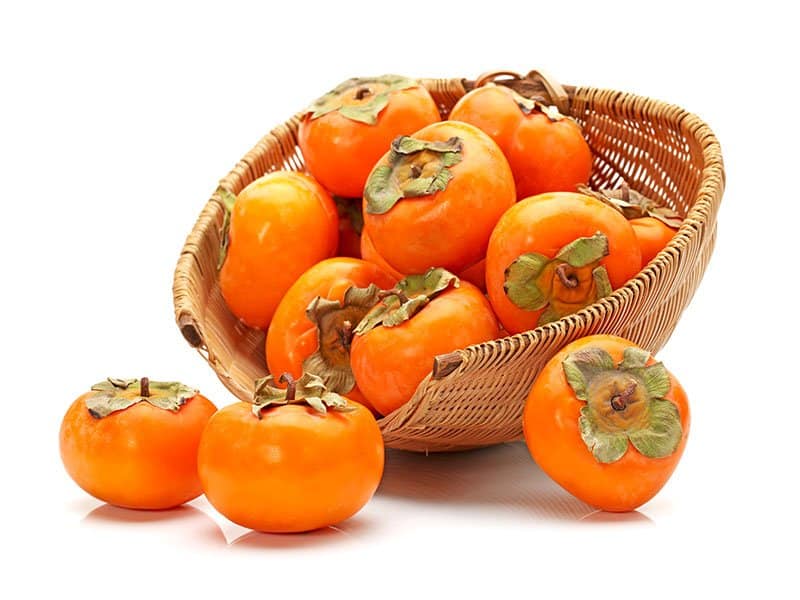 Oriental Persimmon is also called Chinese persimmon, Japanese persimmon, or kaki persimmon. This fruit was cultivated in China more than 2000 years ago.
Fully ripe fruit is sweet and edible due to the loss of astringency in the ripening process when the unripe fruit has a bitter taste.
There are many culinary uses of oriental persimmon. The ripe flesh fruit can be eaten raw from inside out or as dried fruit in Japan, Korea, and Vietnam.
It is also a nutritious fruit with a perfect source of vitamins A, C, antioxidants, and manganese, which is good for your heart, eye, and blood conditions (4). However, it should be consumed moderately to avoid any annoying symptoms like upset stomach or nausea.
Vegetables
13. Ogonori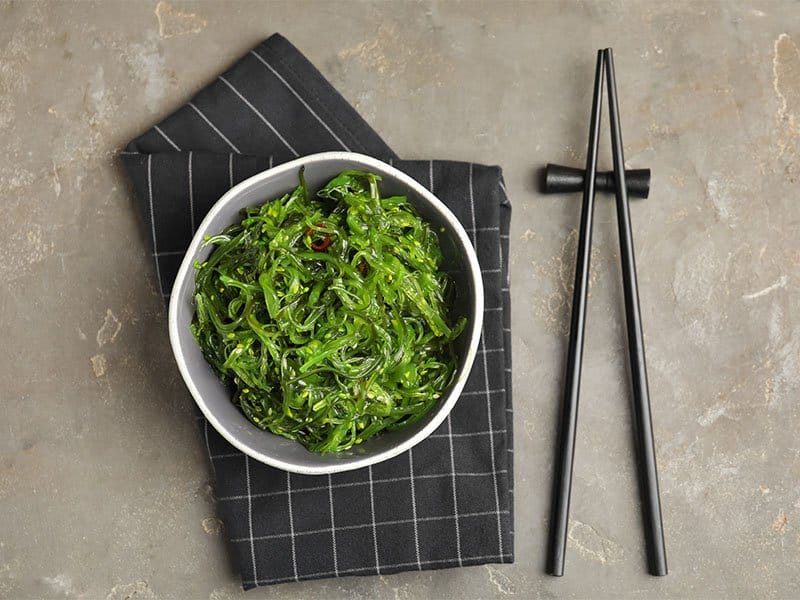 Ogonori is an edible seaweed grown along the coasts of Japan, Southeast Asia, and the Caribbean. The name of ogonori is Japanese and commonly known around the world by its scientific name Gracilaria.
Ogonori is used for miso soup and sushi rolls in Japan and is usually used in salads in the Caribbean and Hawaii. The seaweed is pickled and sold in a poke bowl. The agar-agar powder extracted from ogonori is a vegetarian substitution for gelatin.
Interestingly, the dried strips or powder form can make jellies, puddings, and custards.
14. Okra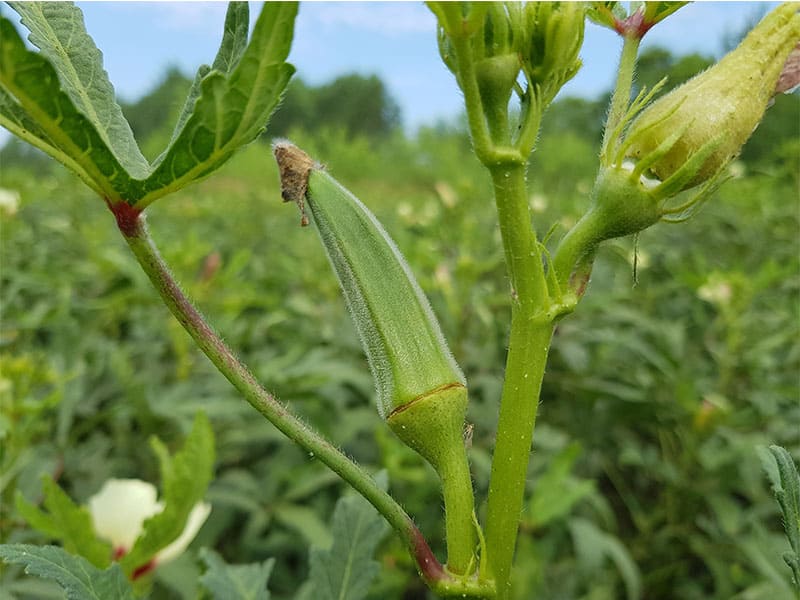 In English-speaking countries, okra has some other names, such as lady-fingers and gumbo. Okra grows mainly in the Southern United States, Africa, the Middle- East, the Caribbean, and Asia. This fruit has a unique texture with a green rind covered by a layer of soft feathers, sticky juice, and small seeds inside the pod.
Okra is a good source of minerals, vitamins, antioxidants, and fiber (3). It is used to prevent the change of obesity and diabetes. The mucilage of okra can help to remove the toxic skin of the body. People can cook okra in many ways, such as stew, boil, sautee, and fry.
15. Orach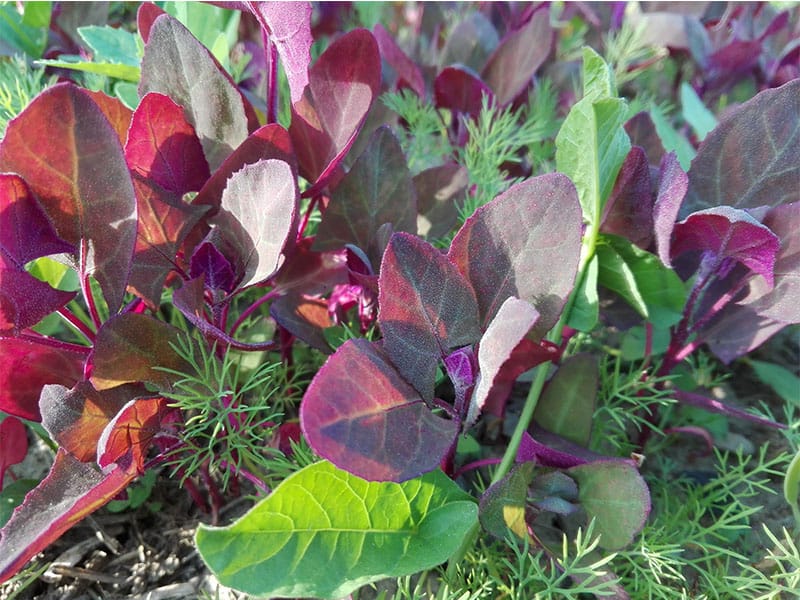 The scientific name of Orach is Atriplex hortensis, and some of its common names as Garden orach, Red orach, Mountain spinach, and French spinach. Orach is an ancient cultivated plant, commonly grown in the Mediterranean and later grown as an alternative warm-weather for spinach.
Orach has a mild chard-like flavor but tastes saltier than other green plants. Fresh green leaves of orach are used for salad, such as feta, cranberry, and vinaigrette salad. These green leaves can be used as a herbal remedy to release anxiety and exhaustion.
16. Onion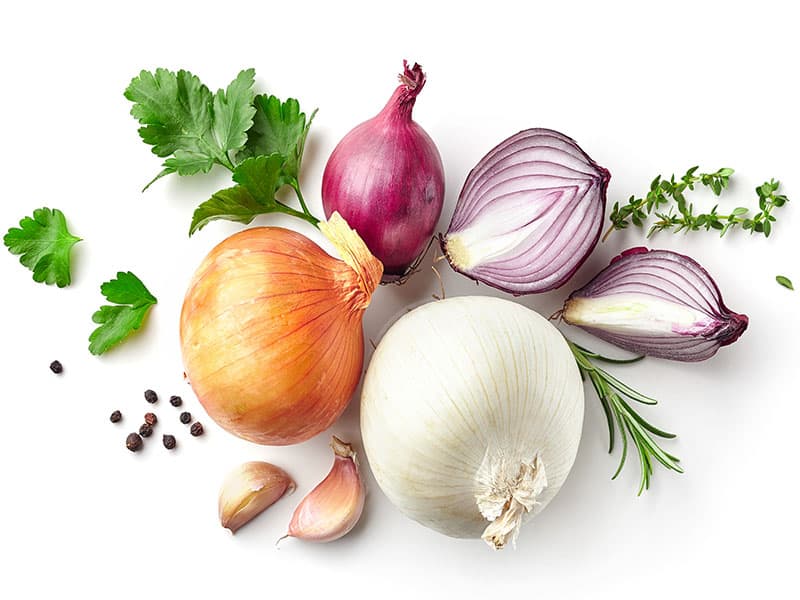 Onion is a familiar vegetable in your kitchen when it is still in controversy: Is it a fruit or a vegetable?
Raw onion chopped down can be eaten as salad with red bell peppers and tomatoes. Onion used as marinade or sauce will go well with any number of things, from a simple hamburger to roast beef.
Onions are a versatile ingredient from the Allium family, sharing close ties with leeks, chives, and garlic. Their flavors range from mild to spicy with a sharp and juicy profile. Be prepared for teary eyes when cutting them due to a gas called syn-Propanethial-S-oxide.
However, the rewards are worth it, as onions are not only highly nutritious but also come with cancer-inhibiting properties (5). The richness of prebiotics in onion will help to boost your immune and digestive systems.
17. Oregano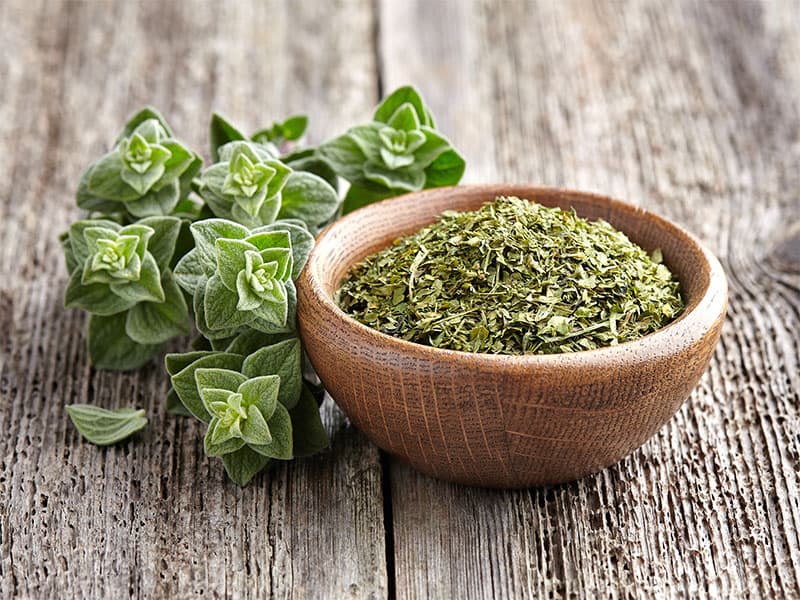 Oregano leaves are a culinary herb with a warm, aromatic taste and are primarily used in savory flavor. This culinary herb can be added to a tomato-based sauce or salad to make it smell or used as a supplement for diet and as an aromatic oil.
Oregano has grown around the Mediterranean for centuries as a medicine. However, you can grow oregano in your garden as a repellent.
18. Oca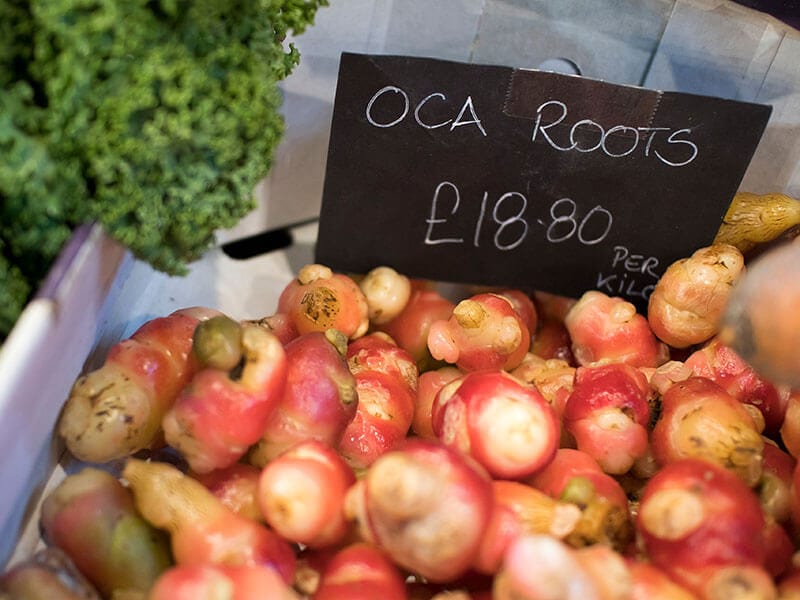 Also known as Oxalis tuberosa, Oca was once called the Irish potato. Furthermore, the vegetable is known by various names, such as yams in New Zealand and uqa in Quechua.
You can enjoy oca raw for a fresh lemony taste and crunchy texture or cook it (either baked or boiled) to achieve a starchy and tender consistency.
This starchy winter vegetable is similar to potatoes but has a slightly tangy, sweet, and nutty flavor, making it a fantastic addition to soups and stews.
19. Oxheart Tomato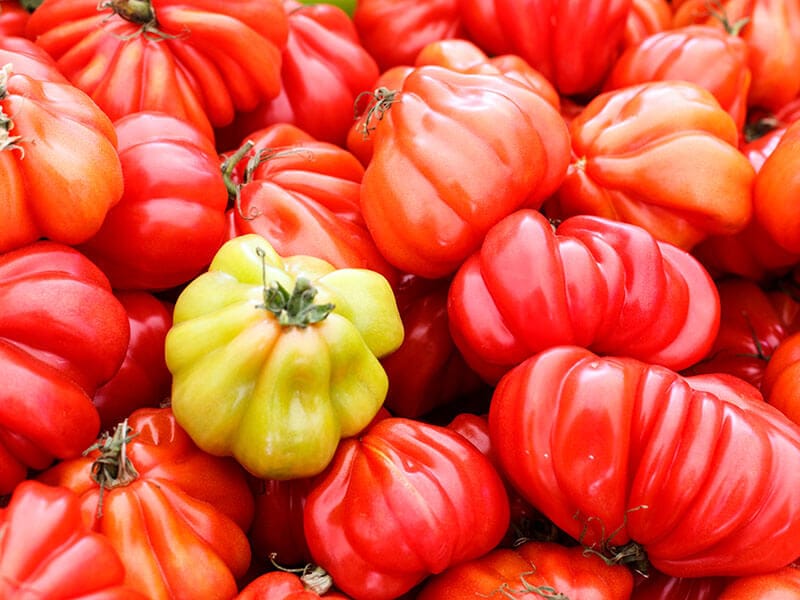 Oxheart tomatoes, shaped much like a beef heart, boast a large size with a tapered bottom. They're meaty, have small seed cavities, and can grow over 1 pound or even up to 3 pounds.
The tomatoes come in various colors and flavors, ranging from red, pink, yellow, orange, and green to purple. With an acidic, savory, and slightly sweet taste, Oxheart tomatoes are ideal for sandwiches, salads, canning, and even stuffing, thanks to their large size.
20. Oyster Mushroom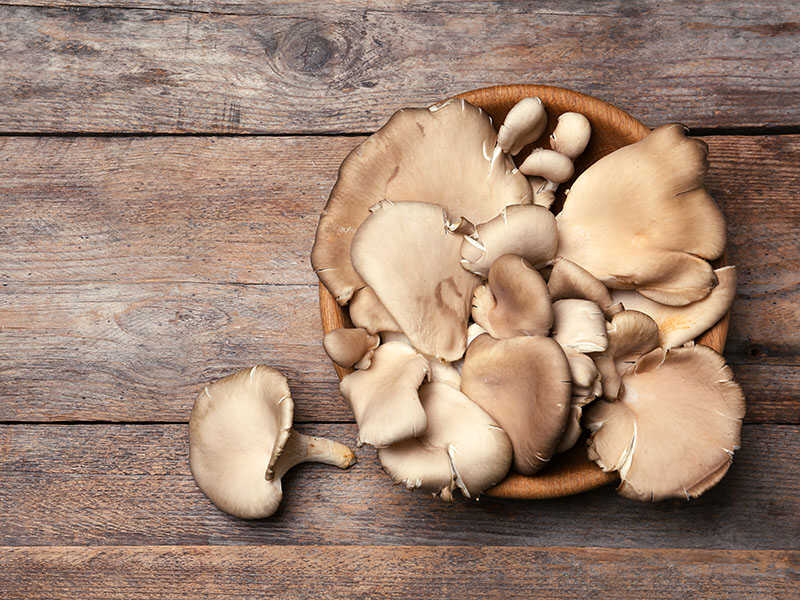 Oyster mushrooms are a favorite in Japanese, Korean, and Chinese cuisine. It also has various names like Pleurotus ostreatus, oyster fungus, hiratake, or pearl oyster mushrooms.
Their broad fan or oyster-shaped caps (¾ to 11+¾ inches) come in different colors like white, gray, tan, or dark brown.
As for the flavor, the firm flesh has a mild taste and a slight anise-like odor. You can find oyster mushrooms served on their own or added to soups, stuffed dishes, or stir-fries with soy sauce.
Meats And Seafood
21. Offal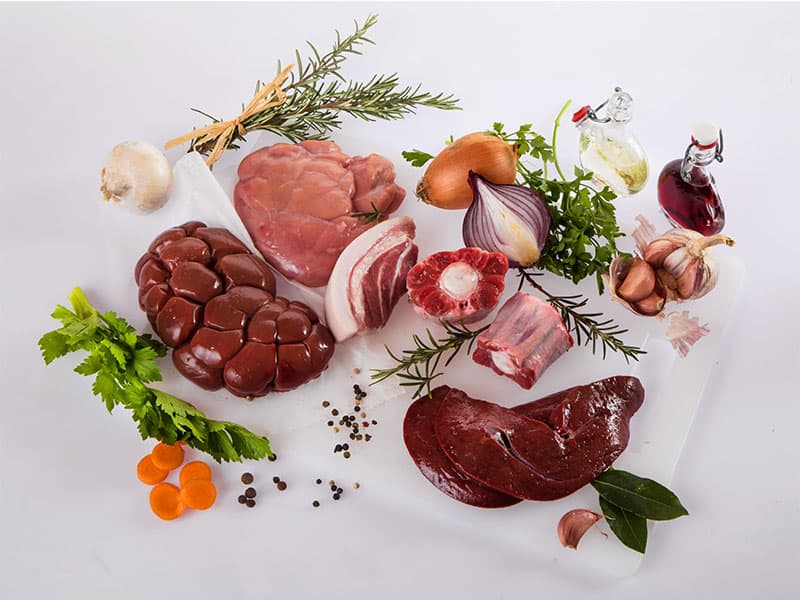 In addition to meat, organs of butchered animals and birds like liver, heart, kidneys, lungs, brain, and cheek can be eaten as food. Offal contains a high value of nutrition.
Some delicious dishes are made from offal, such as chicken liver toast with spicy pecans, calf's liver with parsley, and duck liver pate.
22. Oxtongue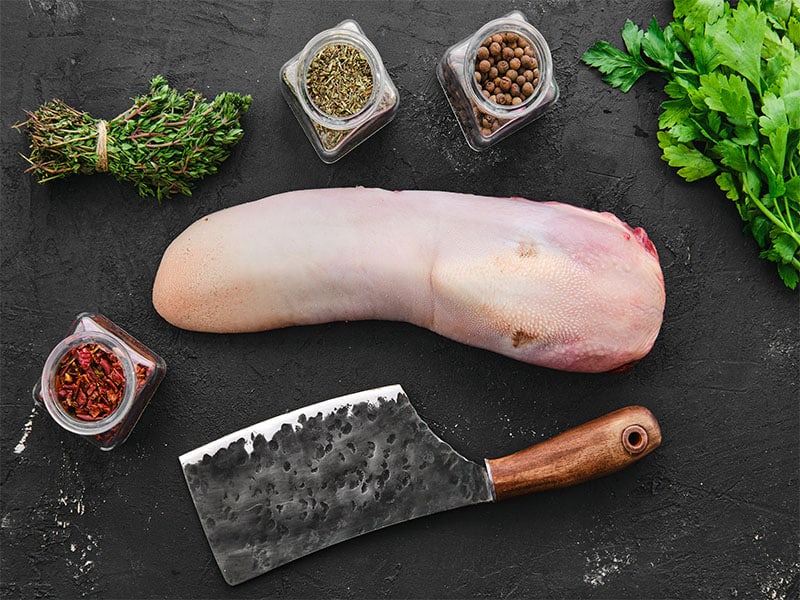 The tongue is high-value offal when only one tongue for each ox. In commercial usage, the ox tongue is also called the beef tongue.
Oxtongue appears in many national cuisines, including Mexican tacos and French and Belgium's sauces. This kind of offal contains a very high-fat content, and it can be cooked in different ways, such as boiling, grilling, pickling, toasting, and braising.
23. Oxtail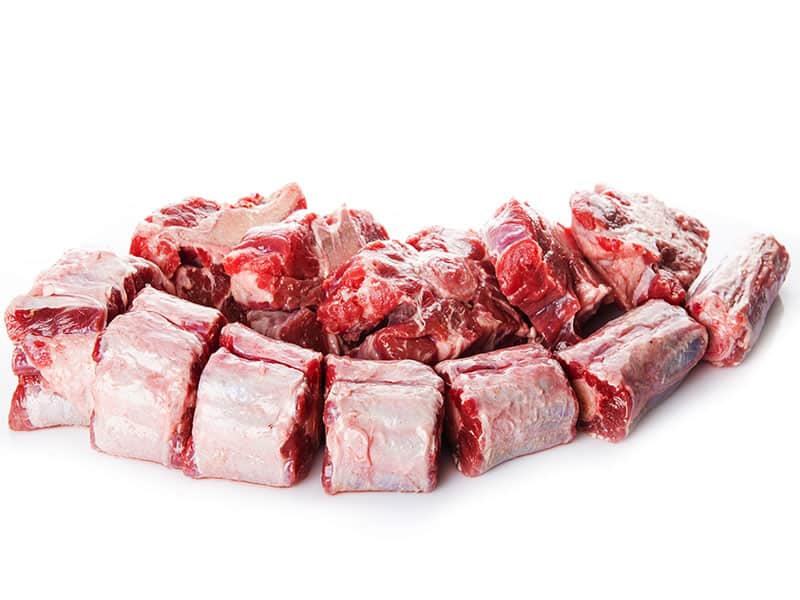 The oxtail is the part cutting from the base of the spine. Most of the time, the oxtail is cut into sections, and it is thin in the top of the tail and gradually thick at the bottom. For that reason, you need to stew it in moist heat for a long time to soften the cartilage.
Although oxtail stew might not seem like an appetizing dish at first, its taste is actually enticing enough to become one of Jamaican staple dishes. Indeed, if prepared properly, oxtail packs a strong punch of flavors that will knock your socks off.
Braised oxtail is more tender with a silky texture than a short rib.
24. Octopus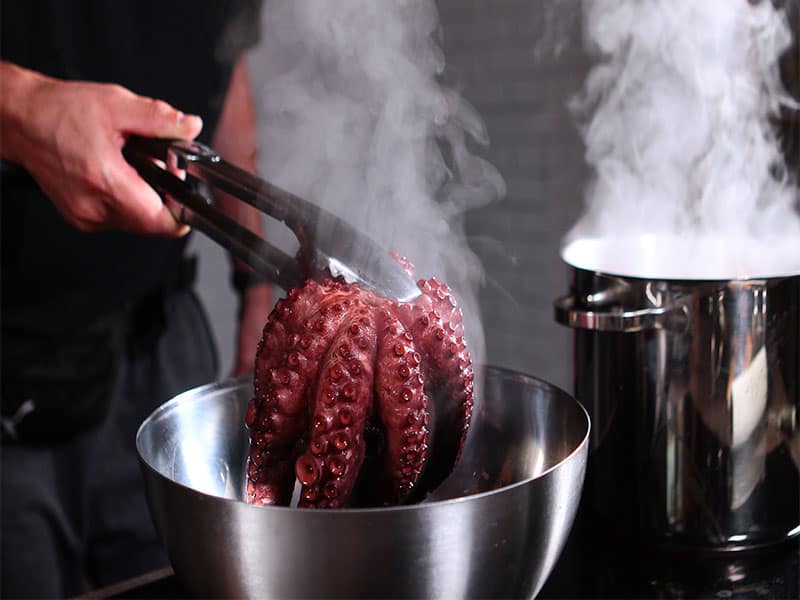 This boneless animal is interesting to humans both inside and outside the plate due to its intelligence and benefits. Octopuses are recorded to have the intelligence to open the jar from both sides, slip the body through a narrow slit, and use coconut to make their shell.
Octopus is a source of protein and rich in vitamin B12, iron, omega-3, and selenium for coastal communities (6).
In different cultures, such as Japan and Korea, octopus is eaten raw as a novelty food. The Japanese also enjoy octopus as a snack. Takoyaki, one of the most popular Japanese dishes, is one example. Other ways to cook octopus include grilling, frying, braising, boiling, and stewing.
25. Oysters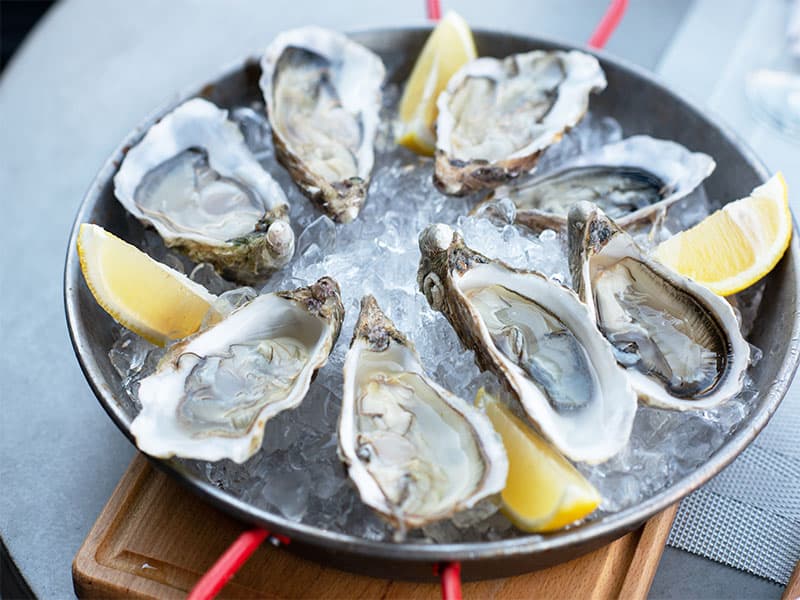 Oysters live in marina habitats such as bays and oceans. It is a high-nutrient food with low calories. People find a high content of zinc in oysters, this substance helps you to keep your energy to feel good, enhance your immune system, boost your sex drive, and get rid of acne.
There are many ways to use oysters. It can be eaten raw with spicy sauce, lemon juice, and Welsh eggs or cooked with other ingredients. For home cooks, you'll need sharp oyster knives to shuck the oysters. Without proper tools, you'll find preparing the oyster next to impossible.
In China, Malay, Vietnam, and Khmer cuisine, oysters are extracted to make oyster sauce. Used to elevate vegetable and meat dishes, oyster sauce boasts a signature flavor that is hard to replicate. You might also opt for oyster-flavored sauce, but you'll find its taste rather lacking.
26. Ocean Perch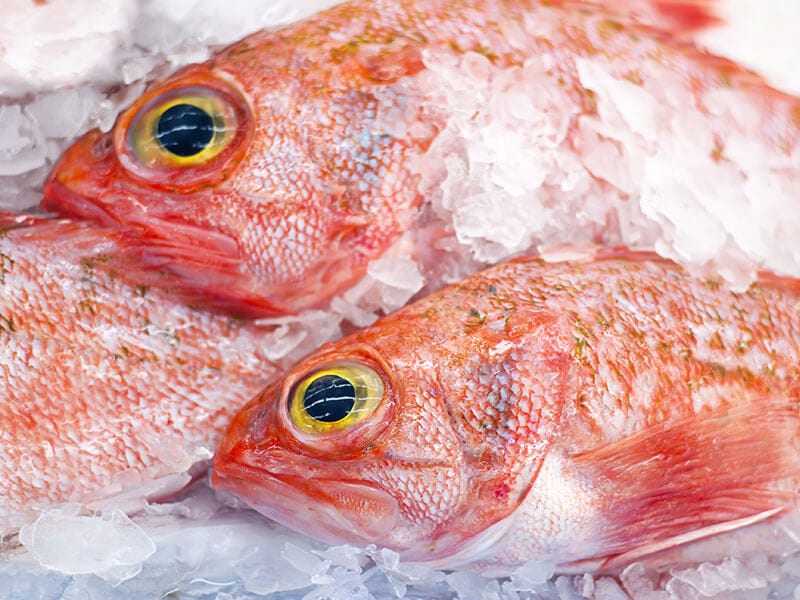 Ocean perch, though called a perch, is a rockfish that's a favorite in the Atlantic Ocean and the Mediterranean Sea. In New England and Eastern Canada, it goes by the name "redfish." Commonly, this fish has lean, moist, and flaky meat with a mildly sweet flavor.
High in protein and packed with essential nutrients like thiamin, niacin, vitamin B6, vitamin B12, phosphorus, and selenium, ocean perch is super nutritious (7). Whether you're grilling, barbecuing, poaching, shallow frying, baking, or steaming, ocean perch is sure to impress!
27. Orange Roughy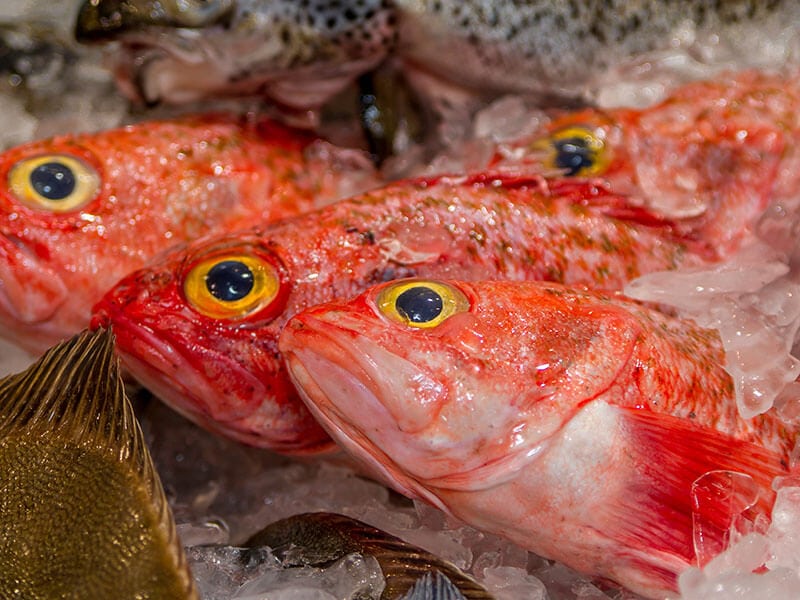 Scientifically known as Hoplostethus atlanticus, orange roughy is a large deep-sea fish from the slimehead family (Trachichthyidae). Also called deep-sea perch, red roughy, or slimehead, it's prized for its delicate, slightly sweet meat.
Furthermore, I think the meat is fairly similar to tilapia or pollock. Despite the tempting meat, orange roughy is not the best choice for frying or grilling.
28. Opakapaka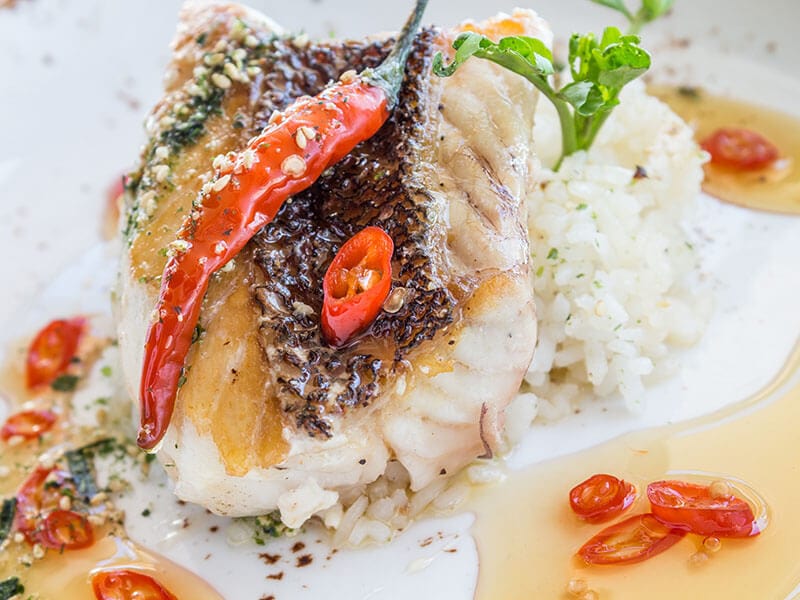 Commonly known as the Hawaiian pink snapper, Opakapaka is a fish with clear, light pink flesh that has a firm texture. It's popular for its delicate and sweet taste, which makes it a popular choice for raw sashimi.
If you're not a fan of raw fish, don't worry – Opakapaka is also ideal for baking, poaching, or sautéing.
Dairy Foods And Alternatives
29. Olivet Cendre
Olivet Cendre is a French cheese made from unpasteurized cow milk in the town of Olivet. In spring, the milk used to make cheese was collected from graze cows along the Loire river.
The cheese is then aged for at least one month and smoked using the grapevines in the vineyard. This makes the ivory-white cover with chalky dough and brings a delicate taste to the cheese. The best period to produce Olivet Cendre is May and June.
30. Oxford Blue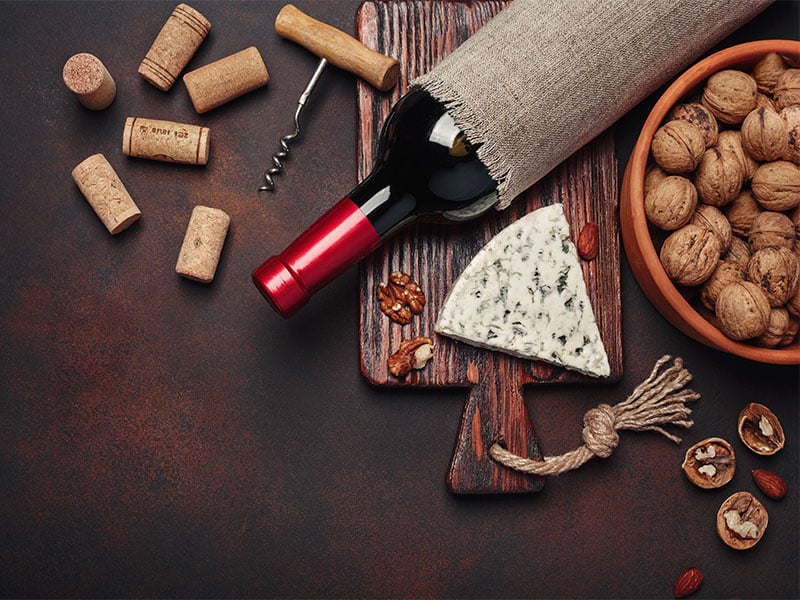 Oxford Blue is a creamy blue cheese made from unpasteurized cow milk and affinage for about 14 to 16 weeks. The cheese rind is sticky and wet, covered by silver foil, while the inside texture is moist and creamy with a tangy, aromatic, and spicy note.
31. Orgu Peyniri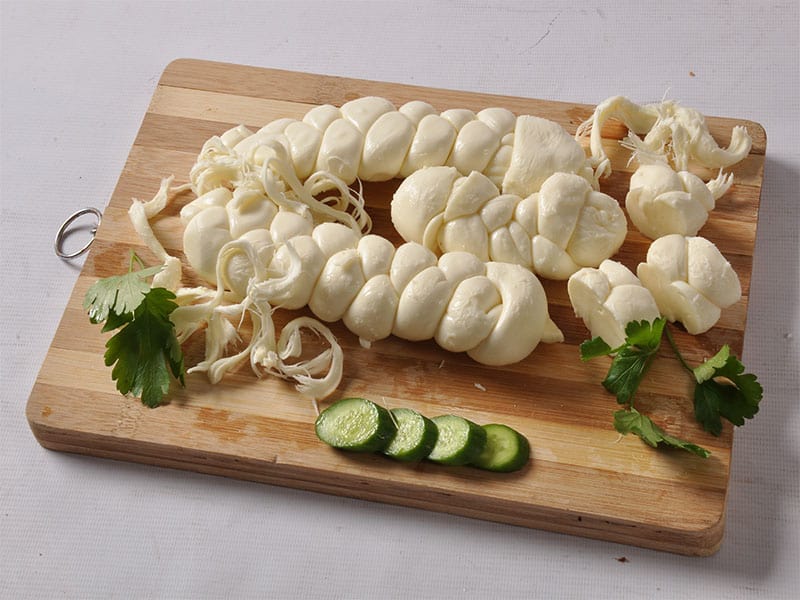 Orgu Peyniri is a Turkish dairy product made from high elastic cheese wound together in a braided. Its ingredients are similar to white cheese, with the production process similar to cheddar cheese.
You can savor Orgu Peyniri plain or add it to various dishes and charcuterie boards, as it can pair well with numerous food items.
32. Oat Milk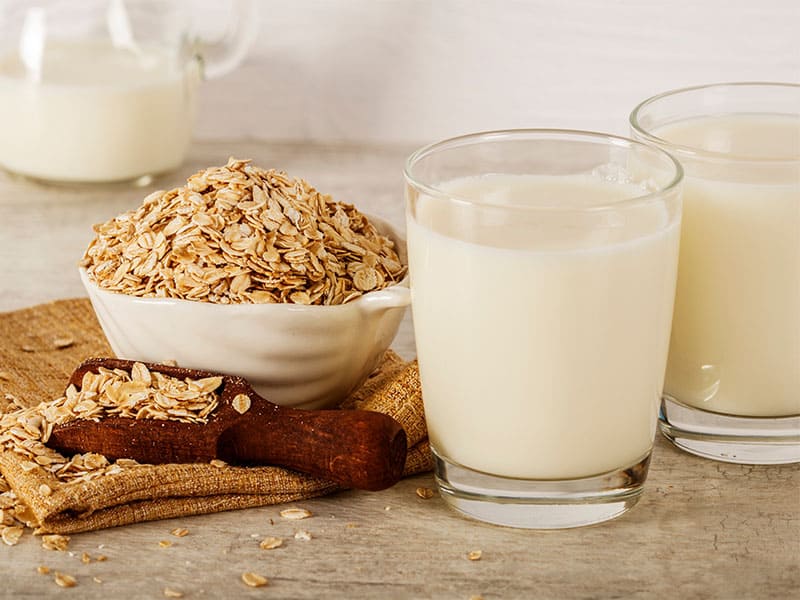 Oat milk is creamy flavor milk made by soaking oats in water and then blending and straining it. Oat milk keeps almost all the nutrients, fiber, and vitamins from oats that are good for your health.
The drink has become a popular dairy alternative for its mild taste and versatility. With various flavors and levels of sweetness, it suits a wide range of taste buds. Whether you're cooking up a storm in the kitchen or just sipping on a refreshing beverage, oat milk is a fantastic choice to explore.
Grains And Cereals
33. Oats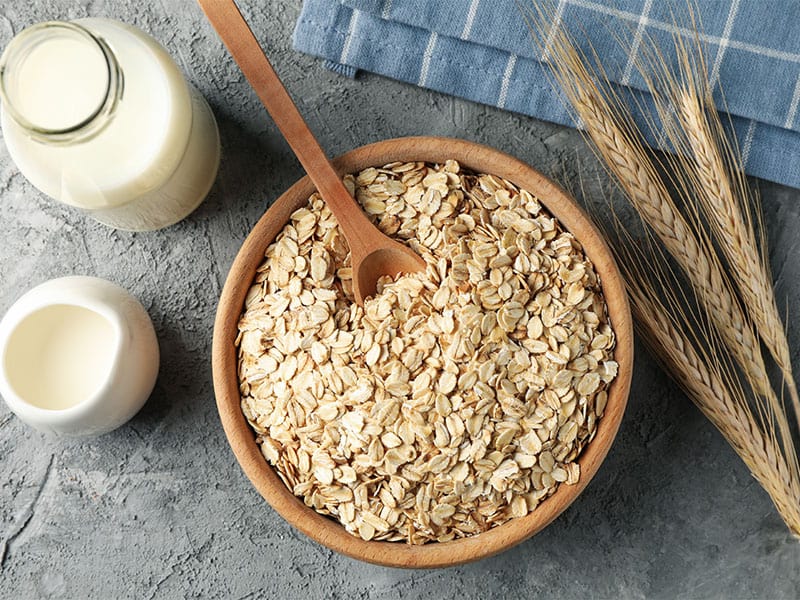 Oats are one of the healthiest grains on the earth and contain gluten-free and many vitamins, minerals, fiber, and antioxidants good for your health. Oat is a whole-grain food, and you consume it like oatmeal, oat bake, or oat milk.
Different forms of oats, such as rolled oats, steel-cut oats, and quick oats, contain different nutritional values and are used for other purposes.
34. Oatmeal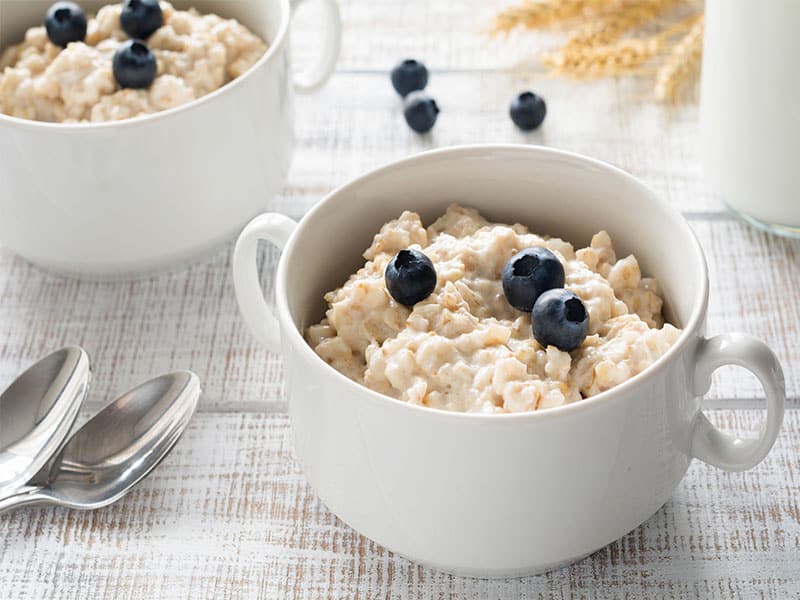 Oatmeal is oats after the process of de-husking, steaming, and flattening or grounding. This word is also used to call the common oat porridge made of ground or rolled oats.
You can make your own oatmeal at home by using rolled oats or quick oats cooked with water or milk in the microwave. Then add some of your favorite toppings, such as banana, strawberries, blueberries, walnuts, and granola.
Is oatmeal only suitable as a healthy breakfast? As it turns out, there are also many, many desserts starring oatmeal.
35. Ogi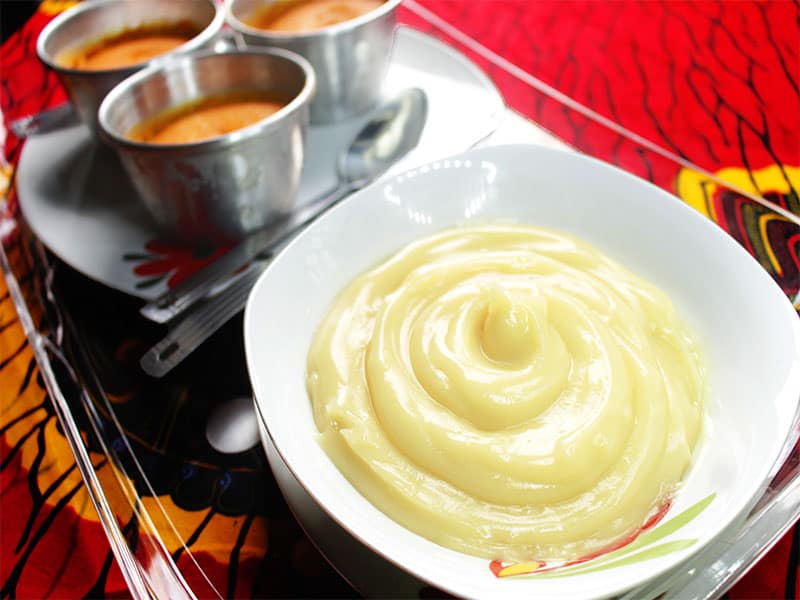 Ogi is a delicious dish that originated in Nigeria. This fermented cereal includes maize, sorghum, and millet immersed in water for three days to be fermented and cooked to make pap. The sour process of Ogi helps to improve the digestible protein in Ogi compared to other kinds of flour.
In order to enrich the nutrition in Ogi, some supplement foods are added to it, such as fresh cow's milk, fruit, edible oil, and egg yolk.
36. Oat Bran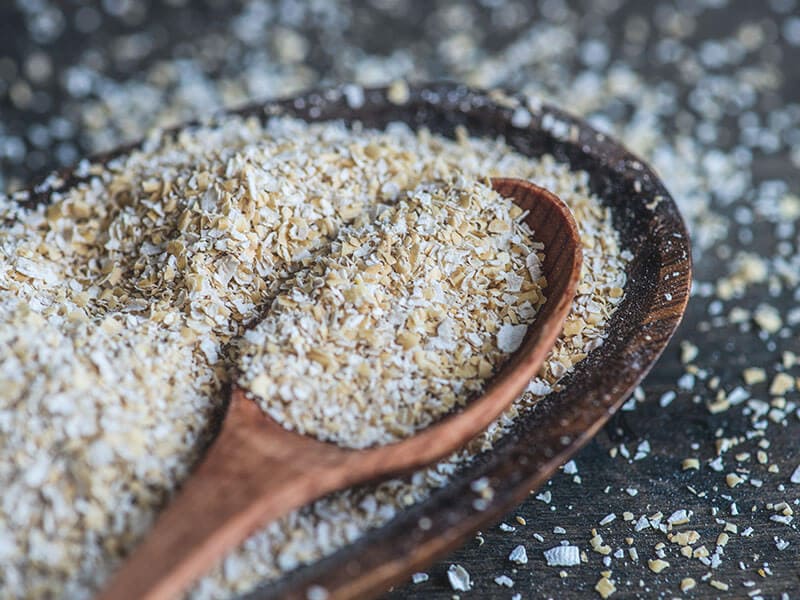 Oat bran from the outer casing of oat groats is a fantastic addition to your diet. It's not only a great source of dietary fiber but also low in saturated fat and contains zero cholesterol.
With high protein content, oat bran outshines oatmeal in terms of protein, B vitamins, and iron. Plus, it can potentially help lower blood sugar levels (8).
Savory Soups, Stews, And Curries
37. Ogbono Soup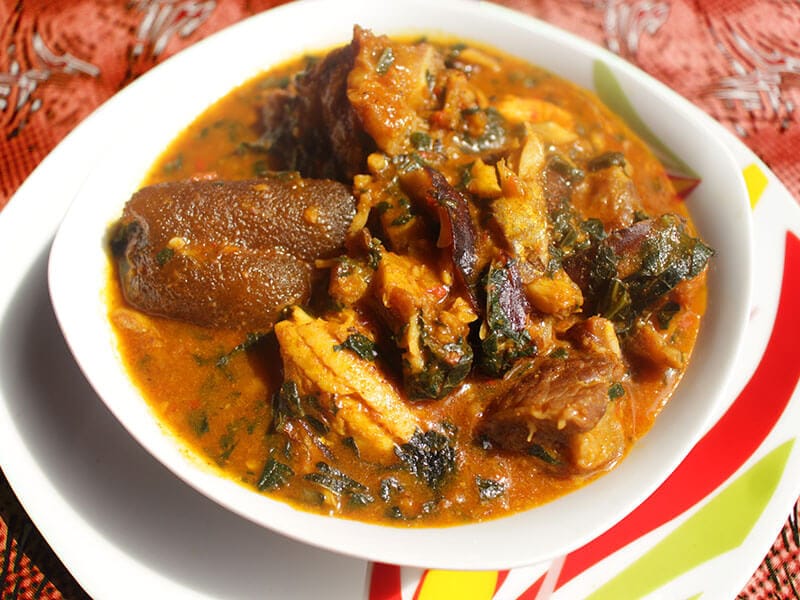 Ogbono Soup is a staple dish of Nigeria made from ground Ogbono seed. This ground seed is used as a thickener and coloration for the soup texture.
Ground ogbono seed is added to palm oil to meltdown, and to generate their work for a thickener. Goat meat and smoked fish then added to braise for a few minutes. To finish the soup, some shredded pumpkin leaves are added in the final step to make it vegetative.
The ogbono soup is similar to curry in yellow color and liquefies soup with the taste of some Nigerian specialties.
This is how Nigerian Ogbono soup is made. Watch this video to know more:
38. Oil Down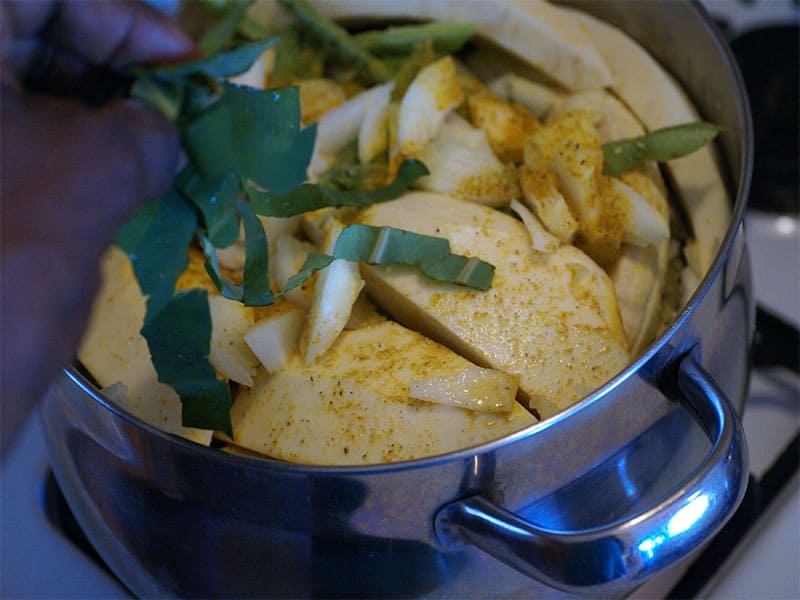 Oil Down is a stew of breadfruit, fish, salted meat, chicken, dumpling, and vegetable in coconut milk. The name 'Oil Down' comes when the coconut milk is simmered down. It releases a flavor of oil on the dish's surface. This dish is native to Grenada, an island belonging to the West Indie in the Caribbean Sea.
Men at parties traditionally cook this flavorful one-pot meal. Nowadays, Oil Down is served in most restaurants.
39. Okroshka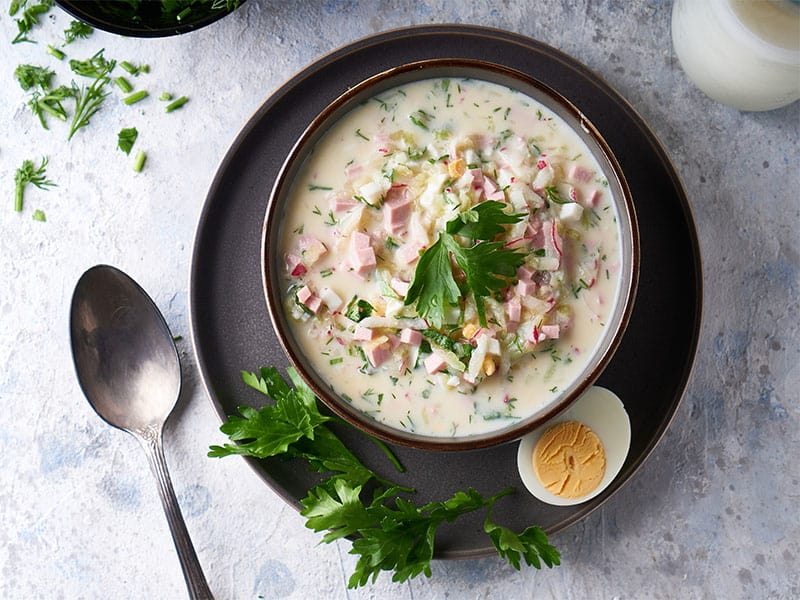 Okroshka is a cold soup from the region of Volga, Russia. This soup is a cooling dish for the summer with different kinds of vegetables, herbs, eggs, buttercream, and lemon juice mixed with a sauce made from Kvas and light sour cream or kefir.
In this cold soup, kvas is the main ingredient of the soup. This beverage is made by fermenting rye bread with raisins or fruit with a meager percentage of alcohol.
All the ingredients are chopped down, then mixed with the soup blended with kvas and kefir, or sour cream with vinegar instead of kefir.
40. Osumashi (Japanese Clear Soup)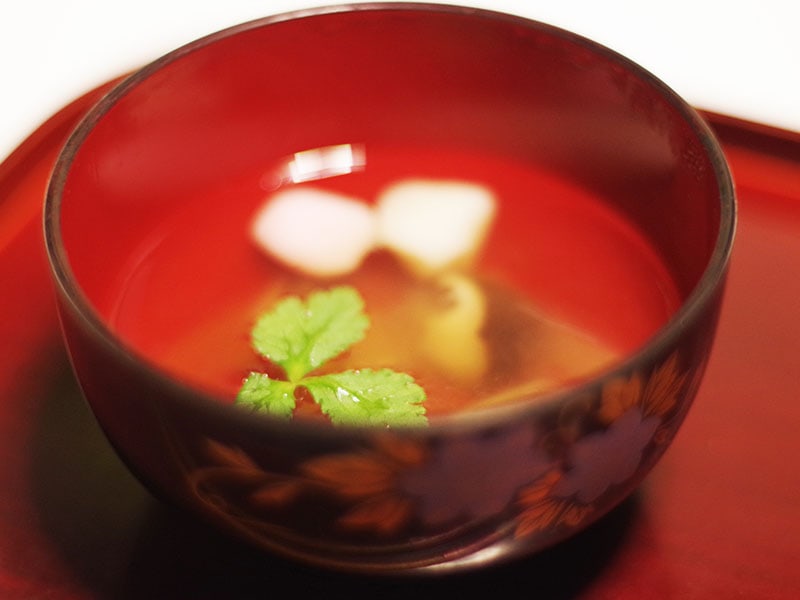 Osumashi (おすまし), or Sumashi-jiru (すまし汁), is a clear broth-based soup that's crafted by simmering vegetables and meat for hours. This process produces a rich, deep flavor, making it a popular choice for a light appetizer or side.
Additionally, the Japanese also feature Osumashi on special occasions like the Japanese New Year, Hinamatsuri (Girl's Day), and various seasonal festivals.
41. Ou Tenga Maas (Fish and Elephant Apple Curry)
Ou Tenga Maas is a popular fish curry hailing from Assam, India, with a tangy and sour flavor profile. The dish combines yam or elephant apple with catla fish, a common choice for this curry.
The name "Ou Tenga Maas" comes from "Ou Tenga," meaning elephant apple, and "Maas," meaning meat. The dish is delicious and packed with vitamin C and antioxidants to boost your body's nutrition.
Appetizers And Side Dishes
42. Omelete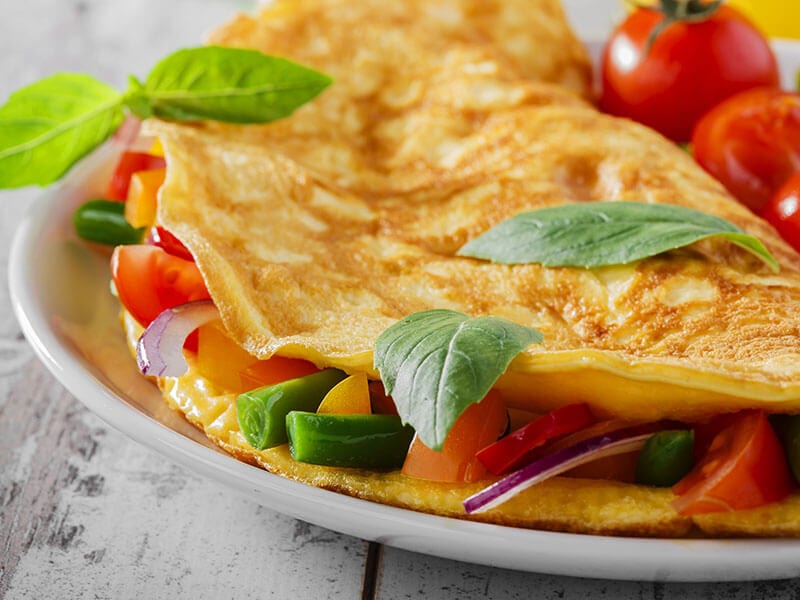 Omelete is a dish made from beaten eggs, similar to scrambled eggs, when fried in a heated pan with butter or cooking oil. This fried egg is savory with one moist, softened side and one brown dried side.
Some ingredients are usually added to the omelet, such as cheese, tomato, jam, vegetables, and mushrooms. With less than 10 minutes of preparation, an omelet is an excellent choice for your busy day.
This 4-recipe will help you find your omelet recipe.
43. Ohitashi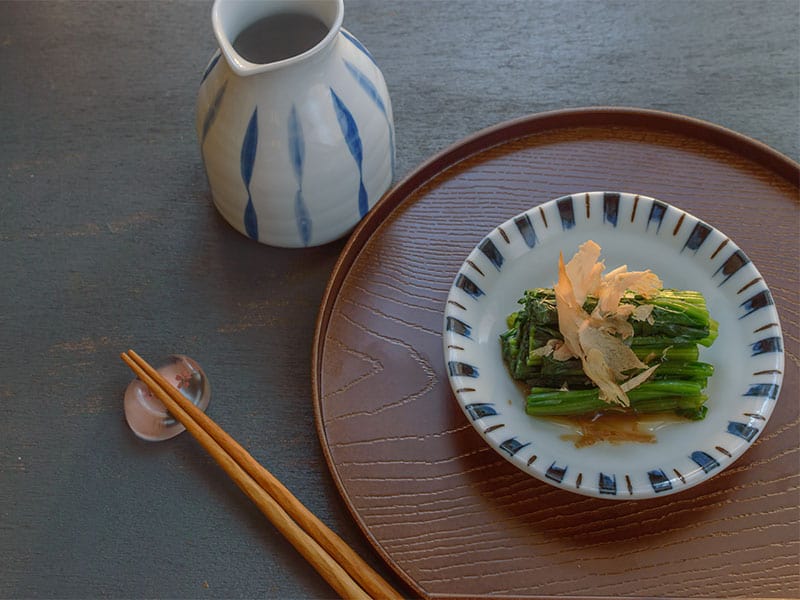 Ohitashi is a cold Japanese dish made from any leafy greens (except baby spinach), soy sauce, dashi, and mirin.
Green leaves are boiled to tender, then transferred to a bowl of cold water to keep the vegetative crunchy. After draining, the veggies are sprinkled with a combination of soy sauce, dashi, and mirin. Cover it and put it in the refrigerator for at least 30 minutes before use.
If you want to buy mirin for this savory dish, you should carefully read the manufacturer's description. Mirin or hon-mirin is Japanese cooking wine with natural sweetener and no added sugar, while aji mirin is sweet cooking wine with sugar.
44. Onion Rings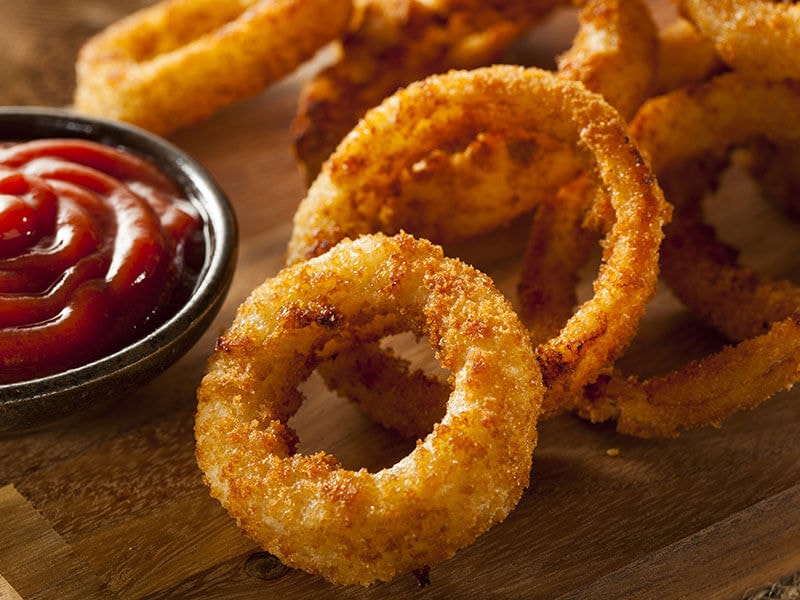 Onion rings are an American classic that you'll find alongside burgers, sandwiches, or a standalone appetizer.
These crispy delights are made by slicing onions into rings, coating them in batter or breadcrumbs, and then frying them to perfection. You can dunk the onion rings in ketchup, mayonnaise, or your favorite dipping sauce to make things even tastier.
45. Onion Dip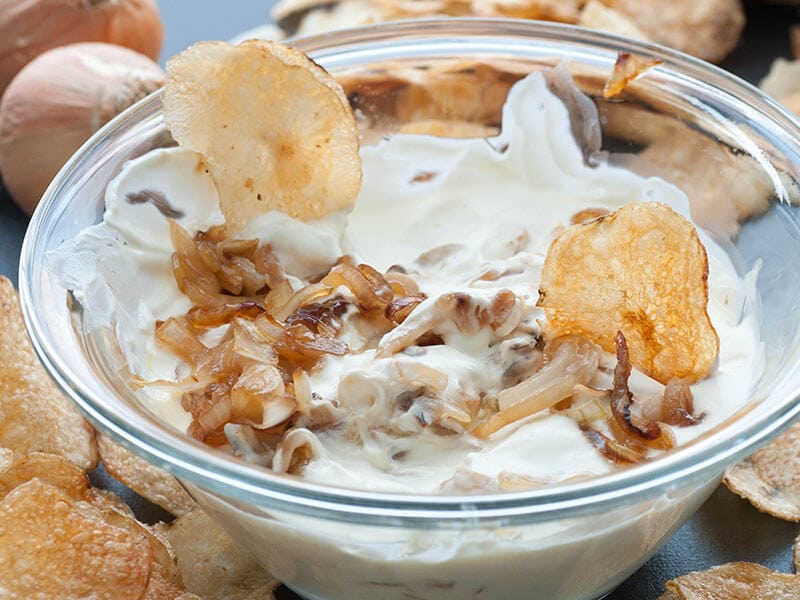 Also known as French onion dip or California dip, onion dip is a flavorful appetizer widely popular in the US. Though it's called "French," it's not actually from France – the name comes from its key ingredient, dehydrated French onion soup mix.
An unknown cook created the dish in Los Angeles in 1954. Additionally, this tasty dip combines sour cream and dried minced onion, perfect for dipping snack crackers and crudités.
46. Orzo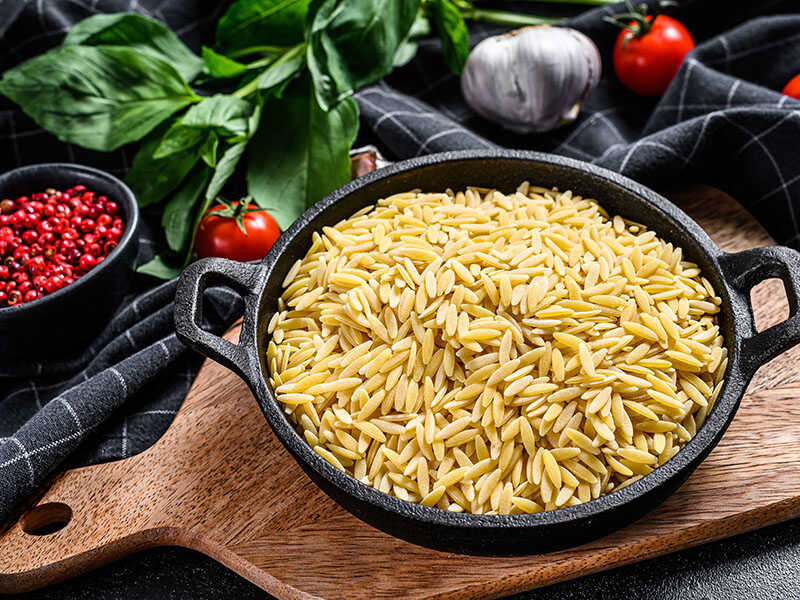 With the meaning of "barley" in Italian, Orzo is a type of short-cut pasta that looks like a large grain of rice. Sometimes called Risoni, it's traditionally made from flour, but you can find whole-grain versions too.
This versatile pasta works wonders in soups, salads, pilaf, giouvetsi, casseroles, or as a standalone dish.
47. Oysters Rockefeller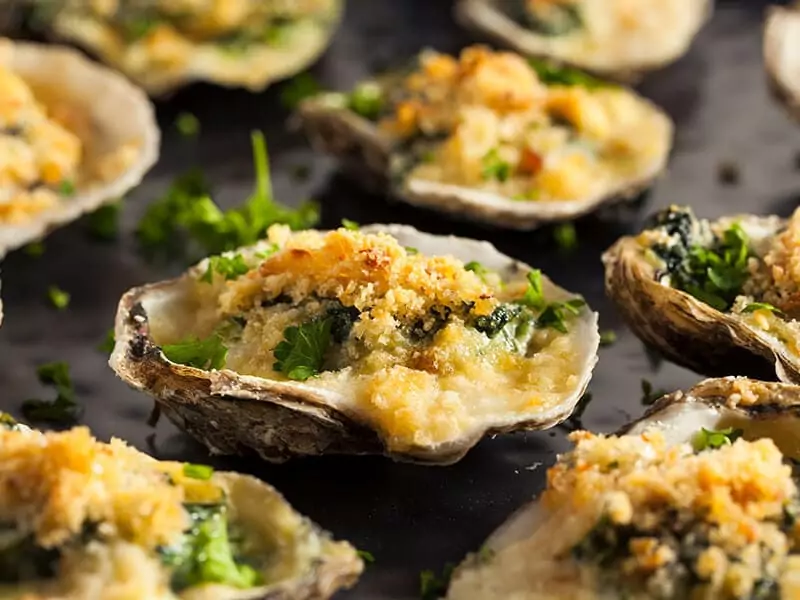 Oysters Rockefeller is a luxurious seafood starter that has become a staple in the US, appearing on brunch menus in the South. This rich dish was born in New Orleans at Antoine's restaurant back in 1889.
The dish features oysters on the half-shell, smothered in a luscious sauce made of butter, parsley, green herbs, and breadcrumbs, then baked or broiled to perfection. Don't forget the lemon wedges – they're the perfect finishing touch to these oysters!
Rice Dishes
48. Ochazuke (Green Tea on Rice)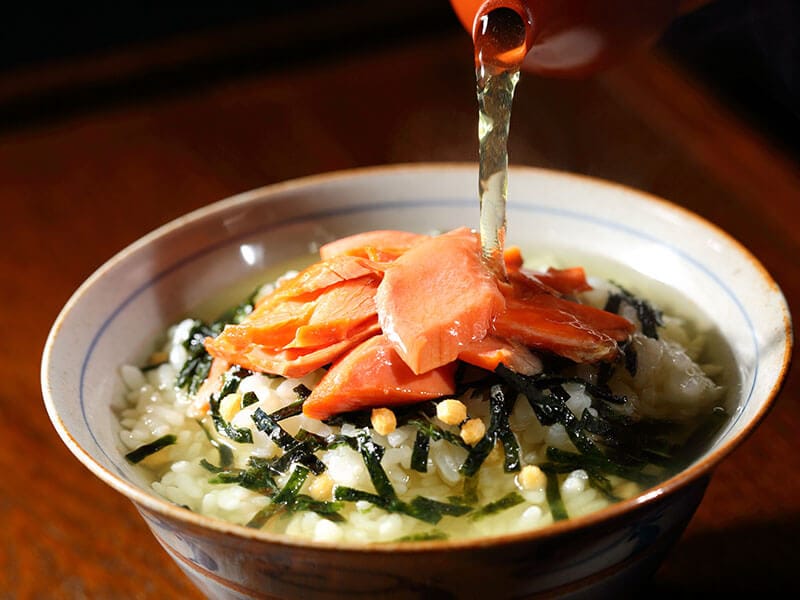 Ochazuke, or Chazuke, is a comforting one-bowl dish from Japan. It involves pouring hot water, dashi, or green tea over steamed rice and submerging it — hence the literal meaning of "submerged in tea."
The dish's speedy preparation is a godsend for anyone with a tight schedule, whether you're a busy parent, student, or professional. Its gentle and soothing nature offers a soft touch to an upset stomach or heartburn.
49. Omurice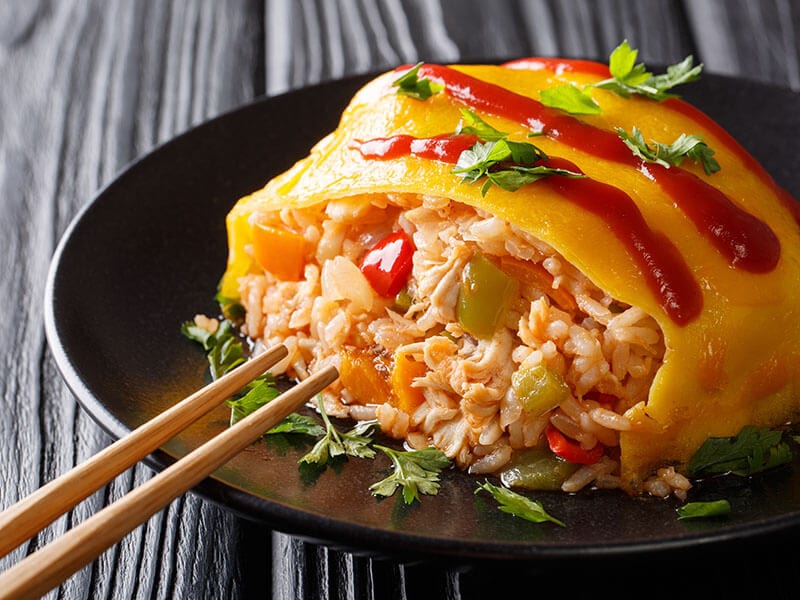 Omurice is served with fried rice covered by an omelet with ketchup or soy sauce on the top. The fried egg used in Omurice resembles the French omelet, in which a fluffy yellow rind covers the soft render inside.
In Omurice, the egg is placed on top of the fried rice. When it is served, the chef will make a sharp cut along the omelet egg to release the running melted egg inside.
A perfect omelet egg is the most challenging part of making Omurice. Watch this video to know more:
50. Onigiri (Japanese Rice Balls)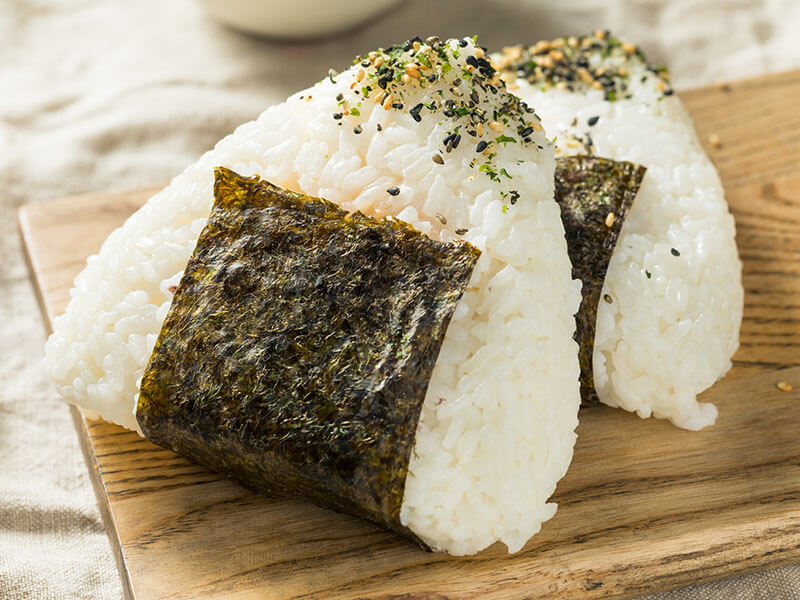 Onigiri, sometimes called Omusubi or Nigirimeshi, is a heartwarming symbol of family love. Despite being called a rice ball, the dish usually comes in rounded triangles or cylindrical shapes of rice.
It is traditionally filled with pickled ume, salted salmon, or any other salty or sour ingredient. Moreover, Onigiri is a little portable meal, perfect for a lunchbox. To avoid any misconceptions, it's not a form of sushi.
51. Okowa (Mixed Sweet Rice)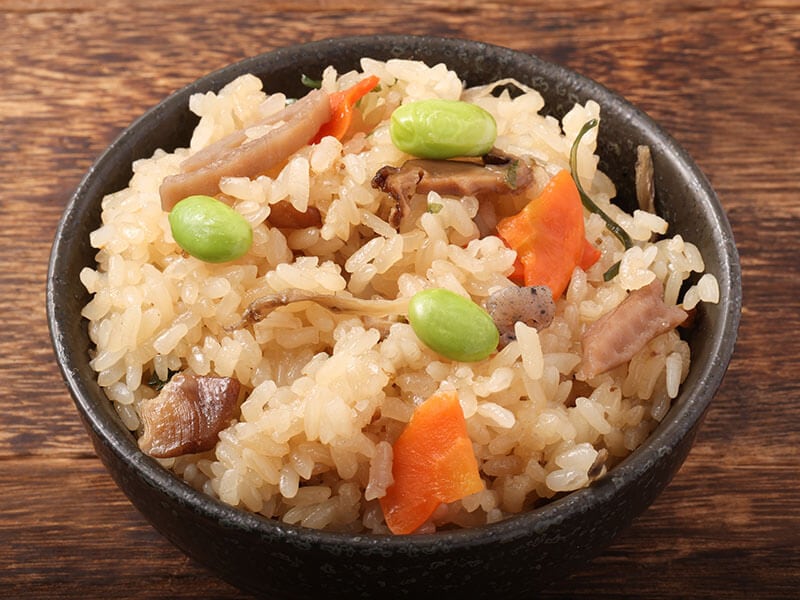 The mouthwatering Japanese sticky rice dish of Okowa is bursting with meat and veggies. Even wild herbs and vessel chestnuts might find their way into the mix!
The name Okowa comes from Kowameshi, meaning "hard rice." But don't let that fool you. Okowa is so much more than your regular white rice, providing a savory, hearty meal that leaves you feeling satisfied and content.
52. Oyakodon (Chicken And Egg Rice Bowl)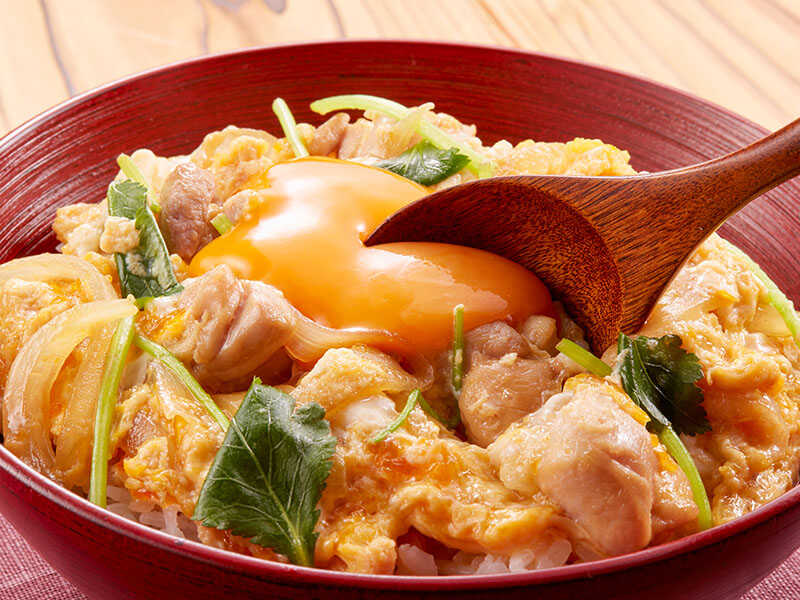 Affectionately known as "Japanese soul food," Oyakodon is a comforting bowl of warmth and flavors. The name is a sweet nod to its main ingredients, translating to "parent-and-child rice donburi" – an adorable reference to the chicken (parent) and egg (child).
With sliced scallions and other tasty ingredients simmered in a savory soy sauce and stock-based soup, this dynamic duo takes center stage atop a generous bed of rice.
Main Dishes
53. Obusuma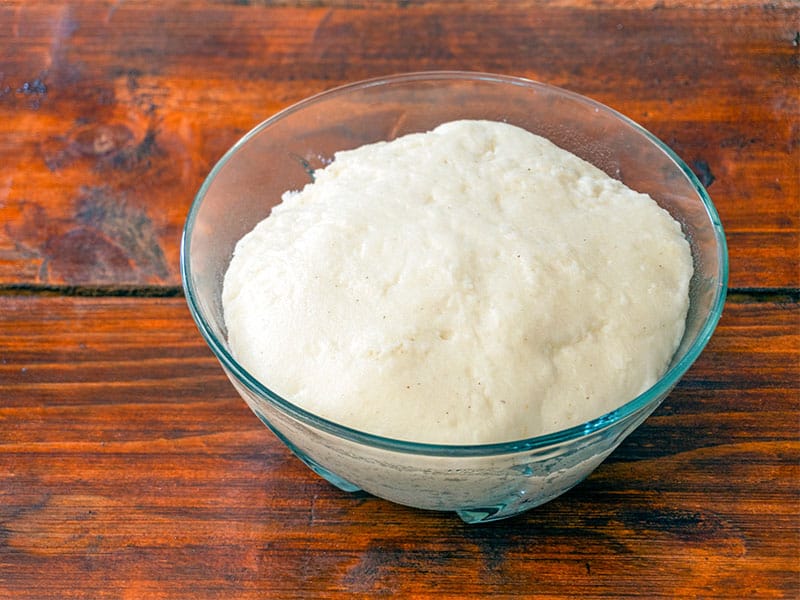 Obusuma, or its common name is Ugali. This porridge is made with maize flour, sometimes with cassava, sorghum, and millet.
Ugali is a family meal in Kenya, and it is used with vegetables, fish, meat, and scrambled eggs. This starchy food is cooked by gradually adding maize flour into boiling water and stirring it until the mixture is condensed.
Show you how an Ugali is made.
54. Oeufs En Meurette (Poached Eggs in Red Wine)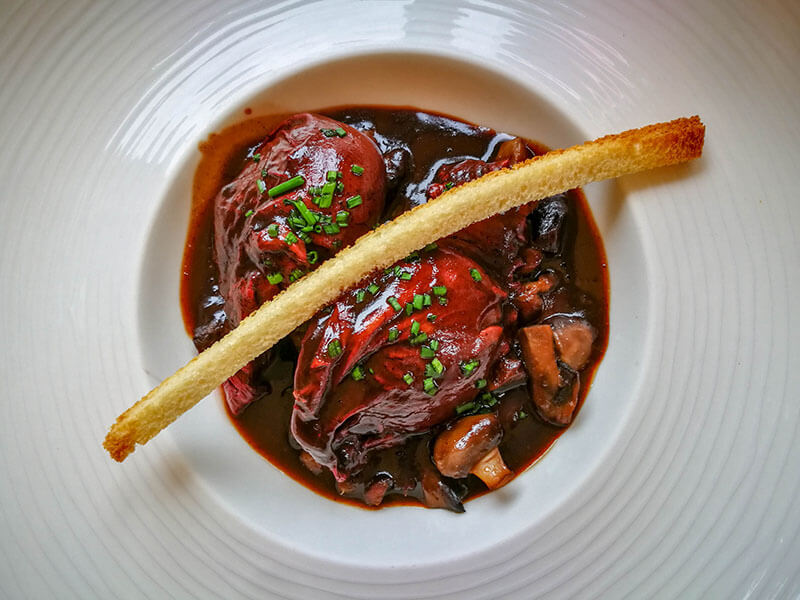 Oeufs en Meurette is a typical cuisine in Burgundy served with poached eggs and burgundy sauce.
The taste of red wine plays the main role in this specialty when it features on both the poached eggs and in the burgundy sauce. Bacon, carrots, mushrooms, and some other ingredients are cooked with one part of diluted red wine to make the sauce.
The eggs are boiled directly in the other part of the wine while maintaining the melted yolks. Oeufs en Meurette is served with butter-fried bread on the bottom, a poached egg, and sauce sprinkled on the top.
A step-to-step guide to make Oeufs en Meurette as a real chef.
55. Osso Buco (Italian Braised Veal Shanks)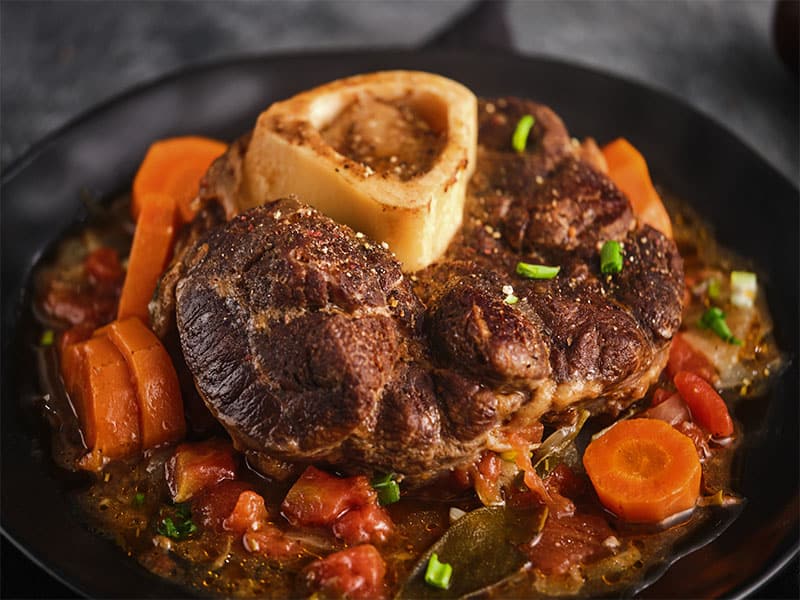 Osso buco is an Italian dish made from veal shin, red or white wine, onion, carrot, celery, and other spices. Veal is browned with flour on a pan before simmering with a sauce made from different ingredients and wine.
The dish is served with veal, seasoning and sprinkled with a mixture of wine and melting butter.
56. Okonomiyaki (Japanese Cabbage Pancake)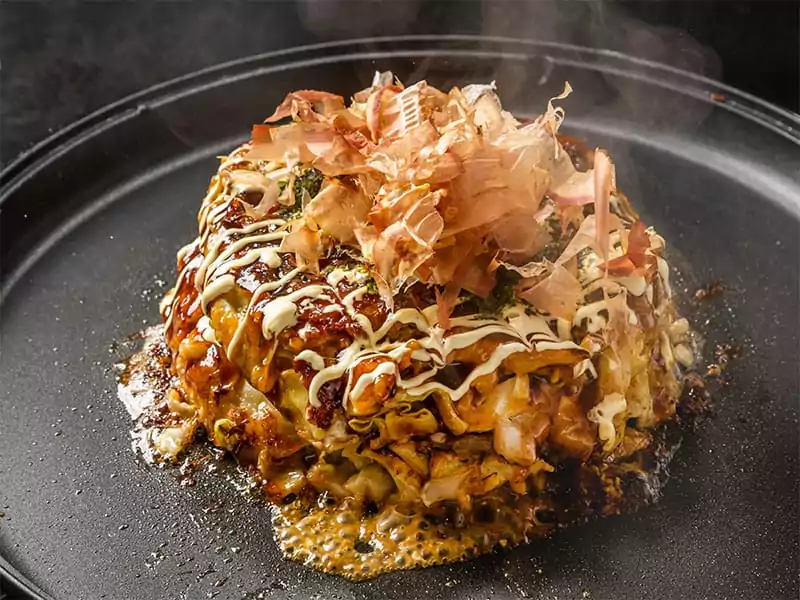 Okonomiyaki is a combination of the word Okonomi (things that you like) and Yaki (cook), a typical dish in the region of Hiroshima or Kansai.
This is a savory version of Japanese pancakes. It includes eggs, flour, shredded cabbage, and some other ingredients such as shrimp, octopus, bacon, spring onion, vegetables, and cheese.
57. Orange Chicken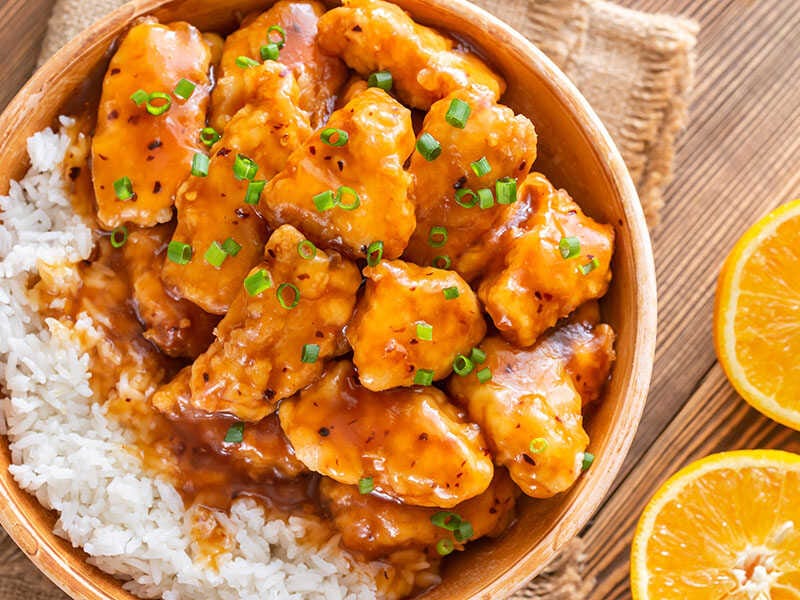 Little that you know, orange chicken, or Chen Pi Ji, is a staple in North American Chinese restaurants. This American Chinese dish is all about batter-fried chicken pieces that are then generously coated in a sweet orange-flavored chili sauce.
It's such a sensation that Panda Express, a popular American fast food chain, reportedly sells over 100 million pounds of it annually! And if you're a fan of The Big Bang Theory series, you'll remember it as Sheldon's top pick for Chinese food.
Desserts And Sweets
58. Opera Cake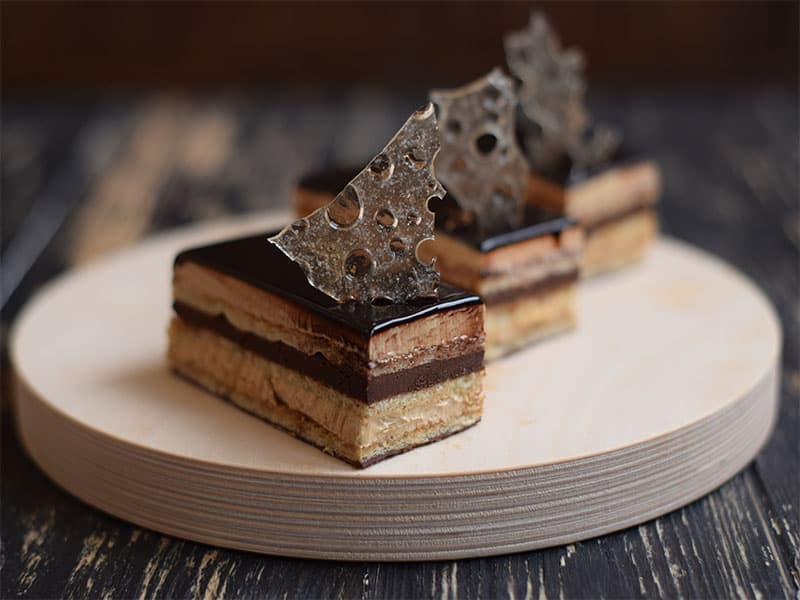 Opera cake is a French dessert with a beautiful combination between coffee and chocolate. The bottom layer is almond sponge cakes soaked in coffee syrup, then filled with coffee buttercream and chocolate ganache layer. The top surface is a layer of chocolate glaze.
59. Oreo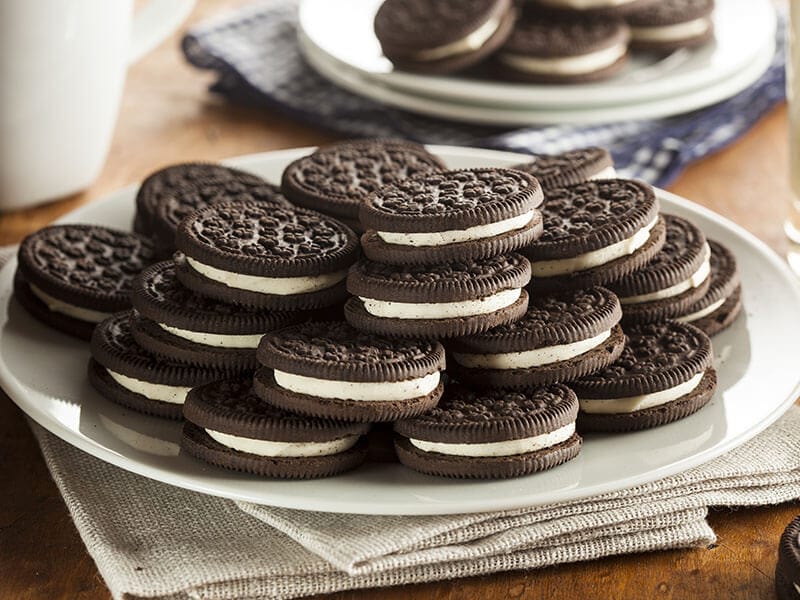 Oreo is a famous sandwich cookie with a layer of sweetened cream between a layer of chocolate wafers. Oreo is recognized worldwide for its cookie taste; some unique flavors, such as lemon, mint, blueberries, red velvet, etc., are made for marketing.
The well-known sandwich cookie brand combines two chocolate cookies with a layer of sweet cream filling. From puddings and ice creams to cakes, Oreos find their way into a multitude of desserts, adding a touch of their signature crunch and sweetness.
60. Oatcakes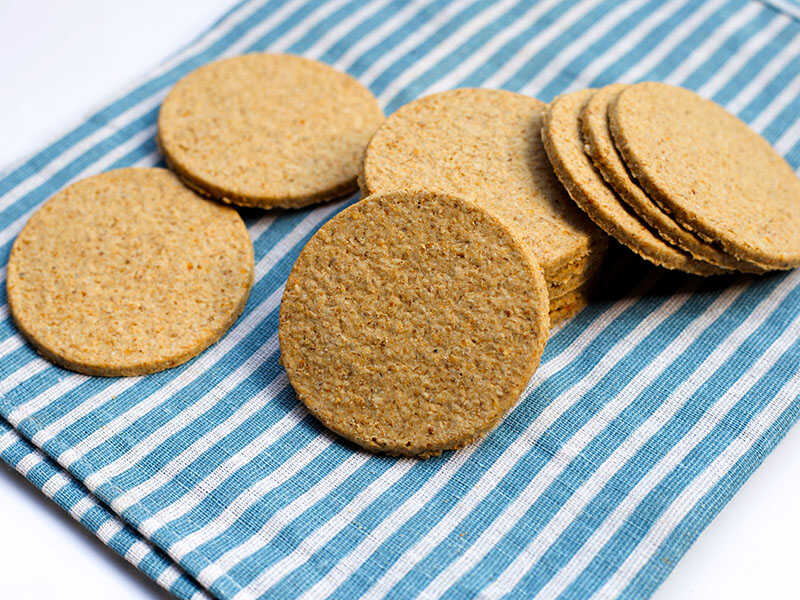 Oatcakes are a delightful flatbread that is similar to a cracker or a biscuit, making them a fantastic choice for a snack or dessert.
Their wholesome goodness comes from oatmeal, the star ingredient, which sometimes gets a little boost from plain or wholemeal flour. Once the dough is ready, it's onto a griddle or into an oven they go to turn into perfectly cooked oatcakes.
61. Obbattu (Indian Sweet Flat Bread)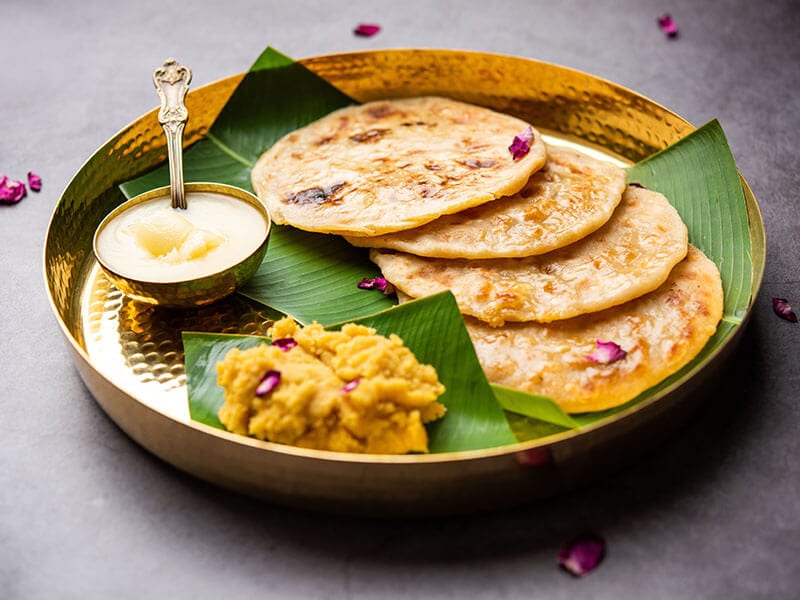 Known by various names like Puran Puri, Puran Poli, Bobbatlu, and Holige, Obbattu is a Southern Indian culinary gem. This dish, often served with paal payasam (rice kheer), graces many feasts in Kerala and Tamil Nadu.
Typically, Obbattu combines chana, plain flour, and jaggery or sugar. With a nutrient profile rich in fiber, protein, zinc, folate, and calcium, it's a dessert that brings a little more to the table, even helping to reduce cholesterol.
62. Oshiruko (Red Bean Soup)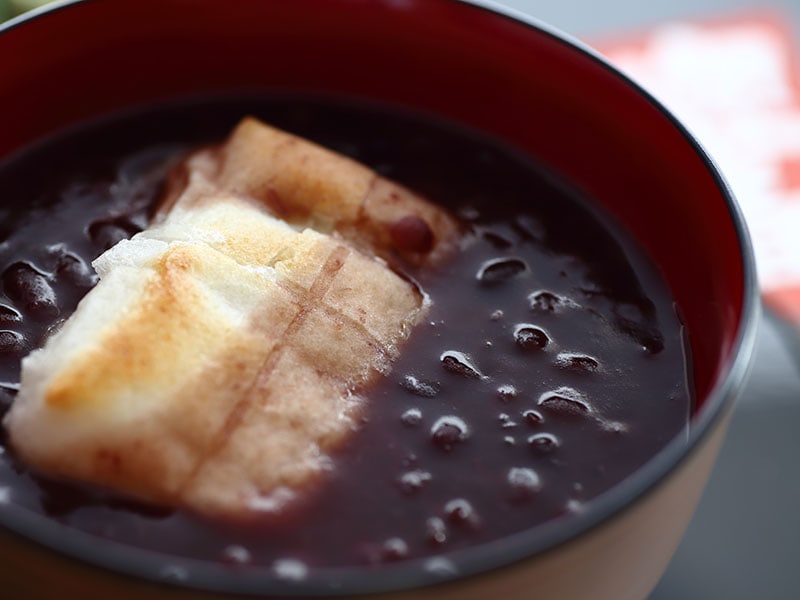 Another name for this red bean soup is Zenzai, a warm, earthy dessert. This Japanese delight combines azuki beans and mochi for a chewy consistency.
During the winter, this hot red bean soup is a go-to choice to warm the body and soul. Furthermore, locals love serving Oshiruko during Kagami Biraki celebrations after New Year's Day.
63. Osmanthus Cake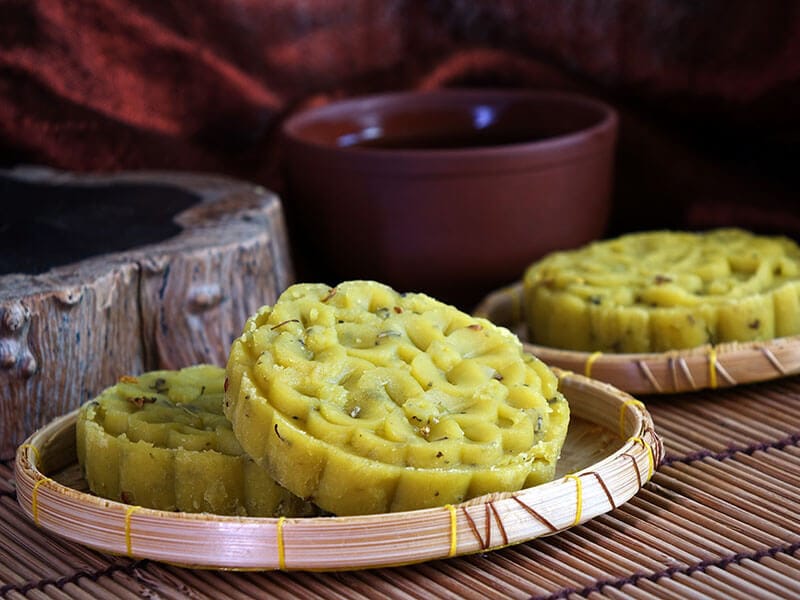 Osmanthus cake is a fragrant Chinese pastry dating back to the Ming Dynasty. It's a sweet symphony of glutinous rice flour, honey, rock sugar, and the star ingredient – the enchanting osmanthus. The magic lies in its soft, tender, but slightly chewy texture and waxy touch.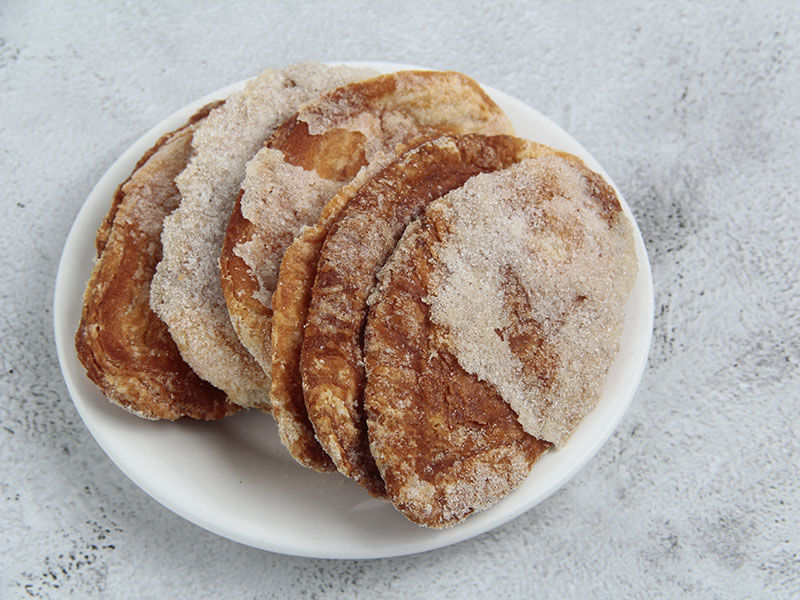 Otap, sometimes called Utap, is an oval-shaped puff pastry cookie from the Philippines, particularly Cebu. Crafted from flour, shortening, coconut, and sugar, it resembles French palmier cookies.
Interestingly, the cookies require an extraordinary eleven-stage baking process for their distinctive crispy and crumbly texture.
65. Oblea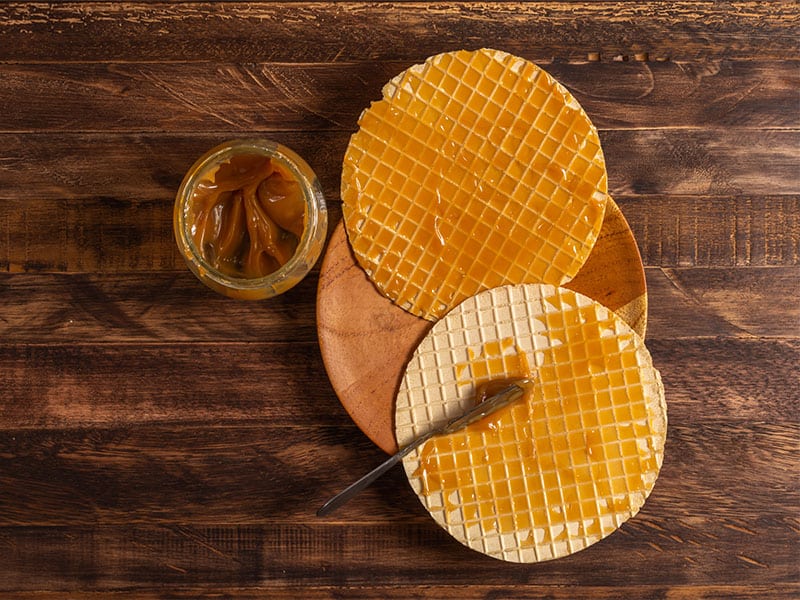 Oblea is a Mexican snack. It includes two crispy layers of thin wafers and a sweet luscious filling in the middle. The filling usually is dulce de leche; sometimes, it includes jam, whipping cream, and a combination of other types of filling.
In Spain and Latin American nations, this sweet treat enjoys widespread popularity.
FAQs
The List Is Ongoing!
There you have it – an exciting exploration into the world of 'O' foods. I hope you've enjoyed this culinary journey as much as I have, discovering new flavors and cultures. Whether you're a seasoned foodie or a curious beginner, there's always more to learn and taste.
Now, it's your turn to note down these 'O' foods and create some delicious meals. Don't forget to leave your thoughts in the comment section and share the article with others around you. Keep exploring, keep tasting!