Do you think it's difficult to name some of the fruits that start with "I"? Well, if you are having a hard time solving that quiz, this post will be your reliable solution.
I have tried to gather as many fruits that begin with "I" as I could. The list may be longer than what you think, and I hope my post is helpful to you.
Some fruits here are rather rare and extraordinary. Therefore, I will show you their looks, flavors, and some additional information about their usages.
Don't hesitate anymore. Let's check these fruits out together.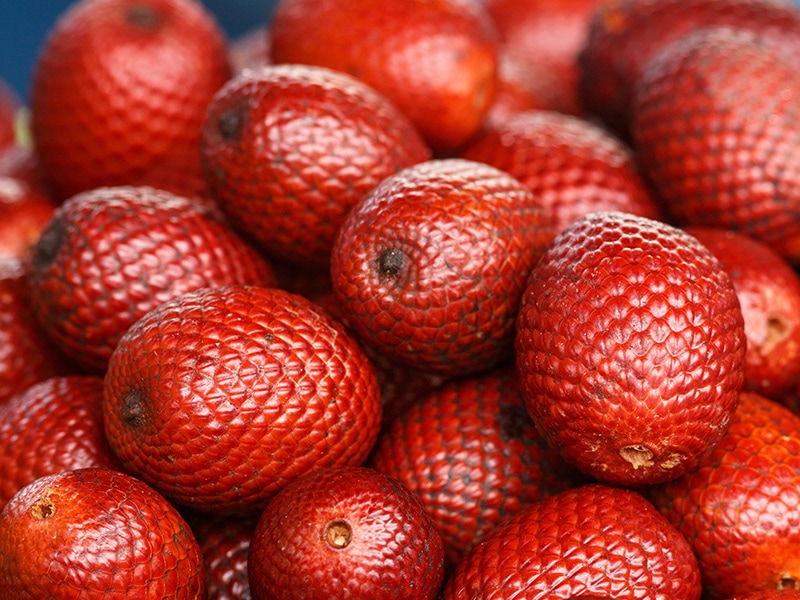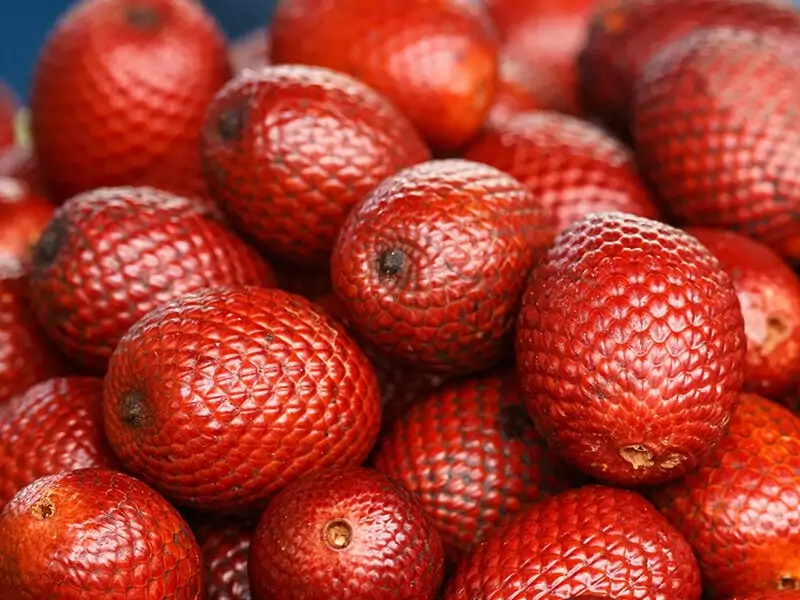 25 Tasty Fruits That Start With Letter "I"
In this post, I will let you in on some of the most noteworthy I-starting fruits. Here is the complete list of this post:
Tropical Fruits:
African Tropical Fruits:
Imbe Fruit
Icacina
Ibopé/ Igopé
Icaco
Indian Tropical Fruits:
Indian Fig Fruit
Indian Jujube Fruit
Indian Almond Fruit
Indian Prune
Indian Sherbet Berry
Other Tropical Fruits:
Ice Apple
Indonesian Lime
Ilama
Ita Palm Fruit
Imbu Fruit
Incaberry
Ice Cream Bean Fruit
Temperate Fruits:
Ichigo
Illawarra Plum
Indian Gooseberry
Indian Persimmon
Other I Starting Fruits
Italian Prune
Iris Fruit
Ivy Fruit
Indigo Rose Black Tomatoes
Indian River Grapefruit
Some of the names might look intricate at first. Fruits from the above list come from many different parts of the world. Don't worry because I will explain to you their names and the meanings later.
25 Tropical Fruits With "I" As A Starter
A considerable number of fruits in this list are from tropical or subtropical regions. Let's find out what these delightful fruits are.
Bizarre African Tropical Fruits Start With The Letter "I"
Africa is a land full of exciting and weird fruits. I can wait no more but to show you these exceptional African fruits.
1. Imbe Fruit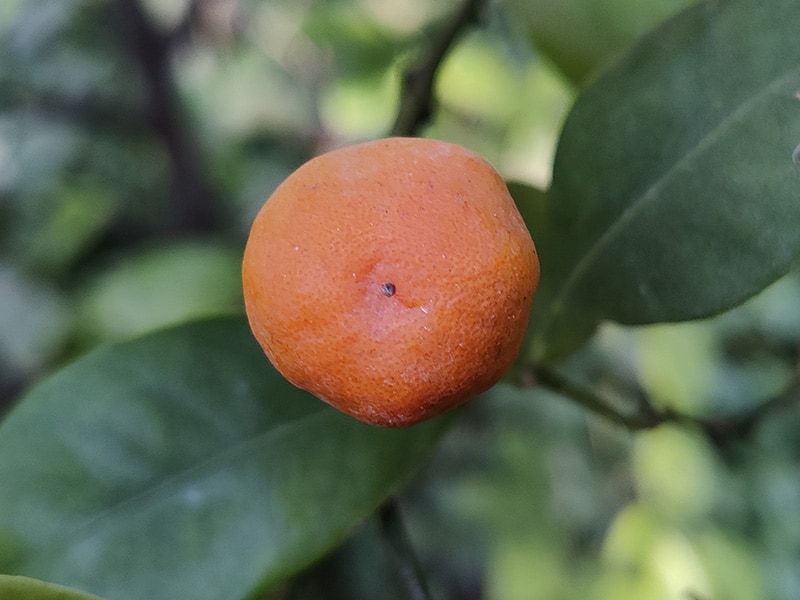 This is a rare tropical fruit from South Africa. Anyone who's in love with yummy mangoes and oranges might not resist this one-of-a-kind fruit. Usually, the fruit is widely available in Somalia and many countries in South Africa.
It's also called lowveld mangosteen, African mangosteen, and Livingstone's garcinia. Fruits belonging to the mangosteen group often have an outstanding balance of sweet and sour. When ripe, Imbe fruits are fragrant with decent sweetness and a citrusy taste. Someone says these fruits have a mildly bitter flavor.
People often eat raw fruits of around 1 – 4 centimeters in diameter. One fantastic thing is that the skin is edible. You may also squeeze them out to get the liquid. Can you imagine how remarkable they smell when being juiced?
2. Icacina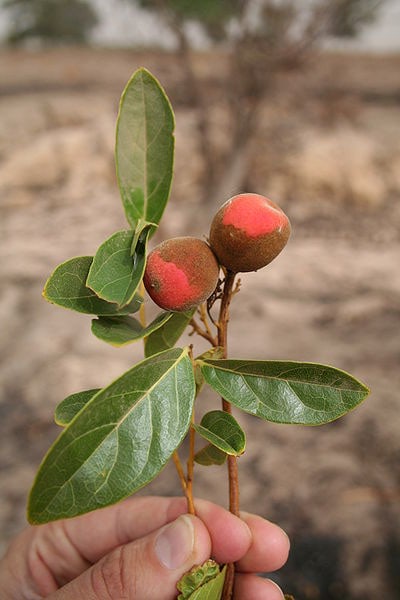 This soft, bright red fruit has a sweet flavor that is very similar to a plum. Icacina is a favorite treat for children in Africa, especially in Angola and Sudan. Also, the fruit is a special ingredient in many Sudan dishes that can amaze you.
A single grown-up Icacina tree can contain up to several hundred kilos of fruits in a single day harvest. The fruit is loaded up with nutrients and energy. Therefore, it is considered as food and medical treatment for people.
People often eat Icacina fruits raw. What's interesting is the seeds inside are also edible along with the tuber. The seeds are extremely solid, requiring people to ground them into flour with delicate flavors for consumption.
3. Ibopé/ Igopé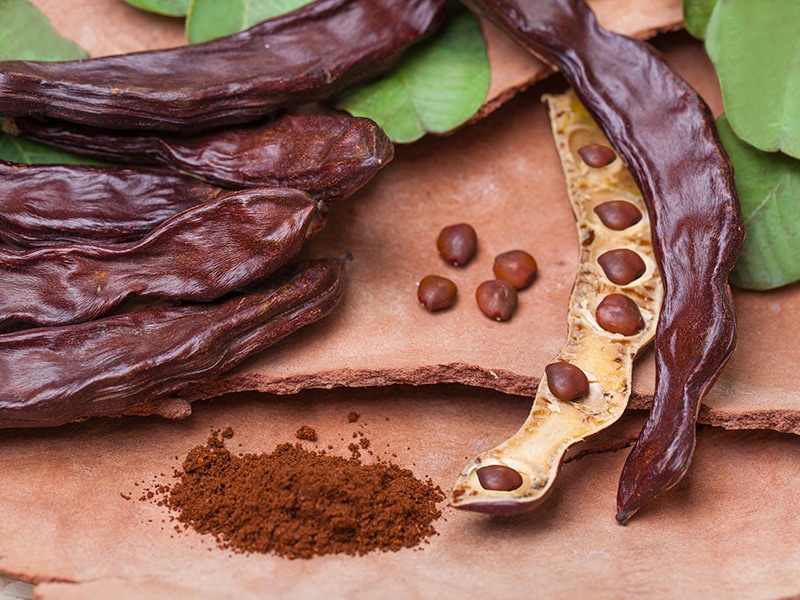 The Ibopé trees are grown in South America. They produce pods – called carob pods – which are edible. People often use them in powder form.
If you are unfamiliar with this species, please relate to the cocoa fruit so that you can imagine it much easier. Both of these fruits are in pod shapes, and they both contain seeds surrounded by pulp inside.
Ibopé fruits are toasted before becoming powdered. This powder is the main ingredient in sweet farina recipes, which can be used to make bread later.
Like cocoa, Ibopé is a high-protein fruit. People use Ibopé powder to enhance the chocolate flavor. In some places, they let this fruit ferment to get a special alcoholic liquid.
4. Icaco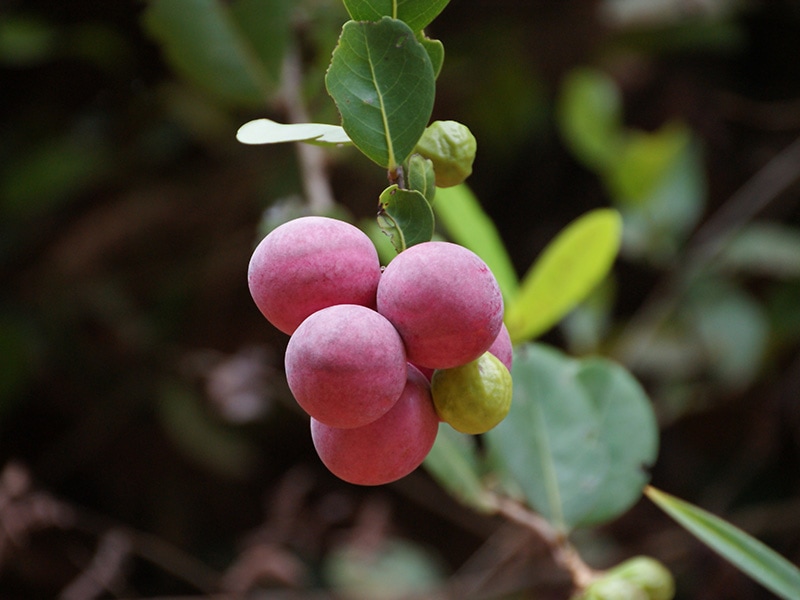 Some of the Icaco fruits look like plums to me. Their skins are thin, dark red-purple with an oval-round shape. These shrub plants are mostly found in America, Africa, and tropical regions in Southern Florida.
These fruits can vary in colors with white, pink, and red as well as plum-like pigment. Interestingly, white ones are often the mature ones.
The fruit flesh is sweet and juicy with a quite soft texture, while their seeds are hard and surprisingly big. Some even use fruits for making jams because of their mildly sweet profile.
Amazing Indian Tropical Fruits With "I" At The Beginning
India is where all the magnificent and exotic fruits come from. I can't wait to show you these tropical fruits right now.
5. Indian Fig Fruit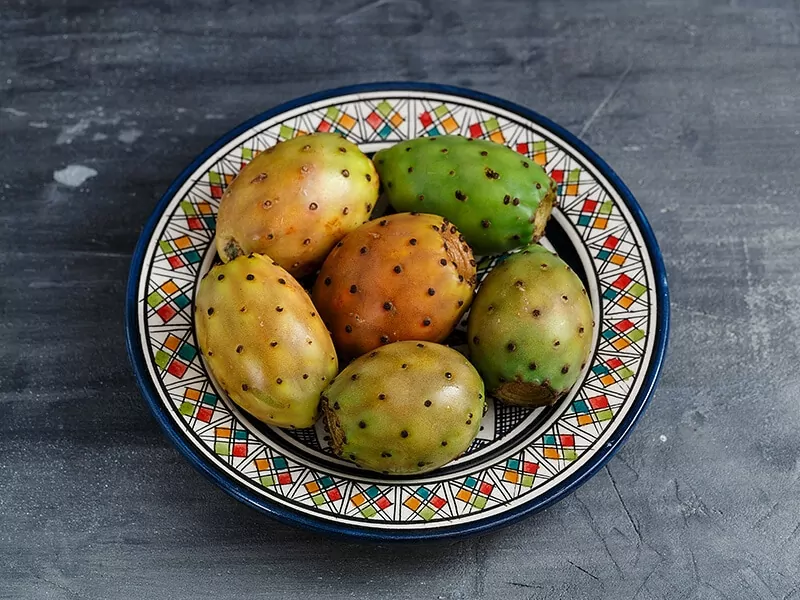 Surprisingly, the Indian fig fruit itself is a cactus, but it's also a hybrid of fig and pear. Usually, there are thorns all over the outer skin, so you may have to wear a pair of gloves before peeling it.
People often refer to this fruit as prickly pear, Anjeer, barbary fig, or cactus pear in many regions of the world. What surprises many is this fig is also considered a fruit and vegetable simultaneously.
I will say this fruit is incredibly sweet and succulent. You can either turn it into raw or in paste forms. Some people make alcohol from these dark red or green fig fruits.
These fruits are also full of antioxidants and vitamin C, making them a healthy switch for strengthening your immune system (1).
6. Indian Jujube Fruit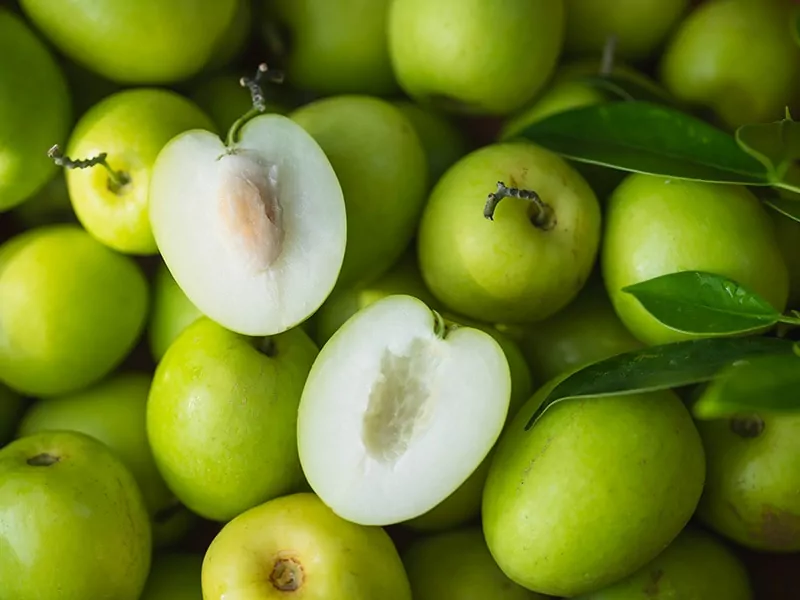 Not to be confused with jujube red date, a common ingredient in desserts in Chinese cuisines, Indian jujubes make me think of small-sized apples. Not only are they appetizing, but they are also rich sources of vitamins C and minerals. Also, jujube can help reduce sleeplessness and anxiety.
It is best to describe these fruits as soft, squashy, oblong-shaped, and sugary that can be enjoyed either ripe or unripe. Additionally, people even make a popular type of jujube candy in India. These candies are mouthwatering treats for children there.
Typically, the ripe jujubes can have a spongy texture with a sweet flowery note perfect for turning into jam. On the other hand, unripe jujube has a slightly bitter touch, it's usually best to make pickled or juiced out of these crispy versions of the jujubes.
7. Indian Almond Fruit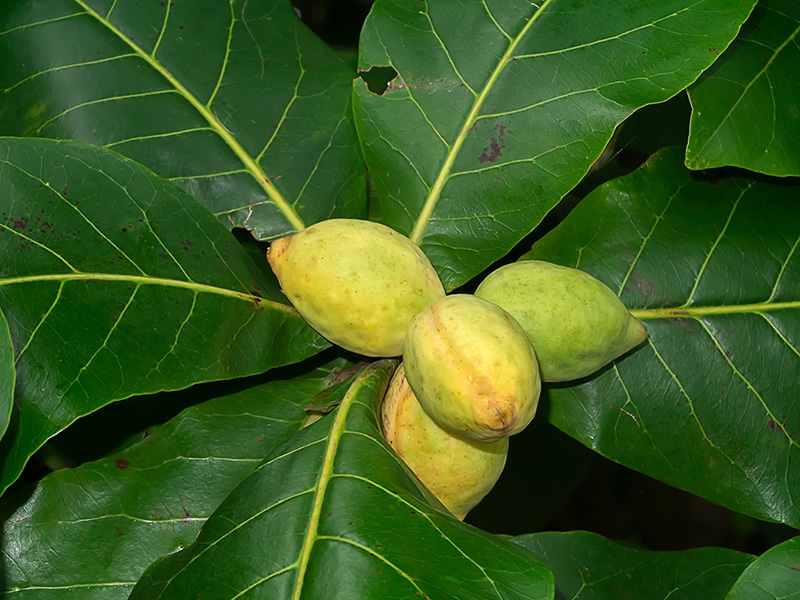 You must be wondering: Almonds are nuts, but why do people think of Indian almonds as fruits?
The answer is because the outer pulps of Indian almond fruits are edible, aside from the seeds inside them. There are certain similarities in taste between Indian almond fruits and real almonds. Plus, people usually eat these Indian fruits raw and unripe.
Sometimes, it's known as tropical almond, having a signature purple or red color when fully ripe. When eaten, the fruit releases an acidic aftertaste with a sweet juice that may be a bit sticky.
The fruit is also a great source of sugar for your body while providing a great calorie count. You can easily find Indian almond fruit spreading across Asia, Pacific Islands, Madagascar, and Australia.
8. Indian Prune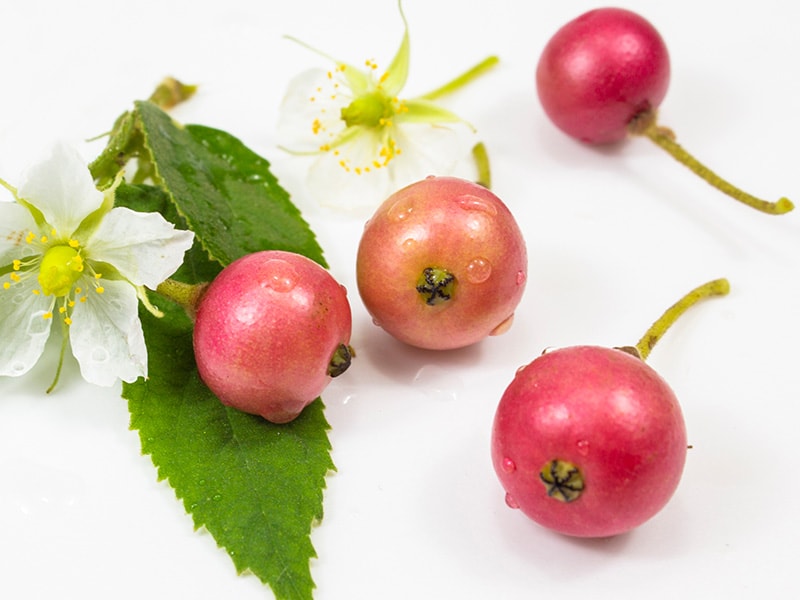 People also refer to this fruit as Indian plum. Normally, these Indian prunes have characteristics of both plums and berries.
First, these prunes are super sweet, and the texture is chewy. Secondly, consuming Indian prunes gives you a lot of health benefits. Note that the fruits can be relatively bitter before fully ripe.
They can be processed into many different forms, usually dried. Whatever forms of Indian prunes you may eat, I guess you can still realize their unique blue-to-black color.
9. Indian Sherbet Berry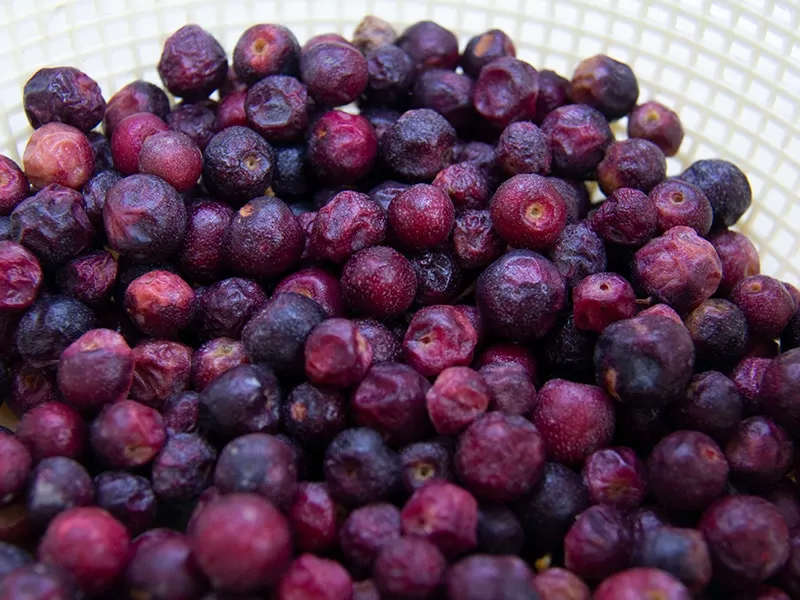 These Indian Sherbet berries may not look very different from regular blueberries or cherries. However, their flavor is more special. I would regard them as beautifully sweet and sour but tartier than most berries.
These berries grow in clusters, similar to how grapes develop. Sherbet berries are well-known for treating anemia, joint pain, and respiratory issues. They are also perfect for making hot weather drinks in India.
About nutrition properties, they do have tons of vitamins C and antioxidants like any fruits identified as berries. The berry is also great for controlling blood sugar and reducing hypertension.
This is a very simple Indian sherbet berry squash recipe to try at home.
Other Exotic Tropical Fruits Whose Names Begin With Letter "I"
Other parts around the globe, aside from Africa and India, are also loaded with unique and amazing tropical fruits. Let's find out more about them.
10. Ice Apple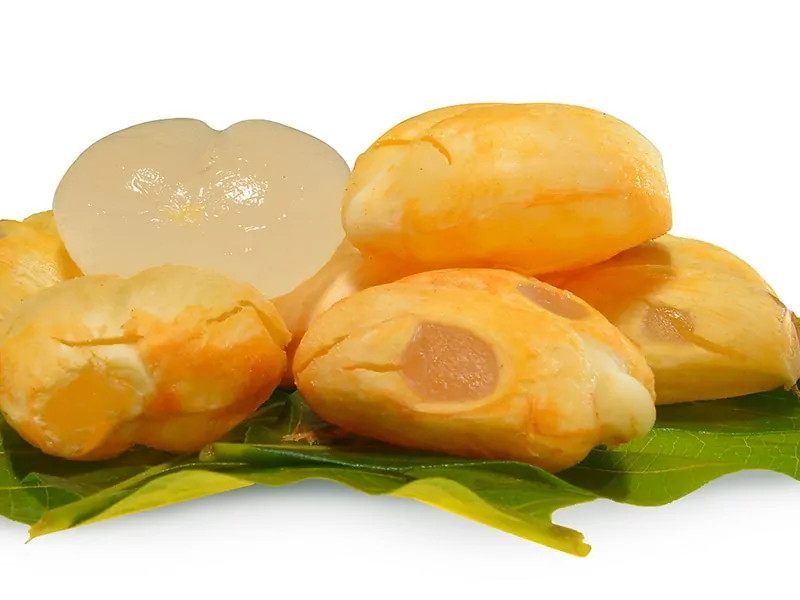 This is an Asian fruit special for its transparent color and distinct flavor. At first glance, you may mistake it for an Indonesian kaong. They both have translucent meat and are fruits from palm trees.
Ice apples are moist and fleshy, which may remind people of coconut meat. Also, the meat resembles a coconut's flavor and texture to me. However, there is some sort of bitter aftertaste.
People also produce sugar from these ice apples. This kind of sugar is believed to be better than regular sugar because of its benefits to human health.
To enjoy this unique fruit, you can extract the meat to mix it with ice and sugar to enjoy the jelly-like flesh. Additionally, ice apples provide a strong dose of potassium, calcium, vitamins B, iron, and antioxidants that can prevent cancer (2).
11. Indonesian Lime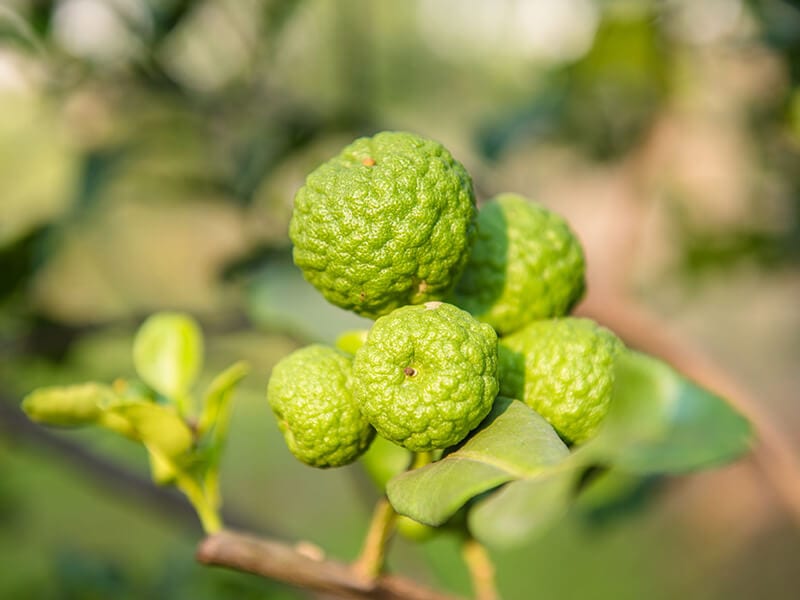 Indonesian limes are a citrus fruit that is often sour and high in vitamin C content. These limes are native to Southern China and Southeast Asian countries.
As to any other limes, Indonesian limes, or kaffir limes, are green and aromatic. Their leaves and rinds smell great and are also edible. People use these limes to add sourness to their foods.
They are pretty much the same when compared to regular limes. However, their appearance looks entirely distinct. Most limes are with shiny and smooth skins, while these Indonesian ones are lumpy.
12. Ilama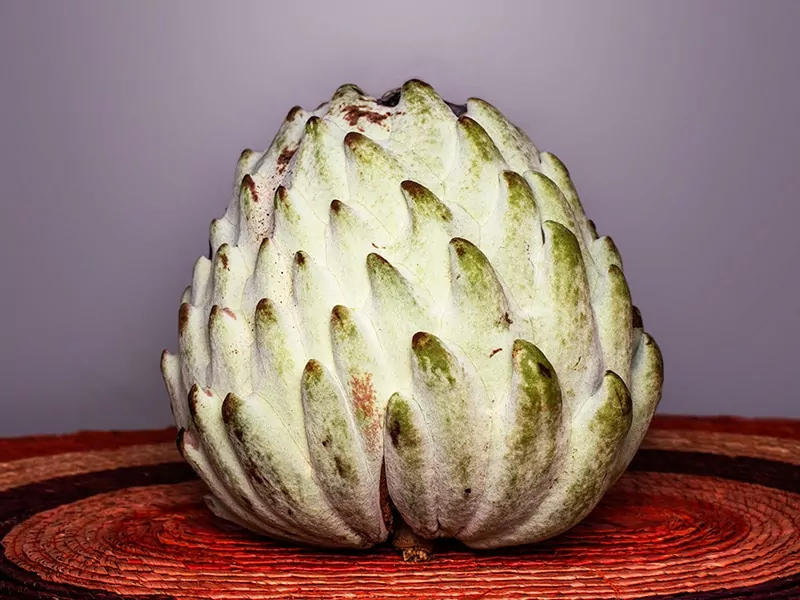 This one may be the strangest of the tropical fruits category. Ilama fruit's exceptional features include its unique shape and the fact that the ripper it becomes, the tartier it gets. Furthermore, the fruit is popular in Central American regions.
Ilama is about the size of an apple that can weigh up to two pounds. People in South America refer to it as "old woman's sapote" fruit. As for the rind, it's rather rough with available colors, including pink or green, depending on the species.
Its taste does resemble that of a sapote. When the skin is still green, which means it is unripe, Ilama has sugary, soft, and tender white flesh. As it gets older, that sweetness disappears gradually. Once the skin becomes maroon or pinkish, it is tart with a custard consistency.
Are you curious about this Illama fruit? Find out the answer here. Watch this video:
13. Ita Palm Fruit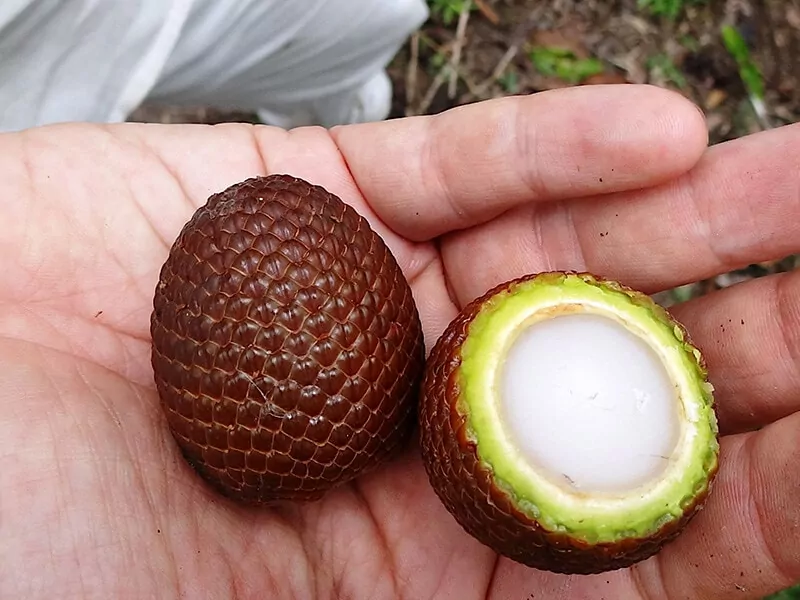 Here is another magnificent fruit from palm trees, aside from the ice apple mentioned earlier. Ita palm is a native species in tropical regions of South America, also known as Moriche palm or Aquaje.
This palm is also known as "the tree of life," a name that derives from its spectacular look with lots of great branches.
Ita palm fruits are considered sweet by the taste. The fruits have the shape of hazelnuts, with diameters somewhere between 5 and 7 centimeters. You can eat Ita fruits and buds as well as drink the tree's sap.
Ita fruits are used for multiple purposes. You can either eat them raw or in dried/powdered form. Besides jams and ice cream, people process Ita palm into fruit pastes to create alcoholic beverages. As for the fruit skin, some even turn its fiber into thread.
You can also extract oil from the fruits, which is a rich source of vitamin C and vitamin A that helps maintain a good skin condition (3). It's also considered "The miracle fruit for women" able to aid in fertility.
14. Imbu Fruit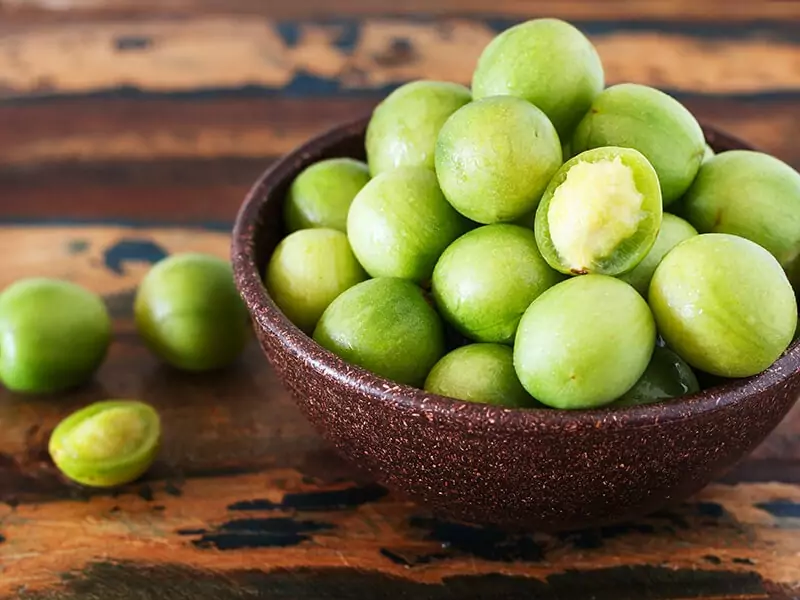 Here is another unusual fruit. Imbu originated from Brazil in the Northeast region, also called Brazil plum. It is considered an essential food source for the local people due to its tastiness and large quantities. As imbu is also called umbu, you can say that it belongs to the group of veggies and fruits beginning with "U" as well.
These plants can grow so densely and yield so vigorously. Typically, Imbu fruits mainly grow in the poorest and driest area of Brazil.
Their shapes are similar to limes, and so are the colors, either green or yellow. However, Imbu fruits turn red once they've become really ripe.
This fruit is rich in vitamin C with a sweet taste like oranges. There are lots of recipes that can be done with this fruit. Some popular ones are Imbu ice cream, Imbu jam, Imbu cheese etc.
15. Incaberry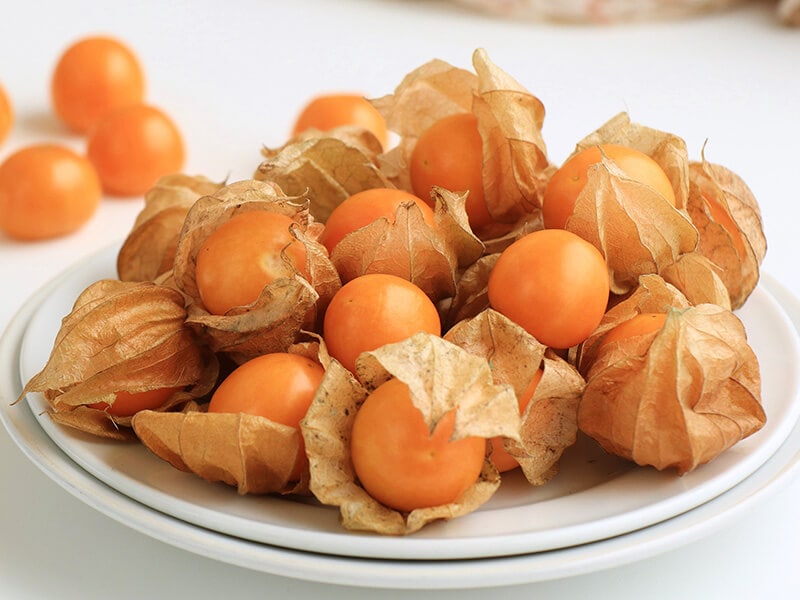 People call this fruit by various names, including cape gooseberry, Aztec berry, or golden berry. Commonly, Incaberries turn golden bronze when they're mature.
Their smell is as delicate as any other berries, with a sweet and sour taste at the same time. Interestingly, these berries are widely available in high-altitude regions of South America.
Incaberries are mostly sold either in fresh or dried form. People also turn them into fruit pastes: sauces, jam, pudding, and so on. Not only are these fruits delicious, but their benefits to your health are also numerous.
16. Ice Cream Bean Fruit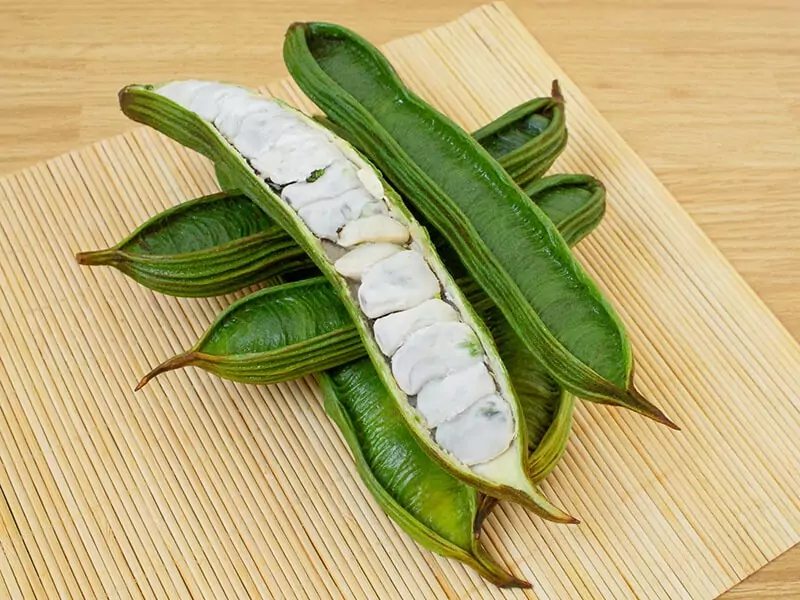 These exotic bean species come from South America with a heavenly milky cream flavor and a vanilla note.
Also, these beans do smell and taste like incredible vanilla ice cream. People and (other animals) enjoy eating the succulent pulps of these ice cream bean fruits raw.
There are different varieties of ice cream bean fruits in the world; some taste a bit like cinnamon. In some areas, people even use it as a native folk medicine.
One single ice cream bean contains about a dozen seeds inside. They're covered by pulps that look like cotton candies. The pulps are sweet, creamy, and mouth watery.
Discover how people eat the miraculous ice cream bean fruit. You may marvel at its size. Watch this video:
"I" Fruits From Temperate Regions
Below are fruits classified as temperate. They require a colder climate to grow in comparison with tropical fruits.
17. Ichigo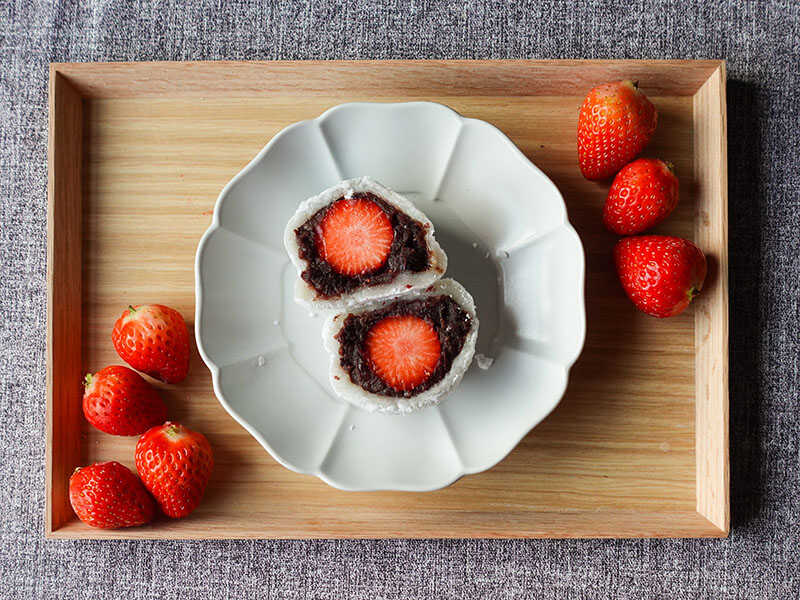 Ichigo is a Japanese word that means "strawberry" in English. What's unique about these strawberries is their wonderful taste and smell.
Ichigo fruits are slightly brighter than normal strawberries with an awesome fragrance. Also, these strawberries are vibrantly red fruit, making them another great feature of this fruit.
The most common dessert that features Ichigo is ichigo mochi, which also makes for a fantastic sweet treat during the spring. And similar to most sweet mochis, this Japanese snack will taste even better if served with some green tea.
I also highly appreciate the super sugary and juicy profile of Ichigo. These berries are also full of vitamins A, E, K, and C, making them a favorite choice to boost your immune system. No wonder why their costs are so high, even in their hometown Japan.
I also highly appreciate the great taste of Ichigo. These fruits are super sugary and juicy. No wonder why their costs are so high, even in their hometown Japan.
Do you want to make Ichigo mochi from scratch? Check this video out to learn the method:
18. Illawarra Plum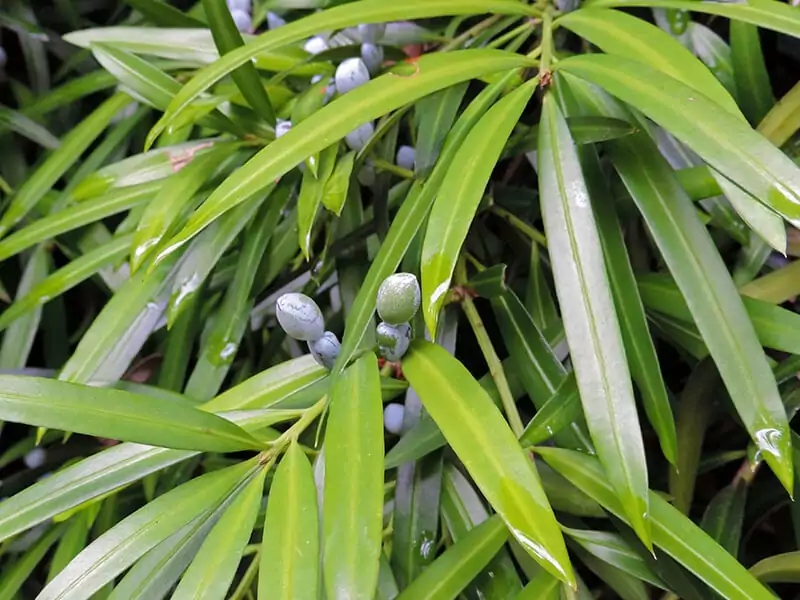 Illawarra plums are native fruits of Australia, Queensland, and Wales. They remind me of blueberries due to the purple skins and equivalent sizes. You may also know this plum by names like.
Also regarded as plum pine, these fruits have a hint of pine flavor. Also, the pulps are thick and juicy with the texture of grapes.
You can eat Illawarra plums directly from the trees after removing the outer seeds. They are also commonly made into jams, cakes, ice cream, etc. There are just so many desserts made with plum for you to discover. You can also make fruity liquor with plums. Sometimes people put them in savory dishes.
19. Indian Gooseberry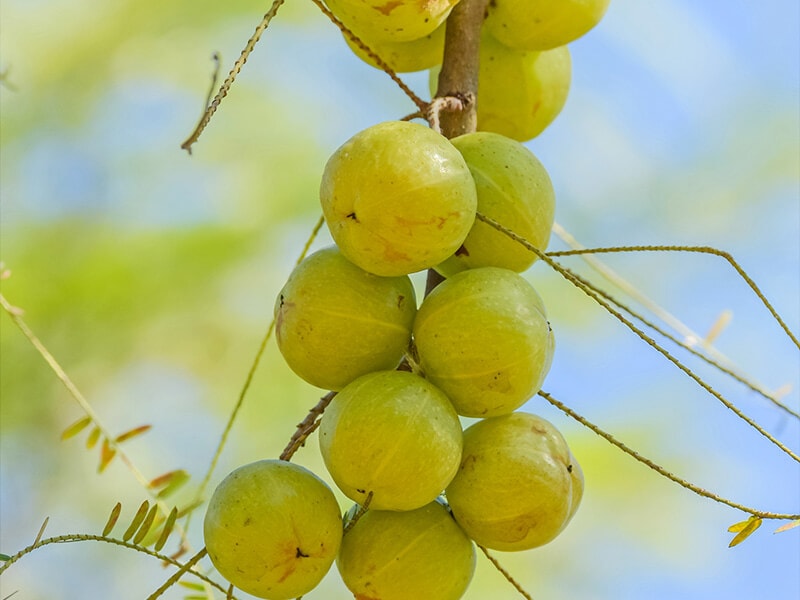 Related to cape gooseberries, these Indian gooseberries are great for eating and even for medicinal use. Commonly, people ingest these berries to help with diabetes, gut issues, or cancer.
Normally, these fruits come in the size of a golf ball that is perfectly freezer friendly for extensive storage. Typically called Amla in India, the fruit is the main ingredient to make Amla juice or turns into tasty candy, pickled, and chutney creations.
They also have similar tastes, like a combination of sweet and sour. Just like any other relatives in the berry family, these fruits are loaded up with vitamins and antioxidants. Furthermore, people believe Indian gooseberries can help with reducing triglyceride and LDL.
20. Indian Persimmon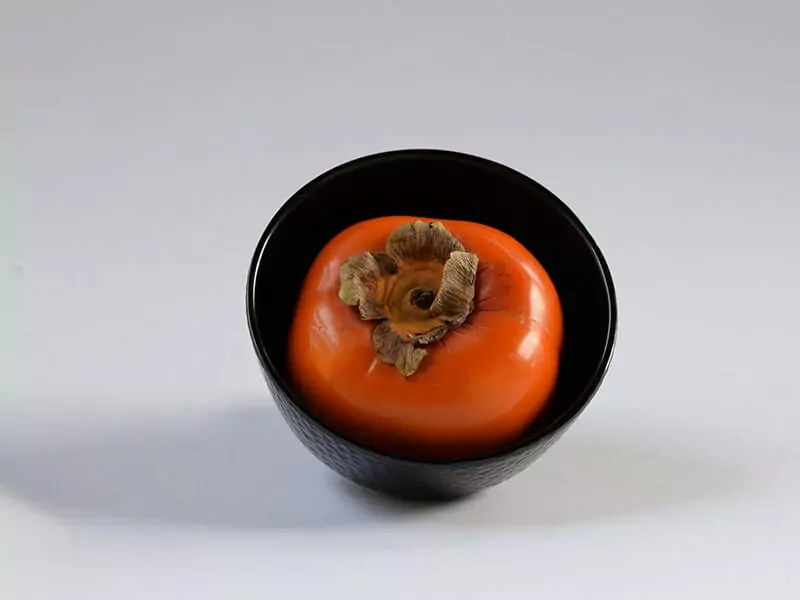 A persimmon's texture may resemble a tomato, but their flavors are vastly different from each other. Eating Indian persimmons gave me a tender sweetness and a flowery taste. The flesh is usually orange, juicy, and sticky.
The fruit is widely available in tropical regions and Southeast Asian countries. Furthermore, people even grow persimmon trees for the ebony timber. Normally, Indian persimmons are best consumed raw or dried, but you can always incorporate them into dessert recipes (cookies, cakes, puddings, or pies).
Just because this fruit is called "Indian persimmons" doesn't mean it's not prevalent here in America. In fact, one of the most prevalent American desserts is persimmon pudding. Persimmons are also full of essential vitamins alongside minerals and fiber for your daily consumption.
Other
21. Italian Prune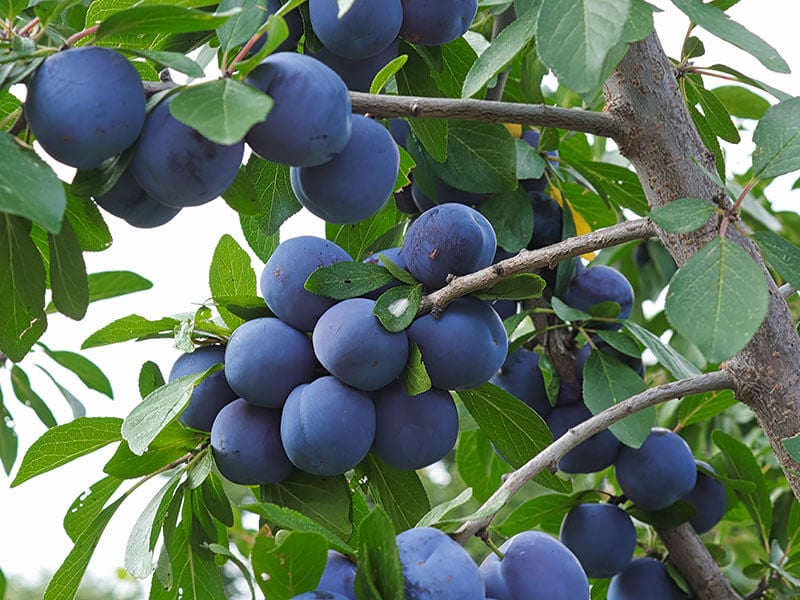 Let me introduce you to the delightful Italian Prune, a plum that brings joy to many fruit lovers! These European plums are beautiful with their large freestone purple fruits and yellow-green flesh.
Thanks to their sweet and firm flesh, they are perfect for drying and canning. In some cases, these prunes are ideal for whipping up European sweet treats at home. Also, they are equally delicious when enjoyed fresh from the tree. You can find them in late summer through the early fall, adding a burst of flavor to your seasonal fruit selection.
Italian Prunes have an oval to oblong shape with smooth, taut, and thin skin that transitions from dark red to a vibrant purple when mature.
They are a good source of potassium for balancing fluid levels, vitamin C for a strong immune system, and fiber for a healthy digestive tract. You'll also find calcium for strong bones and teeth, vitamin K for wound healing, vitamin A for organ functioning, and even traces of manganese and copper.
22. Iris Fruit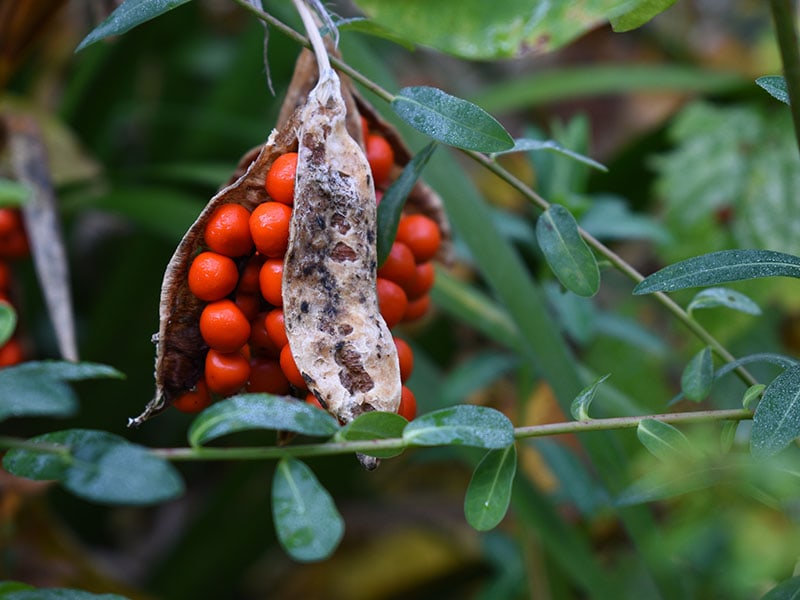 Iris is not just a flowering genus of 310 species; it also bears intriguing fruit. The fruit of the Iris plant is a capsule that opens up in three parts, revealing numerous seeds within. Commonly, these seeds can range in color from light brown to orange.
However, the Iris fruit is not meant for consumption. While it may seem tempting, it's best to admire its beauty from afar. These fruits possess a unique scent profile, characterized by a powdery, floral aroma with hints of earthiness and subtle undertones of spice or musk.
Also, it's important to note that some species of Iris contain poison in all parts of the plant, including the fruit.
23. Ivy Fruit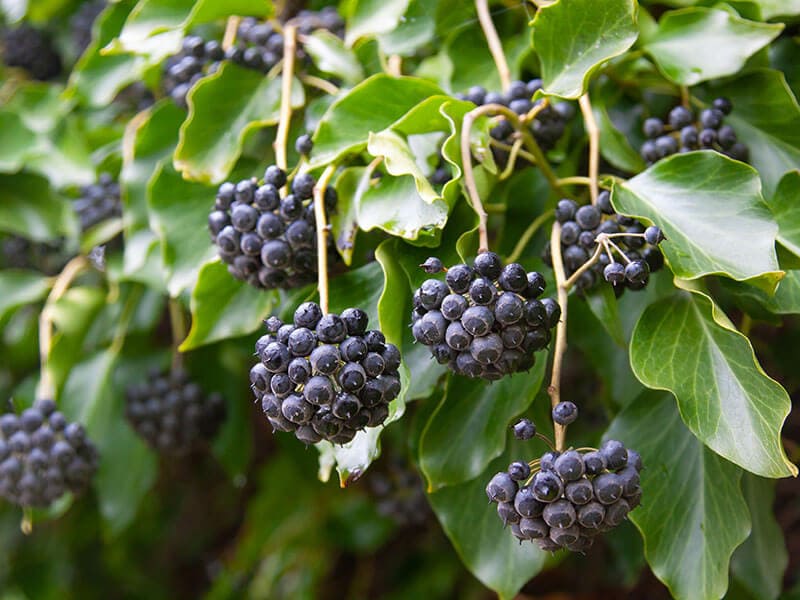 Ivy fruits from the climbing plant species in the Araliaceae family are truly fascinating. Native to Europe and western Asia, these evergreen climbers are considered an invasive plant. I've seen their yellowy-green flowers many times, which bloom between September and November (4), forming umbels.
The fruits themselves can transform from purple-black to orange-yellow berries, a change that happens during late winter. The fruit is an important food source for many birds who feast on them but be careful as these fruits are poisonous to humans.
What's even more interesting is that despite their toxicity, extracts from these berries are used in cough medicines.
24. Indigo Rose Black Tomatoes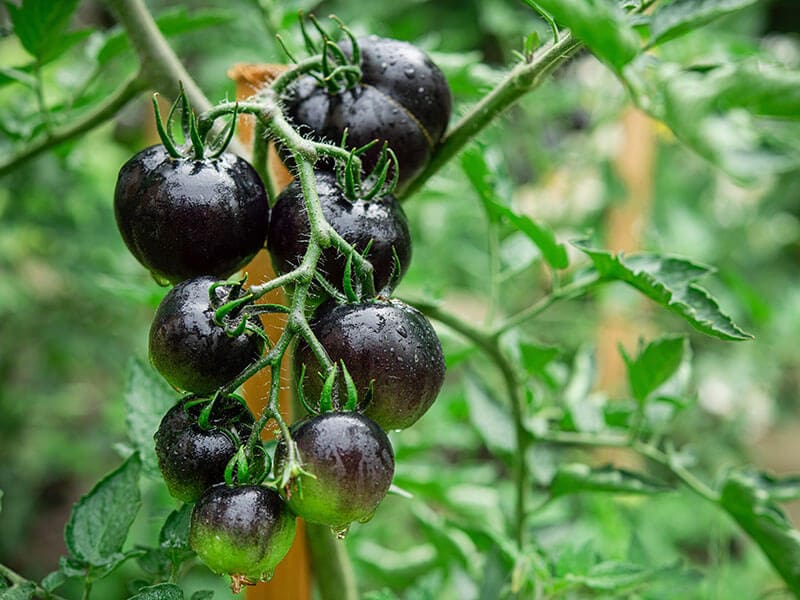 Indigo Rose Black Tomatoes were first bred by Professor Jim Myers. They have a stunning purple-black hue, thanks to the anthocyanins pigments that respond to sunlight. Additionally, even the leaves and stems of Indigo tomatoes have that dark purple vibe.
Being round and the size of a small salad tomato, Indian tomatoes add an interesting twist to any salad. Interestingly, the longer they bask in the sun, the darker they become, peaking in color by late summer. Harvesting usually kicks off around mid-August.
These dark hue tomatoes often bear a mild taste and are somewhat tender, with a hint of sourness. You can squeeze the tomatoes a bit to tell if they're ripe. The tomatoes are fully ripe if they're soft to the touch and have shiny skin.
25. Indian River Grapefruit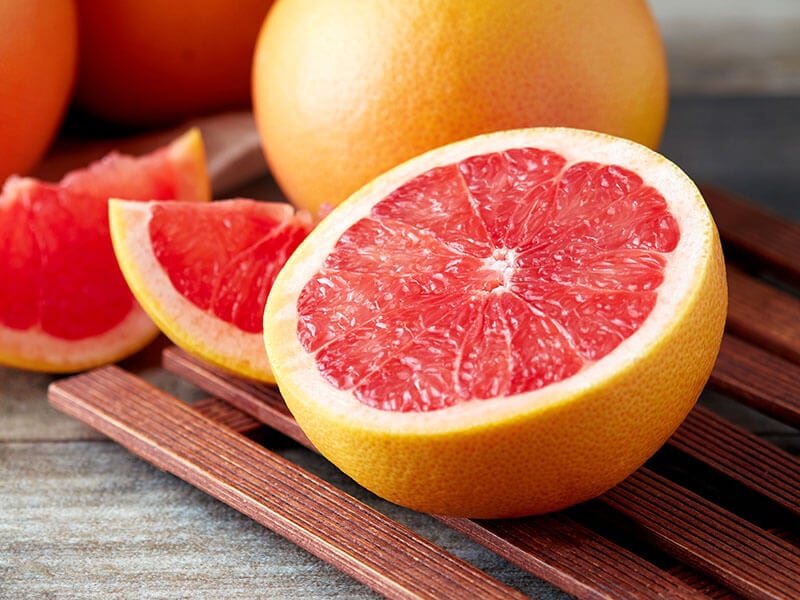 Let me introduce you to my absolute favorite: the Indigo Indian River Grapefruit. Coming straight from the famed Indian River Citrus District in Florida, these grapefruits have a reputation for being sweet!
These grapefruits are grown along Indian River Lake, a spot near the warm Gulf Stream. This protects the grapefruits from unpredictable weather changes and gives them a sweeter edge. Compared to their Californian cousins, they usually have a thinner rind, which I appreciate.
FAQs
Expand Your Knowledge With These Fruits That Start With "I"
A majority of fruits from this list are relatively weird and exotic. However, you may find some fruits here available in your places so that you can easily enjoy them.
I have tried my best to gather all the fruits that begin with "I". I hope the list is useful to you. If someone challenges you with this quiz, you won't have to end up losing to them after reading my post.
Do you have any other fruits that start with "I"? What fruits do you want to know more about in the list? Please comment down below and share my post with your friends and family.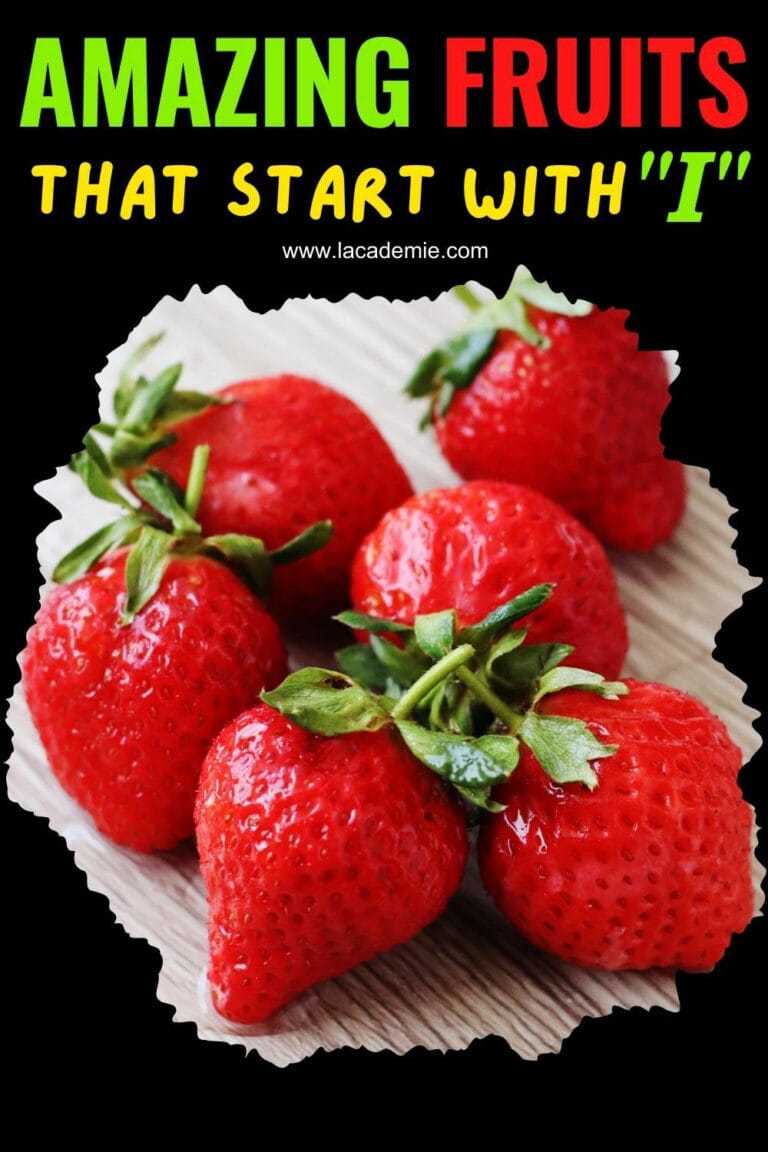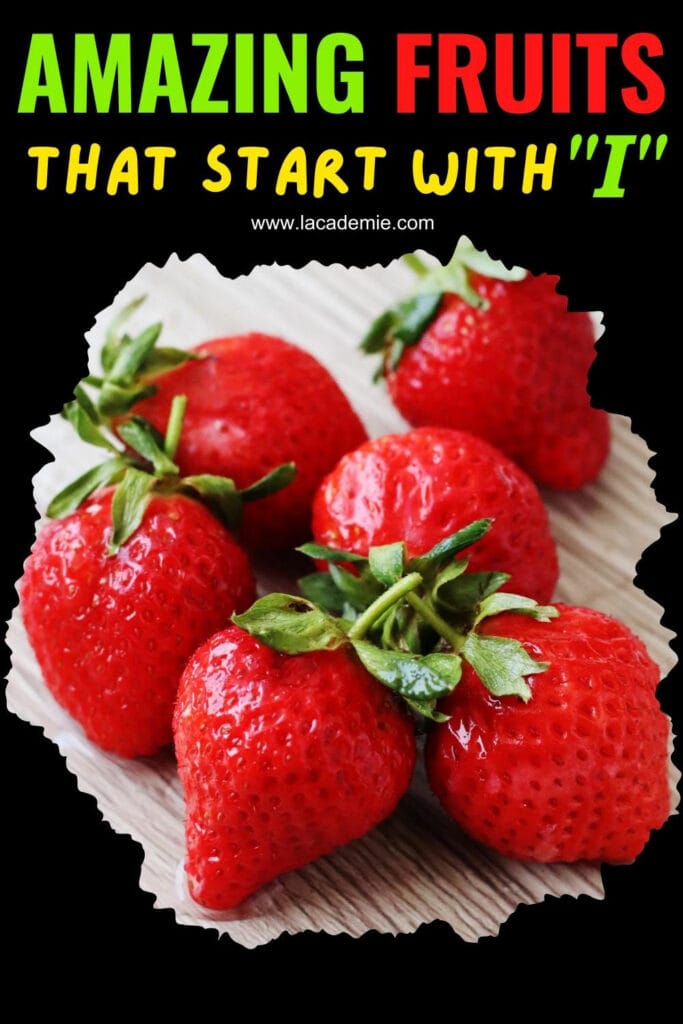 References
Carr, A.C. and Maggini, S. Vitamin C and immune function, Nutrients.
Antioxidants and cancer prevention National Cancer Institute.
Vitamin A (retinol) Mount Sinai Health System.
Woodland Trust Ivy (Hedera helix), Woodland Trust.