Speaking of red fruits, what's the first thing that comes to mind for most people? Here's a hint: "A/An ______ a day keeps the doctor away". I bet you've got it right. But now, can you tell me a few more names of the fruits that are in red?
That's not very easy, isn't it? Keep reading to see a list of 20+ names from different fruit varieties that are juicy, tasty, and particular. What's more, you can even learn about their distinct properties, taste, benefits, and why you should incorporate them into your daily meals!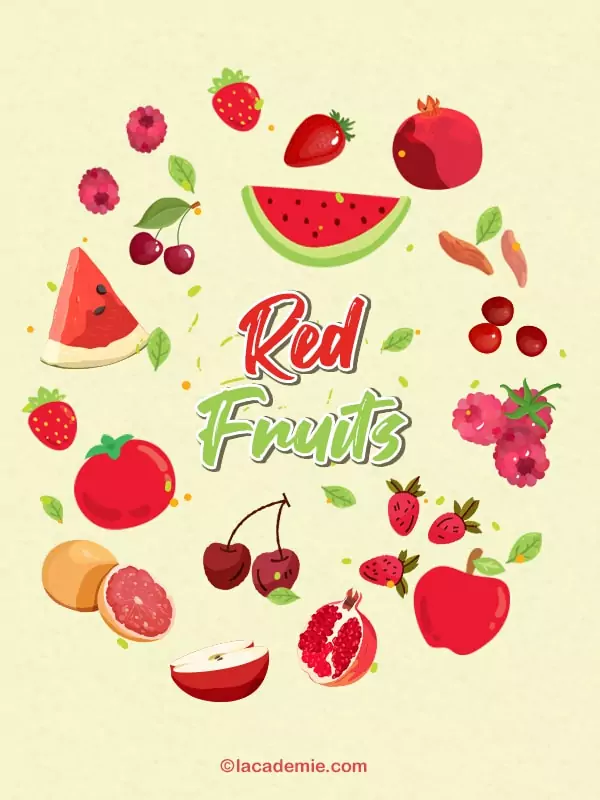 Have You Ever Heard About These Red Drupes (Stone Fruits)?
Simply put, drupes are fruits having their seeds in a hard shell of hardened endocarp surrounded by outer fleshy tissues. They are simple fruits that come from a single ovary or flower.
They typically contain 3 parts: an outer thin skin or peel, a usually thick and fleshy middle layer, and finally, a hard and stony inner layer called a pit. In this pit, you can find one (or, in rare cases, two to three) seeds.
1. Cherry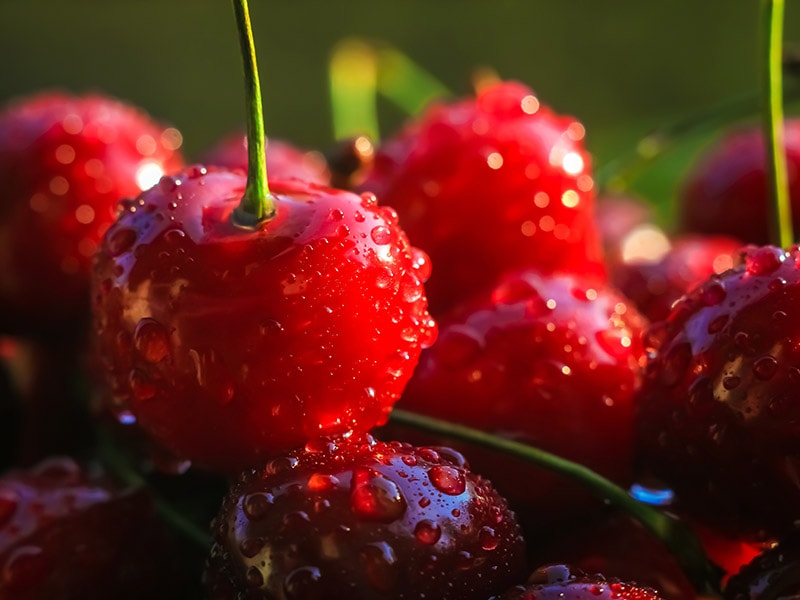 The origin of this delicacy fruit is not clear. People thought it was of ancient origin and originated from the Black and the Caspian Seas region.
Cherry is one of the most popular and beloved fruits, and not without good reasons. They are chock-full of fiber, minerals, vitamins, and other nutrients. Cherries are also known for reducing the risk of gout attacks.
With numerous cherry kinds, people divide them into two main types: tart and sweet. The former is best for cooking while the latter is more suitable for eating in raw form.
Discover how people grow cherries on a farm here.
2. Red Plum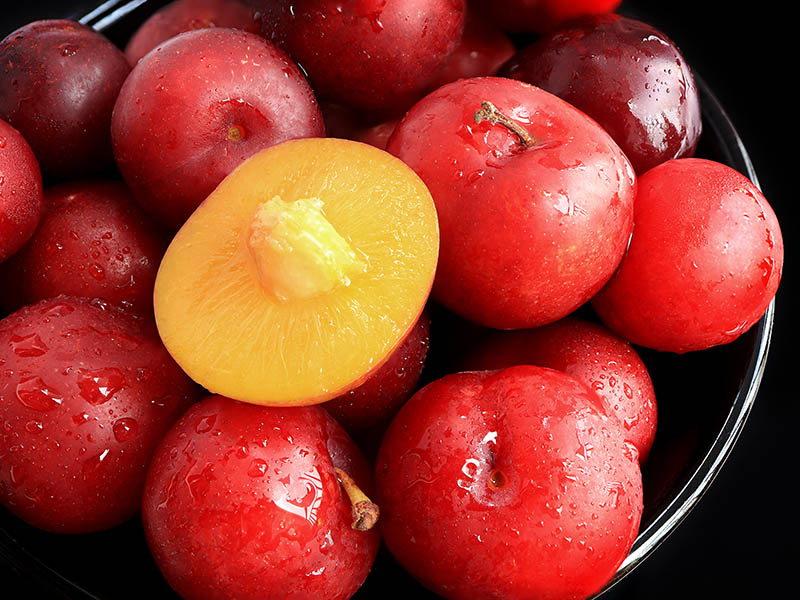 Red plums are round or oval-shaped with smooth skin. Their flesh can be either yellow or red. Upon ingestion, they bring a sweet or tart flavor with a slightly sour undertone to your mouth. You can find them at the farmers' stores and markets between May and October.
You can eat red plums fresh, canned, or use them in cooking. Thanks to their sweetness, red plums are ideal as an ingredient in baking. Their health benefits include lowering blood pressure, helping with weight loss, and improving brain health.
Japanese plum is one of the varieties of red plums. Most of them are oblong-shaped. This type of red plum is well-known for its sweetness. Thus, many people prefer to eat this variety as it is or use it as a natural sweetener in many dishes.
3 Red Pome Fruits That You May Have Missed
In botanical terms, fruits of this category belong to the subtribe called Malinae of the Rosaceae family. In simpler terms, pome refers to the fruits with a central "core", several small seeds inside, and an outer fleshy layer surrounding this core.
3. Red Apple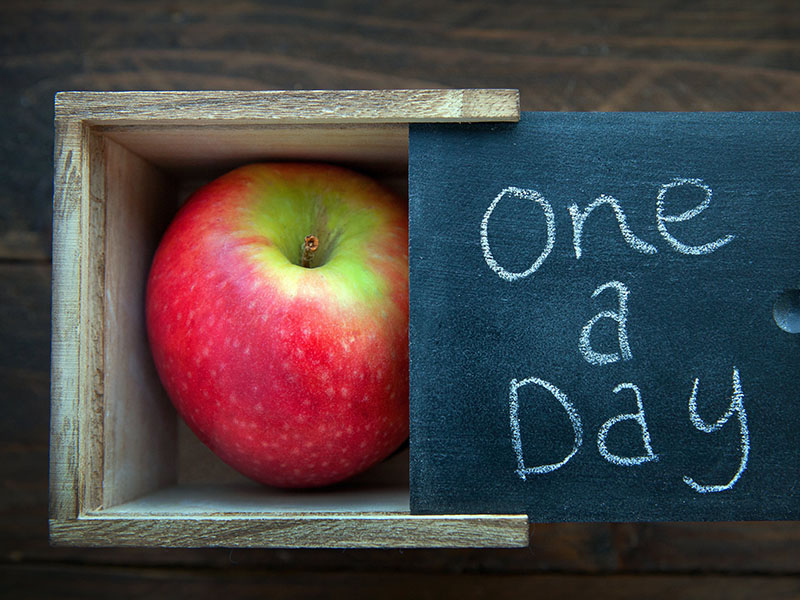 This is undoubtedly one of the first red fruits people think of. Archeologists have found evidence indicating that humans have consumed apples since 6.500 BC.
Although apples have various types, you mostly find red apples in medium-sized and round shapes. They are abundant in fiber, vitamin C, and other antioxidants. Eating them helps you improve your digestive system and brain health, lowering your risks of strokes. The list goes on.
Fun fact: Have you ever wondered why apples float in water? This is because they contain a lot of air (25% of their volume, in fact), making them less dense than water. Thus they stay afloat in the water.
4. Red Pear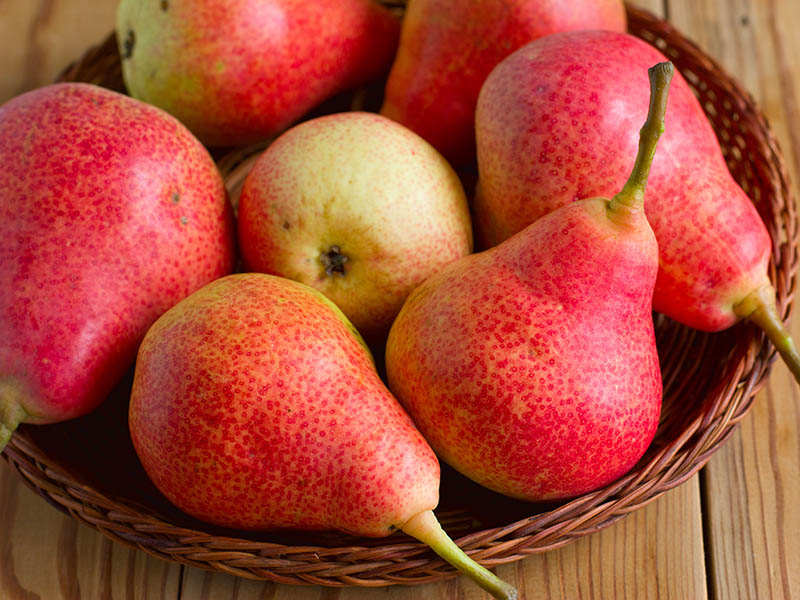 Here comes a fruit with a recognizable shape and silhouette. Red pears come in at least three varieties: Anjou, Bartlett, and Starkrimson. However, more often than not, you find them labeled simply as red pears on the market.
Red Anjou is mild and sweet with a hint of citrus flavors. What sets them apart is their generally deep maroon color, which will sometimes change slightly as they mature.
Red Bartlett (Williams pear) is also sweet and juicier. Its color changes from dark red to bright crimson color during the ripening process.
As for red Starkrimson, it is extremely soft and juicy with floral undertones. Similar to the Williams pear, their color also changes from deep crimson to bright crimson red as they ripen.
Their brilliant crimson color surely can elevate the presentation of any dish. You can eat these pears raw, either in sliced forms or with salad, a bowl of cereal, etc.
5. Pomegranate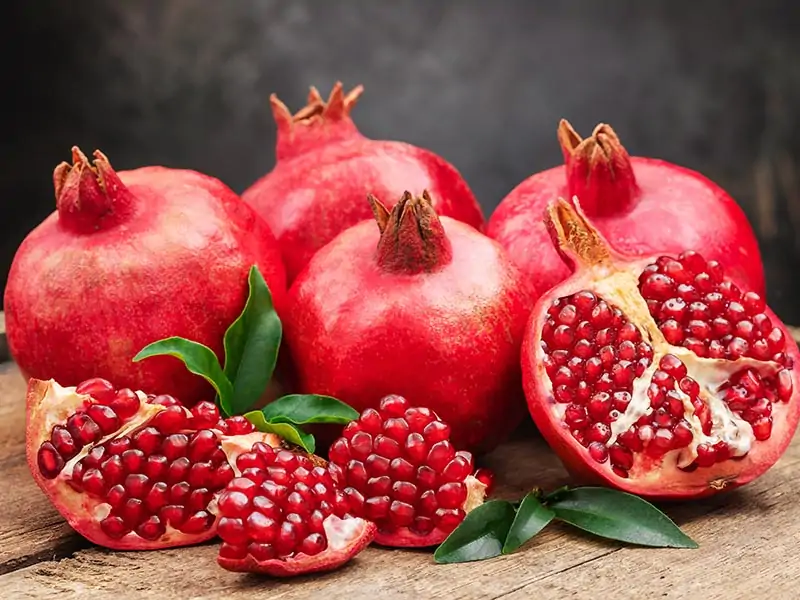 The Pomegranate is native to Iran and neighboring countries. This fruit thrives in high temperatures and a dry atmosphere. Thus, people cultivate it widely in some parts of the world, such as Central Asia, tropical Africa, the Mediterranean Basin, and the Indian subcontinent.
The so-called arils are delicious and full of nutrients. It's advisable to open the fruit and spoon out these "red jewels" for neater consumption. But how about the white flesh and rind? They are bitter, so I advise you to discard these parts.
Fun fact: People put Pomegranates on some coats of arms, for example, the coat of arms of the Royal College of Physicians (RCP) in 1546. The Pomegranate represents the persistence of life, fertility, and regeneration associated with Persephone.
Here's another fun guide on how to cut and consume a Pomegranate.
How Many Red Citrus Fruits Can You Name?
Those fruits that fall in the citrus category all have a fairly thick rind and flesh in various segments. They come in multiple sizes, colors, scents, and tastes. Let's dig into these red citrus fruits and see what they have to offer:
6. Blood Orange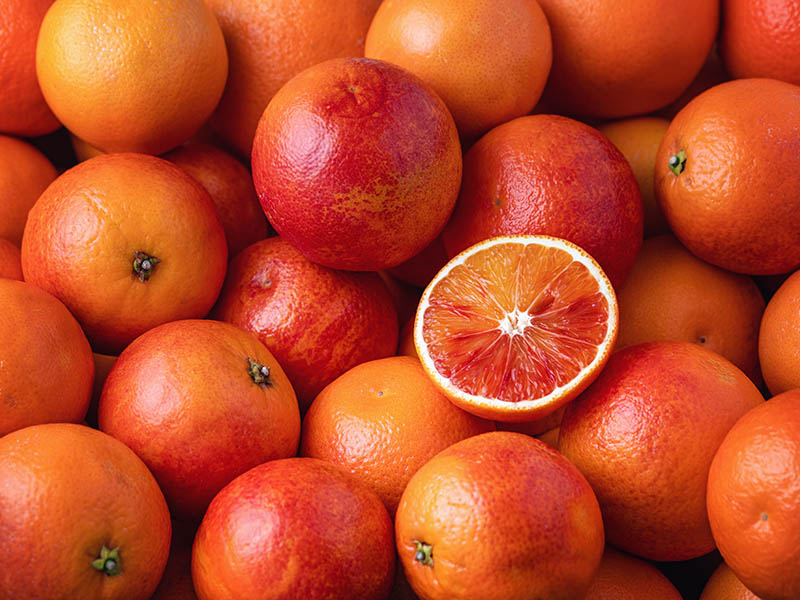 Despite their rather gruesome name, blood oranges are a wonderful citrus fruit that can brighten your day. In terms of outer appearance, they look like your good ol' orange kinds. But when you open them, inside is the crimson-colored fleshy part.
Blood orange's taste can be hard to describe. A navel orange is sweet and juicy, while a blood orange is tart-like and complex with a hint of raspberry. They provide everyone with an abundance of vitamin C and fiber.
Fun fact: Blood oranges can help you during pregnancy as they boost your immune system, aid in children's brain development, and enhance your skin tone.
On the cool winter days, blood oranges can act as comfort food (their season is between December and May). You can use the oranges for making marmalade and put the zest into the batter for baking. Truly a versatile red-flesh fruit, isn't it?
Here's the taste-tasting of the five variants of blood orange.
7. Red Tangerine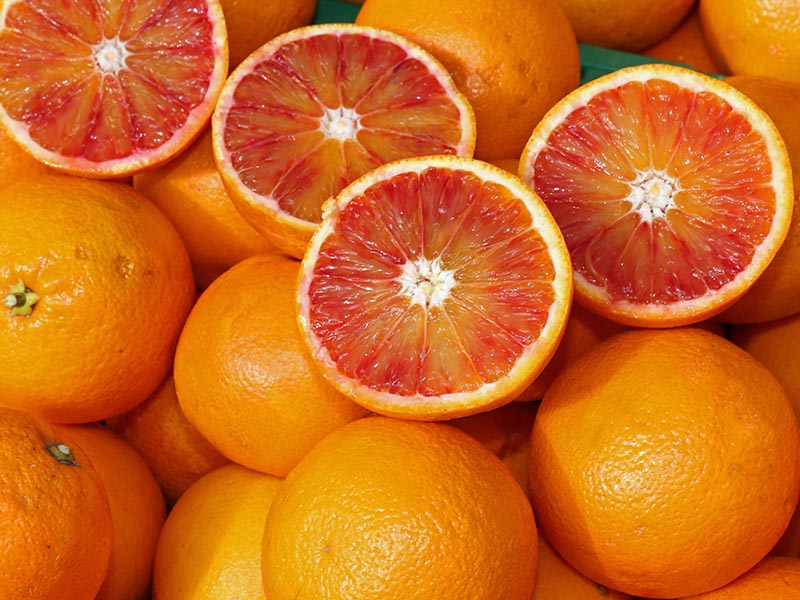 Red tangerines (also known as blood tangerines) are small, about 2-4 inches in diameter. Similar to the blood orange, they have red with a slight tone of purple flesh. Once peeled, the fruit produces a sweet and refreshing aroma.
Red tangerines are a hybrid between clemenules mandarin and a tarocco blood orange by Italy in the 20th century. In modern days, Europe and the US cultivate the red tangerines on a small scale.
So how does the red tangerine taste, compared to the orange-color tangerine? The former is so sweet that it's hard to believe that you are eating citrus fruits. Thanks to this sweet flavor, you can use them for making a healthy snack or dessert.
8. Pink/Red Grapefruit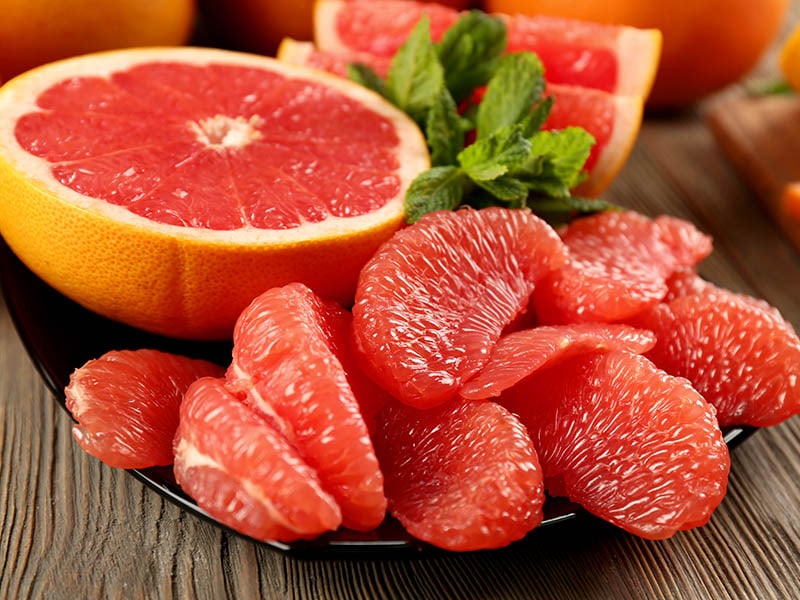 Grapefruit is famous for its semi-sweet and somewhat tart taste. Pink and red grapefruits' flesh has a light pink and red ruby color, respectively. The pink ones are sweeter and less sour than their normal counterparts, while the red variants are even sweeter!
Pink/red grapefruits are a natural citrus hybrid of orange and pomelo. Once cooked, they lose their sourness, making them the perfect ingredient for dessert. Like many oranges, pink/red grapefruits are chock-full of vitamin C and thus help boost your immune system.
Did you know? There's more than one way to cut and consume grapefruits. See all of them here.
9. Blood Lime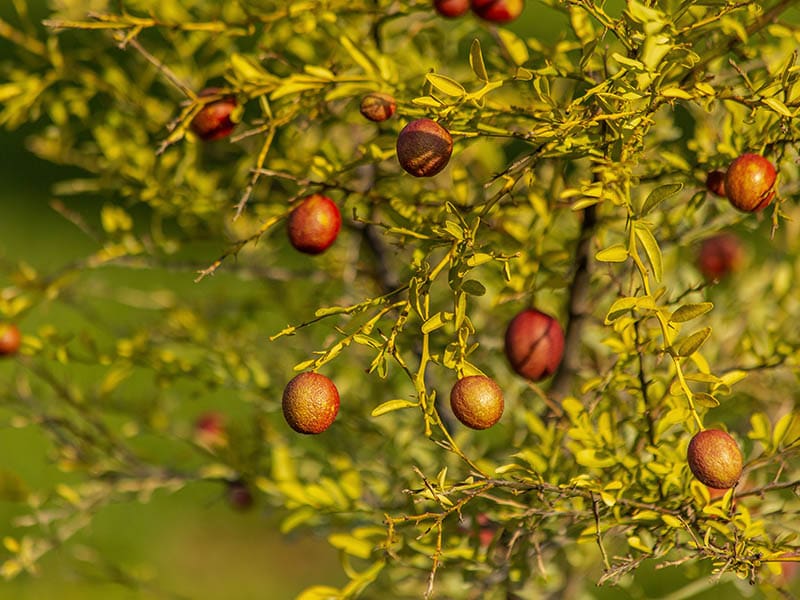 This unique citrus fruit is a hybrid between an acid mandarin and Australian finger lime. CSIRO developed the blood limes as an attempt to investigate salt-resistant crops. You can plant them at any time of the year.
Just like their name, these fruits are blood red. In terms of size, they are smaller than most regular lime types, just approximately 1.6 inches long by 0.79 inches in diameter. In the winter, its shape becomes egg-like.
Their taste profile is a unique sweet-sour flavor, unlike any other citrus. Compared to regular lime, blood limes are less aromatic. These little red fruits make an excellent choice for using in sauces.
Enrich Your Meals With These Interesting Red Berries
In contrast to what has been explored so far, berry fruits are small and pulpy. Most of them are edible. At the moment, there are more than 400 species of berries.
Beware: Although many of the wild berries are edible, there are also equally or more the number of poisonous ones out there. The saying "When in doubt, throw it out" rings true here.
By definition, berries are fruits from one single flower with one ovary and contain several seeds. Technically speaking, bananas are berries (I know, mind-blowing, right? Their seeds are tiny, but they are there).
10. Strawberry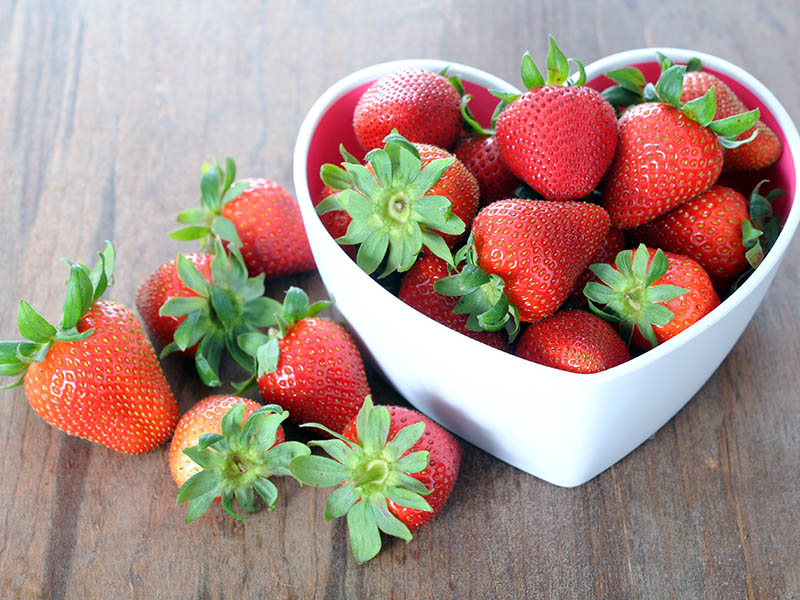 This one is a well-known representative of the berry family. Even though they have "berry" in their name, Strawberries are not true berries, they are "aggregate fruit". This is because true berries stem from one single ovary while strawberries come from multiple.
Thanks to its sweetness (and sometimes a slight sourness) and alluring heart-shaped appearance, strawberries became the symbol of Venus, the love goddess, in ancient Rome.
It wasn't until the 17th century that people started cultivating strawberries. In the medieval age, people often used them for medicinal purposes.
11. Tomato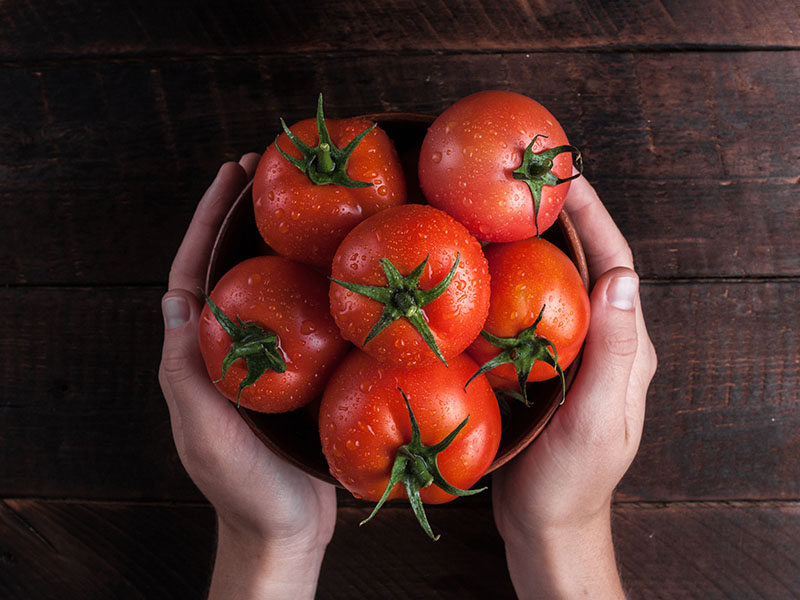 There may be some confusion about whether this is a fruit or a veggie. Botanically speaking, tomatoes are a fruit as they are seed-bearing products that develop from a flower's ovary.
Tomatoes are indigenous to the Andes Mountains in South America. The original looked small and bore very little resemblance to today's cultivated variants.
Fun fact: It wasn't until Europeans brought these fruits to their countries and ate them widely that the tomatoes attained great popularity in America, their origin country.
People dedicate a large proportion of tomato crops to processing, from canned tomatoes to juice, ketchup, sauce, and paste.
12. Raspberry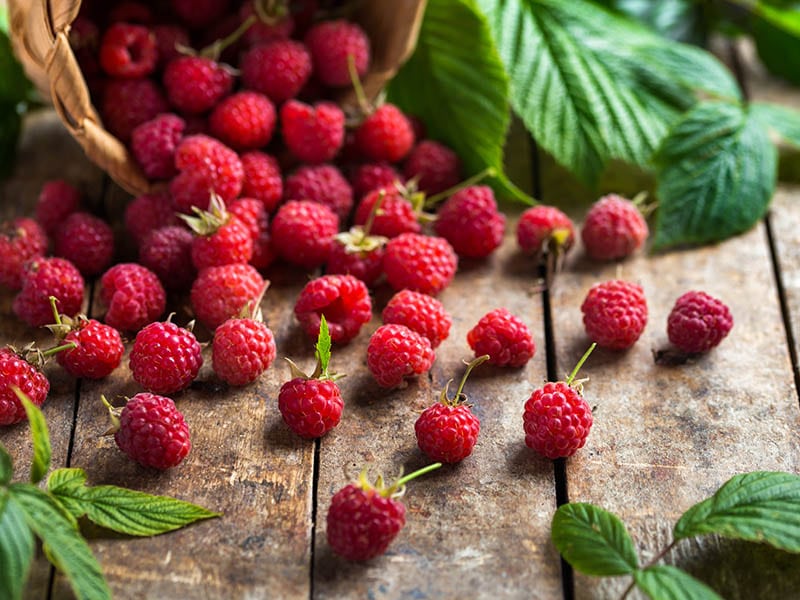 Similar to strawberries, raspberries are not "true berries" in the botanical sense. Hence, the botanists categorize them as aggregate fruit, stemming from the multiple carpels of a flower.
Almost all the main types of raspberries are small with a soft texture and a sweet taste with tart undertones. Typically, the riper they are, the sweeter and more intense their flavor will become. In terms of nutrition, raspberries pack low calories and an excellent amount of vitamin C and fiber.
People (especially midwives) also use raspberry leaf tea as a traditional medicine to treat pregnant and postpartum women. Their leaves taste like common black tea. However, modern science has not been able to prove these claims true.
13. Red Grape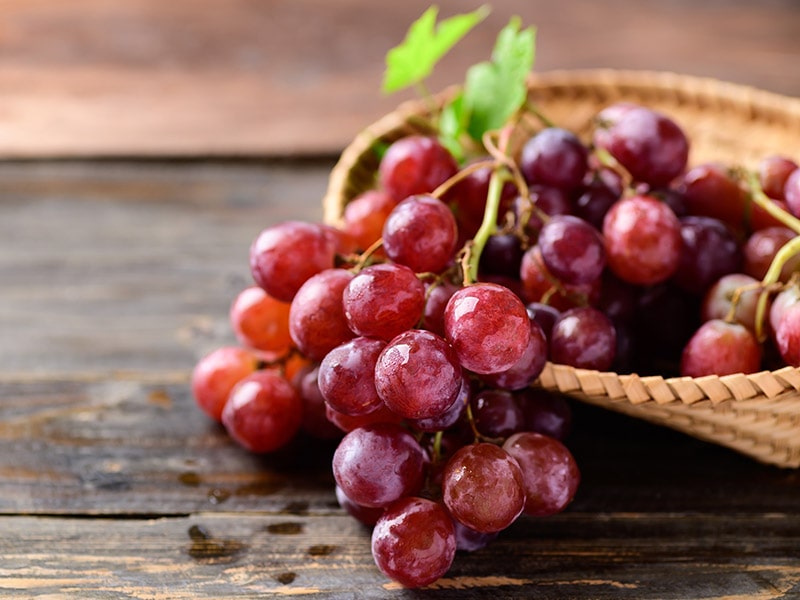 Red grapes are fantastic, affordable, and versatile. You can eat grapes out of hand, make adult beverages or juices with fermentation, and turn them into raisins. They even provide a rich amount of antioxidants to boost!
Compared to the green grapes, the variants that begin with "R" are sweeter and less sour. Having said that, depending on which grape varieties you choose, you can find these medium-sized red berries with juicy bits and a hint of tartness.
There's a Japanese Ruby Roman Grapes variety, and they're not cheap. Find out why!
14. Red Chokeberry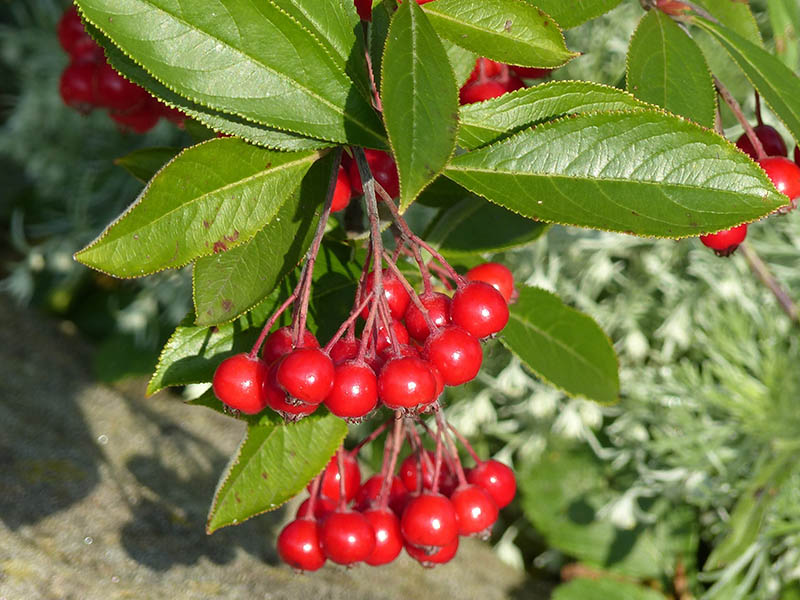 Here's another sibling of the berry family native to Eastern America. Don't confuse them with chokecherry, a different fruit that can lead to cyanide poisoning if not prepared properly.
Red chokeberry, on the other hand, can bring many benefits to your body, including anti-cancer and anti-diabetic effects.
What do they taste like? Well, these berries are tart, dry, and bitter with an earthy undertone. You can find this delicious shrub in wet and cool places, such as on pine flatwoods and along swamps.
15. Red Currant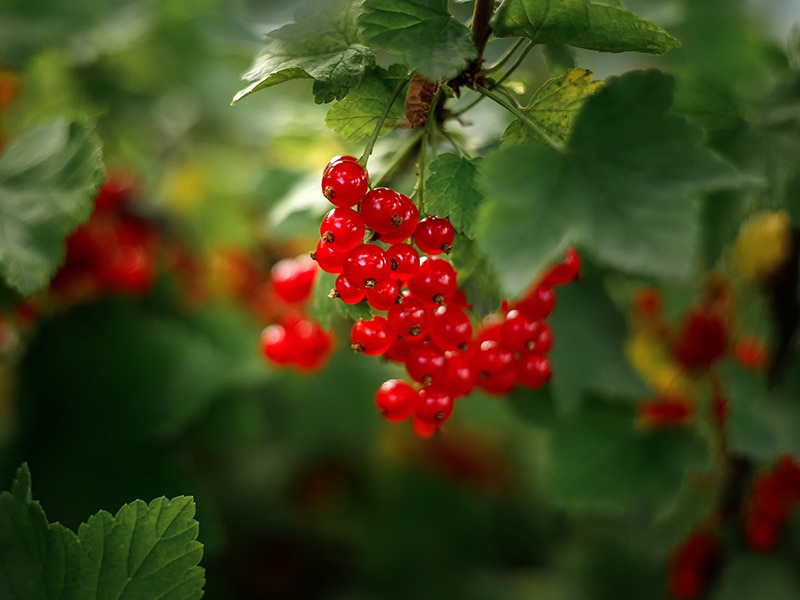 Here's yet another small red rubble-like fruit. Owing to their sour properties, the red currants are better suited for processing milk, jam, ice creams, etc., than eating raw. You can also use their leaves for traditional medicines.
Their culinary uses vary depending on the region. For instance, Johannisbeere Schorle, a drink known in German-speaking areas, uses redcurrants as an ingredient. By combining soda water with syrup or nectar derived from this red fruit, you'll have a refreshing drink.
Explore a detailed explanation of how the red currants taste here.
Blow Your Mind With These Red Tropical Fruits
As the name implied, tropical fruits originated from trees that are native to the tropics. Thus, those red fruits that fall under this category often grow in the regions closer to the equator of the Earth.
16. Water Apple (Rose Apple)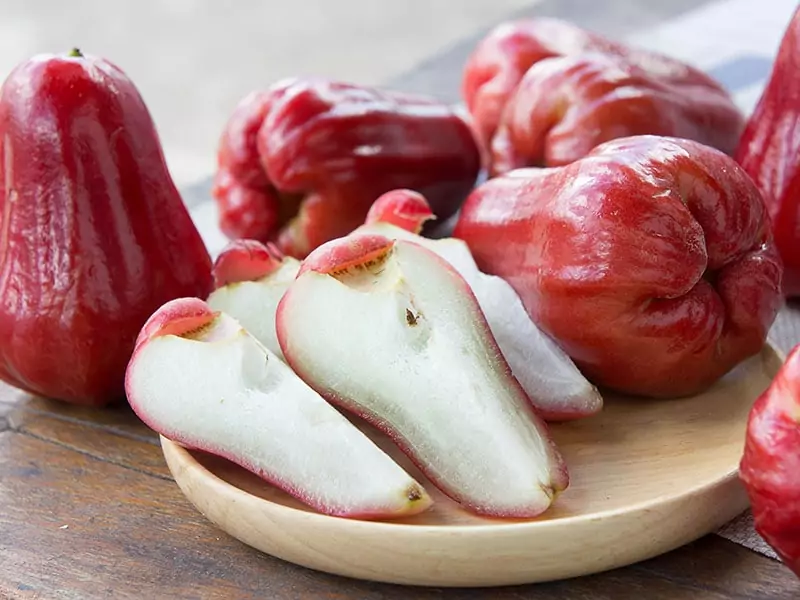 Although bearing the "rose" and "apple" in their name, this red fruit has no resemblance to both of them in terms of smell, texture, and taste. The water apple boasts a crunchy texture with a quite sweet taste.
The water apple (or rose apple) is native to Malaysia, India, and Indonesia. This tree favors low altitude land with heavy rainfall throughout the year. Thus people cultivate them widely in other warm regions like Vietnam, Sri Lanka, and Thailand.
Water apples are round, oval, or pear-shaped, about 1-2 inches wide. To see whether they are ripe or not, check if the fruit is crisp and firm.
17. Watermelon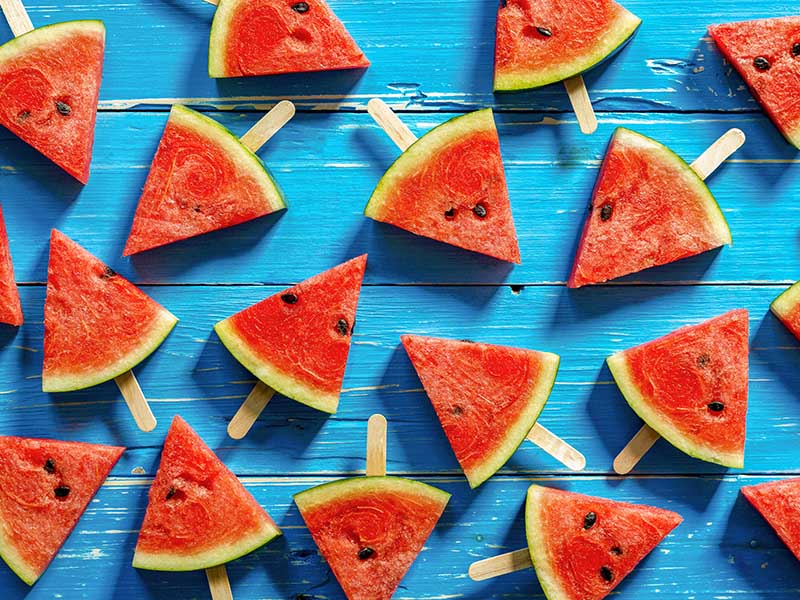 When you think of summer food, you can't help but think of watermelon. This is because they have a high concentration of water (92% of their volume). Thus eating this refreshing fruit is a great and tasty way to hydrate yourself in the summer heat.
All parts of this fruit are edible, even the rind and seeds. One of the most common and easiest ways to eat watermelon is to make a juice or smoothie. It's simple, quick, and fun for a summer vibe drink.
18. Rambutan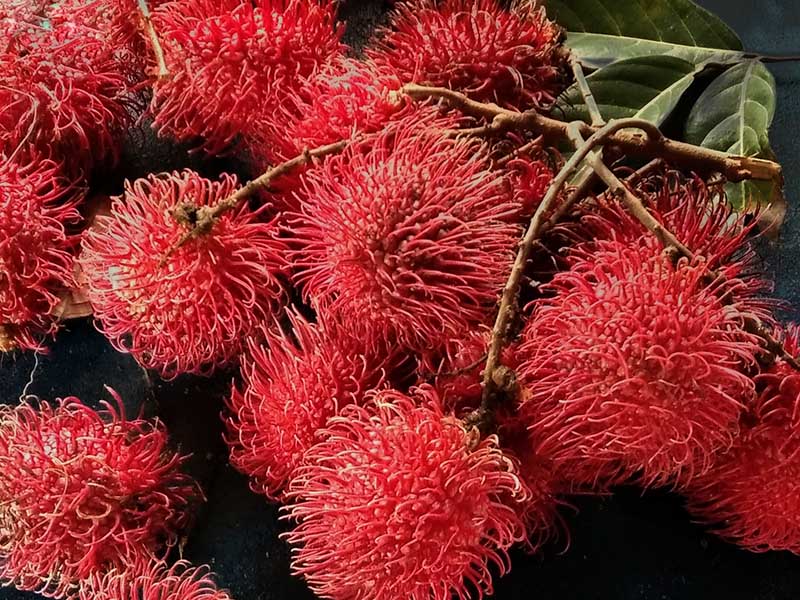 This tropical fruit sure is a sight to look at. The name "Rambutan" refers to its hairy appearance (In the Malay language, "Rambu" means "hair"). Underneath the rind, you will find the white flesh and one single seed.
To buy Rambutan, you just need to go to the North American or Asian section. Look for those in bright red, when in green it means that they are unripe. On the other hand, Rambutans in black or having a lot of black hair is an indication that they are overripe.
To eat this fruit, you need to follow these steps: Cut the skin and remove it. Pop out the flesh, discard the seeds, and enjoy!
19. Lychee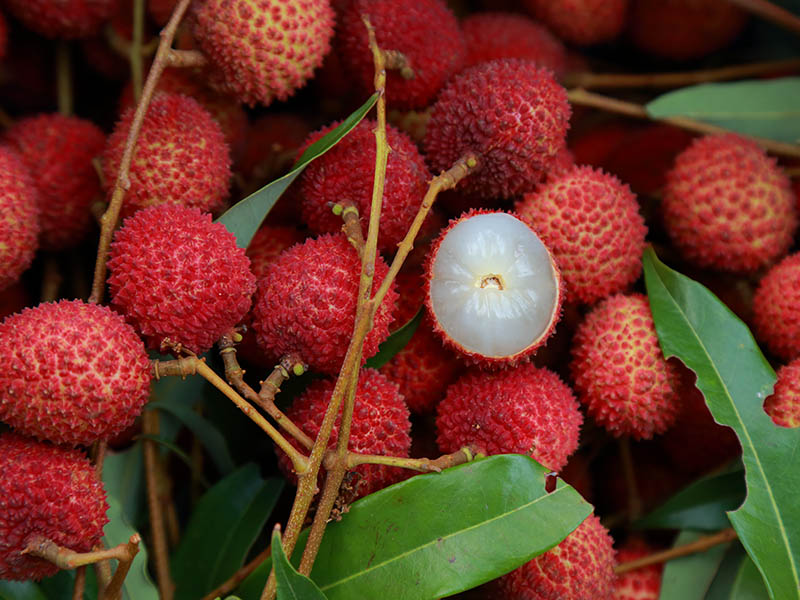 The difference between Lychee and Rambutan is that the latter has "hair" while the former doesn't. People also call this red fruit "Chinese strawberries" because it is native to China.
Similar to strawberries, the Lychee is the symbol of love and romance in the eyes of the Chinese. Legend has it the Emperor of the Tang Dynasty sent his royal guards to travel and grew Lychee trees in the royal garden so that his concubine could enjoy this fruit.
Despite their looks, Lychee is pretty easy to peel. Once you get rid of the red, bumpy skin, the white flesh, which is sweet with floral notes, is accessible. You can eat it on its own or toss it into a salad, smoothies, and desserts.
Want to learn how to eat these Lychees? Don't hesitate to learn and try it yourself.
20. Red Mombin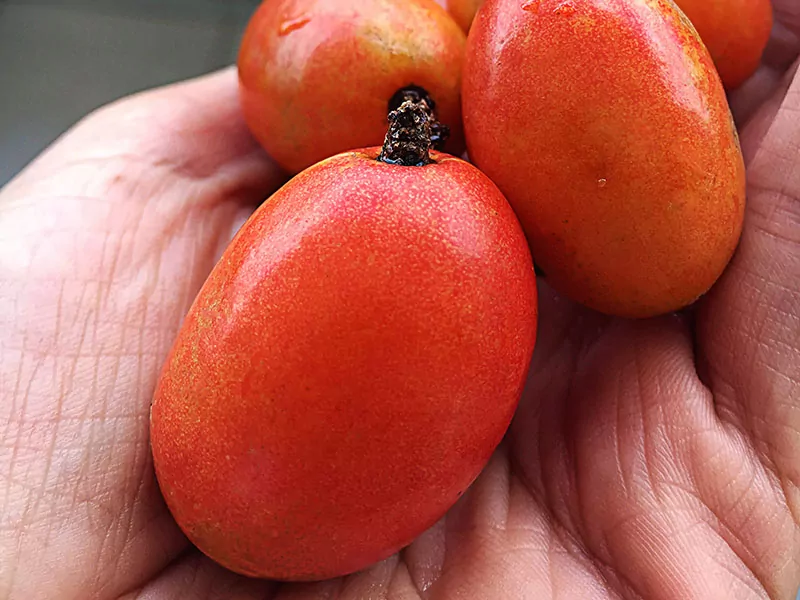 The red mombin is native to Central America and Southern Mexico. It goes by many names: hog plum, Ciruela, Jocote, etc. The fruit of this plant is plum-like, slightly oval, with shiny and firm skin. Its fruiting season lasts from July to September.
People use a decoction of red mombin fruits to treat mouth wounds and sores. You can eat red mombin fresh. To store them for many months, you should try the drying or boiling methods.
21. Red Durian (Durio graveolens)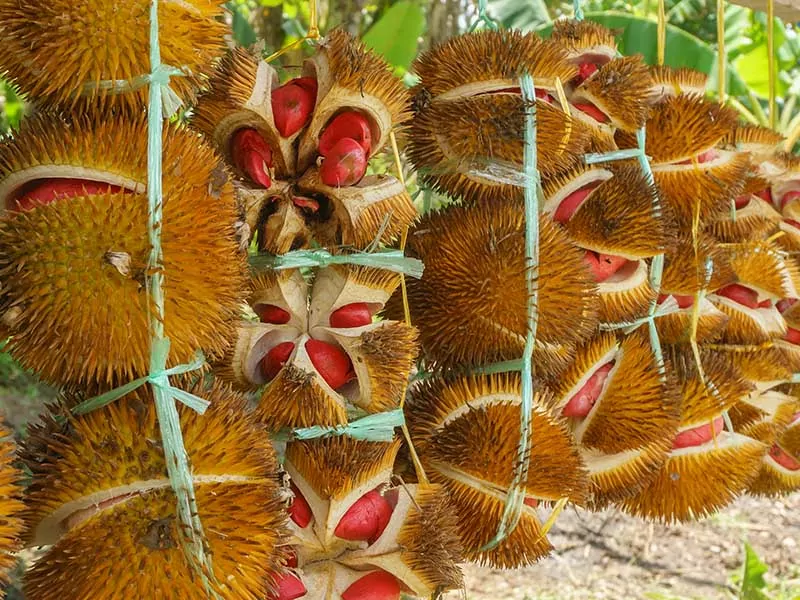 Yes, it's real. As unbelievable as it sounds, these red durians exist and are native to Southeast Asia: Borneo, Philippines, and Malaysia in particular.
This is a rare breed that you can only harvest once a year. High demand and low supply, so no wonder not many people know about its existence yet.
So how does it taste? Well, it turns out the red durians offer a less sweet and creamier experience than their regular counterparts. The locals use this variant in cooking by adding it to various dishes.
Fun fact: Due to its strong smell, people say that if one eats too many of these, they will enter a drunken state.
22. Dragon Fruit (Pitaya)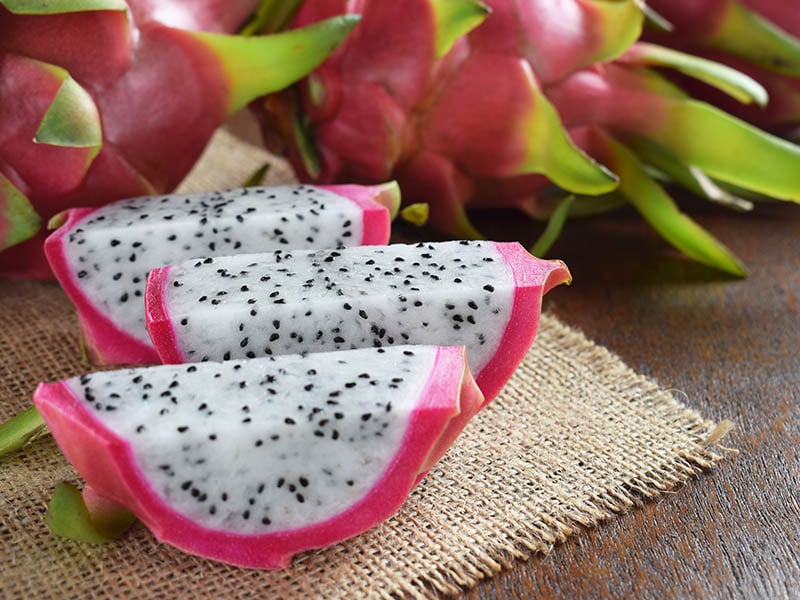 Another hairy red fruit on the list! And this one also originated from Central and South America. You can easily find them in Southeast Asia, the US, Australia, and other tropical regions.
The dragon fruits have this name because they spot a bright red leathery skin with green scaly spikes that resemble a Chinese dragon. Their "spikes" are not hard at all, so touching them won't hurt you.
Eating this red fruit can help fight chronic diseases, boost low iron levels, promote gut health, and more. Flavor-wise, it is a mix between kiwi and pear with a more neutral taste.
Fun fact: Dragon fruits like to climb, their cacti can grow up to 15-20 feet tall. So to encourage vertical straight growth, farmers often place them next to some forms of support.
Eating dragon fruit is a straightforward task. Check it out now!
The Quirkiest Red Fruits That You May Not Know About
These kinds of fruits are hard to classify as they are strange, in how they look and taste to how people prepare them. Some may call them exotic.
23. Saguaro Fruit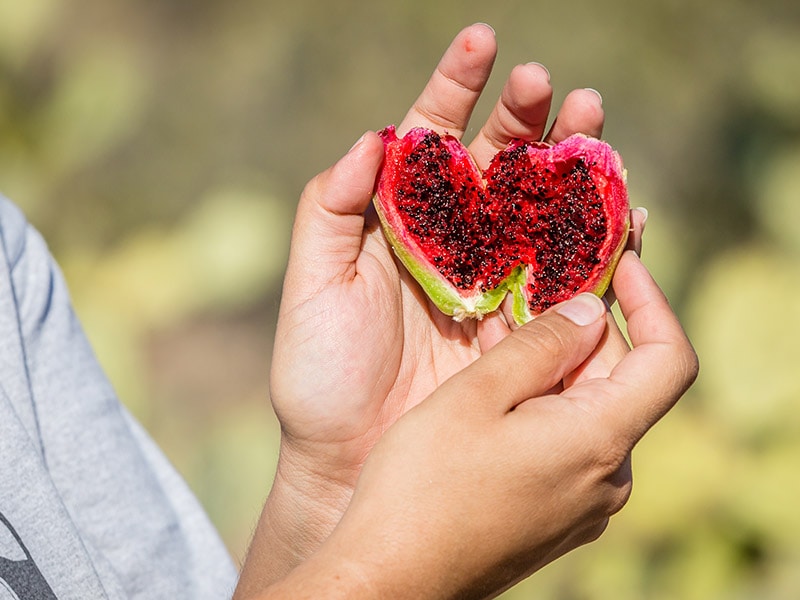 And here's something different, a fruit from a plant that lives in the desert. You can find the Saguaro cactus in the Sonoran Desert in certain parts of Arizona, California, and Mexico. Their lifespan is long, some can live up to 150 years.
The Saguaro cactus produces white flowers about 3 inches in diameter at the top of the stems and the arms. Once the birds, bats, or bees pollinate these flowers, the white blossoms begin to transform into beautiful bright red fruits.
Each fruit can contain about 2,000 seeds. The good news is that both the fruit and seeds are edible. The fruit part is sweet, while the seeds have a nutlike flavor. The Saguaro cactus fruit used to be the main food for certain Native American tribes.
Learn more about the interesting mechanism and traditions behind this harvesting method of the Saguaro fruit.
24. Strawberry Tree Fruit (Arbutus Unedo)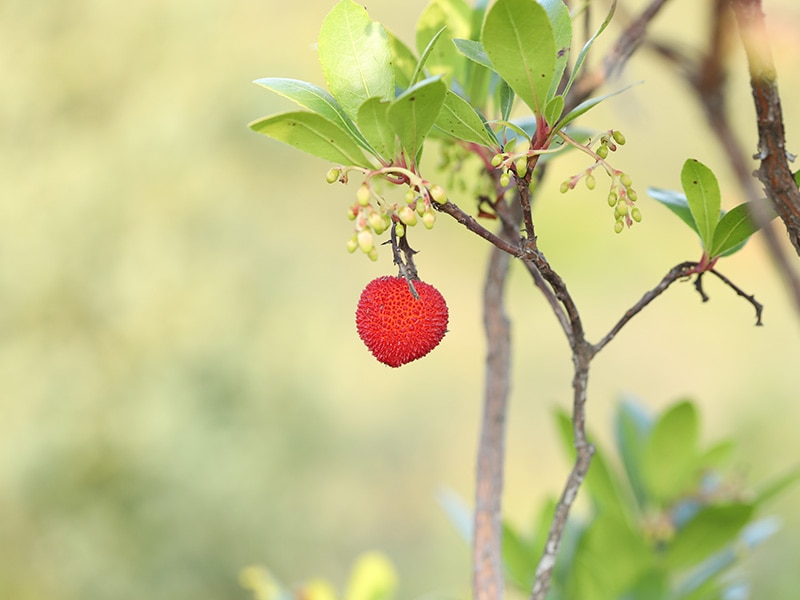 The Arbutus Unedo is native to the Mediterranean region and Western Europe. Its fruits come in the form of a rough surface red berry. When eaten, the strawberry tree fruit offers a somewhat sweet, often bland, and mealy taste.
The tree is fairly easy to plant and cultivate. Its adaptability and resistance are high, and it can even withstand urban pollution and coastal sites. However, summer droughts, cold Northern or Eastern winds, and frosts seem to affect the fruit quality.
25. Ackee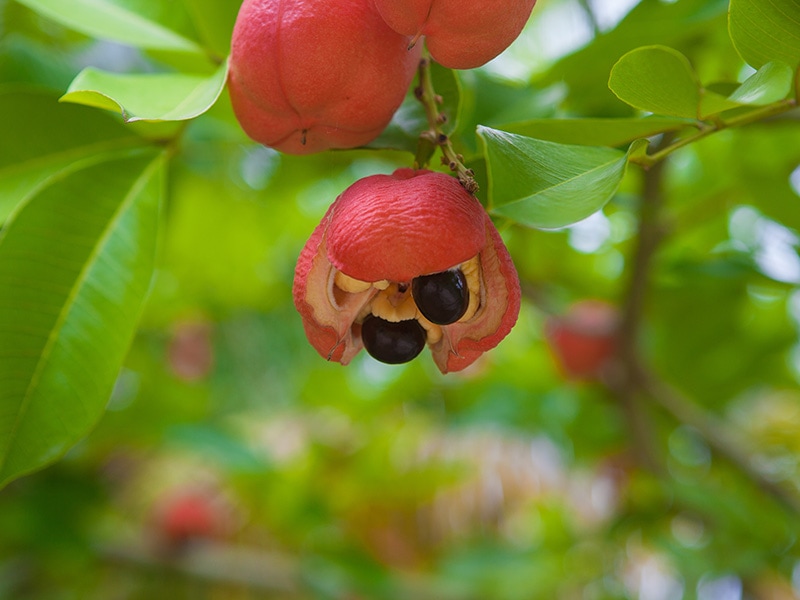 Ackee (or Akee, Ache, or Achee) grows on evergreen trees indigenous to West Africa. This red fruit is so popular in Jamaica that the people call it their "the national fruit". The national dish of this country is Ackee and saltfish.
However, this popular A-something fruit is both a blessing and a curse. Upon consuming unripe, you can experience Jamaican vomiting sickness, which in serious cases can lead to coma and even death.
But don't worry! They are safe to eat if prepared properly. Or, if you are cautious, you can eat the pre-prepared or canned Ackee available in the market.
Note: Seek medical attention immediately should you experience any abnormal symptoms such as vomiting, diarrhea, stomach cramp, abdominal pain, dizziness, and sweating.
Learn more about Ackee, which has become an integrated part of Jamaican culture here.
Congrats! You've Just Learned A Whole Lot About Red Fruits
And that's all I have to tell you about red fruits. That was a long list, wasn't it? I congratulate you for making it so far down to the end. I'm sure you've at least learned a thing or two about the world of fruits that are in the brilliant crimson color.
Give yourself a pat on the back! You earned it. Now you are more well-informed than before and can share interesting facts and tidbits about red fruits in small talks. Don't forget to share this article with your friends and family so that they can also become red fruit experts and have a nice discussion about this topic with you.