Blue fruits? Why not! You usually get familiar with yellow, green, orange, or red-colored fruits. You're thinking there are just a few blue fruits? Not in this case. I won't stop at introducing you to many kinds of blue fruits but also help you gain useful knowledge.
You may have already known some of them, but I'm sure the these fruit varieties will please your curiosity. This post will make you see a whole picture of blue fruits with detailed information, including origin, flavors, healthy benefits, etc.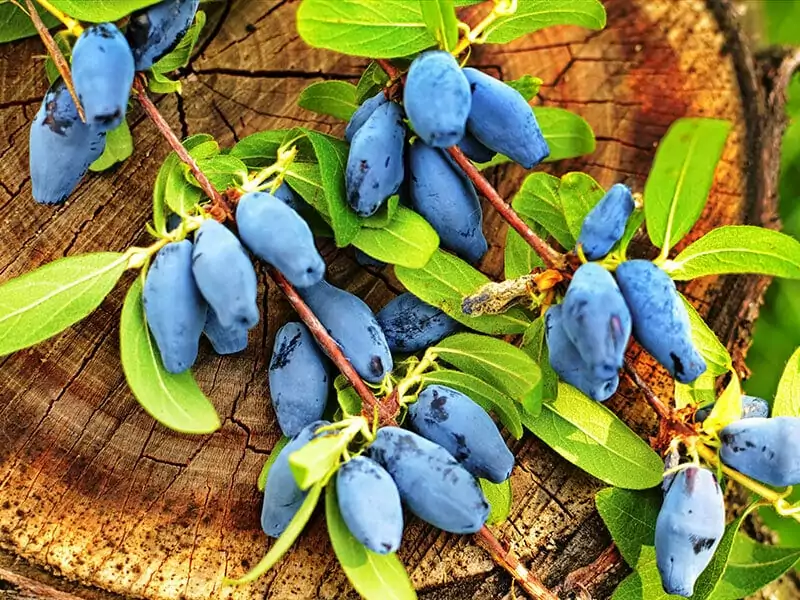 Blue Fruits With Unexpected Facts Start With B
Blue is not only the color of the sky or the sea, but it is also the color of the fruit. Besides blueberries and blackberries, there are a bunch of blue fruits that have unexpected benefits and grow all over the place. There is an alphabetical list to make it easy for you to follow.
1. Bilberry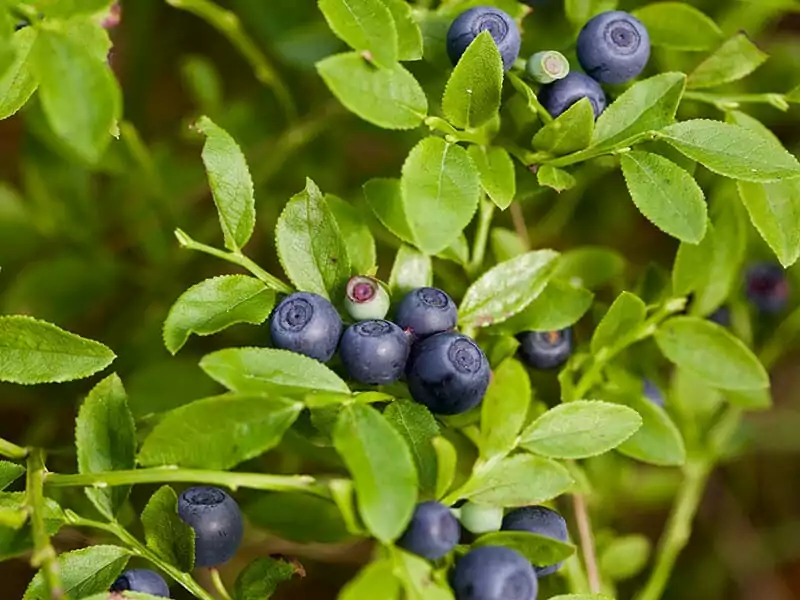 Some people might confuse bilberries with blueberries because of their shape and color. Bilberry is quite rare and grows commonly in Eurasian. This type of fruit belongs to the genus Vaccinium just like blueberries.
However, instead of growing in clusters, they grow on twigs or singly, and the bilberry fruit pulp is red or purple.
2. Black Currant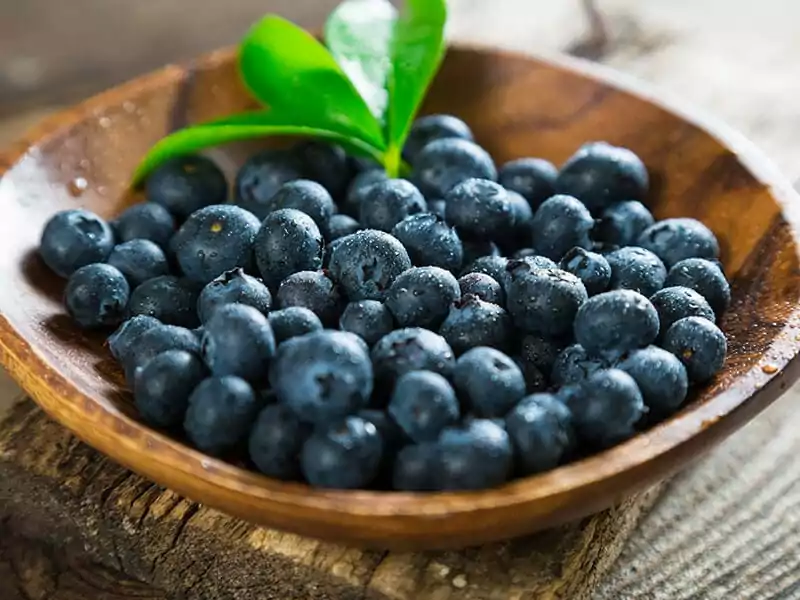 Black currants are edible fruits that grow mainly in some areas of Europe and Asia. They're not only edible but also rich in vitamin C and contain other good minerals.
Like some other berry-like fruit, black currants have a dark blue color and are small in size. Black currants grow in bunches and offer a taste similar to passion fruit combined with a slight sourness.
You can eat them raw or use them to make jam, juice, syrup, and other dishes. Moreover, people grow black currants for commercial purposes or to make wine and dyes.
3. Blackberry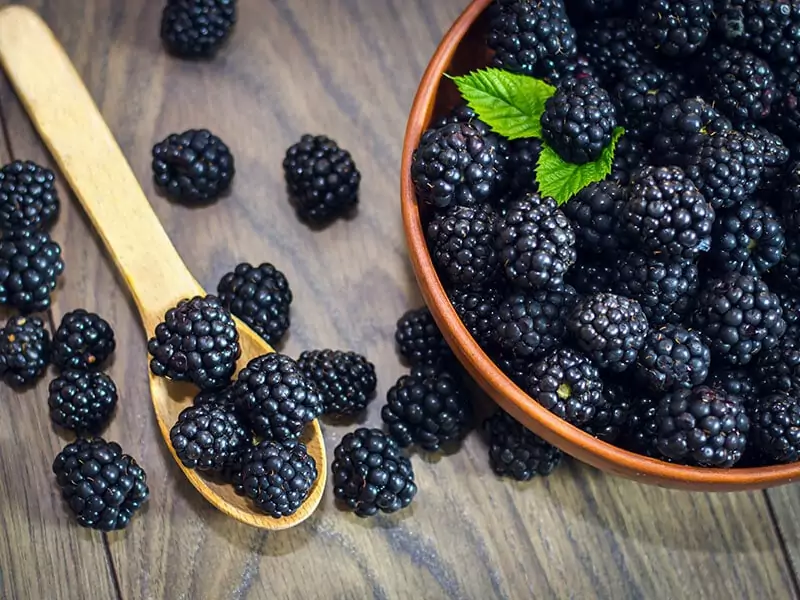 Blackberries are one of the most common blue fruits in the genus Rubus and develop in many places. Researchers indicate that humans have known blackberries for thousands of years.
You can effortlessly catch blackberries in many areas in the United States and Europe. Some are in Australia, New Zealand, Chile, etc. Like some other fruits, you can use blackberries to make jam, pie, yogurt, wine, and, most surprisingly, medicine.
More than that, blackberries are rich in nutrients, like vitamin C and vitamin K. Blackberries contain a large number of seeds which also provide plenty of oil, omega 3, and omega 6.
4. Blueberry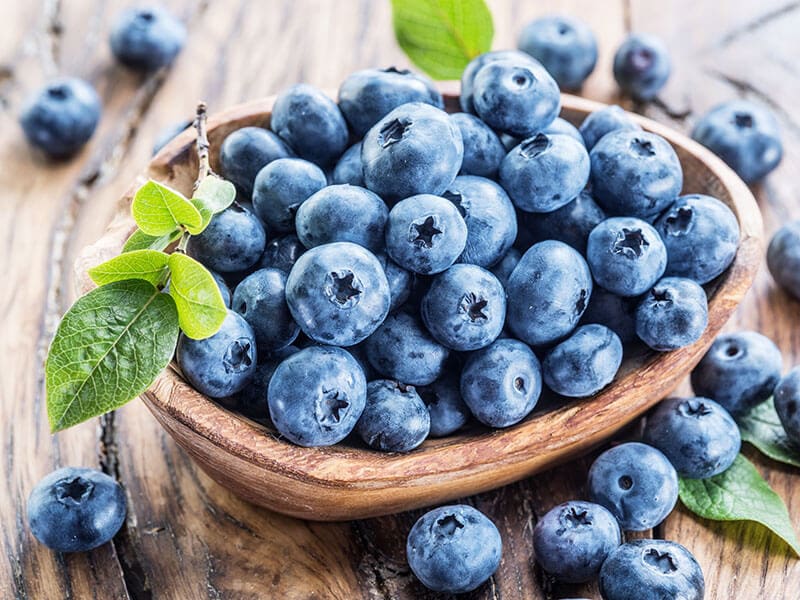 Blueberries are widespread in North America, Europe, and Asia and have been edible fruits for humans and other species for 13,000 years. So far, blueberries are one of the commercially important fruits worldwide.
Blueberries are widely famous for their dark and bright shade of blue. Blueberries offer a sweet taste in the mouth when they are ripe. Thus, many people use blueberries for their breakfast or desserts.
Blueberries can be the favorite fruits of all ages and offer many unexpected health benefits. Some nutrients inside a blueberry consist of carbohydrates, protein, vitamin C, vitamin K, etc.
The hidden benefits of blueberries to your body.
5. Blue Marble Fruit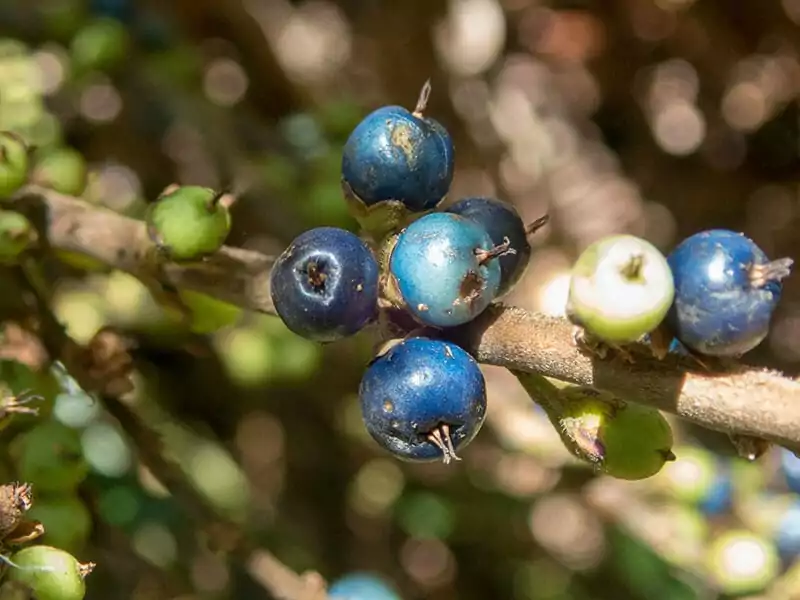 Blue marble fruits commonly appear in the tropical climate. In some regions, people can call them woodenbegar or Indian bead trees. In India, they call blue marble fruits Rudraksha, which means Rudra's teardrops, and these fruits usually appear in prayer bread.
The blue marble fruit trees only bear fruits after three to four years. Blue marble fruit is quite small and has smooth and blue skin. Inside a blue marble fruit, there is just a big and hard seed in the center.
6. Blue Olive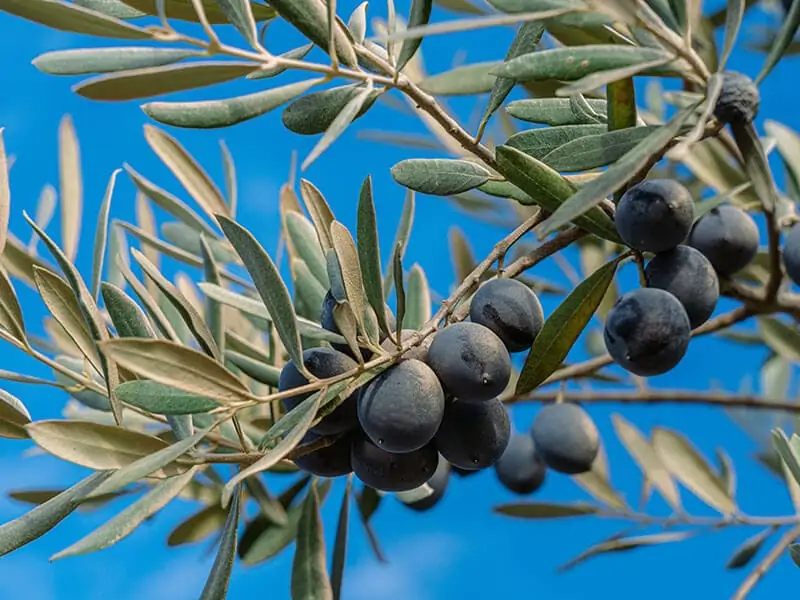 Blue olive is a lovely fruit that mostly grows in India, Sri Lanka, or Southeast Asia. Their peels are completely bright blue, the flesh is green, and the texture is like that of an avocado.
Blue olives offer a slightly sour taste when they're ripe. You can use blue olives in the cooking and medical fields because they are rich in nutrients.
Most Sri Lankans press blue olives to make oil and use it as an indispensable ingredient in cooking savory and sweet cuisine.
7. Blue Sausage Fruit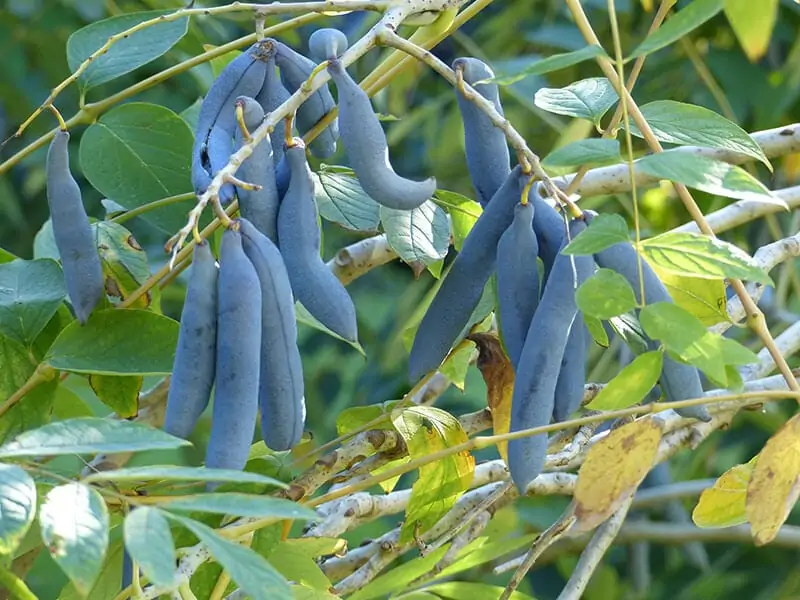 I can say that blue sausage fruit completely stands out from others. Blue sausage fruits or dead man's fingers are medicinal herbs. The fruit is edible, light blue, upright, and 10 cm long.
Blue sausage fruits are indigenous to Eastern Asia, particularly in China, Myanmar, and Nepal. They have a sweet flavor and contain many seeds.
Let's take a closer look at the dead man's fingers.
8. Blue Tomato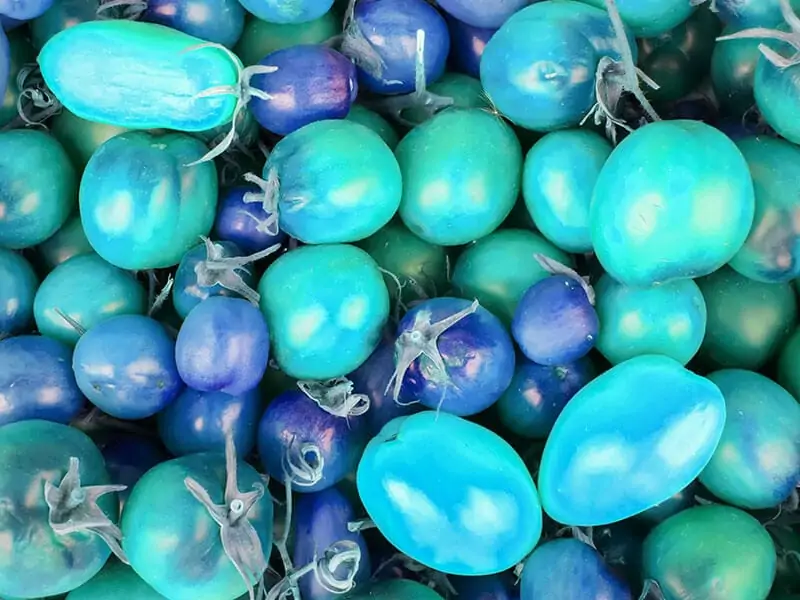 Blue tomato? I'm not going to lie to you. Natural blue tomatoes do exist naturally without dyeing. That said, blue tomatoes are rich in anthocyanins, a class of pigments that protects the plants from vermin, diseases, and UV.
Today, blue tomatoes have many different names and have become commercially available. Besides the appealing look and yummy taste, blue tomatoes are also high in nutrients and contain vitamin C, E, B, K, and dietary fiber.
Blow Your Mind Other Blue Fruits In Alphabetical Order
Those fruits above are just the tip of the iceberg. There are still a lot of blue fruits that you may want to check out. Dozens of engaging facts are waiting for you. Here you go!
9. Chokeberry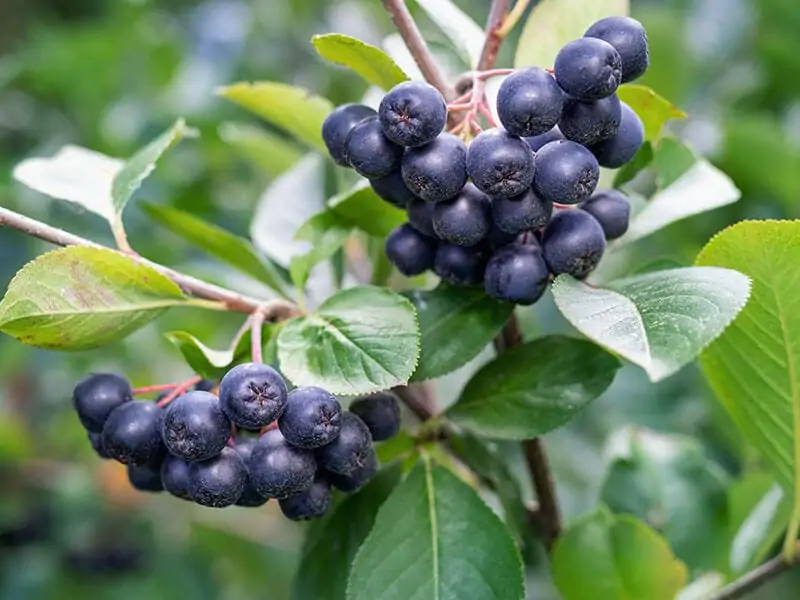 You may find this fruit familiar, but there are still little-known facts. Chokeberry is famous for medical purposes like reducing blood sugar levels or high cholesterol. Chokeberries can be one of the main ingredients in juice, jam, pie, yogurt, muffin, wine, etc.
Juice from chokeberries is sweet and tart but less acidic due to its low vitamin C. Chokeberries contain high antioxidants, anthocyanins, and some essential minerals.
10. Concord Grape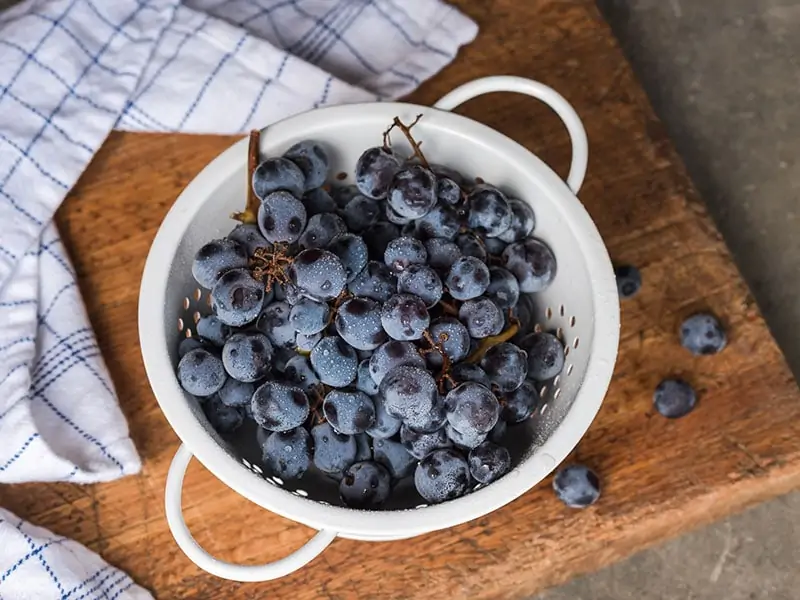 Concord grapes play an important role in commercial purposes and are among the most favorite types of grapes for their multiple uses and tasty flavor.
Concord grapes often come to the season in fall and have a native home in the Mediterranean. Nowadays, you can easily purchase Concord grapes at local supermarkets.
Concord grapes are deeply sweet and slightly tart. They have smooth skin as well as contain large seeds. That's why you can use them to make jam, candies, jelly, juice, pies, especially wine.
11. Damson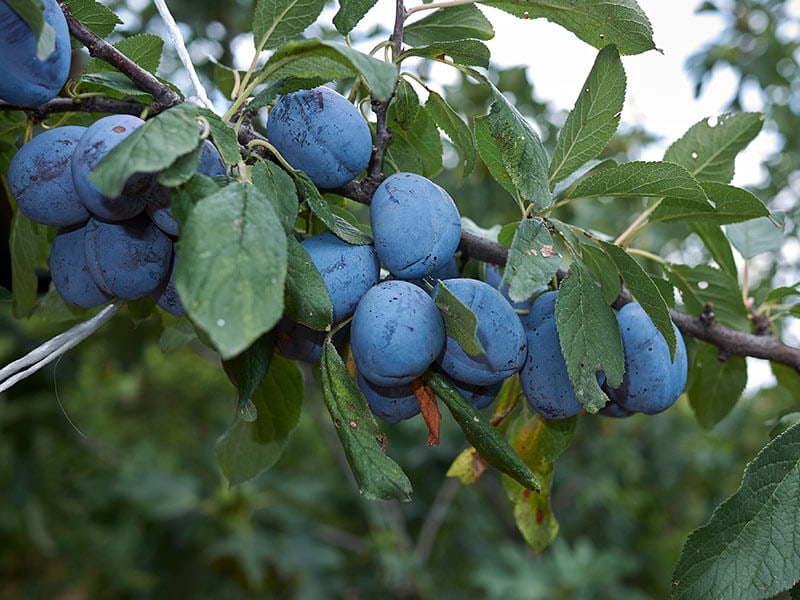 If you're a huge fan of sweet treats made with plums, this fruit will become your favorite. Damson or Damson plum is a kind of plum-like fruit commonly found in Europe and some regions in Asia.
Unlike most other plums, Damsons wear deep blue suits and have flawless peels and yellow-green flesh. Damson trees bear fruits in fall, from August to October.
Taking a bite of young Damsons leaves an extremely sour taste in your mouth. If Damsons ripen, they can taste sour, sweet, and bitter at the same time.
12. Elderberry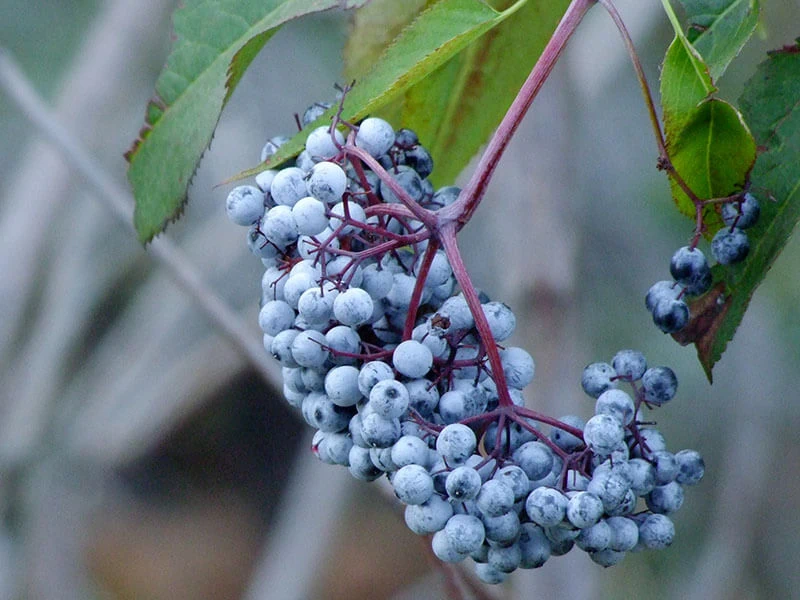 Elderberry or Sambucus is another blue fruit that offers many health benefits and is in the family Adoxaceae. That said, humans use elderberries for cold and flu treatment, as ingredients in supplements, and cough syrups.
The appearance of elderberries is a combination of dark blue and purple. Elderberries are small, from 3 to 5 mm, and usually ripen in late summer.
The ripe and cooked elderberries are edible. Nevertheless, unripe elderberries or other parts of this plant are poisonous. For example, their leaves, branches, seeds, roots, or flowers are dangerous to eat.
13. Honeysuckle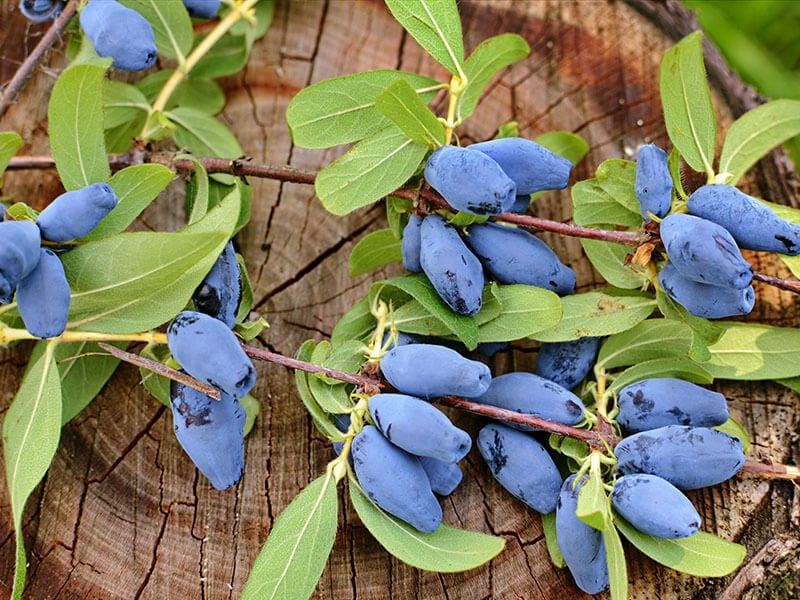 There is another type of berry-like fruit which is blue: honeysuckle. Similar to others, honeyberry is dark blue. Some other ways to call honeysuckles are woodbines or European honeysuckles.
One of the most notable features of honeysuckles is their appearance. You can easily distinguish this kind of fruit from others because they shape like a funnel and bear ripe fruit in late spring and early summer.
As its name suggests, many people love honeysuckle due to the taste. Honeysuckle provides a sweet taste, including seeds but not noticeable when chewing. Nowadays, you can find honeysuckles displayed globally in many grocery stores and supermarkets.
14. Huckleberry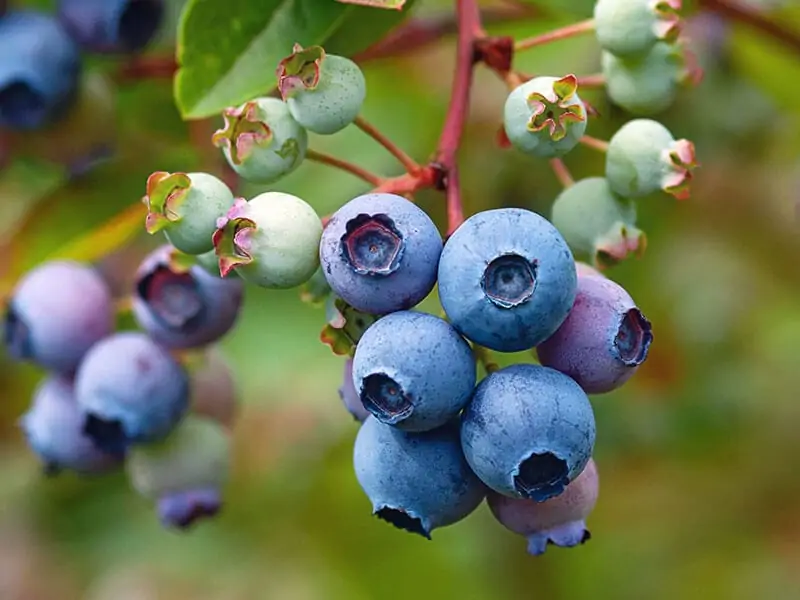 Huckleberry is another blue berry-like fruit, but don't mistake them. You can easily get confused between huckleberries and blueberries because they share many identical characteristics: indigo-colored skin and small, round shapes.
Here's how you can distinguish them. Huckleberries tend to have harder seeds than blueberries. Also, huckleberries are blue or purple inside, whereas blueberries are green or white.
Huckleberries aren't as common as blueberries and grow in the wild, so you can't find them in grocery stores.
People use huckleberry to make syrups.
15. Jostaberry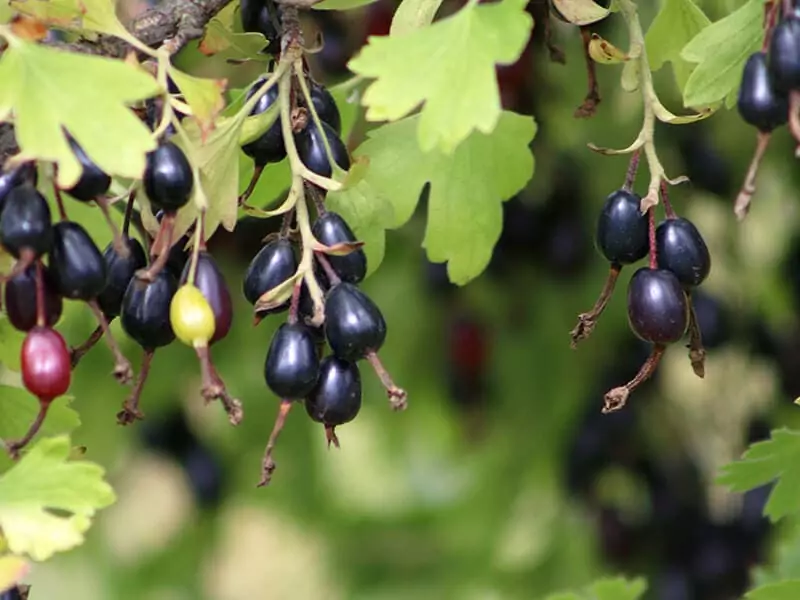 A surprising fact about jostaberries is that they don't grow naturally in nature but are the product of human breeding. Jostaberry is a complex-cross fruit among blackcurrants, black gooseberries, and Europe gooseberries.
Are you curious about the father of jostaberries? There is a long story behind the appearance of jostaberries, starting in Berlin in 1926 by Paul Lorenz.
Going through challenges because of World War II, Randolph Baeur eventually successfully bred a new fruit: jostaberry.
16. Juniper Berry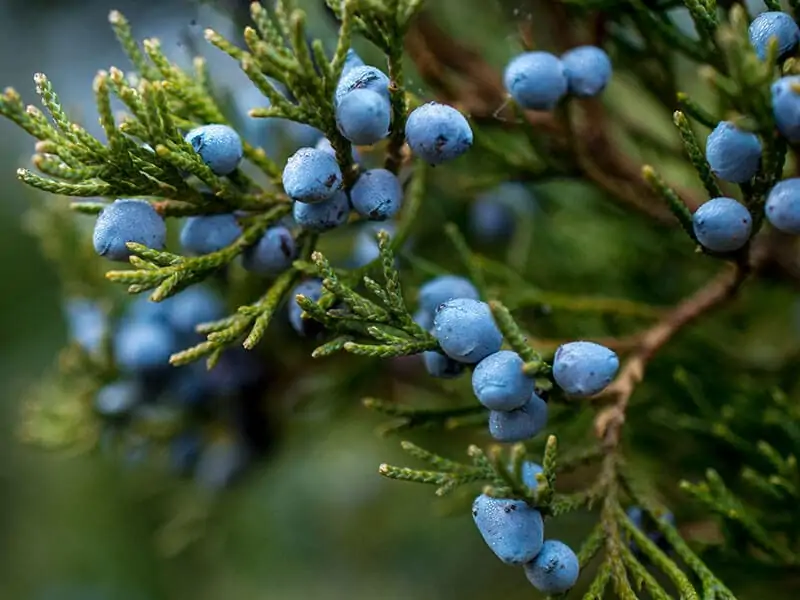 Juniper berries, a type of berry-like appearance, won't disappoint you. Believe it or not, this type of fruit is the product of the female juniper berry tree only. They grow female trees and male ones separately instead of placing them close together.
The fruits of female trees, also known as juniper berries, are bigger than those of the maple trees. Juniper berries are a huge source of vitamin C. You can eat them both fresh and dried.
Some potential benefits of juniper berries are preventing cancers, supporting better sleep, boosting digestion, improving skin conditions, etc.
17. Laurestine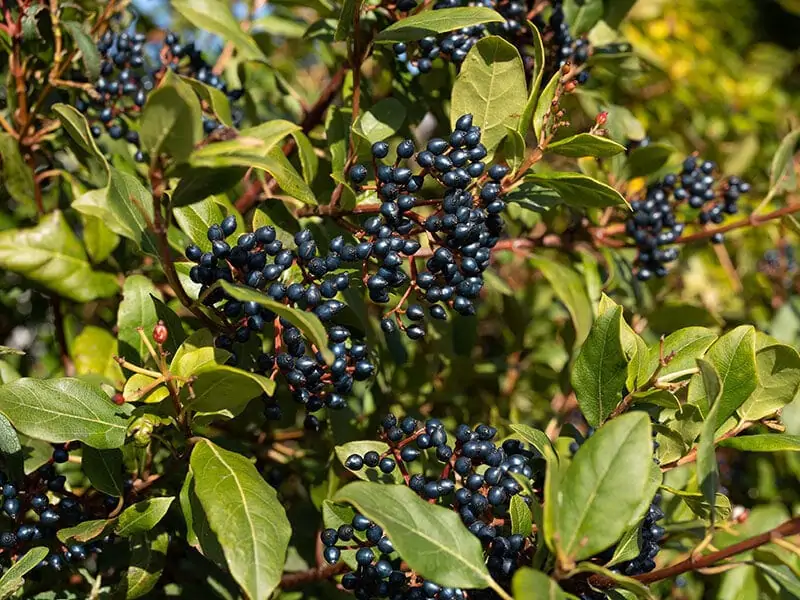 Laurestine, or you may know it Viburnum Tinus, is a species of flowering plant native to the Mediterranean. Laurestine is famous for its white or pink flowers and pleasant fragrances.
Laurestine fruits are dark blue to black and small in size. You can easily grow Laurestine at home, so your garden will be full of its floral smell in winter, especially since the fragrance gets stronger after rain.
18. Prunus Spinosa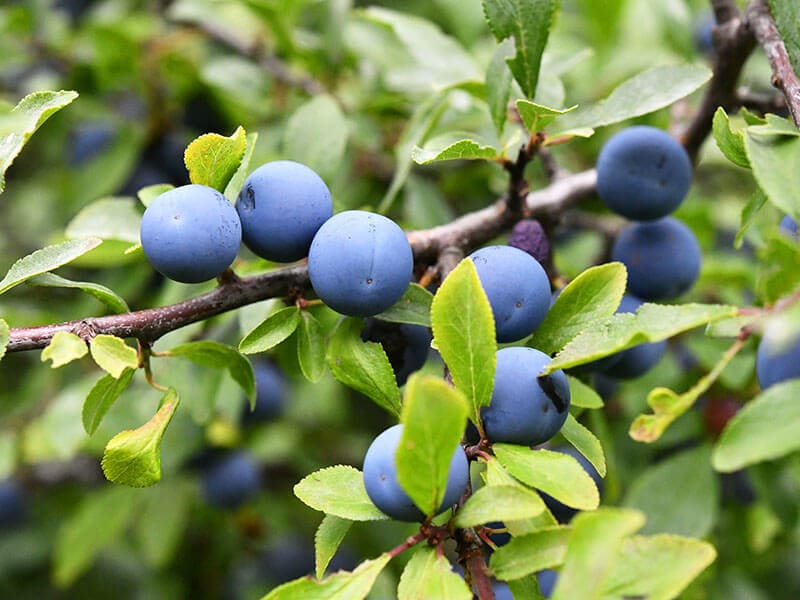 Prunus Spinosa, called sloe plums or blackthorn, is native to Europe, Asia, and Africa. Prunus Spinosa can grow as a large shrub and is 5 meters tall. A Prunus Spinosa flower is milky white and has 5 petals in total.
Prunus Spinosa fruits are dark blue to black, similar to Damson plums. When you chew these fruits, they somewhat offer a tart and astringent flavor. Prunus Spinosa is notable for its healthy benefits for blood, kidneys, digestion system, etc.
19. Ribier Grape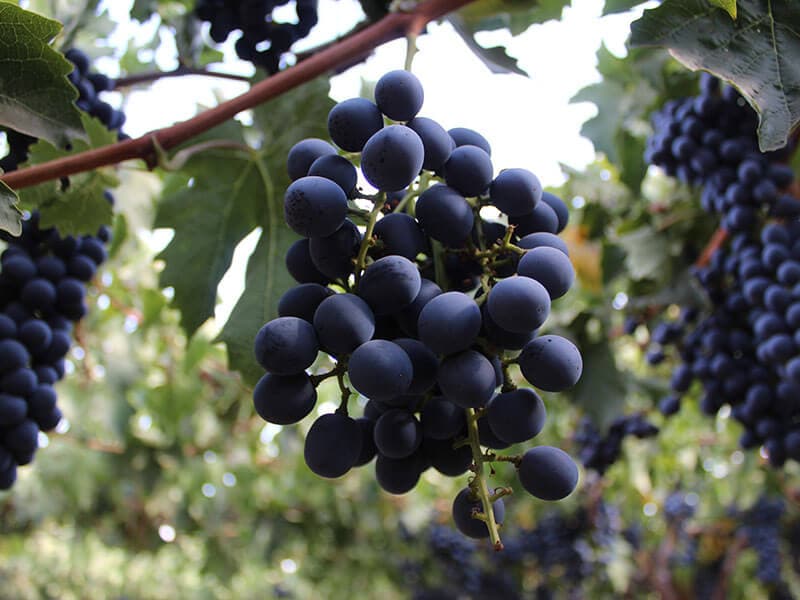 Ribier grape or Vitis is another type of grapevine being on the blue-fruit list today. These fruits are one of the most common grapes all over the place, particularly in America.
If you're new to these fruits, I'm certain you will love them at first sight. Ribier grapes have a smooth, blue-dark peel and contain a few seeds. The shape of these fruits is usually large and rounded.
Their flesh is also juicy and sweet. Like other types of grapes, you can eat them raw or use them to make natural vine grapes.
20. Saskatoon Berry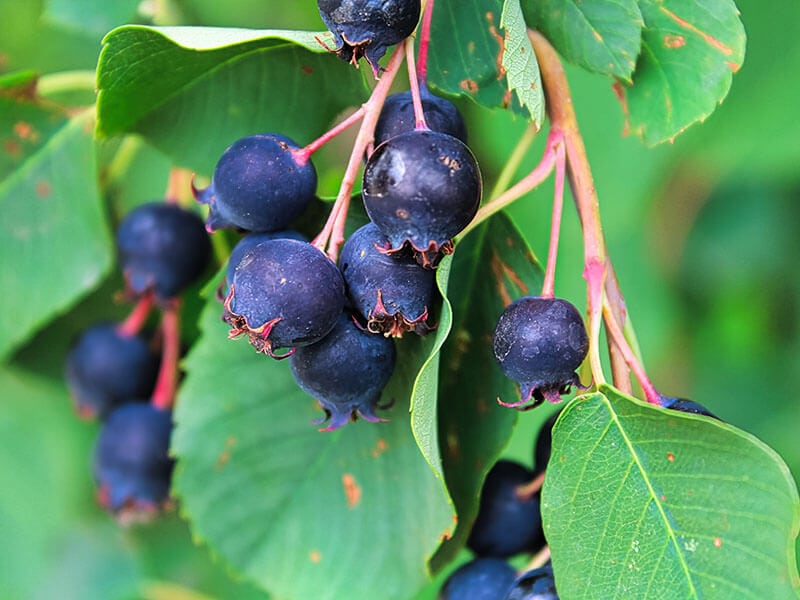 Saskatoon berry grows as bushes or small trees and is 5 meters tall. You can find Saskatoon berries across Western Canada or North and Central America. Be careful! You can frequently mistake Saskatoon berries and blueberries due to their similar appearance.
What's it taste like? Well, the taste of Saskatoon is sweet and like an almond flavor. Saskatoon berries often ripen in early or late summer. The fruits are also high in protein and antioxidants as other berry-like fruits.
21. Texas Blue Giant Fig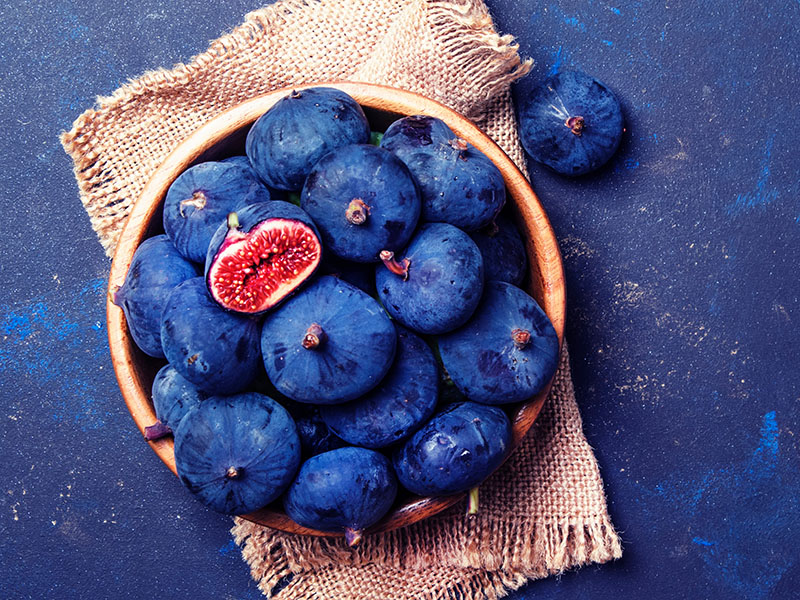 Texas blue giant figs have blue-purple skin and contain numerous seeds in the flesh. When it ripens, the flesh is delicious and deeply sweet. This type of fig is larger compared to normal ones.
Blue figs are safe and good for your health because they're rich in carbohydrates, protein, and some essential minerals such as vitamin K, calcium, and iron.
Let's discover Texas blue giant figs in real life.
All Of Your Questions Are Clear
Here is the detailed list of blue fruits attaching information about their appearance, taste, usage, benefits, etc. I hope this post is helpful and you can apply that knowledge in the future.
How many of them do you know? Are there any blue fruits you want to add? Let me know in the comment section below, and don't forget to share it with your friends.