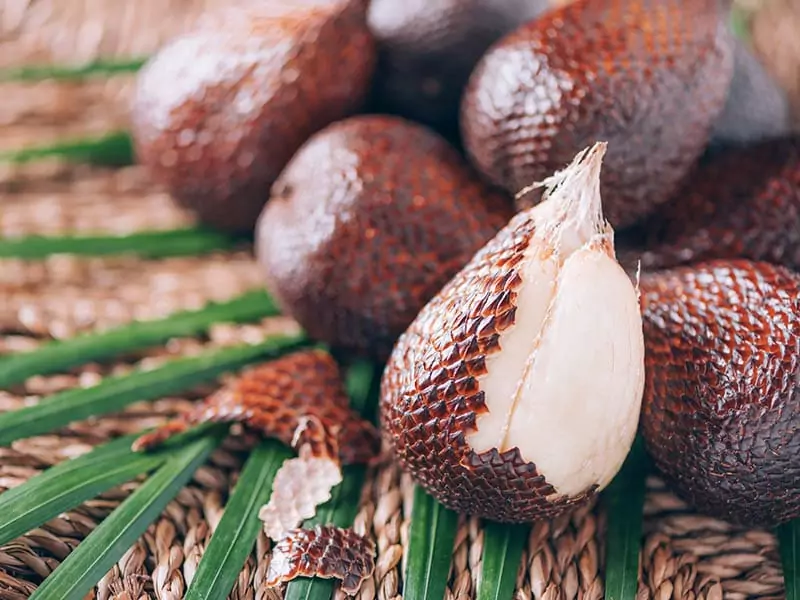 This fantastic article is for those searching for brown fruits to consume as a fresh dessert or mix with other ingredients to make delicious dishes. They give your meal a fresh fruity scent and beautiful brown color.
If you are interested in this topic, do not leave this page. Besides practical suggestions, the article also provides detailed and valuable information about these scrumptious fruits.
7 Delectable Brown Fruits With Edible (or No) Seeds
In case you are tired of removing seeds while consuming fruits, you can choose these fruit varieties with edible seeds or no seeds in this section.
1. Kiwi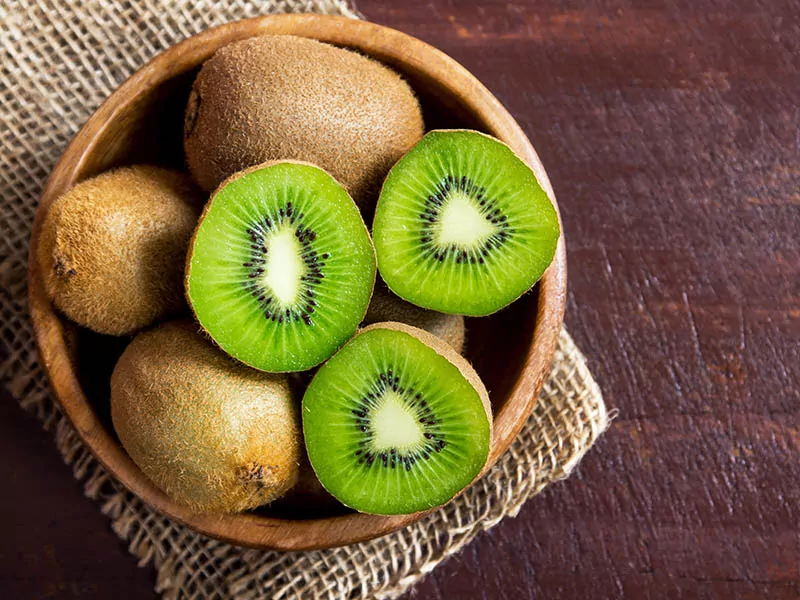 Kiwi or Chinese gooseberry originated in East and Central China. The first description of this fruit appeared in the 12th century (Song Dynasty). Gradually, the kiwi cultivation spread to New Zealand, Europe, and the Americas.
More than 400 different cultivars of kiwi are found in China and many other areas. In the US, you can easily find kiwi in California because this place accounts for about 98% of kiwi output produced.
This fruit has a typical thin and brown skin. I love the sweetness and slightly tart flavor of its green flesh. There is no problem consuming its seeds. The smooth and lightly crunchy texture of this fruit is a huge bonus to make people like them.
Eating kiwi is an effective way to boost the amount of vitamin C in your body. Furthermore, it is a rich source of fiber. Kiwi has a good effect on reducing the risks of heart disease and stroke.
Season: Its season extends from October to May in America.
Nutrients: A rich source of fiber, vitamin C, E, and K.
How to eat: The best way to eat kiwi is to dice it in half and use a spoon to take its flesh out. Or you can peel the fruit and cut it into slices to consume.
Learn the proper instructions to eat kiwi fruit right now.
2. Coconut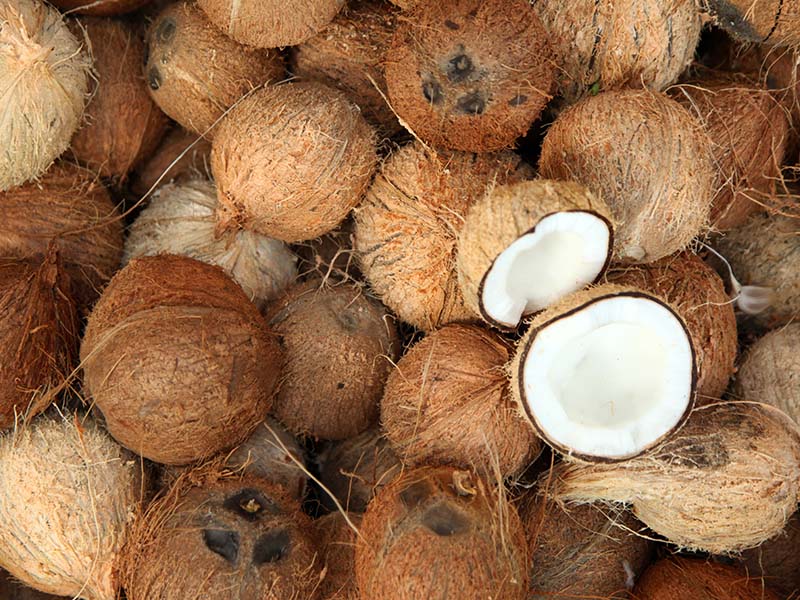 Typically, coconut often exists in 2 primary forms, including fresh and dry. The dry version looks pretty rough with the brown and fibrous outside. You can get it after removing the outer layer of the fresh coconut.
Its coconut name is taken from the "coco" word, meaning "skull" in Portuguese. The Austronesian people first domesticated this fruit in Southeast Asia. After that, it appeared in Madagascar and the Pacific Islands via seaborne migrations.
Inside the coconut, the water and white flesh are the parts you can enjoy. Coconut water is a refreshing beverage that you can put in soups or stews to enhance the sweetness of your dishes.
The white flesh is also versatile. You might encounter its crunchy flesh in curries, coconut milk, cream, and other treats.
Season: Available all year round.
Nutrients: Rich in fiber, manganese, and selenium.
How to eat: Poke a hole on the top of the fruit so you can get the water. Or break the fruit into 2 parts for getting the flesh inside.
3. Kumato Tomato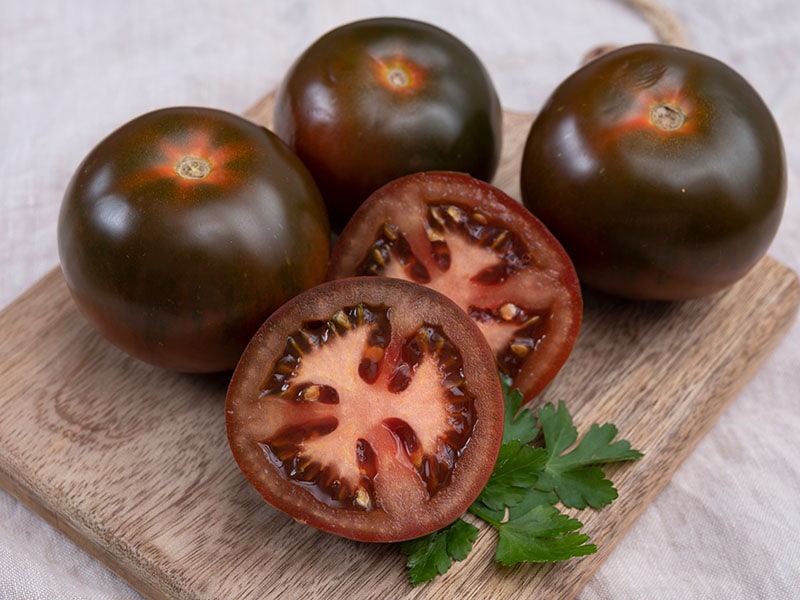 Kumato is a hybrid tomato originating in Spain. In this country, people often call it "Olmeca". Moreover, it also appears in many greenhouses and farms in France, Greece, Belgium, and Canada.
Its size is pretty similar to various cultivars of tomato, which can be green, purple, or reddish-brown in color. Their flavor varies, from mild to extra sweet and aromatic.
Its intense sweetness comes from high fructose content. Not only that, the juicy texture is compatible with creating juices or salads. For preserving, you can store it in the fridge, but this method can reduce its sweetness and flavor.
Season: Available all year round.
Nutrients: High in potassium, sodium, vitamin A, C, and other nutrients.
How to eat: Consume the whole fruit after cleaning it. Or you can squeeze it to make juice or add it to salads.
What are kumato tomatoes? Check this introduction for more information.
4. Medlars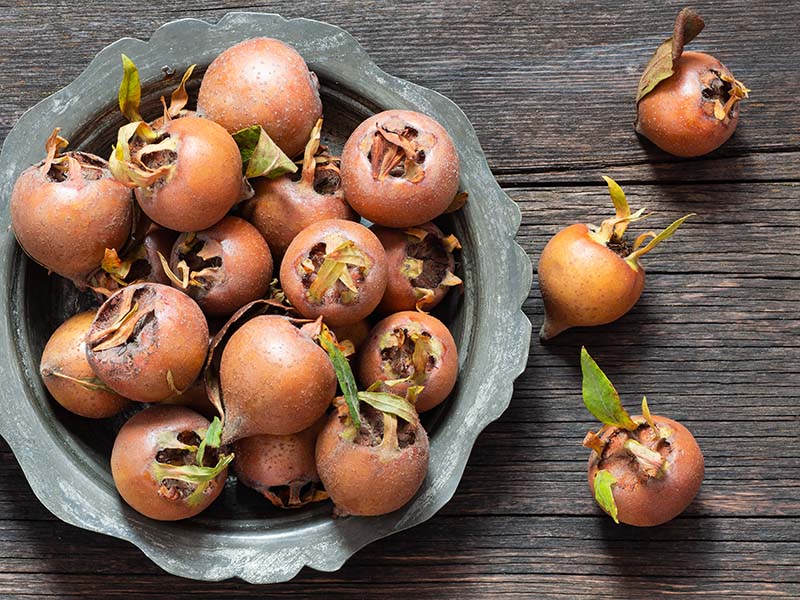 Mespilus Germanica is the name in Latin of medlars. In England, it also has a few other nicknames like monkey's bottom or open-arse. The cultivation of this beautiful fruit has appeared since ancient Roman times.
This delectable fruit belongs to the pome category with a specific and eye-catching reddish-brown color. This striking shade will grab your attention immediately. Plus, its appearance resembles a combined product of a rosehip and a small apple.
An adult medlar tree can produce about 30 to 60 kilograms of fruit per year. From my perspective, I like to eat raw medlar to feel the enchanting sweetness and squishy texture. Moreover, its flavor reminds me of a ripe date's taste.
Besides, to enhance the flavor and bring a new experience when enjoying the medlar, I also consume it with yogurt, creme fraiche, or cheese.
Season: From late October to early November.
Nutrients: Include carotene, vitamin B, C, iron, sodium, and calcium.
How to eat: Remove the stalk end of this fruit, use your hand to hold the crown, and press the flesh inside out.
5. Chocolate Habanero Peppers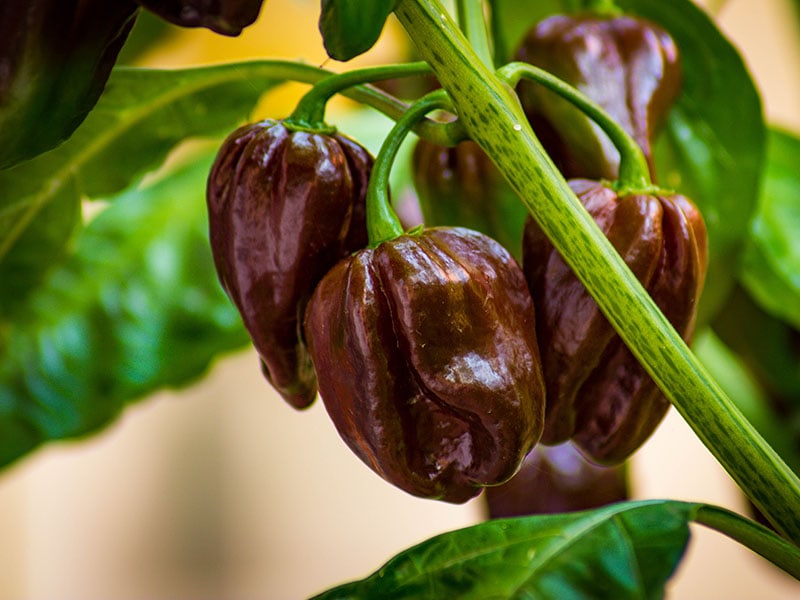 If you are searching for a spicy brown fruit, you should check these chocolate habanero peppers immediately. You can call it Congo black or black habanero peppers. It is one of the hottest peppers deriving from the Caribbean.
The evidence shows that this pepper seed existed about 7,000 years ago. Spice traders called it the English name in the 19th century, and it was named habanero negro previously.
Its intense spiciness is the key characteristic of this pepper variety. Compared to regular habanero, this version is much spicier. Typically, its spicy level is between 42,500 to 57,700 Scoville units. And it also takes more time to grow.
Besides the spicy flavor, these dark brown chilies add a smoky and earthy touch to your dishes. Chocolate habanero peppers are a wise choice to reduce cholesterol as well as blood pressure. Furthermore, this fruit has a positive effect on preventing cancer.
Season: Able to harvest from August to October.
Nutrients: A source of vitamin C, K, B, potassium, antioxidants, and magnesium.
How to eat: To add pepper to the dishes, you can dice it into tiny slices. Be careful with their intense heat.
This is a short review about chocolate habanero peppers and how spicy it is.
6. Durian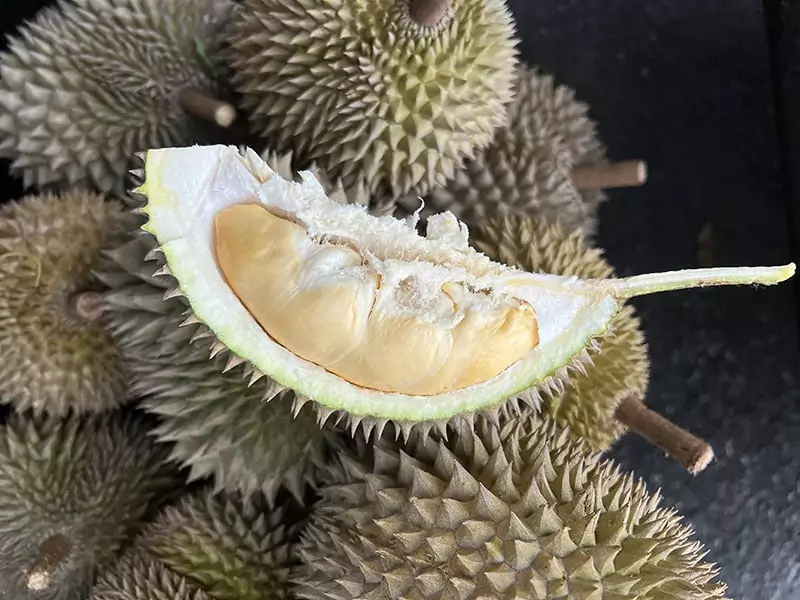 Nowadays, you can easily catch durian stalls at supermarkets, sidewalks, or markets in many Southeast Asian countries and other nations worldwide. This fruit is considered the "King of Fruits" in Southeast Asia regions.
There are numerous different species of durian found in Indonesia, the Philippines, Thailand, and Malaysia. Specifically, Thailand has about 300 cultivars, and there are about 100 types in Malaysia.
Please be cautious of the hard brown or green shell with many sharp spikes as they can harm you. Under the skin are creamy and light yellow pulps. You can also eat its seeds as a snack, as long as you boil, steam, or roast the seeds before consuming them.
However, they have a very strong smell that not everyone likes. Due to the intensive smell, many public places restrict durian. But if you are willing to try durian, you can feel the distinctive sweet taste with a mild bitter hint.
Season: Depends on regions, which can be from May to August.
Nutrients: Rich in fiber, vitamin A, B, C, thiamine, manganese, and more.
How to eat: Carefully remove the shell with a knife, then open them into segments to get creamy pulps.
7. Passion Fruit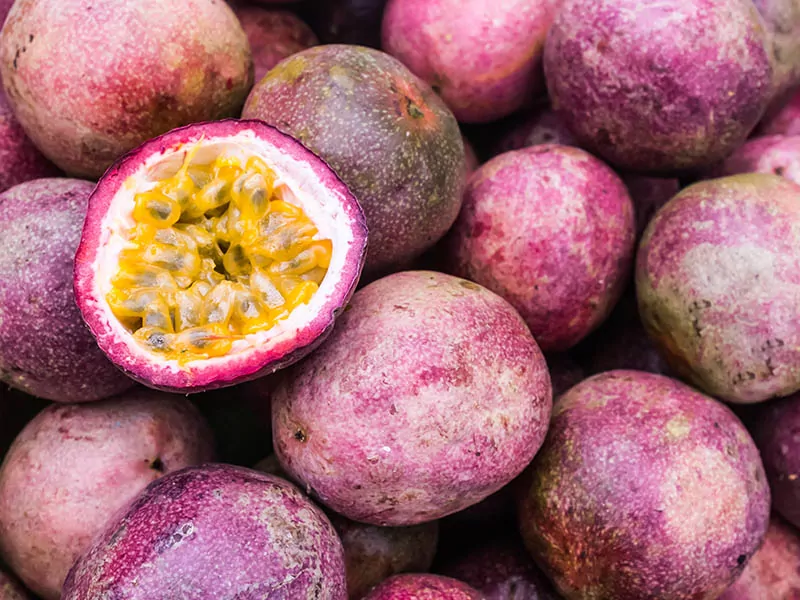 Passion fruit is a native fruit in Brazil. Moreover, it appears in Argentina and Paraguay. It is also known as maracuja in Portuguese. The harmonious flavor of sweetness and tartness will knock you down in no time.
There are 4 famous passion fruit varieties distributed in many regions of the world. And Europeans began to know passion fruit in 1553.
You can detect it quickly, thanks to the typical round or oval shapes. Another element to identify this fruit is red, purple, brown, green, or yellow skin. People take advantage of the edible seeds and juice inside to make yummy food.
The fascinating things you can create with fresh passion fruit are sauces, baked goods, yogurt, and salads.
Season: Almost all year round.
Nutrients: High in vitamin C, A, iron, potassium, and magnesium.
How to eat: Cut passion fruit into 2 parts and scoop the seeds and pulp with a spoon. You can add a bit of sweetener to reduce the tartness.
Do Not Miss These Awesome Fruits Containing Inedible Seeds
This incredible section is the heaven of yummy brown fruits with inedible seeds, so do not forget to discard their seeds before or while consuming the fruits.
8. Longan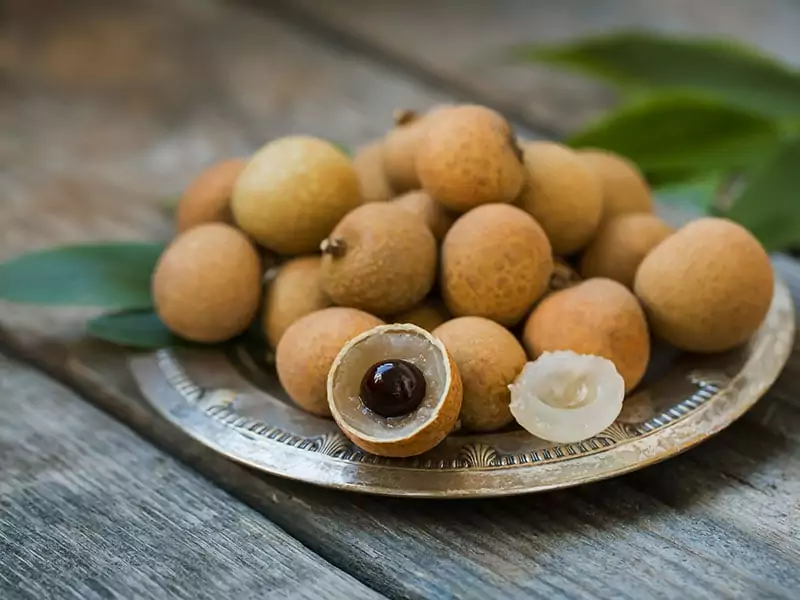 Longan is a well-known tropical fruit and has many similarities with lychee and rambutan. This excellent fruit originates in tropical Asian and Chinese regions. People often call it "dragon eyes" because it is similar to eyeballs.
You'll be attracted to the unique reddish-brown color shell when you observe it. And after removing its thin peel, you might fall in love with the whitish and translucent flesh that has a sweet and musky taste.
If you do not know what to do apart from eating raw longan, you can try to create jelly, jam, liquor, or tea with this fruit. Not only that, it helps enhance the flavor of soups, sweet-and-sour dishes, or other desserts.
Longan typically blooms in the spring. Southeast Asia is the most consumer area of longan worldwide.
Season: From July to August in Florida.
Nutrients: High in vitamin C, potassium, and riboflavin.
How to eat: Use your finger to crack its peel and eat the flesh from the seed.
Find out the authentic flavor of longan by tasting it.
9. Salak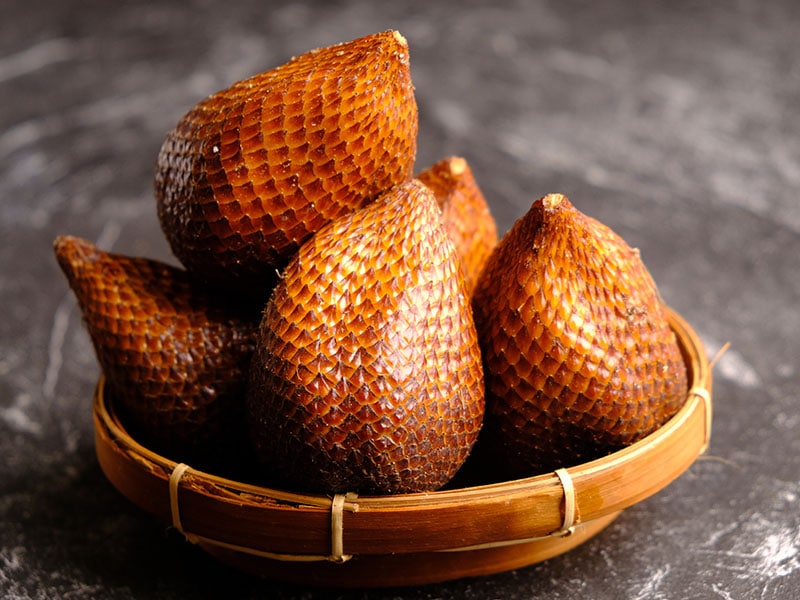 Salak is an exotic fruit, and it is pretty widespread in Southeast Asian countries. Java and Sumatra of Indonesia are the birthplaces of salak. In addition, you can see it in Lombok, Bali, Timor, and Maluku.
The unique thing is that salak appeared on the Malaysian stamp that was released on February 27, 1999. Besides this common name, salak is also known as "snake fruit" because its shell makes you think of the skin of the snakes.
After stripping this rough brown shell, it looks like peeled garlic with white or pinkish segments. You can feel a bit of moistness and crispness when enjoying its flesh. Its taste is a well-combined blend of tartness and sweetness with an intense astringent.
Season: All year round in Southeast Asian countries.
Nutrients: A source of protein, calcium, iron, potassium, and vitamin C.
How to eat: Use your hand or a knife to remove its skin and separate the segment to eat. Please throw the seed while consuming.
10. Tamarind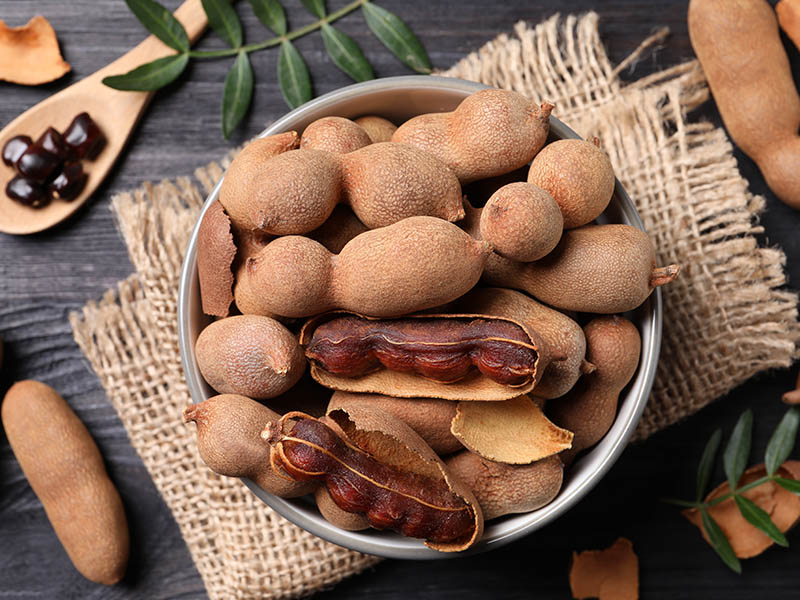 Tamarind is an indispensable name in this brown fruits list. This well-known food is a native fruit in Africa. Furthermore, the cultivation of tamarind is widespread in India, Malaysia, Central America, and South America.
There are countless different species of tamarind global with both sweet and sour tastes. The sour tamarind accounts for about 95% of the total tamarind production. A tamarind tree can create 50 to 100 kilograms of fruit within 10 to 15 years.
The feature that makes it appear on this list is the reddish-brown shell. It will be dry and crispy when tamarind is ripe. This fruit contains a lot of antioxidants and anticancer properties. Also, it is suitable for your heart health.
Season: The season lasts from early spring to late autumn.
Nutrients: High in vitamin B1, C, calories, carbs, and fiber.
How to eat: Bend the pod of tamarind with your finger and remove the strings that stick to the pulp. Eat the pulp and remove the seeds.
11. Sapodilla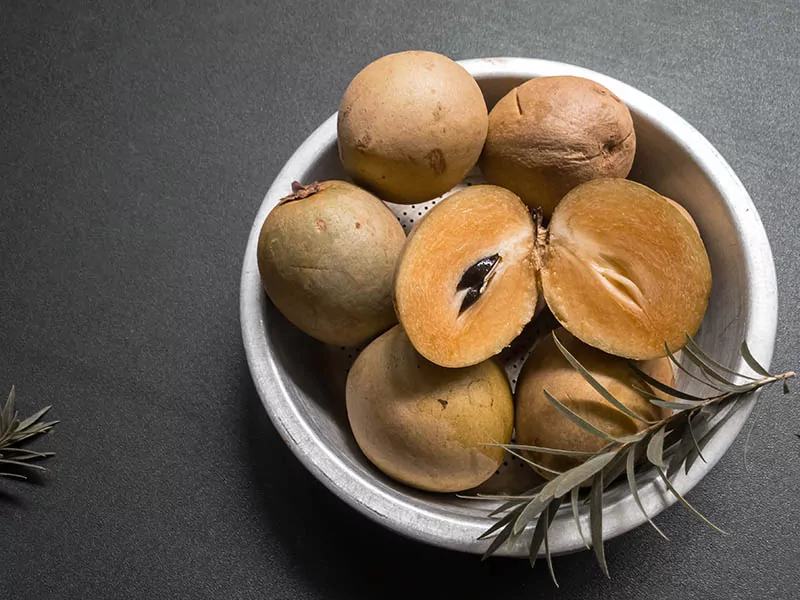 If you want to enjoy a yummy fruit beginning with S with a tender and smooth texture, you should buy sapodilla immediately. Instead of eating raw fruit, you can add it to salads, granitas, or fruit purees. Moreover, it helps to enhance the flavor of sauces, jams, cream pies, or cakes.
It is also known as zapote, chikoo, or naseberry in some places. This remarkable fruit was born in southern Mexico, the Caribbean, and Central America. It's one of the most famous Guatemalan fruits. It also appeared in the Philippines during Spanish colonization.
In terms of looks, it has the shape of an egg with a thin brown skin. When separating this fruit, the pale yellow or earthy brown flesh will appear in front of your eyes. It is hard to resist this fruit's enchanting sweetness and malty taste.
Even better, I recommend that you do not consume unripe sapodilla because it is pretty hard, and the astringent flavor of this fruit can dry your mouth quickly.
Season: Extends from February to June in Florida
Nutrients: Plenty of vitamin C, fiber, folate, and pantothenic acid.
How to eat: Halve it into 2 halves, discard the seeds, and eat the flesh. Besides eating it raw, you can add it to lettuce salads, sauces, smoothies, or pie.
Check this video for some incredible information about sapodilla.
12. Dates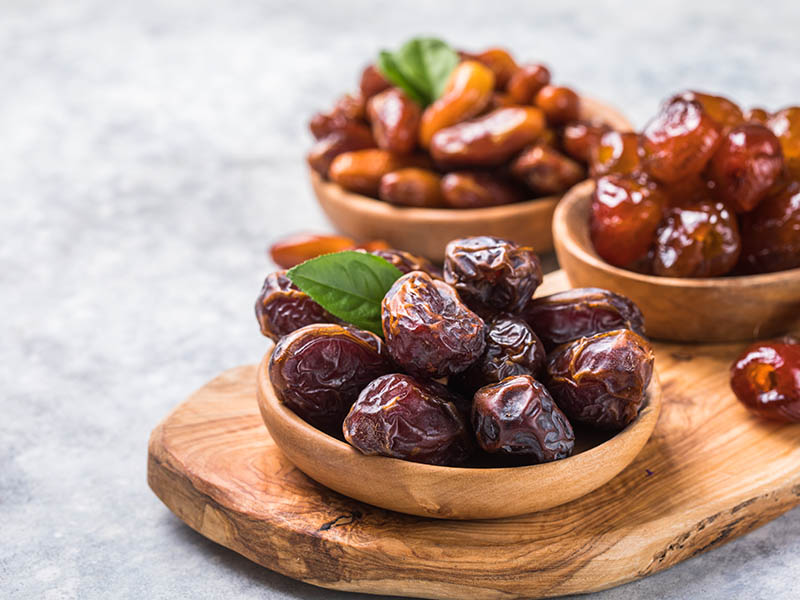 It is simple to find dates in Africa, South Asia, the Middle East, and tropical regions globally. People started planting dates thousands of years ago in the Middle East and Indus Valley. Some evidence shows that date cultivation has taken place from the 6th millennium BCE in Arabia.
Date fruits are a product of date palm. Today, you can go to the supermarket and buy dehydrated dates easily. I like to use this ingredient to substitute sugar in cookie or cake recipes. Plus, this vegan element suits to add to vegan desserts to sweeten them.
You can find wide different varieties of dates on the Earth. If you come to the UAE, you can explore more than 199 different types of dates. This country has about 44 million palm trees. Nonetheless, Egypt is the leading country in the output of dates.
Interestingly, its name originated from the "Daktylos" word, which means "finger" in Greek. The reason for the birth of this name is the similarity of its shape and finger.
Season: Its season lasts from mid-August to mid-March.
Nutrients: Plenty of vitamin B6, iron, and vitamin C.
How to eat: You can simply consume the flesh and its skin from the seed. Even better, it is possible to eat raw and dried dates. You can mix them with pecans, cream cheese, or pistachios to make a yummy snack.
13. Nashi Pear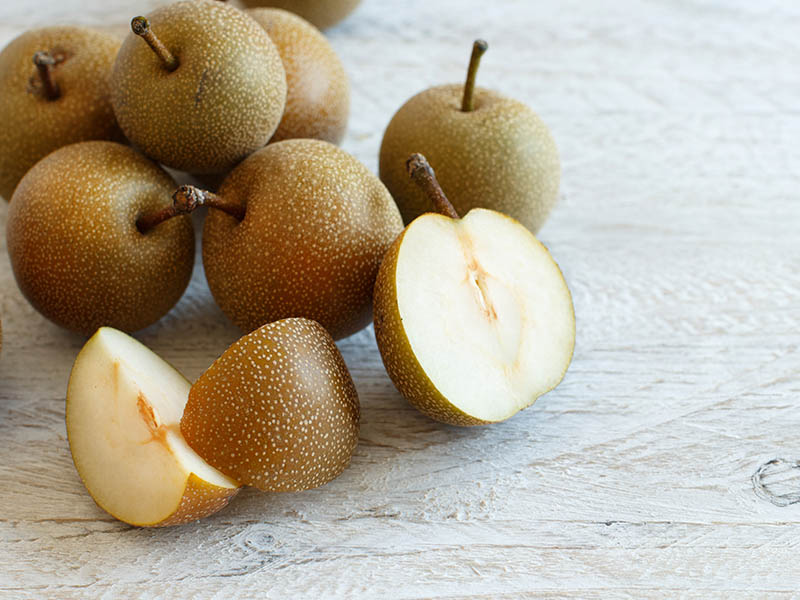 Japanese pear or Asian pear is the other name for this famous fruit. This delectable idea was born in Japan, Korea, and China. Moreover, people grow it widely in New Zealand, Australia, Nepal, and India. In East Asian nations, its flowers are considered a symbol of spring.
This excellent fruit is diverse in species with different colors. In case you love the bright yellow version, you can choose the Yali and 21st Century species. Meanwhile, Shinko and Hosui types bring a brown and rough peel.
You'll be immersed in this fruit's juiciness, sweetness, and brittle texture. Its white flesh can remind you of a honey and pineapple mixture. An extra tip to enjoy nashi pear with the best flavor is to buy it at peak season, which might vary depending on the location.
Season: From February to October (in Australia), or September and October are peak seasons in some other places.
Nutrients: Rich in fiber, potassium, and vitamin C.
How to eat: You can enjoy it with (or without) the skin, Slice it into small pieces for more convenience.
14. Cupuacu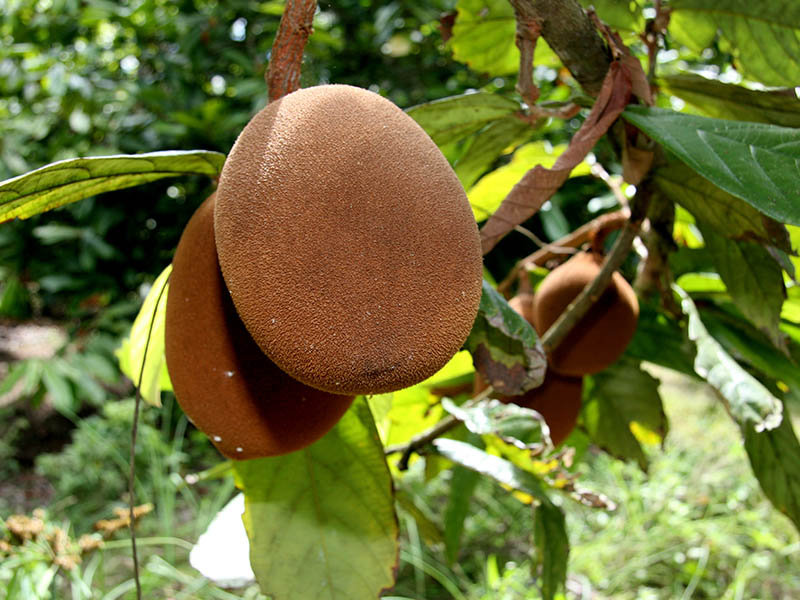 It is a shortcoming not to mention cupuacu in this valuable list. Cupuacu has its origin in the Amazon but you can find them in jungles in Peru, Colombia, Brazil, and Bolivia. People in South and Central America often utilize its pulp to make snack bars, ice creams, and other foods.
A thick and hard brown shell surrounds the white and juicy pulp. When you cut this fruit, you can smell its distinctive odor. It is described as a blend of pineapple and chocolate. And I love this addition to juices, smoothies, and desserts.
In fact, It is a popular ingredient in making skin and hair care products, thanks to the high-fat content. It works to treat skin allergies. Furthermore, antioxidants prevent free radicals and diseases.
Season: Generally runs from January to April.
Nutrients: A source of amino acids, vitamin C, E, B1, and minerals.
How to eat: Cut the fruit in half with a knife and consume its pulp. Or making juices, smoothies, and desserts with cupuacu.
What does cupuacu taste like? Let's check this video for the answer.
15. Langsat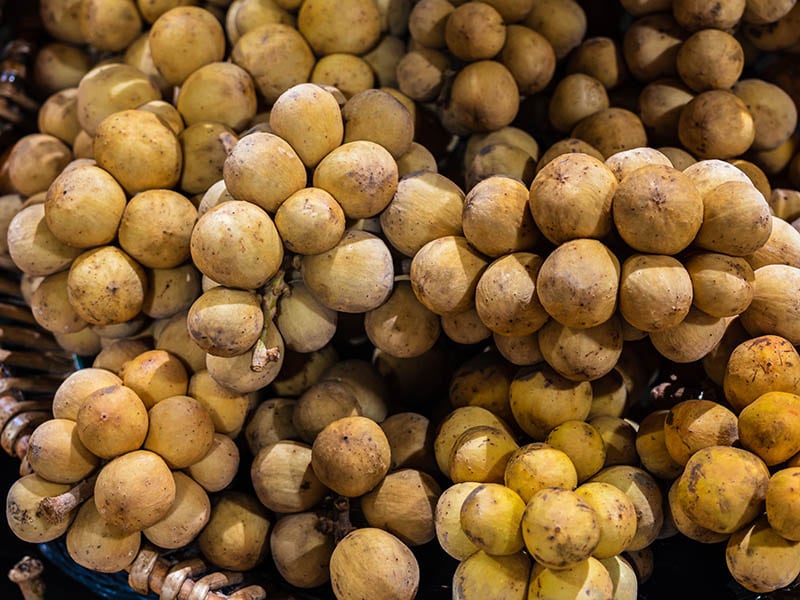 Langsat is pretty famous in many markets in Southeast Asia. It is also known as lanzones, duku (Indonesia), or dokong (Malaysia). Langsat is usually small in size with a typical round and ovoid shape. Its appearance looks quite similar to small potatoes.
After removing the yellow or pale brown skin, the translucent white flesh will appear in front of your eyes. The flesh is the collection of many small juicy segments and each segment contains an inedible seed.
This fruit tastes like grapes with a mix of sweet, acidic, and tangy flavors. Langsat is an essential component in many traditional medical recipes. High vitamin C content helps treat the flu and cold symptoms effectively.
For more information, there is a similar version of langsat – duku. However, duku is larger and has thicker flesh. You can also try the mixed species of duku and langsat, which is longkong.
Season: Depending on the location (ranging from April to September).
Nutrients: Rich in riboflavin, thiamine, vitamin A, and C.
How to eat: You can eat them fresh after peeling the skin off. Or you can use the fruit to make ice cream or beverages.
Are You Satisfied With These Brown Fruits?
What do you think about these brown fruits in this list? Fruit is an essential part of the diet, and healthy brown fruits will contribute to improving your health and bringing a feeling of freshness and comfort.
After finding out the suitable brown fruits, it would be wonderful if you share this article with many people so they can broaden their knowledge regarding fruit. Plus, I am looking forward to receiving your opinions and other ideas via comments. Thanks a lot!