If you've never explored the world of brown fruits, you're in for a treat! I'm excited to share with you fascinating insights into these earthy-hued gems that pack a punch when it comes to flavor and health benefits.
As you dive into this captivating topic, you'll discover three key aspects: the unique taste profiles, the incredible nutritional values, and the versatility of brown fruits in your culinary adventures.
By the end of this journey, you'll be inspired to incorporate these delicious fruits into your daily life and reap the benefits they offer.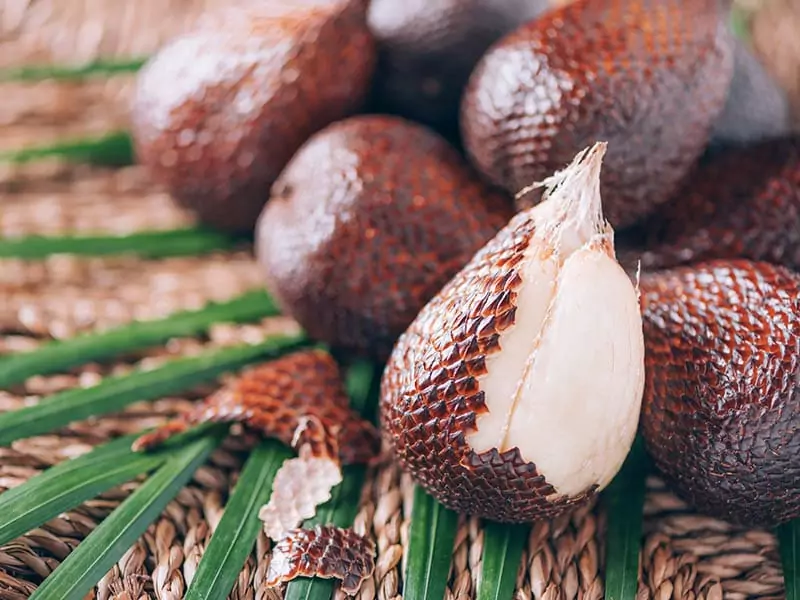 Brown Fruits: Tasty, Nutritious, and Versatile
I know you'll love the delicious world of brown fruits! Here, I'll uncover their incredible taste, impressive nutritional benefits, and versatility that'll make them a star in your kitchen. Get ready to be wowed by these humble yet remarkable fruits!
Nutritional Benefits
Brown fruits often contain a variety of essential nutrients that contribute to a healthy diet. They may be rich in vitamins, such as vitamin C, vitamin K, and B vitamins, which support immune function, blood clotting, and energy production, respectively.
Many brown fruits are also a good source of minerals like potassium, magnesium, and calcium, which are vital for maintaining healthy muscles, bones, and nerve function.
Additionally, these fruits often contain dietary fiber, which promotes healthy digestion, helps regulate blood sugar levels, and may reduce the risk of heart disease.
Recipes and Preparation Ideas
Unleash your inner chef and get inspired by these mouth-watering dishes and creative cooking techniques.
Fruit salad: Combine various brown fruits, such as diced figs, dates, and raisins, with other colorful fruits for a nutritious and visually appealing fruit salad.
Smoothies: Blend frozen brown fruits with yogurt, milk, or a non-dairy alternative, along with your favorite sweetener and additional fruits, for a refreshing smoothie.
Baked goods: Chopped dates or raisins are ideal for muffins, cookies, or bread.
Stuffed fruits: Stuff dates or figs with soft cheese, like goat cheese or blue cheese, and drizzle with honey for a sweet and savory appetizer.
The Wonderful World of Brown Fruits
Don't let their humble appearance fool you – brown fruits have a lot to offer when it comes to flavor, texture, and health benefits.
Tropical Fruits
Coconut
Durian
Passion Fruit
Longan
Salak
Tamarind
Sapodilla Sapote/Manilkara Zapota
Cupuaçu/Cupuassu/Copoasu)
Langsat
Jenipapo
Pome Fruit
Medlars/Mespilus Germanica
Nashi Pear/Asian Pear/Pyrus Pyrifolia
Bosc Pear
Berry Fruit
Kiwi
Kumato Tomato
Other Fruits
Dates
Baobab
Brown Turkish Figs
Raisins
Chocolate Habanero Peppers
Coquito Nuts
Carob
Tropical Fruits
I'm excited to take you on a journey to discover the exotic flavors of tropical brown fruits! You'll be amazed by the captivating taste and health benefits they offer, while also adding a touch of the tropics to your culinary creations. Prepare to be swept away by these alluring and nutritious gems!
1. Coconut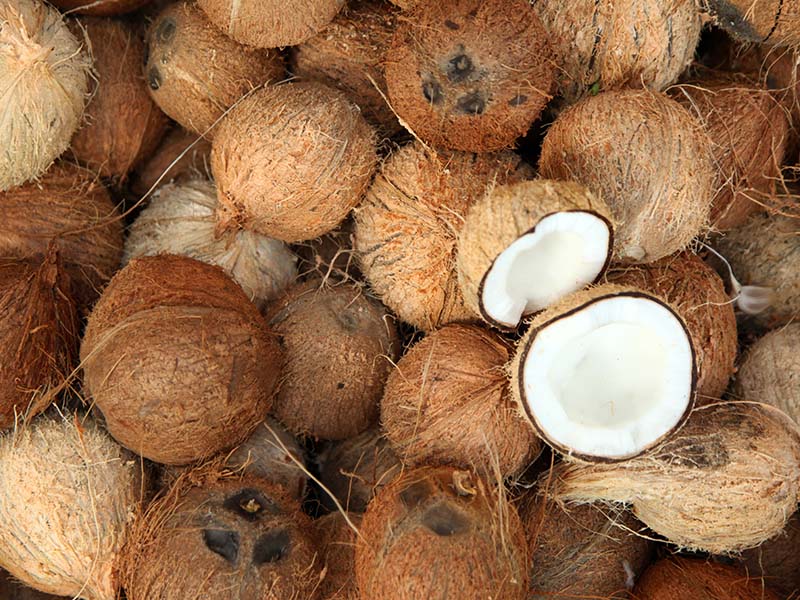 Coconut, a member of the palm family, is an interesting fruit because it's actually a drupe, not a nut. It has a fascinating structure with three layers: exocarp, mesocarp, and endocarp. The exocarp is the outer layer with a green-yellow or yellow-brown color, while the mesocarp is fibrous.
The endocarp forms the hard "shell" we know. A full-sized coconut weighs about 3 pounds, but de-husked, it's only 1 pound.
Its coconut name is taken from the "coco" word, meaning "skull" in Portuguese. The Austronesian people first domesticated this fruit in Southeast Asia. After that, it appeared in Madagascar and the Pacific Islands via seaborne migrations.
Typically, coconut often exists in 2 primary forms, including fresh and dry fruits. The dry version looks pretty rough with the brown and fibrous outside. You can get it after removing the outer layer of the fresh coconut.
Inside the coconut, the water and white flesh are the parts you can enjoy. Green immature coconuts are sold for their water and soft jelly-like meat. When selecting a fresh one, give it a shake; the more liquid you hear, the fresher it is!
Coconut water is a refreshing beverage that you can put in soups or stews to enhance the sweetness of your dishes. The white flesh is also versatile. You might encounter its crunchy flesh in curries, coconut milk, cream, and other treats.
Season: Available all year round.
Nutrients: Rich in fiber, manganese, and selenium.
How to eat: Poke a hole on the top of the fruit so you can get the water. Or break the fruit into 2 parts for getting the flesh inside.
2. Durian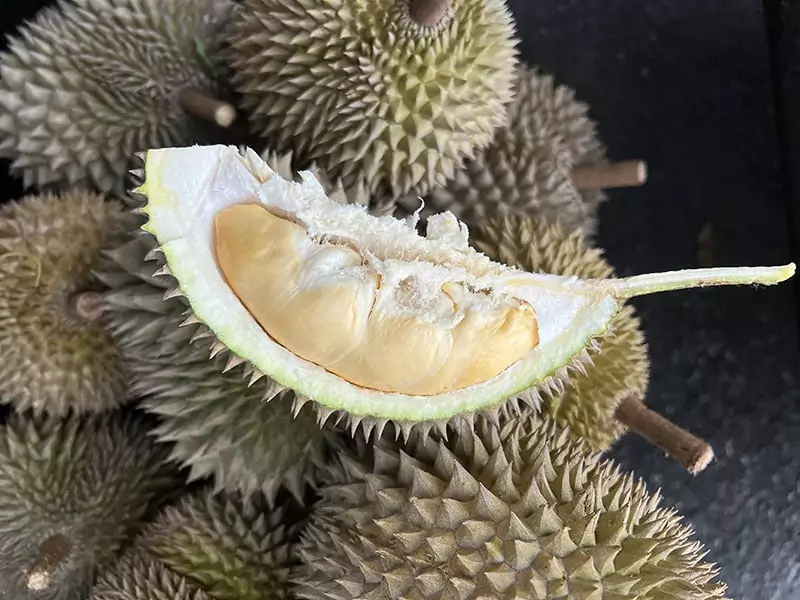 Nowadays, you can easily catch durian stalls at supermarkets, sidewalks, or markets in many Southeast Asian countries and other nations worldwide. This fruit is considered the "King of Fruits" in Southeast Asia regions.
There are numerous different species of durian found in Indonesia, the Philippines, Thailand, and Malaysia. Specifically, Thailand has about 300 cultivars, and there are about 100 types in Malaysia.
Durians can reach sizes of 12 inches long and 6 inches in diameter, and weigh 2 to 7 pounds. With a shape varying from oblong to round, these fruits have a thorny rind that encases five oval compartments filled with pulp.
Please be cautious of the hard brown or green shell with many sharp spikes as they can harm you. Under the skin are creamy and light yellow pulps.
Their flesh, reminiscent of rich almond-flavored custard, finds its way into both sweet and savory dishes. You can also eat its seeds as a snack, as long as you boil, steam, or roast the seeds before consuming them.
However, they have a very strong smell that not everyone likes. Due to the intense smell, many public places restrict durian. But if you are willing to try durian, you can feel the distinctive sweet taste with a mild bitter hint.
Season: Depends on regions, which can be from May to August.
Nutrients: Rich in fiber, vitamin A, B, C, thiamine, manganese, and more.
How to eat: Carefully remove the shell with a knife, then open them into segments to get creamy pulps.
3. Passion Fruit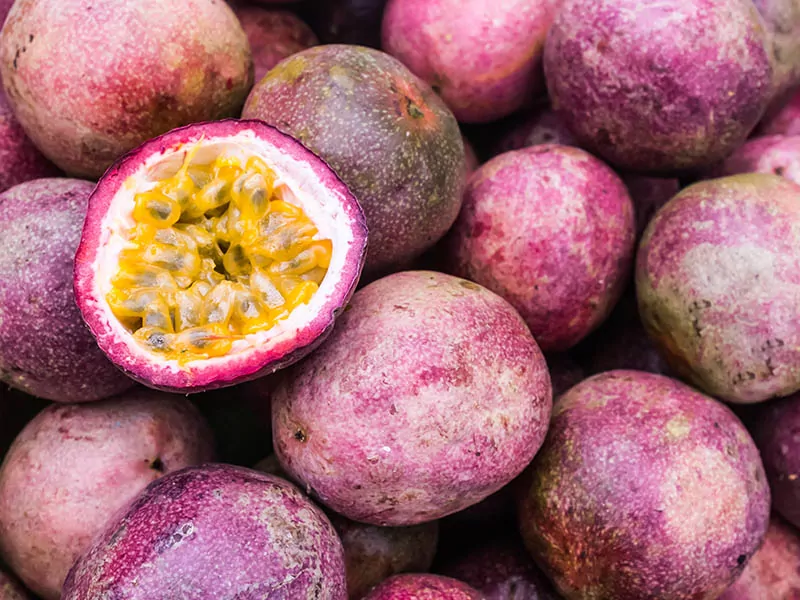 Passion fruits, with origins in southern Brazil, can also be found in Paraguay and northern Argentina. They feature a unique sweet-tart flavor. Europeans first encountered this exotic fruit in 1553. In Portugal, you'll find a close relative of passion fruits: maracuja.
There are four main varieties: purple passion fruit, yellow passion fruit, sweet granadilla, and giant granadilla. These round or oval-shaped fruits come in various rind colors like red, purple, brown, green, or yellow.
The edible part is the pulpy, juicy yellow seeds inside. Passion fruits shine in pastries, sauces, and baked goods. Plus, they're packed with antioxidants and vitamins, helping to reduce inflammation (1).
Season: Almost all year round.
Nutrients: High in vitamin C, A, iron, potassium, and magnesium.
How to eat: Cut passion fruit into 2 parts and scoop the seeds and pulp with a spoon. You can add a bit of sweetener to reduce the tartness.
4. Longan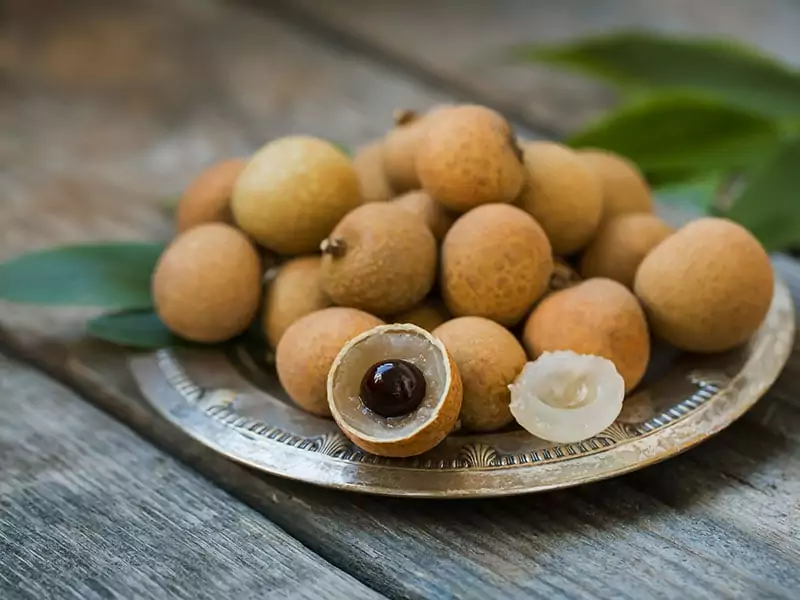 Longan, sometimes spelled lungan, is a fruit with a date-like sweetness that's drier than other tropical fruits.
It is also a well-known tropical fruit and has many similarities with lychee and rambutan. This excellent fruit originates in tropical Asian and Chinese regions. People often call it "dragon eyes" because it is similar to eyeballs.
You'll be attracted to the unique reddish-brown color shell when you observe it. And after removing its thin peel, you might fall in love with the whitish and translucent flesh that has a sweet and musky taste.
To enjoy this fruit, squeeze the pulp out, releasing the small, round, and hard seed inside, much like cracking a sunflower seed.
Longan stays fresher when attached to the branch. It typically blooms in the spring, with Southeast Asia being the most consumer area of longan worldwide.
You'll find them sold fresh, dried, or canned in syrup. If you do not know what to do apart from eating raw longan, you can try to create jelly, jam, liquor, or tea with this fruit. Not only that, it helps enhance the flavor of soups, sweet-and-sour dishes, or other desserts.
Dried longan, ranging from dark brown to almost black, is popular in Chinese cooking and believed to aid relaxation.
Season: From July to August in Florida.
Nutrients: High in vitamin C, potassium, and riboflavin.
How to eat: Use your finger to crack its peel and eat the flesh from the seed.
Find out the authentic flavor of longan by tasting it.
5. Salak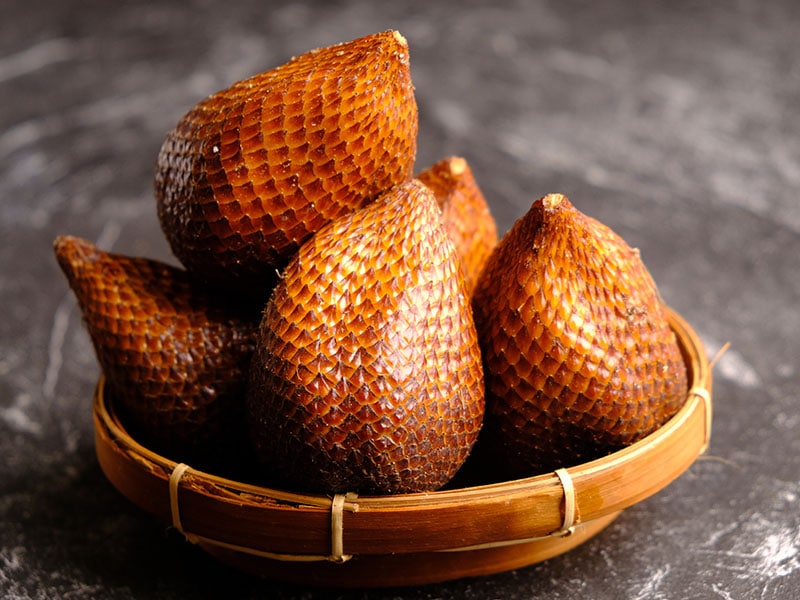 Salak is an exotic fruit, and it is pretty widespread in Southeast Asian countries. Java and Sumatra of Indonesia are the birthplaces of salak. In addition, you can see it in Lombok, Bali, Timor, and Maluku. It is also a popular to-go snack in Bangkok.
Notable varieties include Salak Pondoh from Java's Yogyakarta province, Salak Bali from Bali's Sibetan village, and Salak Gula Pasir, the sweetest and priciest Salak Bali variety.
This fruit grows from a short-stemmed palm, forms in clusters, and resembles a ripe fig in size and shape. Inside, you'll find three lobes, each housing a large inedible seed. The fruit has a consistency similar to large peeled garlic cloves and can range from very dry to crumbly in texture.
The unique thing is that salak appeared on the Malaysian stamp that was released on February 27, 1999. Besides this common name, salak is also known as "snake fruit" because of its rough shell.
After stripping this rough brown shell, it looks like peeled garlic with white or pinkish segments. You can feel a bit of moistness and crispness when enjoying its flesh. Its taste is a well-combined blend of tartness and sweetness with an intense astringent.
Season: All year round in Southeast Asian countries.
Nutrients: A source of protein, calcium, iron, potassium, and vitamin C.
How to eat: Use your hand or a knife to remove its skin and separate the segment to eat. Please throw the seed while consuming.
6. Tamarind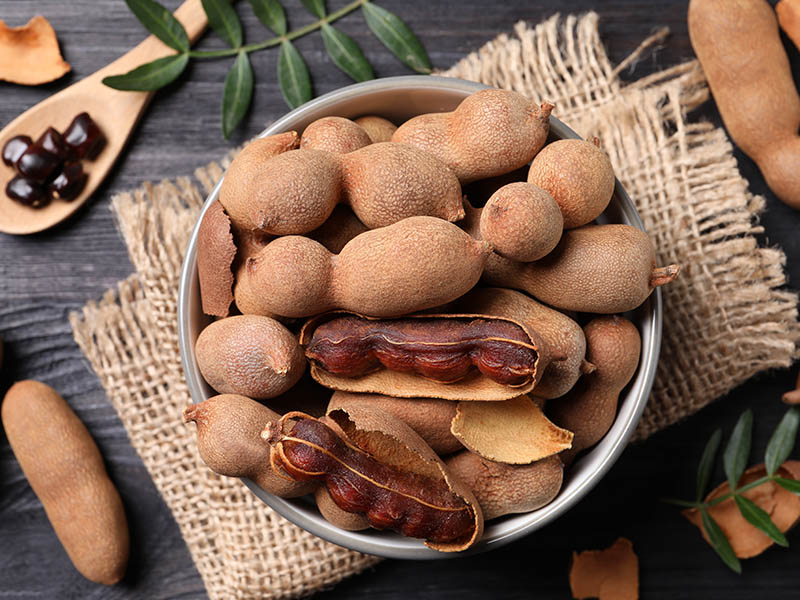 Tamarind is an indispensable name in this brown fruit list. This well-known food is a native fruit in Africa. Furthermore, the cultivation of tamarind is widespread in India, Malaysia, Central America, and South America.
There are countless different species of tamarind globally, with both sweet and sour tastes. The sour tamarind accounts for about 95% of the total tamarind production. A tamarind tree can create 110.23 to 220.46 pounds of fruit within 10 to 15 years.
Tamarind grows in bean-like pods containing seeds surrounded by fibrous pulp. Asian tamarind pods usually hold between 6 to 12 seeds.
The feature that makes it appear on this list is the reddish-brown shell. It will be dry and crispy when tamarind is ripe. This fruit contains a lot of antioxidants and anticancer properties. Also, it is suitable for your heart health.
When ripe, the pods develop a paste-like texture. A unique aspect of tamarinds is their calcium content. In the culinary world, tamarind is often purchased as a paste or purée, making it a versatile and flavorful ingredient for various dishes.
Season: The season lasts from early spring to late autumn.
Nutrients: High in vitamin B1, C, calories, carbs, and fiber.
How to eat: Bend the pod of tamarind with your finger and remove the strings that stick to the pulp. Eat the pulp and remove the seeds.
7. Sapodilla Sapote/Manilkara Zapota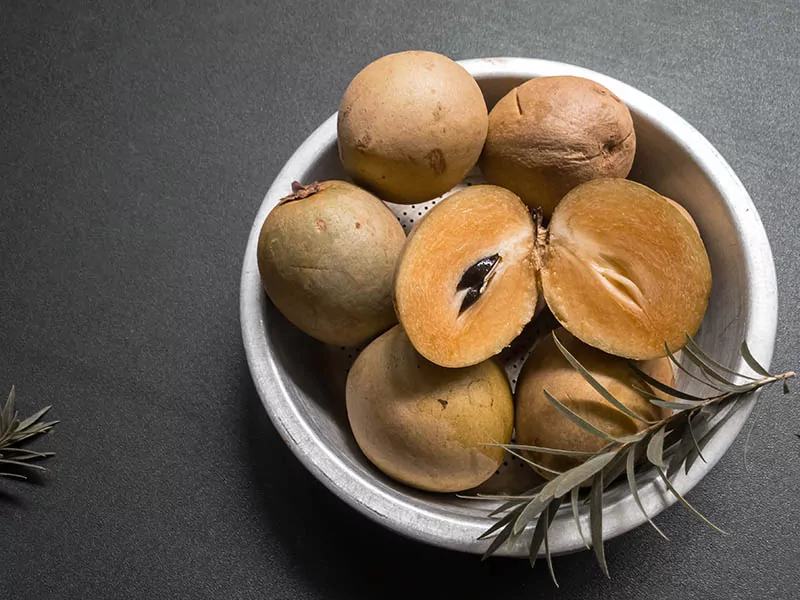 Sapodilla Sapote grows on trees that take about five to eight years to bear fruit. When unripe, the fruit has firm skin and releases white chicle from its stem. Once ripened, the skin becomes saggy, and the chicle stops flowing. These fruits measure 2-3 inches in diameter, and each fruit contains 1 to 6 seeds.
It is also known as zapote, chikoo, or naseberry in some places. This remarkable fruit was born in southern Mexico, the Caribbean, and Central America. It's one of the most famous Guatemalan fruits and also appeared in the Philippines during Spanish colonization.
In terms of looks, it has the shape of an egg with a thin brown skin. When separating this fruit, you will see the pale yellow or earthy brown flesh that resembles a ripe pear's grainy texture. It is hard to resist this fruit's enchanting sweetness and malty taste.
I recommend that you do not consume unripe sapodilla because it is pretty hard, and the astringent flavor of this fruit can dry your mouth quickly.
If you want to enjoy this yummy fruit beginning with S, you can add it to salads, granitas, or fruit purees instead of eating raw. Moreover, it helps to enhance the flavor of sauces, jams, cream pies, or cakes.
Fun fact: the tree's bark chicle is used for making chewing gum!
Season: Extends from February to June in Florida
Nutrients: Plenty of vitamin C, fiber, folate, and pantothenic acid.
How to eat: Halve it into 2 halves, discard the seeds, and eat the flesh. Besides eating it raw, you can add it to lettuce salads, sauces, smoothies, or pie.
Check this video for some incredible information about sapodilla.
8. Cupuaçu/Cupuassu/Copoasu)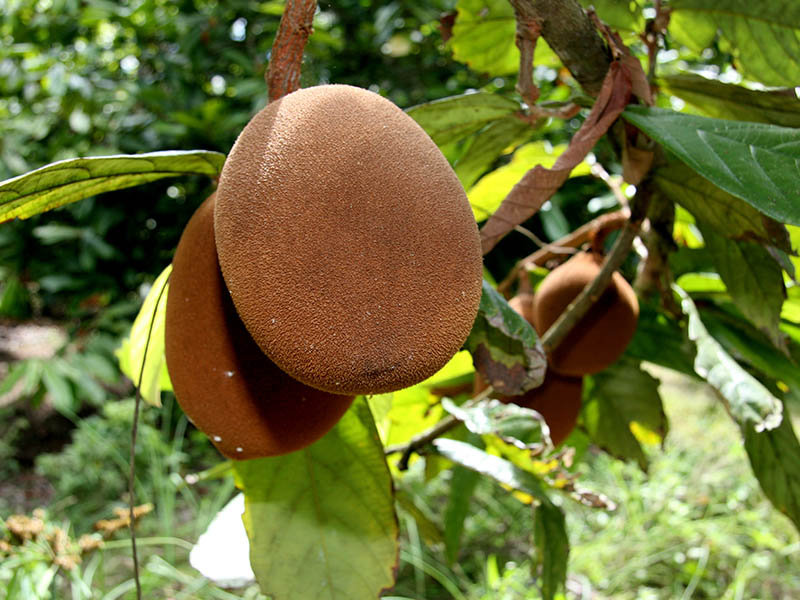 Cupuaçu has its origin in the Amazon, but you can find them in jungles in Peru, Colombia, Brazil, and Bolivia.
It is considered the national fruit of Brazil and is predominantly cultivated in the northern region. People in South and Central America often utilize its pulp to make snack bars, ice creams, and other foods.
This intriguing fruit is a relative of the cacao tree, with oblong, brown, and fuzzy fruits measuring around 8 inches. It features a thick, hard brown shell that is around 0.157 to 0.276 inches. The white and juicy pulp inside has a unique aroma reminiscent of pineapple and chocolate.
In fact, It is a popular ingredient in making skin and hair care products, thanks to its high-fat content. It works to treat skin allergies. Furthermore, antioxidants prevent free radicals and diseases.
What's more fascinating is that cupuaçu can be a cocoa substitute in products like chocolate milk.
Season: Generally runs from January to April.
Nutrients: A source of amino acids, vitamin C, E, B1, and minerals.
How to eat: Cut the fruit in half with a knife and consume its pulp. Or making juices, smoothies, and desserts with Cupuaçu.
What does Cupuaçu taste like? Let's check this video for the answer.
9. Langsat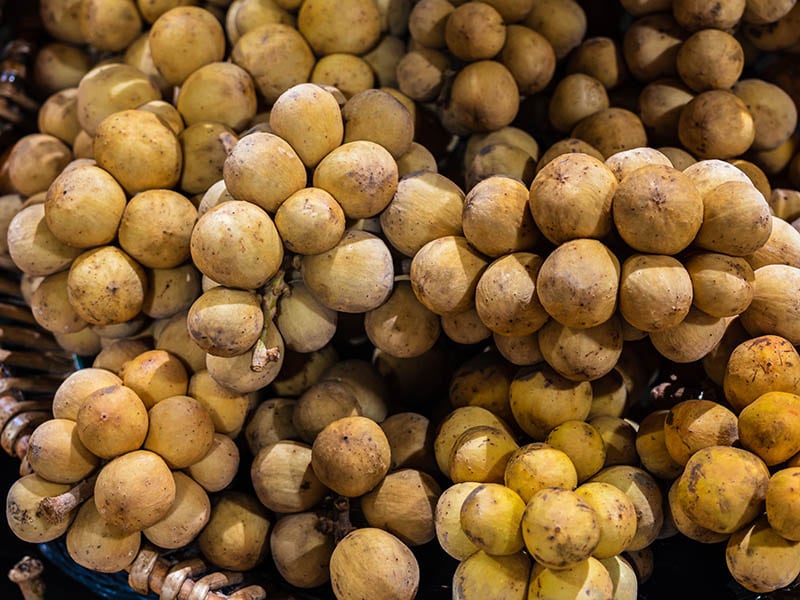 Langsat, or Lansium parasiticum, is a fruit that thrives in the southern hills of Nilgiri in India from April to September. It is pretty famous in many markets in Southeast Asia and also known as lanzones, duku (Indonesia), or dokong (Malaysia).
Langsat is usually small in size with a typical round and oval shape. Its appearance looks quite similar to small potatoes. These fruits range from 0.79 to 2.76 inches in size and have varying skin thicknesses depending on the variety.
After removing the yellow or pale brown skin, the translucent white flesh will look like peeled garlic! The flesh is a collection of many small juicy segments, and each segment contains an inedible seed.
This fruit's taste is a blend between grapes and grapefruit with a mix of sweet, acidic, and tangy flavors. Langsat is an essential component in many traditional medical recipes. High vitamin C content helps treat the flu and cold symptoms effectively (2).
Not only can you enjoy langsat raw, but it's also deliciously bottled in syrup. What's more, the bitter seeds have a practical use – pound them and mix them with water for an effective deworming remedy.
For more information, there is a similar version of langsat – duku. However, duku is larger and has thicker flesh. You can also try the mixed species of duku and langsat, which is longkong.
Season: Depending on the location (ranging from April to September).
Nutrients: Rich in riboflavin, thiamine, vitamin A, and C.
How to eat: You can eat them fresh after peeling the skin off. Or you can use the fruit to make ice cream or beverages.
10. Jenipapo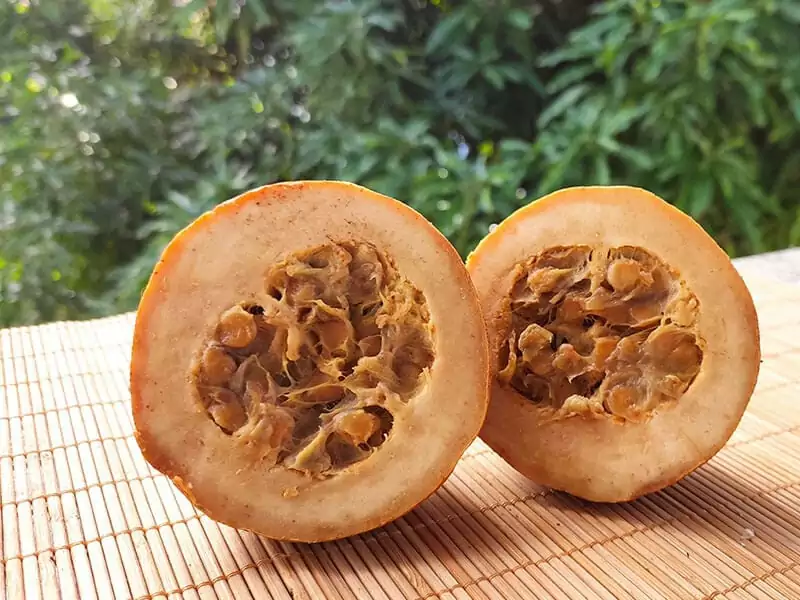 Jenipapo, a fruit from the genipap tree related to coffee trees, is known by other names like huito or jagua. In Guarani, it means "fruit that is used for painting." The juice from unripe jenipapo is a dark blue, perfect for painting skin, walls, and ceramics. However, it'll disappear after nearly 2 weeks.
Found throughout tropical America, this brownish-yellow fruit is popular in Brazil's Midwest and Northeast. Locals savor its sour and juicy pulp fresh or turn it into juices, compotes, or jams.
As a bonus, it becomes a festive liqueur when mixed with honey and cachaça for St. John's festivities in Bahia. When it's mashed with sugar and refrigerated, Jenipapo has another name: Jenipapada.
Season: Depending on the location.
Nutrients: Vitamin A, C, calcium, iron.
How to eat: Peel and cut into chunks. Or make it into a sweet liqueur by steeping it in alcohol.
Pome Fruit
I can't wait to introduce you to the world of pome brown fruits! You're about to uncover the tantalizing flavors, potent nutritional properties, and countless ways to incorporate them into your culinary adventures.
11. Medlars/Mespilus Germanica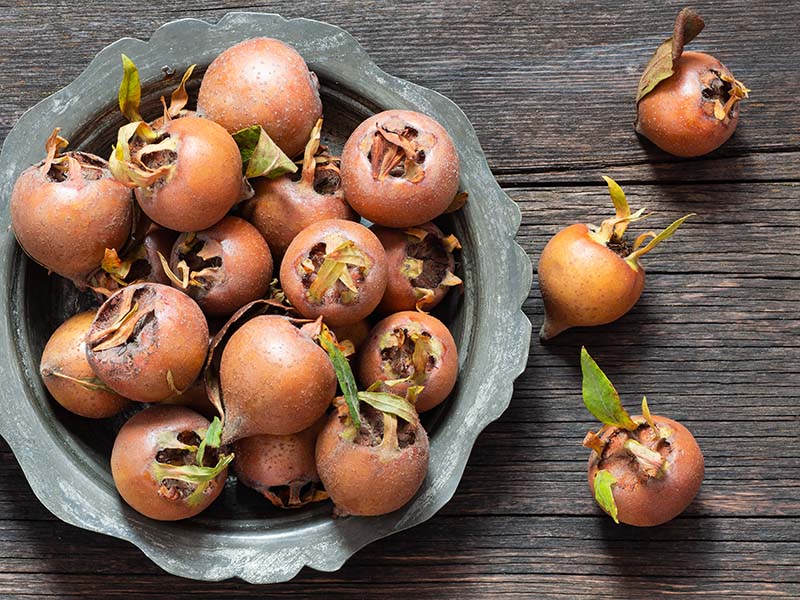 Mespilus Germanica is the name in Latin of medlars. In England, it also has a few other nicknames like monkey's bottom or open-arse. The cultivation of this beautiful fruit has appeared since ancient Roman times.
Originally hailing from the Caucasus and Armenia, Medlars have made their way into the wilds of Europe and the Middle East. They boast beautiful flowers in late May or June, with bees or self-pollination helping them along.
This fruit belongs to the pome category with a specific, eye-catching reddish-brown color. This striking shade will grab your attention immediately. Plus, its appearance resembles a combined product of a rosehip and a small apple.
It has hairy skin and juicy flesh, measuring between 1 and 3 inches. An adult medlar tree can produce about 66.14 to 132.28 pounds of fruit per year. Once softened, they become edible, and their skin turns brown and wrinkled.
From my perspective, I like to eat raw medlar to feel the enchanting sweetness and squishy texture. Moreover, its flavor reminds me of a ripe date's taste.
Besides, to enhance the flavor and bring a new experience when enjoying the medlar, I also consume it with yogurt, creme fraiche, or cheese. Be sure to look for them in winter, when they make their seasonal appearance!
Season: From late October to early November.
Nutrients: Include carotene, vitamin B, C, iron, sodium, and calcium.
How to eat: Remove the stalk end of this fruit, use your hand to hold the crown, and press the flesh inside out.
12. Nashi Pear/Asian Pear/Pyrus Pyrifolia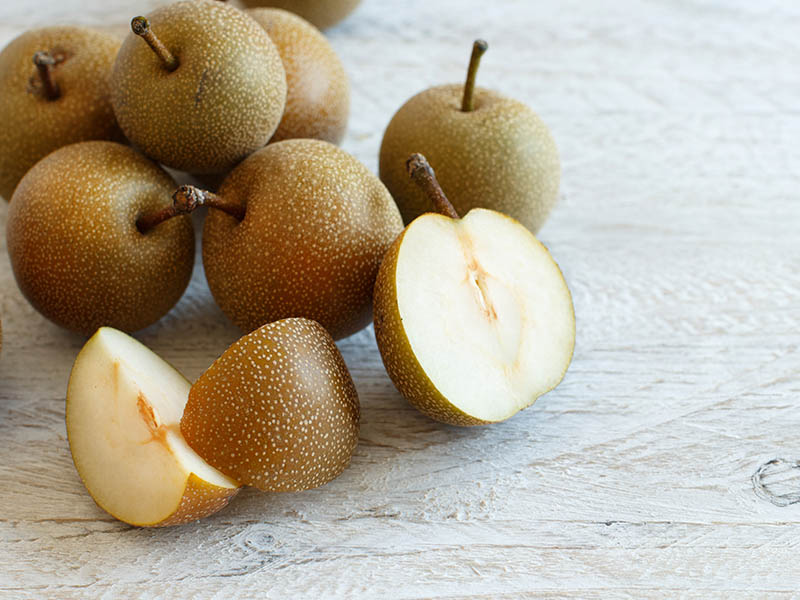 Japanese pear or Asian pear is the other name for this famous fruit. This delectable pear was born in Japan, Korea, and China. Moreover, people grow it widely in New Zealand, Australia, Nepal, and India. In East Asian nations, its flowers are considered a symbol of spring.
They're usually the size of an apple, round, and have a crisp, grainy texture with a high water content. Commonly served raw and peeled, it tastes similar to regular pears but sweeter.
This excellent fruit is diverse in species, with different colors such as brown, white, or yellow. And the skin is edible. In case you love the bright yellow version, you can choose the Yali and 21st Century species. Meanwhile, Shinko and Hosui types bring a brown and rough peel.
Nashi pears are nutrient-rich, with vitamins and minerals that help hydrate your body. Plus, they're great for pregnant women, thanks to the folate (vitamin B-9) content, essential for red blood cell formation.
Season: From February to October (in Australia), or September and October are peak seasons in some other places.
Nutrients: Rich in fiber, potassium, and vitamin C.
How to eat: You can enjoy it with (or without) the skin, Slice it into small pieces for more convenience.
13. Bosc Pear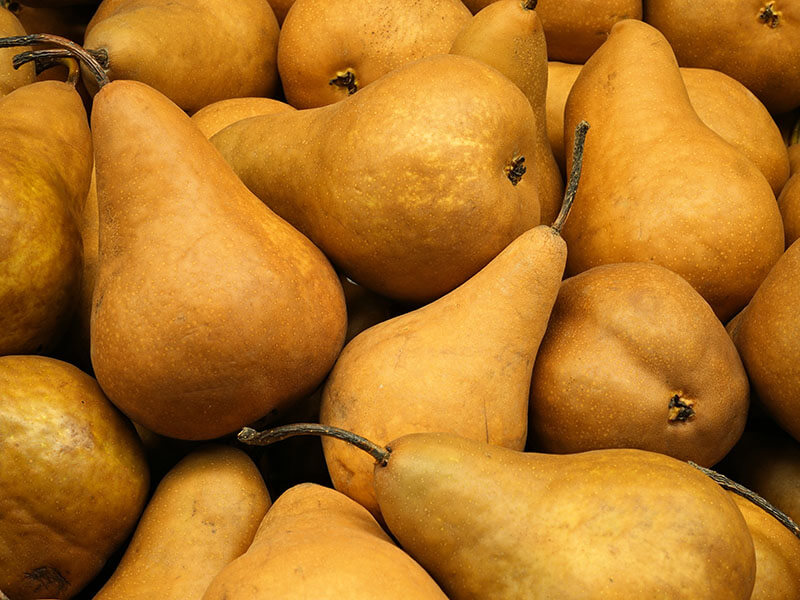 Bosc pears, hailing from France or Belgium, have a rich history dating back to the early 1800s. Named after French horticulturist Louis Bosc, these soft, juicy pears sport a long tapering neck and russet skin that turns a warm cinnamon color or brown when ripe.
You'll find their white flesh denser, crisper, and smoother than other pears. The skin even develops a wrinkled appearance when they're ready to eat. These beauties are in season from autumn through spring, and the fancy Bosc pears in Canada must be at least 2.126 inches in diameter.
You can bake, broil, or poach them, and their distinctive shape makes them a popular subject for artists and photographers.
Season: Starting from autumn through spring.
Nutrients: Rich in fiber, carbohydrate, sugar, and water.
How to eat: You can have them as they are. You can feature the pears in baking, poaching, and broiling recipes.
Berry Fruit
I'm delighted to share the wonders of berry brown fruits with you! These treasures pack a flavorful punch and bring exceptional nutritional value to the table, making them perfect for enhancing your favorite dishes.
14. Kiwi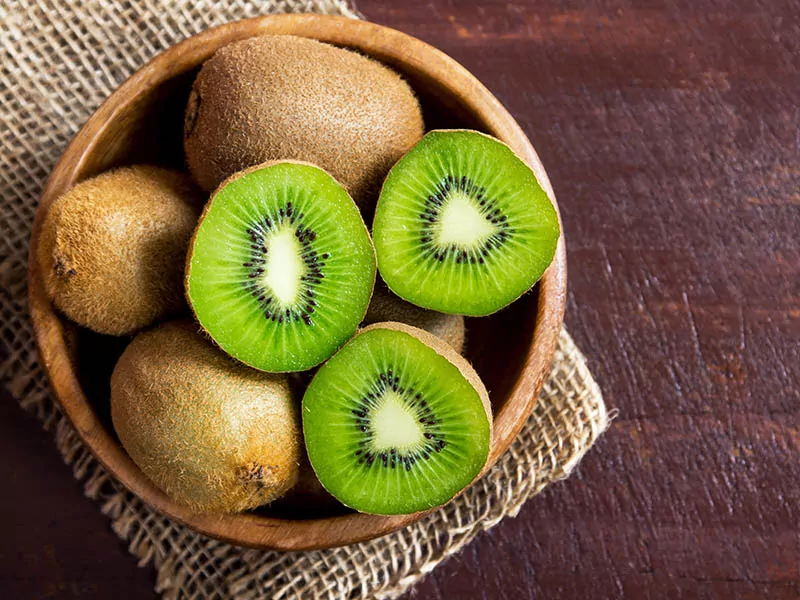 Kiwi, kiwifruit, or Chinese gooseberry originated in East and Central China. The first description of this fruit appeared in the 12th century (Song Dynasty). Gradually, the kiwi cultivation spread to New Zealand, Europe, and the Americas.
More than 400 different cultivars of kiwi are found in China and many other areas. In the US, you can easily find kiwi in California because this place accounts for about 98% of kiwi output produced.
With the size of a walnut, this fruit has a typical thin and brown skin. Being a true berry, it has a unique flavor reminiscent of ripe gooseberries. I love the sweetness and slightly tart flavor of its green flesh.
There is no problem consuming its seeds. The smooth and lightly crunchy texture of this fruit is a huge bonus to make people like them. Its juice can be used as a meat tenderizer, too!
Eating kiwi is an effective way to boost the amount of vitamin C and vitamin K in your body (3). Furthermore, it is a rich source of fiber. Kiwi has a good effect on reducing the risks of heart disease and stroke.
Season: Its season extends from October to May in America.
Nutrients: A rich source of fiber, vitamin C, E, and K.
How to eat: The best way to eat kiwi is to dice it in half and use a spoon to take its flesh out. Or you can peel the fruit and cut it into slices to consume.
Learn the proper instructions to eat kiwi fruit right now.
15. Kumato Tomato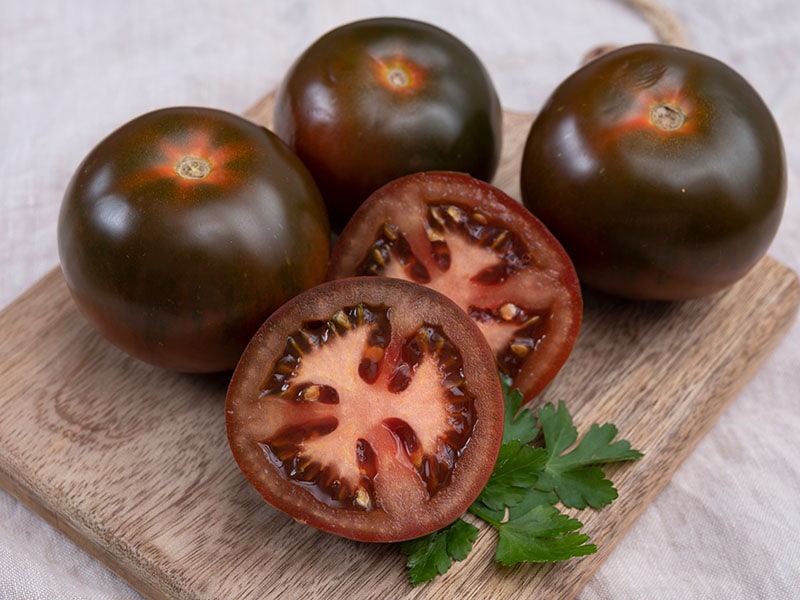 Kumato is a hybrid tomato originating in Spain. In this country, people often call it "Olmeca". Moreover, it also appears in many greenhouses and farms in France, Greece, Belgium, and Canada.
Kumato tomatoes are golf ball-sized gems, weighing between 0.176 to 0.264 pounds. These unique plants thrive in salty soil, and their tomatoes are delicious at any ripeness stage.
Its size is pretty similar to various cultivars of tomato, which can be green, purple, or reddish-brown in color. Their flavor varies, from mild to extra sweet and aromatic.
Its intense sweetness comes from high fructose content. Not only that, the juicy texture is compatible with creating juices or salads. For preserving, you can store it in the fridge, but this method can reduce its sweetness and flavor.
A fun fact is that Kumato seeds are only available to licensed growers who purchase them from Syngenta.
Season: Available all year round.
Nutrients: High in potassium, sodium, vitamin A, C, and other nutrients.
How to eat: Consume the whole fruit after cleaning it. Or you can squeeze it to make juice or add it to salads.
What are kumato tomatoes? Check this introduction for more information.
Other Fruits
Let me shed light on the lesser-known, yet equally amazing, other brown fruits! You're about to uncover their unique tastes and nutritious benefits, adding a touch of intrigue and variety to your fruit repertoire.
16. Dates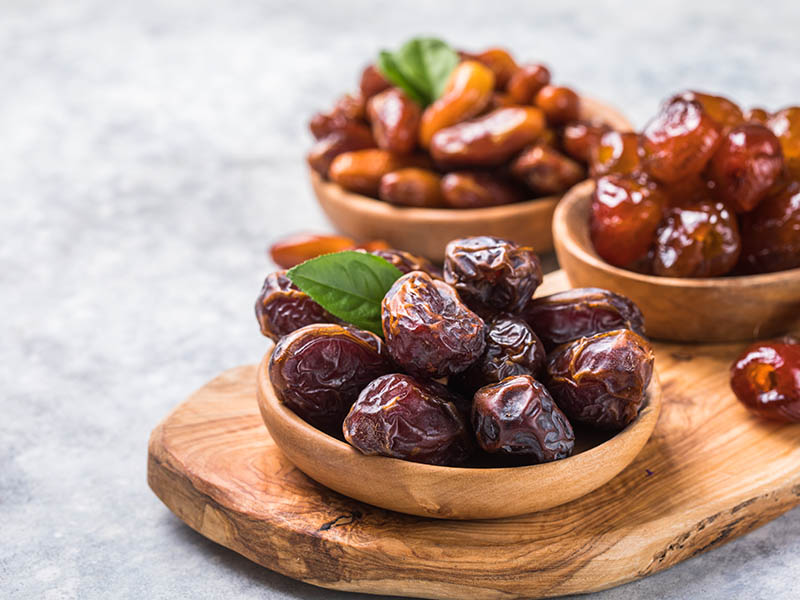 It is simple to find dates in Africa, South Asia, the Middle East, and tropical regions globally. People started planting dates thousands of years ago in the Middle East and Indus Valley. Some evidence shows that date cultivation has taken place from the 6th millennium BCE in Arabia.
Date palms consist of separate male and female trees, and when grown from cuttings, they bear fruit 2-3 years earlier than from seeds. The oval-cylindrical fruits turn from bright red to yellow when ripe, boasting high sugar content.
Dates, the delicious fruit of the date palm, can be found dehydrated in supermarkets and are often used as a sugar replacement in baking and vegan desserts.
You can find different varieties of dates on the Earth. If you come to the UAE, you can explore more than 199 different types of dates. This country has about 44 million palm trees. Nonetheless, Egypt is the leading country in the output of dates.
Interestingly, its name originated from the "Daktylos" word, which means "finger" in Greek. The reason for the birth of this name is the similarity of its shape and finger.
Just remove the pit, and they're ready for snacking, blending in smoothies, or even being turned into sugar by roasting and grinding them into powder!
Season: Its season lasts from mid-August to mid-March.
Nutrients: Plenty of vitamin B6, iron, and vitamin C.
How to eat: You can simply consume the flesh and its skin from the seed. Even better, it is possible to eat raw and dried dates. You can mix them with pecans, cream cheese, or pistachios to make a yummy snack.
17. Baobab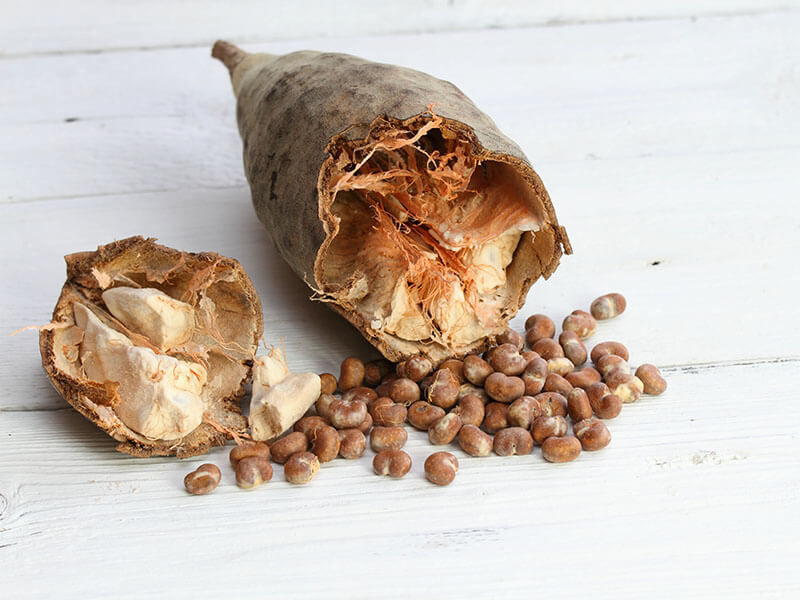 Baobab fruits, originating from the Adansonia genus of trees, come in hard, egg-like pods that dangle upside-down. They vary in length and have a woody, fibrous, and firm exterior that turns from green to brown when ripe.
The fruits have a dry, chalky, slightly chewy, and powdery texture with a sweet, tangy, and refreshing taste. Often consumed as a ground powder, they add a pleasant, citrusy flavor to sauces, salad dressings, yogurt, jams, and jellies.
Baobab fruits harmonize with vanilla, maple syrup, brown sugar, and fruits like pineapple, mango, and berries. Harvested from December to May, these fruits can be found year-round, and in Africa, their flowers are even used as a culinary ingredient.
Season: From December through May.
Nutrients: A lot of vitamin B, C, potassium, magnesium, calcium, and fiber.
How to eat: You can use the powder to make various recipes. Another way is to enjoy the pulp and seeds separately.
18. Brown Turkish Figs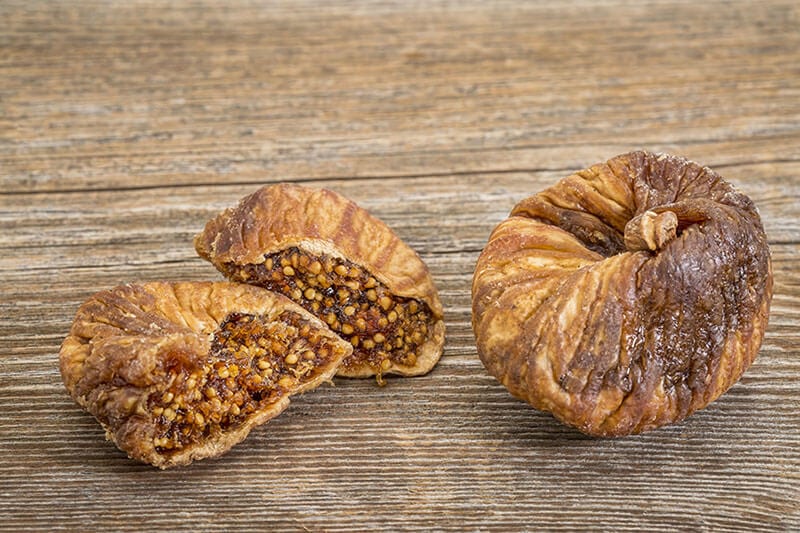 Brown Turkey figs, also known as aubique noire, negro largo, and san piero, are the best growing variety of figs. Their skin is variegated, transitioning from rusted red to purple, with slightly pale green shoulders.
As they ripen, the fruits crack and reveal a beautiful rose-colored flesh. Both the hollow, amber-toned seeds and the pollinated nutty-tasting seeds are edible. A ripe Brown Turkey fig offers a decadent sweetness, reminiscent of hazelnuts and confections.
You can find them from early spring to early winter, and they're a great source of vitamin B6, protein, calcium, phosphorus, iron, and even benzaldehyde, which helps shrink tumors.
Season: Early spring through early winter.
Nutrients: Vitamin B6, protein, calcium, phosphorus, iron, benzaldehyde.
How to eat: Peel the skin, remove the stem, and scoop the seeds out before eating raw. Feel free to bake, broil, or grill the figs for more flavors.
19. Raisins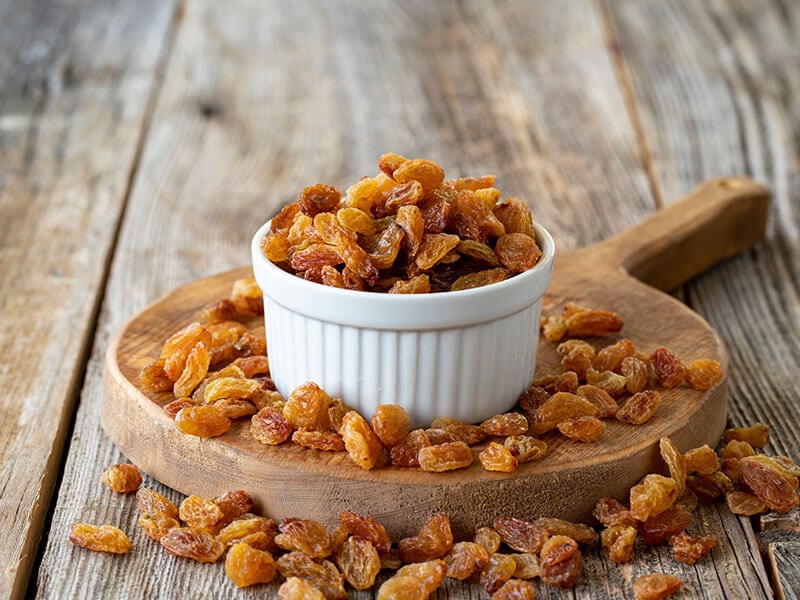 Raisins, also known as sultanas, are sun-dried green grapes, with Thompson's Seedless being the most popular variety. You'll find them in baked goods, porridge, cereals, stews, and tagines, or simply munch on them as a snack.
Packed with nutrients like health-giving antioxidants, fiber, calcium, boron, and vitamin D, raisins can help maintain healthy bones and joints (4).
Season: All year round.
Nutrients: Antioxidants, fiber, calcium, boron, and vitamin D.
How to eat: You can eat raisins straight out of the packaging, without any condiments. Or enjoy them with other nuts, seeds, dried fruits, etc.
20. Chocolate Habanero Peppers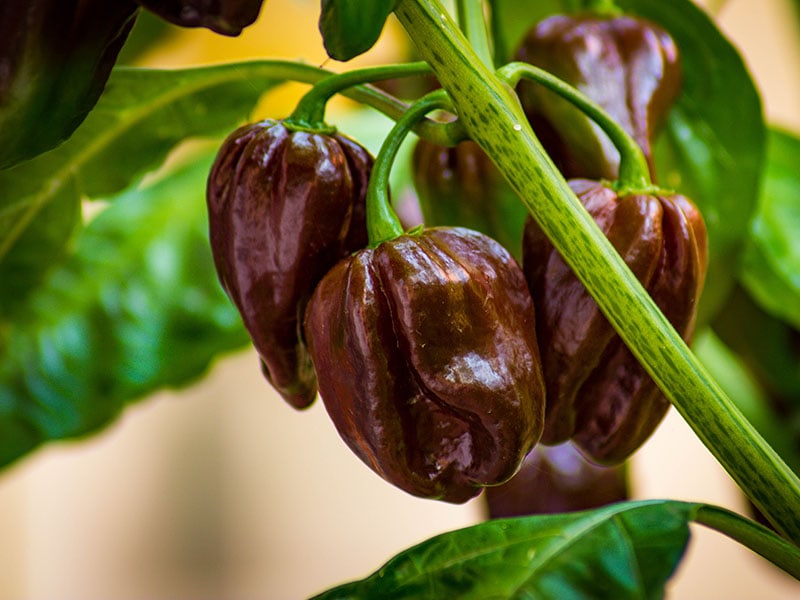 If you are searching for spicy brown fruit, you should check these chocolate habanero peppers immediately. It is one of the hottest peppers deriving from the Caribbean.
The evidence shows that this pepper seed existed about 7,000 years ago. Spice traders called it the English name in the 19th century, and it was named habanero negro previously.
Chocolate habanero peppers come in several enticing varieties, like Black Congo, Senegal Hot Chocolate, Dark Habanero, Cuban Habanero, and Black Habanero. These peppers were specifically bred for a larger size and a spicier taste.
Its intense spiciness is the key characteristic of this pepper variety. Compared to regular habanero, this version is much spicier. Typically, its spicy level is between 425,000 to 577,000 Scoville units. And it also takes more time to grow.
Besides the spicy flavor, these dark brown chilies add a smoky and earthy touch to your dishes. Chocolate habanero peppers are a wise choice to reduce cholesterol as well as blood pressure. Furthermore, this fruit has a positive effect on preventing cancer.
Although they take longer to grow than other habaneros, they're worth the wait! Dried forms can be preserved for a long time. These peppers are popular in Jamaican jerk sauce and Mexican mole sauce.
Season: Able to harvest from August to October.
Nutrients: A source of vitamin C, K, B, potassium, antioxidants, and magnesium.
How to eat: To add pepper to the dishes, you can dice it into tiny slices. Be careful with their intense heat.
This is a short review about chocolate habanero peppers and how spicy it is.
=
21. Coquito Nuts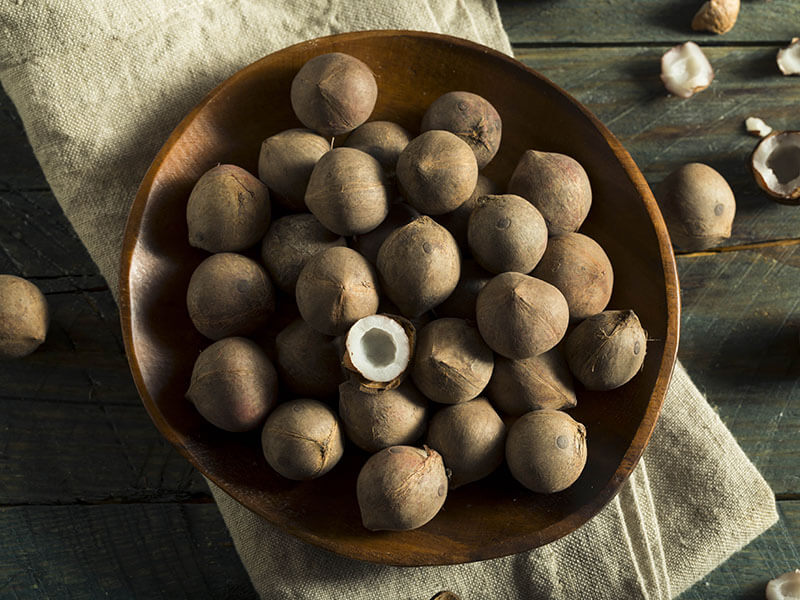 Coquito nuts, also called coker nuts or monkey's coconut, come from a feather-leaved palm native to Chile's coastal valleys. These nuts have made their way to Mediterranean-type climates, including California.
With a thick trunk, the tree produces a sugary sap used in making wine and syrup but takes around fifty years to mature. Similar to miniature coconuts, coquito nuts have a similar flavor, a brown exterior, and a white interior with a hollow center.
These 1/2 to 3/4 inch diameter nuts can be enjoyed raw or cooked, offering a crunchy texture and almond-like sweetness. They're versatile, finding their way into desserts, savory dishes, and drinks.
Season: All year round.
Nutrients: Fiber, vitamin K, vitamin C, vitamin A, potassium, phosphorus, magnesium, zinc, and selenium.
How to eat: Discard the tough shell and eat the nuts.
22. Carob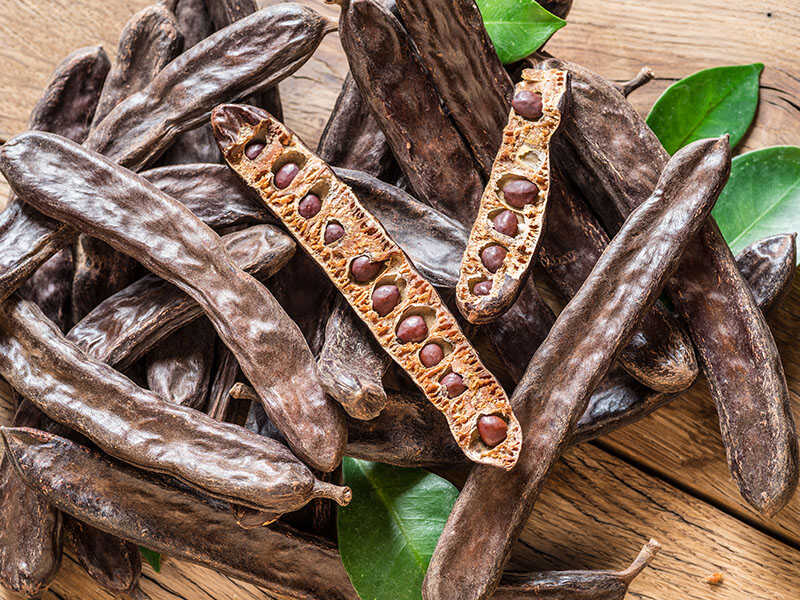 Carob, also known as locust bean or St. John's bread, is a shrub native to the Mediterranean and the Middle East, with Portugal being its largest producer. The female trees bear edible fruit pods that take a full year to develop and ripen.
These elongated, compressed pods contain 5 to 15 hard brown seeds and are 3 to 12 inches long. Besides a sweet pulp, ripe dried pods can be ground into a powder that resembles cocoa in flavor.
Carob powder, chips, and syrups are popular chocolate alternatives in health-food products.
Season: All year round.
Nutrients: Fiber, vitamin A, vitamin B, potassium.
How to eat: You can eat carob directly, without discarding the outer pod.
FAQs
Welcome you to the FAQs section, where you'll discover fascinating information about these unique brown fruits. Let's embark on a tasty journey together, as I uncover answers to all your burning questions!
Are You Satisfied With These Brown Fruits?
What do you think about these brown fruits in this list? Fruit is an essential part of the diet, and healthy brown fruits will contribute to improving your health and bringing a feeling of freshness and comfort.
After finding out the suitable brown fruits, it would be wonderful if you share this article with many people so they can broaden their knowledge regarding fruit. Plus, I am looking forward to receiving your opinions and other ideas via comments. Thanks a lot!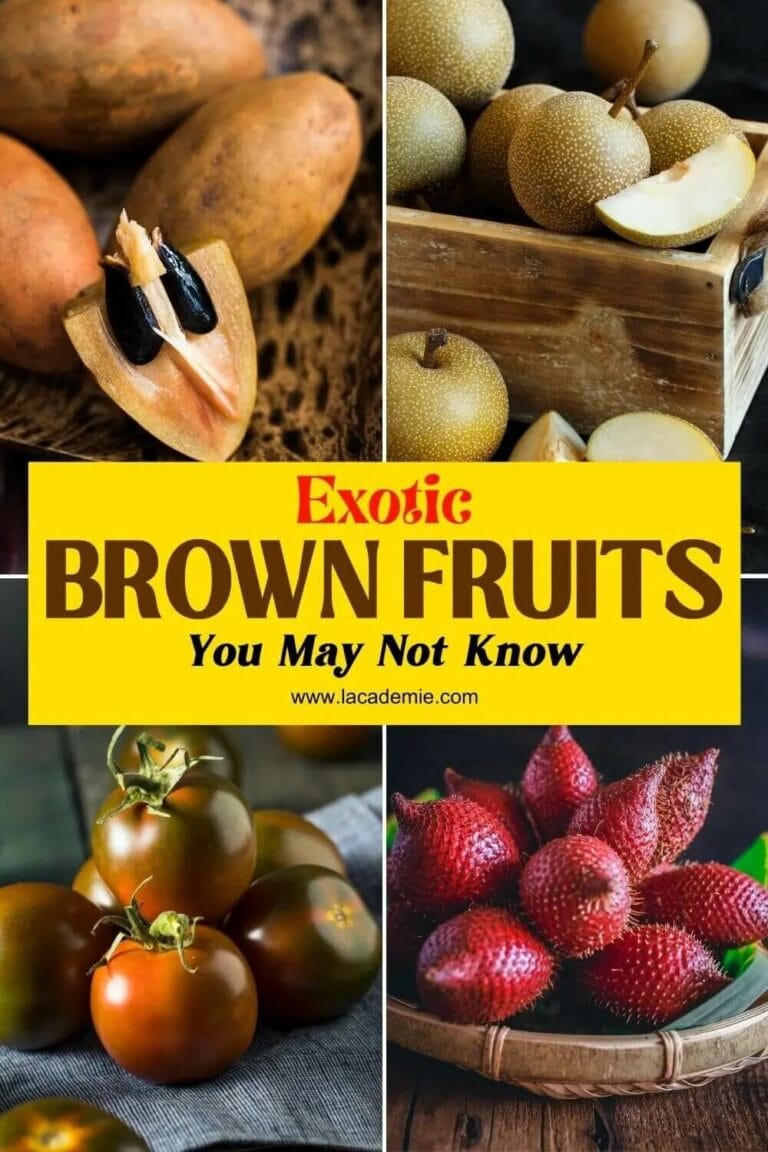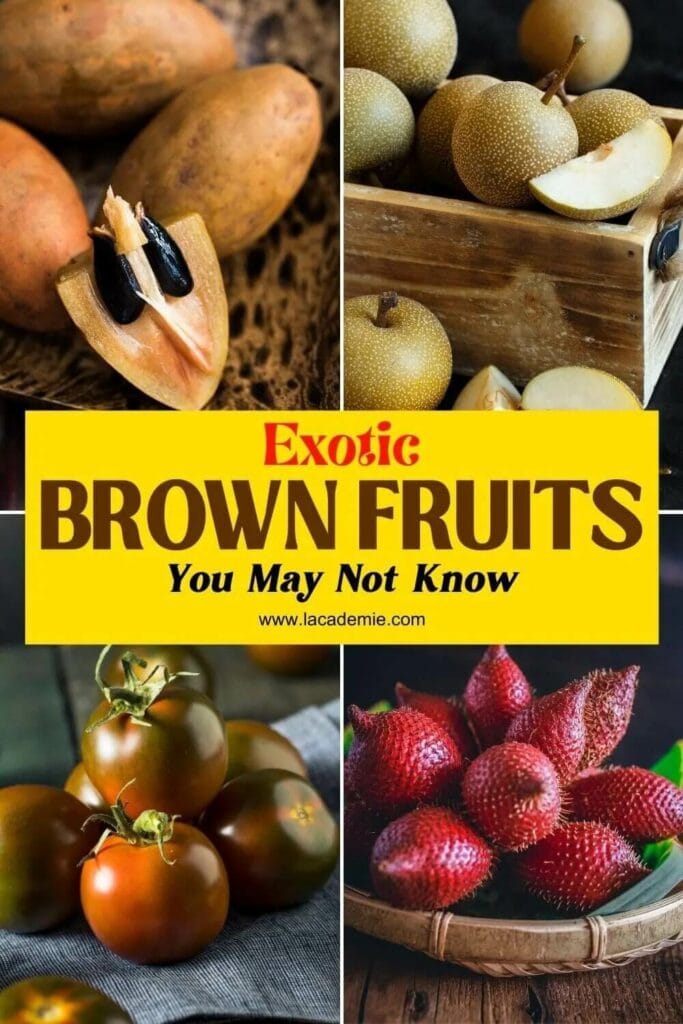 References
West, H. (2019) Passion fruit: Nutrition, benefits, and how to eat it, Healthline. Healthline Media.
Health benefits of Langsat Fruit (no date) Medindia.
Kiwifruit: Health benefits and nutritional information (no date) Medical News Today. MediLexicon International.
Cafasso, J. (2023) Are raisins good for you?, Healthline. Healthline Media.