How many times have you googled 'fruits that start with S' and still not got a reasonable answer? Is it because the fruit list is too short, or is there nothing new to learn? Don't worry! I'm here to help!
Here is the list of fruits that start with S, from familiar faces to some names you have barely heard of. Don't hesitate and join the new journey of knowledge with me.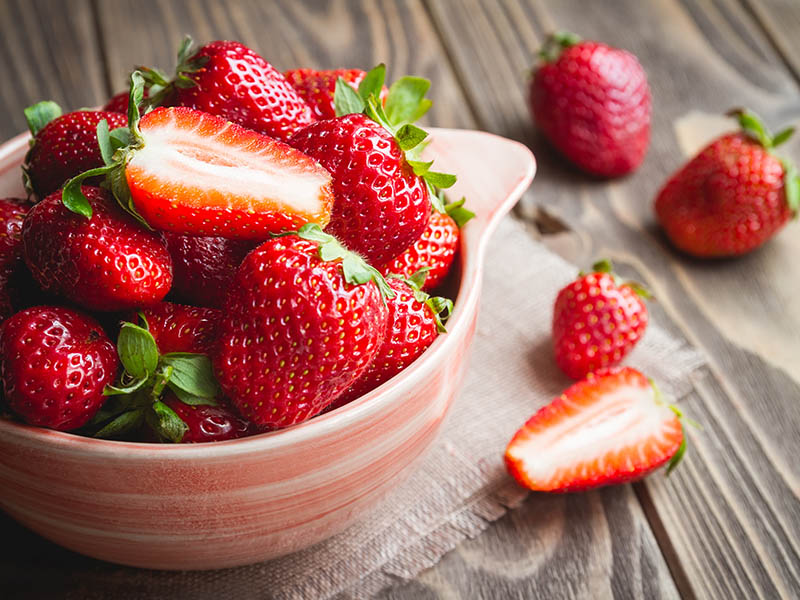 Let's Begin With These Familiar Fruits That Start With S
Let's kick-start your brain with some fruits that you can easily find in local markets, and I promise this S-fruits list will make you mouth-watering.
1. Strawberry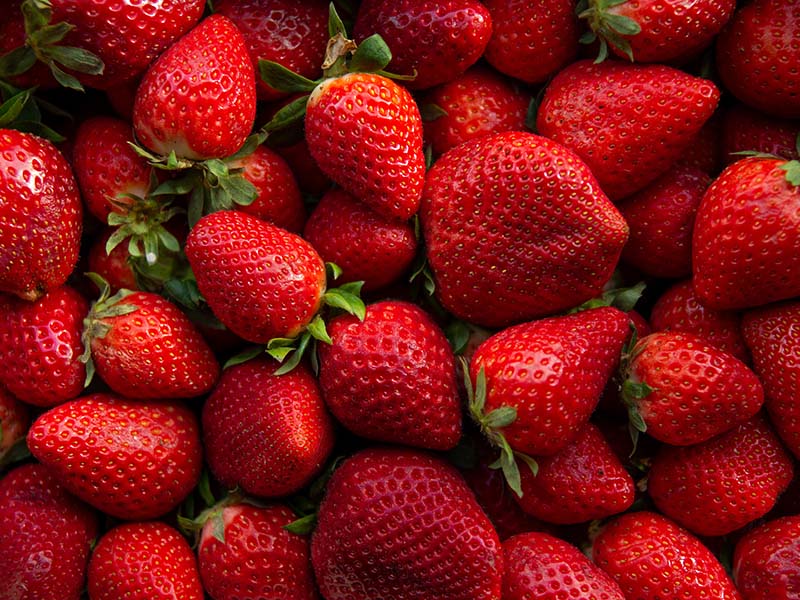 Which name is more suitable to make the first appearance on this list than strawberry? The garden strawberries were first bred by European gardeners in the 18th century. Since there are various easy ways to ripen strawberries, this fruit is a favorite choice for home gardeners.
The fruit has gained popularity for its distinctive aroma, colorful color, and sweet taste. Along with being eaten fresh, strawberries can also be used to make jam or dried to be an addition to cereals, yogurt, or oatmeal porridge.
Strawberries are also popular ingredients in desserts, such as cakes, mochi, cheesecake, and pie. If you're confusing this red fruit with raspberries, there are plenty of aspects that make strawberries and raspberries different.
Unfortunately, strawberries can be the culprit for provoking allergic reactions, even causing anaphylaxis. A strawberry allergy symptoms usually show up within a few minutes to 2 hours after consuming, including itchy, wheezing, cough, nausea, diarrhea, dizziness, etc.
2. Star Apple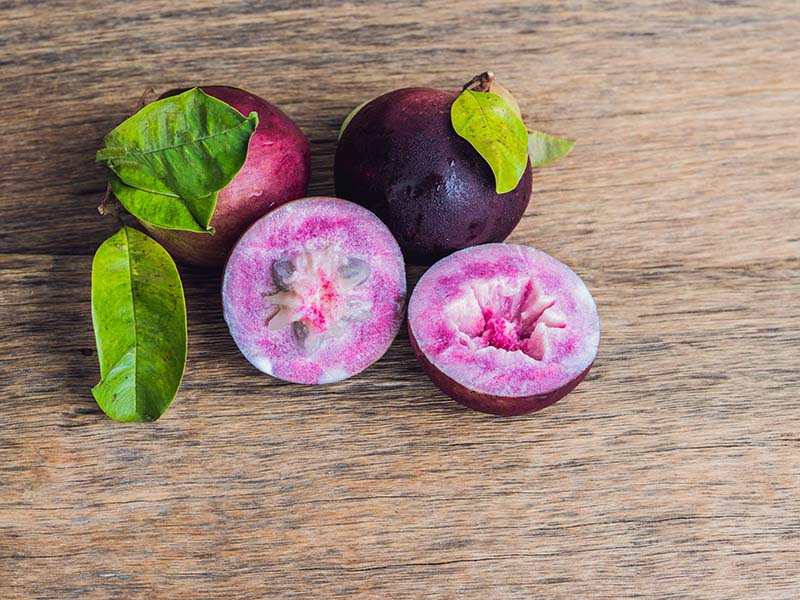 Star Apples (Chrysophyllum cainito) are indigenous to the Isthmus of Panama and have spread to the Greater Antilles and the West Indies. Now, the tree is most favored among tropical countries, especially in Southeast Asia.
I will give you an interesting fact. If you cut a cainito in half, you will know why it got the name 'star apple. Yes, that comes from the star-shaped core.
Star apples have an earthy, sweet, and fragrant taste. The best tool to 'deal' with a star apple is a spoon. Yes, you heard it right. Cut the fruit in half and scoop out the flesh. You can expect the flavor like that of sweetened, condensed milk with a hint of sweet, juicy grapes and lychees.
The tasty tropical fruits provide many beneficial nutrients and micronutrients for the body, which help you lose weight, strengthen bones, and more. However, eating star apples late at night may increase susceptibility to obesity and several health problems.
If you have not tried star apples before, watch this taste test to get some ideas.
3. Star fruit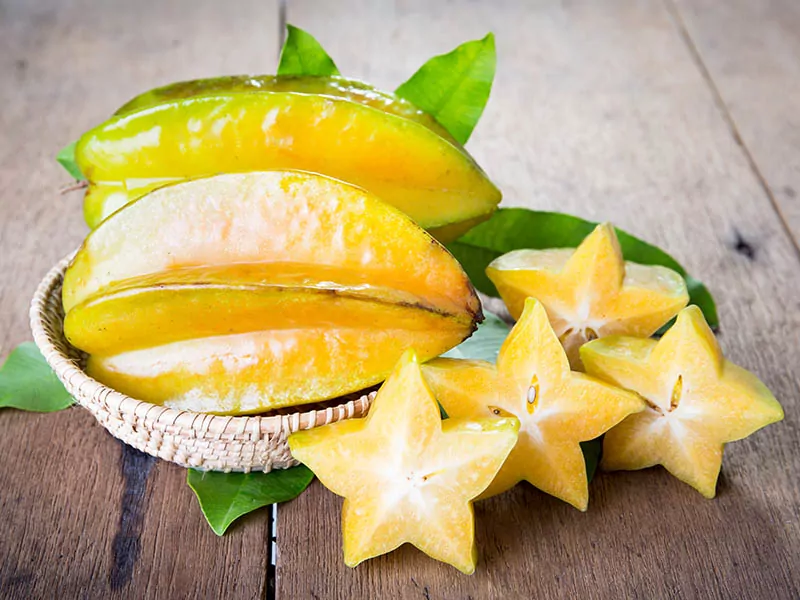 The star fruit, or carambola, a part of the wood sorrel family, has a sweet and sour taste. The fruit originated from tropical Southeast Asia. It is also popular in other parts of Asia, Brazil, the United States, and the Caribbean.
The characteristic shape of starfruit is a five-point star and often in yellow or green. The entire star fruit is edible, so it tastes best when consumed ripe and straight from the tree.
In addition, star fruits go well with fruits including banana, kiwi, mango, strawberry, pineapple, and more. Therefore, you can use them to prepare juices, smoothies, and salad. Because of the sour flavor, start fruits can also be ingredients in soup to add another dimension of flavor.
Star fruit is high in nutrient content, such as oxalic acid, as well as vitamins and minerals, which help support digestion and lead to weight loss. Thanks to some of its acidic properties, another use of star fruit is to remove rust and tarnish from metal or bleach stains from clothes.
4. Sweet Lime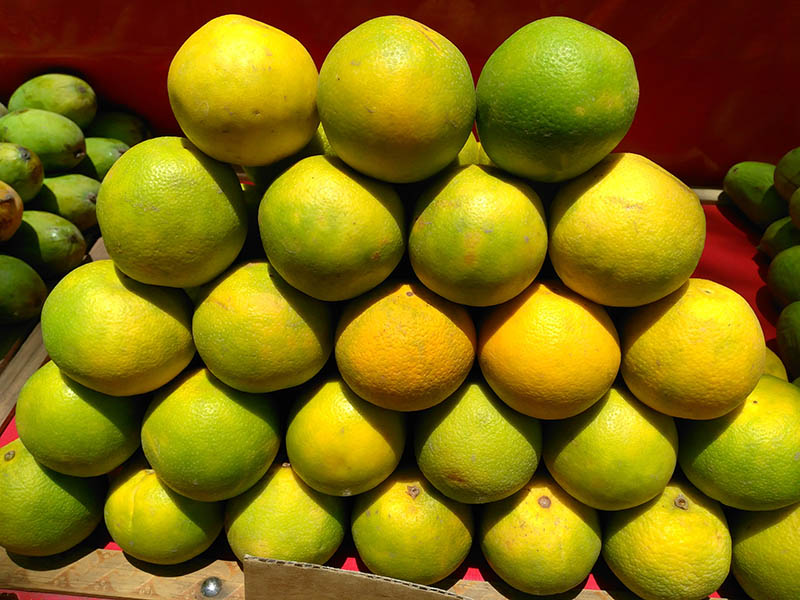 Sweet limes have various names, such as Indian sweet limes, Palestinian sweet limes, or lima dulce. When they turn ripe, there is a change of color from green to orange-yellow. The sweet limes are often used in sauces, desserts, and garnish in fruit drinks and other beverages.
When sweet limes ripen, they have a slight hint of sweetness but still retain an intense lime aroma. Like most species of citrus fruits, sweet limes don't ripen after being picked. That means you can't harvest them early and must wait until they reach full maturity.
Like other types of citrus, sweet limes are rich in vitamins C and antioxidants. Consuming limes help reduce heart disease risks, promote healthy skin, and improve immunity.
Aren't you curious about the health benefits of sweet lime?
5. Sugar Baby Watermelon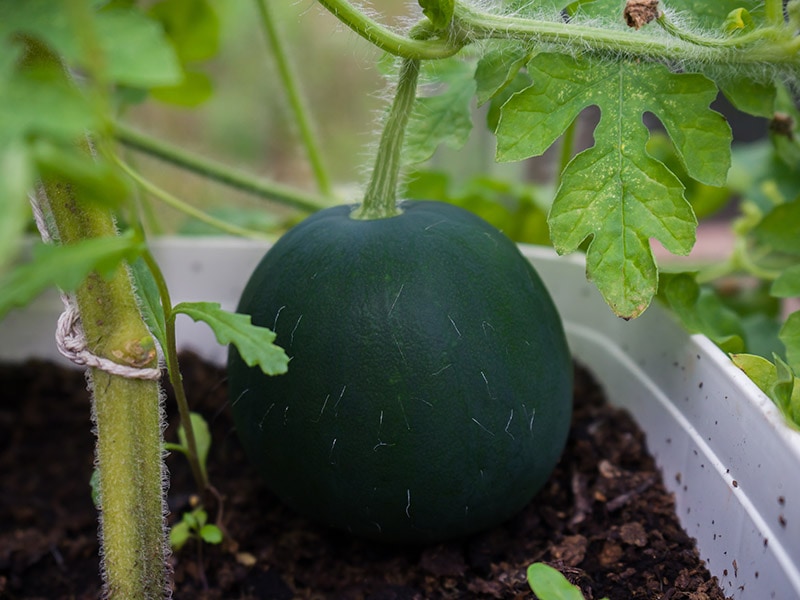 The sugar baby watermelon is also named icebox melon because it is small enough to fit in the fridge. The heirloom is native to Oklahoma and was first introduced in 1956 by Woodside Seed Company. You can expect its sweetness similar to a ripe mango or tomato.
As the name implies, the petite and round melon is perfect for small families. The melon will fall between 8 to 10 pounds in weight and measure 6 to 10 inches across. Compared to 120 days for a full-size watermelon, a sugar baby will ripen in 75 days.
6. Sugar Palm Fruit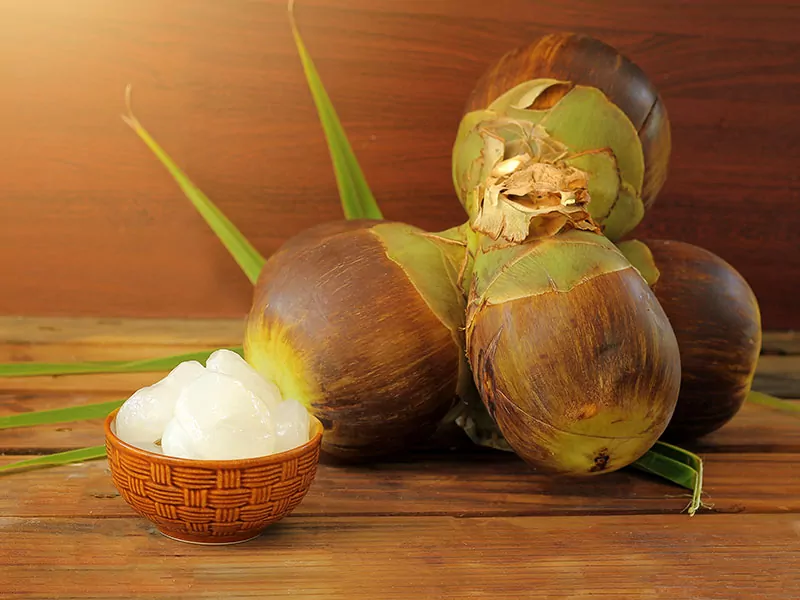 The sugar palm has an astonishing number of names. The most commonly-used ones are ice-apple sugar palm, toddy palm, or palmyra palm. The fruits grow in clusters and are native to South and Southeast Asia.
When it comes to the sugar palm fruits, they are rounded and green when immature. The fruit will gradually become yellowish-brown and then black, reaching about 5 cm in diameter.
If you remove the top part of the sugar palm fruits, you will see the inside content is divided into many small segments, which are covered by transparent flesh.
7. Saigon Mango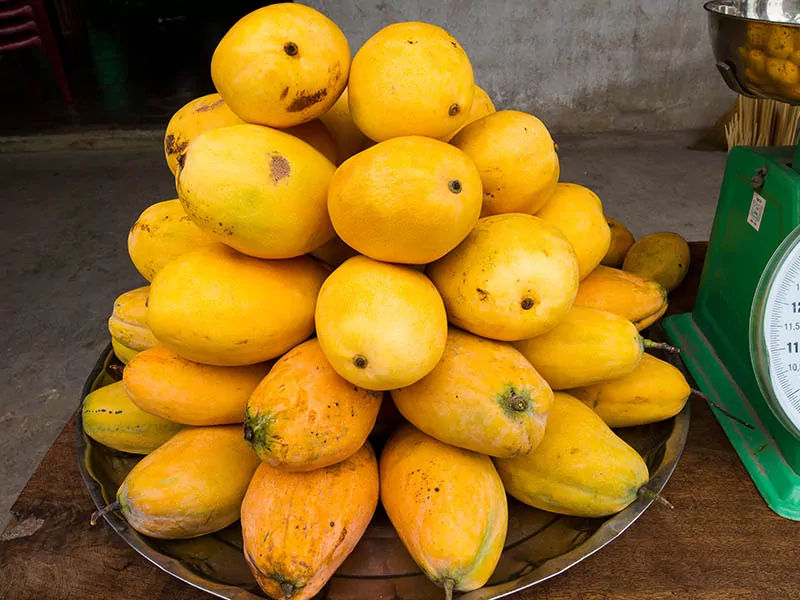 The Saigon mango, or Saigon, was first introduced to the United States via ships from Southeast Asia in 1902. It is named after the former name of what is now Ho Chi Minh City (Vietnam).
Being one of the most highly consumed fruits worldwide, Saigon mango is famous for its sweet and succulent flavor, which is favored in the dessert with sticky rice and slicing.
Plus, you don't need to wait until the mangoes turn fully ripe to eat them. The fruit is edible even when it's still green. A great way to eat green mangoes is by dipping them in salt or other condiments, a practice that many Vietnamese people follow.
The mango not only has an amazing taste but also comes with a high nutritional value, full of numerous nutrients. It will improve immunity, aid digestion, and support heart health.
8. Sweet Orange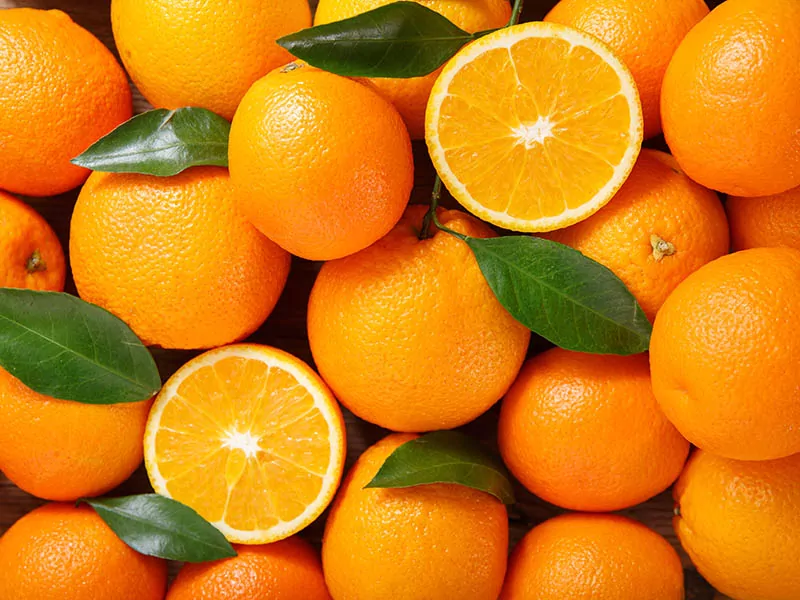 Do you know that the earliest known reference to the sweet orange was in 312 BC in Chinese literature? The orange is available in Southern China, Myanmar, Northeast India, and elsewhere. Nowadays, sweet oranges are considered important fruits globally.
The sweet orange (Citrus sinensis) is no different from other members of the Rutaceae (citrus) family, which has oily rinds and juicy inner flesh.
A surprising fact is that the trees can live from 50 to 80 years or even more, and some orange trees with an expected lifespan reaching centuries can still produce fruits.
People often mistake sweet oranges with mandarin oranges (mandarins) because of their similar color and citrus roots. Compared to mandarins, sweet oranges are also bigger in size and harder to peel.
You can explore more orange varieties here.
9. Sweet Pepper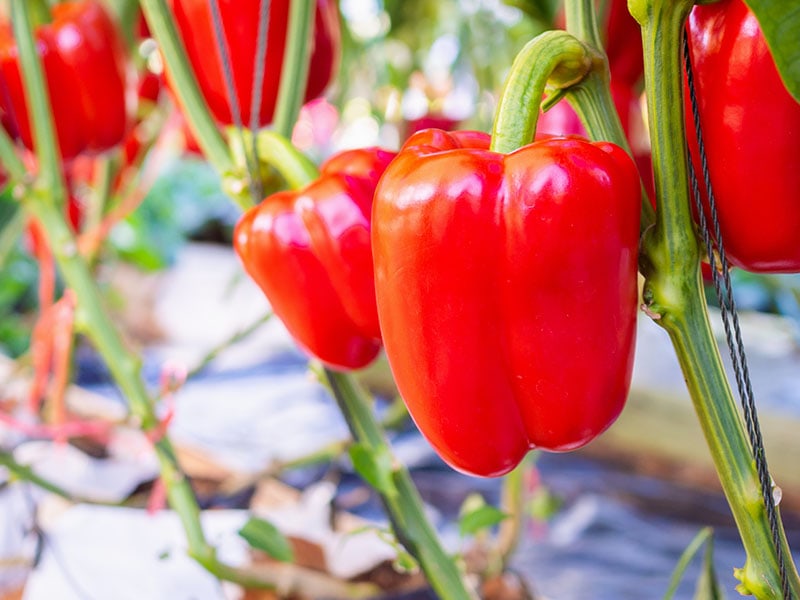 Sweet peppers (also known as bell peppers or peppers) are familiar plants in Mexico, northern South America, and Mexico. Historically, the fruit was first imported to Spain in 1493 and then widely planted in Europe and Asia.
Sweet peppers are favored in many kinds of cuisines by their striking colors and health benefits. They can be eaten raw or steamed, roasted, grilled, or stuffed.
Sweet peppers are not spicy and different in appearance from other relatives, making them visually distinguished. Compared to other relatives from the Capsicum genus, these vibrant peppers vary in colors, including red, green, yellow, orange, white, and purple.
10. Sugar Apple Fruit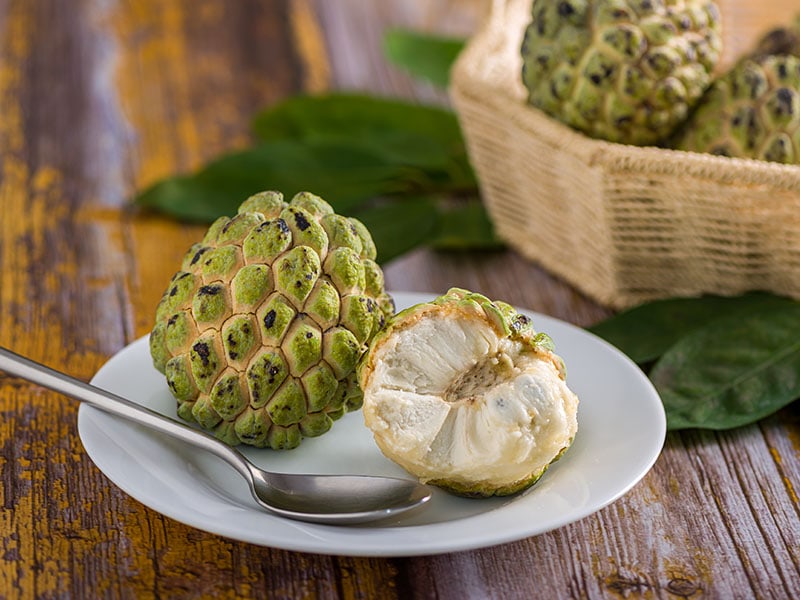 Star apples (sweetsops) are indigenous to lowland Central America. These fruits are not only beloved due to their delicious taste but are also considered a valuable medicine. Moreover, the fruits are an excellent source of essential nutrients, such as protein, iron, vitamin B1, etc.
You can expect the flesh tastes minty or is similar to custards. As the name implies, sugar apples are sweet and likable to both children and adults, while the texture is soft, juicy, and semi-hard.
The fruit is often eaten raw after you have finished getting rid of the outer peel and spilling out the seeds. It is worth noticing that star apples are unsuitable for cooking, but you can use them for smoothies, ice cream, and cakes.
11. Strawberry Guava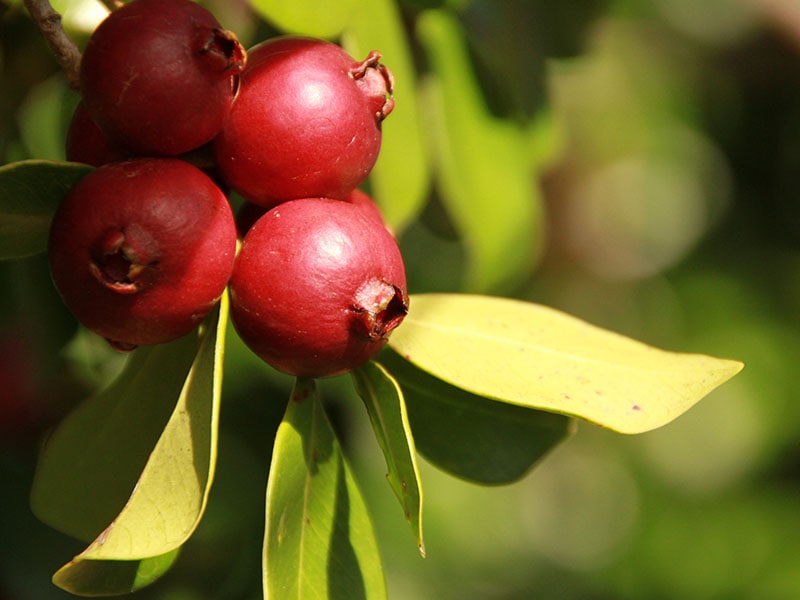 Over time, strawberry guavas are known by common names such as Chinese guavas, Cherry guavas, and Cattley guavas. The fruit is native to Brazil, specifically the southeastern regions. Though available in the summer, guavas may occur year-round in some tropical regions.
Its height generally reaches 14 feet, even though it might grow taller while the fruit averages 2 to 4 centimeters. When ripe, the skin will mature from light green to a dark red color.
Almost every part of strawberry guavas is edible, such as leaves, fruits, and seeds, even the rinds. The fruits are primarily eaten fresh, straight from the tree. The guavas are also packed with vitamins A and C that strengthen immunity, reduce inflammation, and more.
12. Shaddock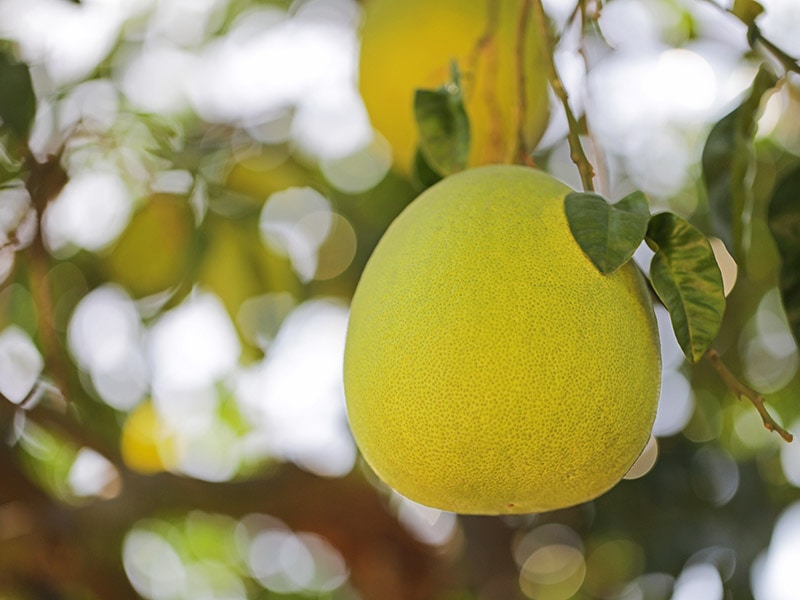 The shaddock is the largest citrus fruit in the Rutaceae family, indigenous to southeastern Asia and Malaysia. You may have realized shaddocks with a more familiar name: pomelo.
Shaddock was named after a sea captain who brought the fruit seeds to the West Indies in the 17th century.
The shaddock's taste is similar to grapefruits but a bit sweeter. Many people fall in love with the smell of shaddocks because it has a hint of lemon, and the odor is fruity and clean.
Apart from being eaten fresh, shaddocks are great in salad, juices, or made into jams. Also, you can make shaddock candy or add it to hot dishes at the end of cooking instead of lemon.
You may have heard many health benefits of pomelo, from boosting heart health to preventing cancer cells. In addition, the pomelo oil is good for growing hair and calming agitation.
Medium Level – You May Not Often Hear Of These S-Starting Fruits
Alright, I will add some degrees of difficulty here. You will hardly see these fruits at the local markets, though some of them can be found in the mountainous areas. Do you want to bet on how many fruits you have seen before?
13. Sour Plum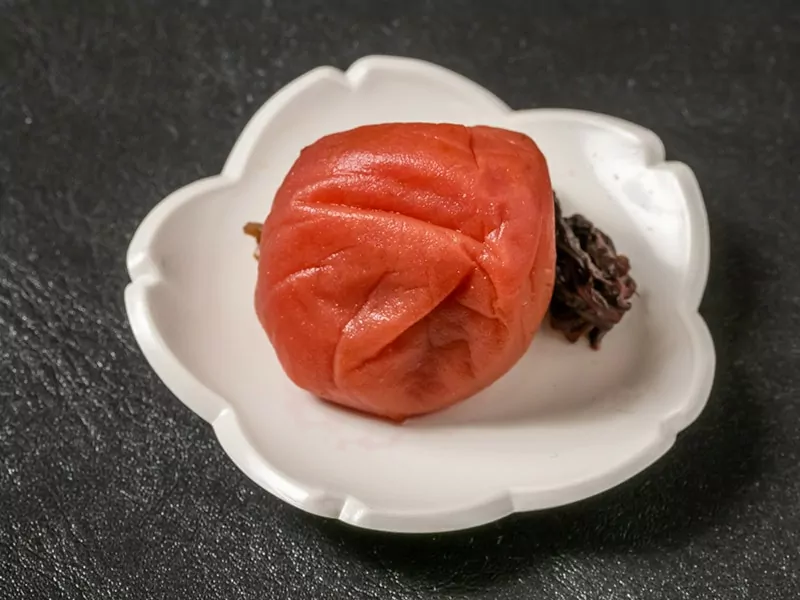 The sour plum (Prunus mume) was first discovered along the banks of the Yangtze River in southern China, native to East Asia and Southeast Asia. Other common names include Chinese plum, Japanese apricot, and Japanese plum.
In the wild, sour plums grow in mountainous areas and at elevations up to 3100 meters. Like other stone fruits, the seeds and leaves of the trees are toxic as they contain cyanides.
Sour plums are ovoid and contain high acidity delivering a sour flavor when harvested young. When mature, their skin turns from green to a bright yellow with a red blush. At this point, the flesh will soften and develop a sweet and tangy flavor.
Sour plums are best eaten fresh with salt, but they often are picked off young to make drinks and beverages. In many Asian countries, especially China, sour plums play a vivid part in their culture and art. Usually, sour plums are a popular feature of spring Chinese paintings or literature.
Can you imagine what sour plums taste like? Find out here.
14. Sloe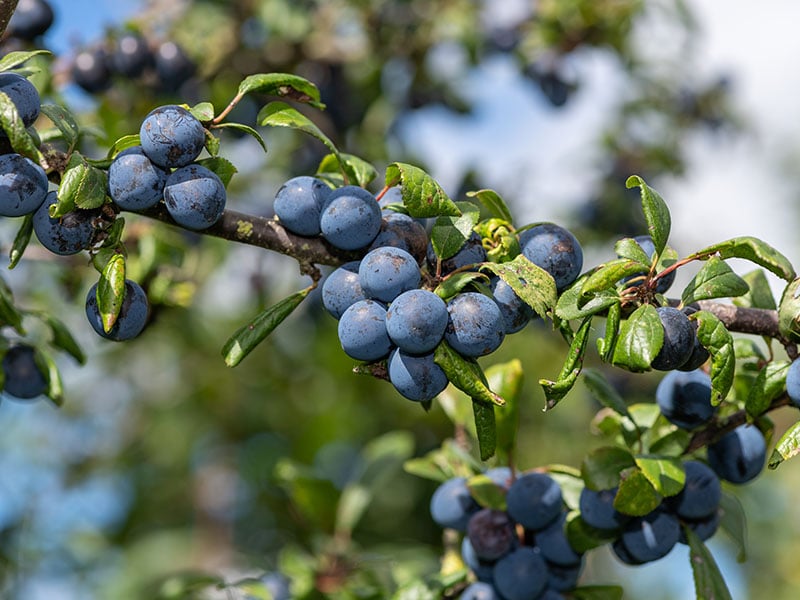 Sloes, or blackthorns, are indigenous to Europe, western Asia, and northeast Africa. The fruits are famous in Britain as the main ingredients of the sloe gin. The fruits start off green and turn to blue when ripe,
As the English say, the amount of berries you pick is closely associated with the last spring and summer climate. The sloes don't start to emerge until autumn when the temperature starts to drop.
But, if there is a storm or soaking rain in the previous summer, the berries will come out in abundance. The rain will trick the trees into thinking it is autumn and fire them into a production mode.
Consuming sloe berries will reduce the incidence of chronic disease as the fruit is high in fatty acids. And sloe gin is a traditional liqueur at Christmas and during wintertime, so do you want to try making one this year?
15. Sunset Apple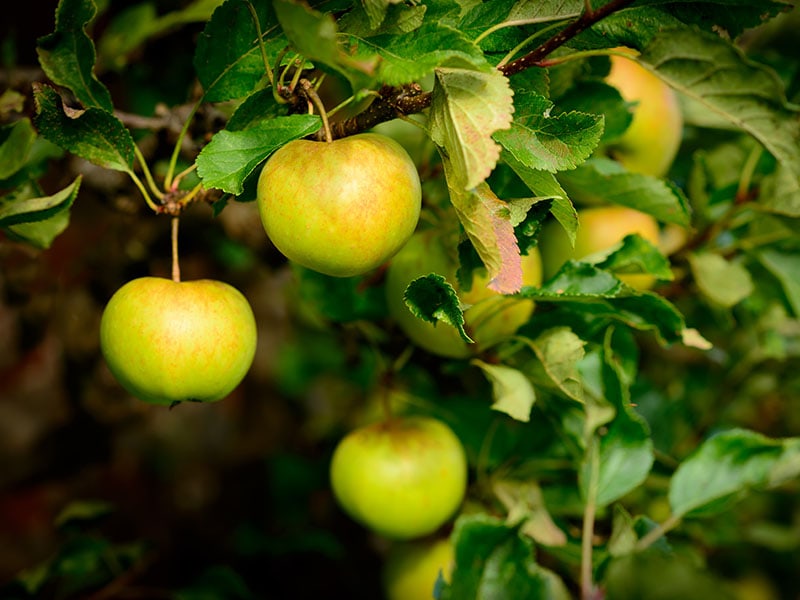 The sunset apple originated in the UK, belonging to the Rosaceae family. The trees adapt well to temperate climates.
It's not hard to realize that the name says a lot about itself. The apple's skin is yellowish-green and covered in the shade of orange to light pink-red blush. When maturing, this unique variety of apple is aromatic and sweet with a note of pear and grape.
They can be eaten fresh or made into juices. Although sunset apples are likable to humans, their leaves and seeds demonstrate toxicity to dogs, cats, and horses.
16. Soursop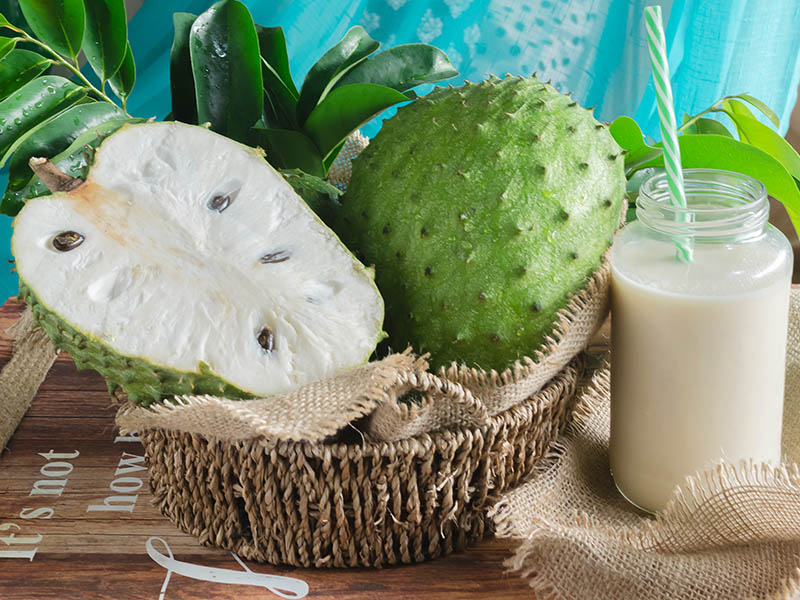 Soursops have a variety of names such as graviola, guyabano, or guanábana in Hispanic America. The fruit is indigenous to the tropical region of the Americas and the Caribbean.
Once the flesh is in your mouth, the flavor will vary from sour to sweet. Due to its stringy texture, soursops will taste best when scooped out with a spoon rather than being cut into cubes.
It's been shocking to know that soursops are not the everybody-kind of fruit because the seeds contain toxic compounds. It's not a good idea to eat too much soursop because consuming the fruit in large doses could result in movement disorders.
Are you curious about the soursop's taste? Here is your answer!
17. Sudachi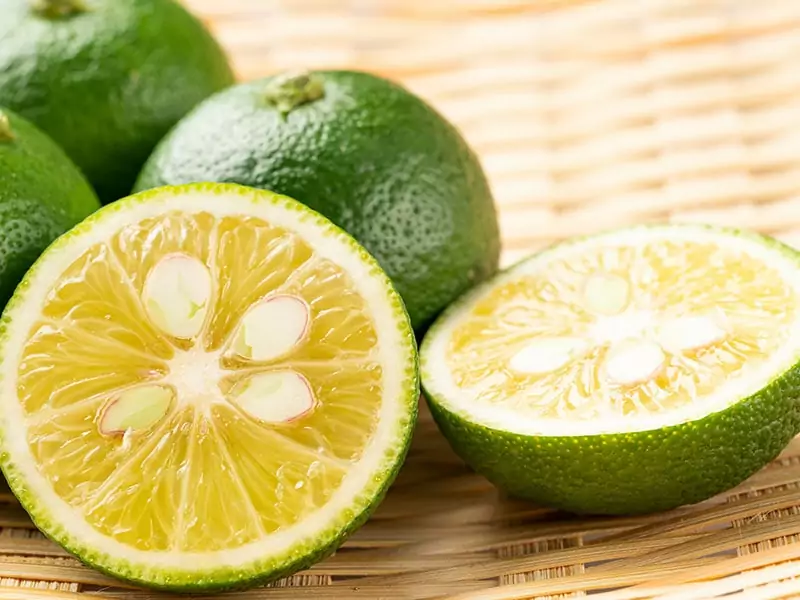 Sudachi is a citrus specialty of Tokushima, Japan. The fruit is small and round, and its skin has the color green. The squeezed juice is quite sour, so it is served as a dip called 'ponzu' or to flavor food.
Also, a half-slice is used as a garnish with various traditional Japanese dishes, including soba, fish, udon, and some beverages. The tiny lime gets praise for a bunch of health benefits, such as preventing blood sugar spikes and aiding in calcium absorption.
18. Sapodilla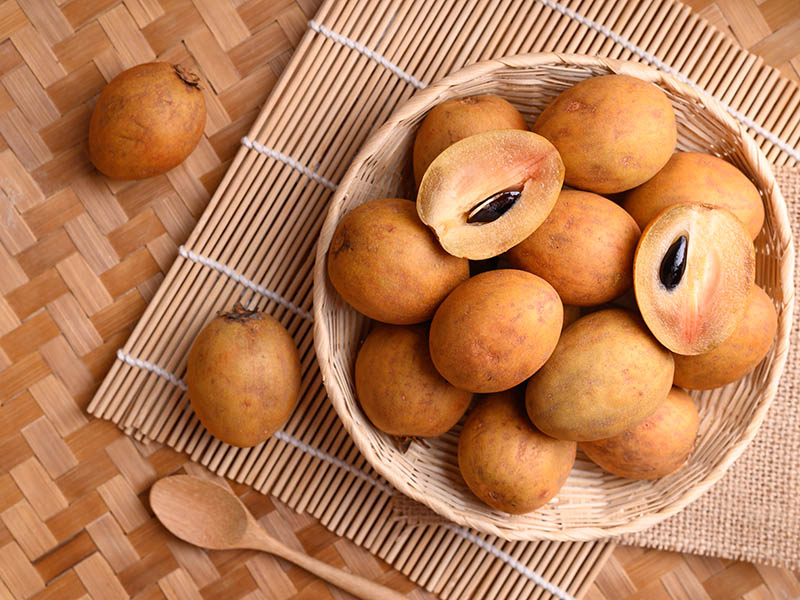 Sapodillas (Manilkara zapota), commonly known as sapota and chico, can be found in southern Mexico, Central America, the Caribbean, and is an especially popular Guatemalan fruit. When fully ripe, the skin will be saggy, while the flesh will range from a pale yellow to brown with a texture akin to a well-ripened pear.
Retaining a natural sweetness and low sodium content, sapodilla is perfect for people with blood pressure, heart disease, and kidney disease without the worry about the amount of sugar.
Learn to pollinate the sapodilla with this simplest and easiest tutorial!
19. Salmonberries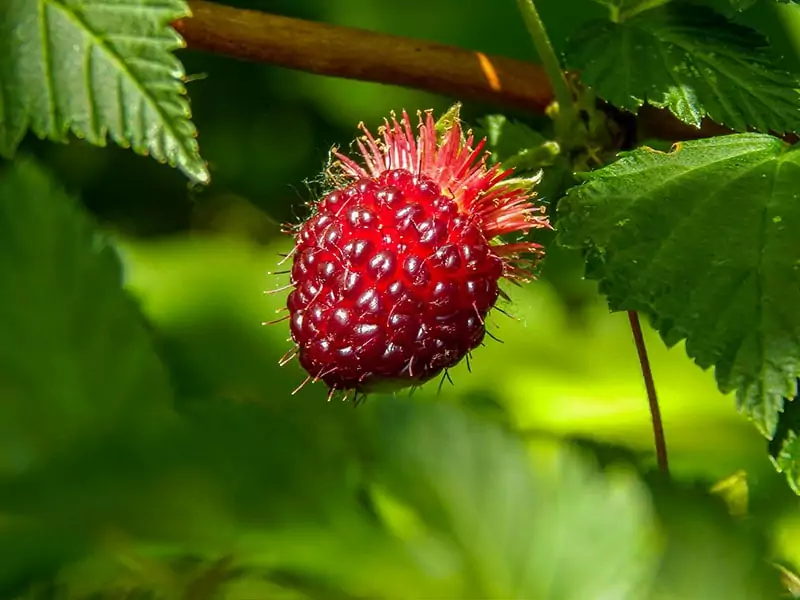 Salmonberries (Rubus spectabilis) are native to the west coast of North America, central Alaska, and Idaho. The salmonberry is a part of the rose family, which consists of approximately 88 genera and 3000 species.
You may find salmonberries resembling raspberries in appearance; however, its fruits are typically yellow-orange or red. Even though they are fairly tasteless, this kind of berry can be eaten raw.
Salmonberries can flavor beverages such as beer and wine. Moreover, this plant has a number of medicinal properties. Salmonberry tea can treat diarrhea or dysentery.
20. Sharon Fruit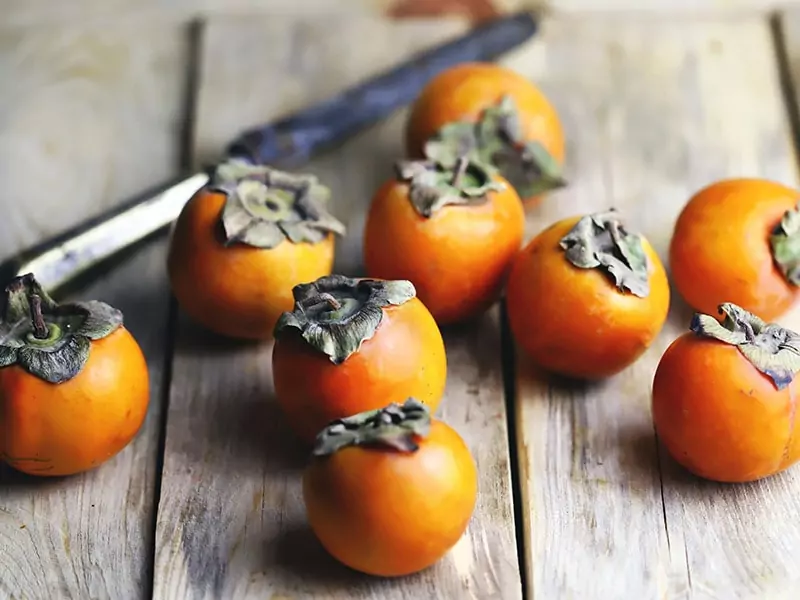 Another familiar name for the sharon fruit is persimmon. Many people believe that the sharon fruit was first discovered in the mountainous region of southern China. The fruits are also native to North America and Japan, but people also commonly cultivate them in warm regions worldwide.
Sharon fruits ripen late in the fall and can stay on the tree until winter. In color, the fruit changes from light yellow-orange to dark red-orange when ripe, depending on the variety. The flesh is yellow, orange, and dark brown and tastes sweet, mild, and rich.
I always think it is interesting when the flesh of Sharon fruit has the exact color as its skin: orange. It is undeniable that the color is eye-catching. When ripe, the orange skin is edible, and the flesh is almost always seedless.
One of the most notable health benefits of sharon fruits is strengthening the immune system during pregnancy. Besides, it also helps with blood clotting.
21. Sweet Granadilla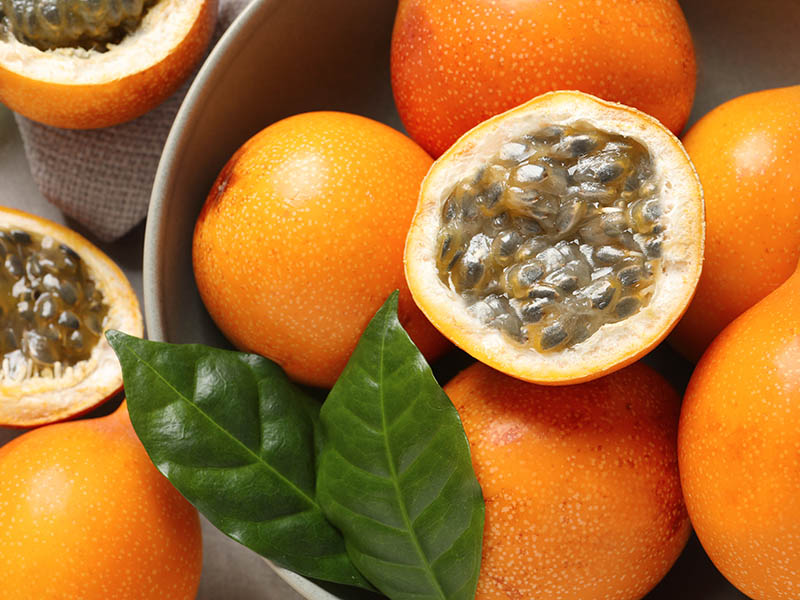 The Sweet Granadilla (Passiflora ligularis), or just Granadillas, commonly known as sweet passion fruit, has a bigger size and higher sugar content than ordinary passion fruit. The fruits are cultivated in Bolivia, Colombia, Nicaragua, South Africa, and Peru.
When ripe, the fruit turns orange with white dots and is egg-shaped. Each ripe fruit contains multiple little black seeds that are edible. In reality, you can cut it in half and eat the content with a spoon. Additionally, the Sweet Granadillas flavor is incredibly sweet and juicy.
Yet, granadillas are ideal for boosting the immune system, reduce anxiety, and more.
22. Salal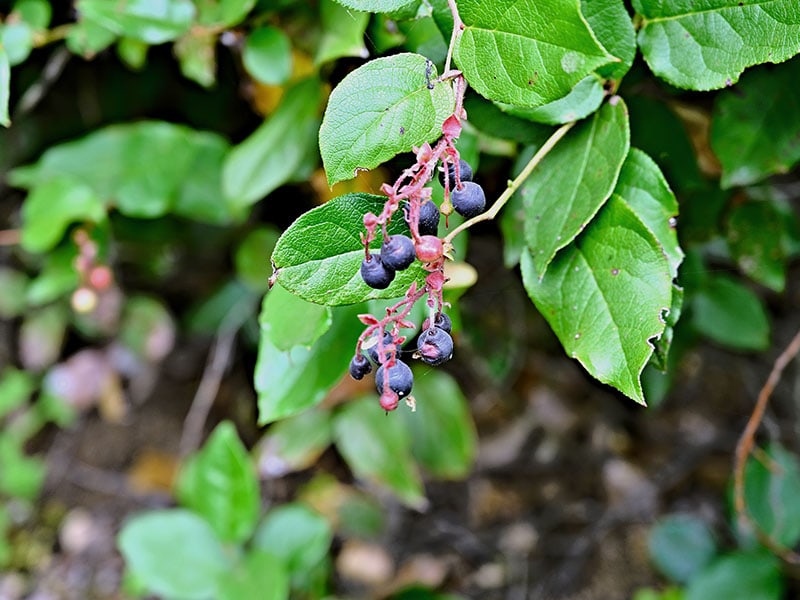 Salals, or salal berries, is native to British Columbia and southern California. The berries can be eaten raw or preserved. Noticeably, the salals possess cancer-fighting and heart-improving properties since they are a great source of antioxidants.
The salal is highly valued not by taste but as an ornamental plant and in bouquet arrangements. However, the sweet and juicy taste of the fruit will still amaze your mouth. Salal flavor varies with weather conditions but can be described as a cross between blackcurrant and blueberry.
23. Santol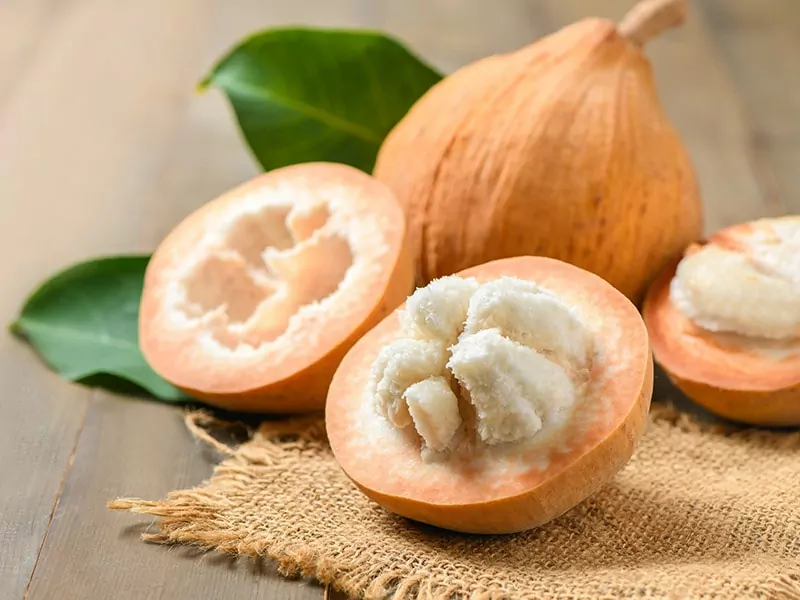 Santols (Sandoricum koetjape), which can be called the cotton fruit in English, are native to the maritime of Southeast Asia. When the fruits ripen, to harvest, you have to climb the tree and pluck by hand or use a long stick with a fork end to twist them off instead.
Honestly, the santol is one of the most bizarre fruits I have ever witnessed due to the contrast between its skin and contents.
Santol fruits are round and big and have hard leathery rinds, which change from green to yellow-brown color upon getting ripe. The flavor varies from sour to sweet, depending on maturity.
You can eat the pulp raw, eat it candied, or make it into marmalade. Santols are an excellent source of iron which help regulate digestion and move oxygen from the blood.
24. Satsuma Orange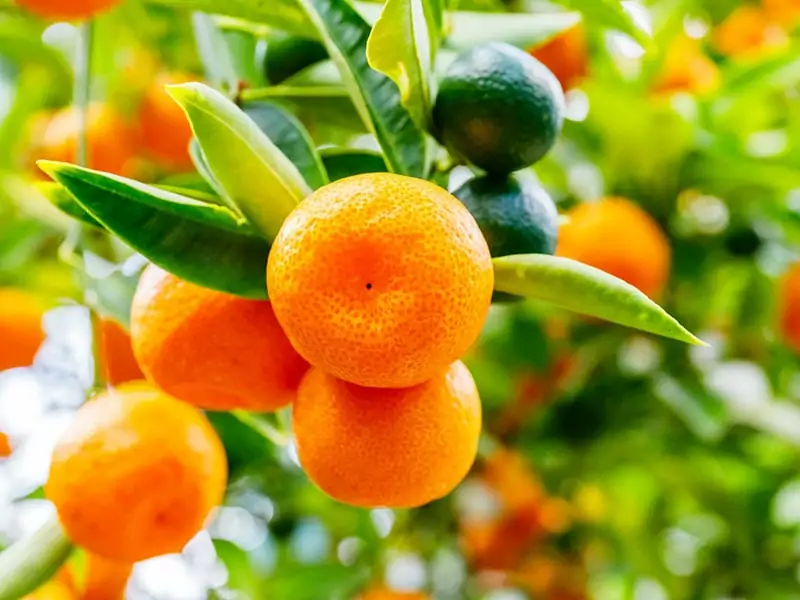 The satsuma orange (Citrus unshiu) is believed to have originated in China and Japan due to its name. However, because the fruit probably originates from the former Satsuma province, Japan is a more reliable point of origin.
Satsumas fall into the Mandarin category, related to clementines and tangerines. In size and shape, satsumas are smaller, a little flatter than traditional oranges. Also, the reason why people love this iconic Japanese fruit so much is that their skin is thinner and easier to peel.
Satsuma oranges are one of the sweetest citrus varieties. Those fruits demand great care, requiring careful handling, especially in long-distance transport. Aromatic and juicy, the oranges can be used for snacking on raw, juicing, making desserts, and more.
25. Sugarberry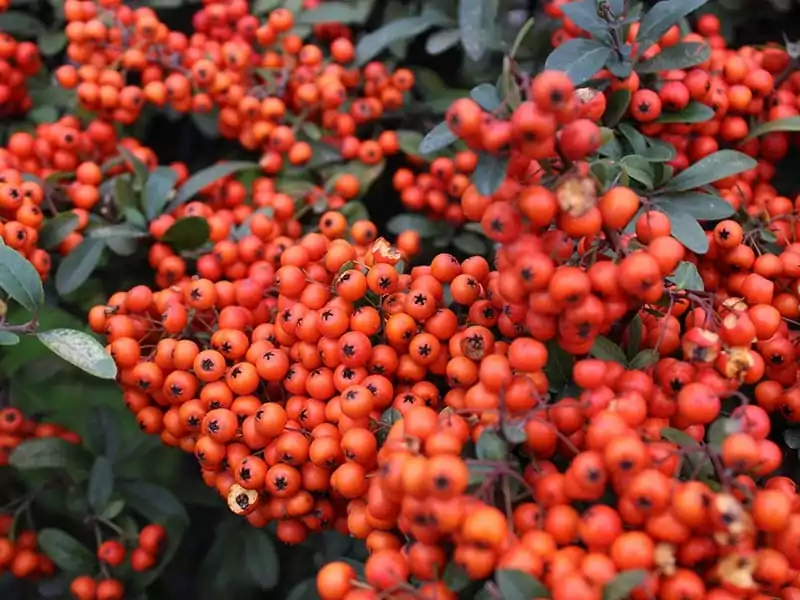 Sugarberries (Celtis laevigata) are commonly known as Southern hackberry, sugar hackberry, and hackberry. Compared to other hackberries, sugarberries are juicier and sweeter.
Native to the southern United States, sugarberry trees can easily be found along streams and floodplains. The sugarberry image is attached to the native American people.
Native American people used them for preserving their food. They mixed sugarberries with animal fat, made the dough into balls, and then roasted them in a fire. That way, the food acquired a long shelf life and still retained its nutrients.
Sugarberries can be planted as a shade-tree and adapt well to the urban areas. What's more is that sugarberries are good at curing sore throats and treating venereal disease.
26. Salak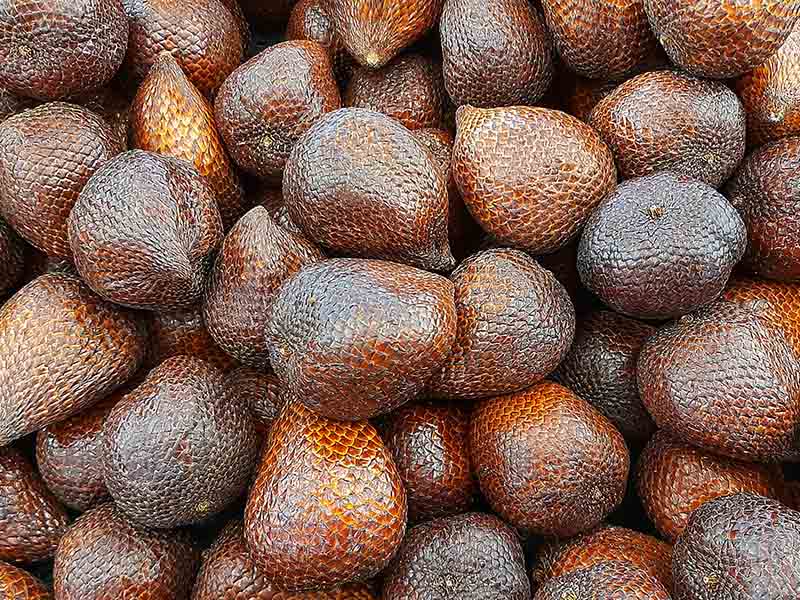 The salak (Salacca zalacca), is natived to Indonesia, and naturalized in Bali, Timor, Lombok, Makulu, and Sulawesi. You can eat the fruit raw by peeling off the skin. The content inside consists of three lobes. Each lobe contains a large inedible seed.
If you come to Indonesia, this special brown fruit is a specialty that you must try. People get fooled by its scary appearance. Take a bite, and you will taste a combination of bananas, pears, and pineapples but more dehydrated.
The contents will deliver crunchiness, a sweet aroma, and a slightly sour taste. Salak is known for the great benefit of improving the body's cognitive function and weight loss.
Will you give salaks a try after watching this video?
These S-Fruits Are Eye-Opening. Are They Even Real?
Welcome you to the final bosses here! Listed below are the exotic fruits that only belong to some specific regions. They may have their peculiar-looking appearances, but some of them have astonishing tastes.
27. Spanish Lime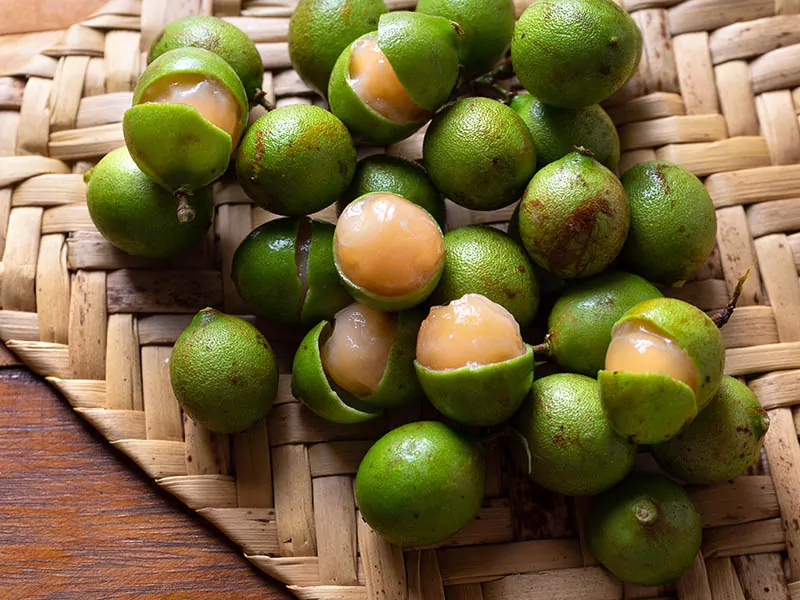 The Spanish lime, or Mamoncillo, native to Mexico, South America, and the Caribbean, is an exotic lime with a green rind resembling turmeric when ripe. Unlike other limes, the fruit seeds are edible. Spanish limes flavor has hints of lychee and limes.
There are many ways to eat Spanish limes, and I love them all. Of course, the best way is to eat them fresh. You just need to peel off the skin and eat the sweet flesh.
You can also bake the seeds and eat them like chestnuts. Alternatively, you can make Spanish lime juice, desserts, and jellies.
Spanish limes contain many vitamins C and A, along with fiber, phosphorus, and other nutrients. The fruit helps against hypertension and digestive issues.
28. Saguaro Fruit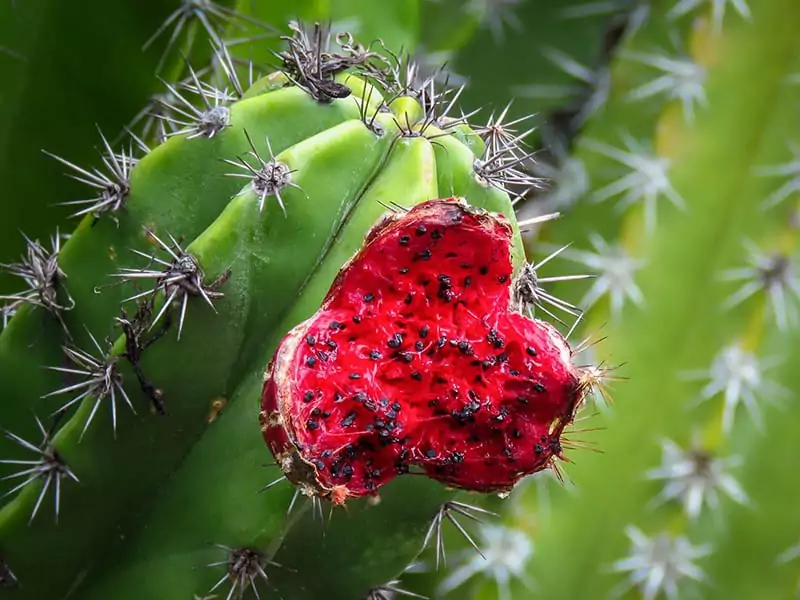 Saguaros (a type of tree-like cactus) are indigenous to the Sonoran Desert in Arizona, several areas in California, and the Mexican state of Sonora.
It is worth remembering that saguaros can only be planted in some particular areas. Interestingly, any removal or destruction of saguaros in Saguaro National Park is illegal.
The fruits of saguaros are edible. They even taste very sweet, and the tiny black seeds have a nutlike flavor. Like other plants in the desert, the ruby-red fruits have to ripen in the most extreme time of the year.
You can consider saguaro fruits a superfood that provides moisture and nutrition to insects and animals in the middle of the desert. In the present day, people still collect the fruit to make jelly, candies, and wine.
Consuming saguaro fruits can help reduce blood pressure as they contain fiber, protein, vitamins C, and fat.
29. Sapucaia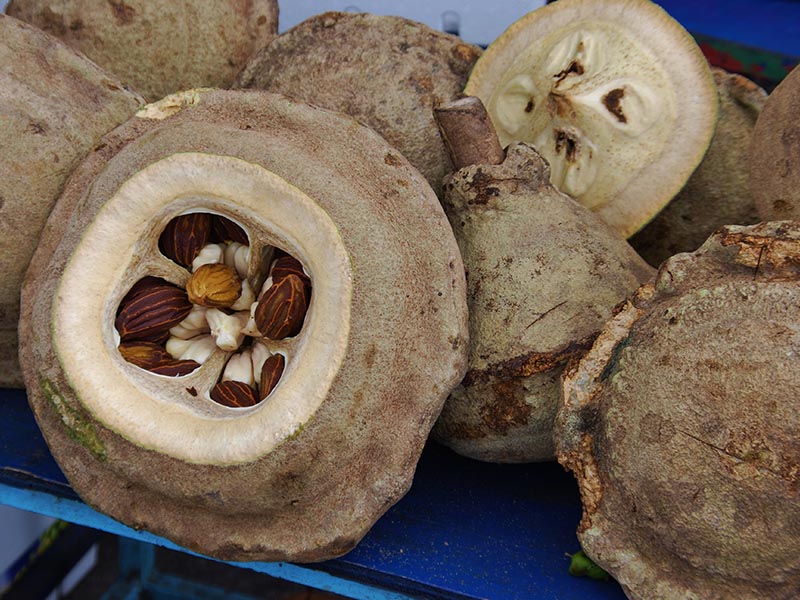 The sapucaia (Lecythis pisonis) also goes by the name of cream nut or the monkey spot. If viewed from farther away, sapucaia fruits are not any different than some animals' nests.
Sapucaia seeds are red or brown and edible. Sapucaia fruits usually take 11 to 12 months to mature. When they ripen, the kernel has a soft and creamy texture. Their seeds are described as sweeter than the Brazil nuts.
People often gather the seeds for local use and sell them in markets. An edible oil obtained from the seeds is used to make soap. Also, the oil is similar to almond oil in both taste and smell.
Meanwhile, the locals use sapucaias as monkey traps. The trap works like this: A piece of bait is put inside a hollow sapucaia. When a monkey reaches into the fruit, it will not be able to withdraw its hands unless it releases the bait.
30. Spiked Melon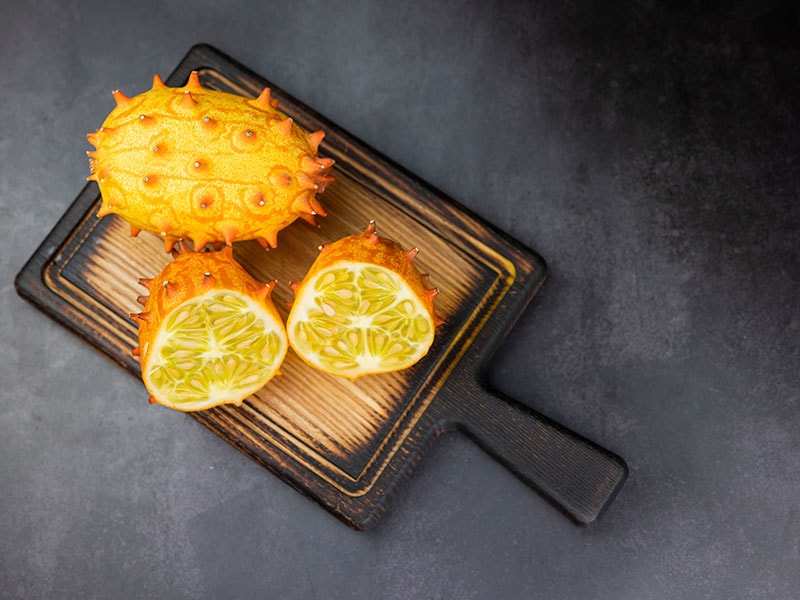 The spiked melon has many other names such as Kiwano, horned melon, etc. The peculiar-looking fruit's origin is from central and southwest Africa. But now spiked melons are cultivated around the globe, such as in the US, New Zealand, Germany, and more.
When ripe, the melon skin is bright yellow-orange and covered in miniature spikes or horns. The exotic fruit flavor is said to have a hint of cucumber, zucchini, and kiwifruit. Ripening will give it a banana-like flavor.
The seeds are edible since some people find it hard to remove them from the flesh. Though you can eat the rind of the melon, don't forget to get rid of the spikes first.
The thorn melon is loaded with healthy nutrients. It will help improve digestion, boost metabolism, and slow premature aging.
If you want to know how to eat a spiked melon, don't miss this video!
31. Soncoya
Soncoya's appearance somehow reminds me of a combination between durian and soursop. The trees are native to Central America, parts of South America, and Mexico. Other common names include sincuya and cabeza de negro.
The soncoya fruit is round, thick-stalked, 15 to 20 cm wide. Plus, the rind has multiple spiny projections. Spiny, thick rinds protect its flesh, which has an agreeably aromatic smell and a soft, mild taste. The fruit texture is similar to soursop, which can be described as stringy or fibrous.
The fruit can be eaten raw or made into juice. The juice from soncoya fruit helps reduce fever, and the inner bark is processed to make tea to treat dysentery. It is noteworthy that the seed extract is quite toxic, so it is often used in an insecticide.
32. Screwpine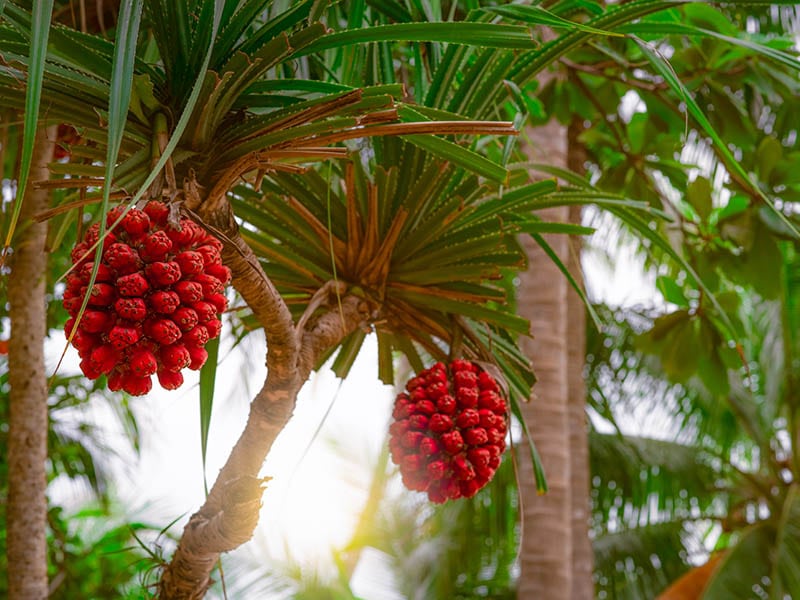 Screw pines (Pandanus) are discovered in Madagascar and Malaysia. They are shrubs native to tropical and subtropical areas in Eurasia. Common names consist of pandan or screw palm.
You may accidentally catch sight of screw pines in south Florida, which is full of this type of tree outdoors. Screwpine has a striking appearance, about 2 – 4 m in height, with long sharp spiked leaves on the veins and edges.
The fruit is ovoid, about 16 – 22 cm long, and resembles pineapples. The rind will change from green to bright orange or red as the fruit ripens. Screw pines are a source of food for bats, rats, crabs, and elephants in nature.
About the flavor, screw pines taste like coconut or walnuts. The leaf of screw pines is widely used in Southeast Asian cuisine to add a layer of aroma to the dishes. Also, screw pines are loaded with vitamins and antioxidants, which help prevent cancer and boost the immune system.
33. Sapo de Piel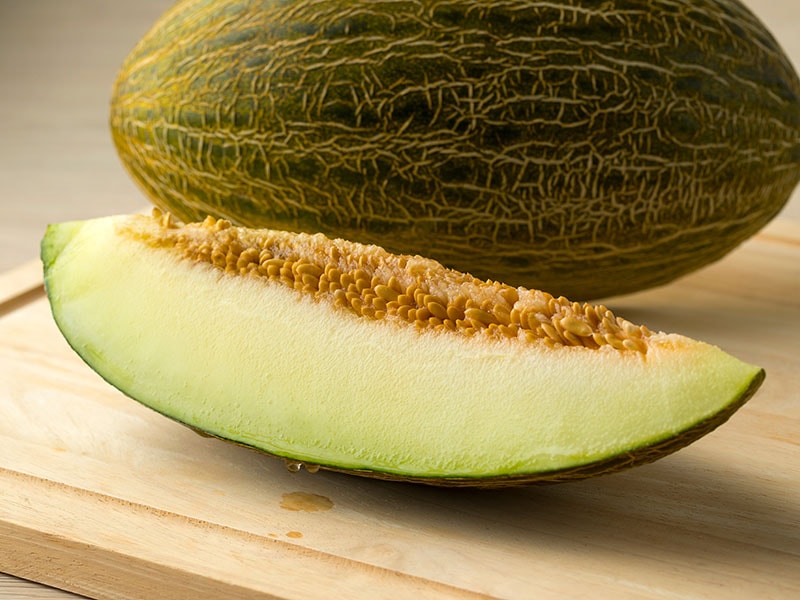 Sapo de Piel is another unfamiliar name to you, isn't it? The sweet and refreshing Sapo de Piel melon is originally from Spain and is now commonly grown in Australia. The exotic melon is similar to a football in shape and size.
The melon tastes like a honeydew married to a pear. Although you can eat a sapo de piel raw, you can prepare it into meals, including salads, desserts, cheese platters, or appetizers.
The fruit stands out for being high in vitamins C known for helping prevent infections. Besides, the fruit contains a great amount of water and potassium, which is good for stabilizing blood pressure levels.
34. Sycamore Fruit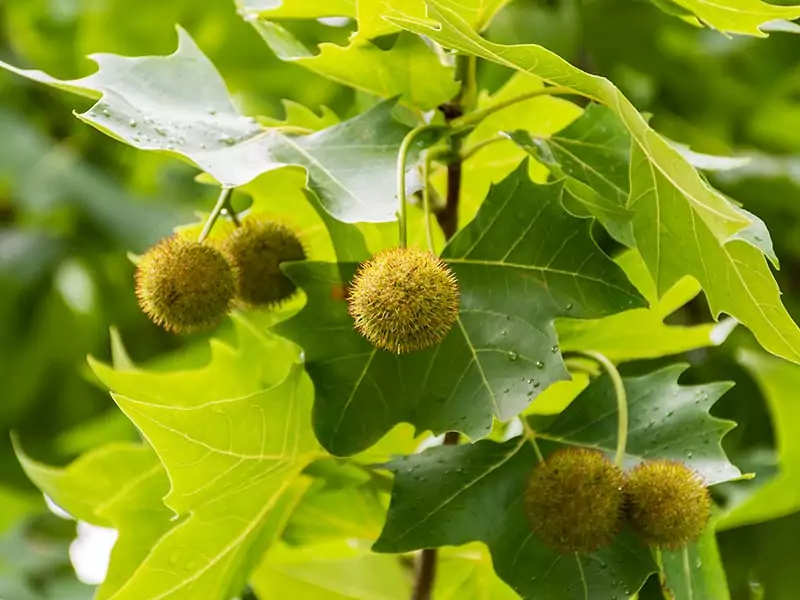 The Sycamore (Ficus sycomorus) is a fig species that has been planted since ancient times. The trees are native to several areas below the Sahara in Africa. People also grow them in Madagascar, Israel, Palestine, and Egypt.
Just so you know, sycamore is mostly known for its wood rather than the fruits. Still, the sycamore fruits, growing in clusters, have a light sweetness and are very aromatic. They are usually sold in Israeli farm markets.
The sycamore seeds have been proved to be toxic and can cause muscle damage sickness called Atypical Myopathy.
35. Seriguela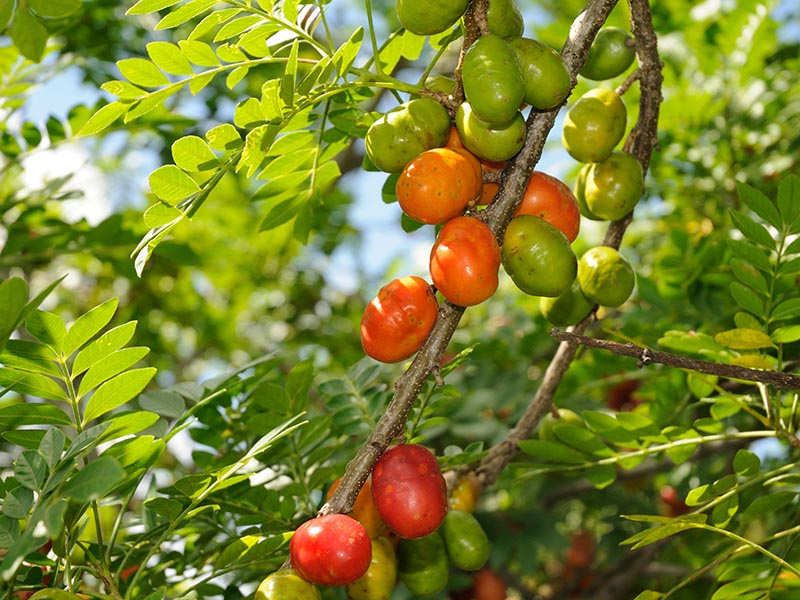 The seriguela (Spondias purpurea) has a number of common names such as critiguela, ciruela, purple mombin, red mombin, and hog plum.The name is somewhat hard to pronounce, isn't it? Seriguelas have gained popularity in Central America, especially in Costa Rica and Salvador.
The fruit adapts well to the climatic conditions of the tropical regions of the Americas. Drier localities are well-suited for the seriguela to grow, especially in Brazil.
When the skin turns yellow-red, it indicates the harvest season is on the way. Farmers harvest the fruits when they turn sweeter and possess more benefits. Their pulp is yellow, tasting sweet and sour. This brightly-colored fruit boasts a huge content of vitamins and antioxidants.
36. Sweetbay Magnolia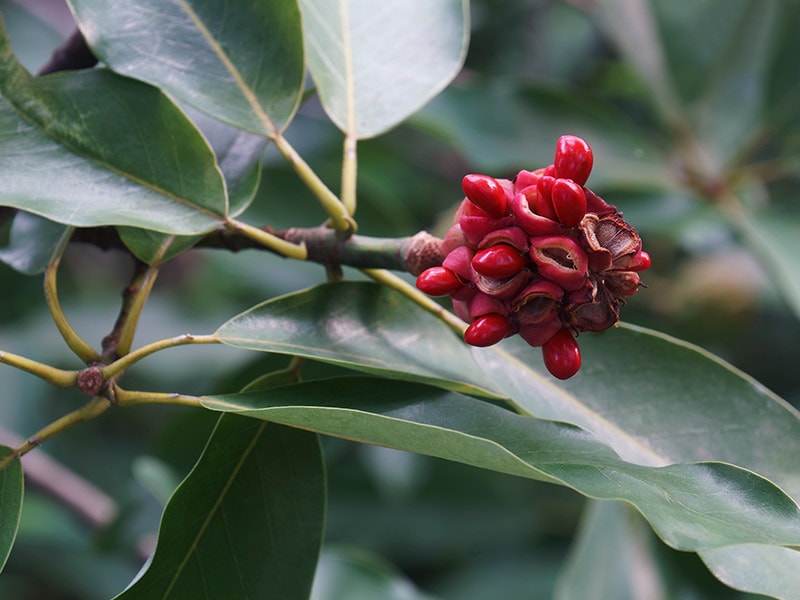 The sweetbay magnolia (Magnolia virginiana) is from the magnolia family. Sweet magnolia trees is indigenous to the lowlands as well as coastal plains of the eastern United States.
This sweet-smelling tree is welcomed by most gardeners who want drought-tolerant plantings. Sweetbay magnolia is often planted as an ornamental tree in gardens due to its large, scented flowers as well as its fast growth.
The fruits grow in clusters, appearing as cones measuring about 3-5m long, dark red when mature. Unfortunately, the ruby red seeds are not edible.
Your Knowledge Has Been Extended with A Whole New Range of S-Fruits
Wow, it's been quite a journey for this list. Has your horizon widened? Surprisingly, some fruits here may be so exotic that you have never seen or heard of, while some have ugly-looking but delightful flavors. When given the opportunity, you have to give them a try.
Guess what? Dare your friends to play the fruit game and be the winner ultimately. But did I miss any S-start fruits? Comment on the section below and let me know. If you think my article is interesting and useful, please share it with your friends and loved ones.