How to ripen strawberries? The ways to ripen strawberries on plants and picked strawberries are not the same as they will cease ripening after being picked.
Most people prefer natural approaches rather than using artificial or chemical substances. Thus, I'll include all the most environmentally-friendly methods in this article. And I promise they will bring the sweetest strawberries to you.
What's more? You'll also find many lesser-known tips on storing strawberries for later use. Not to mention, several tasty recipes for ripe strawberries are waiting for you. Scroll down to start the journey now!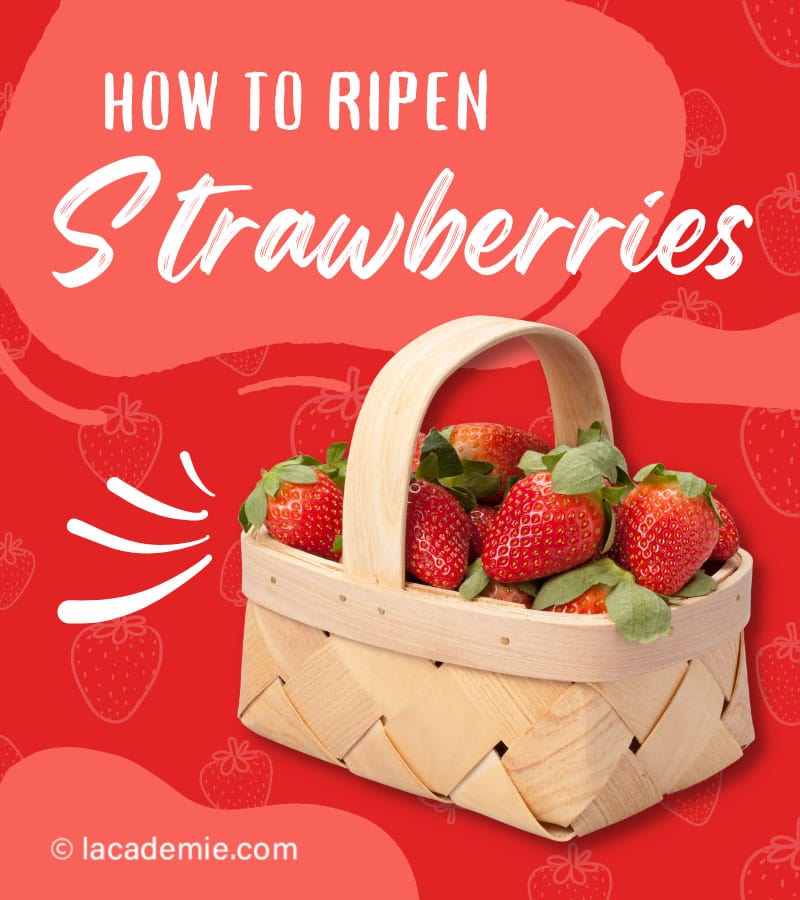 What Are Strawberries?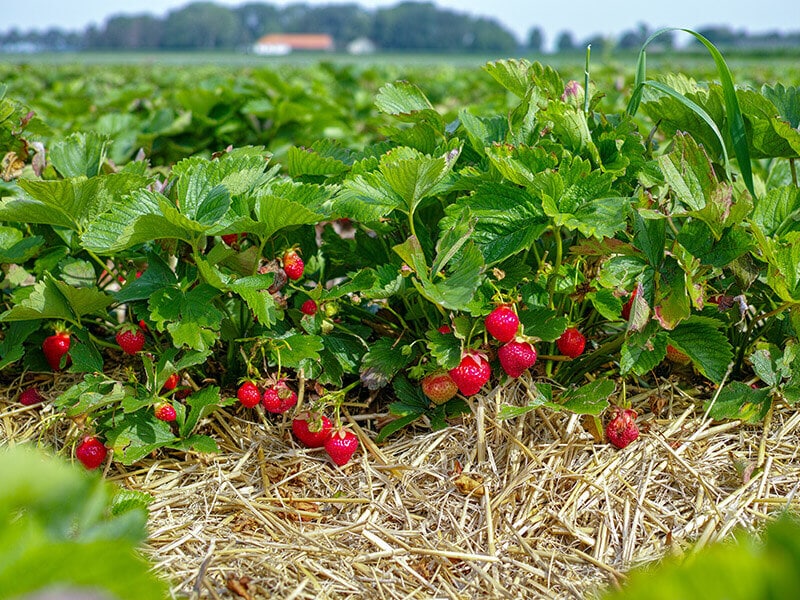 Strawberries are among the most succulent fruits of all time. They are fruit-bearing plants belonging to the genus Fragaria, the Rosaceae family. Strawberries are not berries, but an aggregate fruit, meaning a cluster of fruit is produced from a single flower.
Due to their somewhat similar names, some people might mistake strawberries for raspberries or other "berry fruits". However, apart from originating from the same botanical family, strawberries and raspberries are different in many ways.
Strawberries have two main colors: red and white. In general, white strawberries are sweeter than red ones. Besides, they come in other colors like pink, yellow, and golden.
Strawberries' harvest season varies depending on the geological location and variations. For instance, California's strawberry harvest is all year round. Crops in Florida last from late September to April 1. Yet other regions and countries have different harvest times within a few months.
Strawberries have 3 main varieties with different harvests:
June-bearing has a single crop in June or July.
Ever-bearing has two crops yearly: late spring/early summer and late summer/early fall.
Day-neutral's peak harvest ranges from mid-summer to fall (1).
Besides its eye-catching look, this nutrient-dense fruit features an impressive list of health benefits and is a great energy source. Everyone can eat strawberries raw or after thorough cooking. No one can resist their awe-inspiring redolent and sweet taste.
Take a glimpse of strawberries' basics here!
All About The Ripening Process And How To Detect Ripe Strawberries?
The ripening process occurs on most veggies and fruits as a rule. Ripe fruits make them taste sweeter and more tasteful. However, not everyone knows about this process. I got you covered!
Ripening Process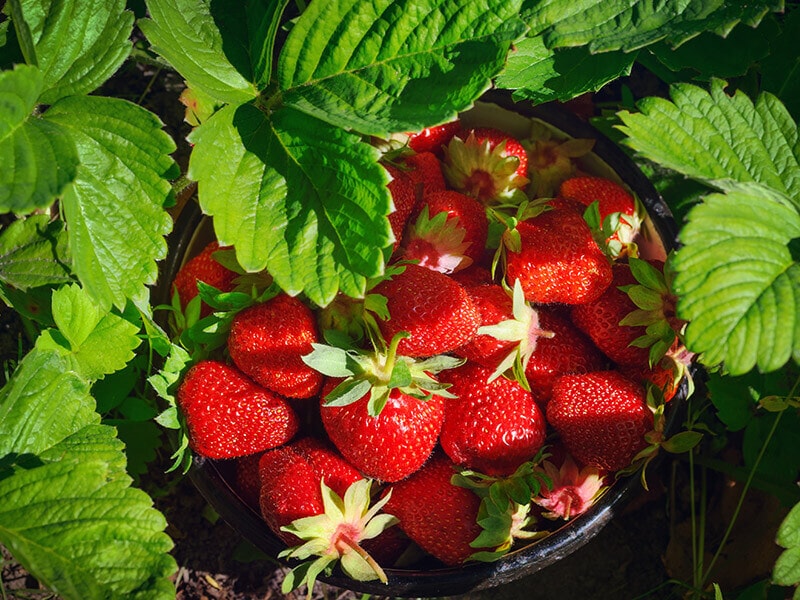 The Ripening process is a rule of nature, often making fruits more delectable, softer, sweeter, and less green.
The ripening rate of different species and varieties are not the same. For illustration, avocado's ripening process is longer (4 – 7 days) than that of bananas (3 – 4 days).
When fruits ripen, the increasing acidity level inside doesn't make the fruits tart, and not all ripe fruits taste sour (or acidic). (2)
Different Signs To Indicate Ripe Strawberries
Like most fruits, strawberries change their color as they ripen, from green to white, and finally bright red. Their leaves are bright green. Strawberries are ready for picking, with at least three-quarters of their surface turning red.
Ripe strawberries emit distinct fragrances, while unripe ones don't. However, if strawberries come up with a dark color, a strange smell, and a mushy texture, they may be old and unsatisfactory to consume.
Ripe strawberries often come in a soft texture but are not squishy. It will give slightly when mildly squeezed. In contrast, green fruits seem too hard and almost fibrous. When they get old, their surfaces may become shriveled or dry.
Last but not least, ripe strawberries are somewhat bigger than unripe ones. Still, be mindful that the different strawberry types come in different sizes. As a result, their sizes are not always the most accurate factor.
Click here to know what ripe strawberries look like!
3 Methods To Ripen Strawberries On Plants Faster
Strawberries on plants can be ripened fast in a convenient environment. Go ahead with some great ideas and practical approaches to speed up the ripening. Time goes fast, and you can harvest ripe strawberries sooner.
Here are ideas for quicker the ripening process of your strawberries on plants.
Fertilize Plants & Rich Soil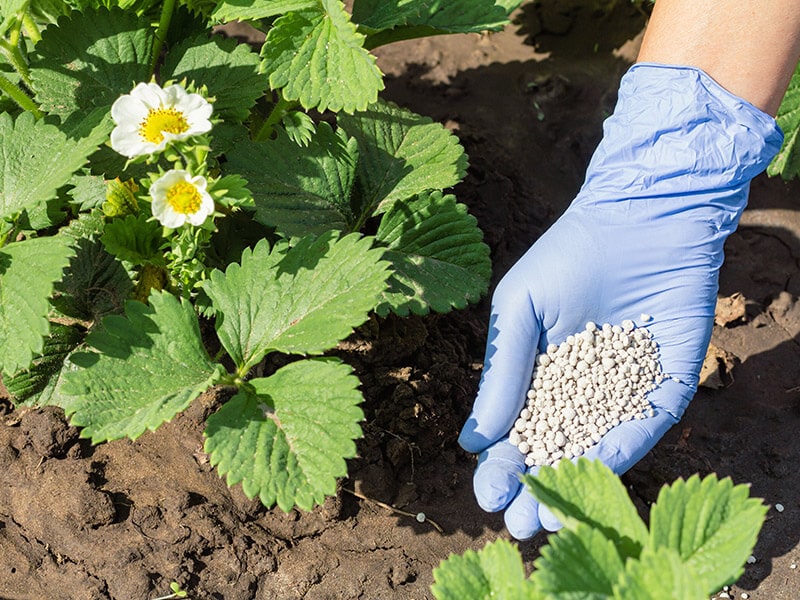 Fertilizing strawberries is absolutely an excellent way to ripen strawberries faster. This way also makes strawberries well-flavored, qualified, and sweeter.
Strawberries grow prosperously in soil with a sandy texture and rich compost. It's a good idea to mix aged compost with rich organic manure (like pelleted chicken manure) and feed the plants. Also, use a premium bagged potting mix created for containers if you don't compost.
You can create raised beds to drain soil and easily fill with compost all year round. Use a continuous-release fertilizer during the plants' growing period, even during fall and winter. This will result in a large harvest.
Furthermore, strawberries thrive at a mild acidic level with a pH of about 6.0 – 7.0. Controlling the soil's acidity level is vital to ripening strawberries faster.
Water Regularly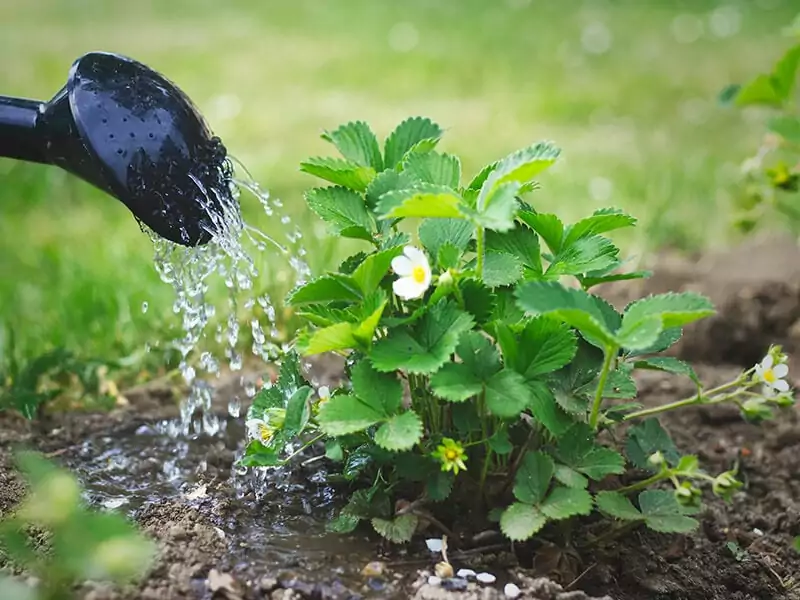 Strawberry growth needs lots of water, mainly when producing fruits. Keeping plants well water can make strawberries sweeter and more delicious. Water strawberries in both dry and rainy seasons.
Beyond that, watering helps strawberries generate more fruits, leading to a larger crop, especially in summer. Drained soil often weakens strawberries and makes them grow slower.
Early morning and late evening are two ideal moments for watering strawberries. As such, your plants won't rot by sitting too long in water without sun.
Provide Enough Sunlight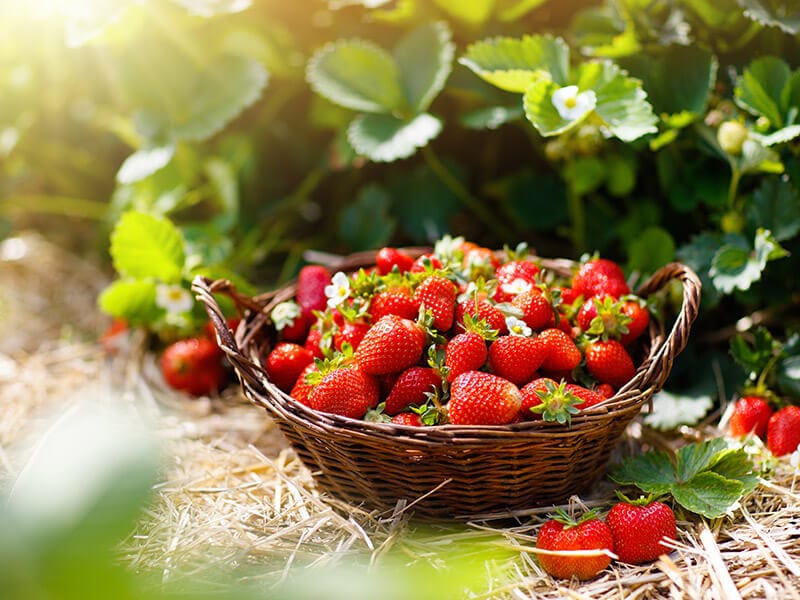 Strawberries grow best in full sunlight. Sunlight plays a crucial role in ripening strawberries. Indeed, the fruit ripens faster if it has 8-hour sunlight per day.
The daylight sun is excellent for ripening strawberries. Still, on a cloudy day, strawberries may lack sunlight. You can use a grow lamp instead (for example, a far-red-light lamp with 700-800 nm) to provide enough light for strawberries.
The Fastest Way To Ripen Picked Strawberries
Ripening picked strawberries is not precisely "ripened" literally. Strawberries only ripen naturally on their plants. Once harvested, they cease this process.
However, these two approaches below help picked strawberries to become softer, sweeter, and more delectable.
Ripen Strawberries With Banana
Banana belongs to the climacteric fruit group. The riper they are, the more ethylene they emit, which can speed up ripening strawberries (3).
Step 1: Enclose The Fruits In A Bag
The riper the banana, the better. Put strawberries with bananas together in a sealed container. Don't let much airspace between them; keep the whole container at 68-75 F.
Step 2: Remove The Bag
Wait a few days until strawberries turn softer and ripe. Take strawberries out of the bag. Afterward, let them sit out and return to room temperature.
Step 3: Consume Or Continue Storing
Once strawberries reach room temperature, store them in the fridge for later use or consume them promptly.
Notes:
Many people know how fast a ripe banana can ripen your strawberries. Still, before applying this method, here are some minor notes for you:
Since bananas release ethylene, a substance that forces harvested strawberries to ripen, some strawberries may become overripe or decayed sooner than expected. Spoiled strawberries may damage nearby ones, so don't let all strawberries stay in the containers too long.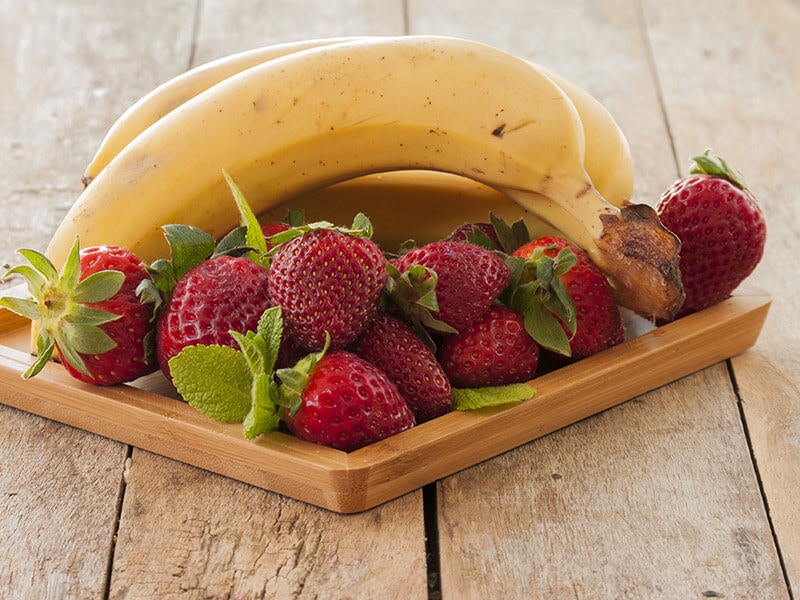 Ripen Strawberries At Room Temperature
The following method seems easy to do. With a water-filled bowl, your strawberries will turn red and sweeter faster. After only 2 – 3 days, you could enjoy your sweet strawberries.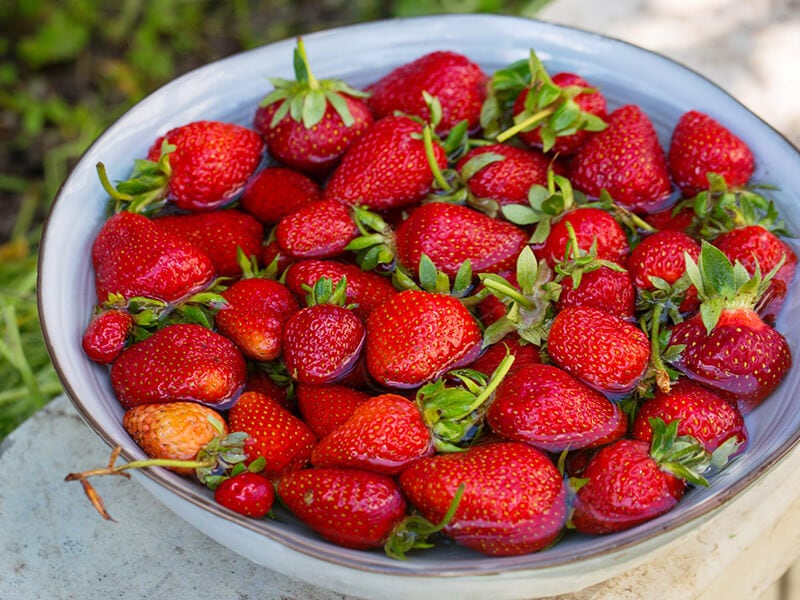 Step 1: Preparation
Get rid of the green stems of strawberries. Put strawberries into a bowl full of water and leave them overnight.
Keep track of strawberries. If any turns overripe or spoiled during ripening time, discard it. Rotten strawberries may damage others, making them no longer edible. Check strawberries daily to ensure minimal air exchange.
Step 2: Wrap The Bowl & Store
Use plastic wrap or a lid to cover the whole bowl. Store the bowl in cool and dark places for 2 – 3 days. Then, everything is ready for consumption.
Step 3: Remove Wrap Or Lid
After 2 – 3 days, you can take strawberries out of the bowl. Dry them all to eliminate all excess liquid. Enjoy ripe strawberries or store them in the fridge or freezer. It's up to your purpose!
How To Store Strawberries Properly
You bought lots of strawberries to hold a vibrant and fun party with your fellas next week. Nonetheless, do you know the most effective ways to store your strawberries? Here are some hints and tips to help you keep this delicious fruit fresh for a long time!
| | |
| --- | --- |
| Conditions | Strawberries' Shelf Life |
| At room temperature | Within 2 days |
| In the fridge with vinegar pre-wash | About 2 weeks |
| In the fridge's crisper | About 1 week |
| In the freezer | About 6 months |
At Room Temperature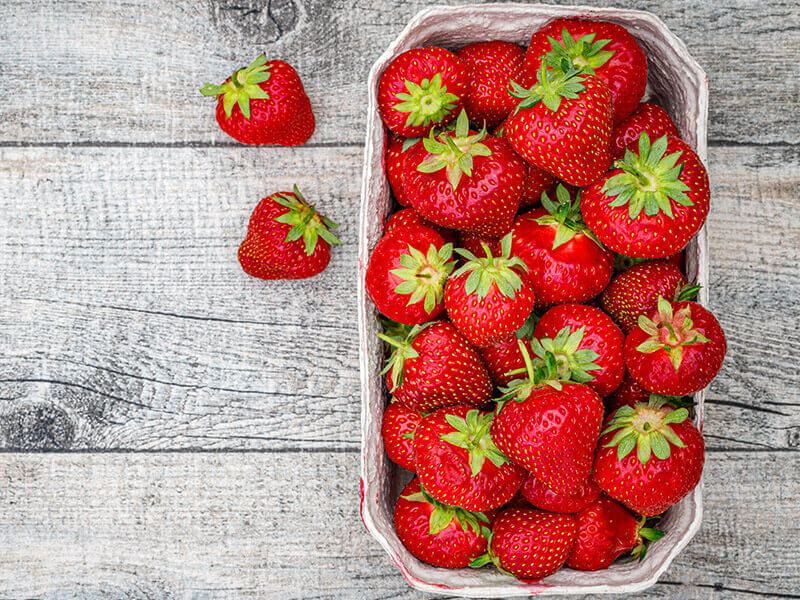 It's best to store your strawberries on the countertop. This way, your strawberries can last for two days.
Don't wash your strawberries unless you want to serve them promptly. Moisture will encourage mold growth on strawberries.
Don't place all overripe, ripen, and unripe strawberries together. You had better consume ripe and overripe ones first. Furthermore, unripe strawberries have more time to ripen up.
Discard any spoiled strawberries to avoid ruining the whole bunch.
Soak Strawberries With Vinegar Bath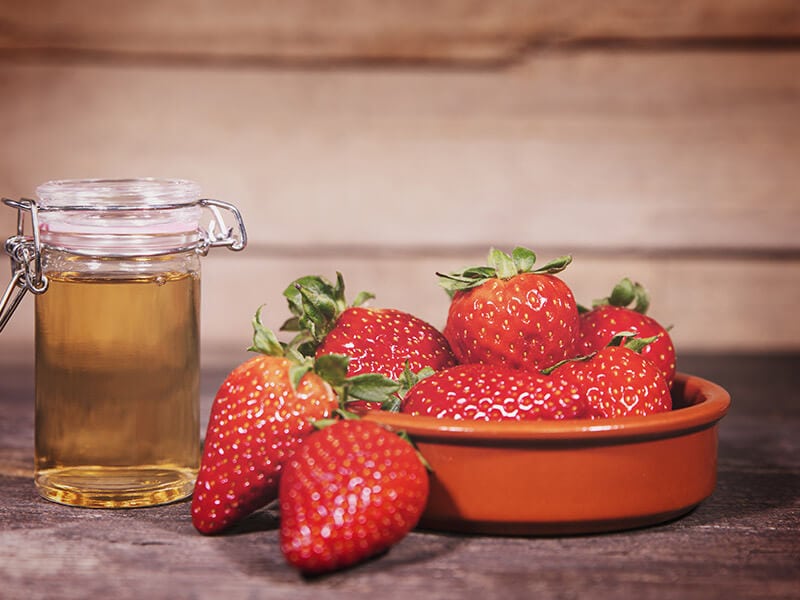 A fridge can prolong the strawberries' lifespan for about one week. However, refrigerating strawberries can last up to 2 weeks with a vinegar pre-wash. Vinegar can kill mold spores and bacteria effectively.
Step 1: Soak Strawberries In Vinegar Bath
Check and remove any strawberry that turns moldy to avoid ruining the whole bunch.
Mix one cup of vinegar with two cups of water to create a vinegar bath. Soak strawberries inside the mixture for 5 minutes. You can gently stir the water.
Step 2: Clean And Dry The Strawberries
It's important to learn the correct ways to clean your strawberries. First, take the strawberries out and rinse them with clean water in a colander if you don't like the vinegar smell.
After that comes the drying part. You can line these strawberries on a tray with a paper towel in between and let them dry. Or, if you have a salad spinner, place your strawberries in it with a paper towel beneath the berries. And gently spin for 15 seconds to completely dry them.
Step 3: Refrigerate Strawberries
While waiting for the strawberries to dry, prepare a container and line it with a paper towel. Then place the dry berries in, close the lid, and transfer them into the fridge.
Make sure to write the date on top to eat the strawberries before their due date. Your strawberries will stay firm, fresh, and vibrant for two weeks with no spoilage.
Go for the quick way to prolong strawberries' lifespan with vinegar.
In The Fridge's Crisper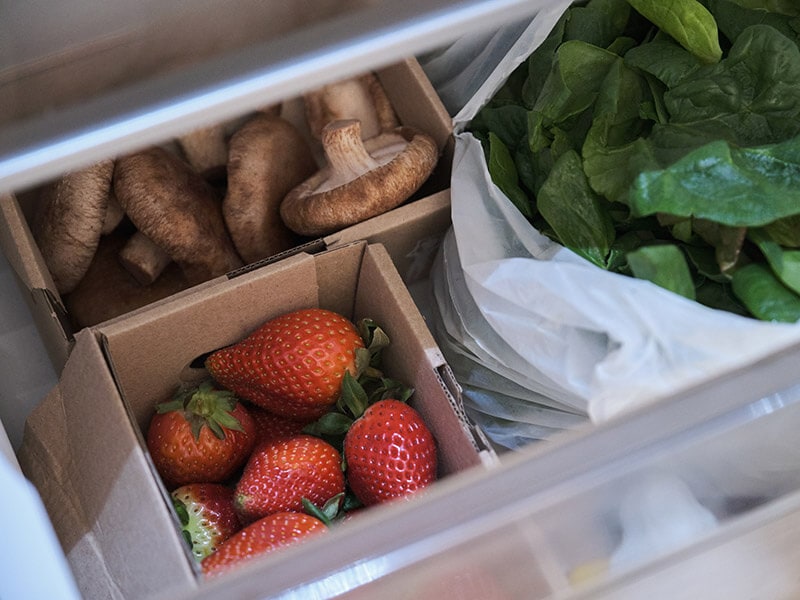 The crisper drawer in the fridge work wonders in storing fresh fruits, not just strawberries. On top of that, the vents inside can adjust the humidity and prevent moisture from building up on strawberries.
Thus, it keeps your fruits fresh for an entire 1 week. So, here are some tips to protect your strawberries in the fridge's crisper.
Don't Wash The Strawberries In Advance
Unlike the method above, you should wait until you eat to wash the strawberries. This way, your fruits won't be exposed to moisture and all the molds afterward.
Don't Cut Strawberries
I understand you want to save some space in your fridge and you may know the best ways to cut a strawberry. But once cut, the strawberries will get spoiled sooner than the whole ones. Besides, don't plunk the green leaves on top, either.
Always Line Your Container With A Paper Towel
As mentioned above, a paper towel can absorb all the remained moisture on your strawberries, preventing them from going bad too soon. So always place a paper towel in your container.
Place Strawberries As A Single Layer
Stacking strawberries may take little space, but it can damage your berries' quality. If one strawberry gets mold, it can easily spread to others. So, if you want to stack them, place a paper towel in between.
In The Freezer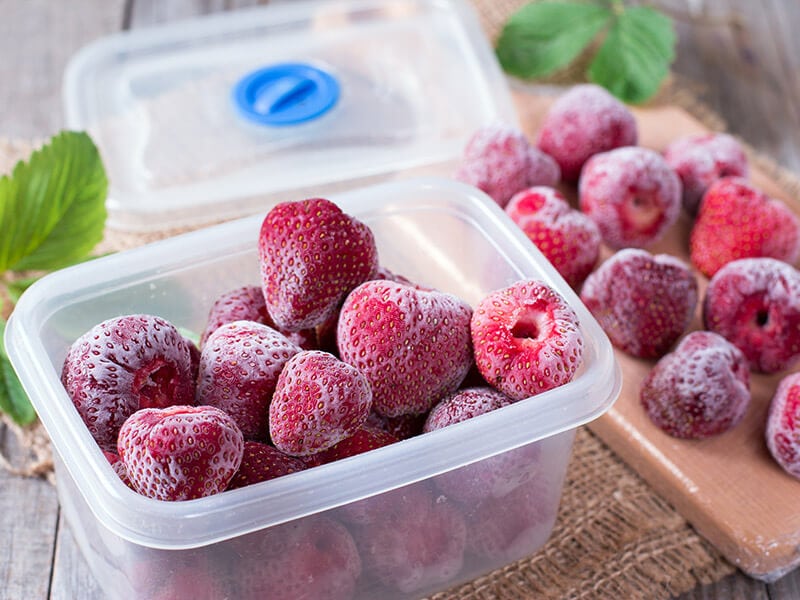 A freezer will prolong strawberries' shelf-life up to 6 months. Therefore, to keep these precious fruits longer, many are willing to shop for a freezer. Here are some steps to freeze your strawberries:
Step 1: Rinse And Dry Strawberries
After washing strawberries, they need to be dried with paper towels. This way hinders mold from arising in strawberries. As such, strawberries won't accumulate ice crystals in the freezer.
Step 2: Get Rid Of Green Stems
Use a paring knife's tip to eliminate strawberries' green stems for later use. However, other people prefer leaving strawberries' stems before freezing as strawberries can keep them intact better.
Step 3: Freeze Strawberries
Arrange strawberries in a single layer in the plastic bags and push out all the excess air inside the bag.
Put everything in the freezer bags and freeze them all.
Notes:
Frozen fruits can lose their firmness and texture after freezing. So, don't refreeze your strawberries too often.
6 Symptoms Of Spoiled Strawberries
Poor storage conditions can make your strawberries go down. I'm about to unveil some signs of spoiled strawberries, as you can see below:
1. Mold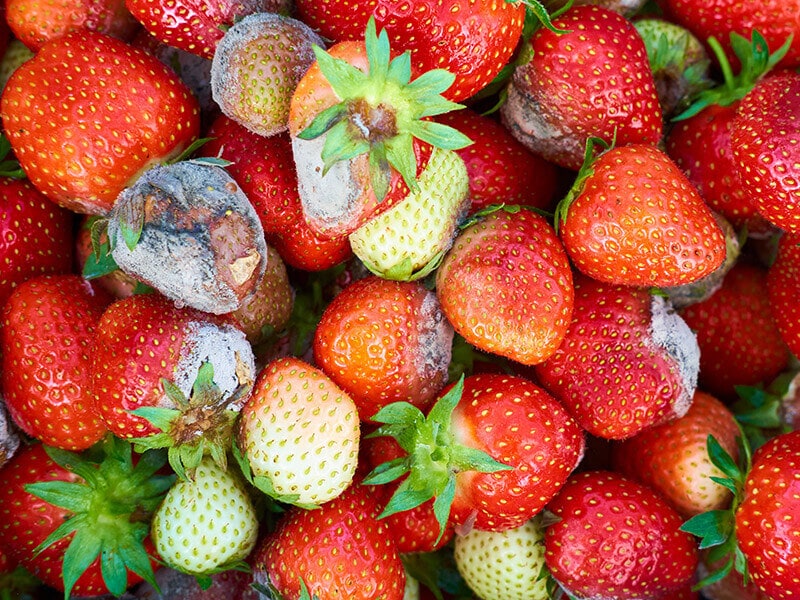 Mold often develops with white dots, then turns gray and a light greenish-gray tint in larger areas. These strawberries may also come up with abnormal texture and strange odors.
Mold can quickly be grown in an unclean, infectious, and moist environment. Discard all spoiled berries as mold spreads rapidly. A bad one could ruin the whole bunch in no time.
Notably, getting rid of moldy ones will protect you from foodborne illnesses.
2. Leaking Juice And Bruising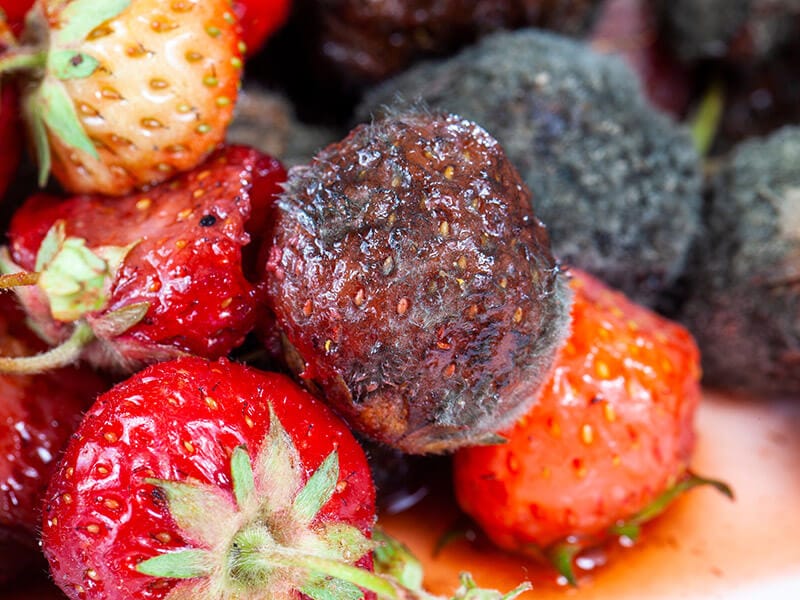 Throw away any strawberries with too much leaking juice or large bruises. Leaking juice happens when too many enzymes damage the strawberries' cell walls. But minor bruises are probably fine to eat if you find strawberries still taste good with intact texture.
3. Shriveled Or Squishy Texture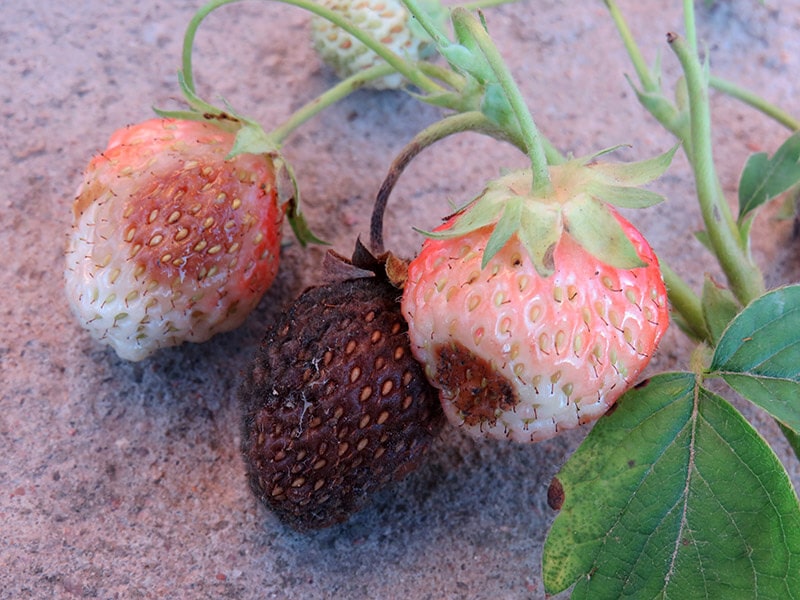 Fresh fruits are firm and fresh with mild softness. A mushy or squishy sign implies that strawberries are unsatisfactory to consume.
Similarly, don't try to eat shriveled strawberries due to their poor texture, quality, and flavor.
4. Losing Color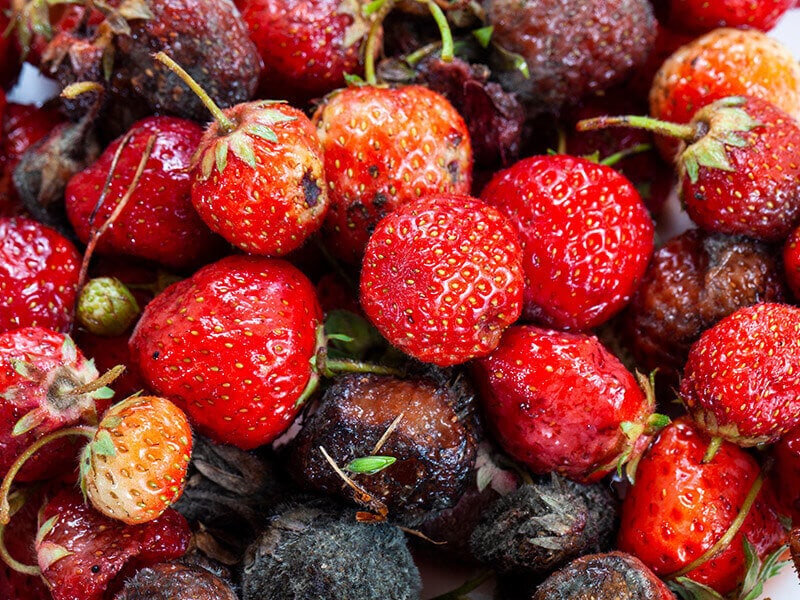 Fresh strawberries are bright red or half-green and half-red. If they suddenly turn white, brown, or dark colors, your fruits have gone bad. The discoloration expresses the deterioration of fruits' surfaces and wilting signs. Discard them all with these signs.
5. Strange Taste & Smell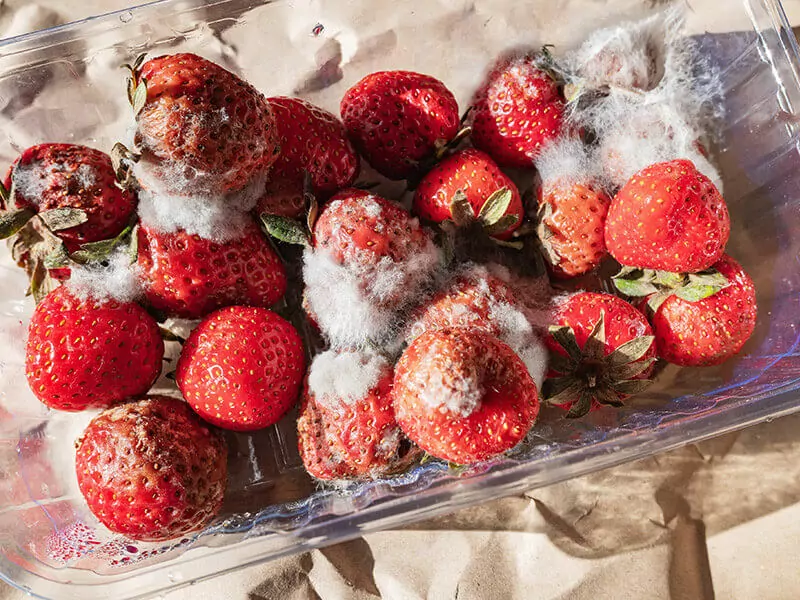 Fresh strawberries are sweet and delicious. Once they become spoiled, they emit more sour or bitter smells. Throw away all strawberries with any unpleasant taste like that.
6. Dry Or Brown Caps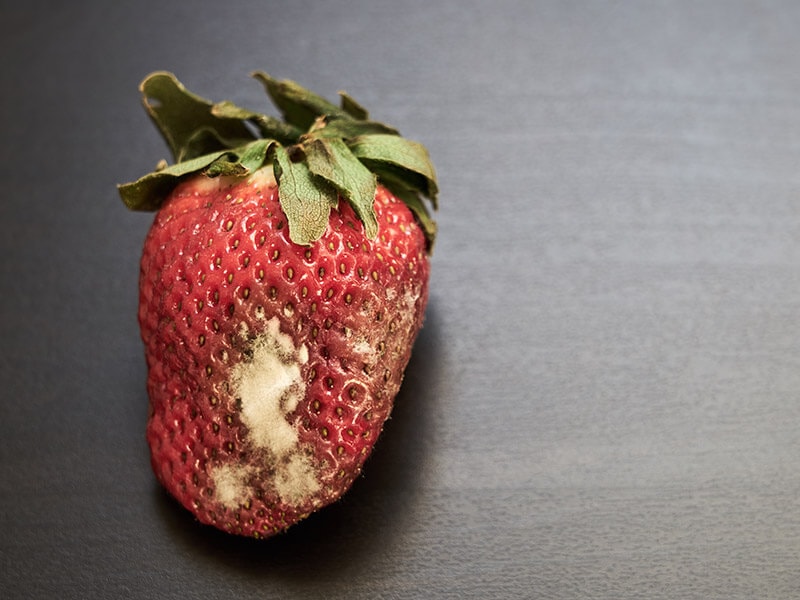 The crown of a healthy strawberry should be green, healthy, and still edible. When the fruit gets down, strawberries' caps turn dark, wilting, and then easily fall off.
Best Recipes For Ripe Strawberries
Any homemade fruit lover always spends hours preparing and diving into mouth-watering recipes. And they have no reason to skip strawberries for a gorgeous table!
Strawberries and cream cupcakes are nothing but a yummy dish. A hint of vanilla and fresh cream in cupcakes amplifies the sweetness of strawberries.
This fascinating cupcake recipe is moist, creamy, fruity, sweet, and balanced with strawberries' aroma. Its fancy, catchy look makes it outstanding in the party guests' eyes.
Here are some easy steps to have the greatest strawberries and cream cupcakes!
It's time to go for such a fabulous recipe: crustless fresh strawberry pie! This fascinating pie has gooey goodness with strawberries.
To get this enticing pattern, you should carefully place your strawberries on the pie dough. The whole pie will look more impressive with ice cream or whipped topping. This recipe is suitable for all picnics, potlucks, and summer parties.
Any Brie-cheese lover can't help but exclaim "wow" when seeing it with roasted strawberries. Baked Brie becomes more gorgeous when topped with honey-balsamic roasted strawberries. This recipe is a showstopper to your romantic brunch buffet or appetizer repertoire.
This no-bake dessert recipe, strawberry jello lasagna, has its magic to lighten a whole party table. It pairs amazingly with other delectable summer and spring treats.
This treat is full of whipped cream, golden Oreo crust, strawberry crunch topping, and fresh strawberries, all harmonizing surprisingly.
FAQs
Questions and concerns surrounding strawberries have no signs of cooling down. Below are some interesting and fun questions for your further exploration:
Enjoy And Detox With Fresh Strawberries!
Now that you've grasped the ins and outs of handy tips on ripening strawberries. My post includes many convenient approaches and solutions. Now, it's time to apply them to your strawberries.
Feel free to speak out any remaining questions in the comment section. And don't forget to like and share this post with other people if you find it interesting. Hopefully, they will have joy from ripening strawberries successfully!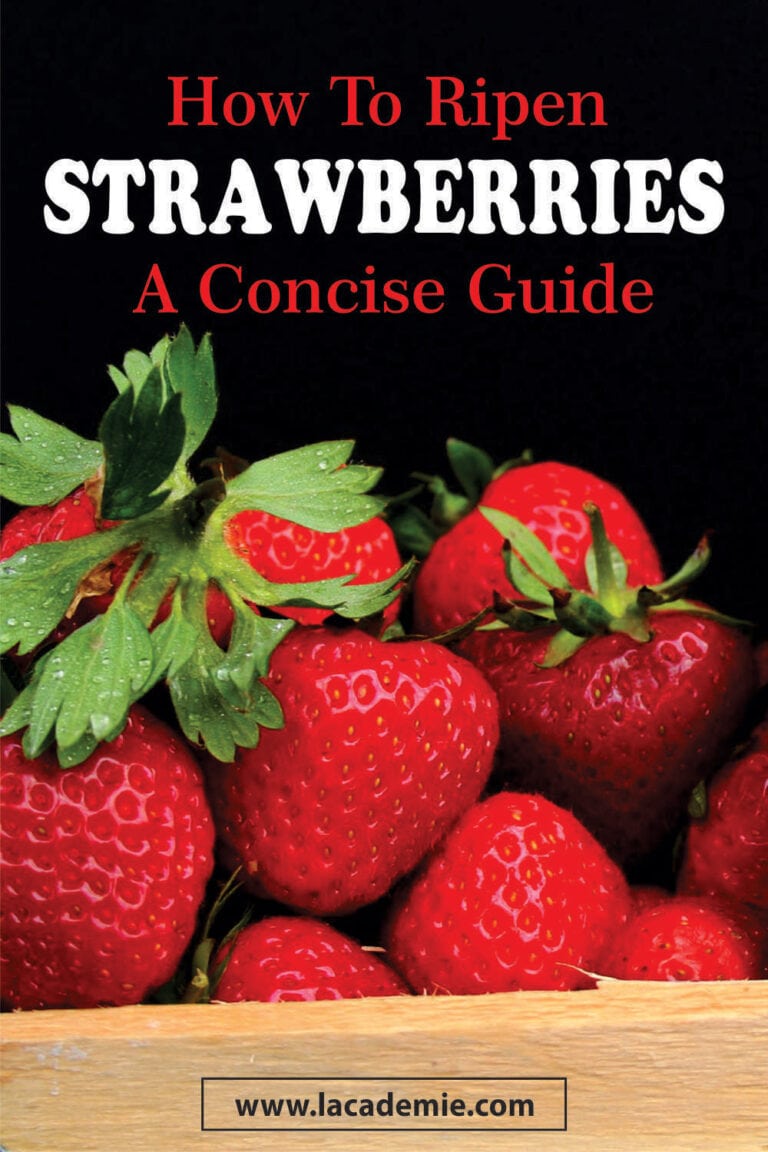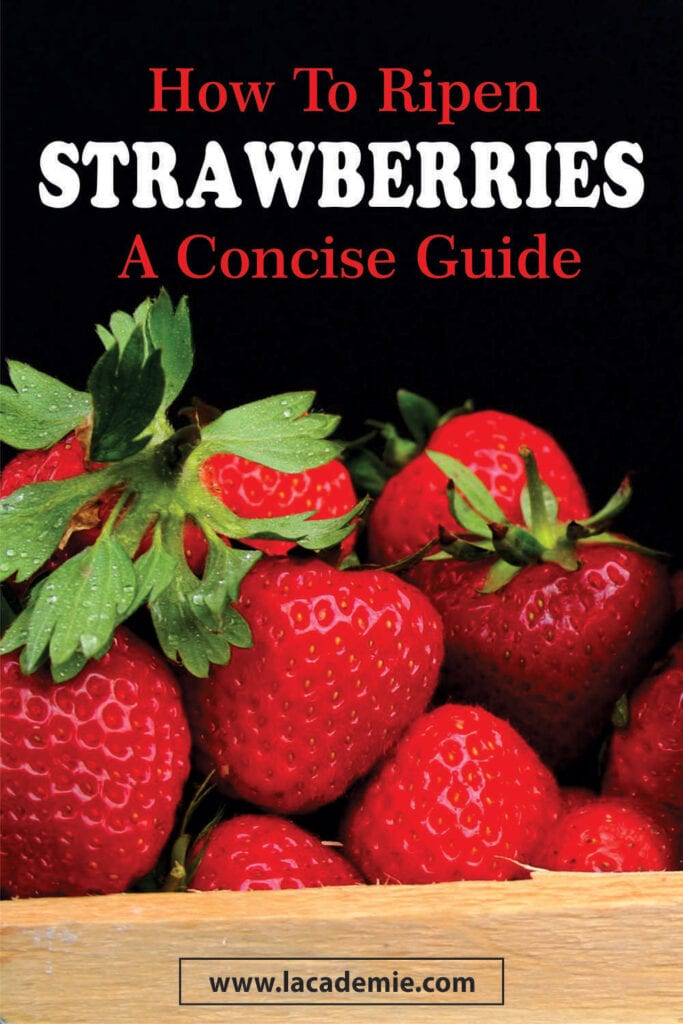 References:
Extension.umn.edu, (2021). Harvesting strawberries.
En.wikipedia.org, (2022). Ripening.
extension.umd.edu, (2021). Ethylene and the Regulation of Fruit Ripening.