How to clean strawberries to get rid of all dirt and chemical substances? Are you sure you know how to wash strawberries properly? Soiled strawberries can account for a large number of serious illnesses.
There are a variety of effective ways to clean strawberries, not just rinsing with water. More than that, I'll reveal to you tips for selecting juicy strawberries and keeping them fresh longer. Let's check all of these in this article!
Why And When To Clean Strawberries?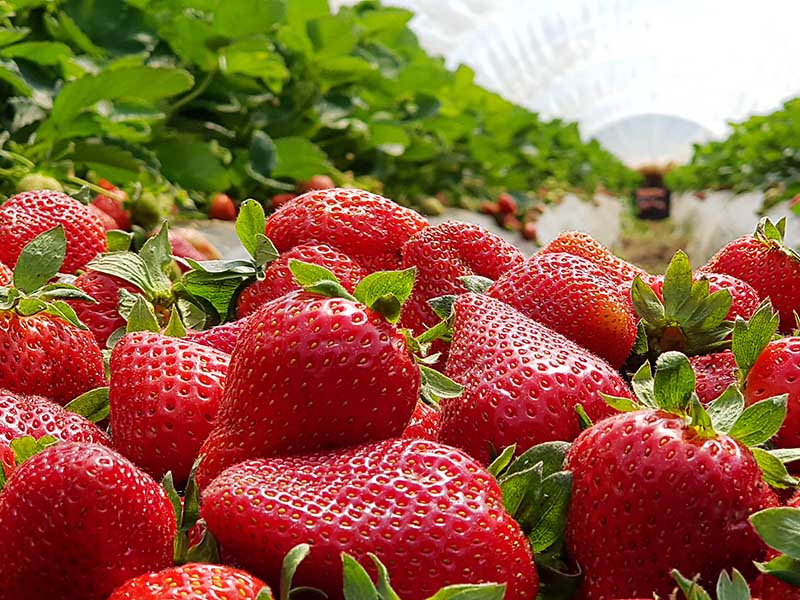 Fresh and juicy strawberries always have a yummy look that instantly makes you want to take a bite. Wait! Whenever you purchase strawberries from grocery stores or supermarkets, they certainly stick to an abundance of dirt.
Besides, most non-organic strawberries contain a wide range of chemical substances, especially dozens of different types of pesticides. Thus, eating unwashed strawberries is closely equal to digesting soil or hazardous insecticide.
When is the best time to clean strawberries? It's advisable to only clean strawberries when you're about to eat them. Strawberries are quick to spoil if you wash them before storing them. I will provide you with some great ways to store strawberries for a long time below.
5 Ultimate Methods Of Cleaning Strawberries Effectively
The majority of people believe that lightly rinsing fruits with plain water can get rid of all soil and dirt. That may not be true. In fact, it takes longer to properly wash fruits, combined with using the right methods.
Rinsing With Water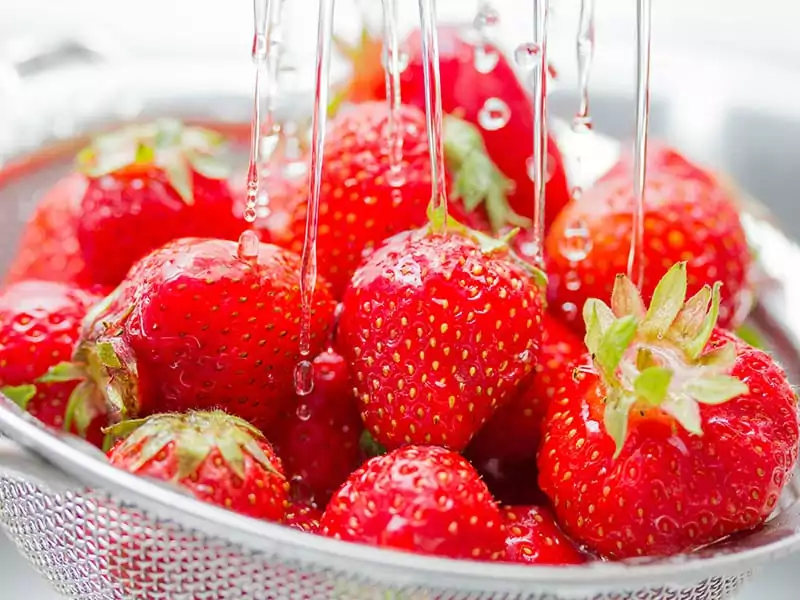 Washing strawberries in water is the simplest and fastest way to get rid of all dirt if you know the right technique. The key is washing them under cool running tap water.
You can place them in a clean colander and gently scrub every strawberry for 10 seconds while running them under water to remove dirt and soil. Don't cut the stem before washing because it'll absorb water quickly.
After finishing, you can let them drain off all the water in a colander and use a paper towel to pat them dry.
Washing With Salt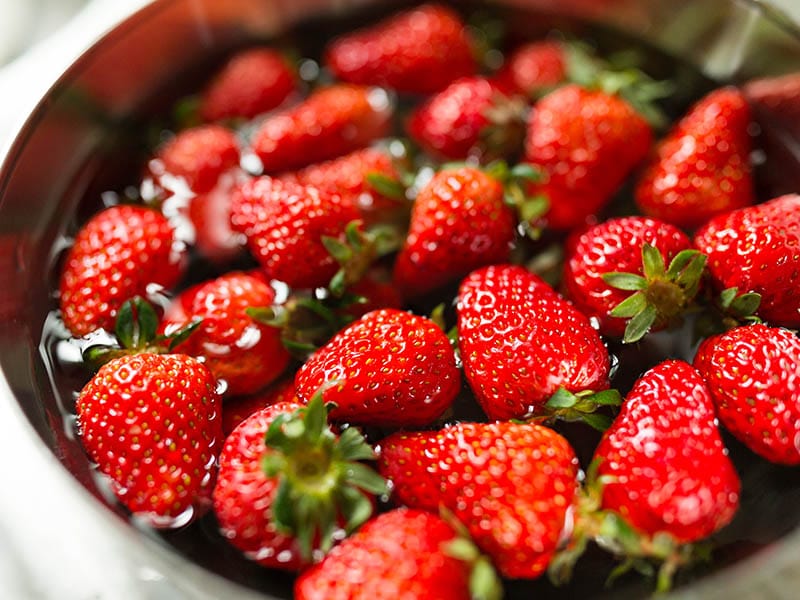 Another simple but effective way to clean strawberries is by soaking them in a salted water solution. You're in luck. According to research, washing fruits and vegetables with 2% salt water can significantly reduce pesticide residues on their skin. (1)
Let's prepare one teaspoon of salt per cup of water. You can add more salt if there are too many strawberries.
Use a basin and soak all the strawberries in salted water for about 5 minutes. Then rinse them under water before keeping them dry in a colander or using a paper towel.
Using salt to wash strawberries is easy and convenient.
Using Vinegar Solution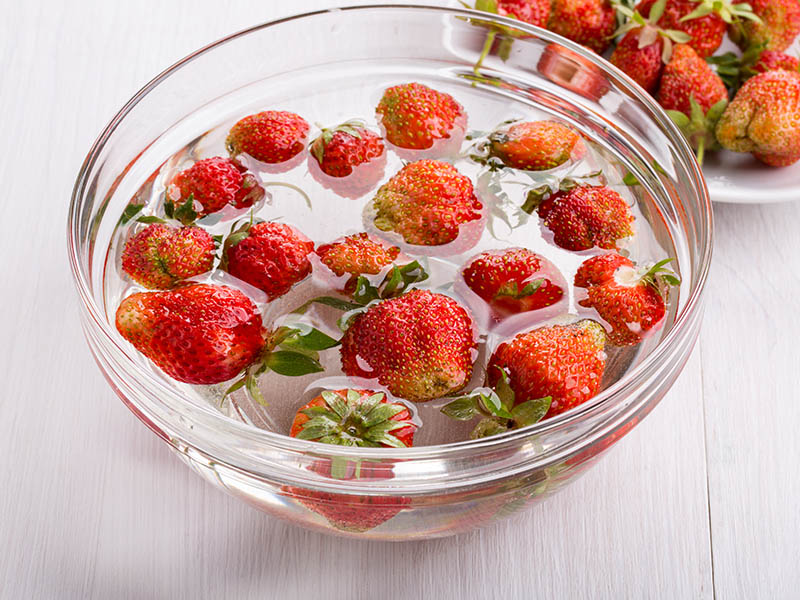 Washing strawberries with vinegar is never a bad idea. There's no need to worry about pesticides because vinegar can clean your strawberries off effectively. Moreover, vinegar can make the berries stay fresh longer.
Here's how to prepare the vinegar solution. Prepare a basin with clean water, pour 1 cup of white vinegar for every 4 cups of water, and stir the solution well. Now, you can soak the berries in the solution for 20 minutes and rinse them again thoroughly under cool water.
If you're worried strawberries might absorb the vinegary taste, there's another way that takes less time. Mix 1 cup of white vinegar for every 3 cups of water, bathe and scrub each berry in the solution for 30 seconds to 1 minute, rinse with water, and pat them dry with a dish towel.
Getting Rid Of Dirt With Baking Soda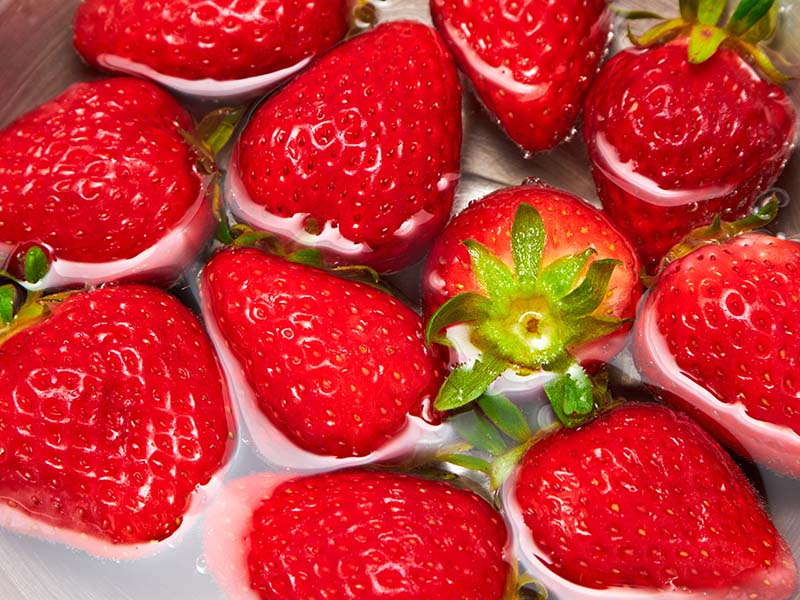 Baking soda is commonly used to clean off stained and grimy surfaces. It is also applicable to fruits. If there's still some baking soda remaining in your kitchen, use it to wash up strawberries.
Begin with a large bowl or a basin, mix up 4 cups of clean water with 1 teaspoon of baking soda, soak the strawberries in the mixture for about 5 minutes, then remove the baking soda by rinsing them with a paper towel or keeping them in a colander.
Cleaning strawberries with baking soda is as easy as pie.
Washing Most Efficiently With Veggie Wash
Using veggie wash is one of the greatest ways to minimize the pesticide residue in your strawberries. You can easily find and buy veggie wash solutions at many local grocery stores.
In a large bowl, dissolve a suitable quantity of veggie wash in water according to the manufacturer's instructions. Hold a few strawberries in your hand, soak and scrub them in the solution for 30 seconds. When you're done with it, rinse and pat the strawberries dry.
How To Choose Fresh And Juicy Strawberries
Most kinds of strawberries will be juicy and stay for a longer time if you don't buy overripe or spoiled ones. Never mind! I'll provide you with some handy tips to pick up yummy and fresh strawberries.
Look For The Right Color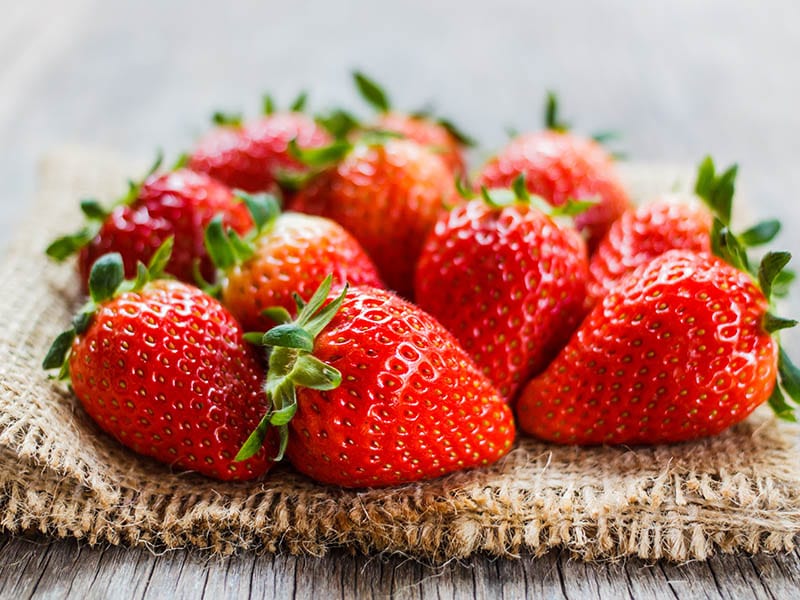 Whenever you're about to buy strawberries, let's look for strawberries that offer a bright red color. If strawberries are picked at peak ripeness, the whole strawberries will be totally covered in a brilliant red from top to bottom.
If you're thinking of buying unripe strawberries and waiting until they ripen, that's a big mistake. In fact, this fruit stops ripening once picked, so it's better to know methods to ripen strawberries when they're still on the plants. Strawberries that look white, green, or yellow around the stem aren't ripe and less sweet.
Strawberries with green leaves are also fresh. Don't choose those that have dry and wilted leaves. The chances are that they have been harvested for a long time.
Sniff At Strawberries
Strawberries can continue to redden after being harvested but can't get sweeter. Hence, based on color alone is not enough. Let's smell the strawberries! Fresh and ripe strawberries usually give off a slightly floral and refreshing, caramel-like strawberry scent.
No Sign Of Mold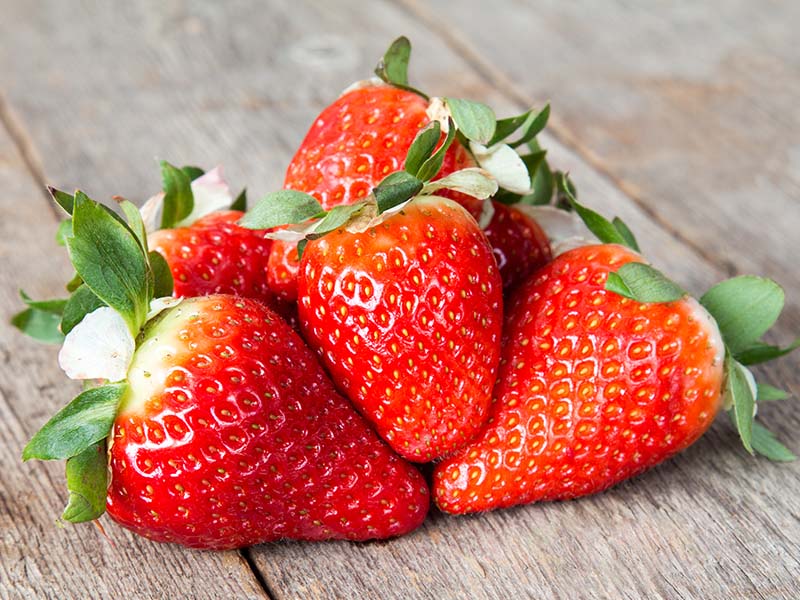 The shape and size of the strawberries are unimportant; instead, look for signs of mold. If you find there is any mold or bruise on a strawberry, the fruit is beginning to rot. Look carefully around the strawberry box and make sure they're all fresh.
Plump And Firm
Only choose strawberries that look full and plump because that means they've recently been picked. If you have a chance to choose each strawberry instead of a whole strawberry box, select the firm berries. They are as juicy and fresh as you want.
There are useful tips for picking high-quality strawberries.
The Best Ways To Keep Strawberries Fresh
Strawberries are fresh and juice when they're ripe, but if you don't know how to store them, they'll get spoiled quickly. Placing strawberries at room temperature just makes them last for one or two days.
Moreover, even if you've cut your strawberries using the best techniques, doing so will have affected the fruits' shelf life. Why don't you try these methods to store your strawberries?
Traditional Packaging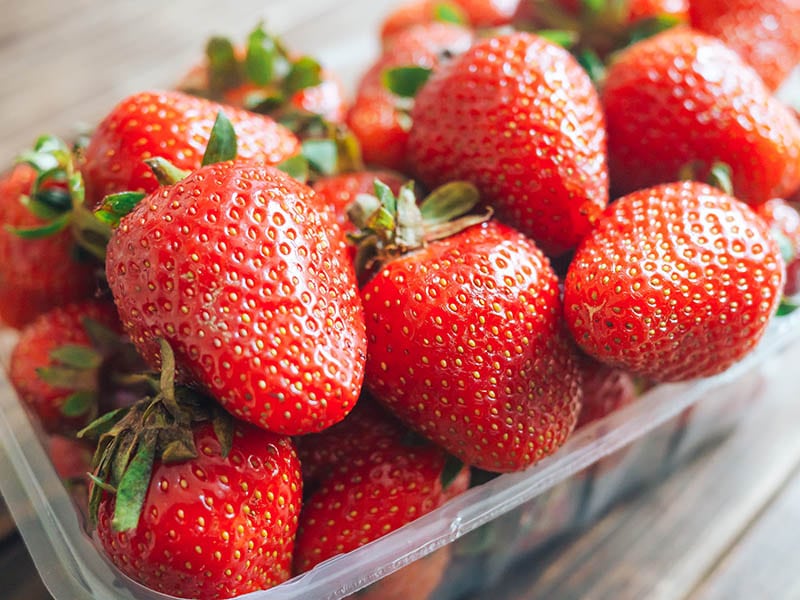 This is the easiest way to store your strawberries for several days. Discard mold berries, place strawberries in clamshell boxes like those in grocery stores, then keep them in the refrigerator.
For longer storage, you can use airtight containers. Place them inside containers in one layer, tightly close the lid and keep them in the fridge. Putting strawberries in one layer keeps molds from growing on them for some time.
Using Paper Towel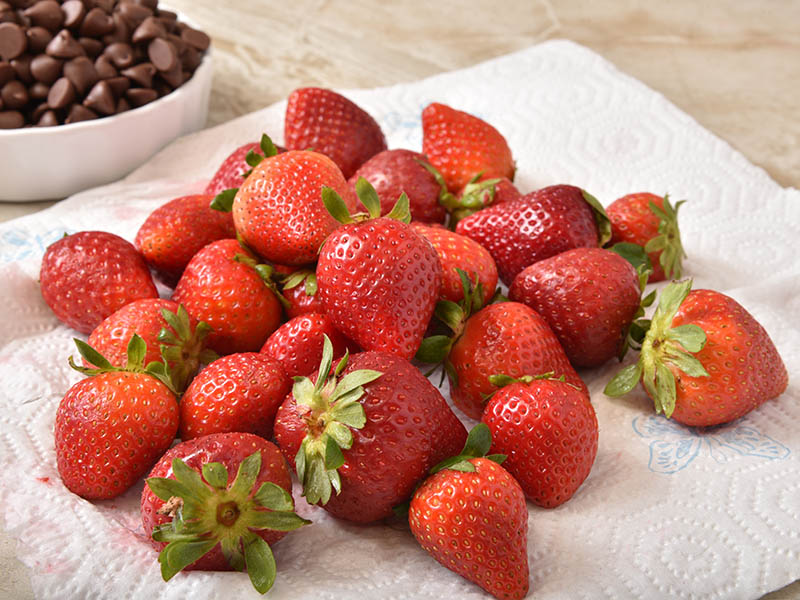 The key to keeping strawberries fresh longer is to keep them moisture-free. A paper towel can absorb all the moisture on the surfaces of strawberries to make them dry and not be spoiled too soon.
Before placing strawberries in containers, you should lay a clean paper towel first and make sure all strawberries are spread evenly. Strawberries in airtight containers with paper towels can be fresh for 1 week.
You can prolong the life of strawberries in a variety of ways by following this guide.
Store Strawberries For A Longer Time In Freezer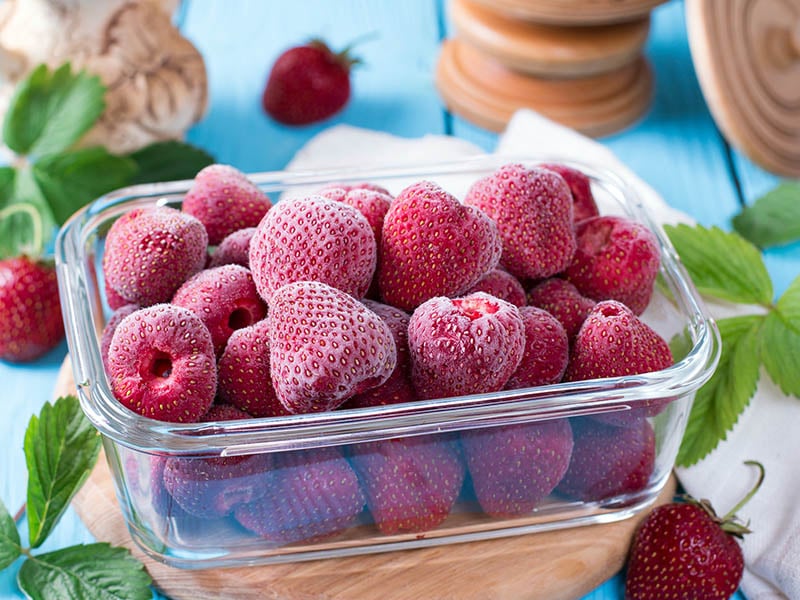 Freezing strawberries is effortless and increases their shelf life by months. Frozen strawberries are still yummy and can be used as an ingredient in smoothies or desserts. To achieve the best results, you can follow these steps when storing strawberries in the freezer.
When cleaning strawberries, pat them dry and cut off all the stems first. It'll be easier for you to eat or cook them later after thawing. Line strawberries on a baking sheet and freeze overnight.
When the strawberries are firm, transfer all of them in a single layer into Ziplock freezer bags and store them in the freezer. Your strawberries can stay there for a year.
You Should Skip Strawberries With Any Of The Following Signs
Strawberries are a huge source of carbohydrates and other essential minerals. Nonetheless, eating mushy or moldy strawberries can be harmful to your health in a variety of ways. You should skip or throw away if you have any of the following signs.
Black Spots
If you see there are dark brown or black spots on a strawberry, it tells you the strawberry is rotting. In addition, once a strawberry turns from red to black or brown, it may be stored inappropriately or for a long time. It's better to discard it.
A Soft Or Shriveled Exterior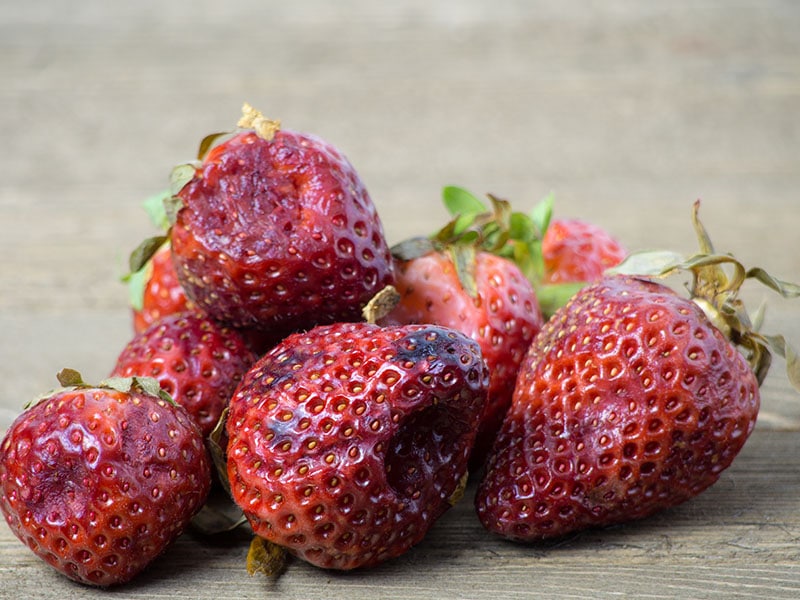 Fresh strawberries often bring out firmness. Too soft strawberries can be rotten or bruised. Additionally, strawberries that look shriveled or moistureless are also bad because they may have been picked for a long time.
To avoid both of these, slightly squeeze the fruits to check. Ripe strawberries will have a smooth, juicy, and firm texture. If the moisture or juice is leaking from them, they're rotten.
An Alcoholic Fragrance
You can judge whether strawberries are sweet based on their odor. Strawberries offer a bitter smell that isn't ripe and less sweet, whereas a strong fermented or alcoholic aroma means the berry is rotten.
Molds And Mushy Texture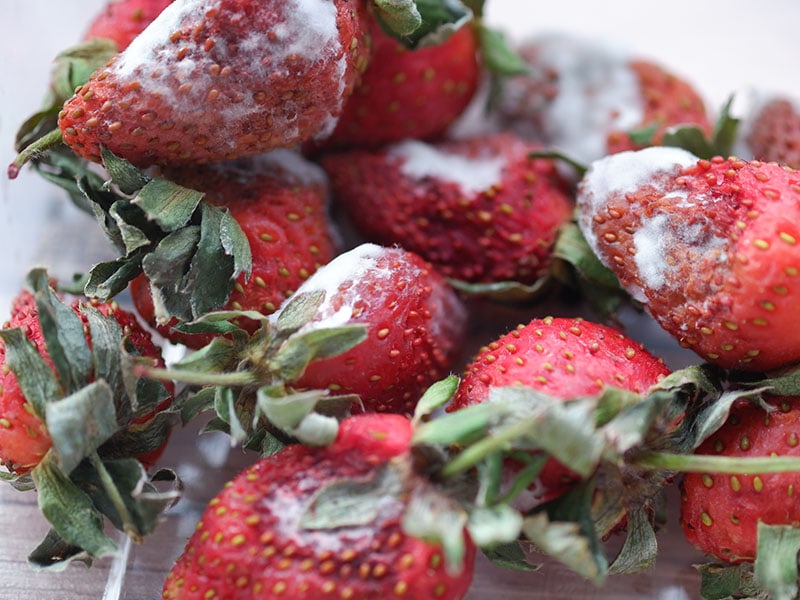 It's noticeable to see the sign of molds on strawberries. Molds are usually white, green, blue, or gray dots that appear on the surface of the fruits. They can rapidly spread from one place to another.
If you notice there's a strawberry that is mushy, poorly colored, and moldy, you should check others nearby and remove them promptly when they present the same signs.
According to USDA, eating moldy fruits can cause respiratory issues and allergic reactions. Moreover, some types of mold can produce mycotoxins or aflatoxins, which can seriously damage your health. (2)
Yummy Homemade Strawberry Recipe Ideas For Your Dessert
Strawberries aren't only eaten raw; they're also one of the important ingredients in many mouthwatering recipes. Allow me to suggest some easy but tasty sweet dish recipes for your dessert that will absolutely satisfy your sweet tooth.
The strawberry custard tart will melt your heart after the first bite. The soft tart filled with strawberry glaze creates the best taste ever. After the tart takes form, place some juiced strawberries at the top and fill them with the strawberry glaze.
If you prefer classic and vintage-style dessert, let's try the classic strawberry pie. Not too many ingredients needed, no complicated recipe involved , the classic strawberry pie still offers an unmistakable flavor and can even please the taste of picky eaters.
This is how to make the best strawberry pie with fresh strawberries.
If you're a mousse lover, you can't skip this dessert. Strawberry mousse cake can be the best birthday cake in the summer because of the flawless combination of mousse cake and strawberries. This is simple to make, and the taste will go beyond your expectations.
Another delicious strawberry dessert recipe that is hard to resist. Strawberry Greek yogurt cheesecake bars can take a little extra time to bake, but all your efforts are worth it when you take a look at the finished result.
FAQs
In case you have more questions about how to wash strawberries to the cleanest, I've prepared a list of frequently asked questions to clarify your curiosity.
Your Strawberries Are Ready To Be Served Now
All your curiosity has been answered. I hope you've gained helpful knowledge about ways to clean strawberries properly, pick fresh strawberries, and store them. Which method do you think is the best way to clean strawberries? Let me know in the comment section below!
If there are still lots of strawberries available in the fridge, why don't you try to make strawberry desserts as I've suggested above? If you find this post helpful, you can support me by sharing it. And now, let's enjoy your pretty and flawless strawberries!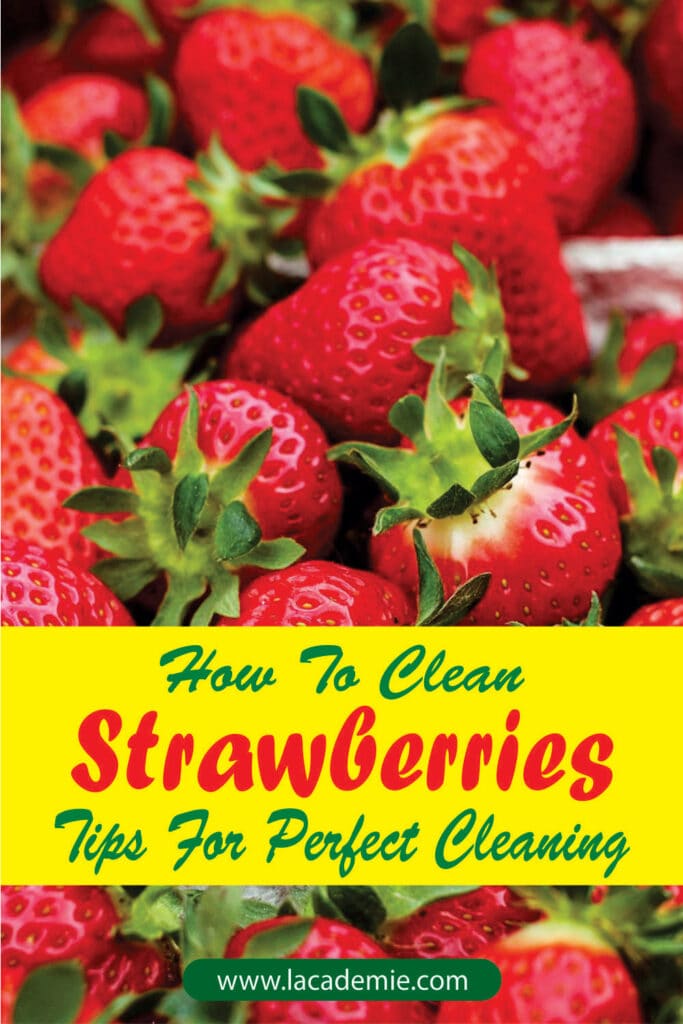 References
Bajwa U., Sandhu K.S. Effect of handling and processing on pesticide residues in food—A review. J. Food Sci. Technol. 2014;51:201–220. doi: 10.1007/s13197-011-0499-5.
fsis.usda.gov. 2013. Chicken from Farm to Table.
Lozowicka B, Jankowska M, Hrynko I, Kaczynski P. Removal of 16 pesticide residues from strawberries by washing with tap and ozone water, ultrasonic cleaning and boiling. Environ Monit Assess. (2016) 188:51–51. 10.1007/s10661-015-4850-6.