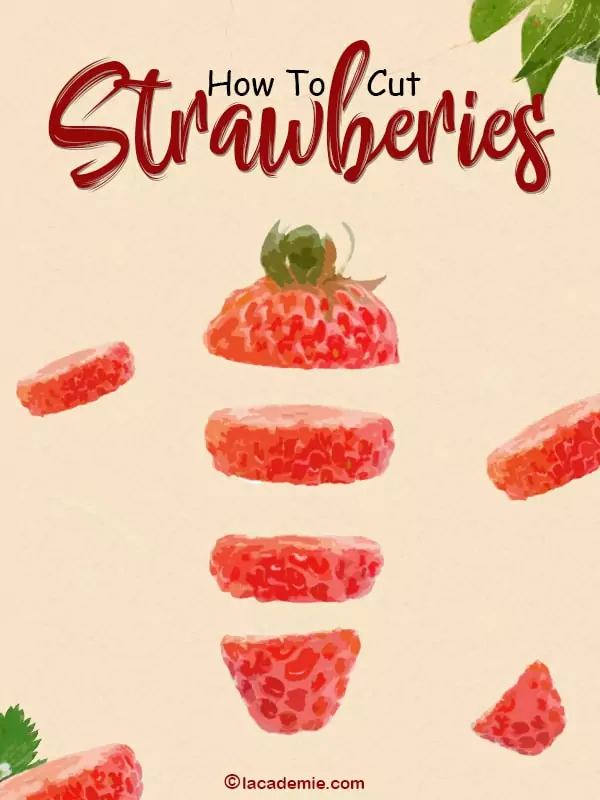 How to cut strawberries? Cutting out the whole strawberries' top to get rid of the tough hull may be a bit of a waste. Strawberries are precious with high nutritional content. Hence, you'd better try out optimal approaches to mitigate the waste as much as possible.
With that in mind, I wrote this post with some optimal methods of cutting strawberries. You won't waste your fruits as well as have gorgeous dishes for your party tables and holidays. Scroll down! The most interesting part is yet to come.
Strawberries 101 – All About Strawberries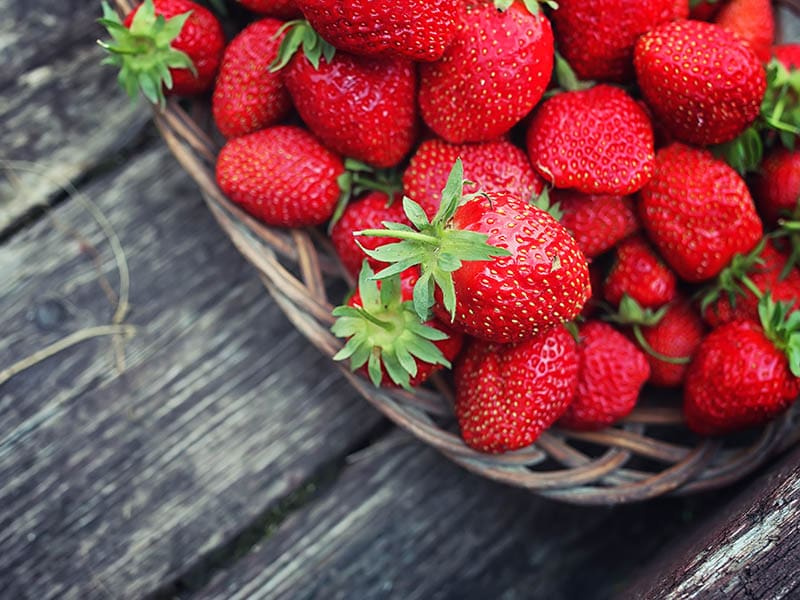 Strawberries are one of the most popular fruits worldwide. Its scientific term is Fragaria ananassa, while another popular name is garden strawberry. It came from Europe in the 18th century as a hybrid species of American wild strawberries.
This nutrient-dense fruit is bright red, heart-shaped, and eye-catching. Other positive traits are its juicy texture and unrivaled sweetness. Although some people might confuse this fruit with raspberry, there are many things that set strawberry and raspberry apart.
Besides raw consumption, the fruit is also widespread in a slew of dishes and recipes. Everyone can prepare strawberries as pie, cakes, ice creams, milkshakes, and juice. Beyond that, strawberry scent contributes to the production of perfume, soap, candy, and lip gloss, to name a few.
Its harvest varies on the varieties and regions, usually falling in summer, although spring and autumn are also prime seasons for strawberries.
Notably, Floria and California harvest strawberries all year round, owing to multiple strawberry varieties grown there. Their peak harvest ranges from spring to fall.
There are 3 main variations of strawberries:
Day-neutral strawberries often produce fruits from mid-summer to fall.
Everbearing strawberries usually produce 2 crops per year, from mid-spring to summer and from late summer to fall.
June-bearing strawberries give a single crop in June or July.
Discover some interesting and fun facts about strawberries here!
Strawberries' Nutrition Content & Health Benefits
Strawberries are not just a stunning fruit. It's a great source of vitamins, minerals, and other compounds or substances.
1. Vitamin & Minerals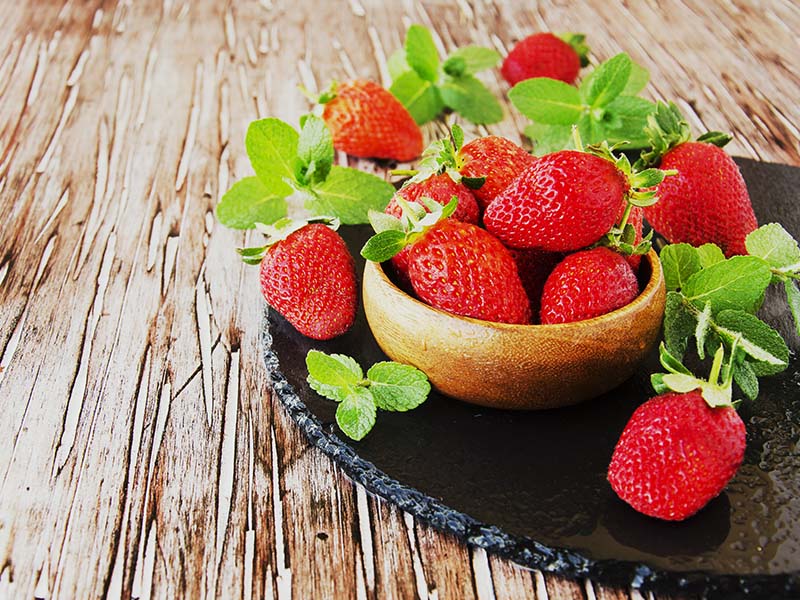 This juicy type of fruit has a lot of vitamin C, an antioxidant for skin and the immune system. Also, manganese in strawberries is essential for most body processes, while vitamin B9 elevates cell function and tissue growth.
Also, strawberries contain iron, vitamins B6, phosphorus, magnesium, and vitamin K. They are amazing for boosting your body's metabolism as well as strengthening your immune system.
2. Fiber & Carbs
Fiber comprises about 26% of strawberries' carb amount. It plays a crucial role in freeing the health-beneficial bacteria in the gut and boosting digestion naturally. The substance also aids in weight loss.
Strawberries are a low-carb type of fruit abundant in water. In other words, strawberries are safe for people having diabetes or high blood sugar levels.
3. Anthocyanins
There are more than 25 kinds of anthocyanins in strawberries, of which pelargonidin accounts for the largest percentage. This substance determines the color intensity. Anthocyanin-rich foods like strawberries aid much in enhancing heart health. (1)
4. Other Plant Compounds
Strawberries offer various precious plant compounds, such as ellagic acid, pelargonidin, ellagitannins, and procyanidins, to help boost health overall. (2) This fruit is also rich in ellagitannins, which help fight bacteria and impede cancer growth.
Take a closer look at the health benefits of strawberries!
How To Cut Strawberries – 6 Quick Ways To Apply
It's time to go for the cornerstone – how to cut strawberries correctly. Each style is suitable for some occasions and purposes, along with different conducting processes and hassles. First off, you need to clean and hull strawberries:
Clean And Hull Strawberries In Advance
Cleaning and hulling strawberries are must-have steps to ensure the hygiene and the convenience for the next part – cutting strawberries. Doing so can also help reduce the amount of waste. Have things done as fast as possible with the following guide:
Step 1: Wash Strawberries
You'd better wash strawberries only when you want to eat them. Strawberries often absorb much water, making them spoil fast. To clean strawberries thoroughly, follow these steps:
Put them into a strainer or colander.
Clean them under running water and gently rub them with your fingers or a short brush.
Drain off strawberries with a kitchen towel.
Step 2: Hull Or Core Strawberries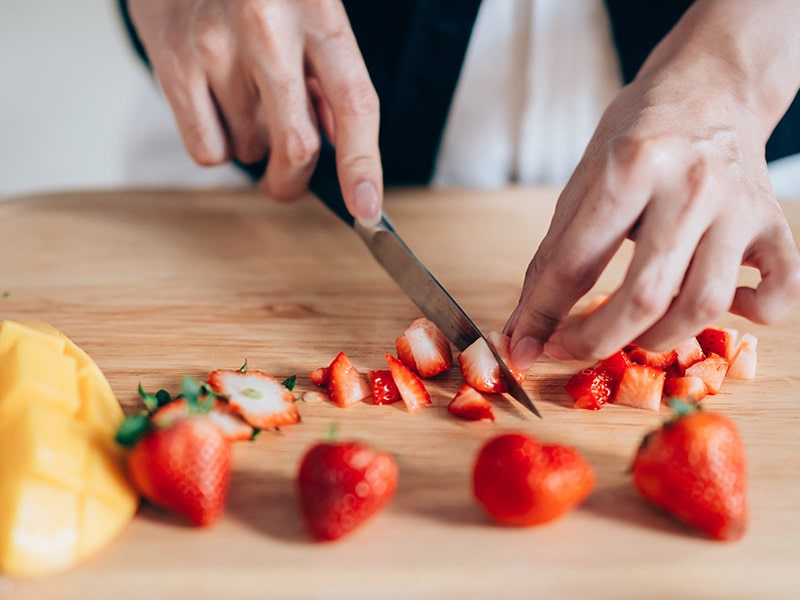 After washing, strawberries are ready to be hulled. There are some quick steps to pick out the green stems, bitter central white core, and leaves of a strawberry:
Use your hands to twist and pull out all the stems and leaves on the strawberry.
Cut into the strawberry with a paring knife tip and slice it around the berry's white top (the hull).
After that, pop out the strawberry's hull with the knife tip and throw it away.
6 Ways To Cut Strawberries
After the preparation steps, you can apply one of these 6 options to cut strawberries, from conventional ways to elaborate methods. Conventional approaches can be applied to common dishes, while more elegant ones can fit for holiday parties:
1. Cutting In Vertical Slices
This is one of the most popular methods to handle your strawberries. There are 3 simple steps to cutting strawberries into vertical slices that are shown below.
Step 1: Position The Strawberries
After cleaning and hulling steps, put strawberries top-down with their tips facing upwards onto a cutting board.
Step 2: Begin Cutting
Use a paring knife to cut strawberries into vertical slices with a suitable thickness. Each berry can be cut into 4 – 5 slices. Ensuring the even thickness of all slices is vital, helping your dishes look nicer and more comfortable. Repeat this step for all strawberries.
Step 3: Serve The Cut Strawberries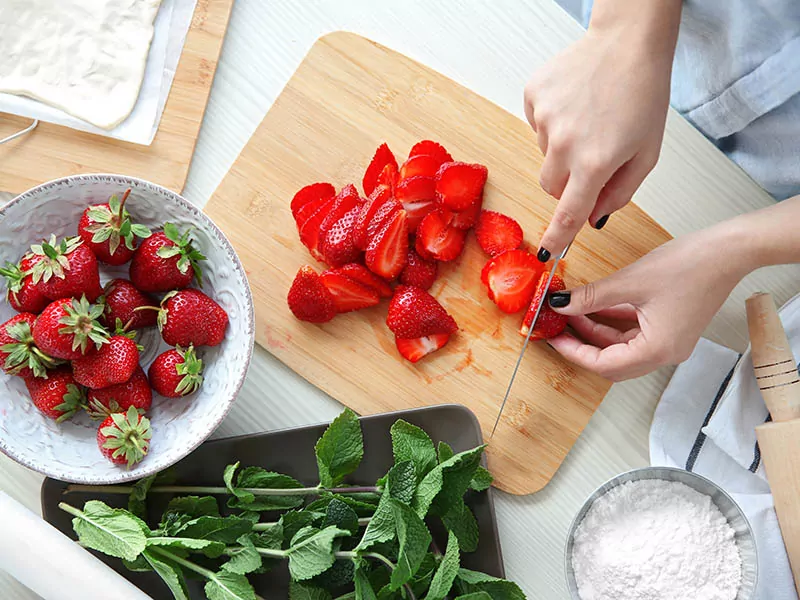 Place slices into a dish or plate. Everything is ready to serve. You can use them to top oatmeal, pies, cereals, and cakes with your preferences.
2. Cutting In Halves
Get inside the next option that's also easy to implement: cutting strawberries in halves. Without much introductions, you just need to go through these 2 quick steps:
Step 1: Cut Strawberries
Place strawberries top-down on a cutting board. Cut all strawberries in half straight down at the strawberry's middle point. Start at the top to bottom of strawberries.
Step 2: Serve Strawberries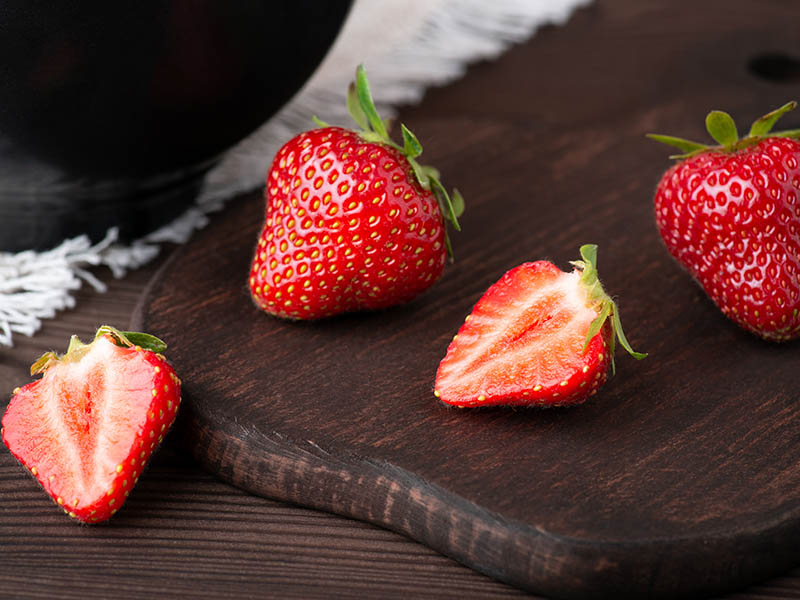 Arrange cut strawberries on plates and enjoy! Strawberries in halves are ready for snacking, tarts, or smoothies and shakes!
3. Cutting In Quarters
Let's get into another method of cutting strawberries: cutting them in quarters is undoubtedly a popular approach.
Step 1: Cut Strawberries
Put the strawberries top-down on a cutting board and slice them into halves first. Then, turn them 90 degrees and continue cutting them from halves into quarters.
Redo the same steps for all strawberries.
Step 2: Serve Your Strawberries
Spread out cut strawberries on plates or bowls. Everything is ready for use. Now, serve strawberries in your daily dishes and consume them with smoothies, cupcakes, and fruit salads.
These first 3 cutting ways above are straightforward to implement. You could have things done quickly in a short time!
4. Cutting Into Roses
Make strawberry roses look like a ''bouquet'' as a gift to your beloved ones. This style is undoubtedly one of the top-notch options for your strawberries.
Step 1: Make The First Petal-shaped Row
Place all strawberries top-down onto a cutting board. When you work on a strawberry, skewer a fork into its base.
Hold the fork carefully and make the petal-shaped slice on your strawberry with a paring knife. Try to turn the petal outward by moving the knife lightly while it is still in the strawberry. Go around the strawberry's middle base and repeat the process to create the first row of petals.
Step 2: Make The Second Petal Layer
Move the knife a little higher above the first row. Next, slice down the second row of petals between the tip and the previous petal row. Be mindful of the spacing so that the two tiers can alternate each other.
Step 3: Supplement The Third Row If Necessary
The third row is needed if the strawberries are too large. However, two layers of the petal are usually enough. Put down a shallow slice on the tip of the strawberry.
Step 4: Finish The Cut!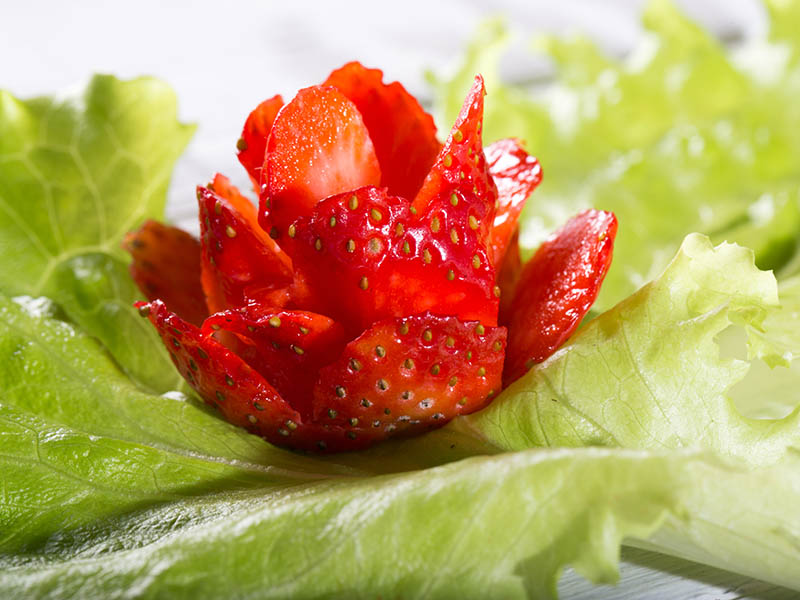 Use green floral tape underneath the rose to make it look natural and vivid. Place your "roses" on a plate and enjoy them with ice cream, cupcakes, smoothies, and cakes.
Last but not least, this cutting style is recommended for solemn holiday decorations, feasts, and party tables.
5. Cutting Into Fans
Have desserts like panna cottas (a creamy Italian dessert) and crème Brulee with cut strawberries. These two dishes match strawberries in a fan shape. Let's try once:
Step 1: Put Strawberries On The Cutting Board
After coring the strawberries, put them on the cutting board.
Use a small knife to cut slices into a strawberry lengthwise and create a fan-like shape. Remember to leave a portion near the cap of the strawberry intact. You can make about 6 to 8 cuts.
Step 2: Spread Out The Slices
Gently spread out all slices until they get into a fan shape held together by a stem.
Step 3: Serve Cut Strawberries
Place the strawberries on a plate. It's flawless to have them with cookies, chocolate, and ice cream. Beyond that, fan-shape style strawberries look elegant in feasts, festive holidays, and solemn parties.
Now your dinner table looks so fancy and stunning! Let's enjoy the me-time with your bestie or loved ones!
Try out cutting strawberries into fans with ease by following this brief guide!
6. Making Unique Designs: Heart-Shaped Strawberries
Be creative with your garnishes to make your dishes unlike anything else! In this section, I want to go for an amazing decoration idea with beautiful heart-shaped strawberries.
Step 1: Cut Strawberries
After getting rid of the stem, make a V-shape cut into the top of each strawberry and round off the edge. Slice the strawberry lengthwise from the top down to the bottom.
Step 2: Complete The Design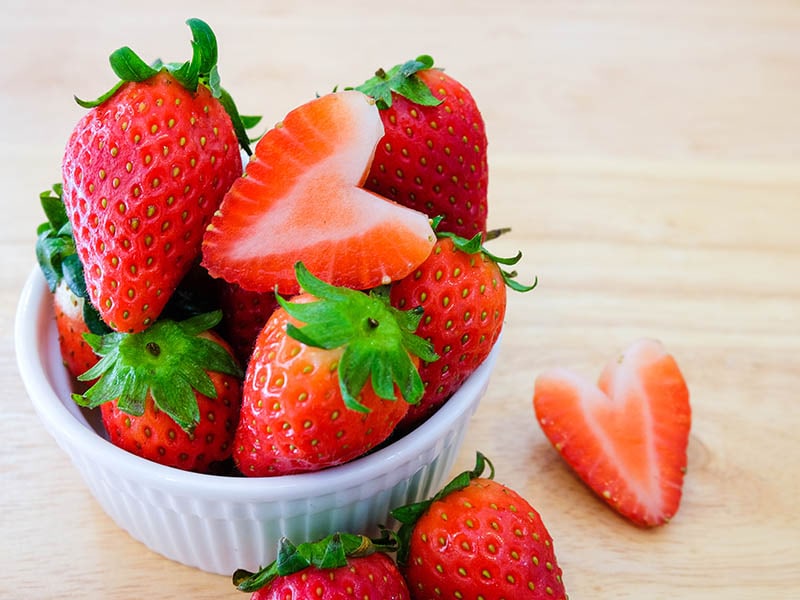 Ensure all the halved strawberries are even in thickness. You can cut them into thinner slices to your liking. Now, it's time to enjoy it with cupcakes, cheese boards, ice cream, and cakes. This idea also fits the decoration of holiday and party tables.
Cutting strawberries in roses, fans, and a unique shape are fancy cutting art. Therefore, the newbie may encounter a lot of difficulties, notably in creating even layers, slices, and rows. But don't feel upset: practice regularly, and you will master these skills.
The Best Ways To Cut Strawberries For Baby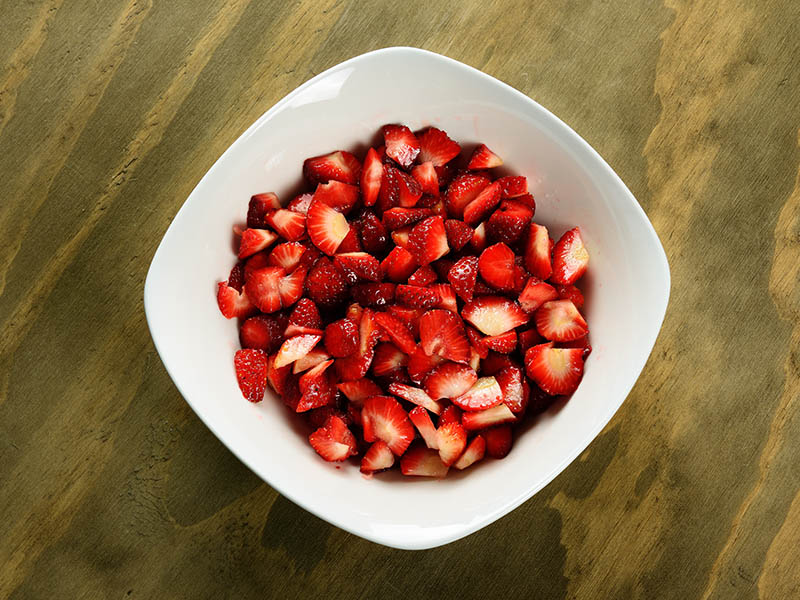 Strawberries are suitable for a baby's health, no doubt. Notwithstanding, you can't cut these above ways to feed your baby. Here comes a quick instruction:
1. For Baby: 6 – 9 Months Old
Pick strawberries that are ripe and soft enough for your baby. Use your finger to ensure they give when you press them slightly. Otherwise, if they are too hard, skip them as they may endanger the child. Also, stay away from mushy strawberries because they nearly spoil.
Cut the selected strawberries into tiny slices to fit the kids' mouths before serving. You can stir them into warm cereal or yogurt to encourage your kids to eat more.
2. For Baby: 9 – 12 Months Old
At this age, the baby's pincer grasp is somewhat better. You can teach the baby to eat strawberries with a utensil, preferably a fork. If the strawberries are too big, cut them vertically from top to bottom or into eighths.
3. For Baby: 12 – 24 Months Old
Babies in this period can handle quartered, halved, or whole and very ripe strawberries. Remember to pick the soft and ripe strawberries that your baby can easily and safely enjoy.
Let your kid practice using a small fork to eat strawberries. It is also a good idea to allow the baby to pick them up by him/herself.
Follow a quick step-by-step guide to cutting strawberries for the baby.
How Do I Make Cut Strawberries Last Longer?
Regarding the best methods for storing fresh strawberries, I bet refrigerators and freezers are things popping up in your mind first. That's it! Go for some storing steps and tips to keep your cut strawberries fresh for a long time.
1. At Room Temperature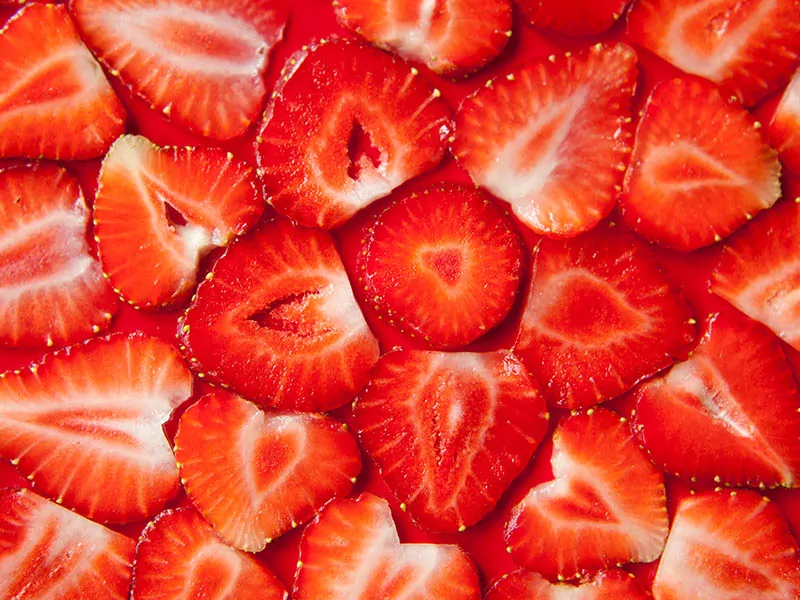 Cut strawberries can last only 1 – 2 hours at room temperature. Therefore, it's best to consume them soon if you don't have a fridge. After that time, bacteria may contaminate cut strawberries and make you sick.
Therefore, if you wish to store leftover cut strawberries for a longer time, transfer them to the fridge.
2. In The Fridge
Like most fresh fruits, strawberries can't stay long at room temperature. Consequently, you should put them in a fridge to keep them fresh and safe to eat for a longer time.
Step 1: Prepare Your Strawberries
Wash and clean strawberries, remove their caps, and let them drain off for a while.
Step 2: Slice Strawberries
Cut strawberries in half or quarters before refrigerating them. The smaller their size is, the more conveniently they will fit in the fridge.
Step 3: Refrigerate Cut Strawberries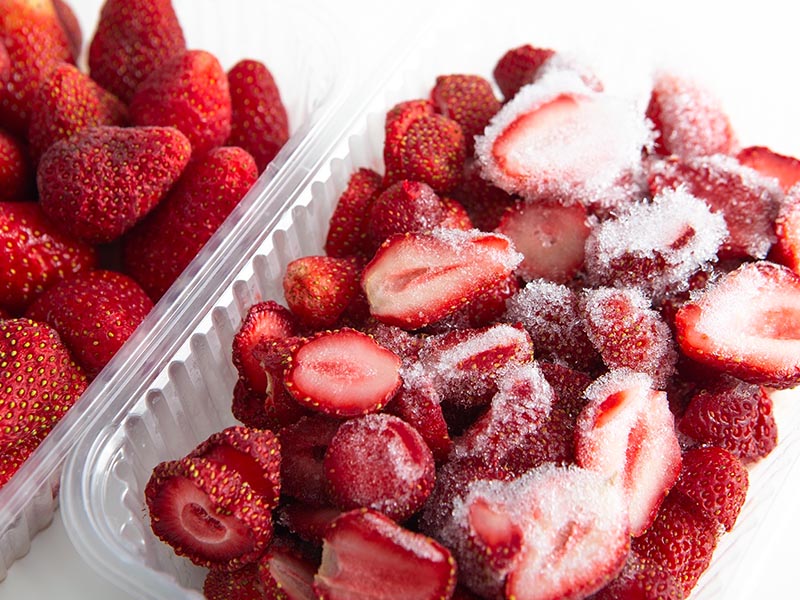 Put all cut strawberries in sealed plastic bags before moving them to the fridge. This way prevents strawberries from getting crushed by other veggies nearby.
Uncut strawberries and cut ones stay better in the crisper drawer, where the temperature is low, and the humidity level is adjustable to suit the strawberries' needs. Typical strawberries often stay fresh in the fridge for about 3 – 4 days.
3. In The Freezer
A freezer can last your foods and stay fresh longer, including strawberries. Here is a how-to-do list for you to freezer your strawberries:
Step 1: Preparation
Wash the strawberries, drain them off, and remove their green stems.
Step 2: Cut Strawberries And Put Them Into The Containers
You can cut strawberries in half or quarters. Then, put all cut strawberries into freezer bags. Push out the excess air before sealing.
Step 3: Store The Strawberries In The Freezer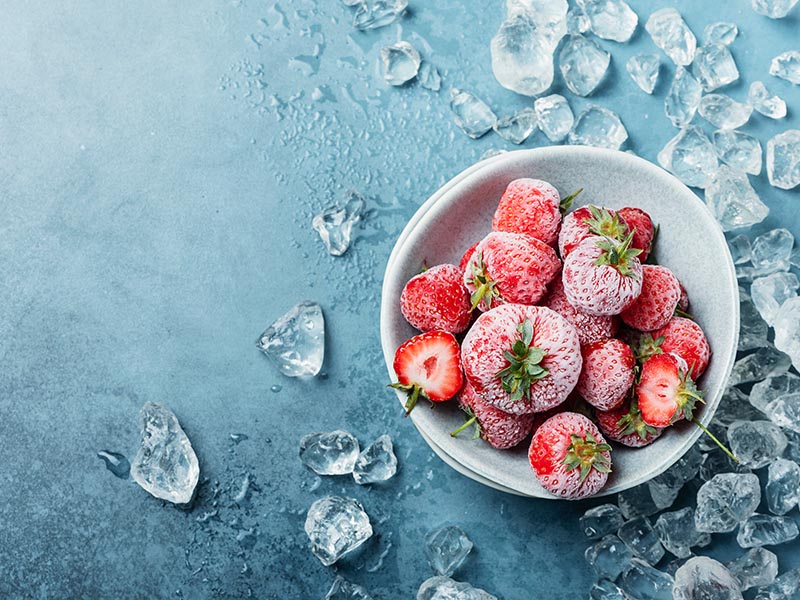 Stow the strawberry bags in the freezer. Frozen strawberries' shelf-life can be up to 12 months. Still, once defrosted, strawberries will become mushy. In other words, they can't keep the initial texture and quality.
How To Know If Strawberries Have Gone Bad?
Fresh strawberries look bright red, sweet, and fragrant, along with a firm texture and stunning look. However, like other fresh fruits, strawberries will go down due to unsatisfactory storage conditions or after a long time. Below are several signs of spoilage:
1. Molds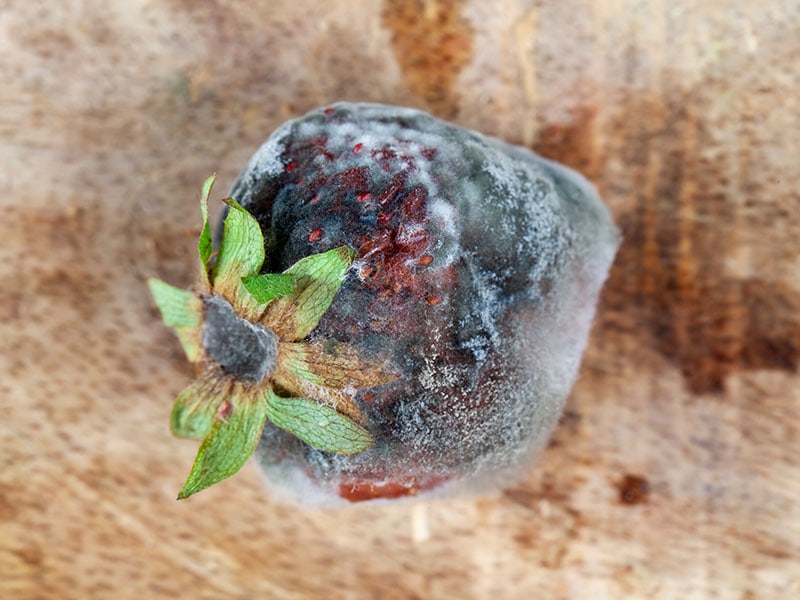 Any sign of mold indicates that strawberries have gone bad, particularly gray and white mold. Don't try to consume these strawberries. Let them go, or else you will suffer from food poisoning.
2. Bruises And Juice Leaking
Too bruised, mushy, and soft strawberries are unsatisfactory to eat as their flavor may no longer be good. Strawberries with large bruises are no longer edible. However, minor bruises can still be acceptable if the strawberries' texture and flavor are good enough.
Beyond that, leaking juice is another phenomenon of spoiled strawberries. This happens when the strawberries get old and their enzymes destroy the cell walls, making the juice seep out. Toss the berries away if you notice they become wet from the leaking juice.
3. Shriveled Or Squishy Texture
Once strawberries are no longer firm and fresh and become shriveled, their quality has deteriorated, making them unfit for consumption. Similarly, the squishy texture signals that strawberries are not good enough to eat.
4. Dry Or Brown Caps
Overall, green, intact, and healthy caps confirm the strawberries are fresh and good to eat. Conversely, spoiled strawberries' caps often turn brown and fall off easily.
5. Strange Smell
A fresh strawberry is sweet and emits a pleasant fruity fragrance. Yet, a bitter, rotten, or sour smell is a sure sign of spoilage. Don't consume such strawberries to avoid foodborne illness.
6. Losing Color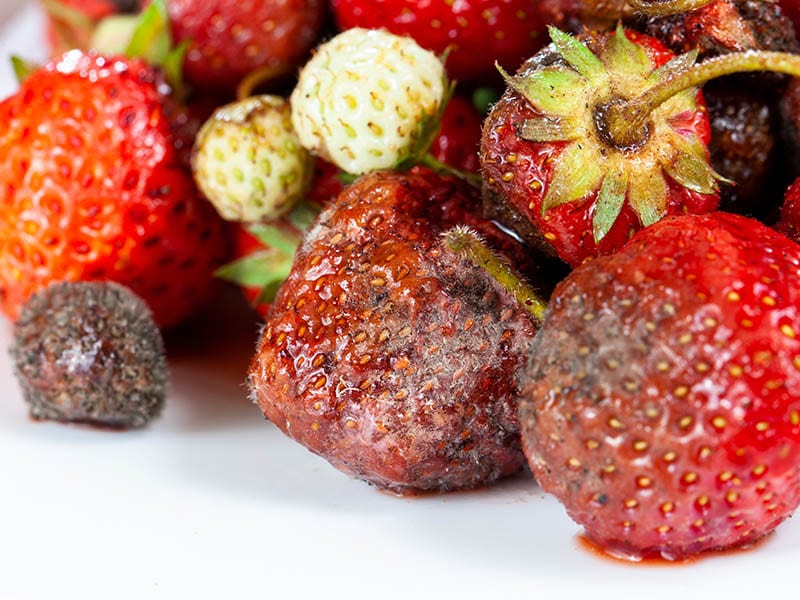 Everyone knows ripe and edible strawberries are bright red. But they will turn unpleasant and inedible whenever you realize their hue isn't the same and become mingled with other colors, like green, brown, or white. Discard discolored strawberries at once.
Recipes With Cut Strawberries
Cutting strawberries inspire everyone with tons of new ideas. That's it! There are different ways to spice meals up with colorful strawberries.
You may feel like dying for a dish of Strawberry Lemon Blondies. Let's prepare a dish at once for your festive holidays and get-together. The dish emits an epic fragrance with a dense texture like a brownie. You will wish to enjoy it again a million times owing to its tangy, sweet, and delicious taste.
You will never get enough of such delicious yogurt dishes. It's easy to make and perfect in taste. The combination of yogurt and strawberries sauce creates a truly mouth-watering taste. Don't skip this recipe as an appetizer or starter if you're all set to go for a table party!
Cheesecake never lets you feel low. Its yummy, fresh and peculiar combination will blow your mind. It can please the most discerned party guest with its peculiar taste. This recipe works well as a holiday dessert! Give it a try next time you throw a party!
FAQs
Stay tuned, and don't skip the FAQs section. This is part of the whole post with extra exciting knowledge about strawberries:
Chill Out With Fresh Strawberries Dishes!
There you have it – the step-by-step guides on how to cut strawberries properly. Conventional ways of cutting fit the daily table meals, yet the more elegant styles like cutting in rose, fan, or heart shapes are flawless in big ceremonies or solemn events.
I bet you've got your answer and other ideas to whip up your gorgeous party tables. Nothing sounds better than enjoying the me-time with a fresh strawberry dish with your fellas and family. Last but not least, like and share this writing if you find it informative!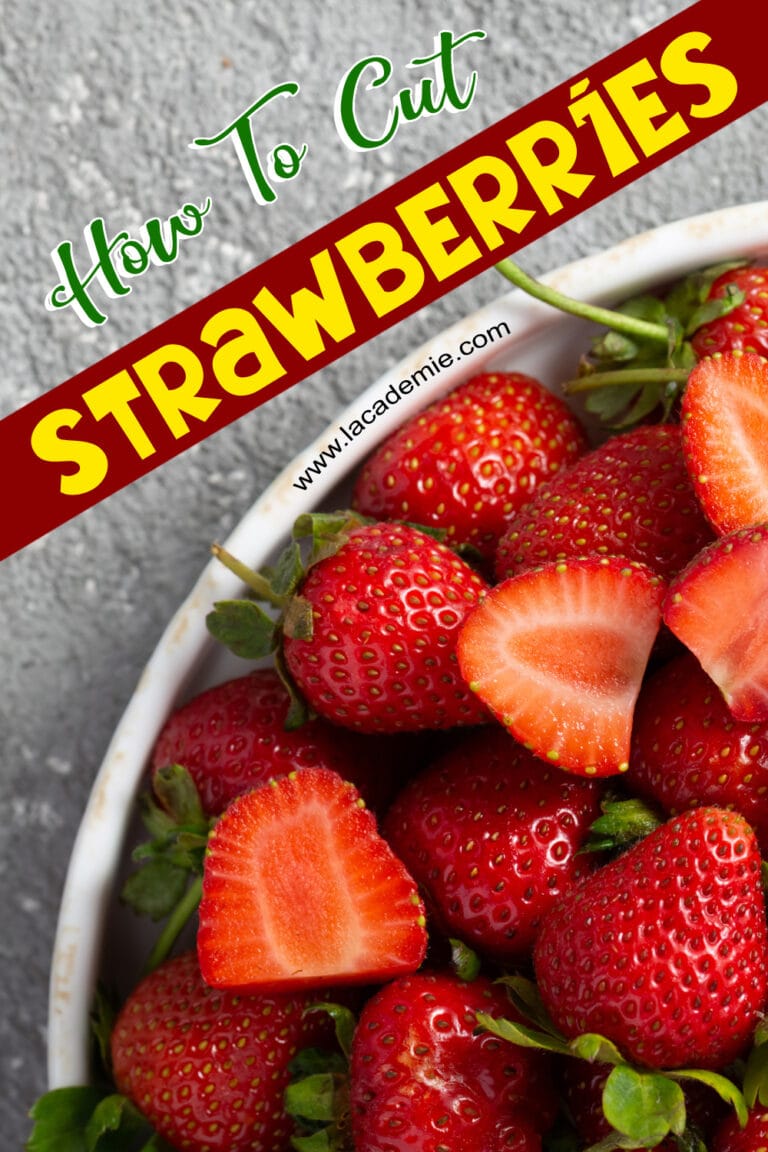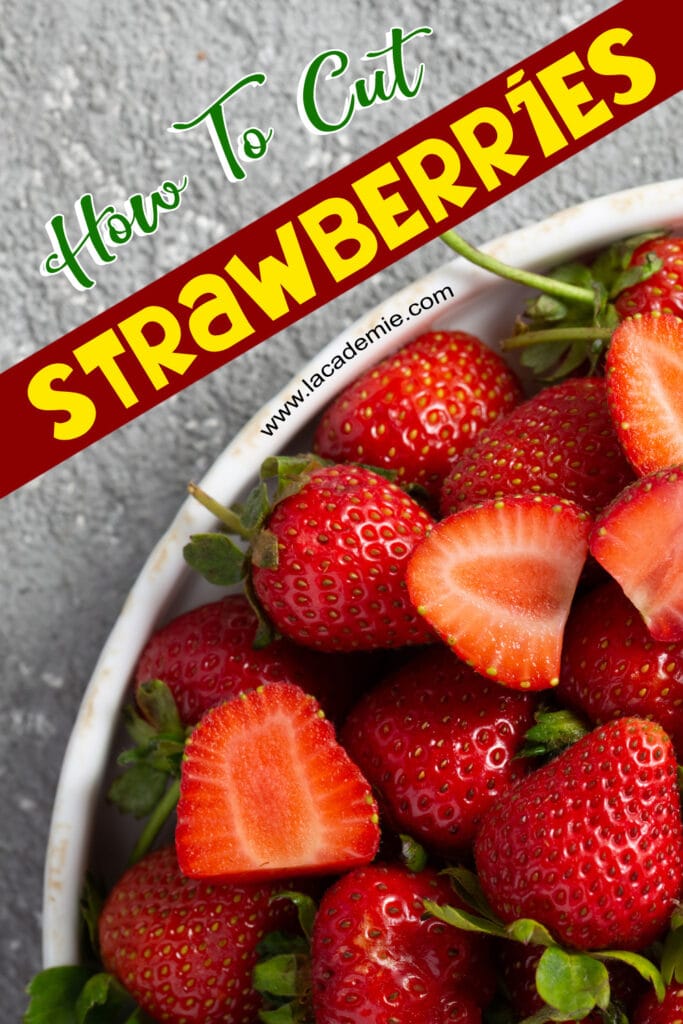 References:
Healthline.com, (2019). Strawberries 101: Nutrition Facts and Health Benefits.
Pubmed.ncbi.nlm.nih.gov, (2004). Proanthocyanidins In Health Care: Current And New Trends.