When are strawberries in season? Are strawberries available all year round? When is the good time to buy this yummy S-something fruit? There are many questions related to this topic that you can find answers to in this article.
Strawberries are one of the favorite fruits that mostly appear in summer. That's why the majority of consumers think that strawberries only bear fruit in summer. That may be correct, but it's not enough.
I'll take you through the process of finding the answers about in-season strawberries, featured strawberry varieties, storing strawberries, and even tips for growing clean strawberries at home.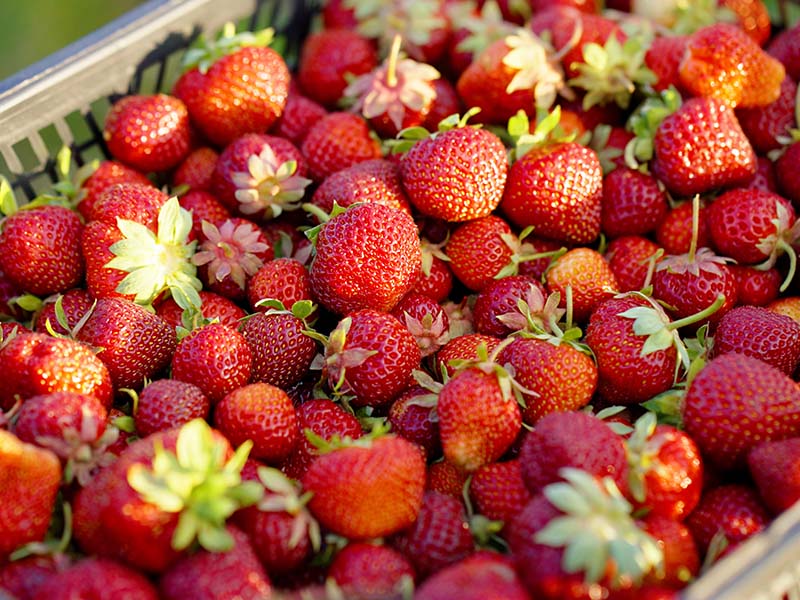 When Do Strawberries Come In Season?
You may notice that strawberries are at their peak in the summertime. For that reason, they also name many varieties of strawberry "June-bearing" types. Nevertheless, there are still more popular types of strawberries that are in season at different periods.
| Types | June-Bearing Strawberries | EverBearing Strawberries | Day-Neutral Strawberries |
| --- | --- | --- | --- |
| Fruiting Season | Spring to early summer | Spring to fall | Spring to fall |
| Number of crops per year | One large crop | 2-3 crops | Multiple crops under the right condition |
| Ideal growing condition | Day length is less than 10 hours | Day length is more than 12 hours | 40-90 degrees Fahrenheit |
| Variety | Allstar, Earliglow, Honeoye, etc. | Ozark Beauty, Everest, Quinalt, etc. | Seascape, Albion, San Andreas, etc. |
June-Bearing Strawberries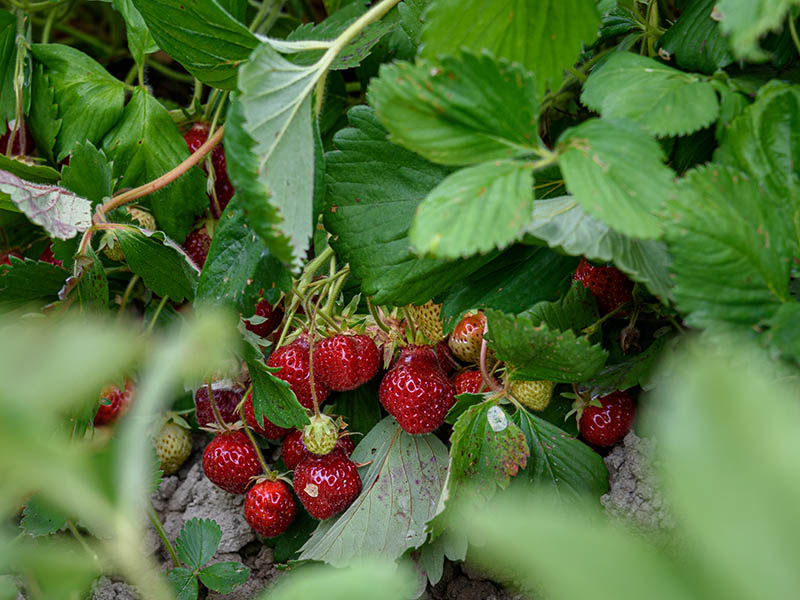 June-bearing strawberries are the most common types that produce luscious strawberries from spring to early summer. The significant feature of this group is that they only produce a single yet extremely large crop throughout the year.
The strawberry season can last two or three weeks. The harvest dates can vary depending on each region. In the Southern United States, fruit production may occur in late April or early May, while the harvest time may be several months later in Northern states.
In the first growing season, June-bearing plants frequently produce no fruit. They produce buds in late summer when the nights are longer (day length is less than 10 hours), and in the next spring, the flowers bloom and bear fruits.
At the end of the harvest time, in late summer, the plants tend to produce many runners to make new plants. Many varieties are classified in June-bearing types, including Allstar, Earliglow, Honeoye, etc.
Do you know the differences between June-bearing and everbearing strawberries? Find out here.
Everbearing Strawberries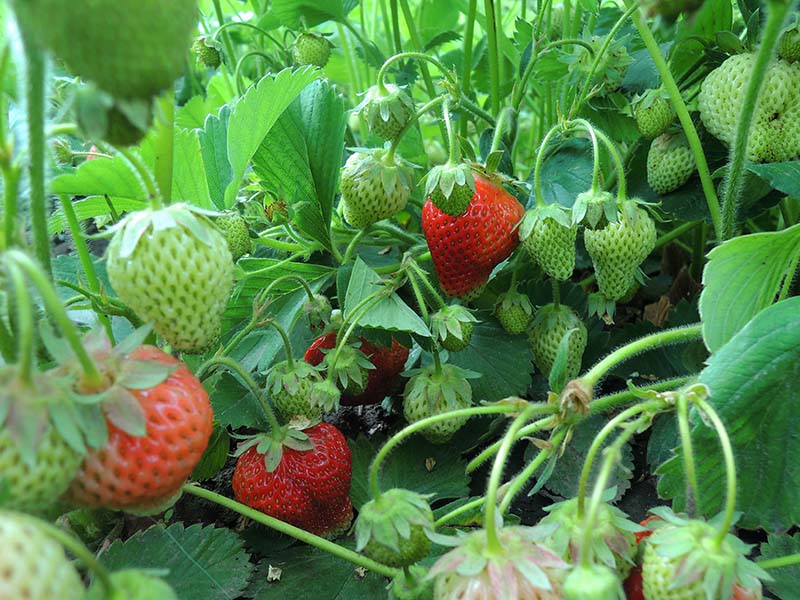 The everbearing strawberry plant is another common type of strawberry throughout the world. The primary distinction between everbearing strawberries and June-bearing strawberries is crop timing.
Everbearing strawberry plants frequently bear fruit 2-3 times per year. The specific harvest time for the first crop can last from spring to early summer; the second one takes place in summer, and the last one occurs in late summer to early fall.
Unlike June-bearing plants, everbearing can bear fruits in the first growing season. They form flower buds when the day length is more than 12 hours per day and don't produce many runners.
Frequently, everbearing berries tend to be smaller but sweeter than those on June-bearers. Some typical everbearing varieties consist of Ozark Beauty, Everest, Quinalt, etc.
Day-Neutral Strawberries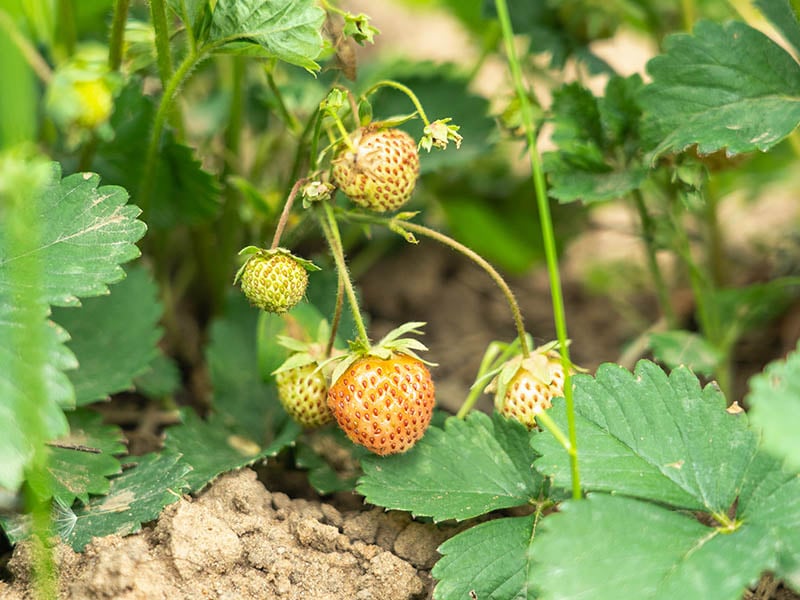 That said, day-neutral varieties are a new term for everbearing types. The advanced feature of day-neutral strawberries is that they don't rely too much on the day length and can produce fruit from June to October.
As long as the temperature stays between 40 and 90 degrees Fahrenheit, day-neutral varieties can keep producing new berries throughout the season.
Unlike the two previous types, gardeners have to re-plant day-neutral strawberry plants each year in the same way as vegetable plants. Some typical day-neutral varieties are Seascape, Albion, San Andreas, etc.
According to research by the UMN West Central Research and Outreach Center, day-neutral strawberries produce more fruits than June-bearing varieties, and the taste of the fruits is also sweeter. (1)
There is no limit to crops with day-neutral strawberry varieties.
Common Strawberry Varieties You Should Now
Knowing some common strawberry varieties can help you make smart choices. I've listed some recommended strawberry varieties that produce high-quality fruits, have outstanding features, and are easy to grow. Let's check them out!
Allstar Strawberries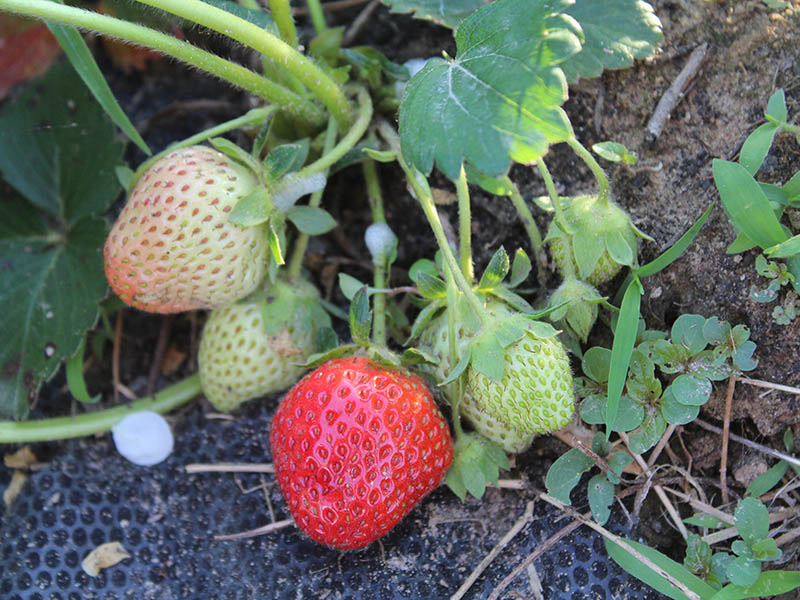 The Allstar strawberry is one of the outstanding June-bearing varieties which produces a big harvest from spring to early summer, but the crop only lasts for a few weeks. Allstar strawberry plants are also hardy and productive under good winter protection.
Allstar strawberry flowers are white and have five petals in total. The fruits, which are one to two inches, commonly ripen in June. Allstar varieties can be planted as perennials in zones 5-9, like some regions in Vermont, West Virginia, Oregon, etc.
Allstar variety is one of the best June-bearing strawberry types.
Honeoye Strawberries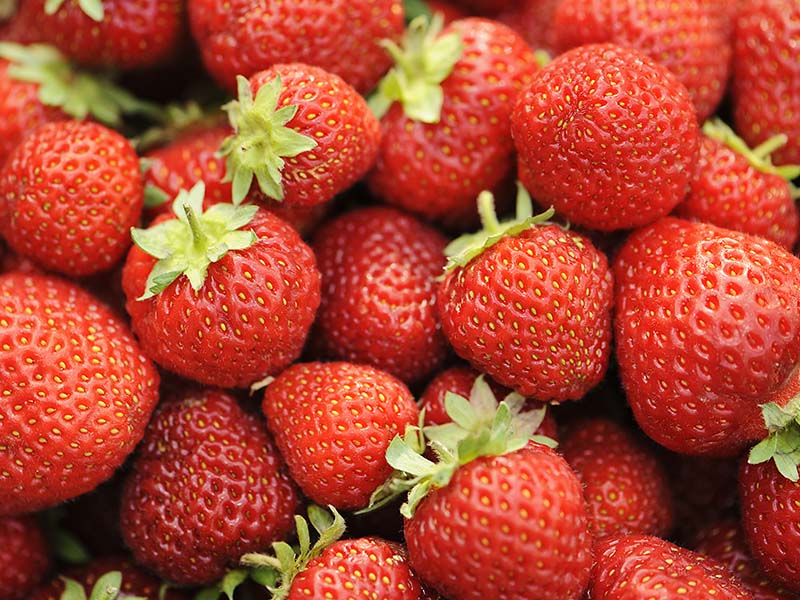 Another notable variety of the June-bearing type is Honeoye strawberries. They belong to the mid-season group and often come into season from the middle of June to early July.
It's better to grow Honeoye varieties in zones 3 to 8 from the state of North Dakota or Montana to the Mid-South, such as Tennessee, Arkansas, Oklahoma, etc.
It's hard for you to resist the sweet flavor and strong berry aroma of ripe Honeoye strawberries. Like many other high-quality strawberries, Honeoye fruits are also large and brilliantly red. Besides, Honeoye types are excellent disease-resistant plants.
Ozark Beauty Strawberries
Ozark Beauty strawberries are famous as one of the most outstanding varieties of everbearers. Some notable features of this variety are that Ozark Beauty strawberries are often large, well-colored, and honey-sweet.
Ozark Beauty plants can yield two productive crops: one in late spring or early summer and another in fall if they grow in zones 4-8, such as the northern states or the coastal regions in the southeast.
Let's take a look at Ozark Beauty strawberry plants.
Albion Strawberries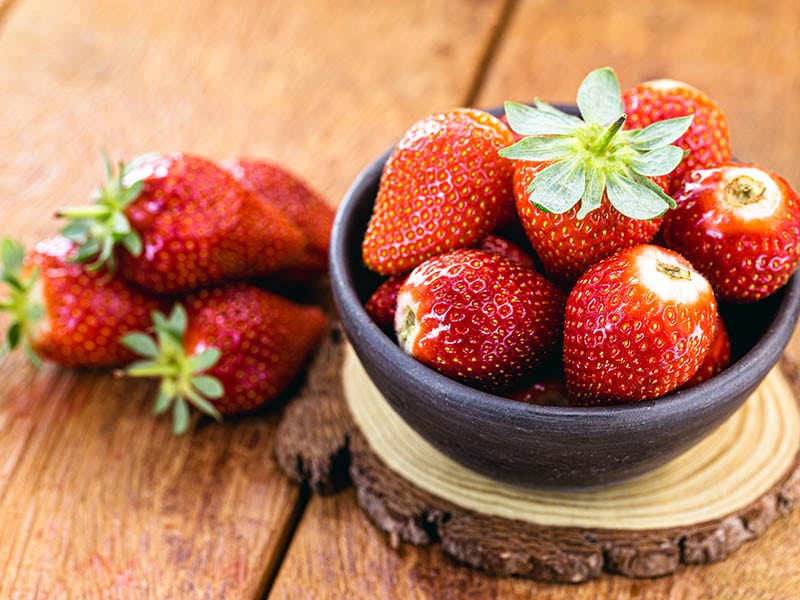 Albion strawberries are a day-neutral variety because they don't rely on the day length. This strawberry variety is well-known for its high productivity, quick growth, and strong immune system. Albion is a perennial in zones 4 through 7.
There are some ideal regions to grow Albion strawberries, including Georgia, Vermont, Ohio, Oklahoma, etc. When caring for this kind, keep in mind that the plants require more water and nutrients than other varieties.
Albion strawberries frequently bear bright red and firm berries with a conical form and a sweet flavor. You can enjoy juicy and tasty Albion strawberries from late spring to fall.
San Andreas Strawberries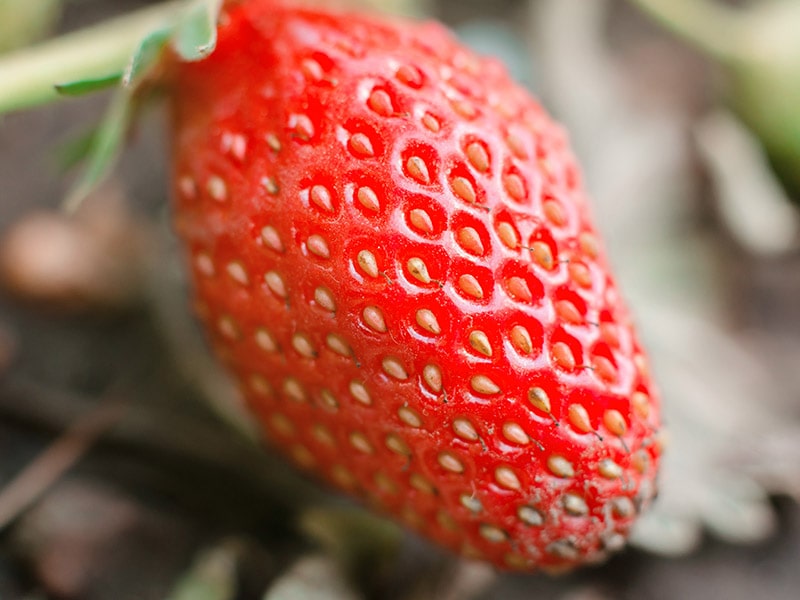 For those who want to plant the top strawberry variety belonging to the day-neutrals, San Andreas strawberries may be on your list. San Andreas and Albion share many similar features. However, you will find the red color of San Andreas berries is lighter.
Because the growing process of San Andreas strawberries doesn't depend on the length of daylight, gardeners can grow this variety both indoors and outdoors. There are up to 3-4 crops in the summer. San Andreas is perennial in zones 4–7, just like Albion.
Why Should You Grow Your Own Strawberries?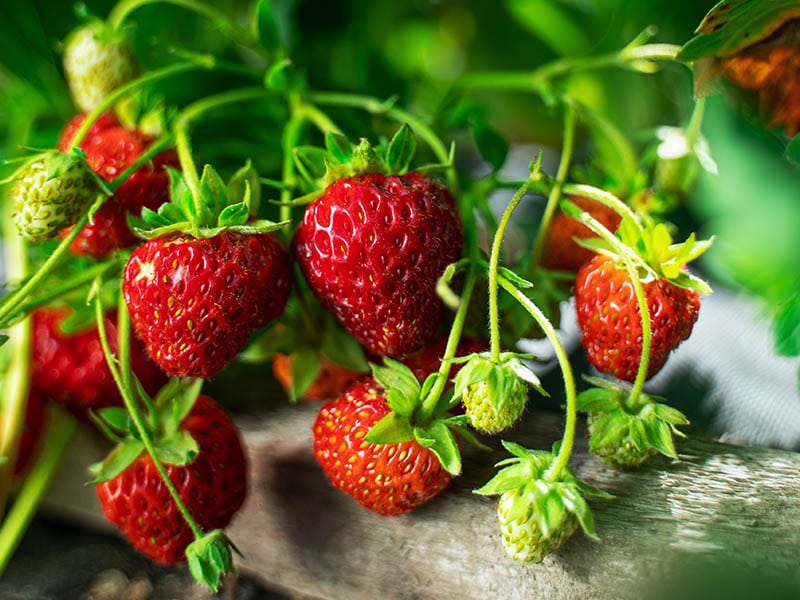 Everyone loves strawberries. Enjoying the acidic and sweet flavors of fresh strawberries can help you cool down in the summer heat, or turning tasty strawberries into your favored desserts is always a brilliant choice.
Who told you you couldn't have your homegrown strawberries? If you're a garden lover, you can harvest heavy strawberry yields in your own garden without going any further. Moreover, this can help you avoid eating non-organic strawberries.
Strawberries are among the fruits that are very quick to spoil quickly. Also, they usually contain a large amount of dangerous chemical substances. Pesticide residues can still remain on the surface of strawberries, especially non-organic ones.
Brief Guide To Grow Strawberries In Pots
Though growing usually takes time as well as effort, I believe this isn't hard to do. This is a quick guide to growing strawberries for first-time home gardeners. Keep calm and follow my lead!
Step 1: Preparing Young Strawberry Plants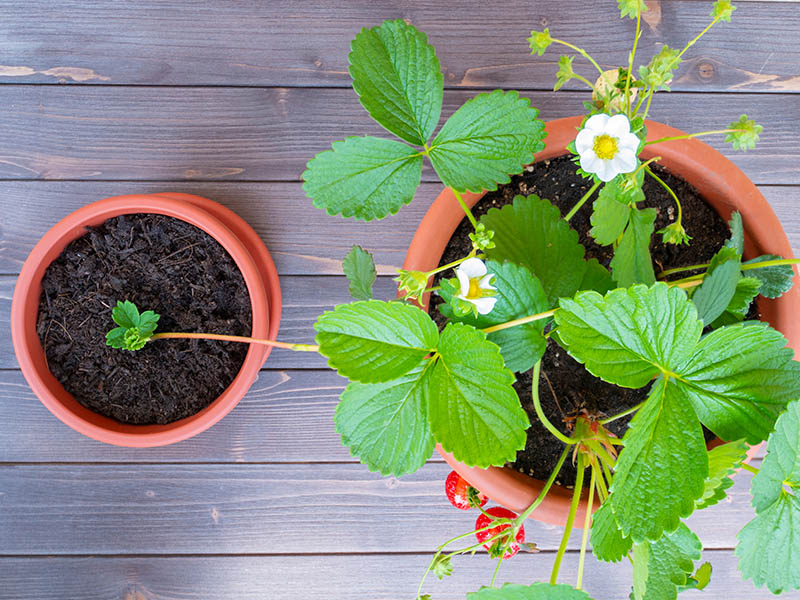 Let's prepare strong young strawberry plants. It's usually hard to plant strawberries from seeds. Therefore, you can start by buying runners or seedlings of strawberry varieties that perform well.
I recommend you consider choosing some day-neutral varieties for the reason that they are easy to care for and suitable for growing in pots. When purchasing starter plants, you should pay attention to:
Buy from reputable nurseries
Choose disease-resistant varieties
Go for healthy and bright roots
Step 2: Making The Soil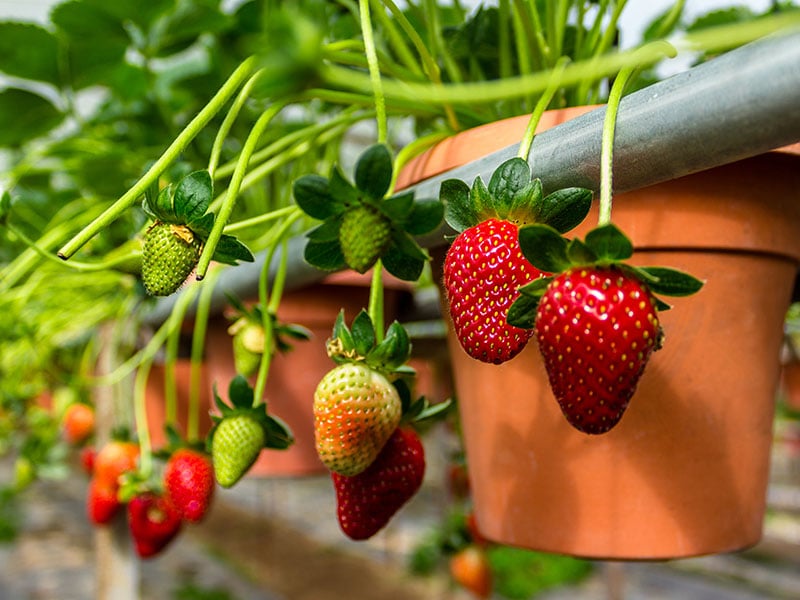 After choosing the seedings, the next step is to prepare the soil. There's an undeniable truth for all gardeners: the more carefully you prepare the soil, the faster your plants will thrive. For the desirable outcome, refer to the instructions below.
Ensure you check the potting soil pH before filling in the pots. According to the growing strawberry guide from the University of New Hampshire, the ideal soil pH to create the best growing conditions for strawberries is between 5.8 and 6.2. (2)
In addition, the potting mix, which can easily drain excess water, is also good for growing strawberries. Now, fill the premixed soil into the pots and prepare to transplant the seedlings.
Step 3: Transplanting The Young Plants
The right time to plant strawberries is in late spring to early summer. It's advisable to get the strawberry plants deep-rooted before the temperature goes up too high in the summer.
For day-neutrals, they will produce fruit after 6 weeks from planting time and keep bearing fruit until frost.
Start by digging a hole deep and large enough to cover all roots, but the crown (the short, thickened stem) should be above the surface. If you bury the crown, it's possible to rot soon. Water the soil around them when you're done with settling the roots.
You can follow the instructions in your nursery when growing strawberries.
Step 4: Watering And Feeding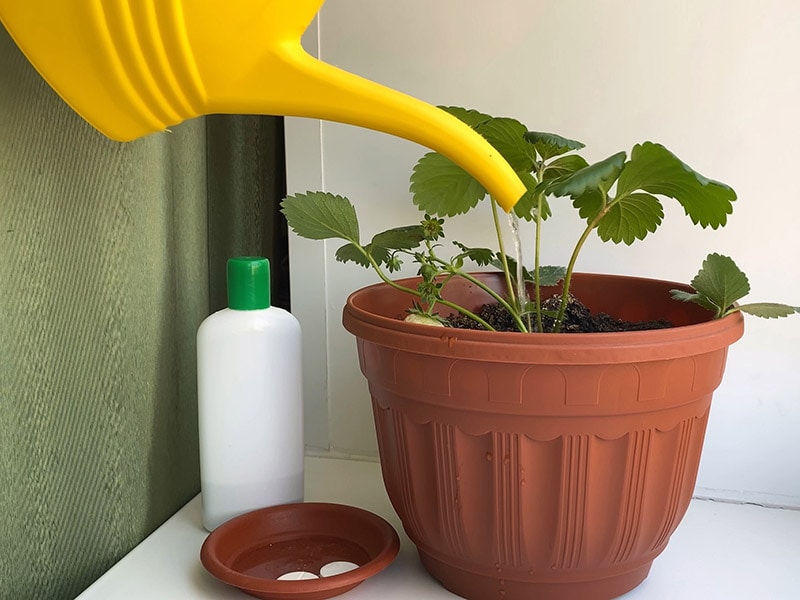 Remember to water the plants on a regular basis to increase the fruit size. You can test when to water by poking into the soil and feeling if it's dry or not. Consider the timing of watering rather than the amount of water.
Feed the plants with 10-10-10 fertilizer every two weeks in spring so that they have enough nutrients to produce heavy crops in summer and fall.
Step 5: Protecting From Pests And Winter Conditions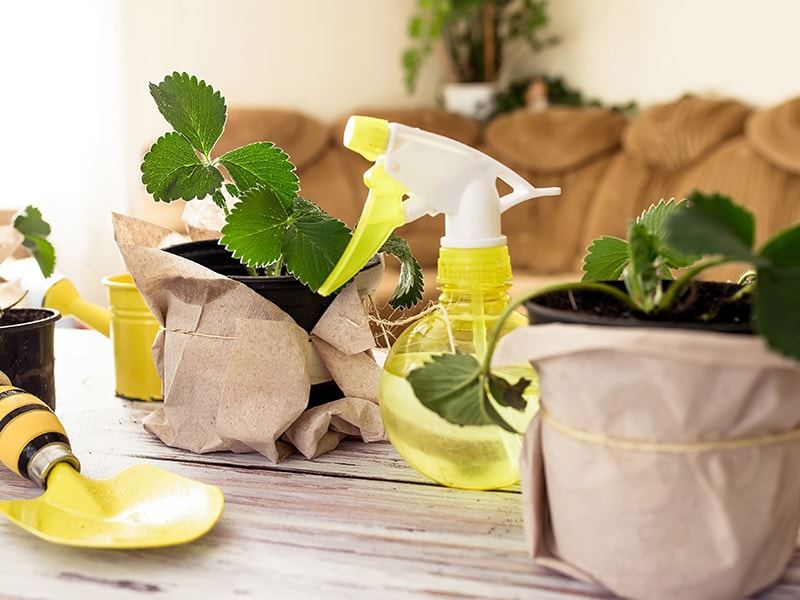 Strawberries are subject to attack by insects, pests, bugs, or fungus, though some varieties can be disease-free. Hence, strawberry plants really need your attention and care.
Whenever you see any sign of pests on leaves, spray pesticides directly on the affected leaves. You can replace insecticidal soap with puréed garlic mixed with neem seed oil or any organic product that is safe for strawberries.
During the wintertime, the simple way to protect your strawberries is to move them into warmer places where they can also get enough sunlight to grow. For extra protection, you can use burlap sacks to wrap the pots and straw to cover the surface.
Note: The plants also need moisture to survive through winter, so be sure to check and water them every week. In the first harvest, remove all flowers from the plant to encourage a larger second one.
Tips For Picking Ripe Strawberries
If there's a chance for you to hand-pick strawberries in your own garden or at U-Pick farms, I'll give you the best tips to fill up your basket with fresh and ripe fruits. There are also plenty of ways to ripen your strawberries. Picking strawberries isn't difficult, but it does require the right techniques.
Smooth Skin And Red Color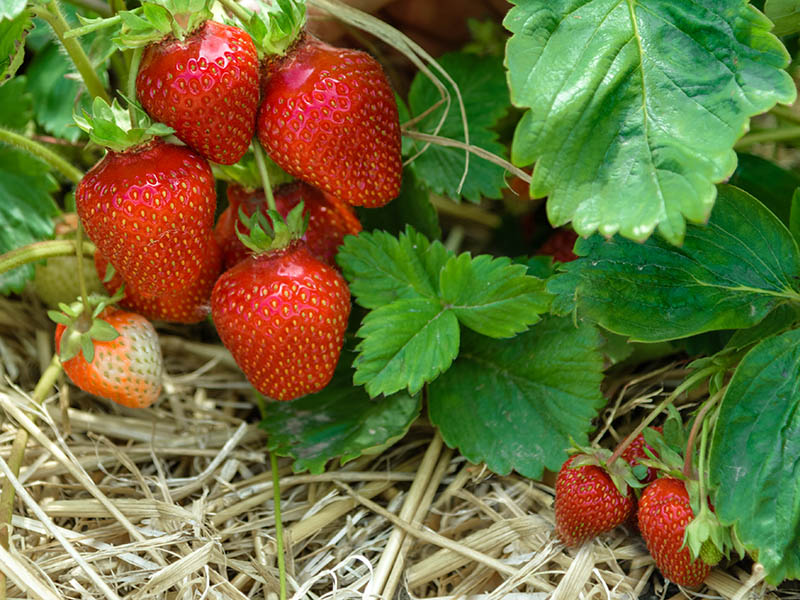 If you want to enjoy fully ripe and sweet strawberries, look for fruits that have green caps and bright red color from top to bottom. Berries that are light pink and white around the stem offer a more acidic taste, but if you prefer that flavor, go ahead and take them.
You should only pick fresh and healthy strawberries with a natural shine. Look around the berry skin to make sure they don't have holes or are rotten, bruised, or sun-burned.
Size And Shape Don't Matter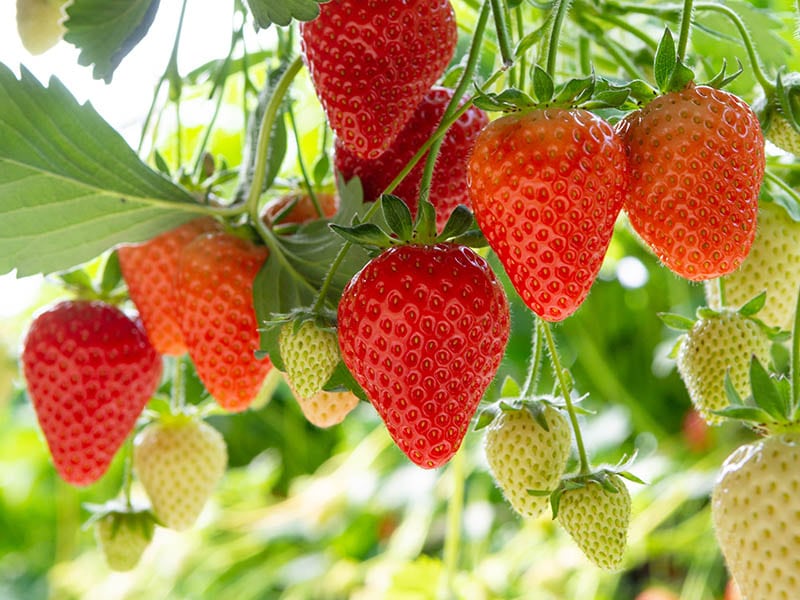 Size or shape don't mean everything. Instead, do not worry much about the firmness of the fruits. Stay away from overly ripe and mushy strawberries. Too soft strawberries can indicate they're overripe and likely to be rotten.
Before picking any strawberries, use your hand to slightly squeeze the fruit to ensure firmness. If berries are firm and plump, put them in your basket without hesitation.
Gently Twist The Stems Of The Strawberries
Picking strawberries can be no sweat when using the proper method. Let's begin by using your thumbnail and index finger to hold the plant above the strawberry stem 1 inch. Twist it gently and let the berries fall into your palm.
Continue this process with 2 or 3 berries and safely put all of them in your container. Avoid moving too quickly to not cause any damage to the picked strawberries.
Pick strawberries at a farm doesn't require any complicated techniques.
How To Store Ripe Strawberries?
There are too many strawberries available in your house, and you won't be able to consume them all in a few days. Don't panic! I'm here to reveal to you the best methods to lengthen your strawberries' lives
Although there are plenty of ways to cut strawberries into beautiful shapes, you generally want to store them whole. That is because uncut strawberries usually have a longer shelf life than cut ones.
In Mason Jars
It's time to take out your mason jars that you haven't used for a long time. Now, stack gentle and loosely whole and unwashed strawberries into the jars. Mason jars can work as a protector to save your fruit from becoming moldy or rotten too soon.
Place strawberry jars in your fridge, and the berries will stay fresh for a week. If there's no mason jar available, feel free to substitute it with paper towel-lined airtight containers. Paper towels will absorb any moisture and extend the shelf life of strawberries.
Your mason jars can protect your strawberries from moisture and extend their shelf life.
In Crisper Drawer
Keeping strawberries in crisper drawers is never an outdated idea. Crisper drawers allow you to control the humidity around your berries via the airflow vents. In this case, you should open the vents and store strawberries in low humidity.
Place clean paper towels on a tray, then evenly distribute strawberries. Put the tray in the drawer, and your strawberries can last for seven days.
In The Freezer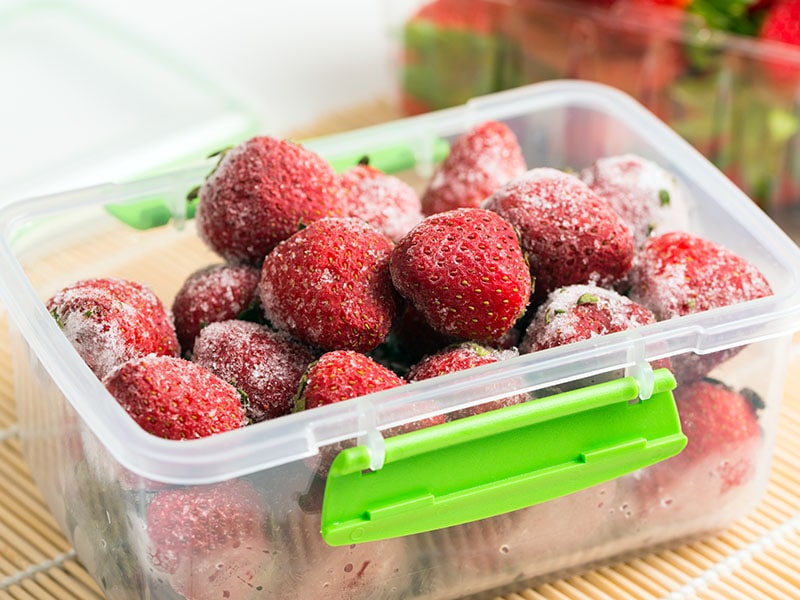 If you're about to store strawberries for months, you should consider preserving them in your freezer. First, clean your strawberries properly, cut off all the stems, and spread them all on a baking sheet to pre-freeze overnight in the freezer until firm.
Place frozen strawberries in Ziplock bags and put them in the freezer once again for longer storage. Frozen strawberries are a great ingredient for your jams, smoothies, and dozens of appetizing sweet desserts.
FAQs
Do you still have questions about when, where, and how to find fresh strawberries? In this section, you will find the answers to those lingering doubts.
Strawberries Are Available All Year Round
If you're still assuming strawberries only ripen in summer, that's an old-fashioned conception. Today, strawberries have become famous in both the Northern and Southern hemispheres across the US, Europe, and Asia.
I'm honored to have you go along with me on this journey. Now, you know about different types of strawberries and when they come in season. Don't forget to support me by sharing this article and leaving your thoughts in the comment section!
Reference
Klodd, A. (2020). Day-neutral strawberries give fruit all season long. Retrieved.
Sideman, B. (2016). Growing Fruit: Strawberries [fact sheet].