It's a waste if you throw a party without preparing the best strawberry cocktails for your friends and acquaintances. These drinks have magic that helps break the silence, shorten the gaps between people, and lighten the atmosphere.
There are many strawberry cocktails that suit holidays and celebrations throughout the year. Furthermore, in this article, most of the mixed drinks are easy to make, so you don't have to prepare them a long time beforehand.
Thus, don't wait any longer and dive into the recipes listed below! You will be surprised by the diversity and creativity in every strawberry cocktail.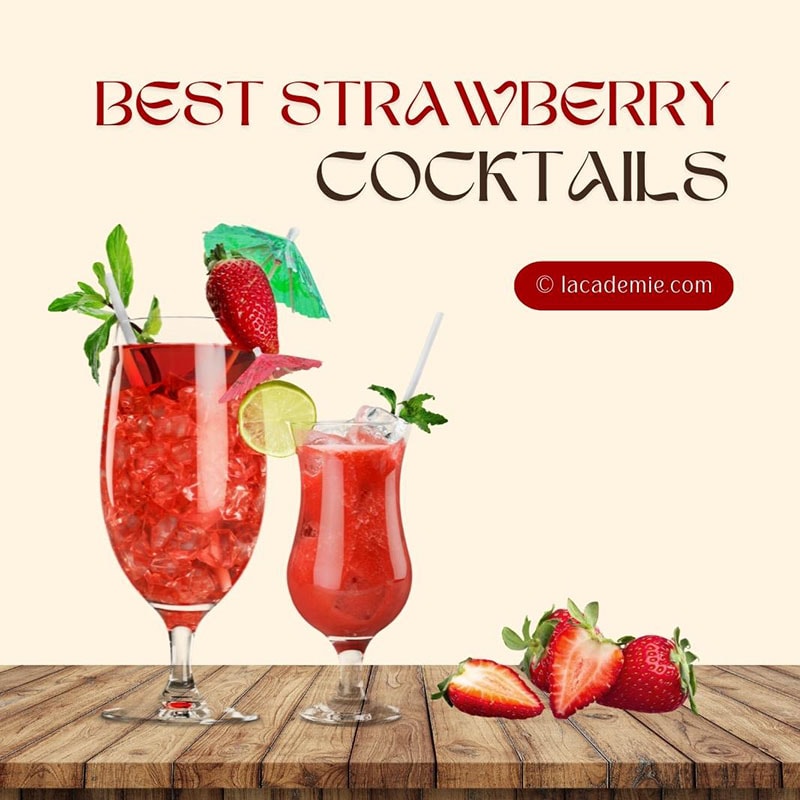 How Can Strawberries Shine In Cocktails?
Ever since strawberries appeared as food, people have included them in tons of foods, drinks, and medicine. In my opinion, strawberries have a flavor and texture that hardly anyone can reject.
The sweet and tart juice with a unique fragrance helps strawberries easily adapt to many cocktail recipes. What's more, strawberries can be available in all seasons, and you can also keep them in the refrigerator for a long time.
Therefore, it's very convenient to make a strawberry cocktail anytime. In fact, many spirits can make a great combination with strawberries. While rum compliments strawberries the best, Prosecco, wine, champagne, etc., are also great options.
Surprisingly, you can include strawberries in a cocktail glass in many ways. The most popular discipline is muddling them with a muddler or mixing them with other ingredients with a blender. You can also have the strawberries infused with alcohol, preferably vodka or rosé.
22 Delightful Strawberry Cocktail Recipes That You Should Give A Try
I promise you won't be disappointed by the wide range of fantastic cocktail recipes below! From the classic Strawberry Gin Fizz to the modern Strawberry Soju Cocktail, are you ready to be amazed? Let's go!
Total time: 10 minutes
If you wonder, smash is basically a cocktail with fruit, sugar, spirit, and crushed ice as the main ingredients. Apparently, the most famous smash cocktail is the Whiskey Smash, which first appeared in an iconic cocktail book by a bartender named Jerry Thomas in 1887.
This Strawberry Lime Vodka Smash is a twisted version of the original smash. As the main ingredients are vodka, honey, strawberry, and lime, I bet that you will enjoy its enjoyable, sweet, and tart flavor while sipping this drink in summer.
It's a great idea to muddle mint leaves with strawberry and lime. They will add cool sensation and peppermint flavors to the drink making it more distinctive. On the other hand, you can remake this recipe since it will work well with other fruits such as raspberries or blackberries.
Total time: 5 minutes
To make this "Dirty Vegas" Strawberry Martini, besides strawberries, you need to prepare vodka, vinegar, lime, and ground pepper. I know that you don't expect the appearance of vinegar. But believe me, it will enhance the uniquely sweet and sour flavor of strawberries.
Normally, a martini will have gin and vermouth mixed together. However, this recipe only has vodka as its spirit. That's because vodka is the best option that can fit well with various flavors in this recipe.
First, don't forget to wash and hull your strawberries. Then, cut them into pieces and muddle them. After that, you will strain the juice into a pre-cooled martini glass and mix it with the remaining ingredients. Finally, garnish the cocktail with ground pepper.
Total time: 5 minutes
Many people believe that Daiquiri was an invention of an American mining engineer who lived in Cuba. It seemed that because he ran out of gin at a cocktail party, he then decided to switch it with rum and then created Daiquiri.
Daiquiri is a cocktail mainly consisting of rum, citrus juice, and sweetener. Unlike normal Daiquiri, which is often oversweet, this recipe will give you a delicate and refreshing Strawberry Daiquiri Cocktail.
One of the most important factors in this drink is the fresh lime juice. It manages to add brightness and natural sourness to the cocktail. If you have to prepare for an upcoming party, you can actually make a pitcher from this recipe by multiplying the ingredients.
Do you want to taste the classic Strawberry Daiquiri Cocktail? Let's try to make it!
Total time: 10 minutes
Gin Rickey is one of the ultimately vintage cocktails you can find at any bar. The drink's inventors are a bartender and a lobbyist. Originally, bourbon was the main spirit of the cocktail.
Later on, people started to switch bourbon with gin, leading to the birth of Gin Rickey. The main ingredients to make this recipe are gin, lime juice, soda, and strawberry. You will also need some honey and mint leaves to make the drink sweet and minty.
You should use a highball glass to contain this Strawberry Lime Gin Rickey. Remember to garnish the glass with a rim of sugar, strawberries, and also some mint leaves. The final step is pouring the remaining puree on top, and now you can serve the cocktail.
Total time: 18 minutes
This Strawberry Thyme Cocktail is one of the most delicious cocktails to have at birthday. The drink tastes like a cute little cupcake with the combined flavor of strawberry and lemon juice with a little hint of thyme.
In my opinion, thyme is a great herb to include in a cocktail. Thyme adds many flavors to the drink: minty, citrus, earthy, and even a little lemony. In this recipe, you don't have to smash or blend it into the cocktail with other ingredients like lemon juice and vodka.
You only have to prepare a few thyme sprigs and garnish the drink with them. For this cocktail, you first need to make strawberry simple syrup. Prepare a pot to simmer strawberry, water, and sugar until the mixture is dense enough to become syrup.
Total time: 10 minutes
Normally, Pina Colada is a tropical cocktail mixture of rum and tropical fruits– pineapple and coconut. With this special version–Strawberry Pina Colada, of course, you will additionally have fresh strawberries as one of the main ingredients.
With strawberries, the Pina Colada becomes sweeter, smoother, and more refreshing to taste. Therefore, you should enjoy this cocktail like a smoothie in the middle of a summer day. A cocktail umbrella will also be a nice little detail to capture the summer atmosphere.
This recipe is also easy to make, you just need to blend all the ingredients together. On a side note, there is one tip to make Strawberry Pina Colada more delicious. You can pre-chill the hurricane glass so that your cocktail can stay cool for a longer time.
Remember to go through this quick guide to making a Strawberry Pina Colada!
Total time: 20 minutes
Sangria is a Spanish alcoholic drink with red wine, some fruits, juice, and other ingredients as the main ingredients. Many people may not know, but "sangria" comes from a Latin word meaning blood.
The drink has its name due to the red color of red wine. However, this Strawberry Watermelon Rosé Sangria uses rosé wine vodka instead of red wine and orange liqueur instead of freshly garnished orange.
Hence, you can swap the rosé with white wine if you want to have a more traditional version of Sangria. The best time to make this Sangria is the night before the event or party. The reason is that all the flavors need at least two hours to fully come out.
Total time: 5 minutes
While Mojito usually has white rum as its main spirit, Gin Mojito is an altered version that uses gin instead. What's more, Gin Mojito has another name, the South Side Cocktail (named after the South Side district of Chicago city).
To make Strawberry Gin Mojito, besides gin, there are other required ingredients such as strawberries, mint, and lime juice. If you want a light-calorie cocktail, leave the simple syrup out and use soda water instead of champagne.
First, you need a large pitcher to contain and muddle all the fresh ingredients. After the juice comes out, add syrup, lime juice, and champagne into the pitcher. Finally, stir the mixture gently and pour it into glasses with ice and garnished mint leaves.
Total time: 5 minutes
Strawberry Jalapeño Margarita may be a quite confusing and complex name for you to understand. Apparently, Margarita is the term to call all the cocktails with tequila, lime juice, and orange liqueur as the main ingredients.
Carlos "Danny" Herrera created this drink in 1938 for one of his customers who was allergic to many distilled beverages but tequila. On the other hand, Jalapeño is a chile pepper in many Mexican dishes. It tastes quite similar to green bell pepper.
However, rest assured that strawberries and other ingredients will balance out Jalapeño's spiciness. A Margarita cocktail has a rim of salt and a slice of lemon for garnishing most of the time. However, you can make a sugar rim instead of a salt one.
You will need these detailed instructions to mix a Strawberry Jalapeño Margarita.
Total time: 5 minutes
Tequila Sunrise had its name because its vibrant color reminds people of a warm sunrise. In the 1970s, two workers at The Trident restaurant decided to renew the original Tequila Sunrise by adding grenadine.
Eventually, they created the most popular drink version, which inspires the Strawberry Tequila Sunrise in this recipe. You just have to prepare three ingredients for the ingredients list: strawberry puree, tequila, and orange juice.
After that, just simply stir them together in a tall glass, serve them with ice, and there you have a fruity and refreshing drink for your holiday! If you need any advice on choosing the suitable tequila for this drink, I suggest that you go with Blanco.
Total time: 10 minutes
Salty Dog is a classic cocktail that combines gin (or vodka) and grapefruit juice into a highball drink. Usually, the glass containing the drink has a salt rim, which creates a contrast that helps balance out the bitterness of grapefruit.
In this recipe, you need to prepare grapefruit juice, strawberry juice, vodka, and Himalayan salt. This drink combines sweet, bitter, and fruity flavors together in just one cocktail glass. It will taste even better in the spring season.
Before shaking vodka and juices in a cocktail shaker, you should first prepare the salt rim and fill the glass with crushed ice. After the shaker is chilled, strain the mixture into the prepared glass. You can also use a slice of strawberry or grapefruit to garnish the cocktail.
Total time: 5 minutes
Lava Flow is a tropical cocktail that you can serve to a large group of friends. It's absolutely delightful with mixed flavors between a Pina Colada and a Strawberry Daiquiri cocktail. You should try this drink on a sunny day, it will remind you of a tropical beach!
In this recipe, you will need several ingredients to make this Lava Flow: bananas, strawberries, coconut rum, pineapple juice, etc. First, you use a blender to mix strawberries, light rum, and coconut rum. You can then pour the mixture into a glass and set it aside.
After that, wash your blender to respectively add banana, coconut cream, and ice. Finally, you can top the strawberry mixture with the banana mixture and then serve the drink to the table. This sweet, creamy, and fruity Lava Flow will quench your thirst just after the first gulp!
This easy tutorial is a must-watch before making the Lava Flow Cocktail.
Total time: 5 minutes
Limoncello Spritz is a tasty cocktail with limoncello (an Italian lemon liqueur) and the classic Spritz cocktail. In fact, Spritz also originates from Italy in the late 19th century. Austrian soldiers wanted to enjoy the Italian wine, but it was too strong.
Therefore, they decided to add a splash of water and happened to create the Spritz drink. In this recipe, besides strawberries, you will need other essential ingredients to make a Limoncello Spritz: limoncello, sparkling water, and Prosecco–Italian sparkling white wine.
Overall, this cocktail is not very sweet. You can taste a refreshing and tart flavor together with citrus and nutty hints from the sparkling wine. You should enjoy the drink right after mixing it but don't forget to add a slice of lemon or strawberry to garnish your cocktail!
Total time: 20 minutes
Strawberry Mimosa is a perfect cocktail to celebrate Valentine's Day. Even though the drink has many ingredients, the main flavors in this cocktail are pure sweetness and tartness combined with juiciness from strawberries.
Originally, Mimosa was an adapted version of Buck's Fizz Cocktail. There is a high chance that a bartender created this drink in 1925 at Ritz Hotel in Paris. One special thing you may notice about Mimosa is that it combines two equal parts of champagne and juice.
This recipe will use strawberry juice and high-quality chilled champagne to make a Strawberry Mimosa. If you don't want to buy juice at the supermarket, you can simply make it at home by blending sliced strawberries with water at a ratio of 2:½.
Total time: 10 minutes
This Strawberry Mint Margarita consists of three main ingredients: simple syrup, strawberry purée, and margarita. In this drink, the simple syrup, which is made from mint leaves, will add coolness and a peppermint flavor to an already sweet cocktail.
According to the recipe, some ingredients are extra, and you can use them to make more than 1 serving. With the simple syrup, use a saucepan to mix water, sugar, and mint leaves. After that, make the strawberry purée with a blender and a mesh strainer.
To make the margarita, you have to use a cocktail shaker to mix tequila, Grand Marnier, lime juice, and the two ingredients above (simple syrup and strawberry juice). After everything is ready, you can enjoy this delicately sweet and minty cocktail with chips and guacamole.
It's better when you can learn how to make Strawberry Mint Margarita from a chef!
Total time: 10 minutes
Tom Collins is the classic cocktail that has its origin mixed up or even lost throughout the years. The earliest version appeared in Harry Johnson's recipe book in 1882, which stated that Toms Collins' main ingredients are sugar, lime or lemon juice, gin, and soda water.
This Grapefruit Strawberry Collins recipe also needs strawberries, grapefruit juice, and grapefruit-infused vodka. Before making the cocktail, you have to make the grapefruit-infused vodka by using a jar to contain the ingredients and sealing it for five days.
Additionally, you can swap sugar with any sweetener that you like. After the cocktail is done, remember to prepare Collins glasses to contain the drink. One fun fact you may not know is that this type of glass got its name from the Tom Collins and John Collins cocktails.
Total time: 5 minutes
Are you a tea lover? And do you want to try a combination of iced tea and alcohol? You may not know, but actually, tea can pair well with many spirits. This unique Bourbon Strawberry Mint Tea Cocktail is a perfect blend between mint tea and bourbon.
Mint tea gives you mintiness, bitterness, and sourness, while bourbon provides vanilla, oak, and caramel flavors. In addition, strawberries will top the drink with a sweet and tart hint. You can expect yourself to be amazed by each flavor layer of this amazing cocktail.
To prepare this drink, you need to muddle chopped strawberries with lime juice in a cocktail shaker. After that, add ice, simple syrup, and bourbon. Before pouring the cocktail into glasses, give it a good 30-second shake. Finally, garnish with mint leaves and strawberries.
Total time: 1 minute
Strawberry Wine Punch has a refreshingly tart and sweet flavor. One fun fact is that "punch" refers to alcoholic beverages made in large quantities by combining wine and fruit juice. Thus, if you are looking for cocktails to serve at a party, you've come to the right place!
This punch is very easy to make and doesn't require many ingredients. All you need is frozen juice, white wine, and sprite. It's very important to thaw your juice in about 30 minutes because you need slightly frozen juice to perfect the cocktail.
After that, stir the juice in a large pitcher, then add wine and sprite to it. Finally, give the mixture a few slightly stir before serving the beautiful and delicious Sprite cocktail. You can pour the cocktail over ice or enjoy it plainly.
Don't ignore this tutorial if you try to make Strawberry Wine Punch.
Total time: 2 minutes
To make a Strawberry Soju Cocktail, you will need fresh strawberries, strawberry soju, strawberry Calpico, and sparkling water (or sprite). As you may wonder, in this recipe, you will use Soju–a Korean transparent distilled beverage with rice as the main ingredient.
Soju can have a very high alcoholic volume (up to 53%), but the alcoholic level of this strawberry cocktail is only around 13%, so you can rest assured about that. You will also use Calpico, a Japanese soda drink, to neutralize the cocktail's flavors and alcohol levels.
This delectable soju cocktail takes just a short time to make. First, you have to muddle the strawberries until their juice comes out. After that, mix it with other ingredients and ice. Finally, stir the mixture gently, and you will have a juicy and tart cocktail for your summer.
Total time: 20 minutes
This Chocolate Strawberry Martini has a killer look with a chocolate-dipped rim, milky pink color, and a heart-shaped strawberry. This drink definitely suits the theme of Valentine's Day or even a wedding with its overpowering flavor.
From the strawberries, creme de cacao (a chocolate liqueur), and strawberry-infused vodka to vanilla ice cream, everything literally screams sweetness. The combination of strawberries and chocolate is unbeatable!
Making the glasses rim actually takes more time than mixing the cocktail. First, you have to melt the chocolate. Remember to turn off the heat when about 80% of the chocolate is melted.
After the chocolate melts completely, carefully dip the rim in and tilt it slightly to have a wavy shape. Then, let the chocolate rim wait for a while when you turn to make the cocktail. All you need is a blender to mix the ingredients together and fresh strawberries to garnish.
This quick tutorial will make it easier for you to make a Chocolate Strawberry Martini.
Total time: 15 minutes
This Strawberry Hibiscus Margarita is a one-of-a-kind cocktail with fruits, tea, ginger, and alcohol. Therefore, it needs many ingredients: dried hibiscus flowers, honey, strawberries, tequila, etc.
You need a cocktail shaker to mix all the ingredients with lime juice and orange zest. After muddling and the juice has come out, add tequila and ice. Shake the mixture and strain it into glasses. Finally, top your cocktail with ginger beer and limes, and you can serve it now!
Taking the first few gulps of this drink, you can immediately taste the sweetness derived from honey and ginger beer. Moreover, you can add refreshing and herbal flavors to the cocktail by using limes and hibiscus flowers to garnish the cocktail's glass.
Total time: 8 minutes
If you are a fan of the legendary Gin Fizz, you can't skip this Strawberry Rose Gin Fizz cocktail! This drink is a harmonious blend between tart strawberries and delicate rosé water. Following the recipe, you will have a slightly not overpowering sweet cocktail.
However, you can adjust the amount of sugar if you have a sweet tooth. Besides all the ingredients mentioned above, you need to prepare gin, salt, and club soda. You first have to wash your strawberries and slice them into tiny pieces.
Then, sprinkle sugar on the strawberry pieces and let them sit for about 5 minutes. After that, smash them with a fork and enough force for the juice to come out. Finally, shake all the ingredients in a cocktail shaker until everything completely turns into one mixture!
This professional guide is dedicated to making a perfect Strawberry Rose Gin Fizz.
Let's Boost Everyone's Mood With Strawberry Cocktails!
As strawberries can adapt to various cocktails, I'm certain that you can try all the recipes above at different kinds of events and gatherings. Don't forget to make sure that your strawberries are fresh enough to make the cocktails, or you can also keep them frozen.
While I'm sure that strawberry cocktails can effectively boost people's moods, I'll be grateful if you can leave your comments below and tell me whether your strawberry cocktails do the same. Also, please share this article on social media for everyone to try the recipes!
Nutrition Facts
2 servings per container
---
Amount Per ServingCalories180
% Daily Value *
Total Fat 0.3g

1

%
Sodium 14mg

1

%
Potassium 132mg

4

%
Total Carbohydrate 12.9g

5

%

Dietary Fiber 1.5g

6

%
Sugars 9.6g

Protein 0.6g

2

%
---
* The % Daily Value tells you how much a nutrient in a serving of food contributes to a daily diet. 2,000 calories a day is used for general nutrition advice.