These best birthday cocktails will definitely add festive sparkle and glamor to the special day for you or your significant ones! From dessert-inspired martinis to exotic cocktails, there is always something to fit everyone's diverse preferences.
You will want to pursue my compilation of scrumptious cocktail ideas below if you are fed up with traditional beer or cider yet unsure about what refreshing twist to prepare for this big occasion.
Are you ready to put a smile on all the attendants' faces? If yes, then let's get it started!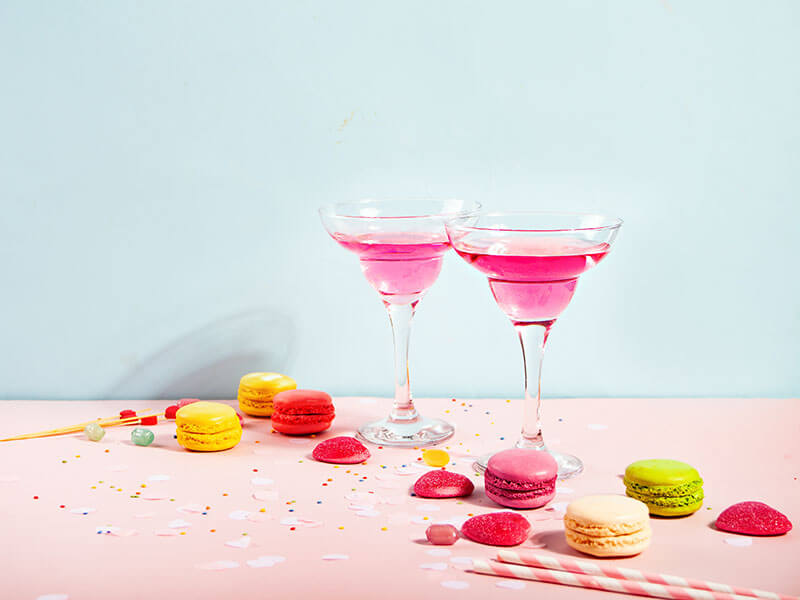 Why Should You Enjoy Cocktails On Your Birthday Bash?
For most people, cocktails are indispensable for their birthday parties as these drinks are synonymous with festivities. However, not everyone considers it as an offer at their bashes! Here are some incentives for you to give cocktails a try on your big day!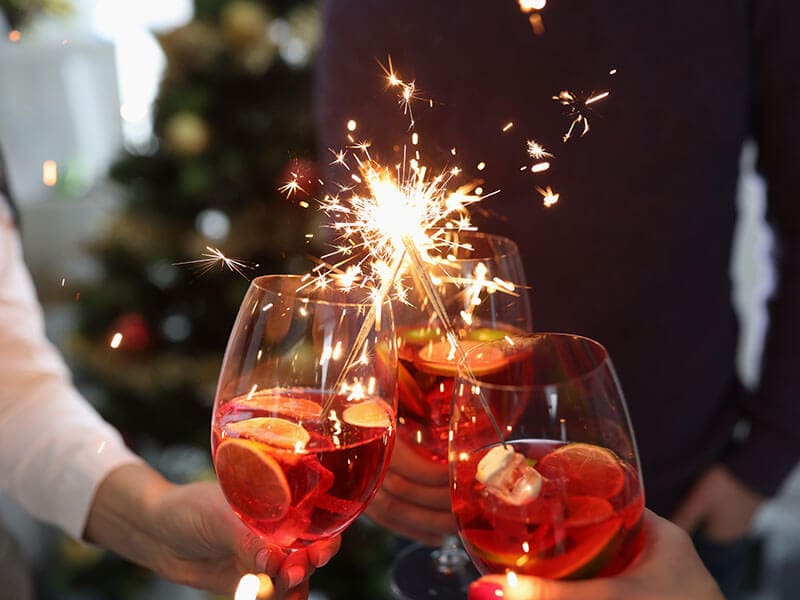 Reason #1: Cocktails Are Great For Celebrating Milestones
Like festive holidays, birthdays are an important milestone in everyone's life. They help you look back on your accomplishments and mark the beginning. Therefore, I see no reason not to try something new and refreshing, like drinking cocktails!
Did you know that there are even cocktail lists for celebrating your 30th natal day or 70th date of birth! To me, there is no treat more fulfilling than cocktails to complement these major life events.
Reason #2: Cocktails Are Diverse And Thrilling!
Compared to beers which comprise just two broad categories (ales and lagers), cocktails are much more diverse. From highballs and depth charges to fizzes and sours, you name it! Therefore, you have more options to browse for your special day!
In addition, cocktail preparation is always a joy to experience! The reason is that there are a plethora of techniques involved in the making of a cocktail glass. Some recipes require shaking, while others call for stirring and blending!
Is there anything more exciting than witnessing a bartender pull off your favorite cocktail on your birthday? It is alright to prepare the drinks yourself! However, expect to become the star of your birthday bash (which you already are)!
Reason #3: Cocktails Are Adaptive!
Don't worry if you cannot handle heavy shots! Cocktails are all about adaptation since it is up to you to decide how strong you want the drink to be. Thus, you can choose to either remain upright or go over the top with your friends with these mixed drinks!
Show Off Your Skills With These Scrumptious Birthday Cocktails!
To help you nail your ideal cocktail on your special day, I have prepared a comprehensive list of potential options below. I am sure you will find something that fits your palate!
Total time: 10 minutes.
Comprising vodka, sparkling rosé, and vanilla ice cream, this Mimosa is reminiscent of a birthday cake! You can enjoy this gorgeous drink as either a single cocktail at a weekend brunch or a punch at parties!
Since Birthday Cake Mimosa is an ideal cocktail for brunches, it is a wonderful accompaniment to popular brunch treats, such as strawberry shortcakes or pancakes!
Before adding ingredients to your champagne flutes, add whip cream and sprinkles to the glass rims for an extra special touch!
Total time: 5 minutes.
Have you ever reluctantly skipped the birthday cake to maintain your daily intake of calories? If yes, this Birthday Cake Martini is your solution! Both its taste and flavor are so festive that once you first try it for your birthday bash, you will keep coming back!
Pulling this recipe together is the simplest thing on your birthday! All you need to do is blend cake-flavored vodka, white chocolate liqueur, and half-and-half in a blender!
If you love to have a stronger birthday-themed effect, add nonpareil sprinkles on your glass rim! These colorful and tiny confectionery balls just scream party time!
How about lighting a candle on your Birthday Cake Martini glass?
Total time: 10 minutes.
Feeling fed up with the birthday cake flavor? Hold your horse because you will regret missing this Margarita. This cocktail tastes exactly like a birthday cake with simple syrup made with boxed cake mix.
Its vanilla color and a rim with colorful sprinkles make people mistake it for a "liquid" cake. But its alcohol content is no joke. So, if you have a low alcohol tolerance, tone it down with less tequila.
And make sure to shake the mixture as strongly as possible, so all ingredients can come together.
Total time: 5 minutes.
Another Mimosa comes to rescue your birthday! This one isn't cakey at all. Instead, it's full sour and sweet flavor, a typical strawberry taste.
And you may notice the term "Frosty" in this cocktail's name. That's right! I replace the fresh strawberries with frozen ones for more flavors. And it's more refreshing this way. You can also chill the glass in advance to double the effect.
Also, don't just stay with the basics! Feel free to widen your Mimosa menu with other frozen fruits in your refrigerator.
Total time: 4 minutes.
If your birthday is in the summer, congratulations as this Rosé Lemonade is the ideal drink to kick off the occasion! Is there anything more satisfying than sipping this cocktail poolside on your birthday?
This effortless mixed drink comes together in a flash. All you need to do is fill a pitcher with a bottle of Rosé and a can of store-bought lemonade. Then, top your mixture with club soda to add extra doses of fizz, making it more refreshing!
This Rosé Lemonade is not only an amazing way to spend your birthday with friends and family but also helps utilize all your leftover Rosé. Stemless wine glasses are the best vessel to contain this beautiful drink!
Total time: 5 minutes.
Besides the previous option, how about this frozen cocktail with gin and several fruit juices? It will not only quench your thirst but also make your party much livelier.
The best part is you don't even need a shaker to make this cocktail. Just throw all the ingredients in your blender and blend to perfection. The final step is pouring some lemon lime soda on top.
Since there's only one cup of gin in this recipe, everybody can easily enjoy it. Although the pink color is attractive enough, a glass rim with sprinkles will suit the cocktail better.
Total time: 5 minutes.
When hearing its name, you must think this cocktail is blue, right? But it's full of yellow-green hue. That's the result of mixing Blue Curacao with pineapple juice.
Aside from these two ingredients, make sure to include spiced and coconut rum, so your cocktail will have a tropical fruit flavor.
This drink is quite strong with all the liquors. So if you want to make it for a birthday party, add some ginger ale to water it down.
Total time: 1 hour 30 minutes.
Unlike the popular Mimosa, which often combines champagne and citrus juice, Peach Bellini is a crowd-pleasing Italian cocktail featuring fresh peaches topped with prosecco. Besides fresh fruits, you can also use frozen or canned peaches for an equally delectable drink!
It's easy to create this alcoholic beverage combination with peach. You just need to make a peach puree and top it with prosecco in your glass!
Feel free to substitute sparkling wine or champagne for prosecco if the change fits your palate better! However, no matter what you select, make sure they are chilled before making. Also, serve it right away, or your wine will deflate!
Your birthday party will be much sweeter with this Peach Bellini.
Total time: 3 minutes.
A silky, sweet, and boozy cocktail is all chocolate fans' true dream! And this Chocolate Martini can offer exactly that! This dessert cocktail is decadent and so simple to make, requiring just three minutes to assemble.
To begin, you will prepare the glass rim with grated chocolate and chocolate syrup. Then, swirl chocolate sauce on your glass. And shake chocolate liqueur, Creme de Cacao, and vodka in a shaker before pouring the mixture into the above glass.
Make sure you chill the glass properly so that the chocolate sauce does not flow too much after the swirl. Also, this cocktail using Creme de Cacao is all about shaking (not stirring). This practice prevents the ice from diluting your decadent cocktail!
Total time: 1 day and 10 minutes (including 1-day soaking time).
With a lovely pink hue and a fruity flavor, this decadent Pink Starburst Cocktail is the ideal drink to enjoy with your closest companions at your birthday parties!
While this boozy beverage calls for a 1-day soaking time of Starburst candies in vodka, the prepping only takes ten minutes. All you need to do is combine the candy-vodka mixture with Sprite and some juices.
For this pink alcoholic concoction, strawberry-kiwi juice works best! It does a greater job of emphasizing Starburst candy's taste than other juices. You also need orange juice. Besides the liquid form, you can freeze orange juice ice cubes for a fancier drink.
Total time: 2 minutes.
There is always something energizing and delectable about the combination of pink lemonade and sparkling juice. Fortunately, this spirit is perfectly captured in this Pink Lemonade Mimosa, an amazing brunch cocktail to offer at birthday bashes!
Everyone will adore this mixture, even non-lemon fans! Due to the sour taste, pink lemonade is not a universal item! However, with sweet prosecco, your taste buds won't be able to detect that harsh flavor!
The 2:1 ratio guarantees the best Pink Lemonade Mimosa, but you can adjust the amount of each ingredient to your preferences. For example, reduce the juice for a clearer alcohol flavor.
Total time: 5 minutes.
Is there a better way to celebrate your birthday than a tropical cocktail? This boozy pineapple beverage is deceptively easy to pull off in just five minutes with a blender. The recipe only asks for three basic ingredients: pineapple juice, cream of coconut, and light rum.
For Pina Colada, light rum is the traditional component. Unlike dark rum with its overpowering caramel flavor, light rum transforms your glass into an alcoholic drink with a sweet and fruit flavor adored by everyone!.
Its mushy texture and refreshing flavor will knock your socks off! However, remember to serve the drink straight away, or it will become watery when the ice melts. Garnish your drink with fresh pineapples, if desired!
A tropical party will need this Pina Colada. You can see this video to know more:
Total time: 2 minutes.
Suppose it is your tradition to set up a cocktail bar at your birthday bash, count Blue Lagoon on your menu! This exotic cocktail will be a big hit on your big day! Its blue color provides a refreshing reminiscence of the crystal clear water of Caribbean beaches!
Also known as Laguna Azul in Spanish, this simple beverage only calls for three ingredients: vodka, blue curacao, and lemonade. The last ingredient is widely available and a great way to rehydrate!
Ideally, serve Blue Lagoon in highball or tulip glasses garnished with pineapple slices. Then, prepare straws to sip this deliciousness by the pool with your friends!
Total time: 2 minutes.
I think many have become too familiar with champagne at any party. So, let's liven things up with one scoop of sherbet. You can choose any flavor you like there's no restriction here!
However, make sure you pick a suitable cocktail glass! Because sherbet takes a big space, a small-mouth cup like champagne flutes won't work out. For me, a champagne coupe is much better!
While this recipe counts as a champagne cocktail, you can opt for other sparkling wines just fine. It's because the latter choice is more affordable.
Total time: 12 minutes.
Let me tell you a secret! Spiked Apple Cider Float tastes just like popsicles: Refreshing, creamy, and sweet, suitable for all parties, especially birthday occasions!
If you are afraid of messing up preparing cocktails on your big day, rest assured the fear does not exist with this fail-proof recipe. No measuring or special technique is required! Just throw apple cider, cinnamon simple syrup, applejack, and bourbon into your shaker and shake!
Here is a pro tip for you! Take advantage of hard ice cream since it takes a long time to melt! And stay away from gelato or other soft serves, as this ingredient just doesn't work!
Total time: 6 minutes.
Your loved ones are a huge fan of the Star Wars series, and you are wrecking your head choosing a perfect gift for their birthdays? Don't worry! This Bantha Milk Cocktail will save you from all the troubles!
You may wonder where the blue color comes from. The answer is Bantha milk, a well-known milk brand that all Star Wars fans know. Combined with coconut rum, Blue Curacao, and heavy cream, no one can resist its sweetness.
You can even make a non-alcohol version by replacing all the liquors with blue Kool-Aid. Sugar cookies are an ideal partner for this mocktail recipe.
Total time: 2 minutes.
Invented by a bartender at Tujague's, Grasshopper Cocktail was a blockbuster drink in southern states throughout the 1950s and 1960s. Simply speaking, it tastes exactly like chocolate mint candy in liquid form, with a very slight boozy kick!
This traditional Midwestern cocktail is a cinch to make, calling for a few components: green Creme de Menthe, white Creme de Cacao, and cream. Plus, it takes only two minutes for preparation, which is ideal for surprising your friends on their birthdays!
For this concoction, you can choose heavy cream, half-and-half, or even light cream. This selection only changes the texture and does not affect the flavor. While heavy cream reduces the mint flavor's potency, light cream does the opposite!
Total time: 5 minutes.
If you are a fan of White Russian, you will appreciate this boozier and creamier version called Frozen Mudslide. Milkshake, cocktail, or dessert, you can call this beverage whatever you want, as those three labels are all correct!
The combination of vanilla vodka, Kahlua, and Irish cream liqueur brings out the creamiest and most insane flavor in a frozen mixed alcoholic beverage! You don't even need ice cream for this recipe, making it a healthier drink choice for your birthday or other festivities!
It is a tradition to serve Frozen Mudslide in a pint glass or a frosted glass hurricane. These glass types preserve your cocktail's frozen texture better! Add chocolate syrup and some cocoa powder to complete the drink.
Frozen Mudslide is one of the best boozy milkshakes for adults.
Total time: 5 minutes.
Do you know these days macarons make a lovely birthday present due to their adorable look? But just macarons sound a bit normal. Let's take it to another level with this Sparkling Vanilla Macaron Cocktail.
Maybe you haven't thought about this, but macarons and sparkling wine are really meant for each other. Since both the drink and sweet have vanilla flavor, they complement each other instead of clashing.
Also, the cocktail contains some lemon juice, so you won't feel bored drinking it. You can also feel a sweet and earthy note from the almond syrup.
Total time: 5 minutes.
Here is another brilliant idea to enjoy on your birthday? Watch Jaws the movie while sipping the peculiar Shark Bite Cocktail! This refreshing Halloween mixed alcoholic drink never fails to amuse at parties and get-togethers!
Its moniker stems from the color of grenadine droplets in the greenish-blue cocktail water, which resembles blood in the ocean. Thus, it provides both delicious tastes and eye-catching effects to all its sippers!
The hardest part is to drop the grenadine into the mixture. Use a small dropper to make sure it lands on ice, or else it will sink to the bottom of your old-fashioned glass.
Since Shark Bite Cocktail is spicy and fruity, it is good to pair it with the orange juice and lime juice from Carne Asada.
Total time: 10 minutes.
If you need a straightforward cocktail recipe yet vibrant and festive, Frozen Strawberry Margarita is a brilliant option. This recipe is unlike anything you enjoy at bars since it contains no lame Margarita mix!
Instead, you need a mixture of fresh and frozen strawberries alongside frozen limeade and tequila for the drink. While tequila makes your concoction crispier and slushier, frozen limeade turns it into a super refreshing treat at any summer party!
If desired, you can rim your glass with sugar and garnish it with a lime wedge. Serve this Margarita with tacos and salsa for a complete culinary experience!
Total time: 2 minutes.
Sampling Red Velvet Cake Martini is like drinking liquid red velvet cake but with a strong kick! Its vibrant and sparkly appearance makes a stunning image on any table, whether a holiday or your birthday party.
Red food color is what generates the appealing color behind the scene. If you need another incentive to make this martini, here it is: whipping up the drink costs only two minutes. So, even in unexpected friend visits, you can still prepare a decent cocktail to offer them!
For the sugar rim, I suggest chocolate syrup since it'll cause a contradicting effect, keeping you wanting to drink this cocktail forever.
Total time: 10 minutes.
Any celebration can't lack French 75. And now, with raspberry simple syrup, this cocktail becomes an indispensable part of your birthday party.
Making Raspberry French 75 isn't complicated at all. After finishing the simple syrup, just shake it with gin, lemon juice, and ice for a refreshing drink. A champagne glass is perfect for showing off its beautiful pink-orange color.
And what I like best about this drink is it isn't too sweet, even with all the simple syrup. But if you have a sweet tooth, feel free to add more raspberry syrup to this mixture.
Total time: 5 minutes.
This Cotton Candy Champagne Cocktail is also a wonderful way to celebrate your birthday! While cotton candy is an all-time favorite childhood sweet, Rosé champagne is the best adult indulgence. With both ingredients, this delicious cocktail is the best of both worlds.
When the sugary cotton candy touches the frothy Rosé champagne, it will miraculously disintegrate and turn your cocktail into a delicious champagne cocktail. Besides pink, you can alter the color to fit your preference.
Let's generate a batch of this recipe before any party or celebratory event. Make sure your cotton candy is slightly broader than your champagne flute so that it can sit on top. Only dip the cotton candy down before serving for the finest quality!
Total time: 2 minutes.
I have a friend who loves eating chocolate cakes on his birthday. So, one year, I made this cocktail for him. And guess what? He loved it! I bet your loved ones will also get excited like him with this cocktail from Germany.
Don't worry if you have just started learning bartender art. This drink only needs two simple steps. First, put all the necessary ingredients (Jägermeister, chocolate liqueur, coconut rum, and butterscotch schnapps) in a shaker.
Shake them until they blend completely, and strain this mixture into a shot glass. Its simple look hides a strong alcohol content, so be careful not to overdrink it.
Total time: 5 minutes.
Your birthday will be more delightful with a boozy milkshake like Banana Split Cocktail. It is the perfect after-dinner drink that combines banana rum, Creme de Cacao, vanilla vodka, and heavy cream.
If desired, serve this vodka-based concoction in a chilled martini glass and garnish it with a cherry. There you go! A wonderful treat to enjoy with your best buddies on your birthday!
Total time: 10 minutes.
Beer and Margarita are a heavenly cocktail match brimming with Mexican flavor. It is an ideal summer indulgence that takes just ten minutes to prepare and only seconds to vanish from your dining table.
Thanks to its simplicity, which requires the combination of only three ingredients (white tequila, chilled light beer, and frozen limeade), Beergarita is perfect for exciting holidays and parties like Cinco De Mayo or Super Bowl Sunday. Birthday bashes also count!
The concoction looks more appealing when served in Margarita glasses or mason jar mugs with lime wedges and salt as garnish! Since it is a Mexican-originated cocktail, let's enjoy the drink with Mexican cuisine like tacos, enchiladas, and quesadillas.
Total time: 5 minutes.
When the clock strikes midnight and my birthday comes, I like to serve myself with Raspberry Champagne Float. I mean, why settle with a plain bubbly glass when you can hold in your palm, this boozy mixed drink with ice cream, right?
Besides birthday parties, you can enjoy Raspberry Champagne Float as a boozy combination on New Year's Eve. Everything about it just screams festivities!
This magenta beauty is like a mini party in a single glass. After filling your champagne flute with Chambord, add raspberry sorbet or sherbet before topping everything with prosecco.
While sherbet enhances the creaminess of the float, sorbet offers a dairy-free variation to the drink! No matter what you choose, when melted, it will transform your bubbly liquid into a rich and effervescent mixture.
Total time: 5 minutes.
Kir Royale, a refreshing and somewhat pink cocktail, will conclude my compilation. This effervescent and tart drink is the perfect offer during celebrations like a baby shower or a birthday party.
Simply by mixing two essential ingredients (Creme de Cassis and chilled champagne), you can achieve this French alcoholic beverage combination and get away from consuming the over-popular sparkling Rosé or plain champagne.
Creme de Cassis, a blackcurrant liqueur, is the secret element providing a light pink hue and a touch of sweetness to Kir Royale. If you like to explore other variations, feel free to switch to Creme de Peche (peach liqueur) or Creme de Framboise (raspberry liqueur).
Kir Royale is a luxurious Kir variation often used for brunches.
Tell Me The Go-To Cocktail For Your Birthday!
After browsing my list of best birthday cocktails, is there any recipe that catches your attention? I bet there is more than one, right? Share with me how you think your chosen drink will delight your birthday bash in the comment section below!
My collection only covers the easiest and most popular cocktails. So, there must be some recipes uncovered! I would be very happy if you could name those drinks below, too! Thank you for reading!