Do you know which is the best ginger beer cocktail? Some people will say the Moscow Mule is the best because it is the traditional drink, but is it true? The answer is no: There are many delicious ginger beer cocktails in the world and the list will make your head explode.
Are you ready to know more about ginger beer cocktails? Follow me through this article to learn more about them and their recipes. Let's explore the world of ginger beer cocktails. Maybe you can find your favorite drink somewhere in this article.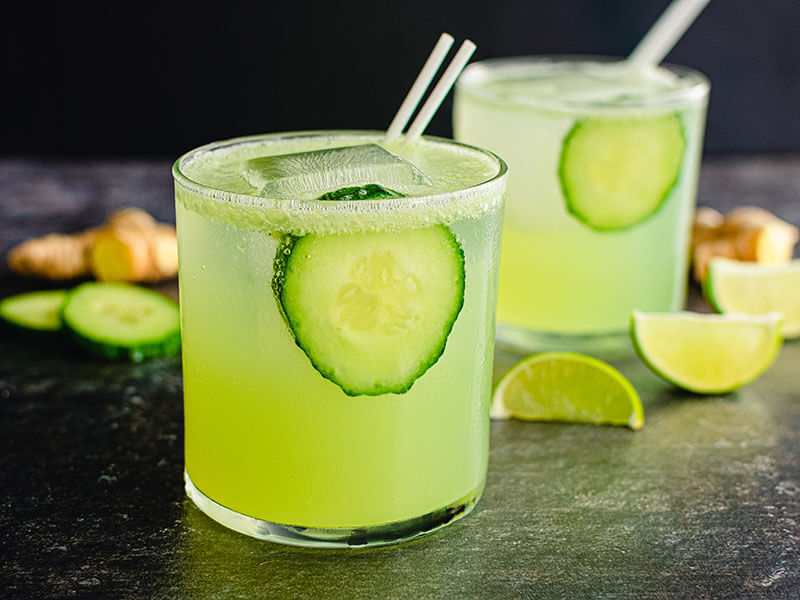 What Is Ginger Beer?
People usually misunderstand the name of this drink. Beer is an alcoholic drink, but ginger beer is non-alcoholic and carbonated. Ginger beer is made from sugar, water, ginger, and lemon juice.
The origin of ginger beer is from England: It was created in the mid-18th century. England widely exported their alcoholic ginger beer to America. It became abar favorite. However, American laws in 1920 banned this drink from their country.
To adapt to this situation, people changed the ginger beer ingredients to make it non-alcoholic. Later, ginger beer became popular and widely known around the world.
How Does It Taste Like?
Ginger beer has a strong and spicy flavor, it is usually used to mix with everything. The perfect mixture should be a tasty cocktail or mocktail like the traditional Moscow Mule.
Ginger beer can go well with juices like lemon and apple, it also goes smoothly with milder flavors like cinnamon and nutmeg.
What Makes You Like It?
The first thing that comes to my mind is the taste. The light and refreshing taste is the perfect cure for your bad day. The aromatic flavor goes well with every drink.
Ginger beer is also good for your health because it contains ginger. Ginger can help reduce the risk of cancer and slow down the signs of aging.
Can you substitute ginger beer? The answer is yes. You can replace it with ginger ale. Ginger ale is sweeter and highly carbonated. Its color is lighter than ginger beer. This table will show you all the differences between them.
| Attribute | Ginger Beer | Ginger Ale |
| --- | --- | --- |
| Methods | Brewed and fermented | Flavored and carbonated water |
| Taste | Strong and spicy | Light and sweet |
| Color | Brown | Light brown |
| Ginger content | More | Less |
There are various recipes for ginger beer because it can be mixed with every drink. In this topic, I will show you the best and easiest ginger beer cocktails, which you can even make in your home. Keep scrolling down to see more.
Total time: 2 minutes
Look at the total time, it only takes you 2 minutes to complete this drink. How can it be so fast? Because you only need the rum and ginger beer for this cocktail.
This wonderful cocktail delight was created in Bermuda in 1918. The original purpose was to cure sailors' sea sickness. Sailors describe the color of this drink as a black storm cloud, so the name Dark and Stormy becomes widely known.
Quickly making is the key that makes classic Dark and Stormy cocktails become the popular drink in every club.
Classic Dark And Stormy is a combination of ginger and dark rum. It is a fizzy cocktail with a refreshing taste. Classic Dark and Stormy is suitable for your summer party or a late-night drink. It's cool and fresh, so this cocktail will blow the hot weather away from you.
How to make this drink? You need to have ginger beer, of course, and dark rum. Put ice in your glass and pour in the ginger beer. After that, add the rum and squeeze the lime wedge on top. Finally, stir the mixture and enjoy your drink.
Let's learn how to make Dark and Stormy for a hot summer day.
Total time: 5 minutes
Here comes another quick-to-make drink for your hot summer. This raspberry and ginger fizz cocktail is one of the best ideas for your summer. By adding raspberry, the cocktails will become fruitier and tastier.
The first thing you need to do is mash raspberries. Put raspberries in a big hard bowl, then add sugar, mint leaves, and ginger. Mince these ingredients until everything is mixed up. Pour the ice cubes in, and bash until the ice breaks.
After that, pour the vodka and ginger beer on the top then stir them up. In the last step, pour the mixture into your glass and the cool ginger beer cocktail is completed.
Total time: 5 minutes
Margarita is a Mexican-style tequila-based cocktail. The rim of this cocktail is usually covered with salt. Have you ever tried it with citrus fruit juice? Ginger beer pairs well with citrus fruits like orange and lemonade; people like them a lot.
When it comes to making ginger beer margarita, you can use the classic method of perfecting the mixture of tequila, lime zest, and ice cubes with a cocktail shaker. Add lime juice and orange juice for a fruity taste.
Pour it into a glass, and add syrup, ginger beer, and a lime wedge on top.
Total time: 10 minutes
Prickly pear is a cactus, whose fruit can make syrup for many cocktails. Prickly Pear Mezcal Mule is as hot as its color. The spicy flavor in this recipe will be doubled because of the jalapeno. You can taste and feel every flavor of this devil cocktail. It is sweet and spicy.
To make syrup, remove the skin and thorn of prickly pear fruit before pureeing it. Move the pureed fruit into a saucepan and heat up with sugar and water. After that, stir the mixture until it boils. Then, reduce the heat and cook for 10 minutes.
Pour the prickly pear syrup into a jar and put it in the fridge. Now, you can start making your cocktail. Rub the rim of your glass with lime, then dip the rim into the salt plate to cover it with salt.
Mix the lime juice and jalapeno in the cocktail shaker. Add cold prickly pear syrup, mezcal, and a few ice cubes to the shaker, then shake it hard.
Now, pour the mixture into the prepared glass and add ice and ginger beer on top. Stir the mixture well before decorating your cocktail with some jalapeno slices. Enjoy!
You can also replace jalapeno with cucumber for a non-chilly mezcal mule version.
Total time: 10 minutes
Drinks are an important part of a party. If you want to make your party in the heat, you will need to have a special drink list. I believe the Texas mule cocktail is a wonderful choice for your party.
Texas Mule is a twist on the classic Moscow Mule, which is mainly made with vodka, ginger beer, and lime juice. People usually serve it in a copper mug. It has 2 versions: cocktail and mocktail. It's suitable for everyone at your party.
Let's start with the mocktail Texas Mule first. To concoct this delicious mocktail delight, you need to combine melted prickly pear jelly, lime juice, and ice cubes in a cocktail shaker. Shake it vigorously for 15 seconds before mixing it with sparkling water and ginger beer.
Lastly, decorate your drink with mint leaves and bring it to your friends.
The alcoholic one is prepared the same way. However, you have to add an alcoholic drink to make it become an alcoholic cocktail. After pouring melted jelly into the shaker, you need to add vodka, lime juice, and ice cubes. Shake it for 15 seconds.
In the final step, you pour it into the glass and add ¾ cup of ginger beer on top. Garnish with mint leaves and serve.
Total time: 5 minutes
Do you like cocktails made with orange juice? If you do, you must try this orange-ginger fizz cocktail. It is the perfect combination of bourbon, juices, and ginger beer. It is very easy to make with only 5 ingredients; you will feel refreshed by this sweet drink.
All you need to do to make this yummy orange juice-based cocktail is fill your glass with ice cubes. Add orange juice, bourbon, and ginger beer to the glass. You can continue to add lemon juice and honey on top. After you add those five ingredients, you can finish your drink with a gentle stir.
Total time: 10 minutes, plus 1 hour of refrigerating the fruit puree
I must say that the summer is becoming hotter year by year. Your body will be dehydrated if you go out at this time of the year. Don't worry! I have a solution for this situation. Let's make an Apple Cider Rum Cooler to cool down yourself.
Prepare a pan, then add sliced apples, lime juice, honey, and ginger. Stir them until everything mixes up. Next, cook the mixture on medium-low heat until the apples become soft. Remove it from the heat and let it rest. After that, you can use a blender to puree them.
Then you can put them into the fridge and wait for at least 1 hour. This mixture can last 5 days. When you want to have this drink, take the mixture out and pour it into the glass, add rum, ginger beer, and ice cubes. Stir them and enjoy.
The preparation step of this recipe takes a lot of time. If you have a party ahead, you should prepare a large batch of apple cider mixture 1-2 days before.
Total time: 5 minutes
Do you like the glossy blackberry fruit? If you do, you have the same interest as me. I like the tart and sweet flavor of this fruit. Plus, I like the way it combines with ginger beer. This delicious blackberry cocktail is not difficult to make; it only takes 5 minutes.
In the first step, mix the sugar and lime zest on a plate. Rub your glass's rim with a lime wedge and dip it into the plate. Now, you need to crush blackberries, mint, lemon juice, and honey together in the glass jar.
When everything is combined, you can add bourbon and ice. Remember to top off the cocktail with ginger beer. Stir the combination and garnish with fresh mint.
You can follow the detailed instructions on how to make the Blackberry Bourbon Smash in this video.
Total time: 5 minutes
Did you have a crazy working week? You must drink something to refresh yourself for a long week like ginger beer Paloma. It is sweet with a grapefruit taste. About Paloma, that is a drink mainly made with tequila and grapefruit, possibly with salt around the rim of the glass.
In order to make the salt rim in this recipe, kosher salt is the best option. Why do you use kosher salt? Because it is bigger than table salt and can enhance the flavor of your drink.
Mix agave, lime juice, and grapefruit juice. Pour the mixture into your glass. Add tequila and ginger beer. Decorate it with a slice of fruit and serve immediately.
Total time: 1 minute
Fizz cocktail is a mixture of acidic juice and carbonated water. It comes from New Orleans, America. The Gin Fizz is a well-known cocktail in the Fizz family; it contains gin, lemon juice, and carbonated water.
Apple Ginger Bourbon Fizz is the perfect mixture of bourbon and Gin Fizz. It's sweet, strong, and mildly spicy. This cocktail consisting of bourbon is fast and easy to make. You just need 1 minute to make this drink.
Add ice cubes, bourbon, and apple butter to the shaker. Shake them, then pour them into a glass. Pour ginger beer on top and decorate the cocktail with a lime wedge. There you go.
Total time: 1 minute
The weekend is near. What are you waiting for? Go to your kitchen and reward yourself with a Sparkling Ginger Mint Julep cocktail. It is one of the easiest and fastest cocktails to make. This cocktail will help you cool up your hot body after a hard-working week.
You only need 3 ingredients and 1 minute to make this cold drink. Just simply stir the combination of ginger beer, bourbon, and mint leaves until you feel the minty flavor. That's all.
However, you can create the non-alcoholic version by removing the bourbon from your recipe. You can take the mint leaves out of the class after stirring if you want.
Total time: 5 minutes
A picnic should be a great idea for the weekend. If you are wondering what to bring to the picnic, I suggest making a homemade cocktail. Ginger Blood Orange cocktail is an excellent drink with tangy citrus and sweet syrup flavor.
Blood orange is the key to the red color of this drink. Coat the rim of your glass with sugar and orange syrup. Fill the glass with ice cubes. After that, pour the blood orange juice, lime juice, tequila, and ice into the cocktail shaker. Then shake vigorously.
Finally, pour the mixture into the prepared glass and add ginger beer on top. Your Ginger Blood Orange is ready for the picnic.
Total time: 2 minutes
If you are a fan of Mexican delicacies, you will like this Mexican Moscow mule. It is bold, bubby, and spicy. The Mexican mule uses tequila instead of vodka like the classic Moscow Mule.
I suggest using a copper mug like a traditional Moscow Mule. However, if you don't have this type of mug, you can use a normal glass. Anyway, the Mexican mule is very easy to make. Pour tequila, lime juice, and ginger beer into the mug before adding crushed ice.
You can add sugar syrup to make your Mexican Mule sweeter.
Total time: 20 minutes, plus 12 hours of refrigerating time
What is your favorite fruit in the summer? For me, it is melon. This fruit also inspires the ginger melon sangria recipe. By using melon balls, this drink will make you dream of the floating ball on the beach, where your summer vacation begins.
Ginger Melon Sangria is strong and fruity like other types of Sangria. It can keep the sweetness of the melon and the spiciness of ginger. The recipe is straightforward as well. You just need to combine lime juice, liqueur, wine, melon, and ginger beer in a big jar.
Keep the combination in the fridge overnight for the best taste. Use melon balls instead of ice cubes in your drink. Pour a touch of club soda on top and enjoy.
Total time: 5 minutes
A glass of cold ginger Spritz cocktail is usually the popular choice in the bar. It's strong, sweet and it's easy to make. Spritz cocktail is an Italian wine-based cocktail. This drink has a long history, invented in Veneto and spread around the world in the 19th century.
Cover the rim of your glass with a mixture of lemon juice and sugar. Pour ice cubes into the glass. Next, fill your glass with citrus liqueur, sparkling water, lemon juice, and ginger beer. Put the orange slice and basil leaf on top for decoration. Now, take a nice view and enjoy your drink.
Total time: 5 minutes
Don't go anywhere because your summer drink trip is not done yet. You are going to like this drink for sure. It will make you feel fresh and cool.
The steps to create Ginger Lime Ricky are so simple. The main ingredient for this recipe is grenadine and ginger beer. By mixing these ingredients with soda and lemon juice, you can create a perfect Ginger Lime Ricky.
Total time: 5 minutes
If you feel bored with the classic Moscow mule, you should try this strawberry mint upgrade. Strawberry mint Moscow mule brings a wonderful combination of berry and ginger beer. You can replace strawberries with other types of berries you have.
You will need to mix strawberries and mint leaves in a glass. Muddle them into small pieces. After that, mix them up with vodka, ice, ginger beer, and lime. Now, you can gulp this delicious cocktail down.
If you want more detail, you can follow this Strawberry Mint Moscow Mule recipe.
Total time: 5 minutes
Have you ever tried using eggs in your cocktail? Here is a special recipe with that creamy ingredient for your ginger beer cocktail.
Ginger baker fizz is a white-colored drink, which contains egg white and heavy cream. You will be impressed by the sweetness along with the fat and spicy taste of this drink.
You can finish it easily in 5 minutes. Combine lemon juice and egg white, then use a cocktail shaker to turn them into a smooth mixture. Add creme de cacao, ginger liqueur, heavy cream, ice, and the gin before resuming the shaking.
Finally, pour the ginger beer into a glass and the liquid part of the shaken mixture. All done!
Total time: 10 minutes
This delectable Limoncello cocktail is a twist on the classic Moscow mule. Limoncello is a lemon liqueur from Italy, it's made from the zest of lemons. It's a popular product, which you can buy at many stores.
Pick up your glass and fill it with ice. Shake lemon juice, vodka, limoncello, and ice cubes in the cocktail shaker vigorously. Then pour the liquid into the glass. Last, pour ginger beer on top and enjoy. You can also garnish your cocktail with some lemon slices.
Total time: 5 minutes
One of the most favorite drinks you should try for your summer is ginger beer mojito. It can save you from the hot temperature of summer. It's also easy to make for a peaceful night.
What is Mojito? That is a famous Cuban cocktail in the world. It is made from soda, rum, and mint leaves. Its inventor was allegedly the famed Captain Francis Drake. With ginger beer, this drink will become even more irresistible.
You can mash mint leaves with lime juice in your glass. After that, fill it with some ice cubes, rum, and, of course, ginger beer. . A mint sprig or lime wedge will increase the visual appeal of the drink. Then it is ready to serve.
A classic style ginger beer Mojito will make you feel refreshed.
Freeze Your Summer With Cool Cocktails
These ginger beer cocktails will help you go through the hot weather of summer. You can make them yourself at home without having to go to the beach resort or luxury bar. I believe these drinks are a special gift for your friends and family.
Today, I have introduced to you many amazing ginger beer cocktails. I hope that you will find this information helpful. Tell me about your experiences in the comment section to share them with me and others. Remember to share this article with your friends and family.
Nutrition Facts
1 servings per container
---
Amount Per ServingCalories157
% Daily Value *
Sodium 7mg

1

%
Potassium 2mg

1

%
Total Carbohydrate 7.5g

3

%
---
* The % Daily Value tells you how much a nutrient in a serving of food contributes to a daily diet. 2,000 calories a day is used for general nutrition advice.