What are the best Bourbon cocktails, and how to make them? If these are the questions in your head right now, then you have come to the right place, my friend. In today's article, I want to open you up to the wider world of Bourbon.
From the way it is made to how you can bring the best flavors out of the drink, all of the necessary information is right in front of you. The only thing you need to do is just sit back and enjoy the ride.
And by the end of this article, the list of recipes for cocktails below will give you enough inspiration for the next party. Your guests will probably be surprised when their table is full of tasty drinks.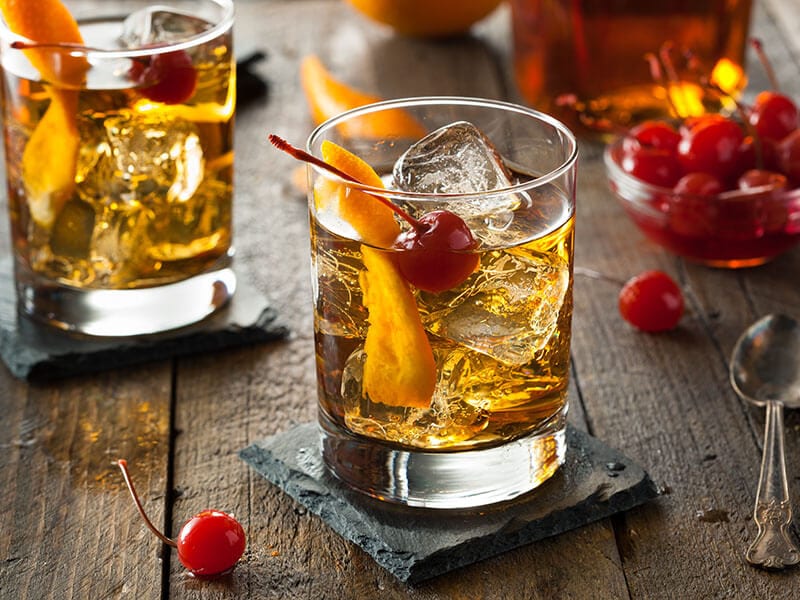 The Beginning Of Bourbon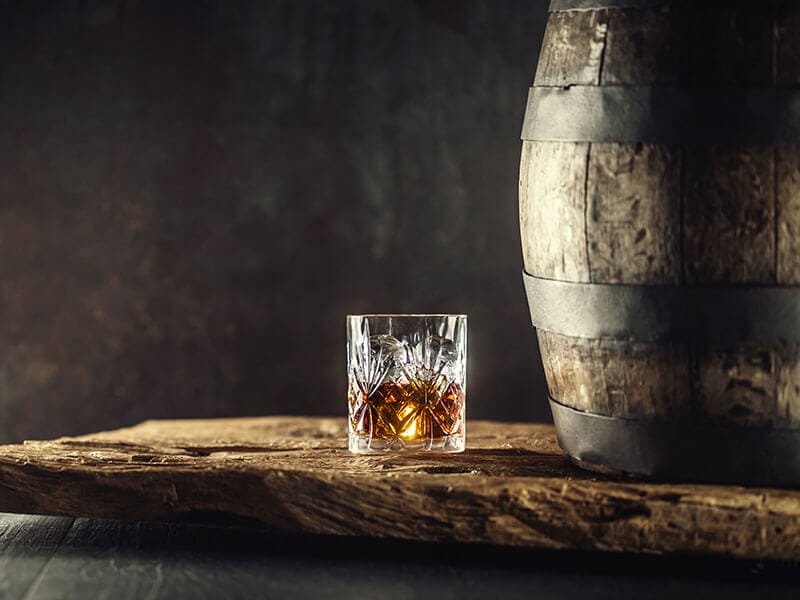 While most people agree that Bourbon originated from the southern U.S, you might be surprised to find out the actual history of this alcohol is a bit murky. Many people have come up with their own theories about how Bourbon started.
In one origin story, father Elijah Craig, a Baptist minister living in Kentucky during the 18th century, gets credited as the creator of Bourbon.
However, in another area of the Kentucky State called Bourbon County, many locals there give the full credit to Jacob Spears, who was the first to coin the name "Whiskey".
The Process Of Making Bourbon
To create Bourbon, breweries must first obtain their mash bill, which are the materials that they use to ferment. A typical Bourbon mash bill consists of around 51-80% corn and grain (rye, barley, or wheat). Different grain types usually determine the final taste of Bourbon.
First, they ground up the mash and mix it with water. The leftover liquid from the previous batch is incorporated into this new mixture to create "sour mash". This process ensures the newer batch of Bourbon can have the same consistency as the previous one.
Finally, breweries can add yeast into the mash liquid to ferment. When a type of clear liquid that most brewers call "white dog" starts forming, it will get transferred to white oak barrels to age.
While there is no time limit on how long the aging process can last, few exceptions exist. If the brewers want to create a straight Bourbon version, they have to age the spirit for at least two years. Another type, Bourbon-in-bond, has a minimum requirement of 4 years.
The Flavors Of Bourbon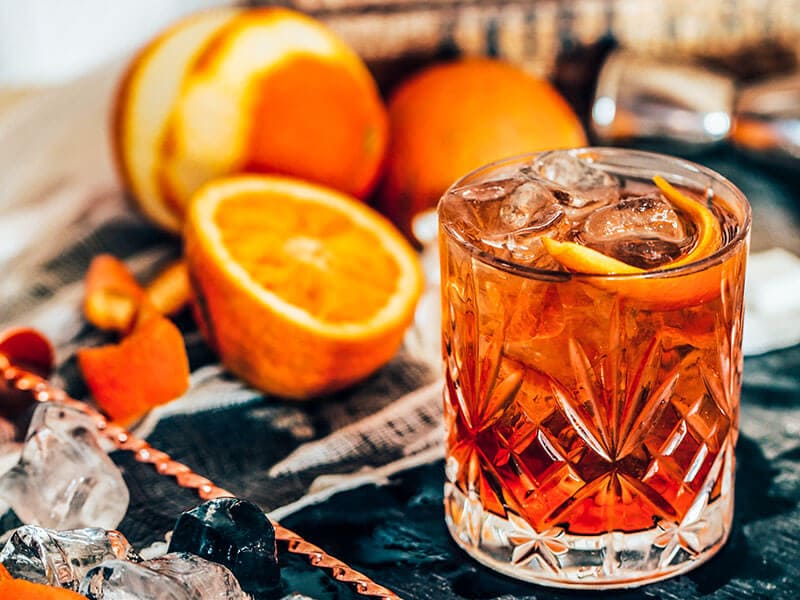 With the help of the oak barrel, the colorless appearance gives way to a more traditional Bourbon color that most wine connoisseurs are familiar with. The light brown nature of the drink also perfectly reflects the deepening of its essence.
When you first pour the Bourbon into a glass, you can certainly feel a very light and pleasant oaky fragrance. This type of smell is particularly sweet, and it sometimes has the effect of relaxing your whole mind.
However, the aroma alone just doesn't make a good Bourbon. Instead, the true experience comes from your taste buds. The first sip is always the best, where you can sense the flavors of vanilla and caramel unraveling. In some cases, there is a bit of graininess as well.
You have to know how to drink Bourbon correctly to taste all of the goodness. The three most popular ways to enjoy pure Bourbon are drinking it neat (at room temperature), diluted with water, and on a rock (with ice). And of course, cocktails are a good option too.
25 Cocktail Recipes That Enhance The Taste Of Bourbon
The world of Bourbon-based cocktails is full of surprises. Not only can you find cold and refreshing beverages for the summer, but there are also warmer versions that will be able to warm you up during an especially cold winter.
Total time: 10 minutes
For fans of both cocktails and coffee, I have a suitable option for you. Introducing the Revolver Cocktail, a very delectable beverage that gives you the pleasant fragrance of Bourbon and a bitter hint of coffee liqueur.
The most important factor you should know is getting the type of Bourbon. For this drink to work, Bourbon needs to be dry and spicy, so a rye-based option is the most optimal choice. This enhances the overall flavors of the rest of the ingredients.
Aside from that, as I said above, the coffee-infused cockta offers a slight bitterness similar to that of dark chocolate. However, there's a certain level of sweetness that hides underneath. To top the cocktail, you put an orange peel for an extra layer of zestiness.
This tutorial offers a more thorough way of making a Revolver Cocktail.
Total time: 2 minutes
When the summer is approaching, you know it is a good time to make this classic beverage called Mint Julep. This cocktail originated in the American South during the 18th century and has a very close relationship with the Kentucky Derby, an annual horse race competition.
There are two factors that make the Mint Julep a delightful drink. The first one is the Bourbon which makes up the base with an oakiness. The flavor will depend on the type of Bourbon you use, so if you're a beginner, I suggest getting a sweeter type with the wheat version.
The second factor is a combination of mint and sugar. It provides that peppery aroma that enhances the overall fragrance of this refreshing mint-flavored cocktail. As for the sugar, the sweetness makes this Mint Julep more palatable.
Total time: 5 minutes
There is no denying the refreshing feeling after drinking a cool glass of lemonade. It's no wonder the drink has become many people's favorite beverage. However, there is one way to make classic lemonade taste better: adding a bit of Bourbon.
This is another creation from the state of Kentucky. You would only have to get three ingredients, including Bourbon, lemonade, and ginger ale. Despite such simplicity, the flavors from each component manage to layer on top of each other to create a delectable taste.
Bourbon gives an oaky and spicy undertone. It makes this cocktail infused with lemonade more potent because the zing enhances the tartness of the lemons. However, with the help of the sweet and fizzy ginger ale, the sourness doesn't get too overwhelming.
Total time: 5 minutes
In this entry, I want to show you a creative way that Kentuckians like to enjoy their Mule cocktail. Instead of using Vodka like the original recipe, the locals tend to favor their creation, the Bourbon. Hence, the reason why this variant is called Kentucky Mule.
As a summer-time favorite amongst many people, Kentucky Mule is very cold, refreshing, and fizzy. That's because the drink is full of incredible ingredients that will relieve you from the scorching heat. It includes Bourbon, lime juice, and ginger beer.
First, use a blender to crush ice (or you can put the ice in a clean bag and smash it with a mortar). This cocktail with ginger beer often tastes better if you serve it in a copper cup, but a normal cup is also fine. Add all of the liquid before topping the cocktail with the crushed ice.
Do you want another way to make Kentucky Mule? This video is for you.
Total time: 5 minutes
For many cocktail enthusiasts, the exact beginning of Sidecar is still a mystery. However, many would agree that this particular drink was created around the time of WWI in Europe. The recipe of Sidecar made its first appearance in 1922 in a cookbook written by Harry MacElhone.
While the original recipe utilizes Cognac, this version relies heavily on Bourbon as its main flavor. This means the fruitiness you mostly get in a normal Sidecar is totally replaced with a spicier and more tingly sensation.
The other ingredients are similar to a normal Sidecar. This mixed alcoholic concoction with Triple Sec (an orange liqueur) has a certain level of zestiness. The lemon juice provides a layer of sourness, while sweet syrup keeps everything balanced.
Total time: 5 minutes
With a wide variety of summer cocktails around the world, choosing one is not an easy thing to do. That's why I'm here to help you pick out the best options. For example, this Ginger Peach Bourbon Smash version will surely capture your heart and taste buds.
This cocktail consists of peach, lemon, and Bourbon as the base. With the Bourbon, it has that nice vanilla aroma that blends to weel with the sweet flavor. When you pour the ginger beer on top, the fizziness gives the drink an interesting sensation along with a slight peppery kick.
As for the fruitiness, it comes from the fresh peach slices. When you infuse them with the drink, most of the sweetness in this peach-enhanced cocktail will seep out. The taste and the peachy aroma provide a delightful layer to the overall experience.
Total time: 5 minutes
If that floral scent of peach is not your cup of tea, then I would suggest this recipe right here called Blackberry Bourbon Smash. While this is in the same style as the Peach Smash, the change in the man flavor brings a unique spin to the beloved cocktail.
Instead of ginger beer as a topper, you can get club soda for this cocktail infused with blackberries. It provides enough fizziness without compromising the other flavors. Lime and syrup make a nice addition due to a mix of acidity and sweetness.
Use a muddler to mash the blackberries with mint to extract the necessary juice (you can also use a pestle and mortar instead). This process offers two different essences to the beverage, the berries' tartness and the mint's pepperiness.
Total time: 10 minutes
Keeping up with the theme of fruit-flavored cocktails, let me introduce you to this incredible option called Bourbon Apple Cider. The way this cocktail can cool you off during a hot day is one of the best feelings imaginable.
It's thanks to the use of delicious ingredients like Bourbon, apple cider, and ginger beer. First, the Bourbon provides an oaky fragrance that increases its delectability. Even if you dilute it with other types of liquid, you can feel that smell very clearly.
Besides that unique aroma, you also feel a hint of ginger and apple underneath. This mixed alcoholic beverage with apple cider provides a certain zing and sourness. And when it clears up, the pepperiness from ginger beer rears its head to create an interesting after-taste.
Total time: 1 minute
The approaching summer might signal that it's time to prepare for a very fun pool party. And every party needs a cool and refreshing beverage to go along with it. This is why I'm bringing you this entry right here called Cranberry Bourbon Fizz Cocktail.
Yes, the drink's name might be a bit too long, but when you get a taste of it, the only thing you'll have in your mind is its fantastic mix of flavors. And the best thing is that you don't have to get a lot of ingredients since Bourbon, cranberry juice, and ginger beer are enough.
The first thing that will hit you is tangy and sweet juice. The tasty cranberry cocktail is not too strong, so after the initial rush subsides, the spiciness from the Bourbon reveals itself. The pepperiness ties the rest of the sensations very well together.
Total time: 20 minutes
The combination of berries and Bourbon always brings the best of both worlds. On the one hand, you get a very tart and refreshing taste that's great for hot days. On the other, the addition of spirit gives the drink a lot more of a kick.
That's why Raspberry Bourbon Cocktail is a must-have when you want a delicious beverage. This drink is going to blow your mind thanks to its simple but delightful components. They include stuff like Bourbon, raspberry syrup, and citrus juice.
The syrup is easy to make at home, you only combine water, raspberries, and sugar in a heated pan. When the liquid thickens up, the result is a fragrant and sweet syrup. This goes really well with the citrus juice to balance out the flavors.
The other two essential ingredients for this raspberry-included alcoholic mixed drink are Bourbon and club soda. The Bourbon has its usual layer of spiciness that hides a delightful caramel aroma.
Total time: 3 minutes
This one is for the ladies! If you want a drink that exudes a high degree of elegance and sophistication, then the Bourbon Renewal is your perfect choice. From the appearance to the flavors, there's no doubt you will fall in love with the drink.
This tasty fall cocktail recipe includes mixing Bourbon with lemon juice and Creme De Cassis, a type of liqueur made from blackcurrants (an edible berry). For people who like their drink to be stronger, I suggest adding a dash of Angostura Bitters (a bitter type of alcohol).
Similar to other Bourbon-based cocktails, the biggest factor contributing to the overall flavor comes from the combined essences of vanilla and caramel. It's sweet and fragrant. Not only that, Creme De Cassis provides a nice tangy addition to the beverage.
The Bourbon Renewal, everyone loves this magnificent cocktail recipe.
Total time: 30 minutes
While a summer drink might be fun to make, it doesn't mean I don't have a fun option for you during the winter. Let me introduce you to the warm and fun-filled Bourbon Eggnog. This lovely cocktail can make your Christmas a more memorable holiday season.
The best ways to describe this version of a thick Eggnog cocktail are nostalgic and creamy with a lot of extra tingling. The creamy part comes from traditional eggnog ingredients like egg yolks, whipping cream, and whole milk.
As for the tingling, you can feel that feeling rush through your body with the help of Bourbon. That oaky aroma combines with the rich smell to create a fragrance so fantastic you just want to drink all of it in one single gulp.
Total time: 5 minutes
I'm not done with hot drinks that you can make with Bourbon just yet. If you feel like the Eggnog might be a little too weird and creamy for your taste buds, then you can certainly replace it with this Bourbon Hot Toddy beverage instead.
There is no better feeling than when you can sense the warmth coming from the mix of hot water and alcohol coursing through your body. It gets better when that warmth slowly turns into a strong kick that you experience in most Bourbon-based cocktails.
Of course, this Hot Toddy does not consist of just spirit alone since there are other ingredients like lemon and maple syrup (you can use honey as a replacement). The acidity and sweetness coming from both components take the concoction to a whole new level.
Total time: 5 minutes
Why don't you try remaking this fantastic option called Hawaiian Gold Rush Cocktail for those who are craving something more tropical? The refreshing nature of this well-known cocktail is enough to replicate the feeling of being on a sandy beach in Hawaii.
The ingredients required for the recipe are not overly complicated. The main component includes Bourbon, which has a classic oaky fragrance. It also has a delightful spiciness that stimulates your palate, so you might want to drink more.
Another type of alcohol you might need is grapefruit bitters, which provides a side of bitterness and sourness. However, the Hawaiian Gold Rush would be too strong without sweetness. That's why a drizzle of honey syrup is necessary to even out everything.
Total time: 5 minutes
Manhattan is certainly an older classic that you must try once in your life. The drink made its first debut in a place called The Manhattan Club during the latter half of the 19th century. That's also where the name of this cocktail comes from.
This recipe has only three ingredients, including Bourbon, Vermouth, and Angostura bitters. Compared to more modern cocktails, Manhattan can be very overwhelming with the spicy kick and the bitterness. If you're new to this, it can be hard to drink.
But it doesn't mean this mixed alcoholic beverage with Vermouth lacks depth. When you take a sip, the bitterness tends to be apparent until you let it settle down. That's when the spiciness coats your tongue to create such an interesting experience.
Total time: 5 minutes
I'm not done with classic Bourbon-based cocktails just yet, because I have another good option for you. The Old-Fashioned Bourbon is great for a relaxing afternoon or when you're celebrating a special occasion like New Year.
Old-Fashioned might not be too complex when it comes to the recipe, but the flavors you get at the end are almost divine. Aside from the usual Bourbon, you must get the other ingredients like Angostura bitters, sugar, and an orange peel for the fragrant oil.
To create the Old-Fashioned, add all components into a glass with an ice cube. When the ice melts, it can dilute the drink to make the bitterness more palatable. The sugar and zingy Bourbon also offer their ways to make the drink more delightful.
This Old-Fashioned Bourbon is a good old-style cocktail recipe.
Total time: 4 minutes
While the Old-Fashioned recipe is perfect for those with a mature taste, it lacks a certain fruitiness that's more on the side of fun. That's why I want to propose an alternate recipe that is more suitable for a party setting.
Like the original recipe, you have to get both Bourbon and orange bitters, giving the cocktail a nice oaky fragrance and a bitter undertone. But apart from those two ingredients, the rest is different with an orange slice, a cherry, and peach schnapps.
To fully extract the flavors, use a muddler to mash both the cherry and the orange slice. This has the effect of adding sweetness and zestiness to the overall taste of this Old-Fashioned. The peachy aroma caps everything off with its delightful smell.
Total time: 3 minutes
Bourbon John Collins is inspired by a cocktail named John Collins that originated in London during the 1860s. While the original recipe uses a spirit called London Dry Gin, today's version of John Collins utilizes the familiar Bourbon.
As you can notice from the name, the main part of this cocktail is the Bourbon, which enhances the overall taste with a combination of vanilla and caramel fragrance. The rest of the ingredients include lemon juice, syrup, and club soda.
You mix the Bourbon and syrup with lemon juice in a Collins or highball glass (a tall cocktail glass). The topper is the club soda. The mix of lemon juice and syrup can hide the spiciness from the alcohol, making it more subtle. The club soda brings fizziness to improve delectability.
Total time: 26 minutes
Summer is always a fun time when you can be out in the weather. But if you're not careful, you can sweat too much and get tired quickly. That's why a summer drink is necessary to help you recharge. And I have the right solution in the form of this Lemon Bourbon Sweet Tea.
If you ever get a chance to taste this beverage, you will realize the flavors that make this Sweet Tea version so irresistible. First, there's a trace of bitterness from both the black tea and the alcoholic bitters that create a base layer.
Next, you can feel a sweetness from the sugar that tries to run underneath the black tea. Once that opens up, you will meet the spiciness from Bourbon. The addition of Bourbon brings a more pleasant vanilla smell to this drink.
For a cool summer, you can try this Lemon Bourbon Sweet Tea tutorial.
Total time: 10 minutes
Combining the tartness of candied orange and the vanilla fragrance of Bourbon, this cocktail is going to impress you with its depth. Bourbon Orange Brûlée is both unique in its presentation and creative use of ingredients.
For the preparation, you have to make the Orange Brûlée, which is just candied orange. First, boil water and sugar in a heated pan before adding the orange. When the syrup thickens up, it will create a glossy and sweet coating around the orange.
Onto the drink, use a shaker to mix Bourbon, Sherry, and ginger liqueur. This step has the effect of incorporating all of the essences evenly, from the pepperiness of the ginger liqueur to the nuttiness of the Sherry.
Total time: 2 minutes
Aside from having an interesting name, Paper Plane Cocktail will catch your attention with its colorful appearance. However, don't be fooled by its delectable look because its taste can be very dangerous if you're just a beginning drinker.
That's because the main ingredients consist of spirits with strong flavors, like Aperol (a type of zesty beverage with a lot of bitterness) and Amaro Nonino (also a bitter and herbaceous drink). The acidity from lime might reduce the intensity, but you can still feel its effect.
However, the oaky and vanilla undertone from Bourbon can improve the palatability of the cocktail. That balance between strong alcohol makes most veteran drinkers want to seek.
Total time: 5 minutes
The Whiskey Sour made its debut in the 19th century when a newspaper from the state of Wisconsin specifically mentioned its name in 1870. Since then, the recipe for this drink has not changed much aside from the choice of Whiskey.
One of the most appealing factors about the cocktail is its use of the Bourbon Whiskey. This type of spirit has a very irresistible and caramel-like aroma. The other important ingredients are citrus juice (including lemon and orange) and syrup.
When you mix the concoction in a shaker, it creates an interesting effect on the flavors. First, there's the acidity of this orange juice-infused mixed alcoholic drink, with a touch of sweetness from the syrup. But the Bourbon unveils itself to give you that familiar tingling.
This is an easy way to make the Whiskey Sour.
Total time: 5 minutes
If the traditional Whiskey Sour is much too plain for your taste buds, I have a new version for you to try out called Cinnamon Maple Whiskey Sour. This version is more on the sweeter side, yet you can still feel the effect of Bourbon running underneath.
For the ingredients, there is more stuff compared to the normal version. This list includes maple syrup, cinnamon, and Bourbon as the main attractions. The addition of maple syrup increases the sweetness to a higher degree, so beginning drinkers will find this much better.
Of course, too much sweetness can cause an undesirable effect, so you get the cinnamon to provide its signature herbal fragrance. The Bourbon gives the cocktail a much better balance thanks to its spiciness from the grain.
Total time: 5 minutes
Remember when I said that berries and Bourbon always went so well together? If you like that combination, I'm about to please you again with another great option. This drink is called Blackberry Whiskey Sour, and it's another variant of the Whiskey Sour.
So what makes it different from the normal version? As you can see from the name, it's the inclusion of blackberries. When your tongue touches this concoction, a pleasurable tartness spreads everywhere.
If that's not enough, the mixture of syrup and orange juice enhances the blackberries even further by increasing the sour and sweet flavors. The Bourbon offers a nice cap with the spicy after-taste that imprints the beverage in your mind.
Total time: 5 minutes
The Boulevardier, which means someone who is a frequent visitor to Paris boulevards, is a drink created by Erskine Gwynne, a magazine publisher, in the 1920s. This drink oozes a feeling of refinement and culture.
This cocktail might be a good choice whenever you feel like drinking something more classy. To remake this one, all you need is Bourbon, Campari (an Italian apéritif – a type of drink before a meal), and sweet Vermouth (a type of fortified wine).
The overall flavors are very strong when you have the bitterness from the Campari. But alongside the sweetness from the Vermouth, it tends to be more bearable. The Bourbon offers an interesting mix of vanilla and caramel to further mask the Campari.
Boulevardier Cocktail is just fantastic that you have to make once in your life.
Enjoying Your Free Time With Fantastic Bourbon Cocktails
When you are planning to have a good time, it is always nice to have a tasty cocktail glass next to you. Without a doubt, Bourbon-flavored cocktails are some of the best options you can make since the variety is so huge.
With the help of the recipes above, there will be no shortage of drinks for you to try. And maybe one day, you can expand your repertoire even further with your creations. The cocktail world is an open sky waiting for you to explore.
Thank you for being with me this entire time. If you like the information above, don't be shy and give this article a like and a share on your social media. Comment down below on what kind of theme you want to see next. Stay tuned, and goodbye for now!
Nutrition Facts
1 servings per container
---
Amount Per ServingCalories195
% Daily Value *
Total Fat 0.1g

1

%
Sodium 1mg

1

%
Potassium 30mg

1

%
Total Carbohydrate 17.5g

6

%

Dietary Fiber 0.1g

1

%
Sugars 18.2g

Protein 0.1g

1

%
---
* The % Daily Value tells you how much a nutrient in a serving of food contributes to a daily diet. 2,000 calories a day is used for general nutrition advice.