It is time to make the best apple cider cocktails to treat your loved ones. Trust me! The recipes I am about to show in this post are easy and take a short time to prepare. Therefore, let them make your vacations memorable.
Besides the fantastic recipes, this is an excellent chance to expand your knowledge with the exciting and essential information related to apple cider. Keep reading to not to miss any valuable information.
Do You Know Anything About Apple Cider?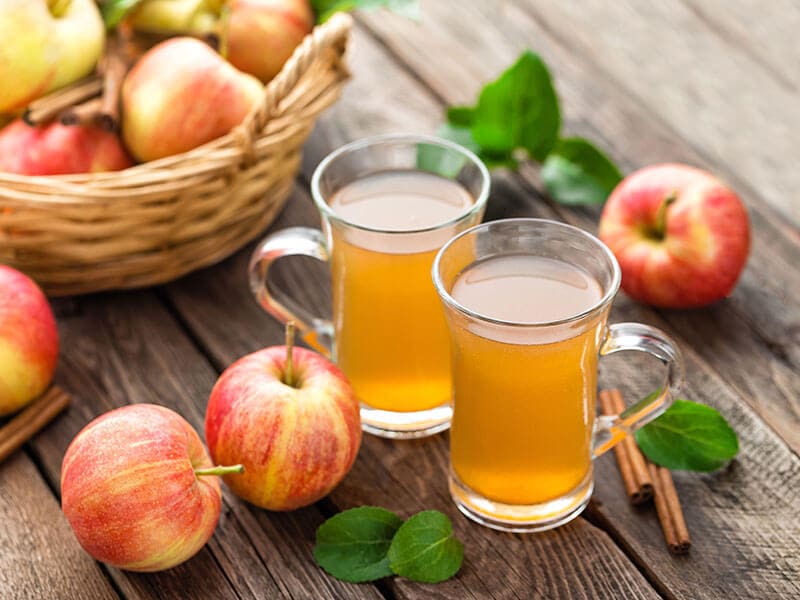 Apple cider is a common ingredient in the cuisine of many countries worldwide. It is an unfiltered and non-alcoholic beverage. The main element of this fantastic cider is apples. Apple cider is the common name used in Canada and the United States.
People often call it "cloudy apple juice" to distinguish it from hard cider and apple juice in other regions. To make apple cider, you need to extract liquid from the apple. Fresh apple cider will have an opaque color because of many apple particles.
Occasionally, producers use UV light to kill bacteria inside apple cider. However, the traditional apple cider is an untreated version. Nowadays, people try to add preservatives or boil cider to store it outside the fridge easier.
Apple cider is the autumn choice in the United States and many other countries. This beverage is often used on Halloween, Christmas, Thanksgiving, and New Year's Eve.
Although apple cider and apple juice are made from apples, they are different. The main difference between them is the making process. Apple juice will be cooked and filtered to remove particles and solids to last longer.
Meanwhile, apple cider still keeps the particles and solids after making, so its color is not eye-catching, and the shelf life is short.
Learn the methods to make excellent apple cider.
Incredible Cocktails Made With Apple Cider
There are many ways to use apple cider in cuisine, and making delicious cocktails is one of the excellent choices. Apple cider is a good supplement for cocktails, and the flavor will not let you down.
Total time: Around 5 minutes
Have you planned for the upcoming holiday? I would like to sip a cup of Hot Buttered Apple Cider with Rum and relax with friends while listening to some good songs. In addition, this recipe is pretty less-cost and straightforward with the available ingredients.
Apple cider will blend with the characteristic taste of butter when mixed together. And you need to use a microwave to heat apple cider before mixing. In particular, the warmth of this drink is made up of cinnamon and nutmeg. It is a fantastic option for winter.
The taste of this cocktail will explode when you pour a shot of rum into the mixture. All will create a perfect overall with the sweetness of apple cider, the complex tastes of spices, and the richness of the butter.
Total time: About 10 minutes
If spiced apple cider and tequila are available in your house, let's try making an Apple Cider Margarita for dessert. The simple recipe is suitable for many events, from weddings to birthdays, vacations, or parties.
You just need to spend about 10 minutes preparing this fantastic drink with a few easy-to-find ingredients. I recommend using Blanco tequila to create a refreshing margarita in terms of spirit. It is not a margarita if you miss lime juice. The sweet taste of maple syrup is necessary.
Of course, spiced apple cider is an indispensable element in this recipe. However, if you do not have spiced apple cider in your house, please use unfiltered apple cider and add star anise, cloves, and cinnamon to enhance the taste.
Let's check out the instructions to prepare Apple Cider Margarita.
Total time: About 5 minutes
Do you have a yummy drink to serve at Christmas and Thanksgiving celebrations? If not, I suggest making Apple Cider Mimosas since this recipe is minimal in the main components and the ways to make them.
You will feel the festival's atmosphere when enjoying a sip of this bubbly treat. The gold and silver sprinkles on the rim of the glass will leave a profound impression on diners' minds at the party.
To create a chai sugar rim, you need to mix sugar, ginger, allspice, and cardamom. A bit of apple cider will moisten the rim before soaking it into the sugar. Finally, you will have a great drink when combining apple cider and champagne.
Total time: About 15 minutes
Your party on the beach will be perfect with a glass of cozy Bourbon Apple Cider Cocktail. It is enough to bring relaxation to your body. This recipe is full of enchanting sweet tastes and a slight charred toasty taste.
This cocktail is a high-effective treat. This fantastic drink is the harmonious mixture of the sweetness of apple cider, the bitterness of orange bitters, and the warmth of a cinnamon stick. The combination will bring the ultimate comfort.
Furthermore, it is time to relax your soul and body with the appearance of bourbon. You can have a delicious treat for a cold day with a few simple ingredients and steps. So, let's give this excellent recipe a shot!
Go to the kitchen to make Bourbon Apple Cider Cocktail for your family.
Total time: Around 5 minutes
Culinary recipes with a mix of caramel and apples will wake up the taste buds immediately, and a Caramel Apple Cider Cocktail is no exception. Processing it is pretty simple since you only need a few basic materials.
If you think the combination of apple cider and caramel vodka is regular, you should try this recipe right away. Its delicious flavor will break all rules in cuisine. Each sip is rich in sweetness and salty caramel taste.
You can make a cocktail glass more eye-catching when you dip the rim into the corn syrup and brown sugar. In addition, a gorgeous picture will form with a few apple slices and cinnamon sticks.
Total time: About 15 minutes
Are you looking for a warm and robust beverage for winter? Apple Cider Hot Toddy is a classic choice for cold weather you should not ignore. You will forget the coldness after sipping this fantastic cocktail.
This recipe is similar to the traditional Toddy, but it has the addition of spiced apple cider. This is the fastest way to relax your body. Besides the delicate flavor of apple cider, the warmth of the drink is the result of the combination of cinnamon, star anise, and cloves.
Especially a little honey and lemon juice will bring natural sweetness and a bit of tartness to this recipe. I will need the high kick of honey whiskey or whiskey in this recipe, or you can use brandy or rum, depending on your preference.
Total time: About 5 minutes
The nature of Bellini is the mixture of Prosecco or champagne and peach puree, but you can transform it by replacing peach juice with apple cider. Oh my goodness, its flavor is exceptionally excellent. This drink will rob your souls right away.
You should show talent by processing this cocktail to entertain friends on Halloween. Trust me, and it is effortless. You just need to go grocery to buy apple cider and apple vodka before making this recipe.
And, of course, champagne is a critical thing in this recipe. Boom! All will explode when you combine 3 ingredients. It is a beautiful cocktail for those who love apple drinks.
Total time: About 5 minutes
When the weather turns cold, a warm drink plays an essential role in the menu. Fireball Apple Cider is a delicious cocktail to sip. Furthermore, it is straightforward to make and suitable for serving on the holidays.
The typical aroma and the appealing touch of apple cider will combine perfectly with the passionate taste of Fireball whiskey. In particular, this recipe will not be finished if you forget vanilla vodka. Please use a cinnamon stick and apple slices to decorate this recipe.
Follow these directions to create outstanding Fireball Apple Cider.
Total time: About 5 minutes
An effective way to take advantage of apple cider in your kitchen is to make outstanding Apple Cider Mojito. If you have a party in the autumn, this recipe is a highly recommended option. Moreover, you can make it for the Thanksgiving gathering.
The soul of this recipe is the combination of apple cider and warm spices. When enjoying this fantastic recipe, you will be conquered by the fruity, sweet, and spicy taste. All of them will blend to create a harmonious whole.
Your cocktail will be sweeter with cinnamon simple syrup, and making this sweetener is straightforward. Do not squeeze lemon juice and add rum to diversify the taste of this drink. A bit of ice will make this recipe more wonderful.
Total time: About 2 hours 5 minutes
This is the joy of funny when you taste a glass of fantastic Apple Cider Sangria on the weekend. It will help you forget the stress of a long working week. Generally, this recipe is not sweet, but its taste is still incredible, with a spiced apple cider taste.
This is my favorite drink when I watch football matches. The sweet taste of apple cider will be balanced with the warmth of white wine and apple whiskey. Furthermore, this drink becomes unique with fruits and spices.
Let's make delicious Apple Cider Sangria with these easy tutorials.
Total time: About 5 minutes
Apple Cider Shandy is a healing drink for cold autumn. The flavor of this recipe is similar to apple pie, so you can feel like enjoying an apple pie in a beautiful glass. It is time to satisfy your passion with cocktails.
It is a simple recipe. The simplicity comes from the easy-to-find ingredients. You will need a bit of sour taste of orange juice to balance the flavor of the cocktail. Dark rum and cinnamon will bring warmth to this drink.
A little pumpkin beer and diced apples will make your autumn cocktail more amazing when everything is almost completed.
Total time: About 15 minutes
You cannot keep your mouth watering when looking at the Apple Cider Manhattan. The classic cocktail is suitable for festivals. Making a glass of delicious and attractive Apple Cider Manhattan is not complicated.
If you are a fan of cocktails, you will know about traditional Manhattan. It is a perfect mix of vermouth and whiskey. However, you can add apple cider to bring the modern notes to this recipe with a distinctive tart and sweet taste.
Brown sugar syrup will satisfy your sweetness craving. Moreover, if you want to add the citrus hint to this recipe, orange slices are necessary. You can use orange slices or brandied cherries to garnish this cocktail.
Total time: Around 5 minutes
Moscow Mules are a traditional drink made up of crushed ice, vodka, ginger beer, and lime juice. But, you will make the difference by using apple cider, and its quality will not let you down. This cocktail is a good idea to recharge energy on the weekend.
The sweet flavor of apple cider will be a perfect partner with citron vodka. You will get a relaxing and comfortable feeling when sipping a fabulous cocktail like this. In particular, a little warmth from ginger beer and cinnamon will make you pleasant.
It is simple to process yummy Apple Cider Moscow Mule.
Total time: About 10 minutes
One of my favorite habits in autumn is checking out the incredible flavor of a Poisoned Apple Cider Cocktail. This recipe is a superb choice for those who fall in love with apple cider. This cocktail is best for Halloween.
It is impossible to say no to the delectable cocktail because it has a beautiful red and gold shade. Also, its flavor is a phenomenon. You will immerse yourself in the exquisite sweet taste of apple cider and pomegranate juice.
To tickle the taste buds, you need the appearance of spiced rum and grenadine (pomegranate syrup). When you sip this cocktail, the flavor of the ingredients will invade your mouth and make you wake up immediately.
Total time: About 10 minutes
Fig Apple Cider Bourbon Smash will be a big hit for your next holiday. Apple cider and bourbon are an immortal combination. The addition of figs will make this drink more unique. It is straightforward to taste this cocktail after doing some basic steps.
Your fall will become warmer with this cocktail. The mildly sweet flavor and deep earthy taste of black figs will make you flutter. Its season often runs from mid May to November. In case you cannot find fresh figs, it is possible to use fig jam or preserve instead.
The taste of the cocktail will become stamped with the incredible hint of fresh apple cider and Four Rose Bourbon.
Total time: About 3 hours 5 minutes
Spiked Mulled Apple Cider is a common choice for Christmas and Thanksgiving parties. You should make this recipe if you have any time to prepare for the parties because it takes a lot of time to create a perfect cocktail.
Mulled hot apple cider will be flavored with spices and citrus. You need to simmer ingredients for 2 to 3 hours to make this recipe. The mixture contains the sweet taste of apple cider, the warmth and distinctive taste of spices, and the citrus note of orange slices.
It is time to balance the taste of the cocktail by adding rum into the mixture. After removing all fruits and spices from the simmering pot, you will have a glass of cocktail to enjoy with your family. It will become better with some orange or apple slices for garnish.
Total time: Around 5 minutes
Because the apple cider shelf life is short and you do not want to waste it, please try making the Pomegranate Apple Cider Spritzer. This appealing recipe will perfectly accompany turkey and pie on traditional Thanksgiving.
Besides apple cider, if you are considering lemon juice or lime juice, I recommend using lime juice to add the sour taste to this recipe. Of course, the tropical incense of pomegranate juice is indispensable.
In particular, you cannot call it Pomegranate Apple Cider Spritzer if you miss vodka and club soda. In case you want to decorate it, you can use fresh rosemary sprigs.
Total time: 2 hours 10 minutes
Have you ever tried to combine apple cider and iced tea in a cocktail recipe? It is time to awaken your passion for tea by processing Sweet Tea Sparkling Apple Cider. You can do it because it is pretty simple.
This recipe takes a lot of time to wait, but the results will deserve the time you spend. You only need to soak diced apples, star anise, and cinnamon in the iced tea and apple cider mixture for about 2 hours.
When serving, you will combine this fresh mixture with sparkling wine. The sweet taste and slight bitterness of tea will bring you and your guests a novel and refreshing feeling.
Total time: Around 8 minutes
The Aperol Spritz is a common choice on warm days. You can enjoy it on vacations in spring or summer. To diversify the drink menu, you should add apple cider and sparkling wine to the classic Aperol Spritz to make an Apple Cider Aperol spritz.
Aperol is an aperitif that contains low alcohol content. It has a slightly bitter taste and characteristic orange shade. Its warm flavor will harmonize with apple cider to make an intense hit.
Let's try making delicious Apple Cider Aperol Spritz with these simple directions.
Total time: Around 2 hours 10 minutes
Apple cider is the star in the Harvest Apple Cider Punch recipe. Furthermore, whiskey, ginger beer, and fresh fruits contribute to the success of this fantastic cocktail. It is a delicious cocktail for the autumn holidays.
If apple cider is the sweet element of the recipe, whiskey will bring a warm breeze to this cocktail. After letting the mixture of apple cider, whiskey, lemon juice, and fruits chill in the fridge for 2 hours, you can use it.
When serving, you just need to add hard apple cider (an alcoholic drink created from fermented apple juice) and ginger beer into the cool mixture. Please grab diners' eyes with apple slices and cinnamon sticks for garnish.
Total time: About 5 minutes
If you are nostalgic and love classic cocktail recipes, why don't you try Old-Fashioned Apple Cider? This long-standing cocktail is pretty easy to make with some essential components.
The fundamental difference between Apple Cider Old Fashioned and the classic version (Old-fashion cocktail) is the appearance of apple cider. Moreover, you can use maple syrup to bring a sweet taste to this charismatic recipe.
This is a recipe for fans of whiskey or bourbon. In particular, you will need a few bitter drops to highlight this excellent dessert.
Get the proper directions to create a unique and fascinating Apple Cider Old Fashioned.
Total time: Around 40 minutes
Like other cocktails, this drink tastes delicious, too! Red Wine Apple Cider Sangria is suitable for autumn parties. The warm kick of various spices, such as cinnamon, cardamom, and cloves, will leave a pleasant feeling while tasting this cocktail.
In particular, if you love the citrus note, this recipe will satisfy your desire with the appearance of orange liqueur. The distinctive taste of apple cider and red wine is the core feature of this fantastic recipe.
To make this cocktail, you must prepare a large pitcher and mix all ingredients. Let's place the pitcher in the fridge from 30 minutes to 8 hours to get the best result. It would be best to serve with ice and garnish with apple slices, cinnamon sticks, and star anise.
Find Out The Authentic Flavor Of Apple Cider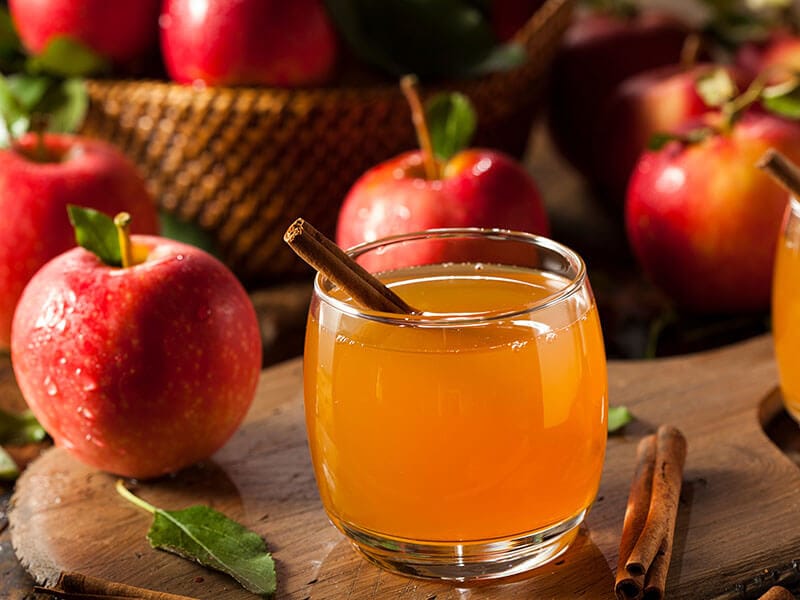 Do you know the real taste of apple cider? If you are curious about its taste, it is time to explore. Thanks to its flavor, you can acknowledge apple cider after reading this section.
Typically, you can feel the sweet, crisp, and slightly sour taste when tasting apple cider. The sweetness comes from the natural sugar in apples. In addition, its taste is similar to the flavor of wine a little bit.
In cooking, raw apple cider is a good choice for your food and health. It still keeps the natural flavor and lacks preservatives and sweeteners. However, you need to use it quickly because it is easy to be wrong.
The standard way to preserve apple cider well is to place it in the refrigerator for about 1 week. If you want to keep it longer, you should freeze apple cider. However, remember to allow a 2-inch headspace when freezing apple cider in the container.
Fantastic Health Benefits Of Apple Cider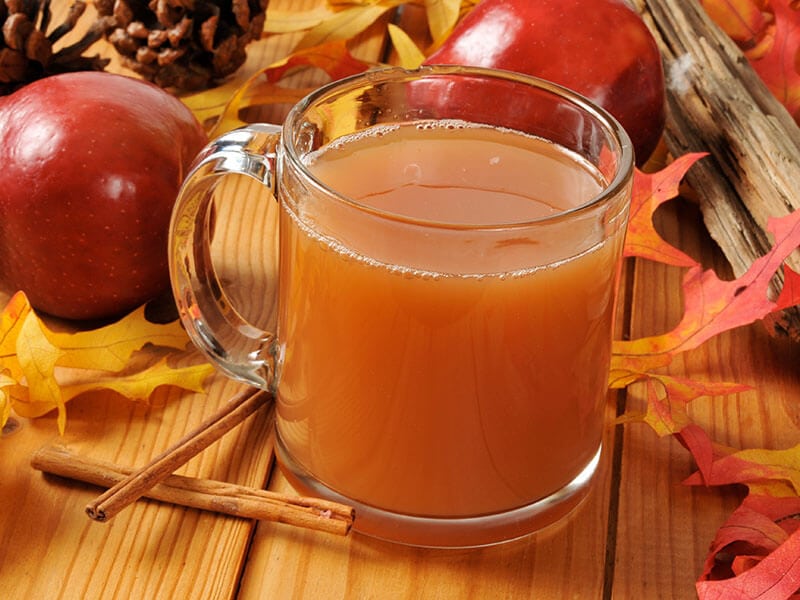 Apple cider is made from fruits, containing many valuable vitamins and nutrients. In addition, you can find the polyphenol compounds in apple cider, which are suitable for preventing diabetes, cancer, and heart disease.
Furthermore, you can lower the inflammation by using products containing apple cider. Apple cider comprises the phytonutrients that will be beneficial for preventing the oxidation process of risk cholesterol.
Although apple cider contains a low fiber content, it still has pectin. Therefore, apple cider is an excellent choice to improve irritable bowel syndrome. In particular, using apple cider will reduce the risk of diarrhea.
Are you satisfied with the list I have shown in this article? Have you ever tried making any recipe in this list? So, let's go to the kitchen to create the fantastic drinks right now. They can help you relieve stress effectively.
If your relatives ask you about the delicious cocktails made with apple cider, do not hesitate to introduce this post to them since it can be helpful. I am looking forward to receiving your contributions after reading this article.