The theme of best green cocktails reminds you of a number of certain flavors. Midori with melon flavor, the green fairy – Absinthe, and Creme de Menthe's mint savor are the three alcohols that you would see a lot in this list.
Green cocktails always attract people to their existences, and you don't really need to be in a specific season or occasion to enjoy them. You might see a lot of green mixes during Saint Patrick's day, but still, green cocktails are amazing any time of the year.
So, are you ready to learn how to make these magical green liquids?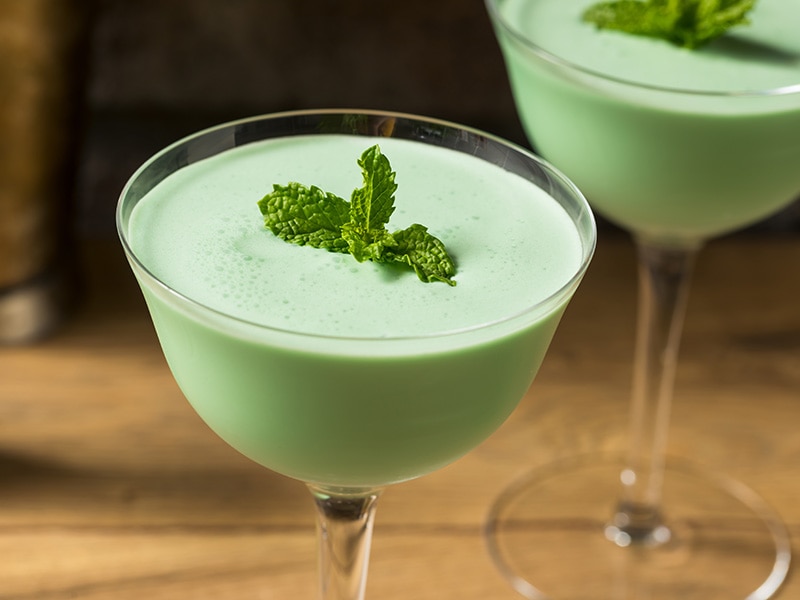 The Green "Three Musketeers" Of The Cocktail World
The green color in the cocktail can come from the color of the ingredients or from the combination of blue and yellow liquid. The blue often comes from Blue Curacao with fruit juice like orange juice or pineapple juice.
But to understand the science of having green color in your drink, I think you just have to get an overview of the three most popular green alcoholic beverages first.
Midori is probably the first name that comes to your mind. In Japanese, "Midori" (緑) means green. The alcohol is famous for its bright green color and muskmelon flavor. With an intense sweetness and high alcohol content, it is not common to consume Midori directly.
The name "Absinthe" indicates the binomial name of the grand wormwood – Artemisia absinthium. This liqueur has its title attached to many famous artists like Ernest Hemingway and Van Gogh. Its natural green color and herbal taste attract many to enjoy them.
The third "greeny" in this section is Creme de Menthe which means "mint cream" in French. This ingredient is often part of sweet and creamy cocktails. People usually pair it with Bailey (Irish cream liqueur) and chocolate-flavored drinks.
There are other green spirits that you might see, like Apple Schnapps or green Chartreuse. Other green options for cocktails are the contribution of green fruits and herbs like mint, green apple, or cucumber.
Green Cocktail Recipes That You Can't Wait To Try Out
I believe that you are so ready and so down for some drinking time now. Therefore, allow me to jump right into the first recipe of this fantastic green cocktail list.
Total time: 2 minutes.
Let's start strong and confident with the combination of mesmerizing blue Hpnotiq and dark brown Hennessy. The color range of Incredible Hulk changes from dark green to brown, and that color depends on the ratio of the two ingredients.
Hpnotiq is a native New York liqueur that has the flavor of tropical fruits like passion fruit or mango. Hennessy is a cognac that often delivers the flavor of vanilla, nuts, and other spices. The taste of Incredible Hulk is described as the mixture of the two beverages.
The name comes from its dark green hue. That is the color of the Marvel comics fictional character named Hulk, and he has dark green skin, which is exactly like the drink. It is not a bad idea to spice your movie night up with a Marvel movie and a glass of Incredible Hulk.
Total time: 10 minutes.
The Super Bowl is always an important part of the American lifestyle. Having a bucket of buffalo chicken wings covered with ranch dipping sauce and sipping a glass of athletic, green cocktail is exactly what you want to do with your pals on Super Bowl nights.
You need blue Curacao, green apple soda, and vodka to make this fabulous drink. The bright blue of Curacao mixed with apple soda creates a very sporty-looking color for your cocktail. And the taste is amazing with apple and orange flavor in your drink.
And to follow the drink theme, garnish your glass with a slice of apple or an orange wheel. Both garnishes can bring some aroma for your nose to sense before tasting the drink.
Total time: 10 minutes.
A standard Japanese Slipper comprises three elements: Midori, Triple Sec, and lime juice. The green liquid in the highball glass has a highlight: the red Maraschino cherry at the top of the glass, which makes the Japanese-inspired cocktail look really retro.
Triple Sec is a dry and distilled liqueur from orange peels and beet sugar. The liquid delivers a sweet and strong orange flavor in many cocktails. The Triple Sec cocktails are often sweet and bitter with a strong orange scent.
Another element that I want to discuss is the red Maraschino cherry. It is a preserved and sweetened cherry with bright color from the red food dye. The cherry has its application mainly in mixed drink garnish or pastry decorating.
Let's get the first start in the world of Midori cocktails by following this Japanese Slipper recipe.
Total time: 10 minutes.
You don't have to make cucumber martini to imagine how fresh this drink can look and taste. The refreshing vibe that cucumber can bring to any cocktail probably triggers your thirsty soul. This recipe is such a perfect idea for hot summer days.
The recipe is pretty simple, with you blending the chopped cucumber with mint, simple syrup, and lime juice. Don't forget to strain the mixture unless you enjoy some floating figure in your glass of cocktail.
Add the vodka in for the alcohol content and shake the mixture with ice. With a rim of sugar and a slice of cucumber for decoration, your chilled and fresh drink cucumber martini is ready to be served.
Total time: 5 minutes.
Gimlet is one of the most basic cocktails that you can make with three ingredients: gin, simple syrup, and lime juice. The substitute of vodka for gin forms another variation which is called the vodka Gimlet.
And that's how to make a tangy and sweet vodka Gimlet. But that's not what we make today.
With basil vodka Gimlet, you need to do an extra step before getting the liqueurs in your shaker. You have to muddle some basil leaves in your shaker first. Add vodka and simple syrup and shake the mix with some ice cubes.
Your glass of vodka cocktail looks really delectable in a martini glass and a basil leaf for decorating. The cocktail tastes elegantly with the contribution of vodka's burn and aromatic herbal basil.
Total time: 5 minutes.
A Margarita is a typical tequila cocktail with the contribution of two other ingredients: tequila and lime juice.
However, this version of Margarita is much more complicated, but the taste and the look of this St. Patrick's cocktail are definitely worth your time and effort. This recipe also uses peach schnapps to replace the role of Triple Sec, which is a common substitute option.
To form that fascinating green of the Irish Margarita, it is a must to prepare blue Curacao, Irish whiskey, pineapple juice, and Aperol (Italian bitter). And to add a more festive vibe to the drink, rim the glass with the gold sugar crystal.
Total time: 1 hour and 25 minutes (including an hour of draining time).
In the diverse world of mixed drinks, you can find Prosecco – an Italian white wine in many cocktails recipes with fruity and sweet flavors. This melon-basil Prosecco cocktail is one of them.
The recipe starts with you preparing the melon-basil puree by blending those two ingredients. You pour that smoothie into the sieve and wait for an hour. And once you want to serve that cocktail, put that firm smoothie cube in the wine glass and pour Prosecco on it.
Even though it takes much more time to make compared to other three-ingredient cocktails, it's truly something you should have for your gathering party. You can make different variations of this Prosecco-and-puree with other combinations of herb and fruit.
Total time: 5 minutes.
There are two things I want to talk about in this recipe: Matcha and Pisco. Once you have an overview of these two miracles, you might want to roll up your sleeves and make the drink right away.
Matcha is one of the most famous spices from Japan made of processed and grounded green tea. The powder has a dense and distinctive bitterness, and people often use it to flavor their beverages.
Pisco is a colorless brandy from South America. The alcoholic beverage is the outcome of distilling fermented grape juice. The intense grape flavor mixed with the splendid green tea taste of Matcha and a hint of egg white is what you sense from this Matcha Pisco cocktail.
Total time: 3 minutes.
It's gonna be so wrong when a list of cocktails doesn't have a recipe for shots. Allow me to introduce you to this St. Patrick theme shot that resembles the flag of Ireland. Since St. Patrick is the patron saint of Ireland, the Irish are very active in celebrating this occasion.
The shot has the three layers of green Creme de Menthe, white Bailey (Irish cream liqueur), and orange Grand Marnier (orange cognac). With their different densities, these three beverages form the three separate layers in the shot glass.
When taking a shot, you need to drink the whole glass as one. And no, you can't stir or shake the shot. The combination of pungent green, creamy white, and sweet orange is what you can get from this beautiful shot.
A green shot for a green day like St. Patrick's Day is what you need.
Total time: 2 minutes.
Appletini is a combination of apple and Martini. And a conventional Martini contains gin and vermouth. However, this Appletini is not a Martini. The recipe for this apple-flavored cocktail includes vodka, Apple Schnapps, apple juice, and lemon juice.
Apple Schnapps is the common choice of liquor every time people want to make an apple cocktail. Schnapps is the type of alcohol that you should only have in the cocktail, and its main responsibility is to flavor the mix.
And to follow that apple theme, you can use a slice of green apple to decorate your cocktail. Another famous variation of Appletini is when you replace the vodka with light rum and make the Rumpletini for sweeter and smoother enjoyment.
Total time: 5 minutes.
If you are a fan of the Harry Potter universe, you probably know about Fantastic Beast – the Harry Potter prequel. And this incredible cocktail recipe is the one inspired by that movie.
Pour rum, Triple Sec, and orange juice into a cup that is full of ice. Then, top the glass with Sprite and stir in Blue Curacao. Once Curacao meets the dark yellow in the glass, the liquid starts to turn dark green.
To add a more mystical vibe to the Sprite-based alcoholic mixed drink, spoon in the edible silver shimmer dust and stir the drink. This powder doesn't alter the flavor of your drink, and you don't need to add too much.
This is a sweet-and-sour drink that can be a highlight at your Halloween party. Another application of this magical drink is with your Potterhead friends. I'm sure everyone will be impressed with this drink once you make it.
Total time: 2 minutes.
The following recipe has Absinthe as its highlight contribution. The inventor of this cocktail was a bartender from London in 2010. This flavorful Absinthe mixed drink contains cucumber, Absinthe, lime juice, simple syrup, and water.
It is important to use and muddle the freshly peeled cucumber since this fruit has a very mild flavor. The drink should be sweet, sour, and extremely refreshing. And the final touch is to garnish your Green Beast with cucumber slices and mint leaves.
Another version of Green Beast is its pub version, where people omit the fresh cucumber. Bartenders also substitute lime juice and simple syrup with lime cordial. This version is more suitable for fast-paced environments like pubs or clubs.
You'll love this incredible Green Beast cocktail recipe.
Total time: 5 minutes.
A traditional Bloody Mary with red tomato sauce and celery that sticks out of the cup has become the iconic image of an alcoholic beverage. However, have you ever thought of a green version of this amazing drink?
The green color of this drink comes from the blended green tomato. Instead of using processed red tomato sauce, you will make that sauce by your own self. Just toss every ingredient in the blender and make a smoothie out of it.
The taste is unique and it feels more interesting with a green Bloody Mary. There's only one note that I want to tell you about the sodium content of this drink. With that nutrition stat, you might only want one or two glasses of Bloody Mary and save the rest for the other day.
Total time: 5 minutes.
The original version of this cocktail is the Long Island Iced Tea – a mix of vodka, tequila, rum, triple sec, gin, and cola. With this version called Tokyo Tea (or Tokyo Iced Tea), you replace the Triple Sec with Midori, which forms a beautiful green color for the cocktail.
One problem with this drink is how strong it is. With a combination of many alcoholic beverages in one mix like that, you can easily get drunk with just one cocktail. Even though the drink is very strong, many people still enjoy it due to its irresistible flavor.
There are many variations of this cocktail, like the Texas Tea which has the extra whiskey contribution. Or the Hawaiian Iced Tea that has the pineapple juice replaced for the coke component.
Tokyo Tea with a strong concentration of alcohol might be what you need for a night out with friends.
Total time: 5 minutes.
I hope you didn't feel overwhelmed with the previous recipe. Let me help you with a more simple cocktail. Last Word is a classic gin cocktail with a fascinating backstory.
The original recipe, which used bathtub gin, appeared in Detroit Athletic Club and was a Prohibition-era cocktail. Afterward, bartender Murray Stenson rediscovered the drink in 2004 during his occupation at the Zig Zag Cafe in Seattle.
With four main ingredients – gin, lime juice, Maraschino liqueur, and green Chartreuse, you shake all of them in the shaker with ice. For garnishing, you can use a twist of lime, and your cocktail should be ready.
Total time: 5 minutes.
This mint flavored cocktail was born in New Orleans in 1918. Its taste and appearance are directed by Creme de Menthe. With three ingredients, you can create this creamy gorgeous in your kitchen.
Creme de Cacao is a chocolate cream liqueur, but the "cream" here means the high content of a substance that vastly enhances the viscosity of the liquid. Although there's no dairy product in Creme de Cacao, its richness in sugar still gains it the title "cream liqueur."
To make the Grasshopper, add Creme de Cacao, Creme de Menthe, and heavy cream to the shaker with some ice. Then, you shake that mixture until it turns frosty. The final step is to serve that sweet liquid in a martini glass and garnish it with grated chocolate.
Total time: 5 minutes.
Another green gin cocktail comes to this building. This time, the green color comes from mint leaves and lime juice. Other ingredients are gin, simple syrup, and orange bitter.
This classic alcoholic masterpiece was born in the South Side district of Chicago, where Al Capone's gang dominated. South Side attaches its history and name along with the history of gangsters in America.
Therefore, having this sweet and refreshing beverage can be a perfect beginning for a discussion about this engaging topic. It only takes 5 minutes to make, yet its taste is delicious.
Total time: 2 minutes.
A fan of historical fiction can't know about Death In The Afternoon or the Hemingway. Ernest Hemingway invented this cocktail by one description in his Death In The Afternoon book. People later noticed this mixture recipe and figured out its amazing taste.
The recipe contains only two ingredients: Champagne and Absinthe. You can taste the flavor of wormwood and anise in this simple drink. And its milky look expresses a mesmerizing cloudy feeling once you see it.
This refreshing and elegant Absinthe cocktail can be a great companion while reading a book of the same name in the afternoon. Hemmingway recommended taking only three to five glasses of this cocktail, but surely, you can ignore his guidance.
Learn more about Death In The Afternoon, Ernest Hemingway, and their backstory by this instruction.
Total time: 5 minutes.
And to end this list of cocktails in the color "renewal and growth", allow me to give you the most standout green cocktail – Midori sour. The name gives you the hint of sour muskmelon flavor, but what are the other ingredients?
Midori is naturally sweet, so to make it sour, you need a corresponding amount of sour mix which is the combination of lime juice and lemon juice. Another two elements to add are vodka and sparkling water.
The drink has a sweet and sour taste, and it gives you a vibe of lemon soda instead of a cocktail. If you are not a fan of the melon taste, it is ideal to substitute Midori with Creme de Menthe. The flavor changes a bit, though, but the color is still the seductive green.
Stop Being A Cocktail Novice With This List Of Green Cocktail
Are you satisfied with this list of green cocktails? This list consists of the most fabulous green cocktails in the world. Therefore, I hope you feel happy reading this as I'm content writing this.
Do you think you will give these mixed drinks a try? If you do, don't forget to come back and show us your opinions about the results. Also, I think that your friends would love to read this post too. Your sharing is like a promised gathering that they always expect to see.
Anyway, that is the end of this list. I hope that I can see you in another post. Adios!
Nutrition Facts
1 servings per container
---
Amount Per ServingCalories276
% Daily Value *
Total Fat 0.1g

1

%
Sodium 3mg

1

%
Potassium 100mg

3

%
Total Carbohydrate 12.2g

5

%

Dietary Fiber 0.3g

2

%
Sugars 9g

Protein 0.5g

1

%
---
* The % Daily Value tells you how much a nutrient in a serving of food contributes to a daily diet. 2,000 calories a day is used for general nutrition advice.