Let these best peach cocktails satisfy your demanding guests. Their tantalizing flavor will melt your diners' hearts right away. In particular, their simplicity and convenience are suitable for crowded parties. The drinks are also good for relaxation by yourself.
It is a pity to miss any essential information and wonderful recipe because of a single moment of neglect while reading the article. Therefore, please focus on following this post to know everything that matters.
A Short Brief About Fresh Peaches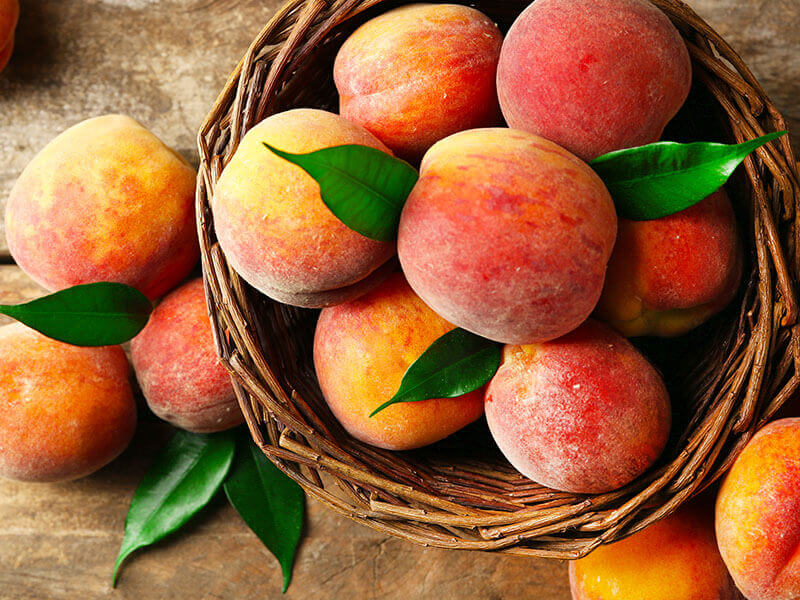 Peach is one of the well-known fruits worldwide. This fragrant and delicious fruit originates in the Zhejiang province of China. In Japan, its cultivation took place from 4700 to 4400 BC. It appeared in India during the Harappan period (approximately 1700 BC).
The existence of peaches in Western Asia was found in ancient times. In Europe, this excellent fruit was cultivated first in Greece in 300 BC. Gradually, it spread to many other regions globally.
It belongs to the rose family with apricot, cherry, plum, and almond. Peach is one of the iconic members of the stone fruits category. Many people confuse peaches with nectarine, but you can distinguish them thanks to the fuzzy skin.
In terms of appearance, you can realize peaches quickly as they have distinctive fuzzy red skin. They look fantastic in the round shape. In addition, their yellow and whitish flesh will captivate yours instantly.
Check Out Different Types Of Peaches And How To Use Them
You can find a stone in the middle of the fruit. Clingstones and freestones are the 2 main kinds of peaches. Their sweet and acidic flavor and delicate aroma make you flutter when you taste peaches.
In particular, the white-flesh version will be sweeter than the yellow-flesh version. It is easy to come across white-flesh peaches in China and other Asian countries. Meanwhile, the yellow-flesh type is common in North America and Europe.
Peaches are a rich source of carbohydrates, calories, choline, fiber, vitamin C, K, and many beneficial minerals. Fresh peaches are common in smoothies, ice cream, pancakes, waffles, cobblers, or tarts.
Alternatively, you can feel the characteristic taste of peaches in many delicious drinks. It is common in tea, juice, or cocktails. Peach schnapps is a popular alcoholic drink made from these fruits. You can use it or make juice and nectar to add to many yummy cocktail recipes.
Dive Into This Catalog Of Incredible Peach Cocktails
Have you prepared a pen and notebook to take note of these excellent recipes? Let's do it now! Since this section will introduce a source of delicious and straightforward cocktails containing peach flavor. It is time to enter the world of cocktails!
Total time: Around 5 minutes
Among the delicious Cuban cocktail recipes, it is a highlight with the peachy and fresh flavor. Fresh ingredients are always the ideal choice in making cocktails, so I always prioritize fresh peaches. However, frozen peaches are a suitable substitute if you cannot find the fresh version.
Nevertheless, I recommend buying fresh peaches in the peak season and freezing them to use in the winter. White rum is the main element that makes you drunk in this recipe. Meanwhile, simple syrup and lime juice will bring the balance between sweetness and tartness.
If you do not have much time to prepare drinks at the party, you can prepare this cocktail in a pitcher in advance and store it in the fridge until the party begins. You just need to stir the mix and combine it with ice when serving it.
Total time: 2 hours 5 minutes (including 2 hours of refrigerating time)
Until now, I still remember the citrus and fruity taste when sipping Fuzzy Navel Sangria. That wonderful sensation comes from peach schnapps and pinot grigio. Keep reading to discover some things about 2 ingredients.
Peach schnapps is a famous sweet drink with a mixture of grain spirit and peach flavoring. It was born in 1984. Meanwhile, pinot grigio is a well-known grape white wine. Incredibly, this drink will become better with fresh orange juice.
In case you have a large party, you can increase the amount of these ingredients and combine them in a large pitcher to serve.
Please check the tutorials to get the perfect Fuzzy Navel Sangria.
Total time: About 5 minutes
Jolly Rancher will make a big hit for your weekend party. This light and the fruity cocktail recipe will make you want to taste it again and again. Apple vodka and juice are the key ingredients of this colorful drink.
Its flavor reminds you of hard jolly rancher candies, but the sweetness is lighter. Besides gathering the main ingredients, preparing shot glasses, cocktail shaker, and cocktail jigger is necessary before making this cocktail.
Your job is to put cranberry juice, pineapple juice, peach schnapps, and apple vodka into the shaker and shake for 20 seconds to create a complete mixture. Apart from apple vodka, you can use raspberry vodka or jolly rancher-infused vodka.
Pouring all components into the shaker and placing it in the fridge until serving is a smart choice to save time. Of course, you will add ice before serving. You can also make the cocktail more diverse by adding ginger juice to this recipe.
Total time: About 5 minutes
Have you ever tried a cocktail recipe containing Prosecco and fruits? Enjoy Raspberry Peach Prosecco Punch right away if you have never done it before. Besides Prosecco, peach and raspberry are always an immortal combination.
I need the fruity flavor from frozen raspberries and the enchanting sweetness from the peach nectar in this recipe. Usually, I make it in a large pitcher by filling the container with raspberries and pouring peach nectar and Prosecco on top. Add some ice cubes and serve it.
Explore the proper ways to prepare tasty Raspberry Peach Prosecco Punch.
Total time: About 35 minutes
The best way to cool down on hot days is to sip a cold and refreshing cocktail. And Peach Gin Fizz is the name I have to suggest. It is the delicious result of combining juicy and fresh peaches, cool mint, fruity gin, and bubbly club soda.
The intense peach flavor comes from peach simple syrup, which comprises water, sugar, mint, and peaches. You will have a charming cocktail after shaking ice, peach simple syrup, and gin together.
Everything will be perfect after topping the treat with club soda and decorating with peach slices. To serve this tasty gin-based cocktail effectively at the party, you should prepare the simple syrup in advance and keep it in the fridge until the party begins.
Another version of this drink that you can try is Royal Peach Fizz Cocktail, which is a perfect Crown Royal mixed drink. For this variety, you'll be using Crown Royal Peach Whisky instead of gin.
Alternatively, you can increase the amount of club soda and omit the gin to create an excellent non-alcoholic cocktail for your kids.
Total time: Around 5 minutes
There are many mouthwatering cocktail recipes containing peach, and Fresh Peach Margarita is a dominant recipe on this list. The sweet and low-calorie peaches are good for stimulating your taste buds and improving your health.
Typically, you should choose ripe or overripe peaches to get the best performance. If you are crazy about fabulous tequila cocktails, you have to save this recipe to your list. To make this cocktail, I need a slight tartness and citrus hint from lime juice and orange juice.
Before collecting the peach juice, you should blend fresh peaches until you get a smooth paste. Marrying peach juice and other components with ice will create an excellent summer drink. Finally, salting the rim of the glass is always the top decoration.
Let's learn how to make amazing Fresh Peach Margarita right now.
Total time: About 30 minutes
Spritzer is a traditional alcoholic drink with sparkling water and white wine fusion. Beside that ingredient, this recipe also has the valuable addition of homemade peach thyme lemonade to add the peach flavor to this fantastic drink.
You need to go through two stages to get a complete cocktail: making peach thyme lemonade and concocting spritzer. A perfect peach thyme lemonade is prepared by boiling sugar, peaches, water, and thyme for 20 minutes.
However, it is only finished when you mix this mixture with lemon juice. After you fill the glass with chilled wine, peach thyme lemonade and sparkling water will be the indispensable ingredients to get the complete spritzer.
Total time: Around 5 minutes
Bourbon Peach Smash is the refreshing cocktail for your summer holiday. Aside from fresh peaches, this delicious cocktail includes Bourbon to add the touch of vanilla and caramel.
Referring to the famous peaches, the sweet Georgia peach is my favorite choice when making this cocktail. In terms of liqueur, I will prioritize Kentucky bourbon to get the best result. This drink is also created with ginger ale, simple syrup, and mint leaves.
Total time: About 5 minutes
If you are fascinated with an incredible cocktail containing cranberry and peach, you should try Woo Woo cocktail. A theory said that this recipe was tied to Jimmy "Woo Woo" Harker, a famous captain of the Carolina Princess (a fishing boat), who passed away in 2006.
It is said that although he was not good at drinking, he enjoyed this cocktail on every momentous occasion. Gradually, this drink became widely known as "Woo Woo". The outstanding peach flavor is derived from peach vodka.
I will not use fresh cranberries in this recipe; instead, cranberry juice is my choice. Moreover, it will need club soda to create a bubbly touch. Pinnacle Peach is a famous variant of this incredible dessert.
Let's make Woo Woo cocktails to treat your guests immediately.
Total time: About 3 minutes
I guarantee you will be addicted to this fruity vodka cocktail. This recipe has been around for a long time and has been popular since the 1980s. Bartenders have created many different variations, but this is still the most famous version.
Sex On The Beach is another common name for it. Vodka and fruit notes are the main elements of this treat. The peach flavor stands out, thanks to peach schnapps. Furthermore, it contains the tangy and fruity taste of orange and cranberry juices.
The presence of lime and lemon juice will create a balanced sensation. Everything stays under control when you add a bit of soda water. Replacing orange juice with pineapple juice will bring a new variation.
Total time: About 5 minutes
Frozen Peach Bellini is one of my best-loved frozen cocktails. Frozen peaches, grenadine, peach vodka, and champagne are the star ingredients of this sweet cocktail. It is mainly acceptable to use peach schnapps as a substitute for peach vodka if you desire.
Also, I love to enjoy this cocktail for brunch. Usually, I would like to drink it while enjoying famous brunch dishes, such as buttermilk waffles, crispy air fryer bacon, or oatmeal pancakes.
It is simple to make the non-alcoholic version of this cocktail by using sparkling water or lemon-lime soda in place of champagne and peach nectar for peach vodka.
Get the delicious Frozen Peach Bellini with these simple instructions.
Total time: About 5 minutes
Raspberry Peach Mimosas will not let you down if you seek a flavorsome raspberry-based cocktail. The gorgeous pink hue will instantly grab your attention when you glance at this drink.
To bring the signature peach flavor to this cocktail, I will use peach Moscato. It is a sparkling wine with many similarities to Champagne, but it is not Champagne.
Moscata comes from Italy, while France is the birthplace of Champagne. In addition, the former gets the delicate sweetness with the hint of ripe peaches.
To create a perfect whole, you need a little tart flavor and citrusy scent from fresh lemons as well as lemonade. For garnish, I find a lot of inspiration in this drink when it is beautified with lemon slices and fresh raspberries.
Total time: About 5 minutes
Your upcoming summer vacation will require a glass of Frozen Peach Daiquiri. You will get it when you combine frozen peaches, lime juice, Cointreau, and white rum. Please prepare frozen peaches at home to make this treat whenever you want.
Typically, I will pick the fresh yellow peaches and leave them outside at room temperature until they become soft and fragrant. Then, I will prepare and freeze them to make this drink.
To make this cocktail, I often spend 30 to 60 seconds blending the components into a smooth and creamy texture.
Next, I'll add a little honey or simple syrup to sweeten this cocktail. You can make variations of this cocktail by adding peach schnapps, mint, and frozen fruits like bananas, mango, or raspberries to bring the fruity, sweet-sour taste to this cocktail.
Care for a refreshing mocktail? You can prepare this drink for your kids by adding pineapple juice instead of rum and Cointreau.
Total time: About 35 minutes
Rhubarb Bourbon Peach Smash is the best summer cocktail that I have tried. It is a collection of sweet, spicy, and tangy flavors that comes from fresh peaches, bourbon, and rhubarb simple syrup. Also, I find the bubbles of club soda in this treat give a good mouthfeel.
This drink will taste better with homemade syrup. So, let's cook the rhubarb, sugar, and water over medium heat and continue to simmer the mixture over low heat for about 15 to 20 minutes. Please use a coffee filter to filter the liquid and remove the solids.
Once the syrup is ready, you will extract the juice from the chopped peach, lime juice, and mint leaves by using a cocktail muddler and shaker.
Once done, you need to add syrup, bourbon, and ice to the shaker. Shake the mixture and pour over ice. Don't forget to add a layer of club soda on top.
Before making the cocktail, I often prepare the syrup in advance and keep it in the fridge for about a week. It will save you time at the party. Especially, it is possible to replace the bourbon with fruit juice to make a mocktail version.
Total time: Around 5 minutes
Martini is a famous drink loved by many people. Initially, the classic Martini consisted of dry vermouth and gin. However, the vodka Martini version was born with bright, eye-catching colors and a sweet, fruity taste. It was pretty popular in the 1990s.
Peach Martini is a mixed liqueur with flavors of vodka Martini. I prefer to use peach schnapps over fresh peaches to bring out the signature taste of the cocktail. But you can use fresh peaches if you run out of the distilled beverage.
This drink gets an intensely fruity flavor after adding this ingredient. The highlight of this recipe comes from the use of orange juice. It gives the glass a lovely peach shade and enhances the citrus note for this drink.
Please take note of these directions to make an incredible Peach Martini.
Total time: Around 5 minutes
Peach White Wine Sangria is a legendary drink from Portugal with a potent and distinctive peach flavor. It is a blend of peach schnapps, dry white wine, lemon-lime soda, and fresh raspberries. I usually change the type of fruit depending on the season.
Many white wine brands are on the market, but Sauvignon Blanc and Chardonnay are my favorites. You need to spend at least 1 hour soaking the fruits in Sangria so that their fruity goodness can seep into the wine.
The fresh taste with the fruity notes of various fruits and the liqueur touch will give a pleasant mouthfeel. It looks bright with various colors of many fruits. Also, you can do it in a pitcher or punch bowl. You should store this drink in a glass container to slow down the oxidation process.
Total time: About 10 minutes
Many people love to have peaches and cream for dessert. Nevertheless, you can completely turn the combination into a unique cocktail version with a few straightforward ingredients and skillful manipulation.
You will add peeled and chopped peaches, sugar, peach brandy, and cream to the blender to create a smooth, creamy, and attractive mix with eye-catching golden color.
A few ice cubes will turn it into a frozen version for everyone. You can omit the sugar if the peaches or half and half are already too sweet.
Total time: About 10 minutes
I will give you a chance to enjoy a delicious cocktail recipe with lemonade, sweet peach nectar, and the caramel touch of Bourbon. That opportunity is this creative recipe that combines all these elements is Sweet Bourbon Peach Lemonade.
This drink is suitable for huge parties, and you should prepare it in a large pitcher. Ice is an essential ingredient that must appear first in the pitcher. And honey, peaches, peach nectar, and bourbon are the essential components to add.
You can serve it after adding lemonade to this fusion. When I consume grilled foods like chicken, pork, and steak, this cocktail is my favorite drink. In addition, it is a popular accompaniment to pasta salad.
Discover the right instructions to have an outstanding Bourbon Peach Lemonade.
Total time: About 20 minutes
Give me your glass, and I'll serve you a glass of fine Peach Cobbler Margarita. Thanks to its enticing flavor, it is a fantastic cocktail for dessert at all parties and actual events. Nonetheless, this fruity and light cocktail is the most common at BBQ parties.
In addition to peach, it is also a tequila-based cocktail. Moreover, the alcoholic flavor of this recipe is enhanced with the appearance of peach vodka and hazelnut liqueur.
Your mission is to mix all basic components with ice in a blender before giving a complete glass of cocktail to your guests. It is easy to have a good drink, isn't it?
Total time: About 3 minutes
What are you going to do with peach schnapps on hand? I will make a glass of Georgia Peach drink to relax with friends. When observing it, you will recognize its beautiful blend of pink and peach colors. It is hard to stop enjoying this fruity treat.
These eye-catching hues of this cocktail are the result of using orange juice and cranberry juice. I love the gentle flavor of white rum in this drink. After preparing all the essential ingredients, it is time to start concocting!
Peach schnapps, rum, and orange juice need to be blended with ice. Pink will show up gradually when you add cranberry juice. It looks more attractive with a wedge of peach or fresh sprig of mint.
Total time: About 1 hour 10 minutes
Let's enjoy a memorable summer vacation with your family with hearty feasts and a glass of refreshing Peach Rose Sangria. Its fruity and sweet taste will fascinate you. In particular, it is hard to resist the seductive peach scent in this drink.
In addition, it has a conspicuous appearance with a soft pink shade adorned with colorful fruits. Apart from rose wine and fresh fruits, peach brandy, and peach juice play a crucial role in creating this delicious drink.
Dispensing it in a pitcher is an intelligent choice to serve it at crowded parties. After mixing the peaches, raspberries, and liquid ingredients, you must place the blend in the refrigerator for 1 to 8 hours before serving.
When the party starts, you'll fill half a glass with this mixture and add more fresh raspberries and peaches to the glass. Remember to top it with a layer of sparkling water.
Let's Make These Peach Cocktails Instantly!
These recipes are great, aren't they? Their appeal comes from the taste, color, texture, and even the simple cocktail-making process. Therefore, what are you waiting for without going to the kitchen to prepare them right away?
Although they are effortless, there are still many minor problems that will arise in implementing them. So, leave your troubles in the comment part, and I am going to respond to them all in the most specific way. Also, do not hesitate to share this article!
Nutrition Facts
1 servings per container
---
Amount Per ServingCalories265
% Daily Value *
Total Fat 0.4g

1

%
Sodium 1mg

1

%
Potassium 302mg

9

%
Total Carbohydrate 18.7g

7

%

Dietary Fiber 2.4g

10

%
Sugars 17.7g

Protein 1.5g

3

%
---
* The % Daily Value tells you how much a nutrient in a serving of food contributes to a daily diet. 2,000 calories a day is used for general nutrition advice.