Mexican foods always bring excellent flavors, so you should enjoy delicious Mexican dishes when you come to this beautiful country. I firmly believe that they will leave an indelible impression in your mind after tasting.
To have a complete and incredible journey, you should pocket the list of featured Mexican dishes in this article. Missing out on one or two yummy dishes will make you feel regretful, so please read the post from start to finish to enjoy them all.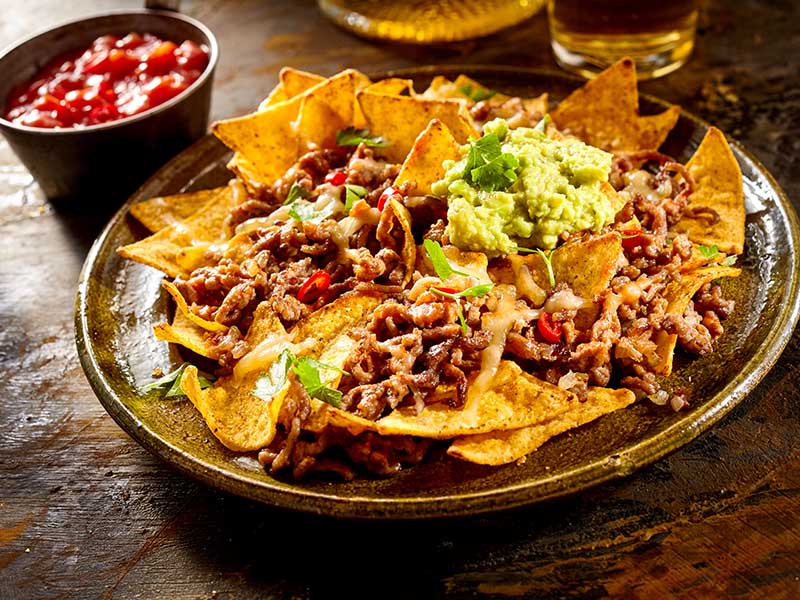 1. Tacos – Iconic Mexican Delight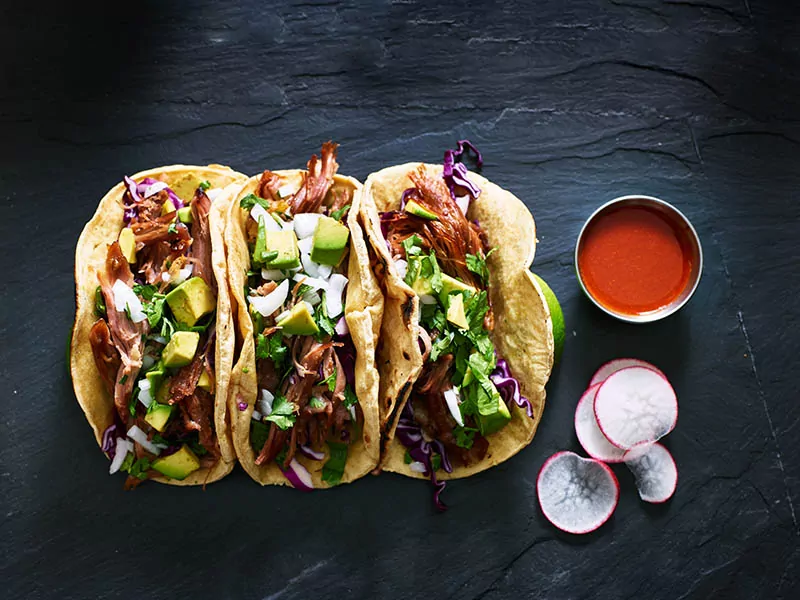 When it comes to Mexican cuisine, tacos are representative as it is widely known worldwide. Mexicans generously treat you to many delicious taco types with various fillings and introduce their signature food to friends worldwide.
However, you will often find beef steak, chorizo, flank steak, or marinated pork in the filling of tacos. They are also combined with strange fillings, such as beef's eyes, liver, or escamoles originating from central and southern Mexico. Let's taste it when taking a trip to Mexico.
It was created by the Mexicans before the Spaniards set foot in Mexico. The original tacos were created when Mexicans put meat and fish filling on flat tortillas. Interestingly, although Mexican and Japanese foods are different in many ways, tacos made their way to Japan and are a part of the famous Okinawa taco rice.
Even if you don't know the correct way to rewarm tacos, with the ultimate side dishes to pair with tacos, you'll still have the most satisfying meal you can ever hope for. And I believe that's part of this iconic Mexican dish's charm.
2. Guacamole Con Chapulines – Cinco De Mayo Special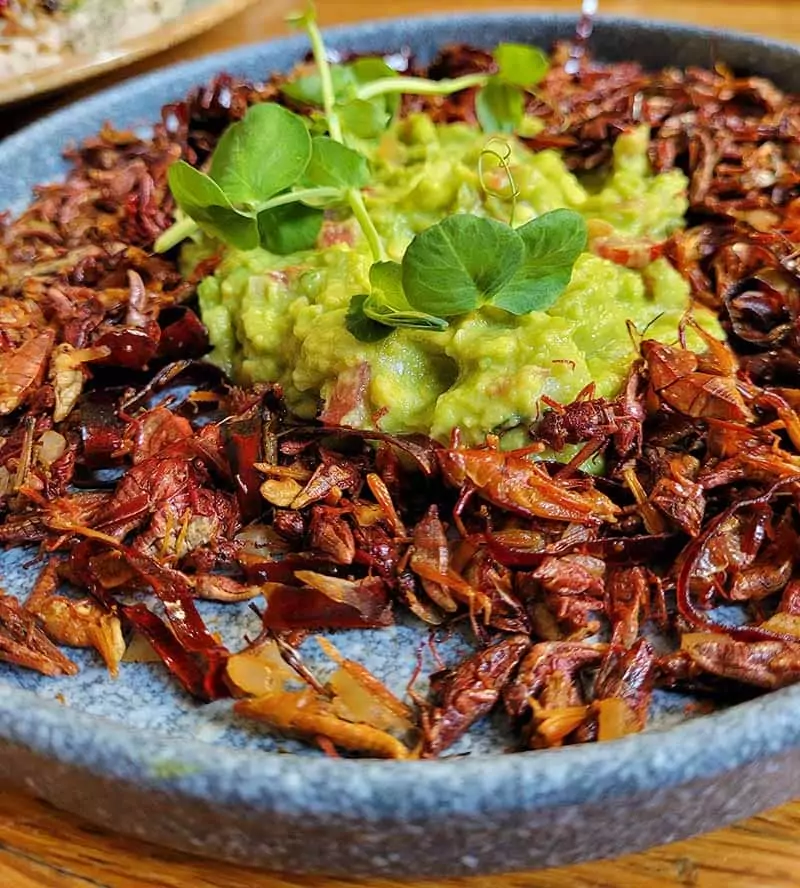 Guacamole con Chapulines is a healthy choice with high protein and nutrients for you to enjoy. You can go to the state of Oaxaca or Mexico City to enjoy the dish with the best and classic flavor because it originated in these places.
This is a famous dish because of its uniqueness. The grasshoppers are wonderfully brought to the cuisine with the perfect crunch. The guacamole will make the recipe softer and moister. It is an excellent treatment of Mexican cuisine for visitors.
3. Burrito – Ultimate Street Delicacy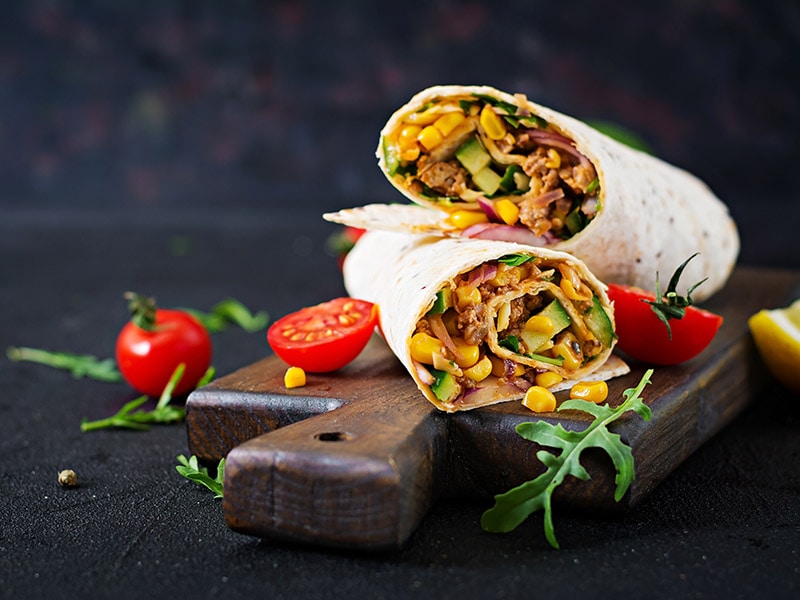 In terms of provenance, it was first made by a street vendor in Mexico during the Mexican revolution when he tried wrapping food in flour tortillas. And after trying the result, he discovered that it tasted delicious when made this way.
You will easily find burritos in the area near the border of Mexico and the US. Round bread rolls filled with various components will make you flutter when you take a bite. It is incredible to enjoy fried beans or machaca burritos with cheese when traveling to Mexico.
Learn some knowledge about the history of burritos.
4. Quesadilla – Cheesy Tortilla Treat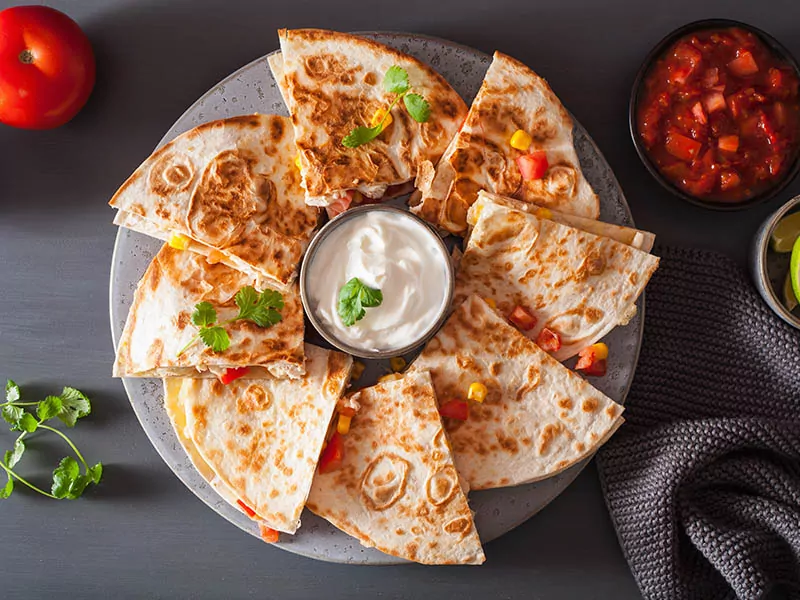 Quesadillas were first created in the 16th century in Northern and Central Mexico. The Aztecs were familiar with corn tortillas during this period, but they often made Mexican dessert recipes by stuffing them with pumpkin and squash.
In 1521, dairy products and cheese were made after cows, sheep, and lamps were brought to Mexico by Spanish settlers. The addition of cheese to the authentic tortillas created quesadillas with flavors of vegetables and cheesy richness.
Moreover, the outer layer of flour tortillas is fried and baked to bring an irresistible crunch. Therefore, do not miss it when you come to Mexico.
5. Enchiladas – Restaurant's Favorite Roll-up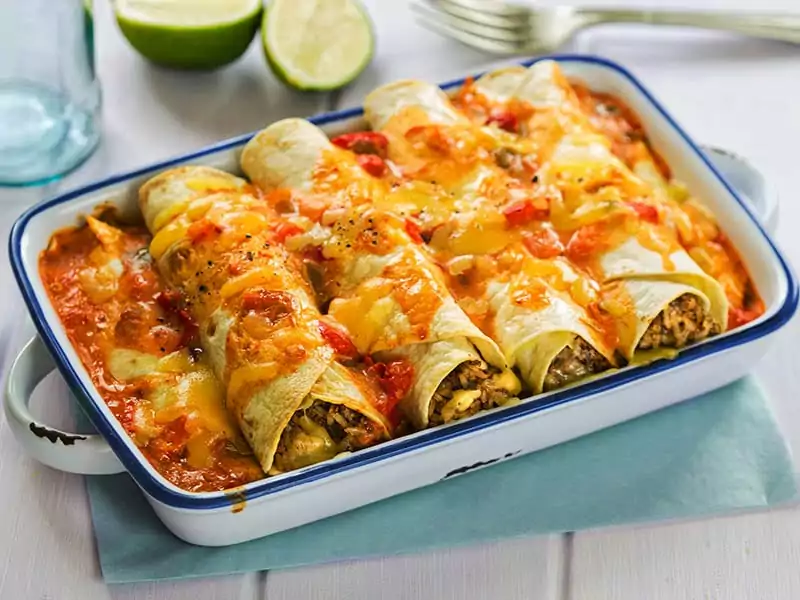 Enchiladas are a special recipe that has a long history in Mexican cuisine. It had appeared in meals since the time of the Mayans when they wrapped various foods in tortillas. The first enchiladas were made with fish filling, and they appeared in Mexican cookbooks in the 1800s.
Nowadays, it has become a popular fast food served at many restaurants in Mexico. In some cases, its stews are made from vegetables, and it is often served with cheese, sour cream, hot sauce, and celery to give diners a rich and spicy touch.
6. Chilaquiles – Classic Mexican Casserole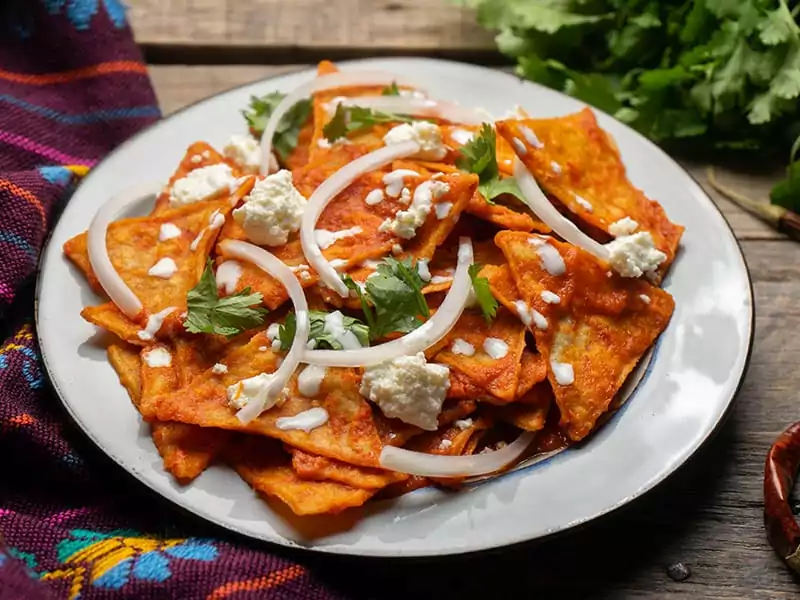 When you travel to Mexico, you should start your breakfast with the famous Chilaquiles. This is a dish commonly served in many restaurants in Mexico. It combines various ingredients to bring a variety of flavors to diners.
I was immersed in the crispiness of the fried corn tortilla with its unique triangle shape. I am sure you will not be able to forget the flavor of shredded chicken and beef. You will notice sliced onions and some herbs to add colors to the dish.
This amazing dish dates back to the early Aztecs. It was not until 1898 that it was recorded in the cookbook by Ancarnacion Pinedo.
7. Pozole – Renowned Mexican Soup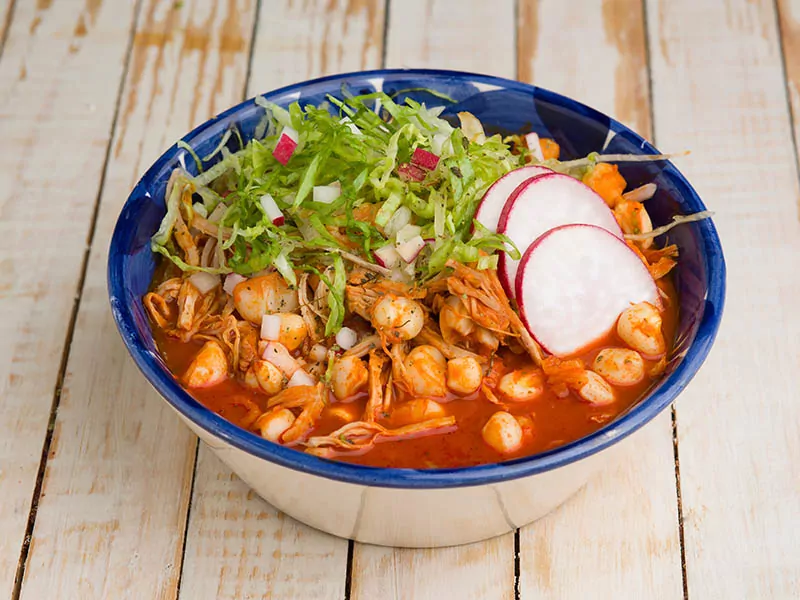 Pozole is a traditional soup recipe that has existed since pre-Hispanic times. It was initially used in Mexican ritual sacrifices. Today, it has become a popular and tempting Mexican food and appears on high-end restaurant menus, but you cannot buy it in street food vendors.
There are different versions of pozole that you can try, like chicken, pork, or vegetable. Moreover, the recipe is a harmonious combination of hominy corn, spices, and herbs. It becomes richer when stewed overnight, so do not miss it.
8. Mexican Mole – Signature Chocolatey Sauce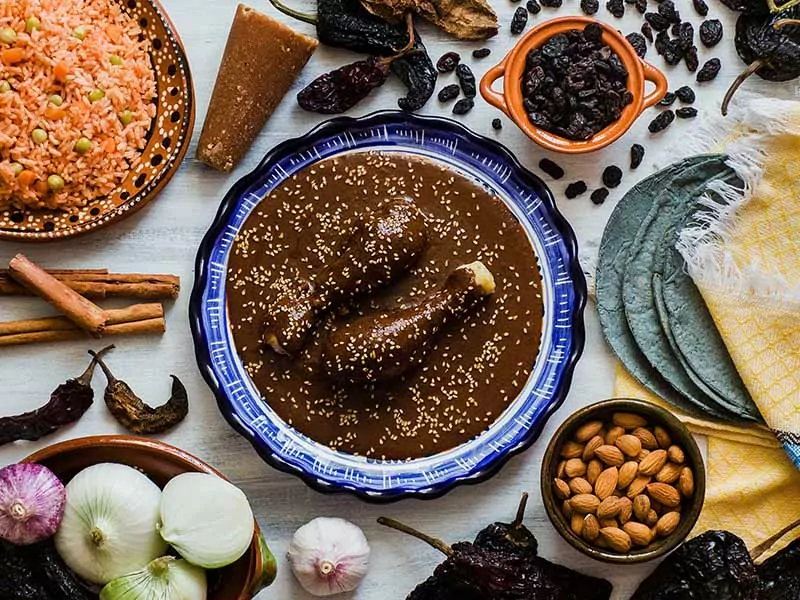 A famous sauce in traditional Mexican cuisine is the mole. It is a blend of the slightly rich flavors of nuts. The spices and chili give different tastes to this dish. The presence of chocolate is the highlight.
Basically, it was first made in pre-hispanic Mexico. There is much controversy about its region of origin. Some have suggested that it was invented by a nun in Puebla grinding spices and peppers.
Others suggest that when a Spaniard visited Puebla, a chef accidentally tripped and spilled almonds, chocolate, and other spices into the pot of guajolotes cooking that makes up the mole today. There are about 7 types of the mole in Mexico that you can try.
9. Carnitas – Mouthwatering Pork Delight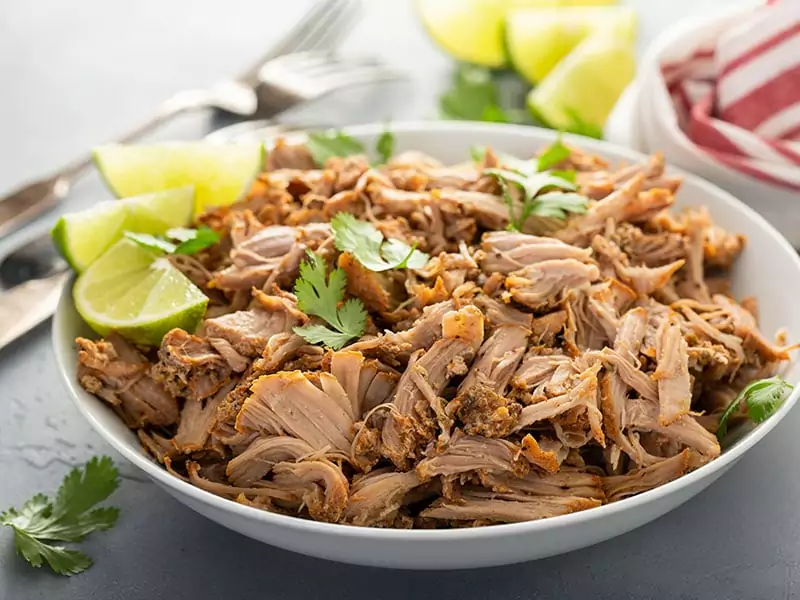 Mexicans fry various pork parts in lard and cook for a long time to make delicious carnitas. In particular, its unforgettable flavor comes from the components added during the cooking process, such as soda or orange juice.
It makes a perfect accompaniment when paired with tacos and sandwiches. This unique and delicious recipe comes from the west-central Mexican state of Michoacan. Therefore, it is considered a traditional dish of this state.
10. Tostadas – Time-Honored Crispy Dish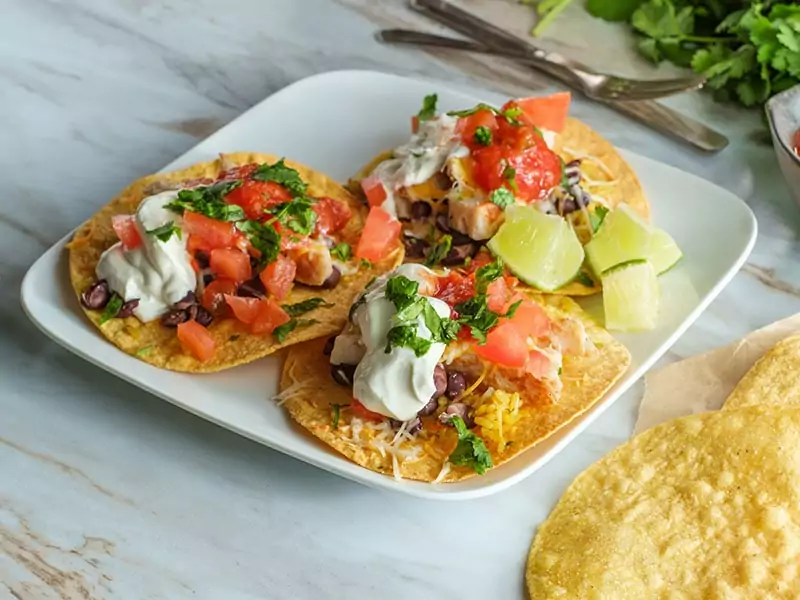 There are many prepared variations of tortillas that you should not miss when traveling in Mexico, and tostadas are one of them. It was pretty old and first processed 2000 years ago in Oaxaca.
These corn tortillas are deep-fried in hot oil to give this food an eye-catching golden color. Typically, you will find a few slices of lemon, cheese, meat, or seafood topping the tortillas. Take a bite to feel the crunch and taste of the components blending.
11. Mexican Street Corn (Elote) – Quick Snack Delight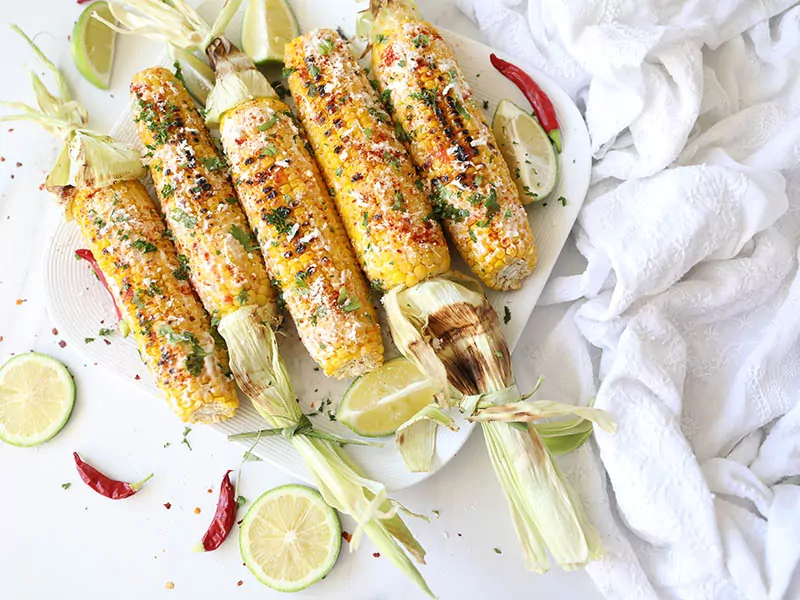 Street food is a feature of Mexican cuisine. You will easily see stalls selling Mexican street corn on the streets of Mexico. Its proper name, "Elote", derives from the Spanish word for "corn cob". It is a pity if you do not enjoy its great taste when coming to Mexico.
Baked golden corn creates a characteristic aroma. Mexicans have covered it with mayonnaise or sour cream to increase the fatness of the dish. In addition, the mild spicy chili powder and a little sour taste of lime will really hit your taste buds.
Due to its simplicity, elote can be an excellent accompanying food for enchiladas and other dishes with a complex flavor profile. Try out this fantastic flavor combination today, and tell me what you think!
Fantastic things you need to know about Mexican street corn.
1
12. Huevos Rancheros – Breakfast Perfection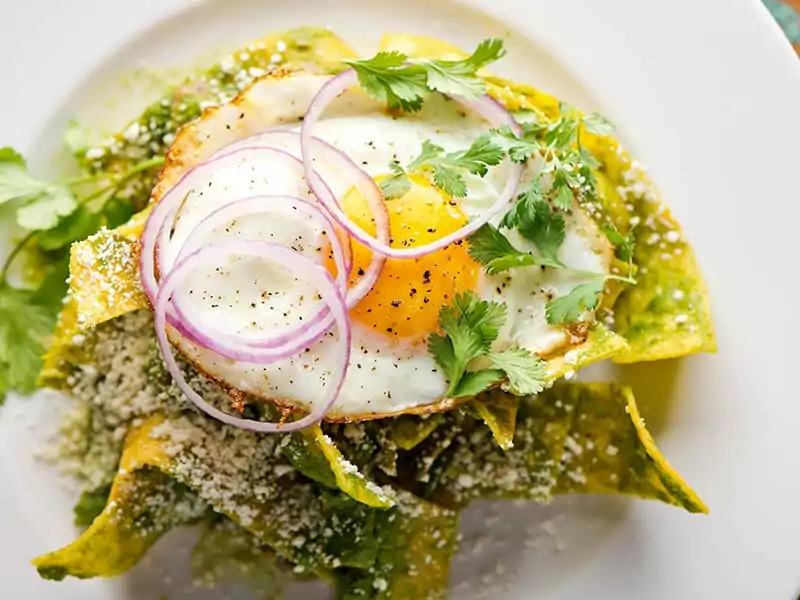 A Mexican breakfast recipe I recommend trying is huevos rancheros. It is a traditional recipe of Mexican cuisine. "Huevos rancheros" are translated into English as "ranch eggs". It was usually served on the 2nd breakfast for ranch hands and farmworkers in the past.
This scrumptious dish with eggs at the center will captivate you from the first taste. Corn tortillas are carefully fried to give it the perfect crunch. In particular, the egg and fried bean coating on top create a unique feature for the dish. The soft omelets will melt in your mouth.
13. Flautas – Crowd's Favorite Roll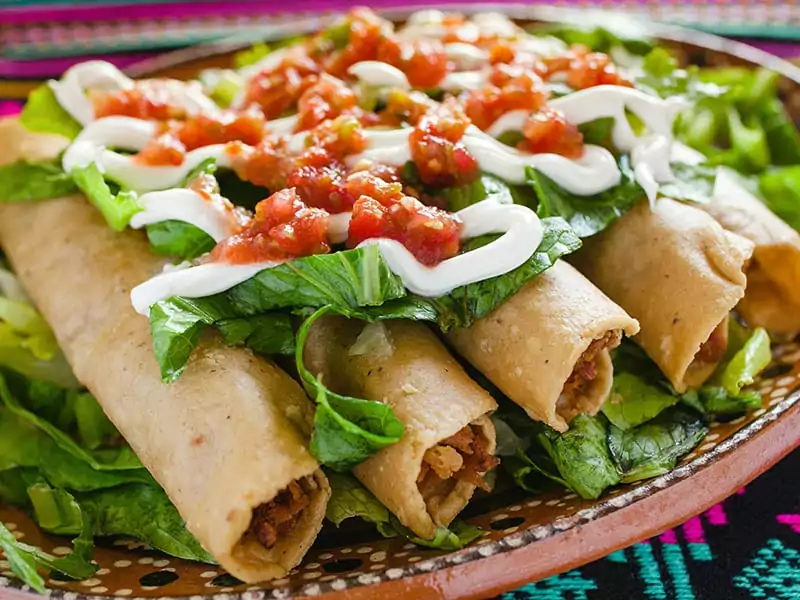 The exact origin of flautas is still unknown, but the people of the state of Sinaloa consider it to be their signature dish. The corn tortilla is used to wrap other foods like chicken, mashed potato, and cheese to make a great tacos recipe.
In particular, the chefs in Mexico will evenly fry the flautas in oil to bring out the mesmerizing crispiness, savory and spicy taste. Restaurants often combine coriander, sour cream, and tomato with this food to decorate and get new flavors.
14. Chile En Nogada – Culinary Masterpiece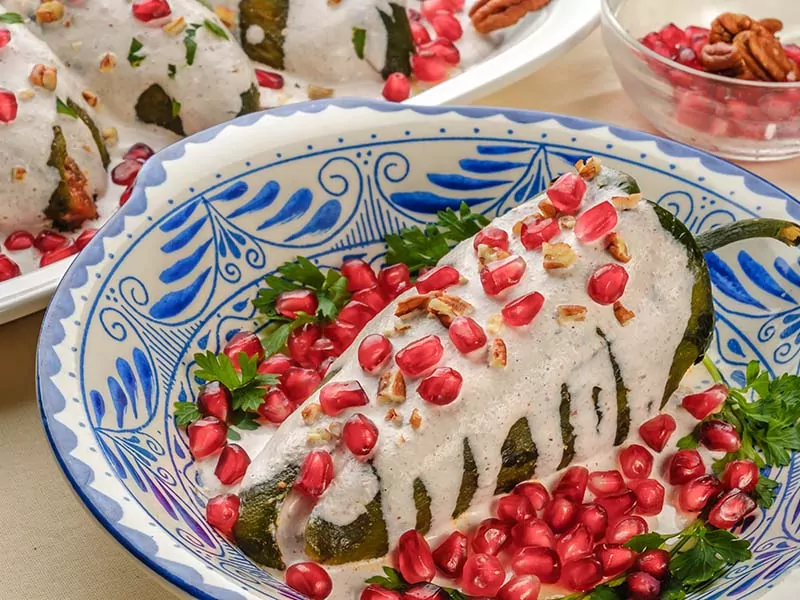 When it comes to the art of cooking in Mexican cuisine, you cannot ignore Chiles en Nogada. This fabulous recipe contains various Mexican local fruits, grounded meat, or spices stuffed inside Poblano pepper. The layer of walnut cream sauce will make your mouth full.
Going back in history to 1821, you will have a chance to enjoy this dish for the first time in Puebla when nuns made it to give to Agustin de Iturbide, who was a Mexican Army General and played an essential role in the war of Mexican independence.
One point that makes this dish famous is its red, green, and white colors. They are the 3 colors on the flag of Mexico. It is an honor for you to have the opportunity to enjoy this dish on Mexican Independence Day.
15. Cochinita Pibil – Fusion of Flavors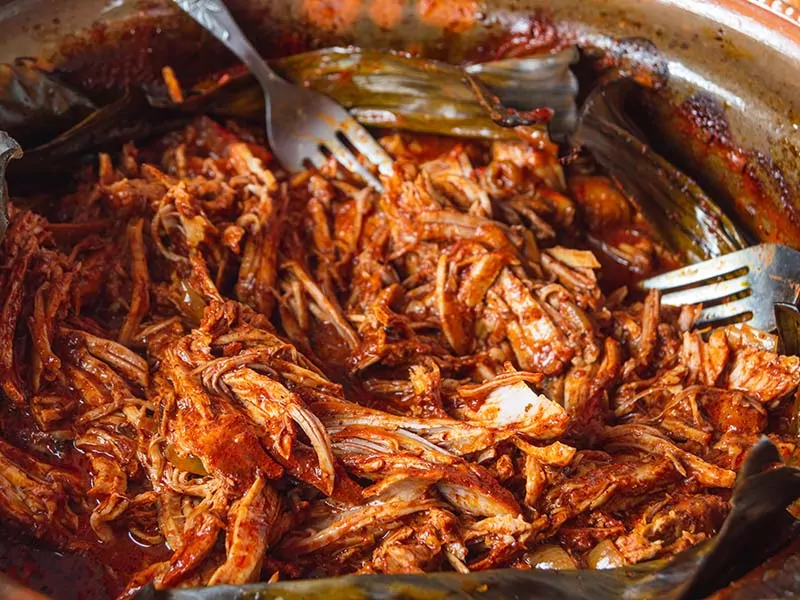 Yucatan is home to the famous Mexican cochinita pibil. This dish is also well-loved in Belizean gastronomy.
The food is the intersection of traditional Maya and European cuisine because the ports in the Yucatan Peninsula area are the meeting and trading places for many merchants from Europe.
This is a shredded pork stew with an unforgettable taste since the meat is marinated with various flavors and wrapped in banana leaves when cooked. The natural aroma from the banana leaves is a distinctive feature of the recipe.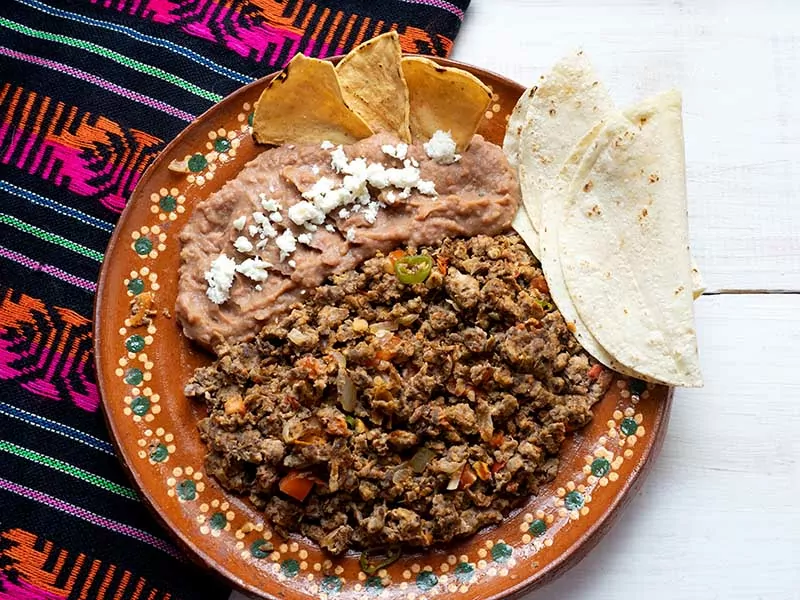 Head North for mouth-watering machaca. It is an excellent addition to Mexican lunch recipes. This recipe is inspired by dried meats of ranchers and cowboys in Chihuahua state. The meat is seasoned properly, so you will not be able to forget it after eating this food.
Dried meat will be shredded and combined with other components to make a traditional Mexican dish. It is often mixed in the taco, stuffed burrito, or stewed with beans to add flavor to recipes.
Before trying this hearty dish, it's best to whet your appetite with some signature starters from Mexican cuisine. I'd recommend choosing something light and simple to balance out the complexity of Machaca.
17. Torta Ahogada – Unforgettable Drenched Sandwich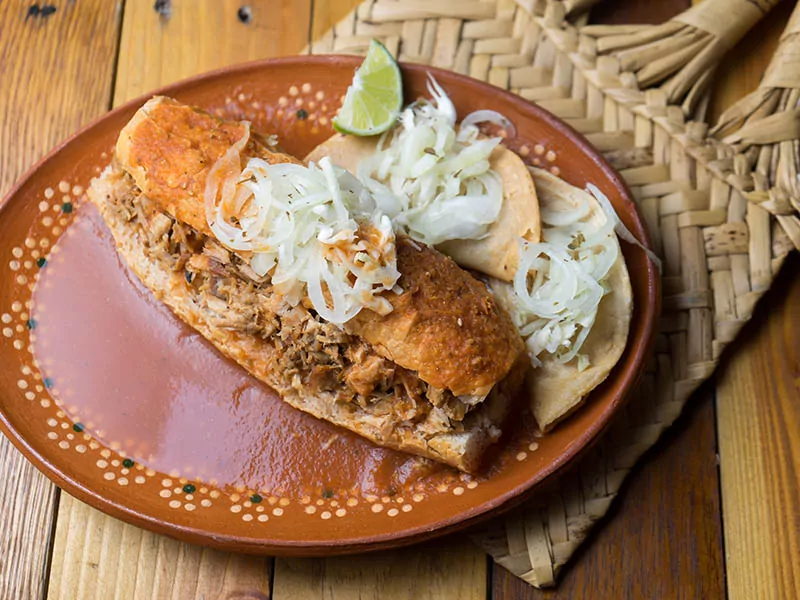 The streets of Jalisco state have scrumptious Torta ahogada that you should try when you come here. It is a famous Mexican sandwich invented in the 1900s in the city of Guadalajara.
The tasty Mexican bread is filled with pork and a signature sauce made with tomatoes, peppers, and other spices. The feature that impresses you when enjoying this recipe is the crispiness of the bread and the rich taste of the sauce.
Come to a market in Guadalajara city to enjoy delicious torta ahogada.
18. Birria De Chivo – Festive Goat Stew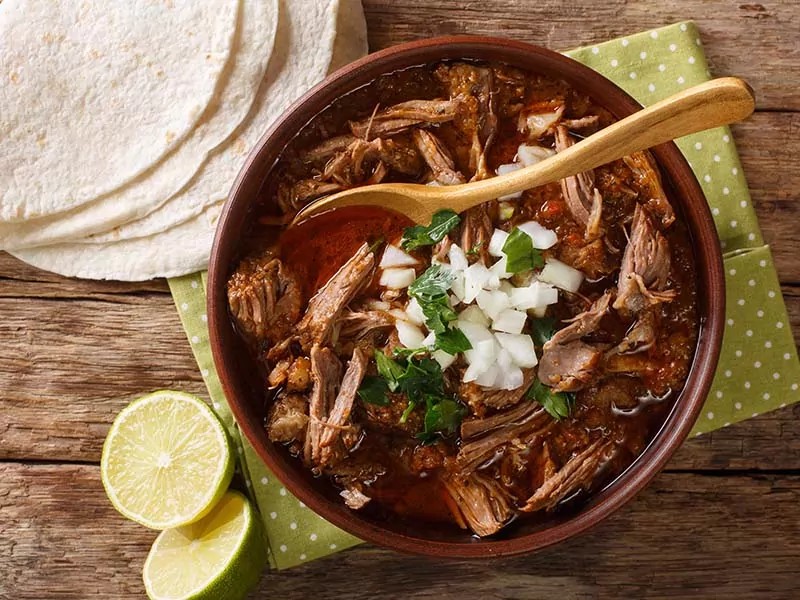 Birria de Chivo is a famous Mexican Christmas dish of the Jalisco state, and it is also known as Chivos. According to the story, the goats severely damaged the crops, so they were given to the natives for breeding by the Spaniards. And they used goat meat to make this perfect food.
Today, Mexicans can replace goat meat with pork, chicken, beef, or fish to bring new flavors to the recipe. Originally, the meat was put in maguey pencas for cooking, but it is replaced by the pot today. You can also enjoy tatemadas, which are baked versions of birrias.
Nowadays, the remarkable stew is used on many special occasions like weddings, Christmas, and Easter to stimulate your taste buds.
19. Mexican Tamales – Wholesome Steamed Delight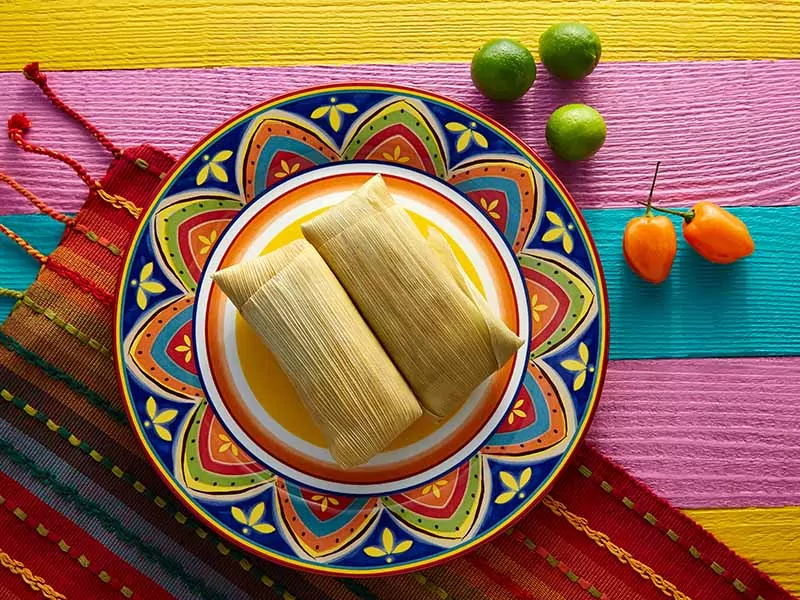 An iconic Mexican dish that will make you fall in love after enjoying it is Mexican tamale. It was first prepared in pre-Hispanic America. The word "tamale" originated from the Nahuatl word "Tamal", which means wrapped.
The corn leaves or banana leaves are used to wrap the tamale filling. Besides the flavor of shredded chicken or pork, the signature aroma and taste of these leaves will leave a mark on your mind. A little green or red salsa and corn kernels will awaken your taste buds.
Let's try the fantastic flavor of tamales in Mexico.
20. Pipian – Nutrient-Rich Sauce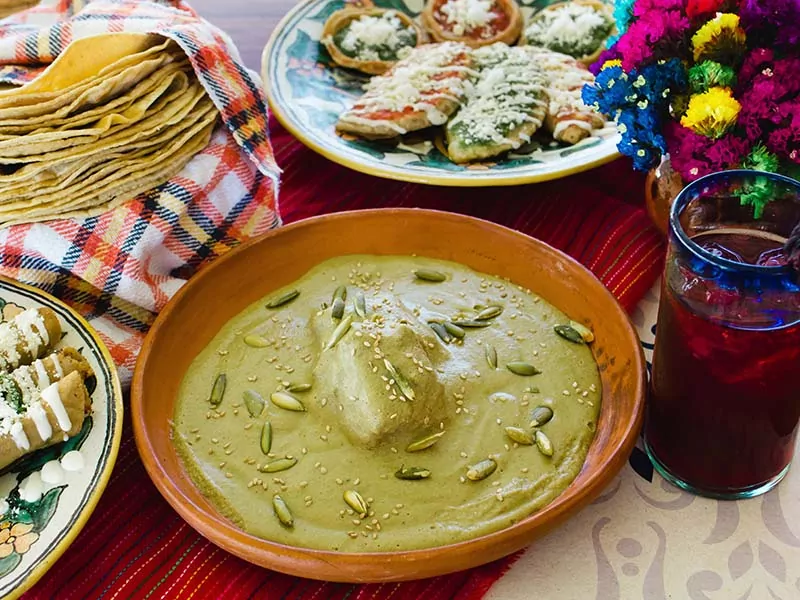 Papian is a delicious and nutritious dish that will fuel your adventure in Mexico. It has been around since pre-Hispanic times and was favored by Emperor Moctezuma. This sauce appears on the menu of every restaurant in Central-southern areas.
The elements that make it are pretty specific, so its taste is very unique. Pumpkin seeds are toasted and ground to give the sauce a slightly rich flavor. You will eat it with chicken or burritos in restaurants.
21. Tlayuda – Oaxacan Flatbread Pizza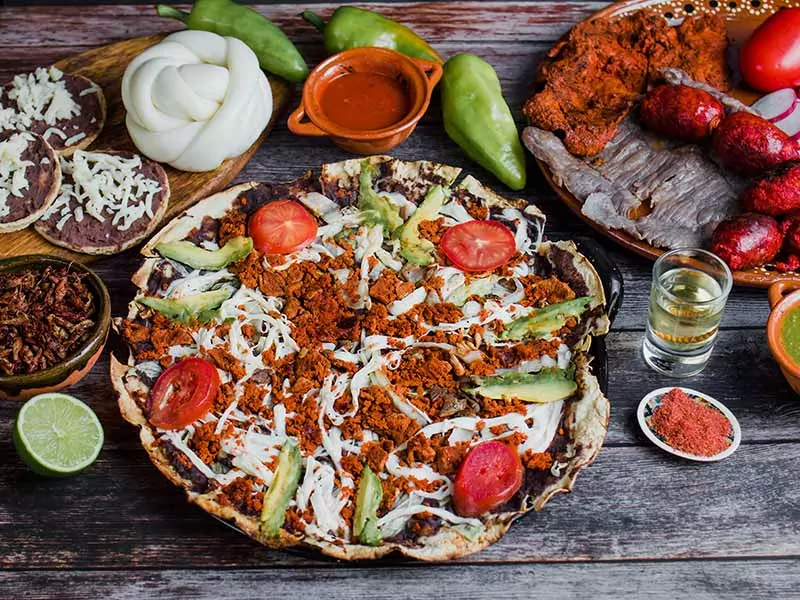 The Southern Mexican state of Oaxaca is famous for its native tlayuda. This large white corn tortilla is suitable for 3 to 4 people, so order them for your family. It is grilled over embers giving it the perfect crispiness. It is considered Mexican pizza.
The traditional version of tlayuda filled with lard, dried pork, black beans, and cheese will make you remember it forever. Furthermore, its taste is more varied with the appearance of tomato, water chili, and avocado.
Enjoy the excellent Mexican street food in Oaxaca state.
22. Aguachile – Refreshing Seafood Dish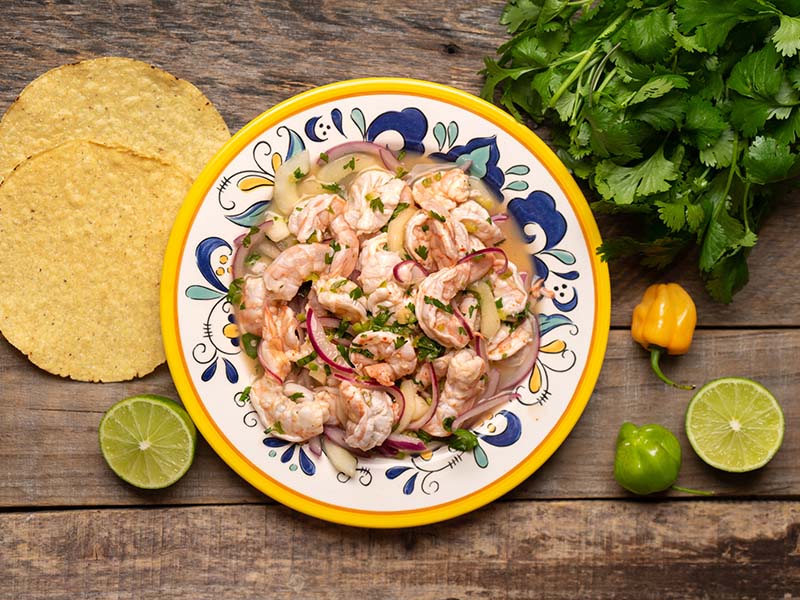 I could not resist the charm of this fresh and beautiful dish while traveling in Mexico. The recipe combines raw shrimp and vegetables to create healthy food. It will make you want to enjoy it again and again.
What do you know about the former version of this dish? In pre-Hispanic times, people mixed dried meat with water and chili. However, in 1970, talented chefs were more creative by replacing meat with raw shrimp to add a touch of the ocean to your mouth.
23. Aztec Soup – Top Dinner Choice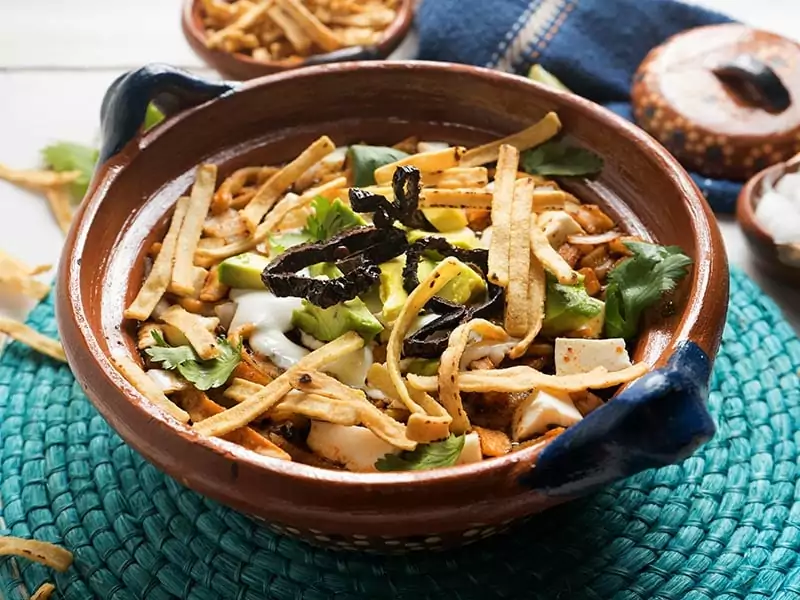 Aztec soup is an indispensable dish in the list of worth-trying Mexican dinner recipes. It was first introduced in Tlaxcala city and has been a signature dish there. The combination of corn tortillas and Spanish soup cooking has created this unique dish.
Chicken broth with tomato and chili will bring out its rich flavor and characteristic spicy taste when eating it. You will be impressed with the crispiness of the tortillas and the fatty taste of cheese and sour cream on the surface of the soup bowl.
24. Gorditas De Nata – Perfect Meal Finale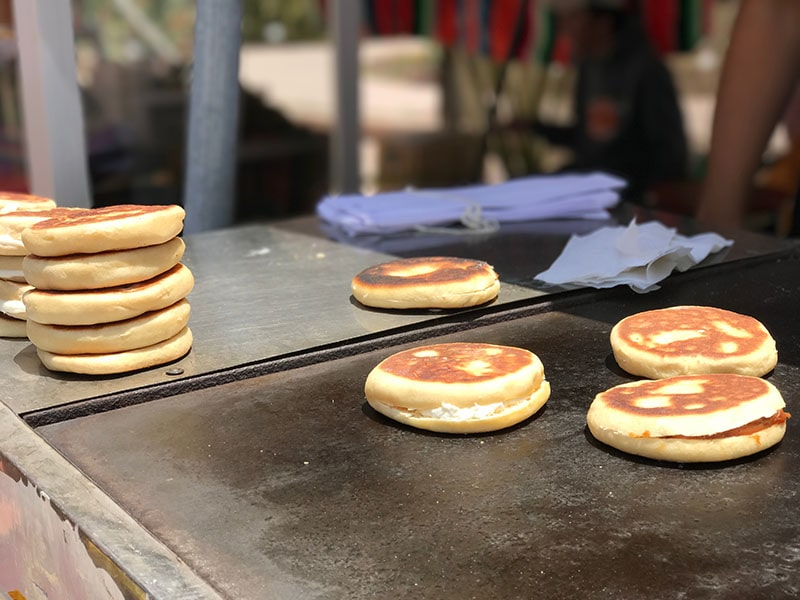 Gorditas de nata is an option that you should try before you leave Mexico and if you have time, enjoy all the different fillings of this recipe. The first gorditas de nata was created with massa. Their fragrance and softness will leave an indelible impression on you.
The pancake stalls on the busy streets with professional bakers and the sweet aroma are features you can only find in Mexico. Furthermore, these wheat-flour cakes are served at churches on Sundays.
25. Discada – Mixed Meat Medley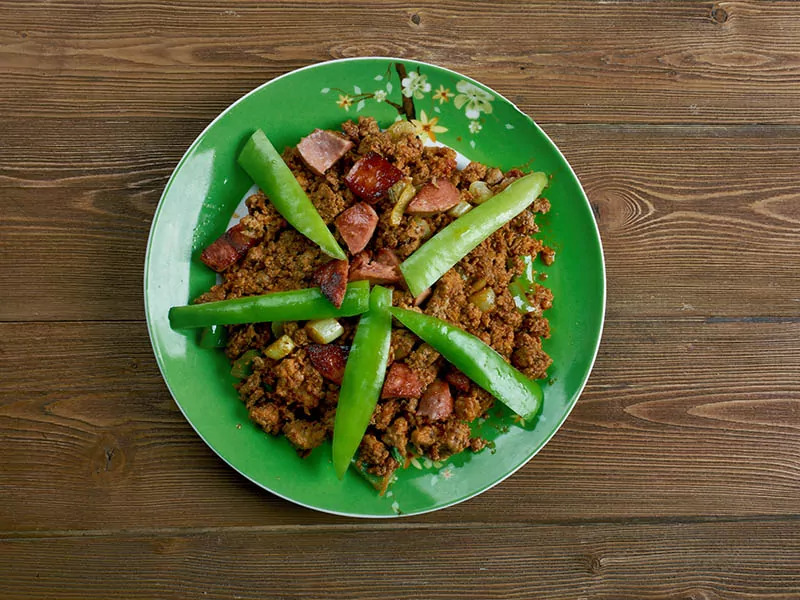 Another traditional Northern meat dish is discada. If you love meat, it is a food you should try immediately. The combination of many different types of meat creates a harmonious and appealing overall taste.
These herbs will leave an indelible aftertaste on your tongue. It is fantastic to enjoy this food with your loved ones because it is a famous recipe for reunions and family gatherings in Mexican culture. It was first made in the 1800s when railroad workers came to Mexico.
26. Pescado Zarandeado – Flavorful Grilled Fish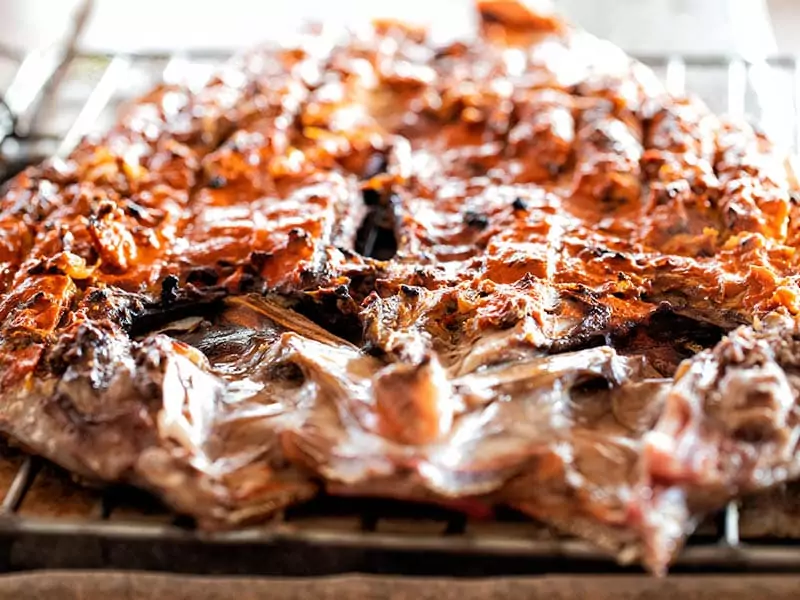 When you visit the coastal regions of Mexico, you will have the opportunity to taste the famous Pescado zarandeado. It is also known as stirred fish. Its name zarandeado means to move or shake a lot. This is a tasty Mexican fish dish with a rich history dating back to pre-Hispanic times.
The Mexicans used a wooden grill called the Zaranda to grill fish in the past. However, they have replaced it with metal grills to make it easier today. The taste of the fish is intense when marinated with chili sauce and lemon.
27. Camarones A La Diabla – Spicy Shrimp Delight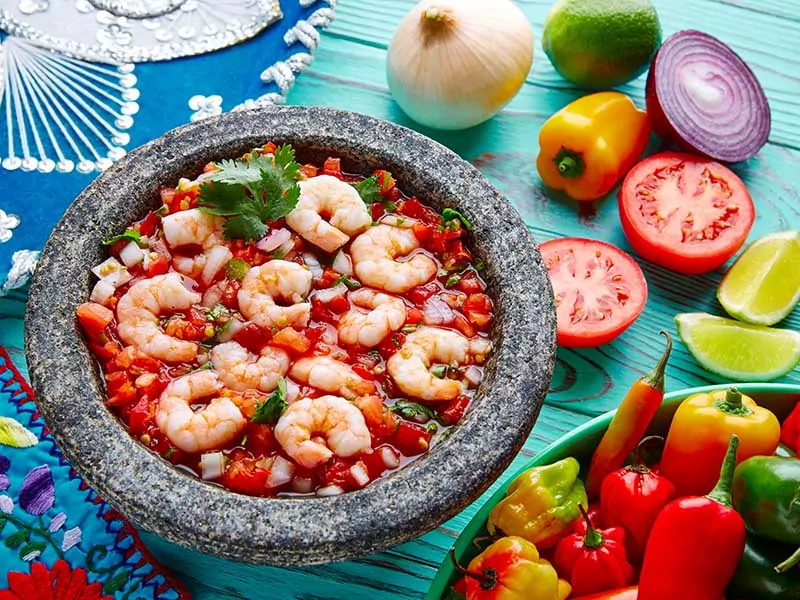 If you visit Mexico during Lent, you will have the chance to enjoy fantastic seafood dishes as Mexicans will eat seafood instead of meat during this season. Camarones a la diabla is a signature and popular recipe for Lent.
First, you need to have a remarkable tolerance of spicy food because its spiciness can burn your tender tongue. The fresh shrimps are cooked with chilies, Arbol, and chipotle to make a super spicy flavor.
28. Mexican Esquites – Corn Salad Delicacy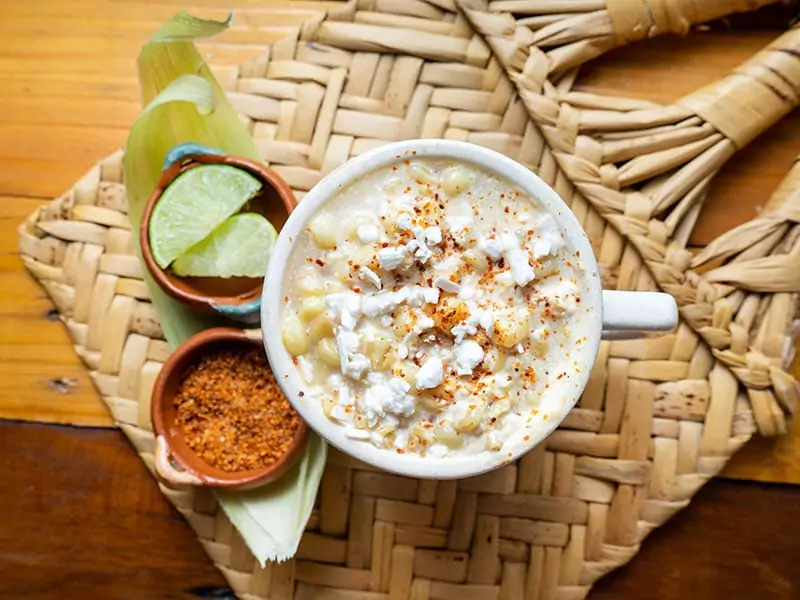 I was surprised by the great taste of this famous Mexican-inspired street food – Esquites. It was invented by a woman ruler of Xochimilco between 1335 and 1347. Nowadays, it has become a favorite food of a lot of tourists when visiting Mexico.
Initially, chopped onion, pollo, and fried green pepper were the dish's main ingredients with lemon juice and mayonnaise. Nowadays, it has many different variations in various regions across the country.
Unlike the Northern version, the ingredients of the Central-Southern version are not mixed. You will be impressed with the characteristic and natural flavor of corn and the fatty taste of dairy products.
29. Amaranth Hard Joy Candy – Dessert's Sweet Choice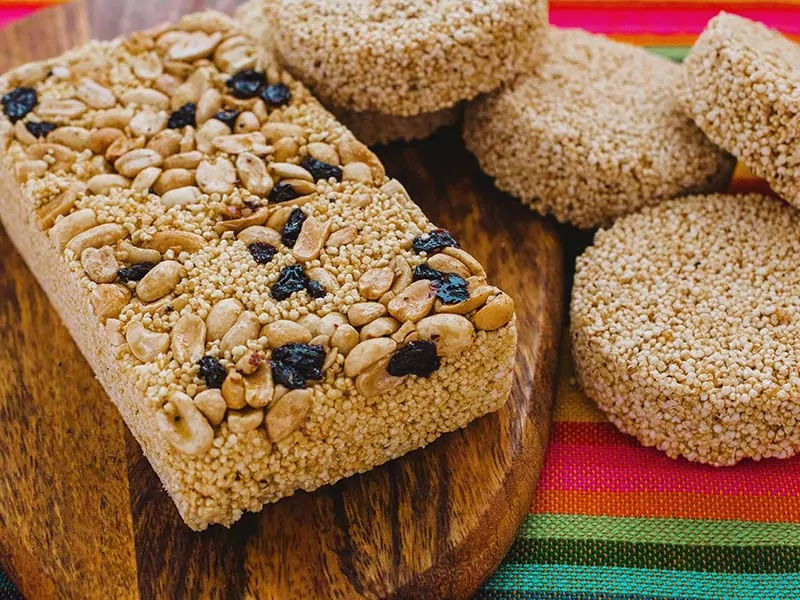 Alegria de Amaranto is a course from Mexico City in the 16th century that you should put in your travel notebook before starting your trip. Its name means "joy", so it is a great option to end parties or enjoy with tea in Mexican culture.
This is a hard candy that is sold in the form of bars. These candy bars come with numerous toppings, including nuts, raisins, chocolate, and more. All tastes are combined excellently to create a funny melody in your mouth.
30. Dorilocos – Street Food Sensation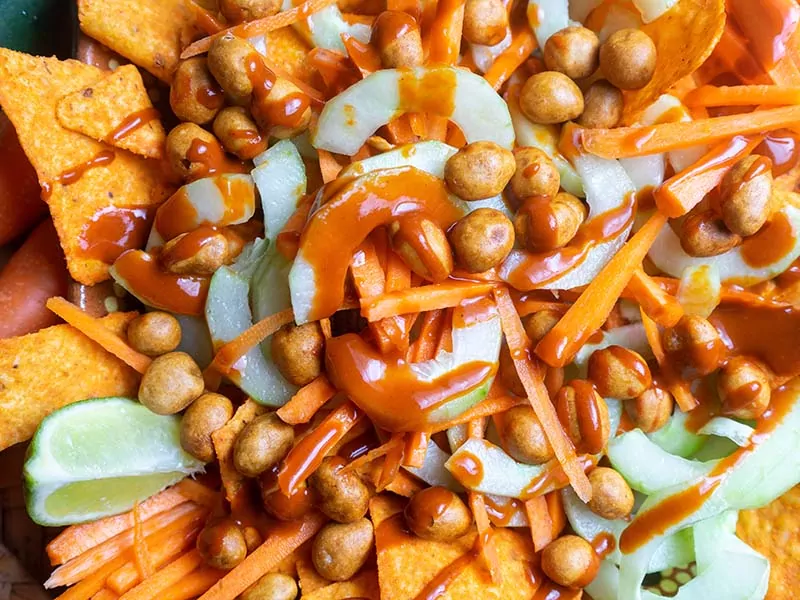 If you are looking for a Mexican snack, you should order the signature Dorilocos. It was first sold on the Antojito food street in the 1990s. Today, it is common on many streets of Mexico, so you will easily find it.
Dorilocos are small cakes filled with hot sauce, cream, vegetables, chips to give a wonderful fusion of flavors. Since it is a side dish and street food, it is prepared pretty liberally. The bakers will complement any components to enhance the taste of the food.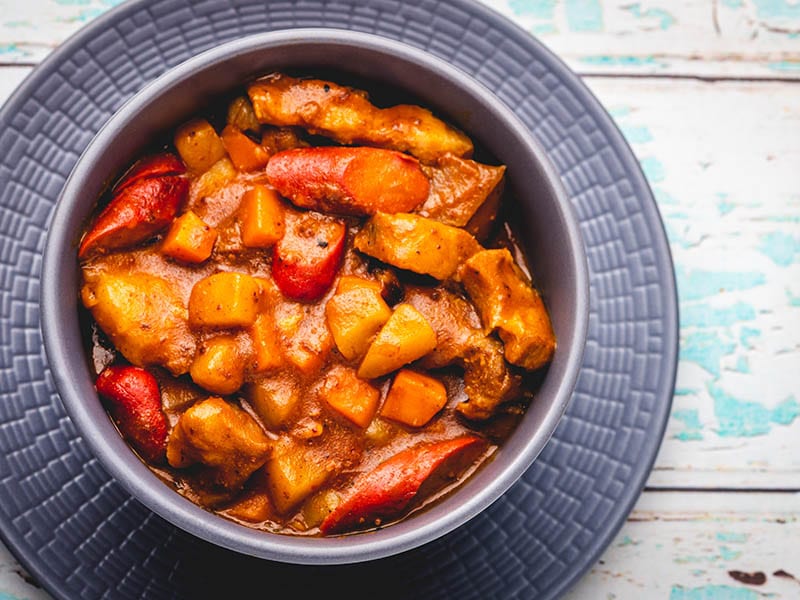 You should not miss the traditional soup Menudo when you travel to Mexico. It has not been possible to determine which region of Mexico it originated from. However, many people believe that farmers in the Northern region invented it.
Some other views suggest that it originated in central Mexico. In particular, this soup has two different versions, Menudo Rojo and Menudo Blanco, popular in the North and Central, respectively.
Its zesty and spicy flavor will soothe your soul in no time. It is often combined with corn tortillas to bring out these beautiful flavors. Another name, pancita, is commonly known.
Listen to the feelings of people when eating Menudo.
32. Carne Asada – Simple Grilled Meat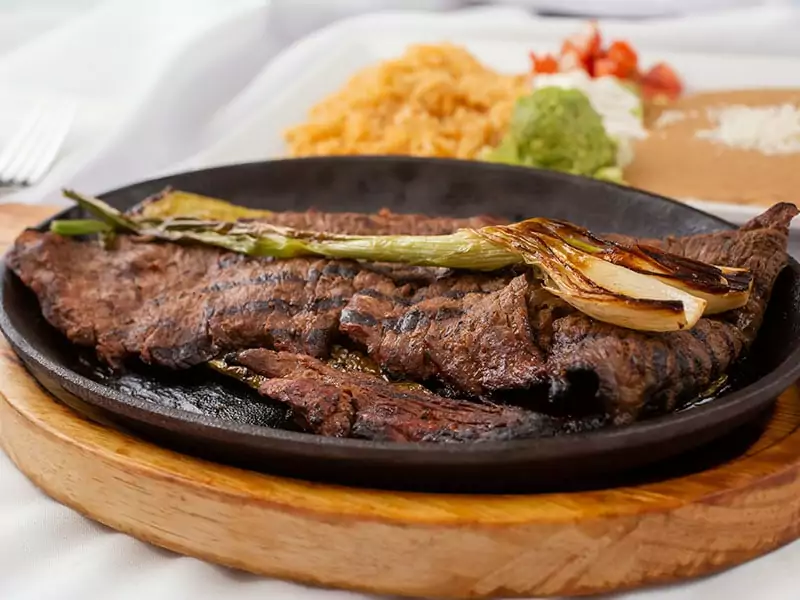 It is time to fuel your body with protein with incredible steaks. The outside color of it will make you unable to take your eyes off it. The meat retains its red color, tenderness, and juiciness inside.
If you are planning a trip to Mexico, you should put this amazing dish on your must-try list. Besides, you will also find this dish in the gastronomic culture of Guatemala and many other Central American nations.
I am sure that you will want to enjoy this simple yet tasty Mexican recipe again before leaving the country. This delicious carne asada was invented in the 1500s.
---
You will no longer worry and wonder what to eat when traveling to Mexico. If you have the opportunity, try to experience all the beautiful dishes in this post to understand Mexico's cuisine and culture better.
Please share the article with your friends if they intend to come to Mexico. I am happy to see other fantastic Mexican foods you know in the comments. Thanks for your time!