Tacos are a super delicious treat, and how to reheat tacos when you want a warm bite every time? You will be disappointed if your tacos are cold with the fillings crumbled and fallen apart. Nothing can be worse than a soggy, mushy tortilla when you are craving it.
There are many types of tacos, and they also require specific techniques to reheat them correctly. Not going to confuse you anymore, I will show you how to make your precious comfort food warm and fresh again.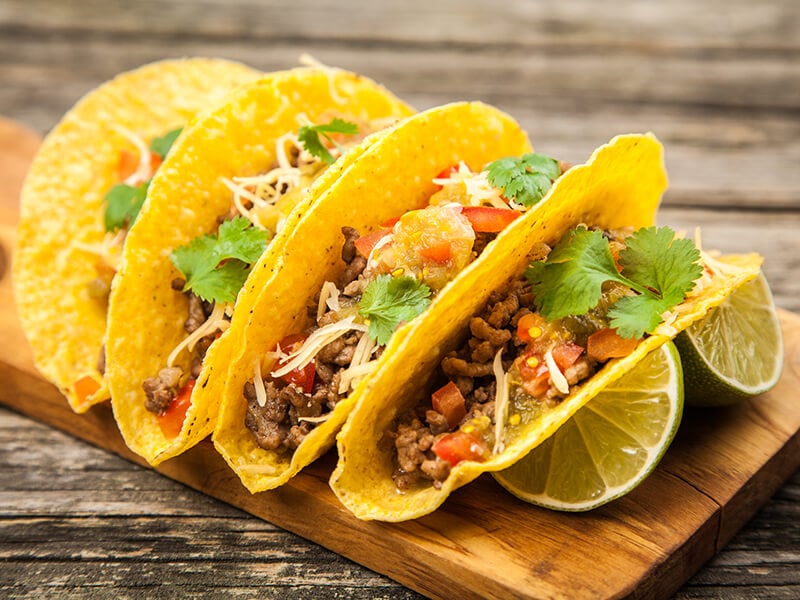 Tacos 101 – Somethings You Might Not Know About Tacos
The soul of a taco is the shell which is also called tortillas. Different types of shells may bring different feelings for your dish and also need other techniques to reheat.
There are 10 types of taco shells: corn tortillas, flour tortillas, half and half tortillas, and 7 other types are Spanish tortillas, blue corn tortillas, nopal tortillas, beetroot tortillas, hoja santa tortillas, jimaica tortillas, and pan arabe tortillas.(1)
Not only are they known by several other names, but their ingredients also differ. For example, corn tortilla has the main component of corn powder, while nopal tortilla consists of corn powder with a cacti mix.
But no matter what their ingredients are, they can be divided into 2 big groups: hard tortillas and soft tortillas. Corn tortilla represents the hard types, and flour tortilla describes the soft ones.
They can become tacos shells, yet, different effects since one is soft and one is hard. Based on that, there are two main types of tacos: hard-shell tacos and soft-shell tacos; each type has its preferable ways of reheating and storing.
Hard-Shell Tacos
Corn tortilla, which is represented by hard taco shells, is famous in Mexican cuisine. They have smaller sizes and semi-hard, crunchy texture with the pungent odors of roasted corn.
Because of the unique, appealing texture, preserving their crunchiness is the priority when reheating a hard-shell taco.
Soft-Shell Tacos
When it is about the soft-shell tacos, you might think of the flour tortillas' yummy, tender, and chewy texture. It's a bit plainer than corn tortillas, but they can pair well with many types of ingredients and are prone to include more significant portions of fillings.(2)
More information that you might be interested in about corn and flour tortillas! Watch this video:
Incredible Methods On How To Reheat Your Tacos
It might be easier to solve the problem in the direction of separating homemade or store-bought tacos. However, there are many taco variations with different ingredients that make up the tortilla that I may not describe in detail.
So in this article, I will show you the most general ways to warm up your tacos based on their shells deliciously at home. Let's get started!
What Should You Do Before Reheating A Taco?
The first and utmost preparation is removing the wet ingredients like tomatoes, guacamole, or sauces (as much as possible) before going on with the following steps. If you want to reheat the meat together with your hard taco shells, you can leave it back.
But it is recommended to recook your taco meat separately to preserve the expected texture of a hard tortilla. I also suggest you separate the fillings with the shells before reheating a soft taco.
Although it might not be a big problem to have little soggy soft tortillas, it might taste odd if you warm fresh vegetables, sour cream, and meats simultaneously.
3 Proper Ways To Reheat Your Hard-Shell Tacos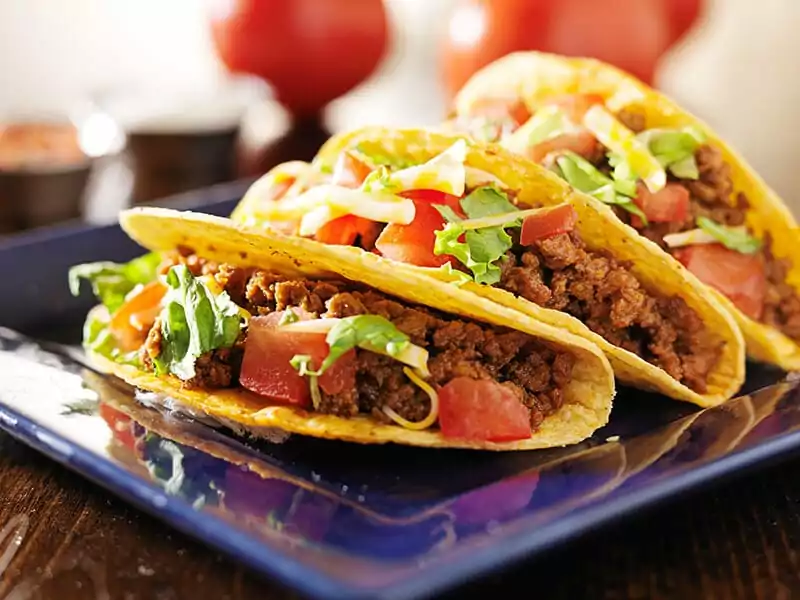 There are 3 ways to reheat your hard taco shells based on the equipment you use to reheat them.
1. Stovetop
As their main ingredient is corn, hard tortillas for hard-shell tacos prefer the drier heat of the stove to become crunchier. You can use firm tongs with ergonomic grips if you want; another way, a skillet or a pan is perfect.
All you need to have here is a pan or a skillet and aluminum foils.
Step 1: Put your skillet on the stove and set the medium heat. Wait until the skillet is heated up.
Step 2: Put your tortilla on the pan, wait 30 to 45 seconds on each side and flip back to the other until you are satisfied with the crunchiness or when both sides are golden brown.
2. Oven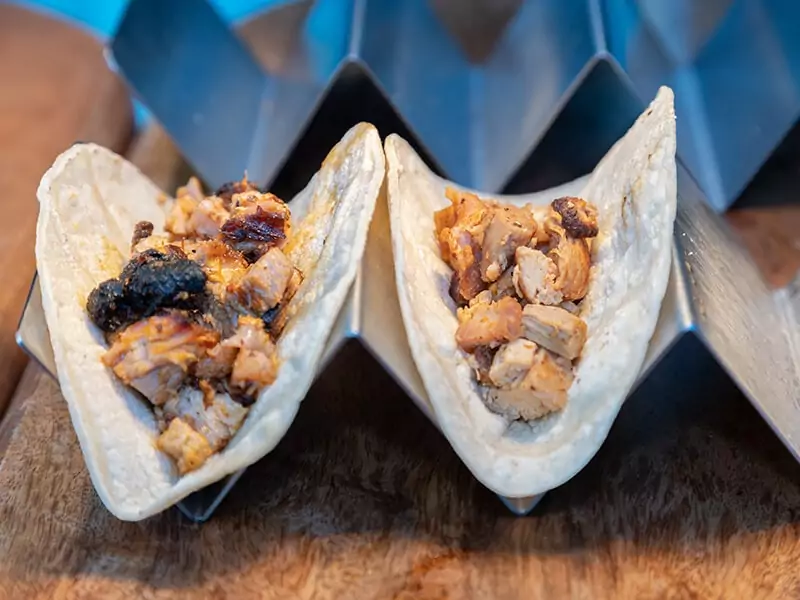 Honestly, is there anything a traditional oven can't reheat? It's one of the best ways to reheat biscuits, lasagna, prime rib, pizza, you name it. Naturally, it's also an ideal method to reheat your corn-based taco shells. You should prepare these utensils for the reheating process:
Aluminum foils (or steel taco racks if you have)
Hard taco shells (premade or homemade)
Baking sheet or cookies sheet
You also need to remove the cold fillings before warming your tortillas.
Step 1: Set the oven to 350 degrees F and wait until it is heated completely.
Step 2: Preparing your taco shells. You can put them onto the baking sheet and fold them in halves to put the fillings later.
Because the hard tortillas will stiffen up quickly, you need "shape-holders," like taco racks, to keep their forms. If you don't have taco racks, you can roll an aluminum foil and insert it between the tortillas folded into the taco shape.
Step 3: Put your baking sheet in the oven, wait for 10 to 15 minutes or more until your tortillas become as crispy as you prefer. Try to come up with something to serve alongside the tacos while you're waiting for the food to reheat. This would save quite a bit of your time.
Heating your premade hard shells in the oven in a few steps! Check out this video to know:
3. Air Fryer
Yes, I'm going to show you how to reheat your hard tacos with an air fryer. An air fryer is a popular kitchenware nowadays, and you can also easily use it for many dishes. There are two ways to use an air fryer as a "taco-heater," so let's keep scrolling!
Option 1: Air-Frying Your Tortillas Only
You need to prepare:
Taco racks or aluminum foil
Hard taco shells (without fillings)
Oil (optional)
Silicon brush (optional)
Next, these following steps might help you to have warm, crispy tortillas for hard-shell tacos.
Step 1: Preheat your air fryer, set the temperature at 350 to 400 degrees F for 5 minutes.
Step 2: Prepare your taco shells while waiting for your air fryer to be heated up. Fold the aluminum foil into the taco shape and put your tortilla in it. Not sure if it's wise to put aluminum foil in air fryers? Simple, you can fold your taco to fit it into the rack, and you're good to go.
In this step, you can use the silicone brush to lay a thin layer of oil onto your tortilla to prevent it from becoming burnt in the air fryer. This is optional, so you can choose to do it or not.
Step 3: Put your taco shells into the air fryer. Once your machine's heated, put tortillas in and set the timer for 3 to 5 more minutes due to your preferences. After that time, you will have a crunchy hard tortilla to add the fillings in.
Option 2: Air-Frying Your Tacos With The Cooked Ingredients And Cheese
If you want to cut down the process and make it quicker, you can put your cooked ingredients and cheese onto the second step, preparing your taco shells. Remember to put the drained ingredients, which means without sauces, and cheese only.
The wet components might lead to soggy and mushy shells afterward. And, this option also takes you only 3 to 5 minutes to have your tacos reheated. These two options seem the same, but they are not.
If you reheat your taco shells together with their fillings, the shells will be less crispy.
Tips To Reheat Soft-Shell Tacos You Should Not Miss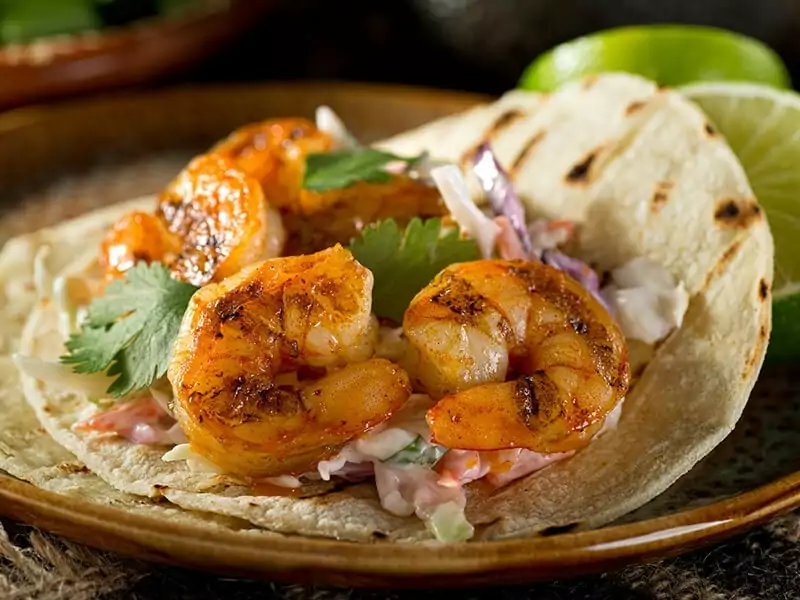 You also have 3 options of reheating for soft-shell tacos: microwave, oven, and grill. The techniques are quite different from the hard-shell, so let's take a deeper look!
1. Microwave
Compared to the hard shell, warming up a soft tortilla in the microwave is more effective since you will expect not a crunchy shell but a soft and chewy one. It would be best if you find something below in your kitchen:
A microwave-safe plate ( if not, glass or ceramic plate is fine)
Soft tortillas
Paper towels
Water
To reheat your soft taco shells, you should follow these steps:
Step 1: Wet your paper towels and make them damp (not too much excess water).
Step 2: Place the towels onto the microwave-safe plate, spread them out evenly so that they can cover the dish entirely.
Step 3: Put your tortillas onto the damp towels on the plate in a single layer; avoid overlapping.
Step 4: Set your microwave on high heat and set the time for exactly 30 seconds. If you overdo it, your soft taco shells will become hard.
The moisture from the damp paper towel not only helps to provide needed moisture to reheat your tortillas but also to keep the soft, chewy texture of them so that the fillings won't fall off when you wrap them into your tacos.
Note: If you reheat one single tortilla at a time, 20 seconds is enough.
Step-by-step to reheat the flour tortillas or soft taco shells you should not miss! Check out this video to know:
2. Oven
You can also warm your soft-shell tacos in the oven just like the hard-shell, but the technique is a bit different. This method is also best to apply with premade tacos; store-bought or homemade is both fine with it since you don't need to heat tortillas separately
Something below is required:
Soft-shell tacos (shells and cooked ingredients only)
Aluminum foil
The steps to accomplish it is also straightforward:
Step 1: Heat your oven to 350 or 375 degrees F.
Step 2: Wrap your soft tacos tightly into an aluminum foil. Wrapping them up keeps their moisture inside the foil and avoids them becoming too hard or crunchy.
Step 3: Put your tacos into the oven for 10 minutes.
Step 4: After 10 minutes, you can use something pointed to pierce through the wrap and check if your tacos are heated evenly or not yet. If they are steaming hot, take them out and enjoy. Conversely, you might need to leave them in the oven for 5 more minutes.
Wrap it up; this method might take 10 to 15 minutes for you to have your warm, delicious soft tacos on the table. Soft tacos, whether they're reheated or fresh out of the oven, make tasty side dishes for chicken marsala. You should consider this combination for tonight's dinner.
3. Grill
Using a grill to reheat is the specialty with soft-shell tacos or its relevant burritos. You don't need to take the cooked fillings out, just roll them all inside the tortillas and put them on the grill. To begin with this method, you only need aluminum foil and a grill with a lid.
Step 1: Turn your grill on and warm it up. Wait until the grill is fully heated before putting your taco in.
Step 2: Wrap your soft-shell taco with its cooked ingredients inside an aluminum foil. Ensure to wrap it tightly.
Step 3: Put your taco on the grill and close the lid.
Step 4: Flip the sides every 5 or 8 minutes until your soft taco is warmed up. To check whether your tacos are heated inside out, use a toothpick to pierce through the foil. If the tip of the toothpick isn't warm, the tacos need to spend more time on the grill.
Once your tacos are warm already, you can add the fresh ingredients and enjoy.
| Types | Hard-Shell Tacos | Soft-Shell Tacos |
| --- | --- | --- |
| Stovetop | 30 to 45 seconds on each side (Medium heat) | Not recommended |
| Microwave | Not recommended | 20 - 30 seconds under high heat |
| Oven (Toaster Oven) | 10 to 15 minutes to get it done (350 degrees F) | 10 to 15 minutes until done (350 - 375 degrees F) |
| Grill | Not recommended | Need 5 to 8 minutes for each side |
| Air Fryer | 5 minutes until done (350 - 400 degrees F) | Not recommended |
Don't Forget To Recook Your Taco Meat Properly
You cannot ignore warming up some of your fillings, especially meats, to have perfect warm tacos; now you and I are moving on to that.
When you want to eat tacos, take the meat out of the freezer and put it into the fridge to thaw for a night. You can also put it into a bowl of cold water until it looks thawed.
To reheat them, you can cook the meat on the stove or toss it into the microwave. Here's a more detailed instruction.
1. Reheat The Filling On A Stove
You can easily warm up the taco fillings on a stove. This is properly the best method and only takes a few minutes to do.
Step 1: Heat a little oil in a non-stick pan on medium heat.
Step 2 (optional): Sauté some fresh spices such as garlic or onions on the hot pan for more flavors.
Step 3: Cook the filling for about 3 to 4 minutes or until completely heated through.
2. Reheat The Filling In A Microwave
If you're in a rush and need the fastest reheating method, the microwave is your go-to choice. Your taco filling will be warm and nice in under a minute.
Step 1: Put the filling in a microwave-safe bowl.
Step 2: Microwave for 20 seconds.
Step 3: Stir the filling and microwave for another 15 seconds.
Ultimate Guide To Reheat Specific Types Of Store-Bought Tacos
Although these steps above can apply to the store-bought tacos like the love Cheesy Gordita Crunch from Taco Bell, Chipotle's signature burritos, or other tacos spots in your neighborhoods, I will give you some detailed examples on how to deal with some specific types.
Reheat Gordita Or Chalupa
Both Gordita and Chalupa have flatbread shells that are suitable to be heated inside a microwave. Set the microwave for 1 minute, and everything will be done. Remember to remove the wet fillings, vegetables, guacamole, sauces, or else before reheating.
Although the shells have been deep-fried, the texture of flatbread can hold really well in the microwave, and the outcomes will be average, not crispy or mushy. If you want a crunchy effect like the freshly made from the store, you can use the air fryer or the oven.
Reheat Gordita Crunch
There are two layers of shells in a Gordita Crunch, one layer of flatbread and one layer of corn tortillas (for the crunch). Because of that, there are gains and losses if you want to reheat this type.
If you treat it like a normal Gordita and put it into the microwave, it would be a quick option, but the corn tortilla – the second shell will be soggy. Therefore, using an oven is a better option.
You also need to remove all the wet ingredients like beans or coleslaw inside while turning on the oven to preheat it to 375 degrees F. Put your treat into the oven and set the timer for 5 minutes to avoid over-crunchy flatbread. And ta-da, your delicious treat is back!
Bean Burrito Or Burrito And Quesadilla
Burritos' and quesadillas' shells are the big-sized flour tortillas or soft taco shells. Therefore, I recommend you deal with it the way you reheat soft tacos.
Scoop out as many wet ingredients out as possible, then put your burritos or quesadillas into the oven that is preheated to 375 degrees F for 10 to 15 minutes. If you have a toaster oven, you can use the same temperature and time setting as the oven.
A grill is also a recommended tool to use here. Remove the wax paper from the stores, take the salad toppings out, wrap your rolls tightly inside an aluminum foil and toss it on the grill for 3 minutes on each side.
Using a microwave is also great. Set the time for 30 to 45 seconds for your microwave, and you will have a warm burrito from Taco Bell or Chipotle.
Reheat your Chipotle burrito in 30 seconds, and it's a must-watch!
Essential Tips To Extend Your Tacos' Shelf Life
Now you know how to deal with your taco shells and ways to reheat soft or hard tacos. I will continue to tell you how to share some tips to extend your tacos' shelf life.
It is best to store your tacos' components separately; therefore, I will provide the best ways to keep each of them.
Tortillas – Taco Shells
You should keep unopened tortillas in their packages and store them in cool places like the cool compartment of your fridge.
Once the package is opened, you have to wrap your tortillas tightly before putting them back in the refrigerator, and they might last from 4 to 8 weeks.
The shelf life is different for homemade or leftover tortillas; it is only about 1 week, wrapped and put carefully in resealable bags or an airtight container.
Freezing the shells is also a good idea. You can leap 1 layer of tortillas between 1 layer of wax paper. Put all of them into freezer bags to heat them, and they can be usable for 6 to 8 months (no matter what types they are).
Taco Meats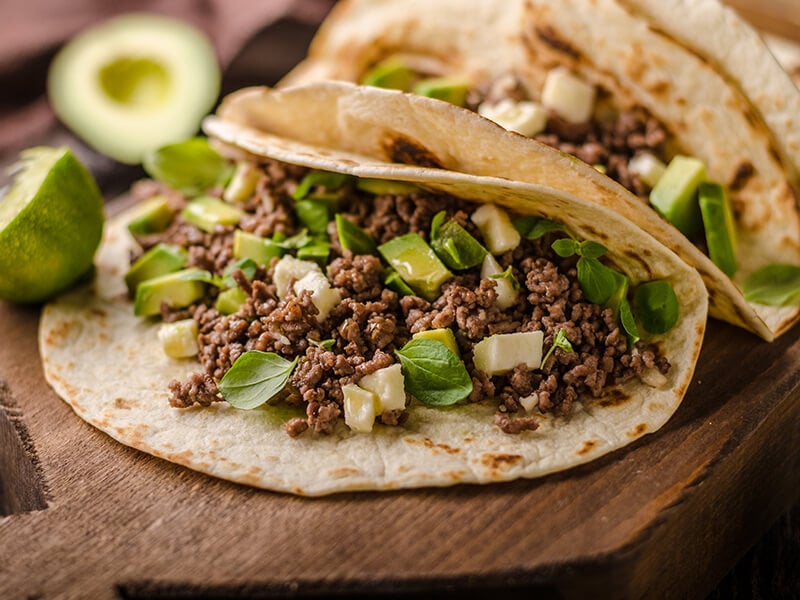 The main proteins for tacos are usually meats and poultry, especially beef and chicken breasts. There are also other protein sources made from other ingredients, like delicious Gobernador tacos, which include shrimp.
Overall, depending on the fat content and how thick you cut it, your cooked taco meat will last in the fridge for 3 to 4 days.
Otherwise, if you freeze the meat, it can last in the freezer for 3 to 6 months. Remember to follow these "3 golden rules": divide into serving size – put into a Ziploc bag (take out as much air as possible) – label the bags.
Super easy taco meat recipe you should try now! Watch this video below:
Fresh Ingredients
The fresh ingredients of tacos are usually mixed vegetables. It is best to store your leftover tacos' vegetables in the fridge; they will generally last for 3 to 5 days.
You should put your salad into a plastic resealable container with a paper towel inside to absorb excess moisture. Remember, don't reheat the fresh ingredients together with the tacos shell or meats.
They should be added in the last step and served cold to remain fresh and crunchy.
FAQs
Tacos are one of the most common comfort foods, and the questions about them are varied. If you still have some questions about reheating tacos, some answers to the most frequently asked questions below might help you.
No More Cold Tacos From Now On!
With all the information I have provided, you don't need to be upset about eating cold tacos anymore. Within some easy-peasy steps, your special treat will be fresh and warm as newly made or bought.
You can also use the tips to reheat tacos for other variants like burritos or quesadilla and chipotle. If you have any further questions or experiences with reheating tacos and want to share them with me, feel free to leave a comment below.
Loving is sharing!
Nutrition Facts
69 servings per container
---
Amount Per ServingCalories156
% Daily Value *
Total Fat 9g

14

%

Saturated Fat 3g

15

%
Trans Fat 0.3g

Cholesterol 19mg

7

%
Sodium 274mg

12

%
Potassium 144mg

5

%
Total Carbohydrate 14g

5

%

Dietary Fiber 2.7g

8

%
Sugars 0.6g

Protein 6g

12

%
---
Calcium

6

%
Iron

4

%
Vitamin B6

5

%
Vitamin B12

10

%
Magnesium

5

%
* The % Daily Value tells you how much a nutrient in a serving of food contributes to a daily diet. 2,000 calories a day is used for general nutrition advice.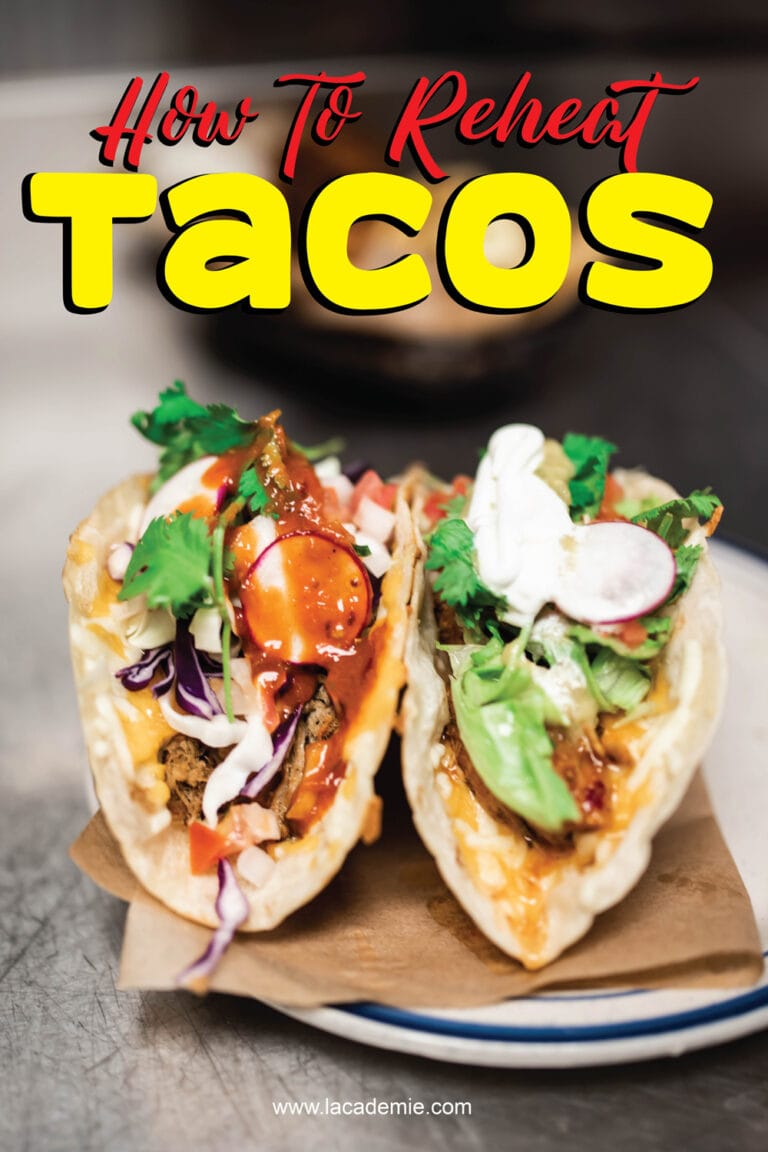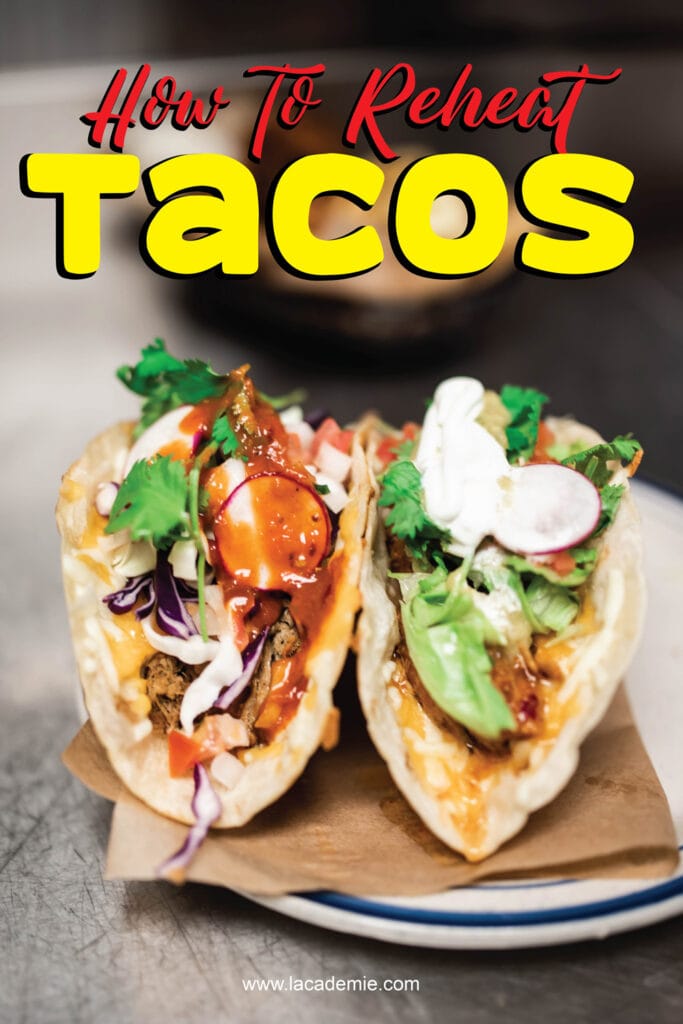 References
1. Benny's Tacos & Rotisserie Chicken, Mexican Dining. 2021. 10 Different Types of Tortillas – Benny's Tacos & Rotisserie Chicken.
2. Borracha Mexican Cantina. 2021. What is the Difference Between Flour and Corn Tortillas? – Borracha Mexican Cantina.