Crispy Gobernador tacos (governor's tacos) are a traditional Mexican recipe. They're full of seafood and cheese, easily attracting everybody's attention. One bite of these tacos, and you'll feel various flavors from many natural ingredients.
And making Gobernador tacos isn't difficult. You'll get a dish packed with Mexican flavors in less than an hour. So, let's experience Mexican cuisine by trying this recipe now!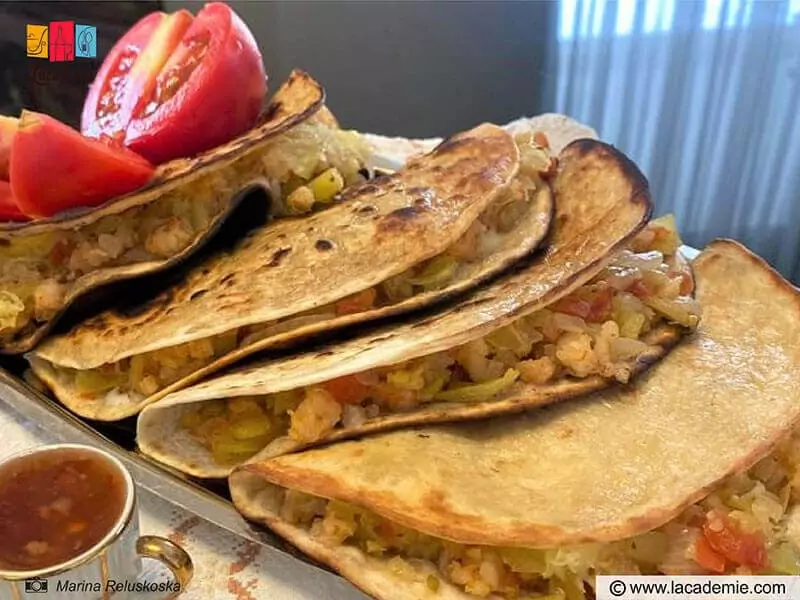 What Is Crispy Gobernador Tacos?
Gobernador tacos (governor's tacos) refer to tortillas filled with shrimp, veggies, and cheese. Then, people bake them for extra crispiness. They're an excellent classic Mexican meal for when you need extra energy.
This recipe gets its name from the governor of Sinaloa, Mexico. Once, a restaurant in Sinaloa prepared this taco for a governor. When he asked about the dish's name, they said it was Gobernador tacos, hence the present name.
You can prepare these crispy tacos for your friends or family. This is the new favorite meal for every gathering.
Ingredients
What I have here is a traditional recipe for Gobernador tacos. However, you can change some seasonings due to their availability. However, make sure you get all the main components.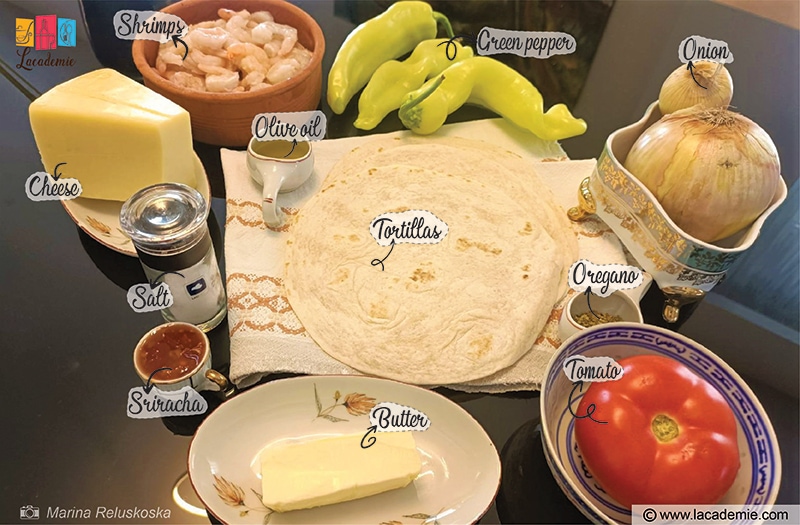 Tortillas: The main ingredient of Gobernador tacos is corn tortillas. I usually use the no-flavor type. Also, corn tortillas are suitable for a gluten-free diet.
Shrimp: You can use fresh or frozen shrimp. If you choose the former, remember to buy peeled, deveined ones without the tail shell. With the latter, make sure to defrost them beforehand.
Onion: Feel free to use as many onions as you want. Their flavor will blend beautifully with other ingredients. And white onions are the most suitable.
Green peppers: The traditional version used baked peppers, but I have changed them to fresh green peppers. The result won't differ much, so you can choose either.
Tomato: Fresh or canned tomatoes are all fine, depending on your circumstances. Some may skip this ingredient, but I think it brings a nice fresh, tangy taste to your tacos.
Mozzarella and soft Gouda cheese: They'll elevate your tacos' richness.
Butter: It gives a soft and crispy texture to the whole tortilla. When sauteing vegetables with butter, they get soft easier and have more flavors.
Olive oil: Choose extra virgin olive oil for its delicate taste.
Oregano: It increases the heat level for your Gobernador tacos.
Salt: I prefer the Himalayan variety because of its balanced taste.
Sriracha: Sriracha is a nice addition for a bit more heat. You can skip it if you want.
Tools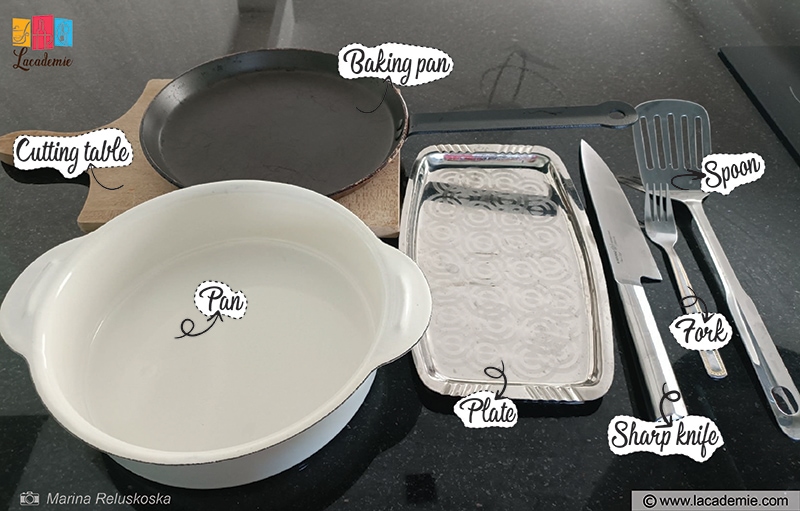 Crispy Gobernador tacos only require basic kitchen tools. Make sure you have them all before cooking:
Baking pan: A non-stick pan is the best for preparing veggies and tortillas.
Sharp knife + cutting table: To cut all vegetables.
Spoon: To fold the tortillas in half.
Plate: To place all your tacos after cooking.
Fork: To eat your tortillas.
How To Make A Perfect Crispy Gobernador Tacos
You don't need advanced cooking skills to perfect these Gobernador tacos. Follow the steps below, and you'll get the most beautiful crispy tacos.
Step 1: Cut The Veggies And Shrimp And Shred The Cheese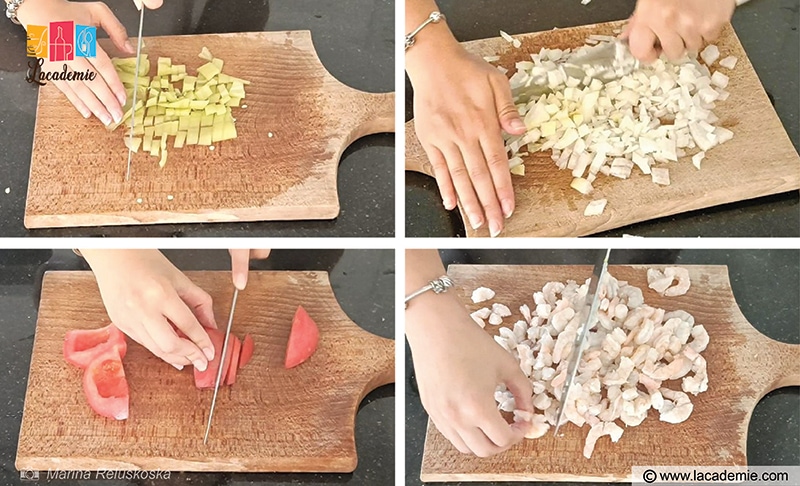 Cut onions, tomatoes, peppers, and shrimp into small pieces. This way, they will blend once you start cooking. Also, shred the cheese and set it aside.
Step 2: Sauté The Ingredients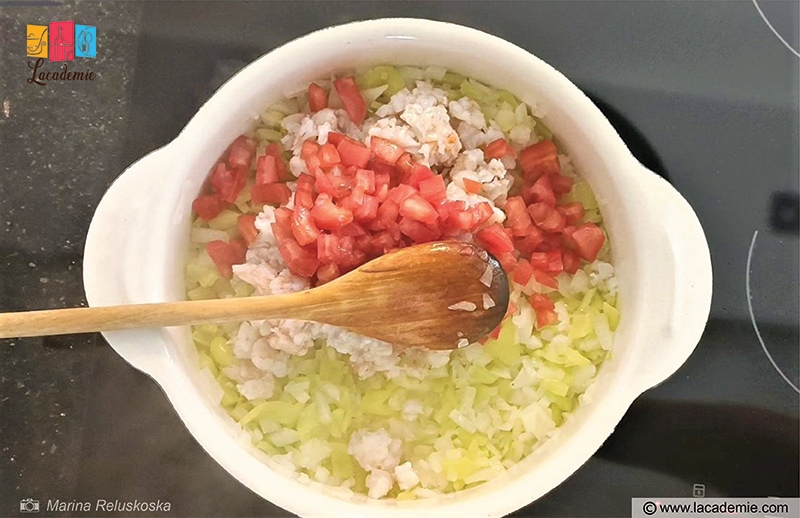 Add olive oil and half of the butter to your pan. Then, start sauteing onions and green peppers. After 5 minutes, add shrimp, tomatoes, and spices. Stir the mixture until no water's left in the pan.
Step 3: Assemble The Tacos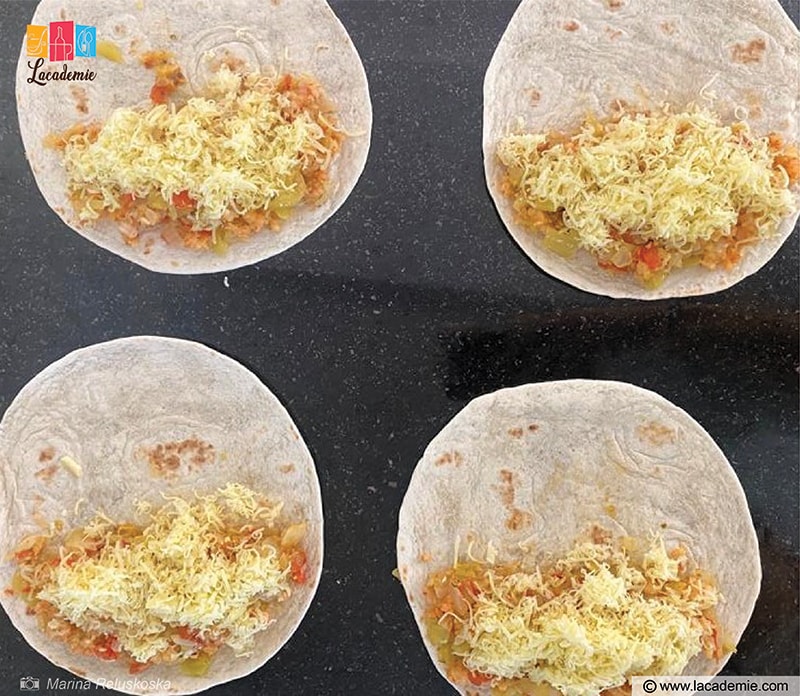 Place the shrimp mixture on half of a tortilla. And place the shredded cheese on top of the mixture.
Step 4: Cook These Tacos
Preheat your cooking pan and add a little butter. Place a tortilla with the filling facing up. After a minute, when it turns soft, fold it in half. Repeat until you've finished cooking every taco.
Step 5: Serve And Enjoy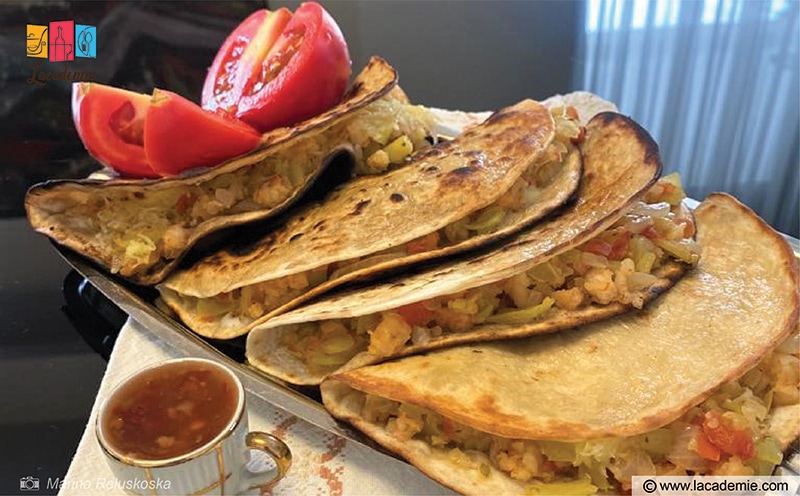 Place your tacos on a big plate with a side of sriracha. I love to garnish them with some diced tomatoes for a refreshing mouthfeel.
Tips And Serving Suggestions
Now, you know how to make a perfect batch of Gobernador tacos. But don't stop there! I have many tips and suggestions to elevate them. Scroll down for more information!
Tips To Elevate Your Gobernador Tacos
Here are some tricks that can make your cooking process much easier. Also, I've included other recommendations for different Gobernador taco variations.
Always choose fresh tortillas without any additional flavor.
Use both butter and olive oil when sauteing the veggies for different layers of flavor.
When baking the tortillas, lower the temperature lower to avoid burning.
If you want a crispy texture, after folding the tortilla, press it with a spatula for the cheese to ooze out and crisp up.
You can use other veggies for the fillings: cabbage, lettuce, or jalapeno.
Gobernador tacos often go with shrimp. But feel free to swap to firm white fish or lobster.
Aside from tacos, you can make this recipe into a quesadilla.
Wrap the plate with aluminum foil to keep your tacos warm. You can also put it in a preheated oven.
What Should I Serve With GobernadorTacos?
Gobernador tacos are already delicious on their own. But you can level up their quality by serving them with different foods and drinks. Check some options below:
Cold draft beer
Cucumber and tomato salad
Sriracha sauce
Roasted salsa verde (Mexican chili pepper sauce)
Frijoles de la olla (Mexican soupy beans)
Frijoles Puercos (Mexican refried beans with chorizo)
White rice
Pickled jalapenos
Ensalada de nopalitos (Mexican nopal cactus salad)
Calabacitas (Mexican-style zucchinis)
Proper Storage And Reheating Tricks
If you have some leftover Gobernador tacos, here are some tips to properly store them. You should store the filling and the tortillas separately. This way, the wrapping won't get soggy after a long time of storage.
Refrigerate it in an airtight container for one or two days.
Freezing is a no-go since it can affect the filling's texture.
When reheating, add the mixture to the tortillas and continue with the cooking process.
Are You Satisfied With These Crispy Gobernador Tacos?
These Gobernador tacos are a balanced and nutritious meal that will wake up your palates. You can make them for breakfast, lunch, dinner, or anytime you want. This recipe will soon become your family's favorite.
Comment your own tips or questions regarding these tacos below. And don't forget to introduce this article to your relatives to prepare for a Mexican party together!
Nutrition Facts
4 servings per container
---
Amount Per ServingCalories502
% Daily Value *
Total Fat 31.9g

48

%
Cholesterol 224mg

75

%
Sodium 1139mg

48

%
Potassium 556mg

16

%
Total Carbohydrate 25.8g

9

%

Dietary Fiber 5.4g

20

%
Sugars 6.1g

Protein 29.8g

58

%
---
Calcium

405

%
Iron

2

%
Vitamin D

12

%
* The % Daily Value tells you how much a nutrient in a serving of food contributes to a daily diet. 2,000 calories a day is used for general nutrition advice.