It may be a cliche to say this, but Korean beef tacos are definitely the best of both worlds! Many people like flavorful Mexican foods, while others are fans of the exquisite sensation of Korean cuisine. Rather than wasting time debating which one is better, why not marry them?
This wonderful delicacy is overflowing with international vibes. It is a crave-worthy combo of Mexican corn tortillas covering the goodness of Korean-style fillings, such as bulgogi and kimchi. Interestingly, this delicious invention is of American origin: the glamorous city of Los Angeles.
It began as a simple fare from a humble food truck before taking the world by storm. You can buy this great form of taco from many restaurants or cafes, but there is always more joy and pride in making your own tacos. That's where this useful guide will come in handy!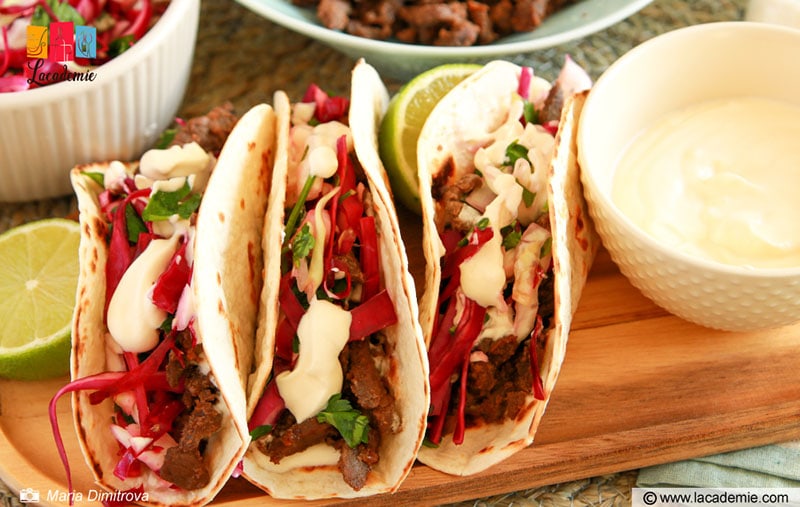 Tools
Here is a comprehensive list of the tools you need to prepare this wonderful fusion dish. Some of them can be replaced with your creativity!
Cutting board: for cutting the meat into thin strips. Choose any size you want, though I favor a large cutting board. I also like wooden boards because of their sustainability value.
Kitchen knife: for cutting the meat into thin strips. My choice is a large, sharp one.
Whisk: for preparing the marinade.
Bowls: You're going to need two bowls: one for marinating the meat and the other for whipping up the taco sauce.
Fork: for stirring the taco sauce ingredients.
Food container: for refrigerating the marinated meat. Since you have to keep the meat in the fridge during the process, I recommend glass containers with lids for easy clean-up.
If you marinate the meat in a lidded prep bowl, it's fine to forgo this tool and transfer the bowl to the fridge right away.
Nonstick skillet: for cooking the marinated meat and toasting the tortillas on the stovetop.
Kitchen turner: for stirring the meat while you're cooking it.
Kitchen grater (optional tool): for grinding ginger to make the marinade. A small one will do nicely. You can substitute the tool with a mini food processor.
Garlic press (optional tool): for crushing garlic to make the marinade. You can substitute the tool with a mini food processor.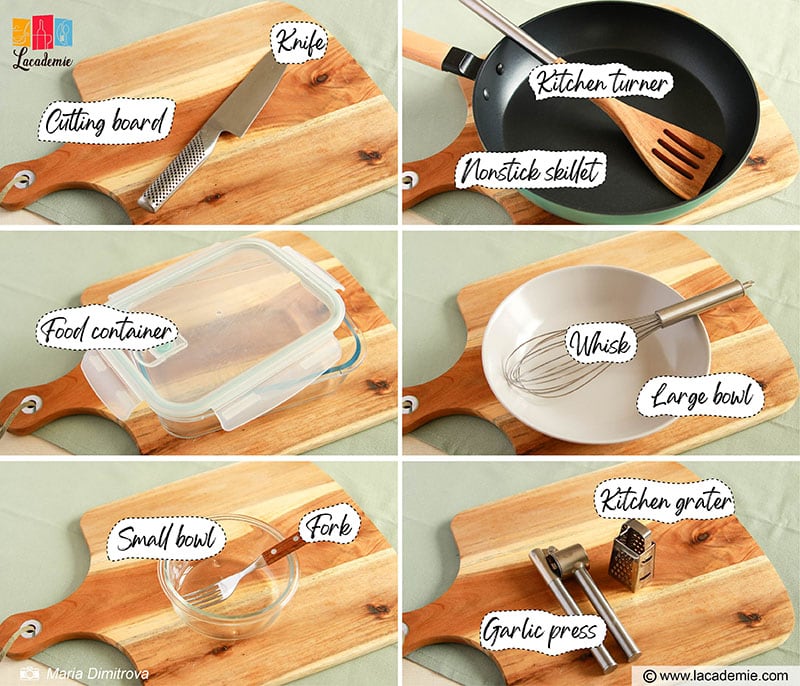 Ingredients
What ingredients do you think are necessary for this finger-licking combo of Mexican and Korean flavors? Scroll down to find out now!
Tortillas: You can use either corn or wheat tortillas, depending on your preference. The former is more elastic and can hold the ingredients better, while the latter boasts an excellent flavor. Grain-free tortillas can also make a great addition.
Beef: You can't make delicious beef tacos without the best bulgogi (Korean grilled meat). The most suitable meat for this recipe is boneless flank steak. This tender cut of beef can absorb the marinade's flavors very well and is perfect for cooking at high heat.
However, if you can't find flank steak, you can also use lean ground beef. In that case, you need to skip the marinating step. Instead, pan-fry the ground beef, drain the excess grease, add the marinade, then simmer the beef until the marinade caramelizes.
Marinade: You will need the following spices and condiments: soy sauce, rice vinegar, brown sugar, sesame oil, fresh ginger, fresh garlic, and ground black pepper.
You can use any vinegar except sweetened varieties. If you don't have brown sugar on hand, the white one will do, but brown sugar adds a very nice molasses-like flavor to the marinade.
The recipe cooks the beef along with the marinade, so there is a good reason for using high-quality ingredients for this stuff.
Sour cream: a vital ingredient to the creamy consistency of the sauce. You can replace it with yogurt, but it will render the sauce runnier.
Mayonnaise: You can use low-fat mayonnaise dressing to make the sauce healthier.
Garlic: This ingredient will impart a strong flavor to both the marinade and the sauce.
Lime juice. Only fresh lime juice is suitable for the recipe.
Hot sauce: The best hot sauce for Korean beef tacos is Sriracha sauce. But if you can't find it, feel free to use any other hot sauce like Tabasco, sweet hot sauce, etc.
Coleslaw – You can add different vegetables of your choice to the Korean beef tacos. My top pick is a simple coleslaw made from sliced ​​purple and white cabbage and topped with chopped parsley. The use of both varieties results in more colors for the dish.
Be creative with your own dish: you can go with avocados, kimchi, cilantro, green onions, etc. Fresh fruits, such as mangos or Asian pears, are also great alternatives.
Seasoning – You can sprinkle the tacos with fresh parsley, cilantro, and more lime juice.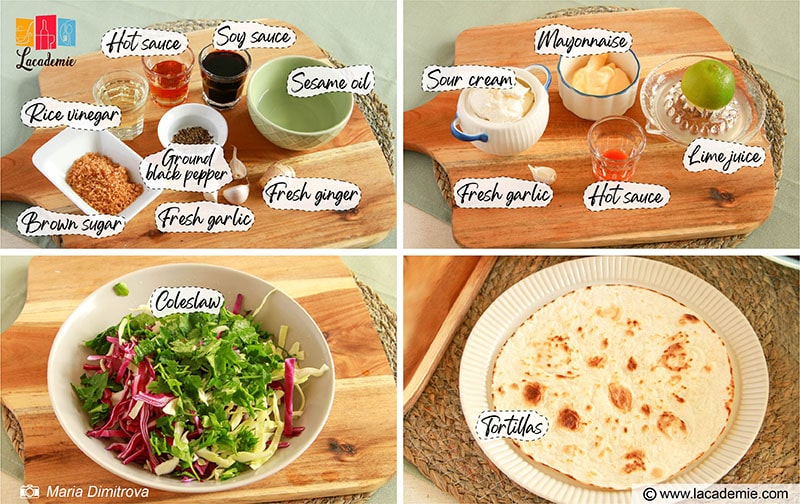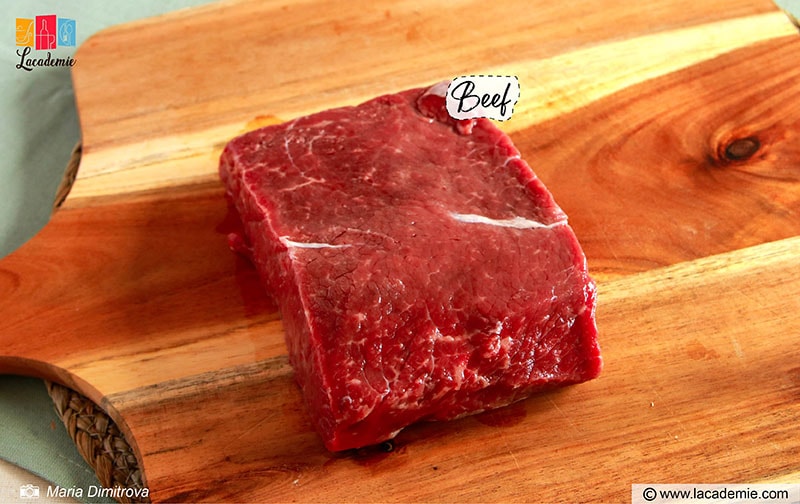 Instructions
Look at the pictures! Is your mouth already watering, and your mind fixed on making these delicious bites? Let me help you with this instructive guide!
Step 1: Prepare The Marinade
Peel the garlic cloves and ginger. Then, press the former and grate the latter to prepare the marinade.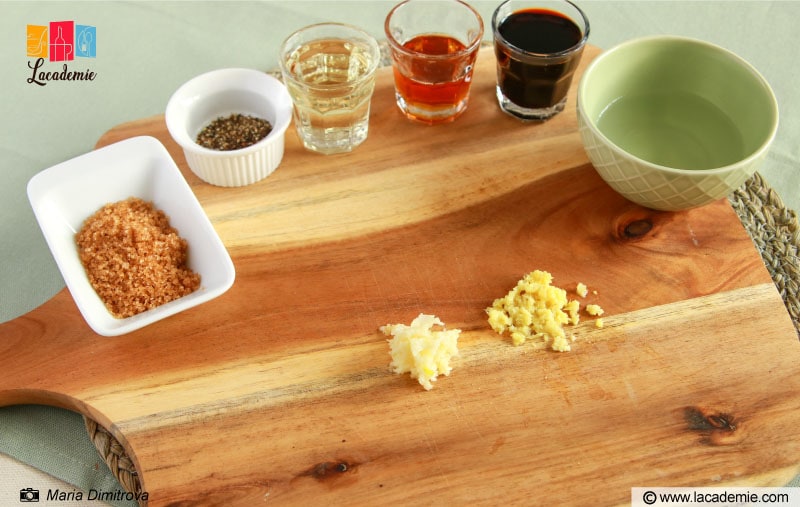 In a large bowl, whisk soy sauce, rice vinegar, sesame oil, and brown sugar together. Then, add black pepper, most of the crushed garlic, grated ginger, and hot water. Continue to mix vigorously.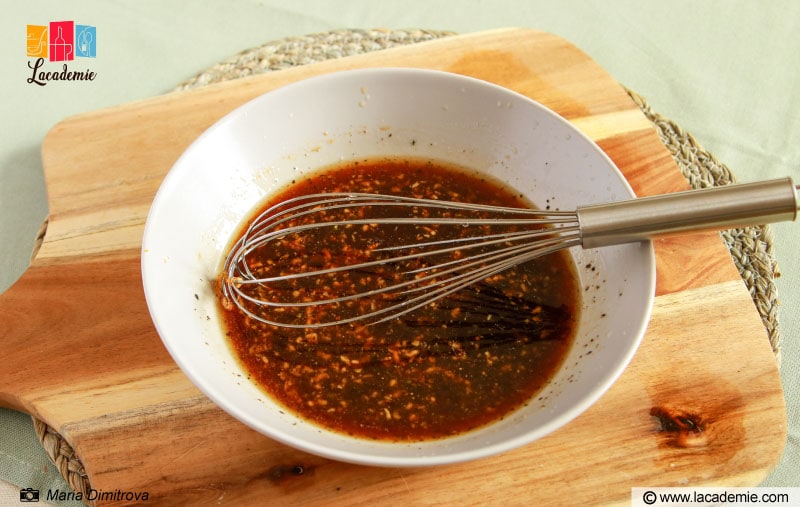 Step 2: Marinate The Beef
Slice the beef into thin strips before transferring them into a food container.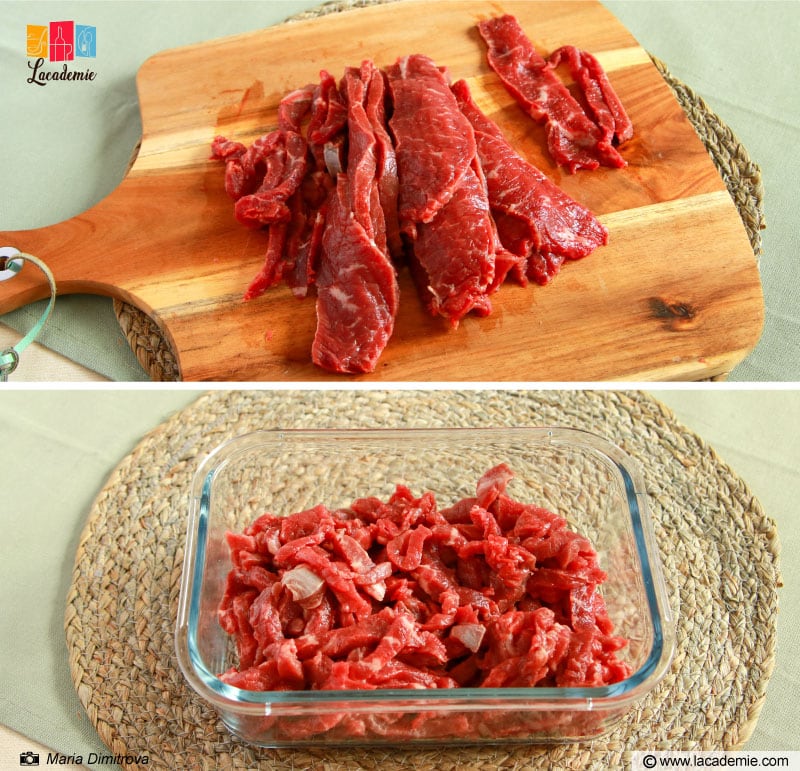 Pour the marinade over the beef and stir well. Put on the lid and move the container to the fridge. Leave it there for 4 to 24 hours. The longer you let it refrigerate, the more tender and flavorful the beef will get.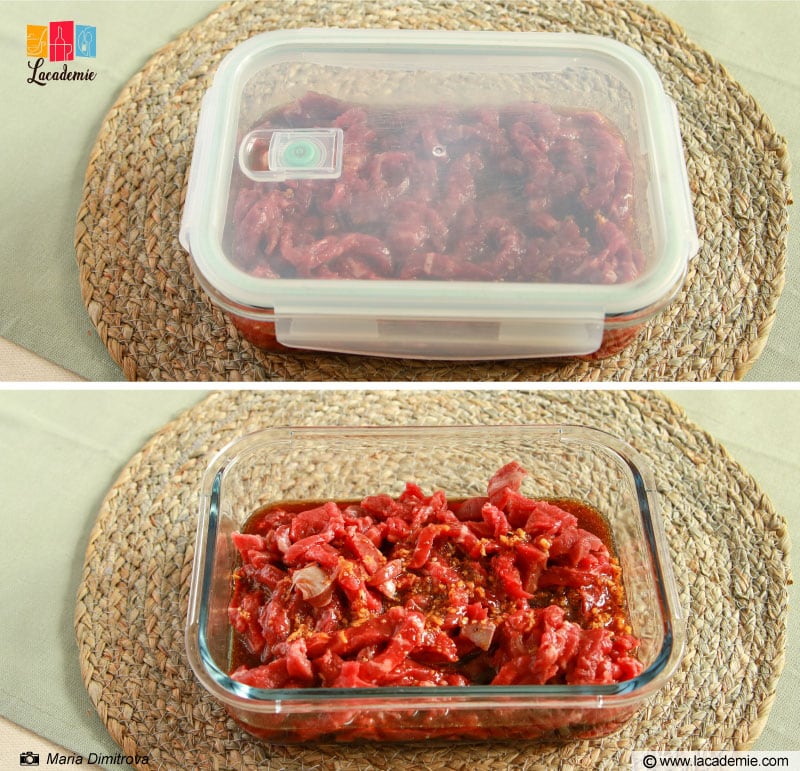 Step 3: Cook The Beef Bulgogi
Heat a large skillet on the stove over high heat (no oil needed). Pour both the beef and the marinade into it.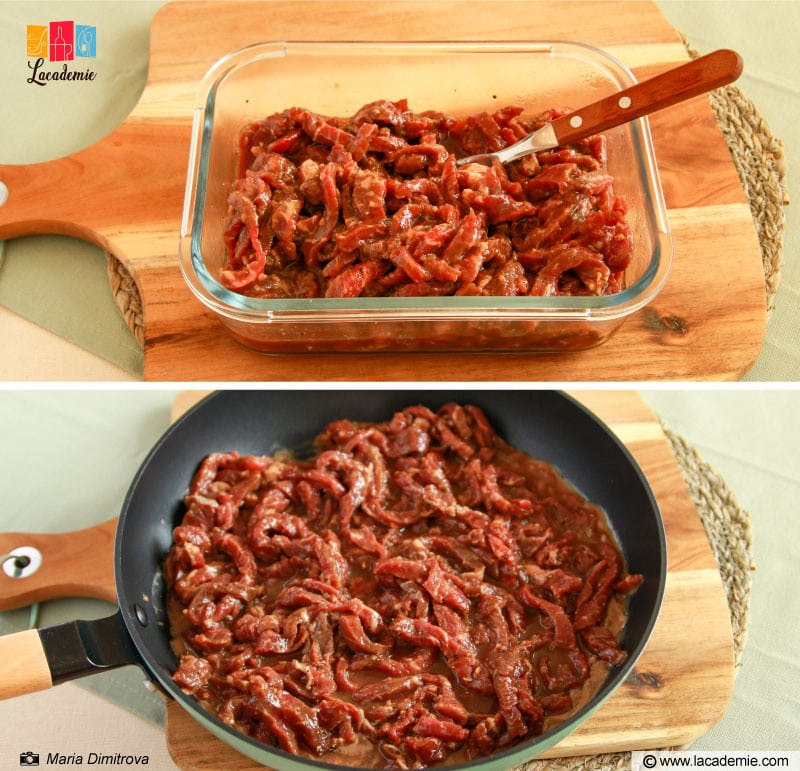 Leave the beef alone for about 2-3 minutes. After that, cook it for another 5 – 6 minutes with regular stirring. Stop now or continue browning the beef until all the liquid is gone.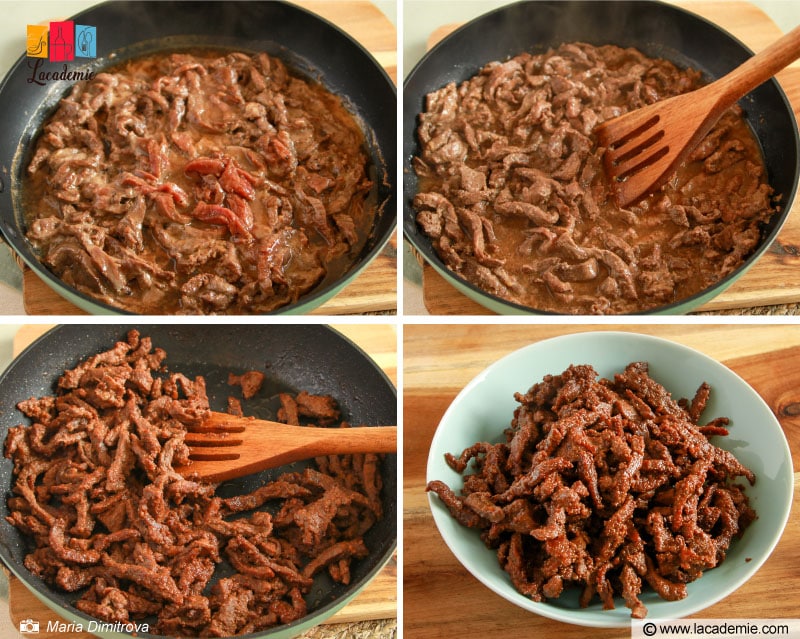 Step 4: Whip Up The Taco Sauce
Add the sour cream, mayonnaise, lime juice, hot sauce, and the remaining garlic to another bowl. Mix well until creamy. If you want the sauce to be hotter, add more Sriracha sauce or another hot sauce of your choice.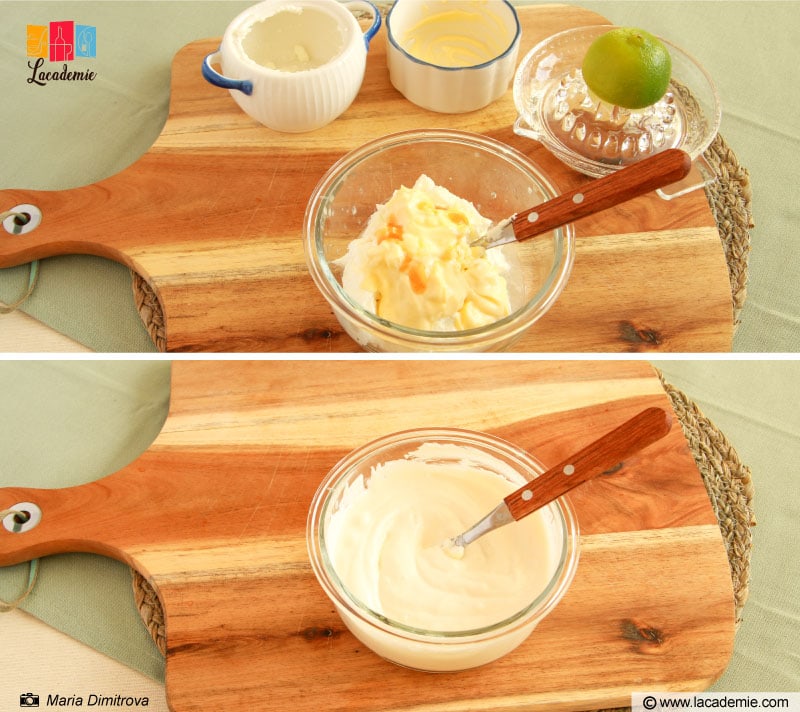 Step 5: Prepare The Coleslaw And Tortillas
Mix shredded cabbage with finely chopped parsley to make a coleslaw. Season with lime juice and salt.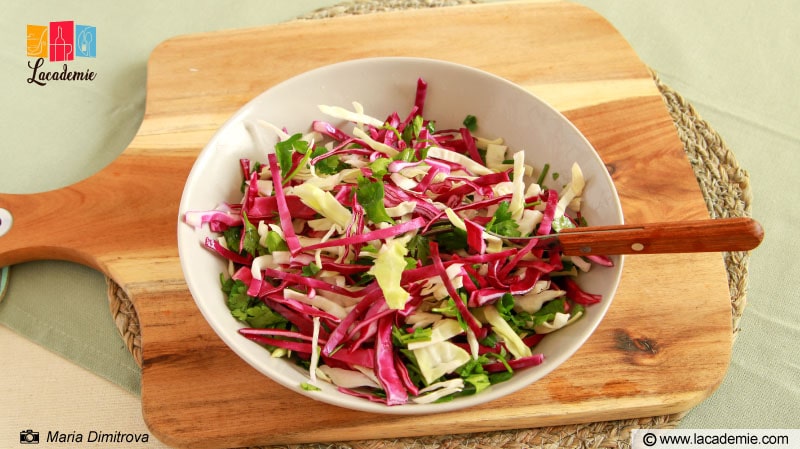 Heat the skillet over medium-high heat. Toast the tortillas on each side for about 1-2 minutes or until browned. This is an optional step because most store-bought tortillas are precooked and can be eaten straight away. But heating up the tortillas will improve their texture and flavor nicely.
Step 6: Assemble Korean Beef Tacos
Spread the creamy sauce on each tortilla, followed by the beef bulgogi and coleslaw. Add more sauce, plus fresh parsley or lime juice. Serve immediately.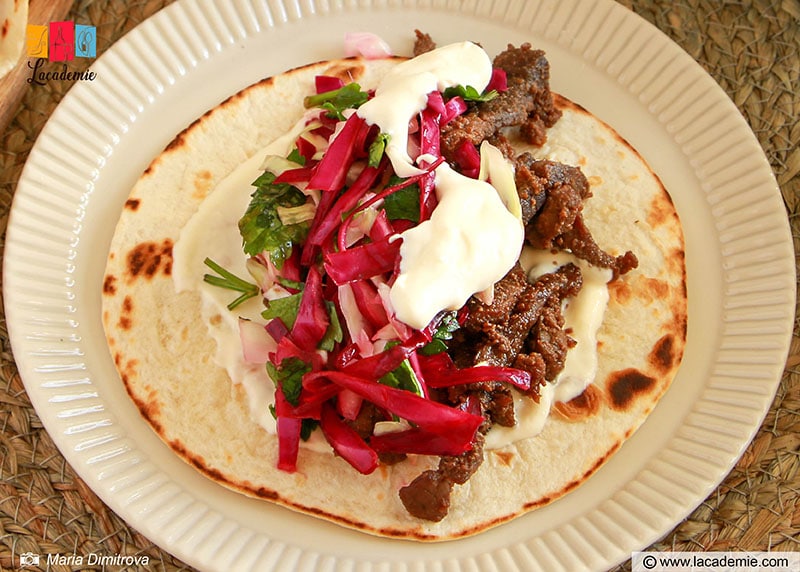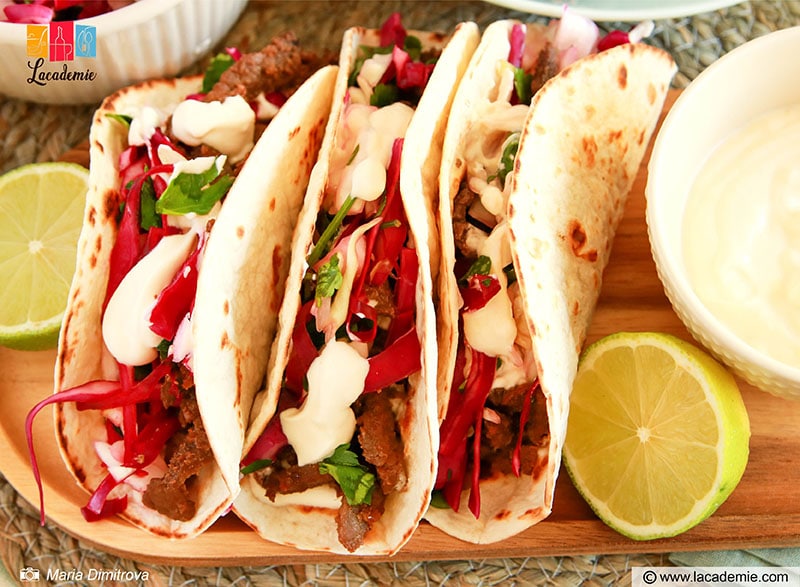 Storage
This is the most important lesson: you should finish a complete Korean beef taco as soon as possible. You can keep them in airtight containers and refrigerate everything for a few days, but the quality will go down significantly.
If you plan to make these fusion tacos ahead, it's best to store the ingredients separately. The bulgogi, tortillas, sauce, and veggies can be kept in the fridge for 3 – 5 days.
Meanwhile, freezing will extend their shelf life to 3 – 6 months (the mayonnaise-based sauce, however, will lose its creamy texture). When you want to savor the tacos, simply reheat everything, then assemble them as usual.
It's A Brave New Taco!
That's the end of yet another great culinary discovery. Are you confident to try your hands with this finger-licking type of taco yet? Put on your apron, and show your friends the beauty of cultural integration in cooking.
Please share this post with your friends, and make the world a better place to eat good food! I bet you can't wait to renovate your Taco Tuesday with this insanely easy and convenient recipe. Tell me how it goes in the comment section!
I also love to hear your feedback, and other readers surely want to know about your tips on how to make this dish even more delicious. So go on and don't hold back anything!
Nutrition Facts
6 servings per container
---
Amount Per ServingCalories471
% Daily Value *
Total Fat 22.2g

34

%
Cholesterol 49mg

17

%
Sodium 1109mg

47

%
Potassium 634mg

19

%
Total Carbohydrate 41.4g

14

%

Dietary Fiber 6g

24

%
Sugars 14.7g

Protein 26.5g

52

%
---
* The % Daily Value tells you how much a nutrient in a serving of food contributes to a daily diet. 2,000 calories a day is used for general nutrition advice.