Are you into Cypriot foods? "The island of Love" is this Cyprus' nickname due to a myth that the Aphrodite, Goddess of love and beauty, was born here. However, to live up to that name, the country must have some beautiful beloved things, and its cuisine is one of those.
Laying at the intersection of Greece, Turkey, and the Middle East, Cyprus is heavily influenced by those famous gastronomies. However, the Cypriots know how to create their own deliciousness as well as other fantastic dishes. Keep scrolling to fall in love!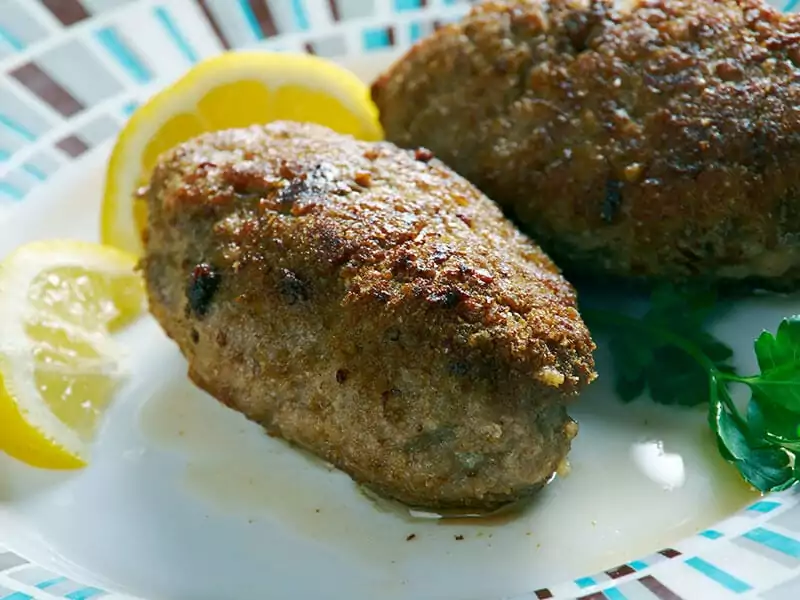 8 Wholesome Non-Meat Foods You Can't Skip In Cyprus
Cyprus has many cultural dishes and condiments that exclude meat ingredients. Therefore, if you're a vegetarian, you can easily find an appropriate diet here to enjoy with just a little effort.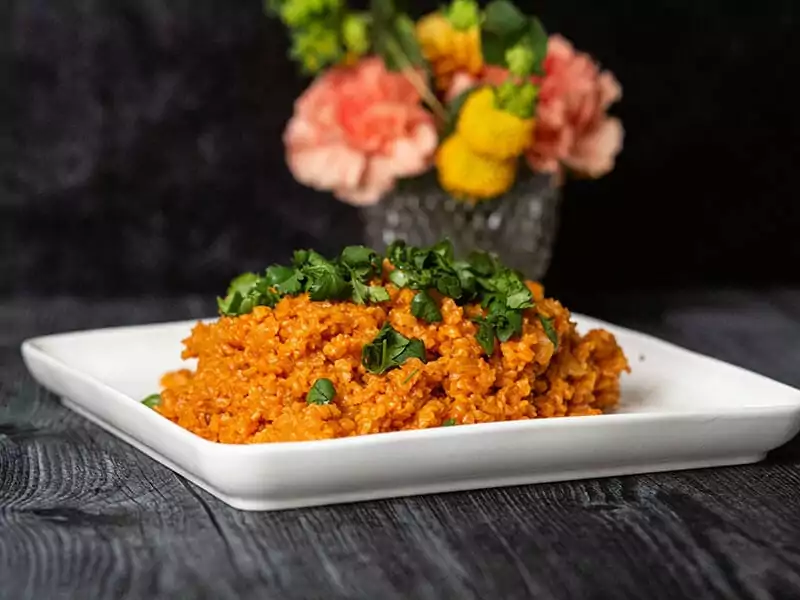 Bulgur is a type of cereal food that originated in West Asian cuisine. It comprises several species of wheat, but the common one is Durum – typical wheat for pasta. In addition, there are numerous ways to call this food in Greece, Persia, Turkey, and Arab.
In Cyprus, the most use of Bulgur is to make Pilaf – a cultural starch dish popular in the Middle East, Central Asia, and Southern European cuisine. Traditionally, Pilafi Pourgouri consists of Bulgur, tomato sauce, and onion.
Many recipes may also call for vermicelli noodles or spaghetti. Hence, you can definitely use it as a vegan side dish. However, the locals often serve this dish with yogurt, and most of them may prefer to enjoy it with grilled meat.
In addition, the Cypriots also have another way to enjoy the Bulgur wheat, in which they boil it with semi-skimmed milk to form a mild porridge. This way, you can have a vegetarian breakfast, you can add some honey or sugar if preferring the sweetness.
This is how to bring delicious nutritious Pilafi Puourgori to your dinner table.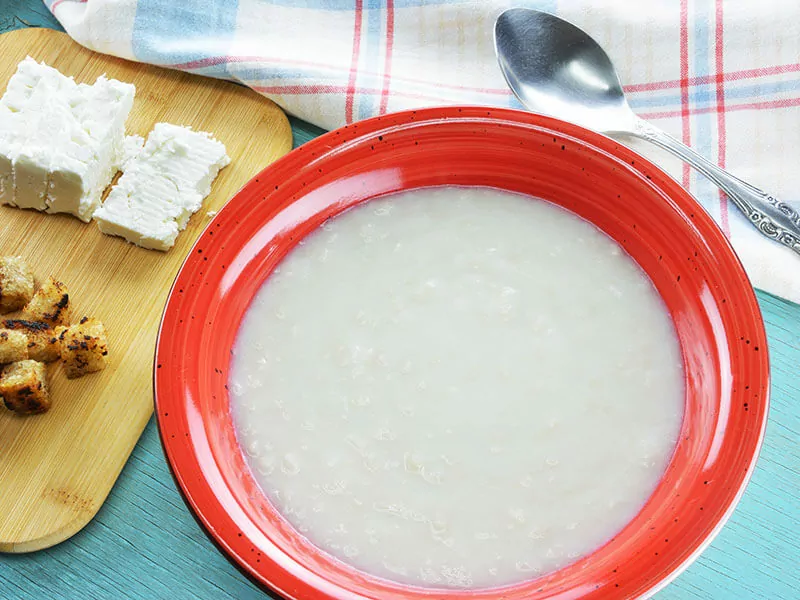 Trahana or Tarhana is a dried cultural product of Bulgur wheat and sour milk or yogurt. The Cypriot usually make it at the end of summer, utilizing the warm weather to dry it out and store it for the colder months.
It's a type of ingredient rather than food to consume on its own. Outside Cyprus, Trahana is a common food in Bosnia from which the locals make a type of sourdough soup.
Trhanosoupa is made from Trahana, Halloumi cheese, and milk. It's also one of the healthiest food in Cyprus due to its effect on the digestive system.
Though the Cypriots usually cook this soup with chicken or lamb, you can use it to base your hearty vegetarian soup. Otherwise, it's a perfect base to make delicious warm porridges for breakfast, combined with rice or wheat.
3. Halloumi – Traditional Cheese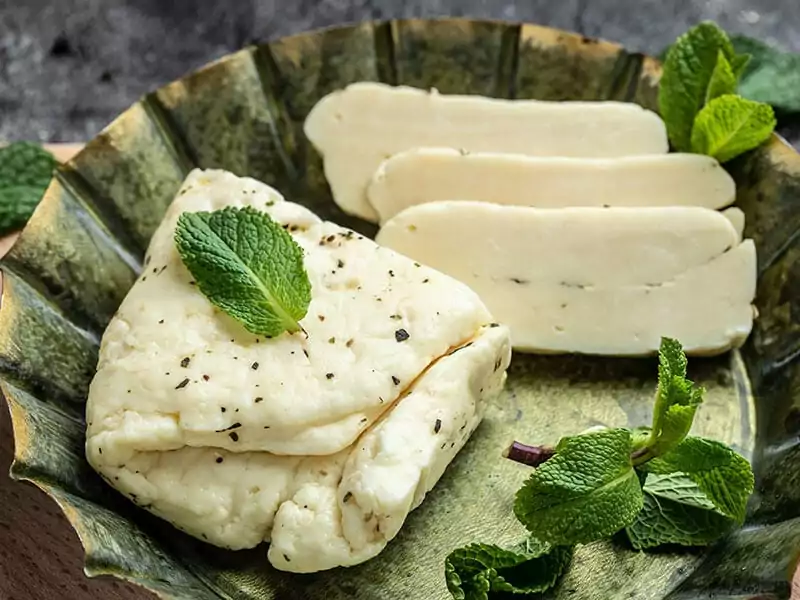 Apparently, you won't be able to skip Halloumi cheese exploring Cypriot cultural food. Indeed, it's a staple cheese type presented in countless Cypriot recipes. Traditionally, Halloumi is a product of sheep and goat's milk mixture, but it's also available with cow's milk nowadays.
Interestingly, while it has a stiff structure similar to mozzarella and thick feta, it gets creamier once grilled instead of melting. Therefore, you will more likely see Halloumi as an accompaniment for other grilled dishes alongside cold beers.
Moreover, you can also add it onto your cheeseboard in raw form, although it's pretty saltier this way. Either hot or cold, Halloumi cheese makes a great pair with watermelons during the summer.
In addition, Halloumi is also one of the oldest cheese recipes on earth; its making method is traceable in the late 4th century, around the Medieval Byzantine period.
Don't travel to Cyprus with the thought of skipping this magnificent Halloumi cheese!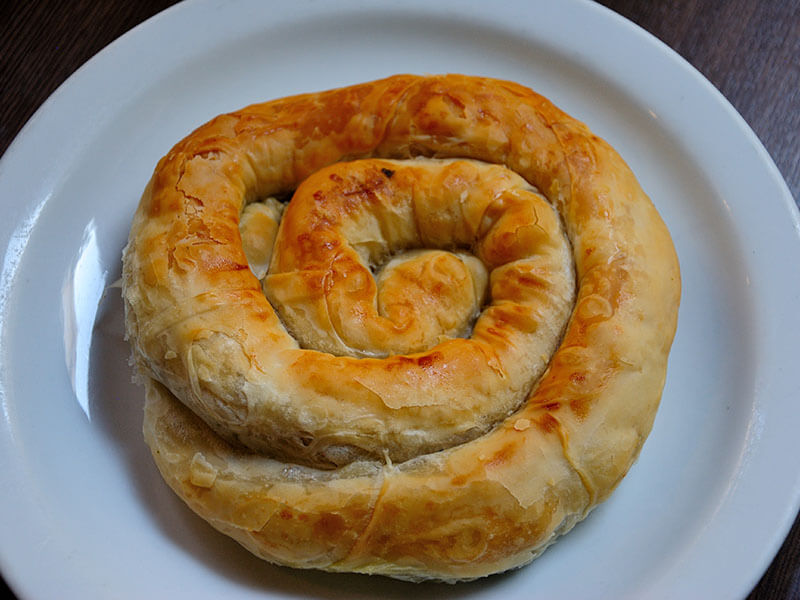 Though Spanakopita is more famous as a cultural dish of Greek cuisine, it's also a staple in Cyprus during Lent – a 40-day celebration in which Christians aren't supposed to eat meat.
Traditionally, it's a buttery, crispy phyllo pie with the filling of spinach and feta cheese. Dill often appears in this dish, along with optional herbs and spices.
The Cypriot version, however, includes their cultural Halloumi cheese, which combines or substitutes feta cheese. You can enjoy this delicacy as a breakfast, lunch, or brunch alongside traditional green salads.
5. Talattouri – Cucumber Yogurt Sauce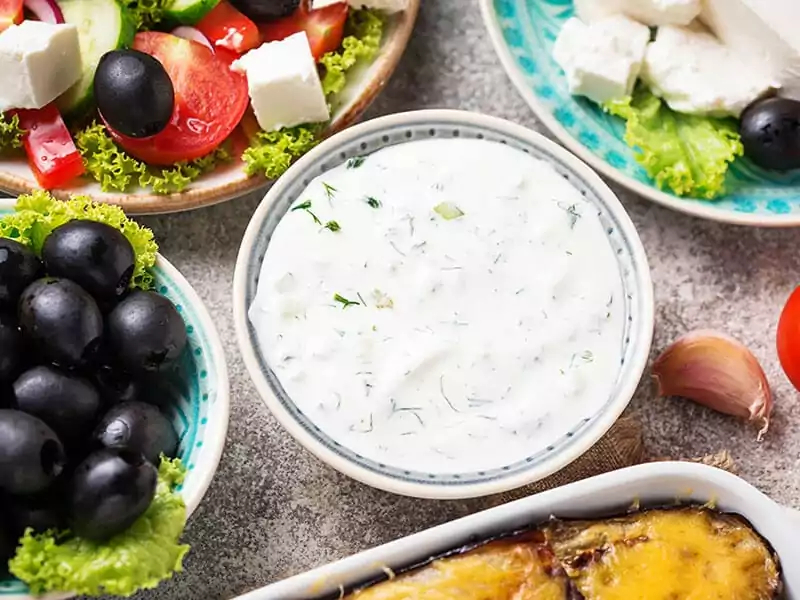 Talattouri is a counterpart of the Greek famous Tzatziki. The ancient Tzatziki recipe comprises salted strained or diluted yogurt, chopped cucumber, and countless green herbs.
The Cypriot version is quite distant from the regular ones. It includes olive oil, acidic components such as lemon or vinegar, oregano, and their cultural addition – dried mint.
The Cypriots usually use it as a spread. However, most taverns in Cypriot will offer Talattouri as a dip for Sheftalies or Souvlaki, I'll cover these masterpiece grilled dishes further down.
6. Tirokafteri – Spicy Feta Cheese Dip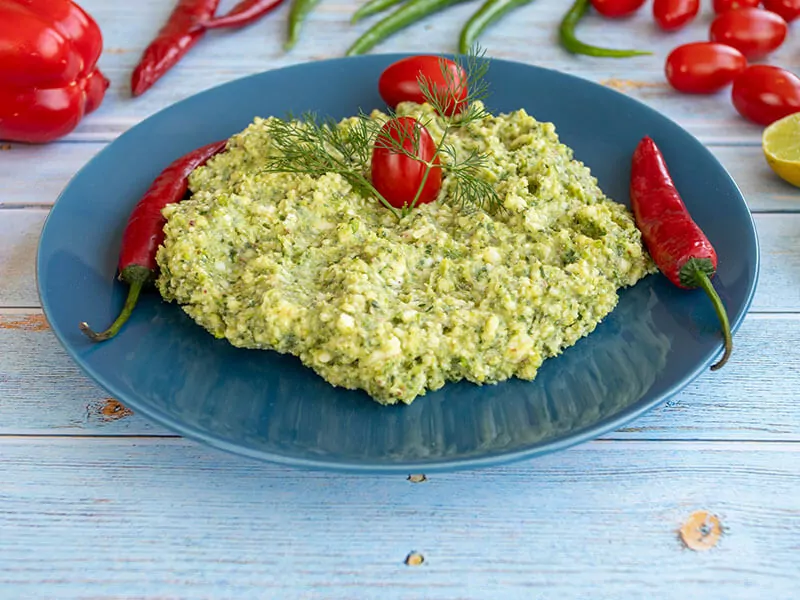 Tirokafteri has different names and recipes throughout Greece and its neighboring countries, for example, Tirokafteri in Albanian cuisine might use cottage cheese as well. Despite that, the original Tirokafteri only requires 5 ingredients: feta cheese, yogurt, olive oil, vinegar, and salt.
However, the hot peppers in this dip are various, presented in both raw and roasted, so the condiment is usually spicy and appears pinky or green due to the pepper's color. Also, due to its spiciness, Tirokafeti is less common than Talattouri.
Unlike Tzatziki, the Cypriot prefer to maintain the old recipe for Tirokafteri. If there's any addition, it's only oregano. The best way to enjoy this sauce is to spread it on a slice of bread on hand with a shot of a cultural alcohol Cypriot drink.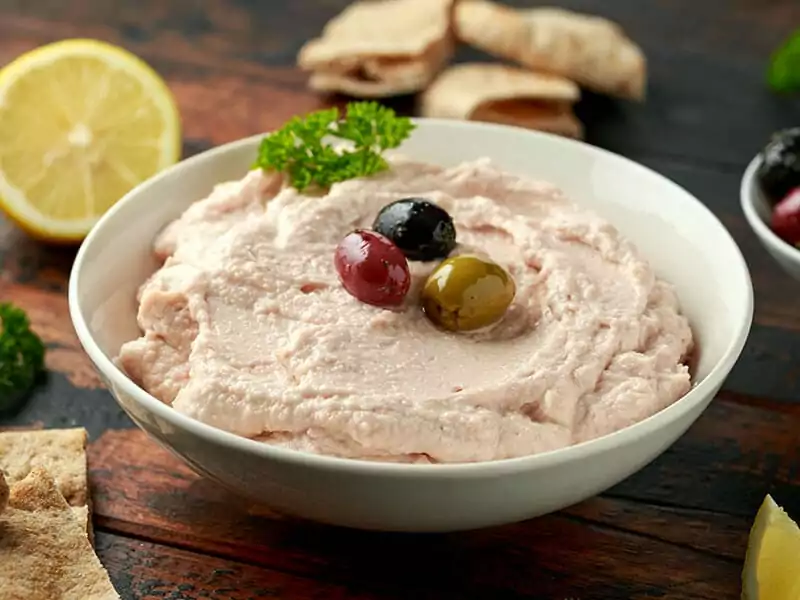 Taramosalata or Taramasalata is a famous condiment in Greece and Cyprus. The Cypriots make it with Tamara – a salted and cured fish roe usually made of cod, carp, or gray mullet, though this version is more expensive.
Other ingredients are lemon juice, olive oil, and starchy bases such as bread or potatoes. From here, you can tell that though Taramosalata excludes meat ingredients, it may not be suitable for vegetarians.
The locals usually serve Taramosalata at the beginning of Lent when the Christians forgo meat but are still able to have fish in the diet. However, Taramasolata is also served year-round as a major part of Mezes – I'll cover this traditional delicacy at the very end of this article.
8. Hummus – Chickpeas With Tahini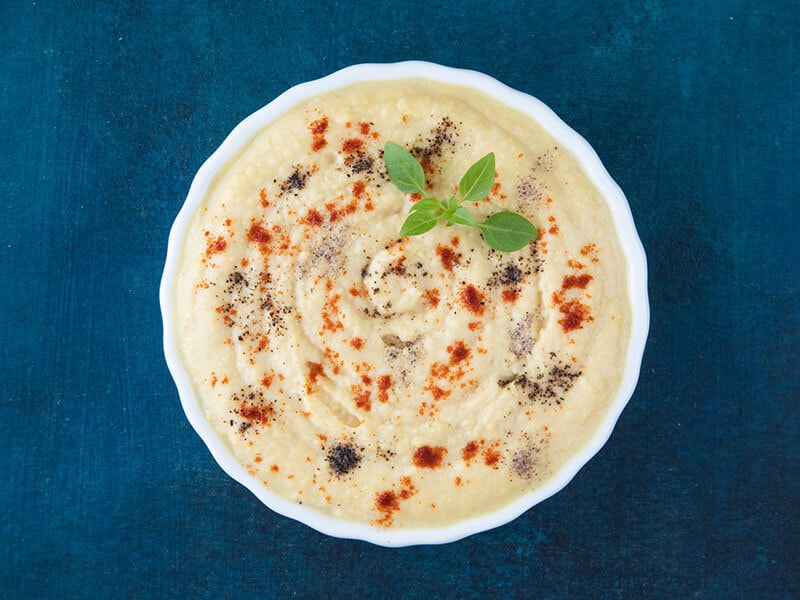 Basically, Hummus is a type of traditional dip with mashed chickpeas and Tahini as the central ingredients. In case you're not familiar with Tahini, it's another cultural condiment consisting of toasted ground hulled sesame seeds.
The locals will also add lemon juice, olive oil, paprika, and garlic to level up the deliciousness of this dip. The earliest trace of this recipe is relative to the 13th century in Cairo. However, you can find countless variations of Hummus these days.
It's a famous rustic dip to the Cypriots across the country; they not only use it as the appetizer but also as a light meal when spread on the traditional flatbread.
Don't skip this secret of making irresistible Hummus.
4 Appetizing Grilled Dishes In Cyprus To Enjoy
Grilled dishes are famous in the Middle East, Greek, and Turkey. As an intersection of those cuisines, Cyprus boast many delicious grilled delicacies. Here is the list of mouthwatering Cypriot grilled dishes you can't turn away from.
9. Souvla – Barbecued Meat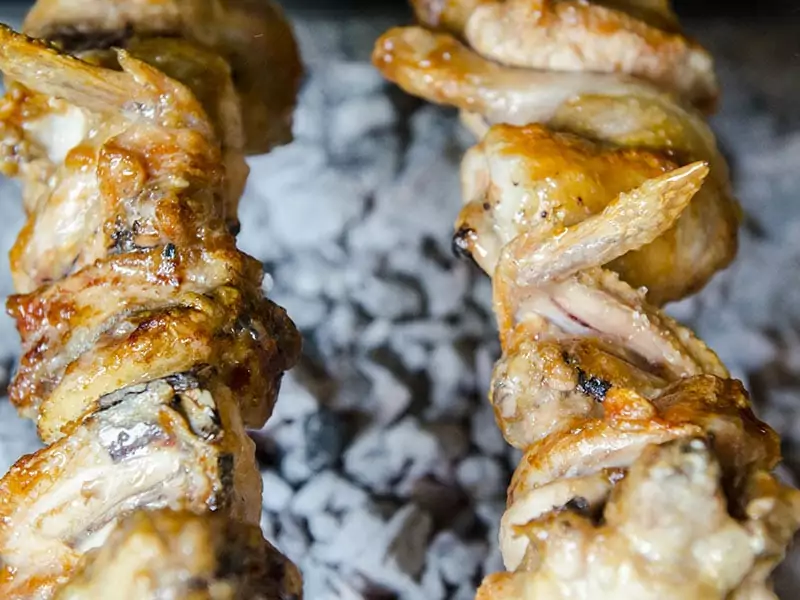 The traditional Cypriot Souvla takes more time than the regular BBQ dishes you've known in American culinary culture. The chopped meat is first marinated in wine, oil, salt, and herbs. The Cypriots will also brush this marinating liquid over the meat during the grilling process.
After marinating the meat, the Cypriots will fit them in a skewer and place them far from the hot charcoal. The pitmasters will put them closer to the heat once sizzling. This cooking process may take up to 3 hours.
Traditionally, the bases for Souvla are the shoulders and necks of lamb, pork, or poultry. The Cypriot usually enjoy this culinary staple on special such as Easter, Christmas, weddings, or birthdays, although some families may also have it on regular Sundays.
In addition, though they may look alike and have the same origin, you should not mistake Souvla with the Greek's Souvlaki. This version of barbecued meat appears in larger chunks and takes even more significant time to make.
See how the Cypriots enjoy their wholesome Souvla by the beach.
10. Gyros – Kebab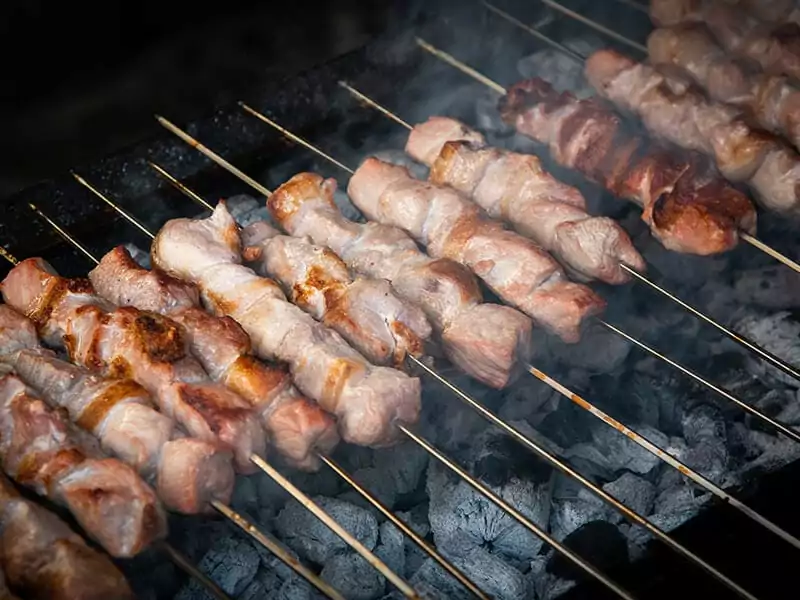 Also known as Giros or Döner, Gyros is a world-famous dish abundantly enjoyed in Turkey, Greece, and the Middle East, and of course, it also goes in Cypriot culinary staples list.
You can understand it as a cooking method where slices of meat are stacked on a vertical spit and slowly grilled. When serving, the chef will cut this stack, and they usually put the small fallen meat slices in Pitta – a cultural flatbread.
Options are endless for the accompaniments; you choose among their cultural condiments and multiple types of vegetables. The most common Gyros you can find in Cyprus are pork and chicken.
11. Sheftalies – Cypriot Sausage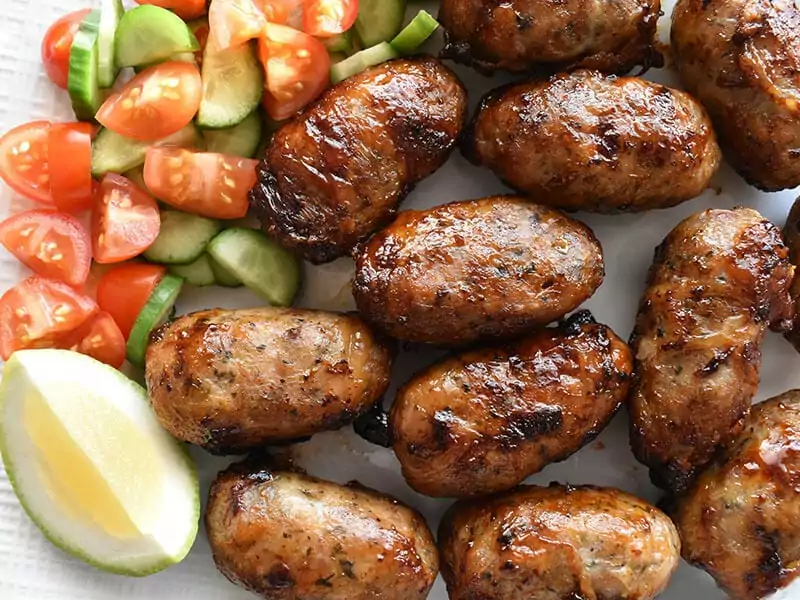 Sheftalies or Sheftalia is a variation of generically Kebab. Interestingly, the origin of this dish's name comes from a Turkish Cypriot street food vendor, Chef Ali, who created and called it "Seft Ali Kebab", which eventually became Sheftalia nowadays.
It comprises minced pork or lamb, or both, with onions, cinnamon, peppers, and optional spices. The traditional way is to tightly wrap the sausage base in caul fat, a thin membrane that lines the cattle's stomach.
Sheftalia is usually served like Souvla in Pita with multiple accompaniments. Otherwise, it can be used on its own, alongside some salad and fries. It's truly a culinary delight you shouldn't skip when traveling to Cyprus.
Discover a simple yet mouth-watering recipe for Sheftalia.
12. Lountza – Cured Tenderloin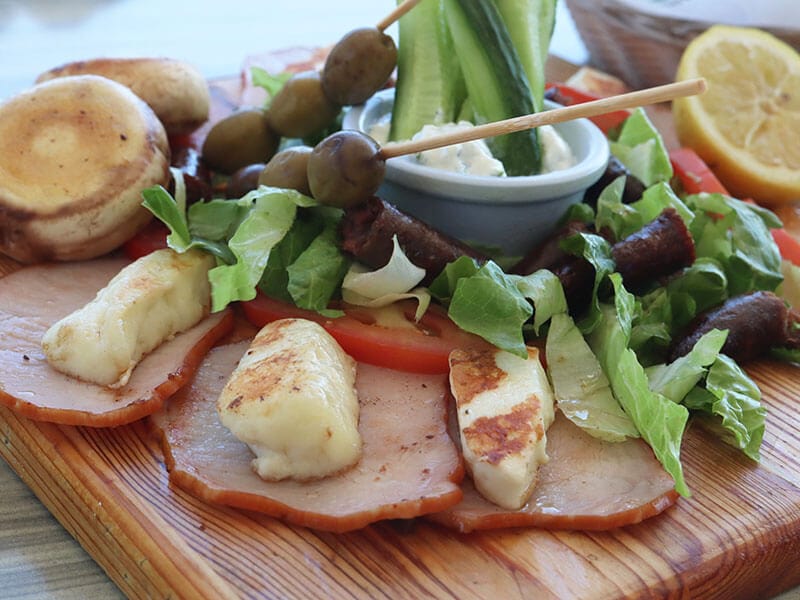 Lountza is more likely a smoked or dried food. However, after being done, the most popular serving method of this dish is grilling along with Halloumi cheese.
It's made of pork or lamb tenderloin, soaked in brine before marinating in red wine. The tenderloins are then let dry out in the sunlight and smoked afterward. Lountza can be enjoyed right after smoking or sit out to be even drier and stronger in flavor.
3 Astonishing Cypriot Baked Dishes You Need To Try
At this stage of the article, you may recognize that Middle East cuisine has given a little touch to Cypriot foods. However, Cypriot baked dishes are only relative to European gastronomy. Let's take a deep look at that deliciousness.
13. Moussaka – Eggplant Casserole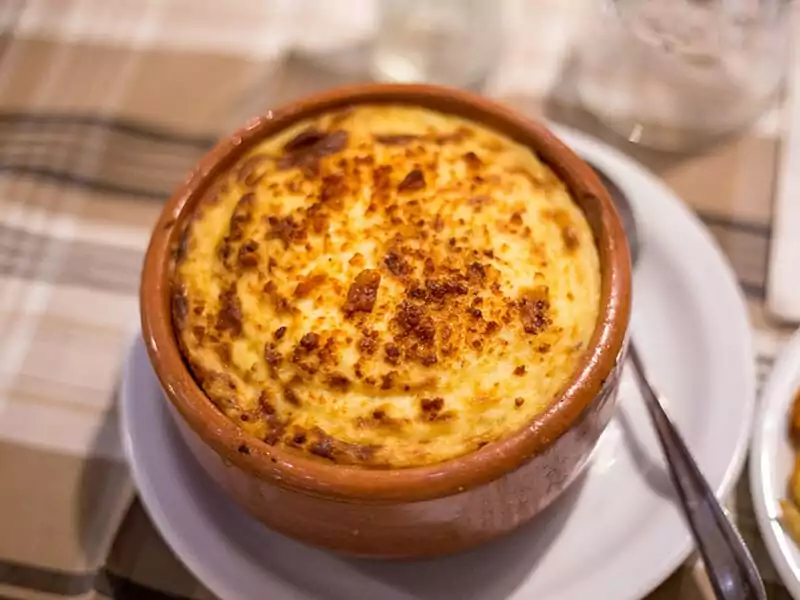 There are many different stories about the origin of Moussaka. However, the most reliable pieces of information are leading to the Levant region of Asia. Despite that, Moussaka is among the most popular dishes in Cyprus.
Cypriot Moussaka consists of layers of eggplants, minced meat, spices, cheese, and Bechamel sauce on top. Essentially, the locals will peel, slice the eggplants and sprinkle some salt over them before baking to reduce their stiff structure and bitterness.
Tomato, spice, and herb accompaniments for Moussaka are optional. Potatoes often also take part in or even replace eggplant. The Cypriot then bake the whole combination until golden brown, and you can tell that this dish is quite relative to the Italian's Lasagna.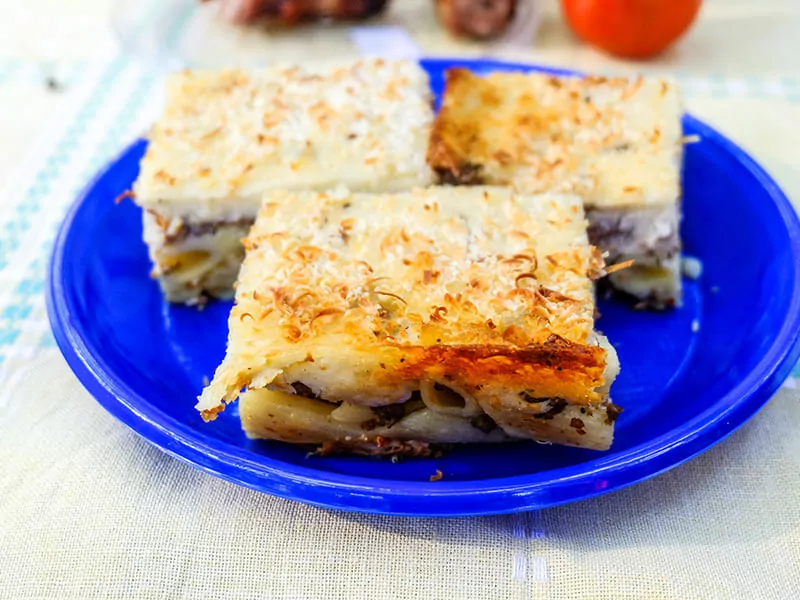 The Greek's Pastitsio inspires Makaronia Tou Fourno, and both are counterparts to the Italian's Lasagna. In Cyprus, it's usually served as a main course or a dish for Meze – I'll cover this traditional Cypriot delicacy later.
Basically, the cooking method is quite similar to Moussaka, which is a baked dish of food layers. However, Makaronia Tou Fourno substitutes eggplant with macaroni and Halloumi cheese in place of the Bechamel sauce.
Some recipes call for both creamy sauce and Halloumi cheese. The Cypriots also cook the minced meat separately from the tomato sauce, and they prefer to use Makaronia Tou Fourno asides with some salad to form a wonderful hearty meal.
You won't regret knowing these pieces of information about Makaronia Tou Fourno.
15. Kleftiko – Slow-Cooked Lamb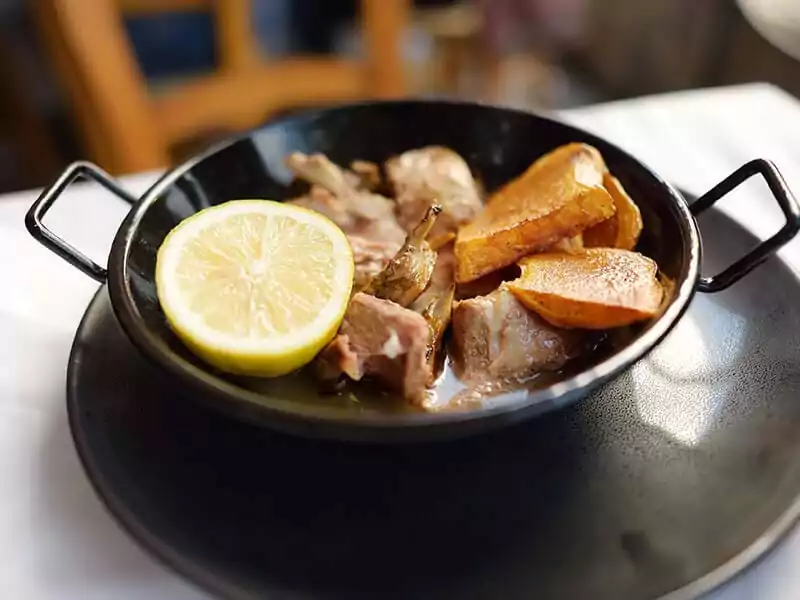 Kleftiko is a combination of bay leaves, potatoes, and cut lamb. The locals usually marinate the lamb in olive oil, garlic, and lemon. The word Kleftiko roughly translates "stolen" in Greek. Historically, the bandits were the ones who created Kleftiko.
They'll bury the lamb and seal the pit before forming a makeshift fire so that no smoke or smell will give away their location.
In the modern-day, you can wrap this dish in aluminum foil or parchment paper and bake it in the oven. There are many taverns in Cyprus that solely cook this dish, and they serve it with Bulgar wheat and salad.
See a modern and quick way to prepare a fabulous Kleftiko.
3 Surprisingly Delicious Stewed Dishes Of Cyprus
Don't travel to Cyprus and skip their astonishing stew dishes. Though you may well be able to enjoy these delicacies in Greece, as well as other neighboring nations, the Cypriots have their ways to enhance the taste.
16. Stifado – Stewed Beef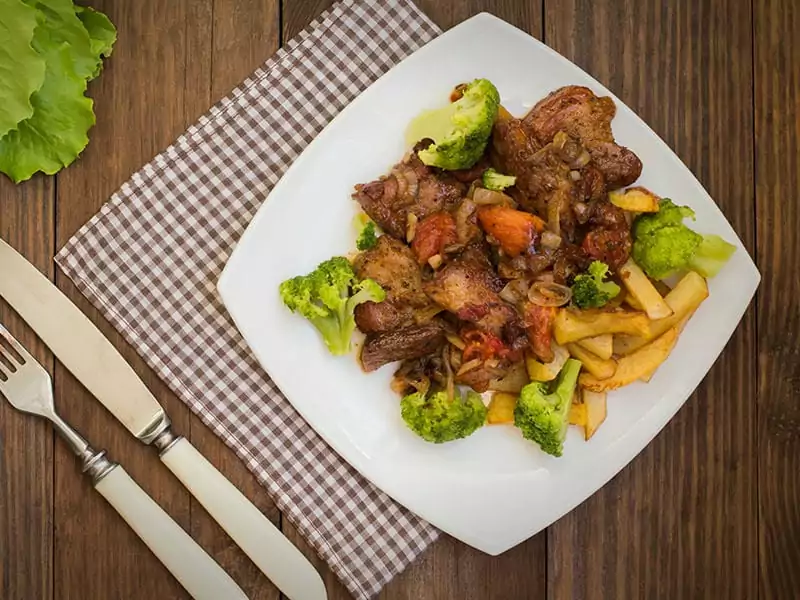 The Venetians might be who taught the Cypriot this recipe. However, tomatoes only came to this dish during the 16th century, when the fruit first appeared in Europe. Other ingredients are red wine, onions, peeled potatoes, cognac, and, most importantly, beef.
Spices such as cinnamon and cloves play a significant role in giving a distinct flavor to this dish. Bay leaves are also added once the cooking process is done and allowed to sit in the broth until exposing the aroma before serving.
Eating a nice Stifado, you will feel a warm touch of wine and the melted delicious beef in your mouth. Taverns and restaurants serve it in a clay pot in order to keep the dish longer hot.
You can find many variations of Stifado, such as tripe or octopus, but perhaps the most famous counterpart is Kouneli Stifado – the rabbit version – I'll cover this right below.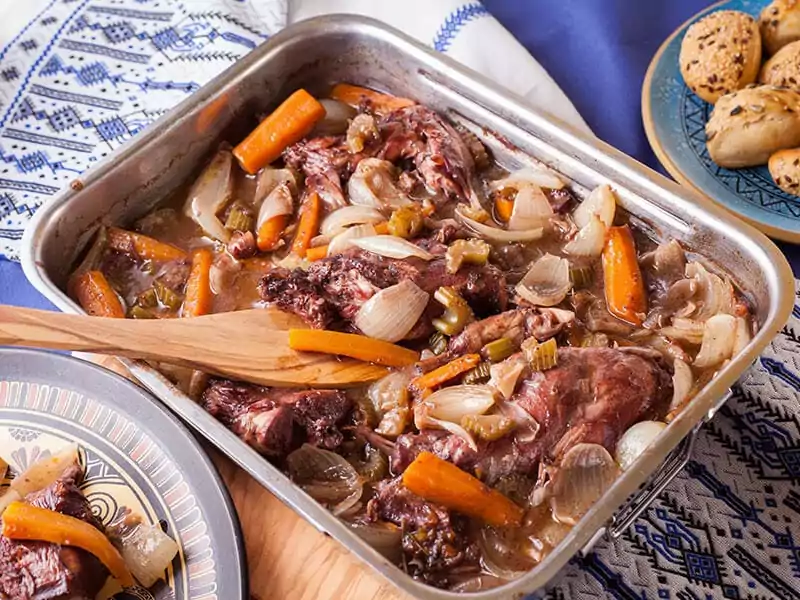 Stifado can be made of different types of meat, and though rabbits are known as pets in many countries, the Rabbit Stew or Kouneli Stifado is a culinary staple in Cyprus.
The cooking process is quite the same though chicken broth can substitute for this dish. However, the spices are pretty different from the regular ones, adding pearl onion, allspice, rosemary, cumin, and perhaps red wine vinegar in place of red wine.
Taverns and restaurants also serve it hot with some black pepper sprinkling alongside traditional crusty bread. Kouneli Stifado is undoubtedly worth the try when coming to Cyprus. Its deliciousness will hit your heart right on the first try!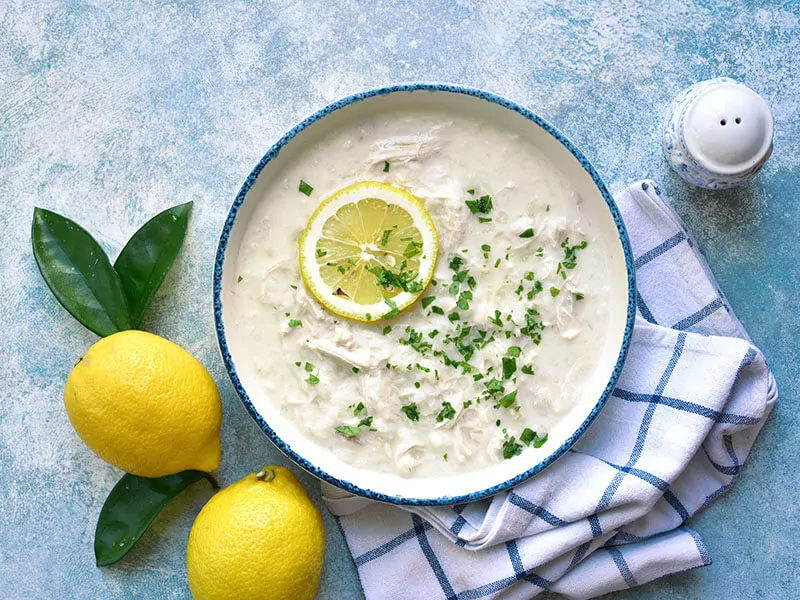 Avgolemono is one of the best Cypriot dinner recipes during the cold months. Basically, the term Avgolemono is popular among Greece, Arab, Turkey, and the Balkan regions, indicating a sauce of egg and lemon.
As a soup in Cyprus, the locals commonly prepare it with a broth of chicken and rice or other starch. They add the egg-lemon mixture once the broth is simmering. They usually Avogolemono soup with bread or Koupepia – more on this further down.
Avgolemono soup is as simple as its name; here's how to do it!
5 Delighting Desserts For Your Sweet Tooth
Indeed, how can any food tour finish without sweetness? Here is the list of traditional Cypriot desserts that will melt your heart right at the very first taste!
19. Loukoumades – Fried Sweet Doughnuts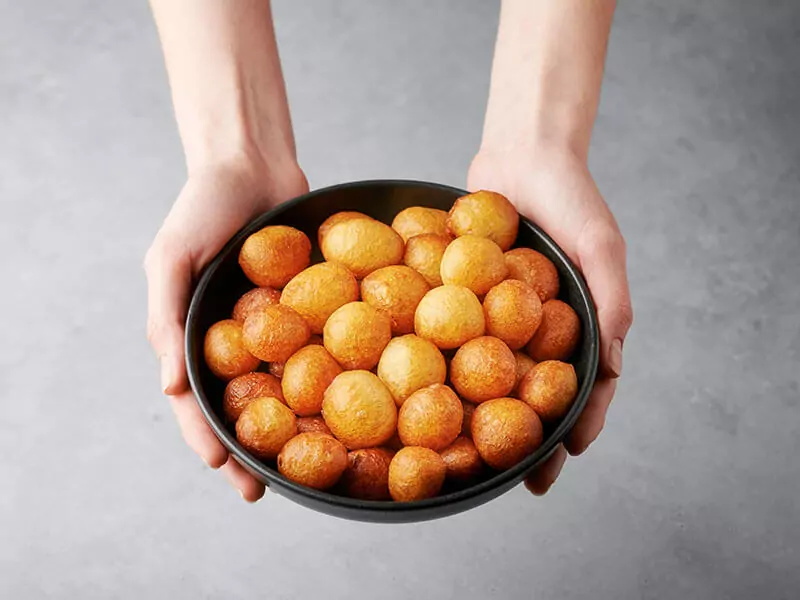 These small crispy balls have a greater story than you might think. The Loukoumades were actually first made to serve the winners of the first Olympic games, which is around the 8th century B.C. From here, you may have guessed that it's a traditional Greek dessert.
Essentially, the locals make this sweet treat with yeasted dough, deep-fry it and glaze it with honey syrup. The Cypriots usually sprinkle these appetizing balls with powdered cinnamon and icing sugar to enhance the flavor.
They're likely to add chopped nuts or toasted sesame seeds as well. Nowadays, you can easily find Loukoumades at street food stalls, though some taverns or eateries may also offer them as a dessert for Mezes.
Immerse yourself in the Cypriots local atmosphere with Loukamades here!
20. Baklava – Filo Layered Pastry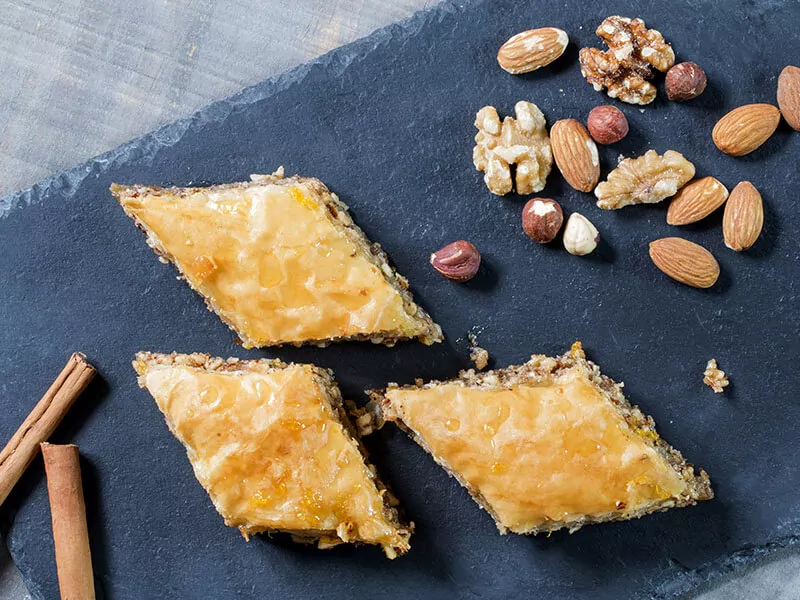 Baklava is a famous dessert in Turkey and Greece, both heavily influencing Cypriot gastronomy. Therefore, it's easy to catch why Bakala is also a wide-known sweet in Cyprus. However, its very root is from Assyria during the 7th century B.C.
Regardless of the origin, Baklava in Cyprus and Greece consisting layers of filo pastry, sugar syrup, and crushed nuts. The Cypriots usually use almond or walnuts, or both for this dessert, and they'd like to sprinkle it with cinnamon powder and lemon juice as well.
Baklava used to be labeled a dessert for the rich due to its complexity before the 19th century. Even the nobles use it occasionally then. Nowadays, Baklava has eventually become one of the favorite desserts to the Cypriots, traditionally accompanying tea or coffee.
21. Flaouna – Easter Sweet Pastry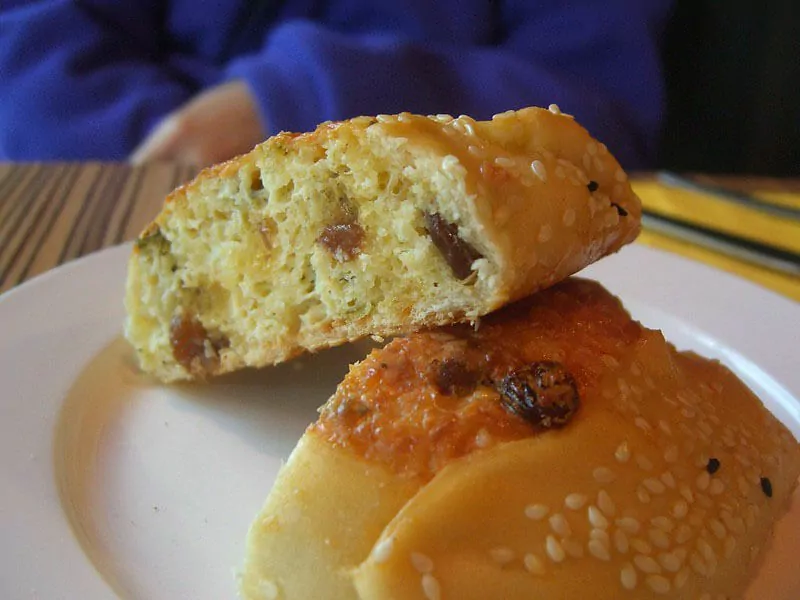 Flaouna is not only a Cypriot dessert, but it's also a part of their tradition. On Good Friday, families and friends gather to make beautiful Flaounas, then consume them on Easter Sunday.
Each region has its own way of making Flaouna, and the recipes are inherited down to generations. Despite that, the traditional ingredients are dough, cheese, raisins, and dried mint. The Cypriots prefer to bake their Flaounas in the traditional oven until golden brown.
It's interesting how the Cypriot villagers prepare their traditional Flaounas.
22. Daktyla – Lady's Fingers
Greece has Daktyla too, but you should not mistake it with the Cypriot Lady's Fingers. While the Greek Daktyla is truly a baked bread in a finger form, Cypriot's version is a fried pastry.
Dayktyla is also among the Sikoses – the term for specialty treats associated with the pre-Lenten period. However, the Cypriots usually consume these sweets throughout Lent since they're vegan.
It consists of cinnamon powder, crushed almonds, and sugar as the fillings. The locals always scent the dough with orange blossom water, though many regions may use rose water or vanilla instead.
They shape the pastry neatly into finger form, which inspired the name, and deep-fry it. The Cypriots often glaze or dip their Daktyla in syrup after frying as well. The origin of Cypriot Daktyla is in the country's southern regions, and you can still commonly find it here.
Delicious Daktyla is very affordable and easy to make. Check out this recipe!
23. Bourekia – Fried Pastry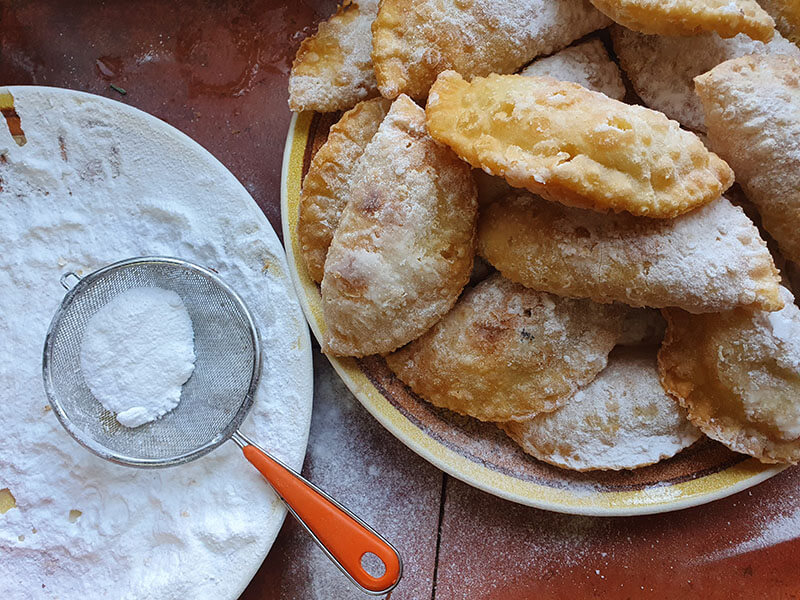 Unlike most foods on this list that you can find in other nations, Bourekia is a pastry that you may only enjoy in Cyprus. The locals usually make it with flaky phyllo pastry and fill it with Anari – a soft and sweet traditional Cypriot cheese.
They usually cut the dough with glass, though some modern cooks may cut it with a knife or specific tools. Though you can fill Bourekia with almost anything, the most sold ones in Cyprus are sweets, consisting of cinnamon and sugar.
Blossom water such as orange or rose is a very often addition to enhancing the aroma of this delicacy. After deep frying, the Cypriots usually coat their Bourekia with cinnamon powder, icing sugar, honey, or just simply sugar syrup.
Other Foods To Keep Your Heart Stay In Cyprus
Guess what? The lists are not finished yet! There are countless fantastic foods you need to try when coming to Cypriot. Here are a few more dishes that are out of my categories yet extremely delicious.
24. Koupepia – Stuffed Vine Leaves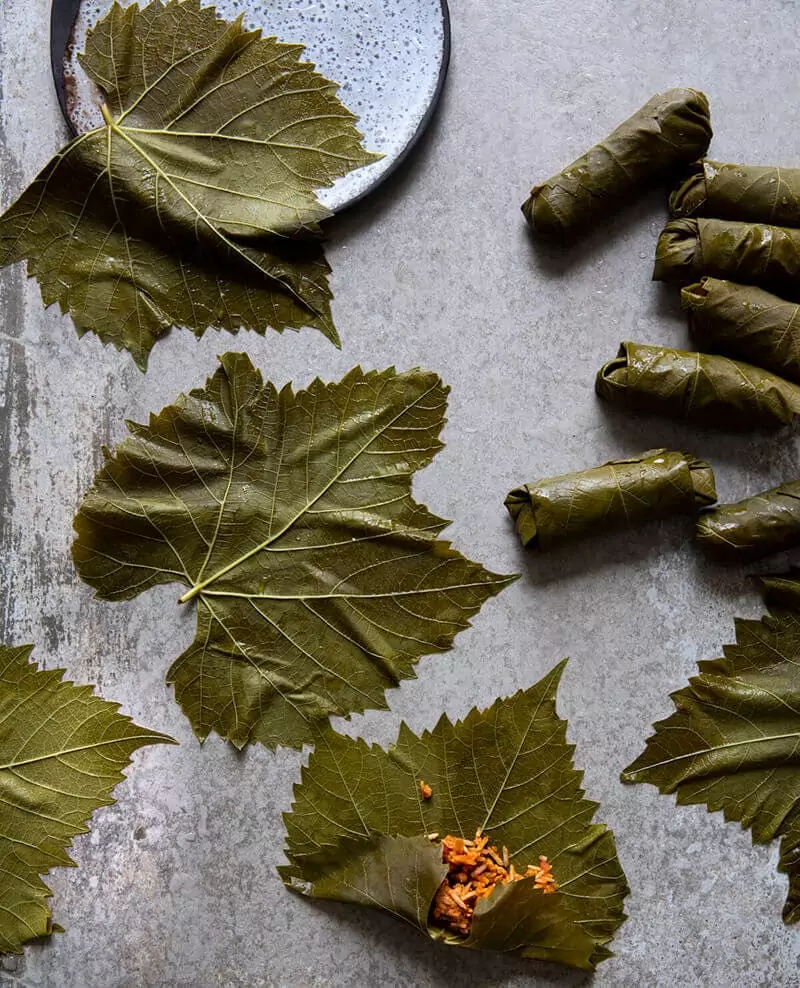 Basically, Koupepia consists of minced meat wrapped with vine leaves. Sauteed tomatoes and herbs also take part in the stuffing. Though it's likely a descendant of Middle East cuisine, this recipe was brought to Cyprus by the Greeks during the 13th century.
The original recipe of the Greeks is Dolmades. Koupepia is not so distant from Dolmades, but the Cypriots will cook their stuffed vine leaves in the tomato sauce, lemon juice, and a good touch of cinnamon. And as mentioned above, Koupepia is a great companion of Avgolemono.
Otherwise, you can also enjoy it happily with yogurt. In addition, you can also find another famous version of this dish which uses beef, tomatoes, or other vegetables in place of vine leaves, called Gemista.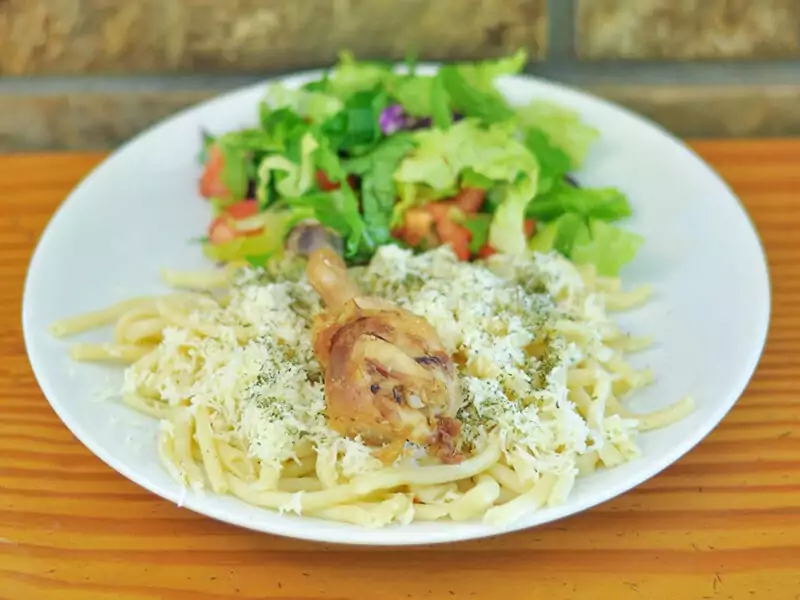 I've mentioned pasta in a few traditional dishes. Now is the brightest representative for pasta dishes in Cyprus that are even comparable to the Italian kinds of pasta – the Magarina Bulli.
The Cypriot first boil the chicken and reuse that stock to cook the bucatini pasta to prepare this wonderful dish. Herb and spice options are numerous. However, lemon, dried mint, and Halloumi cheese are irreplaceable ingredients.
Magarina Bulli is one of the most famous culinary delights of the Cypriots. If you're a fan of pasta in general, you should never skip this national dish.
This is why you should and how to make the delicious Magarina Bulli.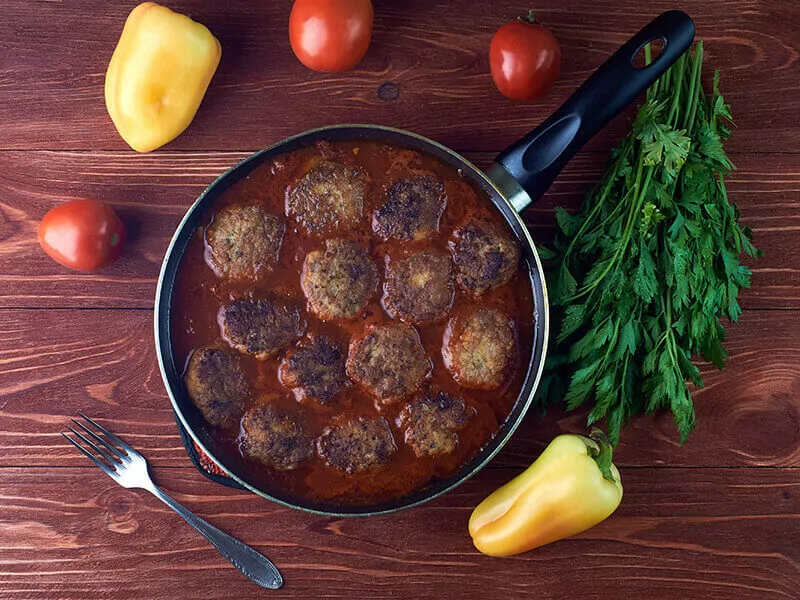 Keftedes is a shared dish between Greek and Cypriot cuisines. It now appears in many other countries. Most regions have their own recipe to make Keftedes. But generically, it indicates a fried meatball consisting of onions, garlic, bread, and regional spices.
However, the Cypriot Keftedes has a distinct flavor that surely you haven't tried before, thanks to the addition of cinnamon, dried mint, and potatoes instead of bread. The meatball mixture is deep-fried to form a crispy bark and a fluffy interior.
There are several ways to enjoy this delicacy. One of the most favorite ones is to continue cooking them in tomato sauce. Otherwise, you can also have them as snacks with yogurt condiments or simply some lemon juice.
27. Tsamarella – Cured Goat Meat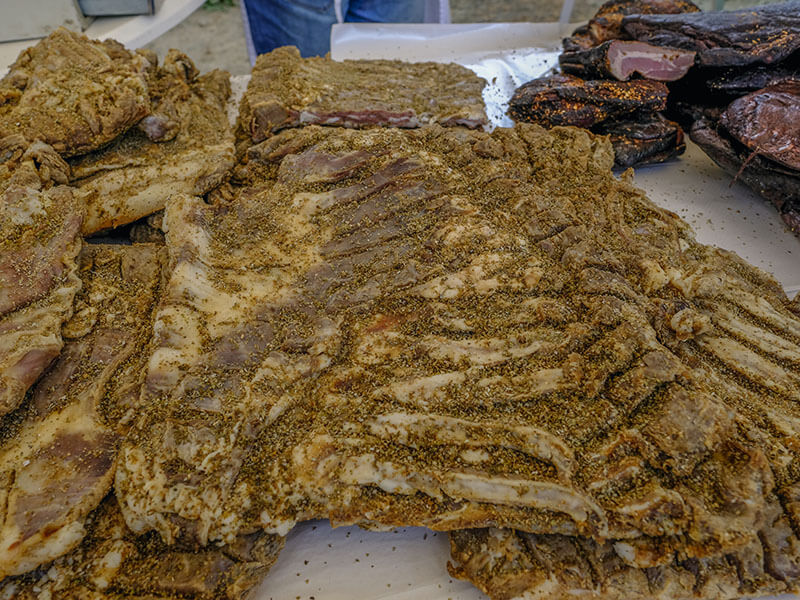 Tsamarella used to be just a method to retain goat meat but has become a staple in Cypriot lunch recipes nowadays. It originates in the agricultural regions of Cyprus, including Marathasa Valley, Pitsilia, and Pafos, and you can still easily find it here nowadays.
Traditionally, the locals first remove the goat's bones and let the whole goat dry out in the sun for a few days. Then, they'll boil the goat in seasoned water and fill it with condiments and herbs. The goat was then placed out to the sunlight for one more day.
The result of Tsamarella is tender and somehow juicier than most cured meat. Besides the use of lunch meat, you can also enjoy it as a drinking bait. In addition, you can also find the lamb version of this delicacy.
28. Pastourma – Spicy Cured Beef Sausage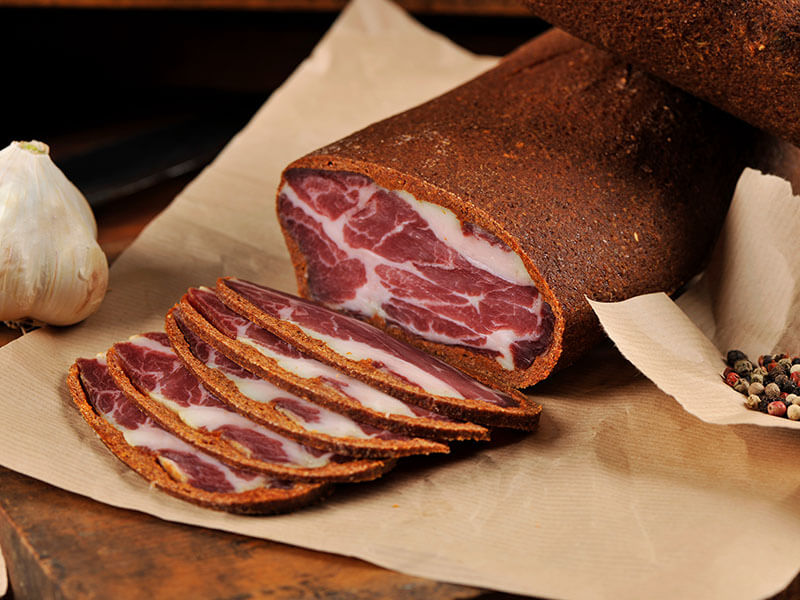 There are numerous ways to spell the name of this dish, as well as many etymologicon theories. Still, Pastourma is likely an invention of Ottoman cuisine.
The making process of Pastourma may take up to a month. It requires double pressing, first the cold press, then the hot press, interleaved with drying time. The cooks then cover the beef in a traditional paste made of garlic, red chili pepper, and fenugreek seeds – called Cemen.
They will then set Pastourma dry out once again. It's also well known as a cultural Cypriot breakfast recipe served along with fried egg and Halloumi cheese. Otherwise, you can also use it as drinking bait.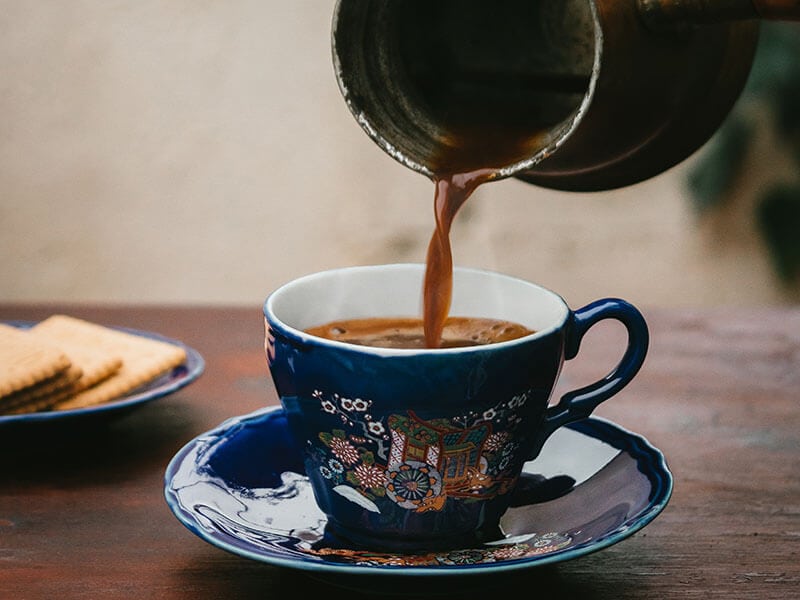 Indeed, coffee is not food. However, if you're exploring Cypriots taste, it's a huge omission to skip on the magnificent coffee. The locals prefer to have their coffee extremely dark, thick, and strong.
They use the ground Bazilian coffee beans and prepare them in Mbriki – a small handled copper pot. There are specific names for Cypriot coffee, depending on the sweetness. You can order Sketos if you want sugar-free coffee or Glikis, the sweetened ones with dissolved sugar.
Otherwise, you can order Metrios – the medium sweetness. Notice that the Cypriots don't use coffee with milk or cream. You will want to slowly sip Cypriot coffee and leave the thickest layer at the bottom of the cup for the best experience.
Your trip to Cyprus means nothing by skipping their fantastic Cypriots coffee!
30. Afelia – Braised Pork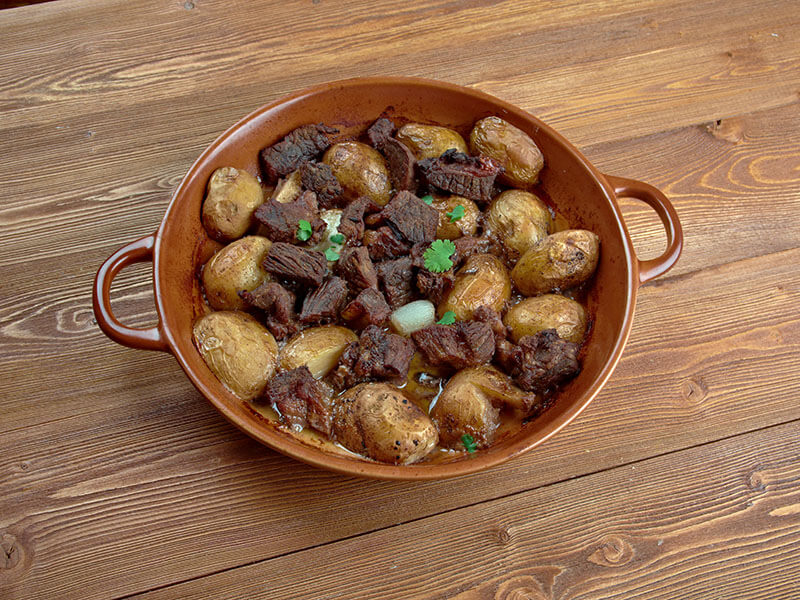 The name of this dish comes from the ancient Greek word "Avelia" (or "Ovelia"), which means cooked meat on the spit.
In Cyprus, the locals prepare Afelia with potatoes, chunks of pork, coriander seeds, wine, and regional seasonings. The oil used to take part in this dish until people replaced it with butter during the 19th century.
In addition, you can also enjoy this delicacy with its beef or lamb counterparts. Once again, this dish is usually accompanying yogurt in Cyprus.
31. Meze – Little Delicacies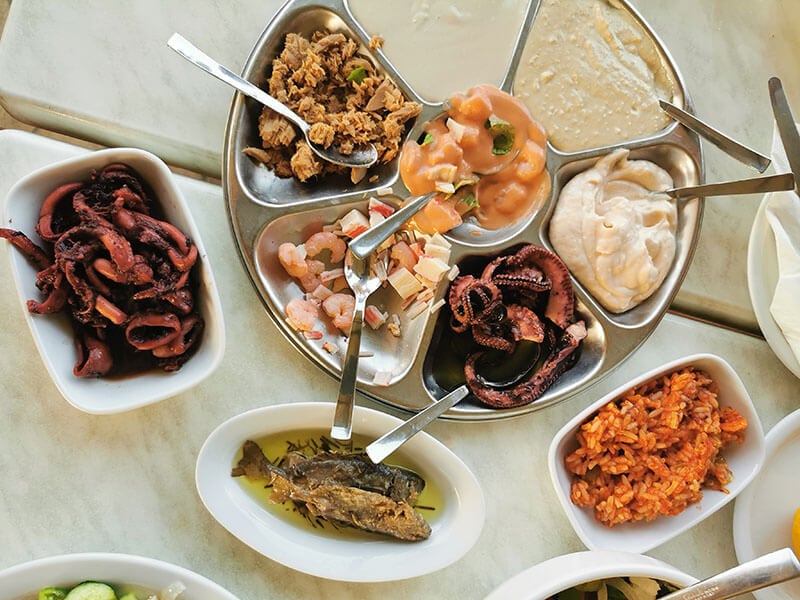 First, let's make clear that Meze is not a dish. While it only means appetizers or relishes in Turkey and Persia, Meze is either a feast or a culture of Cyprus that you can't skip visiting this country.
When you order a Meze in a restaurant or tavern, what you get first is multiple cultural spread, alongside olive and bread. Then, traditional grilled dishes come to your table, as well as some Pita bread. The feast usually ends up with melon and many desserts.
The number of dishes in a Meze ranges from 15 to 30. For further enlightenment, you can also find the fish Meze served by restaurants along the coasts. However, avoid the eateries that offer meat Meze mixed with fish dishes since you won't get an authentic experience.
You'll find yourself in love with Cypriot Meze, just like they are.
Are You Ready To Fall In Love With Cypriot Gastronomy?
It's no exaggeration saying that Cypriot gastronomy is heavily influenced by its neighboring cuisines. There are countless Greek, Turkish, and Middle Eastern dishes that have traveled here and gained their reputation.
Still, hidden gems of traditional Cypriot foods are there, waiting for you to discover and fall in love with. Please share this article so that more people will know about the cuisine of the Island of Love.
If you have tried or traveled to Cyprus, share your thoughts about this magnificent cuisine in the comment section! Besides, you can also find other readers' helpful experiences and tips there.