The Mediterranean has a significant influence on Albanian foods. That is why there are many cuisine crossovers between Albania and other countries such as Turkey, Greece, and Lebanon.
Albanian gastronomy is superb, fresh, and flavorful, with meals characterized by rural, coastal, or mountainous areas. In this article, I will list some typical Albanian delicacies, so prepare to be wowed by their diversity and uniqueness!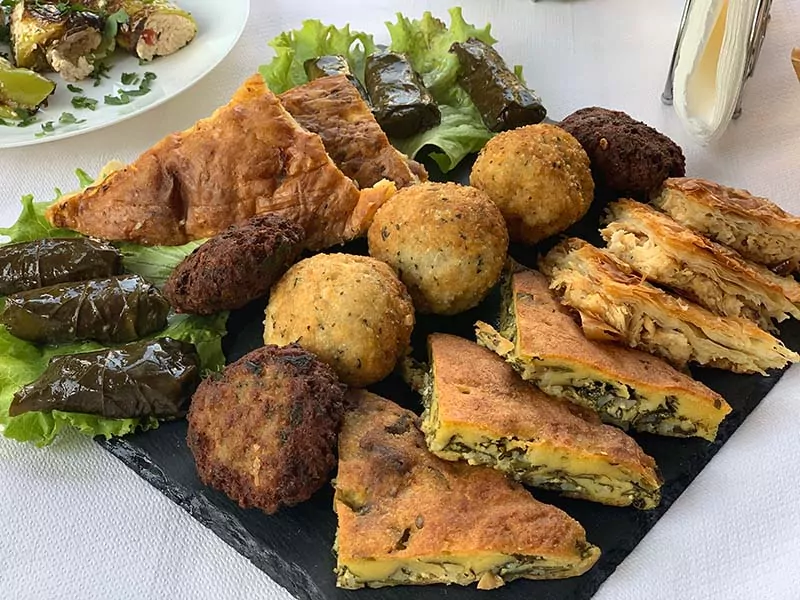 Albanian cuisine is primarily based on healthy ingredients such as vegetables, fruit, fish, dairy products, and meat. So when you're trying and enjoying the Albanian dishes shown below, rest assured that they are all nutritious, filling, and delicious!
Albanian Meat Dishes
Meat such as beef, lamb, pork, and poultry are commonly used in Albanian cuisine. That is why meat dishes are by far the most ubiquitous meals you'll find in this lovely country.
1. Byrek – Pie/Börek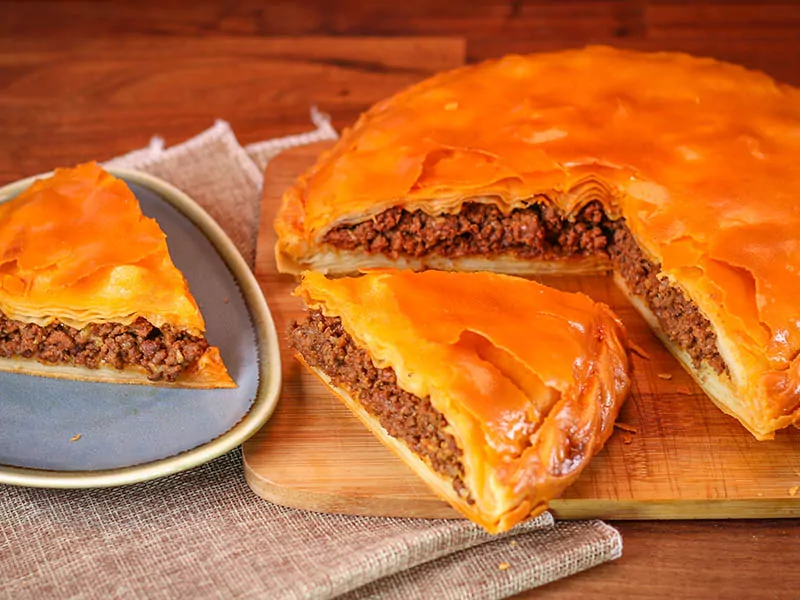 Byrek is made out of a thin flaky dough (usually filo) filled with meat, onions, cheese, spinach, or potatoes. These pastries are mostly linked with the areas of the old Ottoman Empire. The kidney bean filling is also popular, especially during the winter.
In restaurants and households, Byrek is usually made into a large pie divided into small pieces before being served. But as street food, its final form can be smaller triangular portions.
The older locals love to enjoy Byrek after the main meal. However, the young ones choose to eat it as a snack, appetizer, or breakfast. Byrek is frequently served with Dhalle (a yogurt-based beverage) or Greek yogurt.
Although this dish is known as Byrek in Albania, the most common name for it is Börek (which is a delicious Turkish street food). In other areas, its name can become Boureki (Greece), Byorek (Bulgaria), Brik (Tunisia), and Burekas (Israel).
2. Tavë Kosi – Baked Lamb and Rice with Yogurt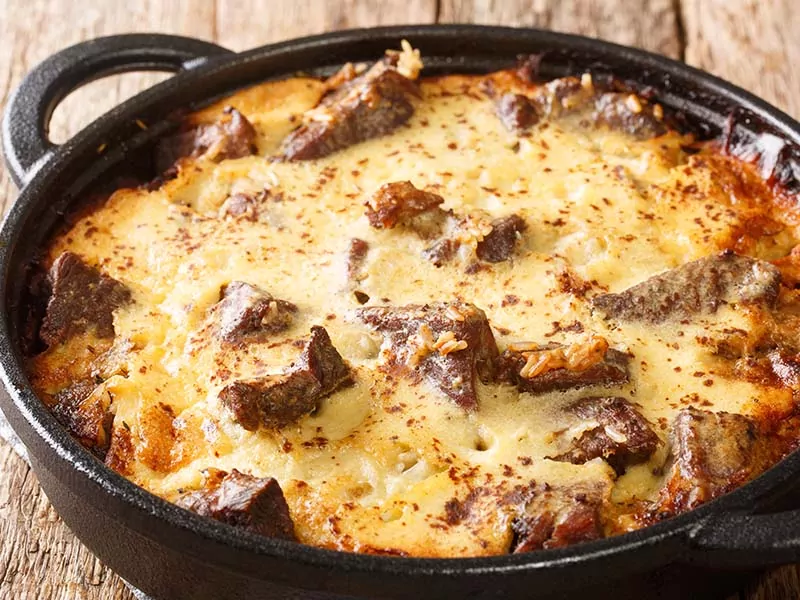 The name Tavë Kosi can be translated to "sour milk casserole". Yes, this might not sound appetizing at first, but trust me, you will get hooked after just one small bite!
Tavë Kosi contains lamb and rice cooked with a roux made of yogurt, eggs, wheat flour, and butter. The locals sometimes use chicken instead of lamb, but in that case, it's called Tav Kosi Me Mish Pule.
This dish is also quite famous in Turkey, Greece, and North Macedonia. This delicious meal is called Elbasan Tava in these areas, named after Elbasan city in Albania.
3. Qofte Fërguara – Albanian Meatballs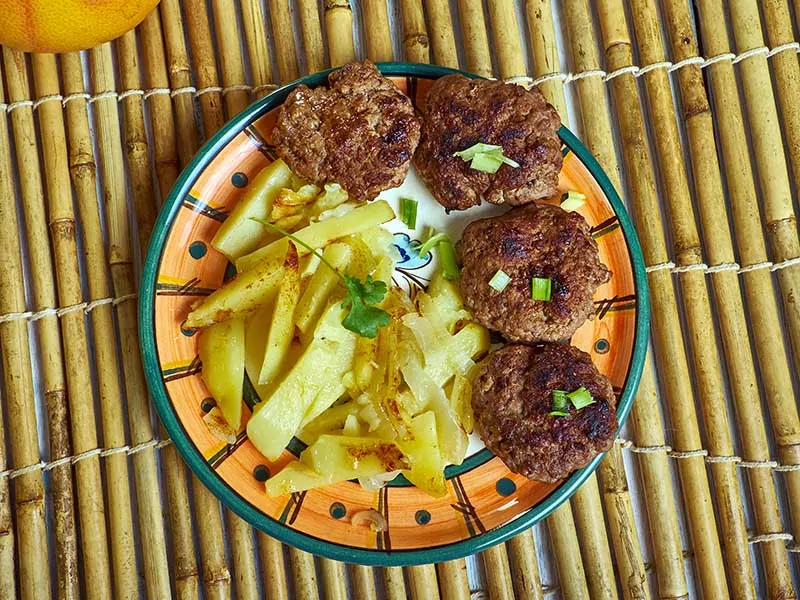 These tasty fried meatballs are one of the best Albanian dinner recipes out there. Qofte Fërguara is very common and well-loved, not just in Albania but also in other areas around Southeast Europe, Kosovo to be specific.
The Turkish and Middle Eastern influences on the region may be seen in both the ingredients and the preparation. Qofte Fërguara can be served as a main meal or an appetizer.
These Albanian meatballs contain minced lamb or beef (or perhaps chicken) with feta cheese, onions, garlic, mint leaves, and breadcrumbs. Salt, pepper, oregano, and cinnamon are also used to season the mixture.
4. Gullash/Goulash – Meat and Vegetables Stew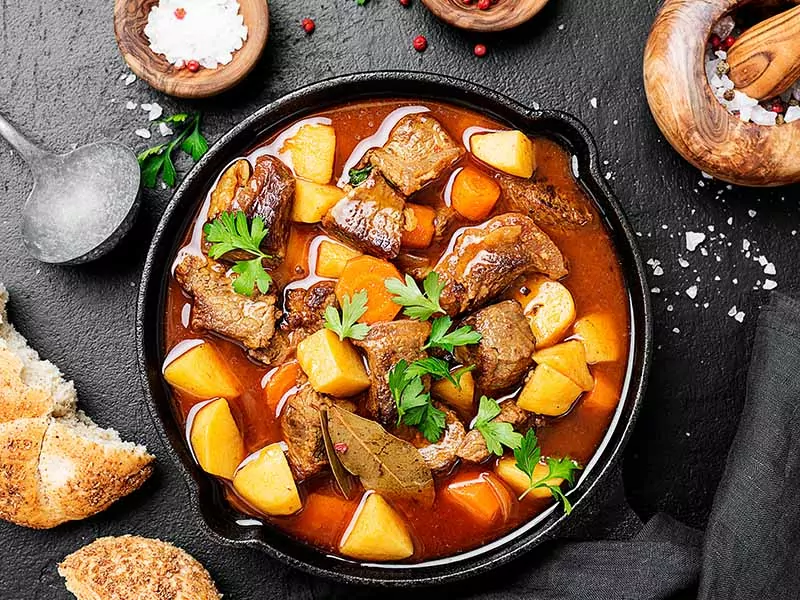 Some Northern Albanians regard Gullash as a traditional meal though it is a Hungarian-origin food. This Albanian lunch dish is top-rated in the country's hilly regions.
Almost every location has its unique variant of Gullash (or Goulash), although meat, vegetables, and paprika are the most common ingredients in this traditional stew.
No one knows for sure when this meat and veggie stew first arrived in Albania. But it must have been a very long time ago since Goulash has been around since the 9th century.
5. Paçe – Traditional Albanian Stew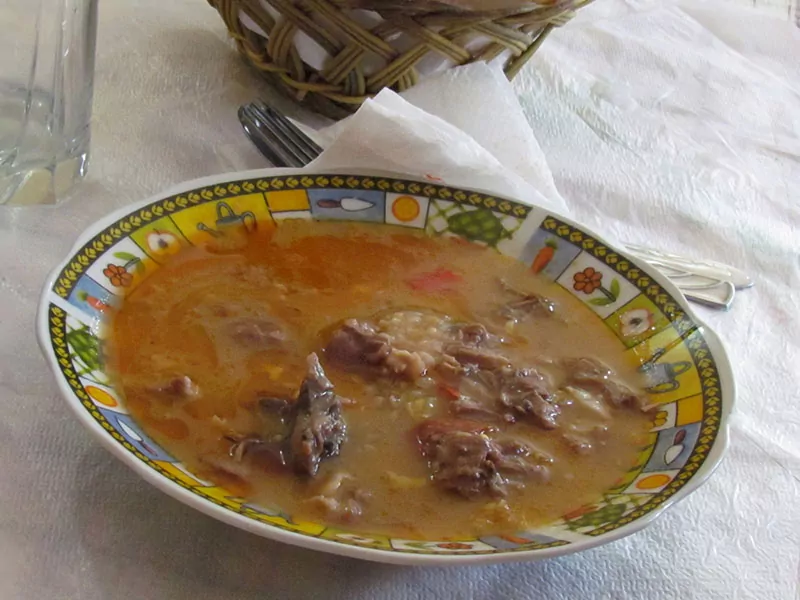 Although warming and filling winter stew is a classic Albanian dish, the ingredients of this meal might sound weird to most foreigners.
Paçe is a traditional stew created with the head of a cow, sheep, or pig. The locals cook the meat with black pepper, onions, and vinegar until the meat falls off.
Paçe is believed to have originated in Armenia. It also has many variants in other countries, like Greece, Turkey, North Macedonia, Afghanistan, Azerbaijan, Bosnia, Iran, Iraq, and many more.
6. Proshute – Cured Ham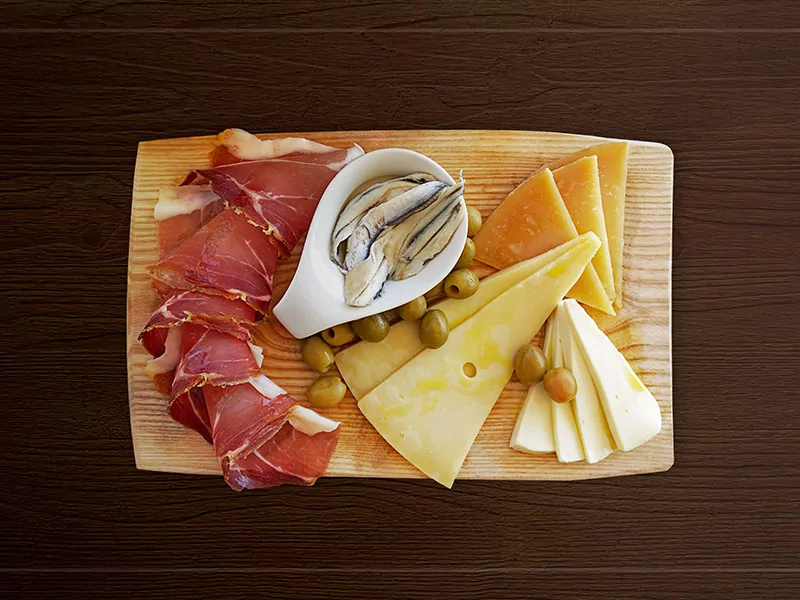 Cured, seasoned, and air-dried ham is referred to as Proshute in Albania. It is commonly served as an appetizer at breakfast or lunch. Omelete Me Proshute Dhe Djathe, Role Buke Me Proshute, and Sallate Orizi Me Pjeper Dhe Proshute are some of the most popular dishes that include Proshute.
According to Larousse Gastronomique, cured ham originated in Gaul. It was undoubtedly well established during the Roman period, as demonstrated by Marcus Terentius Varro's import trade from Gaul in his works.
7. Dolma Japrak – Stuffed Vine Leaves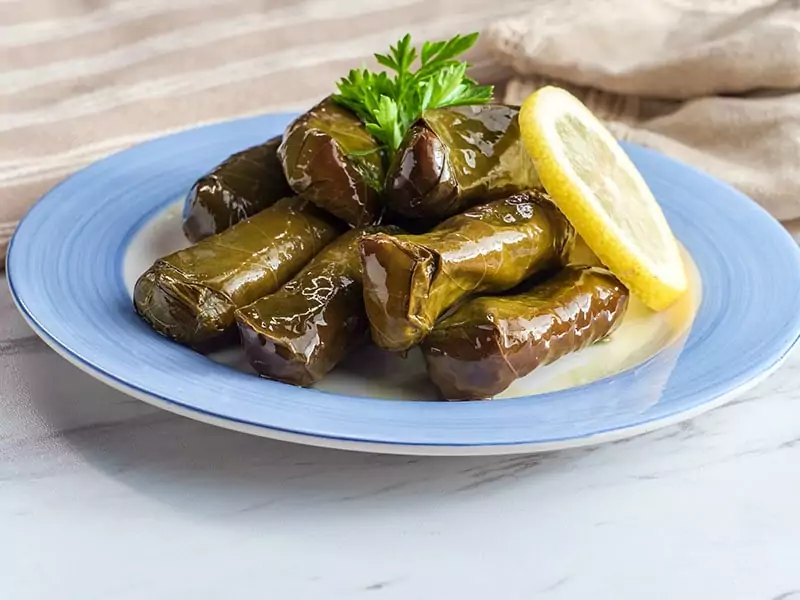 Dolma Japrak or stuffed vine leaves are prevalent in Mediterranean and Albanian cuisine. The vine leaves are loaded with various ingredients such as minced lamb, rice, onions, cabbage, peppers, tomatoes, herbs, and spice.
Although grapevine leaves are typically used, you can substitute them with any other green (the most popular being cabbage). For generations, stuffed vegetable dishes have been a staple of Middle Eastern cuisine.
Albanian Fish Dishes
Although there aren't as many fish-based dishes as meat-based ones, the locals love to enjoy grilled or baked fish every now and then, particularly in places near the sea and lakes.
8. Peshk Në Zgarë – Grilled Fish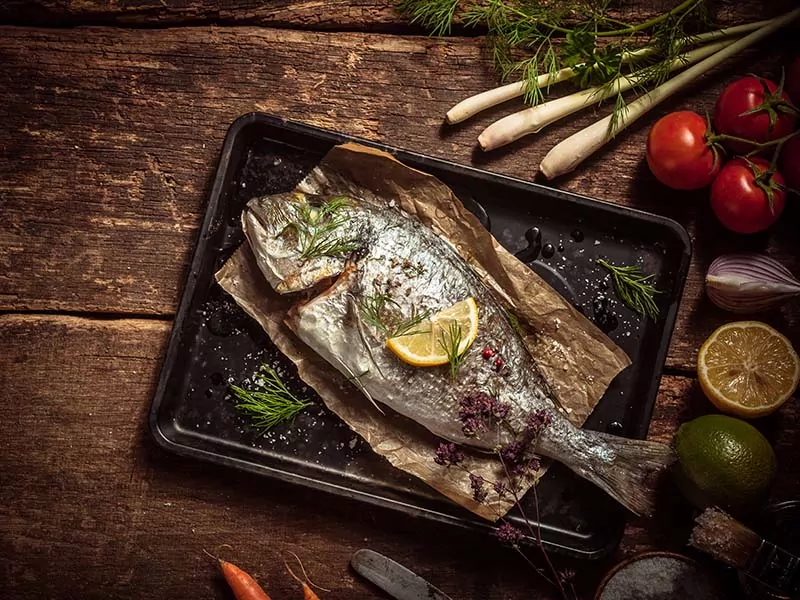 Albania offers beautiful beaches along the Riviera, where you can enjoy the fresh seafood of the Adriatic and Ionian coasts. There are also various rivers and lakes to sample freshwater fish around the country.
To make Peshk Në Zgarë, the fish is simply cooked on the grill or in the oven whole with tomatoes, potatoes, peppers, onions, herbs, and plenty of olive oil.
Grilled fish and shellfish are among the healthiest dishes you can eat in Albania, and it's also full of taste thanks to the fresh products and ingredients.
9. Tave Peshku – Fish in The Oven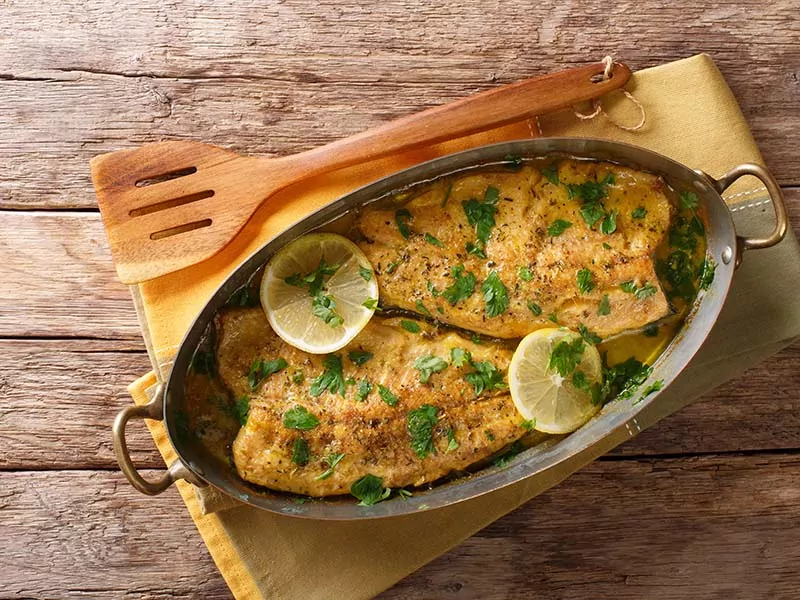 Albanian fish (Peshk) recipes can be prepared in various ways and ingredients. Most Albanian restaurants use carp, trout, and acne from Shkoder Lake. Some people would catch fish from the lake every day to offer at the restaurant that day.
Oven-baked Peshk is a classic Mediterranean dish. Not only is it simple to make at home, but it's also incredibly healthy and yummy. As you're baking the fish, the seafood aroma will permeate your house. It's difficult to wait until it's all done!
10. Peshk Dhe Perime Ne Tave – Fish and Vegetables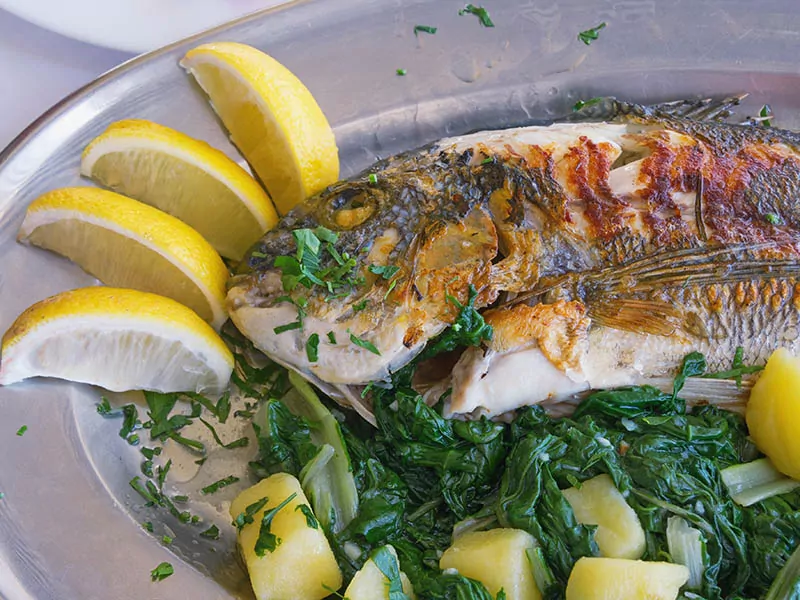 Of course, baked fish tastes terrific by itself. However, you can elevate the flavor and freshness of this dish even further by pairing it with some veggies.
You don't have to do much, just chop some of your favorite vegetables, place them on the stove next to your fish, and top everything with salt and olive oil.
This meal is frequently served with wine or Rakia (a traditional alcoholic drink in Albania). Both foreigners and locals enjoy the signature baked fish and vegetable dish.
Albanian Vegetarian Dishes
Meat is a crucial part of many traditional Albanian food dishes, but Albanian cuisine has its fair share of vegetarian dishes in the Mediterranean style. Read on and improve your daily diet with these healthy meals!
11. Fërgesë Tirane – Baked Vegetable Dish From Tirana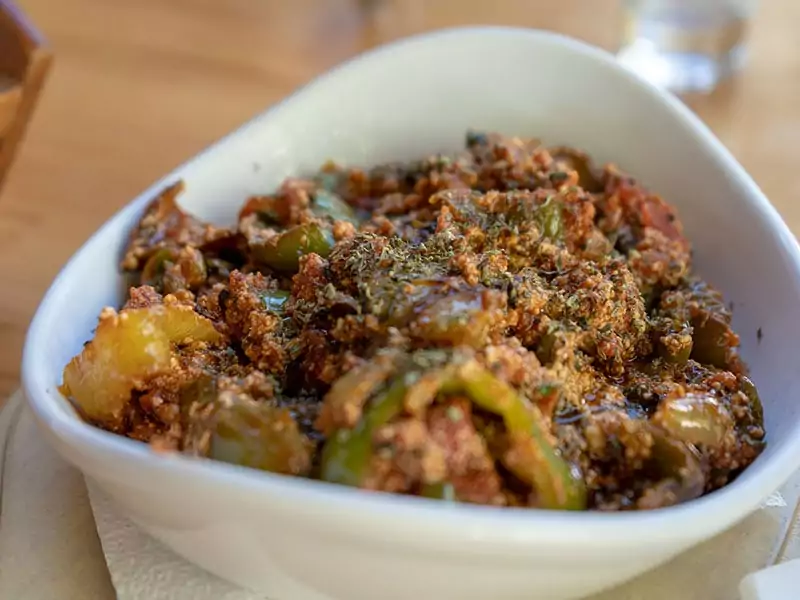 Fërgesë Tirane is a baked vegetable and cheese delicacy from Tirana, and it is one of Albania's national meals. This Albanian breakfast dish calls for bell peppers, tomatoes, onions, salty cottage cheese (or feta cheese), butter, flour, basil, and olive oil.
The vegetarian version of Fërgesë Tirane is usually served as a side dish with crusty bread on the side. However, adding meat can make it become an excellent main course.
If you want to add some protein to your meal, chop some liver and garlic and mix them with the green. This dish will now become Fërgesë Me Melçi, another national dish in Albania.
12. Jani Me Fasule – White Bean Soup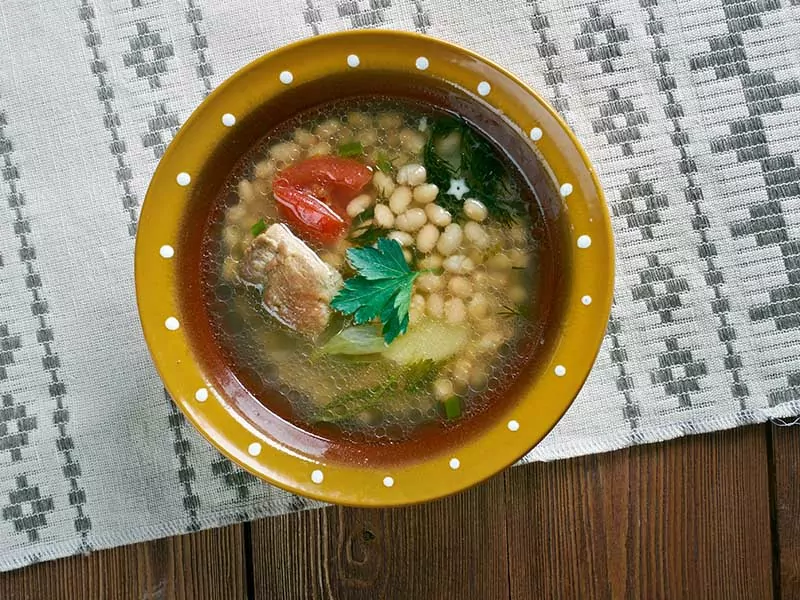 Jani Me Fasule was one of the most popular recipes during the Albanian famine since it was filling and inexpensive to prepare. When the famine was over, white bean soup remained popular.
White bean soup has several names and versions in Eastern Europe, such as Fasolada in Greek cuisine, or Kuru Fasulye in authentic Turkish food. And they are all awesome. 
White beans (typically cannellini beans), tomatoes, capsicum, and olive oil are used to make the soup's base, which results in a light yet flavorful soup. If you get sick, just have a bowl of this delicious veggie soup, and you will instantly feel better!
13. Shapkat – Corn Pie Casserole
Shapkat, or corn pie casserole, is typically stuffed with spinach, feta cheese, and dill. The dish came from Gjirokastra, a city in the Republic of Albania.
Although spinach is commonly used to fill this dish, it can also be replaced with wild cabbage, leeks, and different local greens. Corn flour, green onions, olive oil, and milk are among the usual components in Shapkat.
These golden-brown corn pie casseroles are typically served warm with a side of yogurt.
14. Pispili – Cornbread
Leeks and spinach make their appearance again in this healthy veggie dish, but now you will also need some cornbread. The cornbread thickness varies depending on the area. Sometimes it's as thin as shortbread, and other times it's thicker and denser, like a sponge cake.
Most of the time, Pispili consists of a baked bread base covered with vegetables. However, the veggies can also be placed between the cornbread or combined.
Pispili will taste 10 times better with yogurt. Fërgesë is also an excellent pairing since it can moisten cornbread.
15. Patëllxhan Të Mbushur – Stuffed Eggplants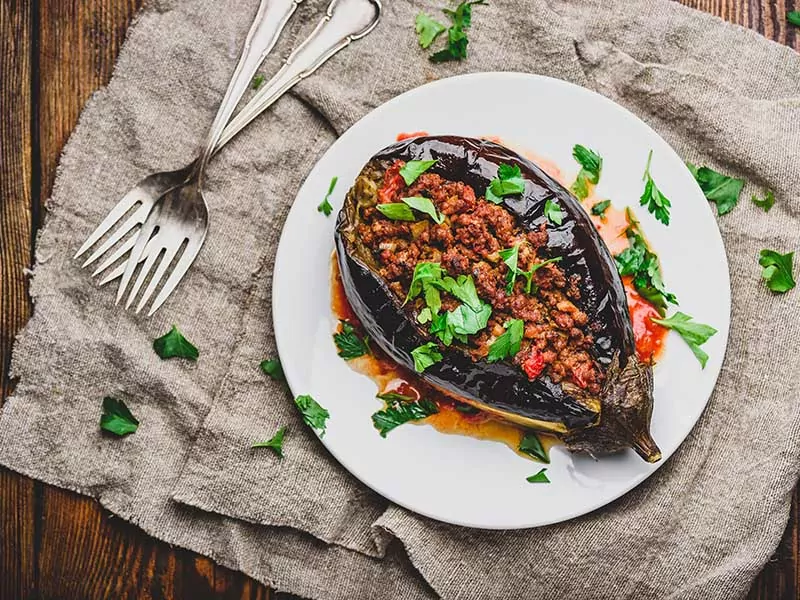 Patëllxhan Të Mbushur, meaning stuffed eggplants in Albanian, is one of the locals' favorites since it is delicious and easy to make.
Eggplants are a popular summer vegetable, available from May through October. Because Albanians eat whatever is in season, you may find this dish anywhere at any time of day.
This veggie dish is super easy to make. All you have to do is split the eggplants in half, scoop out the insides, stuff it with peppers, tomatoes, fried onions, and perhaps meat too.
16. Perime Në Zgarë – Grilled Vegetables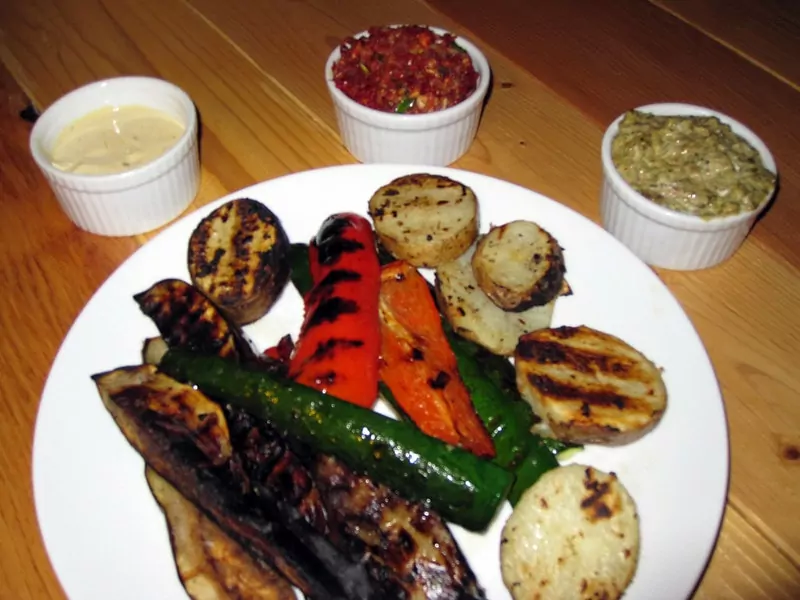 Since Albanians like grilling so much, a platter of vibrant grilled veggies is the perfect side dish alongside the main course. Pairing Perime Në Zgarë with Tavë Kosi seems to be one of the best ways to enjoy this dish.
For added flavor, the locals love to sprinkle the veggies with balsamic vinegar or marinate them ahead of time. In any case, they're a delightful treat, especially for vegetarians or those who want a healthier diet.
17. Speca Te Mbushura – Stuffed Bell Peppers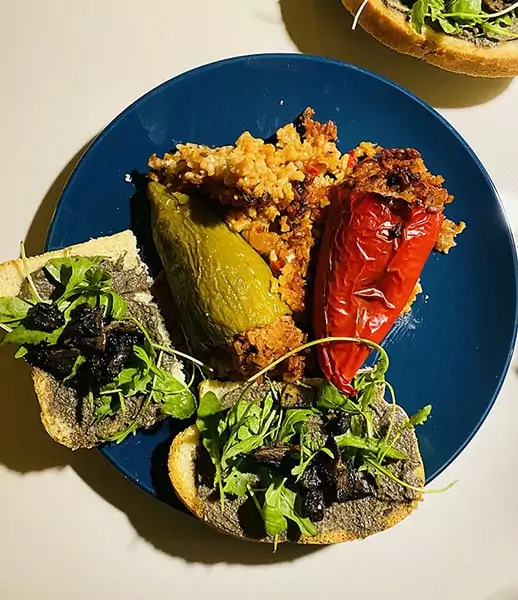 Speca Te Mbushura, which literally means stuffed bell peppers, is another must-have local dish.
The specific recipe varies depending on how it was passed down, but the filling for Albanian stuffed bell peppers is usually rice and tomatoes. You can also turn this into a meat dish with some chopped lamb.
This meal can be accompanied by feta cheese, yogurt, or Dhall (Albania's favorite soft drink). Speca Te Mbushura is available in all of Albania's regions.
Albanian Dairy Dishes
Now that I have covered meat, fish, and veggies, let's move on to the dairy-based dishes. This country has many lovely yogurt-based or cheesy side dishes and appetizers that you cannot miss. So without further ado, here they are!
18. Tarator – Cold Yogurt Appetizer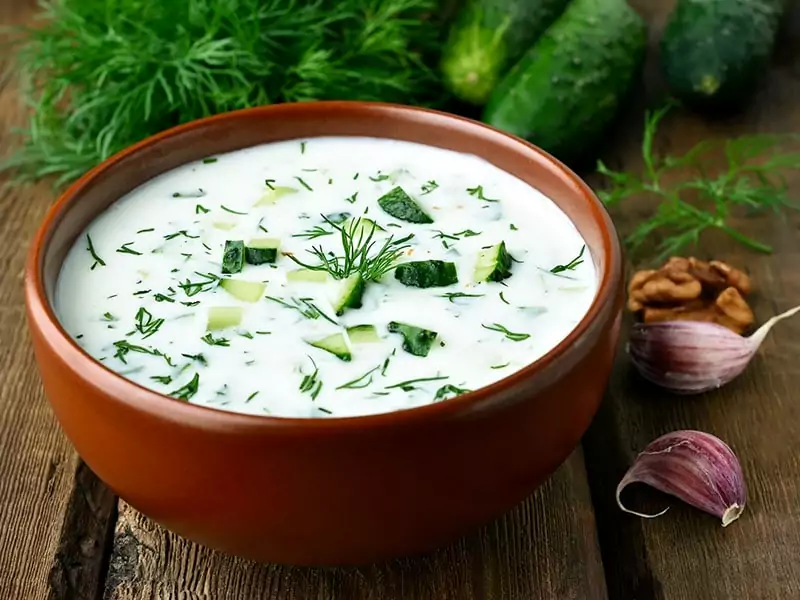 Since this delicious appetizer is typically served cold, it is commonly offered throughout the summer. Tarator is not only well-loved in this country, but it is also an important food in Macedonia – Albania's neighbor. However, their components might be different. 
The recipe for Tarator calls for cold water, Greek yogurt, and shredded cucumber. Although Tarator tastes a lot like Dhalle, a popular Albanian yogurt drink, it is customary to serve it in a bowl. Many international visitors are taken back when they see this.
The elder age generally enjoy this refreshing dairy appetizer. However, the younger generation prefers Dhalle since it is more convenient to eat.
19. Kaçkavall – Cheese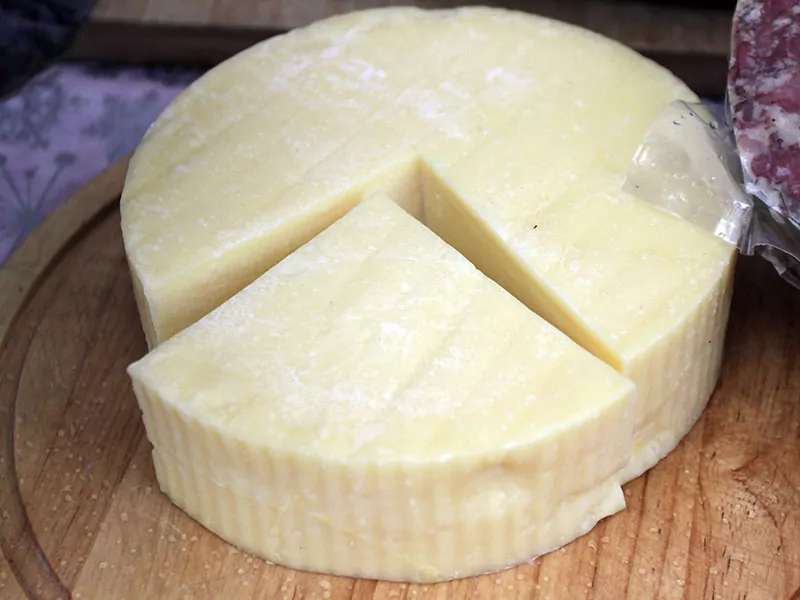 Kaçkavall is a traditional Albanian cheese made from cows or sheep. The source of the milk determines the consistency of Kaçkavall.
This cheese is popular among Albanians, who pair it with various traditional foods. Kaçkavall is frequently cooked with herbs and diced tomatoes.
In Albanian cuisine, there is a popular side dish called Kackavall ne Furre me Domate (baked cheese with tomatoes) that features that wonderful and flavorful cheese. Deep-fried Kaçkavall is also one of the region's most delectable delicacies.
20. Flija – Layered Pancake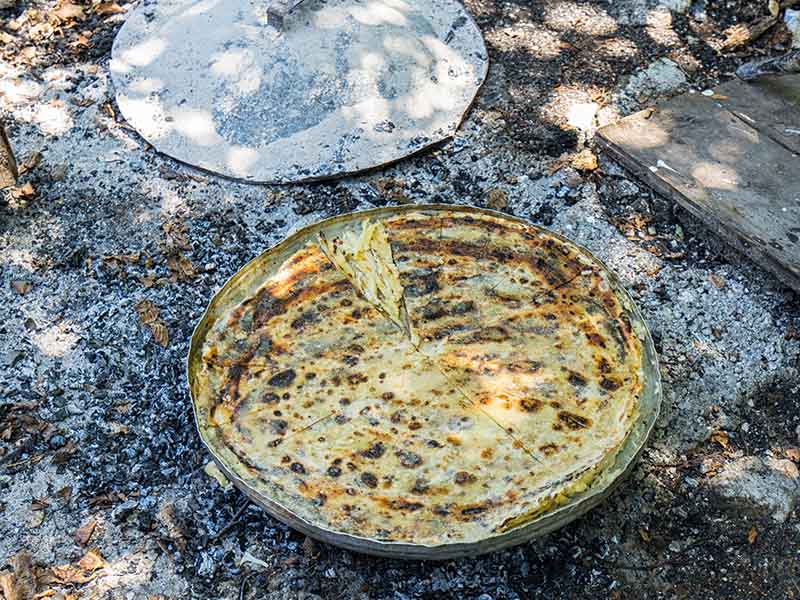 Flija is extremely popular in Albania's northern regions. This dish is made up of several cream-coated crêpe-like layers and served with butter and sour cream. The name of this dish means "sacrifice" in English.
Although this is not technically a dairy food, the addition of fresh dairy products, such as cheese or yogurt, is irreplaceable. The locals often prepare Flija at home, but you can also find it at traditional restaurants in the area.
March 17th is designated as "Flija Day," when families gather with their relatives to prepare and enjoy a good Flija.
21. Salcë Kosi – Sour Cream Dip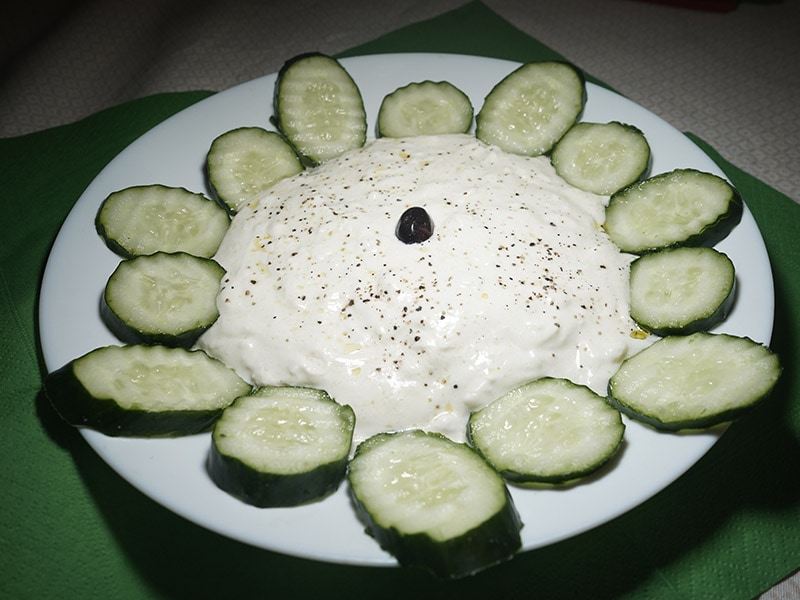 Salcë Kosi, similar to Tzatziki (Greek cucumber yogurt sauce), is a sour cream dip frequently blended with cucumber and garlic. This dip goes perfectly with Albanian bread, a thicker variant of pita bread.
The freshness and sharpness of Salcë Kosi work great with the fattiness and richness of grilled meat dishes. So be sure to order this dip when you're in the mood for grilled meat in Albania.
22. Tirokafteri – Feta Cheese Dip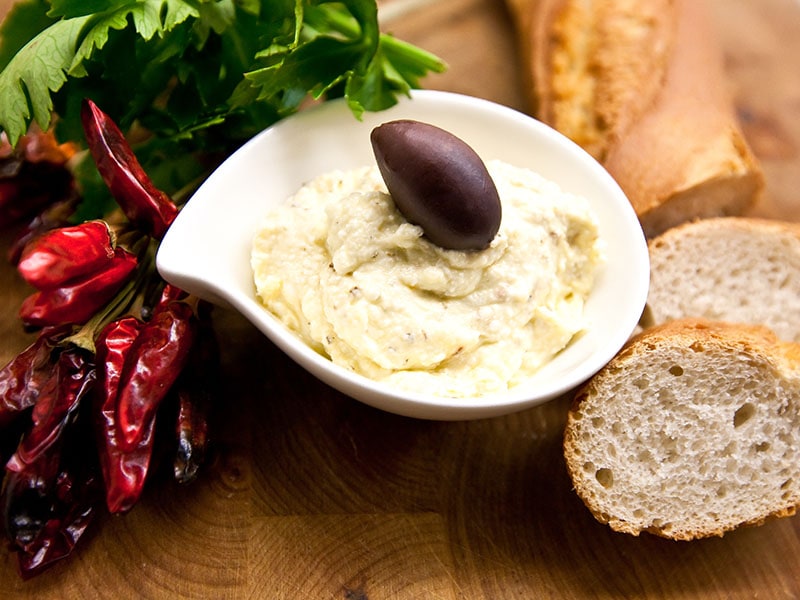 Here is a cheese-based appetizer for all cheese lovers! Tirokafteri is created with a spreadable mix of cheeses (feta, cottage cheese, and many more), garlic, olive oil, and pepper.
This Albanian dish has its origins in Greece, so you can often find this delicacy in its southern regions, close to Greece. Also, this is a fascinating Cypriot specialty that you should try when in Cyprus.
Tirokafteri is eaten like hummus, just scoop the dip with a piece of bread and enjoy!
Albanian Desserts
Besides the delectable savory dishes, Albanian desserts deserve some recognition too! Give this section a read, and remember to check these dishes out when you have the chance to visit Southeastern Europe.
23. Qumështor – Milk Pie
Qumështoris a classic Albanian baked custard made with milk, eggs, butter, flour, and sugar. Before the start of Lent, it was traditionally consumed by the Orthodox people of southern Albania.
Various flavorings, such as vanilla, orange, and lemon, are used in certain varieties, but the original recipe remains the most popular.
Qumështor is super fun and simple to make at home. The essential ingredients are also accessible and cheap. So make sure to find a recipe for this dish and recreate it at home; you won't regret it!
24. Ballokume – Biscuit
Ballokume originates from Elbasan, the fourth most populous city of the Republic of Albania. This dish was and still is traditionally made on Dita e Verës, a national pagan holiday on March 14th.
The ingredients needed for this recipe are very accessible. However, this dish also calls for a copper bowl. Using a copper bowl is recommended since it will make the dough smooth and silky when it heats up from all the kneading.
According to legend, the term originated from a 16th-century Ottoman king of Elbasan who shouted, "Është ba si llokume!" (meaning "It's as good as a lokum!") after tasting this little cake. The term "llokume" then became a part of the name for this sweet treat.
25. Baklava – Pastry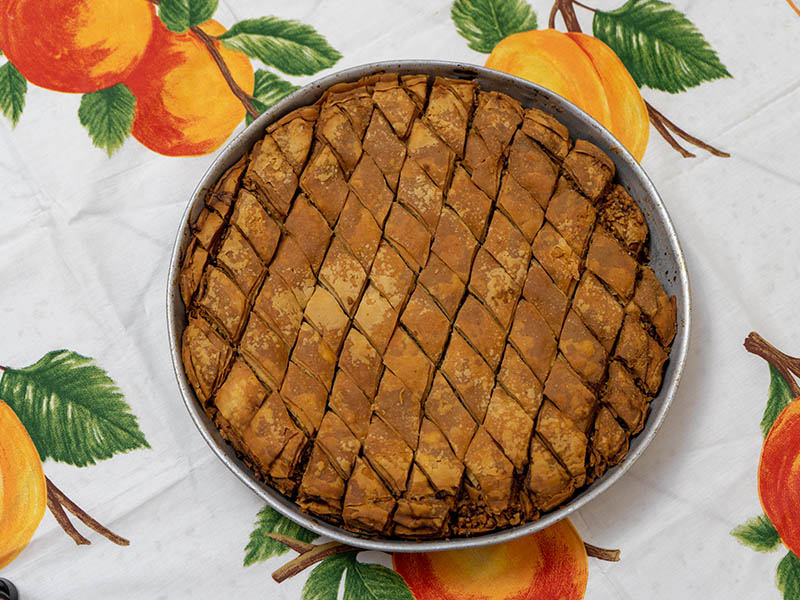 Baklava is a layered pastry treat consisting of filo dough, chopped nuts, and honey or syrup. It was one of the most popular sweet pastries in Ottoman cuisine.
The dish's roots before the Ottoman period are still under debate. The placenta cake in Romania, traditional layered sweets in Central Asia, and Lauzinaj in Iran are the three primary contenders for the pre-Ottoman roots of Baklava.
Despite its origin, the popularity of this yummy dessert is genuinely astonishing. You can easily see it in the list of Greek-style desserts, or the sweet course of Egyptians. Of course, the components vary by country.
26. Tambëloriz – Rice Pudding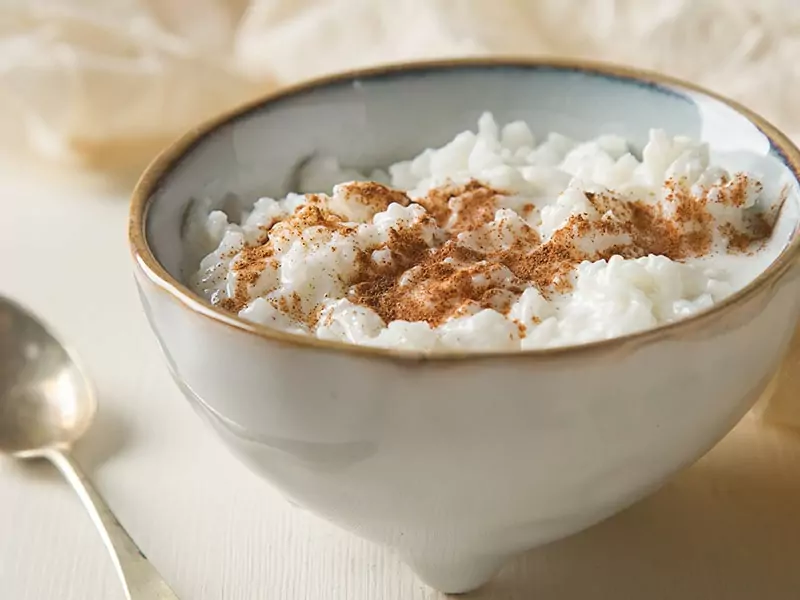 Tambëloriz, or Sultjash, is a famous Albanian sweet eaten worldwide. It's a rice pudding cooked with milk, rice, nuts, cinnamon, and sometimes raisins.
This dish's origins may originate from the Muslim world. When the Muslims invaded the Iberian Peninsula's south, this dessert was brought to Spain and quickly became a worldwide craze.
While practically every nation has its unique kind of rice pudding, there is something different about Albanian rice pudding that is worth a shot.
27. Trilece – Tres Leches Cake/Three Milk Cake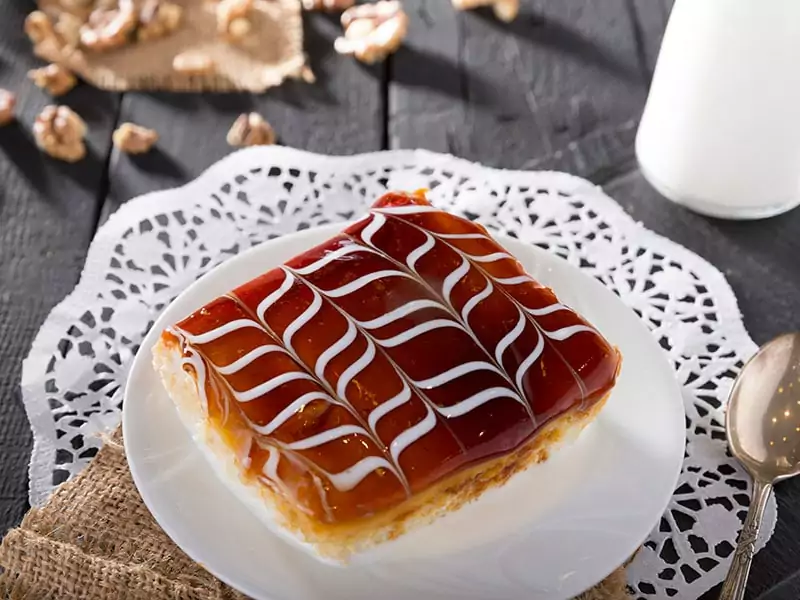 These three milk cakes are a must-try when it comes to Albanian sweets. Although the origin of this creamy and fluffy cake is still under debate, its popularity in Albania and other European countries is undeniable.
The dish's name is self-explanatory. The three primary components in this meal are whole milk, evaporated milk, and sweetened condensed milk.
The Albanian version is occasionally prepared with three types of milk: cow, goat, and water buffalo. However, it is most often made with a combination of cow's milk and cream.
28. Pastashu – Albanian Éclair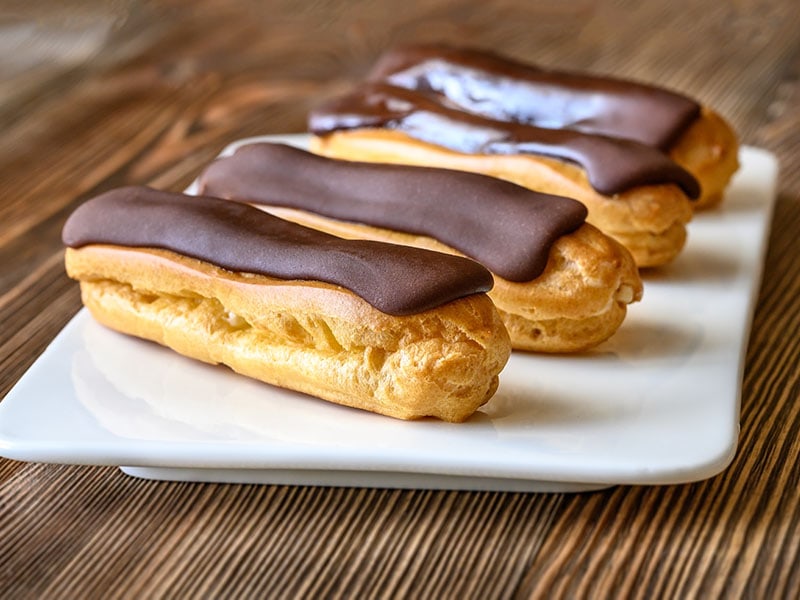 Éclair might not be a traditional sweet in Albania, but it is so well-known and well-loved that people in this country consider it a part of their cuisine (and call it Pastashu).
Pastashu, or Éclair, is a delightful dessert composed of choux pastry filled with cream, vanilla, coffee, or chocolate-flavored custard and topped with fondant frosting.
Until 18504, the éclair was known as "Pain à la Duchesse" or "Petite Duchesse" in France throughout the 19th century.
29. Ashure – Dessert Porridge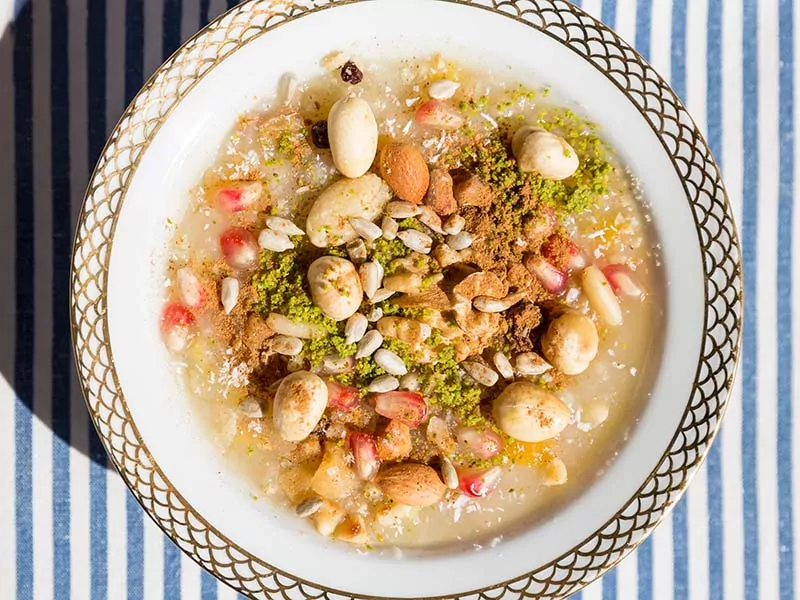 Despite its Turkish origin, Ashure is still considered a classic Albanian dessert. This dessert porridge is full of nuts or dried fruit and has a gelatin consistency that many locals love.
Ashure is customarily served during the Islamic calendar's first month. If you want to try this out, just go to any pastry shop around Albania, and you will find this delectable confection.
When you're craving something sweet but don't want to gain weight, this shall be the go-to dessert option for you!
---
Have Fun Exploring Albania and Its Cuisine!
Indeed, Albania is perhaps one of Southern Europe's most "unknown" countries. But you shouldn't ignore the cuisine in this country.
Albanian cooking is quite similar to internationally respected Mediterranean cuisine, as it is located on the coastlines of the sub-seas of the Mediterranean Sea.
For years, the Albanians' cooking style and usage of ingredients have been regarded as the world's healthiest diet. So get inspired by them and incorporate the dishes above into your daily meals.
Thanks for reading, everybody! Be sure to give this article a like and share if you enjoy it. Let me know in the comment section below if you have any further questions about this topic, and I'll get back to you in no time!