The treasure of Yemeni foods constantly stimulates your curiosity. If you plan to come to this Western Asian country, you should not miss the opportunity to experience the cuisine here. Unique dishes with attractive flavors will make you fall in love.
Your discovery will be easier with the list of appealing Yemeni recipes in this article. You need to experience all the foods on this list to understand this unique cuisine fully. Let's read it now!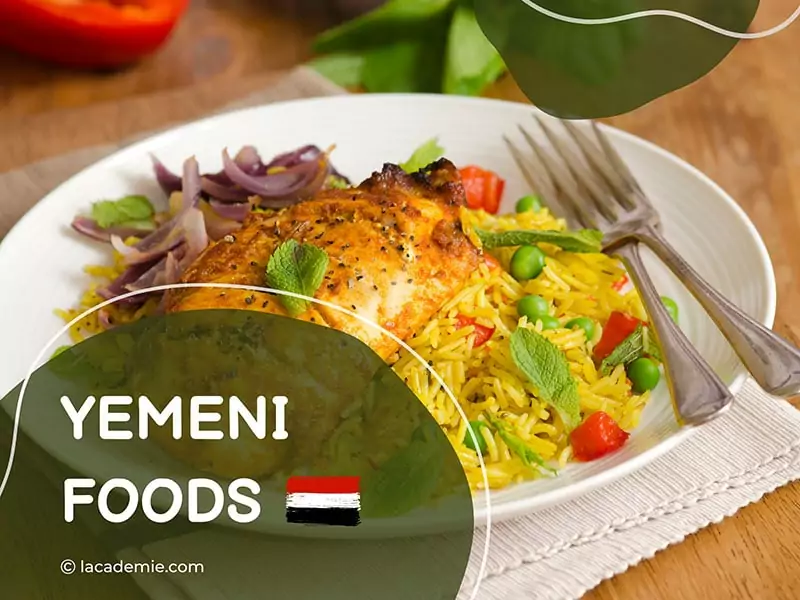 Yemeni Savory Dishes
These are savory dishes that you can enjoy in your main meals to fill your hungry stomach. Do not miss any delicious dishes so you will not regret it.
1. Fahsa – Lamb Stew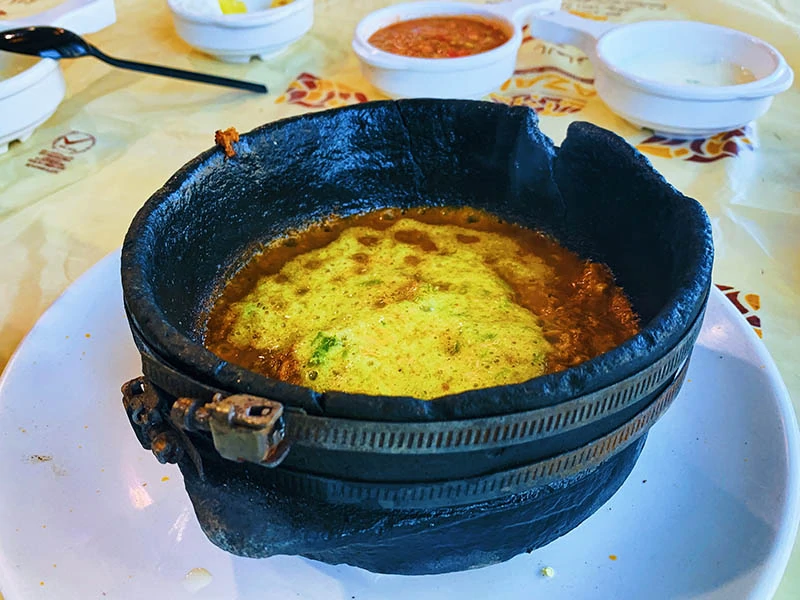 Your menu of Yemeni dinner dishes cannot be complete without the famous Fahsa. This is a casserole with lamb as the main element. The stew with a stone pot will make the food taste better. The appearance of fenugreek dip makes the dish more flavorful.
The tenderness of the meat is something you can hardly resist. It is a typical and long-standing dish of Yemen, which is super famous in Sana city and the Northern part of this country. It would help if you served it with Yemeni bread and Sahawiq hot sauce to enjoy.
2. Mandi – Rice and Chicken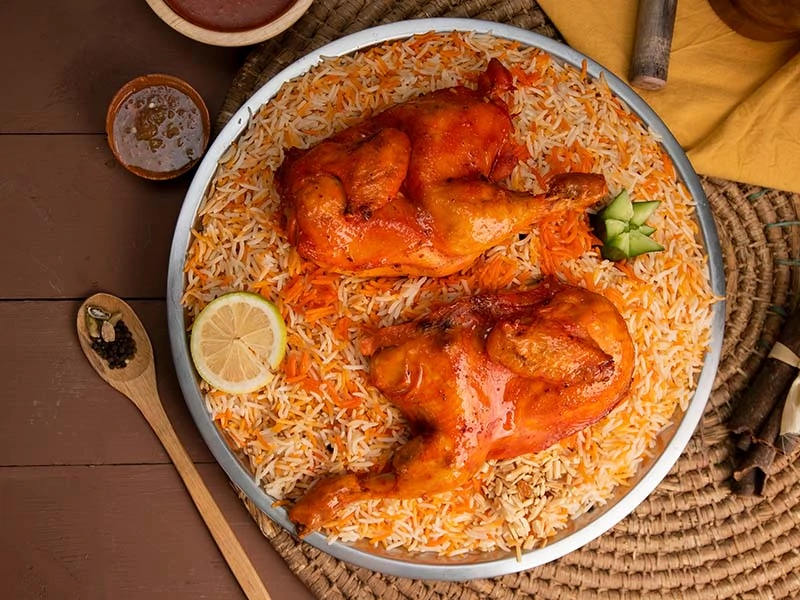 Mandi is an iconic dish in the Yemeni city of Hadramout since it is the home of this outstanding dish. Today, it has spread to the culinary culture of India, Egypt, Turkey, the Levant, and many other countries on the Arabian peninsula. 
The Arabic word "mandi" means "dew" and refers to the 'dewy" moist texture of the meat.
Red meat or chicken are the primary ingredients of this food. You will love the rich flavor of the meat when it is carefully seasoned with Arabic spices. Apart from other meat foods, what makes Mandi special is the tandoor (or tannour) oven.
This is a unique technique of the Yemeni people when they dig a hole in the ground and use clay to cover it to help retain and conduct heat well.
3. Haneedh – Slow-Roasted Lamb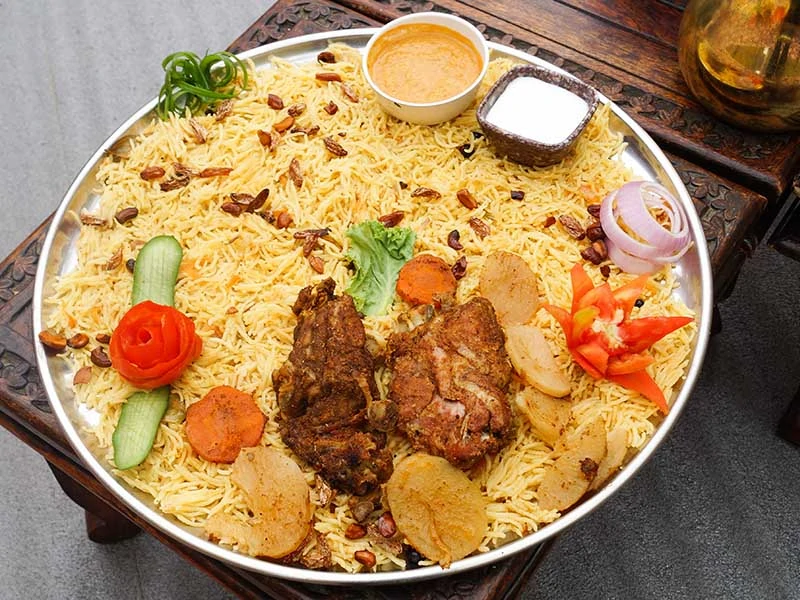 If you are a fan of lamb, Haneedh is an excellent choice for you. If you go to Yemeni restaurants worldwide, you will see this roasted lamb recipe on the menu. Yemeni people will use a tannour oven for cooking this food. Serving this food with rice is preferable.
It also has another name, Hanida. It is popular in many other countries, such as Oman, Saudi Arabia, and Bahrain. The chef needs to cook the meat for about 6 hours before serving to get a delicious, tender, and succulent lamb dish.
4. Zurbian – Rice and Meat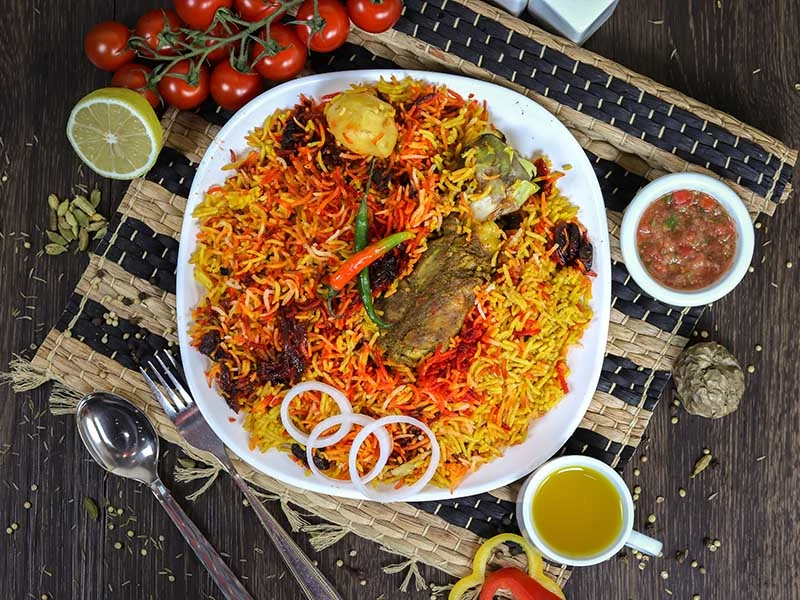 It is excellent to have Zurbian on your list of Yemeni lunch dishes. This wonderful dish will help refuel for an afternoon of exploration. This delicacy includes lamb or chicken, fried onions, almonds, raisins, and peanuts.
This tasty recipe is the invention of the people in Aden City. This is also home to the best Zurbian in Yemen. It is a kind of Briyani dish (mixed rice) famous in Yemen and countries on the Arabian peninsula. This food appears a lot at wedding parties.
5. Saltah – Brown Meat Stew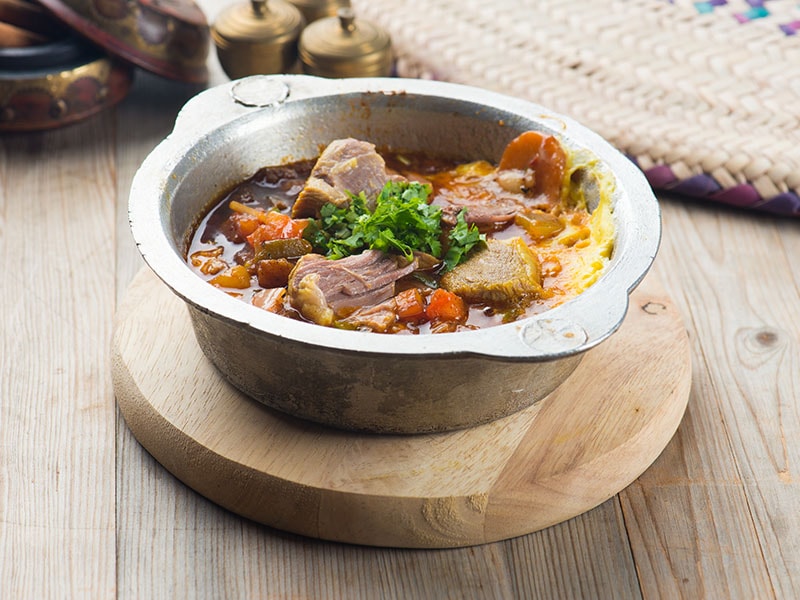 Saltah is a well-known dish of Yemeni cuisine. There are many legends about its origin, but the most popular theory was born in Idamat – a famous charity house of the Ottoman Empire.
This beautiful soup is the leftovers that wealthy families or the mosques contributed to charity. You can find chicken or lamb versions of this mouthwatering dish. This savory dish is pretty popular in the Northern region of the country.
6. Maraq – Lamb Broth Soup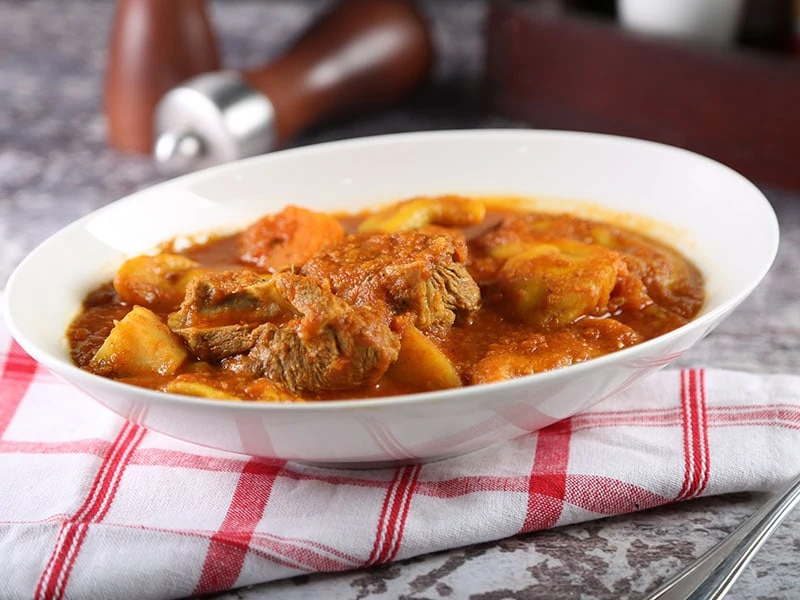 You will fall in love with the rich and thick broth of this lamb stew. Its great taste comes from the combination of lamb, cardamom, cumin, cinnamon, cloves, and many other spices. Braising in the pressure cooker will make the meat tender and delicious.
Before serving, the chef will remove all spices and add a little lemon juice. Its name "Marad" in Arabic means "broth". This food is popular in Oman, Ethiopia, and the Persian Gulf region.
7. Thareed – Lamb and Vegetable Stew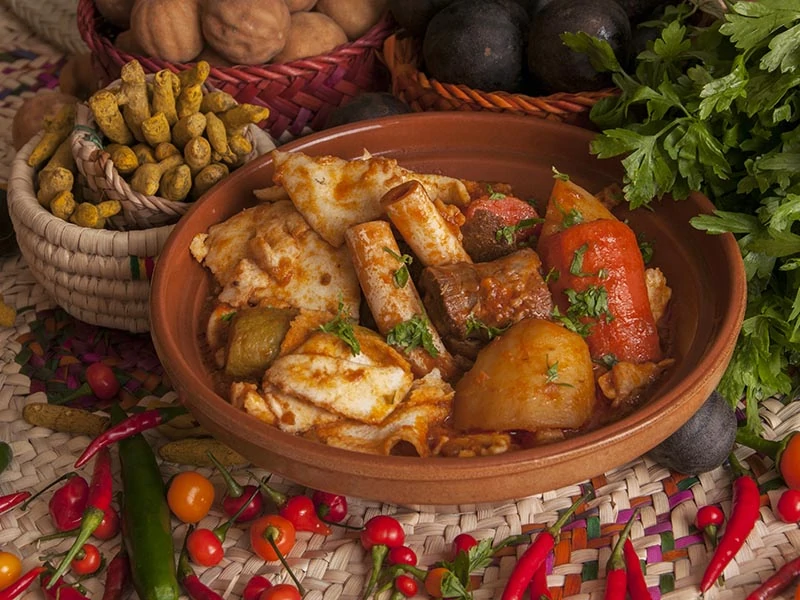 Thareed is a recipe inspired by Arabic cuisine. It appeared in the food list of Prophet Muhammad, and they claimed the taste of Thareed is more appealing than any other dish.
The dish is a harmonious combination of lamb and vegetables. The softness of the lamb stew will make you remember it forever. This recipe is served with bread to get a perfect meal. The locals either dip the bread in the broth or stack the bread pieces and meat in multiple layers.
8. Sayadieh – Rice and Fish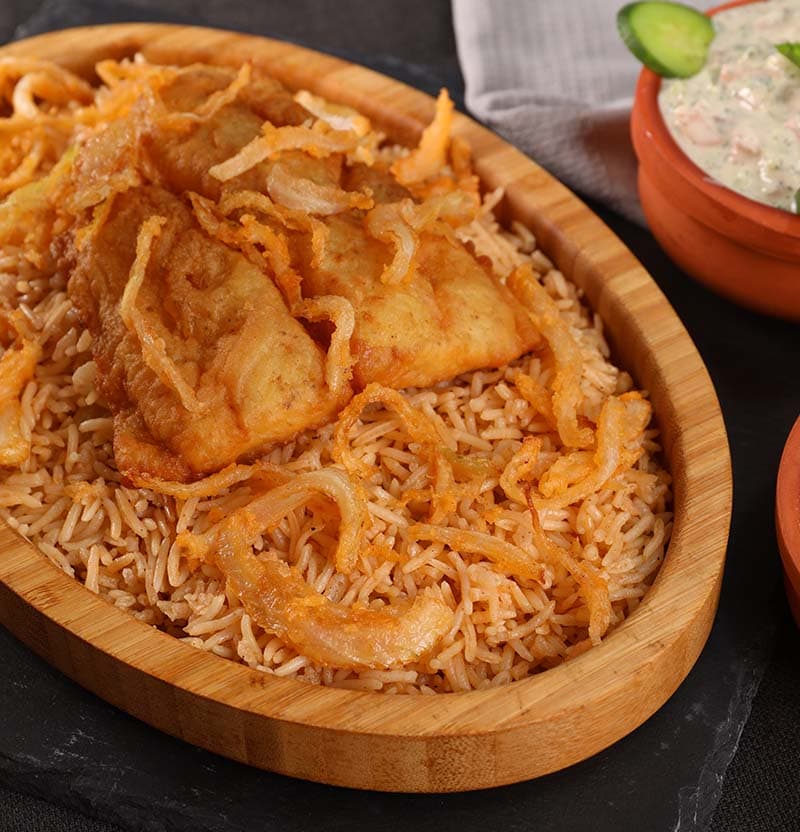 Sayadieh is a dish associated with fishers in the Lebanese coastal region. However, it is also popular in Yemen and many Middle Eastern countries. The food is a harmonious combination of rice and fish to make a perfect meal.
In Arabic, "Sayd" means seafood. In Yemen, its popularity spreads extensively in Aden City and coastal areas. It is a preferred choice on weekends, special occasions, and holidays.
Yemeni Flour-Based Dishes
Yemen is famous for many appealing dishes made from flour. This section will give you some specific suggestions that you should refer to.
9. Lahoh – Yemeni Sourdough Flatbread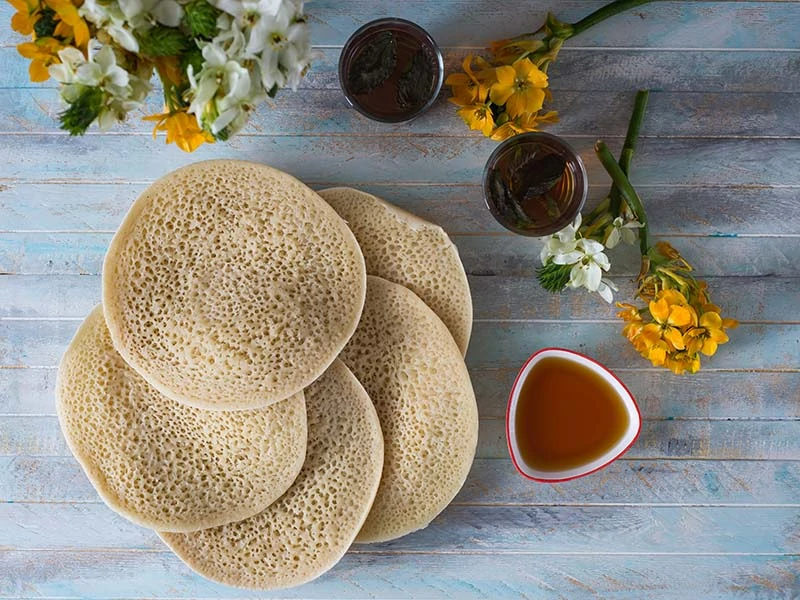 You should start your day with this incredible Yemeni breakfast dish. Lahoh or canjeero is a flatbread with plain flour, yeast, and onions as the main ingredients. You will love its soft texture and perfect thinness and lightness.
Other countries' culinary cultures, for example, Somali cuisine, also love this bread. A few other versions have eggs, and you will easily find sweet Lahoh variations. This fantastic food was born in Yemen and became famous in Israel when the Yemenite Jews migrated here.
10. Asida – Wheat Flour Pudding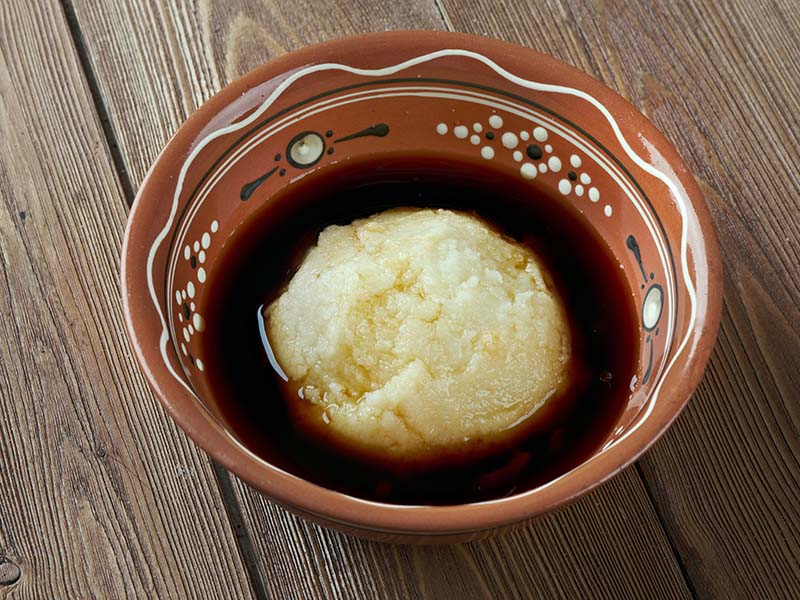 Almost every Yemeni knows Asida. It is famous not only in Yemen but also in many Arab countries. This is a traditional appetizer of this country's cuisine. Different regions will have various versions of Asida.
The two versions that are popular in Yemen are Sana'a-Asida and Ibb-Asida. This recipe is made of flour and water with a soft and smooth texture. You will eat it hot with the broth, and you should use your fingers to enjoy it.
This unique dish originated from Oromo in Ethiopia, and it was initially called Marca. Besides being an appetizer, Arab countries also serve it as a dessert.
11. Zalabia – Fried Bread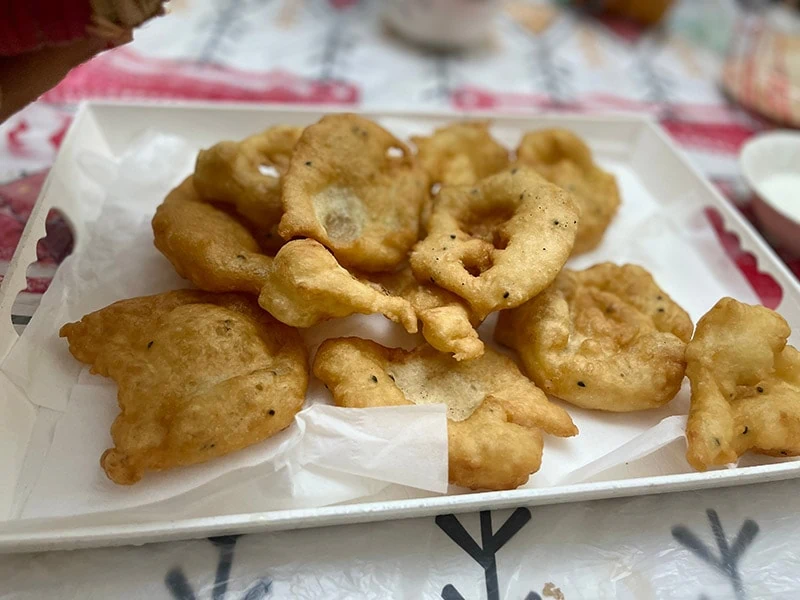 Yemeni people often eat Zalabia for breakfast or in the midday meal. This famous fried dough originated in Yemen a long time ago. And I am sure you will love the crispness of the outer crust and the softness of the inside.
Different regions will have different ways of preparing Zalabia. The first method uses thin and wet dough to make cakes with reticulated shapes. Alternatively, chefs can use the thicker dough to form Zalabia, resembling loaves of bread.
12. Malawah – Board-Like Bread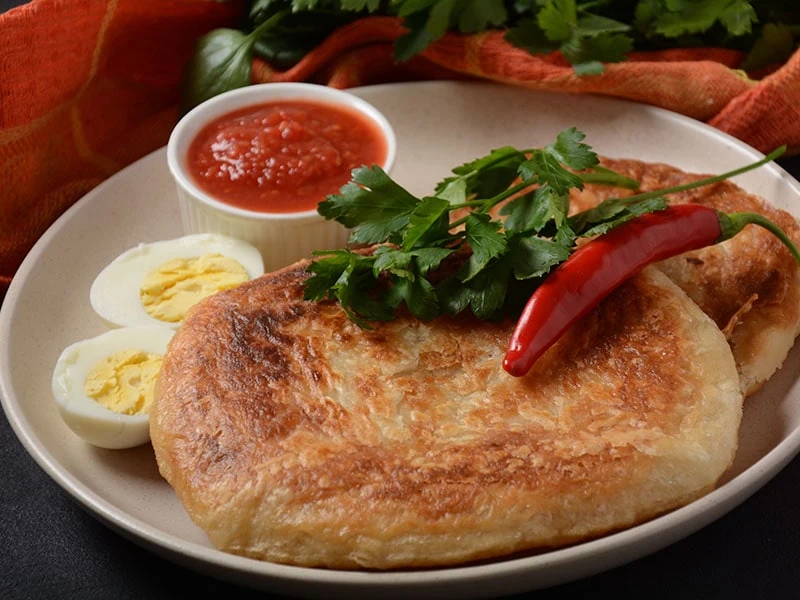 Malawah is a dish associated with Yemenite Jews. It was their staple food in the mid-20th century when they left Yemen. Gradually, it spread to many Arab countries. Nowadays, it's a well-known dish in Ethiopia, Yemen, Somalia, Israel, and other Arab countries.
The food is usually only served in restaurants and few Yemenis make it at home. The moderate crispiness of the crust will tempt you from the first bite. The taste of butter in bread will awaken your taste buds.
13. Jachnun – Jewish Pastry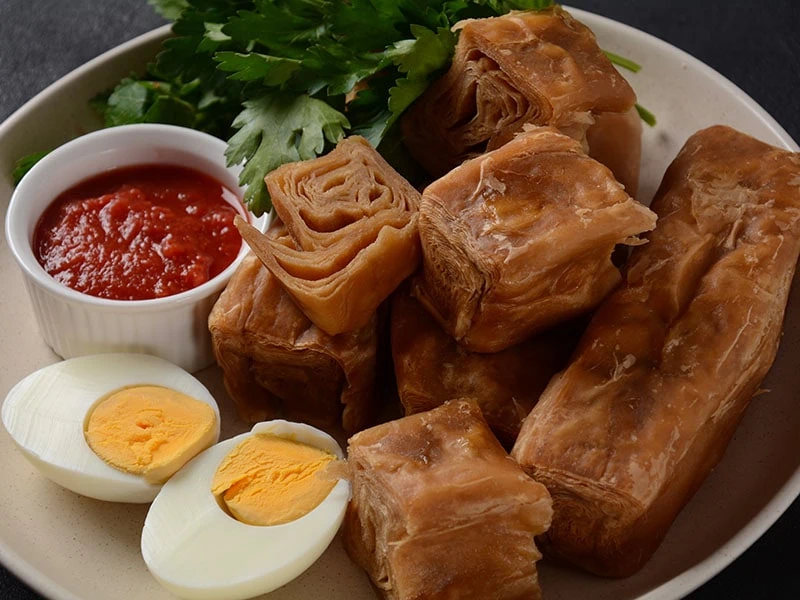 Jachnun pastry rolls have left an indelible impression on my mind after enjoying them. Besides being a tasty dish in this country, these rolls are the signature food in Israel. With moderate sweetness, it will suit the taste of many people. Clarified butter will give it its distinctive flavor.
Restaurants in Yemen often sell it with oven-cooked eggs, zhug (Yemenite green hot sauce), tomato salsa, and Holba Fenugreek dip. The Adenin Jews made this wonderful dish first. It is the favorite recipe of Yemenite Jews in the Shabbat morning.
It is time to make mouthwatering Jachnun for your meal.
14. Mutabaq – Pan-Fried Bread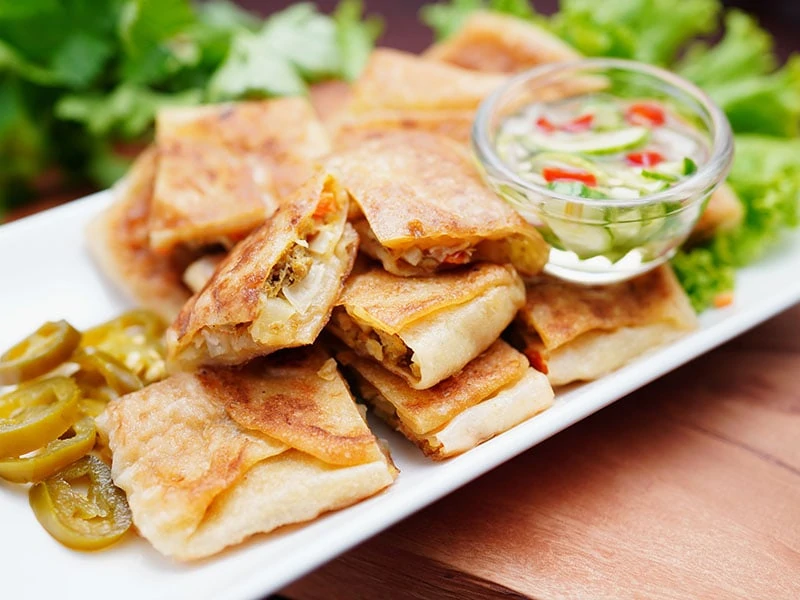 If you have the chance to experience the cuisine of Saudi Arabia, Yemen, or other countries in the Arabian peninsula and Southeast Asia, you will quickly come across Murtabak.
It is a multiple-layers cake made with whipped eggs, leeks, onions, and minced meat. You can find its vegan versions at Indian restaurants.
This was an ancient recipe of Yemeni cuisine when it was invented in Kerala, and it became popular when Tamil Muslim traders brought it to Southeast Asia. In Arabic, the name "Murtabak" means "folded".
Yemeni Desserts
Desserts always play an essential role in every meal. After each dinner, you can enjoy the sweet desserts in this section to soothe your palate.
15. Bint Al Sahn – Honey Cake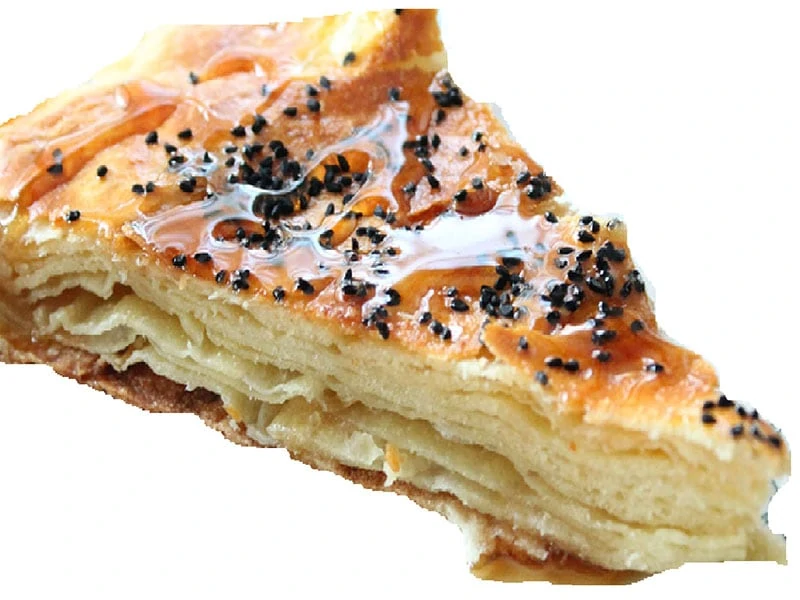 Bint Al Sahn is a preferred Yemeni dessert in this Middle Eastern country. Yemenis often eat it when sipping a cup of coffee or tea. This is a honey cake with a sweet taste, and a bit of butter will make its flavor more appealing.
A layer of egg yolk and black seeds on top will leave a deep impression in your mind. It is also known as the "daughter or beauty of the plate" of Yemeni cuisine. However, its price is not low, but its flavor will be worth it.
16. Masoub – Banana Bread Pudding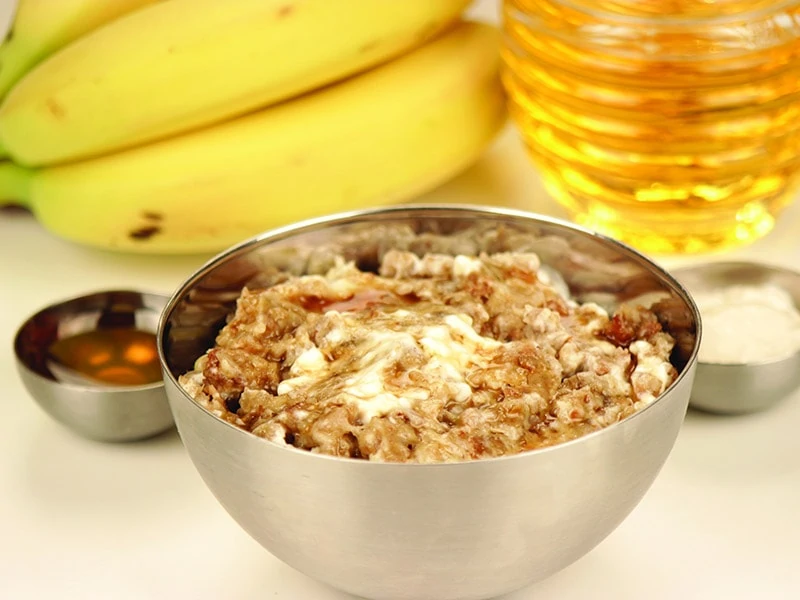 You will regret it if you miss the wonderful Masoub or Masoob of Yemeni cuisine. Indeed, bananas' natural sweetness and lightness in this food are fantastic. This excellent food originates from Yemen and is widely accepted in Saudi Arabia and UAE cuisine.
A little cream will make its texture more spongy and soft. You can eat this dish cold or fresh, and a little honey will enhance the sweetness of the food.
17. Karkade – Dried Hibiscus Flowers Tea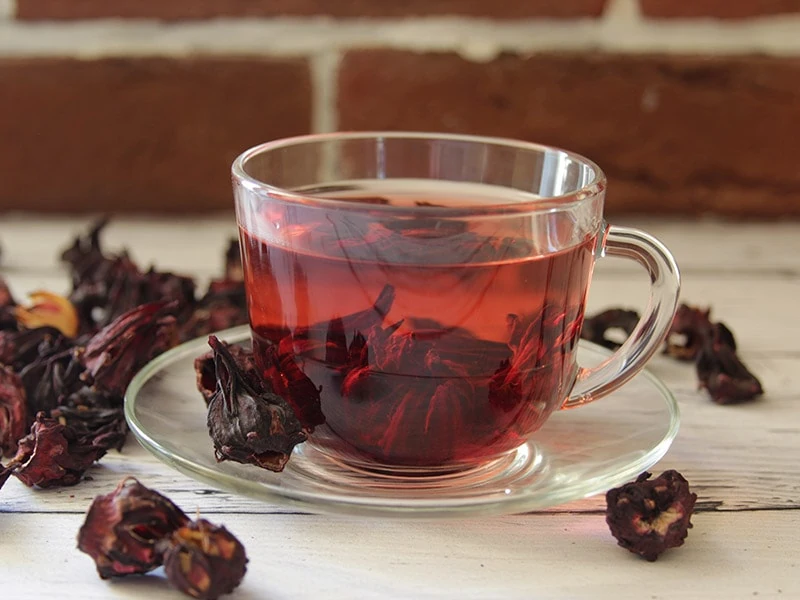 If you like to drink tea after every meal for dessert, Karkade is a suggestion you should consider. This is a healthy tea made from hibiscus flowers. You can enjoy hot or cold tea according to your preference. And its distinctive tart taste will totally blow your mind.
Hibiscus is a flower native to South Sudan. Today, you can find it in the Middle East, Africa, and the Americas. Enslaved Africans brought it to Yemen and these lands.
Other Yemeni Dishes
In addition to the dishes mentioned above, you can enjoy these dishes when you come to Yemen. It is time to satisfy your culinary ambitions.
18. Shakshouka – Eggs and Tomato Sauce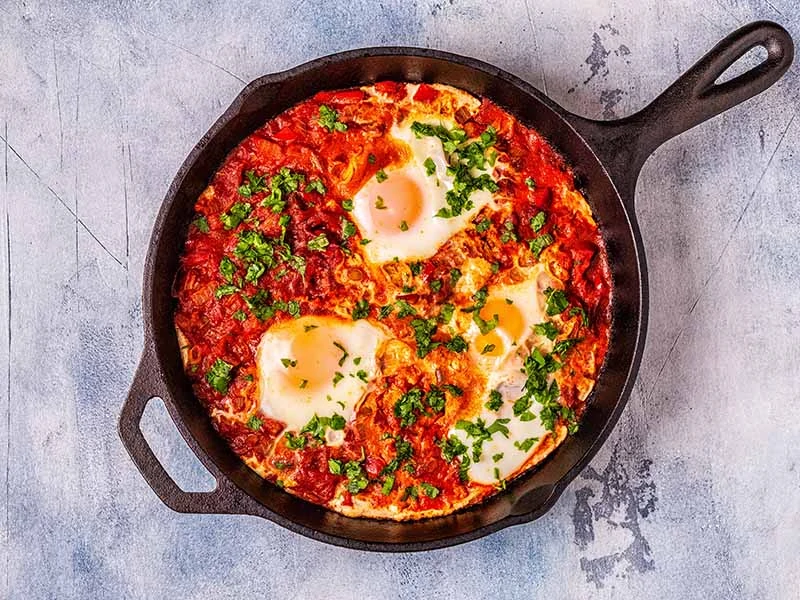 Shakshouka is a traditional dish with eggs and tomato sauce as the main ingredients. In addition, you will feel the taste of Merguez sausage in this beautiful dish. You will be addicted to the rich flavor of the tomato sauce in this food.
This recipe is heavily influenced by African culinary culture. It is an incredibly famous dish in Tunisia. There are many views on the birth of this food. Many people believe that Yemen is its homeland, while others think it has existed since the Ottoman Empire.
Go to the kitchen to make mouthwatering Shakshouka.
19. Zhoug – Spicy Cilantro Sauce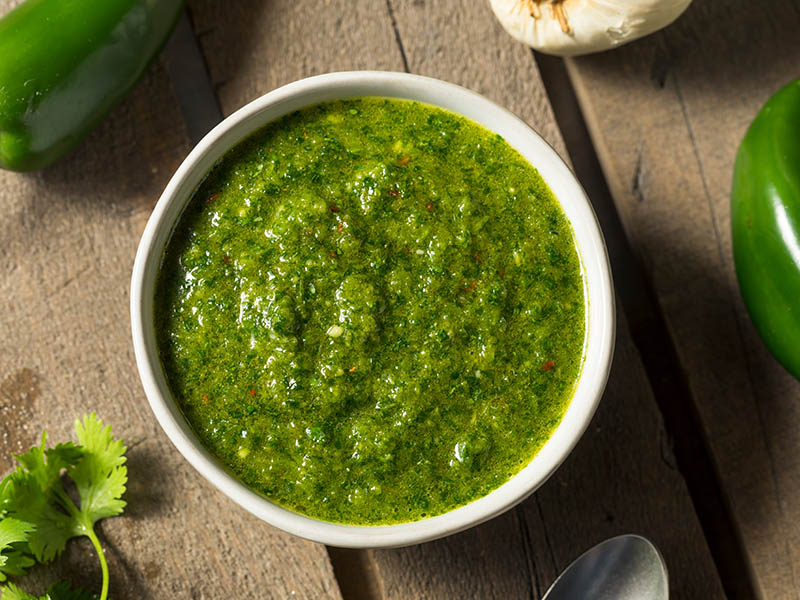 Yemen has a famous sauce called Zhoug. It is a pride of Yemeni cuisine. Not only that, but it is also popular in Israel and many other countries. Yemenite Jews brought it to Israel in the 1950s when they were fleeing political unrest.
This sauce has a characteristic green color made from pepper, coriander, cumin, cardamon, and various spices. People often add elements like mint or lemon juice to create multiple variations. It usually comes with grilled meat, veggies, and sandwiches.
20. Ful Medames – Fava Beans Stew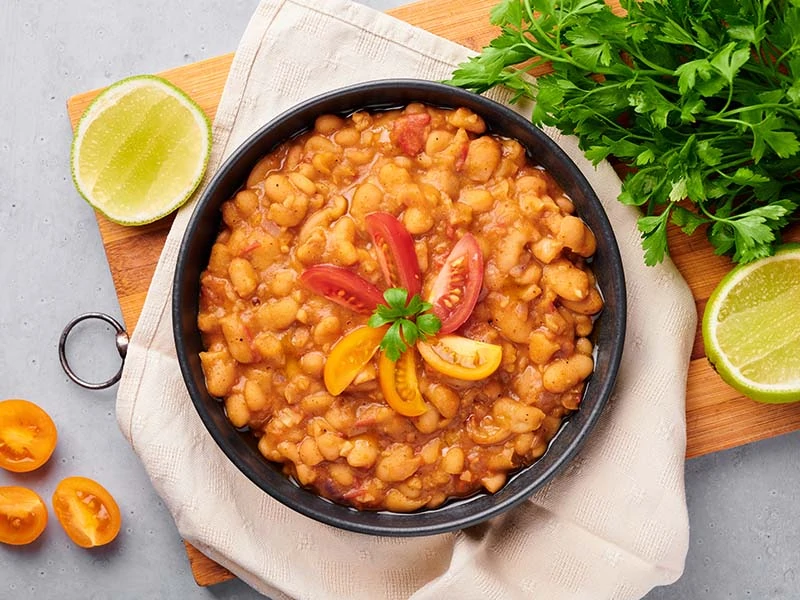 Although the true origin of Ful Medames is Egypt, it is trendy food in Yemen and other parts of the Middle East. It is a mixture of veggies and fava beans stewed with various spices until the perfect softness and flavor are achieved.
In Yemen, people usually serve it with pita or flatbread for breakfast. The word "Ful" in its name means "beans", and the "Medames" means "buried". This comes from the fact that the pot that cooked it was buried under hot coals.
21. Harees – Boiled Wheat and Meat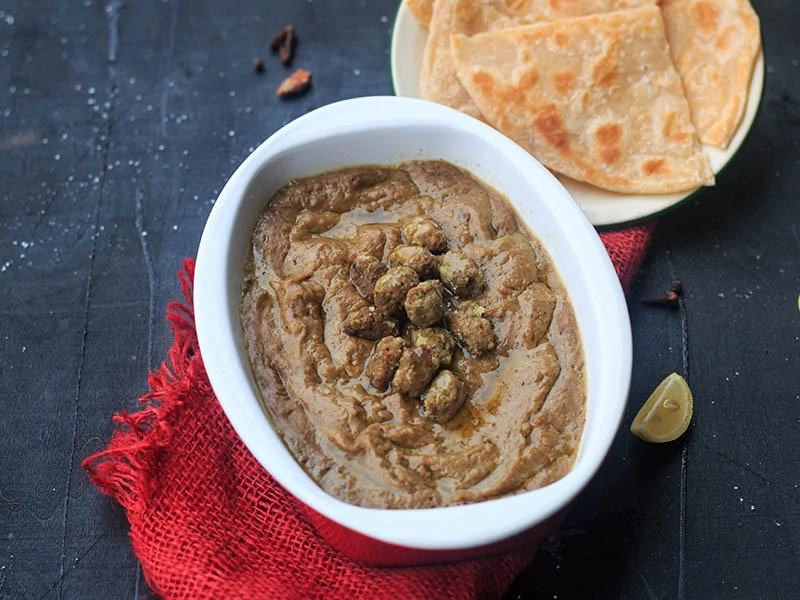 Harees is a signature recipe with wheat as the main element of Yemeni cuisine. This food is a perfect choice on cold winter days. Besides, thanks to its nutritional value, women love to eat this dish after giving birth.
The name "Harees" is derived from the Arabic word "Harasa," which means mash or squash. This dish has 3 main variations known as Jireesh. The sweet version contains crack wheat, honey, sugar, and cinnamon.
The second version offers savory flavors with broken wheat, rice, beans, meat, and lentils. You can choose the third version with meat-based style if you are a meat lover.
---
How Do You Feel About This Post?
How do you feel about this list of fantastic foods? Are you satisfied with them? If you know more other amazing recipes, please leave them in the comments for others to understand. I look forward to your comments.
It is an incredible feeling to me if this article is helpful in your life. Please share to bring excellent knowledge to more people if you find it useful. Thanks for your time!