Bangkok street foods will never let you down. As the capital of Thailand, the dishes here always create attention around the world.
Basically, Thai street cuisine is a combination of spices, herbs, and fresh foods. All of those features combine and form a distinct, crystallized unique culinary style over the centuries. Spicy, sour, and sweet tastes are what you can expect from Bangkok foods.
In addition to developing the culinary style of the nation, Thai cuisine is also increasingly diverse thanks to learning and absorbing new things from the cuisine of other Asian countries. Join me to discover the top must-try dishes in Bangkok!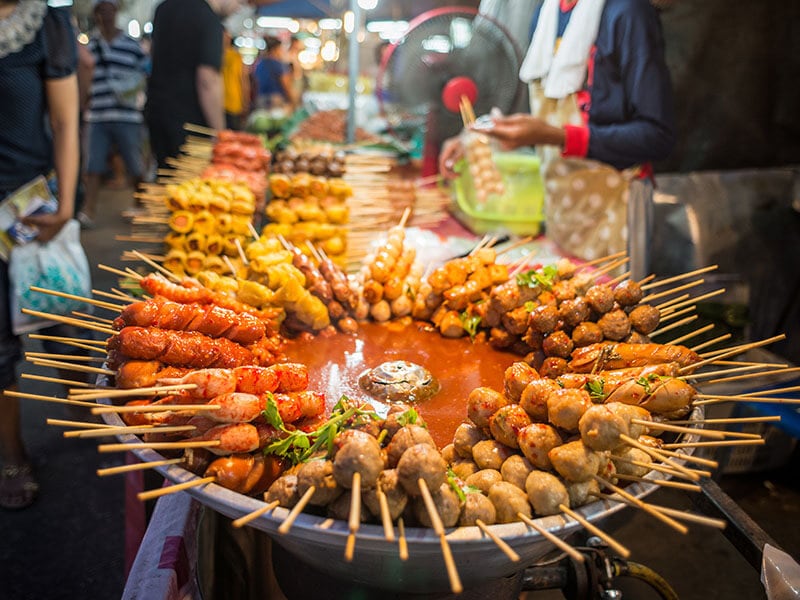 Seafood Dishes
With a long coastline and renowned for delicious seafood, you shouldn't overlook these "natural treasures" in Bangkok. Check out my suggestions for you below.
1. Hoy Tod
(Oyster Omelet)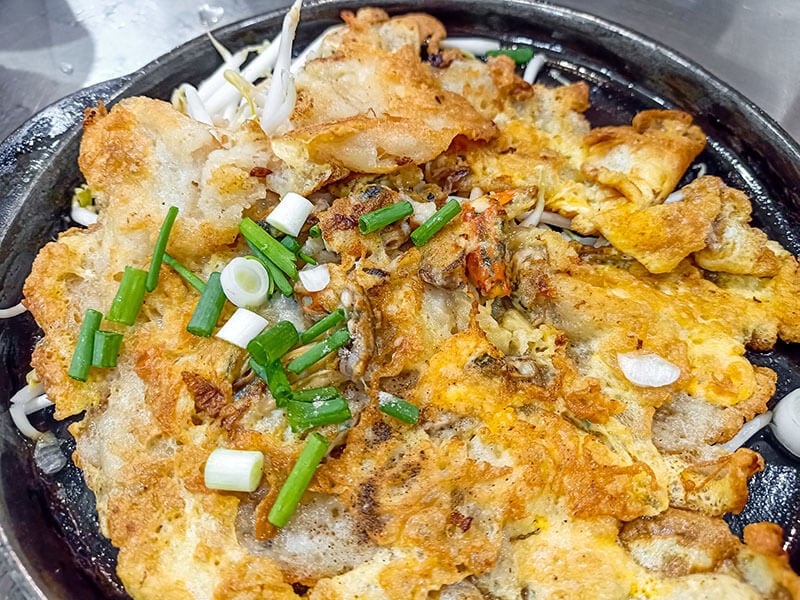 This simple Oyster Omelet is the first delicacy with egg to start this article. Hoy Tod, also known as Oyster Omelet, is a must-have food you can find on Bangkok streets, and it is favored by many tourists/local people.
One fact you should know about this dish is it has its origins in Chaozhou (Teochew) and the Fujian region of China. It might take a relatively long way to come to Thailand; yet, the effort is worth it since Oyster Omelet has become a famous treat in this country.
Because this dish calls for crispy fried oysters (dipped in rice flour for a crispier crust), it offers a gentle, sweet flavor together with a crunchy texture when eating.
Another variation of this dish is to put the fresh oyster on the cooked omelet, which also makes sense. Especially when served with the sellers' special chili garlic sauce, Hoy Tod will be more attractive.
2. Pla Meuk Yang
(Grilled Squid)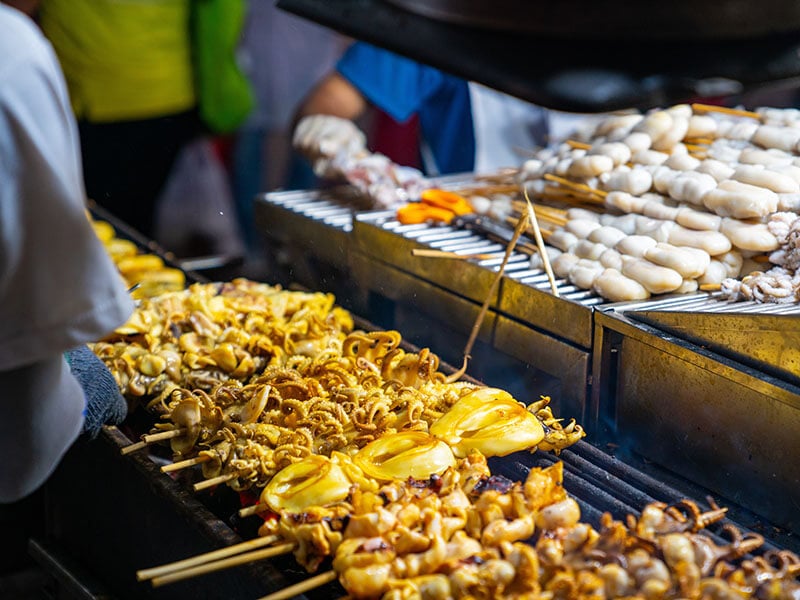 Exploring Bangkok's street delicacies, you should not miss the widely-loved Grilled Squid that you can find on many streets here. Seeing how people cook the fresh squid on a rustic charcoal stove with grills will make you crave it immediately.
The attractive point of Bangkok Grilled Squid is the sellers will grill it directly on a charcoal stove to create a rich flavor, and serve it with a slightly spicy-sweet sauce.
When the squid has been partly cooked, the Thai sellers use a sharp knife to cut some lines. The white flesh inside will be exposed and combined with the squid's yellow exterior to form a pretty color and increase its attractiveness.
You might want to experience holding delicious squid skewers and munching it while walking around the night markets in Thailand; it will be exciting.
3. Goong Yang
(Grilled Prawns)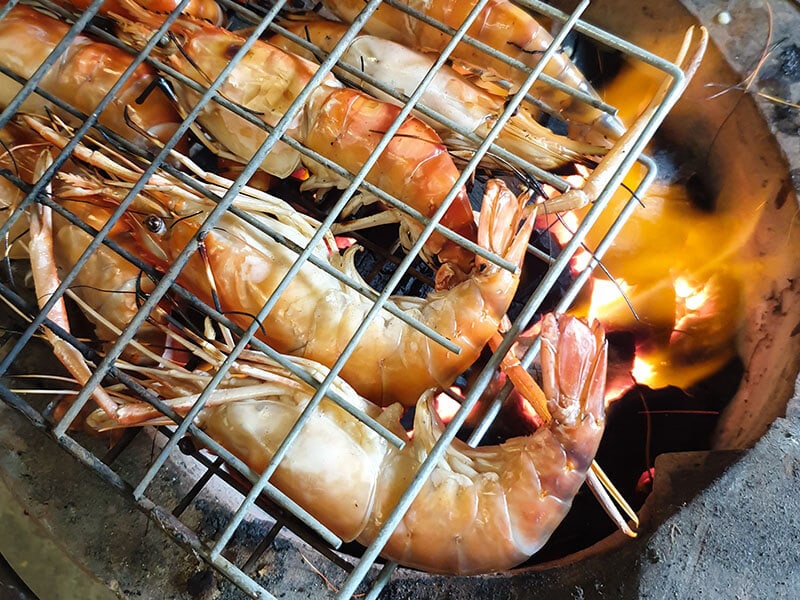 To be honest, Thai prawns always offer me a distinguished flavor compared to the other kinds of prawns I have tasted in other countries. You can quickly encounter street vendors selling giant prawns grilled on an open charcoal stove in Bangkok.
The lovely smoky smell and the burnt marinating substances will allure you immediately. Just as the other seafood dishes in Bangkok, the main protein's freshness is the main factor in creating a toothsome dish.
When eating Goong Yang, you can feel a hint of saltiness and smokiness of the prawns' flesh. Believe me, it won't be too dry and can surely offer you an indispensable seafood tasting experience.
4. Tom Yum Goong
(Thai Spicy Shrimp Soup)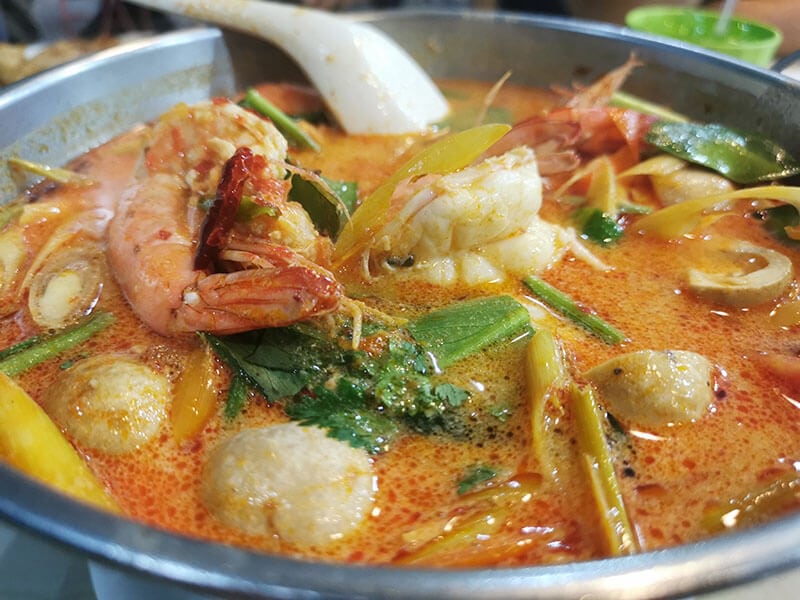 Here comes a dish that can stand for Thai cuisine: Tom Yum Goong, or Thai-style Spicy Shrimp Soup. People from Central regions of Thailand were the first to create this Tom Yum Goong, and UNESCO also recognized this food as an Intangible Cultural Heritage.
The main protein of Tom Yum Goong is shrimp (Goong means shrimp). When cooking, the cooks add in various Thai spices like kaffir lime leaves, lemongrass, galangal, coconut milk, etc.
Since there are a lot of condiments, the flavor profile of this treat is fantastic. If you are not into shrimp, you can opt for other options like mushrooms or chicken.
Tom Yum Goong offers delicious taste and appealing visuals thanks to its distinctive red-orange color from the spicy ingredients. This soup tastes best when it is still hot and when the weather is cold.
The Tom Yum Goong review; you will regret ignoring it!
5. Pad Thai
(Stir-Fried Noodles)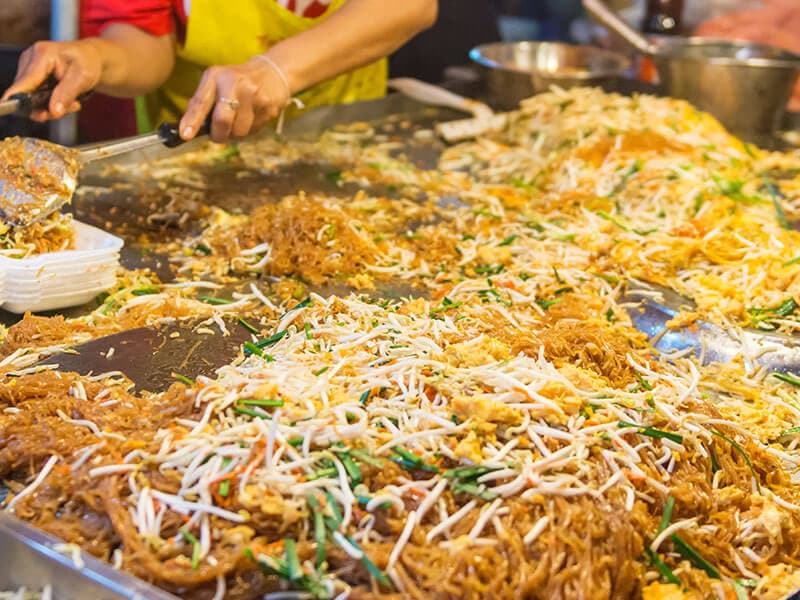 If you ask a Bangkok resident for a street food suggestion, they will always propose Pad Thai. This Thailand's most iconic dish has appeared all around the world.
Former Prime Minister, Plaek Phibunsongkhram, was the first one who created Pad Thai in the 1930s. He came up with the idea to make this national dish to galvanize nationalism.
Later on, with the food's development and deliciousness, it gradually became a staple in Bangkok in particular and Thailand in general. You can even enjoy it as a delicious Thai-style breakfast.
The ingredients of a basic Pad Thai include vermicelli or Thai-style noodles (with typical toughness) served lemon, roasted peanuts, shrimp, and eggs. The protein part can be chicken breast or tofu instead of shrimp. A mouthful of it can offer you a flavor bomb.
The remarkable thing about this dish is that all the flavors blend well together thanks to a special sauce perfectly. It will have a sweet-salty taste and a strong aroma of fish sauce and the stinging of chili peppers. Trust me, never skip raw vegetables to accompany this dish.
I promise you this review of Pad Thai is the best one you can find!
6. Hoi Nang Rom Sod
(Raw Oysters)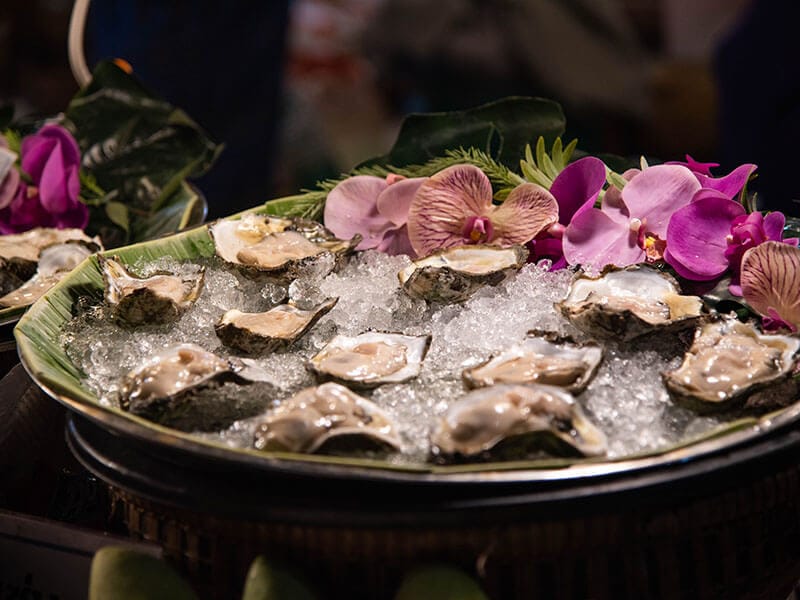 After tasting the cooked oysters in the previous Hoy Tod, you should move to this recommendation of the raw ones. I promise you won't feel the fishy odor from this seafood. Instead, the tempting richness and refreshing feeling will appeal to you.
The critical point of this food's palatableness is the quality of the oysters. The fresher the seafood is, the better taste you can experience. To complement Hoi Nang Rom Sod, the sellers in Bangkok will pair it with deep-fried shallots, garlic, lime, chilies, or chili paste. How lovely!
7. Krapo Pla
(Fish Maw Soup)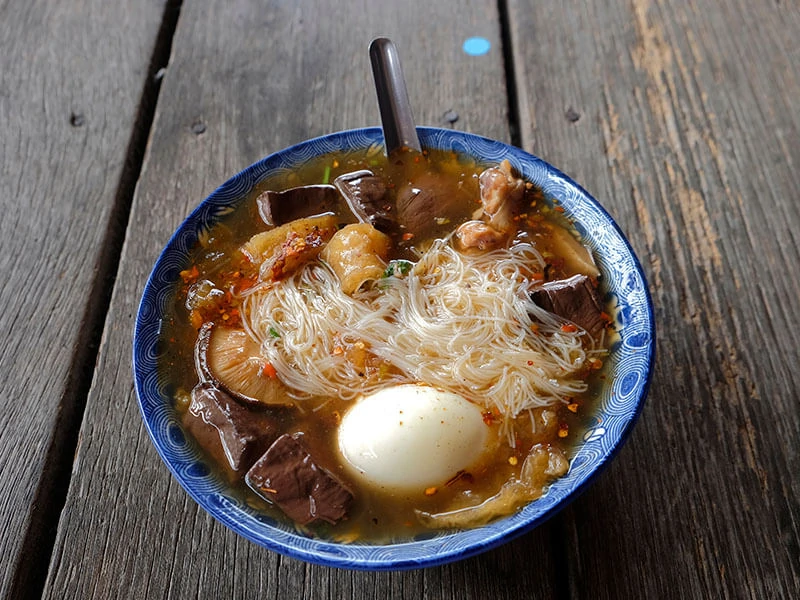 Krapo Pla is a prevalent soupy fish dish in Bangkok which has its origins in China. This Chinese-originated plate was made during the ancient Han Dynasty of China and has spread globally for its deliciousness since 206 BCE.
Ancient Chinese chefs initially served Krapo Pla for the Emperor families. Each portion of this soup requires masterful skills to make.
The main ingredient in a Fish Maw Soup is the dried swim bladders of large fish. The cook will prefer the male fish to the female ones since they are meatier.
Besides, a regular portion of Krapo Pla will include crab meat, quail eggs, and fresh herbs with the base of light chicken stock. Once scooping, you can see the significant starchy consistency of the soup broth. Don't hesitate to taste Krapo Pla; you won't regret doing so.
Let's take a closer look at how Thai people create their Krapo Pla on the streets!
Meat Dishes
Coming to Bangkok, you must definitely experience excellent Thai street food made from meat. Not only delicious, nutritious, and mouth-watering, Thai specialties are also very affordable. Below are my suggestions for you.
8. Khao Kha Moo
(Pork Trotters Rice)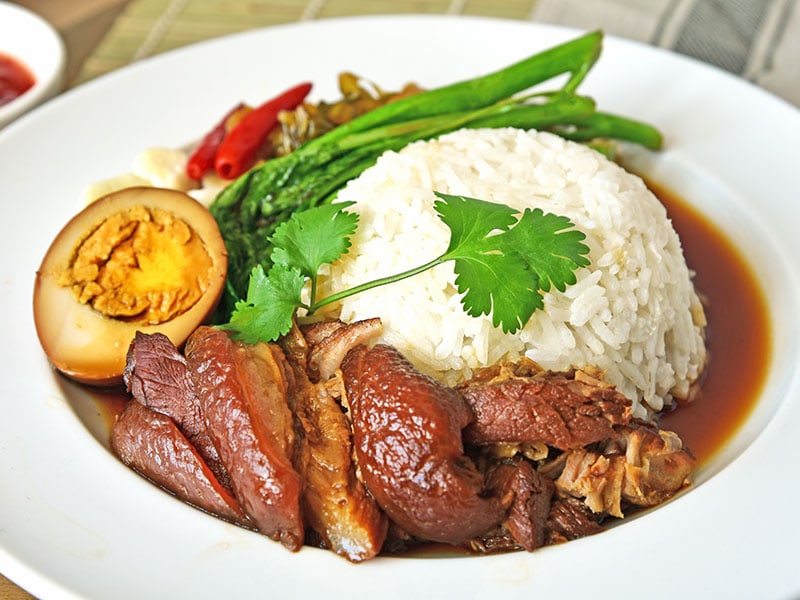 Pork Trotters Rice or Thai Khao Kha Moo is highly famous in Bangkok, and the original Zhu Jiao Fan of Chinese's Teochew cuisine influences this Thai food a lot.
Khao Kha Moo is a dish with a unique combination of stewed pork trotters with herbs and sticky jasmine rice. Besides the pork, there are also bird's eye chilies, corned eggs, pickled mustard greens, and sometimes, a small bowl of clear soup on a plate of this dish.
When eating, Thai people will suggest adding sweet soy sauce from cinnamon and anise to make the dish more flavorful. In Bangkok, you can also find a restaurant selling Khao Kha Moo that received recognition from the famous Michelin Guide.
Do you wonder what Khao Kha Moo tastes like?
9. Satay Gai
(Grilled Chicken On Skewers or Chicken Satay)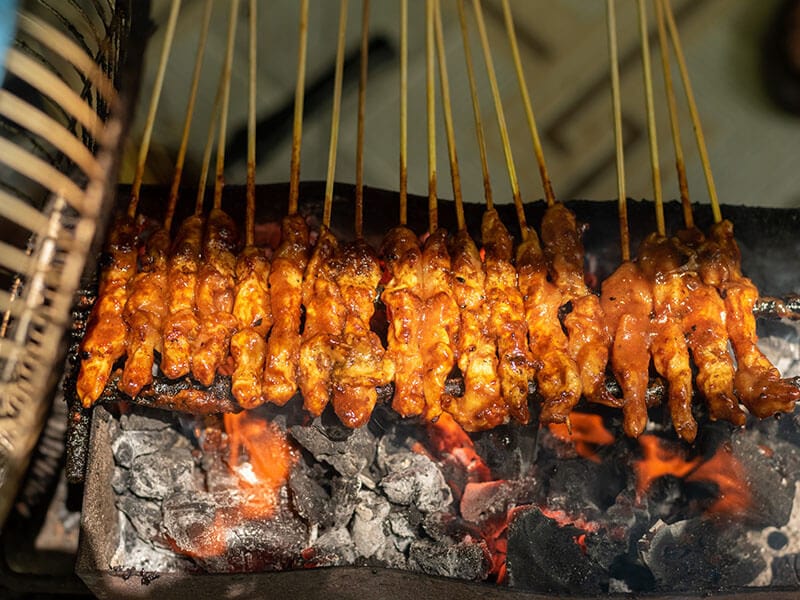 Satay Gai (also known as Grilled Chicken Skewers) is a street food loved by many visitors when coming to Thailand. Although Thai BBQ or grilled foods are diverse, Satay Gai will always be at the top of the dishes to try first.
The idea to create this dish is somehow the same as the other country's Meat Skewers. The chicken in Satay Gai will be marinated carefully, skewed, and grilled to perfection. After all, the vendors will serve the dish with sweet glazes or peanut sauces.
If you prefer a sweeter version, you can add honey to it. After trying this Satay Gai, you can also opt for the other variations of Thai Satay consisting of pork (Moo Satay) and beef (Nuua Wuua Satay). They are all delicious.
10. Gai Tod
(Fried Chicken)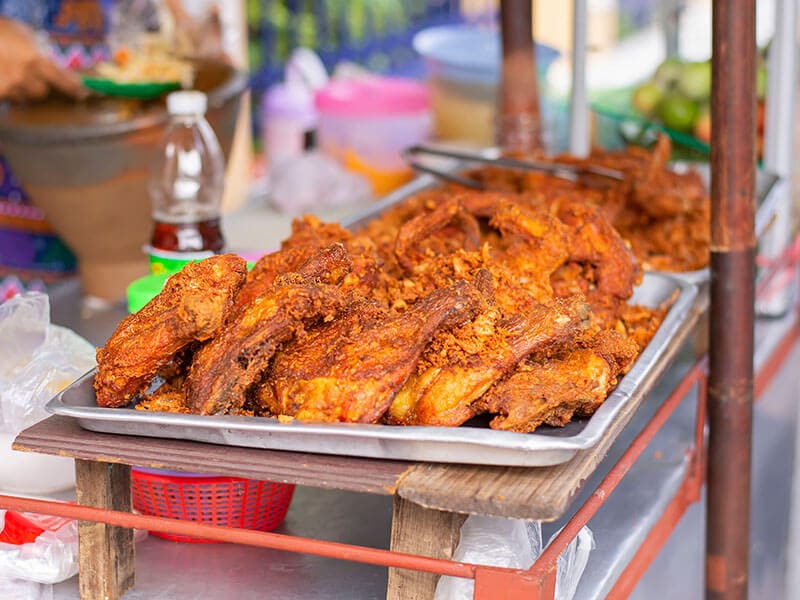 The fame of this Bangkok Fried Chicken has spread all over the world. Visitors rate the dish as even more delicious and addictive than other chicken dishes found in fast-food restaurants.
The secret of Gai Tod's distinct delicious taste lies in the secret sauce recipe for each restaurant and the meticulously seasoned deep-fried batter. Chicken drumsticks are a preferable ingredient for this delicacy.
When you bite into it, the crispy exterior can easily crumble in your mouth, and the mild sweetness from the chicken will rush into your tongue.
It can become a great dinner idea in Bangkok if you decide to try the famous combination of Gai Tod and sticky rice (Khao Niew Gai Tod). Trust me; it will be an exciting taste experience for you.
This review will tell you mostly everything you need about Gai Tod!
11. Sai Krok Isan
(Sour Issan Sausage)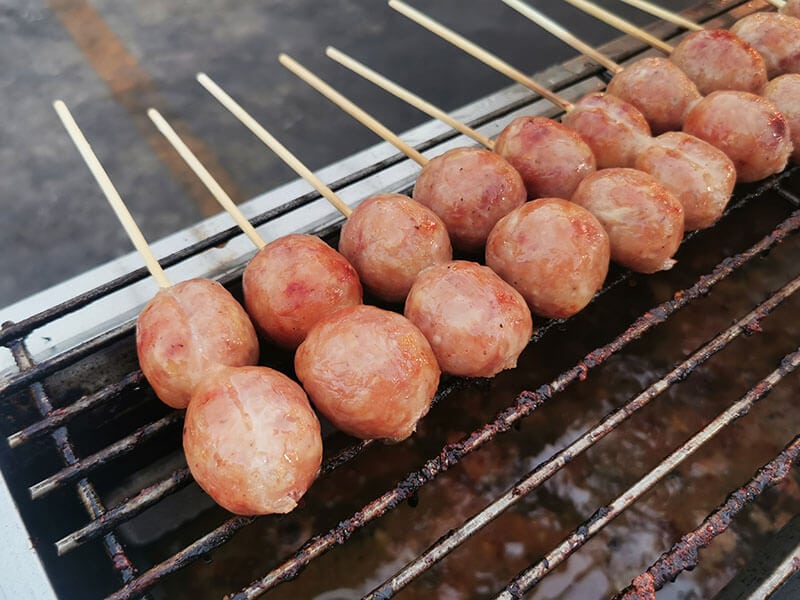 It will be a miss if I neglect this yummy ground pork recipe from Thailand in this meaty category. Sai Krok Isan or Sour Isan Sausage is a fermented sausage that includes pork meat (or other types of meat) and rice.
These sausages have a unique ball-shaped form different from the familiar elongated shape of the other kinds of sausages. To process this flavorsome Sai Krok Isan, Thai people love grilling on charcoal grills until the food's exterior is seared partly.
When serving, you will have raw white cabbage, sliced ginger, and bird's eye chilies on the same plate as your main treat. Eat them together so you can experience a fascinating numbing effect on your tongue.
12. Kway Teow Rua
(Boat Noodles)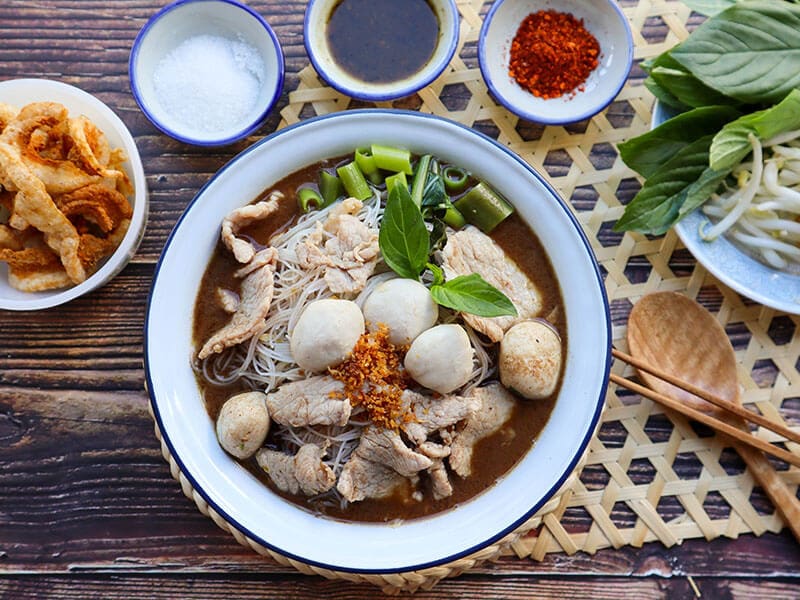 Boat Noodles is a traditional Thai noodle recipe that is relatively hearty and meaty. Local people sold the first bowl of Thai Kway Teow Rua in 1942, during the period of Plaek Phibunsongkhram.
Kway Teow Rua will astound you with its abundant meats (chicken, pork, or beef), meatballs, and pork livers. Pickled bean curd, black soy sauce, and spices used to balance the flavor of the noodle dish are reasonable, and they help highlight each component within the delicacy.
Local vendors traditionally serve Kway Teow Rua on the boats of Bangkok canals and charge affordable prices per bowl. In the first time you try it, you can eat it as a quick savory breakfast. Because its taste is phenomenal, visitors certainly don't stop at just one bowl.
13. Gang Kiew Wan
(Green Curry)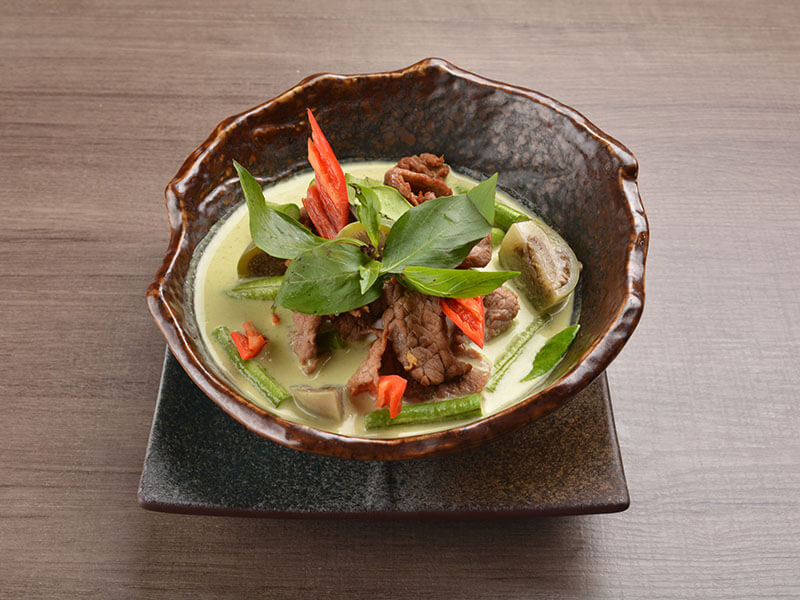 Gang Kiew Wan is a specialty of the Central Thai region. It became more developed in Thailand between 1908-1926, during King Rama VI or Rama VII eras.
They named this Thai Green Curry based on its lovely green hue and creamy texture. In the Thai language, "wan" means "sweet", "kiew" means "green", and "gang" means "soup".
The food has its gorgeous greenish hue thanks to its ingredients, including lemongrass, green chilies, and so on. The pungent spiciness balanced with the overload of richness (from coconut milk) is the primary taste you can expect from this delicacy.
The main components for a standard bowl of Thai Green Curry are regular fish or meat/chicken breast with various kinds of veggies (Thai eggplant/aubergine, pea aubergine, and other green vegetables). As you can see, it is hearty, and rice is its great partner here.
I will leak the secret behind a luscious bowl of Gang Kiew Wan here!
14. Ma Laeng Tod
(Deep-Fried Bugs)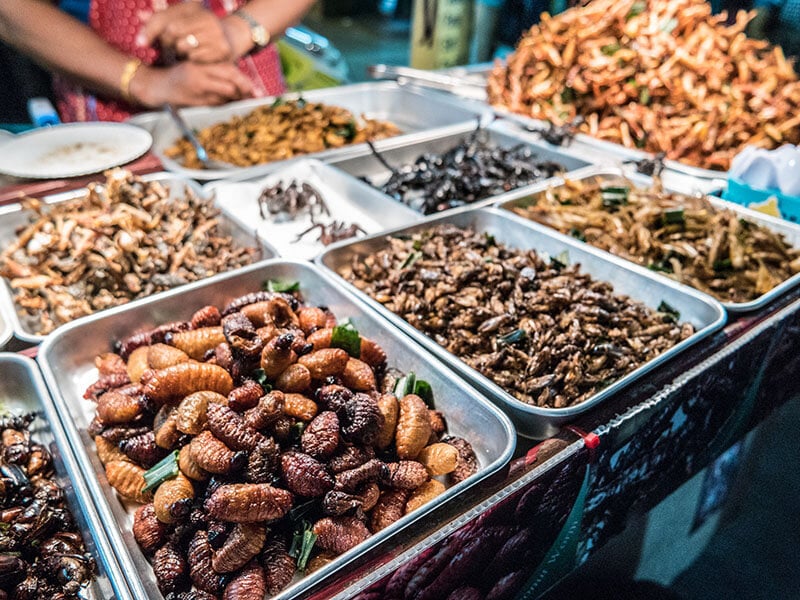 Deep-Fried Bugs are a favorite street food of Bangkok people but a horror dish for some foreign customers. Don't worry; the seller will clean these insects carefully before deep frying. So when you eat, you will never see any strange taste.
This treat originated from the Northeast region of Thailand, and they thought of preparing it just because of these creatures' high protein content and yummy taste.
Some of the most common insects are cockroaches, crickets, or scorpions. After deep frying, they will have a crispy crust and be skewed on pointy sticks, making them more eye-catching. If you are brave enough, don't forget to try the taste of this particular dish!
Desserts or Sweet Treats
Aside from the savory dishes mentioned above, their desserts/sweet delights are also notable specialties to locate in Bangkok. You will drool simply looking at their pictures, believe me.
15. Rang Nok
(Bird's Nest Soup)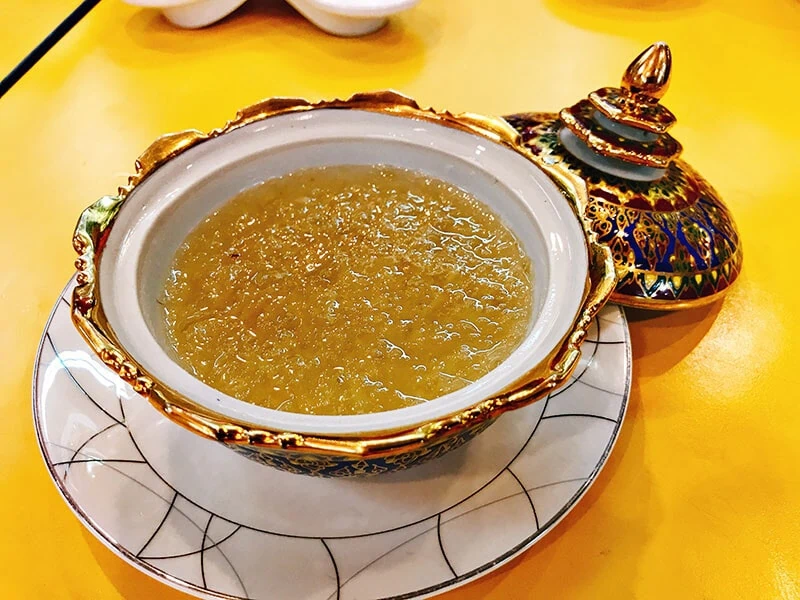 Bird's nest soup is a healthy and lucky dish in many Asian countries (first made in China during the Ming Dynasty), and Thailand is no exception. Although this special soup is available in various other regions of Thailand, the Bangkok version is the most prominent.
As its name suggests, the nests of a swiftlets are the main ingredient to make the Bird's nest soup. According to its characteristics, the swiftlets make their nests by spitting on the cliffs and raising their chicks there.
After the chicks have grown and flown away, the parent swifts begin a new nest. That is the time when they collect the old ones.
Because the harvest is quite difficult and the health benefits are abundant, this dish does not come cheap. But in Bangkok, you don't have to go to luxury restaurants as it's available on all streets.
16. I Tim Pad
(Ice Cream Rolls or Stir-Fried Ice Cream)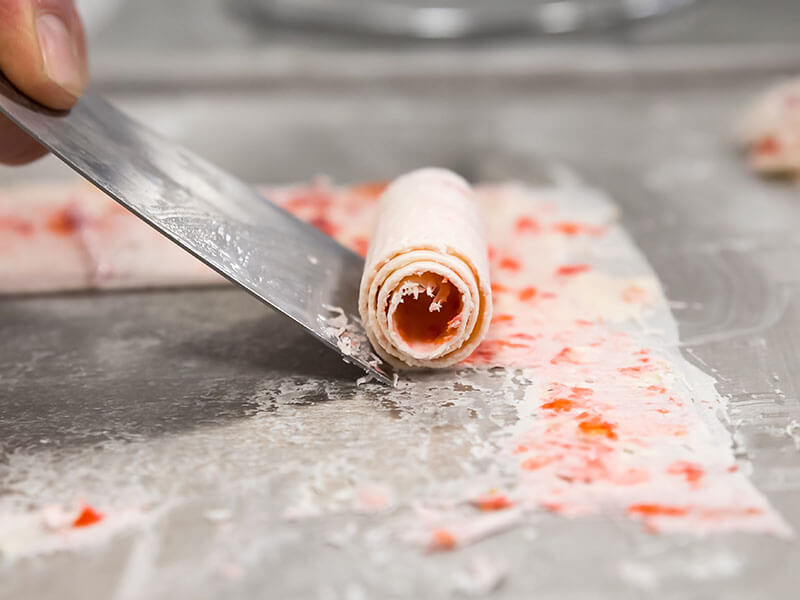 It is impossible not to talk about the legendary Ice Cream Roll. For first-time visitors to experience Bangkok cuisine or Thai sweet treats, they will be surprised how skillfully the seller prepares an authentic Thai Ice Cream Roll.
The chefs will pour the liquid ice cream mixture on the cold, flat surface, and the sellers will constantly stir it back and forth to harden the ice cream gradually.
Then, they will make that ice cream into lovely ice cream rolls. Thai ice cream rolls have many different flavors, such as strawberry, mango, durian, or mixed. Therefore, you can create your own ice cream to suit your preferences.
17. Khao Neow Ma Muang
(Mango Sticky Rice)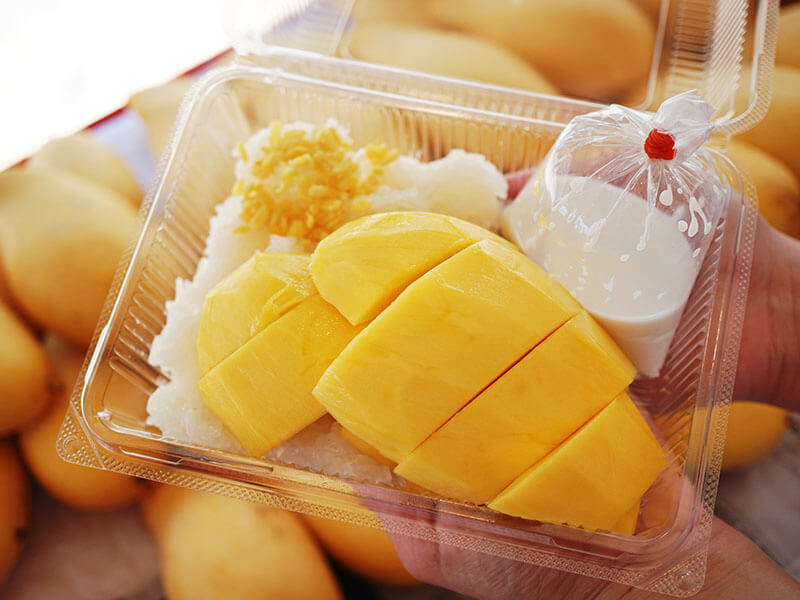 Mango sticky rice is an irresistible mango dessert in Thailand. Local people created this dish based on the fact that Thailand is an exporter of delicious rice and is especially famous for its varieties of mangoes.
Therefore, mango sticky rice is a prevalent dish for visitors when coming to Bangkok, the capital of Thai street food.
Mango sticky rice consists of simple ingredients such as sticky rice, mango, and coconut milk (the vendors/sellers have modified it by adding some salt for a more unique taste).
Although sticky rice is a fairly popular dish in other Southeast Asian countries, they usually only eat it with meat and beans, not with fruit.
However, thanks to the immense popularity of Thai cuisine, sticky rice and mango is now a well-known street delight in Cambodia, Laos, and other neighboring nations.
A perfectly delicious piece of mango sticky rice requires that it does not feel crushed with a moderate sweetness mixed with the fatty taste of coconut milk when eating.
Don't hesitate and know more about Mango Sticky Rice through this review.
18. Cha Yen
(Thai Milk Tea)
If you have been familiar with a prevalent Taiwanese street delight called Bubbles Milk Tea (or Zhen Zhu Nai Cha), this Cha Yen (or Thai Milk Tea) won't surprise you.
Besides the fact that Thai Milk Tea calls for different kinds of tea leaves, which offer the lovely red/green shade to the milk tea liquid, the idea to make the drink is the same. Cha Yen also has various toppings, such as Jelly or chewy Bubbles.
Evaporated milk's rich and sweet taste harmonizes beautifully with the strong tea flavors, helping the entire drink irresistible. If you love eating bubbles in Milk Tea, you can also ask for some additional Tapioca Pearls or Grass Jelly as this favorable drink's toppings.
19. Nam Bai Toey
(Pandan Juice or Pandan Iced Tea)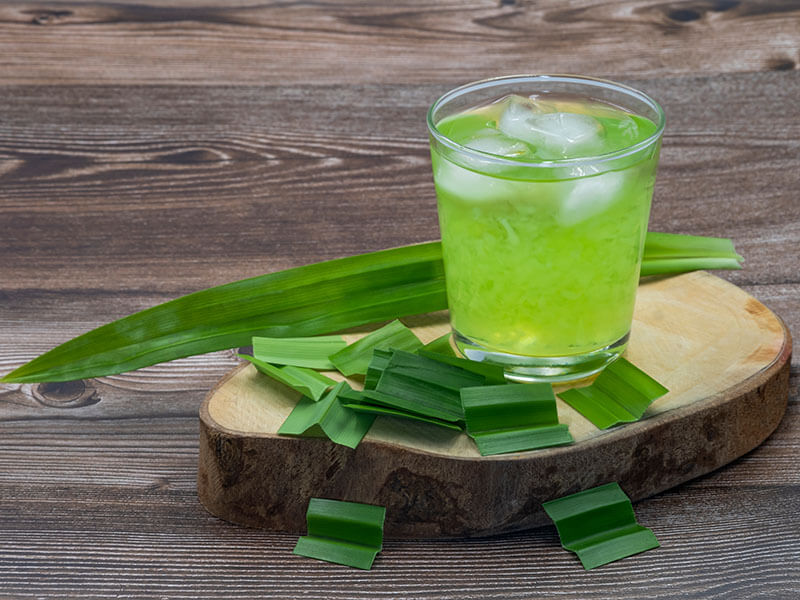 Pandan juice, or Nam Bai Toey in Thai, is a famous drink of Thailand. Not as rich and flavorful as the previous Cha Yen, Nam Bai Toey is appealing thanks to its rusticity and simplicity.
Pandan or screwpine is a frequently used herb for various savory foods in Thailand, and it also tastes great when they make it into a lovely green juice.
Since Thai people adore this light, refreshing drink, there are numerous street vendors or mini stands selling Nam Bai Toey on the Bangkok streets. Grab one and try it as soon as possible!
This is an authentic Thai way to make Nam Bai Toey you might ask for.
20. Roti Sai Mai
(Candy Floss)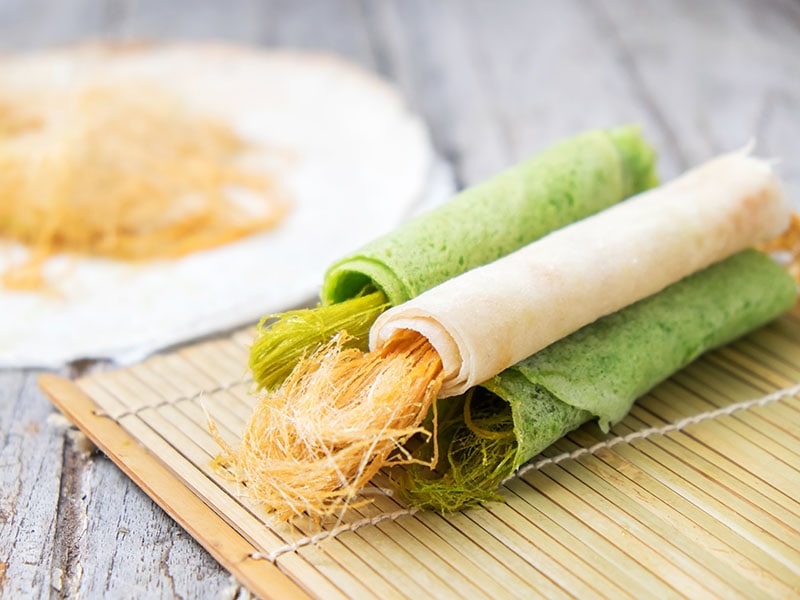 Roti Sai Mai originates from the Ayutthaya area and is a traditional Muslim dessert. Basically, this dish includes 2 main parts: colorful sugar candy and thin crepes. Many local people consider it as their favorite street dessert in Bangkok.
The layers of crepes consist of flour, eggs, and pandan leaves extract, making them surprisingly supple and easy to consume. When combined with the sweet sugar candies, the overall taste of Roti Sai Mai cannot be more perfect.
With an affordable price for each roll of Roti Sai Mai, you might want to buy more of it at a time.
21. Kanom Pang Ping
(Toasted Bread With Jam)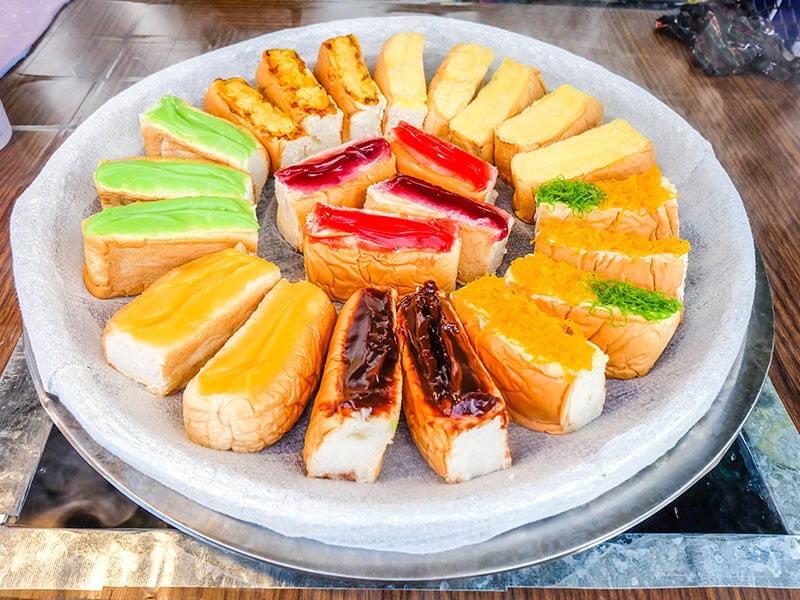 These attractive Kanom Pang Ping (also known as Toasted Bread With Jam) pieces are the last sweet dish in this category. Even though it just calls for some simple ingredients and has a rustic look, Kanom Pang Ping's deliciousness shouldn't be underestimated.
The idea to make a portion of this food is also quite simple. The cooks will combine the crispy toasted bread with butter and flavorsome jams, condensed milk, and crunchy nuts. Some other versions even include coconut-y toppings to enhance the flavor.
If you are in the mood for some sweet bread slices, you should opt for this Kanom Pang Ping in Bangkok street vendors.
I hope that you will have a fascinating food tour in Bangkok by following my street food recommendations for you above.
My mentioned suggestions are not all you can expect from the rich culinary of Bangkok; once you discover more about them, you will find many other delicious foods. All of them await you to experience.
If you think my humble article today is helpful, don't hesitate and share it with your loved ones. I would be very appreciative of your contribution.