Indian vegetarian recipes are generally flavorsome and versatile, so you can always find new recipes to widen your foodie list. Don't worry; even if they only call for veggies, the recommended recipes below are still nutritious enough for a family meal.
From no-guilty protein to the healthy carbohydrates from various plants, you can find them all here. Are you lacking ideas for your next vegetarian meal at the moment? Then, don't wait anymore and check all of my toothsome recipes below!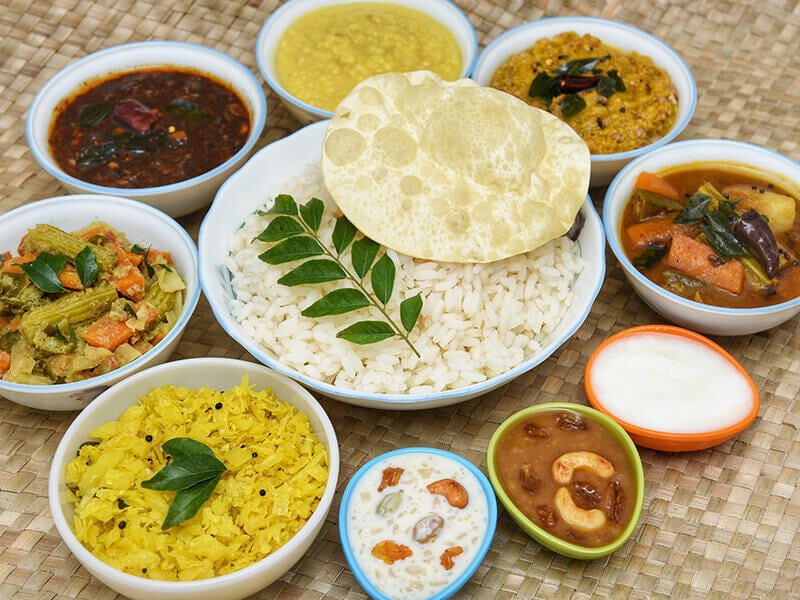 What Can You Add To Your Ideal Vegetarian Recipe List?
With the rich and wide range of vegetarian-friendly recipes, Indian gastronomy seems to be heaven for ones with a plant-based diet. No more beating around the bush; you should take note and choose your favorite recipes below!
Total time: From 1 hour and 30 minutes to 5 hours.
When starting an Indian recipe list with some starch-based delicacy, nothing can go wrong. Compared to the other Indian flatbread dishes, Dosa is one of the lightest and extra crispy, making it tempting to people from every age group.
Basically, the batter mixture of Dosa includes dals, but you can find various kinds of other flour included in different variations' dough bases. One thing is for sure; Dosa can always be a great partner besides chutneys or any vegetable curries below.
Dosa takes no time to cook, so don't miss this guide to making a perfect one.
Total time: About 40 minutes to 1 hour and 10 minutes.
Well, they might look like the famous wheat Tortillas, but they are not siblings. Distinguished from some other well-known kinds of bread, Roti is unleavened so that your cooking time can be much shorter than expected.
Since the main ingredients for this complimentary Indian breakfast's side dish are super basic, you can always prepare some at home. Who can believe with only flour, water, and some salt, you can create such a restaurant-quality flatbread already?
Total time: Around 15 minutes to 35 minutes.
Come back to the iconic Indian Naan. While the origin of Naan remains unclear for centuries, the only thing for sure is people living in India (or the Indian subcontinent) love these humble flatbreads a lot. Today, I will show you how to make Naan in Indian ways.
To make this gorgeous Indian food most efficient, I suggest using all-purpose flour (although you can add other kinds based on your preferences). You also need a pinch of salt into the Naan batter to have a reasonable depth for the soft/tender bread.
More importantly, the typical Indian Naan is made in a special oven. Yet, you only need a high-quality pan to make it at home. Easy peasy!
Total time: From 30 minutes to 1 hour 5 minutes.
Mentioning Puri or Golgappa, you might immediately recognize it as a brilliant Indian street delicacy. Now, you don't need to visit India to try an authentic Puri since you will know how to make some at home.
The flour used for the Puri might be different, but all are accessible. At last, you will want your Puri pieces to be evenly puffed and absolutely crunchy when taking a bite. All the steps are apparent, so you can start preparing some now.
This is the most straightforward way to make Puri, and you shouldn't miss out on it!
Total time: About 30 minutes.
Compared to some other Indian flatbreads, Parathas are flakier with a texture that looks like puff pastry (but a bit denser). Since this starch base is pretty filling, you can cook them and serve them for your Indian-inspired dinner or lunch.
It can match well with curries or stews. Besides Ghee, water, and flour, which are essential ingredients to make Parathas, you might make your own twists with the other components.
Adding some condiments or spices (such as ginger or cumin), for example, to enhance your flatbread's flavor profile is a great way to go.
Total time: Only about 5 minutes + a couple of hours to chill (optional).
Among all the delicious Indian salads, Raita is the least burdensome to create, and you might be amazed at its straightforward processing steps. The most prominent taste in your portion of Raita comes from the combination of rich/sour yogurt and fresh components of choices.
Cucumber or onion are the most common options you can start with them for the first time trying. It would be so rustic and simple, making your light Raita a perfect balancing condiment/salad for any day's meal.
If you will make some of the heartier recipes below, complete this Raita instantly and serve them together. It tastes even better when cold, so you should prepare this at least 20 minutes (better be 2 or 3 hours) before mealtime.
Total time: Around 15 to 20 minutes.
Chutneys are the most versatile Indian condiments you might find since they can take part in any mealtime with any role. It technically works well with various delicacies from a spread, sauce, or dip.
Generally, a portion of Chutney includes fresh herbs, spices, and other flavoring condiments. Some variations might call for other things (such as tomatoes or citrus fruit juice), but the idea of making them and the typical refreshing theme for the Chutney bowls are the same.
Idli (South Indian Steamed Cake) or Dosa is the most recommended partner besides your lovely tangy and spicy Chutneys.
Not 1 but 4 ways to make Chutneys? Are you curious?
Total time: Around 1 hour (or 10 more minutes)
Once following the vegetarianism diet, you can still consume egg dishes, but what if you don't want to include that ingredient in your food? Well, then this banana bread is perfect for you.
Don't worry if the texture of your bread recipe is crumbly because the mashed ripe bananas have added a moderate amount of moisture to your delicacy already.
The baking soda helps your bread be fluffy, and you can expect a melt-in-your-mouth effect from this complimentary dessert.
Total time: About 20 or 25 minutes.
Spices are the fundamental ingredients in any Indian recipe, as do their rice dishes. Instead of preparing some white rice like in other simple Asian recipes, you can try adding some cumin like this delicacy.
Trust me, the lovely earthiness from cumin seeds makes your rice base even more scrumptious. This is a perfect Indian dish to make with an instant pot. As this recipe calls for basmati rice, your dish will be gluten-free and lower in heavy metals to have a healthier meal.
Total time: About 25 to 30 minutes.
Talking about Indian spices, fenugreek always takes an essential role. This spice delivers nutty notes and a burnt sugar-like aroma when raw, but its overall flavors turn a bit sweeter when cooked.
Indian people use this spice to add depth to their food, and I'll tell you how to match it with a rice dish. However, Methi Pulao is more than just sweeter rice (with additional fenugreek) as the recipe requires some additional aromatic spices (like cinnamon or cumin seeds).
Your meal can be completed quickly on a busy day with only a portion of Methi Pulao and some Raita. Why not? It'll be light and satisfying.
Don't be nervous if you don't know how to start making Methi Pulao. I have your back.
Total time: From 20 to 35 minutes.
If you have tried Jeera rice already, you should move to this Vangi Bath (or eggplant rice). This vegetarian mixed rice recipe comes from South Indian gastronomy and people there love this delicacy for its wide range of tempering or spices.
Brinjal is basically "eggplants" in India, and the texture of this particular vegetable turns much softer after stir-frying. Its unique texture from Brinjal helps it ideally absorb all the additional spices (from curry leaves, urad dal, and mustard seeds). How palatable it is!
Total time: Approximately 20 minutes.
Quinoa is no longer a strange ingredient for people who love Asian-style vegetarian foods. Local Indians often replace it with rice (the main starch base in their traditional diets). Quinoa tastes a bit like brown rice with milder and earthier notes about its flavors.
The texture of these grains becomes fluffier after cooking, and they can totally pair with any other main course dishes. To make your Lemon Quinoa look more appealing, turmeric powder is a must.
It will give your treat beautiful yellowish tones and enhance the health benefits of this delight. On the days you have no idea for a meal, you can pair this Lemon Quinoa with some Raita. Your meal can be done in a snap.
Here is a fascinating Lemon Quinoa-making tutorial for you!
Total time: About 35 to 45 minutes.
The first historical report of Sambar appeared in the 17th century, making it one of the oldest recipes in today's article. This robust soupy stew contains various flavors from plenty of ingredients so that it can be an excellent recommendation for dinner besides rice/Idli.
Although there are many components in a portion of Sambar that can be changed based on the recipes or the cooks' preferences, tamarind pulp/paste is always a must. This humble part offers a lovely tanginess for your Sambar.
Furthermore, you can also expect the Indian foods' signature spicy/warm notes from other things such as chilies, mustard seeds, and cumin. It will be an impressive flavor punch from the very first spoonful!
Total time: From 25 to 40 minutes.
Fritters or fried treats are the must-tried Indian delights since they are pretty versatile, and you can easily make them anytime in the week. The secret to this food's deliciousness lies in the mixed batter consisting of chickpea flour, spices, and some salt.
The main ingredients, vegetables, for this toothsome Indian snack are varied, so you can opt for almost anything you like. The outcome will be extra crispy after coating your veggies with mixed flour and deep-frying thẹm in sizzling oil.
Make some delectable yogurt-based sauce or Chutneys on the side, and you can savor these vegetable fritters with satisfaction.
Total time: Around 15 to 20 minutes.
Now, let's try changing your vegetables with some Indian cottage cheese! How can fried cheeses go wrong as the crispy exterior and the milky/fresh interior never go wrong? You can change to the plant-based Paneer to substitute the cow/buffalo milk-based ones.
Also calling for besan (or chickpea) flour, the frying batter for Paneer Pakora also includes a wide range of spices (turmeric/chili powder) and some salt to taste. All the steps to make this Fritters dish can be done quickly, so you can prepare some of it anytime you wish.
Do you wonder how exactly Indian people make Paneer Pakora?
Total time: From 30 to 50 minutes.
You might have been familiar with the regular Kababs loaded with minced meats, but I will ịntroduce to you a way to make your Kababs completely vegetarian-friendly. Who thinks these attractive golden brown Kababs consist only of plant-based ingredients?
With only green peas, some other leafy herbs (fresh coriander/mint leaves), and additional spices like cumin, your pieces of Hara Bhara Kabab can offer a lovely natural sweetness from veggies.
The notable warm notes from spices and appealing herby aroma are also the alluring point of this food. Fresh green peas are always more flavorful than frozen green peas, in my experience, so I would highly recommend you opt for the fresher variant for your food.
After forming the parts into patty-like pieces, you will need to shallow-fry them with only moderate oil. I offer you two recipes for this Hara Bhara Kabab, and you choose one with Paneer or one without based on your preferences.
Total time: Around 1 hour to 1 hour and 10 minutes.
Chana Masala is a northern Indian dish that has gained international acclaim. Chana means "chickpeas", while Masala is an Indian spice mix in terms of the dish's name.
The soup base usually includes many hot spices such as coriander, cardamom, cinnamon, etc. As a result, your curry will be brimming with traditional Indian flavors. This dish nicely complements either Indian-style bread such as Naan/Roti or hot rice.
If the overall taste is too hot for you, you can adjust the spices' ratio. Because it is home cooking, you may make any changes you like.
Greet this famous Chana Masala right here now!
Total time: From 30 minutes to 1 hour.
If you are a fan of Indian cuisine, Samosas might be no more a strange dish for you. This favorable puff pastry dessert is normally served as street food or snack in India, and here are two ways for you to make some at home.
The shell/exterior of Samosas is the tempting point of this delicacy, so you should make sure it will be thin and crispy in every bite. Because of that, your mini-sized desserts should go in the pan when the oil reaches 320 or 328 degrees F.
At this temperature, your Samosas can quickly become crunchy while the interior is still juicy. After your teeth touch the crispy Samosas' skin, all flavors will rush into your mouth. Whatever you do, don't forget the dipping sauce, and Raita is an excellent choice.
Total time: Around 55 minutes to 1 hour and 5 minutes.
In Indian cuisine, "dal" is another term for lentils, and natives often prepare them as a soup/stew. In this Masoor Dal recipe, the red lentils are prepared simply with spices/condiments like garlic cloves, coriander, cumin, and chili/pepper.
This Masoor Dal offers nutritional benefits and is a healthy alternative to meaty curry for vegetarians. Because lentils are also high in fiber, iron, zinc, and potassium, you don't need to worry about nutrition when eating this dish.
Making Masoor Dal has never been this easy.
Total time: From 40 to 50 minutes.
This Dum Aloo is an authentic delight from Kashmir, and it typically consists of small crispy fries slow-cooked in a spicy sauce (with chili powder and Garam Masala).
The slight fatness in the accompanying sauce of this dish is essential, so you should choose between coconut milk or yogurt to use as the base for this dish. To make this Dum Aloo look more attractive, you can add turmeric. It gives your food a lovely bright hue.
When you eat, you will feel the seasoning evenly permeate the outside of the pre-fried exterior of the mini potatoes. The smooth, supple interior of the potato is the star as it helps balance out your overall strong seasoning.
Total time: 1 hour to 2 hours 30 minutes.
Malai Kofta is a North Indian recipe, and local people love including this luscious stew at their weddings/parties or other special occasions.
The term "Malai" in the name of this dish refers to the use of "cream" (or skimmed milk/nuts) in the stew, while "Kofta" refers to the deep-fried balls. The main ingredients for these balls are mashed boiled potatoes and some other spices/condiments like cinnamon to taste.
You need to deep fry these veggie-loaded balls in hot oil before matching them with the flavorful sauce. After cooking, each Kofta piece is delicate, spongy, and slick with a luscious, creamy tomato sauce, making them a great partner beside Naans, rice, and Parathas.
This Malai Kofta looks tempting, and this is how people accomplish it.
Total time: 30 to 55 minutes cooking time + 6 to 8 hours (or more) to prepare.
Have you ever heard of Butter Chicken Curry or Chicken Makhani? Chicken Makhani is one of the most famous Indian curries, and Dal Makhani is its prevalent vegetarian-friendly cousin.
Generally, this scrumptious Indian soup dish has "dal" (lentils) going with the creamy sauce base (Makhani). Black lentils (Sabut urad dal) and kidney beans are the most common legumes used for this curry.
On the other hand, you can change the dairy base of milk/cream to coconut milk (if you want). The other condiments like cinnamon stick, turmeric/cardamom powder, and cumin are essential to enhance your dish's tastes.
The cooking and preparation time for Dal Makhani might be long, but it is the key to having a perfect curry batch.
Total time: About 30 to 35 minutes.
You might be amazed by a large amount of veggies-loaded curries on this list, and Aloo Matar is also a dish like that. Aloo Matar/Aloo Mutter generally means "potatoes and peas", and this yummy vegetarian delicacy is famous in the Indian subcontinent.
Aloo Matar is not only a delicious dish but also offers you many benefits such as quick-to-prepare, budget-friendly, and easy-to-eat. Among all the curries in today's article, this Aloo Matar tastes the least spicy/hot since there are few hot spices.
Then, whenever you don't have much time to cook your family's dinner, this Potatoes And Peas Curry is a way to go.
Total time: From 45 minutes to 1 hour 20 minutes.
Does a vegetarian-twisted Tikka Masala make sense? Trust me, it does. Tofu has always been a great source of proteins and nutrients for vegetarians. This Indian-originated tofu dish is an ideal cozy and warm recipe for a cold night.
The term Tikka Masala (meaning "spicy pieces") typically mentions an Indian dish cooking in saucy tomato gravy. Traditionally, the primary proteins are the thick chunks of meat, but now you will use tofu.
Vegetarian Tikka Masala is flavorful so that you can pair it with hot rice/flatbread. The recipe will obviously require plenty of spices and might take time to look for them, yet its taste pays off.
On the other hand, the creaminess in the sauce base for this dish is from yogurt or coconut milk (it depends on you), and this part helps to lighten your dish a lot.
Total time: Around 40 minutes.
Another Paneer-utilized recipe on this list is this Kadai Paneer; it is a curry cooked in a tomato sauce. One significant advantage of Paneer is that it doesn't melt easily under high heat; therefore, Indian people use this fresh acid-set cheese in their vegetarian dishes.
Coming back to the main point, besides Indian cottage cheese (Paneer), this recipe needs the companions of cream/milk and other hot spices/condiments (chili/Garam Masala). Because of that, you can be sure that this cottage cheese curry is absolutely flavorsome.
Moreover, note that Paneer is typically made from cow/buffalo milk. Therefore, if you don't want to include these animal-based products in your diet, you can consider other substitutes such as vegan Paneer from cashew milk or other legumes' milk.
Don't know what to eat with Kadai Paneer? I suggest you match it with Jeera rice and the previously mentioned flatbreads.
Got 5 minutes to spare? Let's learn how to make Kadai Paneer.
Total time: 30 minutes (cook normally) or 8 hours 10 minutes (cook in the slow cooker).
Do you want an Indian recipe compatible with slow cookers? How about giving this pumpkin curry a try? To start making this curry, you need to have chickpeas, pumpkin cubes/puree, mixed curry spices, etc.
The ingredients list might be too long for beginners, but you should buy the requested spices and use them for your future homemade Indian dish. The typical flavors of Kaddu Ka Bharta are the prominent richness of pumpkin and the mild spiciness.
Furthermore, you can make a big batch of this pumpkin curry, toss them into airtight freeze bags, freeze/refrigerate them and use them for later meals. Within 3 months (storing in the freezer) or 5 days (in the fridge), you can always have your Kaddu Ka Bharta ready to serve.
Total time: Around 40 minutes.
Korma is a kind of Indian stew that is somehow like Makhani (Butter Curry), but there are always yogurt (or yogurt alternatives like cashew cream) and onions in a portion of Korma.
Although the traditional Korma goes with various kinds of meat, I'll show you how to make it vegetarian. I highly recommend making your food with more "endurable" veggies like peas. You can still opt for the other leafy ones, but they might become mushy afterward.
Total time: 30 to 40 minutes.
Matar Paneer originates from the northern regions of India, and this dish is made up of peas, milky Paneer, and spices. Never forget the other signature curry condiments like coriander or Masala powder because they are the true soul of your food.
The construction of soft Paneer and chewy fresh/frozen peas creates a lovely attraction of this Matar/Mutter Paneer recipe. In case you want to make your food vegan, you can change milk-based Paneer into plant-based ones consisting of nuts/grains' milk instead.
Like many other Indian dishes, this curry with luscious tomato-based gravy is best when served with flatbread like Roti, Naan, or Parathas.
Total time: About 25 to 40 minutes.
Palak Paneer is an Indian curry but has a mild taste and many health benefits. The dish's main ingredient is nothing more than spinach, rich Paneer, and other typical Indian spices like Garam Masala. This is a perfect Indian dish to enjoy on a keto diet.
Thanks to the significant portions of spinach and other leafy herbs included in the recipe, this dish has an attractive dark green color. If you are vegan and exclude dairy products from your diet, you should consider some other recommended dishes above.
You can cook this for various meals throughout the day, and you can also choose between a variety of starch bases like Indian bread (Naan/Roti) or rice.
Dive into this detailed guide for the ultimate Dhaba Style Palak Paneer.
Total time: Around 20 to 45 minutes.
Here is an easy option for you; this Aloo Gobi takes almost no effort to prepare and make. The name of this delicacy, Aloo Gobi (with Aloo means "potatoes" and the Gobi means "cauliflower"), tells you a part of its main ingredients.
The condiments used are the most critical contributors that help your Aloo Gobi taste "Indian". Garam Masala, with its floral/warm notes, lovely fragrance from cumin, and beautiful yellowish color from turmeric, make your portion of veggie Indian-style curry more alluring.
Although your dish isn't time-consuming, you can make it an instant pot Indian delicacy to shorten your cooking time. It will still be straightforward to accomplish for even beginners.
Total time: About 47 minutes.
An authentic Indian sweet treat but is made into a straightforward mason jar recipe? Yes, it is possible, and my suggested recipes here will show you how.
The thin layer of sponge cake will be rich and flavorful with some additional ingredients such as milk powder and other spices/condiments (cardamom/baking soda). The food might be loaded with cream, but your first bite into it won't be too greasy.
Kids will love these gorgeous whipped cream desserts since it'll be fun to try preparing them with their parents. For garnishing, you can opt for pistachios, rose petals, or some saffron strands. They will make your dessert-in-the-jar look more colorful and attractive.
Total time: About 6 hours 40 minutes.
Do you know that you can make Kulfi vegetarian (even vegan)? Today's recommended Indian sweet recipes call for no dairy products and replace them with coconut milk. I guarantee you that these desserts are also healthy with no white, unhealthy sugar.
Instead, the sweeteners for your coconut-based sweet treat are entirely natural, for example, ripe fruit, maple syrup, or honey. It depends on what you have in your pantry.
You can feel a lovely coconut flavor with some nutty notes from cashew/cardamom when tasting. Absolutely toothsome.
Roll Up Your Sleeves And Make Some Indian Foods Now!
For vegetarians, Indian foods are a great choice because Indian chefs from thousands of years ago did not put a lot of emphasis on the use of meat and fish.
They just need a few vegetables and various harmonized spices/flavorings, and their dishes are quintessential already. Therefore, there is no reason to refuse to try these unique dishes.
You should try to cook the recipes that I have recommended above for your family and friends whenever you have the opportunity. And if you find it palatable, please share this article with them! Loving is sharing.
Nutrition Facts
4 servings per container
---
Amount Per ServingCalories233
% Daily Value *
Total Fat 7.9g

11

%
Sodium 315mg

14

%
Potassium 1036mg

30

%
Total Carbohydrate 38.3g

13

%

Dietary Fiber 7.2g

29

%
Sugars 7.9g

Protein 4.8g

8

%
---
* The % Daily Value tells you how much a nutrient in a serving of food contributes to a daily diet. 2,000 calories a day is used for general nutrition advice.