Vietnamese Glutinous Rice Balls (Che Troi Nuoc/Banh Troi) is a traditional, age-old dessert that has been enjoyed by generations of Vietnamese families. This delicious treat, made from glutinous rice flour filled with sweet mung bean paste, is not only visually appealing but also a delight for the taste buds.
Scroll down and follow our step-by-step recipe to recreate this classic Vietnamese dessert at home. Don't miss out on the unique blend of flavors and textures that has made it a beloved favorite for centuries – start exploring this dish today!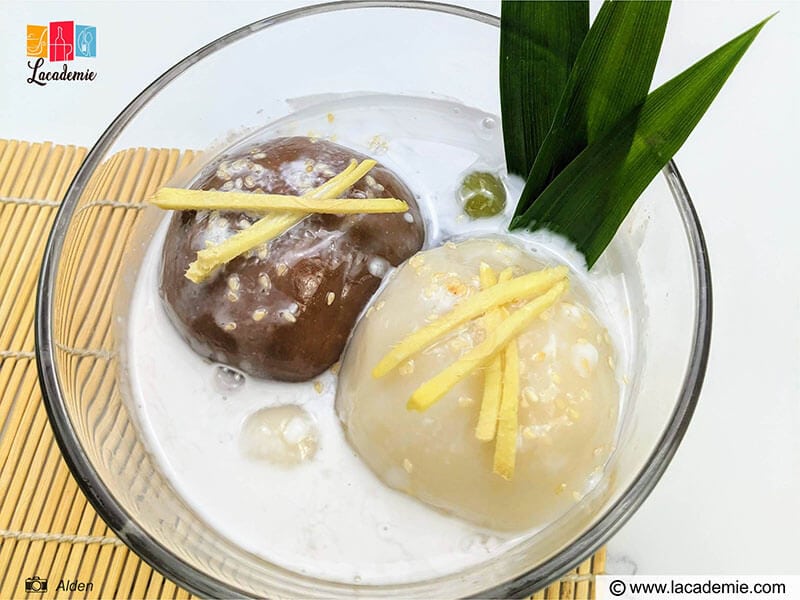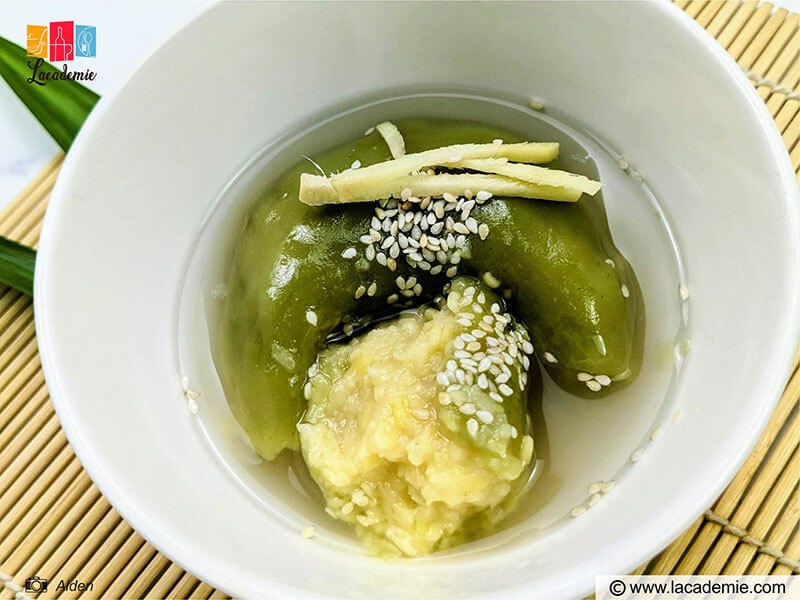 What Is Che Troi Nuoc
Che Troi Nuoc is a captivating Vietnamese sweet treat that loosely translates to "dessert that floats on water." This dish consists of glutinous rice balls filled with mung bean paste, swimming in a sweet syrup infused with water, sugar, and ginger.
Every time I prepare Che Troi Nuoc, it takes me back to the warm and festive gatherings during the Lunar New Year and Han Thuc Festival. Han Thuc Festival, celebrated on March 3rd in the lunar calendar, is a time to honor ancestors and enjoy a festive atmosphere with loved ones.
The aroma of sesame seeds and the creaminess of coconut milk sauce, generously poured over this dessert, fills the air and brings back fond memories of these cherished times.
There's something about this dish that symbolizes the warmth and togetherness that these occasions bring, almost like a delicious, edible hug that brings families closer.
You can find this treat in local markets all year round in Vietnam. It was always a wonderful reminder that this yummy indulgence was just around the corner, waiting to be enjoyed. Che Troi Nuoc, indeed, is a comfort that is accessible and enjoyed by all, any time of the year.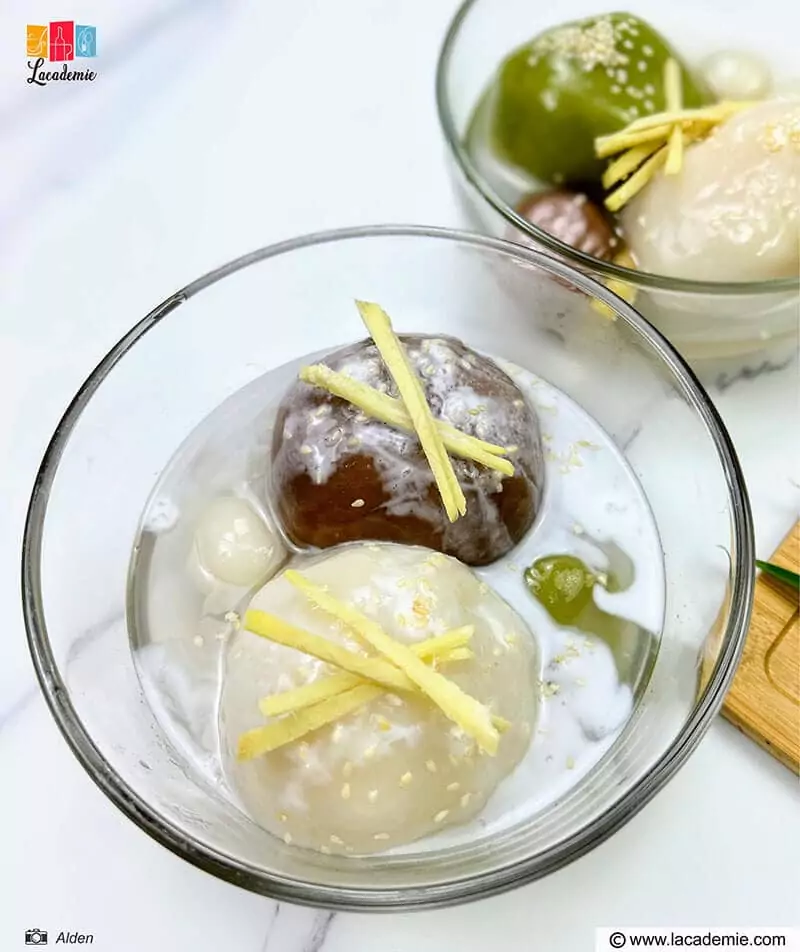 Tools
When making Vietnamese Che Troi Nuoc, using the right kitchen tools can help you achieve the best results. Here are the essential tools you'll need.
2 pots: One pot is for boiling the rice balls, ensuring they are cooked evenly. The second pot is for preparing the ginger syrup that will be served with the rice balls.
Sieve: For stirring the rice balls during boiling and preventing them from sticking.
Large mixing bowl: For combining the glutinous rice flour and water to create the dough, as well as for incorporating the natural dyes to achieve the desired colors.
Spatula: A spatula is helpful for stirring the ginger syrup while it cooks and for mixing the dough while incorporating the natural dyes, ensuring even color distribution.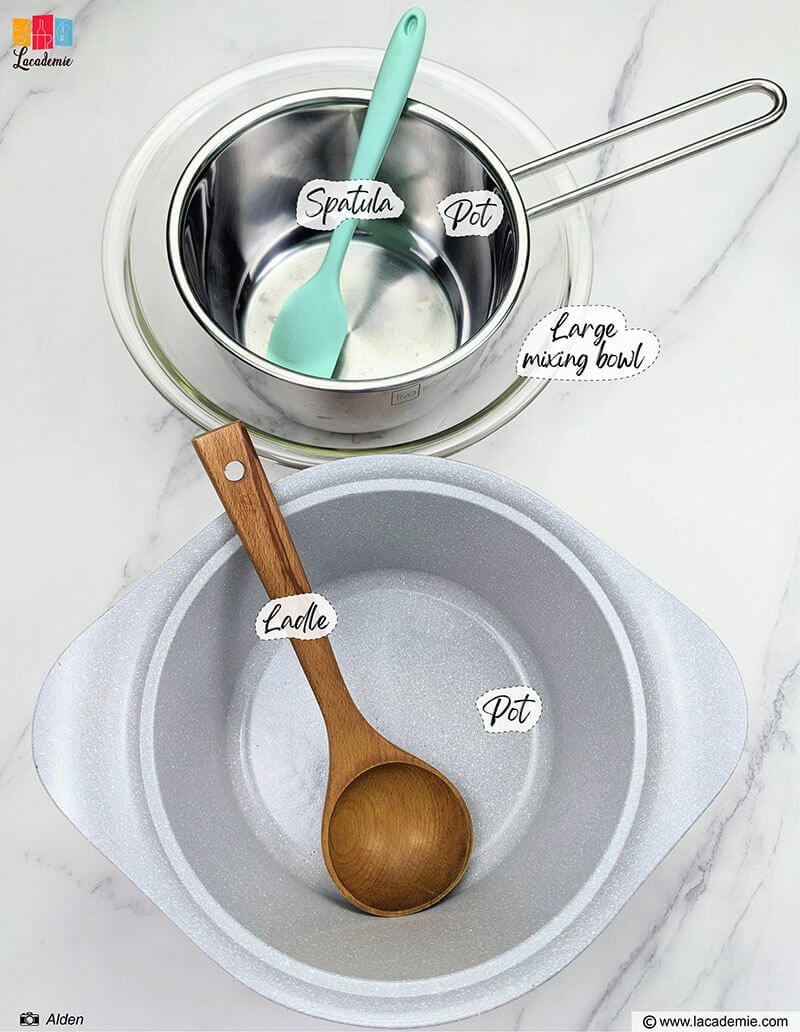 Ingredients
To make Vietnamese Che Troi Nuoc, you'll need a variety of ingredients, each serving a specific purpose. Take a look at them here.
For the dough:
Glutinous rice flour: Provides the base for the rice balls and creates a chewy texture.
Pandan leaf juice: Adds a vibrant green color and imparts a subtle, fragrant flavor.
Beetroot juice: Also called beet juice. It offers a natural purple color to the dough.
Warm water & room temperature water: Helps bind the dough and achieve the desired consistency.
Rice flour: Assists in creating a smoother dough texture.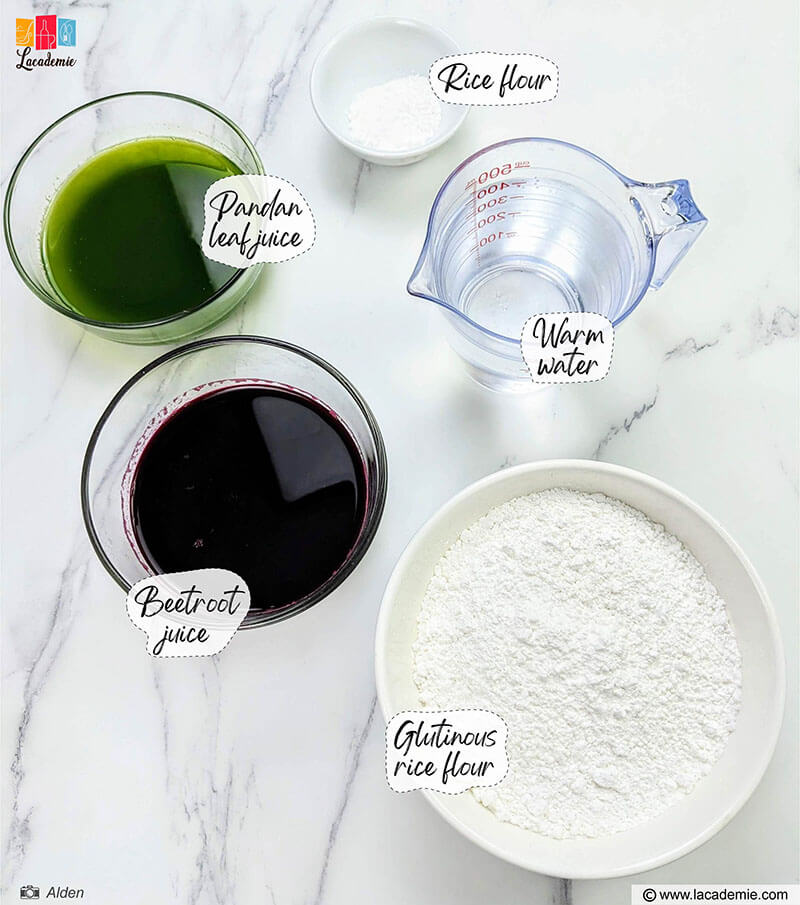 For the filling:
Peeled and split mung beans: Create a sweet and tender filling for the rice balls.
Coconut milk: Enhances the creaminess and flavor of the mung bean filling.
Sugar & salt: Balance the sweet and savory taste of the filling.
Minced shallots: Adds a subtle savory note to the filling.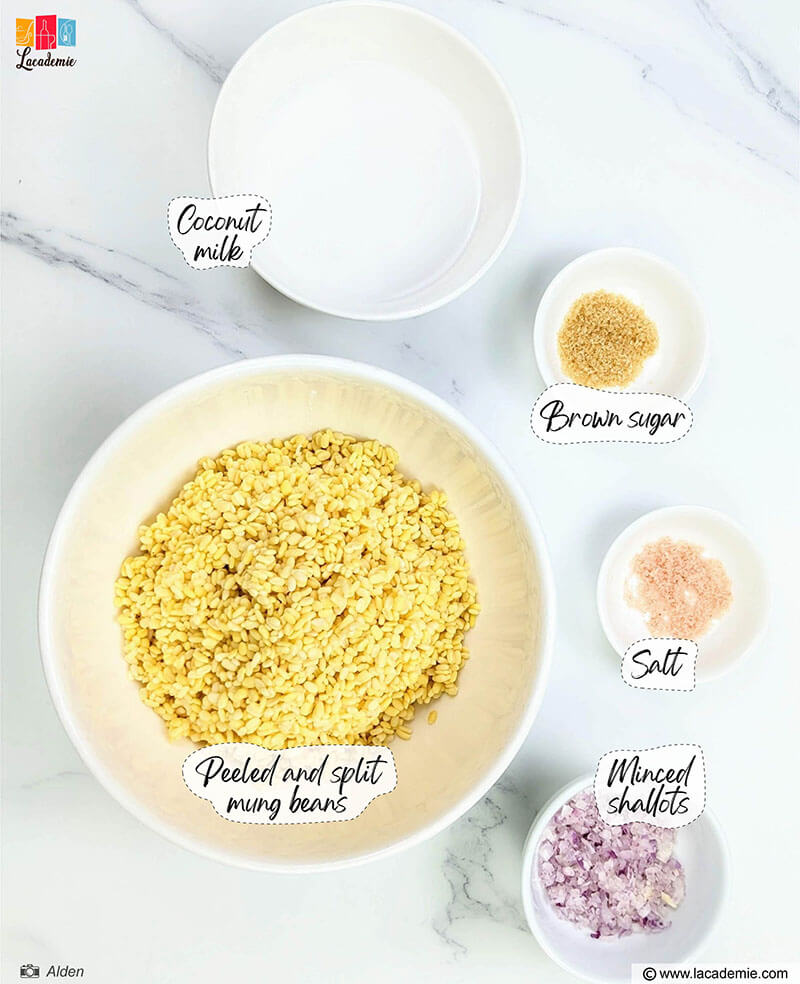 For the ginger syrup and coconut milk sauce:
Rock sugar: Provides the sweetness for the ginger syrup.
Water: Dilutes the syrup and creates the right consistency.
Sliced ginger: Gives the syrup a warm, spicy flavor.
Pandan leaves: Impart a delicate aroma to the syrup.
Coconut milk: Adds a creamy consistency and rich taste to the sauce.
White sesame seeds, toasted until golden: Provide a nutty garnish and a contrasting crunch to the soft rice balls.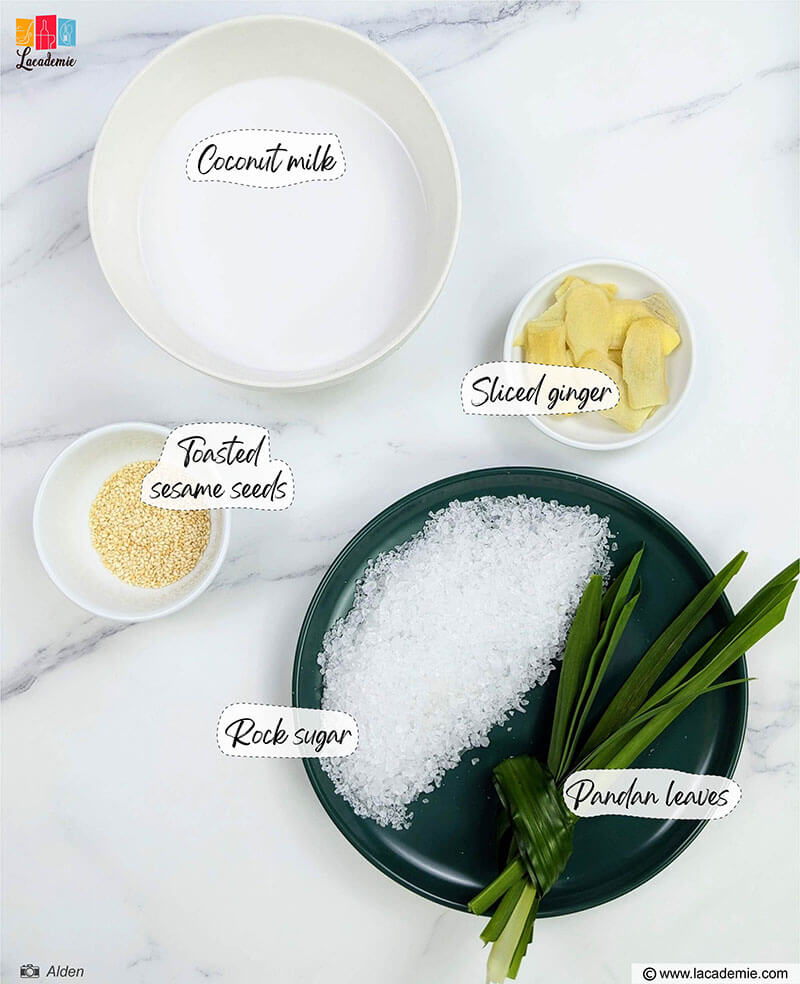 Directions
The easy-to-follow steps in this section will help you easily navigate the process of making Che Troi Nuoc. Let's jump right in and start preparing this delicious treat!
Step 1: Prepare The Mung Bean Filling
First, rinse the mung beans thoroughly, and soak them for 4 hours before cooking. Cook the soaked mung beans in a pot for about 20-30 minutes.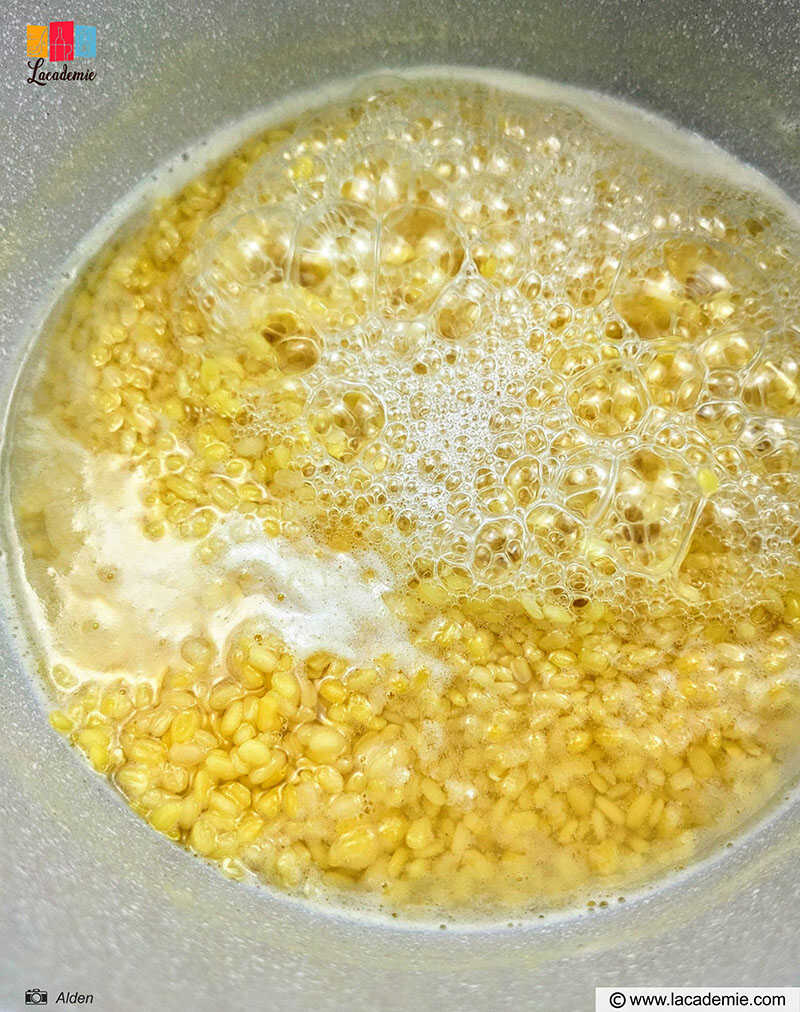 When the mung beans are cooked, and the water has almost evaporated, mix them with 5 tablespoons of coconut milk, 1 teaspoon of sugar, 1 teaspoon of salt, and 1 tablespoon of minced shallots.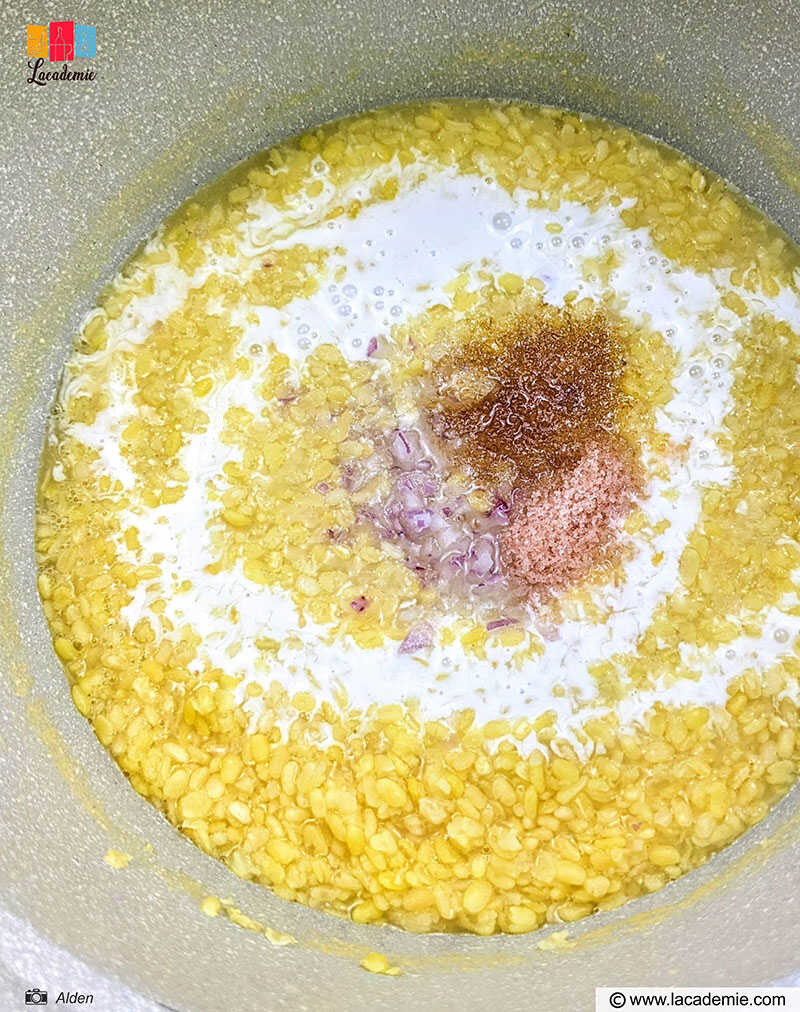 Next, stir the mixture over low heat until you achieve a dry and smooth filling.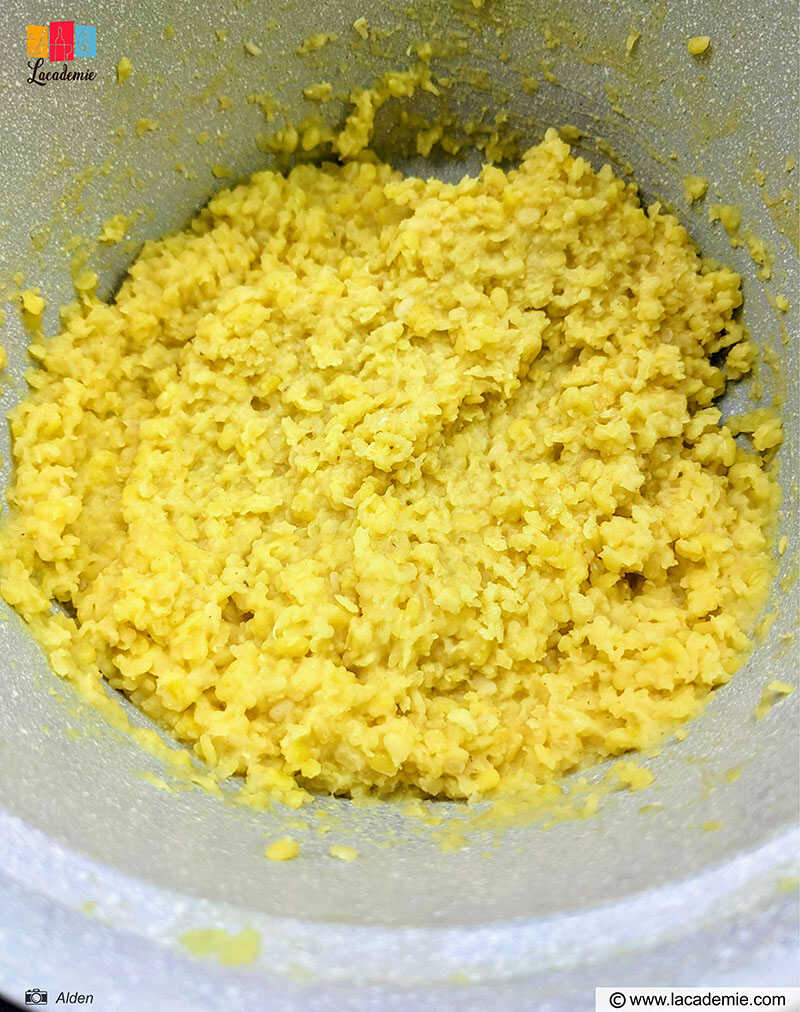 Allow the mung beans to cool, divide them into equal portions, and shape them into balls.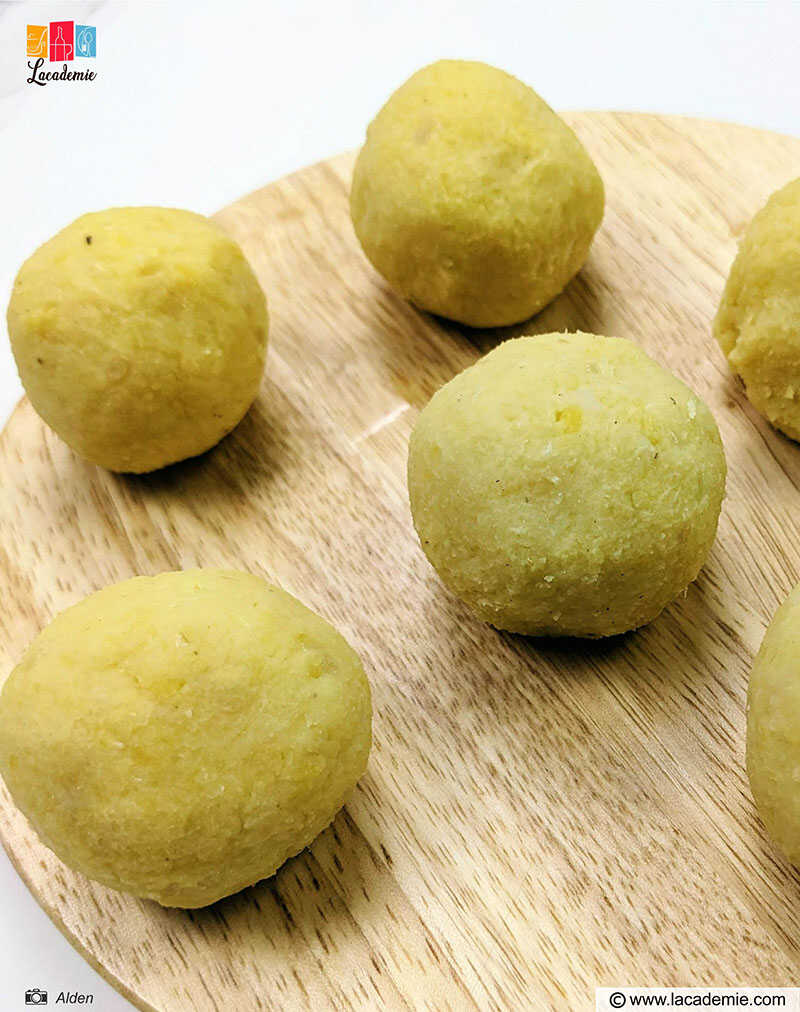 Step 2: Make The Dough
The glutinous rice flour will be divided into 3 portions to make 3 different colored doughs for the rice dumplings. The recipe for each colored dough is as follows:
Green dough (colored with pandan leaf juice):
About 0.3 pounds of glutinous rice flour
3.5 tablespoons of pandan leaf juice
4 tablespoons of warm water
0.5 teaspoon rice flour
White dough:
About 0.3 pounds glutinous rice flour
3.5 tablespoons room temperature water
4 tablespoons warm water
0.5 teaspoon rice flour
Beetroot dough (colored with beetroot juice):
About 0.3 pounds of glutinous rice flour
3.5 tablespoons beetroot juice
4 tablespoons warm water
0.5 teaspoon rice flour
Place about 0.3 pounds of glutinous rice flour in a large bowl. Then, slowly pour in 4 tablespoons of warm water. Use a spatula to mix well.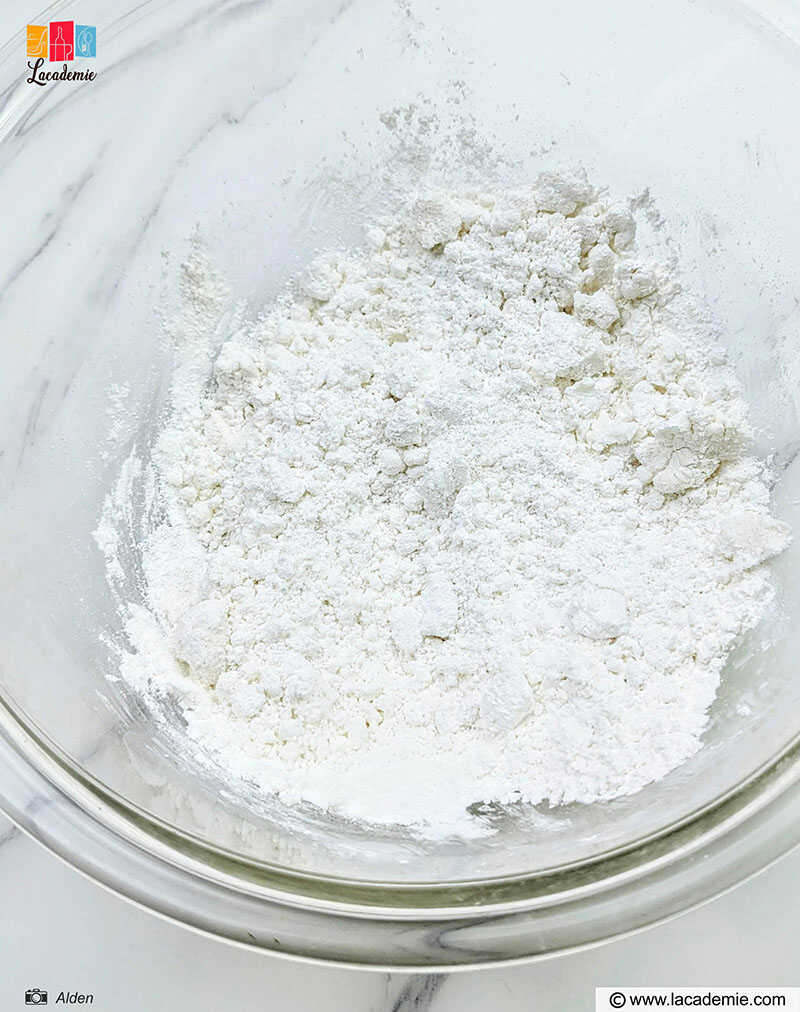 Next, gradually add 3.5 tablespoons of pandan leaf juice/beetroot juice or 3.5 tablespoons of room-temperature water (for the white dough).
Knead the dough with your hands until it becomes fairly smooth, then add 1 teaspoon of rice flour. Continue kneading so that the dough is soft and pliable without being too dry, feeling wet but not sticky to the touch.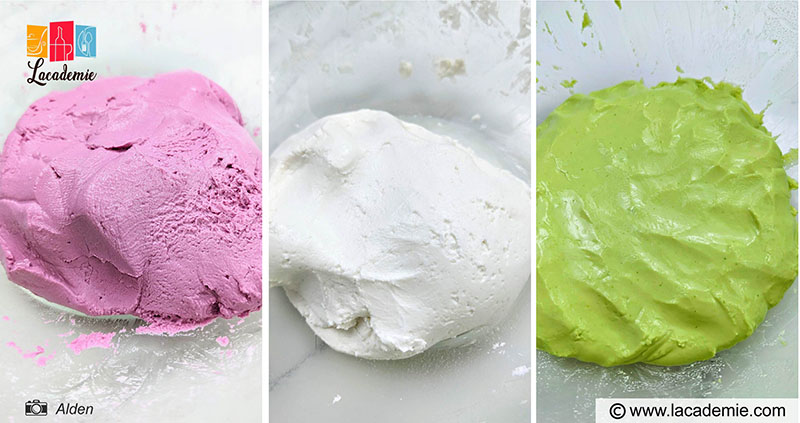 Cover the dough with plastic wrap, which will prevent it from drying out. Rest it for 30 minutes.
Notes:
It's a good idea to use concentrated coloring agents so that when mixed with the dough, the color will gradually become lighter.
The amount of water needed may vary depending on the dough's absorption capacity. If the dough is too dry or wet, you can add water little by little or more dry flour to adjust.
Step 3: Shape The Glutinous Rice Balls
Before shaping the glutinous rice balls, prepare a pot of boiling water so that you can cook them as soon as they are shaped. Leaving the dough exposed for too long will cause it to dry out.
Cooking the balls takes a while, so this method will save you time. By the time you have finished shaping all the rice balls, the first one will already be cooked.
Divide the dough into equal portions. Shape each portion into a ball, flatten it with your hands, and place a mung bean ball in the center.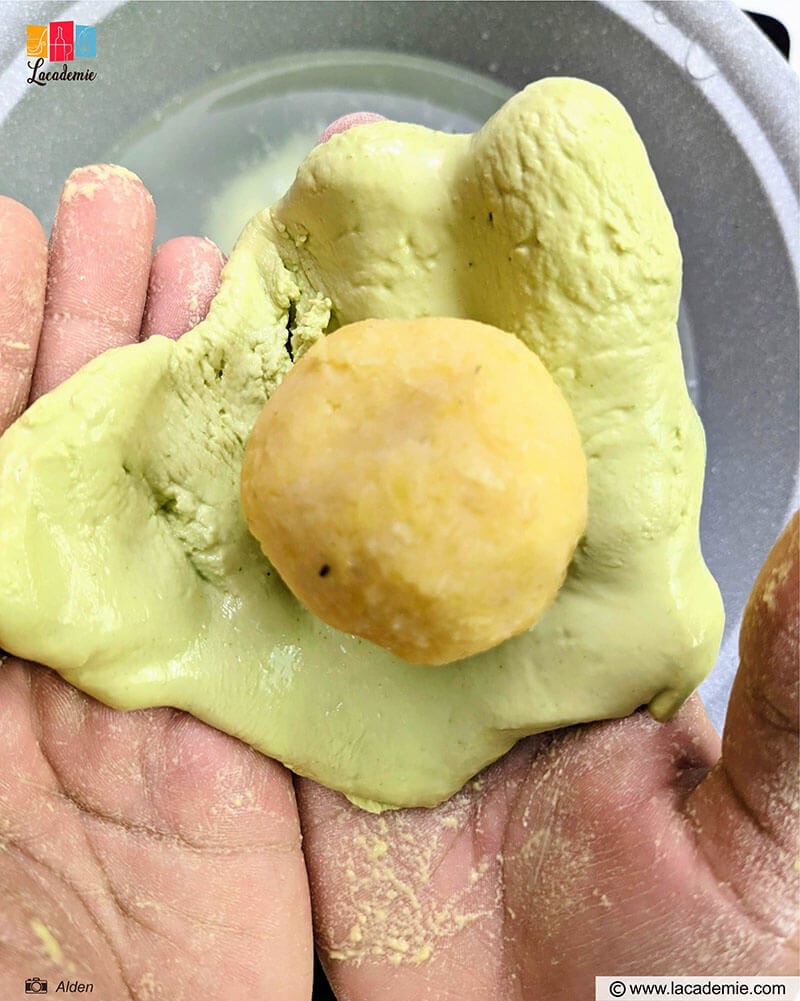 Carefully wrap the dough around the filling, making sure not to expose the filling. If the dough is not properly sealed, the ball will break during cooking, and the filling will fall out.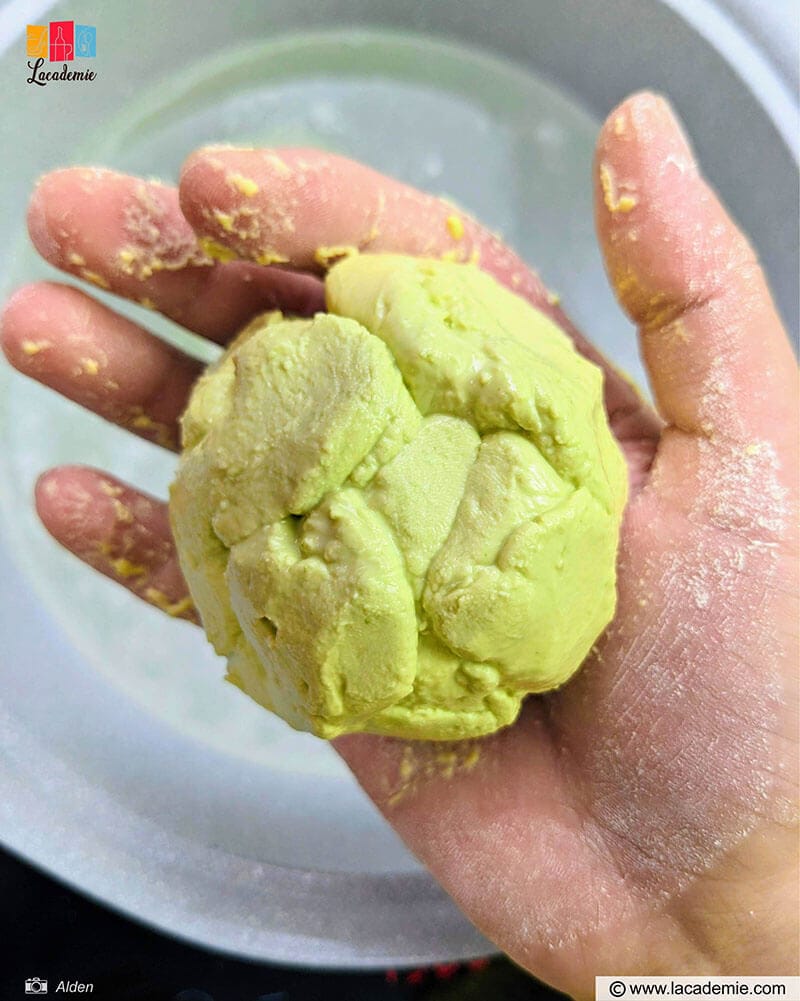 Gently roll the glutinous rice ball between your palms to form a round shape, then carefully drop it into the boiling water.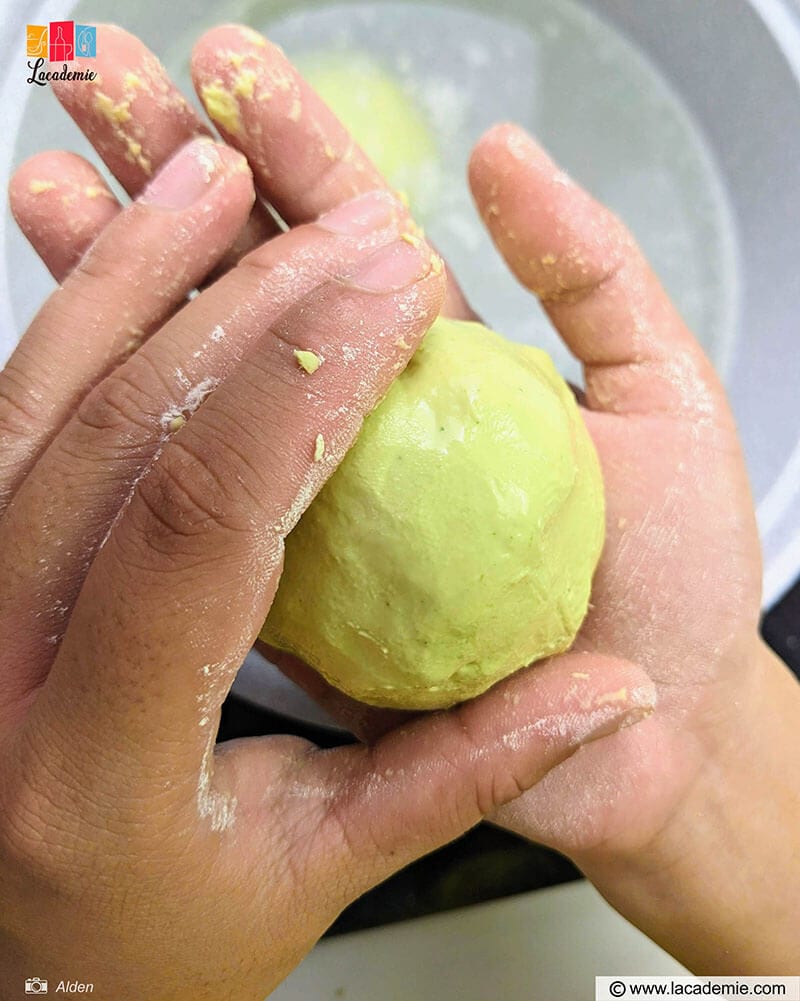 Repeat this process until all the filling is used.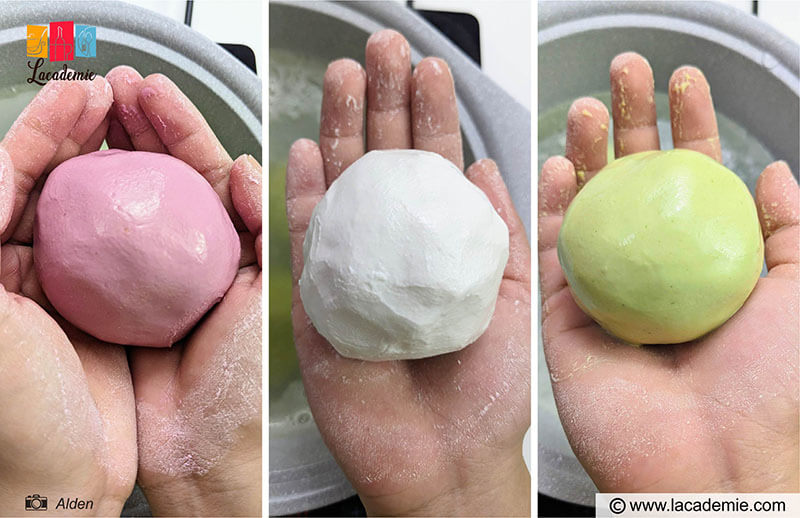 With the remaining dough, you can shape it into small, filling-free balls to cook and serve as a tasty side dish.
Step 4: Cook The Glutinous Rice Balls
While cooking the rice dumplings, gently stir them with a spatula to prevent them from sticking together.
When adding the dumplings to the boiling pot, use the spatula to gently push them so they don't stick to the bottom of the pot. If they stick to the bottom, the dumplings won't float to the surface, and their skins may tear.
During the cooking process of the rice balls, gently use a sieve to stir them, preventing them from sticking together.
One thing to note when boiling the dumplings is to use low heat. Cook until the dumplings rise to the surface, then remove them and place them into a bowl of cold water.
The cooking time will vary depending on the size of the dumplings; for medium-sized ones, it takes about 20 minutes.
Step 5: Prepare The Ginger Syrup
Boil 1.2 quarts of water and add pandan leaves, cooking for about 5 minutes.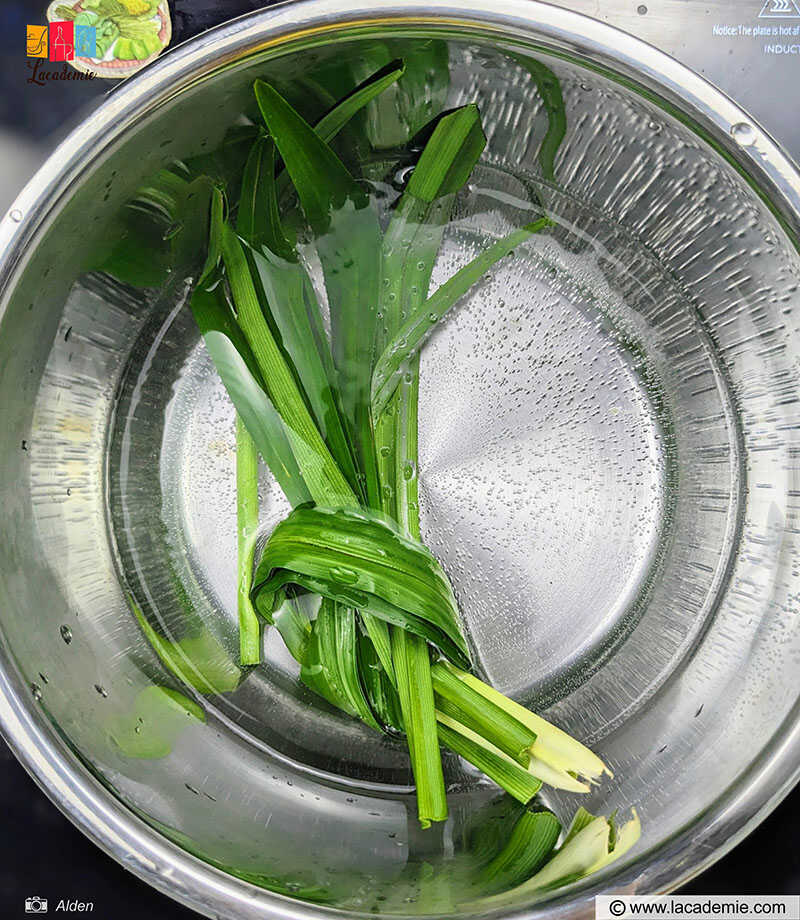 Then, add 2.8 ounces of rock sugar, stirring until it completely dissolves, before adding sliced ginger.
Once you see the water come to a rolling boil, add the rice dumplings. Maintain low heat for about 10 minutes before turning off the stove. The syrup is ready when its color turns slightly thick, and the aroma of ginger fills the air.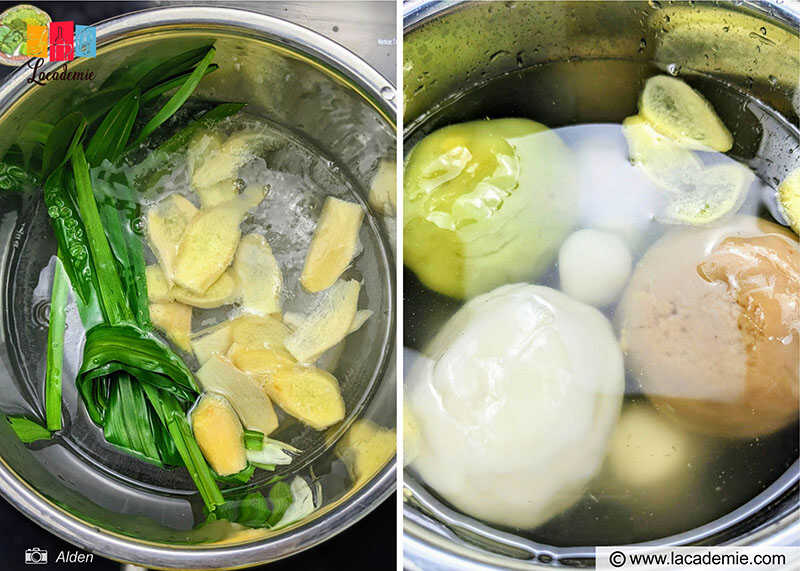 Step 6: Prepare The Coconut Milk Sauce
Pour 1.5 cups of coconut milk into a pot. Heat it over low heat until it simmers and thickens, then turn off the stove.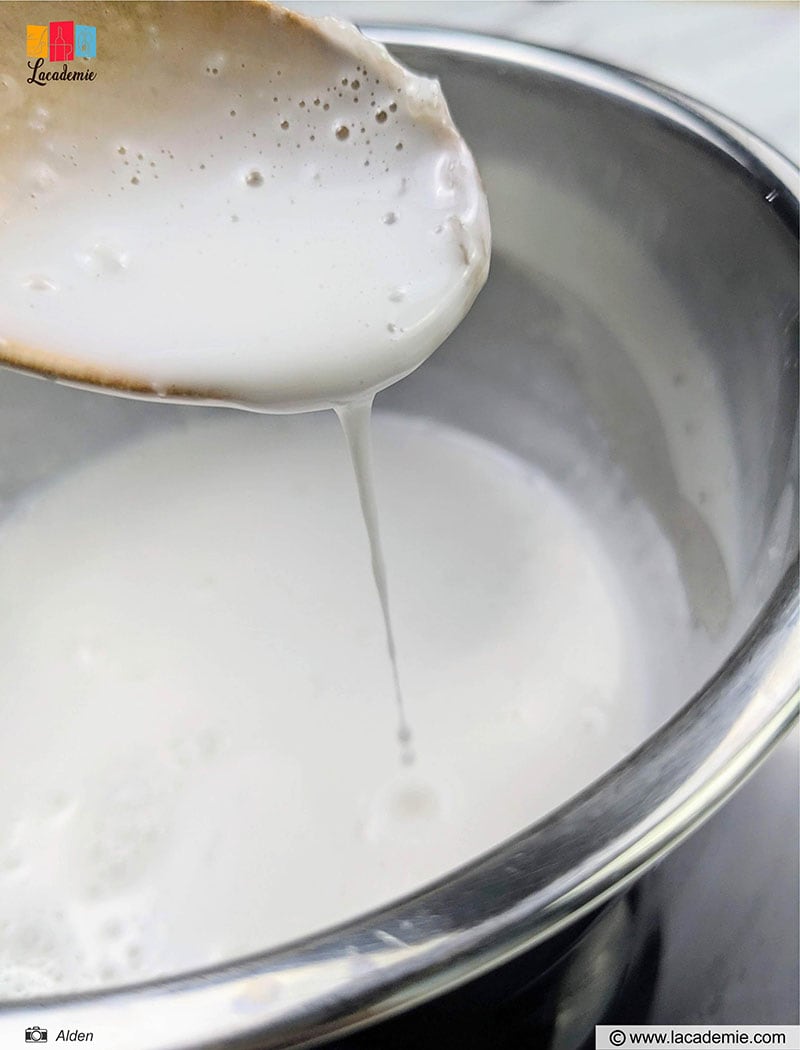 Note:
You can add sweetened condensed milk when making the coconut sauce if desired, but since the ginger syrup is already sweet, I choose not to add any.
Step 7: Serve The Dish
Scoop the rice dumplings into a bowl, along with some ginger syrup and sliced ginger. Drizzle with a bit of coconut sauce, and sprinkle some crushed peanuts and toasted sesame seeds on top, or add a little julienned ginger if you like.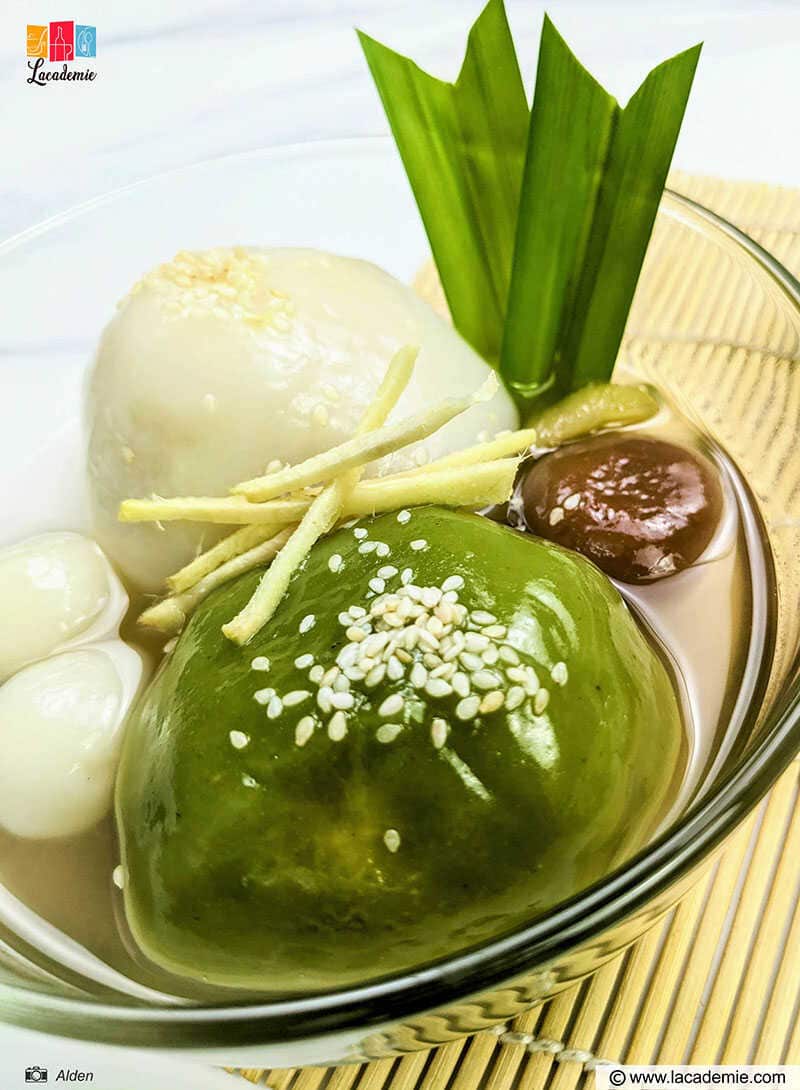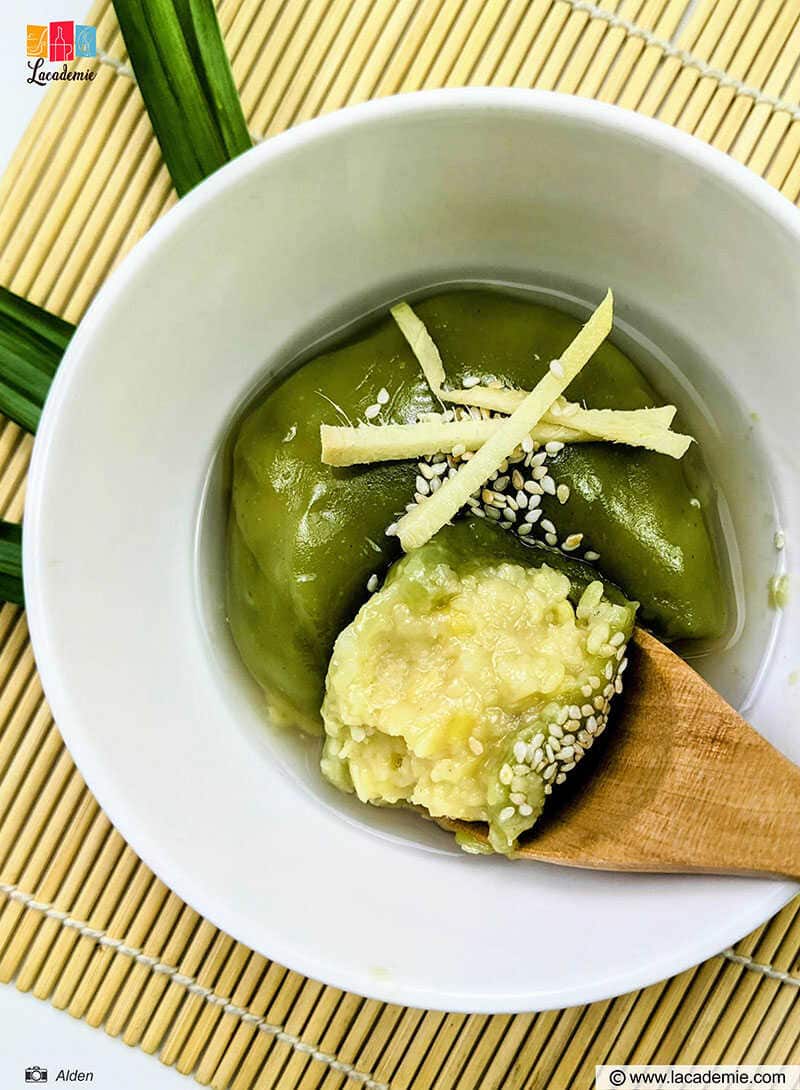 Tips
Check out the tips below for a better cooking experience. They are especially useful if this is the first time you've made Vietnamese glutinous rice balls.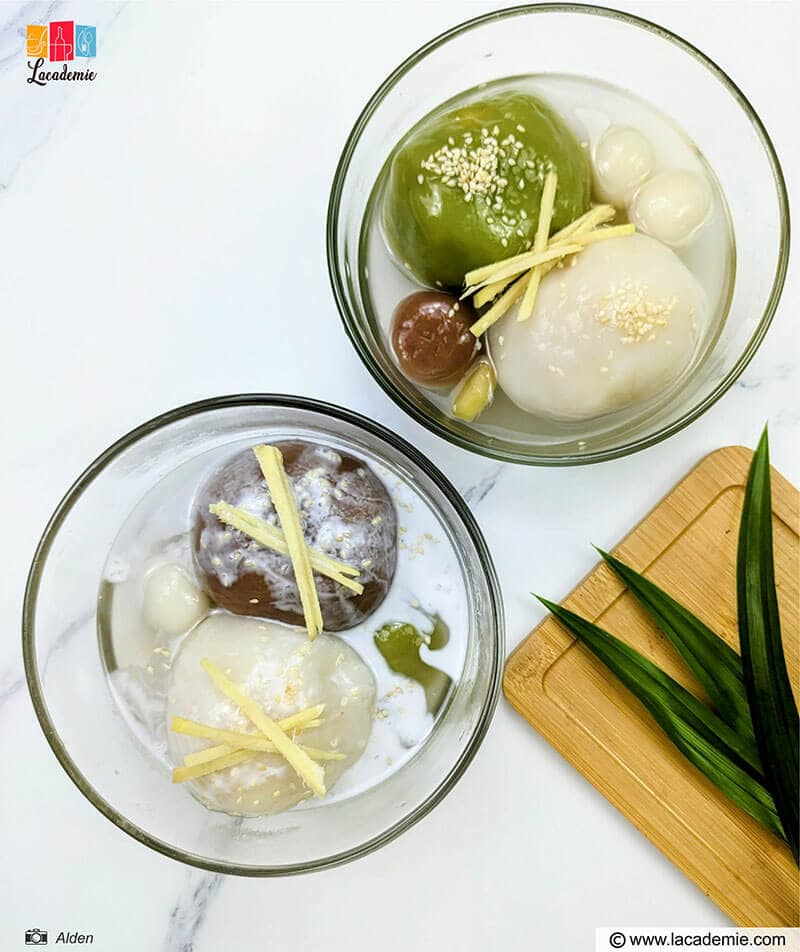 Choose small mung beans for a more fragrant and richer filling.
Gradually pour in water while kneading the dough.
Your dough should not be too dry (crumbly and breaks easily) or too wet (it doesn't hold its shape well).
Try to maintain a uniform size for each rice ball. This ensures that they all cook evenly.
Do not over-crowd the pot while boiling the balls to ensure even cooking. The rice balls are ready when they float to the surface.
How To Store And Make In Advance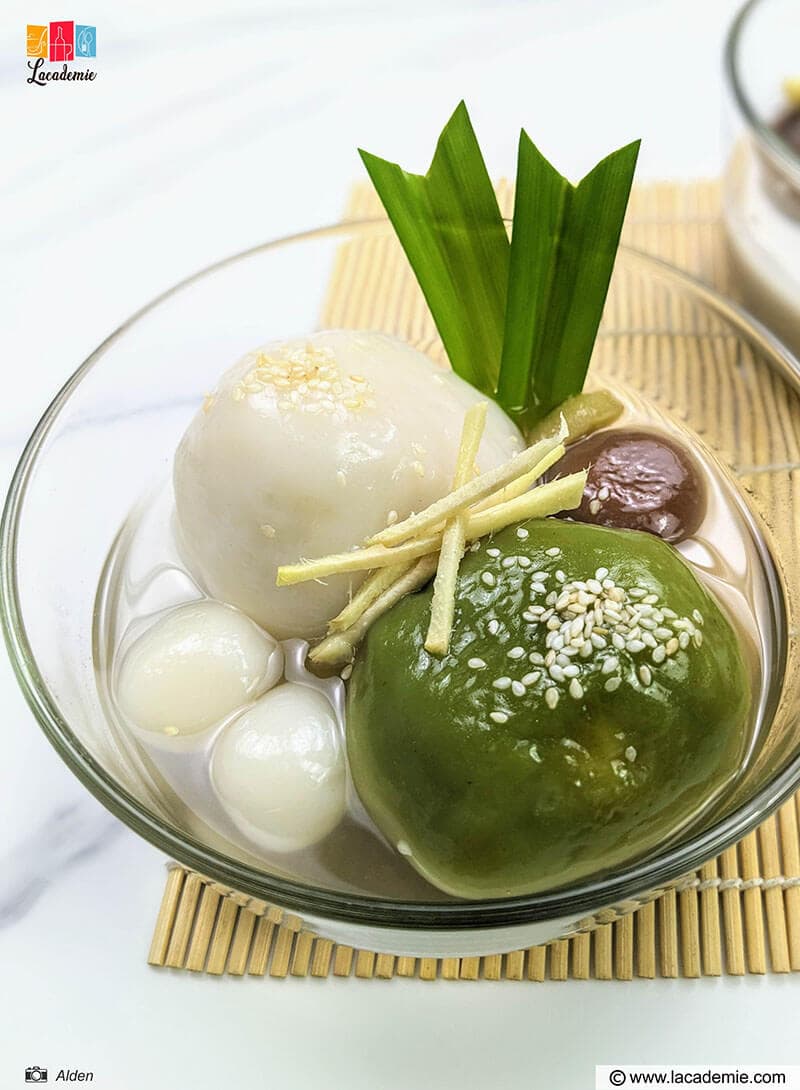 Cool the rice balls and ginger syrup to room temperature before storing them to avoid condensation. Place the balls in an airtight box and add some ginger syrup to keep them moist. Close the container tightly to prevent air exposure, which can cause drying.
For short-term storage, refrigerate in an airtight container for up to 3 days. Reheat gently in a saucepan with ginger syrup or in the microwave when ready to consume. Since Che Troi Nuoc will harden notably when refrigerated, you should consume it as soon as possible.
Store the coconut sauce separately in the refrigerator, reheating and drizzling over the rice balls when serving.
You can also prepare Che Troi Nuoc ahead of time by forming the dough balls and freezing them uncooked for up to a month.
A More Colorful Variation Of Che Troi Nuoc
For people that love colorful desserts, I suggest giving Che Troi Nuoc Ngu Sac (Five-Colored Che Troi Nuoc), a more vibrant twist on this classic Vietnamese treat, a try.
The eye-catching dessert is often enjoyed on special occasions, with the various colors achieved through the use of natural or artificial food coloring. For a natural approach, you can use ingredients such as:
Green: Blend washed and chopped pandan leaves with water, then strain to obtain the green-colored liquid for a vibrant green color and a subtle, fragrant flavor.
Yellow: Blend pumpkin slices with water to achieve a warm yellow hue and a mild taste.
Purple: Extract the purple shade from blended and strained purple cabbage.
Red: Blend and strain Gac fruit to get a bright red color.
White: The original color of the glutinous rice flour is used for the white rice balls.
To incorporate these colors into the glutinous rice dough, mix the desired coloring agent with a small amount of water and then gradually add it to the dough while kneading. By using more (or less) of the coloring agent, you can easily adjust the intensity of the color.
Alternatively, you can use artificial food coloring, which is widely available in liquid or gel form. Simply add a few drops of the desired color to the dough and knead it in until the color is evenly distributed.
Remember that artificial colors can be more intense, begin with a minimal amount and adjust as you go to achieve the desired shade.
Other Traditional Vietnamese Desserts
Besides Che Troi Nuoc, Vietnamese cuisine offers a wide range of delicious desserts that are perfect for satisfying your sweet tooth. Other delightful options you should consider trying are:
Che Banh Lot (Cendol Dessert): A refreshing dessert made from tapioca starch worm-like noodles, served with coconut milk and crushed ice.
Banh Cam (Sesame Seed Balls): Crispy, deep-fried balls made of glutinous rice flour, filled with sweet mung bean paste, and coated with sesame seeds. These treats are ideal for people that love a combination of crunchy and chewy textures.
Che Bap (Sweet Corn Pudding): A warm, comforting dessert made with sweet corn, tapioca pearls, and coconut milk, offering a unique mix of flavors and textures.
Che Thai (Fruit Cocktail): A colorful combination of various fruits and jellies mixed with a sweet, creamy coconut milk sauce.
FAQs
Interested in learning more about Vietnamese Che Troi Nuoc? Here's a list of common questions to address any concerns or curiosities you might have.
Che Troi Nuoc: A Traditional Treat To Cherish
Now that you have a deeper understanding of Che Troi Nuoc, I encourage you to try making this exquisite dessert at home and experience the warmth and togetherness it brings. And after that, don't hesitate to give other Vietnamese desserts a try as well!
If you've enjoyed learning about and preparing this dish, please write your thoughts in the comment section below. I'd love to hear how your Vietnamese Che Troi Nuoc journey has been. Also, don't forget to like and share today's recipe to spread the love for Vietnamese cuisine!
Nutrition Facts
6 servings per container
---
Amount Per ServingCalories737
% Daily Value *
Total Fat 20.5g

31

%
Cholesterol mg

0

%
Sodium 455mg

19

%
Potassium 186mg

6

%
Total Carbohydrate 125.2g

42

%

Dietary Fiber 14.5g

57

%
Sugars 2.9g

Protein 18.2g

36

%
---
* The % Daily Value tells you how much a nutrient in a serving of food contributes to a daily diet. 2,000 calories a day is used for general nutrition advice.