''Can you put a plate in an air fryer'' is not a rare question that people always ask me. I understand you're worried about what will happen if you use a plate in your air fryer.
It is easy to cook numerous delicious meal preps in air fryers, but the utensils for each kind of dish are not the same. You should choose the correct type of cookware before using it for cooking in your air fryer.
Today in my blog, I will answer the big question above and some additional queries about what can and can't be put into your air fryers. Don't skip any part!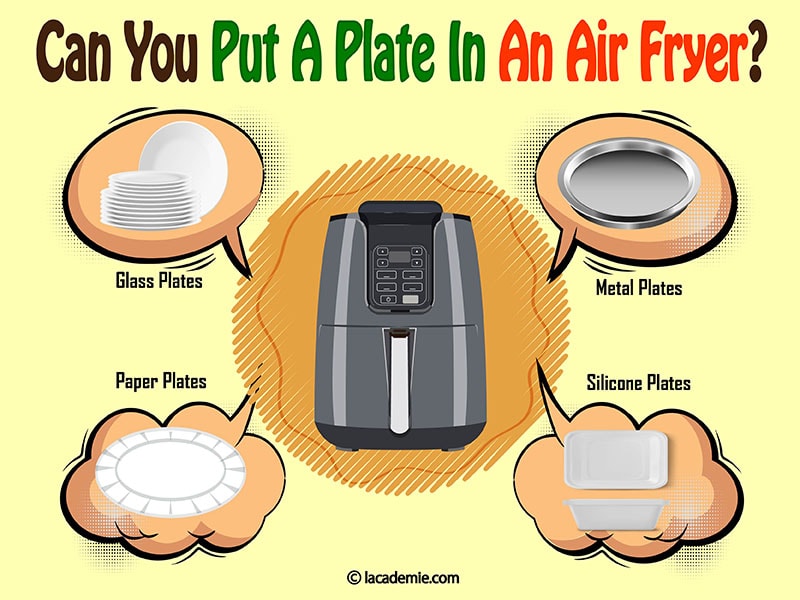 Can I Use Plates In Air Fryers?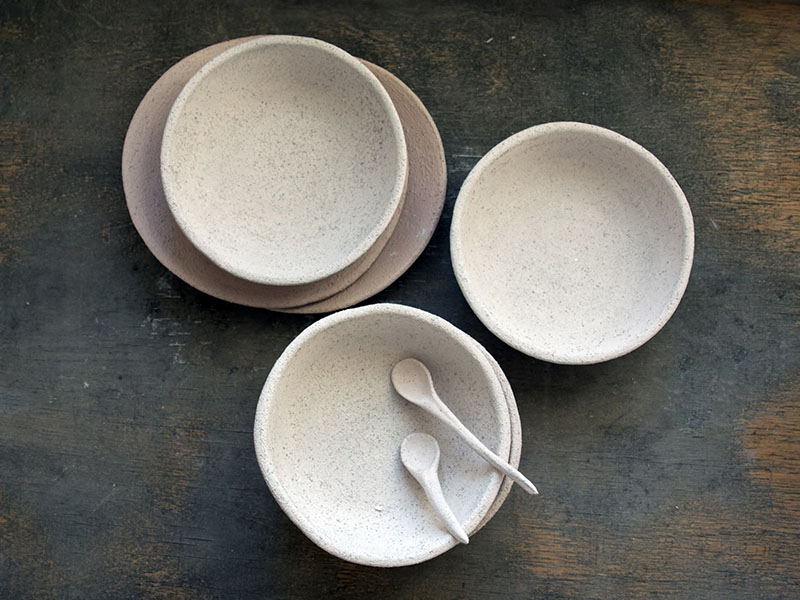 Well, it is possible to put a plate in air fryers during cooking. The plate must be oven-safe and withstand the high temperature inside the air fryer.
Almost every oven-proof plate, including stoneware, pyrex, metal, glass, and ceramic, is suitable for air fryer use. You should avoid things that have elements of wood or plastic.
The only problem is that you need to make sure the plate fits correctly inside your air fryer. The fit size of the plate in air fryers is around 8 inches in diameter. Yet, according to the variations of the air fryer and its size, the plate's size will differ.
Depending on what food is cooking, you may decide to use or not to use dishes. For example, when cooking food with sauce or marinade, you will need a plate to carry that food to avoid making a mess after cooking.
Problem When Placing a Plate In Air Fryers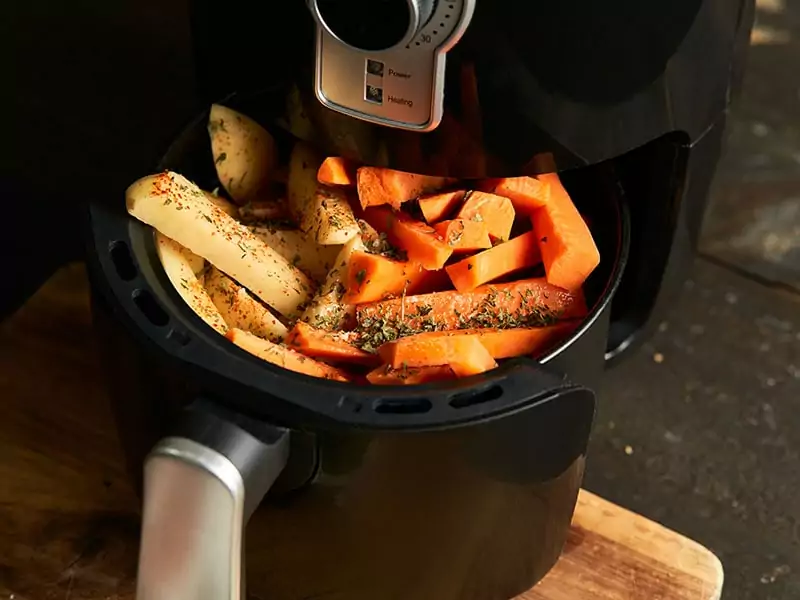 Blocking the airflow is always an issue if you put a plate into air fryers. Air fryers rely on convection airflow to cook food evenly. Restricting the airflow will result in inconsistent cooking results.
When placing a plate into air fryers, you should be cautious of where you put it. Or else, it may clog your air fryer's vents, affecting the cooking time and your meal's quality.
If the plate size is too big for the air fryer's basket, the plate will be cracked or broken. As a result, the shards of the plate will stick to the food, and you could consider discarding the whole meal.
The most dangerous thing is chemical toxins. Under the extreme heat of the air fryers, the lacquers or paint in the plate will break down and give off toxins to your foods.
One more thing to remember, make sure the plate doesn't touch the heating element above because the high temperature will ruin the surface of the plate. To avoid that problem, you should place it on a trivet or a wine track.
You'll understand why to use small plates when you know the working principle of an air fryer.
Can I Use Paper Plates In Air Fryers?
Paper plates don't work safely in air fryers. I don't recommend you use those plates because of the hot temperature inside air fryers. It is not worth the risks you may take. Keep reading to know the problems if you put paper into air fryers.
Paper Plates Are Fragile And Weak
Paper plates are one-time-use products, so people don't make them thick enough to carry a big amount of food.
If you want more food on your plate, you'll need to hold it on opposing ends to keep one side from bending. Using an air fryer and exposing an already frail paper plate to heat may weaken its structural stability.
Papers Plates Will Soak Water From Food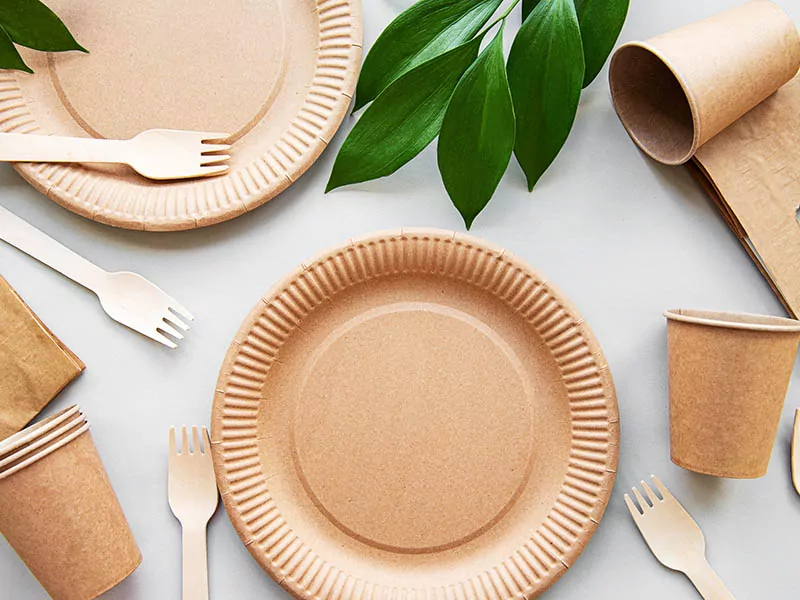 Cellulose is the main component of paper. This substance adheres to water and absorbs it quickly. To prevent water absorption, paper plates have a thin waxy layer covering up the top.
The thin waxy layer will break down and allow water to penetrate the plates if it encounters high heat inside air fryers. And the moisture from food will soak up into the plate.
Burning Risk & Chemical Hazard
Paper materials can not absorb hot temperatures to take part in the cooking process. Also, they are unable to withstand those temperatures. Instead, you can use aluminum foil or ceramic containers to place your food in air fryers.
The paper plate can catch fire if it is in contact with a high temperature. A fire started by a burning paper plate can harm your air fryer and, if worse, spread to your house.
When exposed to the intense heat, harmful chemicals in the paper plate will have a chance of getting into your meals. Thus, the foods will be unpalatable and poisonous if you eat them.
Can I Use Metal Plates In Air Fryers?
It is entirely fine to put a metal plate into air fryers as long as it is safe for ovens. If the plate has any part that can melt down or has paint, you should avoid using it in air fryers.
Oven-safe kitchenware could resist high temperatures up to 500oF in the ovens for a long period without breaking down or dissolving.
Other Considerations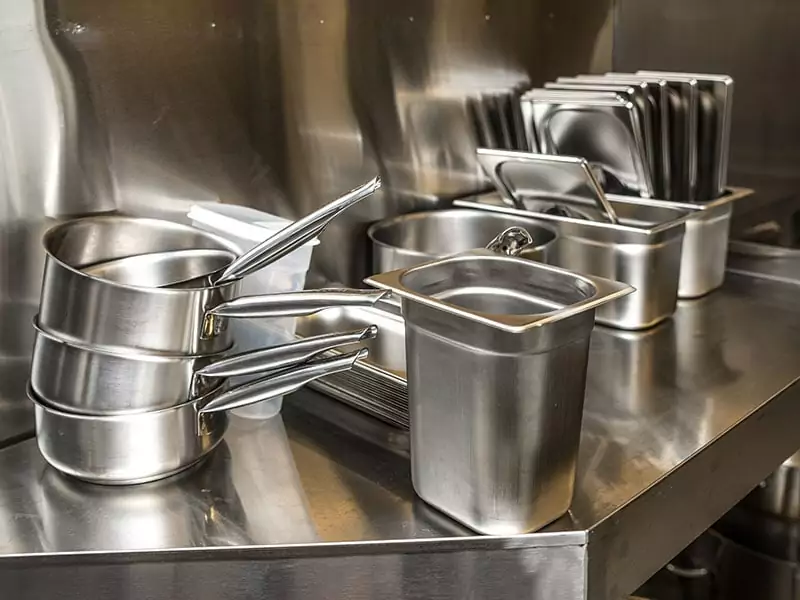 ''Stainless'' doesn't always mean good. Stainless steel plates or bowls are a poor heat conductor compared to other metal materials like aluminum, copper, and iron. The stainless plate takes a long time to absorb heat, leaving uneven cooking results. (2)
You should be careful about the paint on the plates. Some metal cookware is painted to make them more appealing. Under high heat, poor-paint quality may deteriorate, making your meal inedible.
Can I Use Silicone Plates In Air Fryers?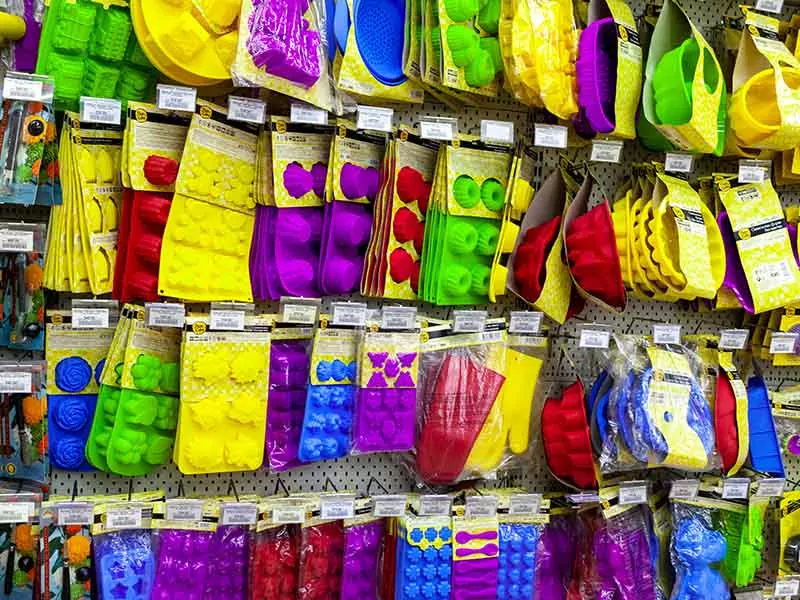 Silicone plates are also safe to use for air fryers. Just make sure they're 100% silicone that can survive the high temperatures without emitting dangerous toxins.
The research showed that a silicone plate could withstand the temperature range from 70 to 570oF. (1) Thus, silicone plates do work with air fryers smoothly. And remember again, assure that no vents are blocked while inserting silicone plates into your air fryers.
This illustration will show you how silicone cookware works in an air fryer.
Can I Use Plastic Plates In Air Fryers?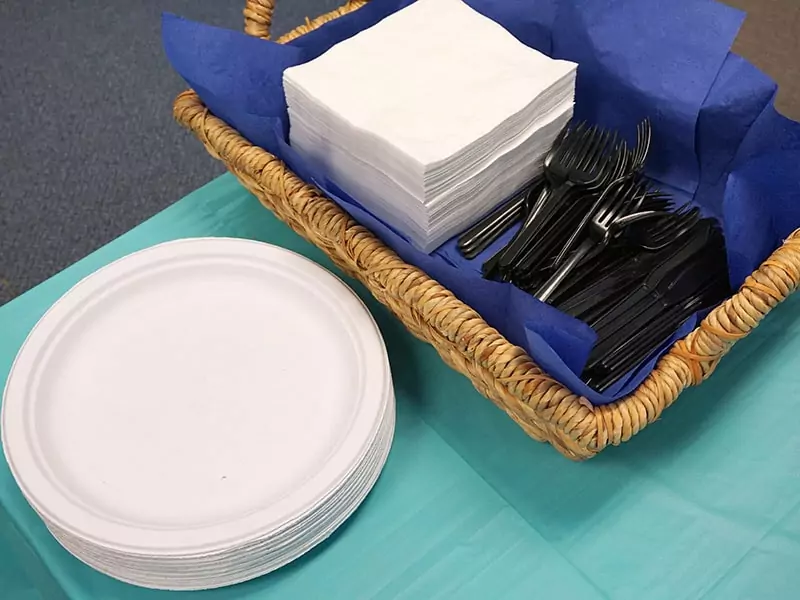 The answer is a big no; any plastic utensil doesn't match air fryers! The reason is not hard to make out because plastic cannot survive under the intensive degree of air fryers.
As the high temperatures in air fryers are over the melting point of plastic, using this kind of cookware material in air fryers can create a huge mess. The melting plastic would not only contaminate your meals but also would harm your gadget permanently.
The most important is that melting plastic can release petroleum chemicals under the heat of air fryers. By doing that, using plastic in air fryers may be harmful to children, elders, and pregnant women.
And I guess you will find cleaning up these plastic messes miserable. They might become stuck in the ventilation system, making it worthless.
Can I Use Glass Plates In Air Fryers?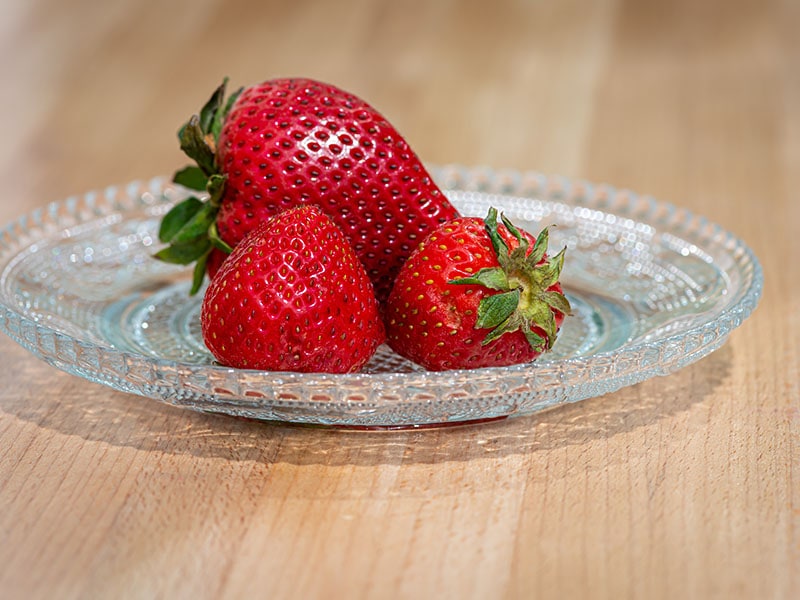 If your glass plate is heat-resistant and oven-safe, you can put it into the air fryer. As long as it won't clog the airflow, the glass plate is a good alternative for storing food during the air fryer cooking process.
You must notice that your glass plate is not cold when you put it into the air fryer. If not, the extreme heat will come into contact with the cold glass, inducing thermal stress on the plate, which will end up breaking.
Here are some precautions when using glass cookware in air fryers:
Adjust the temperature gradually: The sudden temperature change will break the glass plate into pieces. If your plate is cold, you should let it sit out for a while to cool down.
Check for the cracks: Make sure your glass plate has no cracks before using it, and it must withstand the high temperature.
Use oven-safe glass: Avoid using regular glass plates. The glass plate you use should be specially designed for the oven, which can resist high temperatures.
Prevent high temperatures: It is safe to maintain the temperature below 450oF. Or else, your glass plate can explode under extremely high temperatures.
Safe Cooking Items To Use In Air Fryers
To help you learn more, I will introduce you to six cooking items you can use in air fryers. Let's check them out.
Steel Bowls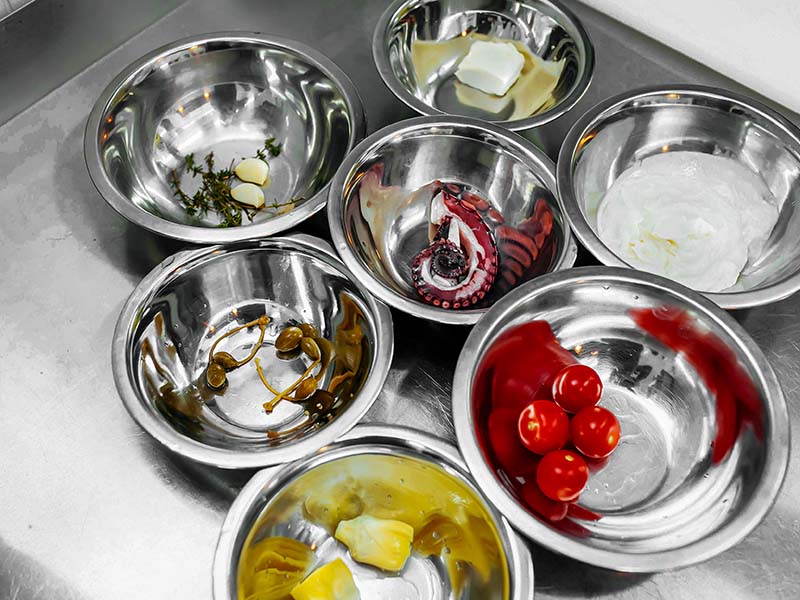 Steel is an example of a metal that could conduct air fryers. A steel bowl may imitate the oven's effect, especially if you cover the bowl with aluminum foil. These metal accessories will retain as much heat as possible inside, allowing the food to cook all the way through.
Don't pour cold liquid when your steel bowl is still hot since it can cause thermal shock. By doing that, you can ensure that the bowl will not conflict with the air fryer's operation.
Aluminum Foil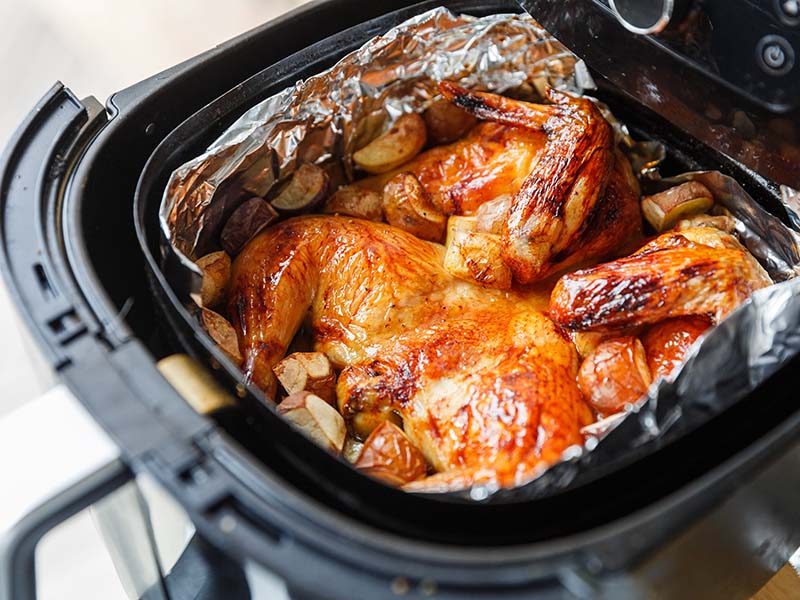 "Can I put aluminum foil in my air fryer?" is an extremely common question. Like the steel bowl, aluminum foil is another good conductor of your air fryer's high heat. Aluminum foil helps trap the heat within the food carrier and mimics the convection air to evenly cook the food.
It is necessary to seal the foil tightly and thick enough on the top of food containers, for foil is a fragile material. The pressure from flowing heat could tear it apart if you don't do it properly. You line the foil beneath the food to avoid it flying around.
Parchment Paper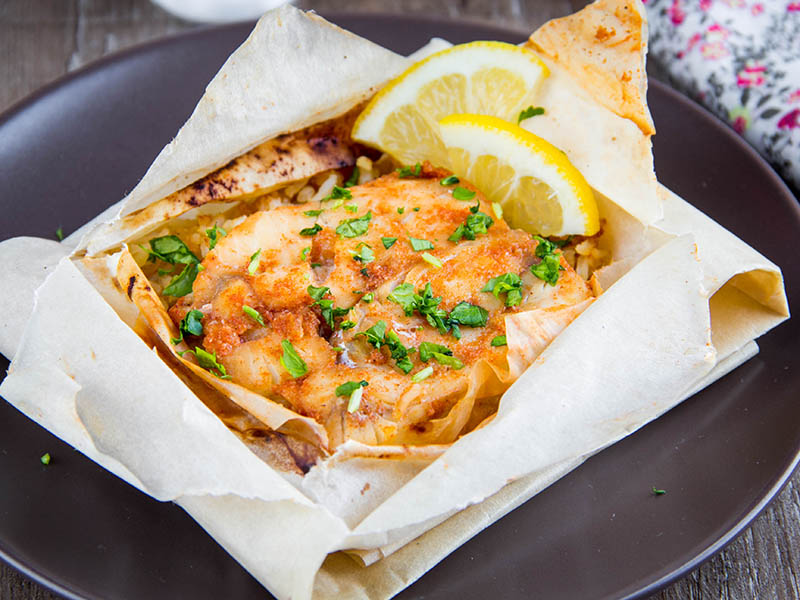 If you use parchment paper, your food will not adhere to the air fryer's food chamber. This kind of paper is suitable for cooking foods like lava cakes or coated chickens.
Also, the paper can withstand temperatures up to 428OF. It's because it is thicker than normal paper, so there is more protection in the waxy layer.
Besides, you can cut parchment paper to line the bottom of the air fryer's basket when making cookies for the best baking results. Of course, these papers are oven-safe and benefit the clean-up after cooking.
Parchment paper is easy to fly around inside the air fryer, so make sure you line it under the meal. If not, the paper will get stuck into the heating coil, then burn. And just use the exact amount that your food requires.
If you don't know how to cut parchment paper properly for use in air fryers, don't miss this guide!
Cast Iron Cookware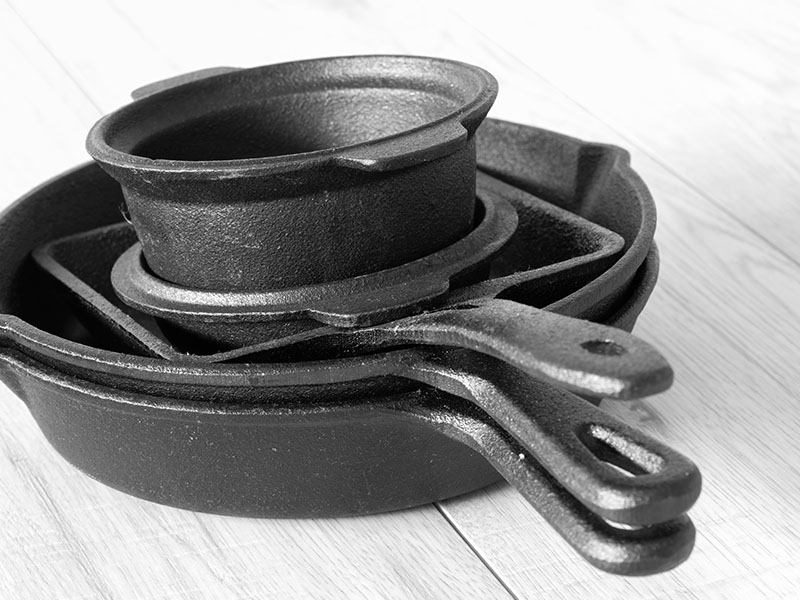 Due to the excellent heat conduction, iron skillets can work with your air fryer to create many tasty cast iron skillet dishes. This material will help keep liquid-based items (like cheese and meals with sauces) from not turning into a sticky mess in your air fryer.
Let this illustrator show you the cooking process in an air fryer with an iron skillet.
Toothpicks
To keep food items in position, I suggest using toothpicks. The strong airflow in air fryers occasionally takes up lightweight foods, then blows them around. So that you can use toothpicks to hold foods tight.
For instance, when making Kani Aspara bacon, after rolling the bacon with other ingredients, you stick a toothpick into each piece to keep them from unraveling.
Check this cooking tutor to make a new wrapping bacon recipe with your air fryer.
Pam Cooking Spray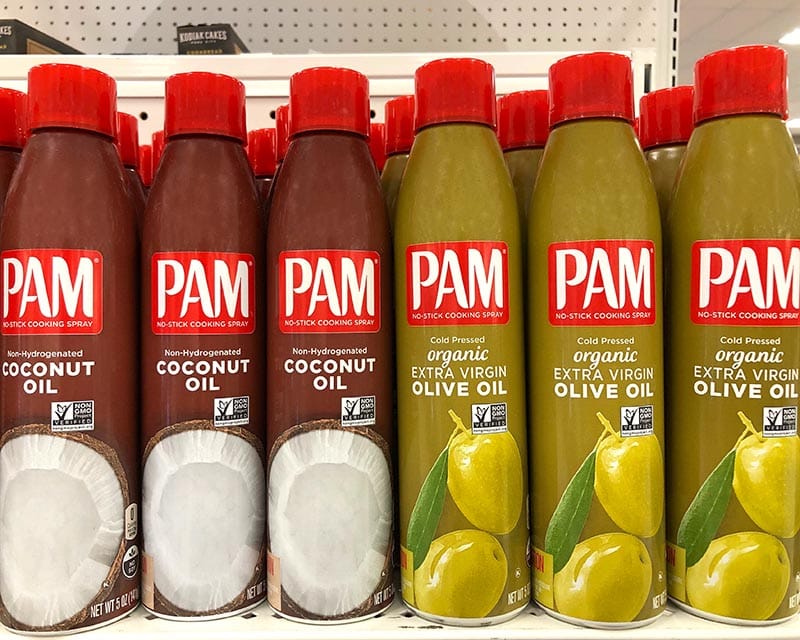 There is no problem when using pam oil cooking spray in your air fryer. Pam oil is also a healthier alternative to other cooking oils and butter. This special oil has a non-stick property that makes air fryers easy to clean after cooking.
Things To Avoid Using In Air Fryers
I think you don't want to damage your air fryer just because you unintentionally cook or use the following things. Don't skip this section to know what they are!
Fresh Cheese
It is easy to understand that the extreme heat inside the air fryer can cause the cheese to quickly burn and melt, ending up a stringy mess. You can use mozzarella sticks instead of fresh cheese.
This guide will help you have delicious mozzarella sticks at home with your air fryer!
Water
Water is generally not good for air fryers. Although air fryers are multiple functions of cooking gadgets, they still don't have the steaming mode. So any cooking process that needs water, like steaming, is not suitable for air fryers.
Can water damage your air fryer? Yes, it does. If the electric components come into contact with water when you add lots of water, it may cause those parts to break down. Also, there is no liquid compartment in air fryers.
FAQs
There are a lot of utensils out there for you to choose from. But, you should know what is suitable to put into your air fryers. In this section, I will answer some further questions that you're still concerned about.
Remind Yourself Of What You Put Into The Air Fryer
It is crucial to understand inside out what utensils you want to use for cooking in your air fryers. Some are beneficial to your cooking process, but many are troublemakers. I hope my article will help you in terms of practical use and protection of your air fryer.
If you still have something to know or share with me, just leave a comment below. Lastly, I hope you succeed in cooking every meal with your air fryer. Huge thanks to my dear readers.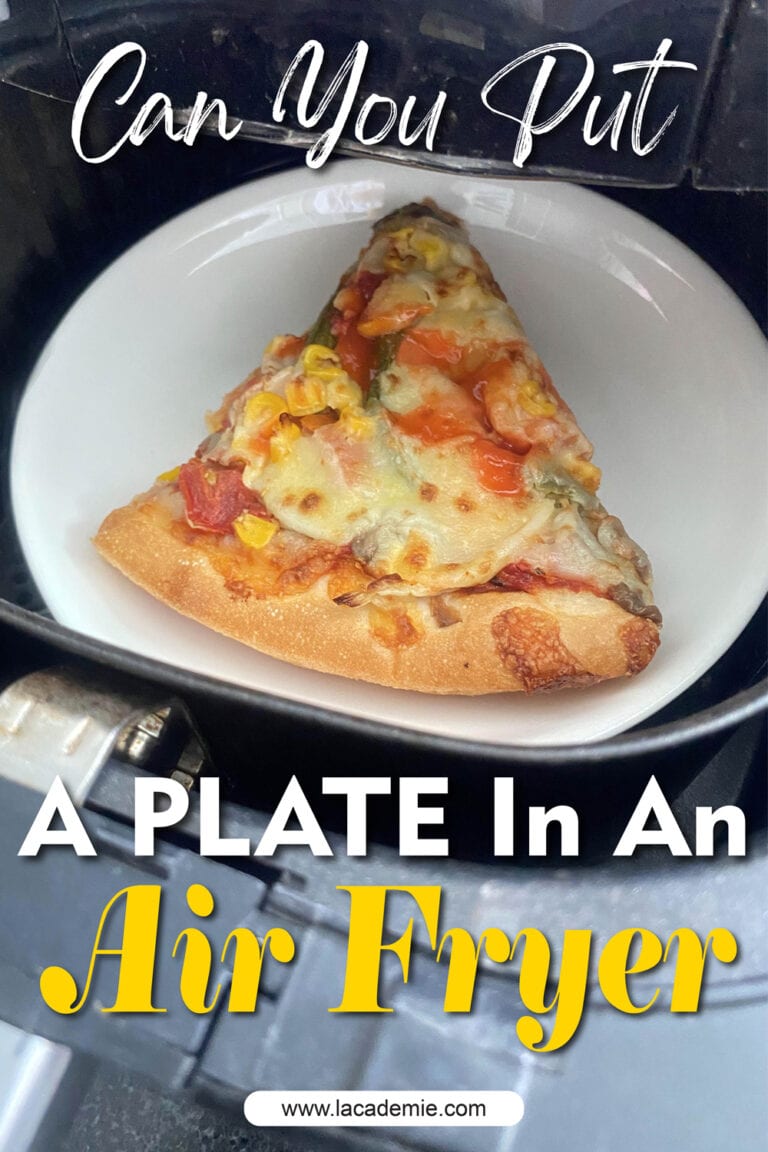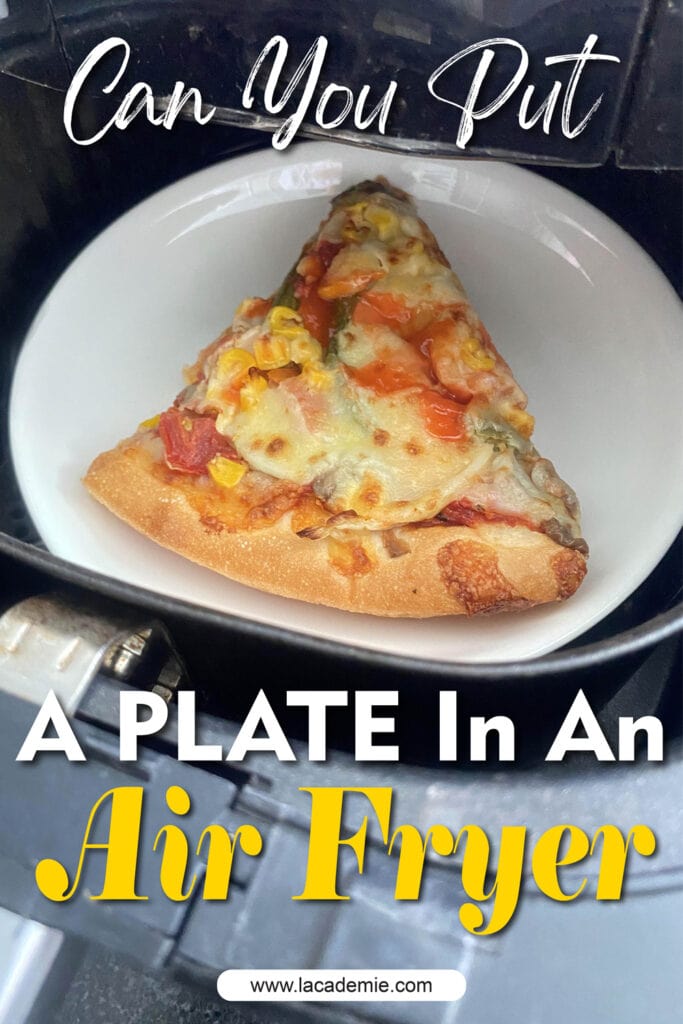 References
En.wikipedia.org. 2022. Silicone rubber.
Actingcolleges.org. 2022. Why is stainless steel a poor conductor?