Air fryer pork belly is an excellent choice for a simple and delicious weekday dinner. The pork turns out juicy, moist, and tender on the inside, while the skin is shatteringly crispy. Better yet, the air fryer will handle most of the cooking, which helps avoid a greasy kitchen mess.
If you've been searching for an easy way to cook pork belly, this is it! No extra step is necessary. Simply season and marinate your pork with a mix of spices, then place it in the air fryer and wait for it to cook! Yes, it is that easy!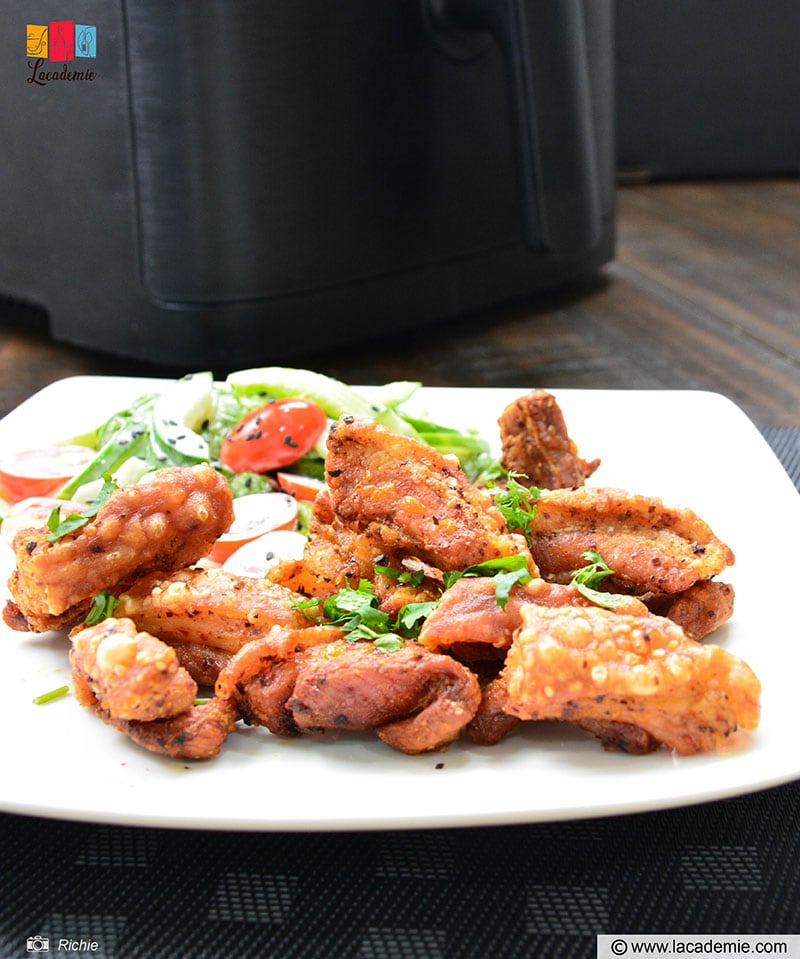 Reasons You'll Love Air Fryer Pork Belly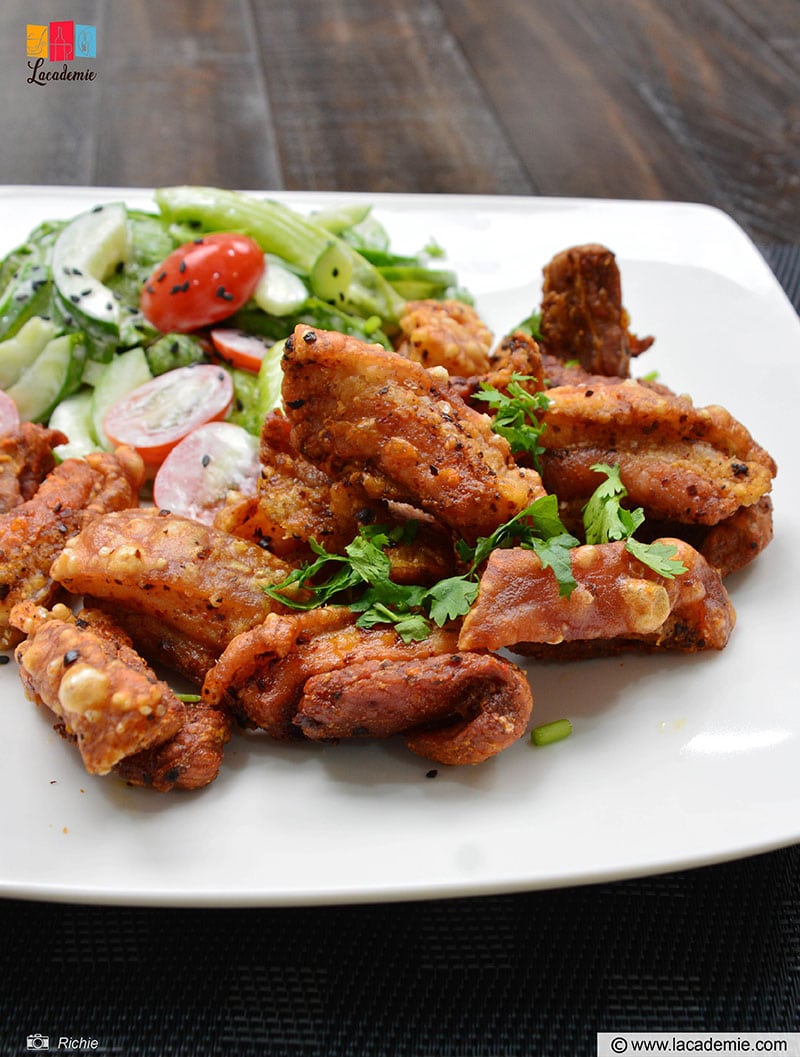 For people who are unfamiliar with pork belly, it is a rich and fatty cut with no bones. This cut is particularly popular in Hispanic and Asian cuisine. In America, you'll often come across pork belly in the form of salted pork and bacon.
The best thing about pork belly is that the meat will cook in its own fat, resulting in incredibly crispy skin. However, it usually takes some time to properly render and soften the fatty part. Plus, for the pork to crisp up, you'll often need to fry it in hot oil, meaning the calorie count will skyrocket.
Fortunately, your trusty air fryer can provide the solution to both of these problems! The heating mechanism in this device limits the use of oil to a minimum while ensuring that the pork rind crisps up nicely.
Tools
For the tools, obviously, an air fryer is a must-have. You'll also need some kind of pot or resealable container.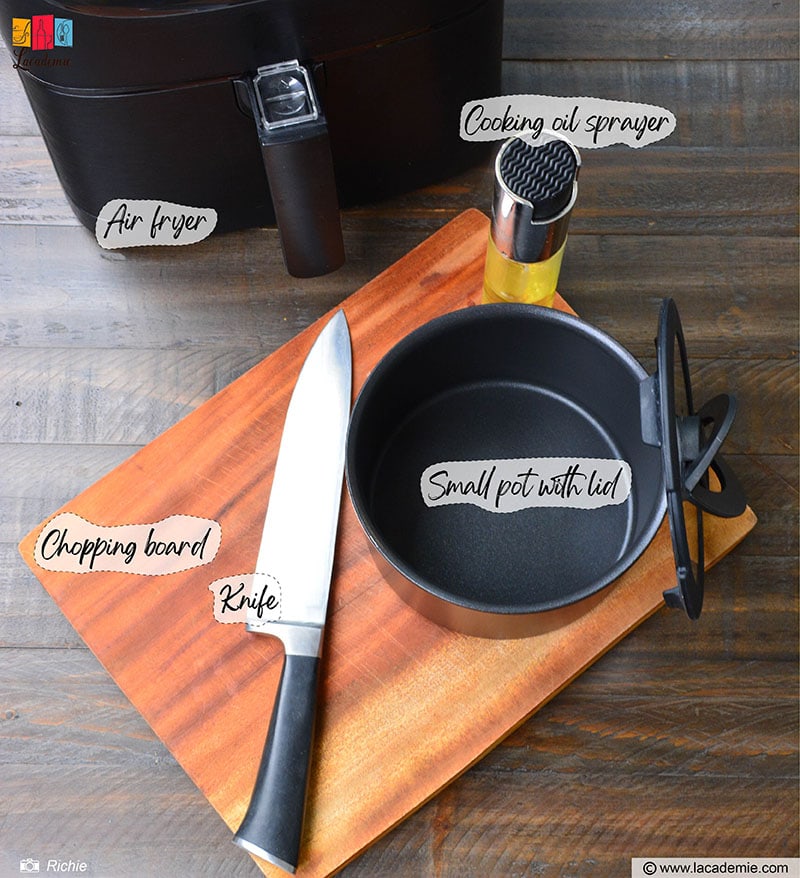 Air fryer: There are many air fryer brands to choose from on the market. I'm currently using the first generation of the COSORI Pro oven and air fryer combo. In addition, you can try the COSORI Pro II, which is an upgraded version.  
Knife and chopping board: A sharp knife is one of the best investments to make for your kitchen. It will help you slice through fatty pork belly "like butter".
Cooking oil sprayer: Helps you grease the air fryer.
Small pot with lid: For marinating the meat. You can also use a food container or plastic wrap.
Ingredients
Pork belly is a naturally tasty cut of pork, so a few basic spices are more than enough to highlight its taste.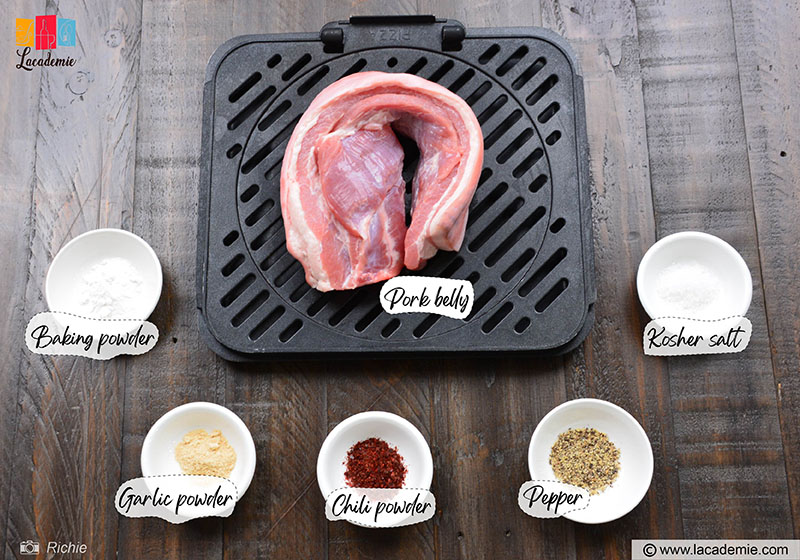 Pork belly: I use about 1 pound.
Spices: Ground pepper, kosher salt, chili powder, and garlic powder. These spices elevate the pork's flavor greatly.
Baking powder: Adds crispness to the rind.
Salad: For serving as a side dish.
Directions
Here's my recipe for crispy yet fall-apart-tender pork bellies. Follow the below steps for a perfect meal.
Step 1: Marinate The Pork
Cut the pork belly into pieces.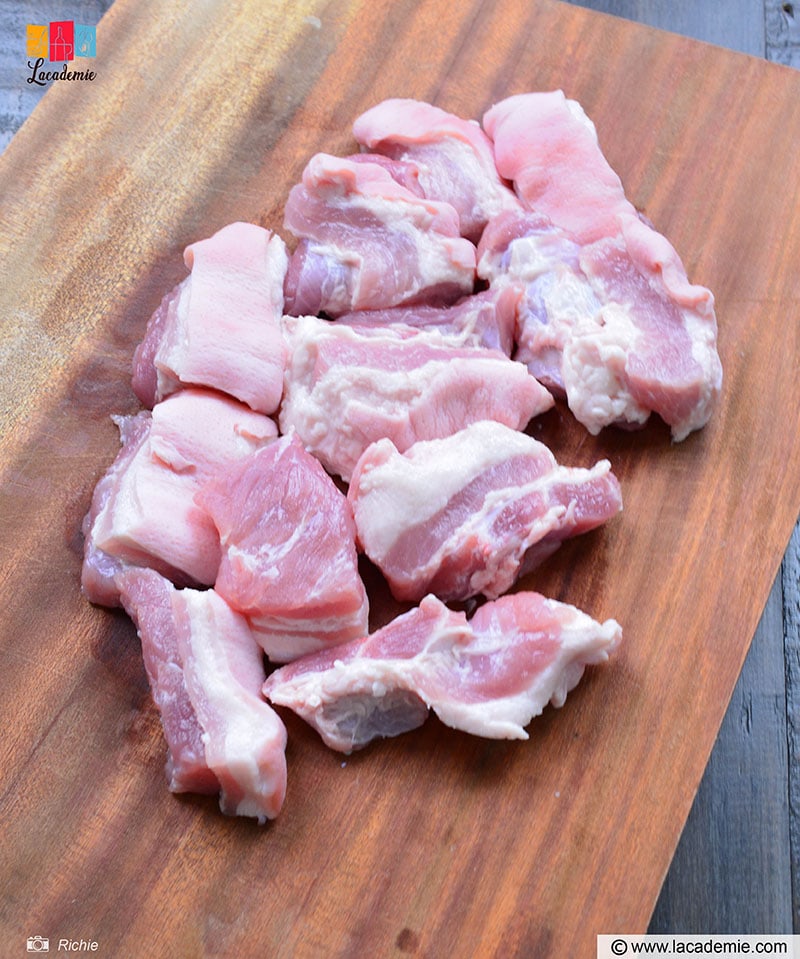 Season the pork with pepper, chili powder, and salt. Mix well and marinate for at least 60 minutes.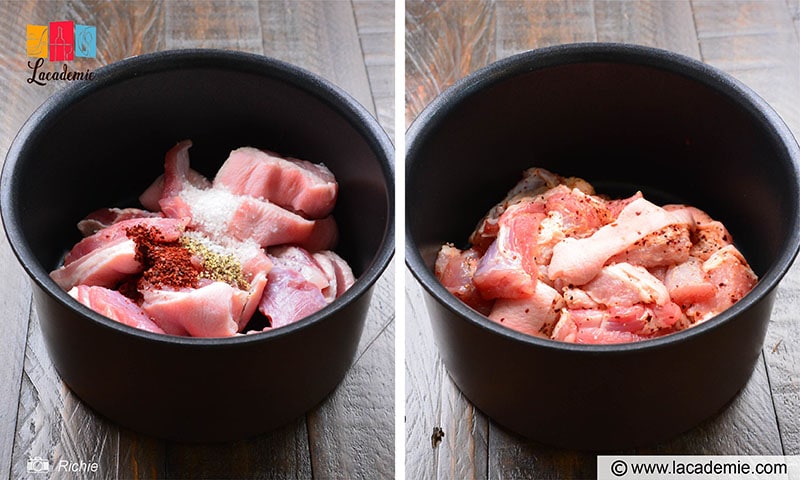 Combine baking powder with garlic powder. Once the meat has been well-marinated, mix it well with the baking powder mixture.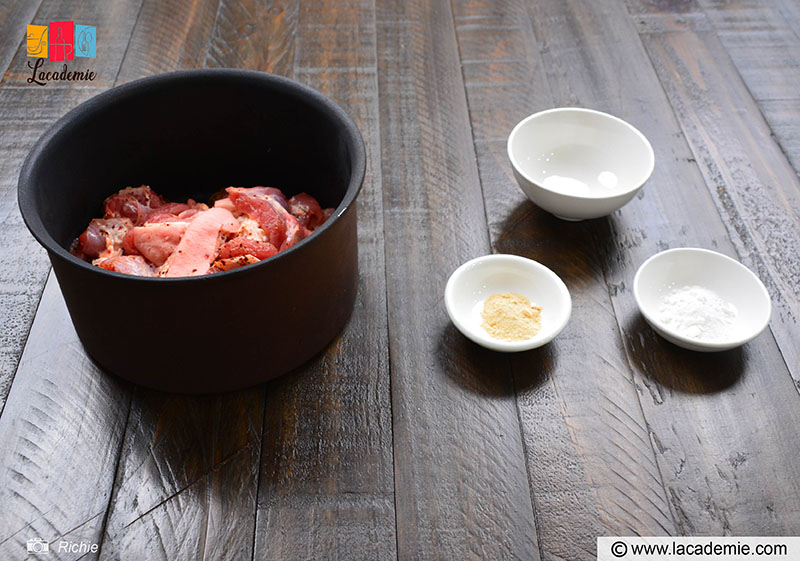 Step 2: Cook The Pork
Preheat the air fryer for a few minutes. Then, spray the inner basket with cooking oil. Arrange the pork pieces in the air fryer and lightly spray them with oil.
Fry the pork for 25 minutes at 250 degrees F.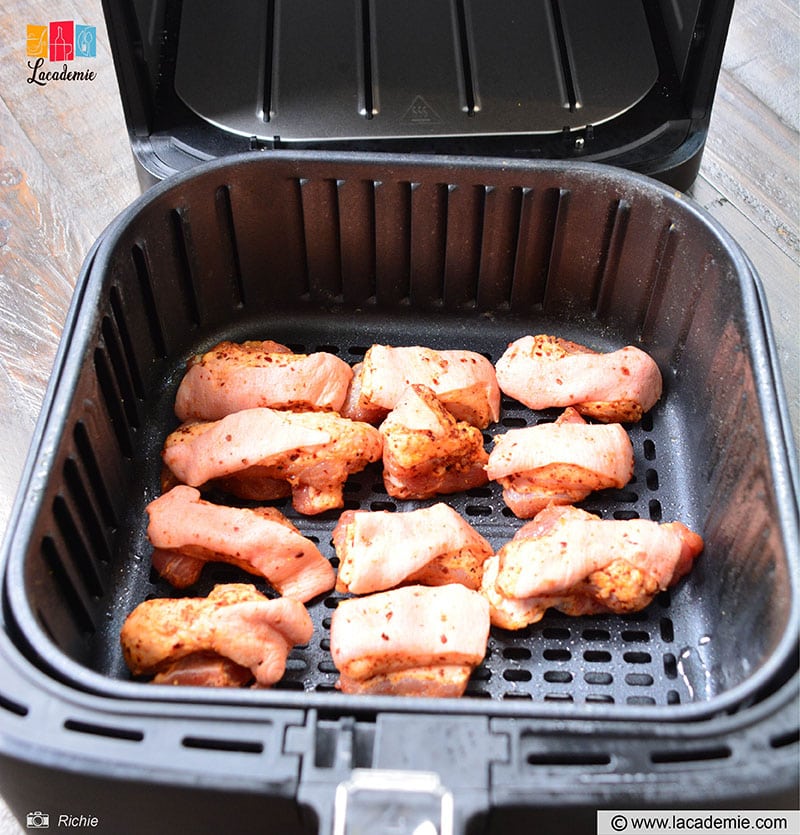 After the 25-minute mark, spray the pork with a little more oil to keep them from drying out. Fry them at 400 degrees F for 15 minutes.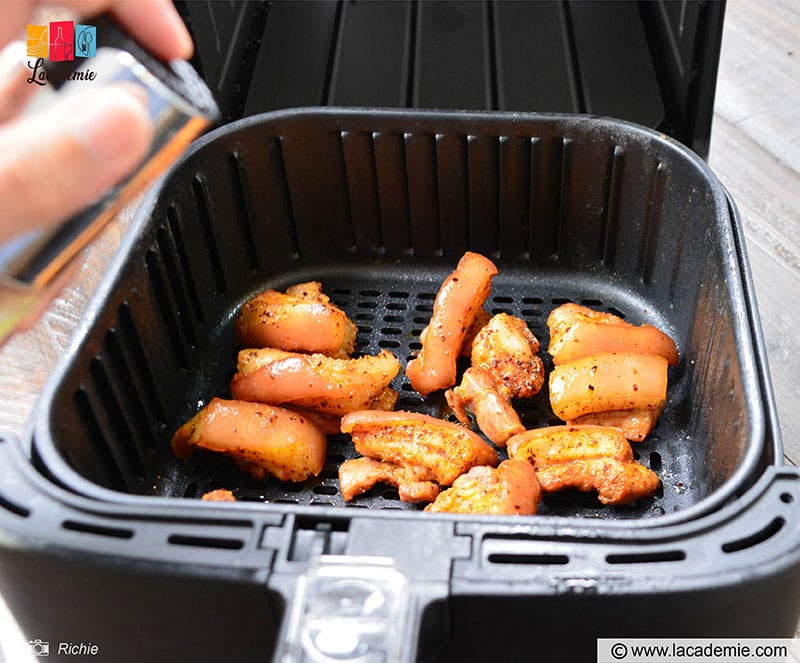 Step 3: Present The Dish
Place the cooked pork bellies on a plate and garnish with herbs like cilantro. Serve them with salad on the side to elevate the flavor.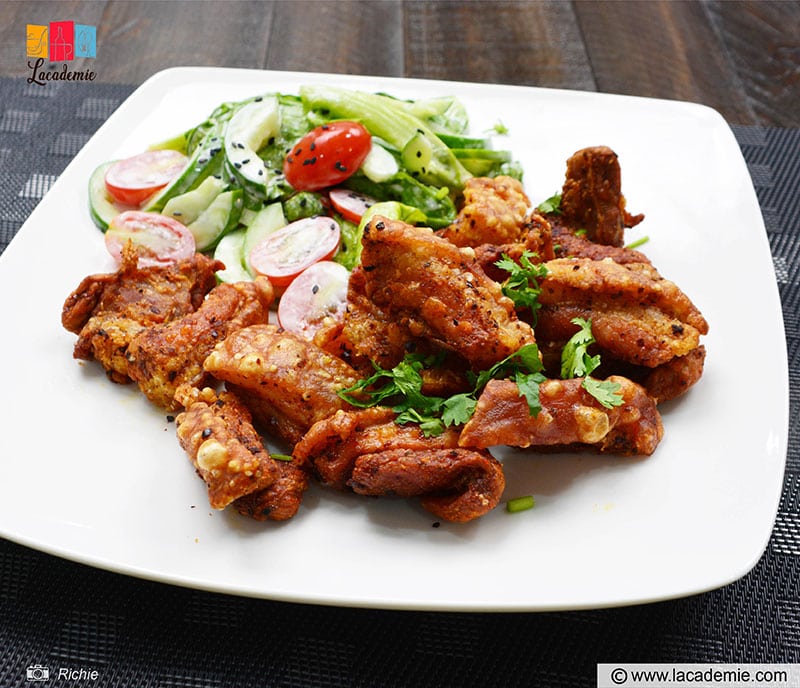 Handy Tips And Tricks
Don't miss out on the following tips and tricks. Whether you're a seasoned home cook or just starting out, these tips will come in handy!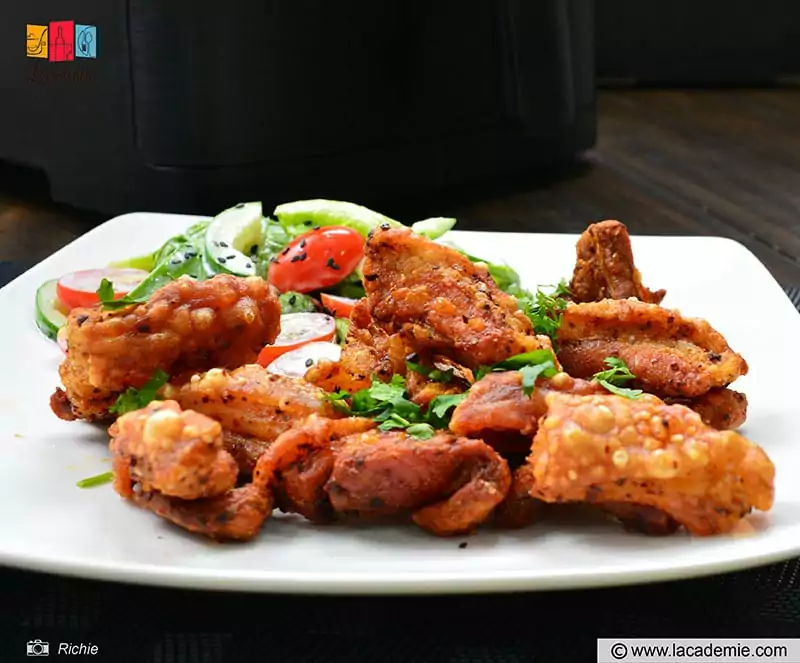 If you have time, you should marinate the pork for about 2 to 4 hours or overnight in a refrigerator.
Put any leftovers you have in an airtight food container and refrigerate. They will last for about 2 days this way. For longer storage, you can freeze the pork for up to 3 months.
To reheat, air fry the pork at 400 degrees F for 2 minutes. For the best result, line the basket with foil and spray a little oil on the pork.
The cooking time might vary depending on how big your air fryer and the pork pieces are.
Start Making Air Fryer Pork Belly Today!
Today's recipe is a game-changer for anyone looking to enjoy juicy and flavorful pork belly without the hassle of deep-frying or slow-cooking. Its quick and easy preparation, combined with the mouth-watering results, make air fryer pork belly a must-try for anyone.
Have you tried cooking pork belly in an air fryer before? If you haven't, I highly recommend giving this modern method a try right away! Please like, share, and comment to show your support. Thank you so much, and I wish you a delicious meal!
Nutrition Facts
4 servings per container
---
Amount Per ServingCalories532
% Daily Value *
Total Fat 30.7g

47

%
Cholesterol 131mg

44

%
Sodium 2422mg

101

%
Potassium 279mg

8

%
Total Carbohydrate 2.4g

1

%

Dietary Fiber 0.5g

0

%
Sugars 0.2g

Protein 52.6g

104

%
---
* The % Daily Value tells you how much a nutrient in a serving of food contributes to a daily diet. 2,000 calories a day is used for general nutrition advice.