Indian snacks in particular or Indian gastronomy are all prominent and gradually gained more attention globally in recent years. When talking about this distinctive cuisine, you might immediately think of spicy and flavorful dishes. To be honest, me too.
But are they all the things you can expect from this beloved cuisine? Since there is a lot of information to talk about, let's first mention their snacks! Here are some most-favored snacks in India that are easy to make at home for a beginner.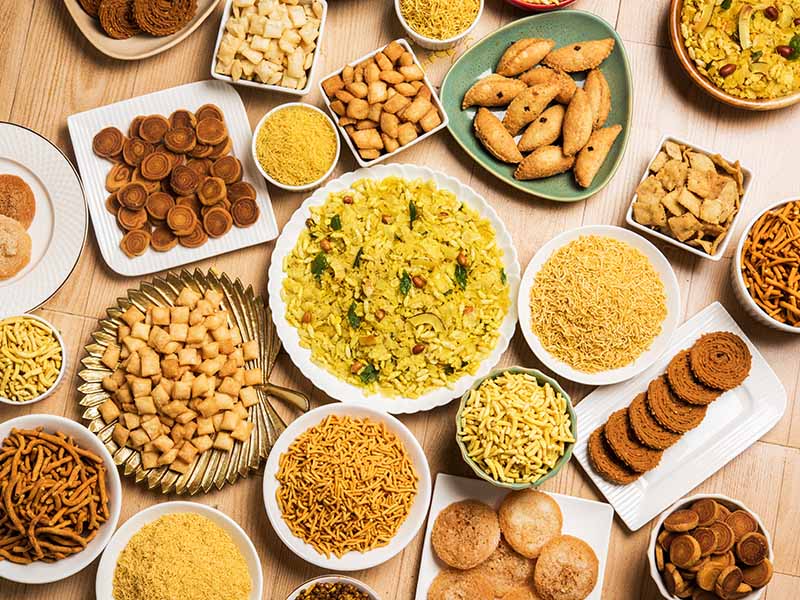 These 30+ Beloved Snacks Of Indian Cuisine Are Must-Have
Once learning more about Indian gastronomy, you will see it is a massive source of Asian vegan or vegetarian delicacies. But it doesn't mean their savory delicacies are monotonous.
This signature feature also shows in their country's snacks. To make it clearer for you,here are some most toothsome suggestions!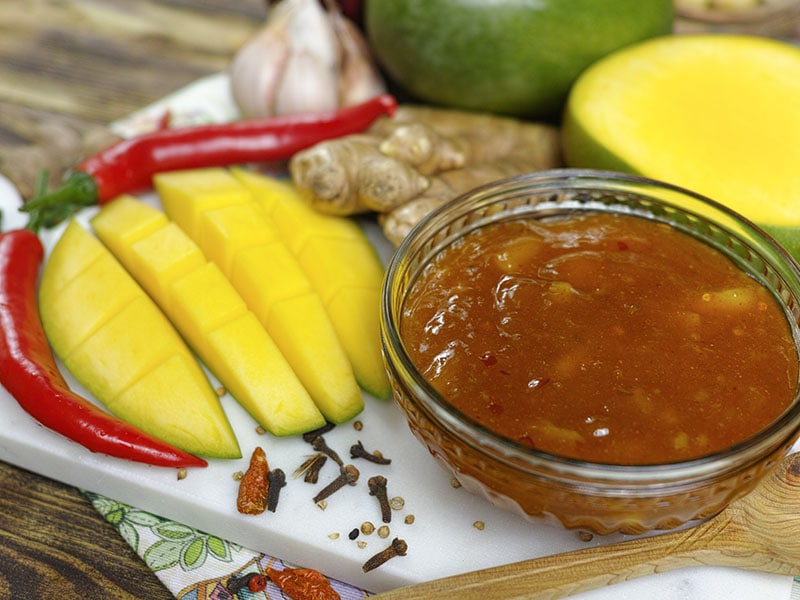 Chutney is a famous Indian sauce/spread served with fried/grilled dishes or any other appropriate foods. The word Chutney means "to eat with appetite/to lick" in the Hindi language, and in Indian cuisine, it refers to a special dense sauce with fresh fruits/herbs.
Some most popular varieties of Chutneys are Mango/Pineapple Chutneys or Mint/Coriander ones, or you can start by following my suggested recipes. For the dishes paired with Chutneys, bread, tasty Indian sandwiches, or any of the Fritters, below are the great options.
This is the general way to create Chutneys in India.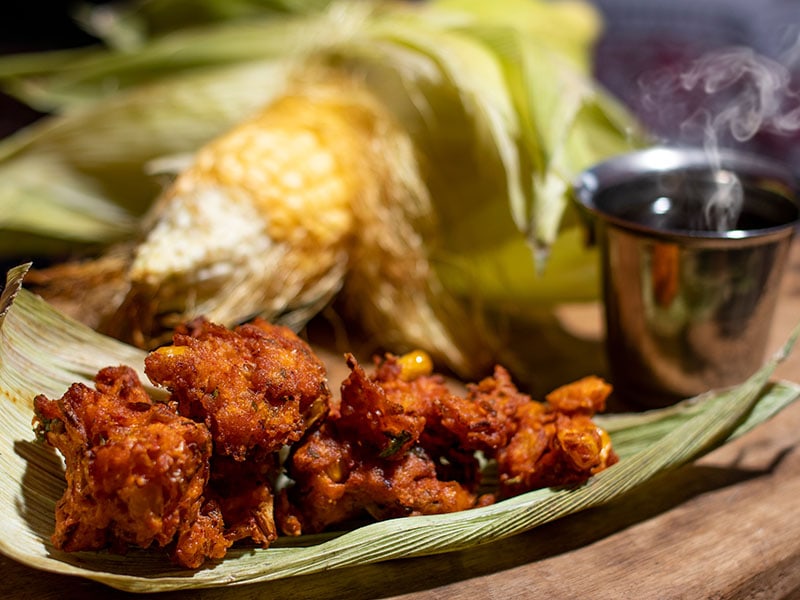 Generally, Pakora is a kind of fried, spiced Vegetable Fritters made by ancient people living in the Indian subcontinent. The idea to make them is to coat the veggies with gram flour mixed with spices and deep fry the whole thing in hot oil.
Among all the veggies used for this authentic Indian treat, I would like to recommend you one consisting of corn. It is because the natural mild sweetness from corn kernels helps this Indian recipe to be easier to consume.
Corn Pakora is also a famous street food in this country, so just prepare some at home and use later as a homemade snack.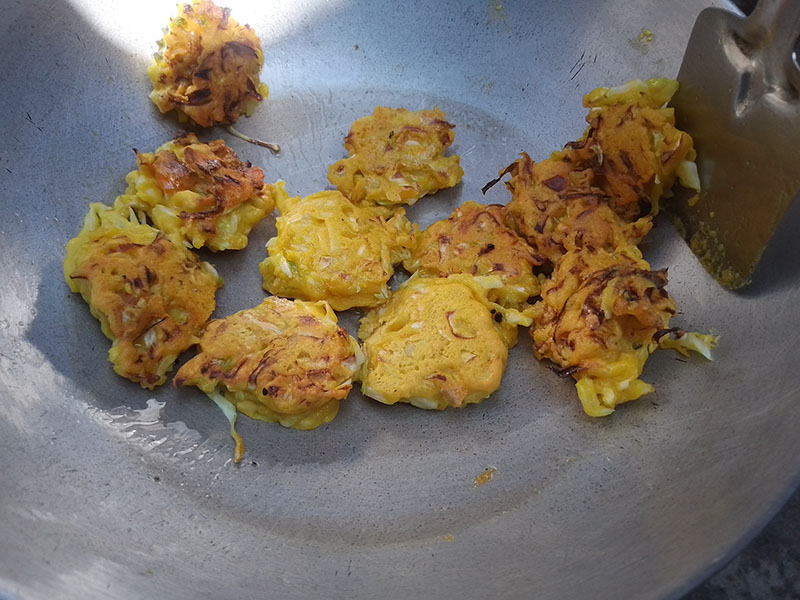 Cabbage is a frequently used vegetable in many famous Indian dishes since they are nutritious and offer a beautiful texture after cooking. Therefore, I promise this next idea of Cabbage Pakora will be great.
Unlike the Corn Pakora, you can expect these Indian cabbage treats to be a bit softer inside. Otherwise, the spices and batter base remain the same as in other Pakora recipes, so you can still experience the fullest flavors in these Cabbage Fritters variations.
Furthermore, if you want your children (who hate cabbage as it has a mild bitterness in taste) to try this veggie once, these Cabbage Pakoras are a way to go. They might love cabbage more after tasting this treat.
What are the secrets after the palatableness of Gobi Pakora? You'll know it here!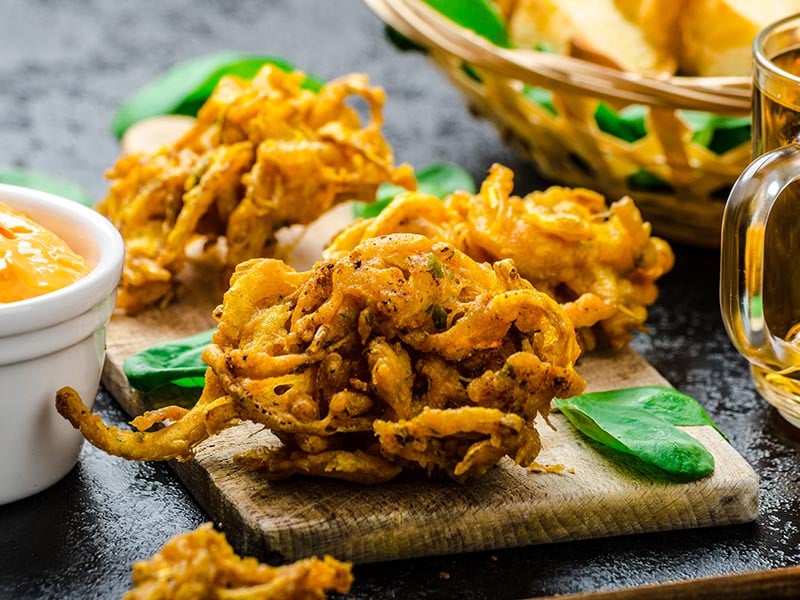 Besides Pakora, Bhajis is also an Indian deep-fried treat; and they are actually the same thing. Bhaji is just a regional name for Pakora with some additional spices so that it can be a bit more fragrant.
The main difference of this Onion Bhaji compared to the previous Fritters is the onions used. The lovely pungency from this particular vegetable helps reduce the greasy taste of the food so that you can have some more of them.
My suggestion for the sauce going with this Indian snack is chutney. Trust me; this combination is perfect.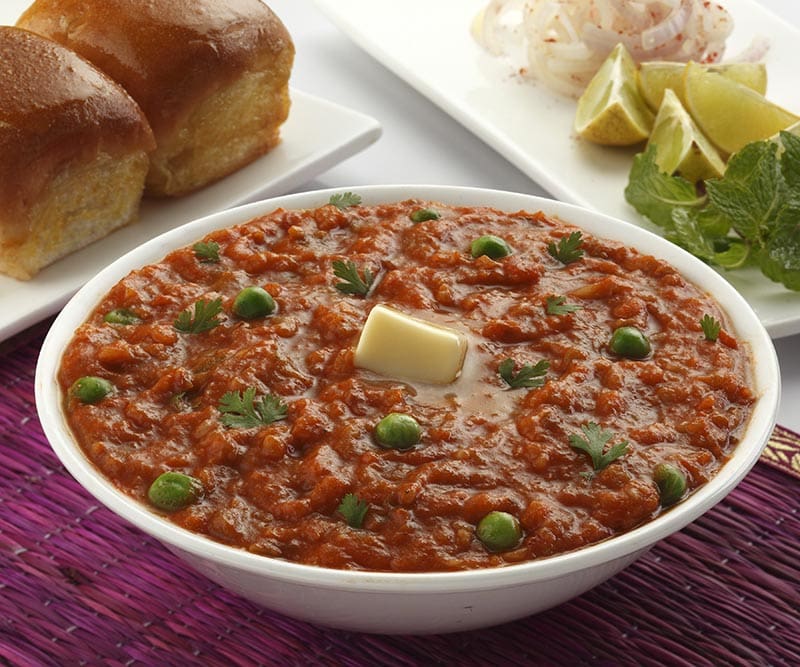 Although including the term "Bhaji" in its name, this Pav Bhaji is not a kind of Indian Fritters. Instead, it is more like an Indian soup dish since the main ingredients (bread roll cut into cubes) need to go with toothsome vegetable gravy.
Yet, the bread type (also called "Pav") used for Pav Bhaji is unlimited. Local people can also use Roti, brown bread, or even Chapati for this recipe.
The most common ingredients for this Maharashtrian-originated dish are root veggies, onions, tomatoes, etc. You will mash them up to make the consistency thicker. Pav Bhaji might be pretty filling, but it can still act well as a light meal between meals or else.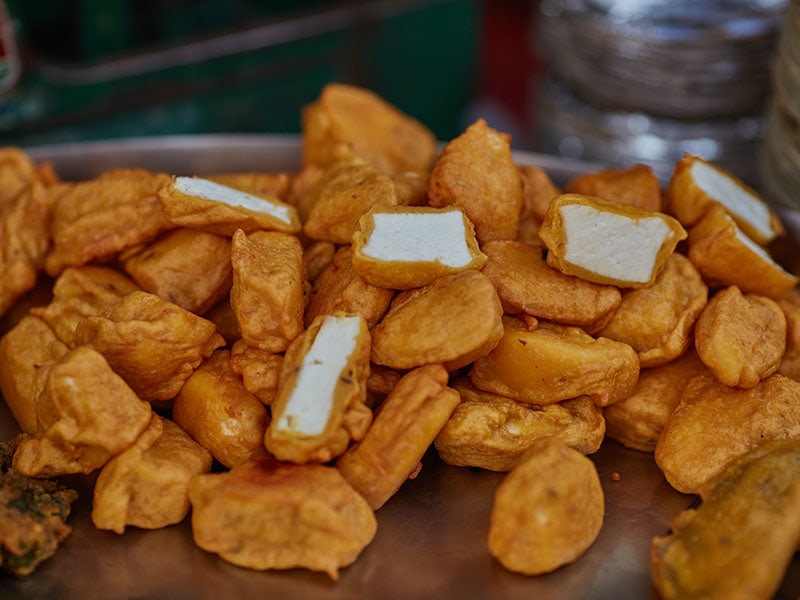 I have suggested various kinds of Pakora so far, and this is another option for you. Instead of using only veggies like the previous ones, Paneer Pakora calls for Indian cottage cheese, and local people still keep the same idea of what they do with the other ones.
To process this yummy Indian vegetarian-friendly dish, you need to cut the cottage cheese into square-shaped pieces. After that, these cheese pieces are coated with batter (of gram flour) and deep-fried in sizzling oil.
With only about 20 minutes, you will have a portion of Paneer Pakora ready to eat. In order to reduce the deep and greasy feeling from the food, you should have some chili chutneys or hot sauces. It is not a bad idea to match Pakora with something tongue-tickling good.
This Paneer Pakora-making instruction indeed benefits you somehow!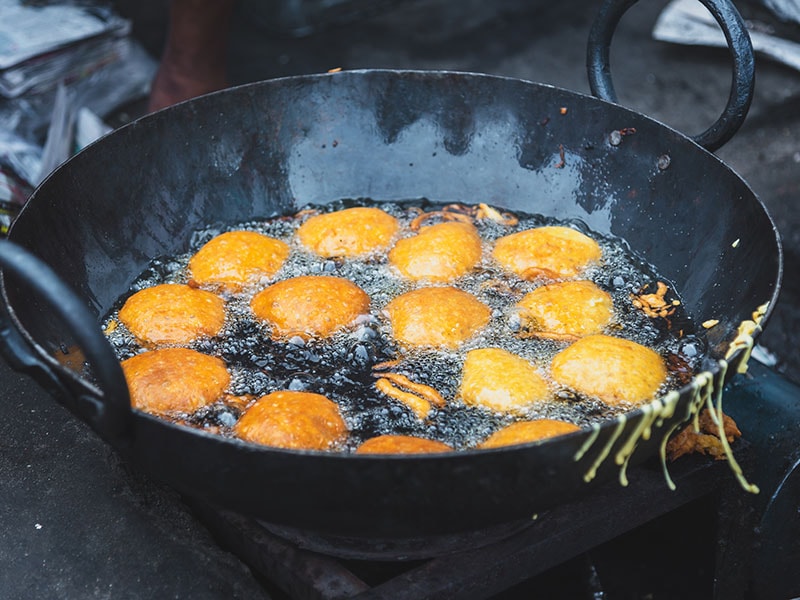 Chop, Pakora, or Bhaji comes from the same family, and they all refer to a kind of Fried Fritters in India. But these Aloo Chops are a bit different from the other two since they have mashed, spiced potatoes, and breadcrumbs as the exteriors.
The mashed potatoes already include some herbs/spices, so your first bite of this Aloo Chop will be full of flavors. You can also experience a different texture within one delicacy as the interior is pretty soft while the exterior is absolutely crispy.
The best way to enjoy Aloo Chop is to serve it as an irresistible Indian side dish with hot Muri (puffed rice), salads, and some unique sauces on the side. Every component on the plate will match with each other pretty well.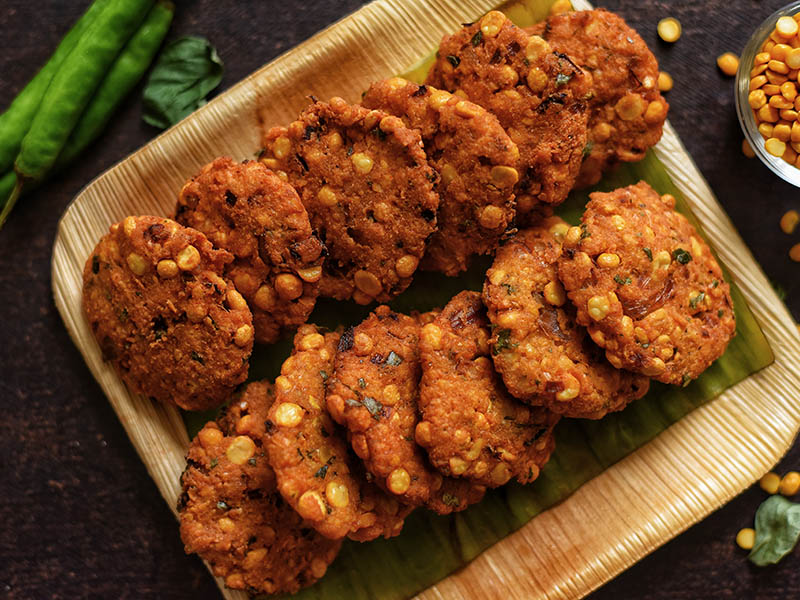 Vada has its origins in North India (especially from the Tamil communities) from 100 BC to 300 CE. There are many kinds of Vada, depending on regions and people's preferences, and I highly recommend you to try making these Lentil Fritters or Doughnuts once.
The main ingredients for a typical Masala Vada are chana dals with various kinds of hot spices (chilies or fennel seeds). After forming the dough into various ring-shaped doughnuts, the next thing to do is to deep fry it until crispy and serve it with Masala spices.
The smell from your kitchen corner while cooking them can easily tempt anyone.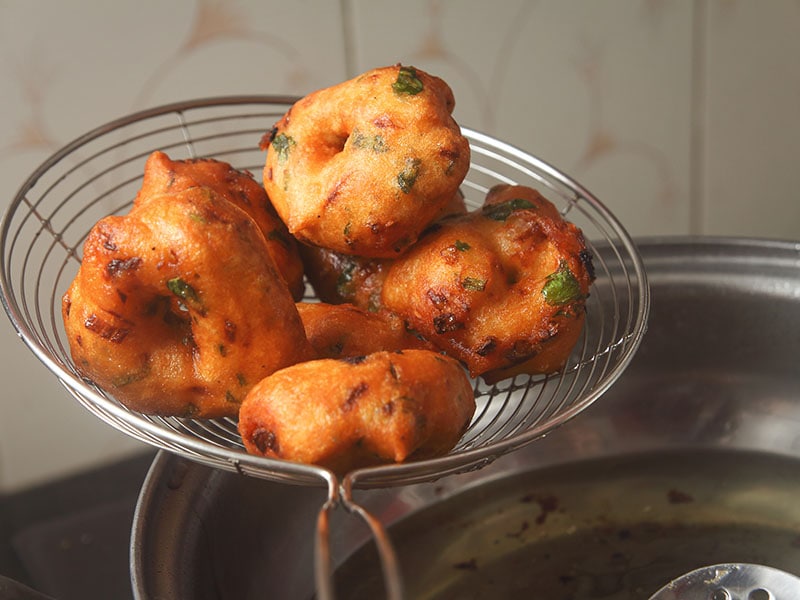 Another variation of Vada is Medhu or Medu Vada, which has its roots in Maddur town and stands for South Indian delicacies. As its name tells, Medhu Vada (meaning "Soft Fritters") is famous for its crispy exterior with an incredibly soft/spongy interior.
To receive that beautiful softness for the food, you need to prepare a leavened dough including urad dal, chopped green chilies or onion, etc. My recommended sides for you are Chutney, Sambar, or simply some nuts.
Moreover, you can have this Indian food cooked in an air-fryer to reduce the oily taste. Trust me; the result will still be crispy and absolutely toothsome.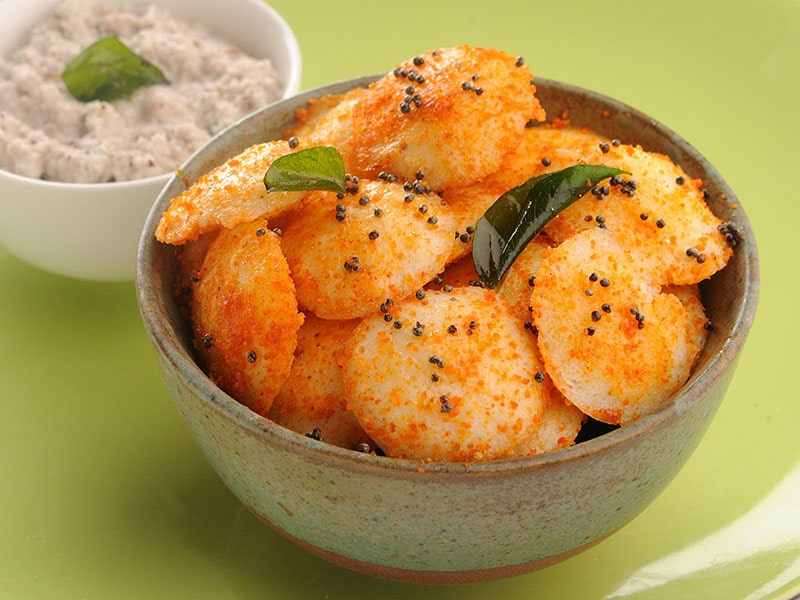 Move to another starchy snack on this list, Idli. Idli or Savory Rice Cakes is a steamed treat from South Indian cuisine typically served in breakfasts or dinners. But, my recommendation today is Idli Fry, which means it is a bit different from the original variation.
In India, the Idlis used for an Idli Fry is normally the leftovers or one-day-old Idli. Then you should cut them into finger-sized pieces before frying them until crispy. After that, you can choose from a wide range of Indian seasonings or spices to pair with your treat later.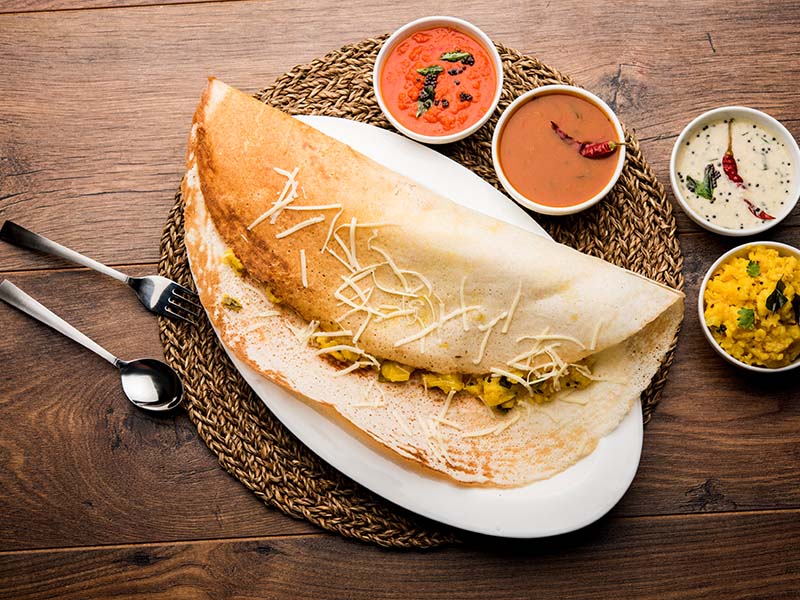 Masala Dosa is a typical Indian morning meal (but it may also be eaten as a snack) with essential ingredients (rice, lentils, Ghee, and various spices). Yet, this recipe will include enough nutrients and energy to keep you working all day.
A portion of Masala Dosa generally includes Dosa (Indian-style Crepes including fermented rice and lentils) and Masala (Indian mixed spices). When plating your treat, you should have a layer of mashed, boiled potatoes mixed with seasoning condiments inside a crispy Dosa.
Here is the best way to have your Masala Dosa ready on the table.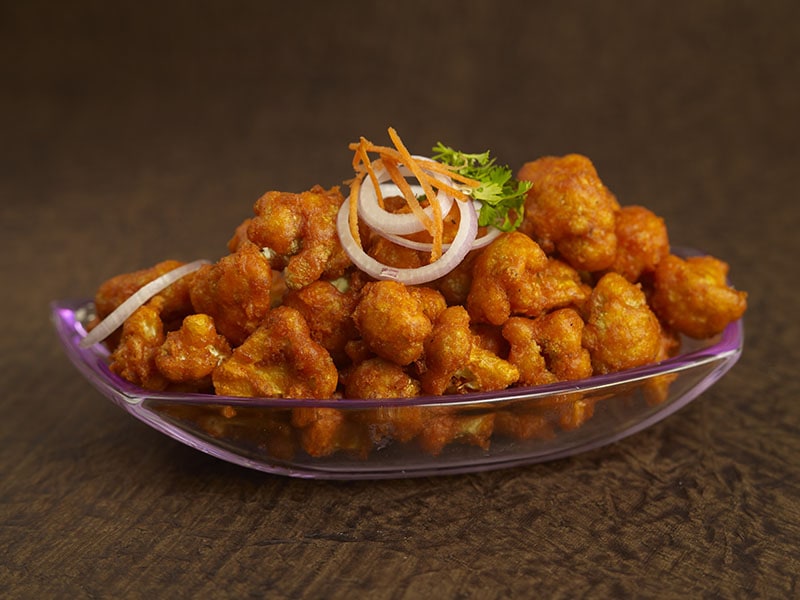 What a strange name, isn't it? Gobi 65 is not only a snack but also an irresistible option for appetizers in Indian cuisine. Its exciting name comes from the "65" food category originating from a hotel called Hotel Buhari, also introduced in 1965.
Gobi 65 or Fried Cauliflowers are vegan-friendly and are extra crunchy as the local chefs regularly coat it with a thin layer of batter. You should choose from chutneys, tomato, or chili sauces when enjoying this food. Those things taste yummy together.
One notable thing about Gobi 65 is that you should enjoy it right after making it. Once the cauliflower is cooler, the moisture inside the veggie will make the crust less crispy.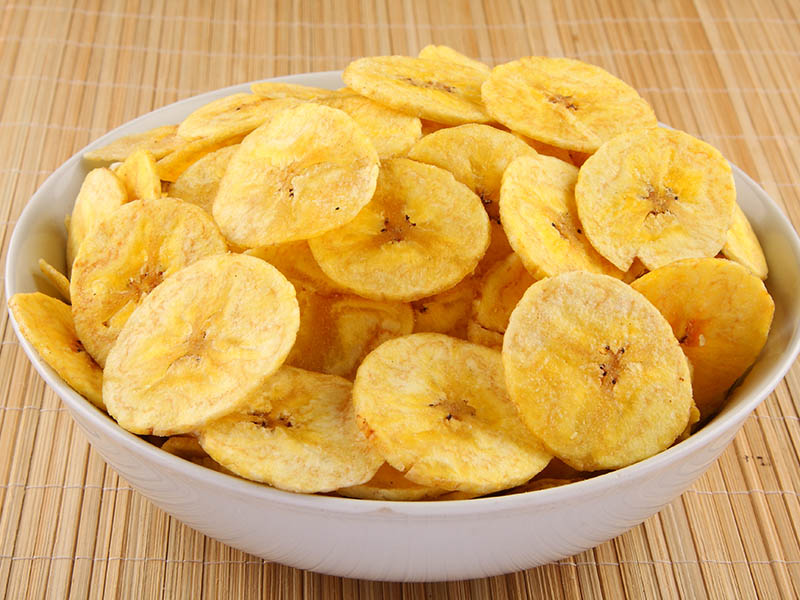 There might be no more place for French Fries after trying these Banana Chips once. This complimentary and finger-licking-good snack originates in the Kerala region of India, and the initial idea to make it is also simple.
First, you have to choose some unripe bananas and cut the ingredients into thin, round slices. After that, you should deep fry all these pieces in hot coconut oil until highly crispy.
Banana Chips are not complete in this step. You should coat the food with Masala spices or jaggery to flavor them and make them even more exciting to eat. In its motherland, Kerala, people often include it in both their daily meals or on festive occasions.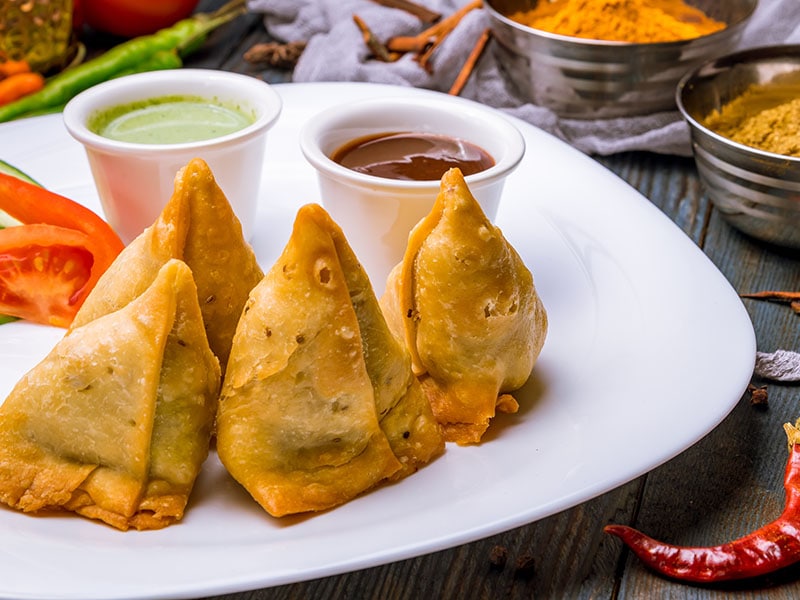 You might have already heard about this famous delicacy, and now you will know how to make some at home. Samosa is a triangular or pyramid-shaped fried cake that often appears as a trendy snack in India.
A standard Samosas portion consists of two main parts: the crust and the filling. According to different regions and preferences, local people will change the filling accordingly.
When your teeth touch the exterior of this delicacy, you can feel a lovely crunchiness from the crust before the juicy interior rushes into your tongue.
It is time to know the best way to create an Indian-style Samosa!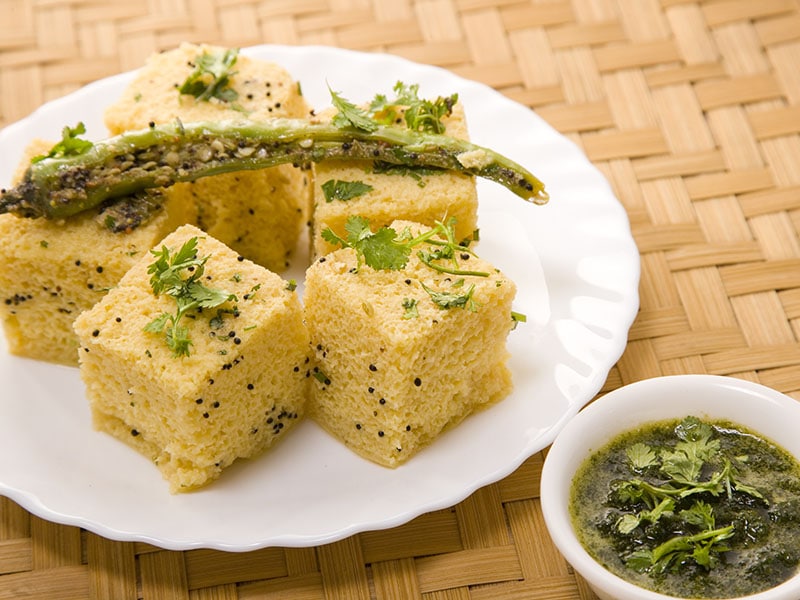 It is incomplete to mention Indian snacks without mentioning Dhoklas. The dish consists of gram flour that is fermented and spiced. After that, the local chefs will steam the mixture until cooked.
Right before serving, you should garnish the food with some coriander and grated coconut. From the most basic ingredients, this palatable Dokhla flourished and appeared in India from 1502 CE.
That impressive amount of time might show you how much Indian people love it. If you want to have it in the main meal rather than a snack, appetizers or breakfasts are a way to go. You can make the dough beforehand and use it for the next time.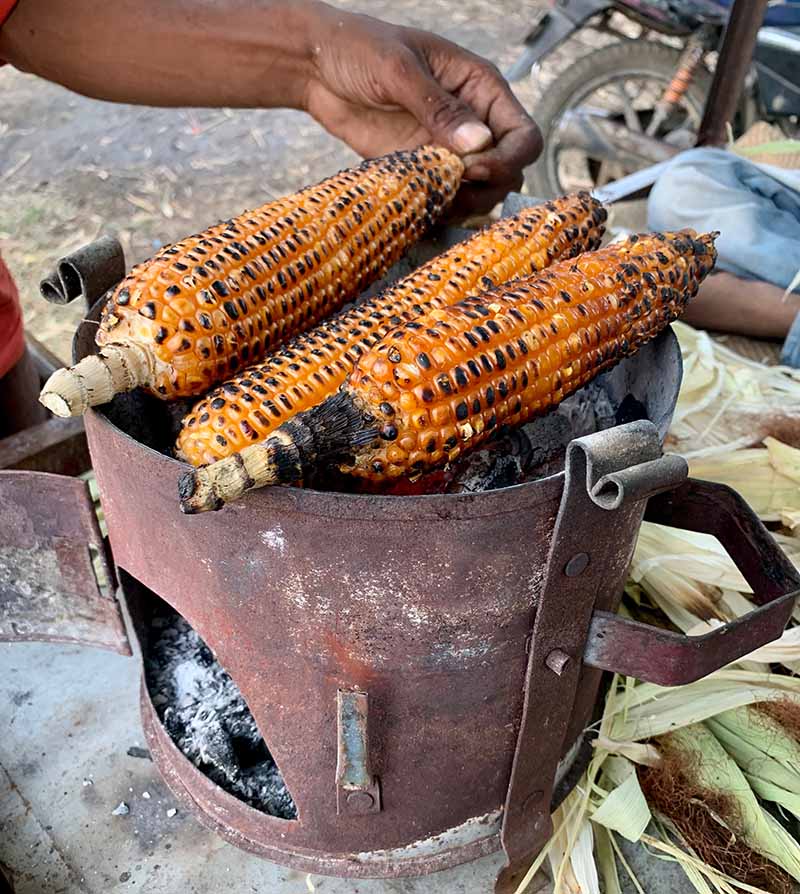 Among all the suggested snacks on this list, Masala Bhutta might be the one that is closest to the definition of street food in India. There is nothing wrong with Grilled Corn, and my recommended recipe is worth trying.
You need to grill these spiced corns (with cumin powder and Garam Masala) directly on a small charcoal fire to make the dish. It makes the beautiful smoky taste linger on your mouth when you bite into the corn cob.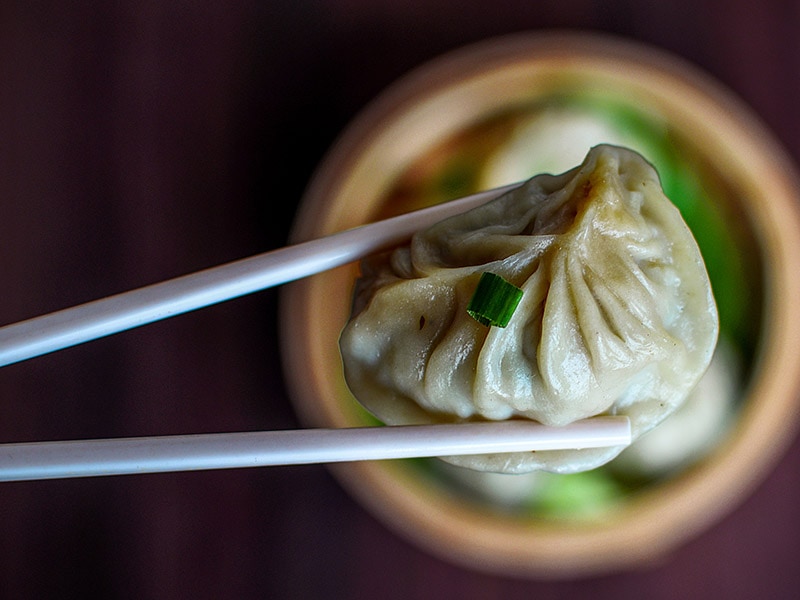 Like dumplings, Indian people cook Momo by steaming and usually serve it with a special sauce from tomatoes, hot peppers, and finely chopped cilantro.
Each component will complement each other well, and preparing your homemade version helps you manage what you eat. The tickling sensation on every cell on your tip tongue every time enjoying it shows you how harmonized the Momos' flavor is.
The warmth felt through each finger and the delicious taste of the dumplings will linger in your mind and make you unable to forget. Traditionally, Momo includes minced meats, but you can make it more versatile with various Momo recipes from tofu, veggies, and cheese.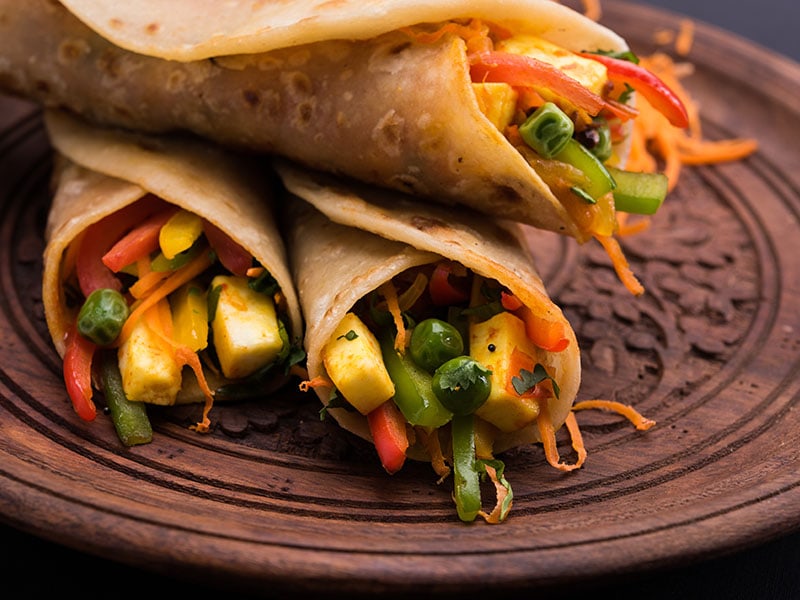 In India, especially in Mumbai or Bombay, Frankie is not only a name, but it also refers to a favorable rolled treat. A Lebanese delicacy called Pita Bread Wrap inspired people in Mumbai to create their own varieties of Frankies.
Since Frankies are basically wraps, you can quickly bring this food to have on the go. A piece of Frankie is also healthy and pretty filling.
The main ingredients have both carbohydrates (from potatoes), proteins (from mutton/kitchen/egg), and some fibers (from mushrooms). Don't forget the sauce going along with this palatable food. They can help your food go to another level.
Are you ready for some Indian Frankies?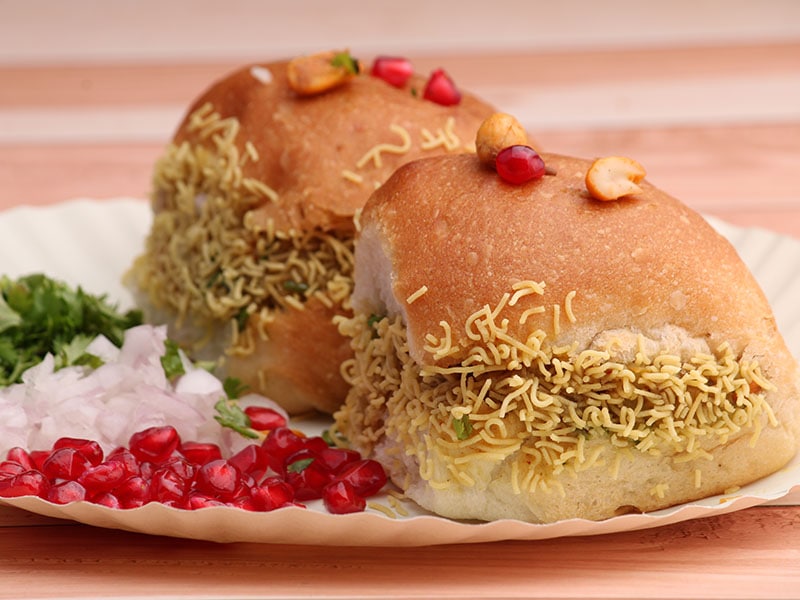 Although the food's name included Roti, a kind of unleavened bread in India, Dabeli calls for Burger Buns (or Ladi Pav, in Indian language). Therefore, in appearance, Dabeli looks precisely like a kind of Buns, but local people prefer enjoying it as a sweet snack.
Dabeli has its roots in the Kachchh/Kutch region of Gujarat. Besides Dabeli, you can call it Kutchi Dabeli; both refer to a famous sweet snack there. In a portion of Dabeli, you have to put in a particular mixture of potatoes combined with Dabeli Masala.
As illustrated, a standard portion of this Gujarati-originated delicacy will include fine chickpea vermicelli (Sev), roasted peanuts, fresh pomegranate, and a special chutney. It might take time to complete (about 1 hour for all the steps), yet the result will pay off.
Do you wonder how to make Dabeli in an Indian way?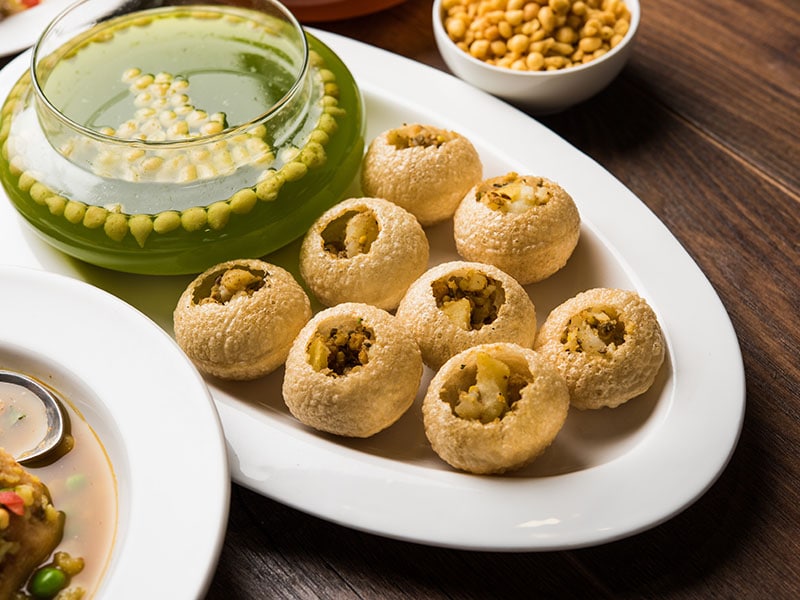 Pani Puri or Golgappa is a famous street snack of India and even in neighboring countries. According to other regions or countries, people call the snack by different names, such as Fulki or Paani Patashi.
Pani Puri consists of the main parts Puri and a kind of flavored water/chutneys. Local people will eat this snack with potatoes, green beans, onions, etc. You should try them together once.
However, if you are looking for a genuinely healthy snack, this might not be for you. However, it will cause no harm when enjoying it occasionally.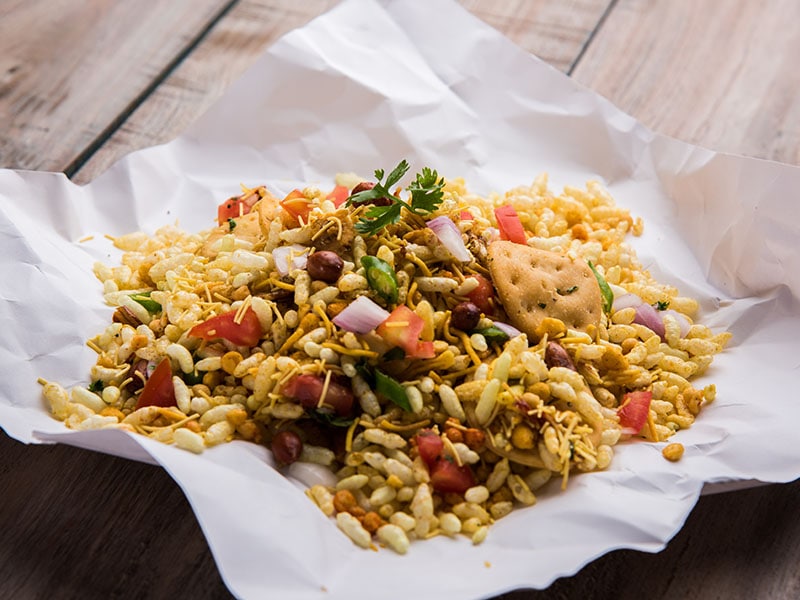 As one of the authentic Indian culinary delicacies, Mumbai has the most remarkable variances in the culinary culture of India; thus, there are different recipes based on location. Yet, you can refer to my preferred recipe for the homemade variation.
Typically, Bhel Puri is a mixed rice delicacy prepared with puffed rice (Sev), chopped onions, tomatoes, and cooked potatoes. Seasoning condiments are also crucial in flavoring the food so that you may employ tamarind chili sauce or Chaat Masala, for example.
Is Bhel Puri easy to make? Truth or scam? Let's find out here!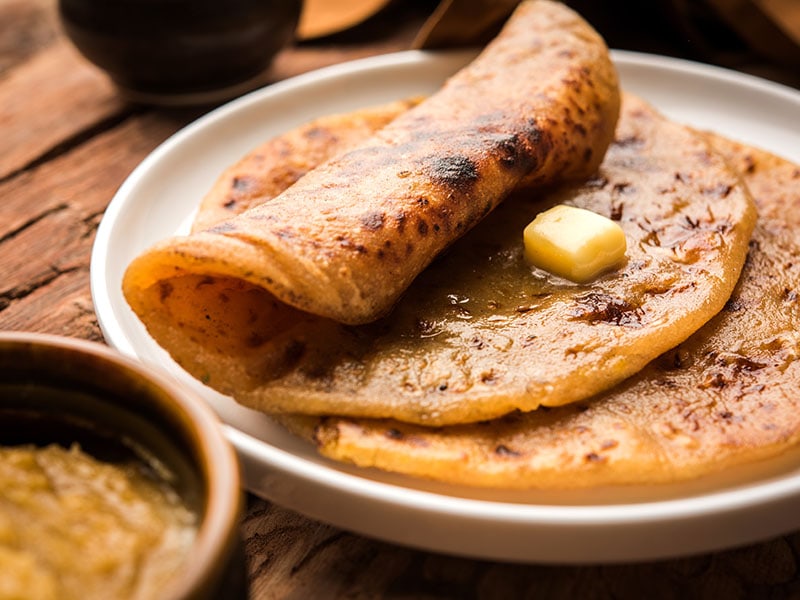 India is famous for a wide range of flatbread, but have you ever eaten the Sweet Flatbread once? This food has its Indian name Puran Poli/Puri, and people might also call it Holige, Bobbattu, or else.
The first recipe of the Puran Poli exists in a highly-praised Indian cookbook from the 14th century, so you can obviously see it as an authentic Indian creation. To make a portion of Puran Poli, you'll make the flatbread base with flour and fill them with sweet dal fillings.
The central sweetness of this delicacy comes from jaggery (or sugar, sometimes), so you can sense a lovely distinguished flavor layer that is hard to find elsewhere.
In addition, some variations of Puran include grated coconut/cardamom or nuts/fruits. Based on that, you can have more choices to choose from.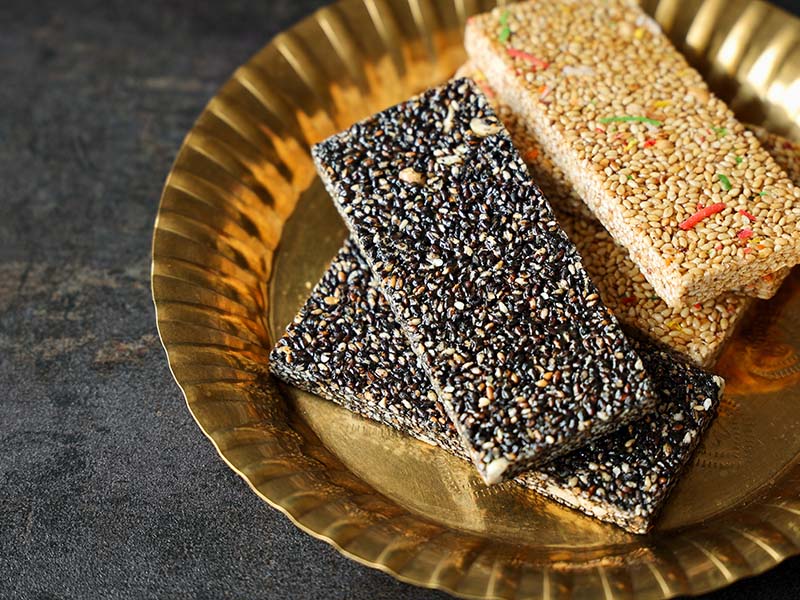 If you are a fan of peanut sweets, you should refer to this India's traditional Chikki. Even though some other nuts are used for these favorable sweet treats (like cashews or almonds), peanuts are still the star.
Other ingredients for Chikki (besides nuts) are jaggery/sugar and Ghee. Sounds simple, right? But don't underestimate this food's flavor.
It will be a gorgeous combination of light sweetness, richness, and nuttiness from all components. The Brittle can easily crumble into your mouth with just a gentle bite, and the delicious fragrance spreads evenly on your taste buds.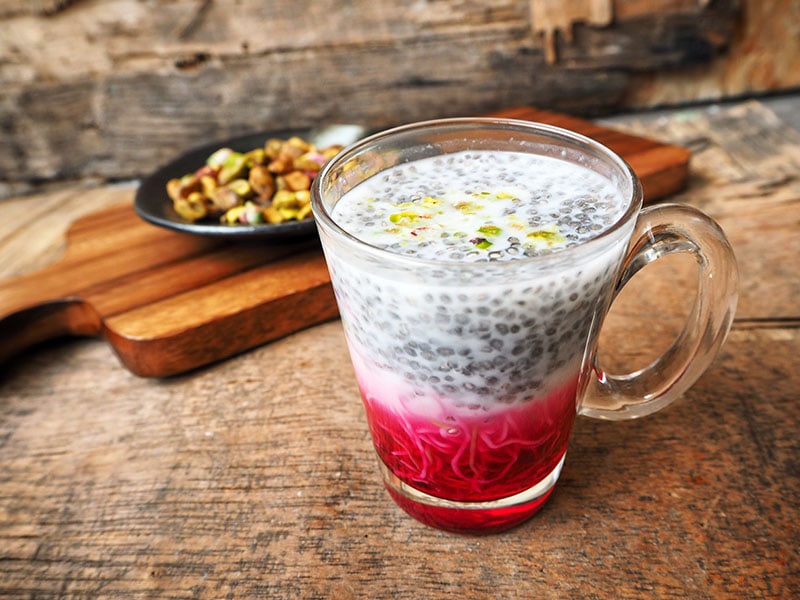 This favorable cold Falooda was actually an ancient Persian dessert before becoming more popular in other Asian countries, including India. The combination of sweet treat and vermicelli might sound weird at first, but you will change your mind after tasting it.
The vermicelli typically used for Falooda will be more transparent and chewy after cooking. When assembling this beloved Indian dessert, you should prepare a glass filled with thick milk, flavored ice cream, Jello, or other soothing sides.
Although the standard Falooda is already hearty, you can still find the heartier variation in Delhi. Honestly, it'll be quite big for a single portion, so making it at home might be a better choice.
Falooda tastes mind-blowing. Follow this instruction, and you will know the secret.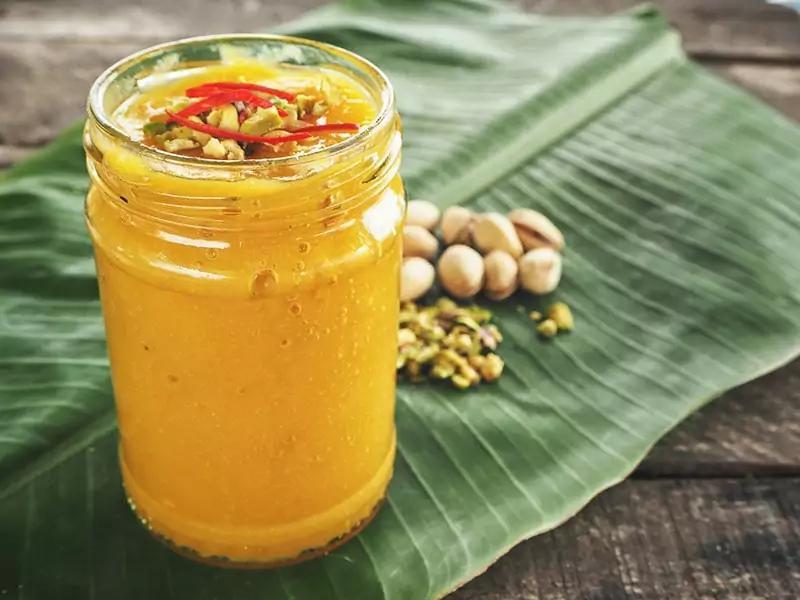 It will be an exciting experience trying a drink with a salty taste, and I highly recommend you to give it a go. Actually, Lassi is quite versatile, and there is not just the salted variation.
You can still find the sweet variation of this luscious drink, and it looks like a milkshake. Sweet lassi is an iconic dessert in Pakistan and the Rajasthan and Gujarat state of India.
You can add various twists to this flavorsome Indian-authentic drink (specifically, Punjab region). In a portion of Lassi, you can put sweet fruits, rich/crunchy nuts, and some flavoring liquid (rosewater/fruit juice), making your drink more appealing.
How refreshing it will be when you drink a cup of Lassi under the hot days! I just can't wait to know your review about Lassi in the comment section.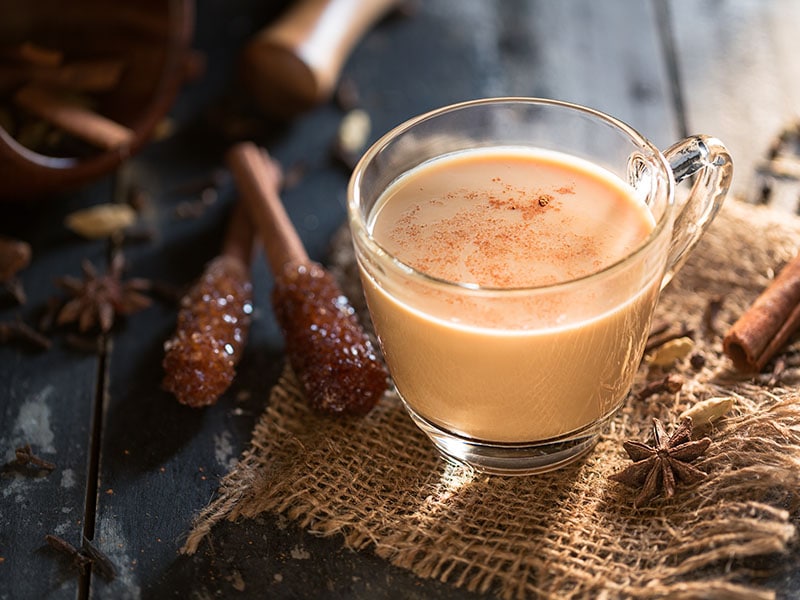 Masala chai is a traditional Indian Milk Tea that you might have heard its name before. To talk more about the drink's name, the word Chai means "tea" combined with the term Masala means "spicy," referring to the milk tea flavor with a unique pungent taste.
You have to brew the black tea with various Indian signature spices/herbs to flavor this luscious Masala Chai. Making a big batch in the morning and having it throughout the day is not a bad idea at all, right?
This short illustration will show how local people make Chai Tea.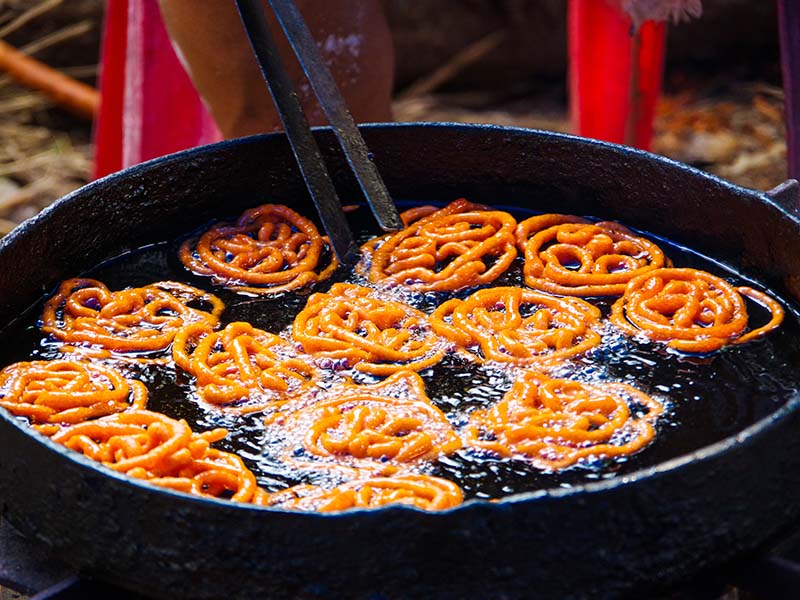 How can I forget Jalebi on this Indian recommended snack list? Jalebi is a sweet snack not to be missed for those with a sweet tooth. The history of Jalebi is pretty unclear. Some believe the first variation of Jalebi appeared in the Indian subcontinent a long time ago.
Meanwhile, some others say it came from the Middle Eastern, but its roots don't affect its goodness. The initial idea to create it was to make it from fragrant maida flour (plain flour/all-purpose flour) mixture.
More interestingly, you have to "draw" the cakes into circles/spirals in hot oil during the frying step. After the cakes are golden crispy, you should dip them in a sugar syrup mixture or curd. This makes your cake even sweeter and tastier.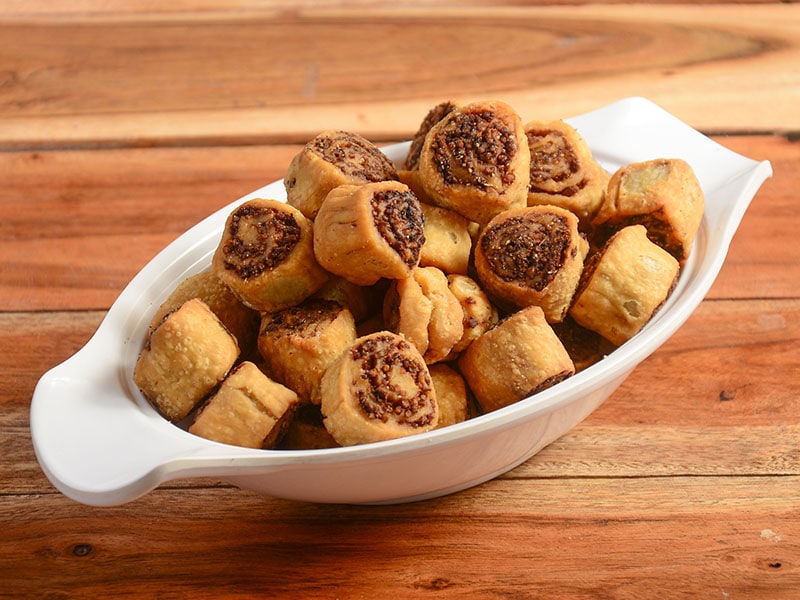 Originating from the Gujarat area of India, Bhakarwadi quickly became more and more prevalent in the other places of this country.
Although its English name is Deep-Fried Disc-Shaped Snacks, you should put them into a spiral shape and cut them before serving. A piece of Bhakarwadi has the exterior of gram flour. You'll then put some grated coconuts, sesame, or poppy seeds on top before rolling it up.
In the last step of processing this dish, you will deep-fry the whole batch until the exterior turns a bit darker. The dish will then be so crispy that it can easily crumble in your mouth.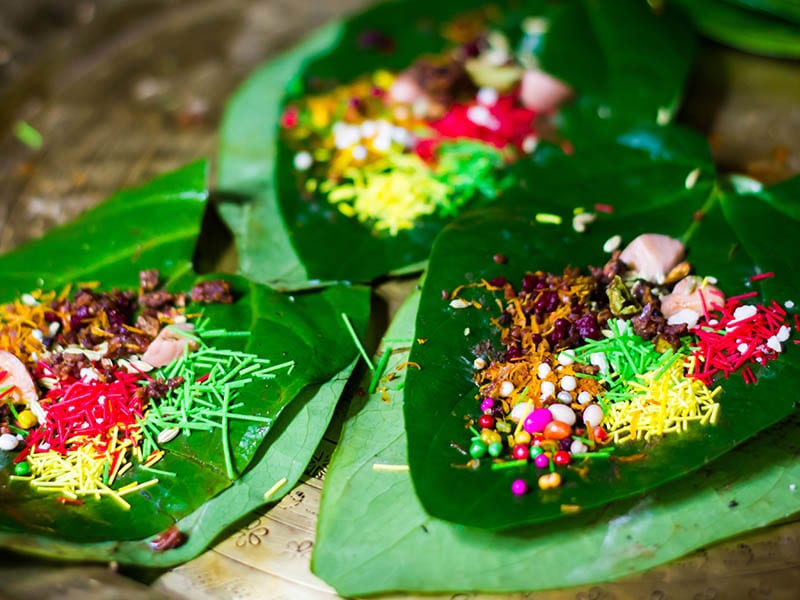 Betel Leaf And Areca Nuts, this English description of Paan might not be the most accurate one to explain this delicacy. It might be an odd option to make at home, but it will cause no harm when attempting to discover more about a distinctive cuisine.
In ancient Sanskrit language, Paan refers to the term "Parna", meaning "leaf/Betel leaf" ( a kind of leaves from a vine plant belonging to the Piperaceae family). The idea to make the treat is to wrap the leaves with aromatic spices/herbs, dry fruits, and nuts.
It will be a bit tough to make a nice piece at first, but you can do better later.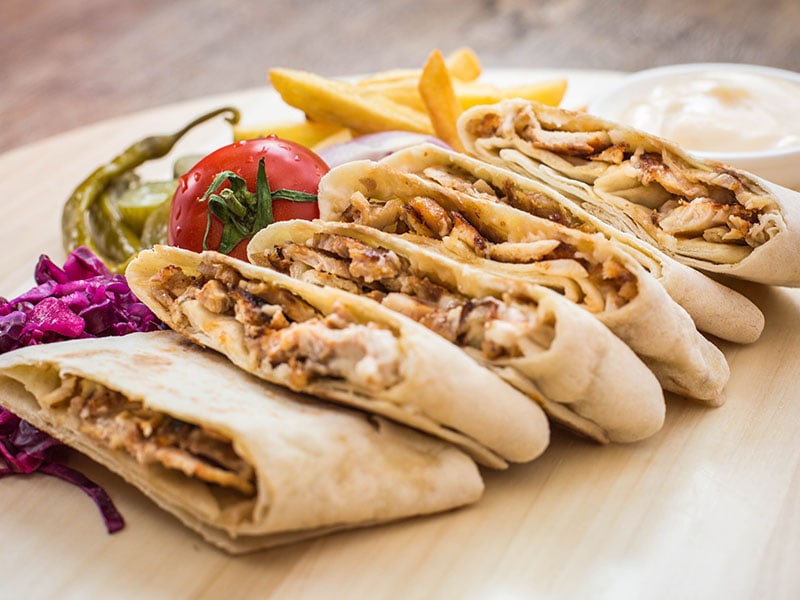 This is the Indian version of Doner Kebab (a famous Turkish delicacy), modified by the locals to suit the taste and ingredients of this unique culture of India.
Shawarma's exterior is often a layer of soft, aromatic flatbread with shredded chicken stuffing and different salads/sauces. The delicate but crunchy exterior distinguishes this ideal breakfast/snack treat.
When you bite into the dish, it will fill your tongue with various flavors such as sweet, crisp, spicy, and fatty. Because they are easy to consume and delectable, you can eat these Shawarmas at any time of day.
No more confusing; this Shawarma tutorial I'll help you to know more about the food.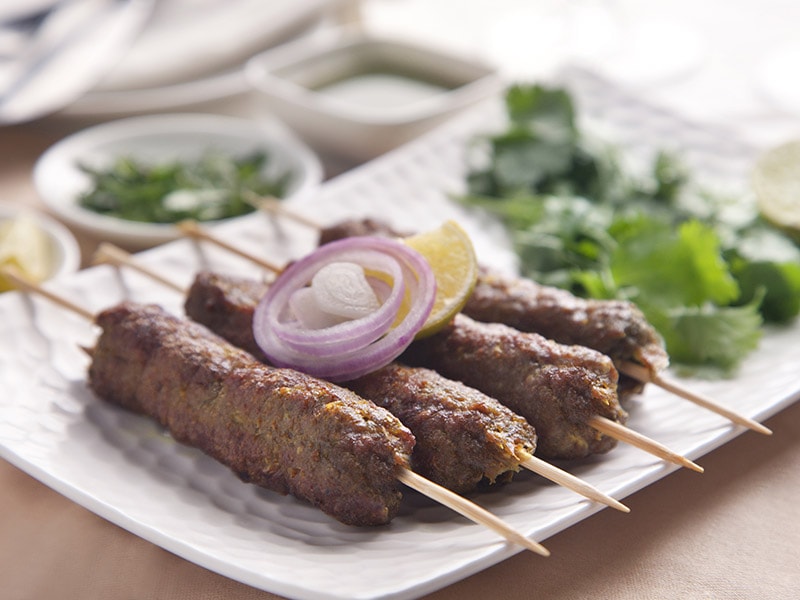 Turks were also the first to bring their traditional Shish Kebab (the predecessor of Seekh Kebab) to India. Even nowadays, Indian Seekh Kebab, the food's name, is derived from the original variation and a combination of "sword" and "to roast".
Because of the religious diet, Indian people prefer using minced chicken/mutton, cream, and cashew paste in their beloved treat. Following the recipe above, your Seekh Kebab'll consist of minced lean lamb, various chopped herbs, and pungent condiments.
About this Indian-style Seekh Kebab's sides, I recommend Raita or Naan. If you're on the fence about what I'm suggesting, you can try them to verify.
What A Splendid Culinary Culture!
What else can be more exciting than trying some tasty snacks during your trip to India? I hope that you have found which ones you want to try first in your upcoming vacation in this beautiful country. Trust me; their taste will surely knock you out!
Last but not least, love is sharing. So, if you find my suggestions today are interesting, don't hesitate to forward the link to this article to loved ones. Maybe they will also benefit from it.
Nutrition Facts
4 servings per container
---
Amount Per ServingCalories117
% Daily Value *
Total Fat 1.6g

2

%
Sodium 170mg

8

%
Potassium 315mg

9

%
Total Carbohydrate 24.2g

8

%

Dietary Fiber 4g

16

%
Sugars 3.9g

Protein 4.1g

8

%
---
* The % Daily Value tells you how much a nutrient in a serving of food contributes to a daily diet. 2,000 calories a day is used for general nutrition advice.