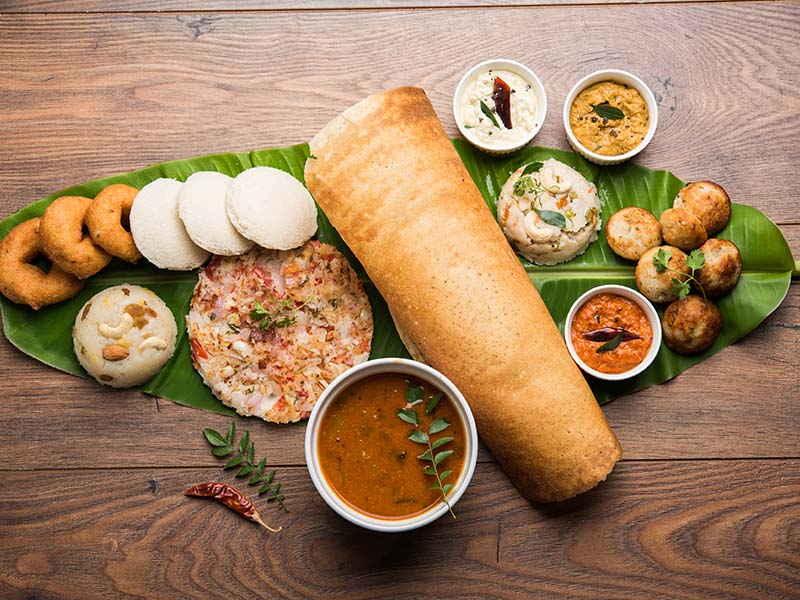 What can you expect from Indian breakfast recipes? Traditional Indian cuisine has been kept in this country for a long time. They often prioritize using vegetables as the main ingredients in the daily diet rather than meats or fish.
At the same time, Indian dishes also include a lot of spices, so you can always experience full-of-flavor dishes at any meal of the day. Are you curious about my words now? Let's check out now!
These 35+ Breakfast Recipes From India Won't Let You Down
Pungency flavors are the signature features of the prevalent Indian foods, and there are many more things you can expect from them. From the freshness of the ingredients used to the easy making methods, my today's suggested recipes are worth trying to make once.
To start this promising breakfast recipe list, I would like to recommend you this Quinoa Upma. Local people love preparing this food for breakfast since it is pretty filling and nutritious with high protein, less gluten, and various veggie ingredients.
When sautéeing the spices (hings, chilies, ginger), condiments, and ingredients (soaked quinoa, mixed vegetables) on a pan, the fragrance from them can make you drool already. That smell would be so appealing and lovely that it can help you awake easily.
Let's learn how to make Indian Quinoa Upma here!
It will never go wrong when deciding to start your day with a toast. Although avocado and crispy toast are already an iconic combination, you should try preparing them in an Indian way. And yes, the critical point to accentuate the Indian breeze lies in the spices used.
A little spicy from jalapeno or chilies combined with other pungent aromas from mixed fresh herbs (coriander, cilantro, or parsley) can straightforwardly upgrade the rich avocado base. Don't forget to season your toast with salt and pepper. They taste pretty fine together.
If you have been more familiar with Naan, a kind of baked Indian Flatbread, now it's the turn of Pakwan. Instead of frying, you should make Pakwan by deep-frying it until crispy.
Since you have to make the dough, you should pre-make the flour mixture ahead of time before you decide to have the food. After a time of resting and being meticulously processed, your piece of flatbreads will be crunchy and tempting.
These Indian Fried Flatbreads can also be an excellent idea for breakfast for dinner or lunch as it is absolutely convenient. Pakwan is popular with the Sindhi communities in India, and they often eat it with other dishes like Chana Dal or simple syrup and sugar.
Pasta for breakfast? Does the thought of it make you feel like it is quite hearty already? Trust me, Namkeen Seviyaan or Savory Vermicelli is tasty and relatively light as almost all the must-have components in this vermicelli noodle delicacy are veggies and nuts.
As you can see, this Indian vegetarian-friendly food is loaded with spices so that nothing can accompany the food other than vermicelli or rice. The starchy texture and mild taste from them can neutralize the pungency and your Upma'll be more appealing.
Here is a quick instruction that shows you how to make Namkeen Seviyaan.
It would be adorable to start your day with a light Oats Porridge in an Indian style. This Oat Kanji has fewer spices than some other recommendations in today's article, and you can also have various ways to twist it based on your preference.
Besides oats (instant or rolled oats, which require less time to cook), you just only need some other basic spices like garlic or some fresh onions. Vegetables added are optional, and you can also put in some chilies if you wish.
Another way to cook Oats for breakfast in an Indian way is this Oats Upma. The dish also calls for instant oats to shorten the cooking time. It is pretty healthy since there are almost no meats in its ingredients list.
Then, if you are in a hurry and have no idea for breakfast yet, you should refer to my suggested Oats Upma recipe. Your stomach is filled up quickly, and you can still have enough energy to work for a whole morning.
Follow this Oats Upma making instructions to make your cooking process easier!
Bread Upma is a versatile recipe since you can have it for any meal of the day, from a simple breakfast to a convenience dinner in Indian style. In particular, there are no requirements for the bread type used for this delicacy, so you can easily make it from leftover bread.
You can then sautéed the bread pieces with spices (chilies, ginger, turmeric, cumin seeds) and plenty of fresh herbs like chopped cilantro. Additionally, chopped fresh vegetables are also included in a portion of Bread Upma so you can have a more balanced meal.
Let's greet Idli (or also called Steamed Rice Cakes), a stunning delicacy from India. You may also know that rice cake dishes worldwide are diverse but quite simple and might be too starchy for someone on a diet.
Then, how about a creative Oats Idli made of unique recipes and still preserving the traditional culture of India? Instead of some typical ingredients for Idli, you can change it into some healthy veggies, such as carrots or beans. What an ideal combination for healthy food!
People often repeat the breakfast menu with familiar dishes, and in India, people are highly fond of eating Idli. After the first recommendation of Oat Idli, let's turn to a South Indian-style recipe, Rava Idli. And just like its name, it has Rava inside.
Don't worry, Rava or semolina is easy to eat since it only offers your food a lovely sweetness and nuttiness. One fact about this Rava Idli is it doesn't need a long time resting for fermentation, so Indian people typically see it as an instant, homemade recipe.
About the ingredients, Rava Idli calls for almost no vegetables and more spices compared to the previous Oats Idli. Based on that, you can expect a flavor bite when eating this soft and favorable piece of breakfast treat.
Your questions about making Rava Idli might be answered here!
As you can see, this Indian soupy treat is not a kind of Idli it's actually a way to enjoy it. Instead of eating it alone, Idli Sambar recommends you to have the soft cake with a kind of Vegetable Stew With Lentils (or Sambar).
It consists of veggies, lentils, curry leaves, and hing. When eating, you can serve these two components separately or toss both of them on the same plate.
The spiced and tangy taste from the Sambar stew can pair so well with the bland base of Idli, making the whole dish harmoniously toothsome.
Well, if you decide to try all of the above Idli recipes, then you might have some leftovers. The best solution for that is making Idli Fry, or you can simply understand it as frying the Idli pieces until they all turn to a golden brown hue.
Fried Idli is absolutely crunchy, and nothing can tempt kids or people better than something tasty and crispy. There are two main ways to enjoy this recipe. First, you can simply dip it into a separate bowl of chutney.
Second, try to mix the alluring Idli with spices and sauces. Both ways are genius, and you should give them all a go.
India is always famous for its flatbreads, and you can expect many kinds of them in this post. Thepla is one of India's most-favored Indian snack or breakfast recipes. Don't misunderstand it with Naan; Thepla tastes are undoubtedly distinguished.
People love its soft, chewy texture and rich flavor profile with the companions of garlic and fenugreek leaves. After roasting the flatbread on a flat iron surface, you can receive a batch of eye-catching and aromatic Thepla.
One more suggestion for you when having Thepla is to pair it with curd. If you have some spares after eating, put them into air-tight containers, and they can last for 2 or 3 days.
Time for some Indian-style Crepes or flatbreads! Among all the Dosa recipes in this list, Poha is the most basic one that is the base for any other more innovative/creative Dosa. Right after your first bite of the food, you can easily detect a mild sourness.
The origin of the sour taste in Poha Dosa is from the Dosa batter, which has overnight-fermented rice. The only thing you should notice is this delicacy, which is to take the time to prepare the food if you want to make it from scratch.
But, in case you are afraid of doing wrong with the base batter, you can buy the premade products at the Indian stores. This way helps shorten the time.
When making, try spreading the mixture as thin as possible so that your Dosa can be highly crispy. After accomplishing every step, it is time to enjoy it with some other saltier delicacies like chutney or curries.
Masala Dosa is an "easy partner," and you can have it with various kinds of ingredients, from vegan-friendly to savory things (meats/seafood). Local people consider it as one of the most famous Indian side dishes and they usually serve these Crepes in their daily meals.
This Masala Dosa recipe basically consists of Masala (Indian hot spices) and Dosa (Fermented Rice And Lentils Crepes), and you can have some ways to cook this part.
The only unchangeable things in Masala are the spices and condiments used, which is the key point to make the food more "Indian". Besides, the proteins required don't matter that much.
When serving, you can spread the Masala paste onto the flatbread's surface and eat it like a pizza (or roll it up and have it as a filling roll).
How about making some Rava Dosa? It is impossible to go wrong when matching Rava (suji/semolina/granulated wheat) with a crispy flatbread recipe because its nuttiness and sweetness are gorgeous.
An advantageous fact about Rava Dosa/Suji Ka Dosa is it doesn't need time for fermenting steps, just as the previous Rava Idli. It is also quick to make from scratch, so you don't have to make the batter ahead of time.
Furthermore, the hot spices are not essential to this dish so that you can have a milder taste experience for breakfast in Indian style. Overall, if you are a fan of the crunchy Dosa, there is no reason to ignore this instant recipe and have your breakfast done in a snap.
If you encounter this instruction, it might be time to make some Rava Dosa.
Why not? There is nothing wrong with the attempt to make your meal healthier day by day. Since this recipe is entirely vegan, it might not be an excellent option for those trying to find egg-y recipes for breakfast. Yet, this option won't disappoint you as it is easy to eat.
Coconut chutney or tomato ketchup is the most frequently served partner for Oats Dosa, and you can keep the flour mixture simple so that everything might combine better.
What do you think about using ragi flour with rice one instead of oats or potatoes? Although the traditional Dosa dough consists of fermented rice and lentils, people in this country now also make Dosa out of various grains (ragi or oats).
It is reasonable since Ragi (or finger millet) contains a bit more flavor layers than rice/lentils. Therefore, in case you are out of rice, lentils, or oats, don't miss your chance to give these Finger Millet Crepes a go.
It has been the sixth Dosa recipe on this list, but this Pesarattu is worth mentioning once as an irresistible Asian breakfast food. Since lentils are essential ingredients in Indian diets, you can easily find them in various forms. In a Dosa recipe, Moong Dal or Split Lentils are the best.
You are free to make some twists in the original recipe for Moong Dal Dosa, but you must include some ginger and salt to taste. Unlike some other kinds of Dal, Moong Dal is a bit creamier and more vegetal while still offering a lovely nutty taste.
Trust me, after tasting the food once; this Pesarattu can make you wake up when hearing it is waiting for you.
How about knowing some more ways to make Pesarattu right here?
The next kind of breakfast flatbread recipe I would like to recommend you here is Paratha, or more specifically, Aloo Paratha. Like some previous suggestions, Aloo Paratha is full of Indian flavors, thanks to the existence of chilies, ginger, cumin, or other indulgent spices.
The best way to enjoy a plate of Aloo Paratha is to eat it with some kinds of pickles, yogurt, Ghee, or Desi Makhkhan (butter). To be honest, Potato Stuffed Flatbread might not be the quickest Indian dish to make, but its taste is worth every effort.
If Aloo Paratha is the most famous Paratha in India, Gobi Paratha probably ranks second. Spiced cauliflower is a beautiful replacement for starchy mashed potatoes, helping your food a bit healthier.
Do not ignore butter or Ghee when making this flatbread. The smell and taste from these additional components can boost your Gobi Paratha's richness and elegance.
Gobi Paratha tastes good even if it's cooler. Therefore, you can make some and bring them along as breakfast for your picnic or as side dishes beside savory recipes. Or else, you can make a big batch of this flatbread and freeze it for later use.
Medu Vada or Ulundu Vadai is a delicious Indian appetizer recipe from the Southern regions. Although these Medu Vada's shape looks like donuts, they are not a sweet treat but actually a kind of light savory delicacy, including veggies and herbs.
The lentils used for Medu Vada are the Urad dal (split white lentils/black lentil dal), so the Indian-style donuts taste somehow nutty, peppery, a bit earthy, and slightly bitter. You should soak the lentils overnight to process them quicker.
The standard Medu Vada will have a crispy exterior with a soft interior. Remember not to put your Medu Vada "rings" into the pan if the oil isn't sizzling hot. The greasy oil can absorb back into the dough instead of frying them. Are you ready to make some of it now?
The name, Pongal, is not only referring to a dish but also a Tamil communities' multi-day harvest festival in South India. The Rava Pongal is not totally distinguished from the original variation you might have tried before and some ingredients are still kept in this variety.
It is just the additional Rava that makes the food more toothsome. To make this special Pongal recipe, you must boil a rice mixture with moong dal Rava in a pot. After that, you should brew the mix with cashews, ginger, pepper, and curry leaves in Ghee.
To enjoy your Rava Pongal, I highly recommend having it with hot Chutney or Sambar and a cup of hot ginger tea. The pungency from these companions can accentuate the Ghee taste better.
Trust me, this is one of the best Rava Pongal-making tutorials for you!
When you don't want a traditional flatbread or Dosa for breakfast, a tasty piece of Appam is a way to go. In appearance, Appam might remind you of some other straightforward Asian recipes for desserts. But in India, people usually serve the food with savory curries or stews.
Compared to Dosa, Appam is a bit fluffier and milder in taste. Furthermore, it is also a gluten-free and vegan dish. Based on those, you can serve this coconut-y fragrant dish for anyone. In case you don't want to have it for breakfast, then lunchtime still works.
Unlike the previous Aloo Paratha, the Kulcha base of Aloo Kulcha is a kind of leavened flatbread. It is a specialty of the Northern India regions and famous in Delhi. Traditionally, people make it a tandoor oven, but you can still utilize the flat pan when making homemade.
Once it comes to Aloo Kulcha or any kind of Kulcha, you should pair it with Chole (Spicy Chickpea Curry). Otherwise, eating it alone is also remarkable since the taste from butter, fresh herbs, and spices used are more significant.
If you have to prepare a big breakfast for a whole family, opt for this Aloo Puri instead of some other single portion delicacy. After trying this combination of Fried Puffed Bread (Puri) with a Potato Curry (Aloo), you might never forget this fascinating taste experience.
To make the Puri, you should prepare the whole wheat flour dough and fry it until the steam from hot oil puffs the interior of your pieces of dough evenly.
Since the base is pretty oily, the pungency from an authentic Indian curry is a perfect partner with it. You can have another option of Bhaji (Fried Chopped Vegetables) besides Aloo.
From that idea, you will be able to make a huge breakfast/brunch feast for your loved ones.
Just looking at the illustration of these Poori Bhajis makes me drool already. Now, you won't prepare the Puri/Poori with Aloo but with some stir-fried, mildly-spiced potatoes (Bhaji).
Obviously, the potato part has less gravy, so if you prefer crunchy Puri to the soaked one, Poori Bhaji is for you. The aromatic spices and condiments make the Bhaji match well with other components, and the food becomes more toothsome.
If you don't have much time to make this food in the early morning, serving it as an Indian lunch dish is a great idea. Who can resist such a good, hearty delicacy after a whole morning working?
Making Poori Bhaji might not be as difficult as you think.
All of the eggs, potatoes, and tomatoes on a plate of Sali Par Eedu may have given you an idea of how hearty the dish is. The crispy texture of the deep-fried potato straws, coupled with the runny yolk of the sunny-side-up egg, complements the entire meal.
As all the Eggs On Fried Potato Straws components are pretty easy to prepare, it becomes an ideal, quick meal for the first meal of the day. Not only offering a full feeling for a whole morning, but the flavor of this Aloo Puri can also absolutely excite your taste buds!
After a breakfast recipe with a sunny-side-up egg, you might also question this country's Omelets recipe. I have to admit that the food looks like regular Omelets, but Indian people indeed developed a new method to cook their own eggs.
Masala spices (including turmeric, ginger roots, or else) are their solution for that. Fresh herbs also enhance the dish's flavor profile with their appealing scents. If you need rapid instruction for this Indian Masala Omelets delight, here's how!
Anda Bhurji or Egg Bhurji is a crowd-pleasing egg recipe in India that can tempt even the children's taste buds. Then, what is the unique thing about this Scrambled Egg dish? Thanks to the chopped veggies (bell peppers) and herbs, the taste from Anda Bhurji is mind-blowing.
Having a mouthful of this Anda Bhurji, the softness and richness from the eggs will neutralize all the robust or overwhelming layers of flavors from all the components. To make your first meal of the day become more filling, you should pair it with buttered Roti or Pav.
Coffee and Chai Tea are also ideal partners for this delicacy. After all, only the lovely memory about the goodness of the food lasts in your mind.
I'm not going to lie; this Oats Kheer is superbly delicious to become the first meal of your whole family's day. The idea to make it is similar to overnight oats or rice pudding since you should cook it on the stove with milk and water until it offers a denser consistency.
When your food is nearly ready, you should put in some dried fruits or nuts to have an additional sweetness and a favorable crunchy texture.
Does the creamy, milky smell linger in your nose yet? Your Oats Kheer tastes excellent, whether cold or hot, so eat whenever you like.
You won't regret knowing how to make Oats Kheer!
Coffee has been a common drink globally for centuries, so you might have known ways to enjoy it. But, have you ever tried this refreshing drink made in the Indian way? If not, you should try making it now.
In a cup of Disco Coffee, the ratio of black coffee and sweetened milk is 1:3, which means it will be easy to drink even if you are not tolerant to caffeine. However, you can try changing the black coffee part into black tea. The version of Disco Tea is also appealing.
Masala chai is a famous Indian milk tea. Chai means "tea", Masala means "spicy," referring to the milk tea flavor with a unique spicy/pungent taste.
Local chefs will make this Indian Milk Tea by brewing black tea with a mixture of spices and herbs typical of India to enjoy this delicious milk tea best. Thanks to that, Chai Tea delivers a unique flavor.
When drinking, you will gradually feel the robust taste tickling your tip tongue, the fatty taste of milk, the sweetness of the sweetener, and the fragrance of black tea will relax your spirit.
Just like its name, this is not an Indian bread dish, and it will be perfect for those on a diet and cutting down on carbohydrates. The recipes call for Rava or Gram flour for the batter base to replace wheat flour.
The critical points to adding flavors to this delectable Indian sandwich lie in the condiments, vegetables, and spices. So, never forget to add more of them when forming the batter.
After the preparation steps, you will just need to spend a few more minutes to have your breakfast done on a skillet or waffle machine.
Don't know the exact steps to make a Breadless Sandwich? This tutorial is for you!
This is what you are waiting for, a bread dish called Oats Dhokla. This time, you won't use the regular wheat flour; you will utilize a healthier one, oats flour. This kind of flour is more nutritious, rich in fibers, and beneficial to people's cholesterol levels.
The light savory taste of this Steamed Bread comes from the Eno fruit salt, which also helps to ease stomach bloating or digestion issues. Based on that, Oats Dhokla is a great breakfast and a healthy option. You can have it with herbs and veggies for more flavor.
Congratulations, now you have a plan to use up all the leftover bananas in your house! If you are not in the mood for some Banana Pancakes, this Indian recipe of Banana Puri is an excellent alternative.
Mangalore Buns are sometimes called Puri, but they don't have a hollow interior. The texture of Banana Puri is pretty dense and spongy with the help of an average amount of maida flour.
Then what can you expect from this Bun's taste? A mild natural mellowy from fully-ripe banana combined with a neutral taste from other components make your wait worth it.
Take Your Time And Make These Delicacies For Breakfast!
Breakfast is an essential meal for a day of work and study, but eating the same dishes every day is also rather dull. Consider switching your taste with a delicious and nutritious Indian breakfast while having an accessible and diverse approach to make your meal attractive.
Do you have some other recipes to contribute to my Indian breakfast ideas list? I would love to hear your feedback, so feel free to let me know. Otherwise, please share my suggestions with your loved ones if you love them and find them helpful. Loving is sharing!
Nutrition Facts
2 servings per container
---
Amount Per ServingCalories127
% Daily Value *
Total Fat 8.1g

13

%
Sodium 17mg

1

%
Potassium 272mg

8

%
Total Carbohydrate 12.5g

5

%

Dietary Fiber 2.5g

10

%
Sugars 3.2g

Protein 2.9g

6

%
---
* The % Daily Value tells you how much a nutrient in a serving of food contributes to a daily diet. 2,000 calories a day is used for general nutrition advice.