Preparing breakfast for an outdoor picnic can be simple and challenging at the same time as your ideas keep repeating all over again. However, I'm here to help you with all the new, exciting recipes that you may have never seen before.
I have both the savory and sweet ones so that you can satisfy your whole family with different palates. Not to mention, they are all easy to bring with and still taste delicious even when served cold.
And it would be better if you keep them in a heat-retention meal prep bag to enjoy your food at its finest. Alright, wait no more, let's check them out now!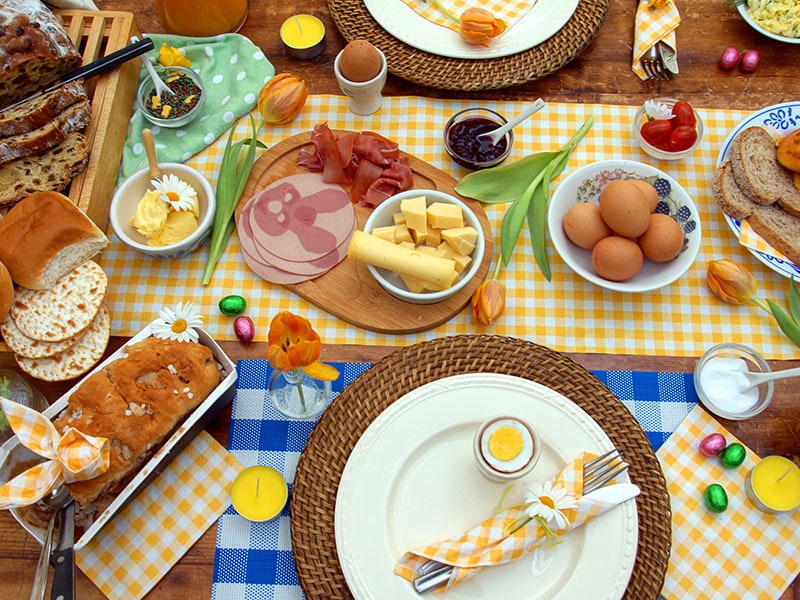 27 Hand-Picked Breakfast Dishes For An Outdoor Camping
Believe me, you can make all these picnic breakfast ideas without breaking a sweat. You can even prepare some of them the night before and just need to finish the last step the following day.
Ham, Potato, And Cheese Quiche
Italian Torte
Caprese Sandwich
Cubano Sandwich
Muffuletta Squares
Deviled Eggs
Bacon-Wrapped Sausages
Ham And Leek Quiche
Mini Sausage Quiches
Breakfast Casserole
Chorizo Burrito
Coronation Chicken Salad
Pasta Salad
Orzo Salad
Potato Salad
Smoothie Parfait
Berry Trifle
Peanut Butter Granola Bars
Trail Mix Granola Bars
Strawberry Rhubarb Bars
Rosemary Focaccia Bread
Pull-Apart Apple Bread
Buttermilk Doughnuts
Double Chocolate Banana Muffins
Maple-Pecan Scone
Blueberry Coffee Cake
Breakfast Cookies
Don't hesitate anymore. Scroll down to know more about these dishes!
14 Savory Recipes To Enjoy Your Breakfast At The Camping Site
There is hardly anything more filling than a savory breakfast, especially on a picnic day when you need more energy than regular. So, here are 14 fantastic recipes for you to try out!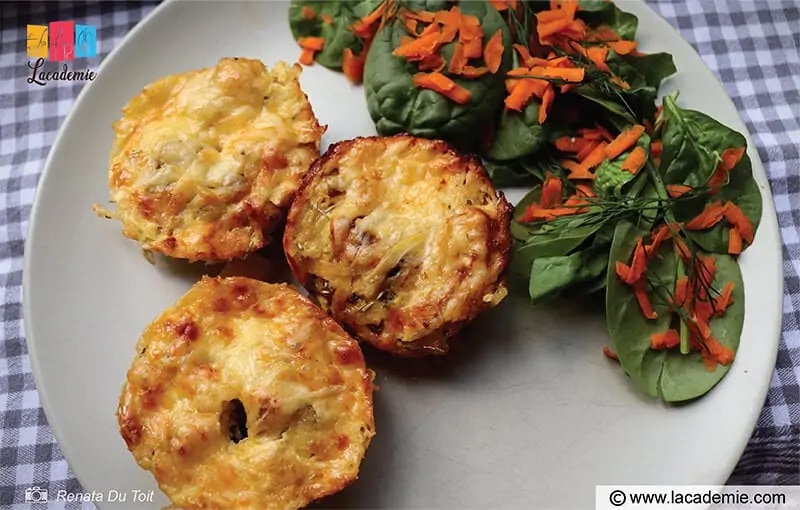 Quiche is the first option popping in my mind regarding picnic breakfast. It's portable, delicious even when cold, and full of nutrients. You can do the prep work the night before and bake it in the morning.
And since it's for a picnic, you can use a huge dish to make a big quiche. Or some prefer dividing it into several portions. For the latter, a muffin tray will be a suitable option.
Also, don't limit this quiche to only breakfast. Because it's a savory recipe, you can eat it at lunch or dinner. Preparing a side of green salad or coleslaw will balance your meal.
Not only breakfast, but you can also eat this Italian torte at any time of the day. It looks like a giant cake with several layers of ham, cheese, and pastry dough. All of these make a satisfying meal and provide enough energy for an active day.
You can mix tomatoes, spinach, olives, and mushrooms in between each layer. And no matter if it's served hot or cold, this Italian cake still tastes delicious. Also, you can cut it into small portions for easier storage.
This video will show you a visual description on how to bake an Italian torte.
You don't have to make complicated dishes for a picnic. Convenient can also mean delicious, and Caprese sandwiches are a typical example. It's just tomatoes, basil, and mozzarella cheese between freshly baked focaccia.
But this mouth-watering breakfast sandwich can blow your mind for its flavor! Whether they are served cold or hot with the melted cheese, one bite of them can make you feel spring has already come home. Not to mention, the fresh tomatoes match perfectly with the rich mozzarella cheese.
Good picnic breakfast doesn't have to be complicated, and this Caprese sandwich here is an example. With just juicy tomatoes, creamy mozzarella, and fresh basil, it still tastes delicious.
If you are a meat-lover or especially a pork lover, this Cubano sandwich is a must on your picnic breakfast's menu. Filled with roasted pork, cheese, ham, mustard, and pickles, this sandwich is irresistible.
But the highlight of this tasty eggless morning dish is not the pork or ham but the pickles. Pickled red onions or dill-pickled onions are classic options. However, if you want to try something new, how about pickled carrots and daikon for more crunchiness?
With these similar ingredients, you can make various amazing sandwich ideas so even the pickiest people cannot refuse.
Check it out to know how they make a Cubano sandwich!
Picnic breakfast is an opportunity for you to try and make new dishes that you don't have enough time to do in everyday life. These muffuletta squares are an appropriate example. Don't worry that you will ruin them as this unfamiliar dish is just New Orleans sandwiches.
An original muffuletta combines Sicilian sesame loaf filled with olive salad, capicola, mortadella, salami, pepperoni, ham, and cheese. For a picnic, you'd better cut these sandwiches into bite-sized squares for easier transportation.
Deviled eggs have always appeared in my family's picnic meal, so I think of talking about them for a bit. Though it has a pretty shocking name, devilled eggs are actually just stuffed eggs. You'll need to scoop out the egg yolks and make a filling with them.
In reality, deviled eggs are one of many well-loved and less time-consuming cold appetizers in many parties as they are so easy to make. It is a healthful dish for every diet including keto, low-carb, or gluten-free.
The ingredients for deviled eggs' filling can differ vastly from one recipe to others. Some may replace mayonnaise with Greek yogurt; some can add other components like bacon, chives, cheese, and many more. I also recommend sprinkling a bit of paprika on top of these devilled eggs for a striking appearance and a punch feeling when eating.
Follow this video and your devilled eggs will taste like they're made by professionals.
When someone talks about breakfast, I'd immediately think of eggs, bacon, and sausages. While I've already mentioned eggs, why not combine bacon and sausages into one dish for more convenience?
These bacon-wrapped sausages aren't fancy dishes, but they can satisfy anyone hungry with their sweet-and-salt flavor. You can use mini sausages instead of typical ones so they can fit well into the picnic boxes.
For a long time, quiche has been a typical dish for breakfast. So, there's no reason why not to include it in your picnic breakfast with a simple version containing ham and leeks. Leeks are pretty pricey, but as a component, they really enhance other ingredients' flavor.
You can switch regular milk for buttermilk for an additional tang to balance with the salty ham and rich cheese. For the crust, I recommend buying a ready-made one to reduce the cooking time. Make a salad as a side dish for this dish.
And if you accidentally bought too much ham, do not worry because you can turn them into delicious leftover ham dishes that I bet your kids will ask for more.
If it's hard to bring a whole quiche to the camping area, you can make these muffin-sized quiches instead. And for this recipe, I will use sausages, mozzarella cheese, and eggs so they can easily fill your belly despite the mini size.
Aside from these essential ingredients, feel free to add more components to this dish. Tomatoes, mushrooms, and other veggies are a decent choice if you want these quiches more healthy. Swap out sausages for bacon is a big yes too.
Seeing a casserole may cause you to think of all the troubles making it. Some even say it's not suitable for breakfasts. However, it's just a tiny problem for me since you can totally bake a casserole in advance the previous night.
Not to mention, casserole is a delicious option to get rid of all the leftovers from your dinner meal. Meat, vegetables, or cheeses, casserole can accept them all. And a fresh fruit salad or a smooth parfait will make a beautiful harmonization with the casserole.
Making a casserole will be much more simple with this video.
Basic burritos are tasty enough, but how about elevating them with chorizo sausages? These sausages come from Spain and Portugal with a unique red color. That color comes from the paprika in seasoned spices, so yes, chorizo is for spicy lovers.
Some chorizo sausage kinds are cured and can be eaten raw, while some are not. Thus, let's be careful when using them for your burrito. You can add scrambled eggs and cheese to the filling to lighten the heat.
Chorizo burrito is the sort of dish that will taste delicious, even after a few days. Even when your techniques of reheating burritos might not be the best, this recipe for chorizo burrito will still make up for this. It's that amazing!
It's said that "have your breakfast like a king", so a dish created to honor Queen Elizabeth is certainly suitable to start your day. Despite its glorious origination, Coronation chicken salad is straightforward with chicken and other spices.
What sets it apart from those regular chicken salads is the Greek yogurt and mayonnaise-based sauce. This sauce is flavored with curry powder, mango chutney, lemon juice, and other spices to create a fresh feeling.
You can enjoy just Coronation chicken salad alone, but it tastes even better when accompanied with sandwiches or baked potatoes.
Pasta is always a hearty breakfast, but it's not so convenient for a picnic with all the sauce and cooking time. However, you can still enjoy pasta in a salad. Yes, I'm talking about a pasta salad.
This recipe is fun since it allows you to be as creative as you want. This meal has no judging criteria, and you may change it for every picnic so your family doesn't grow bored. Or prepare some side dishes to pair with your pasta salad to make your trip more fulfilling.
If you are wondering what kind of pasta salad to make, take this video as a suggestion.
Since it's pretty strange, I put orzo salad in a separate part from pasta salad. As you can see, despite being pasta, orzo looks like some grains, hence its other name: pastina, which means "little pasta".
Due to its unique feature, there are various methods to prepare orzo. You can boil it like you cook pasta or sauteed orzo in olive oil like making pilaf. Then add tomatoes, avocadoes, cucumber, and some cheese for a summer salad.
You can leave potato salad out of a picnic meal. Not only is it filling, but potato salad also tastes delicious, no matter whether it's served hot or cold. That feature makes this salad suitable for a picnic breakfast, where you may not eat your meal right away.
The most crucial ingredient in this dish is obviously potatoes, and my recommendation is Yukon ones. They are sweet and creamy, just what a potato salad needs. And Yukon potatoes' skin is easy to peel, which is a plus when preparing them.
For other components, it's all up to you. You can make a more digestible version with Greek yogurt and no hard-boiled eggs. Or adding celery for extra crunchiness is a decent idea too. Sprinkle some paprika on top before serving for some heat.
You can make other dishes that go with potato salad like steak, pork, chicken, or veggies.
The secret for a perfect potato salad lies right in this video!
12 Sweet Breakfast Ideas For A Picnic
Breakfast doesn't include only savory dishes. With the right ingredients, sweet ones can also provide lots of energy to you. The secret is combining fruits into your recipes for a healthy breakfast.
A smoothie bowl makes a healthy and nutritious breakfast. However, you can't bring it to a picnic. So, how about making it into a smoothie parfait? Just find a jar with a lid and pour your smoothie into it with all other layers of fruits, nuts, yogurt, and many more.
And there are no fixed recipes for this breakfast. You can use whatever fruits you like to make a smoothie the previous night and chill it in the fridge. And then, garnish it with different toppings tomorrow morning.
A little sweet for breakfast doesn't kill you. Not to mention, the berries in this dish help lighten all the richness of whipped cream and provide various health benefits for you. Their tangy flavor also makes a good wake-up call for any sleepy head.
And this berry trifle doesn't require any particular technique. You just need to layer angel food cake cubes, whipped cream, and berries on top of each other. You can use any berries you want, but remember, raspberries are pretty soft and should only be used as a garnish.
Click here to see how they elevate such a simple dish to restaurant-level.
Picnic means outdoor activities, and outdoor activities mean you need a lot of energy. And what can provide more power than these granola bars? While you can just buy various ready-made ones in grocery stores, making granola bars yourself can ensure you get all the healthy ingredients.
And with peanut butter, this recipe is even softer, chewier, and much more delicious than those store-bought ones. You can add other components for more flavors. For example, some chocolate chips make these bars more attractive to your children.
Trail mix is a healthy snack on its own with all the nuts and seeds. However, eating them all alone can be pretty dry and dull. So, I suggest turning those mixed nuts into granola bars.
You can add dried fruits like cranberries, raisins, prunes, and so on for more sweetness without lowering their nutritious features. However, if your children insist, several additional chocolate chips can't hurt them.
These strawberry rhubarb bars are a must when you want a spring-feeling treat. As rhubarb season is often in late spring, try to grab some of it in time. The raw rhubarb is pretty sour and bitter, so make sure to cook it with sugar. Then, you have a perfect partner for fresh strawberries.
However, if you want to make these bars on colder days, it's okay to use frozen rhubarb and strawberries. Combine them into a crumb bar, and you'll get a chewy and soft layer between two crispy, nutty layers.
Check this video and start making some yourself!
If your picnic meal has cheese or salad, then high-quality bread is a must. And you can consider rosemary focaccia bread for a change of flavor and texture. Focaccia is soft and fluffy, just like various bread types, but it also has a pretty chewy texture of the pizza dough.
Though rosemaries and focaccia are perfect together, you can always add other ingredients at any time. For example, a sprinkle of red pepper can brighten up the bread and bring extra heat. Also, if you don't have fresh rosemaries at home, feel free to use dried ones.
Pull-apart bread is a decent choice for any picnic since you don't need knives or plates to enjoy it. Not to mention, this apple bread can even replace the classic apple cake as it will bring autumn flavors and aromas to your camp.
Remember one thing only: Because you and your family will eat this apple bread cold, prepare a thick glaze to pour all over the loaf. And when you can enjoy it warm, make a thin glaze so it can soak into the core.
Don't hesitate anymore. Click right here to see how they make a delicious pull-apart apple bread!
People walking to their workplaces with a doughnut in their hand is no strange sight in this rush era. However, doughnuts are still a suitable choice for a leisure picnic breakfast as they are quick to make and easy to bring, especially these buttermilk ones.
Because this dough doesn't require yeast, that reduces the cooking time by a significant amount. You just need to make the dough into doughnut shapes and fry them. You can eat these doughnuts as they are or lightly coat them with cinnamon sugar.
Chocolate and banana in muffins are already so familiar. But have you tried double chocolate banana muffins? If not, here is time for you to make it! First, what does double chocolate mean? It means you'll use both the cocoa powder and chocolate chips in this recipe.
Now, you may think that these muffins are too unhealthy? Don't worry, you can make them with wheat flour and leave the butter and sugar out. Ripe bananas and honey or maple syrup are enough for your muffins.
Pecan in scones sounds pretty dry and unappetizing. However, if you follow the recipe correctly, the result will be a fluffy, airy cake with crispy edges. And as a nut, pecan can make you feel full for a long time.
However, with pecan alone, scones can taste quite salty. With maple syrup as a glaze, its sweetness will balance the flavor. You can enjoy this dish for breakfast, lunch, or even as a snack.
You won't be afraid of maple-pecan cake anymore after watching this video.
Coffee cake alone is an ideal breakfast for any children (and adults). But now, with blueberries, you can't stop devouring it anytime you have a chance, whether it's breakfast, dessert, or snack.
The slightly sour blueberries are enough for a compliment, but what do you think about crunchy streusel topping for your moist cake? Then maybe a bit of lemon zest to enhance this dish's aroma.
Bringing the full breakfast to the picnic can be tiresome. So here is a solution for you: Combine them into small cookies! Breakfast cookies look just like other typical chocolate chip cookies but are much healthier.
Most of the time, these cookies include oatmeal for a hearty feeling. Then, you can add other nuts or fruits into the dough before baking. For me, I would perfect a simple base recipe, then make elevation from there.
In case you want your cookies to look flawless and uniform, do not forget to buy a functional cookie press. It allows you to create cute and attractive cookies in many different shapes. And I guarantee your children will be crazy about it.
Check this video to see how they make these cookies with only 3 ingredients!
Have You Made Up Your Mind?
Preparing breakfast for a whole year is really a challenge. That's why you can use these ideas for any day you want, instead of only making them when going on a picnic. They are fast and healthy, hence suitable for busy days when you need lots of energy.
Please share this article with anyone you think needs those recipes. And if you have other picnic breakfast dishes, please write them down in the comment section so other readers and I can read about them.
Nutrition Facts
4 servings per container
---
Amount Per ServingCalories770
% Daily Value *
Total Fat 48.5g

74

%
Cholesterol 106mg

36

%
Sodium 1363mg

57

%
Potassium 1126mg

33

%
Total Carbohydrate 54.3g

18

%

Dietary Fiber 3.6g

12

%
Sugars 12.7g

Protein 32.6g

64

%
---
Calcium

773

%
Iron

3

%
Vitamin D

8

%
* The % Daily Value tells you how much a nutrient in a serving of food contributes to a daily diet. 2,000 calories a day is used for general nutrition advice.