Making the familiar pasta salad more appealing by taking advantage of what to serve with pasta salad will make your meals more enjoyable.
I always offer spaghetti salad every time I host picnics or patio gatherings. There's always a gorgeous blend of cold-colored pasta, luscious vegetables, and tasty colors in this dish.
It is excellent for summer, and it's often one of the first items to be eaten at events, so I'm making a point of serving it on many different sides.
In contrast, a pasta salad comprises everything you choose for a meal; the side dishes offer either a counterpoint to the salad or some extra to balance and finish the meal.
A list of foods that go with pasta salad can give you many good suggestions to enrich your family's meals. If you're looking for a list like that, don't skip this post.
So, let's go to the post!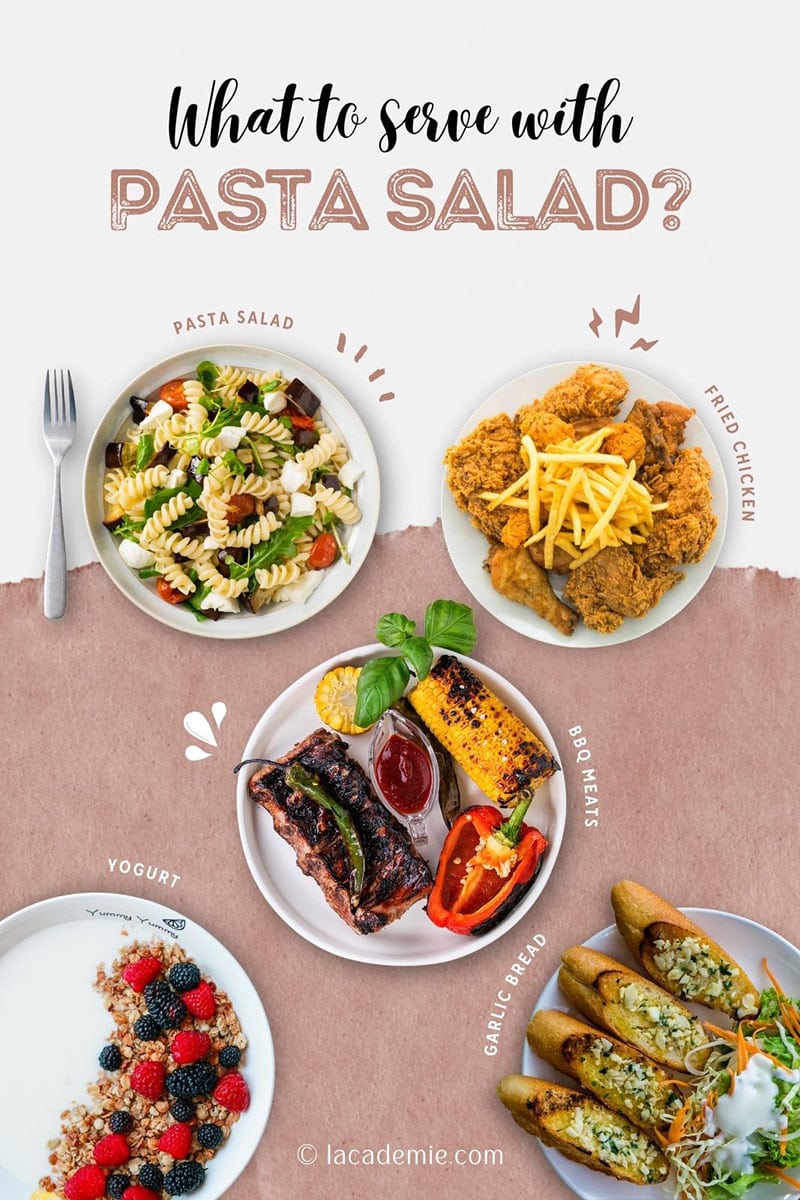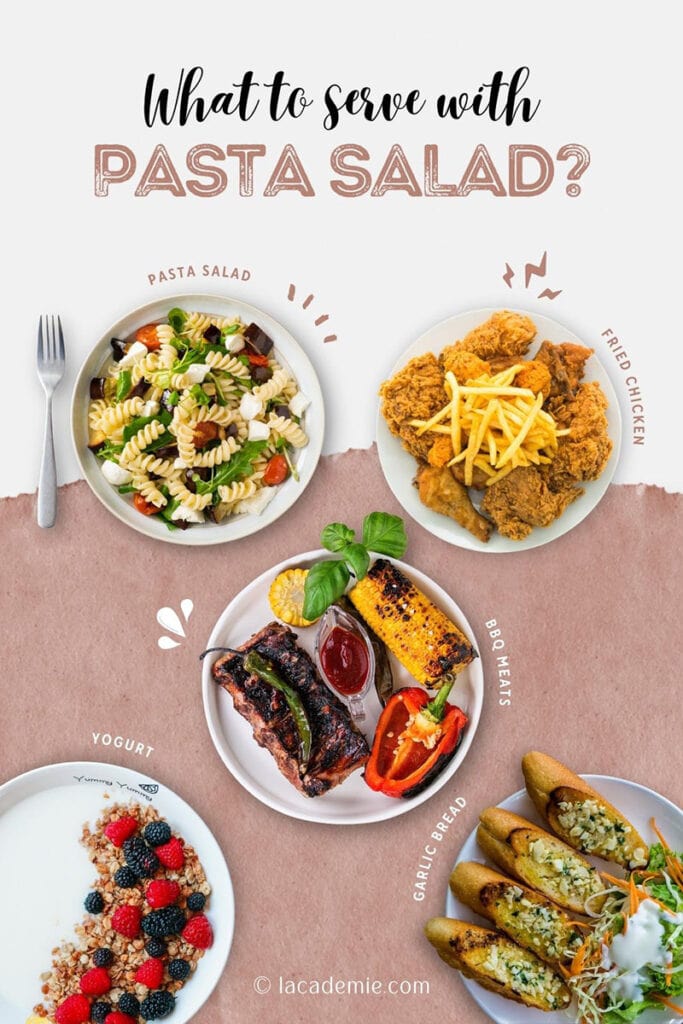 What To Serve With Pasta Salad? Great Accompaniments Perfect With Pasta Salad
There are a variety of dishes that can be served with pasta salad, here are the typical ones:
Hamburgers
Fried Chicken
Grilled Hotdogs
BBQ Meats
Deviled Eggs
Garlic Bread
Cheeses
Crackers
Yogurt
Juicy Fruits
Corn on the Cob
Meatball
What Is Pasta Salad?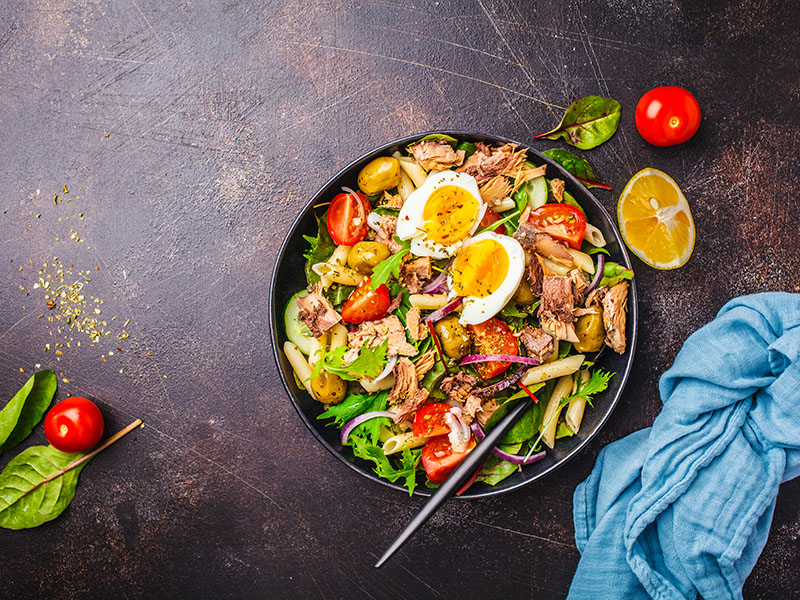 Pasta salad is a familiar Italian dish consisting of pasta, pasta sauces, and accompanying spices. In many cases, it is served cold so that diners enjoy the freshness of the ingredients.
Since it is suitable for everyone, pasta salad is served in many situations, as a side dish or as a main course. The ingredients can also be flexible, so pasta salad is eaten all year round because fresh ingredients are always available.
It's easy to create pasta salad. The components are essential and versatile so that you can adjust the ingredients fitting to occasions. In addition, from the start to the end, you just need to spend under 20 minutes.
Pasta Salad Ingredients
Pasta salad has many versions with different ingredients, but basically, it includes the following main ingredients:
Pasta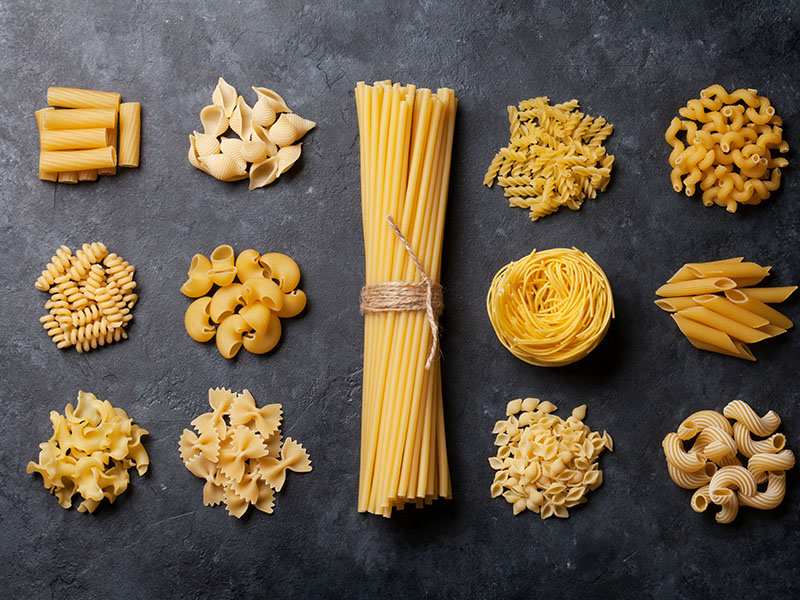 As the name suggests, pasta salad is an indispensable ingredient. Pasta also comes in various shapes and flavors, so choosing the right pasta for the pasta salad recipe you plan to make will result in the perfect dish.
Be careful not to cook pasta for too long; it will become soft and no longer delicious. Using a premium non-stick pasta pot will also prevent the pasta from sticking to the cookware. Some types of pasta with lovely shapes like spirals and bows will make your dish more lively.
Vegetables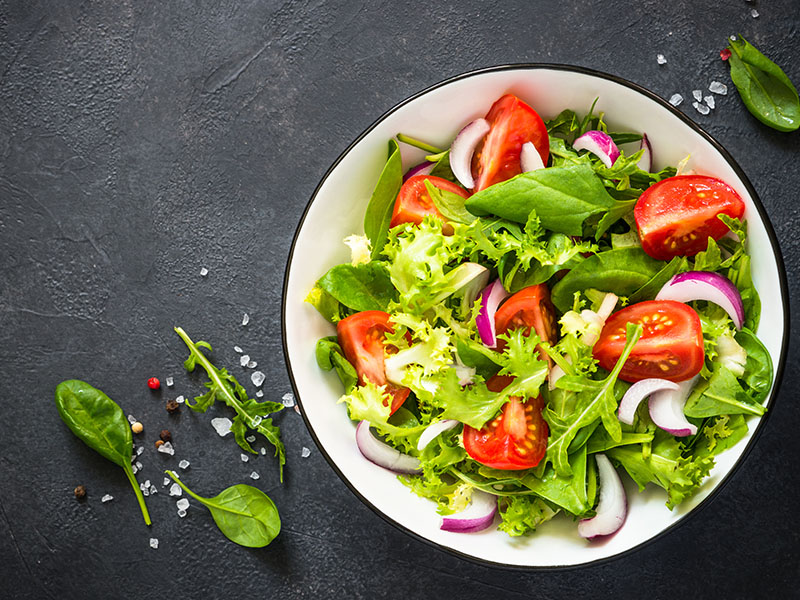 The salad is not to be missed the fresh vegetables. Vegetables such as tomatoes, cucumbers, lettuce, bell peppers, and cauliflower add color and freshness to the dish.
There are no specific rules for choosing vegetables for pasta salad, so you are free to choose the vegetables you like. Seasonal vegetables are also a good idea to adapt your pasta salad to the seasons of the year.
Cheese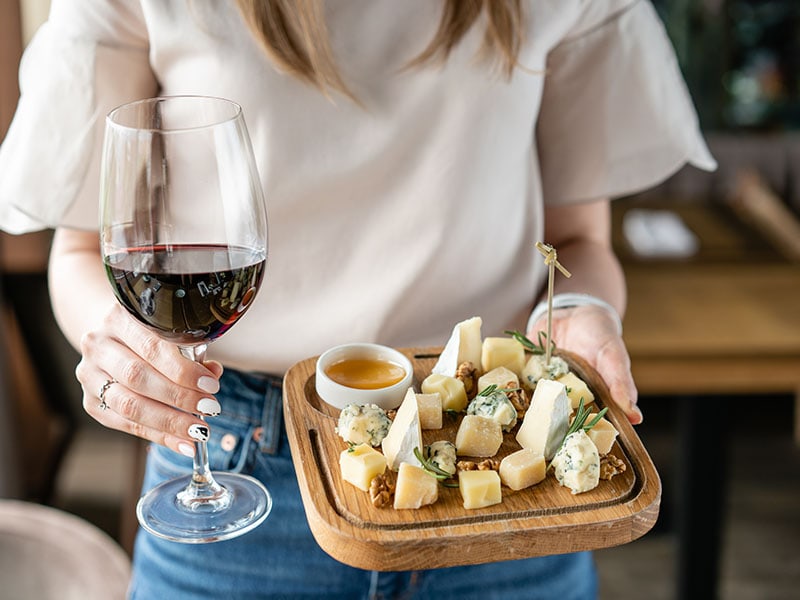 Optional, but a little cheese will make the pasta salad richer. Most cheeses have a moderate saltiness and a characteristic fatty taste, creating a unique flavor for your dish.
Some commonly used cheeses are Parmesan, Mozzarella, and Chedda. And while it's an acquired taste, some would say that the flavor of Feta cheese goes well with most pasta salad as well. So if you're a Feta cheese fan, definitely add this to your pasta salad.
Mayonnaise And Oil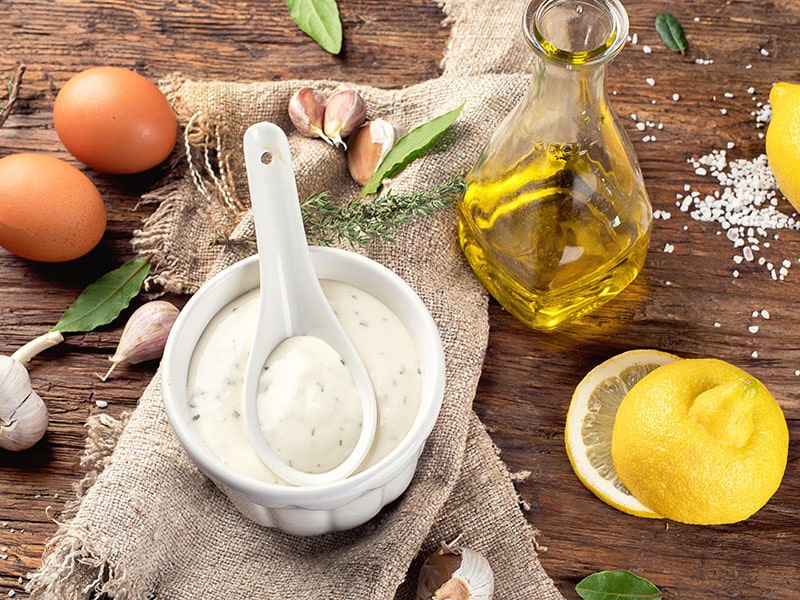 These are two common ingredients used to connect vegetables and pasta. Mayonnaise also often appears in other salads because of its richness and aroma. The same is true of pasta salads. You can buy mayonnaise at supermarkets or make your own to suit your taste better.
Cooking oil helps pasta become shiny and beautiful and makes the dish more fragrant and nutritious.
Health Benefits Of Pasta Salad
Pasta salad is a popular dish, so what are the health benefits? Although controversial, the following benefits of pasta salad are worth noting.
More Sustainable Energy
One serving of pasta provides about two-thirds of your daily intake. However, whole-wheat pasta may be a better choice for many people, as it's lower in calories and carbs but has more fiber and nutrients.
Glucose, the vital fuel for your brain and muscles, is provided by carbohydrates like pasta. However, as pasta is an excellent source of complex carbs, which releases energy at a moderate and consistent pace, the energy spikes associated with simple sugars are not provided.
Help To Lose Weight
Pasta salad is an integral element of a balanced diet. Combine pasta to make a whole meal that leads you on the road to achieving these goals with lean protein and veggies.
Pasta is manufactured from grain, a core food category that includes vegetables, fruits, fish, and fowl in a healthy diet. It is a good energy source, and if it is produced from whole grain, it also can provide fiber.
What To Serve With Pasta Salad?
Besides creating new pasta salad recipes to make your dish more interesting, you can refresh it by incorporating additional toppings. Below is a list of things that are served with pasta salads that are suitable in various situations.
Hamburgers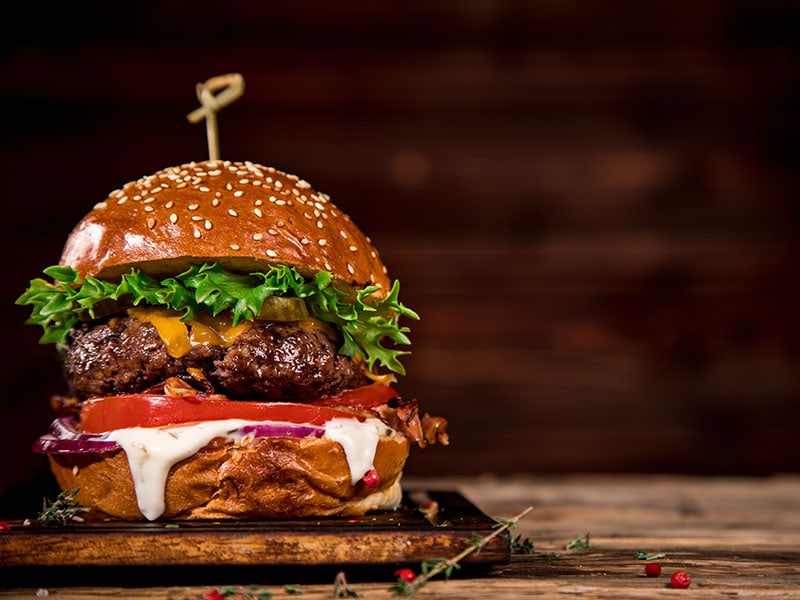 A hamburger is a type of food consisting of a sandwich with ground meat, usually beef, in the middle. The meat can be grilled, fried, or smoked and is usually eaten with some seasoning inside and 2 round pieces of bread. Cakes are usually enjoyed with french fries.
After you've had a vegetable-rich pasta salad, you'll probably want something more affluent and more prosperous to stimulate your taste buds. For picnics or outdoor parties, nothing beats burgers. This is a convenient, delicious side dish that pairs well with pasta salad.
Fried Chicken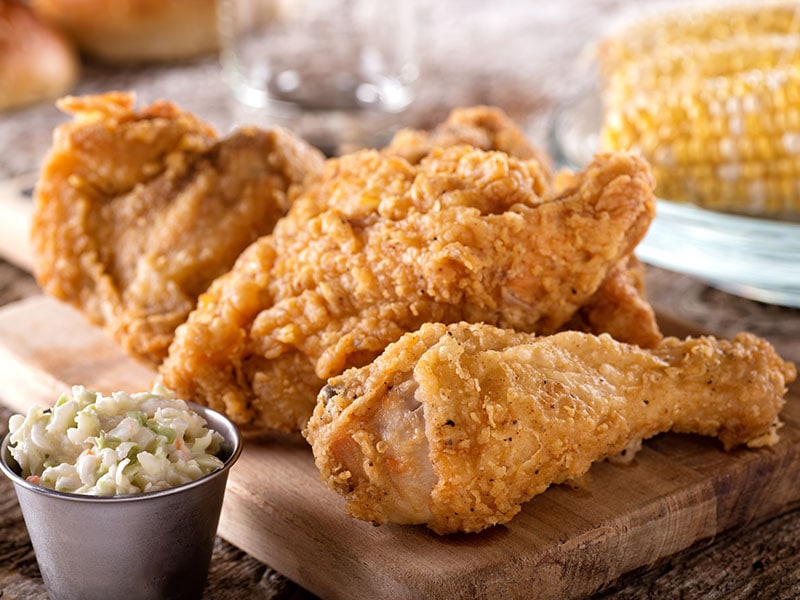 Fried chicken is almost a dish that cannot be more familiar in a busy life. It's what you'd prepare for a quick but fulfilling dinner dish on a busy Sunday night. It is often the main dish at fast-food restaurants and is also a dish that adults and children love.
It would be wrong to think that fried chicken is simply chicken wrapped in flour and fried until golden brown because if that were the case, the dish would not seduce millions of diners around the world.
The most beautiful thing about American fried chicken probably lies in two factors: The combination of moist, tender chicken with crispy dough and a recipe marinated in meat and flour.
Nowadays, fried chicken is becoming the first choice of many people when it comes to fast food stores. Not only delicious, but the benefit of fried chicken is also providing people with an abundant source of energy because fried chicken belongs to the fast-food group rich in protein, fat, a lot of vitamins, and fiber.
Besides, fried chicken is processed quickly but is full of nutrients, helping the eater to replenish energy immediately to function all day.
The freshness of the pasta salad combined with the crispness and warmth of the fried chicken pieces will make your meal perfect.
Grilled Hotdogs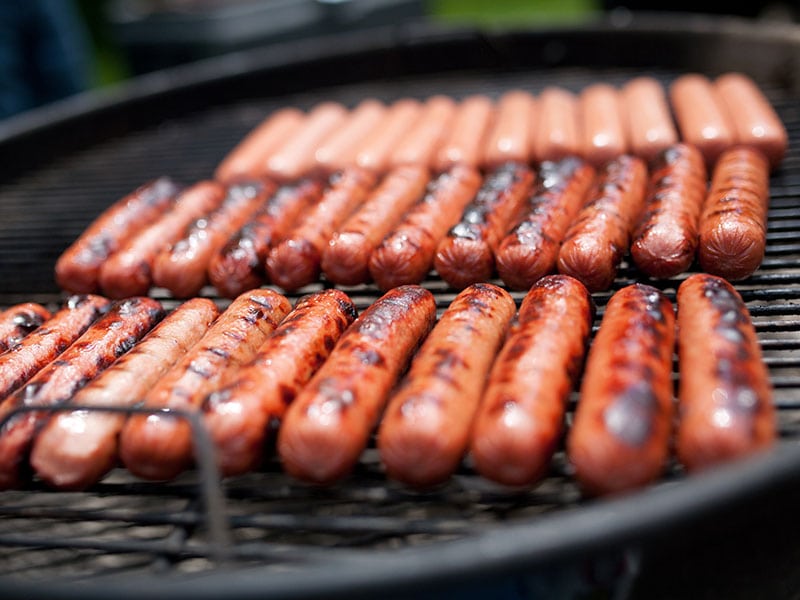 It is not too strange that many people choose "hot dog" bread in their meals. A hot dog is a sandwich with sausage, usually with mustard, ketchup, onions, and mayonnaise.
Hot dogs are often served as an optional accompaniment to meals. Do you want to make your own cute little hot dogs for your family? On cold weather days, enjoying this dish together, having fun chatting will indeed become an unforgettable memory for everyone.
Besides adding protein with meats in pasta salad, you can use hot dogs to serve instead.
BBQ Meats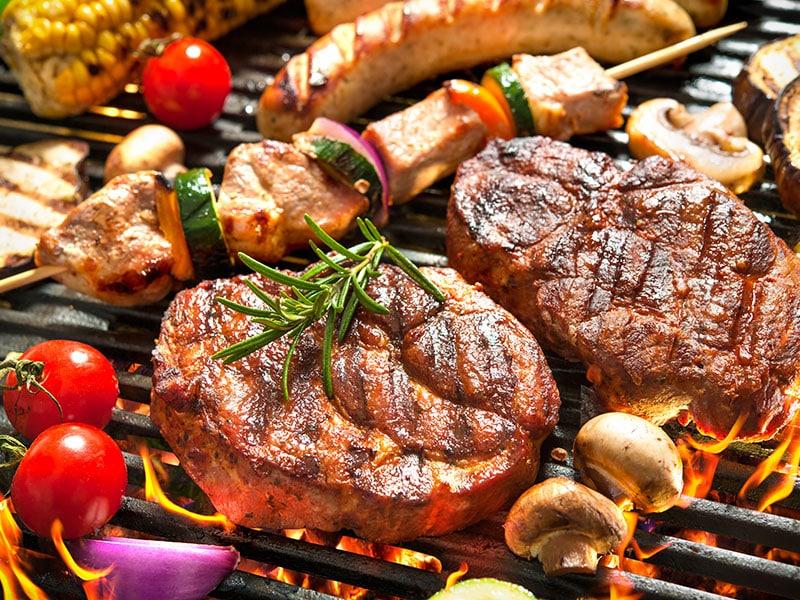 BBQ stands for Barbecue, a word used to refer to grilled meat dishes on charcoal, mainly pork, beef, veal, chicken, and lamb. The meats are seasoned with rich, mouth-watering spices, spread a layer of sauce, and put on fiery red embers.
BBQ meat on an electric stove does not give off an attractive aroma, but it gives off a complex aroma that is hard to refuse when grilled on charcoal. When cooked, the meat's skin will be slightly crispy, the inner layer of meat will be soft mixed with sauce and spices, stimulating all diners' senses. On the other hand, the color of charcoal-grilled dishes is also more eye-catching.
Weekend evenings or occasions when family and friends gather, it would be great if everyone sat around the charcoal stove, inhaling the fragrant aroma from the grilled meat and feeling the attractive flavor of the grilled meat. BBQ. That is also the reason why BBQ is famous around the world.
The same way of processing, but each region, each country will favor different types of ingredients, producing typical BBQ dishes.
Deviled Eggs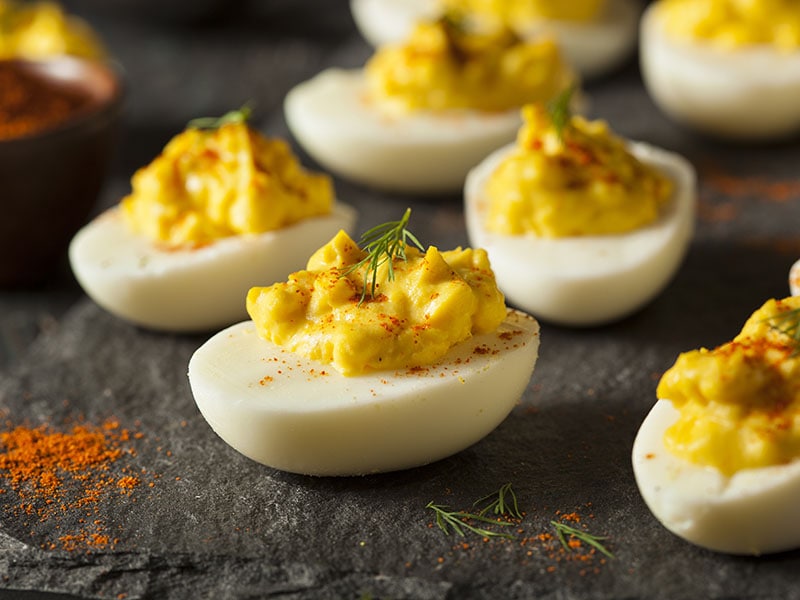 Deviled Eggs are a typical Italian egg dish but are now widespread in most Western countries.
According to legend, from ancient times in the West, people often used the word deviled to refer to spicy dishes to explain that spicy dishes were tearing the tongue evoked associations with hell's heat and red flames.
This is a dish that anyone can easily make at home. So it will be fun if you invite friends and family members to do and enjoy it. Just boil the eggs, halve the yolks mixed with the typical spices, then stuff them back into the whites.
The seasoning to make this egg dish originally included mustard, mayonnaise, pepper, paprika, etc.
However, later on, variations of this egg dish became more and more diverse because you can add any favorite spices, vegetables, or fish meat. Of course, depending on your level of spicy food, add moderate spicy seasoning.
Garlic Bread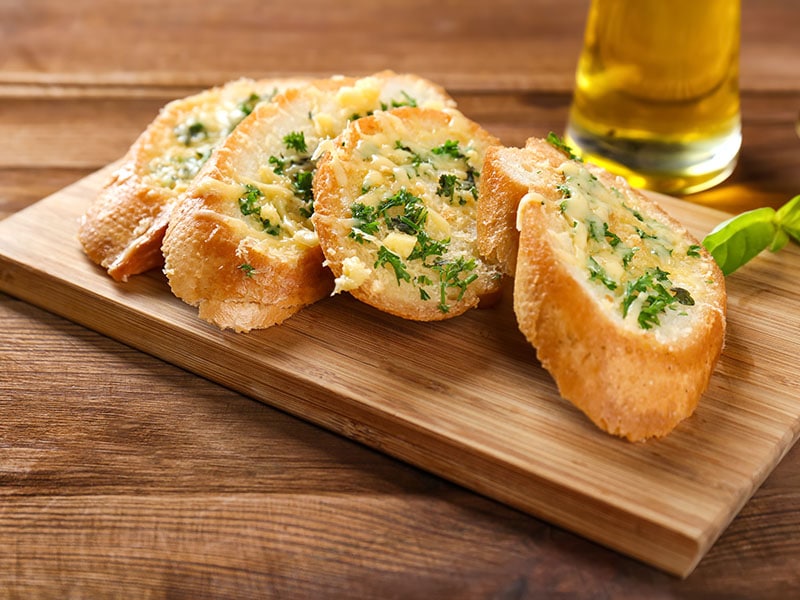 Garlic butter bread is a variation of traditional bread, with a rich buttery layer mixed with spices and parsley. Garlic bread can be used for breakfast or served with main dishes on the dinner menu. Buttermilk garlic bread is straightforward to make with extremely easy-to-find ingredients.
Garlic butter bread is a food product consisting of bread as the main ingredient with garlic, olive oil, butter, and baking.
This dish is usually made using bread that has been sliced, seasoned, and dipped in oil or butter. The bread is then added with seasonings such as minced garlic and small coriander before baking.
Homemakers are very quick to make this delicious garlic butter bread for the whole family to enjoy. This dish has an attractive flavor when combining the crispiness of bread, the richness of fried meat, and the fatty aroma of garlic butter.
Because of its convenience, you can serve garlic bread anytime, making it a perfect choice to go with pasta salad.
Cheeses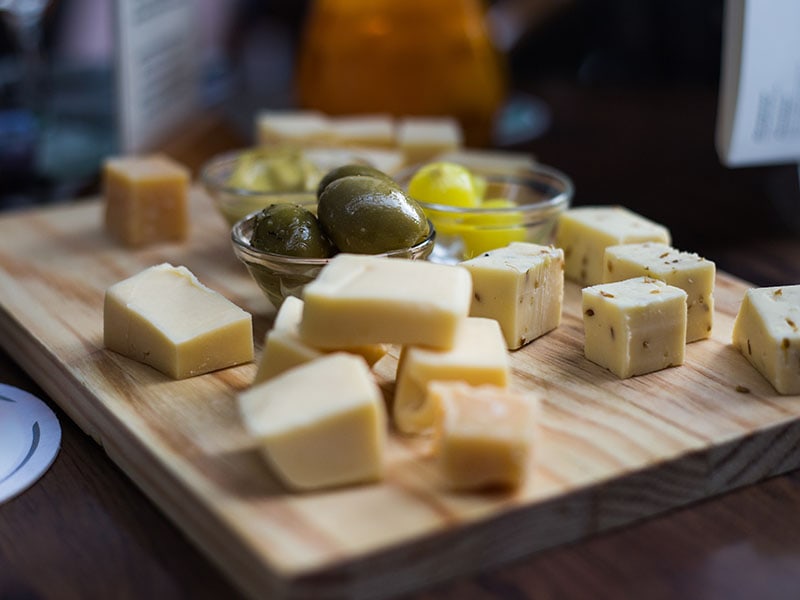 Cheese is one of the products made from milk, a product made by freezing and fermenting dairy products that can be cow's milk, goat's milk, sheep's milk, … or other animals. After freezing, the solid part will be separated and compressed into many different shapes, which is cheese.
There are thousands of cheeses produced worldwide in all different flavors, colors, softness, and hardness. In addition, there are different types and flavors of cheese because of animal milk or other milkfats, other species of bacteria or molds, and varying aging or processing processes.
In addition, factors such as the animal's diet and spices, herbs, or smoke contribute to the richness of the cheese in flavor and variety.
Depending on different factories, the cheese will have different flavors. When producing, people can add herbs, spices, garlic chives, blueberries to create different flavors and colors for cheese.
Cheese is a nutritious food, especially for young children; regularly using cheese also helps children prevent tooth decay very effectively. In addition, cheese also contains many other nutrients to help children develop comprehensively, such as protein, fat, protein, vitamins.
Instead of adding cheese to your pasta salad, as I mentioned above, you can serve cheese on its own to satisfy more people's tastes.
Some people cannot consume cheese because of certain diseases or special diets, but many people love it. The accompanying cheese service will help diners have more choices.
Crackers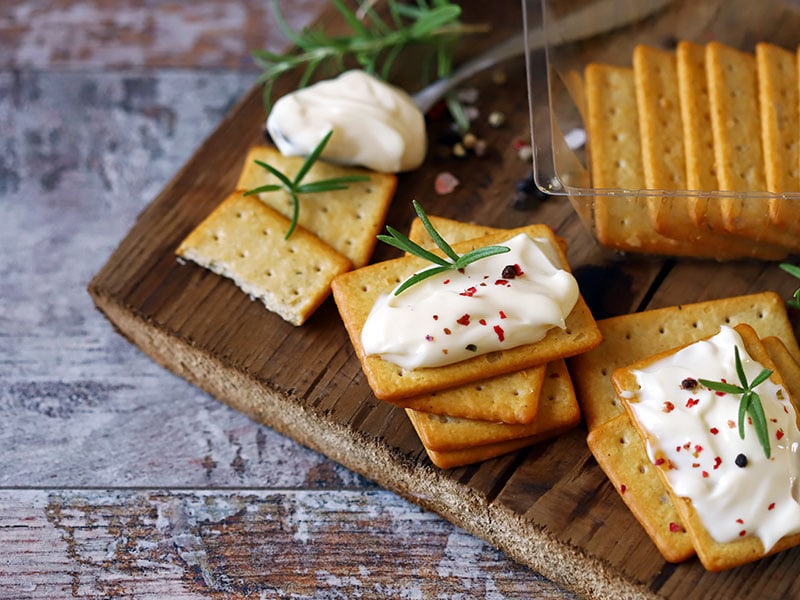 Crispy crackers, salty and fragrant, are a delicious and appropriate snack for a light meal. This cake is made without sugar, so it is suitable for snacks or side meals during the day.
The recipe is straightforward, only butter, flour, sugar, salt, water, cooking oil; the method is equally simple; the recipe does not need eggs, does not need to be whipped, can be mixed by hand.
Crackers can also accompany other food items such as fruits, jam, butter, and peanut butter. In food product testing or flavor tests, bland or mild cracker are occasionally used between the samples as a palate cleanser. A cracker may crumble and be put to the soup as well.
In various crackers, the distinctive holes are termed "docking." The holes are punched in the dough to prevent too many air pockets in the cracker. Crackers will help diners clean up and get your pasta salad ready.
Yogurt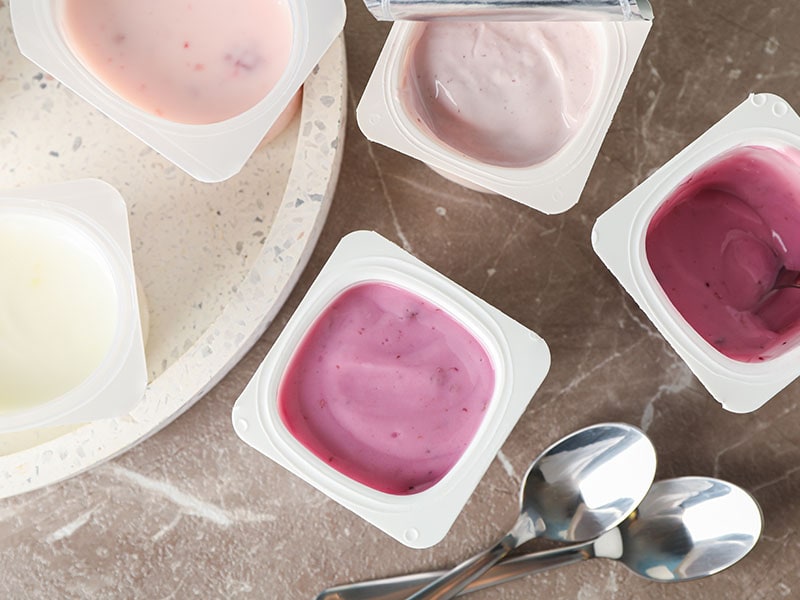 Yogurt is a dairy product that is produced by allowing bacteria to ferment the milk. Any type of milk can be used to make yogurt, but cow's milk is used the most in modern manufacturing.
Yogurt with delicious flavor is formed during the natural fermentation process. It brings many health benefits because it is full of protein, lucid, lipid, mineral salts, especially calcium, particular vitamins of groups A and B.
The ingredients in yogurt help calm and cool the body on hot days. In addition, it also has anti-diarrheal and constipation effects and contains beneficial bacteria for the intestines and digestive system.
Not only that, but eating yogurt also helps strengthen the immune system, prevent high blood pressure, support weight loss, and help women beautify.
Yogurt is a nutritious, delicious, attractive food suitable for most subjects, from children to the elderly. Using yogurt as a dessert after eating pasta salad will bring a sweet taste and health benefits.
Juicy Fruits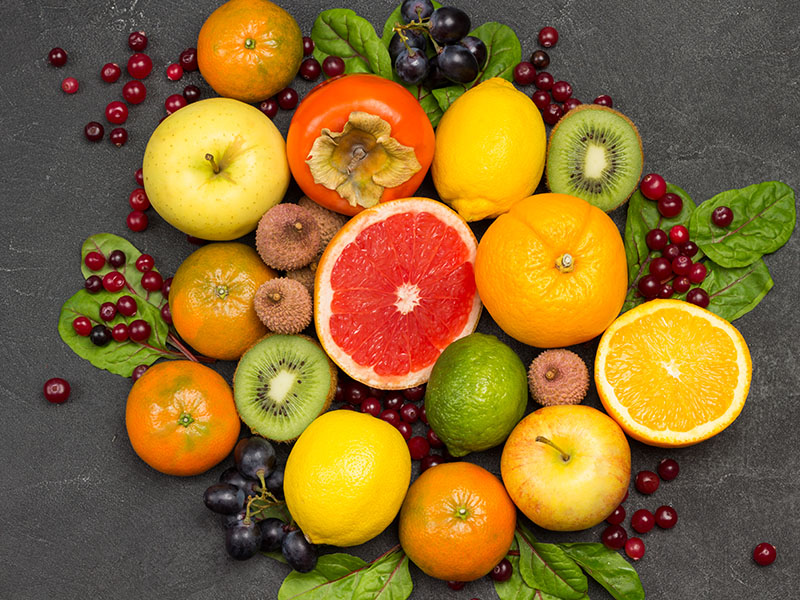 Fruit is rich in fiber, and it's low in calories, so it's also incredibly beneficial for people who want to lose weight and stay full of energy. Adding fruit to your daily diet will bring significant health benefits.
The fruit has many nutrients, especially vitamins, to help you stay healthy physically and mentally, reducing disease risk.
There are many reasons to eat fruit every day, but consuming fresh fruit is much better than preserved or canned fruit.
Replacing greasy and rich foods with fruits is a brilliant decision. Eating mussels at a snack between main meals will help you feel fuller and reducing the risk of weight gain.
Fruit can be called a superfood for you to be healthy and beautiful. So why don't you add many tasty and juicy fruits you like to your daily diet?
Instead of consuming pastries or drinks high in artificial sugar, why not dessert after eating pasta salad with succulent fresh fruits.
Corn On The Cob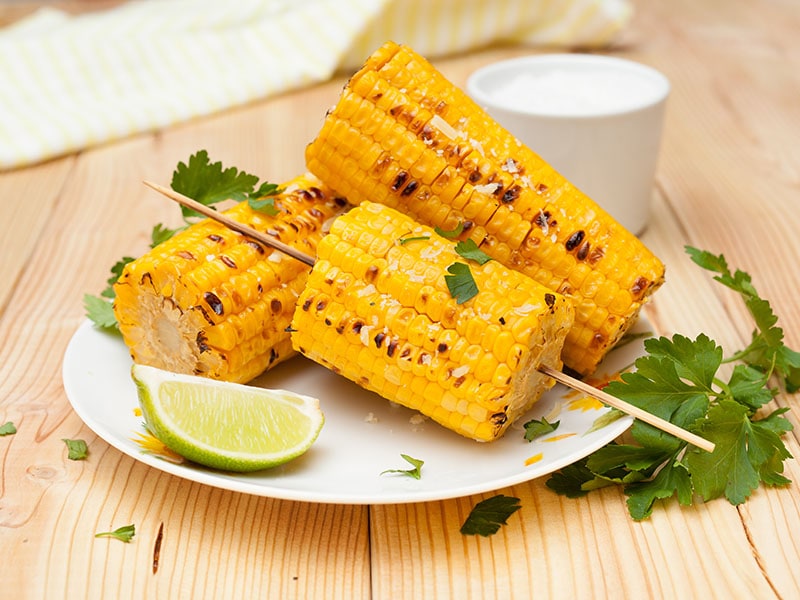 Corn is a very familiar dish that can be quickly cooked in any way. You'll probably love the crunch and deliciousness of corn when paired with the creamy and fatty pasta salad. This combination makes the dining experience more enjoyable.
In addition, corn has many health benefits that you cannot miss. Corn has a very high fiber content. This insoluble fiber is a diuretic and helps promote the growth of beneficial bacteria in the large intestine.
Thus, eating a lot of corn will help your body avoid digestive disorders, reduce the risk of bowel diseases, including colon cancer.
Corn is one of the foods on the list of foods that help you lose weight safely. If you are overweight, eating a lot of corn will help you fill up quickly and not crave snacks anymore. The high fiber content also helps your body to fill up quickly without excess fat.
Especially if your guests are pregnant, this dish is a good choice. Pregnant women who eat corn will help ensure that there are no miscarriages and congenital disabilities. Baby corn helps fetal cells synthesize new and healthier cells.
Meatball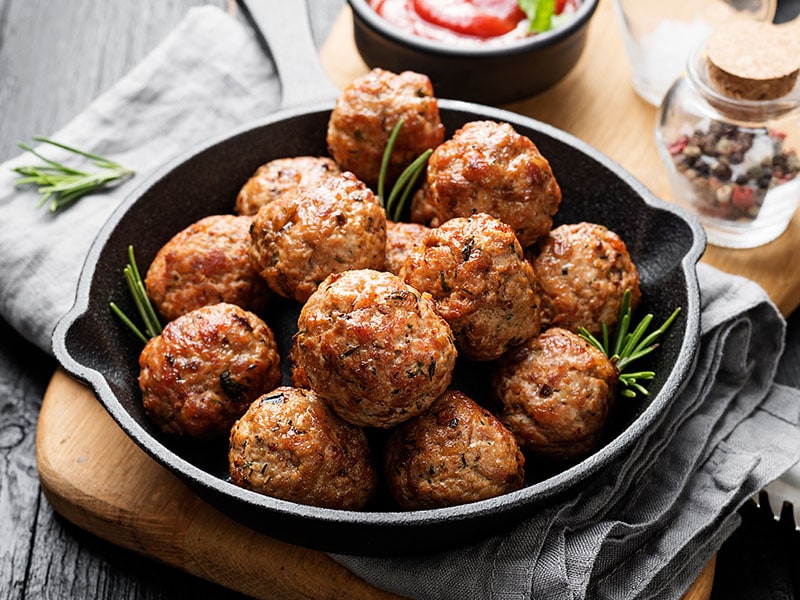 Meatball is a frequent choice of chefs in meals because it can be made into many different dishes. Even leftover meatballs can be turned into delicious dishes. Some familiar choices are meatballs with tomato sauce, meatball soup, fried meatballs, etc.
To make delicious meatballs, the experience is to choose meat with lean and fat for better adhesion. If you choose only lean meat, your meatballs will easily break apart during cooking.
If you don't have all the time in the world to make meatballs from scratch, it's okay to opt for frozen store-bought meatballs of high quality. These will eliminate the concern that meatballs might fall apart during the cooking process, and they can still yield delicious dishes as well.
In addition, you can add seasoning according to your taste. Put the meatballs in the fridge for a bit before cooking so they keep their shape better. Rich meatballs will make your pasta salad more attractive.
FAQs
There's a lot of helpful information out there throughout the article, isn't it? However, you will probably have some questions. Then check out the pre-answered questions below to see if you have a problem!
Make Your Pasta Salad Amazing!
Overall, pasta salad is a straightforward and popular dish. It is suitable for any event and most people's taste because of its versatility in combining ingredients. With just a few changes, your pasta salad will become personalized and unique.
There are many ways to make diners remember your pasta salad; serving accompaniments is one of them. There are many choices for you, from grilled, fried to nutritious fruits. Use them to improve your meals.
To choose the fitting accompaniment for pasta salad, you should consider the attendees' taste, their medical condition, their diet and ensure a nutritional balance for the meal. It is best to have enough green vegetables, meats, and fruits to supplement nutrients.
In this article, I have compiled the ten most suitable pasta salad dishes. These dishes are familiar, easy to make, and suitable for many diners. In addition, I have compiled the basic and essential information about these ten dishes. I hope this article will help you in planning your meals.
Nutrition Facts
12 servings per container
---
Amount Per ServingCalories50
% Daily Value *
Total Fat 3.7g

5

%
Cholesterol 94mg

32

%
Sodium 66mg

3

%
Potassium 35mg

1

%
Total Carbohydrate 1.1g

1

%
Protein 3.2g

6

%
---
* The % Daily Value tells you how much a nutrient in a serving of food contributes to a daily diet. 2,000 calories a day is used for general nutrition advice.