It is not that surprising when you want to add more Italian pasta recipes to your menu. After all, Italian pasta is one of the signature ingredients of Mediterranean cuisine and is well-known as a staple food for many people.
The shapes and forms are diverse – from the small and cute little ones like Ravioli to the big state like Lasagna dishes. No matter how the recipe goes, you know for sure that you want this list of recipes for your dinner.
And since you seem to be ready for the next phase of your "Italian pasta" journey, let's sit down, relax, and prepare yourself while we dive into the first recipe on this list.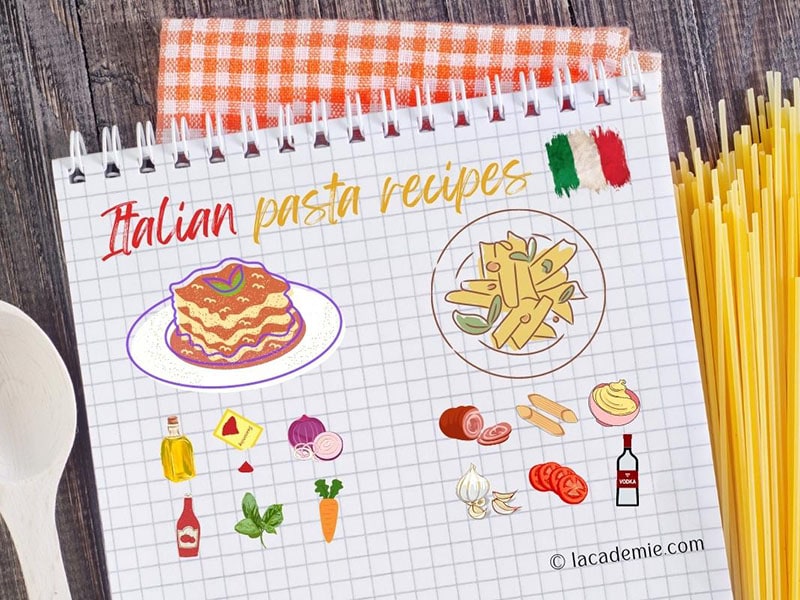 Let's Start The Greatest Italian Pasta List For You
Before deciding what to make for your dinner, you need to understand all pasta's pros and cons. Basically, pasta is an economical, versatile, and time-saving kind of food. You can make a dish of pasta in half an hour, and it still can turn out elegant.
And there are not many cons to be discussed here. This fantastic ingredient can't wait to be part of your meal. So let's not wait for any further ado and jump right into the first recipe.
Total time: 2 hours and 30 minutes.
There's an unexplainable attraction that you can't deny whenever you take a bite of an Italian Lasagna. The dish is fairly simple, quick to make, and demands little skill to complete.
A typical structure of a Lasagna is layers of Lasagna pasta, which are big and flat pieces of pasta, with sauce and fillings in between. Imagine making a Lasagna is like building a tower with pasta as bricks and fillings as cement.
In this recipe, the cement includes two types of sauce: red sauce and white sauce. The red sauce consists of tomato sauce, tomato paste, sugar, and other ingredients. This sauce can enhance the dish's taste with sweet-and-sour flavors.
The white sauce, on the contrary, gives the dish a nutty and creamy taste from dairy products and nutmeg. The order of piling these elements together is pasta layer – red sauce – pasta layer – white sauce, and keep repeating until your container is full.
The dish is an effortless perfection that you need to try to make at home. You can replace the Italian sausage in the red sauce and replace it with a different protein source like ground beef or ground chicken.
Total time: 15 minutes.
This dish is the local specialty of Roma. The name indicates the dish's main flavoring – the sauce that consists of cheese and black pepper. In this recipe, the cheese element includes Parmesan and Pecorino (a hard Italian cheese from sheep milk).
The kind of pasta used in this recipe needs to be long and thin with rough surfaces. Pici and Bucatini are two recommendations for this recipe.
To make the dish, you need to make crushed black peppers if you don't have them in your kitchen. In case you are a busy person, pepper powder in the store will do too. You also need to boil the pasta to the al dente state. This process takes around 6-8 minutes to finish.
To make the sauce, add the pepper and Pecorino cheese to a mixing bowl. Pour boiling water into the bowl after that, and constantly stir the ingredients until they turn into a creamy and silky sauce.
Finally, toss your cooked pasta into that sauce. Mix them well together until your pasta is evenly coated with that sauce. Serve the pasta with grated Parmesan, and your dinner is ready.
Total time: 1 hour and 10 minutes.
In Italian, "manicotti" means "little sleeves". The name implies the shape of this tube-alike pasta. Its size is large enough for you to stuff other ingredients inside and turn it into an Italian spring roll. This description is the exact look of cooked Manicotti.
Standard Manicotti filling demands two main elements: the white melting cheese (usually a combination of cheese) and the red tomato sauce. Fresh herbs and grated Parmesan are two typical decorations of this dish.
One notable tip about this Manicotti pasta is the fragility of cooked pasta shells. Unlike other pasta dishes, you don't have to cook the pasta beforehand. You need Manicotti to be hard enough to apprehend all the pressure from the stuffing procedure.
Another recommended tip is boiling the pasta but then refrigerating it. This way, you don't have to bake your Manicotti like the standard method, but you have to take your time to prepare the ingredients well.
Manicotti is an Italian specialty that you can't miss out on.
Total time: 55 minutes.
Bolognese sauce is a traditional meat recipe of the Italians, with ground beef being the main character. Outside of Italy, people often consider Bolognese a tomato sauce while the original only includes beef, celery, onion, and carrot, and tomato is just an addition.
This recipe will teach you to make an authentic Bolognese sauce with pasta, just like the ones you might find in reputed Italian cookbooks. It is ideal to choose flat, wide pasta like Pappardelle or Tagliatelle.
The first step is making the sauce by sauteing carrot, salary, and onion with olive oil until all the ingredients soften. After that, add the ground meat to the pan and stir-fry until it turns brown.
Then, it's time to enhance the mixture's flavor with Marinara sauce (tomato sauce), salt, pepper, and heavy cream. Keep stirring and stop when the sauce reaches your desired consistency.
All you need to do is pour the sauce on the boiled pasta and garnish it with grated Parmesan. The dish satisfies your taste bud with the creaminess and savoriness of the sauce while being eased by the mildly sweet pasta.
Total time: 45 minutes (excluding 30 minutes of refrigerating the Ravioli).
One of the greatest Italian culinary sub-culture is Italian-American cuisine. The dish was born in Missouri in the 1930s. Toasted Ravioli or deep-fried Ravioli is a popular Super Bowl dish. People often serve it with a dipping sauce like Ranch dressing (sour cream sauce).
Talking about Ravioli alone, you can imagine it like dumplings with a pasta shell and cheese filling (typically a combination of cheese). In this recipe, it is faster for you to buy processed products in the local grocery.
The dish asks you to put more effort into seasoning the Ravioli and making the dipping sauce. The process starts by combining milk and egg in a bowl and mixing breadcrumbs with some other herbs and spices in another bowl.
This is the time when you season the Ravioli by dipping them in the milk-egg bowl and then in the breadcrumbs bowl. After this well-coating section, put your Ravioli in the freezer for 30 minutes.
The final step is to deep-fry all of the pasta for 3-4 minutes until they form beautiful brown and crispy crusts. Serve them with Marinara sauce (or Ranch dressing) and garnish them with grated Parmesan and parsley leaves.
Total time: 40 minutes.
"Orecchiette" means "little ears" in Italian, and that's what this pasta looks like. The Italians invented it for this specific dish. The three main ingredients are Orecchiette pasta, broccoli rabe (Rapini), and Italian sausage.
The recipe in this post is a vegetarian Italian-theme recipe when you omit the Parmesan from the picture. I also use plant-based Italian sausages. However, these are all optional. You can still use regular sausage and add Parmesan if you're not into the vegan version.
The dish is perfect for a nourishing lunch. With creamy sauce, fresh broccoli rabe, savory sausage, and mildly sweet Orecchiette pasta, the dish gives you enough energy, vitamin, fiber, and other minerals to finish your day.
Total time: 25 minutes.
Here comes another masterpiece of Italian-American cuisine that can be the new apple of your eye. The collaboration of Italian Penne with Russian Vodka is historically and culinarily impressive, especially since it was invented by the Americans.
Even though there's alcohol in the dish, you will not taste any spicy flavor since the taste is masked by puree tomato (similar to Bloody Mary). In this sauce, there's also heavy cream, salt, and pepper.
The dish is simply served with al dente Penne pasta, tomato-vodka sauce, and grated Parmesan garnish. If you worry that the alcohol element can doze you off, then I guarantee not. However, if you're allergic to alcohol, this is unsuitable for your diet.
If you're a fan of alcoholic drinks and want to add more spicy liquids to your meal, Penne Alla Vodka is truly for you.
Total time: 20 minutes.
Alfredo sauce can show you how wonderful Italian sauce can be. The Alfredo sauce can easily be made by melting butter with garlic, Parmesan cheese, and other condiments. Typical Fettuccine Alfredo simply consists of pasta and sauce.
In this recipe, another participant is the chicken. The meat is seasoned with salt and pepper and coated in a thin layer of flour. Cook the chicken in the skillet until the internal temperature reaches 165°F (74°C).
The dish is flavorful with creamy sauce, but its creaminess might make you feel dizzy. Therefore, it is a good solution to make some side dishes to go along with the pasta. Green beans, garlic bread, and roasted potatoes are all great candidates.
Total time: 20 minutes.
You have learned about Italian-American cuisine as one of the Italian culinary culture's offspring. Now, allow me to introduce another proud child of the Italians – Neapolitan cuisine. And one of its representatives is Spaghetti Aglio E Olio.
To make the dish, you need to prepare some ingredients: Spaghetti, olive oil, garlic, and pepper flakes. There are two main procedures: boiling the Spaghetti and sauteing garlic in olive oil.
After boiling the Spaghetti, you should start to make the garlic part by heating olive oil and adding the sliced garlic and pepper. You need to be careful with the garlic since burned garlic can ruin the whole dish's flavors.
When the garlic turns brown, you toss the cooked pasta in and continue stirring the noodles in the pan until it is evenly coated. To adjust the flavors, you can add more salt and pepper. And if the noodle is too dry, add more pasta water to the pan.
Total time: 1 hour and 5 minutes (including 30 minutes of cleaning clams).
You see, the cuisine is from Naples city located next to the Tyrrhenian sea. Therefore, Neapolitan cuisine is intrinsic for its balance between traditional ingredients (cheese, pasta, vegetables) and seafood.
Whenever things come to seafood, you need to cook it as soon as you can. You don't have to remove the clamshells for this dish, but it is important to clean them. Linguine is the perfect pasta for this seafood recipe.
This dish might be a bit more complex than the previous one, but it tastes extremely good. The succulent clams, sour-and-salty sauce, and the luscious Linguine pasta will satisfy you to no end.
Total time: 1 hour and 50 minutes.
In Italian, "conchiglie" means "seashells".True to its name, this pasta has a shell shape. Like Manicotti, people make the filling and stuff it inside the pasta. After baking the whole shells, you can have them as their appetizer.
The filling in this recipe highlights the green color since they contain green peas, spinach, and Pesto sauce. To make this fantastic sauce of Italian cuisine, you have to blend all the ingredients into a smoothie.
After preparing those green components, you need to put half of your sauce in the filling to flavor it. Then, stuff the pasta with your flavorful filling and arrange all of the shells in the baking tray.
After 30 minutes of baking with Marinara sauce, your shells will be ready. A typical Conchiglie includes several types of cheese and spinach. But since this is a vegan recipe, there's no addition of cheese or meat in it.
I can guarantee that your dinner will be luscious with this Conchiglie recipe.
Total time: About 1 hour and 25 minutes.
This dish, Spaghetti with tomato sauce, is probably the most famous pasta dish of all time. You can easily buy Marinara sauce in any local grocery. However, in this recipe, you will learn details about making a fragrant and delectable homemade Marinara.
The recipe starts with peeling the tomato skin off. Do you know that you can easily separate the tomato's peel off its meat by boiling the veggie?
Next, you will need to brown the onions in the skillet with wine. This wine can mask the heavy odor of the onions and prevent it from disturbing the whole dish's flavors later. In the same pan, add the tomato, herbs, and spices, and keep cooking until the sauce thickens.
The final step is to blend everything until smooth. Top your boiled Spaghetti with this sauce, and use grated Parmesan to decorate the dish.
Total time: 40 minutes.
Puttanesca has an up-and-down history of Italian gastronomy. There are numerous theories about it, but most are about prostitution workers. "Puttanesca" means "prostitution", and the dish is well known for its scent from the anchovies.
Like other relatives from the Neapolitan family, there's a well-balanced ratio between seafood and traditional ingredients in this Pasta Puttanesca. You can also see the anchovies and pasta as two representatives of this notable point.
Ironically, although anchovies are the star of the recipe, you can still omit them if you don't like the taste. Also, this recipe doesn't demand a specific pasta to go with it. Spaghetti is people's favorite option, but you can take anything.
Total time: 20 minutes.
The Carbonara dish is a traditional pasta recipe where people use eggs, pork, pepper, and hard cheese to flavor the dish. And you can use one of the two greatest cheese kinds in Italy – Parmesan and Pecorino – for this recipe.
The pasta that goes along with Carbonara can be flexible. It means you can either use Linguine or Bucatini for this dish. However, the most used is still Spaghetti, and this recipe also chooses it.
To make the dish, the pasta needs to be al dente. Don't forget to keep some of the pasta boiling broth for later use.
For flavoring, there are three main steps you need to perform. The first one includes whisking the eggs with Parmesan cheese for a creamy flavor. The second part is to cook the bacon until it's crispy.
The last step is to mix all of them well together and use the pasta broth earlier to moisturize and adjust the consistency of the dish. Salt and pepper are necessary to alter the flavors. And for a nice and simple garnish, use a leaf of parsley.
Total time: 30 minutes.
Rigatoni is pretty similar to Penne pasta, but the edge is cut perpendicularly rather than diagonally. Regularly, you see people use Rigatoni in dishes with heavy sauces like Bolognese.
The making of this astonishing Italian chicken dish starts with dicing the chicken meat and preparing the Rigatoni. The seasoning of chicken in this recipe is fairly simple with just salt and pepper. And then, you cook the chicken by pan-frying it over high heat for 15 minutes.
When the chicken is ready, coat it with Pesto sauce and garlic. And when the chicken is well-flavored, you add Parmesan, heavy cream, and sour cream to the pan and simmer all the ingredients for 5 minutes at low heat.
The final step is to mix the pasta with the chicken and serve it in a bowl. The garnish is simply grated Parmesan. But if you think your meal has enough dairy elements, you can omit this topping.
Total time: 1 hour and 15 minutes.
This recipe is a classic of Italian cuisine. The dish has been around since the ancient Roman era (625 B.C – 476 A.D.), and it was once the everyday meal for the farmers.
In the 16th century, the modern version of this soup was born with the introduction of black eye peas from America to Italy. And this post will talk about the latter version of Pasta E Fagioli.
The main ingredients include beans, cheese, vegetables, pasta, and chicken stock. Originally, Cannellini was the bean to take, but you can pick any kind of bean you desire.
The dish is meant to give you the intense taste of cooked beans, the meat flavor from the stock, and the fresh delicacy of the vegetables. With parsley and grated cheese for decoration, the dish satisfies your appetite.
This authentic Pasta E Fagioli recipe is what you need during cozy days.
Total time: 35 minutes.
This recipe is a specialty from the Lazio region. There are several theories around the name of this dish, but there's still no final answer. All they know is this dish is famous for the contribution of Pecorino cheese, pasta, pepper, and cured meat.
Traditionally, the cured meat element is Guanciale (the cheek meat of the pig). However, this recipe guides you to use regular bacon since it's hard to find Guanciale in your local market.
To make the dish, start with dicing the bacon and frying it in the pan with medium heat. You should only keep about two tablespoons of fat in that pan and sprinkle black pepper on it.
The pasta can be any kind that you want. But in this recipe, it is ideal to use Linguine. After working on the bacon, you direct your attention to boiling the pasta. Use a pot, add a pinch of salt into it, toss the pasta inside, and let it cook for 8 minutes.
Now back with the bacon pan, you pour a cup of pasta boiling water into the pan and then toss the pasta in. At this point, let the cheese join with the other ingredients and continue tossing the pasta until it is well-coated with the cheesy sauce.
The outcome can be completed with grated cheese for garnish. This is optional, and you can eliminate this step if you think your pasta is already cheesy and creamy.
Total time: About 13 minutes.
You can find Ricotta in a lot of Italian recipes. From pastry like Ricotta pie to the main course like Calzone (an Italian folded pizza), the versatility of Ricotta is perfect. And it deserves to earn a whole pasta dish with its name on it – the Ricotta Pasta.
This recipe doesn't take too much time to make. Besides Ricotta cheese, you only need the pasta, Parmesan, spinach, lemon, and other condiments, and your meal should be ready.
The pasta option is also not fixed, but I recommend you to pick long pasta for this recipe. The creaminess of Ricotta sauce combined with lemon aroma and cheesy Parmesan is a perfect drop in this "Lemon Ricotta Pasta" song.
Total time: 3 hours and 15 minutes (excluding 6-8 hours of slow-cooking).
This recipe specifies using Pappardelle pasta. This Tuscan pasta is well-known for its large and flat figure. You often see Pappardelle in Beef Ragu, and it is exactly what this section will guide you to make.
To make a scrumptious pot of Ragu, a standard recipe might take you half of your day. It's a long time, but the result is truly heaven-sent.
Besides the traditional beef Ragu like the one in this post, the Italians have several other Ragu variations as well. They can make Ragu from any kind of meat like duck, lamb, mutton, etc.
The beef will be super tender and flavorful after a long period in the crockpot. There are several side dishes to serve along with this dish, like Panzanella salad.
Total time: About 25 minutes.
Do you still remember the Guanciale that I mentioned a few recipes ago? This Amatriciana sauce also uses it as the main ingredient. However, in this recipe, you will use Pancetta (salt-cured pork) instead since it is much cheaper and more available.
The sauce is your priority in this recipe. So, to make this Amatriciana sauce, you fry the Pancetta in the frying pan until the pork crumbles and browns. After removing the cooked pork, you add tomatoes, onion, garlic, chili, and other condiments, then bring back the Pancetta.
Continue cooking until the sauce thickens. This process might take you about 5-7 minutes to finish. The next step is to boil the Bucatini to get the cooked pasta and the water. Before tossing the pasta in the sauce, don't forget to pour a cup of pasta water into the sauce.
This recipe's garnish is grated Pecorino. And if you don't have that cheese laying around the house, grated Parmesan suffices enough.
Bucatini All'amatriciana should be your next meal, and you need to learn it right now.
Total time: 25 minutes.
To achieve the secret of perfect Pasta Napoletana, you need to learn how to make the excellent Napoletana sauce. This sauce is from South Italian, and you need these ingredients for it: onion, garlic, and tomato.
The pasta can be anything you like, but this recipe suggests long and thin pasta like Spaghetti or Bucatini. In this recipe, you should cook the pasta until it reaches the al dente phase.
To make the Napoletana sauce, shimmer the diced onions in olive oil for around 5 minutes, then add the garlic in, and stir for another 2 minutes. When you start to scent the garlicky fragrance, you know it's time for the next move.
The final step is to toss the tomatoes in with salt and pepper. You also need to mash the tomato while cooking it. After 15 minutes, your sauce is ready.
Now, you bring the pasta to the pan along with basil leaves and toss them for a while until your pasta has an even sauce coat outside. Serve that pasta on a plate and garnish it with grated Parmesan and basil leaves.
Total time: 50 minutes.
In the 14th recipe, you have learned about the Carbonara cooking style of the Italians. In this recipe, it will once again appear to flavor the Tagliatelle pasta and the wild mushrooms.
First, you need to gather the four elements of Carbonara: egg, cured pork (bacon), pepper, and hard cheese (grated Parmesan). You can also replace Tagliatelle pasta with Fettuccine if you want to.
The dish delivers a tangy and lightly savory taste from crispy mushroom and the creamy Parmesan on top. This recipe is often made during winter when the mushroom dishes are strongly desired.
Total time: 25 minutes.
Arrabiata is an Italian spicy tomato sauce including tomato paste, chili flakes, mashed tomato, and some other condiments. It's easy to make Arrabiata since you just need to toss all the materials and leave it to simmer for some time.
When you make the sauce, you can also boil your Penne. Once both of the elements are ready, you just need to pour the sauce over your pasta and stir them well. Also, you should add basil leaves to your pasta pot to add a more herbal aroma to the dish.
To enhance this dish even more, sprinkle grated Parmesan on top. You can have this dish for dinner like the recipe recommends or as an appetizer in a family union.
Total time: About 30 minutes.
In Italian, "pomodoro" means "tomato". Therefore, this recipe is to complement the simplicity of this tomato sauce. With just several steps, you can make this dinner in just 30 minutes.
The recipe uses the Capellini pasta (Angel Hair pasta), but you can take any long pasta you want. The first step is to cook the pasta and let it wait while you're making the sauce.
To make this tomato sauce, you can start by sauteing the garlic, onion, basil, and red pepper with olive oil. When the onion softens, you add the diced tomato in with salt and pepper. Cook for another while, then add the pasta to warm them up and serve right after.
Total time: 30 minutes.
Bruschetta is a proud antipasto of the Italians with three signature ingredients: Mozzarella, tomato, and basil. The dish often contains red tomatoes on a piece of bread. However, in this recipe, bread is not mentioned since pasta replaces it.
Let's assemble this Bruschetta by tossing diced tomato, garlic, basil, balsamic vinegar, and other spices in the bowl and mixing them well. After that, let the mixture rest for some time when you work with the chicken.
In this recipe, it is recommended to use Capellini pasta. After boiling the pasta and draining all the water, you should bring it back into the pan, add olive oil, and stir. This step will prevent the pasta from turning dry and sticky.
And it's time for the chicken. After seasoning it with salt and pepper, cook it for about 5 minutes until the internal temperature gets 165°F (74°C), and then take it out.
Now, bring that chilling Bruschetta to the pan and stir it for 2 minutes. Then, you turn off the stove and throw your pasta inside. Mix all the ingredients in that pan well, so your pasta can have an even sauce coating outside.
To serve this dish, cut the chicken into smaller pieces and add it to the plate of sauced pasta. You can decorate your plate of Bruschetta pasta with grated Parmesan and Mozzarella if you want to.
This recipe suggests another alternative of using Penne for Chicken Bruschetta Pasta.
Total time: 30 minutes.
This dish originated from the Sicily region of Italy, where people consume seafood every day. So you can expect the flavor contribution of anchovies in this recipe. Every bite delivers a strong taste of umami combined with the garlicky trait of natural Italian cuisine.
In Italian, "carrettiera" means "cart driver". The name was from the time when people could see cart drivers traveling across the country with various goods. Those include all the main ingredients for this recipe since the cart drivers just take what they had to cook their meal.
The dish is Italian stereotypical with a tomato-based sauce, basil for garnish, and regular spices like pepper and salt. However, you can also taste the ocean in the dish and experience the journey of the ancient cart drivers.
Total time: 30 minutes.
People say that if you like Carbonara style, you probably love this cheesy and creamy Cacio E Uova as well. The two cooking styles share the same ingredients, but Cacio E Uova omits cured meat.
To make this recipe, you start with stirring cheese, eggs, and black pepper in a bowl. Then, you direct your attention to the pasta (Rigatoni in this recipe). After boiling the pasta, you move it to a hot pan with melted butter inside and stir the pasta constantly.
Once the pasta develops an even butter coating, add the egg-cheese mixture and the pasta water to the pan and continuingly toss the pasta. When the sauce thickens, you add more pasta water and wait for another minute before serving.
This recipe is simple and can be a nice appetizer for your family's dinner. The garnish is also full of Italian vibe with parsley leaves. To adjust the flavors, you can season your plate of pasta with pepper and salt.
And That's The Other End Of The Pasta
How's that trip? You have learned so many styles, cooking techniques, and signature ingredients of the Italians. You also understand the importance of pasta in Italian cuisine thoroughly.
These recipes are the standouts of what I want to deliver in this post. Do you think the post gives you all the information that you want? Do you think you should share with your beloved this list?
Also, don't forget to let me know your opinion by commenting on this post. It would be nice to see your sharings after reading this post. Thank you for joining today's trip. Bye for now!
Nutrition Facts
4 servings per container
---
Amount Per ServingCalories580
% Daily Value *
Total Fat 28g

44

%
Cholesterol 135mg

45

%
Sodium 1466mg

62

%
Potassium 187mg

6

%
Total Carbohydrate 53.2g

18

%
Protein 31g

62

%
---
* The % Daily Value tells you how much a nutrient in a serving of food contributes to a daily diet. 2,000 calories a day is used for general nutrition advice.