Vietnamese pickled mustard greens (Dưa Chua) are a condiment that never fails to appear on the dining table during the Lunar New Year celebration in Vietnam. Although the recipe is simple, the result will surprise you with its mouth-watering flavor.
Essentially, this dish features a combination of gai choy and aromatics bathed in a salt and sugar brine. After pickling, the veggies become a crunchy feast boasting a wonderfully sweet, sour, and salty taste. If that sounds good to you, don't waste any time and scroll down to learn today's recipe!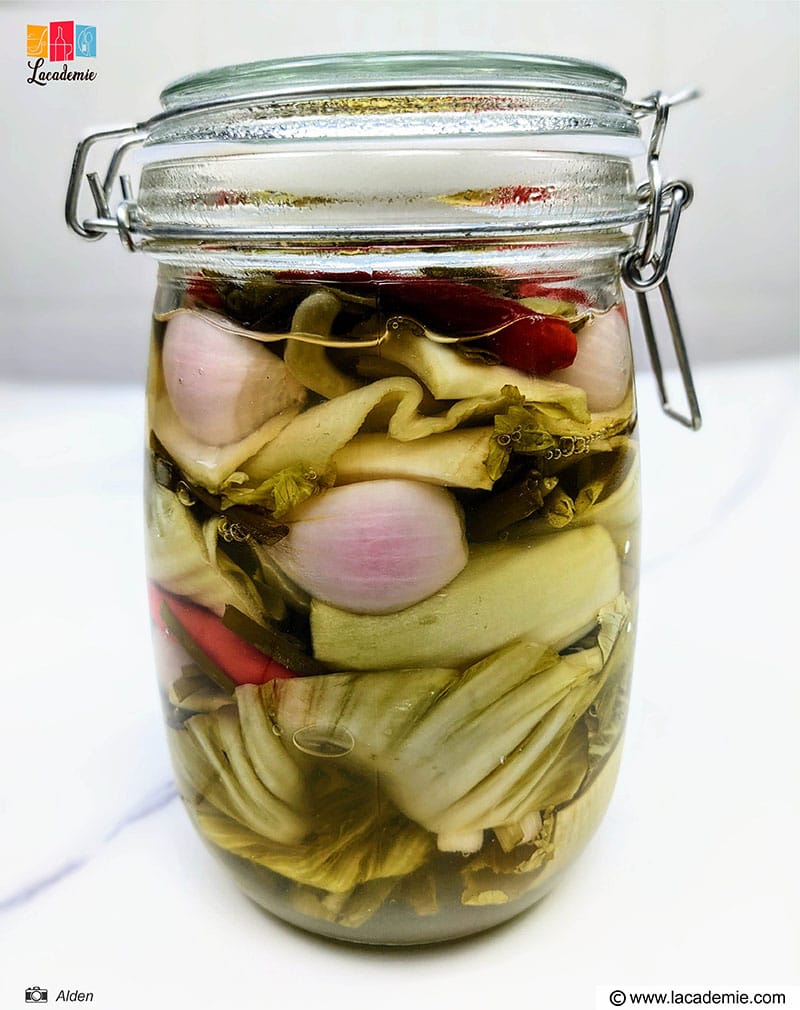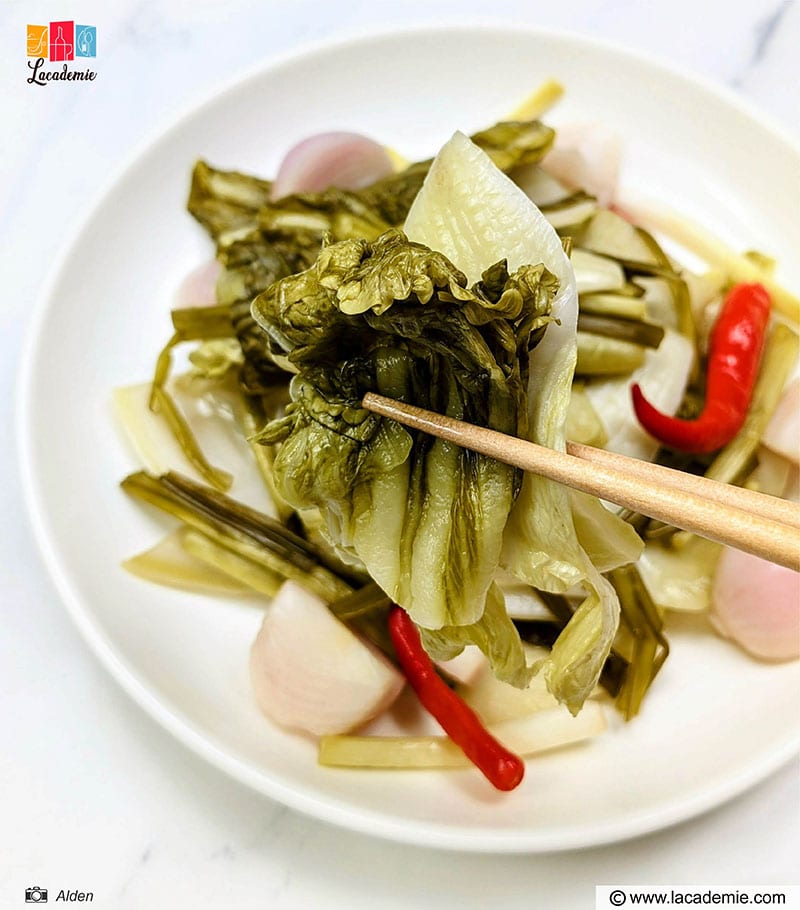 Dua Chua And Other Vietnamese-Style Pickles
While they aren't as fancy-looking as other famous Vietnamese delicacies, pickles are the "quiet heroes" that round off the culinary experience.
They are what you reach for when you need a touch of zest to balance the greasy nature of deep-fried dishes or to refresh your palate in-between courses. In addition, pickles are an excellent accompaniment to enjoy besides starchy, rice-based Vietnamese treats.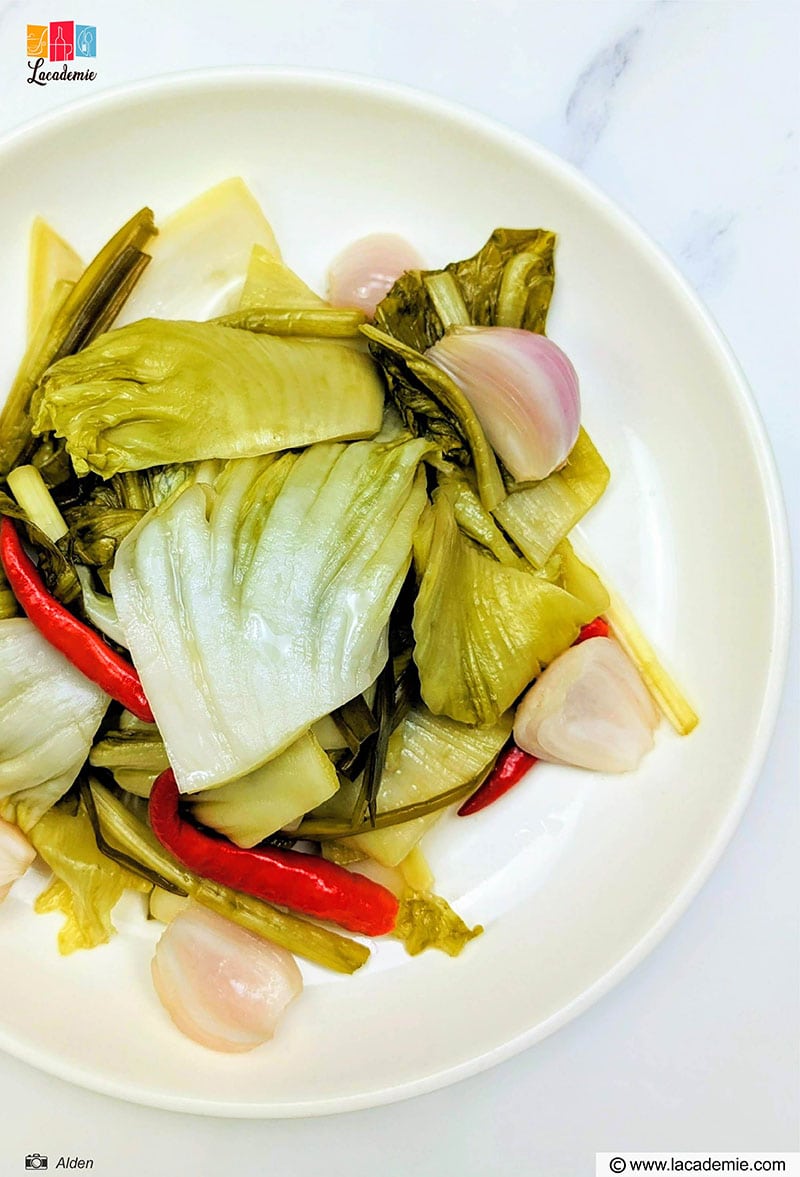 For example, crispy, sweet, and sour Dua Chua is the perfect condiment to serve with Banh Chung (Vietnamese square sticky rice cake) and Banh Tet (sticky rice cake) on Lunar New Year.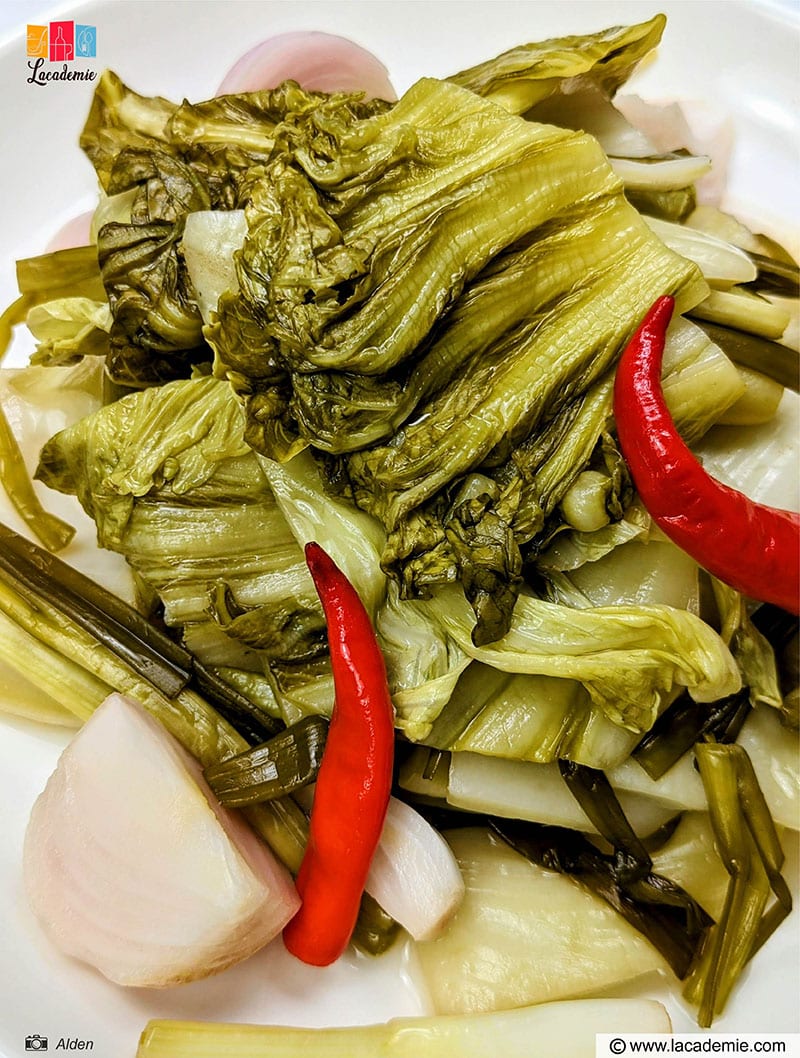 But are there any Vietnamese-style pickles besides Dua Chua? Well, of course! If you've ever enjoyed Banh Mi (I bet that you have), you're certainly no stranger to Do Chua, a spectacular pickle made from daikon and carrots.
In addition, Dua Gop is also a dish you should try. This pickle perfectly blends carrots, cucumbers, and kohlrabi into a flavorsome mix. Or you can go for Ca Phao Muoi (pickled Thai white eggplants), which is exceptionally crispy.
Tools
Every great recipe starts with having the proper tools, and so does Vietnamese Dua Chua. You should have the following tools in your kitchen:
Pickling jar: You can choose between glass jars and plastic ones (I prefer glass). Either way, always sterilize your pickling jar in advance.
Knife and chopping board: For cutting the vegetables. You won't have to do much slicing, though.
Saucepan: For making the pickling liquid.
Spoon: For stirring the ingredients.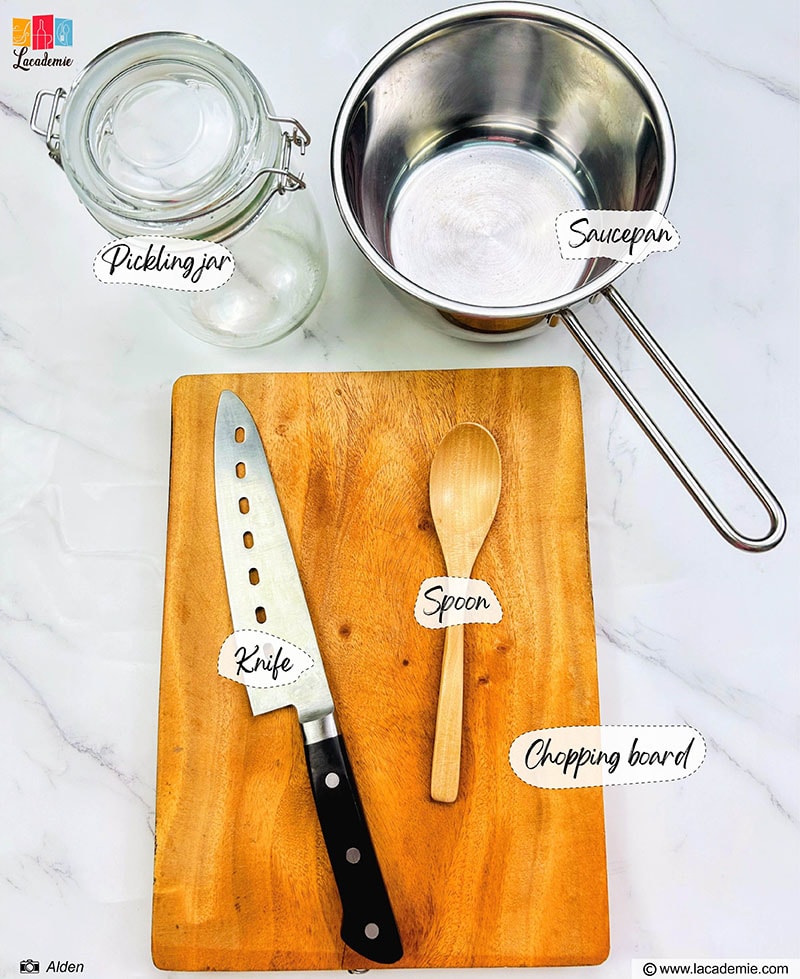 Ingredients
For the components that make up today's recipe, you'll need mustard greens, a couple of aromatics, along with salt and sugar.
Mustard greens: Also known as Chinese mustards or gai choy. I've included many tips for choosing this vegetable in the Notes section, so make sure you check them out!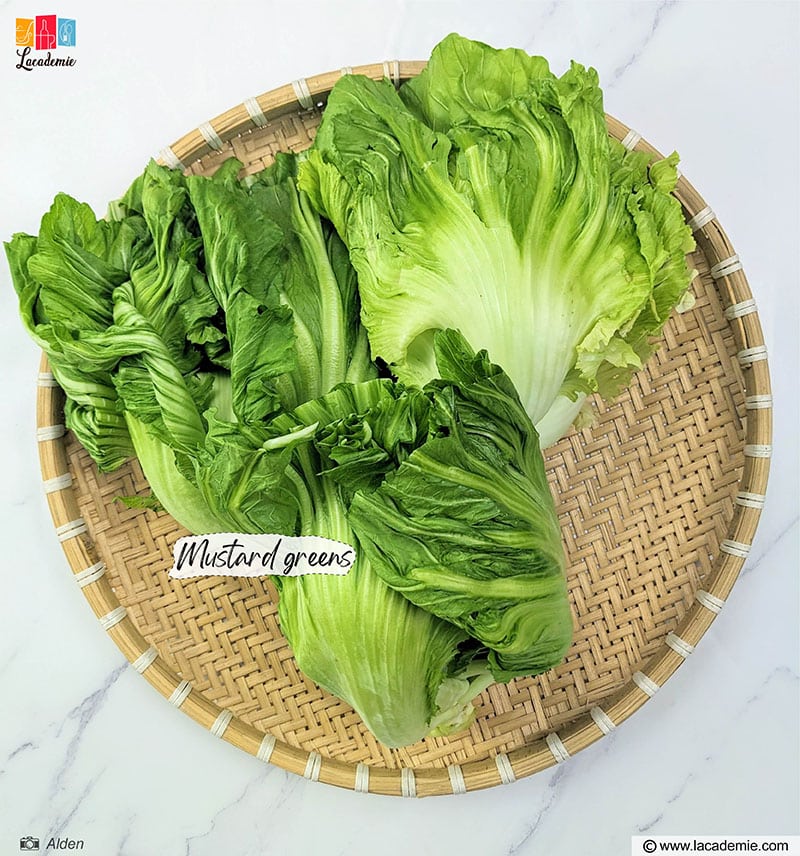 Chili peppers: Add a little spiciness to the pickle.
Aromatics: Shallots and scallions.
Spices: Salt and sugar. These two basic spices, together with boiling water, are all you need to make the pickling liquid a success.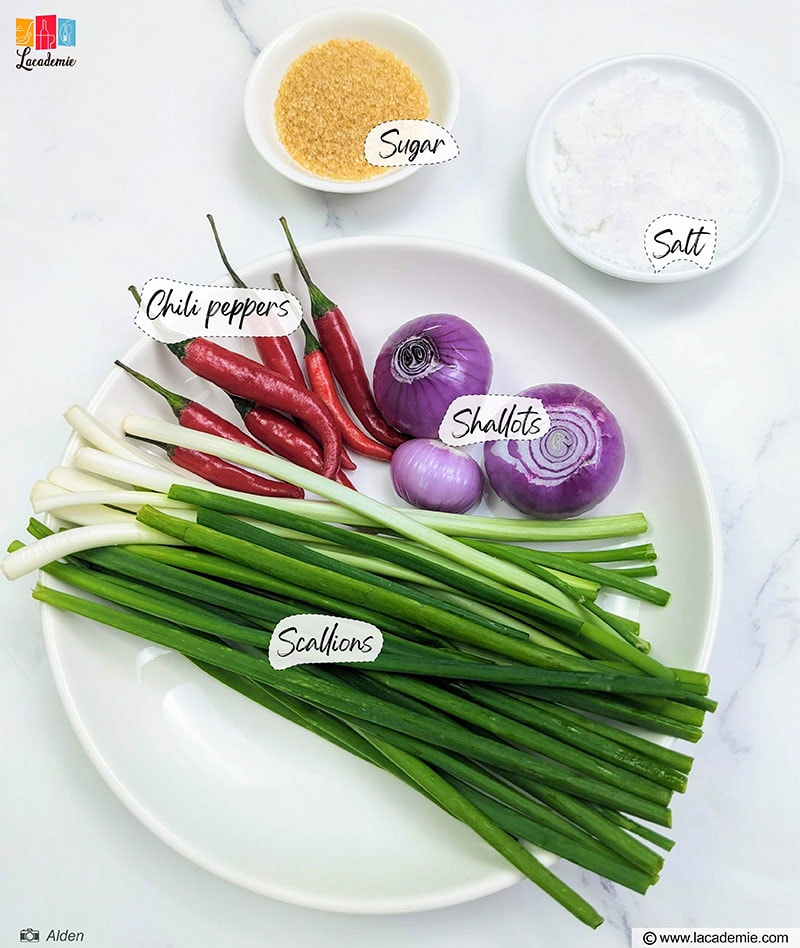 Directions
While the recipe is super easy, the drying and pickling process, in total, will take a few days to complete. So, don't wait until the last minute before a big family meal to make Dua Chua!
Step 1: Dry The Mustard Greens
Break the mustard green leaves apart, removing the spoiled, rotten, or discolored parts. Rinse the leaves several times to clean them thoroughly.
Afterward, put the vegetables into a basket or on a tray to dry.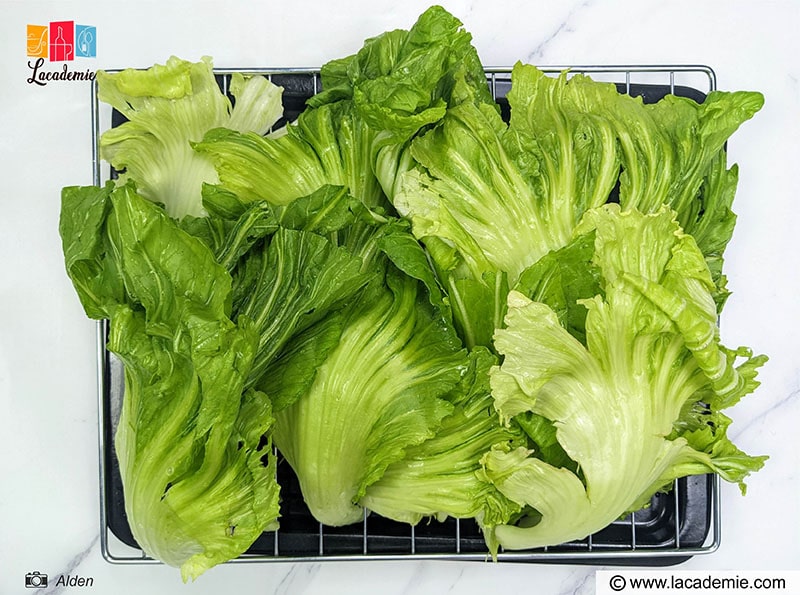 You can either dry the mustard greens overnight or sun-dry them. It takes about 6 to 8 hours under weak sunlight and 1 to 2 hours under intense sunlight to completely dry them.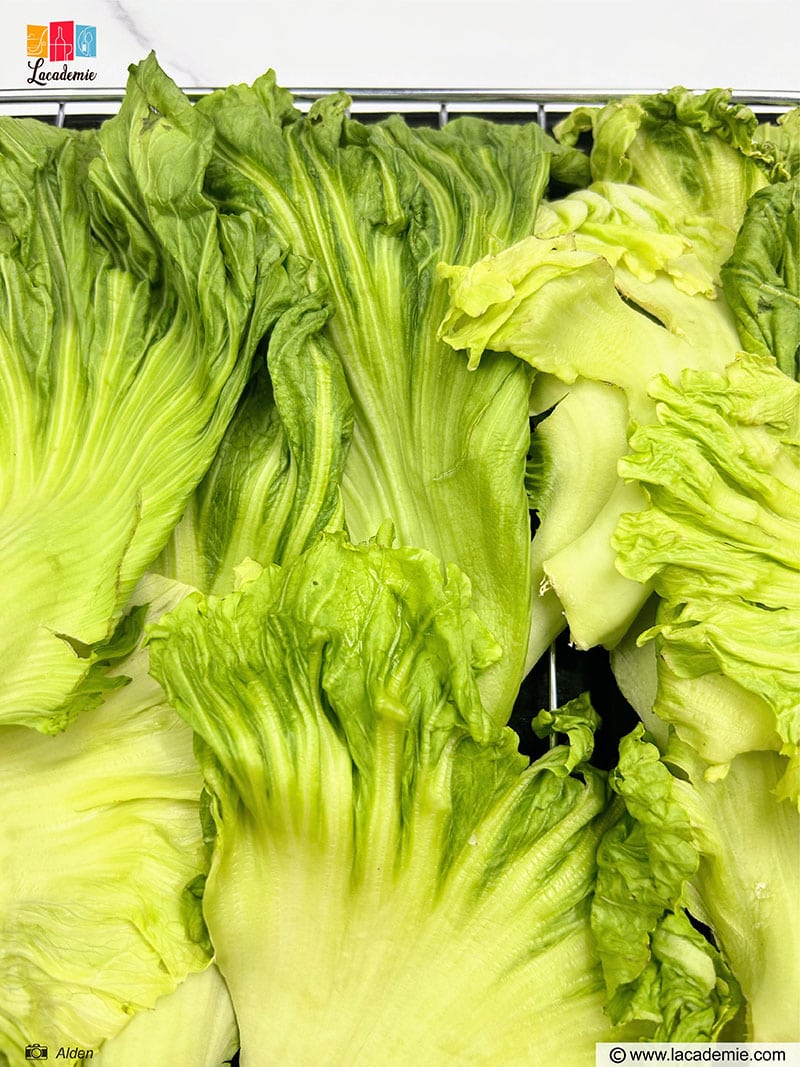 Sunlight and wind will cause the leaves to wilt slightly, improving their texture after pickling. During the sun-drying process, you should cover the mustard greens with a mosquito net to protect them from insects and dust.
Here, I choose to dry the mustard greens overnight on my kitchen counter.
Step 2: Cut The Vegetables
Once done drying, cut the mustard greens into the preferred size.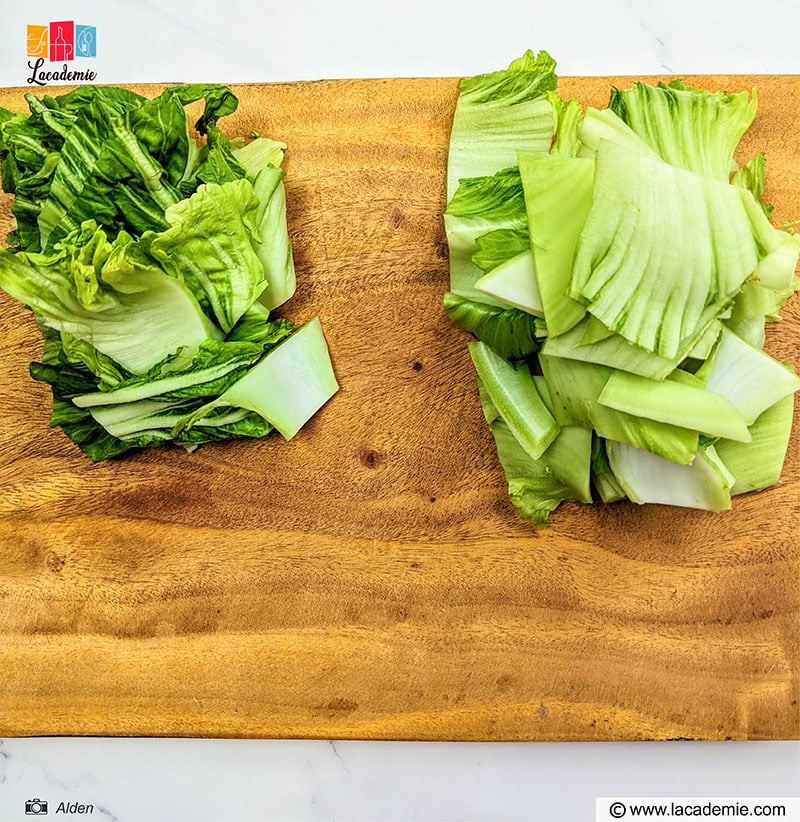 Note: You should cut the roots and the leaves separately.
Cut the shallots into wedges.
Separate the green and white parts of the scallions. Then, cut them into pieces.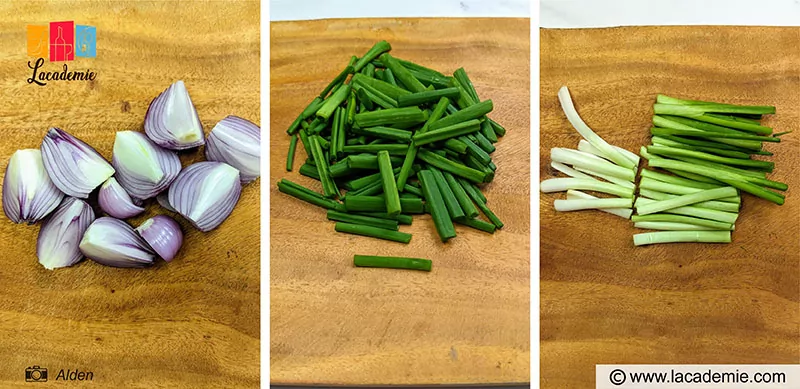 Step 3: Make The Pickling Liquid
Bring a little more than 4 cups (about 1 liter) of water to a boil. Add 3 tablespoons of salt and 1 tablespoon of sugar to the water. Stir well to combine.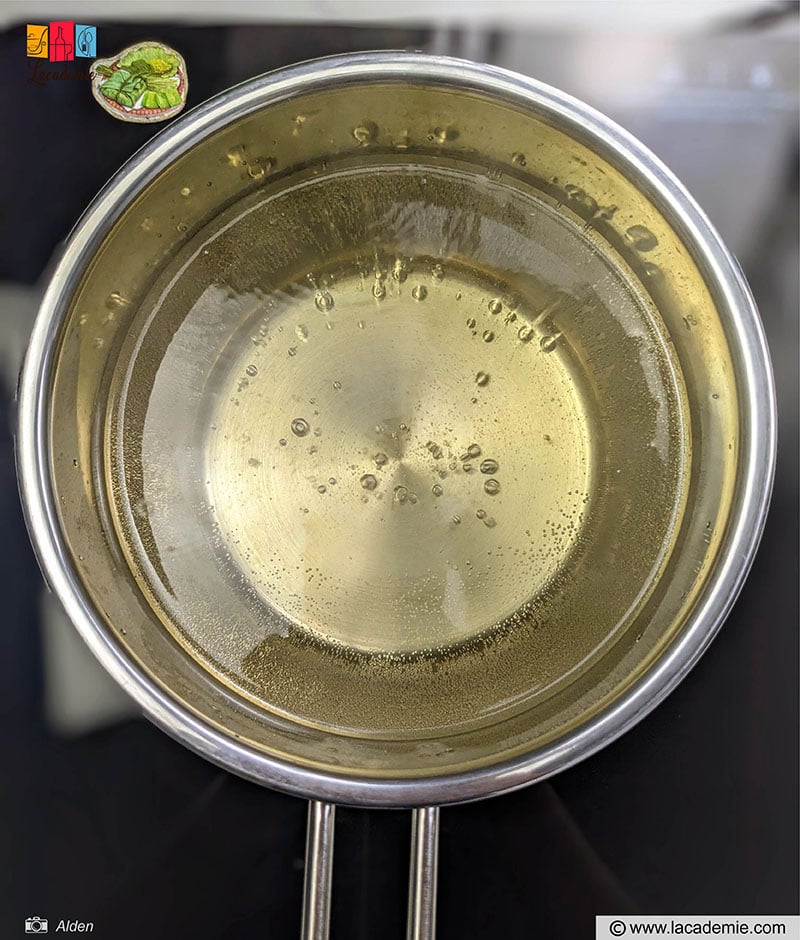 Note: The water to spices ratio is 1:3:1. In other words, for 1 quart (about 1 liter) of water, you need 3 tablespoons of salt and 1 tablespoon of sugar.
Next, turn off the heat and let the liquid cool a little. It's best to start pickling the vegetables while the salt solution is warm, not completely cool. Otherwise, a white film might form inside the jar.
Step 4: Put The Vegetables Into The Jar
Put the mustard greens, shallots, scallions, and chili peppers into the jar layer by layer.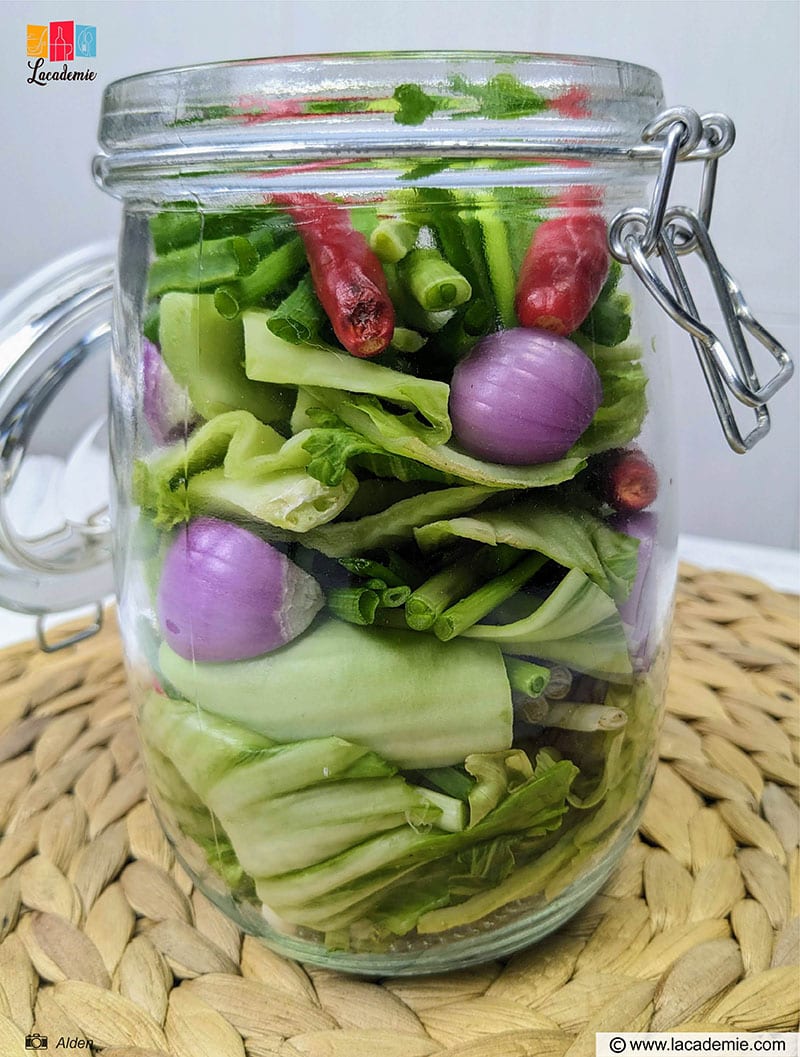 Note: You should place the mustard green leaves beneath the roots. Since the roots are heavier, they'll help press the leaves down. This way, the veggies will be fully submerged in the pickling liquid.
Step 5: Pickle The Vegetables
Pour the pickling liquid into the jar. Make sure that the liquid covers all the vegetables. Press the mustard greens down so that they are entirely submerged.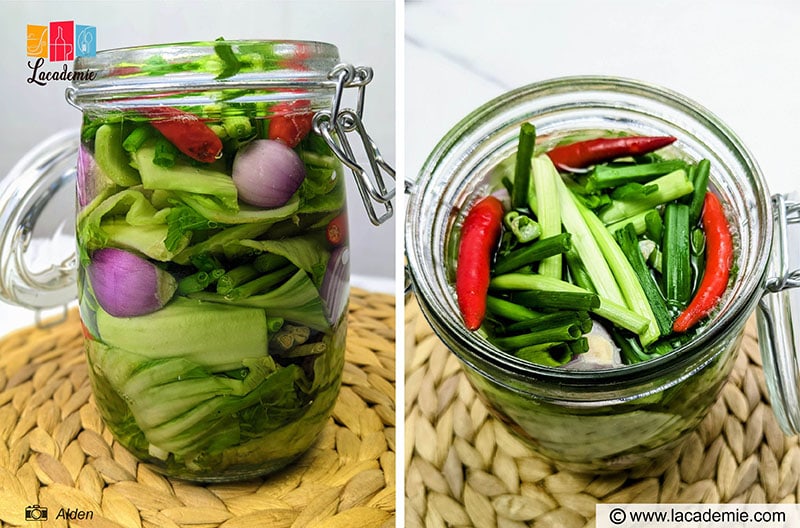 Close the lid securely. Put the jar in a warm place (about 68 to 72 degrees F) for 2 to 3 days. You can also place it under sunlight on the first day, then take it to a cooler place afterward.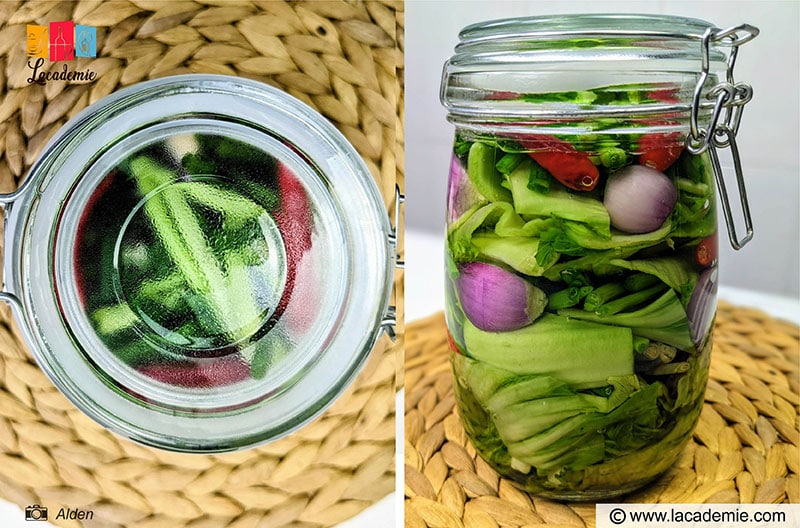 When the mustard greens turn yellow, your Dua Chua is ready for serving!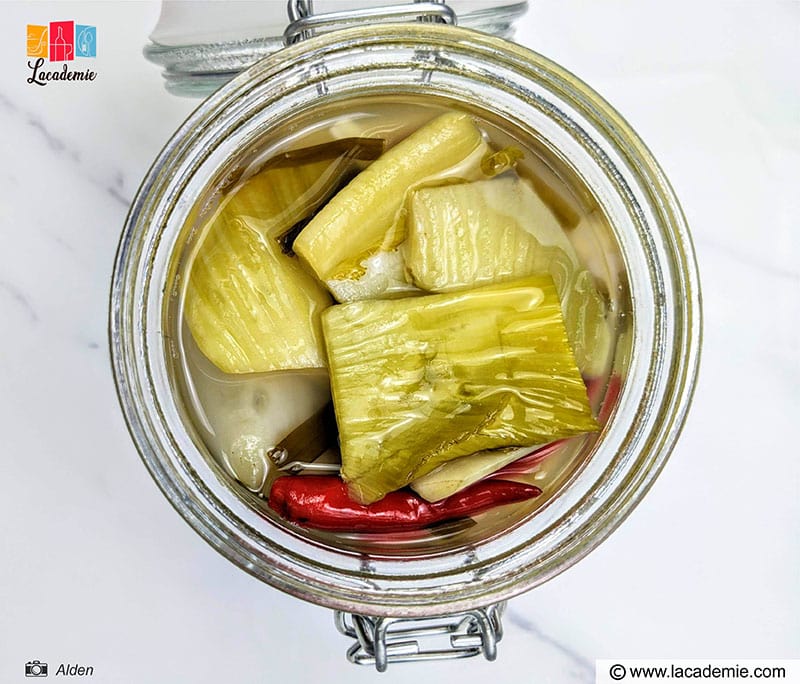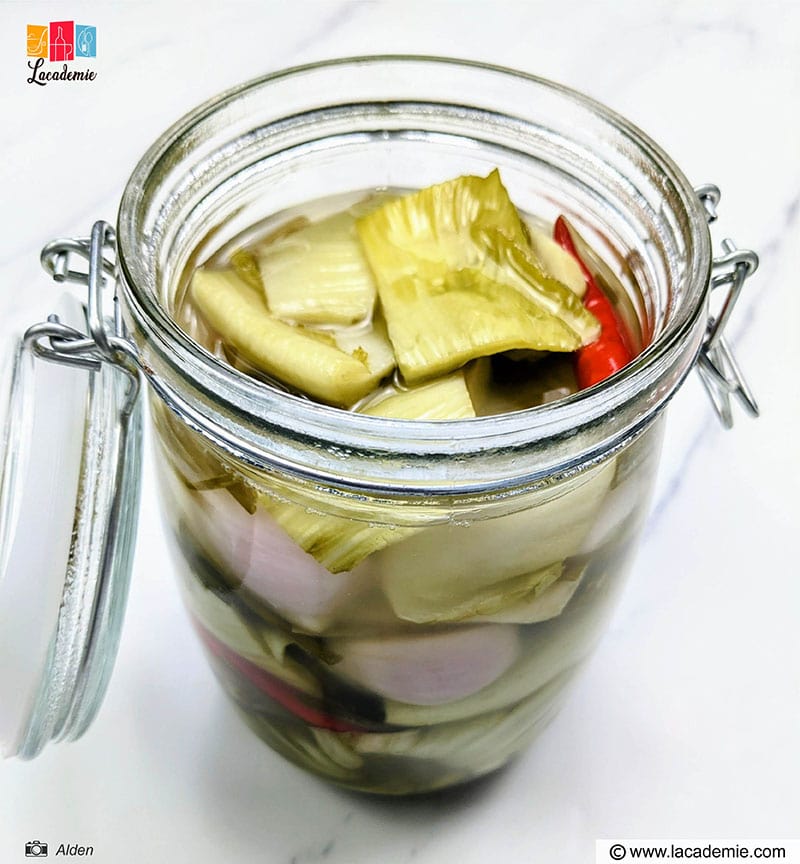 Useful Notes
As promised, here are the tips that'll help you choose the ideal mustard greens for pickling. Moreover, I've also rounded off other notes that you'll definitely find useful.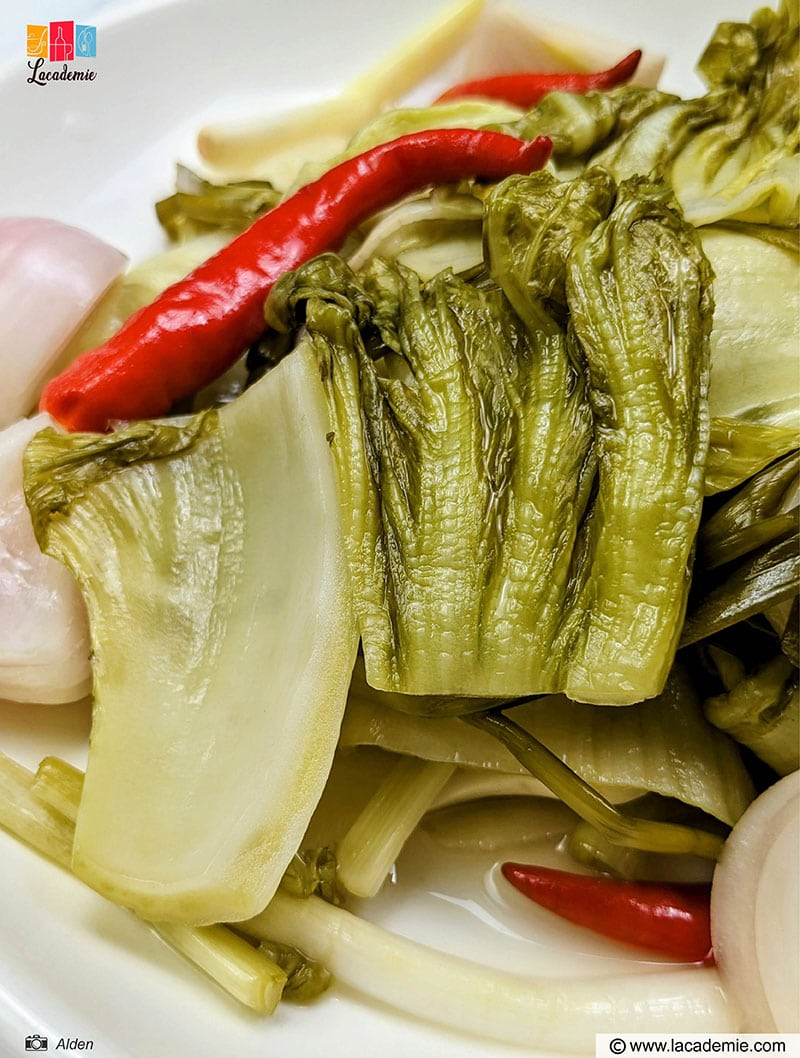 When buying mustard greens, choose the ones with large, tough, and green leaves and feel firm when you hold them. Avoid ones that have rough, crushed leaves, or hollow insides, as these are the indicators of old cabbages.
In addition, don't purchase ones with withered or yellow leaves and viscous petioles. More importantly, stay away from vegetables that have been infested by pests.
Using a warm salt solution and placing the jar under the sun for a day can speed up the pickling process.
Always sterilize the jar with boiling water and wipe it dry before adding the vegetables.
When serving, use clean utensils to take the mustard greens out of the jar. Avoid stirring, as doing so will cause white forms to foam, which reduces the treat's shelf life.
To store Dua Chua, place the jar in the fridge. It will last for about 2 weeks. Note that the veggies will get sourer with time.
While this might not be everyone's cup of tea, some people like to add galangal, which has a sharp, piney, and citrusy taste, to Dua Chua. If you enjoy this flavor profile, feel free to throw in some!
Explore A New World Of Vietnamese Pickles!
When it comes to yummy pickle dishes, Vietnamese cuisine has a lot to offer. And there's no better place to start exploring this incredible food category than today's Dua Chua. Crispy, flavorful, and super simple to whip up, you won't regret giving it a try!
Did you find pickled mustard greens enjoyable? Have you tried any pickles made in Vietnamese style? Don't be shy. Drop your answers in the comment. I'd love to read them. In addition, please like and share the post with your families and friends. After all, sharing is caring!
Nutrition Facts
4 servings per container
---
Amount Per ServingCalories175
% Daily Value *
Total Fat 1.3g

2

%
Sodium 5317mg

222

%
Potassium 1405mg

41

%
Total Carbohydrate 37.5g

13

%

Dietary Fiber 12.2g

48

%
Sugars 12.4g

Protein 10.2g

20

%
---
* The % Daily Value tells you how much a nutrient in a serving of food contributes to a daily diet. 2,000 calories a day is used for general nutrition advice.