Bengali foods are culturally lively and simply delicious, ranging from yummy curries to intricate sweets and confectioneries. Cham cham, Sandesh, Daab Chingri are just a few examples of the scrumptious and tantalizing delicacies of the beautiful Bengali cuisine.
Besides, West Bengal is also the home of Maach (fish), Bhaat (rice), and a true sanctuary for vegetarian foodies. It is famous for the exquisite balance of sweet and spicy flavors to elevate even the most basic dishes to an extraordinary level.
Bengali food contains so many amazing things that even I am excited to share more with you. Let me bring you the very best of Bengal. Here are the top Bengali recipes you should not miss when visiting West Bengal.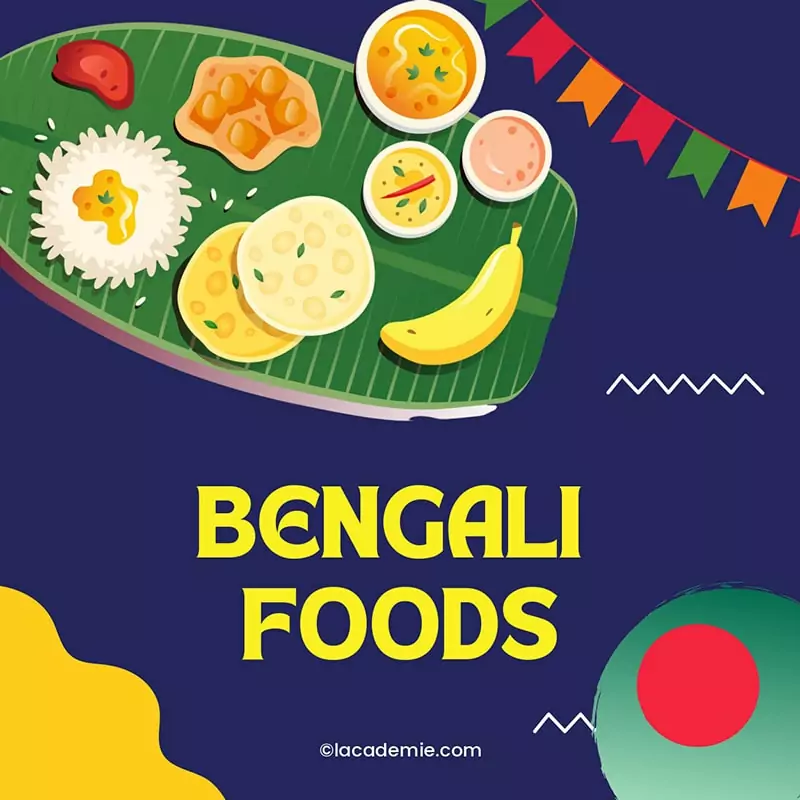 5 Yummy Curries For Your Bengali Cuisine List
I cannot think of any dish more distinctive to Bengali cuisine than curries. That is why the world of curries will start my Bengali food list. Stay tuned to find out what they are!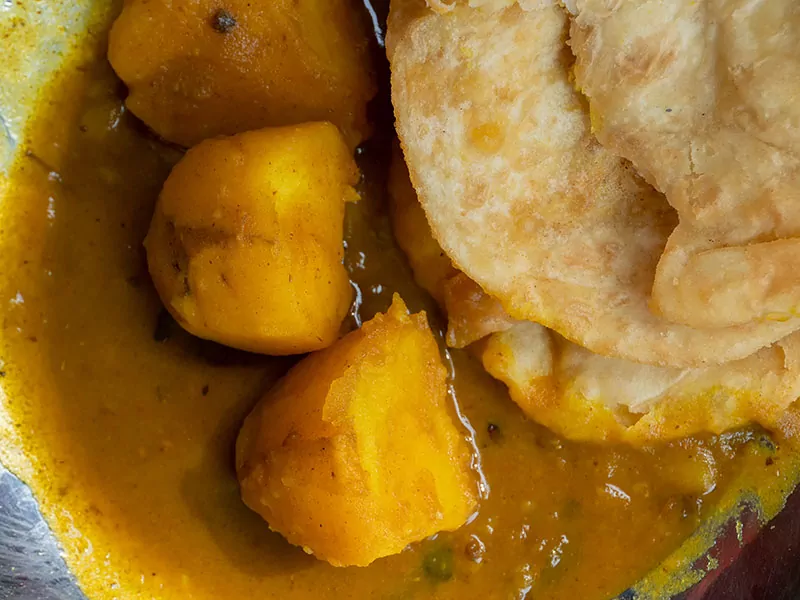 "Dum" translates as slow-cooked," while "aloo" translates as potato. Together, you have a scrumptious Potato Curry, which originates in the Kashmir Valley.
No Bengali household can ever complete a celebration without Alur Dom. This Bengali recipe is also the ideal choice for a lazy Sunday brunch, as potatoes always come to the rescue when there is nothing else in the house!
Alur Dom looks like small-sized, fluffy, and deep-fried chapattis with a golden glow since it is made with maida instead of atta flour. Depending on how you prepare this potato dish, you can enjoy different variations of spices.
Alur Dom looks like small-sized, fluffy, and deep-fried chapatis with a golden glow since it is made with maida instead of atta flour. Depending on how you prepare this potato dish, you can enjoy different variations of spices.
If you remove garlic and onion, you will achieve a Niramish variation of this famous dish. There are also other versions, such as Kashmiri and North Indian ones. No matter what version you choose, pairing it with Luchi or Matar Kochuri is fail-proof.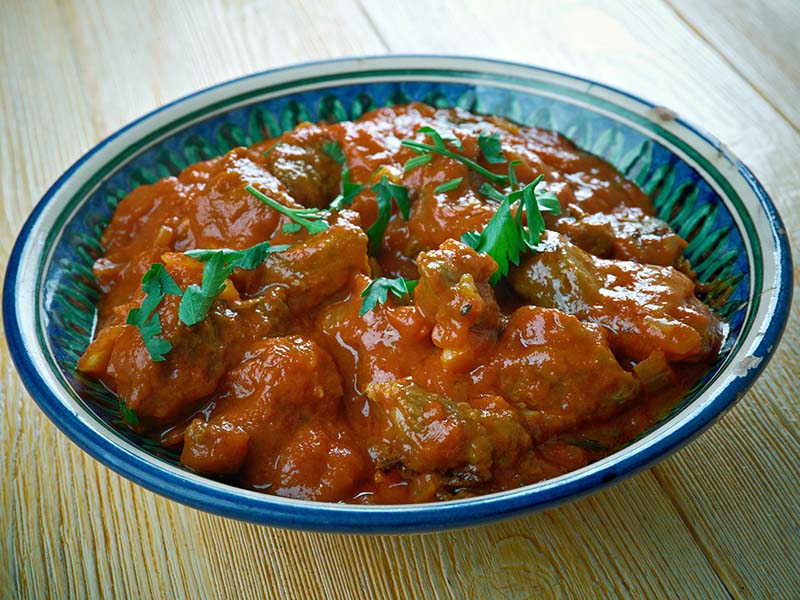 The Shyambazar neighborhood in Kolkata (West Bengal) is the place to go for a fulfilling Kosha Mangsho indulgence. No mutton aficionado should miss this recipe in their all-time favorite curries.
Kosha Mangsho is very similar to Mangsho Jhol, which is a different mutton curry. Few people cook it at home; you can only enjoy Kosha Mangsho in restaurants during celebratory occasions.
The dish grew popular during the British colonial period and consists of mutton slow-cooked in a spicy tomato and yogurt stew. It is thick, rich, and full of spices. Its alluring scent and sweetness will undoubtedly tickle your tastebuds.
At the end, add sugar to the curry to give it a deep crimson color and a robust taste profile. Then, serve this delicious dish with rice or paratha (flatbreads).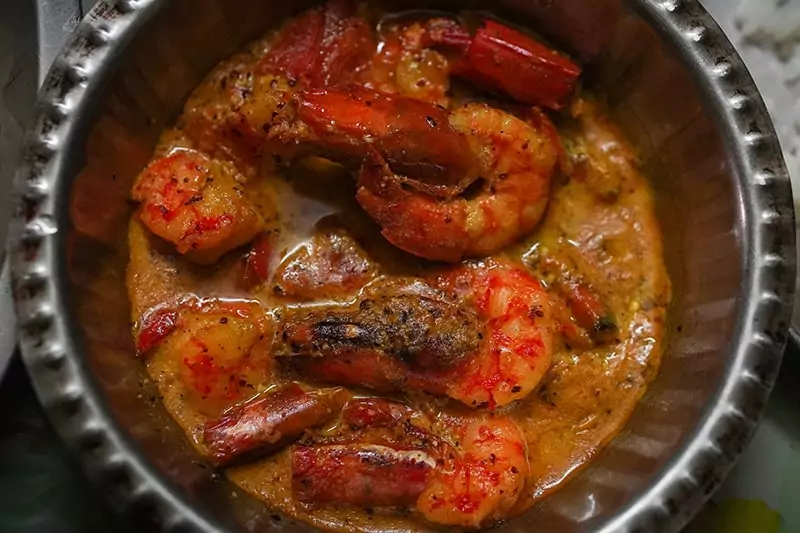 With Chingri Malai Curry, you get to taste river prawns sautéed in fiery spices before being drenched in the creamy richness of coconut milk. In fact, Chingri means river prawns themselves.
This immortal Bengali curry dispels the prevalent misconception that coconut milk is only for South Indian recipes. Coconut milk does a brilliant job here in rendering the richness for the prawns and the curry as a whole.
Nobody doubts the tasty flavor of this Bengali curry. However, there are several theories about its origin. While some people believe this dish originated in Malaysia as this country has a similar delicacy, others assert it was created in the Indian subcontinent.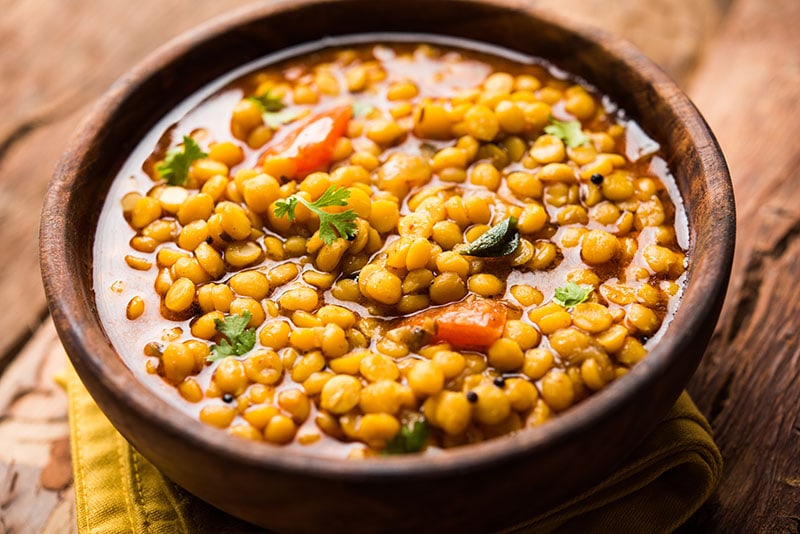 Chana Dal is the Hindi name for both Bengal gram lentils (also known as black chickpea lentils) and the saucy dish cooked with them.
This Bengali lunch recipe is slightly spicy and nutrient-packed with high content of zinc, folate, calcium, and low in fat. You can pick up distinct flavors of coconut, ghee, and a wide array of other spices.
Trust me when I say you can prepare this whole meal in a matter of minutes. Chana Dal in Bengali style makes a perfect weekday meal when served with steamed basmati rice, chapatis, or any variety of vegetable side dishes.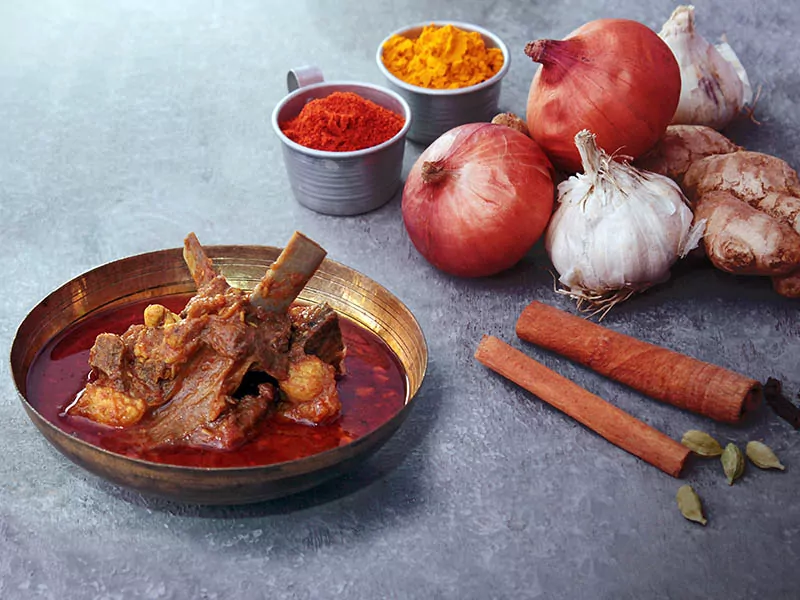 Expect to see Mangshor Jhol (or Mutton Curry) and rice in every typical middle-class Bengali family on Sunday evenings. The combination of delicate mutton in a thick sauce and hot steamed rice is a marriage made in heaven.
The natural gelatin from the bones gives the gravy a silky smooth texture. The pleasure of eating soft and delicious mutton chunks with the lovely red-colored curry is something you will never forget during this vacation.
Historically, the dish had less liquid and more gravy than other variations of mutton curries. The Kosha technique used for this meal calls for slow cooking and sautéeing the mutton to preserve its taste and moisture.
This Bengali dinner option is different from one family to another, depending on personal taste preferences. While some people prefer adding large potatoes for extra appeal, others love to include vegetables.
Here is an interesting fact about Mangshor Jhol: Bengalis treat this dish as an indispensable part of the Kali Puja event, which honors the Hindu goddess Kali on the New Moon day.
4 Fulfilling Bengali Rice Specialties For Your Hearty Meals
Rice is properly the most basic and versatile base for Bengali recipes. It is also a tradition for Bengalis to enjoy rice in their daily meals, as the ingredient makes the food heartier and more fulfilling. Here are 4 rice meals to transform you into a real local!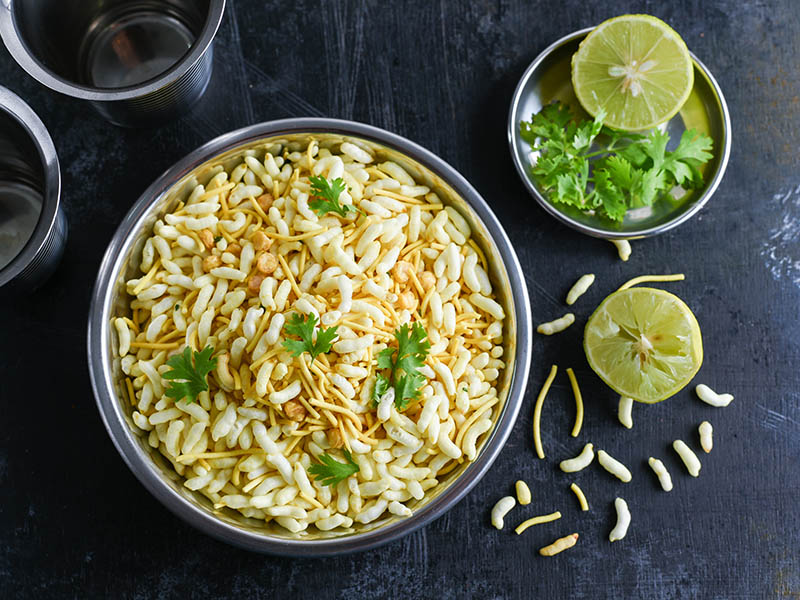 In the language of Indian street cuisine, Jhal means a spicy dish, while Muri is puffed rice. Altogether, Jhal Muri is a spicy puffed rice dish, another excellent snack to have when strolling about the city in the evening and having long-winded chats with a buddy.
You will enjoy rice flakes having been mixed with spicy chutney and mustard oil, as well as roasted lentils and coconut pieces. The finest site to try this recipe is Dacre Lane in Kolkata, which many locals and tourists agree as having the best street food!
The most remarkable thing about Jhal Muri is that it comes together in only 15 minutes. Super handy, right? Remember to serve the dish shortly after it is made, or the puffed rice will soften. Accompanying it with crispy onion pakoda is also a good idea.
You may prepare this simple Jhal Muri recipe for special events such as picnics, road vacations, potlucks, and even family gatherings. This scrumptious recipe can also curb your midnight hunger pangs.
Jhal Muri is a street food whose flavor will follow you into your dream.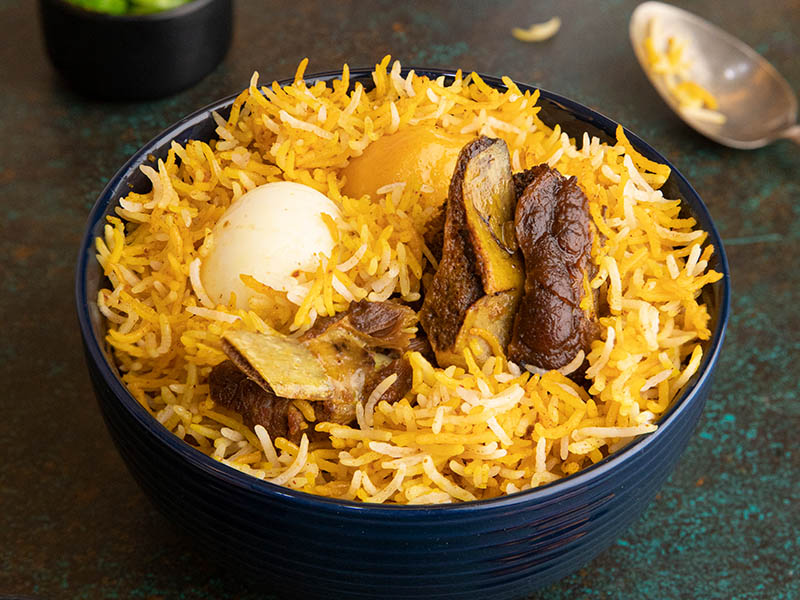 Following the exile of Awadh's last Nawab Wajid Ali Shah to the Kolkata suburb of Metiabruz in 1856, the Lucknow-style Biryani came to the region and became Koltaka Biryani. The addition of potatoes makes this variation distinctive.
Despite the massive amount of spices used, this recipe is a light and aromatic biryani. Like Delhi, Lucknow, and Hyderabad, Kolkata has its distinct biryani. This mutton biryani is truly a paradise with its deep scent of spices and ghee.
Thanks to the juicy and delicate mutton chunks, it is a must-try meal. You can enjoy this mutton biryani on its own without any accompaniments of raita or sauce. However, adding potatoes will provide a distinctive element not seen in other traditional biryanis.
Witness a real chef sharing about Kolkata Biryani.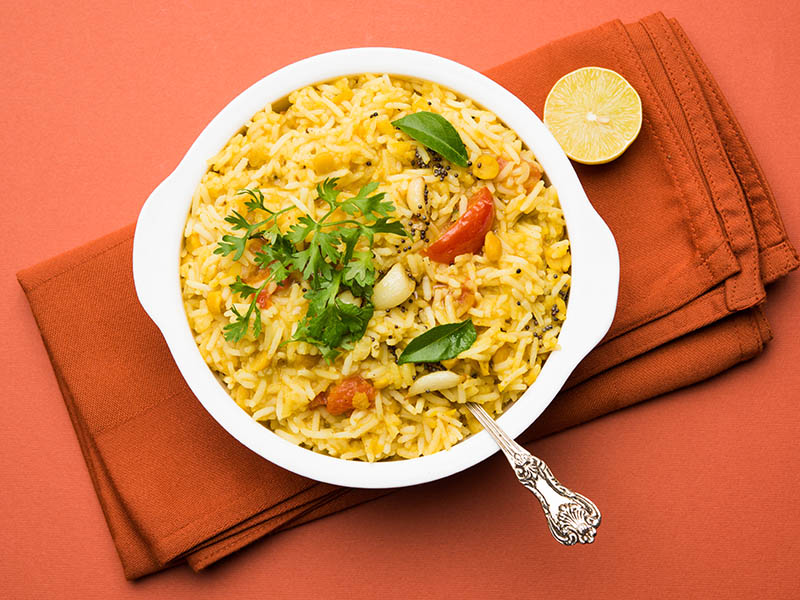 Did you know that Khichuri is one of the oldest and most relished dishes in India? It is also one of the first solid meals that infants consume in various Indian homes.
A dish of hot khichuri is the first thing popping up in many people's minds after a fatigued working day. Or, if you are just in the mood for something nourishing, khichuri is a must-have.
Let's try this Bengali-style Khichuri for your next supper! It is super comforting, simple, and irresistibly tasty. Cooked with roasted moong dal and aromatic gobindobhog rice, Khichuri is just a porridge of rice and dal seasoned with a handful of spices.
If there is one common dish that connects the diverse and multifaceted South Asian cuisines, it is Khichuri. This rare recipe effortlessly bridges the gap between "common" and "special" in terms of preparation.
You can also throw a mixture of vegetables into this rice and lentil dish to transform the dish into a filling one-pot yumminess. However, veggies are entirely optional. Feel free to omit them if you don't like greens.
Accompany your Khichuri with a cup of yogurt and some roasted papads on the side! Also, put a dollop of melted ghee on top to elevate the meal to a whole new level.
Sweet in flavor and packed with vegetables, nuts, and spices, Ghee Bhat (or Misti Pulao) is a hearty rice dish that no visitor should miss. It is a delicious dish that is suitable for both vegetarians and non-vegetarians.
For this yummy recipe, you can use either basmati rice or gobindobhog rice, short-grained rice sweetened with sugar during boiling. Then, add veggies such as carrots, beans, raisins, cashews, and flavor everything with spices.
7 Bengali Seafood Dishes That Are Must-Try Options For Visitors
As many rivers surround Bengali, freshwater fish and prawns are extremely popular in the region. It allows local people to come up with a plethora of seafood dishes. Join me in learning the top 7 Bengali seafood meals that every visitor must try!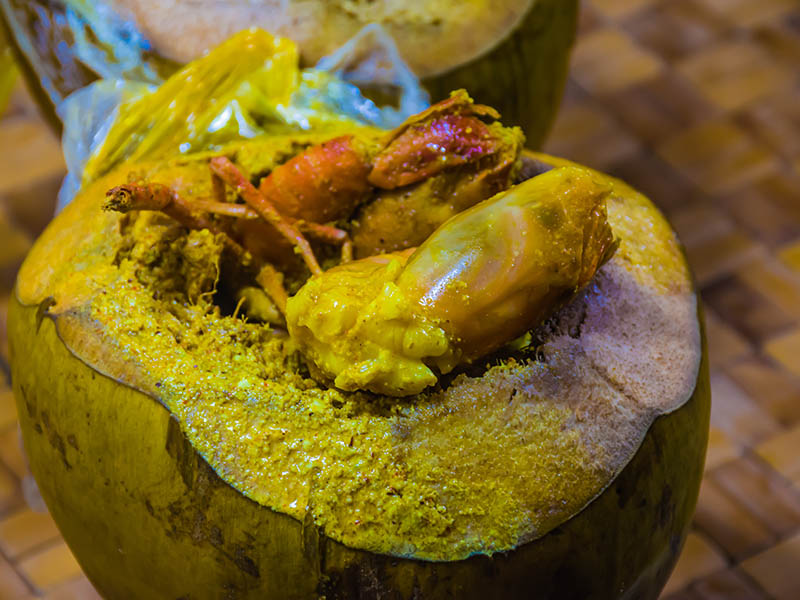 There is no denying that Bengali fish curries are among the best. However, if you are tired of eating fish and crave something different, try Daab Chingri! The dish features prawns cooked in mustard and served in a tender coconut.
You will catch Bengalis preparing this amazing meal during celebratory events such as Raksha Bandhan or Pohela Boishakh.
According to folklore, this East Bengali original was traditionally cooked over a wood fire in zamindar (local lords) houses. Besides using their famous coconut water to relieve thirst, the zamindars also utilized coconut cream for cooking this iconic meal.
Nowadays, people prepare Daab Chingri on wood-burning clay stoves or other more modern cooking methods. A big change is the preparation location. It moves from the outside environment to inside your home.
All it takes is fresh prawns bathed in coconut paste, turmeric, and mustard. Tossing some hearty masalas to this aromatic delicacy, and prepare to keep coming back for more!
11. Bhetki Macher Paturi – Steamed Fish In Banana Leaf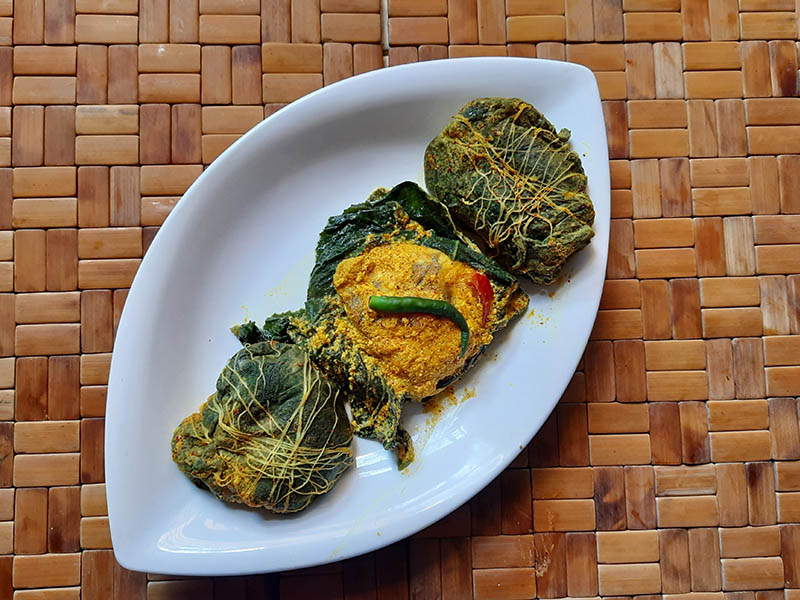 Ahoy! Here is a classic Bengali fish dish for all fish lovers out there! Bhetki Macher Paturi is sure to send you into a delightful food coma. Although it originated in Dhaka, this dish has since evolved into a trademark meal of Bengali cuisine.
"Paturi" is derived from the Bengali word Pata, which means "leaf". Without Paturi, almost every Bengali occasion or good old Bengali restaurant is incomplete. Trying this recipe with plain steamed rice is a popular choice for local people.
The liberal use of mustard is a well-known trait of Bengali foods, particularly when preparing seafood that is not from sweetwater, to mask the fishy scent of salty fish. Bhetki Macher Paturi is no exception.
Prepare yourself to taste the tender fish slow-cooked in a mustard, coconut mixture and covered in banana leaves.
Bhetki Macher Paturi is such a delightful and captivating Bengali dish.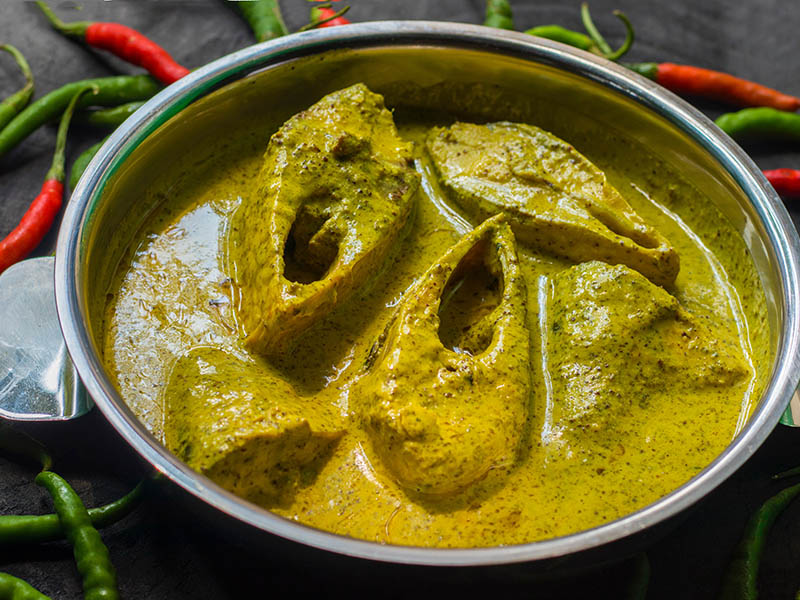 Also known as Ilish Bhapa, this essential but savory meal from the marshes of Bengal combines two favorites of the region: Hilsa fish (King of fish in Southeast Asia) and mustard seeds. It is a traditional Bengali fish meal that goes well with rice or Khichdi.
You will find this recipe everywhere in West Bengal, Tripura, and Assam's Barak valley. The acidic flavor and aroma of the mustard combined with the tender fish make a delightful lunch. For extra taste, you can use lime juice and coriander leaves.
You can alter the meal by adding milk or yogurt (Doi). Also, serve this substantial fish dish over steamed rice for a hearty meal.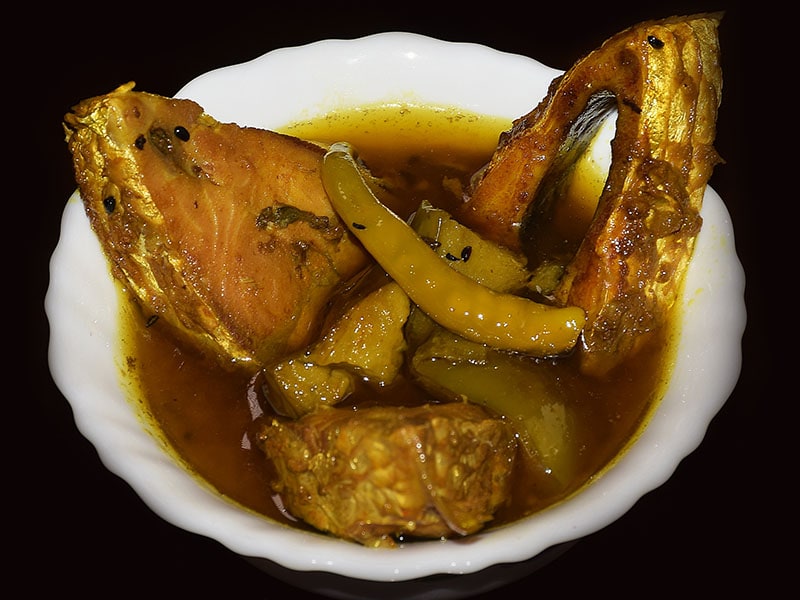 Bengal, especially Kolkata, benefits from a plentiful supply of both freshwater and saltwater fish. However, Hilsa (or Ilish) is still the most popular fish that wins every Bengali's heart.
Ilish Macher Jhol is the only dish that can compete with Bengali's signature Shorshe Ilish. This fish meal was originally a gem of Bangladeshi cuisine when it first appeared in the 18th century.
Nigella seeds and chili help provide this fish curry with a pungent scent, upgrading its taste to an exquisite level. A bowl of this mellow dish topped with white rice and split green chilies will elevate your weekend lunch to a heavenly experience.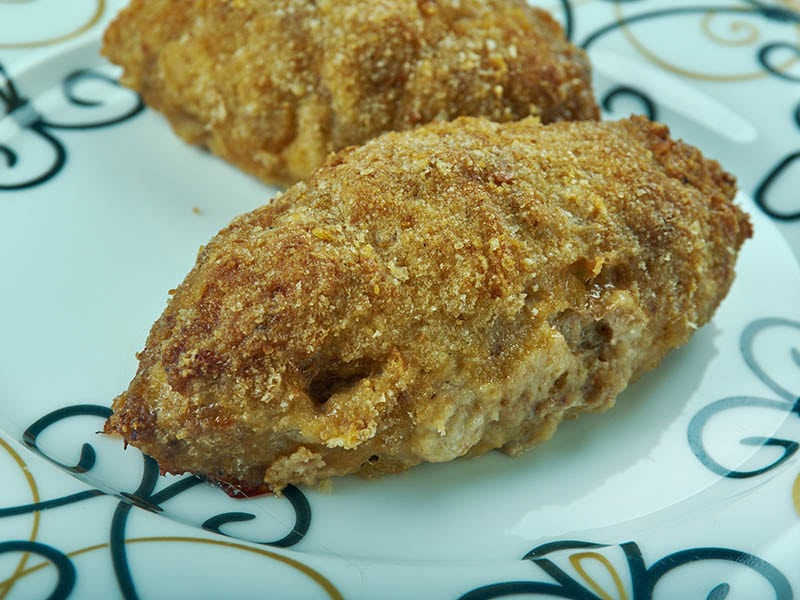 Macher Chop is basically croquettes stuffed with fish and potatoes, dancing with mustard sauce, and served over tea. It is a widespread snack choice among local Bengalis, thanks to its simple preparation and scrumptious flavor.
Besides snacking, Macher Chop is also an ideal appetizer or part of the festive lunch plate. You will fall in love with this recipe right away after feeling its brilliant texture: soft and tasty on the inside, with a crispy breaded covering on the outside.
Traditionally, people add raisins to enhance the dish's sweetness. Try preparing these croquettes for your Sunday afternoon snacks, just like how local Bengalis do it!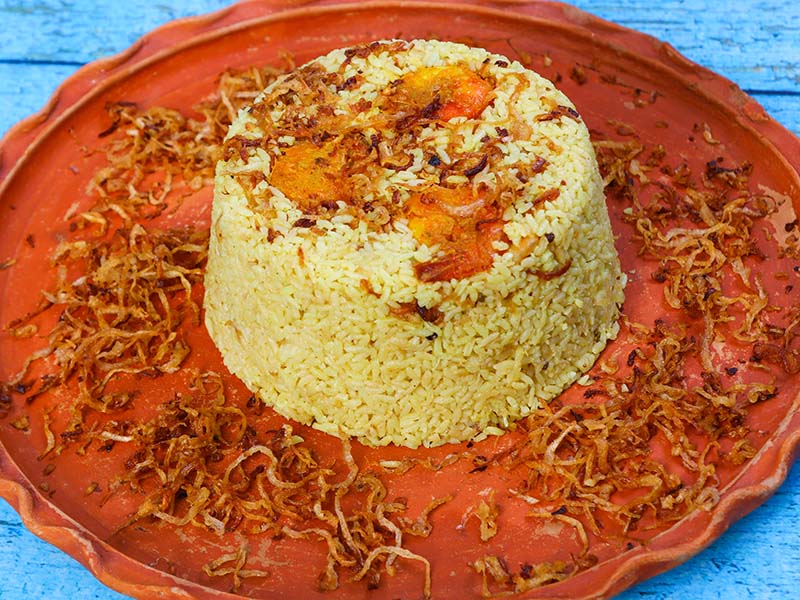 Chingri Pulao is another simple yet flavorful meal with a twist on the conventional biryani. It is one of those enticing recipes that looks, smells, and tastes like you have spent hours in the kitchen! Yet, in reality, it involves minimal effort!
The aromatic gobindobhog rice and Bengal prawns create such beautiful harmony. Also, there is incomparable sweetness from coconut, pungent flavor from spices, and a satisfying crunch from toasted coconut shavings.
The recipe has everything a festive meal requires. So, if you haven't decided what to make for celebratory occasions like the Pujas, Chingri Pulao is a must-try!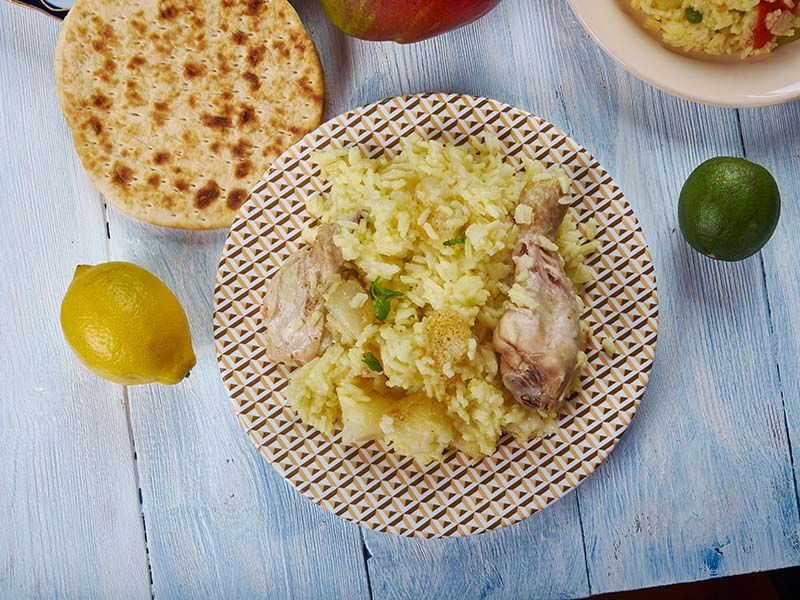 By now, you can understand the vital role of fish in Bengali cuisine. Fish appears in tons of delectable dishes here. And Muri Ghonto, a distinctive Bengali seafood dish, is one of those recipes.
Slightly soupy in texture, the dish historically served as a one-pot dinner for traders and merchants departing or coming from the port.
For people not in the know, this one-of-a-kind fish head dish may seem to be a distant relative of the Spanish Paella. However, unlike Paella, Muri Ghonto makes delicious use of fish head (and tail) with steamed rice.
Subsequent versions may substitute the rice with mixed vegetables, lentils, and other greens. Yet, a true Bengali Muri Ghonto is distinct by cooking crushed fish head with a local rice type. It is a favorite breakfast option in many Odisha and Bengali houses.
6 Bengali Vegan Meals For People Wishing To Do Away With Meat
Every cuisine has a particular category of vegan options, and so does Bengali cuisine! If you are a vegetarian traveling to this beautiful Indian subcontinent, you will have to go over these 6 Bengali vegan dishes very often.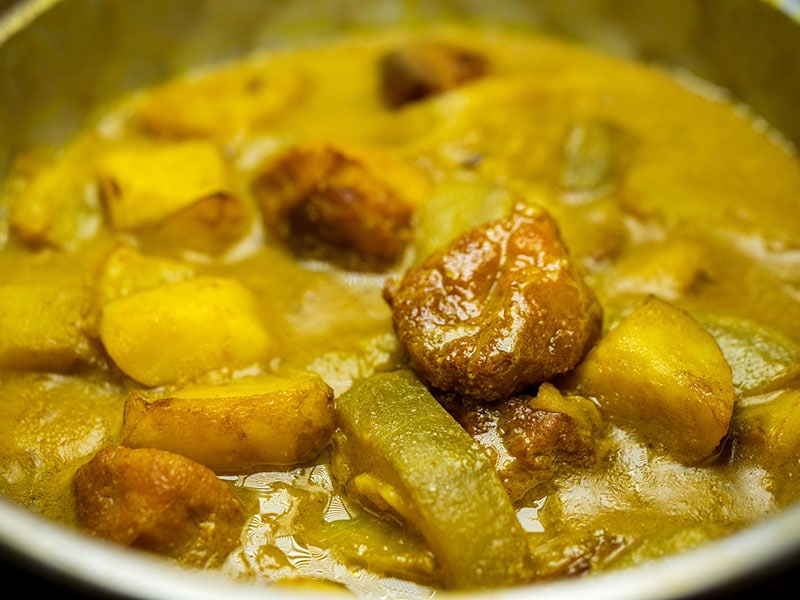 A bowl of Lau Ghonto with plain rice and dal is more than enough for a comfort meal. It is pure happiness! If you have never tried this recipe before, I highly recommend you do it at least once.
Lau Ghonto is a genuine and tasty Bengali delicacy made in practically every Bengali home. Although the recipe is not very hot, it is nutritious and aromatic, which is an extra advantage.
The Bengali recipe for Lau Ghonto is straightforward. The dish's complexity level is modest, making it acceptable for beginners. Plus, it is healthy for everyone, from children to the elderly, especially for people trying to lose weight.
The bottle gourd used in this recipe is low in fat and cholesterol while high in dietary fiber, which is helpful against digestive issues.
This terrific Asian vegetarian dish is ideal for a fast weekday supper! It is a must-try for even bottle gourd haters. Serving this Bengali dish over rice will surely relax your stomach after a long day at work!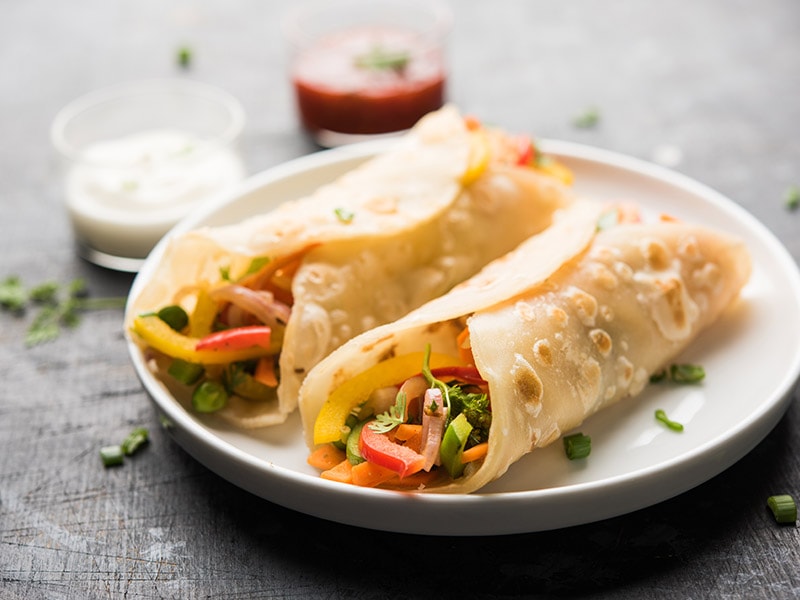 Who doesn't love Paneer Kathi Rolls? After all, they were the signature dish of Kolkata, the City of Joy! Initially, these rolls feature thin rotis wrapped around skewer-roasted beef kebabs. This easy and fast vegan variation brings everything to a new level.
Paneer Kathi Rolls are popular street food in Bengal and other Indian regions. You can enjoy these exquisite treats at literally every fast-food restaurant, canteen, and even street kiosk.
Regarding the fillings, there are countless options that you can try. Some rolls include mixed veggies, spicy Paneer, and sweet caramelized onions, while others feature potatoes, green peas, and capsicum.
With only 30 minutes, you can get this incredibly easy-to-make meal done and enjoy a unique blend of spices and flavors. Wrap the rolls in parchment paper for a convenient on-the-go supper, or cut them in half to serve as an appetizer.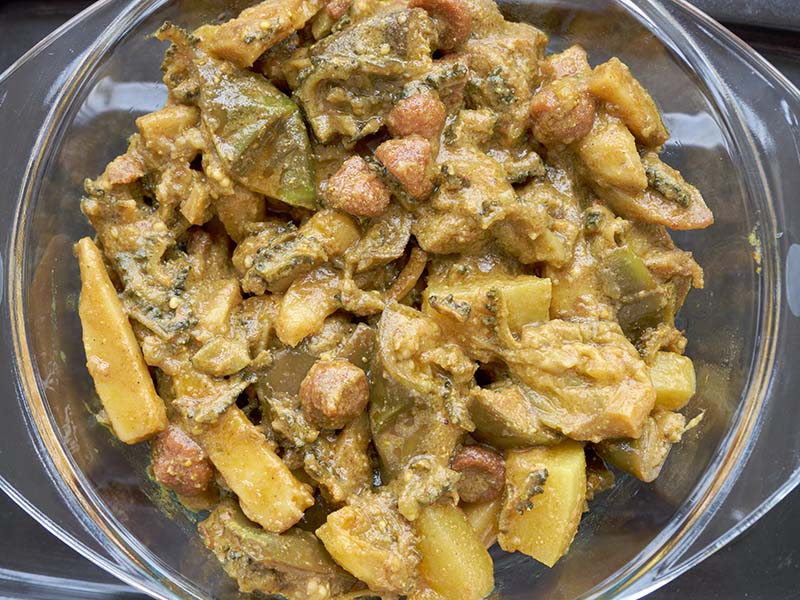 Who said Bengalis are only interested in fish and curry? They know how to prepare and nail vegetable dishes as well. Shukto is one example.
Made from bitter gourd, potatoes, plantains, and radishes, this mixed vegetable stew has a creamy, milky gravy that perfectly complements the gourd's bitterness.
According to Chitrita Banerjee's book named "Bengali Cooking", the term "shukto" originates from the Bengali word "shukuta". It refers to the dried leaves of a bitter juice plant.
Although many publications assert that Shukto is a Portuguese-influenced meal, food historians and specialists strenuously refute this statement. Old manuscripts revealed that Shukto appeared before the 16th century before the Portuguese came to India.
This vegan recipe is a great way to start your meal when combined with ground spices and milk to form a thick curry. The final dish is a warm, delectable medley of greens cooked to tender perfection with a taste of home wherever you are.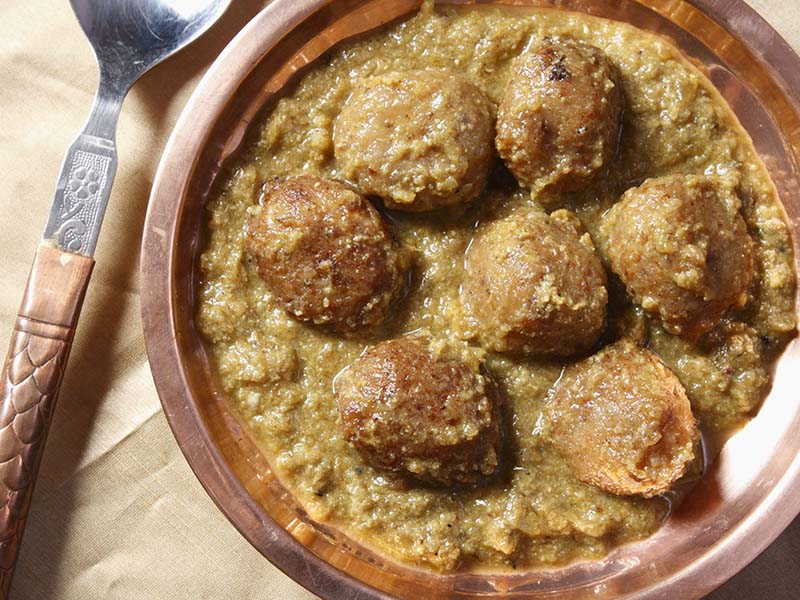 In the past, whenever there was no fish or meat available, Bengali women would prepare Chanar Dalna as a substitute. In Bengali, "chanar" refers to cottage cheese, while "dalna" means curry.
When combined, Chanar Dalna becomes a flavorful Niramish, meaning no onion and no garlic. Originally, people cooked this curry with Cottage Cheese. However, everything changed when Paneer entered the market.
Premade Paneer has transformed Chanar Dalna into a much simpler and more convenient dish to make. Yet, regardless of your choice, both Paneer and Cottage Cheese render the dish perfectly.
This recipe will be a nutritious, tasty, and simple addition to your regular menu. Its cooking difficulty level is so moderate that even a beginner can pull off the task.
You can also add some fresh green peas for additional flavor and texture. Serve it with plain rice or flatbread, and you have a perfect meal for any Puja holiday.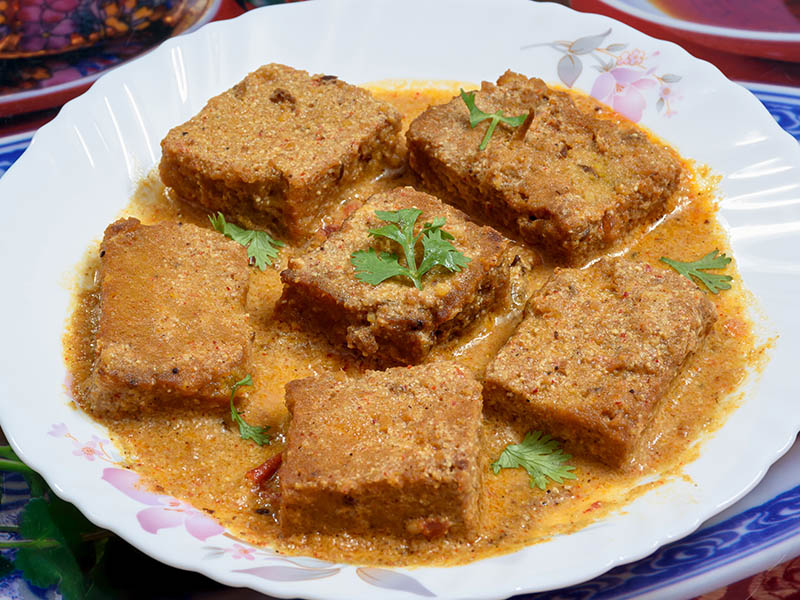 Dhokar Dalna is another delightful Bengali vegan curry that utilizes fried chana dal cakes and cubed potatoes coated in a rich sauce of cumin seeds, bay leaf, ginger, and red chili paste.
In India, the term "Dhokar" means treachery, which refers to the flesh-like texture of this recipe. Like Chanar Dalna, this outstanding vegan meal contains no garlic or onion.
Although its preparation is quite challenging, this lentil cake is surprisingly flavorful and additive when enjoyed. Accompany it with Lucchi or steamed rice! If you follow my advice, you will undoubtedly love the dish!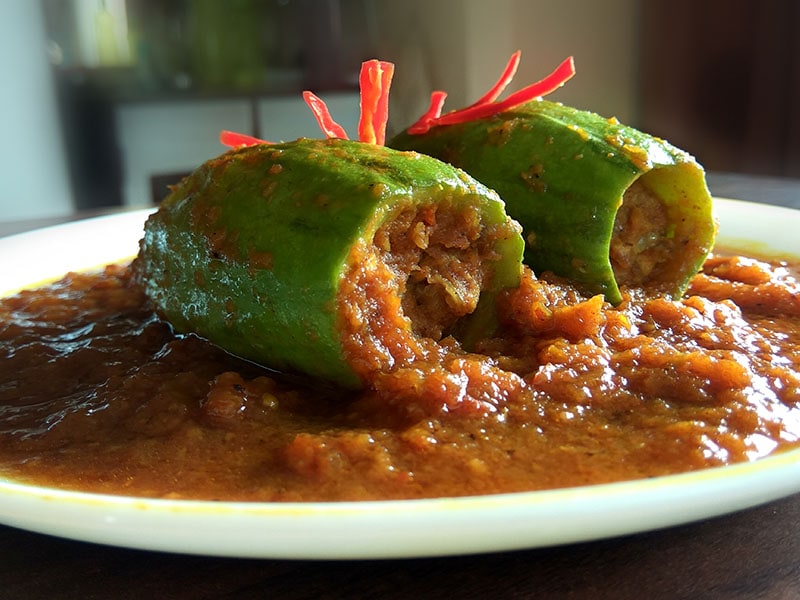 In Bengali, "potol" refers to a pointed gourd (or parwal), while "dolma" means a stuffed vegetable. When combined, you will have a beautiful Bengali specialty called "Potoler Dolma".
Interestingly, this meal has an Armenian origin but made its way into the kitchens of Bengal's nawabs (rulers) and changed dramatically. It is now part of every Bengali household menu. As a result, the Bengalis can proudly claim the dish as their own.
Traditionally, this recipe often features prawns or fish as the stuffing. However, a low-calorie vegan twist with Indian cottage cheese and dried fruits are also widespread. The final dish is shallow fried and mixed in a tangy, spicy cashew nut sauce.
5 Bengali Sweets To Satisfy Your Cravings
I am saving the best for last here! It would be a huge loss to mention Bengali foods without this sweet category. Although there are countless options in this collection, here are the top 5 candidates that can easily satisfy your sweet craves!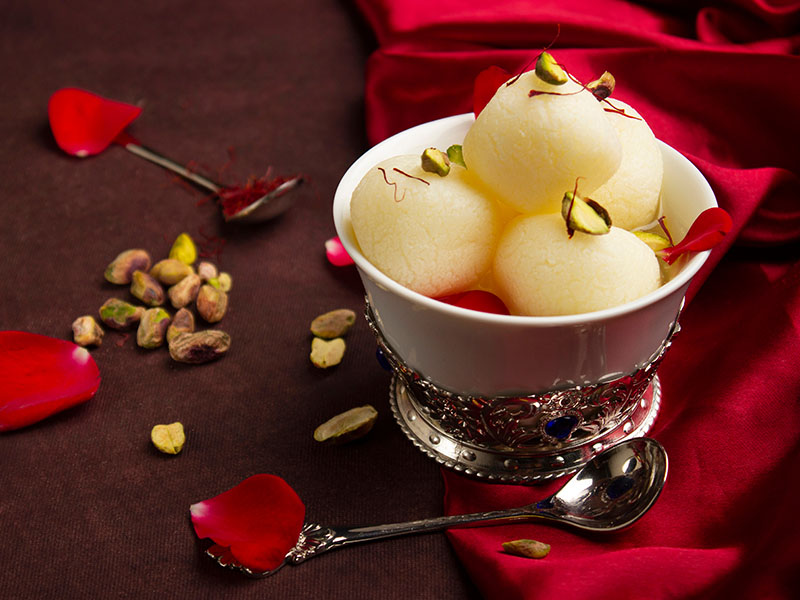 It would be a crime not to satiate your sweet tooth when visiting Bengal. Rasgulla (or Cham Cham) is my top suggestion for you. These Bengali desserts will make even the most adverse to sweets salivate and want another decadent piece.
Regarding the origin, these spongy white Rasgullas are thought to have been made by Nobin Chandra Das, a confectioner located in Kolkata, in 1868. Another idea holds that Nobin Chandra Das only popularized the already-existing dish.
Traditionally, local Bengalis present Rasgullas to goddess Lakshmi to appease her fury for being mistreated. You will find these lovely treats served on the ninth day of Rath Yatra or the farmed Chariot Festival.
The Bengalis make Rasgullas by curdling milk. Chenna (Indian cottage cheese) and whey are separated by draining in a cotton towel. Then, the drained chenna is kneaded before transforming into balls. They are fried in sugar syrup until light and spongy.
These juicy little balls are addicting and tasty treats for your holidays. Making them is simple and takes a short amount of time. Even cooking newbies can give them a go! Garnish this sweet delicacy with scented cardamom or rosewater.
Making Rasgulla balls is so simple and fun!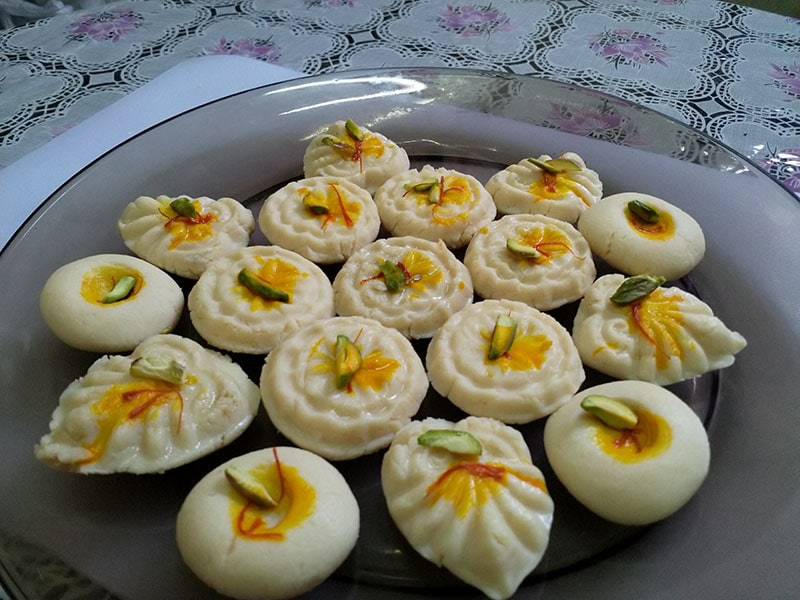 Unlike Rasgullas, Sandesh is drier and not too sugary, enabling folks with a sweet craving to enjoy it comfortably. This delicacy comprises Khoya, a type of condensed milk, to infuse a unique flavor.
In Hindi, the dish's name means "news" or "messages". Bengalis have a history of delivering sweets or food as gifts to their family and friends, which is how the sweet gained its name.
Originated in the Bengal area since the 16th century, this simple treat, lightly spiced with cardamom, is perfect for the holiday season! You can keep it in the refrigerator for 1-2 days. Do not eat Sandesh if you have stored it longer than that.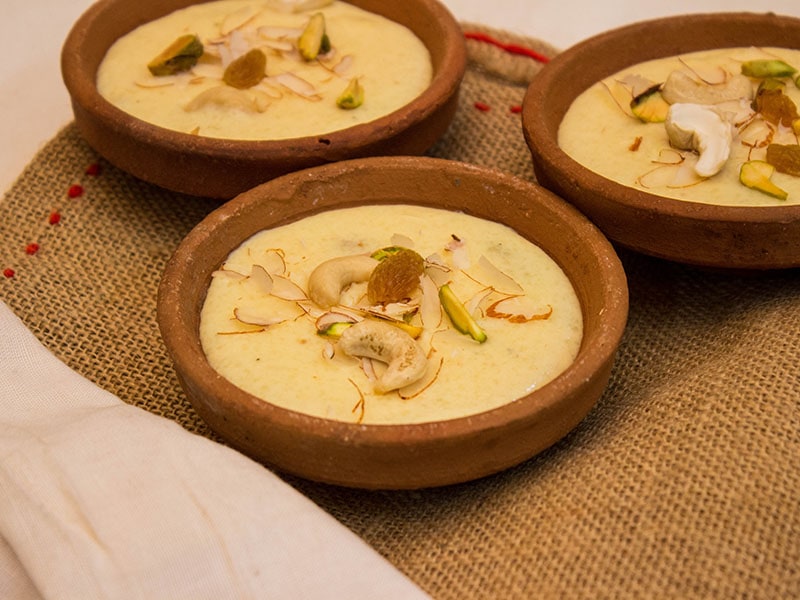 Thickened curd sweetened with sugar, Mishti Doi is a Bengali yogurt that local people enjoy as a dessert after dinner. If you are a fan of sweet recipes, there is a high chance you have encountered Mishti Doi in Bengal in your search for a lovely meal.
Normally, the Bengalis prepare Mishti Doi with milk, curd, and sugar(or palm jaggery). You can purchase this brilliant treat at practically every confectionary store in the region.
Prepare this well-known recipe for festivals or serve it after your regular meal. Either way, I guarantee that this dish will always delight your tastebuds.
Did you know you can get Mishti Doi easily from sellers driving around the region?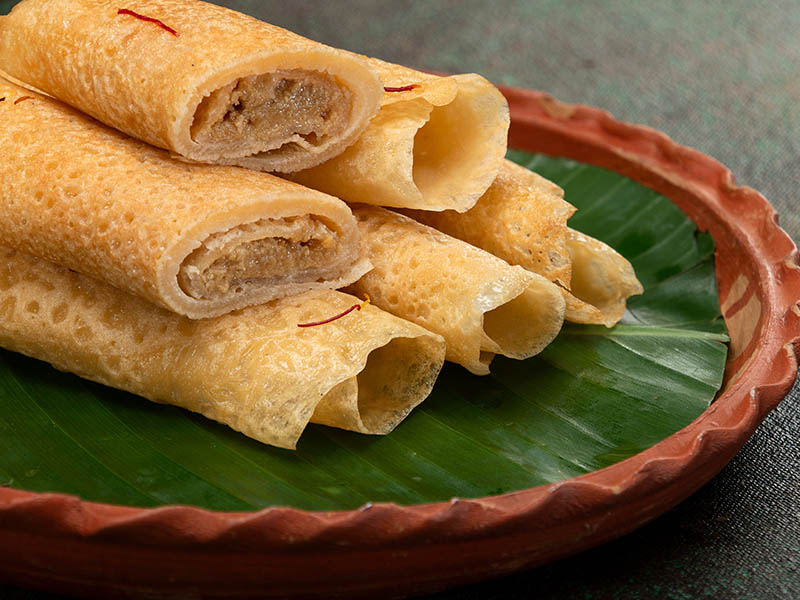 If the authentic crepe originates from France, this coconut variation is a big hit in Bengal. Created from a batter of powdered rice and wrapped in a mixture of coconut chunks with sugar and khoya, Patishapta is a unique treat you must not miss.
Making Patishapta is simple and takes around 30 minutes only. Thus, it is a perfect candidate for a Bengali breakfast recipe or a snack to offer unexpected visitors.
This delicate, thin coconut crepe is a favorite of many Bengalis during winter. Its amazing sweetness will transform the cold season into delightful delicacies.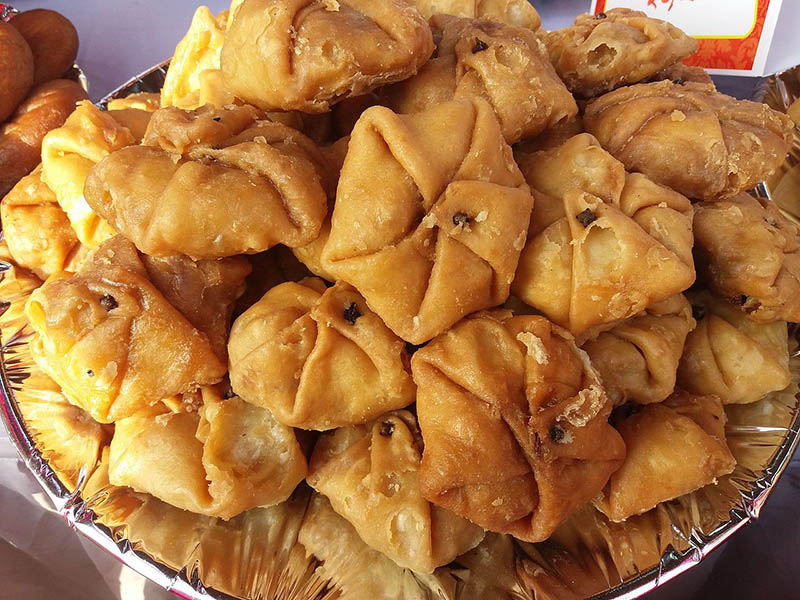 It is no longer a secret that Bengalis have a sweet for every occasion. Lobongo Lotika is one such treat. The combination of maida, cardamom, raisins, cloves, and shredded coconut guarantees the most additive flavor your tastebuds will experience.
Sealed with a clove, then deep-fried and dipped in sugar syrup, this kheer-based treat promises to be a flaky package that will satisfy even the pickiest eaters. It has a crispy texture on the surface and a luscious, creamy filling.
Traditionally, the Lobongo Lotika recipe calls for a lengthy preparation to make the kheer filling. However, it is deceptively simple.
The clove releases its essential oils and scent into the sweet during the cooking process, making it even more flavorful. Many people eat the clove at the end, but it is all right to throw it away as well. It is a matter of personal preference here.
How About Booking Your Trip To West Bengal Now?
My list of Bengali foods here only represents a small picture of what West Bengal has to offer! If you want to experience the most delicious and authentic Bengali dishes, there is no way around traveling to the region.
However, before planning your trip and booking the ticket, drop a comment below to let the world know about your love and interest in Bengali cuisine. And that you are about to go there to actually try the foods!
Don't forget to check out my other posts on cuisines around the world! Hopefully, you will find other unique dishes for your must-try list!