Enjoying Japanese noodle recipes is typically the first step for anyone who wants to enthusiastically dig deeper into Japanese cuisine. Ramen is famously and globally well-known, but do you know that the world of Japanese noodles is bigger than just Ramen?
There are eight main types of noodles in Japan and over a hundred recipes. In every prefecture, there are at least two to three unique local noodle styles. I'm sure that you can see how long this noodle list of recipes can be.
However, you are lucky because I have already done the job of listing the best 28 noodles that you should try to make. Without further delay, let's jump into this pool of knowledge!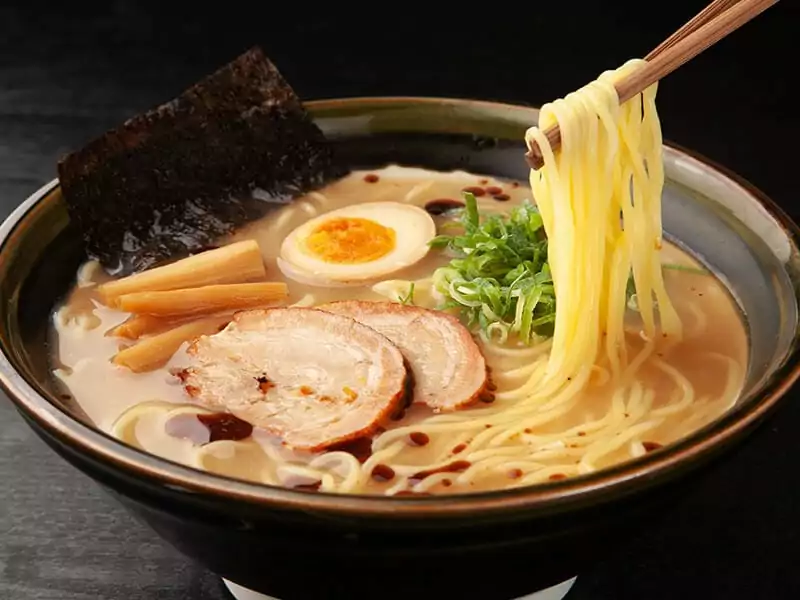 The Marvelous Noodle Trio Of Japanese Cuisine
Among the main eight noodles, there are the fantastic three that dominate the whole cuisine of Japan. Even though Ramen, Soba, and Ramen can be the alternative to each other in most noodle recipes, they are originally and innately different.
With each type of noodle, there are dozens of dishes that can highlight the nature of that noodle. In this section, I will give a prescription for each noodle and why the noodle fits with that specific recipe.
Ramen (Chinese Style Wheat Noodles)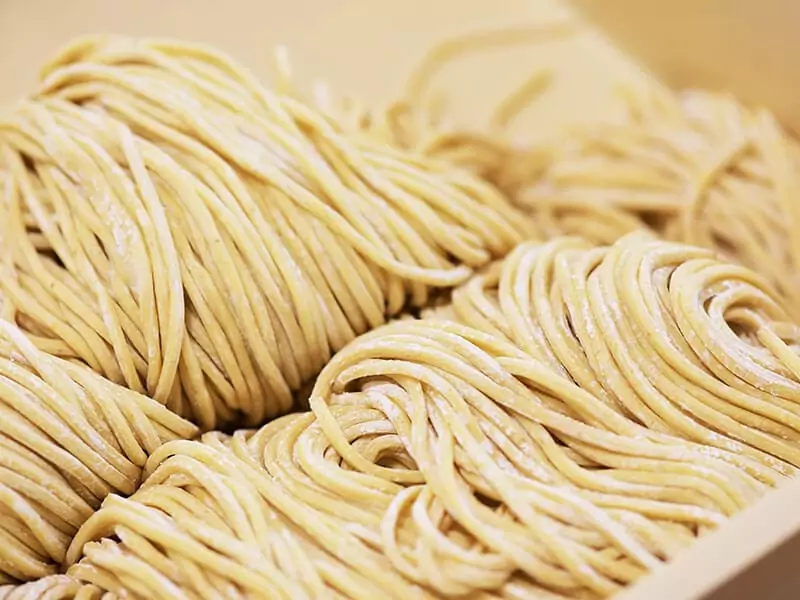 Not everyone notices that Japanese Ramen is intrinsically from China. The word "Ramen" is a derivation from the Chinese word "Lamian". Ramen is a wheat noodle which was supposedly introduced to Japan during the 17th century.
In the 1980s, Ramen gradually became the icon feature of Japan. To show how special Ramen is to their culture, the Japanese opened a Ramen museum in Yokohama prefecture in 1994.
Ramen is often seen in hot recipes due to its chewiness. To make Ramen, you need wheat flour, water, salt, and Kansui (baking soda) or egg. The existence of Kansui (or egg) builds a strong structure for Ramen, which prevents it from turning fragile in hot soup.
"Can I eat raw ramen noodles?" is a question that many people ask. If you're talking about the instant type, then yes, it is safe to consume raw. On the other hand, raw fresh noodles might be hard to digest.
Apparently, there are at least 22 Ramen dishes in the entire country, but that is not the accurate number according to many people. However, that fact is enough to prove the Japanese admiration for their highlighted food.
Total time: 20 minutes.
The science of flavoring Japanese broth is based on three main ingredients: Shio (salt), Miso, and Shoyu (soy sauce). This recipe for Shoyu Ramen uses soy sauce as its soup base. And among the three, soy sauce gives the most umami taste.
Miso is a special Japanese seasoning that is produced by fermenting soybeans with other ingredients. There are three main Miso: red Miso, yellow Miso, and white Miso (sweet Miso).
This broth is remarkable with its tranquility and brown color. You can taste a light savory and smell a special pungent aroma of soy sauce. To give the noodle more heat, you should add chili bean paste into the broth.
Usually, with Ramen broth, it is best to make the soup stock by simmering pork bones for hours. However, if that is too time-consuming, you can use manufactured soup stock for substitution.
The typical toppings of Shoyu Ramen include sliced Chashu (marinated pork belly), Kamaboko (fish cake), scallions, Nori (dried seaweed), and a soft-boiled egg.
Total time: 15 minutes.
Among the three condiments, the salt-based broth is the one with the clearest look. Shio Ramen is also the most simple of the three primary Ramen recipes. Shio Ramen tastes best with fishy ingredients compared with the other two.
Shio Ramen has fish broth which usually comes from simmering Bonito flakes (fermented and smoked tuna) and Kombu (dried kelp). The toppings can be standard and basic, like Chashu, Kamaboko, soft-boiled eggs, etc.
Having visual instruction can help you make Shoyu Ramen more easily.
Total time: 15 minutes.
As I mentioned earlier, there are three main types of Miso. These three main types are distinguished by their ages, colors, and tastes.
They are White Miso, Yellow Miso, and Red Miso. Their order is from the youngest to the oldest age, and their age corresponds with their acidity.
In this recipe, you need Awase Miso. This Miso is a combination of Red and White Miso. Since White Miso is sweet, it helps neutralize the pungent and sour taste of Red Miso. Even though there are similarities between Awase Miso and Yellow Miso, they're not the same.
With Miso Ramen, you will want to use the rich pork broth. The strong taste of Miso can neutralize the richness of pork essence in the broth. Other ingredients to eat along this dish are Chasu, soft-boiled eggs, and scallions.
Total time: About 5 hours.
Without chicken broth, it will be hard to say that your noodle is an absolute Tori Paitan Ramen. This dish has its origin in China, and the "paitan" means "white soup". Its soup needs to be cloudy and thick.
To enrich the soup, you need to properly simmer the chicken for hours. There are many versions of making Japanese Paitan broth, but the must-have ingredients are chicken (chopped into pieces), Kombu, and soup base (Miso, salt, or soy sauce).
After that long-simmering, all essence from the chicken will leach into the liquid. The Chinese vibe and Japanese spirit of Paitan Ramen will be suitable with toppings like bok choy, shiitake mushroom, chicken thighs, and soft-boiled eggs.
This irresistible chicken dish from Japan is incomplete with just the thick soup, crunchy vegetables and tender meat. Having an additional chewy Ramen in this noodle soup is the way to fully relish the recipe.
Total time: Around 20 minutes.
Hiyashi Chuka is a favorite summer meal of the Japanese. Its name means "chilled Chinese" which refers to the Chinese influences on the dish.
The dish includes some summer representatives like cucumber and tomato. Other ingredients that you can typically see are ham, Tamagoyaki (Japanese rolled fried eggs), and Beni Shoga (pickled ginger).
Normally, in an Asian salad recipe like this, you will need to make a sour and salty sauce for the salad's dressing. Hiyashi Chuka is not an exception. To make the sauce, you need to mix soy sauce, rice vinegar, sugar, and sesame seeds.
Ramen in this dish plays a role as a fulfilling element. The dressing is always too much to handle since it's too salty and sour. Therefore, having Ramen in this dish neutralizes the taste when you take a bite.
Total time: 50 minutes.
When you think about Ramen, you imagine a bowl of noodles. What do you think if I tell you there's a Ramen dish that you have to enjoy in two different bowls? Tsukemen is what I am mentioning.
Tsukemen is served in two separate bowls: one bowl for Ramen and the toppings, the other for the broth. To eat this dish the right way, you need to dip your Ramen and food in the bowl of broth before consuming it.
The broth is usually Dashi broth which is made from simmering Kombu and Bonito flakes. It is recommended to use a Miso base for this broth. And the best specialty of this dish is how vividly the cold noodles contrast with the hot broth.
With Tsukemen, Ramen is the best option. However, in some places, people choose Soba or Udon instead. In my opinion, the dipping part demands flexibility and endurance. Both Udon and Soba tend to turn frail in hot soup, so the best option is Ramen.
Learning how to make and eat this special Tsukemen noodle is not a bad idea.
Total time: 12 hours 30 minutes (with 10-11 hours sous viding the pork).
Hakata district of Fukuoka prefecture is where this Tonkotsu Ramen was born in 1955. Tonkotsu is one of the favorite recipes of the Japanese. Back in the 20th century, people used to have this as a fast-prepared meal.
The special thing about Tonkotsu is the hard and chewy Ramen. Since it has to be served after a short time, people don't have the time for the Ramen to be fully cooked. Therefore, the noodle has a hard interior, and somehow, people enjoy it very much.
"Tonkotsu" means "pork bones" in Japanese, which indicates the base of this broth. The other ingredients of the broth include Kombu, chicken carcasses, and other aromatics, like ginger, onion, garlic, etc.
Although this recipe doesn't include these ingredients, I suggest you have them to flavor your broth more. Besides, they are what traditional Tonkotsu's broth needs.
To make the Ramen hard, like the traditional way of enjoying this dish, you can refrigerate it before serving it in your bowl. Therefore, the hot broth can't heat the noodles before you start to chow down.
Total time: 25 minutes.
Sapporo Ramen is one of the five signature dishes from Hokkaido. With the Miso-based broth, this dish has a very thick taste. Not only that, but people also tend to add butter to Sapporo Ramen to increase the creaminess.
This dish is entirely cooked in a wok (a deep rounded-bottom cooking pan). This technique maintains all the ingredients, including the Ramen, to be cooked and sauced evenly with the broth. And to cook anything in a wok at high temperature, you need to have to be very agile.
Cooking in a specialized pot like a wok is also one of the reasons why Sapporo Ramen has a denser broth. Corn kennels, Chashu, scallions, and bean sprouts are the typical toppings of this dish.
Soba (Buckwheat Noodles)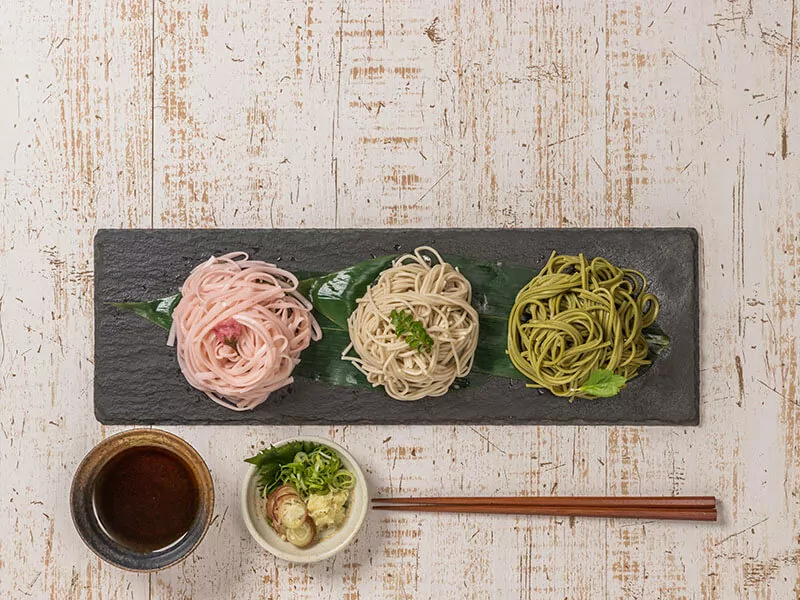 The second member of the trio is made of buckwheat. Soba is thin, and you usually see the gray-brown color version of this noodle. You can serve Soba with cold or hot dishes. However, people tend to use Soba for chilled and dipping dishes.
Soba was born during the Edo period (1603 – 1868), and it once saved the Japanese population from beriberi (thiamine deficiency). Nowadays, people still have Soba as a healthy source of thiamine (vitamin B).
The texture of Soba is described as chewy and dense. Its taste is more nutty and hearty compared to rice flour noodles. Packed Soba appears like Spaghetti Pasta with grayish color before cooking.
Total time: About 15 minutes.
Zaru Soba is the classic of the classics. This dipping dish is simple and very fast to make. All you have to do to make Zaru Soba is boil the noodles and serve them with side dishes. This recipe allows you to taste the natural earthy, nutty flavor of Soba noodles.
People usually dip Soba in Tsuyu sauce. Tsuyu sauce is a soy sauce-based condiment. You can buy this in the store or make it with soy sauce, Mirin, Sake (two types of rice alcohol), Kombu, and Bonito flakes.
The Japanese enjoy having Zaru Soba with a side dish like Tempura. People even give this combo the name "Temzaru". Tempura is a deep-fried appetizer in Japanese style with considerable fame, and you can use this addition to complement this recipe.
You can also mix many types of Soba with different flavors if you want to. A typical combination is regular brown Soba with Cha Soba (green tea Soba).
Total time: Approximately 30 minutes.
When Christmas ends, it means that's the time for New Year's Eve. You know how traditions are seriously important to Asian countries, and the Japanese are not an exception. One of their traditions is to have the Toshikoshi Soba on December 31st.
"Toshikoshi" means "jumping over from the old year to the new year". This dish includes red Kamakobo, Tempura, scallions, and Tsuyu sauce. The vivid colors of this express the good hope for a new healthy and lucky year.
Toshikoshi Soba is a Dashi-based broth. You can taste the sweetness of seafood from both the toppings and the soup. With nutty Soba noodles and savory ingredients from the seas, Toshikoshi Soba metaphorically expresses Japan's insular identity.
Maybe you should try to have Toshikoshi Soba right before New Year's Eve as the Japanese do.
Total time: About 25 minutes.
Cha Soba is not really a dish. It's a type of Soba with a green tea flavor. The combination of the fresh green tea taste with the regular nutty flavor of Soba is favored by the Japanese.
Additionally, you can find Cha Soba in both hot and cold dishes as well. In this recipe, you will learn how to make Miso Soba with this noodle. Complemental ingredients like shrimp and other vegetables go along well with the Cha Soba.
Cha Soba is actually made of buckwheat, salt, water, and Uji Matcha. Matcha is the green tea powder found in many Japanese beverages. Uji Matcha is a high-quality ingredient that comes from Kyoto.
The intensity of good Matcha powder makes Cha Soba develop a natural and distinctive taste. Yet, the flavor is not suitable for all dishes, so you might want to consider it carefully before using Cha Soba as an alternative for your Soba dish.
Total time: About 1 hour.
You have seen Tempura being a side dish and topping, but it becomes the protagonist of a "work of art" named "Ten Soba". Tempura in this dish is not only shrimp but also other deep-fried food like shiitake mushroom, eggplants, etc.
In this dish, Dashi broth appears to be the right flavor enhancement. And the main character of this recipe is its variety of Tempura. There is vegetable Tempura along with the iconic shrimp-based Japanese treat. With nutty Soba noodles as a sidekick, this dish is perfect for your dinner.
The dish appears to be under the heavy influence of green scallions and the pink-red color Kamaboko. With the light yellow of deep-fried Tempura, your bowl of Ten Soba noodles looks delectable and extremely appetizing.
Total time: Around 30 minutes.
A steamed fish filet covered with Soba noodles is what Shinshumushi looks like. This dish is the Nagano prefecture's local dish. Originally, the fish had to be snapper or flounder fish to be called "Shinshumushi", but today, you can use any kind of fish filet that you prefer.
This dish is a simple and artistic way for the Soba noodle to complement the sweet fish filet. The sauce and the spices are minimalized so that you can taste more of the fish flavor. Also, the soup is not very sophisticated, and it is basically Dashi broth with Mirin and soy sauce.
Soba in this dish doesn't need to be the regular brown type. You can use Cha Soba if adding the fresh green tea flavor is your desire. For garnishing, green onions are enough. Beni Shoga is an unsuitable accompaniment since its sour taste can alter and overwhelm the fish's sweetness.
Total time: 25 minutes.
Oroshi Soba is a quick chilled meal for anyone who's in a hurry but still needs tasty and nutritious food. When white grated radish decorates the noodle, you can imagine the freshness and delicacy of this delicacy before actually tasting it.
Other ingredients that you should prepare are Bonito flakes, scallion, and Soba noodles. The combination of savory, sweetness, and bitterness from the ingredients can give you enough energy for the whole day.
The Japanese like to have this dish in the summertime since the juicy radish can give them a cool moment on hot days. Oroshi Soba can be added to your Japanese breakfast menu if you fancy having a cold and flavorful dish in the morning.
Let's create healthy Oroshi Soba with this guide.
Udon (Thick Wheat Noodles)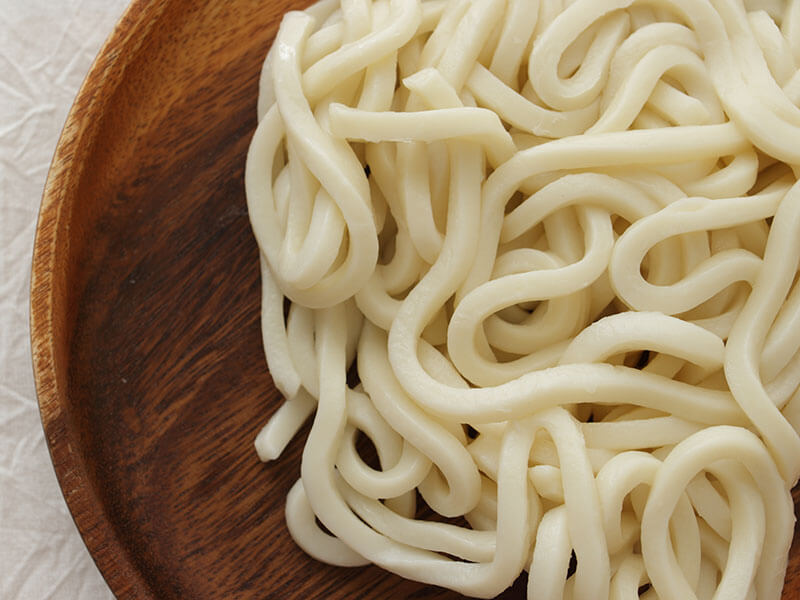 Udon is the thickest noodle that you might have ever seen. It's made from wheat flour, water, and salt. Usually, you can see Udon is served in hot dishes with Dashi broth. Of course, there are cold and dipping Udon recipes as well, but they are not as popular.
Just like Ramen, Udon is actually from China and came to Japan during the Tang dynasty (618 – 907). Nowadays, you can find Udon everywhere in Japan and especially in Osaka.
Udon noodle has a chewy and elastic texture. People say that it tastes sweet and is really suitable for mildly salty dishes.
Total time: 10 minutes.
To make Kake Udon, you need to be thorough about Kakejiru, a broth made from Dashi, Miso, and soy sauce. Apparently, you have seen this broth recipe in the previous dishes, but in the case of Kake Udon, the broth making is actually more complex than the others.
Kake Udon is extremely simple, and it is one of the traditional signature dishes of the Japanese. The ratio of the three key condiments (Miso, soy sauce, and salt) in the broth is the secret to getting the best taste of Kake Udon.
Biting the thick Udon while enjoying the soup is what you want when you intend to make this dish. The garnishes are very basic, with just green onions. And of course, you can add more proteins like Kamaboko or Chashu, but you may miss the traditional joy of Kake Udon.
Total time: 30 minutes.
This dish has Dashi and soy sauce-based soup. Another more traditional version of Miso Nikomi Udon is using Bonito flakes and Hatcho (a local Miso in Nagoya city) to flavor the soup. And this later version shows more colors than the original Miso Nikomi Udon.
You can regularly see Kamakobo, eggs, Aburage (fried tofu), and scallions in a standard bowl of Miso Nikomi Udon. This bowl can fulfill you for a whole day culinarily and physically. Its cozy broth gives you nothing other than the flavor of homemade soup.
Hatcho Miso is not always available in your local store, so you should order online before making the dish. If you can't find the genuine Hatcho Miso, you can use regular Awase Miso (the mix of red and white Miso) for the dish.
Total time: 35 minutes.
Nabeyaki Udon is no more than a popular Japanese soup recipe without its unique serving method – in an earthenware pot (a clay pot). But you don't have to buy one to savor this dish. Nabeyaki Udon tastes the same in your everyday bowl.
The right flavor of Nabeyaki Udon broth comes from the Dashi, soy sauce, Mirin, and dried shiitake mushrooms. You can replace Dashi with chicken stock (you can use processed chicken broth if you don't have much time).
"Nabe" means "hot pot" in Japanese. Therefore, you can see people put a lot of ingredients in just one bowl of Nabeyaki. The options vary from crispy Tempura to healthy bok choy.
There's actually another version of Nabeyaki but with Ramen instead of Udon. However, Udon is still a better option, according to many people's opinions, probably because its thick and chewy texture is more suitable for a dish like Nabeyaki.
Total time: 45 minutes.
If you are not into watery noodle dishes but still love this ingredient, Bukkake Udon is the answer for you. The "splash" (bukkake) in this context is the splash of Dashi broth on the noodle and its toppings. The dish is basic and doesn't take you too much time to prepare.
The usual ingredients include a boiled egg, scallions, nori, and other protein sources like shrimps or porks. The broth is also very simple with familiar condiments like soy sauce, Mirin, and sugar.
The dry nature of this dish will push you to salivate while eating it. Unlike with other noodle soups, you can taste the ingredients more clearly due to the absence of liquids.
However, the con of this joy is how dehydrated your mouth will be. Therefore, I suggest preparing a cup of water to drink along.
Bukkake Udon is an interesting dish that you should try at least once in your life.
Total time: 20 minutes.
Tsukimi Udon has an aesthetically pleasing look with the "moon" in the form of a raw or poached egg in the middle of the noodle bowl. "Tsukimi" in Japanese is "viewing the Moon". In this dish, the moon is the red egg yolk.
This is another very easy recipe to follow. The broth is just Dashi broth with some soy sauce and Mirin. For the topping, you only need an egg to complete the meal. The hot broth will cook the egg after you drop it in.
Tsukimi Udon is just a quick comfort snack for the Japanese on freezing winter nights. Since Udon noodles are cooked fast, it is suitable for a quick dish like this one.
Total time: 15 minutes.
This is another cold Udon dish if you want a chilled meal. The food is flavored with Tsuyu sauce and decorated with various vegetables. The compulsory ingredients that you have to get, besides Udon noodles, are cucumber, tomatoes, and Tenkasu.
The "tanuki" part in this dish's name is still a mystery to many. In different areas, "tanuki" represents different dishes. In Tokyo, Tanuki Udon implies the Tenkasu part in the dish. In Kyoto and Osaka, "tanuki" means "Kitsune Soba" instead of Tanuki Udon.
Even though "tanuki" in Japanese means dogs or raccoons, there is no association between Tanuki Udon with those animals.
About Tenkasu, it is actually fried Tempura batter. The Japanese love adding this ingredient to some of their dishes like Tanuki Udon. Therefore, the "tanuki" part might indicate the Tenkasu part.
If you love summer salad, I'm sure that you would like this Tanuki Udon recipe. People often give the dish more flavor with boiled eggs, seaweeds, and Daikon (sweet grated radish).
Total time: 20 minutes.
This is a cold dish that you can't miss on hot days. Hiyashi Yamakake Udon only asks you to do three simple steps to make it: cook the noodles, cool them (with ice or refrigerate it for some time), and serve it with grated mountain yam.
The highlight of this dish is the grated Japanese mountain yam called Yamaimo. You can easily find Yamaimo online or at your local supermarket. This ingredient has a mildly sweet and creamy flavor that is pretty distinctive from Western cuisine cream.
Traditionally, the Japanese have this dish during the summer months when they suffer from intense heat. You may enjoy making Hiyashi Yamakake Udon for your lunch as well. Just give it a try!
Total time: 15 minutes.
You probably have heard about Curry Rice. However, the Japanese love varying their cuisine by changing the ingredients around. Instead of having curry with rice like they habitually do, Japanese people sometimes alternate it with the versatile Udon noodle.
The Japanese curry taste is so much different from the Indian one. Instead of a drastic heat from many Indian spices, the Japanese curry comforts people with a dense umami taste.
However, in the case of Curry Udon, you need to dilute the sauce a bit with Udon broth (Dashi-based-broth). The soup of this dish is thinner and more watery than regular Japanese curry dishes.
Curry Udon can be your lunch or dinner. It is flavorful and nutritious. Adding more toppings like Tempura or sliced beef is optional, but it can make your food more enjoyable. Having vegetables to neutralize the richness in flavors of Curry Udon is also recommended.
You should try to make Curry Udon for your lunch or dinner once. You might root for it after that.
Several More Incredible Noodles From Japan
Besides the big three, I want to introduce you to some other lesser-known noodles. These types might not be as common, but their tastes are incredible. In my opinion, they deserve more attention.
Total time: 15 minutes.
Harusame might not be as familiar as other noodles, but its taste is irresistible. Aesthetically speaking, Harusame has a more decent and elegant look than the rest of the team.
It is made of starch from either potato, sweet potato, or rice. Therefore, it looks crystal-clear like strings of glass. With Harusame, you can make a chilled dish like Harusame Salad or a hot noodle soup like this post.
Nutritiously, this noodle contains considerably fewer carbs than others. If you are on a diet, I suggest adding Harusame to your menu to lower the carbs intake while getting more healthy starch.
This Harusame soup contains all nourishing ingredients like Wakame seaweed (a common type of Japanese seaweed), fluffy eggs, and tofu. These ingredients are not only helping you with your diet but also give you good fiber to enhance your gastrointestinal systems.
Total time: 15 minutes.
Perhaps Somen noodle is the thinnest one in Japanese cuisine. It has a spaghetti-like form when uncooked and gets extremely flexible when cooked. Somen is the slim version of Udon since they are made with the same method but in different sizes.
The simplest way to enjoy this noodle is to boil it and chill it with ice. In a way, that recipe sounds like Zaru Soba. The difference is their taste since Somen gives a sweet taste from wheat flour while Soba brings about a nutty flavor.
This dish is called Hiyashi Somen, and the way you eat it is like Zaru Soba. Give Somen a chance to express its latent taste! You can prepare Ponzu sauce or sweet soy sauce to dip your noodles in. Side dishes like Beni Shoga or Tempura are totally suitable.
To make Hiyashi Somen, you just need to simply boil the noodle and let it chill in a bowl of ice or cold water. The garnishes typically include grated ginger and scallions. A single parsley leaf on top can make the dish look more elegant.
Total time: 15 minutes.
Shirataki is like Harusame since both of them are made of starch instead of flour. The difference is that the former's ingredient, Konjac starch, is so much more expensive than rice or potato starch in Japan. In the past, Shirataki was only served to the nobles and royals.
Another name for Shirataki is "white waterfall" due to its translucent look. You can use this ingredient for both cold and hot dishes. In this post, I would like to introduce to you the Shirataki Sesame Salad.
This dish can be made simply by preparing the sauce with soy sauce, sesame, minced garlic, minced ginger, and sugar. These ingredients later give the dish a unique fresh aroma. You can dress the noodles with this sauce after draining the boiled water.
One of the notable problems with Shirataki is its smelly packaged water. You need to boil this noodle for at least 2 minutes to fully get rid of the awful odor.
Total time: Approximately 7 minutes.
Making this noodle is exactly like making jelly with gelatin powder. Tokoroten has been a traditional ingredient of the Japanese for over a thousand years. The noodle alone is tasteless, so people eat it with salty or sweet sauce.
It was introduced to Japan from China back in the 8th century. In the Edo period, Tokoroten was the favorite snack of the people in the summertime. You can make this Japanese sugary dish easily with things lying around your kitchen.
In the recipe, you can enjoy this tasty Tokoroten noodle in a savory form. The sauce is commonly made by mixing vinegar, soy sauce, dried pepper, nori, and sesame seeds. The sweet version needs a sweet sauce like Kuromitsu (sugar syrup) and fruit toppings.
You can learn how to make Tokoroten the traditional way from Tengusa through this detailed instruction.
Total time: 45 minutes.
Houtou is a 1,200 years old noodle in Japan, and it's famously known for being the main ingredient of Houtou (or Hoto) noodle soup. The dish's broth is distinctive from others due to the addition of the pumpkin flavor.
Some people say Houtou is basically flat Udon noodle, and there's nothing too fascinating about it. However, I feel like this statement underestimates the noodle.
Houtou doesn't have a smooth look like Udon when its starchy taste is denser than the others. Therefore, for a sweet noodle soup like Houtou, this noodle can complement the pumpkin sweetness more than any other noodle.
To make traditional Houtou, you need to boil Kabocha (Japanese winter pumpkin) in the broth until it's melted. Another highlight of Houtou is using Niboshi (dried anchovies) instead of Bonito flakes in the Dashi broth.
Total time: 15 minutes.
"Yaki" in Japanese means "stir-frying", "broiling", or "grilling". However, there's something with the noodle in this dish. The "soba" in Yakisoba is not the buckwheat noodle that you always know.
This type of noodle is actually Chinese wheat flour (Chuka noodle). The dish is also flavored mostly with Worcestershire sauce and topped with ingredients like pork, cabbage, onions, etc.
In some cases, people use Udon noodles to replace the Chuka variety in Yakisoba. But this substitution isn't common. In my opinion, it changes the whole concept and the special mouthfeel of Yakisoba.
You Have Gathered Enough Japanese Noodles For Your Future Use
Is that enough to satisfy your curiosity over Japanese noodles? Of course, there are many more noodle recipes in Japanese cuisine. However, these 28 recipes stand out to be the best of the best in my opinion.
Today, you have learned about nine types of Japanese noodles and how to make them. You are also well-versed in the combination of other ingredients with each noodle and the science of making the suitable broth for them.
I expect that you have gathered what you were looking for. Therefore, you should tell me what you think about this post in the comment section below. Also, I think your friends would love to receive your share about this post if you find it informative.
That's the end of the journey. Until next time, take care!
Nutrition Facts
2 servings per container
---
Amount Per ServingCalories415
% Daily Value *
Total Fat 14.7g

22

%
Sodium 1874mg

79

%
Potassium 82mg

3

%
Total Carbohydrate 35g

12

%

Dietary Fiber 0.5g

0

%
Sugars 3.2g

Protein 6.3g

12

%
---
* The % Daily Value tells you how much a nutrient in a serving of food contributes to a daily diet. 2,000 calories a day is used for general nutrition advice.