Can you eat ramen raw? Instant ramen noodles are a staple of students living in dorms or anyone who is short on time and loves the convenience of the food.
It's fuss-free and habitual to cook a tasty bowl of ramen noodles in a matter of minutes. You just need to open the package, toss everything in the high-quality ramen bowl, pour in the boiling water, and you're good to go.
However, while you're at it, have you ever paused for a moment to wonder if you can eat ramen straight from the package? If yes, here's the answer!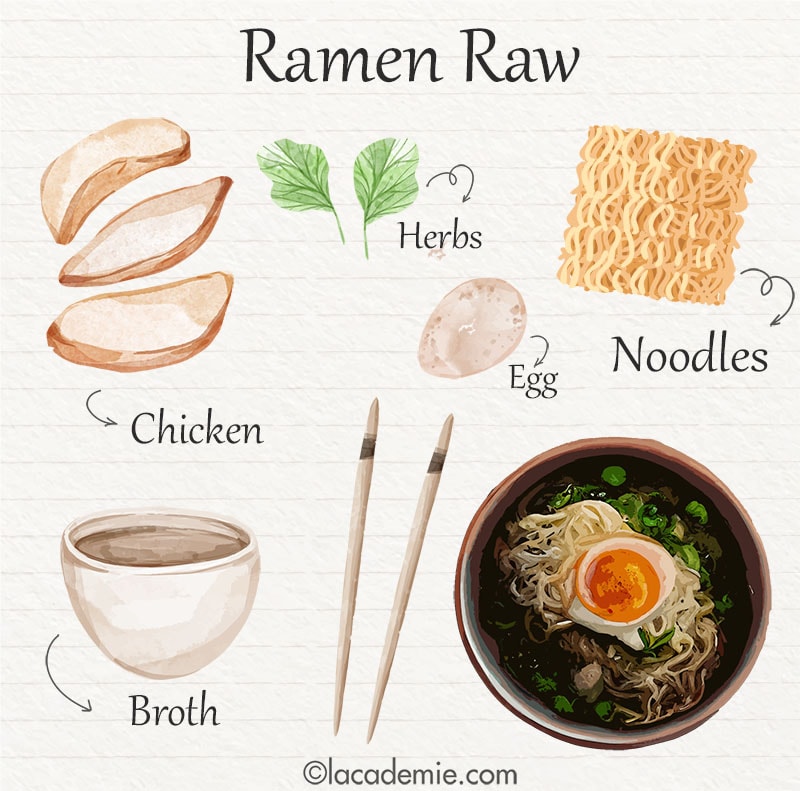 What Is Ramen?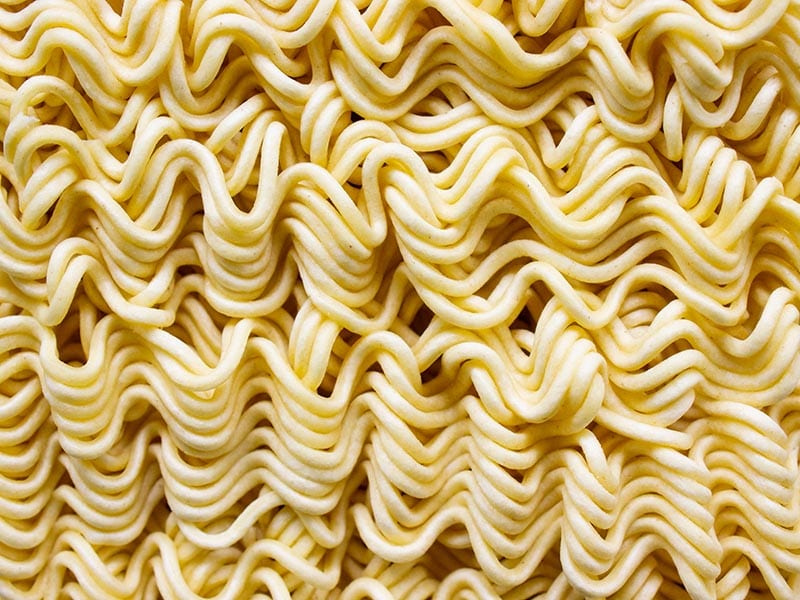 Ramen is a popular kind of Japanese noodles, and it can also be known as instant noodles or instant ramen. Ramen is usually sold in the form of pre-cooked blocks together with flavorful seasoning sachets. They are known for simplicity in preparing, low cost, and convenience.
Ramen is made from four key ingredients, including wheat flour, water, salt, and an alkaline mineral called kansui. Kansui is what gives ramen the characteristic elasticity, chewy and springy texture, and yellowish tinge.
There is no dairy or meat in its main ingredients, so you don't have to worry whether ramen is vegan. However, keep in mind that people usually don't eat ramen on its own but with broth and other toppings, which might or might not be vegan-friendly.
The ramen noodle types that you see in stores are actually pre-cooked and dehydrated (to soak away all the moisture that can shorten its lifespan). For this reason, they have quite a longer shelf-life and can be easily boiled back to life in a matter of 2-3 minutes.
How Is Ramen Made?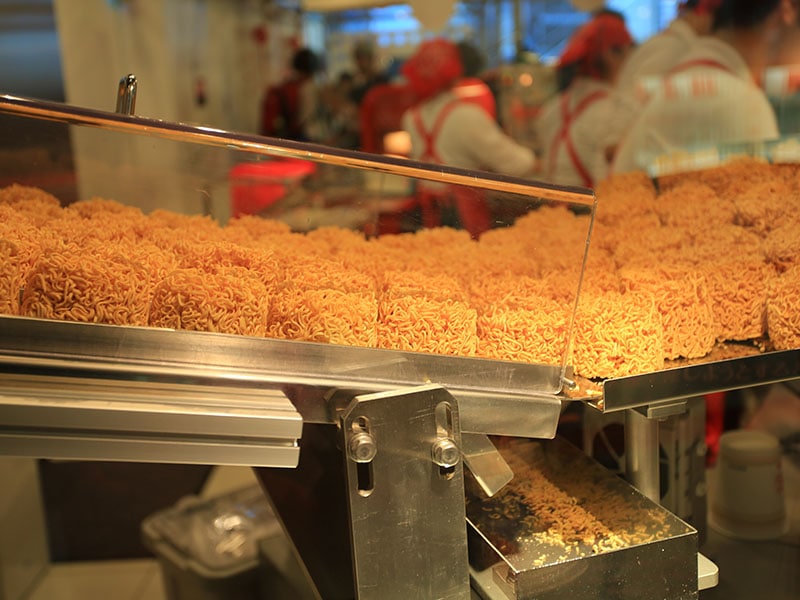 Here is the brief process of ramen making:
After mixing all the ingredients, the ramen dough is kneaded, rolled, and pressed into long pieces. Next, these long pieces are sliced into smaller ramen threads, as shown on the package. This is followed by the pre-cooking stage, where ramen pieces are steamed.
The steaming stage leaves the ramen noodles with a great deal of moisture, which can ruin them in no time. That's why ramen noodles need to be further processed with heat to remove the moisture as much as possible.
There are two main methods of dehydrating ramen noodles:
Deep-frying
Frying ramen noodles at high temperatures can dehydrate the noodle strands virtually completely. This traditional approach also creates numerous holes in the noodles, so they can easily rehydrate after the water is added.
Blow-drying
Blow-frying the ramen noodles at a high temperature can also be a way to take away the moisture. Nevertheless, the process does not leave tiny holes in the noodle strands. As a result, blow-fried ramen can take two or more extra minutes to rehydrate when steeped in water.
The process of making instant ramen in a Nongshim factory.
Can You Eat Ramen Raw?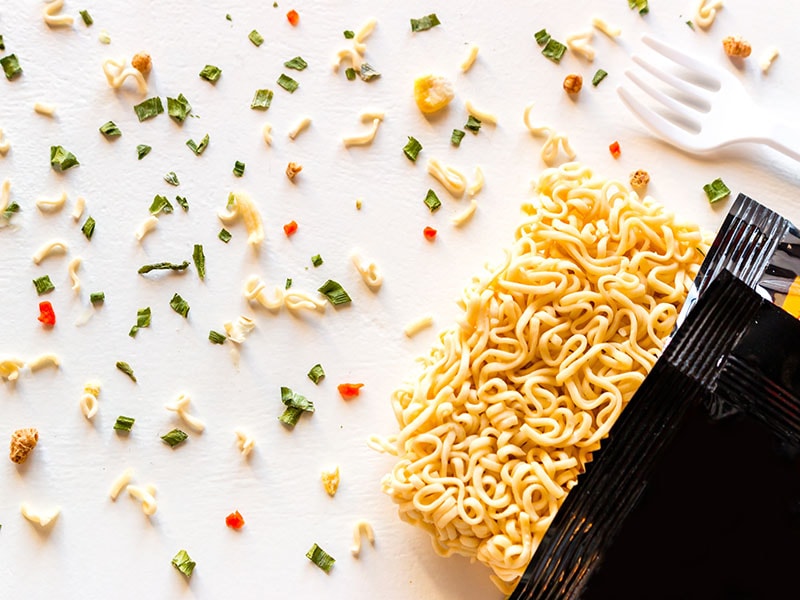 Yes, you can eat ramen raw. These raw noodle strands can make a tasty, crunchy snack. It is because the dry, instant ramen noodles are already cooked, so there's nothing wrong if you decide to snack on them.
Instant ramen is fully processed after undergoing heat treatment, including steaming and deep-frying/blow-drying. As a result, harmful microorganisms and parasites are removed along the way. This means that you're enjoying a big helping of fried noodles, even without "frying them".
Therefore, dry ramen straight out of the package is edible and digestible, and you should not encounter any issues related to stomach or overall health, just as you would with the boiled/cooked versions.
Besides turning your dry instant ramen into a tasty snack, you can use the crushed, dry noodles as a crunchy topping for your salad or as a breading for other foods. If you're interested, check out the section below for more detail!
Can You Get Worms From Eating Raw Ramen?
No, you rarely get worms from eating raw ramen noodles.
Worms are essentially parasites, and they only harbor living organisms. You risk yourself getting tapeworms from eating raw meat, such as pork, fish, beef, etc., but rarely from raw or cooked instant ramen noodles.
Dry ramen noodles, therefore, cannot be their potential hosts. It's very unlikely that they can attract and carry worms to transmit them to the human body.
In addition, the process of manufacturing ramen is a rigorous one, which involves multiple steps with grinding, kneading, steaming, frying/drying, and pasteurizing. This means that worms should be a muscular superbug to be able to come out of this process intact to upset your stomach.
If you suffer from worms after consuming raw ramen noodles, chances are you are exposed to bugs when left for an extended period in an unhygienic environment.
These worms are usually parasitic and thus are unlikely to survive in your mouth or stomach. Therefore, if you consume food of any kind, raw ramen noodles included, don't leave them for a long time after opening the package.
What Are The Benefits Of Eating Ramen Noodles?
Instant ramen has a special place in the grocery aisle for good reasons. Here's why this convenience food is well-loved by many people around the globe:
Cheap & Convenience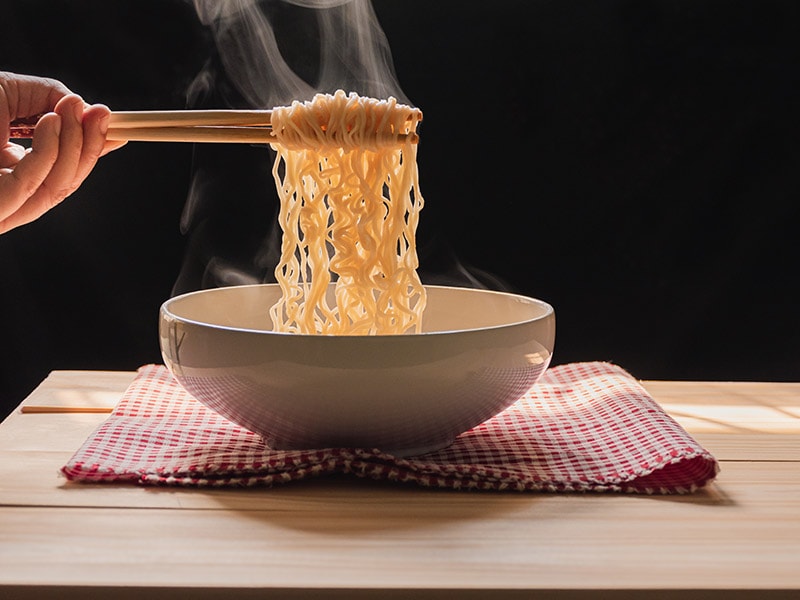 Instant ramen noodles are one of the quick and easy foods that seem to do the trick for anyone who is short on time and money. They are practically a life-saver for college students.
A filling bowl of ramen noodles can be prepared in your microwave in a couple of minutes. You don't need anything but a bowl, microwave, and water. Some products even come in sealed packages that you can reheat and eat straight out of them.
Obviously, instant ramen is your last port of call whenever convenience is the top priority.
Taste Good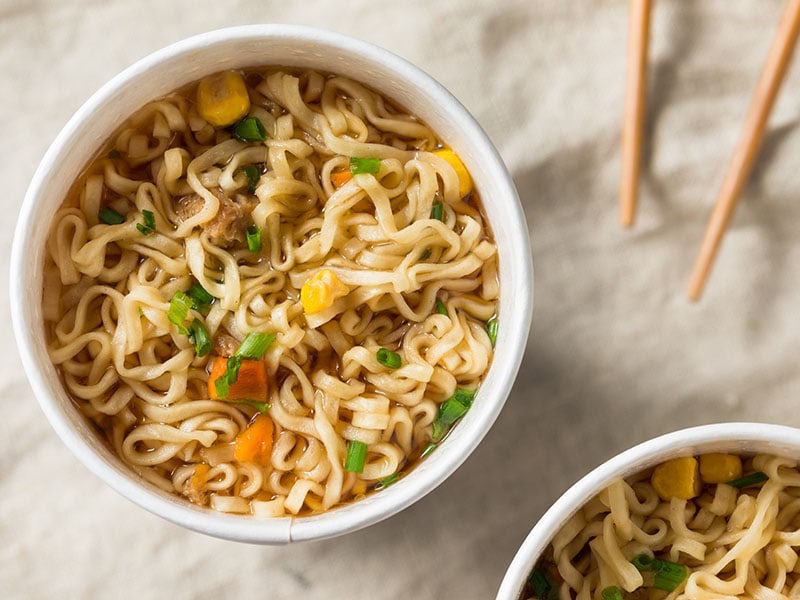 There are fewer things more satisfying than slurping on a steaming bowl of ramen noodles on rainy days, late nights, or whenever the mood hits. Raw ramen, on the other hand, can make for a comforting and flavorful late-night snack.
Even some of the most sophisticated palates have to admit the addictive taste (thanks to umami in it!) and the good texture of the ramen. All brands have their ramen recipes developed by pro chefs, so there's no wonder why instant ramen, in general, has built a huge fan base all around the world.
A Source Of Vital Micronutrients
Consuming instant ramen, raw or boiled, has been linked to an increased intake of some of the essential micronutrients, such as manganese, iron, folate, B vitamins, etc. According to a study, iron in noodles can help lower the risk of anemia – a condition when your body lacks this micronutrient.
Some "high-end" packages (often the more expensive ones) are also formulated with added nutrients.
In addition, many brands are now using fortified wheat flour. This new version of flour can provide you with more micronutrients without compromising the amazing taste and texture of these squiggly noodles.
A separate study (1) in 2011 has shown that people who ate instant ramen had a 16% higher intake of riboflavin and 31% higher of thiamine compared to the group who did not consume the food.
Easy To Customize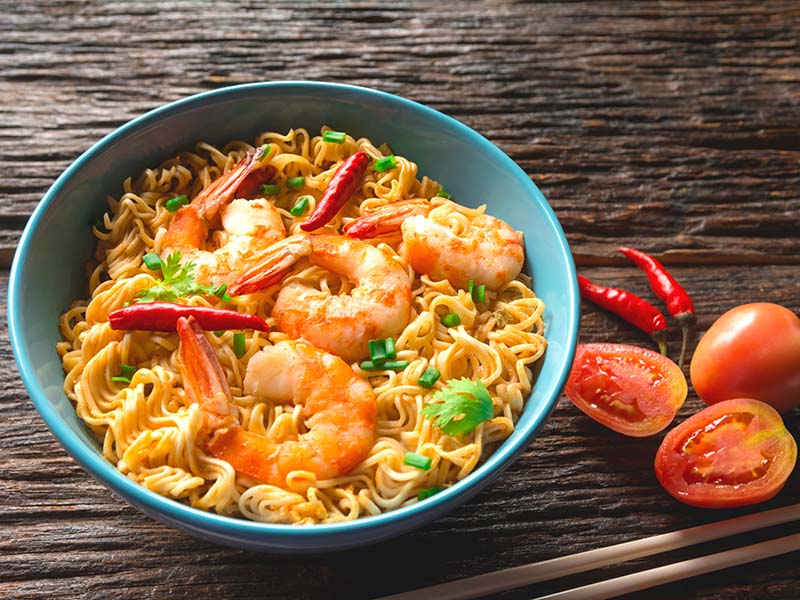 Instant ramen might have a bad rap for low nutrient content. On the bright side, the food is quite easy-going, and you can add an array of ingredients to make them more nutritious and create the flavor you want.
The possibilities are endless when it comes to mixing and matching your instant ramen with veggies, sauce, various types of meat, and broths. Home-made broth from real bones, for example, is a great way to level up the nutrient values of instant ramen.
Even when you crave dry instant ramen, there are various ways to make it more appealing to your palate, such as crushed pieces as topping or breading for other foods, which I'll go into detail in the section below!
How to make a mediocre package of instant ramen fancier!
Wide Variety Of Flavors For Choosy Palates
You might get lost when browsing in the "instant noodles" store aisle, as there are so many choices for everyone. You may want to go with traditional flavors such as beef, chicken, shrimp, etc., or try new recipes like Korean, Japanese, or Chinese flavors.
What Are The Downsides Of Eating Ramen Noodles?
Crushed ramen with powdered flavor sachet is a well-beloved snack in Japan, Korea, and many other Asian nations.
Dry, raw ramen noodles are no different from their boiled or cooked versions in terms of nutritional values. Hence, they share the same downsides as cooked ramen noodles, so let's lay them out anyway!
Low Nutritional Values
While the amazing taste and convenience of instant ramen noodles cannot be denied, their nutritional value is still quite a controversial topic. This might vary slightly across the brands and the type of wheat used to make the noodles. However, instant ramen noodles are usually low in nutritional content and cannot qualify as a substitute for a balanced meal that you can eat every day.
Below is the nutritional value of a serving of instant ramen noodles (43g):
| | |
| --- | --- |
| Nutrient | Content(2) |
| Calories | 385 kcal |
| Carbohydrate | 55.7g |
| Total fat | 14.5g |
| Saturated fat | 6.5g |
| Protein | 7.9g |
| Fiber | 2g |
| Sodium | 986 mg |
| Thiamine | 0.6 mg |
| Niacin | 4.6mg |
| Riboflavin | 0.4mg |
Instant ramen noodles are low in calories, protein, and fiber while having a bad rap for high fat, sodium (3), and carbohydrate content. Your body can get some micronutrients from a package of ramen noodles. However, they fall short in vital nutrients such as vitamin A, C, B12, and many more that a healthy, balanced meal would require.
Sodium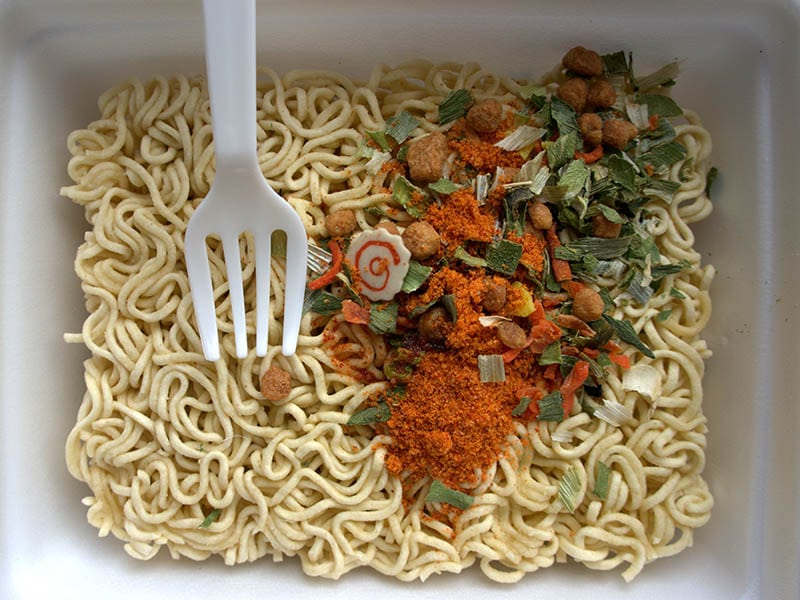 The major concern with either raw or boiled ramen noodles is their sodium content. Sodium is an essential nutrient that our body needs to keep the optimal balance of minerals and water and help with proper nerve impulse conduction and muscle contraction.
The thing is, the human body only requires a very small amount of this nutrient, about 500 mg daily, to maintain these vital functions.
Over-consuming sodium has been shown to correlate with a higher risk of stomach cancer, heart disease, and stroke. A diet that is high in sodium also puts salt-sensitive individuals at a great threat of high blood pressure. This, in turn, can be harmful to their kidney and heart health.
Preservatives + Flavor Enhancers
According to the FDA, most instant ramen noodles typically contain tertiary-butylhydroquinone (4) (TBHQ). This petroleum derivative ingredient can help prolong the shelf-life of noodles by preserving smell, flavor, and color thanks to its antioxidant properties.
In addition, there are other artificial color and taste enhancers found in instant ramen noodles. Monosodium glutamate (MSG) is the mainstay among these preservatives, which makes instant ramen taste umami (a Japanese word that means "tasty").
MSG is only considered safe if used in moderation. Consuming this flavor enhancer in excessive doses can cause detrimental implications for your health.
How To Eat Ramen Raw?
Now, you can rest assured that eating ramen raw can be another interesting way to enjoy this convenient food. Before busting out the ramen package and sachet, you may want to check out some popular ways to transform raw instant ramen into a lip-smacking food:
Crushed Ramen With Seasoning Sachet
The most common way to savor dry, instant ramen noodles is to eat them plain or with the seasoning packet they come with.
You may want to crush the noodles while the package is still sealed by punching it. This way, you can break apart the ramen brick inside. Depending on your preferences, it's ok to crush them into tiny pieces or only large chunks.
Next, open the package and take out the flavoring sachet. Sprinkle some seasoning but never go overboard. Pouring the whole sachet only leaves you with a snack that is too salty to savor. Once the seasoning is done, seal the package and give it a good shake.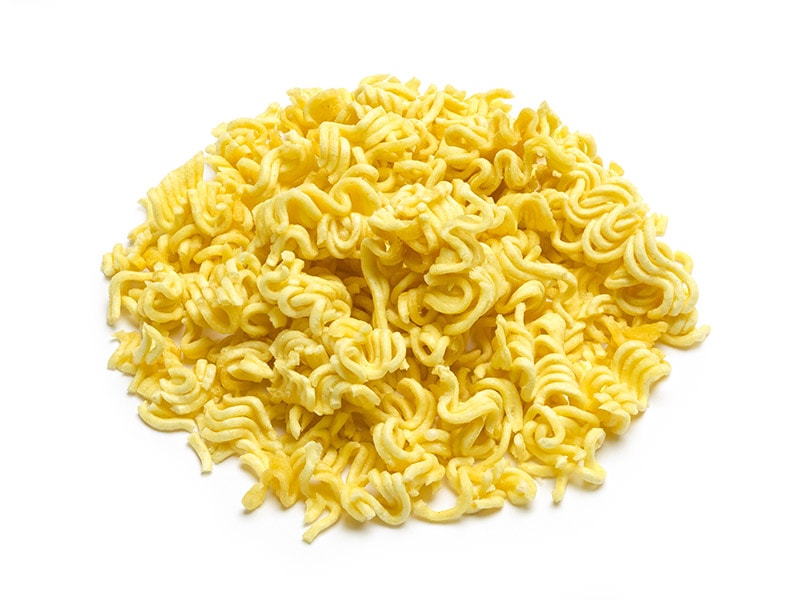 Raw Ramen As A Crunchy Salad Topping
Dry, uncooked ramen can be a great ingredient for flavorful and delightful ramen noodle salad. The broken pieces of ramen add a crunchy touch to the salad. The sooner the salad is served, the crunchier it is.
Yet, it all comes down to your preferences about how long to wait to eat the salad. You might want to enjoy it immediately for the crunchiness or wait for a few minutes for the raw ramen to slightly soften but still have the crunch in it.
How to incorporate instant ramen into Asian coleslaw salad.
Breading For Other Foods
You can also use raw, unseasoned ramen as breading for chickens or fish. This can make a delightful twist to the traditional version with breadcrumbs.
After rubbing ramen seasoning onto the chicken or fish, you should dip it in flour, beaten egg mixture, and right into the ramen. Spray the ramen-coated chicken or fish with a non-cooking spray, and it is ready to go into the deep fryer.
Fried, crispy chicken wings with raw instant ramen as a crunchy coating.
Best Ramen Brands
I am sure that everyone has tried at least one brand of instant ramen in their life. Do you want to take a break from the brand that you have always bought from and try something new (and equally good or better)? If yes, below are the highly recommended noodles for your favorite ramen: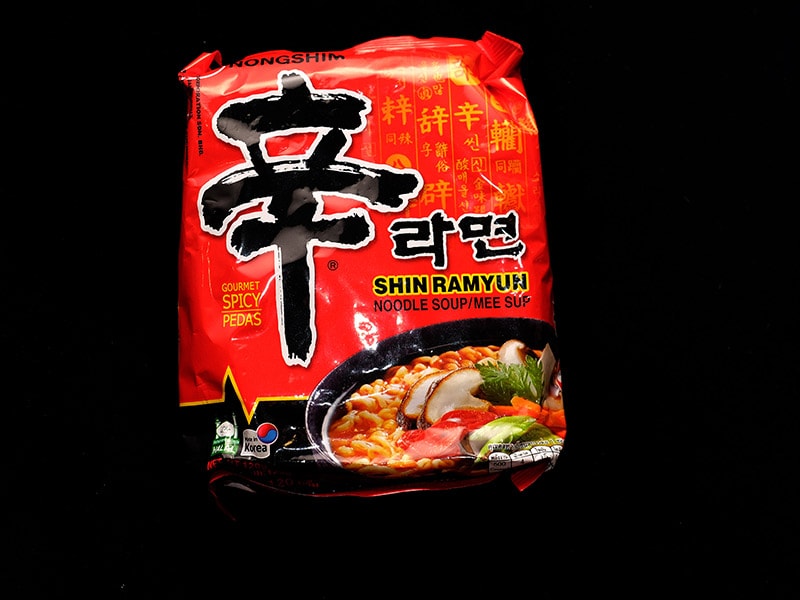 Nongshim ramen is slightly more expensive, but its quality is definitely worth the price. The "Shin ramen" flavor from this brand is a crowd favorite, so make sure you don't miss it if you opt for this brand.
They manage to bring out perfect textures for every strip of their noodles. The chewiness is also top of the line as it holds up well in the boiling broth. Nongshim ramen is a great choice if you're a fan of spicy food.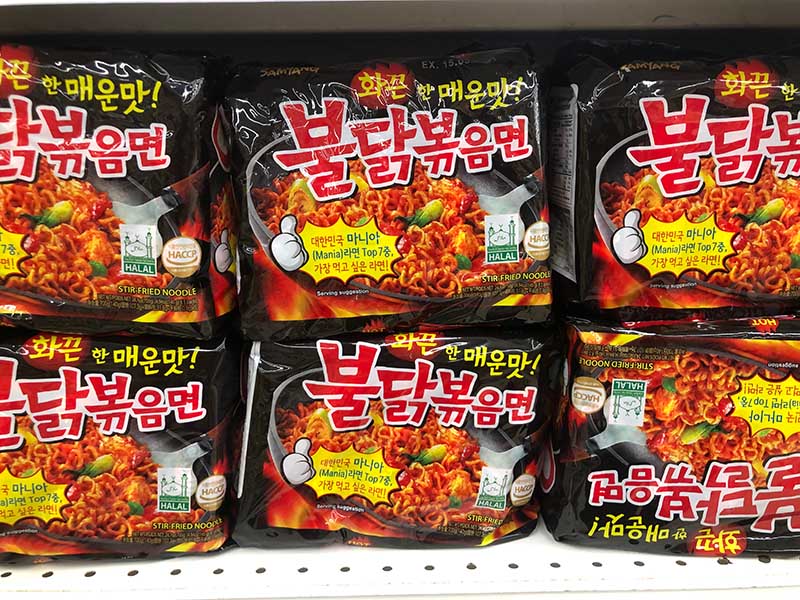 For something that is seriously spicy to enjoy in a cold setting, it should be Samyang ramen. This is a familiar brand that you might come across in many Youtube videos (check out Fire Noodle Challenge if this brand doesn't ring a bell to you).
The noodles are scrumptious, spicy, and extremely hot, so think twice if you can't handle the spice. Everyone also loves the touch of sweetness in the formula.
Nuclear Fire Noodle challenge with the world's spiciest instant ramen.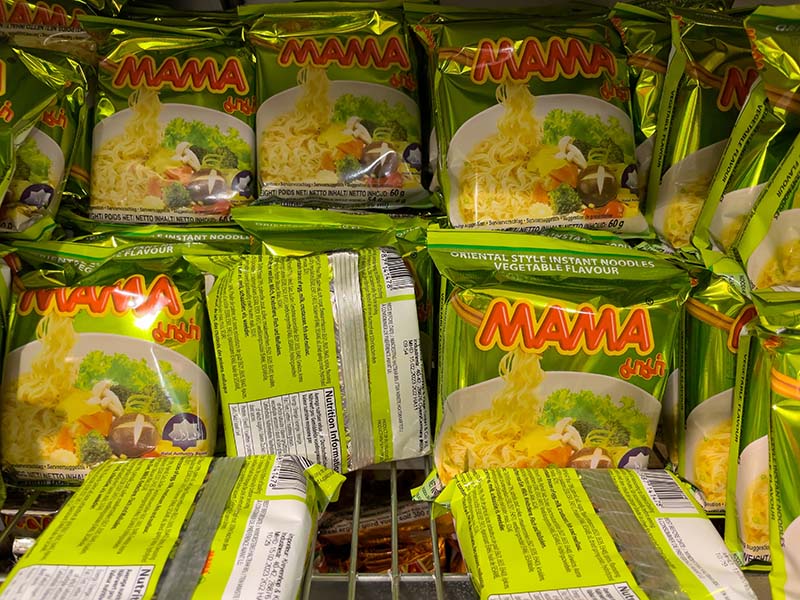 Like Nissin ramen's chicken flavor, what makes MAMA ramen stand out is the scrumptious broth. Instead of basic, traditional flavors, the brand manages to develop new and amazing flavors such as tom yum pork and duck. They give a fresh breath of Thailand cuisine into the package, with ingredients like coconut or Thai basil. Def worth a try if you want something nice and fresh.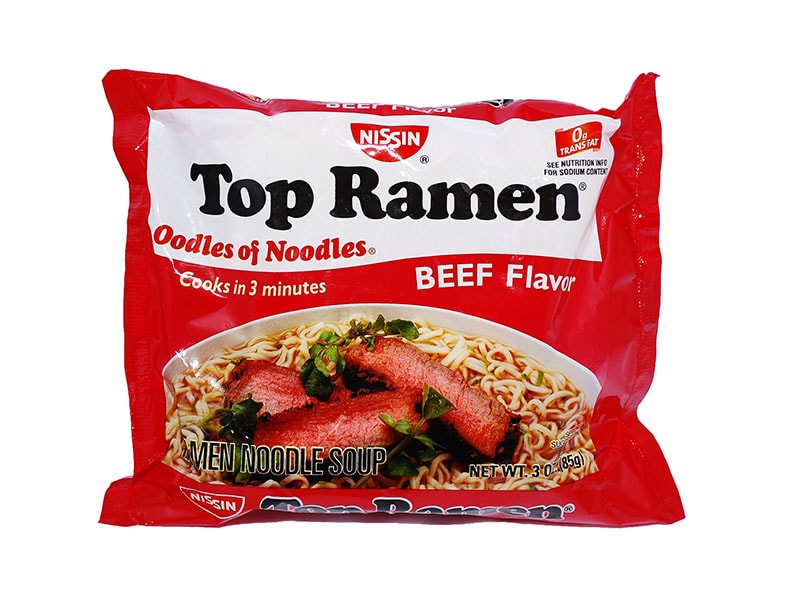 Nissin top ramen is also well-known among instant ramen fans. The Top Ramen's chicken flavor from this brand is among its best lineups. The star of the show is the golden, rich, and vegetable-tasting broth. It's beyond a delicate chicken soup and is something that you want to finish off in one sitting.
Interesting Ramen Recipes That You Can Try
You can spruce up that little, cheap ramen package with these inexpensive upgrades. Here are some recipes that you might want to give a go:
Season as normal! Crack open an egg into the boiling broth. Then add a pat of butter before adding in slices of your favorite cheese. Finish with chopped scallions and toasted sesame seeds to give a boost of flavor. The trio of cheese, butter, and egg creates a rich, creamy coat and also deepens the flavor.
Prepare your perfect sauce with garlic, honey, lime juice, and cayenne. Then, sautee onions, broccoli, and bell peppers until tender. Add the sauce to the skillet of veggies, and then boil ramen noodles and seared steak. Give the skillet a good toss to combine everything, and you're good to go!
This recipe has less than 400 calories, which can be a great option if you're keeping your pounds in check. The thinly sliced chicken breast or thigh will provide you with the protein that your body needs, whereas the broccoli atop can make the dish help balance out the taste.
Toss everything in your homemade sauce made from low-sodium soy sauce, brown sugar, rice vinegar, chicken stock, and cornstarch. And voila! A filling bowl of ramen noodles coated with sweet and flavorful sauce comes together in no more than 20 minutes!
How To Make Your Ramen More Nutritious
While instant ramen comes with high sodium content, dubious-sounding ingredients, or low nutrient values, there are various ways to introduce more nutrition into your bowl and also make it better:
Serve With Plenty Of Veggies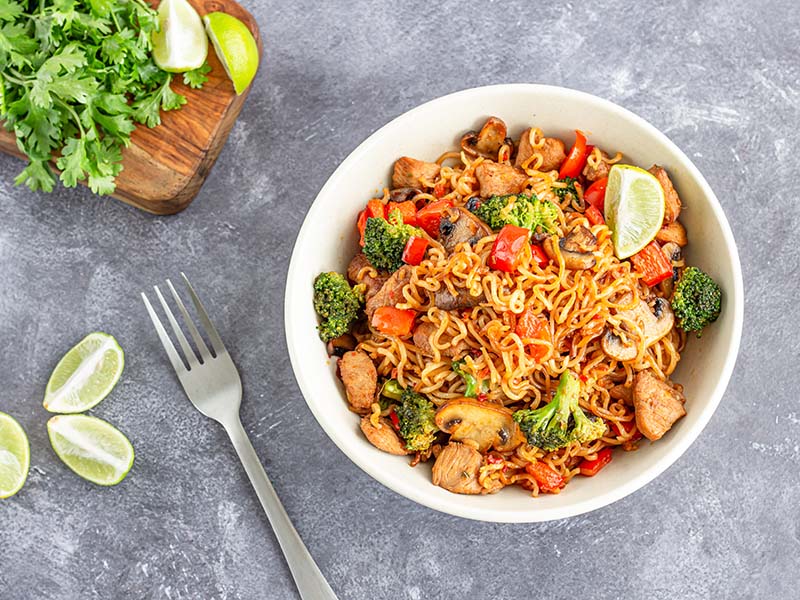 Veggies are packed with nutrients and vitamins, and that's what exactly your plain bowl of instant ramen needs to level up its nutrient values. The good news is that ramen can go with almost any vegetable: carrots, broccoli, potatoes, mushrooms, squash, cabbage, green onions, you name it!
Make sure that you properly cook them as thick chunks of veggies such as potatoes or carrots need more time to become nice and tender. Sliced bell peppers or snap peas, on the other hand, should be briefly cooked so you can add them at the same time as the noodles.
Add Protein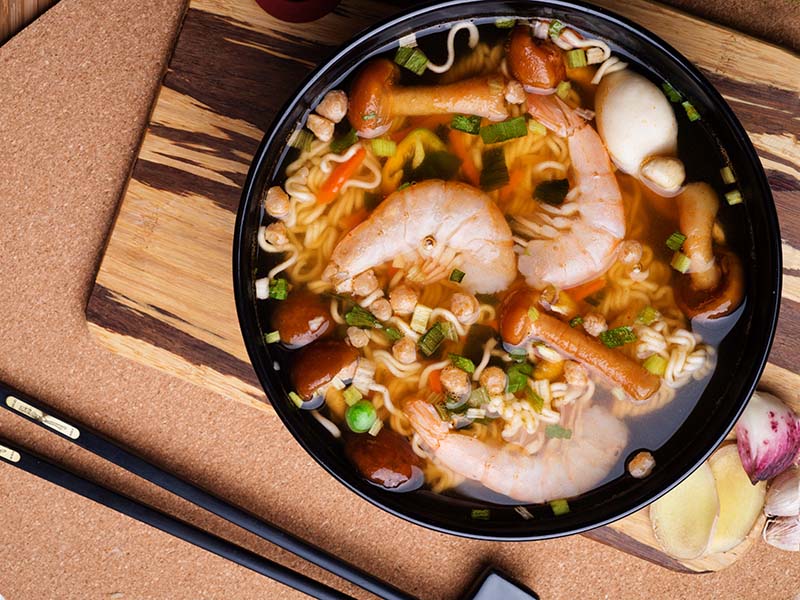 Instant ramen is flavored with meat such as pork, meat, beef, and shrimp to just enhance the flavor. The food by no means gives your sufficient protein intake that your body calls for. Therefore, don't forget to top the bowl with your favorite protein. Tofu, eggs, and edamame are also other sources of protein, but check their protein content first and adjust accordingly for a more rounded, balanced meal.
Toss The Seasoning Package
To bypass most of the negatives associated with instant ramen noodles, I recommend replacing the seasoning sachet with vegetable or chicken broth. Make your own versions of broth because it's guaranteed to be healthier and taste better!
You might want to go a different path by adding your ramen into your homemade curry. First, add the curry powder or paste before pouring in some rich, creamy coconut meals.
FAQs
Here are a few questions that you might stumble on while preparing or enjoying instant ramen noodles. Let's check out more interesting facts!
New Snack And Recipe To Try From A Familiar Food
Can you eat ramen raw? The answer is a resounding YES! Raw ramen can be a flavorsome crispy snack that you might love to enjoy in your downtime.
There are several ways to eat them raw, such as crushed ramen pieces flavored by the seasoning in the sachet, extra-crispy ramen toppings for salad, and as a breading for the all-time favorite fried chicken.
Yet, there are some downsides to consuming raw ramen that you should be aware of. Ramen noodles, be it raw, boiled, or cooked, should be eaten in moderation because they won't provide you with the sufficient nutrition that your body needs for daily functions.
However, you can make your favorite noodles more nutritious by adding veggies, meat, and other vital nutrients for a more balanced meal!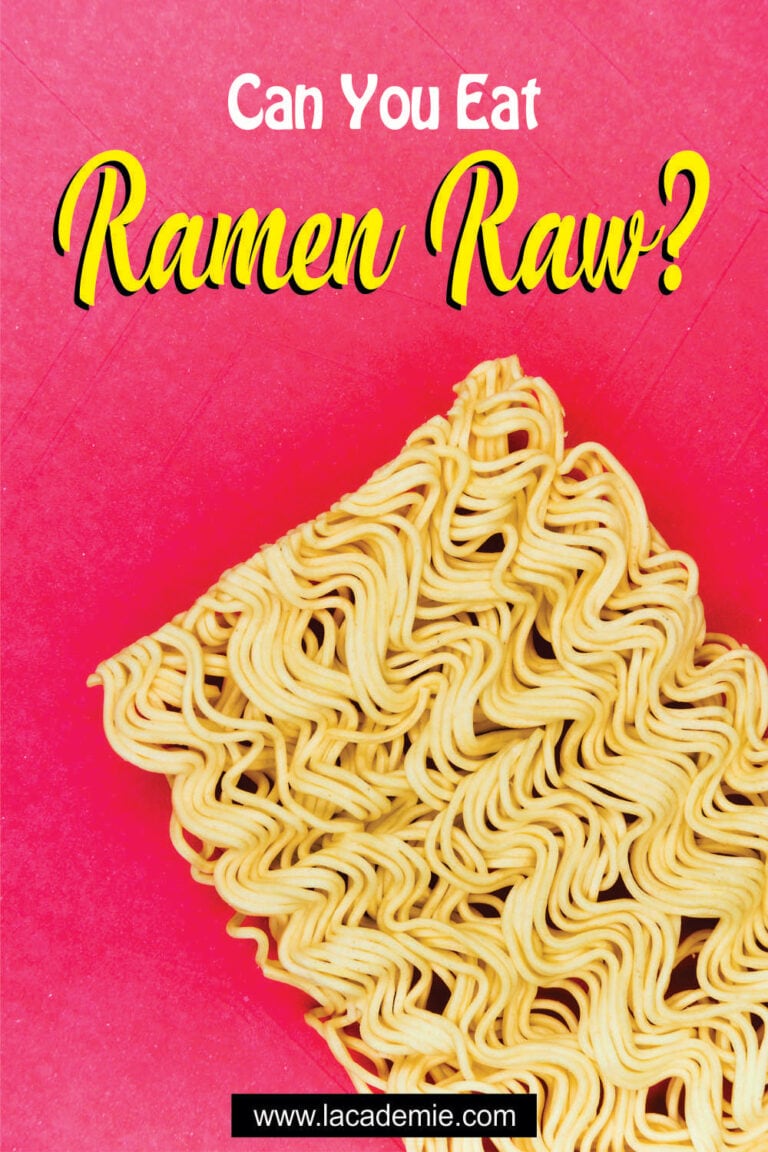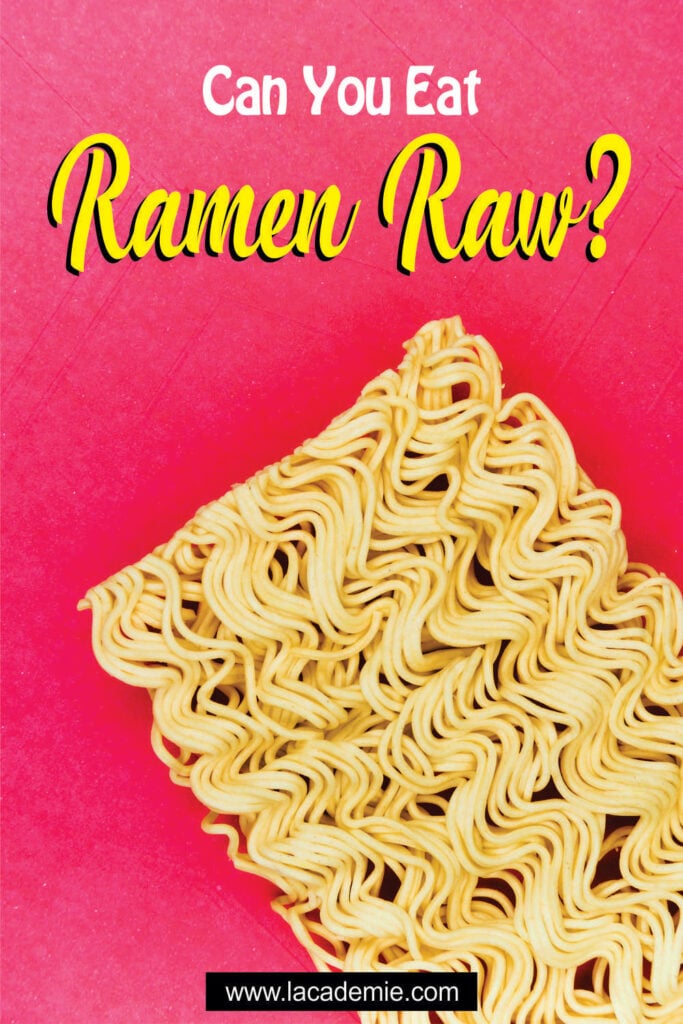 References:
Ncbi.nlm.nih.gov. 2011. A comparison of food and nutrient intake between instant noodle consumers and non-instant noodle consumers in Korean adults.
Parkwayeast. 2020. How bad are instant noodles for your health?
Fda.gov. 2022. Sodium in Your Diet.
Pubmed.ncbi.nlm.nih.gov. 2007. Chemoprotective and carcinogenic effects of tert-butylhydroquinone and its metabolites.