Instant pot breakfast recipes are the perfect option to go for your morning meal. Breakfast is unquestionably the most important meal of the day, as it sets the tone for your whole day.
For those with busy schedules and having to get up early in the morning, your worst nightmare would be to gear up for preparing a time-consuming breakfast.
In fact, most sweet breakfast ideas are easy and pretty quick to make. However, some dishes do necessitate your time and effort. And that is where an instant pot can become your new favorite toy in the kitchen.
They have every trait to be the perfect choice for morning meals, from the wide range of options to the easy-to-prepare characteristics. Not to mention, they provide excellent tastes as well.
Let's fire up your instant pot and get ready for my 39+delicious recipes. They will exterminate your worst nightmare and replace it with your most comfortable dream!
Full Compilation Of 39+ Scrumptious Instant Pot Breakfast Recipes
15 Tender Instant Pot Breads/Cakes
Instant Pot Monkey Breads
Instant Pot Coffee Cakes
Instant Pot Banana Breads
Instant Pot Cornbreads
Instant Pot Apple Cakes
Instant Pot Muffin Bites
Instant Pot French Toasts
Instant Pot Gingerbread Bread Puddings
Instant Pot Double Chocolate Zucchini Breads
Instant Pot Pancakes
Instant Pot Chocolate Muffins
Instant Pot Cinnamon Roll Breads
Instant Pot Mexican Brownies
Instant Pot Biscuits And Gravy
Instant Pot Lemon Blueberry Cakes
10 Hearty Instant Pot Eggs
Instant Pot Perfect Hard-Boiled Eggs
Instant Pot Poached Eggs
Instant Pot Egg Casseroles
Instant Pot Frittatas
Instant Pot Burritos
Instant Pot Shakshuka
Copycat Starbucks Bacon And Gruyere Egg Bites
Eggs En Cocotte
Instant Pot Crustless Quiche Lorraine
Instant Pot Hash
10 Healthy Instant Pot Oatmeal
Instant Pot Savory Oatmeal
Instant Pot Chocolate Steel-Cut Oats
Instant Pot Peach Cobbler
Instant Pot Strawberry Trail Mix Oatmeal
Instant Pot Cinnamon Banana Oatmeal
Instant Pot Carrot Cake Steel-Cut Oatmeal
Instant Pot Buckwheat Porridge
Instant Pot Apple Cinnamon Oatmeal
Instant Pot Baked Blueberry Oatmeal
Instant Pot Peaches And Cream Oatmeal
4 Yummy Instant Pot Yogurt
Instant Pot Yogurt
Instant Pot Coconut Yogurt
Instant Pot Cashew Yogurt
Instant Pot Soy Yogurt
Get To Know What An Instant Pot Is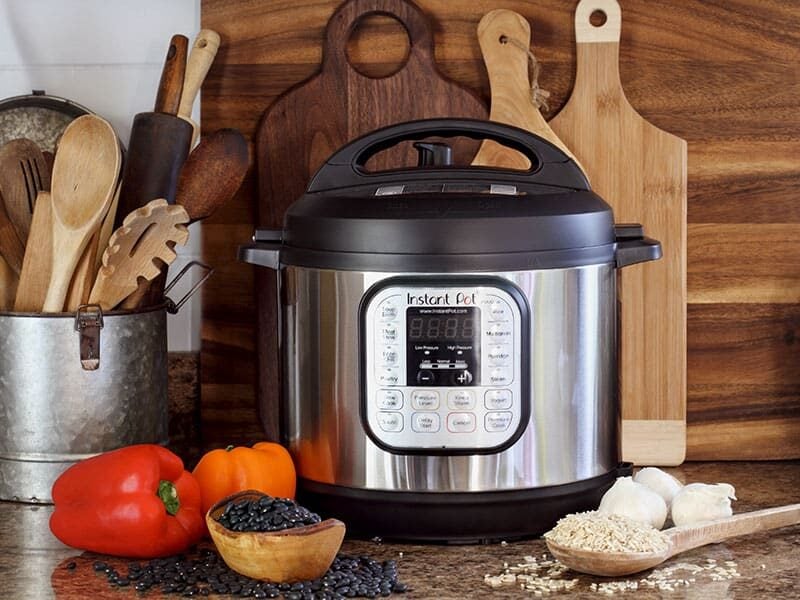 Shortly speaking, instant pot is a handy multi-cooking gadget that combines pressure cooker and slow cooker, allowing you to cook at different speeds.
However, be aware of the dissimilarities between instant pot and pressure cooker. Compared to a manual pressure cooker, instant pot requires less liquid and shortens cooking time.
This cooking equipment takes the guesswork out of determining the optimal amount of heat, pressure, and time for your meals.
Thus, it is ideal for newbie cooks such as stews and oatmeal. However, after you get familiar with the machine, you can venture into the world of harder recipes which often require lengthier cooking time, such as baby back ribs.
Essential Instant Pot Utensils
Before diving into the detailed recipes, you should check out these essential utensils to ease your experiences in making instant pot breakfast.
1. Instant Pot (Of Course!)
Instant pots come in four different sizes: three, six, eight, and ten quarts. Among them, 6-quart size is the most common, capable of serving 3-6 people on average. You can find a handful of instant pot recipes calling for this size.
For those cooking for a big family or hosting a party, the 8-quart and 10-quart capacities are the best options.
Finally, the 3-quart instant pot (also known as the Mini version) is ideal for serving 1-2 people.
2. Instant Pot Mini Mitts
You may put yourself at serious risk if you grab your instant pot with bare hands. That is why you must have a pair of mini mitts in your kitchen.
Although tongs may successfully remove jars, pans, and steamers from the pot, they are unreliable as you can easily lose grip with them.
These silicone mitts are exactly what you need. They are thick enough to protect your hands from the considerable steam that instant pots generate but not too thick to make you feel uncomfortable.
There are no more frightening moments when pulling hot inserts or steamer baskets out of the stove anymore if you have these instant pot mini mitts.
3. 7-inch Springform Pan
Compared to the standard 8-inch aluminum cake pan, the 7″ springform pan is friendlier to use.
Despite its smaller size, this 7-inch springform pan can serve smaller families better. It creates just enough adorable pastries for them to enjoy before these cakes go stale.
4. Instant Pot Glass Lid
This lid will be helpful if you often use your instant pot for non-pressure cooking purposes. For example, you will need a glass lid when making yogurt or functioning the pot as a slow cooker.
The glass lid provides much faster access, as there are no time-consuming locking and unlocking features. Additionally, there is significantly less moisture pouring down from the glass cover.
5. Instant Pot Sealing Rings (Red And Blue)
I highly suggest these sealing rings (also known as additional gaskets) to anybody who cooks with an instant pot at least once a week. These bonus utensils help you exterminate the residual stench arising from your previous preparations.
You surely do not want the chili scent from your preceding chili dishes to linger in the pot and mess with your going-to-make cheesecakes, right? That is precisely what these savior rings can do to help.
It is good practice to have a set of two color-coded rings: a red one for chilly or curry dishes and a blue one for delicates.
Plus, having a set means that you always have a backup item on deck. Whenever one gasket stretches out after multiple uses, you can replace it right away. Otherwise, your instant pot cannot reach the pressure it needs for cooking.
15 Tender Instant Pot Breads/Cakes
Provided that you already know the basics of instant pot and its essential utensils, it is high time to jump to the central part. Let's kick things off with the following 15 instant pot recipes featuring tender breads or cakes.
You'll never guess this traditional sweet bread was made in a multicooker rather than the oven. Unlike conventional bread recipes, this one reduces the cooking time in half.
Yet, you still get the fresh-baked flavor of monkey bread, which is very tender, sweet, and sticky. To me, the best part comes from the combination of nutty aroma of brown butter and the caramel-like flavor of sugar melts. Such an amazing instant pot bread!
Step-by-step tutorial on how to make instant pot monkey bread.
What do you think of the idea of merging coffee and cake into a single breakfast dish? I believe this coffee cake idea will delight all coffee fans out there, including me. The instant pot is so flexible that it is possible to turn this idea into reality.
This coffee cake is unbelievably moist, delicate, and flavorful! Drizzle it with honey and garnish it with berries for the ideal breakfast dessert. You can add more savor by serving the cake with bacon, sausage, or a combination of the two.
This banana bread is super-tender, moist, and bursting with banana flavor. And you can prepare it without even using an oven! How cool is that!
This instant pot recipe is the perfect comfort meal for your breakfast. It comprises overripe bananas, butter, sugar, and sour cream, topped with some chocolate chips, walnuts, or pecans.
Cornbread is one of the world's most underappreciated morning foods! Now, with this instant pot variation, things are just getting greater and greater.
Why would I say so? Well, it retains the same level of softness, crumbliness, and butteriness as the traditional oven-baked recipe. Additionally, it earns extra points for being much more straightforward to prepare!
The combination of chopped apples, cinnamon, and sugar imparts a juicy and delectable taste to the cake. Plus, instant pot makes the preparation more effortless.
You would have a hard time resisting enjoying this delicious and easy-to-make breakfast cake.
Enjoy the following simple tutorial on making instant pot apple cakes.
These adorable muffin pieces are ideal for a speedy breakfast. Grab your instant pot and start cooking your muffin mix, water, milk, and an egg bite mold.
The resulting muffin bites will make you fall in love with their soft texture and rich flavor. What a fantastic concept!
French toast is perhaps the most delicious option for breakfast. However, it is the exclusive option for leisurely mornings as its preparation takes time. There is no chance you would make it on a busy schedule unless … you own an instant pot!
This French toast is as delectable as any you have ever tasted, and it comes together in a flash. You can go for the traditional flavor or customize it with chocolate chips, butter, and roasted nuts.
Gingerbread puddings are too appealing to resist! With this instant pot version, you get to enjoy a doubly creamy and custardy breakfast compared to the original recipe.
This breakfast idea is the perfect representation of the word "comfort". One tablespoon of this pudding is enough to light up your harsh day. Besides, you can make some sweet pudding in Asian ideas with an instant pot too.
This chocolate bread is brimming with chocolate chips to double the pleasure!
You can tell from the name that this instant pot breakfast recipe contains zucchini. However, the dish's flavor is so decadent that you won't even notice the veggie itself. Thus, give your children this bread to increase their fiber intake.
Enjoying pancakes always brings a grin to my face. However, preparing them is very laborious and not fun at all.
Now, with this instant pot pancake recipe, you can have your favorite breakfast with little effort. Don't forget to garnish these easy pancakes with your preferred toppings.
While you can create chocolate muffins in the instant pot, be aware that the final results may lack the signature crisp muffin tops. However, their flavor is still moist, delicate, and chock-full of chocolate.
Nevertheless, if you crave the crisp muffin tops, you can try to broil them for an additional two minutes after cooking.
If you love a cinnamon roll with a warm, soft, and gooey center, you must prepare these instant pot cinnamon roll breads.
These cinnamon roll breads are the epitome of indulgence: ridiculously soft bread overflowing with delicious and sticky cinnamon sugar! It makes the perfect breakfast when paired with a hot cup of coffee. Such a cinch to make!
Follow this instruction to make your own instant pot cinnamon roll breads.
No other cake beats the perfectly fudgy texture and chocolate flavor or these ultra-rich Mexican brownies. However, not everyone can afford time, money, and space for an oven in the house.
So, why not give instant pot Mexican brownies a shot? They are packed with cinnamon, coffee, and three decadent kinds of chocolate that can satisfy even the most intense appetites.
You can keep your brownies fresh in the fridge for up to two weeks. Thus, later consumption is possible.
Instant pot biscuits and gravy are such a traditional breakfast combination. You get to enjoy the delicate and buttery cookies blending in the decadent gravy in your mouth at the same time. How delectable this is!
Plus, thanks to the versatile instant pot, these biscuits and gravy will be available in no time with little effort.
Are you looking for a nutritious, whole-grain, protein-packed breakfast to kickstart your day? No need to look farther! This instant pot lemon blueberry cake will quickly become your new morning hero with its delectable flavor and easy-to-prepare process!
This soft, fluffy cake is topped with exploding blueberries and a honey lemon yogurt sauce. You will definitely adore this one!
10 Hearty Instant Pot Eggs
Enjoying the following 10 instant pot breakfast recipes involving eggs. These options guarantee you hearty morning meals.
Do not be frustrated with the complex technique for properly cooking hard-boiled eggs! Whether you like them soft and runny, medium, or hard-boiled, make an attempt with the instant pot.
Simply fill the pot halfway with water, add the eggs, and set the timer. You will get consistent results of creamy yolks every time and will not need to monitor the pot.
Learn this game-changing method to make perfect hard-boiled eggs in the instant pot.
If you are searching for an easy method to poach eggs without heating water, these instant pot poached eggs are for you! It is such a delightful breakfast choice that can be served in several batches for a small crowd.
Allow your wonderful instant pot to give you flawlessly poached eggs every single time.
These bite-size Instant Pot egg casseroles include all your favorite ingredients served with dipping sauces, such as spicy sauce or ketchup. This one-pot dish is perfect for brunch or weekday mornings and can be prepared ahead of time.
With this instant pot variation, you get to enjoy this egg casserole in only fifteen minutes. The pleasing aroma of beaten eggs over cheese, veggies, and sausage will surely make you come back for more.
What is the simplest recipe to ensure that you receive your greens in the morning? This instant pot frittata is packed with everything you need to get through the day.
Forget about the oven! This instant pot version of frittata is very simple to put together. Just sauté the vegetables in advance and cook the bell pepper, onion, garlic, bacon, eggs, and cheddar cheese to yield a rich and filling breakfast.
This instant pot recipe yields a simple and delectable burrito dish that may be customized to your liking. Feel free to add bacon, sausage, potatoes, chives, and bell peppers to accentuate its flavor further.
Plus, you can prepare these instant pot burritos ahead of time, frozen, and reheated for a quick meal on the go. And do not underestimate the importance of reheating, it needs some reheat hacks for a burrito to prevent a soggy meal.
Apart from some preliminary steps to prepare the vegetables, this instant pot shakshuka only requires 30 minutes of cooking time.
You will fall in love with its unique aroma: the juicy eggs coated by saucy tomatoes, fresh butternut squash, and crumbled feta cheese. This instant pot recipe will surely infuse your home with spicy and sweet flavors.
If you are not a fan of copycat recipes, you will change your opinion after trying this homemade version of Starbucks' bacon and gruyere egg bites (also known as Sous Vide Egg Bites).
One big plus for this instant pot recipe is that you do not need sous vide equipment to prepare it. Another great thing about this dish is its cheesy deliciousness that makes you crave more after each bite.
If you are on a diet, don't worry! The dish contains less than one carbohydrate per serving. It is a beautiful way to start your day.
Get hands-on insight into how to make your copycat Starbucks bacon and gruyere egg bites.
Eggs en cocotte are simply cooked eggs in cups. They are often herb-infused and served with cheese or cream. When prepared in the instant pot, this dish takes just 5 minutes to prepare!
Compared to the conventional baked recipe, which takes half an hour to prepare, this instant pot version gains the upper hand in timing. When it comes to breakfast, timing is probably the most crucial factor.
With the instant pot, this crustless Lorraine quiche becomes so simple to prepare that it almost seems like cheating. It's an excellent choice for breakfast and brunch.
It is insanely delectable and tastes incredible, brimming with bacon and gooey Swiss cheese shreds. With no fussy crust, there will be fewer dishes to clean, which is a big plus.
Potato hash is one of the top favorite treats for breakfast. The appealing aspect is the juicy egg topping your flavorful dish.
You can use the Canadian bacon to add an excellent smoky taste to this rendition. However, feel free to use ordinary bacon, sausages, or ham, which all work as well. Just make sure you can distinguish between Canadian bacon and ham, as many people tend to confuse between these two.
10 Healthy Instant Pot Oatmeal
All right! Instant pot eggs are delectable. So do instant pot bread and cakes. But if you want a quick and healthy morning recipe without eggs, how about the following 10 healthy instant pot oatmeal?
Indeed, oatmeal is also a style of porridge that everyone would love to have for breakfast since it is simple to make and very healthy.
Typically, oatmeal is accompanied by bananas, berries, honey, and other sweet treats. However, do you know that savory oatmeal is also available?
This instant pot savory oatmeal recipe is buttery, cheesy, and overflowing with mushroom flavor. It is seasoned with thyme, which imparts an earthy, herbaceous taste.
The dish is a perfect choice not only for breakfast but also great for lunch and supper!
There is no way you can go wrong with chocolate for breakfast. Then, how about combining this classic ingredient with oats?
The dish is very creamy and chocolaty. Moreover, it is beneficial to the heart as there is no added sugar! It is undoubtedly a breakfast worth waking up early for!
If you wonder whether chocolate can be spoiled or not, well, it depends on its type or condition (opened or unopened). But overall, it is a great ingredient you can stock for later preparations.
This instant pot peach cobbler recipe really simplifies the process of making this classic summer dessert! The recipe is so simple that you can prepare it in less than 30 minutes.
You get to enjoy this delectable dessert brimming with fresh peaches and mushy fruit! Plus, do not forget to sprinkle nuts and sunflower seeds to add more crunch to the dish.
It is the simplest way to make you and your loved ones feel extra wonderful in the morning.
Make your instant pot peach cobbler with this simple instruction.
Filled with crunchy almonds and dried fruit, this instant pot strawberry trail mix oatmeal will get you in the mood for trekking. It provides you with an abundant source of beneficial nutrition to get you out of the door and start the most energetic day of your life.
You may garnish this oatmeal with milk, extra sugar, and some blackberries or raspberries. Such an easy-to-make breakfast!
Here is another simple instant pot breakfast that hardly any child has the courage to reject. This instant pot cinnamon banana oatmeal is a traditional dish featuring cinnamon, brown sugar, and banana.
It is a perfect option for a nutritious, delectable, and quick breakfast, especially during the cold months.
This Instant Pot Carrot Cake Steel Cut Oats recipe is silky smooth, super satisfying, and full of cinnamon flavor. The dish will be ready in less than 30 minutes if you utilize your instant pot to prepare it.
Besides the quick preparation, making it is effortless and completely hands-off. You can even adjust your preferred sweetness level for your desired breakfast.
Buckwheat is a plant that is very nutritious for humans. This buckwheat porridge in the instant pot is a healthy, budget-friendly dessert – a gluten-free alternative to oatmeal for a satisfying breakfast. Serve this dish with additional chopped nuts if desired.
This instant pot buckwheat porridge is ready in less than thirty minutes.
Cooking instant pot apple cinnamon oatmeal will make your mornings so much better. You will fall in love with the aroma of apple cinnamon and the heartiness of baked oatmeal in this recipe.
Lightly sweetened with precisely sautéed honeycrisp apples, this nutritious recipe is ideal for making ahead and eating throughout the week for breakfast.
Make breakfast a breeze with this instant pot blueberry oatmeal! With only a few simple ingredients, you can have a creamy and warm dish ready in no time.
Plus, its custard-like texture and delectable flavor will make you crave more after each bite.
Making a big pot of peaches and cream oatmeal is simple! You will have a hard time resisting the filling and fruity flavor this dish provides.
Another advantage of this dish is that you can prepare it ahead of time to kickstart your mornings. This flavor-packed oatmeal is probably the best option for your breakfast.
4 Yummy Instant Pot Yogurt
Yogurt is another nutritious option! And do you know that you can prepare delectable yogurt with your instant pot? Here are four yummy recipes that you can try right away.
While purchasing yogurt is much easier, making it from scratch with your instant pot is a rewarding experience. Besides the budget-friendly advantage, your homemade yogurt is creamier and tastes significantly better!
The cool thing about this instant pot yogurt recipe is its versatility. You can improvise to create various types of yogurt, from non-fat to full-fat or Greek. The choice is up to you!
And in case you are confused if yogurt will go bad or not, it would be better to consume your homemade yogurt soon.
Watch this video to know more:
This instant pot coconut yogurt is so simple to prepare. Yet, it yields a very delectable, healthy, and budget-friendly option for breakfast! It pairs well with fresh fruit and granola.
Additionally, you have complete control over the thickness, taste, and probiotic concentration! You can even make this coconut yogurt dairy-free, which is an excellent option for anybody allergic to dairy.
You can prepare instant pot cashew yogurt at home effortlessly. Its taste is so tangy, creamy, and low in calories. Plus, it has no extra sugar. That is why this breakfast meal is suitable for Vegan, Paleo, GAPS, Whole30, and other diet programs.
This yogurt treat is a brilliant choice to use as a snack, condiment, or ingredient in other recipes.
Unlike other instant pot yogurt recipes that you can prepare entirely at home, this dish requires a fresh and unopened carton of store-bought soy milk. The pasteurized trait in store-bought items allows you to skip the process of boiling and cooling.
The remaining process relies on your instant pot making its magic. You will get to enjoy the dairy-free yogurt with soy milk in no time. If you're concerned with the likelihood of soy milk spoiling, you can consider putting it in the fridge or freezer.
Instant Pot Ratatouille: A Bonus Option To Set The Tone For Your Morning Meals
Throughout the entire article, I introduced sweet, tasty, and savory instant pot breakfast recipes. But, what about the veggies? Why not give instant pot ratatouille a try?
What is the recipe of traditional ratatouille? It is a demonstration to consume veggies in the morning without an omelet. And this sweet and briny meal comes to life in the Instant Pot with tomatoes, eggplant, and zucchini cozied up to onion and garlic in an olive oil bath.
The greatest thing about this morning's ratatouille dish is that you can prepare it in large quantities and freeze it as individual servings.
And this ratatouille dish concludes my list of 39+ instant pot breakfast recipes. I believe these morning breakfast options are healthy and delectable enough to set the tone for your entire day.
Tell us in the comment section below which instant pot recipe is your favorite? Do I miss out on any particular recipe? Make sure to share yours as well. Thank you for reading!