It's a pity you don't use your instant pot for cooking the best summer instant pot recipes. However, sometimes you are too busy to try new dishes. Fortunately, this article will assist you by offering the best, easiest, and quickest summer dishes.
From cooking the savory main dishes, and delightful side dishes to sweet desserts, an instant pot is a piece of magical equipment that can increase your life's quality. Whether you live alone or have a big family, instant pot recipes are the perfect choices.
Therefore, this article will not disappoint you with various dishes to choose from. You can do whatever you want while waiting for a delicious meal to come out of the instant pot. Let's change your lifestyle today by jumping into the recipes below!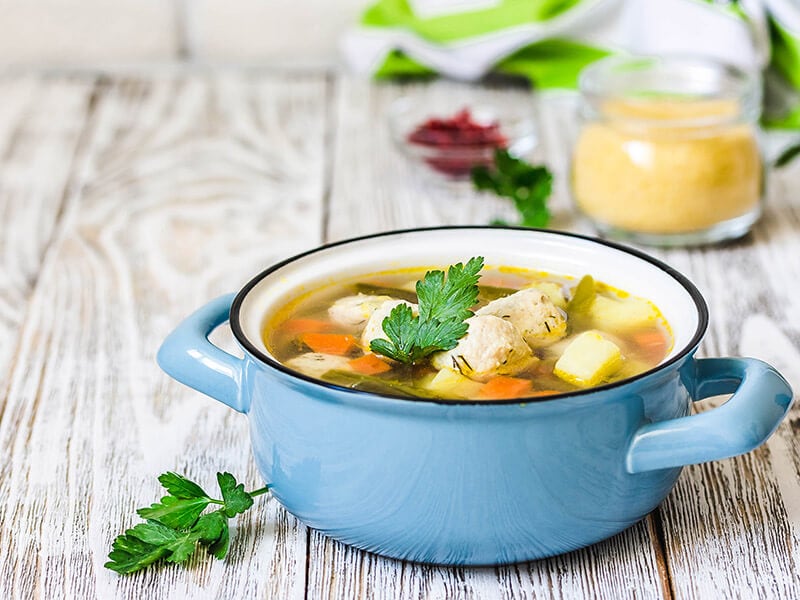 Instant Pot Can Be Your Life-Saver In The Summer!
The first and utmost reason is that your instant pot can make various brilliant summer dishes. The instant pot can even replace your pressure cooker and whatever cooker you have with its ability to roast, simmer, pressure cook, etc.
The pot also gives you the freedom to alter and give little twists to regular meals such as chicken soup, boiled shrimp, and curry, among thousands of other things. You can also bake plenty of desserts ranging from cakes and cheesecakes to pudding or cobbler.
If you are a fan of stew dishes, there's no better choice than to use an instant pot! The pot will allow the ingredients and seasonings to combine harmoniously. The longer the time, the more all flavors can emerge fully.
The final reason you should purchase an instant pot is it saves a lot of time! Summer can be a relaxing vacation, but it can also be full of activities. With an instant pot, all you have to do is prepare the ingredients and press a few buttons.
Top 22 Instant Pot Recipes To Enjoy All Month Long In The Summer
Enough with all the reasons. I think you should just jump right into this list. These recipes are selected to be diverse and suitable enough to enjoy all month long. Just a little reminder, prepare tissue because obviously, the recipes can make your mouth water!
Total time: 30 minutes
It's a great way to start your summer with these Instant Pot Chicken Wings. If you have children in your family, I bet they will love savoring chicken wings in the summer. What's special about this dish are dry rub seasoning and mouth-watering BBQ sauce.
For the dry rub seasoning, you need a wide range of spices, including paprika (made from red pepper), cayenne, oregano, and thyme. All you need to do is combine the spices in a bowl, and the seasoning is ready. You can swap any spice if you want something less spicy.
When you already have the chicken wings, rinse and pat dry them properly. After that, mix them well with the dry rub seasoning. Then, use the instant pot for cooking the wings. Remember to prepare a cup of water to put in the pot. However, don't let the chicken touch the water.
After the chicken is cooked, you will mix it with the BBQ sauce. I think the chicken wings are very suitable for enjoying a summer picnic. Overall, the dish is spicy and aromatic, so be aware of your family members if they can't stand chilliness.
What can be better than chilling at home and enjoying Instant Pot Chicken Wings?
Total time: 42 minutes (included 10 minutes of natural release time)
Talking about eating crisp in the summer, you can't miss this Instant Pot Apple Crisp With Berries. This dish is a perfect summer dessert that can please anybody from a food critic to a normal person with a growling stomach.
Besides the instant pot, you also need a springform pan or a round cake pan to make this recipe. First, make the fruit filling of the crisp with fruits, lemon juice, cornstarch, and other things. When all the ingredients are combined, just toss the mixture into the pan.
For the topping, you also need to mix many ingredients, such as flour, oats, sugar, etc., with butter. Then, add the topping over the fruit mixture, and it's ready for the instant pot. Don't forget to use aluminum foil to cover the pan to prevent the crisp from being too soggy.
When the crisp is out of the pot, you can serve it with as many scoops of vanilla ice cream as you want. This dessert is perfect with fresh fruits, sweet ice cream, and an amazing crispy texture. What's more, you can keep this in an airtight container for up to 2 days!
Total time: 39 minutes (included 20 minutes of inactive time)
Do you want a combo of chicken and pasta in hot weather? This Instant Pot Bruschetta Chicken Pasta appears to save your day! Instead of spending hours in the kitchen, you can have chicken and pasta cooked together in the instant pot for no more than 40 minutes.
This recipe is full of summer flavor with the presence of fresh Roma tomatoes (plum tomatoes) and basil leaves. Besides, please also prepare the red onion, lemon juice, olive oil, and garlic for the herbal and delicious bruschetta topping.
You will need chicken breast with the pasta, but boneless chicken thighs are also fine. The four components that will make the base flavors are Italian seasoning, chicken broth, Kosher salt, and black pepper. Parmesan cheese will both be used in the recipe and for garnishing.
It's hard to describe the tastes of this dish. If the chicken is alone, it tastes savory and rich. But combined with pasta and bruschetta topping, they harmoniously scream summer!
Total time: 41 minutes (included 35 minutes of additional time)
There's no need to buy jam from the supermarket. You can make Instant Pot Peach Jam with easy-to-find ingredients. All you need are ripe peaches, sugar, lemon juice, and vanilla extract. However, it will be more convenient if you have some recommended equipment.
Aside from the instant pot, it's great to have freezer-safe jars, a ladle, and a food processor. You will start by chopping the peaches into pieces, and there's no need to peel the skin. Be careful while doing so because ripe peaches can get bruised easily.
After chopping, add the peaches and other ingredients to the pot. The mixture only needs 1 minute of pressure cooking, and the remaining time is for natural release. Then, vanilla extract will be added to the jam when everything is done.
This sweet and juicy jam is perfect for pairing with toast in the morning. Certainly, you can preserve this homemade jam for quite a time but allow it to cool before freezing or refrigerating it.
Easy Instant Pot Peach Jam is excellent when paired with any kind of bread.
Total time: 50 minutes (included 25 minutes of cooking time)
I know that no one with an instant pot should forget about having a nutritious summer soup recipe. With this Instant Pot Summer Soup, you can enjoy fresh summer vegetables in rich chicken broth and topped with a lot of herbs.
After chopping all the veggies and preparing other necessary ingredients, just put all of them into the instant pot, and now you're free to do whatever you want. The recipe suggests crushed tomatoes, carrots, celery, and farro in terms of vegetables and grains.
About the meat, it's best if you have chicken breast. Also, there are herbs such as basil, onion powder, oregano, etc., that will ensure your soup is flavorful and peppery. As you may wonder, this soup is inspired by the Italian cooking style.
As a result, don't be shocked if you feel like you're eating at a native Italian restaurant when you enjoy this meal. Besides farro–a nutritious grain, you can pair this soup with any kind of rice, any kind of pasta, quinoa, or even bread.
Total time: 45 minutes (included 35 minutes of cook time)
It's normal to be hungry between breakfast and lunch on an exhausting summer day. A brunch will fill you with energy again, so try this Summer Berry Bread Pudding Instant Pot. This is a fluffy bread pudding with different types of fresh and tart berries.
On top of essential components like eggs, butter, or low-fat milk, you will also need French brioche. French brioche is a pastry that is somewhat like bread but has a higher amount of butter and egg. It also tastes sweeter and has a richer flavor than normal bread.
French brioche is the factor that makes the pudding more pillowy and softer. To start, you need to use butter to oil the pan. Then, combine all the baking ingredients in a large bowl with a whisk. After that, place milk-dipped pieces of brioche in the oiled pan.
Spread berries on the bread's surface. Repeat the steps to make 2 layers. Next, cook the pudding in the instant pot with the custard and butter poured on top. If you can serve this pudding with fresh fruits and ice cream, that's even better.
Total time: 17 minutes
With an instant pot already at hand, there's nothing better than having a summer dinner recipe to cook this Low Country Shrimp Boil Pot. After all, it's a waste in the summer if you can't try a Low Country seafood dish.
Do you know that the Low Country cooking style is part of the famous Southern cuisines? While Southern cuisine focuses on comfort dishes, Low Country is known for various seafood meals. Following this recipe, you will use raw jumbo shrimp.
You may be surprised if this is the first time you have eaten a shrimp boil dish. Nevertheless, rest assured because the seasoning will make the food savory and tasteful instead of a bland boiled dinner. Therefore, old bay seasoning is definitely the star of flavors in this recipe.
Moreover, there is one ingredient that you can find quite unfamiliar. In case you don't know, corn on the cob means that you have to cook the corn first. After that, instead of cutting corn kernels off the cob, just divide the corn into segments and throw them into the pot.
You can use this tutorial for reference to cooking the Low Country Shrimp Boil Pot.
Total time: 1 hour 15 minutes (including 1 hour of cook time)
With a bowl of hot and delicious Summer Vegetable Soup, it will be easier for you to encourage your kids to consume more vegetables. Certainly, summer veggies are the most important ingredients in this recipe, and you can use either fresh or canned ones.
Besides familiar components like tomatoes and corn, you will also need lima beans and mushrooms. As you may not know, lima beans also have the name "butter beans." Besides nutrients, lima beans add buttery and velvety flavors to this delightful dish.
On the other hand, I assure you that the umami flavors of mushrooms also work well in summer soup. Normally, there are three types of easy-to-find mushrooms you can use to cook soup: cremini, portobello mushrooms, and button mushrooms.
If you don't want to use mushrooms, replace them with yellow squash. After cooking the soup, you can freeze and store it for up to 6 months! Thus, don't worry if you are absent for a few hours because you can always come back and easily heat this soup for the kids!
Total time: 1 hour 20 minutes (including 50 minutes of cook time)
Who doesn't crave a sweet treat in a hot season? This Instant Pot Chocolate Zucchini Cake is a summer cake recipe with unique flavors that can totally surprise your nieces and nephews! A Chocolate Zucchini Cake literally screams summer!
What could be more convenient than turning the remaining chocolate chips and zucchini in the fridge into a fudgy cake? Besides, you need to prepare cocoa powder, all-purpose flour, and brown sugar, among other things. Also, the equipment plays a big role.
According to this recipe, you should use a 7-inch cake pan, and don't forget to wrap it with aluminum foil. With the fresh zucchinis, it's important to strain them and squeeze water out of them. You can certainly use cheesecloth or paper water to get rid of the excess water.
This cake has a denser texture with more moisture than a normal one. The overall flavors taste just like combining a rich and buttery chocolate cake with fresh zucchini flavor. This cake is ideal for the kids in the afternoon when your relatives come to visit!
Total time: 16 minutes
It's surprising how Instant Pot Smoked Sausage Country Boil tastes absolutely good in the summer. If your child is allergic to seafood but still wants to enjoy a summery Boil Pot, this recipe is an alternative version that uses flavorful smoked sausage.
Aside from sweet corn, you will need other vegetables such as red potatoes and fresh green beans. Red potatoes are sometimes called summer potatoes, which have red skin and are smaller in size than regular ones. They have a subtly sweet flavor and a waxy texture.
Green beans are an ideal choice for a summer boil dish because they are full of nutrients and fibers. When boiled, they have a tender and quite crisp texture which I bet your child will like. However, be aware not to overcook the beans, or else they will be very mushy.
This dish takes a short time to finish, and you don't actually have to keep your eye on the pot. While the old bay seasoning is already tasteful enough, the smoked sausage's flavor is also vital. I highly recommend you use Kielbasa or Andouille sausages.
This guide can be helpful if you are trying to make Instant Pot Smoked Sausage Country Boil.
Total time: 15 minutes
I believe your kids will be disappointed if you don't make a single pie recipe for them during summer vacation. But don't worry, I've got your back! Instant Pot Peach Cobbler with accessible ingredients is a summer pie dish you cannot miss.
All you need is basic baking components like flour and sugar with peaches and a few spices to taste. According to this recipe, you should use nutmeg and cinnamon. However, feel free to replace the mentioned two with ginger or cardamom if you already have them at home.
After making the dough, slice peaches into pieces so that they can fit easily in a child's mouth. Remember to put the peaches on a dish before placing the dough on top. After about 10 minutes, your peach cobbler is ready. At this point, sprinkle it with the prepared spices.
You can satisfy your children's craving for sweetness by adding whipped cream or ice cream on top. To reuse this easy recipe many times, certainly, you can try other summer fruits instead of peaches. It will be great in case you have time to mix different fruits for a cobbler.
Total time: 1 hour 15 minutes (including 15 minutes of cook time)
If you want a quick and light summer vegetarian dish, this Instant Pot Pearl Couscous and Lentil Salad is totally for you. Instead of regular couscous, you will use pearl couscous in this recipe, which is also called Israeli couscous.
Basically, pearl couscous is a pasta dish that is made of small balls of toasted semolina flour. The reason why it's chosen for this recipe is because of the bouncy and chewy texture. On the other hand, you will also need French green lentils with a rich and hearty texture.
The preparation time is longer than normal because you have to soak, rinse and dry a wide range of ingredients and blend them together. Only add olive oil, spices, and seasoning after the dish is cooked in the instant pot.
One important thing to note is that you have to wait for the cooked mixture to come to room temperature before seasoning them. And certainly, with a hot temperature, it won't look like a salad dish. This is the main dish, so you can enjoy it alone or pair it with any kind of soup.
Total time: 1 hour 25 minutes (including 30 minutes of cook time & 35 minutes of pressure time)
A bowl of Instant Pot Vegetable Beef Soup on a summer day can help you regain energy or even heal your soul inside. It's advisable to serve this luscious soup to your big family and children. Your regular vegetable will turn into a rich beef soup with this recipe!
In my opinion, the most important components that make up the whole dish are ground beef, complete seasoning, tomato sauce, and beef broth. However, the soup's flavors can't be complete without summer veggies, spice powder, and pepper.
The first thing you will do with the instant pot is cook the seasoned beef until all sides are brown. After that, make the tomato mixture and add it and other ingredients to the pot. After the cooking and natural release time, your soup is ready for dinner!
Throughout the process, remember to stir the soup many times. The aim is to combine all the different flavors, prevent the ingredients from sticking to the pot, and smooth out the soup's water. Eventually, I think that you can eat bread or whole grains with this soup.
Instant Pot Vegetable Beef Soup is a wholesome meal to make for your family!
Total time: 30 minutes
Do you believe that an instant pot is excellent at cooking a casserole dish? I promise this Cinnamon Berry Instant Pot French Toast Casserole will definitely exceed your expectations! Also, this can be the most diversified (or even messy) casserole recipe you've ever known.
If you are trying to make a wholesome summer casserole, you have come to the right place. This casserole combines french toast, sweeteners, spices, and berries all in one dish. Rest assured because it tastes just perfect for your brunch time.
First, you need a round baking pan and foil to make this recipe. When arranging layers inside the pan, the artisan cinnamon raisin bread will be the first ingredient to go in. Then, add the berries and repeat once again. Next, top all the layers with the remaining bread pieces.
At this time, make the custard mixture and pour it over the layers. Finally, your casserole is ready to be baked. Add sweeteners such as sugar, butter, or syrup when serving the casserole. Just a friendly reminder, please be aware of the sugar amount you put in.
Total time: About 20 minutes
It can't be summer if you miss out on this brilliant summer vegetable recipe – Instant Pot Summer Vegetables. This dish can be a great option on your diet list because it is low-carb but still nutritious.
To prepare the sauce, you will need low-sodium soy sauce, lemon juice, and garlic clove among other things. Even though you can freely choose whatever vegetables you like for this recipe (tomatoes are a must-have), sturdy and root ones are highly recommended.
Vegetables will be added first into the pot. Remember to place the potatoes at the bottom. Then, press the high-pressure button to cook for about 5 minutes. Check if your veggies are soft or not. After that, use the pot to saute tomatoes and all the sauce ingredients.
Total time: 22 minutes
If you have never tried any chowder dish, this is your life moment! Chowder is a soup dish that normally consists of seafood like clam or fish with corn and potato. In this recipe, there is also the addition of yellow onions, chicken, spices, and so on.
I think this dish's overall flavor is unique because it's a mix between spicy and creamy. The spiciness mostly comes from chili powder, smoked paprika, and cayenne pepper. Therefore, if you don't like spicy food, just drop them out.
To make the chowder, start with sauteing the onion for about 2 minutes. Next, you will add veggies, spices, chicken breast, and broth to continue cooking. Use a blender to mix the remaining ingredients, such as paprika or garlic.
When the dish is finished, you can garnish it with scallions, bacon, and cotija cheese. Chips, especially tortilla chips, are another great choice.
Easy Chicken Corn Chowder can't be really easy without proper instructions.
Total time: 43 minutes (including 35 minutes of additional time)
Maybe you don't think an instant pot is convenient for cooking a salad dish. However, this Pasta Salad With Pepperoni can save you a lot of time. It's a colorful and tasty summer side dish that will energize your day!
I claim the pasta salad is colorful not only because of the summer vegetables or the savory Italian dressing but also the tri-colored pasta. Regarding the flavor and texture, the dish will be extra refreshing and chewy with the addition of mozzarella and pepperoni.
Firstly, you will cook the pasta in the instant pot for about 3 minutes. Then, rinse and refrigerate it. After that, you will mix the pasta with other ingredients, including the dressing on top. Now, you can serve it on the table or preserve the dish in the fridge.
While combining the ingredients, you can add vegetable oil or red wine vinegar to enhance the taste of Italian dressing. On the other hand, to make the flavor resemble a pizza, feel free to use any pizza topping. You can also add some bell peppers or mushrooms.
Total time: 35 minutes (including 25 minutes of cook time)
It's reasonable that you want to endure the heat of summer by consuming as many nutrients as possible. Following that mindset, this Instant Pot Brown Sugar Baked Beans is dedicated to you. What's more, this dish is not only nutritious but also hearty and full!
About the beans, in this recipe, you need to have 3 types: kidney beans, pinto beans, and northern beans. They complete each other. While kidney beans have a subtly sweet flavor, pinto beans taste more earthy, and northern beans have notes of nutty and mild flavors.
In case you are not a vegan and want to add some meat, just aim for bacon. It will also bring a smoky flavor to the dish. In terms of spices and herbs, don't forget to prepare the yellow onion, chili powder, and also jalapeños if you can stand their peppery flavor.
The steps to make Instant Pot Brown Sugar Baked Beans are very simple. Stir in the ingredients, press the button, wait, stir the dish again, and then you can serve it. Dark brown sugar will be absorbed by the beans and in the sauce, but I promise it won't taste too sweet.
Let's make Instant Pot Brown Sugar Baked Beans this summer!
Total time: 59 minutes (including 50 minutes of additional time)
Are you looking for a new and delicious summer salad recipe? Loaded Baked Potato Salad is an absolutely perfect choice to be paired with any BBQ meal in the summer! The original potato salad inspires this recipe.
To perfect this salad dish, you should use small red potatoes instead of gold ones. In addition, there are crumbled bacon, onions, and cheese (Cheddar, Colby, or Parmesan cheese), all of which contribute significantly to the overall flavor of the salad.
While cooking with an instant pot, your potatoes will taste fantastic if you use chicken broth. The reason is that the pot will be an ideal environment for the potatoes to absorb all the flavors from the chicken broth during the cooking process.
You can totally serve this salad either cool, warm, or even hot. The secret lies in the heat of the potatoes, so if you just want a warm dish, just toss the potatoes several times before serving. Also, don't hesitate to make this a day ahead of the meal. It will taste even better!
Total time: 7 hours (including 50 minutes of cook time & 6 hours of set time)
You definitely can't skip this Instant Pot Strawberry Crunch Cheesecake. I think this dish is an ultimate instant pot dessert to make if you work for a long time during the day but still want a crunchy cheesecake after dinner.
This Strawberry Crunch Cheesecake is a perfect combination of creaminess, vanilla flavor, strawberry taste, and buttery note. To make the cake, you'll need to separate it into 3 sections: crust, filling, and topping. The difficulties will mostly lie in the filling and topping parts.
Therefore, you should be well-equipped with a food processor, a stand mixer, and a springform pan. One thing to note is that after finishing the cheesecake part, you need to refrigerate it for at least 6 hours. Then, you can add the strawberry topping and crumbles.
Use a blunt knife to run alongside the pan to remove the cheesecake easily. Also, when you take the cheesecake out from the instant pot, it's absolutely normal if it looks undercooked. Later on, the time it spends in the fridge will make the cake just perfect!
Instant Pot Strawberry Crunch Cheesecake is a perfect dessert for your dinner!
Total time: 27 minutes
Your summer can't be complete without a quick and refreshing summer pasta recipe. Instant Pot Pasta Primavera is not difficult to make since it needs familiar ingredients and takes less time with an instant pot.
In terms of summer vegetables, you need to prepare broccolini, sweet bell pepper, asparagus, and cherry tomatoes. There are two herbs that you can't skip for garnishing: basil and parsley. Also, you can add other seasonal veggies that you like to this pasta dish.
Following the instructions, you will use the instant pot twice. The first time is to saute and simmer the vegetables until they are tender. You will also season the veggies with spices and Italian seasoning. Remember to add salt if your seasoning doesn't include it.
The second time you use the pot is when cooking the penne pasta–cylinder-shaped pasta with the prepared broth. It's suggested that you should choose vegetable broth to captivate the summery flavors, but it's totally fine to use chicken, beef, or even mushroom broth.
Total time: 30 minutes (including 15 minutes of cook time)
Let's finish this incredible list with a gluten-free summer chicken meal – the Instant Pot Summer Italian Chicken. This recipe requires a long list of ingredients, ranging from avocado oil to fresh basil leaves.
Instead of boneless chicken breast, you should prepare skinless chicken thighs. The main reasons are that chicken thighs taste more flavorful, are fattier, and don't get dried easily. However, if you want a dish with more protein, feel free to go with chicken breast.
Before getting down to the dish, you need to season the chicken with kosher salt for at least 2 days. Then, you will start with putting fat into the instant pot before the vegetables. After they are sauteed, you can add the spices, salted chicken, cherry tomatoes, and green olives.
The component that will add Italian taste to the overall flavor is the fresh Italian parsley. It's a kind of green herb that has peppery and citrus flavors. While it is usually used as a garnishment, you will stir it into the dish at the last step in this recipe.
If you love Italian cuisine, you can't skip this Instant Pot Summer Italian Chicken.
With An Instant Pot, You Can Be Lazy Yet Healthy This Summer!
It's understandable that the wide range of dishes that appear on the list really surprises you. Just take your time to be amazed but don't procrastinate cooking. In fact, all you have to do is shop for the ingredients, clean them, and put them into the instant pot.
Therefore, you can be lazy but don't be that lazy! I believe that you don't want to miss the chance to enjoy all the delicacies and impress your family with nutritious summer meals. Let's spend your summer in the best way by making all the recipes above!
In addition, it would be nice if you could also show some support for this article. Please write your comments and share these recipes with any busy work-from-home person that you know. It surely will save their life this hot and exhausting summer!
Nutrition Facts
2 servings per container
---
Amount Per ServingCalories785
% Daily Value *
Total Fat 54.5g

84

%
Cholesterol 175mg

59

%
Sodium 2654mg

111

%
Potassium 426mg

13

%
Total Carbohydrate 29.4g

10

%

Dietary Fiber 0.7g

3

%
Sugars 18.1g

Protein 42g

84

%
---
* The % Daily Value tells you how much a nutrient in a serving of food contributes to a daily diet. 2,000 calories a day is used for general nutrition advice.