You will need the best summer pasta recipes when you hang out with friends in the summer or stay hydrated in your garden. In this article, you will have a chance to learn about a wide range of dishes that come from different cultures and countries.
Despite the fact that they are all pasta dishes, the versatility and diversity of their ingredients will certainly amaze you. After reading through the list and trying to make yourself pasta meals, you will come closer to becoming a household pasta expert!
With the fact that pasta can be healthy and have a lot of benefits for your health, you shouldn't be hesitant at all to jump into the recipes list below. Let's get started!
Interesting Things You Need To Know About Pasta
It may surprise you that pasta doesn't originate from Italy. It actually came from China! People believe that Marco Polo–a famous Venetian merchant–brought the noodles from China to Italy on his Silk Road journey. From that, Italians developed their own pasta dishes.
There are many reasons why pasta should be included in one of your must-cook summer recipes. In the summer, your body is likely to be drained and exhausted due to the intense heat. That's when pasta is an ideal meal to regain energy.
Pasta is full of carbs and fiber that can balance your energy level and keep you from being exhausted. Furthermore, a pasta dish has many vegetables (tomatoes, zucchini, cucumber, etc.) that can keep your body hydrated, and they are perfect for your healthy diet.
32 Summer Pasta Recipes That Will Perfect Every Meal
Reading through the list below, you will find the summer pasta recipes that work for your meals based on the ingredients, flavors, methods, and more. I promise you will be spoiled with tons of options to choose from. Don't wait any longer, let's jump into the recipes!
Total time: 20 minutes.
There is no better way to start your summer than with a creamy and refreshing Cilantro Lime Pasta Salad. Although this recipe uses a variety of Mexican flavors, the dish isn't overpowering. The flavors are exactly right to trigger your appetite.
There are two parts of this Cilantro Lime Pasta Salad you need to finish. The first one is to make pasta salad. Before mixing all the ingredients (short pasta, cilantro, tomatoes, etc.), you have to cook the corn beforehand by boiling them for about 2 minutes.
The second part is the dressing for the pasta salad. You will need quite a lot of ingredients such as greek yogurt, lime juice, and salt. When they are all prepared, use a food processor and blender to mix them. After that, remember to refrigerate the dressing until you use it.
A perfect Cilantro Lime Pasta Salad can't be complete without this quick guide!
Total time: 20 minutes.
Just like its name, Summer Pasta Salad is packed with a lot of summer vegetables that you can easily get from your garden. Besides pasta, you will need squash, zucchini, red onion, and so on to make the pasta salad. In addition, the seasonings for the dish are also very diverse.
Apart from the Italian dressing that you have to buy at the supermarket, garlic powder, kosher sea salt, and ground black pepper can easily be found at home. After washing the vegetables and cooking the pasta, just combine all of the ingredients in a large bowl.
Stir the mixture slightly and keep it in the refrigerator so that you can eat your Summer Pasta Salad whenever you want. It's recommended to enjoy the dish at a barbecue. If you want to add more vegetables to the dish, it's completely fine!
Total time: 25 minutes.
Certainly, if you want to enjoy a dish in the summer, zucchini is the ingredient that you shouldn't leave out. Regarding the list, you will also need parmesan, yellow squash, and fresh basil. With the pasta, you need to wash and cook it before getting down to the dish.
After that, use a skillet with medium heat and olive oil to make the zucchini mixture. Garlic and red pepper are the first ones to be added to the skillet to create the base flavor. After that, add squash and zucchini. Then, continue to cook for about 5 minutes.
At this point, you can choose to season the mixture with salt and pepper, or you can save this step for the end. Cooked pasta needs to be drained before you toss it over the zucchini mixture. Finally, use parmesan and basil as the toppings, and your dish is ready!
Total time: 25 minutes.
In this recipe, you will use rotini–Italian pasta that has a corkscrew shape. Interestingly, the name "rotini" means "small wheel" in Italian, which refers to the pasta's special shape. One benefit to note is that the corkscrew shape actually helps the pasta absorb more sauce.
The Ranch BLT Pasta Salad combines pasta with ranch dressing and BLT (which stands for bacon, lettuce, and tomato). I personally think that you are now familiar with those two terms. Ranch dressing is a popular salad dressing that contains buttermilk, garlic, herbs, etc.
On the other hand, the BLT comes from the BLT sandwich, which first made its appearance in the late 1920s in a British cookbook. The combination of ranch dressing and BLT is just perfect,bringing the creaminess, freshness, and savouriness to the pasta salad dish.
Follow this tutorial to make a complicated Ranch BLT Pasta Salad.
Total time: 2 hours (included baking time).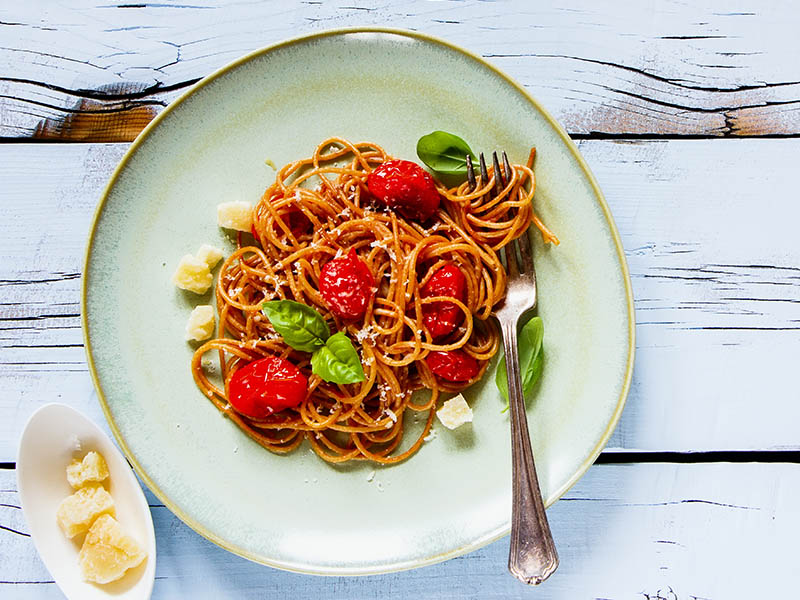 It just takes a couple of minutes to prepare the ingredients and serve the dish, but this Slow-Roasted Tomato And Basil Pasta will take about 2 hours in the oven. The reason is that your summer potatoes need time to be fully roasted and absorbed into the pasta.
In my opinion, this is a must-try summer dish for children if you want your kids to taste the sweet, savory, and herbal flavors of a healthy pasta dish this summer.
The tomato sauce plays a big part in this recipe. Before the baking time, you need to season your tomatoes with smashed garlic, olive oil, and salt.
After the sauce is done, cook the pasta (you can use either linguine or bucatini) and toss it with tomatoes. In terms of toppings, pine nuts, basil, or black pepper will make the pasta look more attractive and delicious.
Total time: 45 minutes.
As you may notice, this scrumptious summer vegetable dish uses the bow tie pasta–an Italian pasta originated in the 16th century. In fact, the pasta is sometimes called butterfly pasta because its Italian name, Farfalle, means "butterflies".
In addition to the special pasta, you will base this recipe on vinaigrette–a salad dressing that has olive oil, vinegar, honey, and lemon juice as the main ingredients. This tart, acidic, and kind of sweet dressing is a perfect match with the pasta salad.
To make the dish, besides pasta and the vinaigrette, there are other ingredients: cucumber, feta cheese, sliced olives, etc. It's very simple to complete it; when your pasta is already cooked, stir it with all the ingredients. Remember to chill the dish before serving it!
Total time: 25 minutes.
In case you can't wait any longer to savor chicken at the end of a hot day, you must try this chicken recipe for your dinner during summer. You should know that grilled chicken makes a great combo with pesto sauce and asparagus.
Pesto has its origin in the Liguria region in Italy. It dates back to ancient Rome when people believed that Pesto could cure sickness due to the crushed garlic. While grilled chicken has earthy and savory Italian flavors, pesto sauce brings out herbal and bright tastes.
When you add cheese according to the recipe, it will make the sauce creamier, sharper, and saltier. It's recommended that you use Parmesan cheese.
On the other hand, asparagus is a perennial vegetable that has a tender green color and a spear-like shape. Grilled asparagus contributes smoky and sweet-bitter flavors to the dish.
It's not difficult to cook the pasta or prepare the sauce for this dish. However, it can be challenging to grill a chicken and have to keep track of flipping time and temperature.
You should go through this tutorial before making the Grilled Chicken And Asparagus Pesto Pasta.
Total time: 50 minutes (included roasting and seasoning time).
Here comes a special pasta dish with a fantastic combination of caramelized onions, fresh tomato sauce, and roasted eggplant. You may be surprised, but it's true! Caramelized onions are an actual thing, and they taste absolutely fabulous according to this recipe.
To caramelize the onions, first prepare a sauté pan, olive oil, onion, and salt. Then you preheat the pan and respectively add the ingredients. After the mixture is sauteed for about 25 minutes, add the garlic and continue to cook for a few minutes.
Then you can continue with other steps to finish the dish. Overall, the roasted eggplant combined with caramelized onions and tomato sauce will make the pasta creamy and smooth even without cheese. The flavors are also mixed between sweet and savory.
Total time: 45 minutes.
Sicilian Caponata Pasta is a very flavorful dish that reflects the culture and cuisine characteristic of the Sicily island of Italy. This recipe is inspired by the original Caponata–a Sicilian dish that combines a variety of vegetables with fried eggplants and agrodolce sauce.
To make the Caponata sauce, you need to first prepare a saute pan, olive oil, garlic, and saltwater. Cook the garlic until it turns yellow, then pour water in. After the water is boiled, add the eggplant and wait until it turns brown, then add the remaining ingredients.
Besides the Caponata, this recipe also uses raisins and capers to perfectly capture Sicilian flavors. Just from your first taste, the tender sourness and herbal flavors will immediately appear. Coming after that is the creamy, savory eggplants.
Total time: 2 hours 20 minutes (included 2 hours of chilling time).
It's wonderful to chill in the summer and eat BBQ in your backyard, but do you miss something? That's right, the one-and-only classic Macaroni Salad! It can be served as a delicious summer appetizer or a creamy side dish for chicken.
There are four main steps that you have to follow to complete a tasteful Macaroni Salad at home. Cook the pasta, mince your vegetables, make the dressing, and finally mix all the things together. Remember to refrigerate your salad before serving it in the backyard.
It's important to note that you must keep a close eye on the pasta because it can be overcooked. The dressing in this recipe is also easy to make but if there is any ingredient you want to get rid of (like mustard or paprika), feel free to replace it.
Macaroni Salad is easy to make, but you should still use this tutorial for reference!
Total time: 45 minutes.
It's summer and you start craving spicy food, then you can't miss this Spicy Seafood Pasta. What's more, this dish is also gluten-free and dairy-free, so it's also dedicated to anyone that is on a strict diet. The red sauce of the pasta needs to be made at home.
You need a pan to make the sauce. To begin with, cook butter and onions for about 8 minutes. Tomato paste and red pepper flakes are the next to be added. Lastly, pour in white wine, add crushed tomatoes, and season with salt and pepper.
When your sauce is done, you can adjust the seasonings and also pour the pasta water in. One note is that you should prepare fresh seafood; if you only have frozen ones, make sure all the liquid is drained off. You can pair this dish with red wine; the combo is absolutely perfect!
Total time: 20 minutes.
You can't enjoy your summer holiday fully without the taste of cheese? You know what, this Lemon Garlic Parmesan Pasta is for you! This versatile dish can be a great idea for your summer dinner, supper, or even just a side dish.
There are a variety of ingredients that need to be prepared, such as wheat spaghetti (especially the whole-wheat flour variety), butter, parsley, and parmesan cheese. Ideally, you should store a block of parmesan cheese and grate it at home.
But you can choose to buy an already grated cheese at the supermarket if it's more convenient for you that way. Another important thing is that when your garlic turns blue while cooking, don't panic. Just follow the instructions, and your garlic is still safe to savor.
Total time: 25 minutes.
Are you a fan of broccoli salad? And you love savoring pasta in the summer as well? This Broccoli Cheddar Pasta Salad is a very quick dish that can both satisfy your hunger and refresh your summer! Following this recipe, you can make around 8 servings of the dish.
The ingredients that you need to cook this dish are tri-colored veggie rotini pasta, broccoli, cheddar cheese, and red onions. The tri-colored veggie rotini pasta is a more healthy and colorful version of the screw-like pasta. It usually has green, orange, and yellow colors.
On the other hand, cheddar cheese is a young and naturally pale cheese that has a sharp taste and limited moisture. This cheese, combined with mayonnaise and apple cider vinegar, will create a creamy, nutty, and tangy sauce for the dish.
This guide will be helpful if you try to make the Broccoli Cheddar Pasta Salad.
Total time: 15 minutes.
Thai cuisine is famous for its spicy and herbal flavors due to the usage of garlic, cilantro, shallots, pepper, and more. Similarly, this Spicy Thai Spaghetti Salad also inherits those characteristics. Furthermore, this dish is also inspired by a traditional potluck.
It's a waste if you don't try Asian flavors with Spicy Thai Spaghetti Salad this summer. Besides all the mentioned ingredients, you will also need basil leaves, red cabbage, carrots, sesame seeds, etc. Basil and cilantro are the most important herbs in this recipe.
Firstly, start off with making the simple dressing. You need an immersion blender to combine all the essential ingredients in a bowl. After that, add oil and vinegar. Then, toss the salad ingredients with the dressing, and you're done!
Total time: 20 minutes.
This Fresh Summer Spaghetti is an easy and popular version of spaghetti that your mother might have cooked for you. It also contains a lot of familiar ingredients that you can find in your own garden or buy at the nearby market, such as cherry tomatoes or mozzarella.
The first step is to boil a pot of water to cook your spaghetti. After that, cook sliced garlic and cherry tomatoes for about 5 minutes. When the mixture begins to burst, add basil leaves, tomato sauce, and salt. If the sauce is done and ready, toss the pasta with it.
You can drizzle a little bit of olive oil or balsamic glaze over the top of the dish. It will make the spaghetti more appetizing and pleasant to eat. If you can't finish the dish all at once, the good news is that you can keep it in the refrigerator for at least 4 days.
Total time: 14 minutes.
To make this Chicken Pesto Pasta Salad, you need to prepare pasta, shredded cooked chicken, sun-dried tomatoes, and about 10 other ingredients. It may sound a lot, but believe me, this recipe is very simple to make, and you don't have to cook anything besides pasta.
About the flavor, the pesto dressing mainly brings out garlic and parsley flavors in a creamy texture. Furthermore, red wine vinegar and Parmesan cheese will be added to the pesto in order to combine all the flavors and thicken the dressing.
Don't forget you have to cook your pasta with a pot of saltwater. When it's done, drain the pasta and set it aside to continue with the pesto dressing. After stirring pesto and vinegar, add cooled pasta and other ingredients in order. Finally, season it with salt and pepper.
Let's surprise your family by making the Chicken Pesto Pasta Salad!
Total time: 23 minutes.
This Greek Pasta Salad recipe takes inspiration from the classic Greek Salad. It's a Greek dish that consists of cucumbers, tomatoes, feta cheese, etc., and a distinctive dressing. Apparently, the easy and refreshing Greek Salad gained popularity around the 1960s.
Greek Pasta Salad retains many ingredients of the original version but with the addition of pasta. It's suggested that you should use pasta that has a short shape, such as rotini, farfalle, elbow, or penne. Also, you need to cook the pasta before making the dish.
It's not difficult to make the dressing. However, it will be much easier if you can prepare a food processor or a blender to mix all the ingredients until they are totally combined. Finally, toss the pasta with the dressing and add the remaining ingredients. You are all set!
Total time: 30 minutes.
Do you want to energize your summer with an authentic Sicilian dish? Paccheri With Fresh Tuna Ragu is the ultimate choice offered for you! This dish is a combination of paccheri (pasta that has a large tube shape) and fresh tuna ragu–Sicilian traditional food.
It may be difficult for you to differentiate between paccheri and the popular rotini pasta. One thing you can point out is that paccheri has larger and wider tubes compared to rotini. In this recipe, the first thing you have to do is boil the paccheri pasta with salt.
With the tuna, you need to cut it into cubes before frying it in the pan with tomatoes and onions. After the tuna turns brown, add white wine for the fruity flavor to emerge in the sauce. Finally, season the tuna sauce as well as add fresh mint and pasta water to the pan.
Total time: 45 minutes.
This is a unique pasta dish in that you can taste the flavors of two seasons in a year. Primavera is a vegetable pasta dish that is often cooked in the spring. However, in this recipe, there is the addition of many summer vegetables and herbs.
On top of everything, the lemon garlic butter sauce becomes the highlight that helps this Pasta Primavera dish stand out. This sauce is the harmonious marriage of three powerful ingredients: sour lemon, pungent garlic, and creamy butter.
Normally, people wouldn't put those components together in a sauce, but I promise that they taste like heaven in this recipe. Besides the sauce, you also have to cook the pasta and make roasted vegetables. You will need Italian seasonings to make the dish more savory.
A healthy Pasta Primavera With Lemon Garlic Butter Sauce will be a great dish to start a day.
Total time: 2 hours 5 minutes (included 1 hour of refrigerating time).
This Butternut Squash Ravioli is an absolutely awesome summer dish that combines ravioli pasta, butternut squash puree, and summer herbs sauce. As you may wonder, ravioli is a special type of pasta that has pillow-like forms with fillings inside the pasta dough.
Ravioli can have square, circular or even semi-circular shapes. It can depend on how good your skill is. To make ravioli yourself, you need to go through 4 main steps: making the dough, rolling the pasta, shaping the sheets, and finally cooking the pasta.
For the filling, it's also very diverse, especially with grated Parmesan cheese, butternut squash sauce, and ricotta. Butternut squash sauce tastes like sweet, savory, and fresh vegetables, while ricotta cheese contributes a creamy texture and a mild flavor.
When your pasta sheets are ready, combine all the ingredients to make the filling and carefully put it between the sheets. About the sauce, you will need a large skillet to cook the butter until it melts. Then, add all the herbs to cook for another 1 minute, and it's done!
Total time: 25 minutes.
This delicious recipe that uses Italian sausage is inspired by the original Italian Caprese salad dish. It's a simple dish that has tomatoes, basil, and mozzarella as the main ingredients. Usually, Caprese salad has juicy, creamy, and slightly sweet flavors.
In addition to the refreshing taste of Caprese, this dish also has another star–Italian sausage. What's special is that Italian sausage is pork seasoned with anise and fennel. Therefore, they create a peculiar combination of meaty and earthy flavors.
Following the instructions, you will saute the sausage with cherry tomatoes in a skillet. When there are cracks on the sausage, that means it's ready. On the other hand, you need a food processor to blend garlic with olive oil, pepper, and salt.
Total time: 20 minutes.
Summer Tuna Pasta Salad is a quick-to-made summer side dish, presuming you are in a hurry to prepare lunch for a whole family. To generalize, I'd say that this appetizing dish consists of four essential components.
They are the tart arugula, meaty tuna, tangy pepperoni, and creamy lemon ranch dressing. All of those create a delicious blend between Italian and American cuisine. To make the dish, you need to complete 2 parts: the tuna salad and the lemon dressing.
Surprisingly, you won't need a blender or food processor to make the dressing. All you have to prepare is a jar to shake all the ingredients together. When you've finished dressing, combine it with the salad's ingredients in a large bowl. Arugula will be added lastly.
If you like pasta combined with fish, then you can't skip this Summer Tuna Pasta Salad tutorial!
Total time: 2 hours 32 minutes (included 2 hours of resting time).
In case the summer duo–tomatoes and basil–still can't satisfy your taste, what about adding melted brie? Linguine With Tomatoes Basil And Brie is a fantastic dish that successfully conveys summer herbal flavors with a little twist of buttery and soft melted brie.
It's reasonable that you don't find brie familiar. It's a soft-ripened cheese that has an off-white color. Brie is made from cow milk and usually has buttery, nutty, or earthy flavors. Following the instructions, you will combine the brie cheese with other ingredients in a large bowl.
Besides pasta, you should add tomatoes, basil leaves, and minced garlic to the bowl. After stirring the mixture gently, put it aside and let it sit for 2 hours. When your pasta is already cooked and drained, just toss it with the sauce earlier. Now, you've completed the dish!
Total time: 1 hour 5 minutes (included 30 minutes of clam cleaning time).
It's impossible to talk about summer pasta dishes without mentioning the linguine and clam combo. Linguine With Clams is one of the basic seafood pasta recipes to make. It has a wonderful mix of delicate, light, and slightly fishy tastes.
About the side dishes, you can eat this dish with garlic bread, butter bread, and green salad. There are two popular pasta sauces that are used for Linguine With Clams, "Bianco" (white clam sauce) and "Rosso" (red clam sauce).
To make the white clam sauce, you have to prepare white wine, lemon juice, garlic, and red pepper flakes. You need to heat a sauté pan with olive oil before adding other ingredients. Remember that when the clamshells open, your sauce is ready to be served!
Total time: 40 minutes.
You are really into herbs and you want a pasta combined salad dish? Then, your summer will be fulfilled with this Fresh Herb Pasta Salad. This is a completely healthy vegetarian recipe for summer with a wide range of vegetables.
To make the dish, you need to divide it into 2 parts: the salad and the herb dressing. The salad mainly contains broccoli, carrots, pine nuts, and Fusilli pasta–a variety of rotini pasta. Then, olive oil, cheese, and seasonings will also be added to the salad.
The aim is to provide a harmoniously refreshing flavor for the salad. About the complicated dressing, it's creamy and herbal with sweet mixed spicy flavors. This can be a perfect appetizer or a main dish for a healthy diet if you don't want to serve it as a side dish.
Total time: 20 minutes.
This refreshing Summer Cavatelli With Corn, Tomatoes, And Zucchini is a perfect dish to savor at dinner. In this recipe, there are a few special ingredients that you may not know about. For example, Cavatelli pasta, Pecorino Romano, and marinara sauce.
Cavatelli is an Italian pasta that has cute little shell shapes. Cavatelli pasta is made from wheat semolina flour, and it also has another name, "gavadeels". On the other hand, Pecorino Romano is a special type of Italian cheese that has a hard texture and salty flavor.
Marinara sauce is an easy-made tomato sauce that is made with tomatoes, onions, herbs, and other ingredients. It's possible to add meat if you really want. The recommended options are sausage, shrimp, or ground beef.
Total time: 40 minutes.
Rigatoni is an Italian wide tube-shaped pasta whose length can also vary. This pasta dates back to the 19th century when there were specific machines to mass-produce pasta in southern Italy. In fact, "rigatoni" originates from the Italian word "rigato" which means ridged.
In this dish, there is a harmonious combination between sausage, tomatoes, and zucchini. With the prepared tomatoes, you will make a sweet and sour tomato sauce that certainly complements the savoriness of sausage and the freshness of zucchini.
To make the sauce, you need to prepare dense tomato paste, white wine, and grape tomatoes. Furthermore, the sauce is also seasoned with salt and pepper. It also doesn't take long to thicken in the pot, just about 10 minutes.
Total time: 20 minutes.
Bruschetta Pasta is a flavorful and easy dish that combines Italian flavors with spices, pasta, and summer vegetables. For your information, Bruschetta is an Italian appetizer that consists of bread and a special sauce that is drizzled over the top.
Tracing back in history, Bruschetta actually originated in the 15th century in Italy. In this recipe, the original Bruschetta sauce is transformed into a marinated tomato sauce. The main needed ingredients are tomatoes, garlic, lemon, and olive oil.
This recipe also uses orecchiette pasta–a unique shell-shaped pasta that originates from southern Italy. Apparently, orecchiette pasta makes the dish look neat and pleasing to the eyes. What's more, the paste can also hold all the flavors together due to its shape.
This Bruschetta Pasta guide will help you make a delightful dish at dinner!
Total time: 50 minutes.
This Shrimp Linguine With Zucchini And Tomatoes is a perfect summer pasta that you can cook and enjoy at your weekly family gatherings. It's not complicated to prepare and make the dish. Nonetheless, it is full of diverse and colorful ingredients.
First of all, the combo of zucchini and tomatoes will bring bright and fresh flavors to the dish. Following the recipe, you should use cherry tomatoes–which add a tender sourness and light sweetness to the linguine's sauce.
With the shrimp, remember to prepare medium-sized ones. After the seafood is ready, you need some spices for seasoning. Dried basil and oregano are chosen to capture the summer herbal flavors. Finally, crushed red pepper will add a little heat to the linguine.
Total time: 50 minutes.
You may not know this, but zucchini and corn make a perfect duo for any summer dish, especially this Zucchini And Corn Pasta Alfredo. Moreover, the alfredo sauce–a rich, authentic Italian sauce – will add nuttiness and creaminess to the pasta.
The first thing you have to do is tackle the corn. Remember to boil it before grilling so that your corn won't be dehydrated. When grilling, it's recommended that you use a big pan and stick to the order: lemons, zucchini, and corn. Also, at this point, take time to boil the pasta.
When the pasta is done, keep the hot pasta water since you will need it to combine the sauce with the pasta. The alfredo sauce will be made last, and it needs to be simmered a few times to thicken. You can eat this as a main dish and pair it with a salad or bread.
Total time: 30 minutes.
Taco Pasta Salad is a creamy summer salad recipe that can fit in any barbecue party. It combines vegetables, taco seasonings, pasta, and beef. You can buy taco seasonings at the supermarket or look for disciplines to make it at home.
Taco seasonings are spicy and quite overpowering because they have onion powder, garlic powder, chili, and other spices. On the other hand, you can choose any small pasta type that you have to make the dish. However, It's recommended that you use Radiatore pasta.
After the pasta is cooked, use a skillet to cook ground beef with taco seasonings and water. Let it simmer for 10 minutes then you can add ranch dressing and other ingredients. Finally, mix the sauce with your pasta and stir them a little bit before enjoying the dish.
Learn how to make Taco Pasta Salad with this beautiful walkthrough!
Total time: 30 minutes.
You can't complete your summer without this creamy Salmon Pasta With Sun-Dried Tomatoes. If you have never tried sun-dried tomatoes before, this is your chance. The sun-dried tomatoes are sweeter and chewier than fresh tomatoes.
However, they still have as many nutrients as the fresh ones. You can prepare them by slicing the fresh potatoes, seasoning them with salt, and drying them in the sun. The drying time can range from a few days to even two weeks depending on the heat of sunlight.
There's another ingredient that is also vital in this dish, salmon. You need a bid pan to cook a skinless salmon filet with seasonings. After that, sear the filet and use a spoon to crumble it. The lemon juice that is added lastly will bring out salmon's mild and buttery tastes.
Don't Hesitate To Refresh Your Summer With A Dish Of Pasta!
Depending on the available time that you have, you can cook a wholesome summer pasta dish in 1 hour or just simply make the 15-minute pasta salad. Regardless of what you choose, every recipe is ultimately healthy, mouthwatering, and summer-based.
It will be a great experience to savor a dish of pasta in your own backyard. I promise the delicacy and freshness of the dish will eliminate the heat that you have to suffer in the summer. Pasta dishes are also shareable if you have sudden guests dropping by!
Please let me know if you are amazed by all the brilliant recipes above by clicking the share button! Also, it's very nice to receive feedback, so remember to share your thoughts below. Finally, don't hesitate to make a mess in your kitchen while cooking your summer pasta!
Nutrition Facts
8 servings per container
---
Amount Per ServingCalories278
% Daily Value *
Total Fat 9.3g

15

%
Cholesterol 62mg

21

%
Sodium 206mg

9

%
Potassium 285mg

9

%
Total Carbohydrate 38.2g

13

%

Dietary Fiber 1.7g

7

%
Sugars 3.5g

Protein 11.3g

23

%
---
* The % Daily Value tells you how much a nutrient in a serving of food contributes to a daily diet. 2,000 calories a day is used for general nutrition advice.