Many Asian recipes are complicated and time-consuming; that won't happen to you if you own an instant pot. With its different settings, you can cook thousands of dishes without using many tools, freeing yourself from the troublesome clean-up afterward.
You may not know but your instant pot can perfectly cook sweets and savory dishes, even soups, stews, or fries. Also, it's much quicker and more convenient than following the original way. You can just lie down relaxing while the instant pot does all the work for you!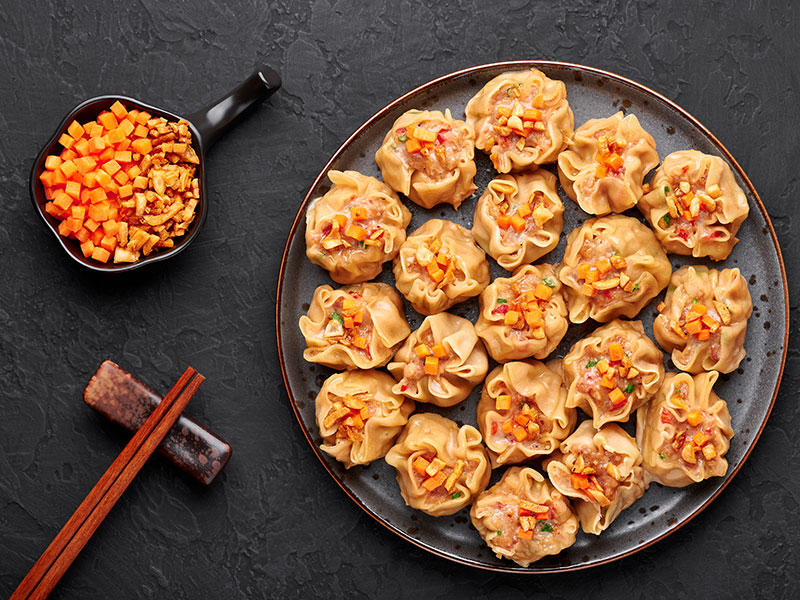 You can make these instant pot Asian recipes for your everyday meal or friend gatherings below:
Rice
Instant Pot Coconut Rice
Instant Pot Hainanese Chicken Rice
Instant Pot Sekihan (Japanese Azuki Bean Rice)
Instant Pot Fried Rice
Instant Pot Chicken Biryani
Instant Pot Congee (Asian Rice Porridge)
Noodles
Instant Pot Garlic Noodles
Instant Pot Pho (Vietnamese Noodles)
Instant Pot Ramen (Japan Noodles)
Meat
Instant Pot Chicken Tikka Masala
Instant Pot Cashew Chicken
Instant Pot Mongolian Beef
Instant Pot Galbitang (Korean Short Rib Soup)
Instant Pot Char Siu (Chinese BBQ Pork)
Instant Pot Shumai (Chinese Dumplings)
Vegetarians
Instant Pot Naan Bread
Instant Pot Aloo Gobi (Indian Curried Potato Cauliflower)
Instant Pot Panang Curry (Thai Red Curry)
Sweet Treats
Instant Pot Khao Niao Mamuang (Thai Mango Sticky Rice)
Instant Pot Kheer (Indian Rice Pudding)
Instant Pot Pandan Cake
Easy Instant Pot Asian recipes capture the distinct charm of Asian spices and seasonings, making authentic flavors accessible to all. Dive in below to explore these tantalizing recipes in detail.
Rice
You can't talk about Asian cuisine without mentioning rice dishes. While cooked white rice is their everyday dish, each country has its own iconic rice recipes. What are they? Scroll down for more!
Coconut rice appears everywhere in any Asian country. Most of the time, you'll find their recipes in Thai, Indian, or Indonesian versions. Some treat it as a sweet dessert, but this recipe is 100% a savory dish as it doesn't include any sugar.
And you can also alter this dish's sweetness by choosing coconut milk with your desired sugar content. Coconut rice is a perfect combination of tropical dishes like shrimp wraps or chicken tikka.
Even a beginner can perfect this instant pot coconut rice! You can see this video to know more:
Many people say that Hainanese chicken rice is on top of the list for must-try foods from Singaporean cuisine. Some would even go so far as claiming that your trip is nothing if you don't try out this dish when coming to Singapore. That's how much this dish means to Singapore culture.
Of course, you don't have to go all the way to Singapore to try it. Despite its fame, Hainanese chicken rice is a pretty simple dish.
Just boil a whole chicken in water and use that water for cooking the rice. In some eateries, they even use chicken broth to make accompanying sauces.
Did you know Japanese people often make sekihan in any celebration like New Year, marriage, graduation, etc? So how about learning to make it for a fun change whenever you want to hold a party?
Also, it's not much work cooking sekihan. It needs only two ingredients: glutinous rice and adzuki beans (or red beans). From then, you can alter this recipe to your liking. For example, some will add sugar for more sweetness, while others prefer salt more.
Cooking rice in the instant pot makes sense, but making fried rice with it? Well, it's totally possible! And in fact, it's easier and better than your regular fried rice.
You just need to stir your rice with the main ingredients for a few minutes before letting it cook in the instant pot. After that, add other ingredients like eggs and vegetables and stir for a bit more before serving.
Based on your preferences, you can make this dish full of meat or in vegetarian style.
This instant pot fried rice is better than any Asian take-out! You can see this video to know more:
Fried rice may be famous in many countries, but have you ever tried biryani, a traditional layered rice dish in India? This is so delicious and easy to make, making it a good recipe for summer with an instant pot.
Is it the same as pilao? No, it isn't, though these two recipes look really alike. The enormous gap between them is that in biryani, ingredients are cooked separately, while pilao gets everything mixed together.
However, this instant pot biryani will cook everything simultaneously since it's easier and less time-consuming.
In Asia, if you feel sick, your mother or grandmother will prepare a pot full of congee to pamper you. My favorite version is Vietnamese congee with chicken, which people often serve as a main dish. And let me say one thing: before, I used to let myself catch a cold to enjoy this congee.
At first glance, you may think this dish is so bland as it doesn't include anything but rice cooked in water. But the best part doesn't lie with the porridge, but with all the side dishes: Ground meat, shredded chicken, hard-boiled chicken, pickled veggies,… You name it, this dish has it.
Noodles
What's better than slurping a bowl of noodles when it gets cold? And these Asian noodles are even better than any take-out you could order.
You can find garlic noodles in almost every Asian restaurant. And why? It's because this dish is delicious in all its simplicity: Just noodles tossed in Hoisin sauce with other seasonings.
Though garlic noodles are already easy enough, they can become easier with instant pot as you don't need to stir the noodles anymore. And in truth, you shouldn't mix them, or they'll clump together when cooking in the pot.
Nothing can amount to my love for pho, a signature dish from Vietnam. Whether it's summer or winter, I can slurp a whole bowl of pho. Since my passion is that big, obviously I'd want to make this dish myself so that I can enjoy it anytime I want.
However, making this authentic Vietnamese food is really a difficult challenge as traditional recipes require hours of simmering. Thus, I came to my instant pot for help. And the result is fantastic! My pho tastes just like what I've eaten in Vietnam!
Your Pho will come out full of flavors thanks to your instant pot! You can see this video to know more:
Once you try genuine types of ramen in Japan, you'll never forget how rich their flavor is. And when you come back home, you'll be like me, searching for every handmade ramen recipe because the take-out ones all lack something.
And this recipe here meets my demand completely, though it takes quite some time for this ramen. You have to cook the broth first, then cook the noodles in it. But the result is really worth your patience.
Meat
For a meat lover like me, it's hard to go through a day without any meat dish. But sometimes, making them takes a lot of my energy. However, now, with my instant pot, I can relax while still enjoying flavorful meat dishes.
And you can enjoy the same experience with these recipes below!
Originating from India, nowadays, chicken tikka masala has become an iconic Asian chicken dish and spread its name all over the world.
While some may confuse it with chicken butter, these two have some transparent gaps between them. And the biggest is that chicken tikka uses tomato gravy, so it has a more complex flavor.
Chicken tikka goes best with basmati rice or jasmine rice. But you can serve it with naan as well.
Cashew chicken is one of those best-seller dishes in any Chinese eatery. The way to cook chicken varies from one restaurant to another. Some just stir-fry chicken with cashew and vegetables, while others say it needs to be deep-fried.
You may choose according to your preferences, but the authentic recipe is actually the former. And that way is also easier to make with the instant pot.
If you love cashew chicken, you need to make this recipe right now!
Despite its name, this dish actually comes from Taiwan. And who gave it that name and why they did that remains a mystery until now. The only clear thing is this dish is loved both in and outside of Asia.
When making this dish, be careful with your meat. Make sure to choose ones that are quickly cooked, like flank steak. Serving it with rice is the most suitable way to enjoy this Mongolian beef.
In Korean, "galbi" means "short ribs," and "tang" means "soup." So, in short, this is a soup mainly containing beef short ribs.
In some restaurants, they will serve this beautiful Korean dish with dangmyun (glass noodles). Or some people prefer eating it with kimchi or rice.
According to traditional recipes, it would take several hours, regularly 5 hours, simmering the ribs in the broth. However, with instant pot, you may need roughly 30 minutes to complete it.
If you love Chinese cuisine, it's impossible for you not to know about char siu. It's one of the most favorite ways to prepare pork in China. You can use pork belly, pork shoulder, or pork loin; the result remains delicious.
As for the vivid color, traditional restaurants make it with fermented bean curd. However, you can opt for red coloring or beet juice if you can't follow the authentic ways.
Though char siu is tasty on its own, most people enjoy it with rice and some boiled vegetables.
Make this juicy char siu for your evening meal! You can see this video to know more:
Don't mistake shumai with other Chinese dumplings, especially jiaozi – a Chinese version of gyoza. Shumai's wrapping is usually thinner than jiaozi, and their appearances are different as well.
And while jiaozi can be steamed, boiled, or deep-fried, the only way to cook shumai is by steaming with a bamboo steamer. But you can hardly find it outside Asia, so replacing it with an instant pot is a decent option.
Not to mention, with this tool, it won't even take 5 minutes to complete a plate of shumai.
Vegetarians
I know there are people refusing to eat vegetarian dishes because they think those recipes are all boring and lack rich flavors.
That way of thinking may be correct in some ways. However, vegan dishes in Asian countries are totally on a different level. If you feel like them, prepare to take back your words with these luscious recipes below!
Besides cooking, instant pot also helps proof the dough, so many use it to make bread. And if you've grown bored of regular bread, let's make some naans instead. Simply put, this food with "N" as the first letter in its name is an Indian flatbread.
After your dough has risen in the instant pot, grill it on your stovetop. Or, if you don't have a suitable stove, you can still make naan with the Saute setting in the instant pot.
Don't forget to cook some stews or curries to eat with these naans!
Simply put, aloo gobi is an Indian curry with potatoes and cauliflower. Apart from these two, every other ingredient is dependent on the chef.
Some use green peas, while others don't include tomatoes. You might say there are as many aloo gobi recipes as Indian people.
As for this recipe, make sure you check your aloo gobi once in a while so that your dish is soft enough without turning mushy.
Here is the secret for a restaurant-quality instant pot aloo gobi! You can see this video to know more:
If you make this curry for the first time, don't let the long list of ingredients scare you. I admit I used to stay away from this recipe for a long time since buying all the components for the curry paste takes a lot of effort. However, the result will make you more than just happy.
Or you can just buy a panang curry paste for a shortcut, though its taste can't compare to the handmade one. Also, since all the ingredients in this dish have different cooking times, remember not to put them in at once.
This delicious curry reminds me of another equally flavorsome dish from Cambodian cuisine – Amok Trei. One unique thing about this Cambodian curry recipe is that it's usually served in a coconut shell or a container made from banana leaf.
Sweet Treats
It's true that instant pot is mainly used to make these savory dishes above. However, you can still make flavorful Asian desserts with it. It's because Asia has several sweet treats not requiring any baking at all.
Though it has rice, this dish is a sweet dessert instead of a savory recipe. Not every rice is suitable. You need glutinous rice, also known as sticky rice, to make this. Despite its Thai origin, khao niao mamuang is a well-known street food in Lao and other Southeast Asian countries.
Traditionally, the rice will be cooked in a rice cooker or steamed. But do you know that instant pot can compete with rice cookers in this field? If you don't, you can try cooking the rice in your instant pot.
Then, you mix it with savory coconut milk so that every grain is soaked thoroughly. The last step is garnishing your rice with ripe, yellow mango slices.
Although rice, sugar, and milk are the only three basic ingredients in this dessert, it still tastes good no matter if you serve it hot or cold. That means you get to enjoy this rice pudding whenever you want.
Aside from these components, feel free to elevate its flavor and texture more. Indian people often season kheer with cardamom and all kinds of nuts. Garnishing it with dried fruits or coconut is also an exciting way to have extra textures.
Kheer is also considered one of the most famous foods in Pakistani cuisine. Like the Indian version, you can enjoy Pakistani kheer either hot or cold. Its creamy flavors, combined with the undertones of coconut, will be quite a treat for your palates.
You won't be able to stop eating this instant pot kheer! You can see this video to know more:
If you want to know more about Southeast Asian cuisine, you should get used to pandan leaves. There are thousands of reasons for Asian people to get so obsessed with this ingredient.
But if I have to point out the most obvious one, that must be its color. Pandan leaves give this cake a light, vivid green color, making everyone pretty hesitant to eat such a lovely dessert.
Nutrition Facts
6 servings per container
---
Amount Per ServingCalories513
% Daily Value *
Total Fat 26.4g

40

%
Cholesterol 135mg

45

%
Sodium 1416mg

59

%
Potassium 596mg

18

%
Total Carbohydrate 18g

6

%

Dietary Fiber 1.6g

4

%
Sugars 7.6g

Protein 49.2g

98

%
---
* The % Daily Value tells you how much a nutrient in a serving of food contributes to a daily diet. 2,000 calories a day is used for general nutrition advice.